HostNine is one of the youngest faces in web hosting, originally founded in 2006.
Initially showing promise, they were scooped up in 2012 by EIG, which also owns some of the biggest hosting brands like Bluehost.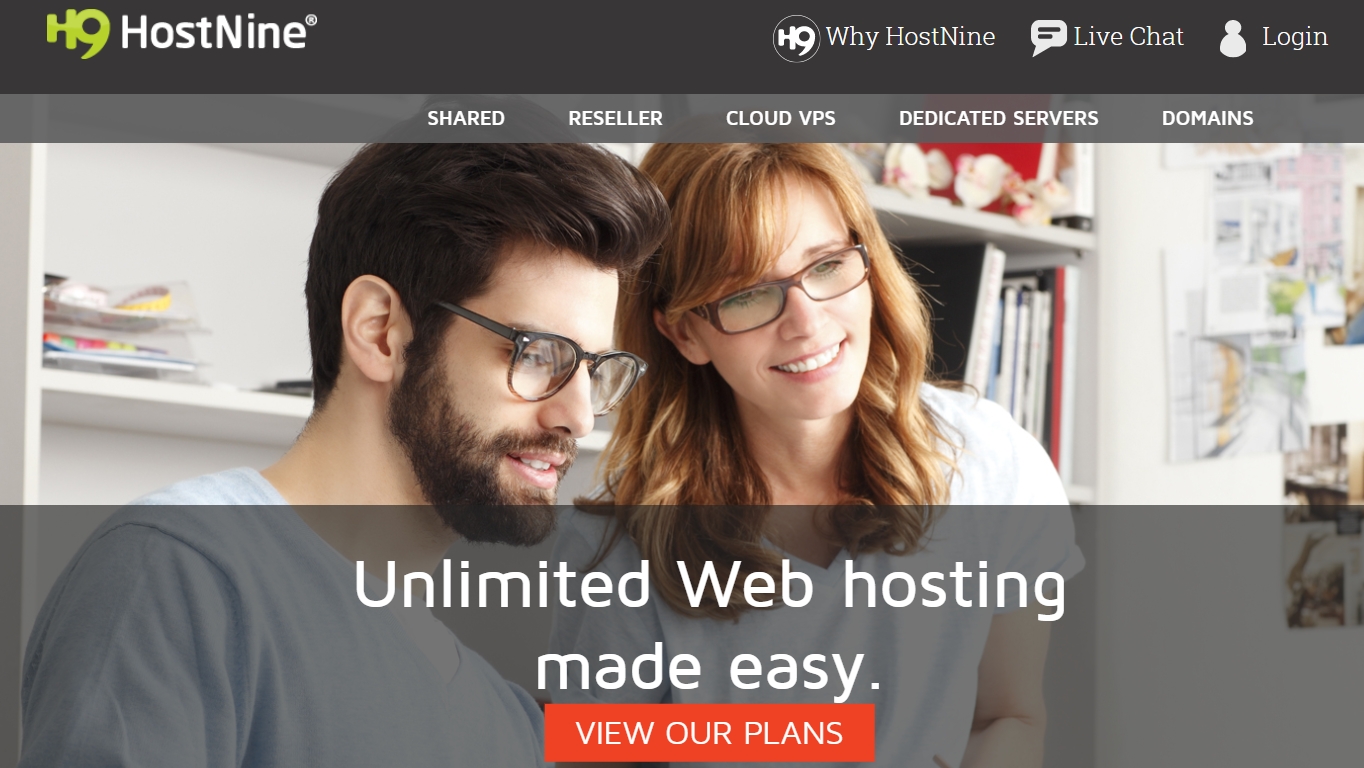 All hosts like to stretch the truth a bit when it comes to promotional claims on their website.
They put catchy soundbites on their website, regardless of the facts, attempting to coast by on the reputation alone.
We purchased HostNine's 'Personal Plan' and set up a WordPress site to monitor and run tests over an extended period of time. We've compiled the most important data, including uptime and speed, and are ready to make a ruling in this unbiased review backed by facts and statistics.
Read on to find out if HostNine is a suitable hosting provider for you.
General Info & Hosting Overview
---
| | |
| --- | --- |
| Our Rating: | Our Verdict: 3.0 |
| SPEED: | 1470 ms (August 2020 to July 2021) |
| UPTIME: | 99.97% (August 2020 to July 2021) |
| SUPPORT | 24/7 Live Chat, Knowledge Base, Ticketing |
| APPS: | WordPress, Joomla, Weebly, Drupal, phpBB, etc. |
| FEATURES: | Unlimited Bandwidth, Storage, Control Panel, Softaculous Installer, Unlimited Email Accounts, Site Builder, and more. |
| HOSTING PLANS: | Shared, Reseller, VPS, Cloud, Dedicated Hosting. |
| SITE TRANSFER | Free |
| PRICING: | Starting at $8.46/month (with an annual plan) |
---
Pros of Using HostNine Hosting
---
HostNine delivered the goods in a few different areas, including a refreshingly modern, easy-to-use website, free site migrations, a nice money-back guarantee, and an amazing uptime.
Let's take a closer look at the perks.
1. Good Uptime – 99.97%
HostNine's uptime in previous years hasn't been exactly good. For example, during our last testing period, they delivered an average uptime of 99.87% with a whole day of downtime. So, we weren't exactly sure what to expect from them in the future.
However, we were pleasantly surprised when we saw the results.
HostNine's average uptime during the past year was 99.97%, with almost three hours of downtime. During our testing period, they delivered a below-average result only in March and April 2020, where the uptime was 99.91% and 99.89% respectively.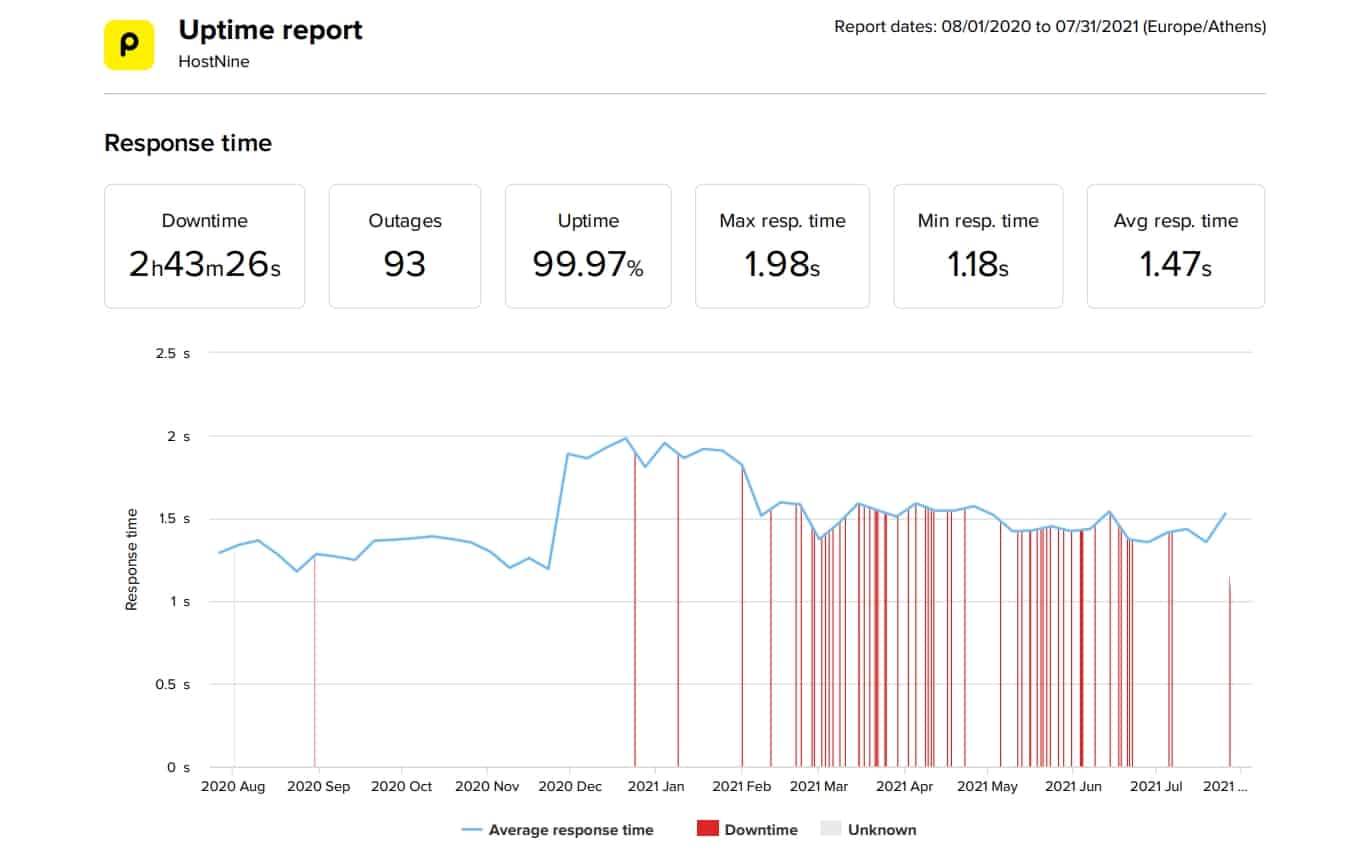 Last 12-month average uptime:
July 2021: 99.99%
June 2021: 99.93%
May 2021: 99.95%
April 2021: 99.89%
March 2021: 99.91%
February 2021: 99.97%
January 2021: 99.98%
December 2020: 100%
November 2020: 100%
October 2020: 100%
September 2020: 100%
August 2020: 100%
2. User-Friendly Registration and the Sign-up Process
Most of the major web hosts were started back in the 1990s or early 2000s. Their websites, for the most part, look like it.
Many are outdated, difficult to use, and simply unappealing. They're tough to navigate and find simple information, which only becomes more problematic on mobile devices (which weren't around when some of these websites were originally designed from the looks of it).
Thankfully, HostNine has a contemporary website with clear organization and attention to information hierarchy that makes your life simple.
Hopefully, that attention to detail and focus on the user's point of view is a sign of things to come…
3. Ability to Choose from Different Datacenters
HostNine has data centers in six different locations, including the US, UK, Singapore, Canada, Australia, and Amsterdam. Even though it doesn't seem much, especially compared to LiquidWeb hosting which has 20+ data centers around the world, it's still better than having only one or two data centers to choose from.
However, it must be noted, that the cheapest shared hosting option can only be hosted in their US data center. You can choose your own location with their other premium plans.
4. Free Website Migrations
HostNine offers free website migrations for all of their new customers, as long as their previous host offers cPanel access.
No high, three-digit price to move your first site. And no per-site price if you have a lot of them, either.
That makes HostNine a great fit if you already have a suite of sites to manage.
5. No Renewal Price Hikes
HostNine also doesn't double or triple the renewal price of your hosting plan. Whatever you pay on the first day is the same that you'll pay on the last.
In comparison, other hosts will start their pricing at only a few dollars each month. Then, when it's time for your plan to renew, it jumps closer to ten or twenty a month.
So you thankfully don't have to worry about the same price hikes surprising you in a few year's time.
6. 45-Day Money-Back Guarantee (And Prorated Credits)
HostNine offers a full 45-day refund. If any new customers are unhappy for any reason, you can get everything back, minus the cost for any "domain name, SSL certificate, WHMCS license, dedicated IP address, and processing fees" according to their Terms and Conditions.
HostNine's 45-day timeline covers the full refund amount. However, if you want to ask for a refund one year into a three-year deal, they will offer to refund a prorated amount.
That's a great deal considering many other hosts don't extend this same luxury. So once your initial refund window closes, you can't get back anything else that was prepaid (no matter how long).
Refunds will be made through the original payment method of credit, debit, or PayPal. Checks, money orders, and wire transfers are not eligible for a refund.
7. Good Support Experience
HostNine comes with 24/7 live chat, ticketing support, and also has a vast knowledge base to browse.
We tested out their live chat support, and we're happy to announce that our experience with HostNine's customer rep was good. Our questions were answered quickly and customer support was knowledgeable.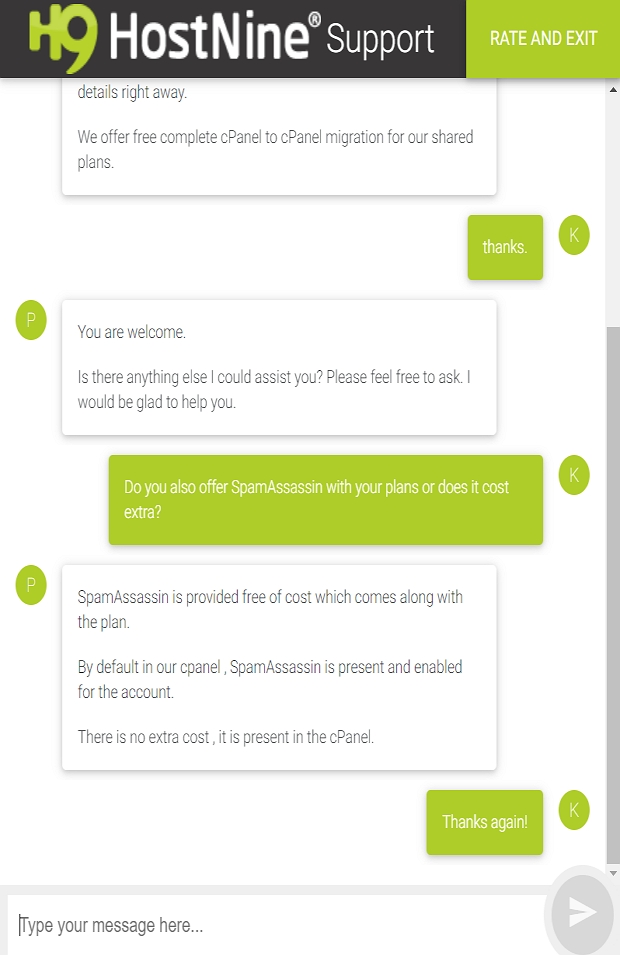 HostNine also offers priority support with their premium plans, where your tickets will be handled first in the queue. However, this applies only to registered users.
8. Easy-to-Use Dashboard and Control Panel
HostNine's client area is nothing overwhelming and is similar to many other hosts' dashboards.
From there you can access your domains, billing information, check your active services, and update account info if needed.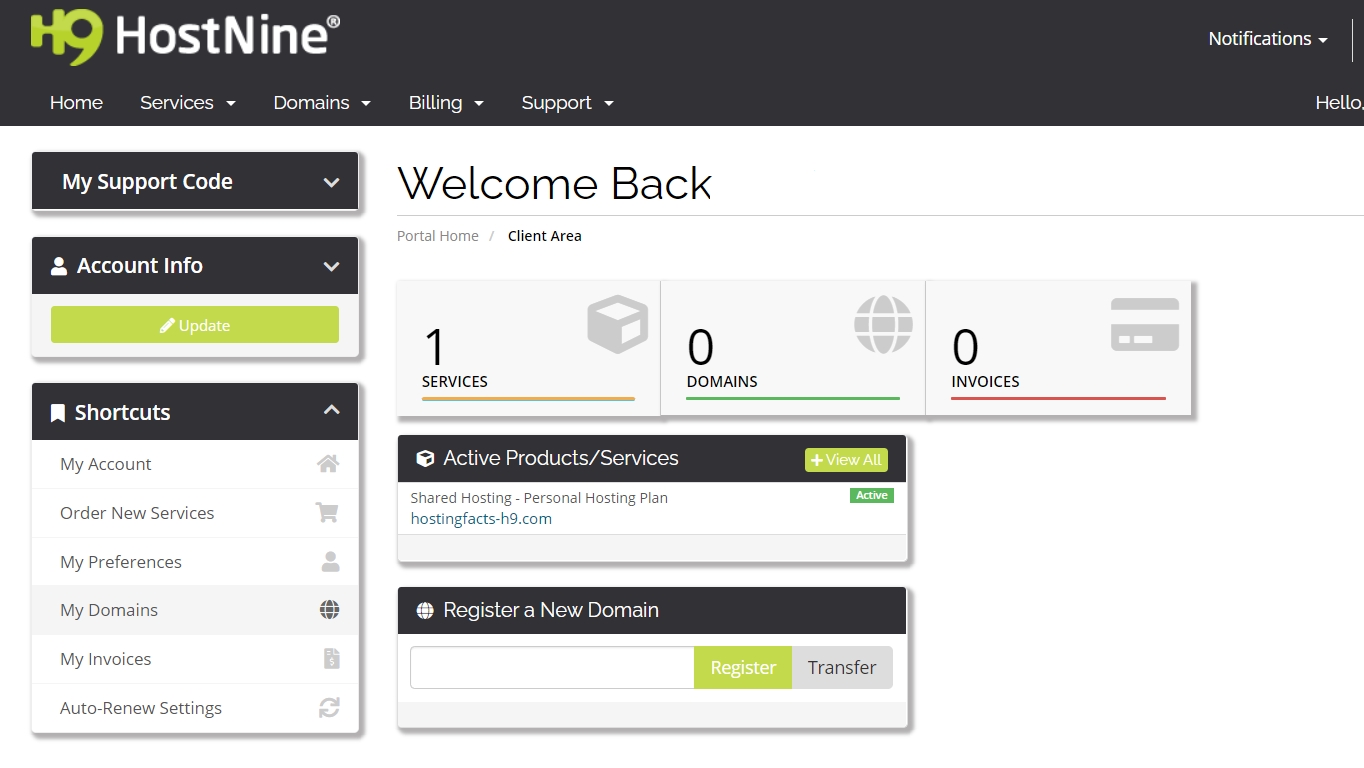 HostNine uses cPanel as a control panel. To login to your cPanel, you have to ask customer support for a special link. This is a bit unusual because normally there is a login option already included in the client area.
We're not sure why it is different with HostNine, though. According to their customer support, cPanel login is included in the client area only with reseller hosting plans.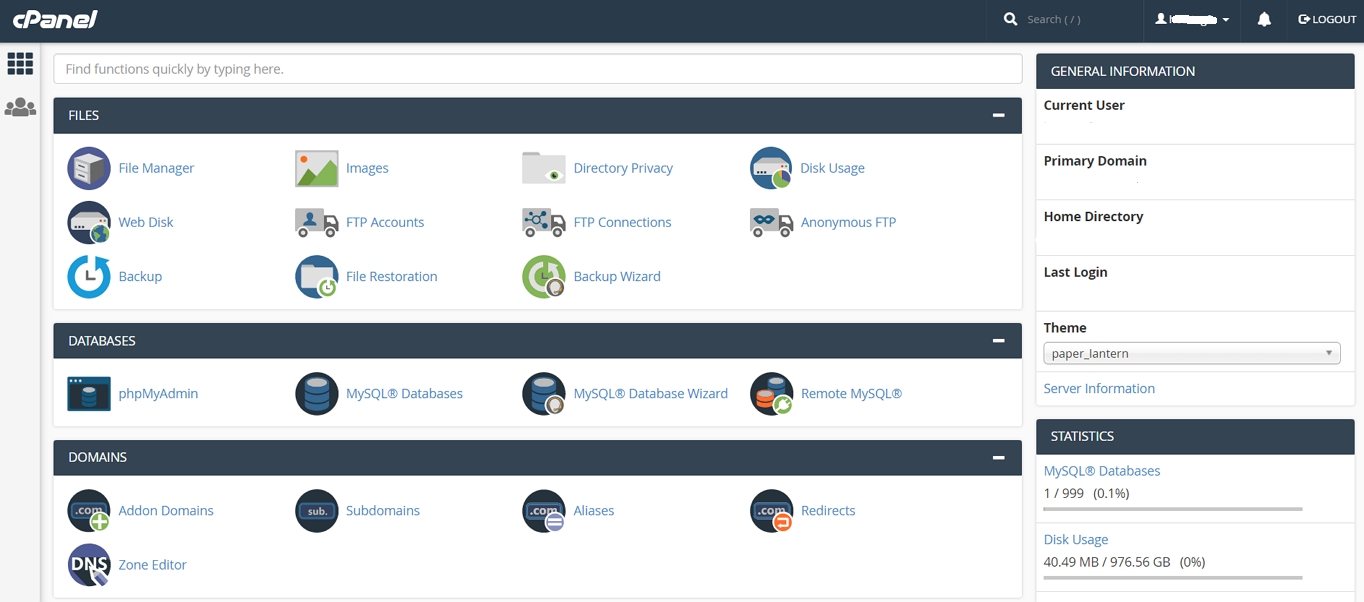 Overall, cPanel is simple to navigate around and you should find all the necessary things needed for website hosting without any problems.
Cons of Using HostNine Hosting
---
Even though HostNine started out pretty strong, there are still some downsides that can't be ignored (especially their speed).
Let's have a more detailed look at each of the cons.
1. Slow Page Loading Time – 1470 ms
HostNine delivered very slow page loading times during the 12 months testing period, coming at an average of 1470 ms. Unfortunately, taking more than a second to load a website is a no-go in today's internet world.
What's even worse?
HostNine's speed has been gradually increasing from month to month.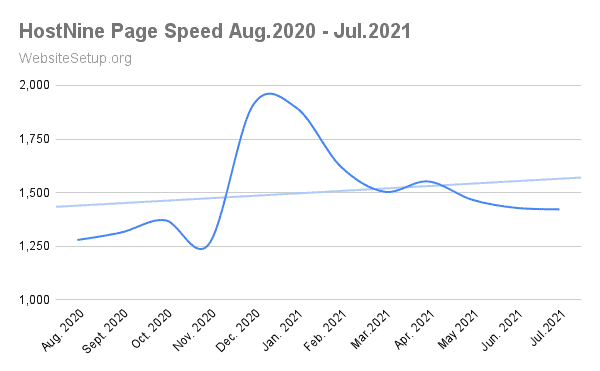 Google itself aims for websites to load in under half a second, and if the site's response time goes from one second to three seconds, the probability of bounce increases to 32%.
This will translate into decreased sales profit and also an overall negative user experience.
Definitely, something to look out for.
2. Limited Cheapest Plan
Even though HostNine comes with many unlimited features like storage, email accounts, and bandwidth, it lacks in many other important areas.
Let's start with the domain name.
Many other hosts offer a free domain already with their cheapest hosting plan. However, to get a free domain from HostNine, you'll need to sign up with their more expensive Business or Enterprise Plans. If you go with their cheapest plan, you'd have to buy a domain name for an extra fee. For example, the .com domain would cost you $15/year.
Moreover, HostNine's cheapest Personal Plan also has a limited amount of data center locations to choose from. With their other two premium plans, you have the ability to choose from four to six data center locations worldwide, but the cheapest plan comes only with the US location possibility.
And last but not least, HostNine doesn't offer free SSL Certificates and it would have to be purchased for an extra $39 (one-time buy). Free SSL is only included with their most expensive Enterprise Plan.
3. Expensive Pricing
HostNine might not increase your renewal costs, however, they only offer the cheapest rates if you sign up for the longest term. A single month will cost you $10.03, and it only comes down to $8.46/month if you sign up with their long-term plans.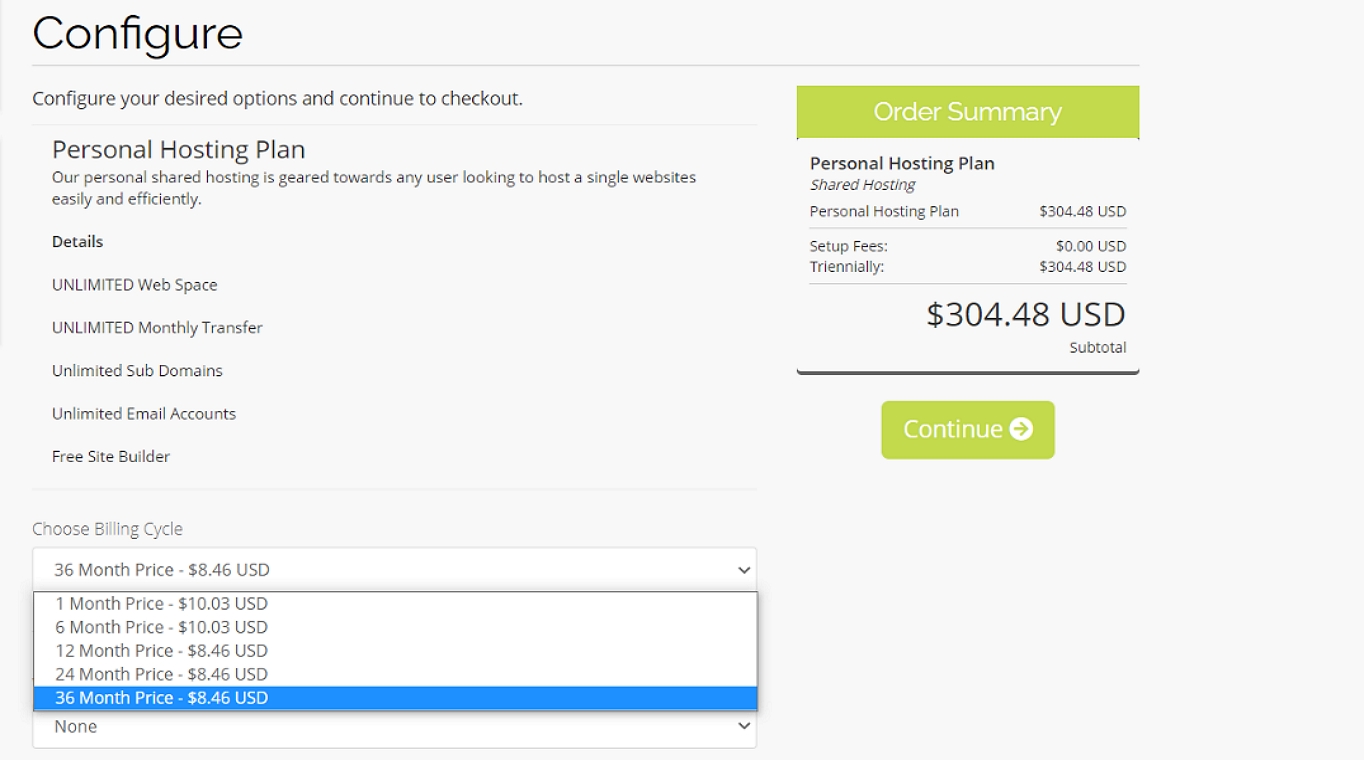 Taking into consideration how limited the cheapest plan actually is, then you're not getting much value from the price, especially compared to other cheapest hosts we're reviewed.
HostNine Pricing, Hosting Plans & Quick Facts
HostNine offers shared, reseller, VPS, and dedicated hosting – no matter what level of service you need, you will find it with them. Below is a quick overview of their shared hosting plans:
---
Personal Plan
Business Plan
Enterprise Plan
Pricing
$8.46/month
$13.42/month
$18.14/month
Websites
1
Unlimited
Unlimited
Bandwidth
Unmetered
Unmetered
Unmetered
Storage
Unmetered
Unmetered
Unmetered
Email Accounts
Unlimited
Unlimited
Unlimited
Other Features
• One Data Center Location
• Free Domain
• Four Data Center Locations
• Free Domain
• Free SSL and Dedicated IP
• Priority Support
• Six Data Center Locations
---
Quick Facts
Domain: Not free with their cheapest plan.
Ease of Signup: One-page signup. Very easy signup process.
Payment Methods: Credit Card, PayPal.
Money-Back: 45-day money-back guarantee with a prorated option.
Hidden Fees and Clauses: Money-Back Guarantee applies only for first-time accounts and add-ons are not refunded. A domain name is not free with the cheapest plan and SSL Security would have to be purchased for an extra fee.
Upsells: Very few upsells.
Account Activation: Very quick activation.
Control Panel and Dashboard Experience: cPanel.
Installation of Apps and CMSs (WordPress, Joomla, etc.): Quick and easy installation of popular apps and CMSs via Softaculous.
Do We Recommend HostNine?
Yes and no.
Even though HostNine performs well in many categories like uptime, customer support and offers plenty of unlimited features, we just couldn't ignore some downsides that are crucial for the overall performance.
HostNine's response time is way too slow to be overlooked and unfortunately, they haven't shown any improvement signs in that area yet.
Their cheapest plan is lacking in some must-have features (free domain name and SSL Certificate) that will cost you extra and will raise the initial, already expensive price even more.
Overall, HostNine is an average host and there are definitely some better hosts out there that will give you better value for a cheaper price.
---
---
Do you have any experience with HostNine? Please leave a review below – good or bad – doesn't really matter as long as it's transparent and honest.