Network Solutions is a hosting service that comes packed with a lot of awesome extras.
To begin with, it includes a website builder with all of its plans. You're also able to get a free domain for one year with just about any plan that they offer.
However, it lacks in a few areas (most notably security). While standard SSL protection is available and included in several subscription tiers, some do not have this necessary feature.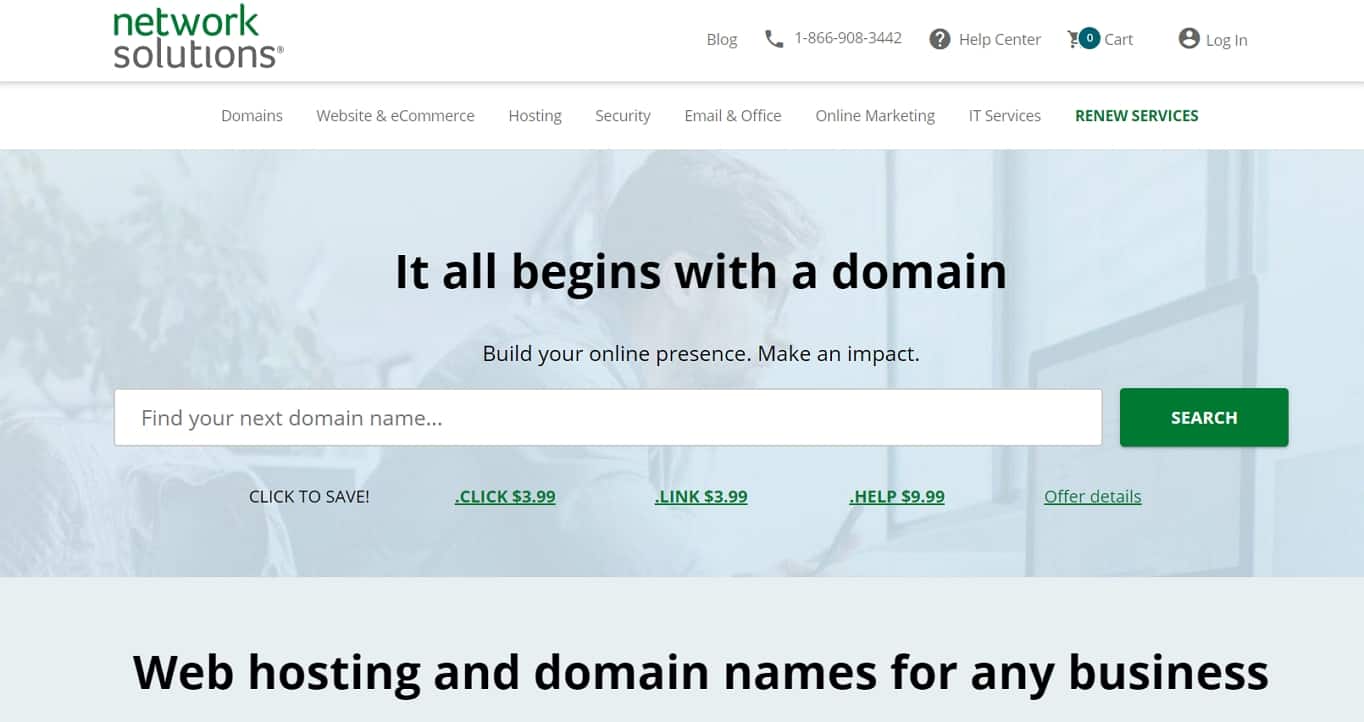 But can Network Solutions still win us over?
We intend to find out through this Network Solutions review. Whenever we review a hosting service we put it through a slew of tests to compare it with some of its biggest and best competitors.
Let's dig in.
General Info & Hosting Overview
---
---
Pros of Using Network Solutions Hosting
Network Solutions has quite a few perks going on for them.
Let's start with their customer support.
---
1. Fast Customer Support
Network Solutions offers phone, email, and live chat support options.

We tested out their live chat support.
When you open the chat window, you'll first get automated replies from the chatbot. If you're not able to get a solution to your concern, you'll then be connected with a customer support rep. According to Network Solutions, this should happen within 30 seconds. And it did.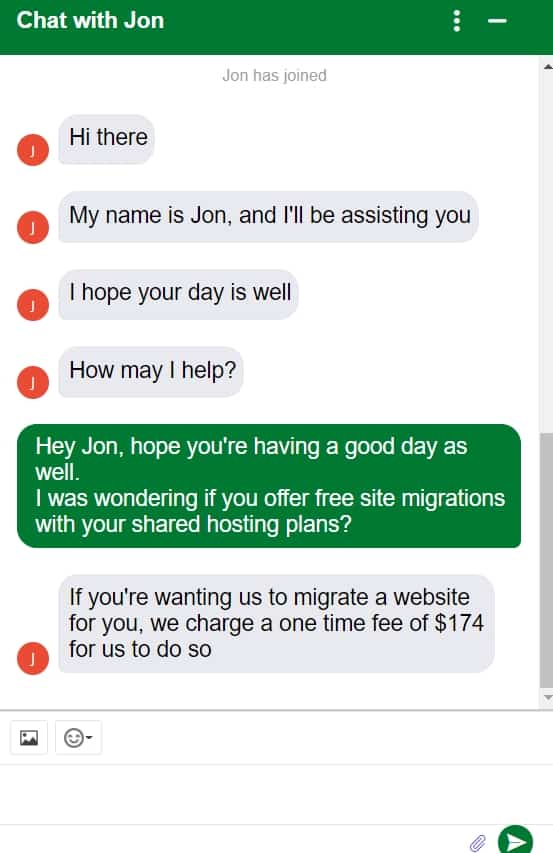 We asked some simple questions regarding their shared hosting plans and the customer support rep seemed overall knowledgeable and gave us quick responses.
Overall it was a good customer support experience.
Moreover, they come with a vast knowledge base if you prefer to find solutions to your hosting problems independently.
2. 30-Day Money-Back Guarantee
No-risk scenarios are always best when making a purchase.
If you spend money on a service and then find out that it doesn't truly meet your needs, you're going to want a way out.
That's why Network Solutions offers a 30-Day Money-Back Guarantee on all of its plans. You're able to purchase the hosting, try it out for a month, and decide whether or not you want to continue.
3. Free Domain
Most hosting plans with Network Solutions come with a free domain name.
While most domains cost under $20, it's still a nice gesture by the service. Some of the other hosting services that we reviewed don't give you a free domain name and some will not let you purchase one at all (like Cloudways).
When that happens, customers are more likely to gravitate toward a hosting provider like GoDaddy, which provides all in one place. It's good to see that Network Solutions wants to hold onto its customers by ensuring that all-in-one experience.
It should be noted that the free domain comes with most hosting plans. It is not included with the Starter cloud hosting plan and is only available when you purchase a cloud package with an annual term.
4. Includes Website Builder
While this is not directly related to shared hosting, it's worth noting that all Network Solutions subscription levels come with a free Network Solutions website builder.
This goes hand-in-hand with what we were just saying about providing an all-in-one experience. Using Network Solutions, you're able to acquire a domain name, build the website connected to it, and then host that website all in one place.
This is only included with the Cloud server, obviously. If you're using WordPress hosting, you're going to build your site on the WordPress platform.
We're not going to go too in-depth on the website builder's features, but you can use it to create an eCommerce, small business, or blog website. It also comes with built-in templates and a library of stock images.
Cons of Using Network Solutions Hosting
Now that we've covered Network Solution's pros, it's time to move on to their drawbacks.
Let's have a closer look at each of these.
---
1. Low Uptime (99.27%)
Network Solutions claims a network uptime of 99.90%.
But so does almost every other web hosting service.
That's why we conduct our own testing into these boasts, by creating a test website on their platform and measuring the uptime over several months.
And so far it has not been up to par with other industry leaders. Over the last year, their average uptime has been only 99.27% with 769 outages and three days of downtime. This result is definitely something not to brag about and makes Network Solution one of the most unreliable hosts we've reviewed.

Here's the last 12-months average uptime data: 
December 2021: 97.99%
November 2021: 99.71%
October 2021: 99.94%
September 2021: 99.98%
August 2021: 99.88%
July 2021: 99.73%
June 2021: 99.91%
May 2021: 99.76%
April 2021: 99.48%
March 2021: 99.38%
February 2021: 95.12%
January 2021: 99.93%
2. Very Slow Page Loading Speed (3.95 sec)
Speed is vital to the success of a business website from both customer satisfaction and SEO levels.
When you're selecting your web hosting service, you want to make sure that it can give you the speeds that you need. If it were to take up to five seconds to load your website, the probability that your prospective customer will click away from your site increases by 90%.
And sadly, Network Solutions is not that far off, with their average page loading speed of 3949 ms.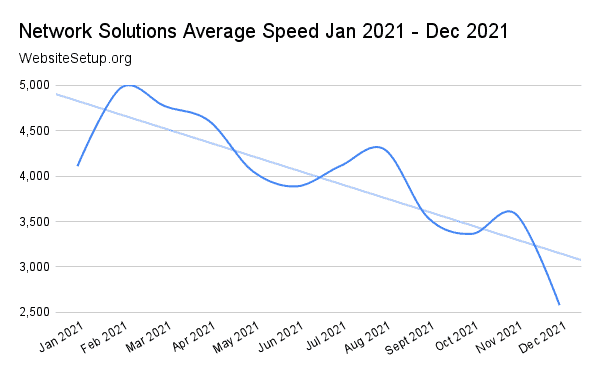 Network Solutions has been delivering over three-second loading times almost every month this year. On a slightly better note, however, there is a decreasing trend with speed, so there's a chance of seeing faster loading time in the near future.
3. SSL Security Costs Extra
Do you want your site to be labeled secure or not secure by Google?
It's not a hard question to wrap your head around.
Obviously, you want to be secure. But without an SSL Certificate, your site will be labeled not secure by Google.
That's why so many hosting service providers bundle some form of SSL security into their services.
And Network Solutions does…for some of them.
SSL certificates are only included with the most expensive cloud hosting plan and the two most costly WordPress plans.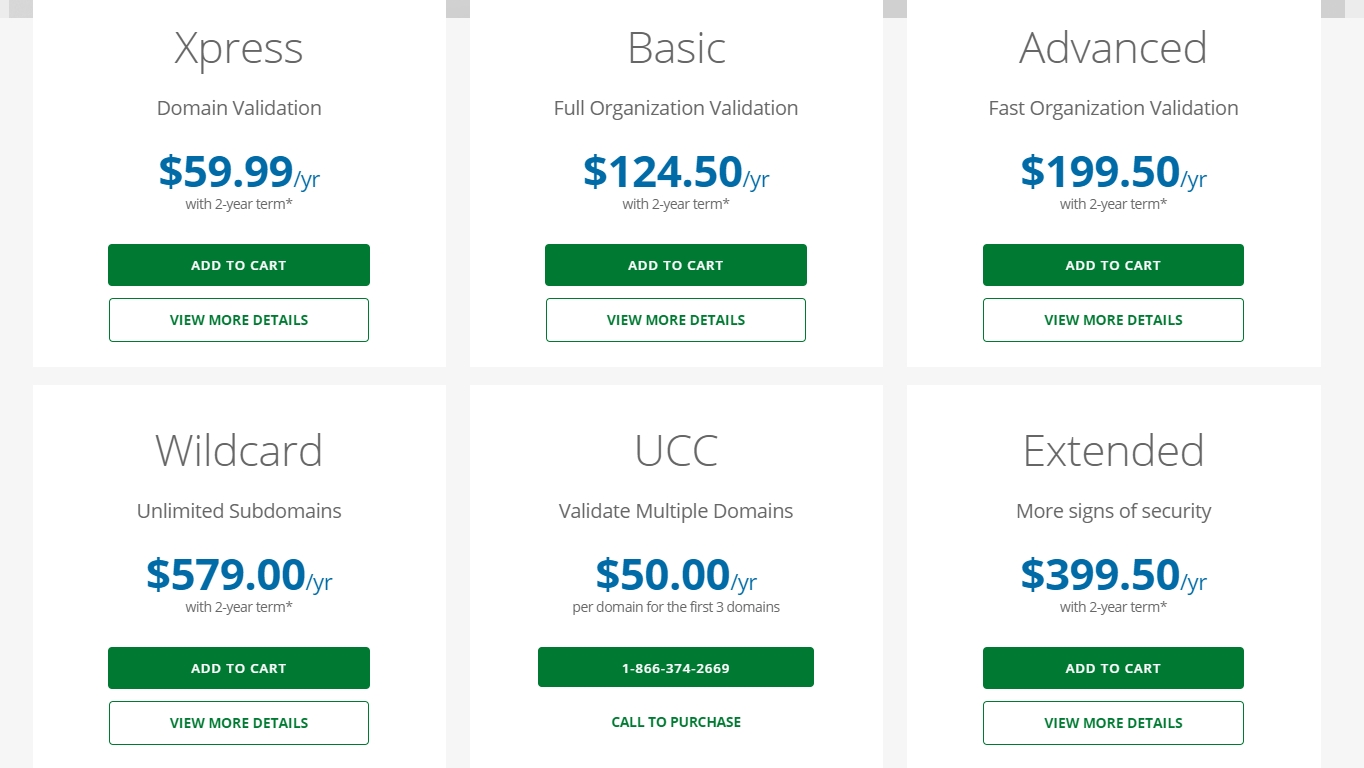 If you're not subscribing to one of those, the certificate (and overall security of your site) has to be purchased separately.
Xpress validation costs $59.99 per year for a two-year term.
Basic validation is $124.50 per year for two years.
Advanced validation is $199.50 per year for a period of two years.
Wildcard, which gives you unlimited sub-domain protection is $579 per year for two years.
The Extended SSL security is $399.50 per year with a two-year commitment
4. Site Transfers Are Not Free
A hosting provider always has to deal with new customers who have existing websites on other services. Those domain names then have to be transferred over.
Unfortunately, Network Solutions does not offer free site migrations and the price can vary depending on what is being transferred. For example, if you want to move your existing WordPress site over to Network Solutions, you would have to pay a one-time fee of $174.00.
That's a lot of money! Especially considering that a lot of other hosts offer free site transfers with their plans.
5. Complicated Control Panel
Network Solution has a custom control panel instead of the industry-standard cPanel.
This, of course, isn't necessarily a bad thing. Many other hosting companies, like IONOS and CloudWays, also use their own custom dashboard, but Network Solution's panel looks a bit outdated, especially compared to the before-mentioned hosts.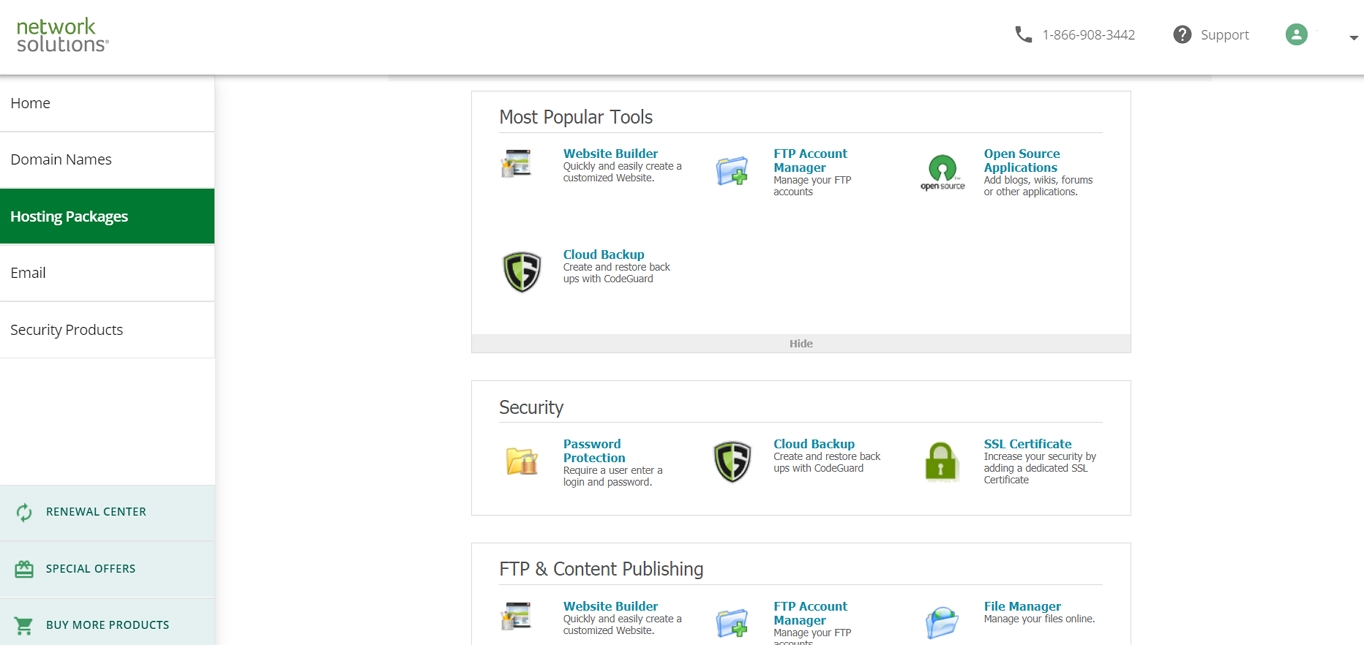 Under "Hosting Packages" you can access your website's security options, website builder, manage backup options, and more. You can also manage your domains and emails from the same dashboard.
Overall, Network Solution's control panel is not hard to use, but it seems a bit "crowded". Meaning there are too many clicks and scrolls needed to find your way around.
Network Solutions Costs, Plans, & Payment Options
We're going to cover both the cloud and WordPress hosting services of Network Solutions.
Let's start off with a look at the cloud hosting plans.
---
---
Moving on to WordPress plans, there are only three of them, and they do not require a commitment period.
---
---
Quick Facts
Free domain: Yes (only cloud packages with the annual term)
Ease of Signup: Easy signup process.
Money-Back: 30-day money-back guarantee.
Payment Methods: Major credit cards and PayPal accepted.
Hidden Fees and Clauses: SSL Certificate costs extra, site transfers are not free and domains are free only in cloud packages with the annual term.
Upsells: A few upsells.
Account Activation: Fast account activation.
Control Panel and Dashboard Experience: Custom control panel.
Installation of Apps and CMSs (WordPress, Joomla, etc.): 1-click install tool to easily install popular apps and CMSs.
Do We Recommend Network Solutions?
Not really.
Even though they are a good fit for midsize to large websites their uptime and speed are not stable enough to get our recommendation.
We also don't like the fact that site migrations and SSL certificates come with an extra fee.
On the good side, we're a huge fan of Network Solutions' all-in-one approach to hosting services and website building. You can get your domain, your email addresses, and build your website all in the same place. Moreover, the customer support is fast and knowledgeable.
But we can't ignore their uptime and speed. Until they manage to fix those crucial aspects of their service we can not recommend you to use them.
---
Have you used Network Solutions before? Please consider leaving a review below — good or bad — doesn't really matter as long it's helpful to our visitors. Thanks for your support.