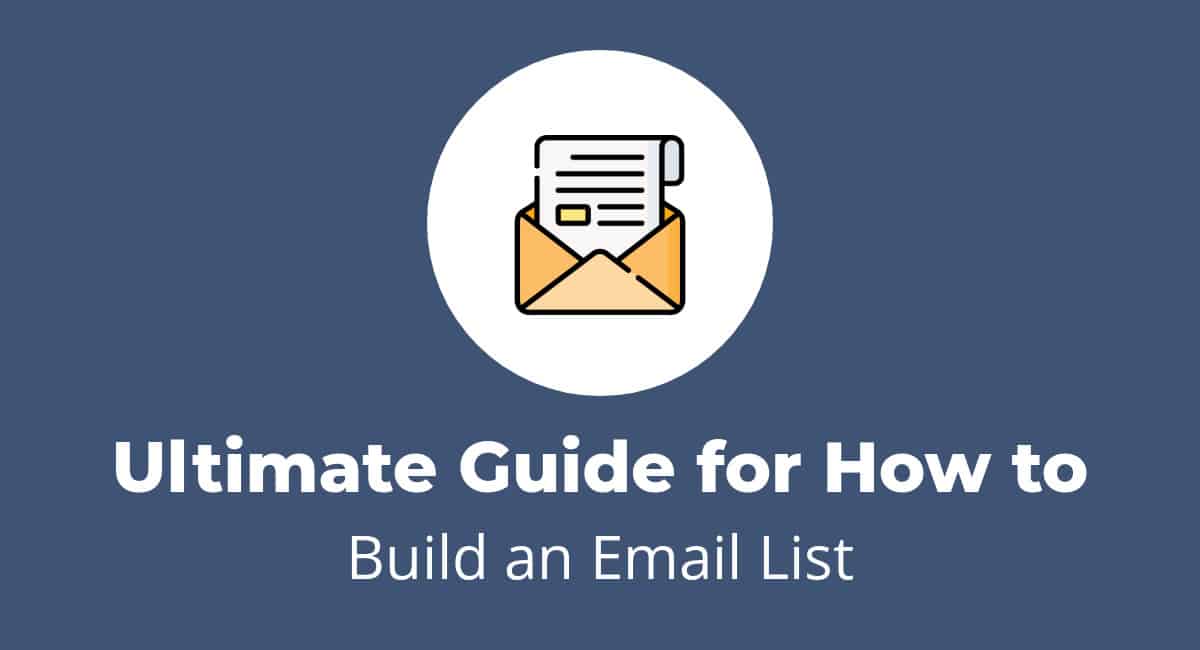 There's no doubt that email marketing is still alive and worth dealing with. Yet, there are some professionals who are sure that email is dead. They claim that social media have conquered our hearts and professional space and there's no place for emails.
No.
Email is a proven way of lead generation and moving them through the stages of the sales funnel.
This ultimate guide supports freshers and old sea-dogs. It contains proof of why email is worth your time effort, 40+ lead generation strategies and tactics, a few tools that will support you, and several lead generation sources.
If you are new to email marketing and would love to know how to build an email list, this article will help you. If you are a guru of lead generation for email marketing purposes, this article will hopefully disclose a bit more information to you.
Ready, steady, go!
Table of contents:
Is Email Marketing Worth Dealing With?
If you believe in the power of emails, this paragraph will only prove that your choice is correct. But if you belong to the ones who are dubious about email's might, let's show why you need to build an email list.
Numbers speak louder than words, and the recent stats will show how important email marketing is:
As you see, email marketing is not only alive in 2020 but also actionable and profitable. Professionals give preference to it and consumers love emails. Worth trying? Definitely.
How to Generate Leads: a Step-By-Step Guide
We've clarified that email marketing is worth dealing with. We also know that to start an email marketing campaign, professionals first need to build an email list.
Yet, you cannot just go and get email addresses out of nowhere. You need to know how to do it professionally.
To grow the leads' base like a pro, you need to first define your target audience, build the lead generation strategy, work on your landing pages, and choose instruments for further email outreach.
Here's a detailed guide on how to pass all the mentioned steps successfully.
Step 1: Understand Your Audience
Lead generation is an effort and time-consuming task. You can search forever and a day and yet, the result won't be as expected: new leads won't convert. This is why you need to analyze your audience.
With a clear understanding of your current clients, it will be easier to generate high-quality leads. The key data you need to know about your clients:
Location
Age
Gender
Education
Number of children
Income level
Industry
Company & company size
Position
Once the key metrics are defined, craft a buyer persona image.
A buyer persona is a generalized image of an ideal customer. There's no perfect scheme for a buyer persona, your imagination and research are the only limits. The more information you have about your ideal customer, the more targeted your email approach will be. So simple.
To craft a buyer persona, conduct deep marketing research on your current client base. This includes not only the data people have provided to you (like the company they work in, their position, demographics, etc.) but a bit more.
Besides the above-mentioned metrics, you may need:
Responsibilities
Skills
Daily routine
Buying intent
Decision-making criteria
Pain points
Professional and personal preferences
Negatives
Information resources they trust
Success factors
Goals and values
Preferences
Challenges and fears
Habits, motives, needs, etc.
A buyer persona image allows you to narrow the search of leads and get only highly-targeted ones. These people are the most likely to communicate with you and finally, buy from you. Here's how a buyer persona image could look like: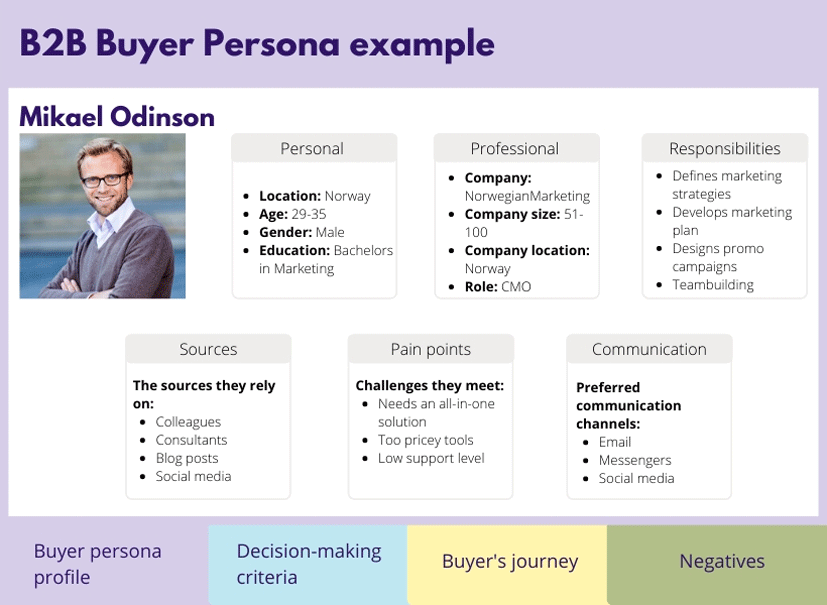 If your business involves a wide audience, you may need to create a few buyer personas. The more images you have, the more targeted email campaigns you will build.
Step 2: Craft a Lead Generation Strategy
Lead generation is the process of building a list of people who may potentially be interested in your product. The aim of lead generation is simple – find as many potential clients as you can for their further conversion into paying clients. This, in turn, will result in growing revenue.
When professionals speak about lead generation, they mention primarily 2 ways of doing that. These are inbound and outbound strategies. The key difference between these lies in the way you build your list of leads.
Within the inbound strategy, you attract leads. This way, they find you and start a conversation with you.
Outbound is contrary to inbound. Outbound tactics are based on your search for leads.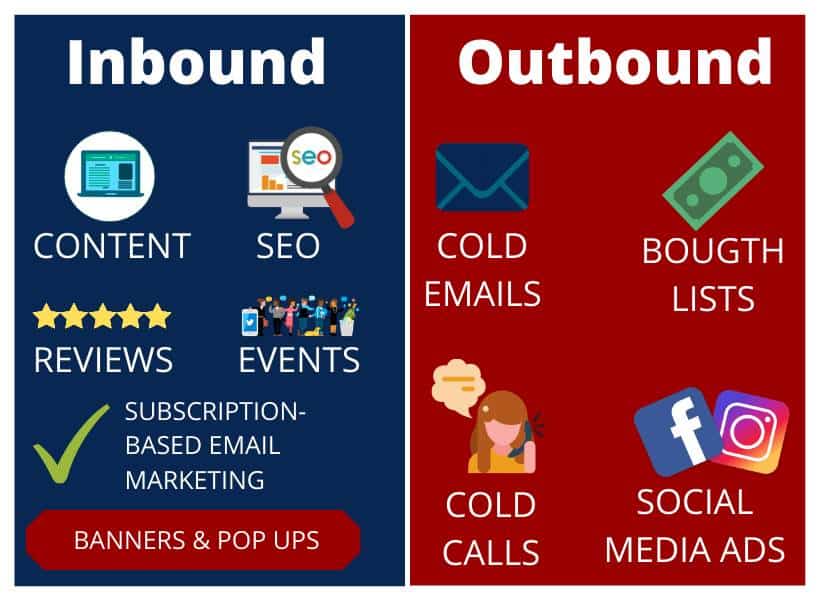 Whichever lead generation strategy you choose, the result will be the same, you will build an email list. Remember the golden rule: United we stand, divided we fall. To reach the best results, combine all the strategies and efforts. The more you invest, the more you will get.
Step 3: Design a Website
To generate leads, it's necessary to create a website. It could be a tedious task to create a huge website. In fact, it's not required. You just need to have a landing page or a few of them with opt-in forms. This way, you'll be able to generate leads right on your landing page.
Surely, the opt-in is not the only thing on the landing page, there should be other relevant to your leads information.
The key elements of an actionable and converting landing page are:
The main and supporting headline
Unique selling proposition
Key benefits
Picture, gif or video that demonstrates your service
Social proof
Closing argument
Call-to-action and/or an opt-in form
You can trust this task into the hands of a developer. Yet, remember that there are dozens of website builders on the web, both free and paid, and you can build a website yourself. Additionally, with a website builder, it would be faster and cheaper compared to hiring a dev.
So if you've made up your mind to design a website yourself, you can do this with one of the following tools:

Step 4: Choose Tools for Email Marketing
Before you start generating leads, choose the email marketing platform for further email outreach. The web bursts with offers, and it gets difficult to make a decision.
Here are the top features an email marketing platform should have for a successful email outreach:
An email campaign builder, preferably, an easy-to-use drag-and-drop one
Personalization variables to release a personalized approach
Triggers and delays to have the email delivered based on the user's behavior
Schedules to reach out to people according to the time-zones they live in
Plain-text and HTML emails for any purpose
Email and campaign templates to create professional email sequences fast
Email opens and link clicks tracking to know the key email campaign metrics
Advanced email campaign statistics to be aware of how well the campaign performs
Free trial to see if the platform is worth dealing with
A few extra tools in a set to save money
The required set of features is unique to every professional. We've just shared our preferences, and hope it would be easier for you to choose the platform for email marketing campaigns.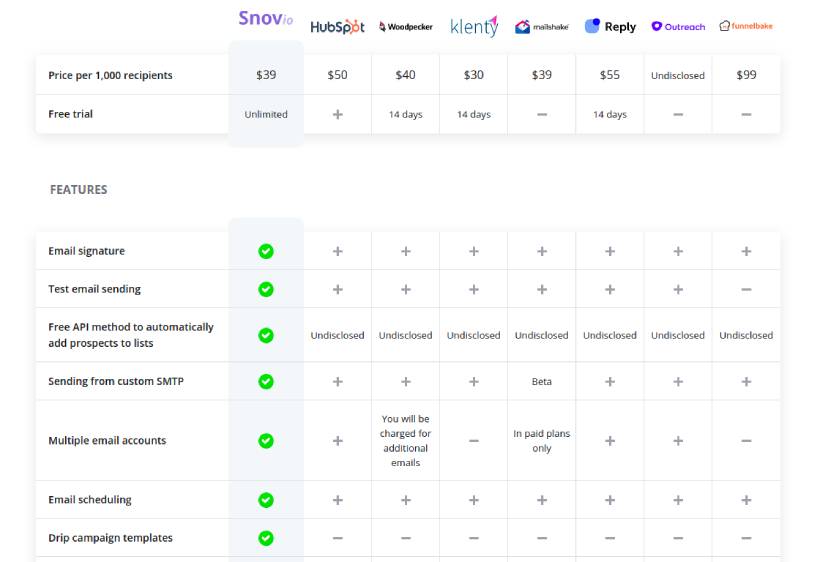 How to Grow an Email List: 40+ Ways
When you've analyzed your audience, built your lead generation strategy, created a website, and chosen email marketing tools, it's time to build your email list.
There are dozens of ways you can do this. In brief, there are landing pages with numerous lead generation options, events, well-crafted emails, content, social media, etc.
Design Landing Pages
Ready to boost lead generation with a set of landing pages? Here's how you can do this.
Tip 1. a Separate Landing Page for Each Tool or Category
Let's say you represent an all-in-one platform for email marketers and the number of tools you have is five. You will have to build landing pages for each tool.
Would the CTAs for an email finder and drip emails be the same?
Hardly so. Each tool serves its own purpose. An email finder gets email addresses while drip emails help you reach out to a large audience in no time. An opt-in form could be the same, but not the CTA.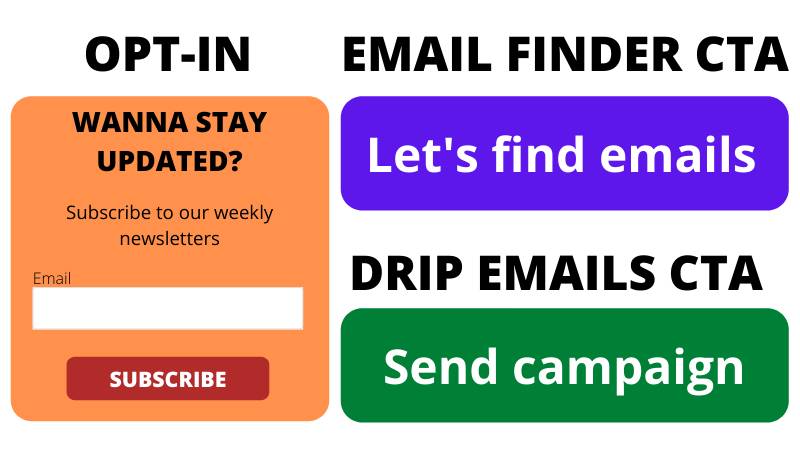 Tip 2. Affiliate Marketing Page
Referral programs are a new word-of-mouth tactic. You only craft an affiliate marketing strategy, decide on commissions, compose the affiliate terms, and create a landing page.
That's an opportunity for your current clients to get passive income. On the other hand, it's a way for you to grow your mailing list with fresh email addresses. Besides, you can add another pop-up with an email subscription form to it.
Tip 3. Testimonials
People won't listen to you speaking about yourself. They would rather learn what others say about you.
A landing page with testimonials or case studies will not only help your visitors realize how awesome you are. Such pages are an excellent opportunity for you to generate leads.
Create one landing page for the whole collection of testimonials and separate landing pages for each testimonial in particular. The more landing pages you have, the more leads you will capture.
Tip 4. Reviews
A landing page with reviews is an alternative to testimonials. It is easier to create and here's why. Not all of your customers would love to spend their valuable time answering questions for a testimonial page.
Collect the best reviews from social media and review platforms like G2 or Capterra. People are genuine and they will write the best things about you. Use this data to create a landing page and fill it with opportunities for an email list creation.
Decide on What to Implement on the Landing Pages
The landing page is your savior. Through it, you can build large lists of subscribers and get their email addresses. Yet, let's show you a few tips on how to build an email list through it.
Tip 1. Sign-Up Boxes
The simplest thing you could do is to design a sign-up box for your landing pages. Bright, visible, and call-to-action. Try to avoid multiple designs as such elements should be recognizable.
There are two key elements of a sign-up box, name (probably, full name) and email address. Some companies use only the email address line. We recommend asking for the leads' names and here's why. With their names, you could customize your emails and compose personalized messages – it's more pleasant to read a personalized email than a general one.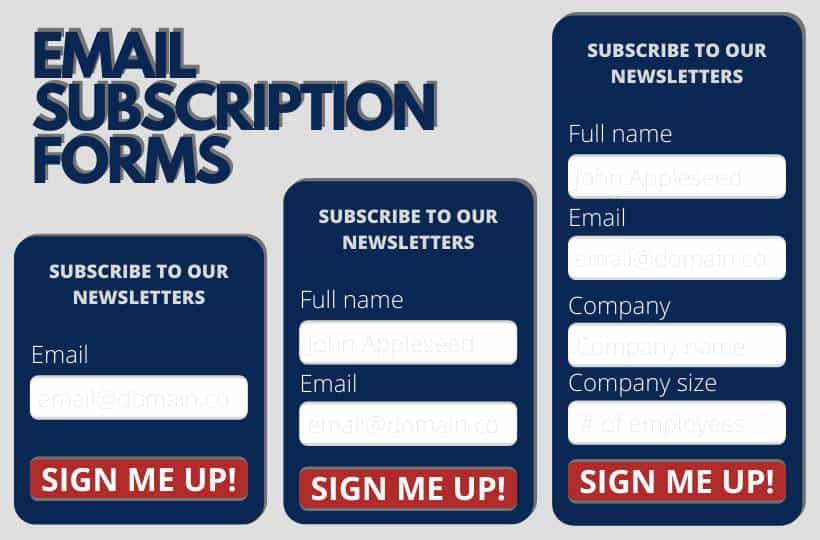 Tip 2. Pop-Ups
Visit any website, spend a few minutes there, and you will see how many pop-ups appear. There are thousands of them and each serves its own aim.
As far as your goal is to generate leads, craft an email subscription pop-up. Use the same lines for a subscription, email, and name. Here are a few pop-ups types you can add to your website:
Click pop-ups appear when a visitor clicks a definite picture or link
Time pop-ups emerge depending on the time a person spends on a landing page
Scroll pop-ups cover the landing page when a person scrolls the page down
Entry pop-ups show as soon as the landing page downloads
Exit pop-ups blow in when a visitor is about bouncing and don't let them leave the page
But don't forget to make a Close button or link. Otherwise, the website retention will go down.
Tip 3. A Hello Bar
A hello bar is a line with a short text and a CTA at the top of a landing page. Its aim is to attract visitors and call them to action, move to another webpage, subscribe to a mailing list, get a discount, etc.
Tip 4. Feedbacks
Enjoyed our website or would like us to improve? Let us know.
These simple words on a pop-up will help you get the addresses and build your email list. Someone would love to thank you, another one would like to give a little advice, the third one would ask you something. It's your chance, don't lose it!
Tip 5. Timed Pop-Up Surveys
You won't offer your visitors to take a survey when they just visit your website. Instead, a timed pop-up survey will play into your hands. If a person gets interested in your landing page or content, they may want to participate in a survey.
Here's an example of a 2-min survey you can implement (created with Qualaroo).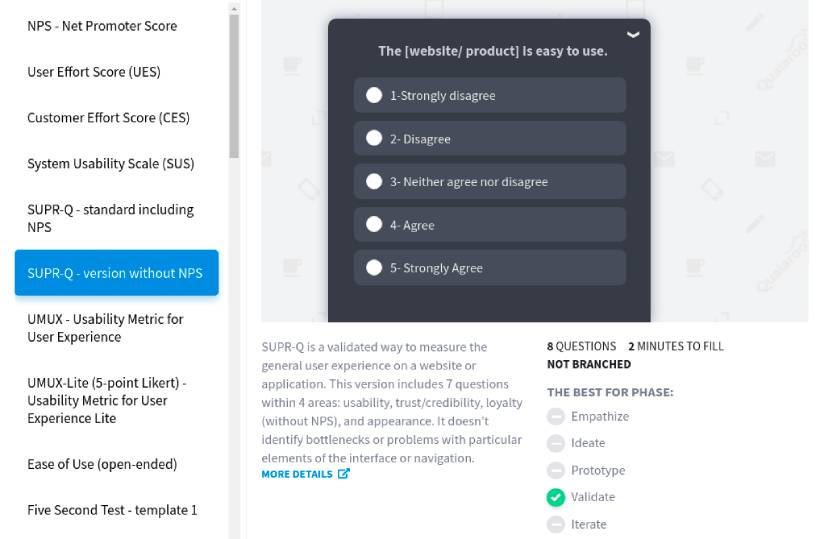 The visitors will have a short rest, and you will get valuable insights and their email addresses. Win-win.
Tip 6. Scroll-Boxes
You can think of scroll-boxes in two ways. A box appearing on the whole page or in the corner of the window while a visitor goes down the page. The second option would not drive people mad as the first one. It's more neutral, doesn't interfere with the page content but is still attracting attention.
Tip 7. Free Trials
If you are in the B2B niche and your service is paid, why not offer a free trial or even a freemium to new-comers? You are losing nothing but it's your opportunity to gain more leads whom it will be easier to later convert.
To register, they will have to use their email addresses (obviously). Here are the options you can use:
Top menu
Left or right-side opt-in
Pricing page
Tip 8. Discounts
There's no such thing as free lunch, everything comes at a price. Whether in B2B or B2C, offer your first-time visitors a discount. Of course in exchange for their email address.
Who will refuse from a cool discount or a gift for an email address only? Personally, we cannot resist such a temptation. And we're sure we're not the only ones.
Tip 9. Lead Magnets
People love content. Infographics, comparison pages, researches, statistics, and so much more. Your imagination is the only limit. Create downloadable freebies and share them with your potential clients.
Don't forget that your aim is to build an email list. This is why don't just give them away for free. Offer people to download your valuable content in exchange for their email addresses. Such a tiny thing to share but so essential to you.

Organize and Participate in Events
Different kinds of events and webinars are a great opportunity for professionals to expand their audience. During them, you find potential clients, and potential clients find you. The key thing: be active and don't be scared to start a conversation.
Moreover, you can not only visit events but also organize your own ones.
Tip 1. A Webinar Registration
You are a professional and you have something valuable to share with other people. So why not hold a webinar and grow your audience?
Surely, to participate in a webinar, people will have to register with their email address. Also, you can record and share it with others in exchange for an email address.
Tip 2. Conference Lead Generation
Whether you are going to visit or organize a conference, don't forget about lead generation opportunities. Come up to people, ask questions, offer them to watch a demo, suggest the exchange of your business cards. A business-like, professional, legal, and efficient way to build your email list.
Tip 3. Faires
You may have faires organized in your city. No? Do it yourself. Invite people and offer them a discount to their first (or next) purchase if they give you their email addresses.
Tip 4. Wheels of Fortune
Unfortunately, discounts and coupons don't always work. To reach their aim, professionals tend to create something new. One such invention is wheels of fortune. To spin a wheel, a person needs to register. You get another valuable email address while a visitor gets their lovely discount or free stuff.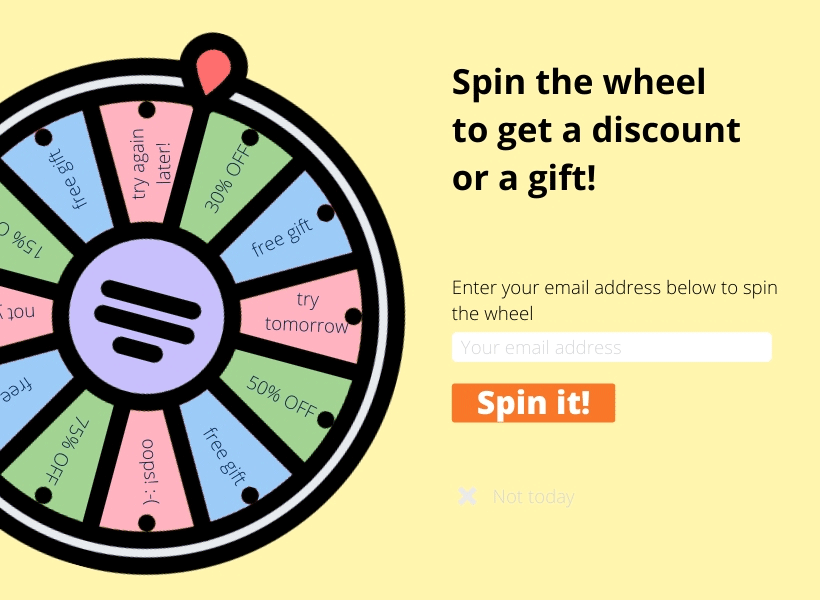 Tip 5. Giveaways
Who would ignore a free gift? Hardly anyone. Especially if the gift is valuable and wanted.
If you host an online bookshop, present the freshest book or the most-desired journal. Bookworms would be happy. If you have a social media automation tool, give free yearly access to your service. Do not limit yourself, be free-hearted, and you will be rewarded.
Tip 6. Challenges
Ice bucket challenge, Pillow challenge, Wear it, or eat it a challenge, Flip the switch challenge, and so much more!
People are excited about contests and gladly participate in them. Even more eagerly they invite their friends.
Think of an email challenge you can organize. Add an opt-in to your landing page. You will get email addresses, people will reach their goal and simply have a good time. Awesome!
Tip 7. Quizzes
A short quiz is a nice opportunity to relax for a few minutes. Create quizzes, entertain people, and get their addresses to build your email list.
Tip 8. Surveys
Another way to have a two-minutes rest is to complete a survey. Depending on the niche, it could be a professional or personal survey.
Yup, you will have to spend time creating it and connect it to analytics but the results won't be long in coming. You will not only generate a list of emails but also get valuable insights into what your current and potential clients need.
Tip 9. A free Online Demo
How often do you visit a website and cannot fast and easily grasp the way it works? It's more convenient to schedule a demo and communicate with a real person who will show you all the details and consult you.
Do the same. On a landing page, offer people to schedule a video-call and explore the full potential of your platform. And of course, the registration is through email.
Don't Forget About Your Email
You are emailing thousands of people every day, hundreds of new people reach out to you daily. Why not improve your emails to get the maximum out of it and build your email list?
Tip 1. A Converting Email
A professional email needs to be not only informative but also converting. You can create this sense of conversion by means of a subscription link.
Probably, your cold leads don't need exactly the stuff you are offering but your email newsletters could be of great interest to them.
Tip 2. Email Signature with a Subscription CTA
A signature is a professional element of an email. It should provide not only your name and other contact details but also be useful to your email list. Use a short text offering to subscribe to your mailing list. And of course, attach a link to an opt-in landing page.
Tip 3. Autoresponder with a CTA
Going on a vacation and set an autoresponder? Besides the general text, add a call-to-action: insert a link that will offer the email senders subscribe to your mailing list or lead them directly to an opt-in form.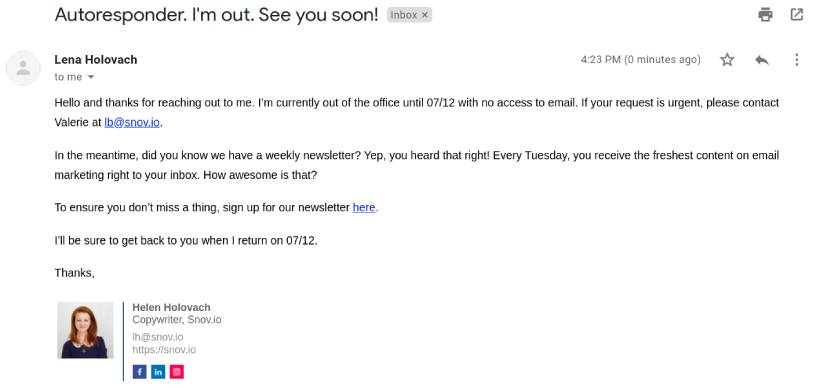 Be Active with Blog Posts
Content is one of the best ways to build email lists. Through it and its optimization for search engines, you can get to the highest positions and get visible. The higher the brand visibility, the more clients you will get.
Surely, a blog post itself is the best ad for your service. Start your blog and fill it with relevant content. Besides, engage people and push them to an email subscription. Here are a few ways you can generate leads through content.
Tip 1. Updated Content
Old content is bad content. It's not up-to-date, it's not relevant, it's twelve seconds ago. This kind of content won't get a high score in the search engine. To be on the top of Google, update your articles from time to time. This will result in higher rankings and attract more visitors.
Tip 2. CTAs Throughout the Articles
The simplest way to build an email list through content is to insert a CTA. This could be an anchor link or a subscription button right in the text.
Tip 3. In-Article Banners
With relevant content, it's much easier to build an email list. If the content is engaging and informative, people won't just scroll through the article, they will read it. And when people are engaged, they are more likely to subscribe. Set a timed pop-up to grow the engagement.
Tip 4. Scroll-Boxes
These things are close to banners with a slight difference. Scroll-boxes appear when a visitor scrolls the article or a landing page down. As soon as they reach a definite point in the content, a scroll-box with an opt-in form appears.
Tip 5. Premium Blog Posts
Research and create as best content as you can. And cheat a bit. Make these articles closed and share them in exchange for an email subscription.
Tip 6. Guest Blogging
Research and find influential bloggers within your niche. Reach out to them and ask for a collaboration. You can offer cross-posting or something in exchange for an opportunity to publish your post on their blog. If their blog has much traffic, you have a high chance to grow your audience, thus, your email list.
Tip 7. Comments
Once an article is published, don't leave it aside. People comment and they comment a lot. They need your answers and support. This is an opportunity to give some extra info to them and offer to join your mailing list. It may look like this: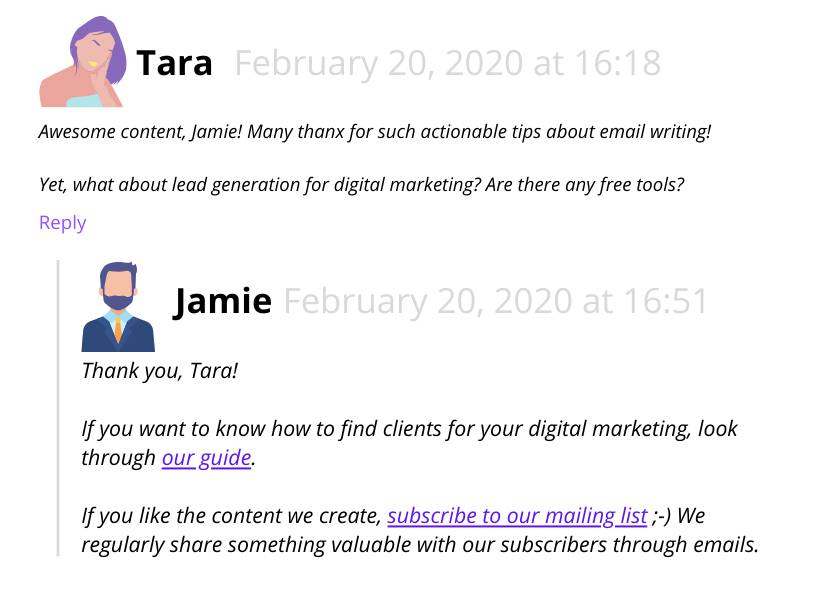 Tip 8. Knowledgebase
The knowledgebase is the best place to educate people on how to use your service. Moreover, don't forget that it is not only a place for your service usage education. It's also content. Thus, disclose information about general technical issues people may face. People love content. This is the reason why you should use it for lead generation.
Choose one of the customer service tools to craft a supporting and converting knowledgebase: insert opt-in forms, interlink articles, landing pages, add subscription links.
Tip 9. Academy
Academy is a win-win option, either free or paid. Create one and open it to subscribers only. People will get what they need, education; you will get what you need, a warm lead.
Tip 10. Glossary
Glossary is the right choice for you. This is another piece of content you can use for lead gen. Lots of useful educational information equals new visitors and conversions. Once again: an opt-in form, interlinking, banners, scroll-boxes. It's all in your hands.
Be Active on Social Media
Social media platforms are widely popular today. There are dozens of them on the web and their number is constantly growing. Millions of people check their social media profiles daily. And you, as a professional, need to remember about their power.
With the help of social media platforms, you can build your own email list, and here are a few ways you can do this.
Tip 1. Social Media Posts
In general, you need to be active on social media. To grow the brand's visibility, be active on your personal profile, and hire an SM manager who will be responsible for your company's profile, etc.
Whether you prefer LinkedIn or YouTube, be active. Publish posts, be engaged in the niche groups, comment, ask questions, promote your content. Share links to your landing pages where people can sign up for your mailing list. In your posts and comments, suggest people sign up to your mailing list to get the recent data and updates.
Tip 2. Facebook
With over 2.5 billion users on-board, Facebook is a great option to find leads for your online business. Besides, you can also use Facebook to build your email list.
Note that with an email finder it could be a waste of time. This is because people prefer to hide their email addresses from other Facebook users. Still, there are a few things you can use for email list building:
Profile cover image: Nature, pugs, and cats won't generate subscribers. But a bright call-to-action will (with a pug, of course). Engage people to subscribe to your mailing list through the cover image. At least one or two leads you will get.
A sign-up button on Facebook: In your profile, add a link to your website. In your company profile, add a subscribe-to-newsletters button.
Closed group for subscribers-only: Create a closed group and invite people to it, share the link to it in your profile and other social media. Something behind seven seals burns a desire to discover it. To join the group, people will have to leave their email address. And you will pick it.
Posts in groups and in your profile: Find the most popular groups in your niche, follow them, comment, invite people to your website, advertise your service, offer to subscribe to your mailing list (where appropriate). In a word, be active.
Tip 3. Twitter
Twitter is rather popular among professionals. There are two things you can do there. First, tweet. Yup, posts on Twitter are limited in the characters' number but still, you can take advantage of it and invite people to your mailing list.
Secondly, pin a twin in your profile with a CTA. The CTA is obvious and simple. Something like Subscribe to our mailing list to get the newest posts.
Tip 4. LinkedIn
LinkedIn is a platform for the B2B niche primarily. So if you represent a solution for other companies, use LinkedIn to the fullest!
Here are a few ways you can generate leads on this professional social network:
Like, comment, and share posts of your team members
Follow your corporate profile and connect your colleagues
Add a link to your landing page in your bio
Insert a CTA into your bio
Connect to your company profile
Publish and comment posts in groups
Tip 5. YouTube
There's a large audience on YouTube and it's your chance to build an email list. You can use YouTube videos in two ways.
Add a subscription link in the video description besides other text. If the content is relevant, valuable, exciting, and informative, this link would engage people to subscribe to get even more exciting content. Also, you can insert an in-video subscription button. Something like this: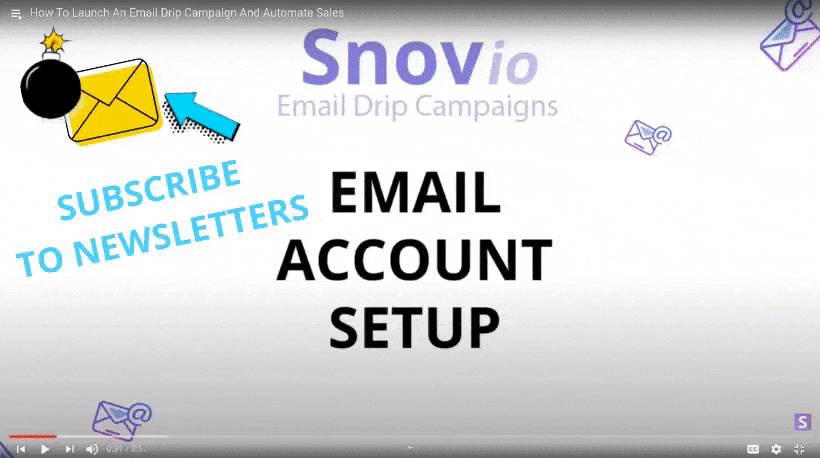 Tip 6. Quora
Thousands of people ask questions on Quora daily (3 to 5k every day). Use this opportunity to educate people on the one hand and to grow your list of subscribers on the other hand. Add CTAs in your answers, attach links to your landing pages or content. There, people will not only find the answers they are searching for but also subscribe to your newsletters.
Tip 7. Instagram
Whether you have only your personal or company's profile, add a CTA link into your bio. Publish photos and stories, insert subscription links, and engage people to follow you and subscribe to your mailing list.
Tip 8. Medium
On Medium, you can publish different articles, from short notes to huge photographic reports. And of course, insert CTAs throughout the article and in your profile.
Reach Out to Influencers
Influencer marketing is the modern way to reach out to large audiences and generate leads. It could be a bit pricey, so this method would suit rather medium and large companies.
Think of YouTube and bloggers who publish their videos and reviews. How often do they insert some ads within their vids? Often, probably in every video. Anyway, thousands of people subscribe to their channels and follow their advice. And all that's because people trust their influencers.
Find the influencers in your niche, reach out to them, and offer them a collab. They will get money, you will get new subscribers and clients. Besides money, you can offer them your product for free or send them some presents.
Start Your Own Podcast
People are busy today and may not have much time to watch videos or read blog posts. Yet, podcasts are a solution. People love listening to podcasts on their way to work and home. Someone, maybe, would listen to them at work to relax a bit.
It's your chance to build an email list. You can duplicate information from blog posts or publish something new. Just be relevant, exciting to listen to, and converting. Credible data leads to more subscribers, leads, and clients.
Generate Leads With Special Tools
Cold email outreach still works. This is the reason why marketers and sales reps, besides the above-mentioned techniques, use email finder tools to build their email lists. Such tools are a failproof way to get high-quality leads for your business.
Lead Generation Tools: Comparison
On the web, there are dozens of email finders, and it can be a stunning task to choose the best one. The choice always depends on price, set of features, and ease of use.
With a few years in email marketing, we've used several instruments and know what professionals need. Here are few lead generation tools and where to find leads for outreach.
Snovio Email Finder
Besides other tools, the all-in-one platform Snovio provides an email finder that helps professionals search for email addresses on the web. The instrument offers two options to build an email list, from a web application and through a browser extension.
The Email Finder Chrome extension helps you find emails on LinkedIn, corporate websites, and search engine results page. Through the web app, you can perform:
Single and bulk email search
Get emails from a list of social URLs
Single and bulk domain search
Boolean search
Company profile search

Benefits: full prospects' profiles, a set of tools and features for cold outreach and sales (email verifier, drip campaigns, email tracker, teamwork feature, advanced prospect management, integrations, etc.).
Price: Free trial; $39-199 per month.
Hunter
Hunter is an alternative tool for Snovio. It helps build an email list in a matter of minutes. The variety of search options is a bit more narrow compared to Snovio. With Hunter, you can search for professional email addresses one by one or generate emails from a single domain.
The payment unit is a request. It equals a search by one domain (if there's at least one address is found), a single found email, or an address's status. Besides an email finder, you can use Hunter for email verification purposes and sending cold email campaigns.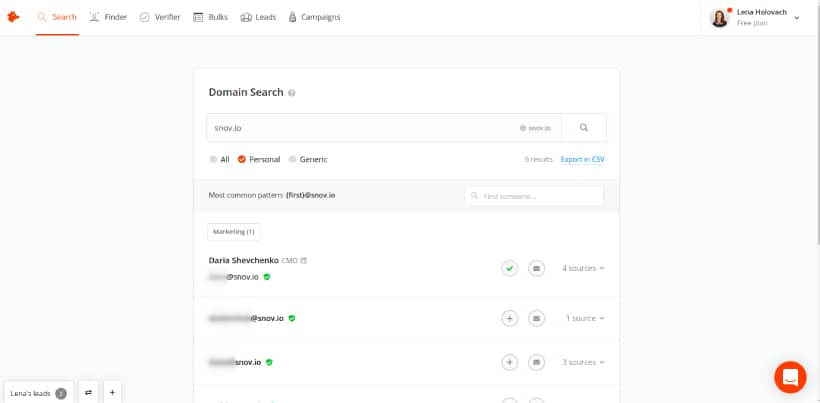 Note: when you are performing a domain search on a free account, the platform provides a list of the first 6 contacts. To get more email addresses, you have to go premium.
Benefits: prospects list export (in paid plans), email verifier, cold email campaigns sending feature, custom plans.
Price: Free trial; $49-399 per month.
Where to Generate Leads
With an email finder chosen, decide on the lead generation source. We've already mentioned the three key places to search for leads. They are the most professional and proven sources of leads. Especially, when we are talking about the B2B niche. They are the professional social network, companies' websites, and search engine results page.
On LinkedIn
LinkedIn is a proven source of leads for the B2B niche. There, you can find as many qualified prospects as you need and get their email addresses. There are two options for that – you can either search for email addresses manually or use an email finder tool.
For the first option, open the person's profile and click the Contact info link. This method is time-consuming. Also, not every person makes their email address visible to everyone. This is where an email finder will help you.
For example, if you are using the Snovio Chrome extension, open the profile and activate the extension. Select the list of prospects and click the Find Emails and Save button.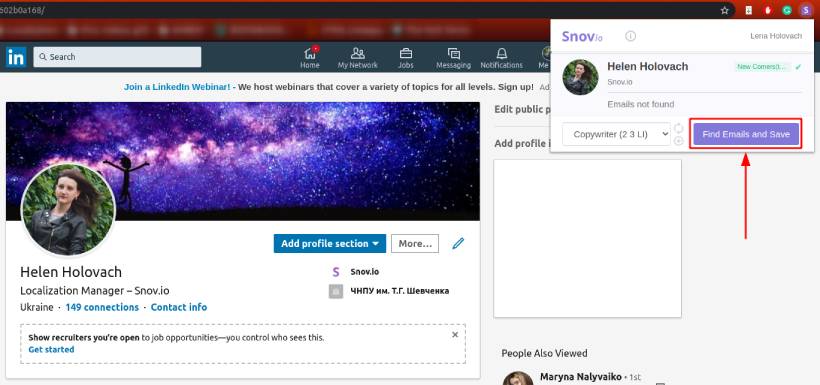 Also, you can find emails in a few other ways too, on a company profile page and on a search results page. Open the respective page and activate the extension to save the email addresses.

Email finders are a fast and proven way to build an email list through LinkedIn. Use them to generate leads in a matter of minutes.
On a Company's Website
If you need to reach out to a group of people who represent a specific company, or you don't know for sure whom you'd better write to, an email finder will support you. With it on board, you can generate email addresses of all people who work for a company.
Yup, you can go to the About page and find the contact details of any person. But what if they do not leave their email address visible or have no such a page? An email finder will help you in this case too.
Just open the required website and activate the extension. The rest of the steps are the same: choose the list and save emails. In a few moments, you will have all the email addresses associated with the company.

On Search Engine Results Page
This way to build an email list is the widest. If your search is not limited to a company but to industry, for example. It can take you long working hours to get all the domains manually. Yet, an email finder is at hand!
Open a search engine, type in your request, and activate the finder extension.
Note: the extension will provide a list of domains, not emails. Save the domains to later find email addresses from every domain.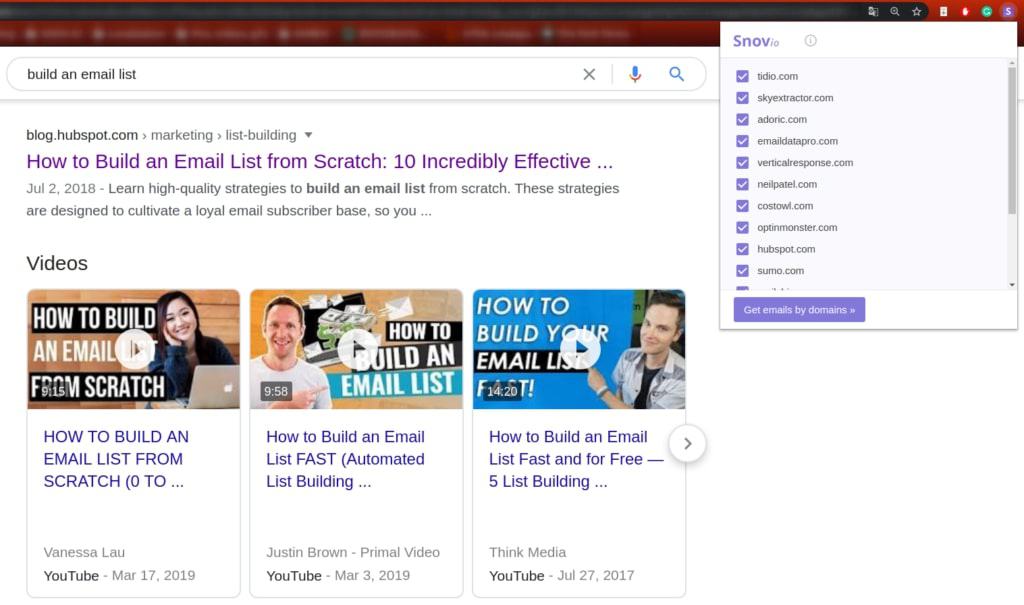 Voila! A list of leads is ready for further outreach.
Extra Tips
Once you build a list of leads, your work doesn't end here. There are still a few steps you need to take to get sure your outreach is high-quality. Follow these few tips to be on the safe side:
Keep your mailing list clean. To not spoil your sender's reputation and grow the bounce rate, you need to be sure every email you send will reach the intended recipient. For this, you need an email verification tool. They check email addresses on your mailing lists and delete the invalid and catch-all ones. This way, your reputation is under protection.
Do not buy email lists. Purchased email lists are not a safe way for a professional. You never know how many emails on it are invalid or catch-all and how your reputation may be damaged. You'd better build your own email list.
Send automated emails. Manual email sending is out-of-date already. Professionals have switched to automation tools like drip emails long ago. Choose an instrument that fits your needs and reach out to every lead in person.
Conduct A/B tests for your email campaign. If you want to reach the best results with your email campaign, you need to analyze every email. For this, conduct A/B testing to find out which elements work best and which ones need improvement and changes.
Optimize your website. To be sure the conversion rate is high, optimize your website. Optimize it for mobile devices and optimize the website download speed. Keep in mind that the more plugins you use, the slower the website downloads. Make the website UI user-friendly and easy-to-navigate.
Ready for New Leads?
Congrats! The list of possible ways to build an email list is over and now, you are a guru of lead generation!
To grow your mailing list, you don't need to spend thousands of dollars monthly. You only need to thoroughly think of the strategy:
Choose the lead generation and email marketing service
Create a website with calling-to-action landing pages
Design opt-ins, banners, and pop-ups
Participate and organize events
Be precise about your emails
Work on your content and share it
Be visible and active on social media
Collaborate with influencers and bloggers
Any questions? Objections? Or would you love to share other tactics that work for you? Share them in the comments below.