You've built a website. Not just any website —  but one that attracts good traffic and even earns some money.
But what happens next?
You can keep working on it in hopes of making it even more awesome. Or you can sell it to someone else and focus on a new site or another project.
As you've guessed from the title, in this post we'll explain how to sell a website for a good profit. You'll learn exactly how to price your website, where to list your website for sale, and how to navigate the website sales process from listing to ownership transfer.
Ready? Let's dig in.
How to Sell a Website in 3 Steps
Selling your own website may seem overwhelming. Where do I find buyers? What price do I name? How can I avoid getting scammed?
Our brain goes into panic mode when facing the unknown.
So let's first break down the selling website process into three main steps:
Now, let's zoom in on each of these steps.
Determine How Much is a Website Worth
Website valuation is tricky. There's no universal standard because different factors impact the price — website type, traffic, business model, and monthly profits.
If you are already making money from your website, use the earnings multiplier to estimate a ballpark price.
A typical earning multiplier is between 24x-36x your monthly revenue. So if you earn $2,000/mo, you can put $48,000-$78,000 as an asking price.
But to make a better price estimate also factor in extra value drivers.
What Impacts the Website Price
Let's take a look at factors that impact website prices.
Domain Name
You already know that domain names come at a different price point. If you secured a short, brandable domain name for cheap a few years ago, its value might have increased twofold.
Check with a domain registrar how much similar domain names cost.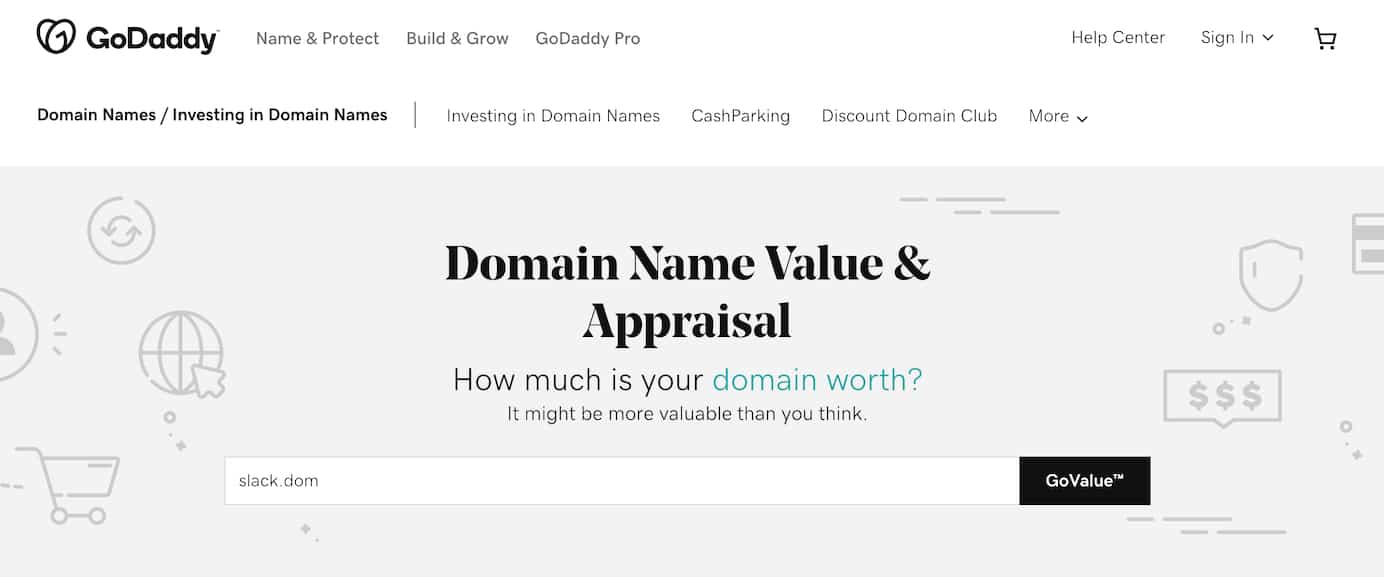 Also, if you own several domain extensions (.com, .org, .net), also factor these into a domain bundle price.
Finally, branded search volume — the average number of monthly searches for your website name — is another good point to command a higher price.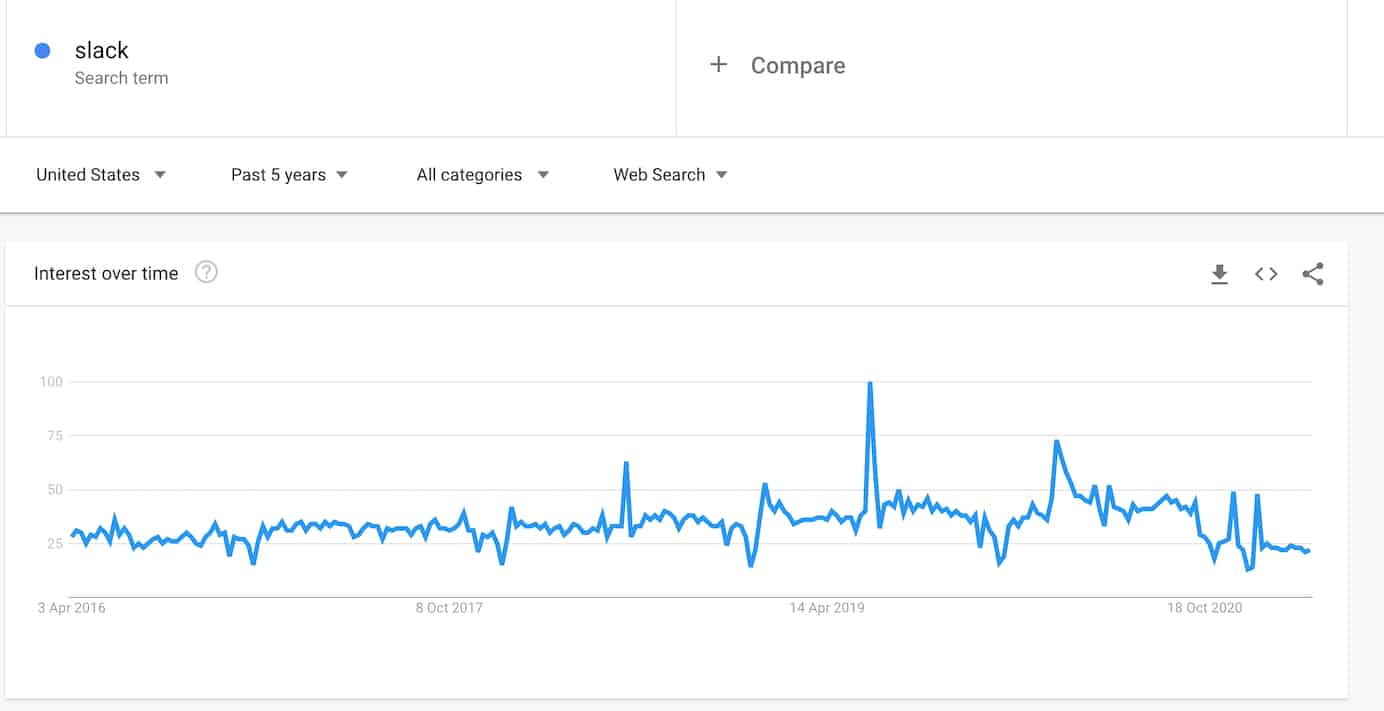 Organic Traffic
It's no secret that high-traffic websites are more valuable. Because more visitors equals higher chances of making a profit.
You can show your website traffic numbers from Google Analytics.
Also, Ahrefs puts a dollar value on website search traffic. They make a "Traffic Value" estimate, based on the amount of money the website owner had to invest in paid ads to achieve the same search rankings. This data can be a nice bargaining chip too.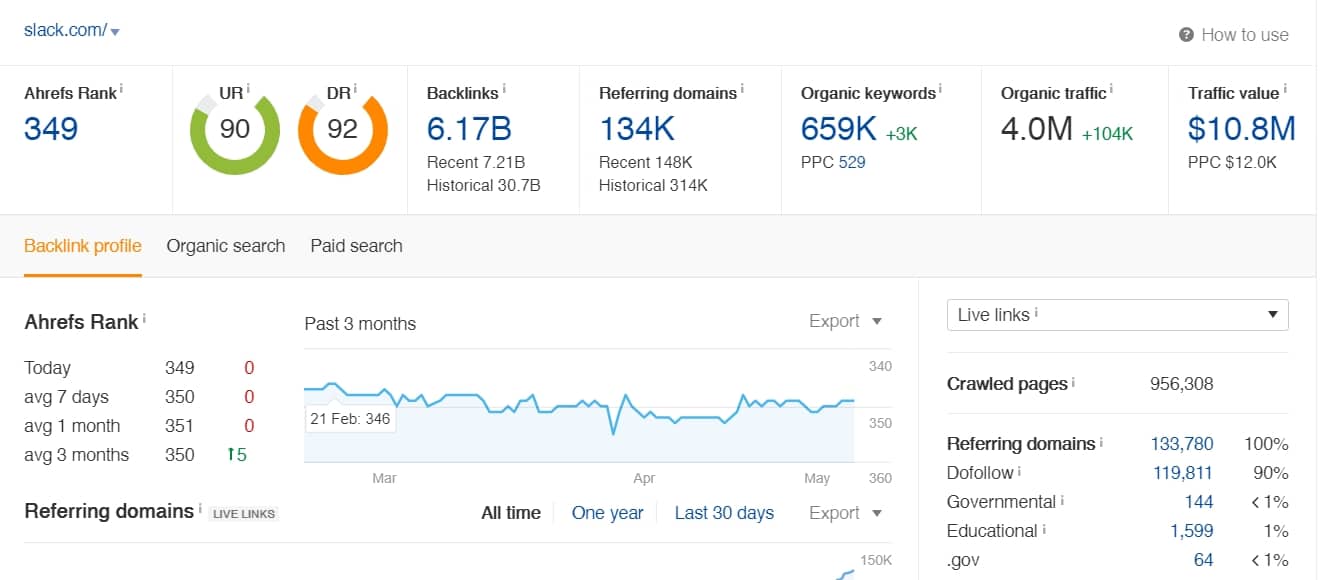 P.S. Your numbers look modest? Here are some strategies to quickly increase your website traffic.
Monetization Strategies
There are many different ways to monetize your website. You can sell digital or physical products, earn money from advertising and sponsored content, run an affiliate marketing website. Or use a combo of methods.
Each monetization strategy, however, has a different earning potential. For example, you can't run sponsored content only or put a ton of ads on your blog because you'll lose readers. Similarly, an online store selling physical products can make more money than an affiliate website. But an eCommerce website also has higher operating costs.
The earning potential will influence your website price.
SEO Metrics
Many search engine optimization specialists buy websites for link-building campaigns. Or seek out "aged" properties with good initial metrics to accelerate their campaign effectiveness.
Hence, they assess the following SEO metrics to determine the value of a website from a search crawler's perspective:
Domain age
Domain authority (DA)
Citation and trust flow
Number of referring domains/backlinks
Organic keywords
You can get your metrics from tools such as Moz, Majestic SEO, or Semrush.
Net Revenue and Profit Margins
The best money-making combo is high revenue and high-profit margins. But then again — not every type of website monetization strategy can yield such.
Profit margins are typically higher for digital products since these take fewer resources to create and can be sold with a high premium.
Product-based businesses, on the other hand, have higher product development and operating costs. Hence, lower profit margins.
This post well explains how to calculate your profit margins.
Email List Size
As the popular lore tells: the money is in the email list.
Why?
Because you have the undivided reader's attention when you send them a promo email. Plus, a newsletter helps you promote your new content, advertise new products and services, or even run sponsored newsletter campaigns. A five-figure email list can help you increase your website cost.
And even if you don't have one yet, it's never too late to add a newsletter to your website.
Social Media Following
You can also increase your website price by selling your business social media accounts too. The bigger the following — the higher price you can set for your online business.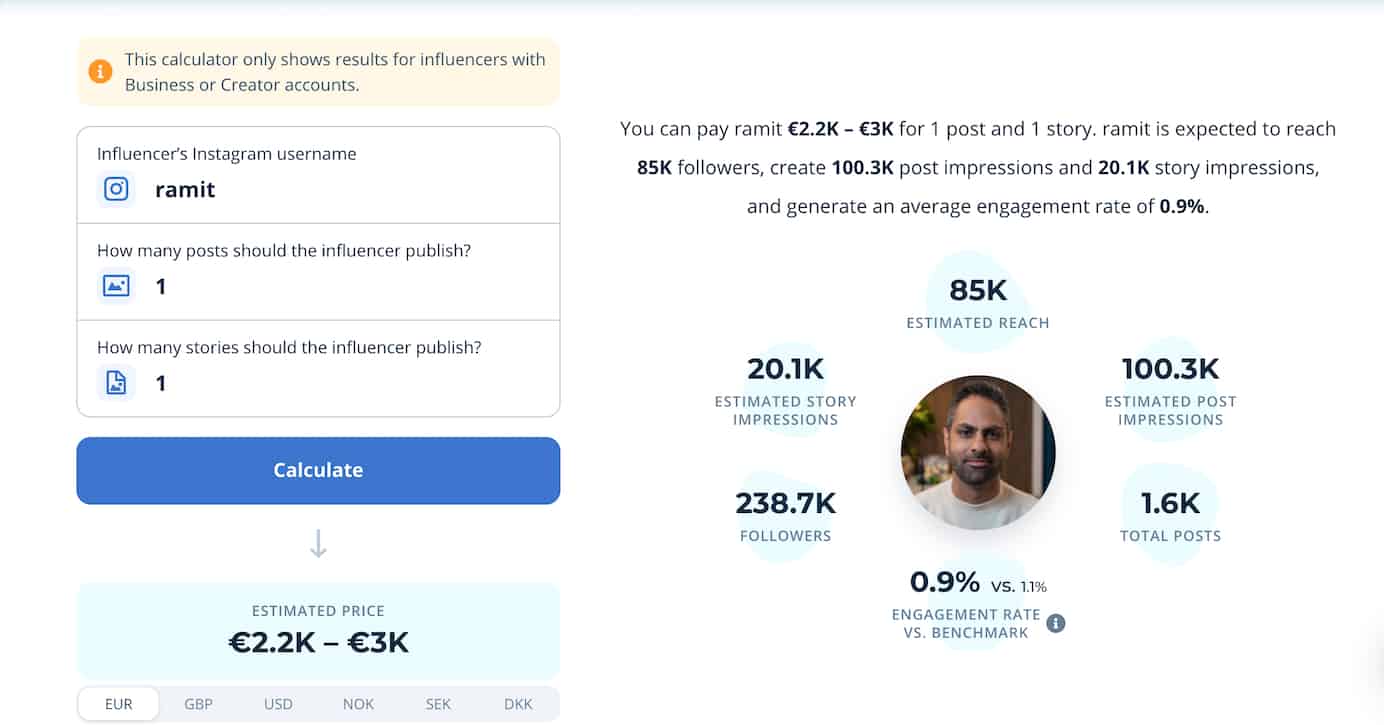 Many online calculators, for example, Inzpire.me, can help you determine your social media account value.
Factors That Command a Higher Website Price
Website pricing is largely subjective and often determined on a case-by-case basis. But you can earn more money from selling your website if you can:
Drive consistent revenue month-over-month.
Provide a comprehensive overview of your website traffic sources.
Attract a high percentage of return visitors.
Get search engine rankings for competitive keywords.
Build a brand around your website.
Establish a documented operational process.
Show that your website has a strong potential to grow.
How to Prepare Your Website for Sale
Now you know what affects the website price. There are several things you can do to increase your website's value before putting it on the market.
1. Do CRO for Your Main Pages
CRO stands for conversion rate optimization. These are quick tweaks you can do to boost your page views, conversion, sales, and profit numbers. So that your offer looks even sweeter for a potential buyer.
Improve your website navigation to facilitate content discovery.
Test different homepage layouts to improve the number of pages viewed per session.
Audit your affiliate content and links. Update older reviews.
Improve your call-to-actions (CTAs) at main landing pages and newsletter forms.
Refresh product descriptions if you sell products online.
Try a new website monetization strategy.
Test a new ad network or alternative ad placements.
2. Update Technical Website Characteristics
No one will pay big money for a slow, glitchy website. Also, your website speed and mobile readiness directly affect your rankings and traffic.
Since you'd want to show the best numbers to a potential buyer, do this:
Check and optimize your website speed. A good loading time for a website is under 10 seconds. If your website is slower, check these techniques to speed up your website.
Change your hosting provider. Low website speed and performance can be due to suboptimal hosting plan type or hosting provider. Check our super-detailed hosting guide with the latest benchmarks on different providers' performance.
Fix broken links. Audit your website for outdated external and internal links. Refresh the external ones and set up redirects to new pages for dead internal links.
Optimize your website for mobile. As of 2020, mobile traffic surpassed desktop traffic. If your website doesn't perform well on mobile devices, you are losing both traffic and rankings. Since Google algorithms rely on the mobile index to determine positions in SERPs for both desktop and mobile results.
3. Refresh Old Content
Spring clean some of the older posts you've published. You know, those early awkward attempts in blogging or generic "mirage" content that doesn't serve your audience well.
Up-to-date, long-form content makes your website look more authoritative (=higher priced). Also, a quick content refresh can help you boost your rankings and traffic.
Here's a quick content refresh checklist:
Check (and re-optimize) all page titles and meta descriptions
Add new semantically-relevant cross-links
Update outdated statistics and information
Fact-check your content for accuracy/relevance
Optimize older articles around new keywords
Add FAQ sections to tackle featured snippet results
Replace generic stock images with better alternatives
Combine repetitive content
Expand your best performing posts with more information
Set up 301 redirects for deleted and/or combined posts
4. Prepare an Inventory of Business Systems and Tools for Transfer
As the last step of your pre-sales process, make sure that your operational setup can be easily transferred to another person.
In other words, make it easy for the new business owners to learn how to operate your website.
In particular, you should:
Run and inventory and document all the external tools and plugins you are using.
Write down instructions for any operational processes/SOPs.
Consider if and how you will transfer ownership of other business systems (for example, a connected CRM system).
Provide general instructions for website maintenance.
Document any custom integrations, extensions, and "hack together" you have.
List any useful contacts for operating the website —  e.g. subcontractors, dropshipping partners, suppliers, etc.
Most buyers will expect you to provide this information before or right after the sale.
How to List Your Website for Sale
Your website is in its best shape. It runs fast, has some fresh content, and the traffic numbers are looking real' good.
Now is the time to list it up for sale.
Where To Sell Your Website
You have four ways to sell your website online:
1. Organize a Private Sale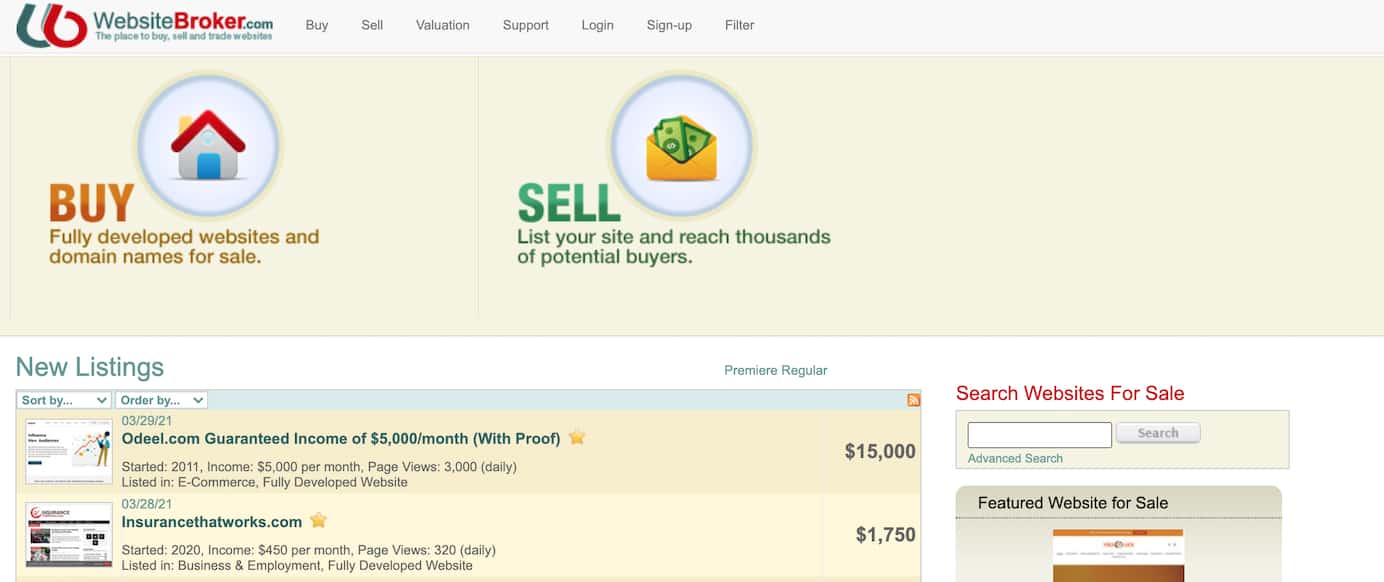 There are plenty of online communities where you can flip your website — from private Slack groups to public forums.
Some of the popular options are:
---
Pros:
Name your price
No brokerage or listing fees
Cons:
Negotiations are on you
Higher chance to run into scammers

Best for: small, beginner websites.

---
2. Website Auctions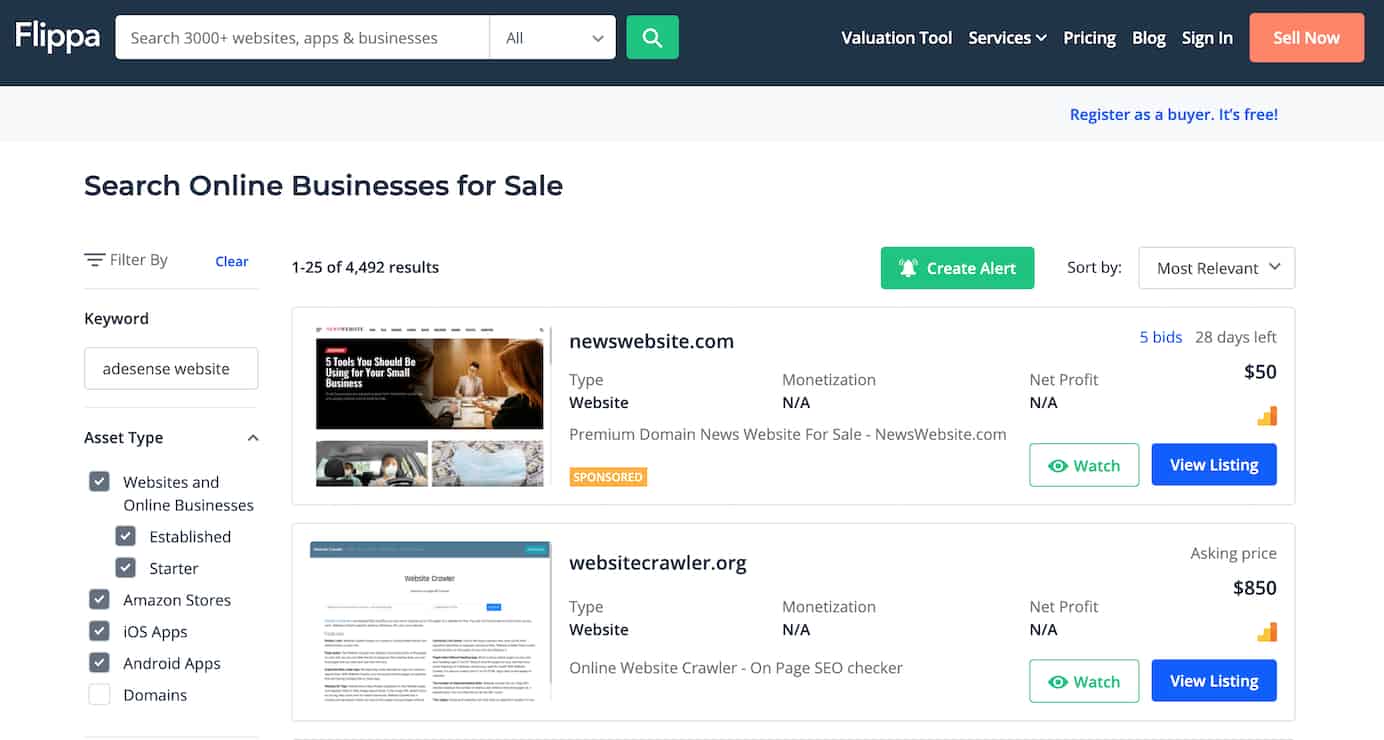 Auction platforms connect buyers and sellers. You can list your site for a starter price and have others bid for it. The platform escrows the funds and facilitates the website transfer.
Popular website auctions:
---
Pros:
Loads of buyers
Fast sales process
Good pricing
Low commission
Cons:
Your listing may get too few bids
You may not get the best price
Not suited for high-profit websites

Best for: niche and affiliate websites, small blogs, hobby websites.

---
3. Online Marketplaces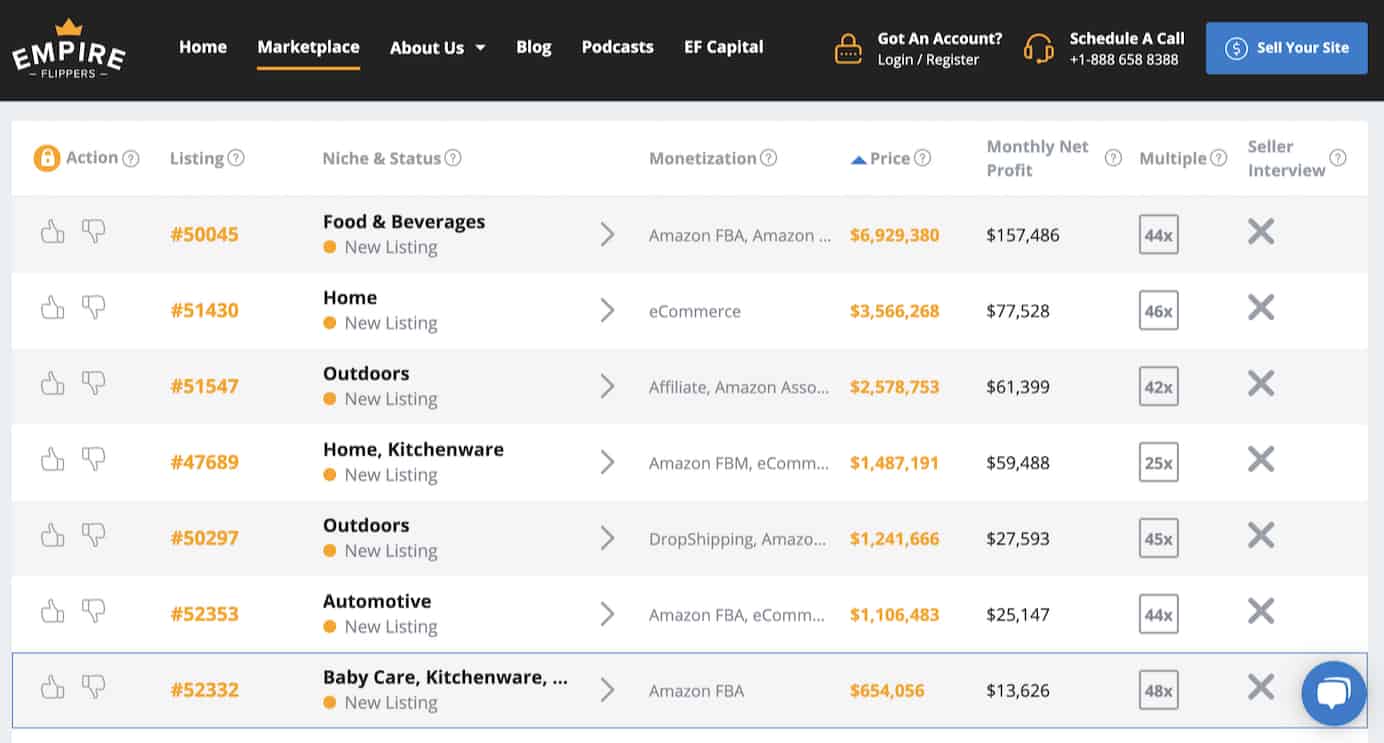 Marketplaces function similar to auctions — you list your web property with them and wait for the right buyer to come by. But you can name your price and often enter into direct negotiations. Or have the platform's broker do that for you.
Popular website marketplaces:
---
Pros:
Access to loads of buyers
Assistance with pricing/listing
Secure payment
Brokerage/escrow services
Cons:
The selling process can drag
May run into an unreasonable buyer
Not suited for higher-end offers (above $100K)
Best for:
small online stores, affiliate websites,
small business
websites.
---
4. Website Brokers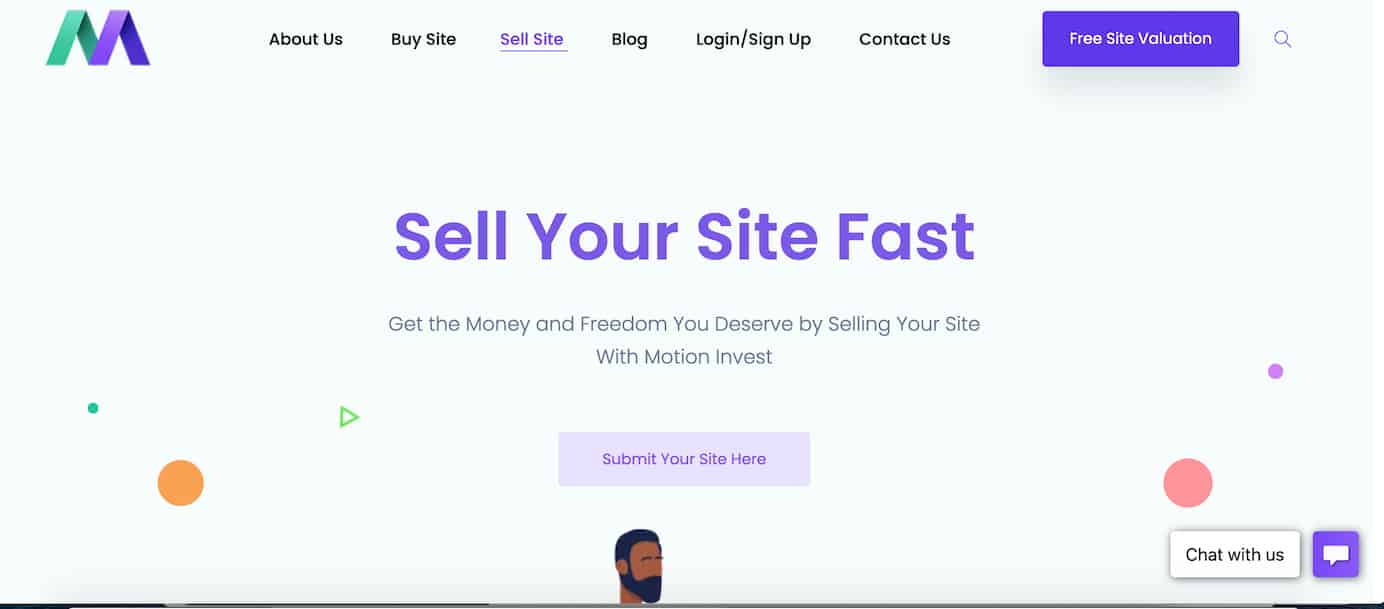 Similar to real estate, website brokers are qualified pros who can help you appraise your website and find the best buyer for your online business. Brokers usually work with profitable online websites and provide end-to-end support during the sales and website transfer process. Typically, it's worth approaching a broker if you have an asking price of over $100,000. Though some firms work with smaller websites too.
Best website brokers:
---
Pros:
Accurate appraisals
Connection with highest paying buyers
Done-for-you sales experience
Assistance with transfer
Full security (and anonymity) if needed

Best for: eCommerce websites, SaaS startups, websites with double-digital monthly revenues.

---
How to List a Website for Sale
Most website marketplaces provide templates and in-take forms to help you prepare your listing. But you'll need to line up some data too.
1. Provide Analytics Statistics
If you're using Google Analytics, pull the requested data from it. Also, you can provide potential buyers with read-only access to your GA account.
If you don't have a GA account (which you totally should!), you can also do with:
WordPress statistics
SimilarWeb or Alexa data
SEO info from Ahrefs, Moz, or Majestic SEO.
2. Prepare Proof of Earnings
Then, you'll also need to back up any claims about your revenues. Or else, the buyers will question your price.
There are several ways to do so:
Share monthly income information from your Google AdSense account
Provide a snippet of your affiliate earnings
Show PayPal sales report
Share a copy of your company's monthly profits (if you are incorporated)
If you are selling a more established business (for example an online store), some buyers may ask to see your complete P&L (profit and loss statement), along with other accounting and tax reporting documents showcasing net profits. Make sure you have these ready as well.
3. List Everything Included in the Deal
Create a list of all the assets you are selling along with your website such as:
All domain names + extensions
Premium plugins, software, or pre-paid subscriptions
Social media account(s) and your email list
Copyrights or trademarks associated with your business
Custom software modules and extensions
Be specific in your listing to avoid answering the same questions over and over again.
4. Outlines the Terms of Post-Sales Support
Mention what type of guidance you are willing to provide after the deed is done.
This can be something as quick as "I will be available for 10 hours during the next month to answer your questions to show how X, Y, Z works."
To improve your listing attractiveness, you can also:
List which skills the new owner will need to run your website and make money with it.
Offer to provide training and/or website maintenance services.
Promise to share your contacts with freelancers/contractors who helped you run your website.
5. Disclose any Legal or Technical Issues
The last thing you want is a buyer walking out of the deal at a late stage. Or a broker bailing on you because you've "forgot" to mention some important bits about your online business.
Be forthcoming and acknowledge:
Past SEO penalties
Hacking or security breaches
Legal issues you had with other businesses (e.g. due to copyright issues)
It's best if the buyer learns the full story from you, rather than make worse assumptions when doing their due diligence.
6. Prepare a Unique Value Proposition
What makes your website such a sweet asset to have? Why should people line up to have it?
Summarize your key selling points. To create an attractive unique value proposition, talk about:
How you are different from competitors
What's the further potential for growth
How you would grow your website if you weren't selling it
Also, it's usually good to mention why you are selling your website too. Because many people will instinctively wonder: there must be something wrong with this website if the person is selling it despite all the good stuff.
So, add a quick line, explaining that you just don't have the time or resources to scale this business because you've moved on to building another website.
7. Outline the Payment Terms and Conditions
This point is crucial if you are selling your website without an intermediary (a marketplace or a broker).
Don't agree to sell your website without a legally binding contract!
In particular, put the following things in writing:
Payment terms. How and when the money will be transferred. Either suggest a 50% upfront payment or use a payment escrow service for peace of mind.
Assets sold. Provide an exhaustive list of items you will transfer to the new owner along with the dates by which the exchange should take place.
Contract obligations of both parties. State the payment terms and conditions. Mention that you cannot be held responsible for any issues that arise after-sales.
To ensure a smooth and secure website sale, ask a legal professional to take a look at your contract before sending it over to the buyer.
Final Step: How to Transfer Your Website
Once the deal is done and money is in escrow, you'll need to transfer your website to the new owner.
This means several things:
Provide access to your hosting account. Securely share your login/pass info and update the account info with the buyer's credentials.
Transfer ownership of your domain name. Check with your domain registrar how to initiate the domain transfer process. Most have step-by-step instructions for that.
Hand over other logins. Such as access to your website admin panel, connected services, plugins, social media accounts.
Send over all supporting documents. Share all the documentation you have on your standard operating procedures, ecosystem partners, and other business processes. Also, send over all the requested website files, related to your websites such as logos, favicons, or other types of images.
Once you are done with the above, pat yourself on the back! You have officially completed your first (and probably not the last) website sale.
If you have any additional questions or comments, don't hesitate to leave us a comment below!