The latest online business statistics suggest that 2022 may be the best time to start an online business  (or start thinking about a side business). The volume of online sales of both products and services has grown tremendously since the Covid-19 pandemic.
So if you had that lingering idea about becoming an entrepreneur for quite a while now, now is the time to act on it!
How to Start an Online Business in 7 Steps
Our brain doesn't like lofty goals. It's an inherent 'defect.' But it loves paced step-by-step instructions.
In this guide, we'll break down the entire process of online business setup into easy-to-follow recommendations.
So that once you are done, you'll know how to come up with a viable online business idea and turn it into a full-scale business, positioned for growth.
1. Pick a Profitable Online Business Idea
First things first, you need to select your business niche and then narrow it down to one online business idea.
How do you do that when you have too few (or too many) ideas going around your head?
Assess each option from three perspectives:
Skills: Do you have any skills you can monetize? Or are you willing to learn something new? For example, website development.
Interest: What do you feel intrigued with, but never had a chance to do for work? While passion isn't the 'main' criteria for starting an online business, a strong interest will help you keep going at the early stages of your online business.
Market depth: Is there a good enough demand for what you plan to offer? Scissors for lefties may initially seem like a good product. There's a lot of left-handed people who need to cut things, right? But in practice, you may be struggling to build a large enough customer base if that's your only product.
This quick assessment should help you prioritize several business models. From there, you can work out your ultimate business idea.
Or go along with one of our suggestions.
10 Profitable Online Business Ideas:
We will cover six ideas for a successful online product business.
Let's start with eCommerce.
1. Create an eCommerce store
If you know how to make or where to source some nice products, set up an online shop using an out-of-the-box eCommerce website builder. Purchase or make inventory, list your products, start marketing your store, and watch those sales climb up.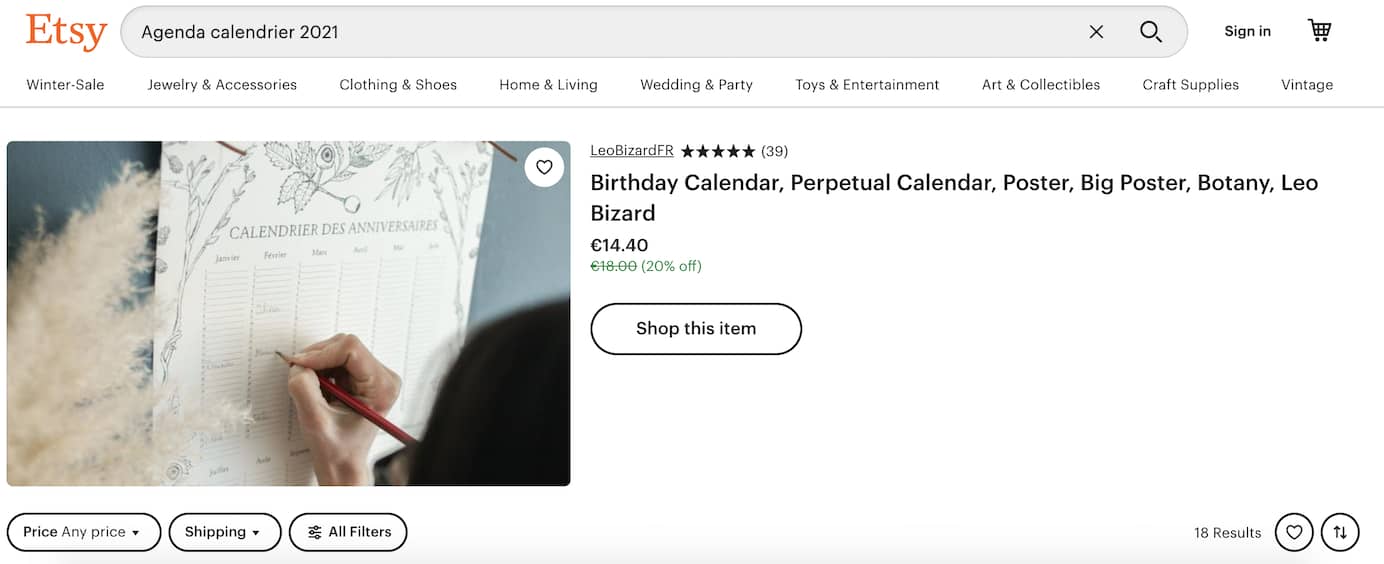 Pros:
Scalable business idea — start small, grow bigger
High earning potential — you have now upper cap for sales
Low startup costs, compared to brick & mortar
Cons:
Inventory management and shipping can be tiresome
Growing competition and saturation in some niches
You need a solid business plan to stay profitable
2. Set up a Dropshipping Business
Now, if you don't want to deal with inventory management and logistics (which both are major cost- and time-suckers), you should consider dropshipping.
With a dropshipping model, you find a reliable supplier/manufacturer, who's ready to ship products on your behalf, under your brand. So that you are only responsible for maintaining your eCommerce website and marketing it to more people.
Pros:
No inventory management costs
Low-to-no logistics overheads
Can be a nice passive income stream
Cons:
Shipping may take ages if your partner is based overseas
Finding a high-quality supplier isn't that easy
Higher chance of selling the same products as your competition
Lower profit margins
3. Sell Products via Online Marketplaces
For those who are not ready to invest in eCommerce website development, online marketplaces can be a good starting point.
Etsy, Poshmark, eBay, Amazon, and a bunch of niche marketplaces attract consumers in a 'shoppable' state of mind. So you have a higher chance of making a sale without heavily investing in marketing.
Pros:
Low entrance barrier — you need to register an account to start selling
An excellent starting point for a part-time side-hustle
Good launchpad to test the demand for different products
Cons:
Constant competition with other sellers/products
Fewer possibilities to retain customers and re-market to them
Lower profit margins as you need to keep your prices competitive and pay a % of each sale to the platform
4. Create and Sell Digital Products
Selling physical products entails a lot of operational risks in regards to quality control, shipping, and deadstock. Digital products have none of these. You create a product range once, list everything on your website, and send a download link to every happy buyer.
What types of digital products are in-demand? Loads:
eBooks and workbooks
Templates and checklists
Stock photos and videos
Stock audio — music, gingles, sound effects
Webinars and online workshops
Posters and other printables
Graphics, fonts, and digital art
Access to knowledge bases/communities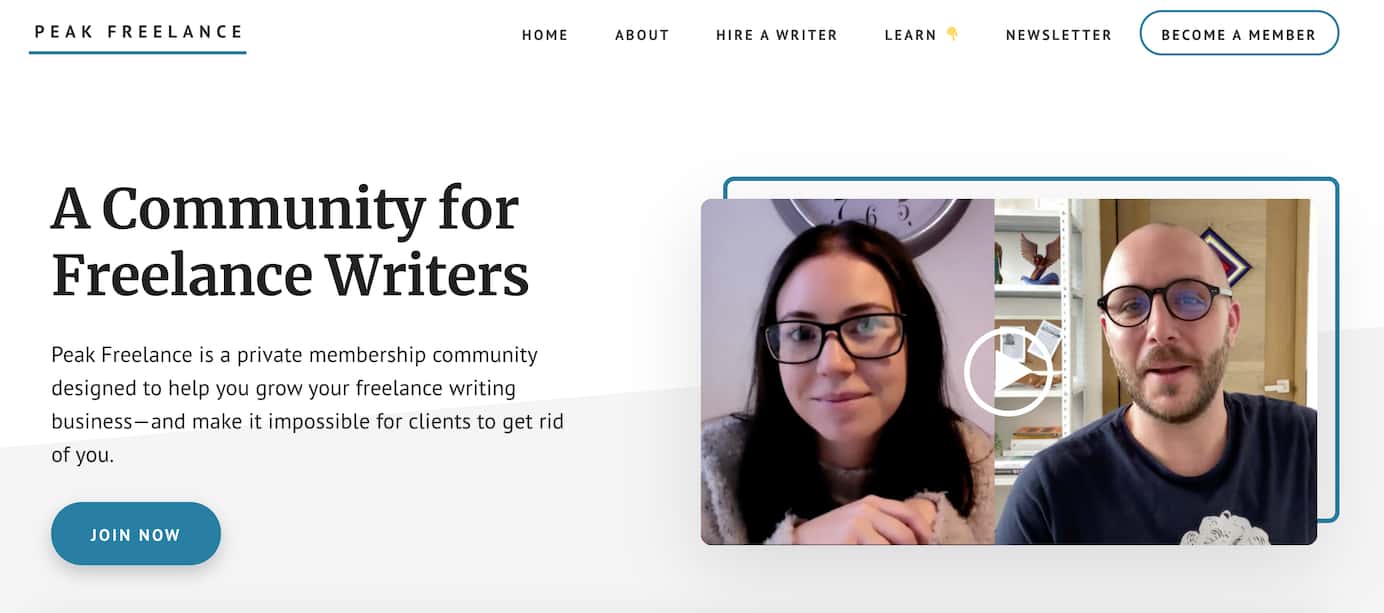 Freelance writers Elise Dopson and Michael Keenan run a paid community to supplement their client income.
Pros:
Fast time-to-market (and to profit)
No inventory management costs
A high potential of becoming a passive income stream
Cons:
You need to continually market your products as the competition is fierce
Copycats and fraudsters — be prepared to protect your digital assets from unauthorized distribution
5. Launch an Online Course
Did you know that the online education market is expected to hit $24.5 million by 2026, up from $15.3 million in 2020? That's plenty of revenue up for grabs! Especially as most of us are not returning to in-person education any time soon.
So if you are a pro in some area — be it home remodeling, card tricks, or SEO — consider 'packaging' your knowledge into an online course or workshop series. Then list your e-course on your website or one of the popular eLearning platforms to attract student sign-ups.
Pros:
In-demand and trending online business idea
High earning potential without the regular time commitment
A rewarding idea for passionate educators
Cons:
It can be difficult to sell out an online course without an existing audience
Not all skills are in equally high demand
Creating and refining a course structure may take time
6. Develop and Sell Website Themes, Plugins, or Software
We always say that coding is a must-have skill for the modern age. Not only do you learn how to build things for yourself, but you can also monetize this skill in multiple ways — by selling some of your 'works' or providing web development services for others.
For example, if you learn HTML and CSS, you can easily build custom WordPress themes and plugins. And then sell them over and over again to others. Or, if you pick up another coding language (e.g. Python), you can build more complex apps for sale.
Pros:
Recurring income stream
Low time commitment
Great side-hustle with room for growth
Cons:
It's hard to scale this business unless you hire a development team
The software requires regular patching and maintenance
Prepare to deal with troubleshooting for your customers
6. Become a Website Developer or Web Designer
The demand for website developers will not abate any time soon. So if you teach yourself how to code and/or design websites, there's a good chance you'll never be out of freelance or full-time work.

Pros:
Well-paid and in-demand service niche
A ton of interesting and diverse projects to pick from
Good possibilities for professional growth
Cons:
Learning curve — you'll need to constantly work on improving your coding skills
Competition with other freelancers and agencies
7. Provide App Development Services
App development is another profitable online service niche with increasing demand. Especially, if you can work with innovative technologies such as AR/VR or 3D. Apart from building apps for others, you can also launch personal products as a side-income stream.
Pros:
Excellent compensation, especially for niche tech skills
Fun and engaging work if you are building B2C products
Opportunity for building passive side-income stream
Cons:
Again, you continuously need to work on honing your skills
You may not always get hired on the most exciting projects if you work solo
Small scale app development projects are often repetitive
8. Offer Digital Marketing Services
SEO, copywriting, conversion optimization, social media marketing, pay-per-click ads — the online marketing space has a lot of interesting roles and sub-niches to specialize in.
What's even better, you can further narrow down your specialty by business type. For example: specialize in email marketing for eCommerce businesses. Or blogging and content marketing for SaaS brands.
Marketing specialists (over generalists) can command higher rates and don't worry much about the demand for their services. Once they put in the hard work of building a personal brand.
Pros:
Due to the pandemic, most businesses shifted more budgets to online advertising, so there's plenty of well-paid gigs out there.
Ability to work with different companies and learn the 'inside' of different marketing departments.
Flexible, contract-based work with loads of potential for growth.
Cons:
Pricing your services can be initially tough as there are no industry ballpark rates.
You'll have to invest in a strong personal brand to secure a steady stream of clients.
9. Work as a Virtual Assistant (VA)
If you have strong digital literacy skills and can organize your time well, a job as a VA may be right for you!
Virtual assistants work alongside entrepreneurs and small business owners, helping them sort through a pile of admin, operational, and occasionally marketing tasks.
Similar to online marketing, you can easily niche down to attract a better pool of clients and command a more competitive rate.
Pros:
An excellent entry-level' online business idea
You get plenty of learning opportunities
Can be done part-time or full-time
Cons:
The job can be stressful if your 'boss' isn't great
The competition can be brutal for 'generalist' VAs
Compensation isn't always great (unless you specialize!)
10. Start a Coaching or Consulting Business
Experienced professionals might want to skip the 'service' part and move straight to coaching or consulting practice.
Indeed, consultants can easily command twice the hourly rate of a regular contractor and secure long-term, high-paid gigs.
However, you do need to have some 'bragging' rights to succeed with an online consulting business. Think case studies from past clients, quantifiable outcomes you drove for businesses, and other accolades, providing that you don't just do 'the fancy talk', but also know how to 'walk the walk.'
Pros:
Very lucrative compensation even for part-time work
Opportunity to (net)work with industry leaders
High scaling and diversification potential — you can start an agency or sell some of your knowledge as an online course or another type of digital product.
Cons:
Not a beginner-friendly online business idea
The strong and memorable personal brand required
Client acquisition can be challenging without a good personal network
2. Evaluate Your Business Idea Viability
OK, so you have several ideas lined up around your skills and interest. Now you should take a closer look at the third element — market size and demand — to understand if you can actually make money from your business.
Here's how to evaluate online service or product viability:
Conduct a Quick Online Market Research
The purpose of market research is to help you understand:
Who's your ideal customer?
What products or services do they prefer?
How do they find these services?
Who's currently serving their needs in your market?
Let's say you want to be a web developer, specializing in websites for restaurants. Because you also love cooking.
On the surface, there are millions of restaurants out there that may need a new website or website maintenance services. So should you message every one of them with an offer to hire you? No, you have very slim chances of getting work this way.
Here's what you should do instead:
Determine your target buyer. As a beginner, you may want to go after smaller, mom&pop restaurants, rather than national chains.
Analyze the current market demand. A lot of restaurants now offer delivery or curbside pick-ups. So they may be interested in someone who can create a new menu for them or set up an online ordering module.
Research your customers' needs/pain points. You can join an online community of restorators and poke around to understand what they are struggling with and if there's a way for you to step in.
Write down your unique value proposition. Based on the above research, write down a 1-2 sentences sales pitch that speaks directly to your client's needs. For example: "I develop websites for restaurants, design online menus, and create a secure online ordering experience, using Wix."
This market research framework can be adapted to any other online service or product business.
Do Competitor Research
Let's be real: profitable online business ideas are also competitive.
If there's a good market demand for a service or product, high chances are there will be others offering the same/similar sets of things.
So you should also do a quick scoop on your competition to understand how you can stand out among them.
Analyze the main services/products sold by others
Jot down the prices to work out some ballpark rates
Pay attention to any 'add-on' services
Look for 'missed opportunities' — a gap that you could fill-in
Identify various sub-niches within your main niche
Look at Google Trends data to understand the changes in demand

Summarize your findings and compare them to your preliminary offers. What can you do better? What complementary services/products you can pitch? What skills or qualities could differentiate you from others?
Ponder over these questions and finalize your answers within your business positioning statement.
Going back to the example, you can state that:
"I offer web design and development services for Colorado-based restaurants. I can design online menus, and create a secure online ordering experience, using Wix. Prices start at $1,500 per website. As an avid cook and photographer, I can also help shoot mouth-watering photos for your menu and other marketing materials, as well as design a logo and custom graphics."
And here's a real-life example: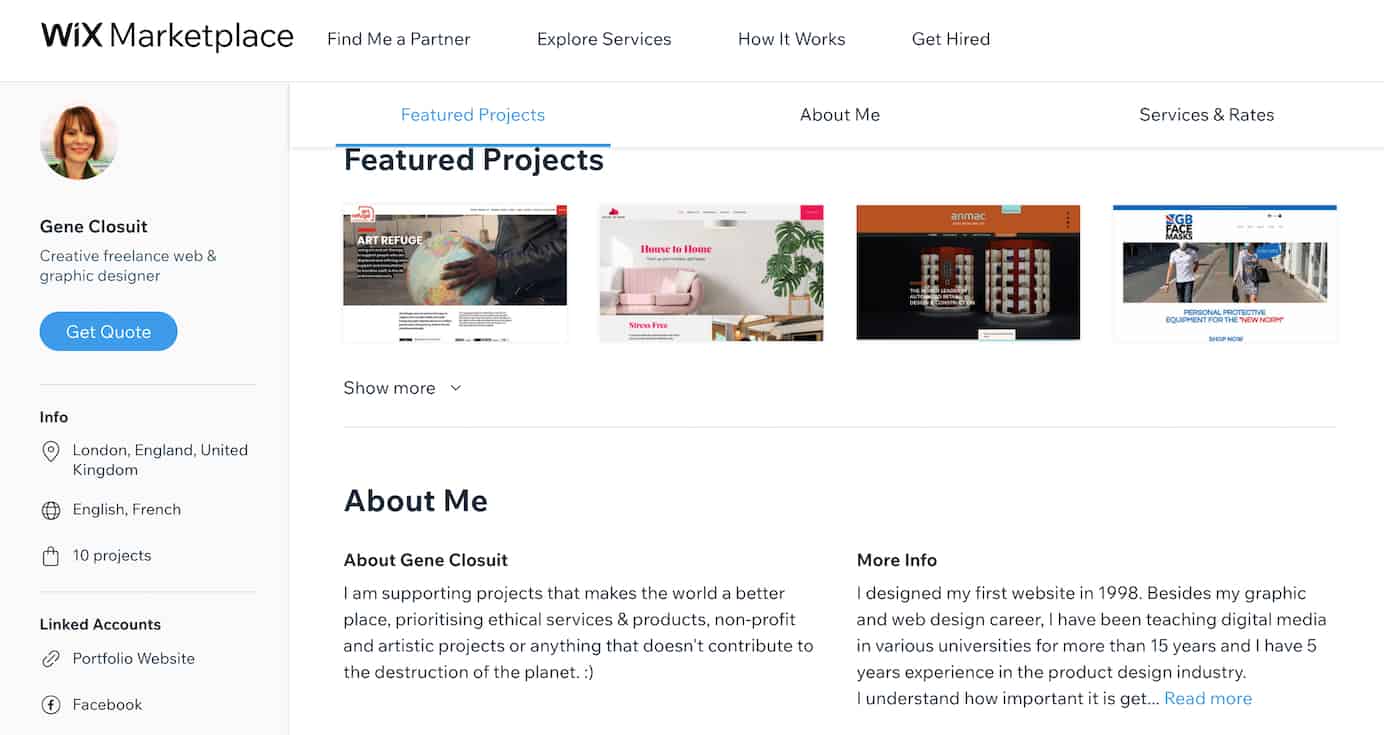 Gene Closuit articulates her target audience well in her About section and shows some 'bragging rights' in the right column.
3. Choose a Business Name
Coming up with a website name idea can be tricky.
After all, with an online business, you want a brand name that:
Looks good as an URL (Cup Props doesn't sound nice as cupprops.com)
Is easy to remember and type in the search bar
Doesn't cost an arm and leg to register as a domain name
Has a nice ring to it and indicates what you sell/do
Doesn't interfere with any registered trademarks or other businesses
The name is also available as social media @handles
The easiest way to come up with a good online business name is to use a domain name generator.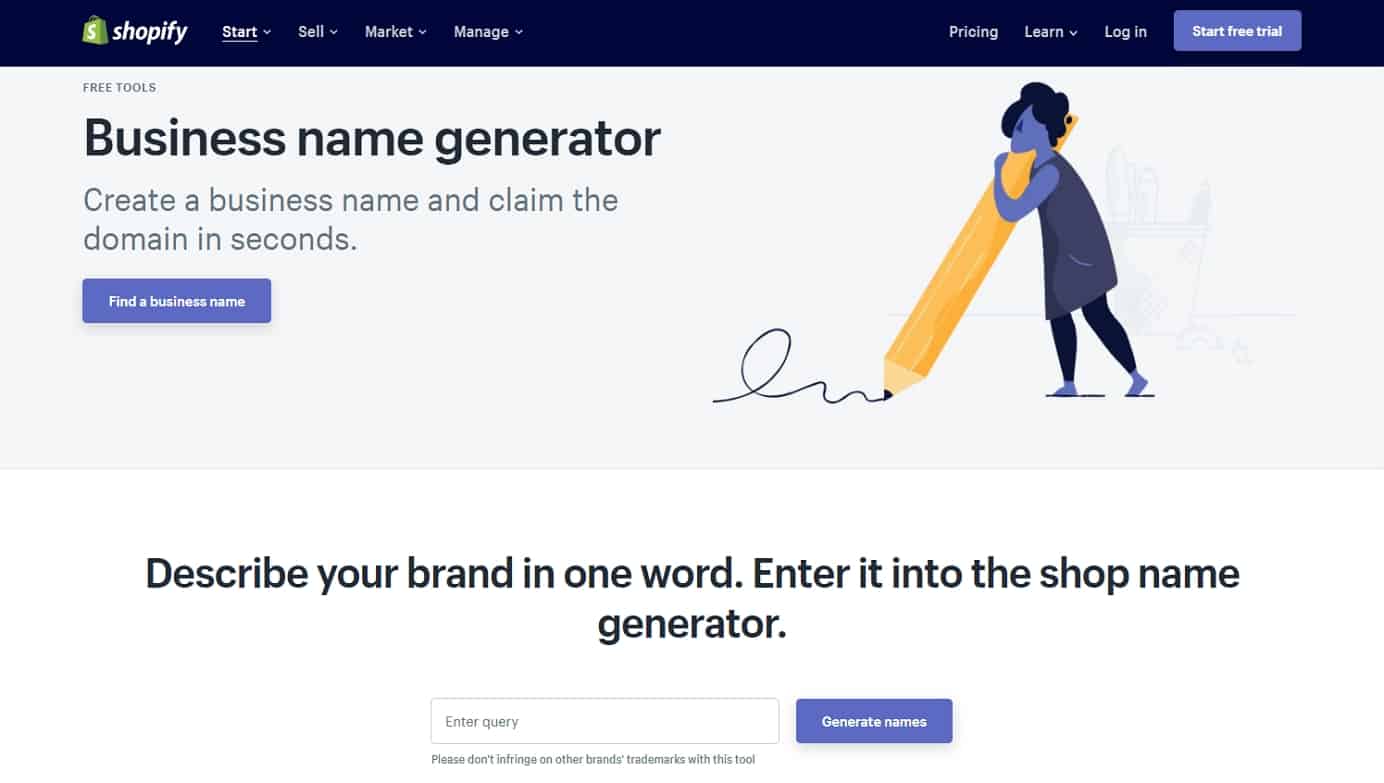 Type in some keywords e.g. 'cup' and 'tea' and then get a list of available domain name suggestions.
If the .com choice is taken or too expensive, try mixing things up. Your business name can partially match your domain name.
For example:
Business name: Artsy Store LLC
Website name: Thisisartsystore.com
Still, stuck with naming?
Here are several free domain name generators we like:
Once you scored a good match, go on and register it as your domain name.
4. Set up a Website or a Landing Page
You can't run a successful online business without a website.
Of course, you can sell your products or services through online marketplaces. But you'll be missing a ton of opportunities (and profit!).
A survey from Hubstaff found that freelancers with a personal website outearn those without one by 65%! The average freelancer without a website earns $20.57/hour, whereas their peers with a website earn up to $33.90/hour.
To put that into perspective, you can earn almost $28,000 more per year if you create a professional website.
Like the sound of that? Well, then let's get you going.
5. Register Your Online Business
Business registration isn't mandatory if you plan to do business under your legal name, for example, as a service provider. But you can miss out on certain tax, legal, and liability protection benefits if you do not register with your state. In either way, it is better to consider doing it once your business starts getting some traction, you don't need to worry about it when you're just getting started.
Important: Since regulations differ from state to state (and from country to country) we can by no means advise you on all the regulations. So be sure to triple-check all the information locally!
In most cases, however, you just need to register your business name with state and local governments to become 'official'.
By 'business name' regulators understand your legal entity name. According to Small Business Administration, most regulators will register you without any issues as long as:
Your name isn't used by anyone
It meets the spelling criteria (e.g. does not have suffixes)
Some states may also require the entity name to reflect the kind of business it represents. However, that's not always the case.
By officially registering your business name, you prevent anyone else from using it at any capacity on a state level.
As a next step, you should also get incorporated.
Business Structures for Online Businesses
The business structure you go with dictates the legal and tax requirements for your business. The four structures listed next are most popular with SMBs:
Sole proprietorship: You are the only owner with partial liability, but straightforward reporting requirements.
Partnership: Go for it if you plan to run a joint venture with a business partner. Otherwise, the requirements and liability are similar to the sole proprietorship.
Limited liability company (LLC): Like an LLC, you carry less personal liability for your business. Yet this structure is more complex to set up and maintain.
Corporation: Corps also have limited liability and are better suited to accommodate growing businesses. However, legal and tax requirements are more complex.
At any rate, consult with a qualified professional to determine which business structure will work best for your case.
Extra Operational Issues To Consider
If you plan to sell products online (especially physical ones), you should be mindful of certain regulations and operational requirements:
Taxes: Sales taxes differ from state to state, and even more so if you are selling across the border. Make sure that you know (and follow through) all your obligations.
Shipping restrictions: Shipping companies have restrictions and don't accept some types of products (e.g. perishables or aerosols). Or they may ask you to provide extra paperwork to accept them. That's also the case for international dispatches, where you'll have to feel customs and import duties forms.
Licenses and permits: To provide some products (and services) you may need to apply for a license or permit. Again, check this with a local authority.
6. Create a Pre-Launch Marketing Strategy
You are done with website setup and business registration. Now comes the fun part — launching your own online business!
At this stage, you have two main tasks:
Verify that everything's in check
Put plans for driving traffic to your site
Let's tackle each of these steps.
Online Business Pre-Launch Checklist
It is easy to overlook an important step when you are preparing to launch. Use this checklist to stay atop of the essentials:
Review all landing pages
Proofread your content
Test all interactive elements on your website
Register with an email marketing services provider
Set up email subscription and lead-gen forms
Connect Google Analytics to your website
Register and set up accounts on social media
Prioritize strategies for landing clients or selling products
Allocate your advertising budgets
 Create a list of influencers you'd plan to network with
Set up an editorial calendar (if you plan to launch with a blog)
To get a more in-depth look at what needs to be done before and after your site launch check out our ultimate web checklist.
Traffic Generation Strategies for a New Online Business
There are plenty of ways to drive traffic to a website.
But as a small business owner, you probably have limited resources (and marketing budgets).
So let's focus on those low-cost, but highly effective ways to get traffic to a new website.
1. Get Active on LinkedIn
LinkedIn is the place to be for service providers. First of all, you can announce your business launch to your personal network, and update your profile with a link to your new website.
Secondly, you can publish a series of posts on LinkedIn Pulse and link back to content on your website. Or better yet — a lead magnet linked to an email subscription form so that you could convert some of the readers into subscribers. Then follow-up via email.
Finally, you can also get registered on LinkedIn ProFinder — a matchmaking service for businesses and freelancers (open to US residents only).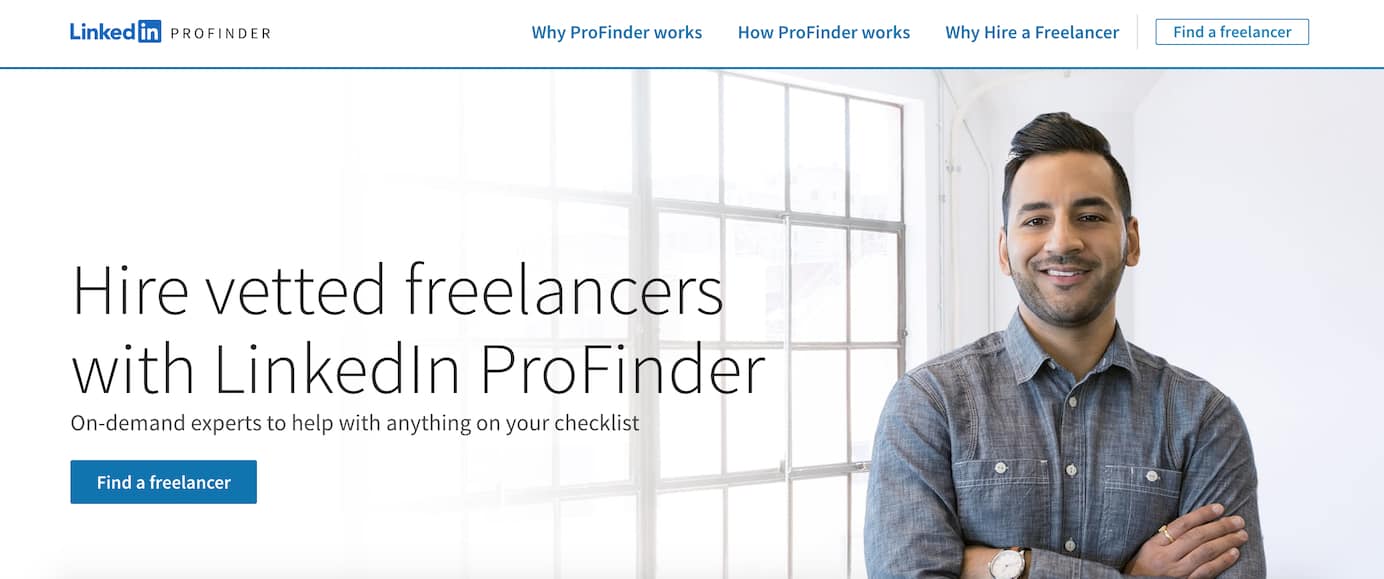 Unlike other freelance platforms such as Upwork or Fiverr, Profinder does not charge any service fees. They only act as a 'broker' and connect customers with required freelance talent. Once you get referred, it's up to you to work out all the partnership details.
2. Secure Podcast Appearances
In 2021, 104 million people listened to podcasts monthly in the US. That's quite a lot of ears that might be receptive to your pitch.
You have two ways to promote your online business on a podcast:
Appear as a guest
Pay to be a sponsor
As a service provider, you may want to go with the first option. Use a podcast as an opportunity to share your expertise, promote your name (and brand), plus network with a fellow business owner.
Product businesses may want to sponsor a podcast instead since few hosts will be thrilled to have someone blatantly promoting their product throughout the show. If you pick a podcast, close to your business niche, the advertising ROI can be very solid. A recent study suggests that podcast advertising campaigns drive a 34% lift in conversions on average. For comparison, digital display ads drive only 1.1% lift.
3. Network in Online Communities
Every type of business owner has that corner of the internet where they concentrate. If you find that spot and become a 'regular', you surely won't be out of work any time soon.
Look for online niche communities and membership websites where you can regularly contribute to conversations, jump in with advice, and showcase your skills. By showing up regularly and contributing, you can build a name for yourself and secure referrals.
But remember: 80% of your conversation should be knowledge sharing and 20% (or less) reserved for promos.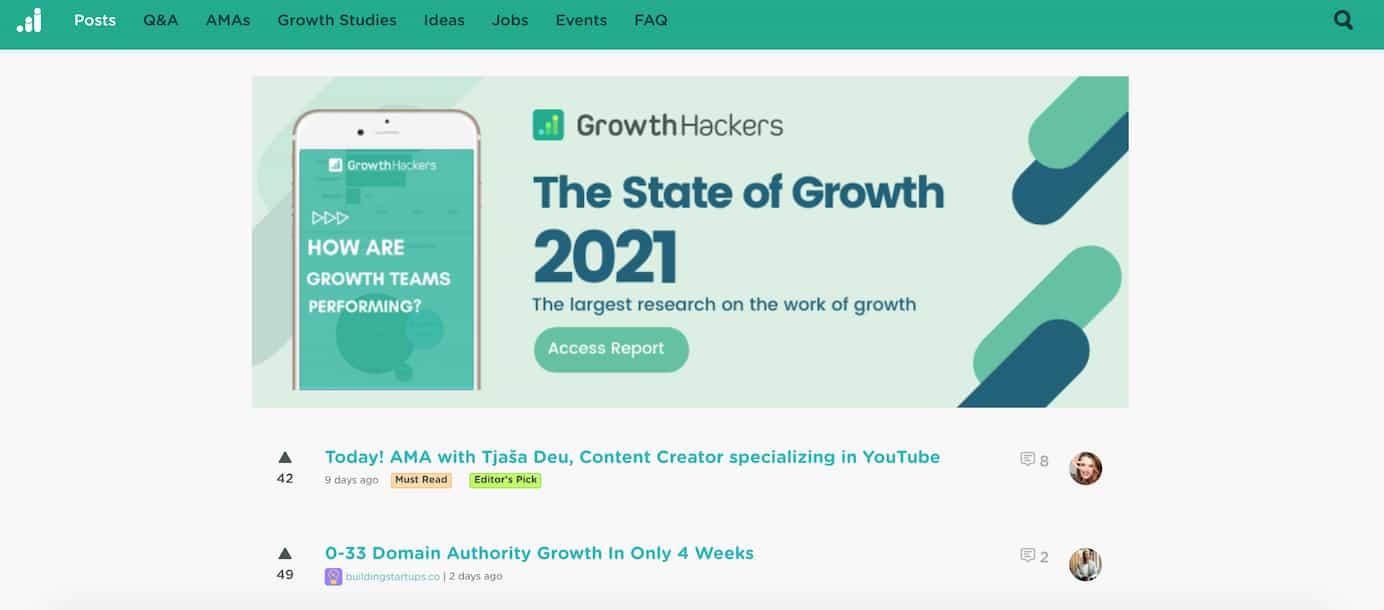 Growth Hackers is a popular online marketing community with regular AMA sessions, discussion threads, and case study posts, contributed by others.
7. Launch and Scale
Your launch went well and your digital books have some new sales records. That's awesome! Keep doing the good work and exploring other marketing strategies.
The best part about running an online business is that you have limitless possibilities for growth.
Once you have exhausted one marketing channel (or grew exhausted your core business model), expand and diversify.
Here's how to grow an online business to the next stage.
Explore New Website Monetization Opportunities
The perk of having a professional website is that you can make money from it in different ways.
Apart from using it to promote your core services (or products), you can also divert into:
Affiliate marketing: Promote other people's products and get compensated whenever someone purchases via your link.
Influencer sponsorships: If you are actively blogging, have a big email list, or growing presence on YouTube or Instagram, you can secure sponsorship deals from brands.
Paid memberships: Stack a closed online group for people in your niche and charge a subscription fee for access.
Productize Your Services
Create a more passive income stream to complement your main services by packaging some of your 'knowledge' into a digital product.
Are you an Asana superhero? Got a ton of praise for creating content briefs? Or have a very special system for creating high-converting emails. Turn some of that accumulated knowledge into a simple product that requires little regular maintenance, but has evergreen value.
For example, freelancer writer Kaleigh Moore shared that last year she earned over $10,000 in relatively passive income from her set of digital products — a collection of templates for marketers.
Conclusion: How to Start an Online Business in 2022
It's a wrap! You now have step-by-step instructions for starting and scaling an online business.
Remember: the hardest part is getting started. So don't dwell too much on brainstorming the 'ultimate' online business idea or getting too wrapped up in polishing the smallest details on your online business website.
Instead, focus on getting a good-enough launch version and launching it to the world. You'll have plenty of time (and resources) to work out the less essential deets later down the road.