The first blog on the Internet was created in 1994 by a student named Justin Hall. He intended for it to be a place to share his writing. Five years later, in 1999, a total of 23 blogs existed on the internet. Fast forward to 2021 — there are over 600 million blogs on the web today.
The blogging world has exploded since the early '90s. Blogging has gone from a hobby where you can share your thoughts online to an online business that you can monetize.
Just like several other industries, the blogging landscape is constantly changing. To help you hit your goals this year, we've provided a list of the most up-to-date blogging statistics out there. From blogging trends by industry and content type to the anatomy of a blog post and an infographic on the state of blogging in 2021, we cover everything you need to make data-informed decisions about your business.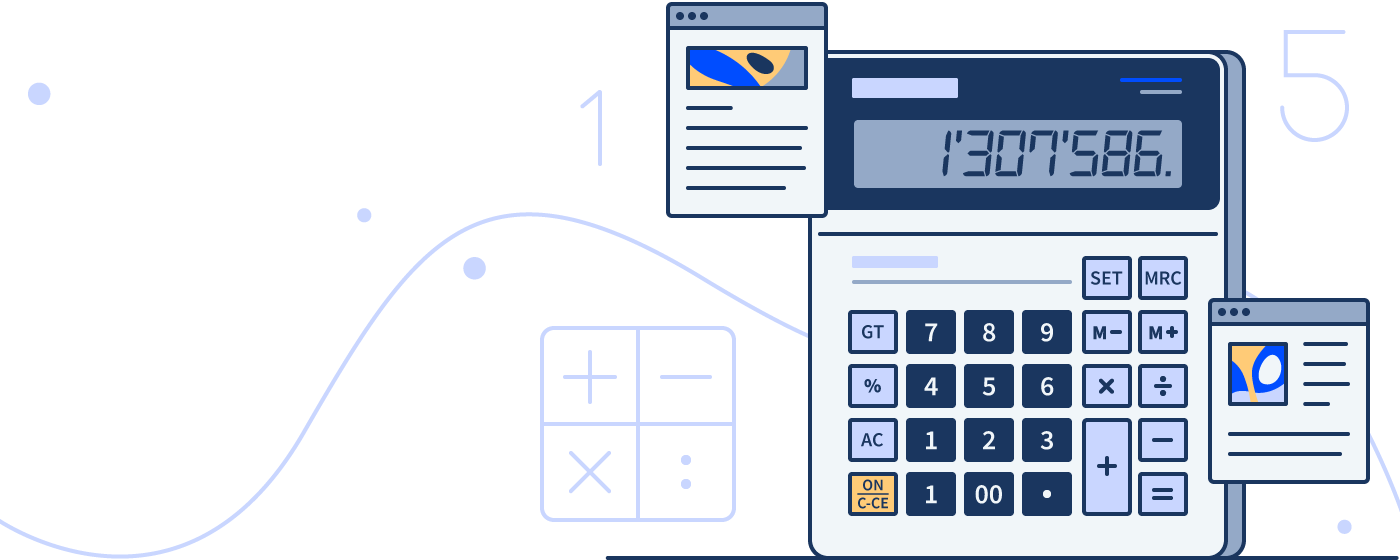 So, How Many Blogs Are There?
With more than 576,000 websites being created each day, it's tough to give an exact number for how many blogs exist on the World Wide Web. However, it's estimated that there are over 600 million blogs on the internet today.
600,000,000+ blogs on the internet today.
Tumblr —the micro-blogging website and social media platform —is one of the most popular websites for blogs. As of April 2020, the site had over 496 million accounts, up from 463.5 million the previous year. From lifestyle blogs that offer the latest health hacks to financial blogs that break down the best way to budget, there are a variety of blogs on the web.
However, just because there are hundreds of thousands of blogs, doesn't mean that they are all active —or successful. So, how many active bloggers are on the internet today? It's estimated that there were 31.7 million active bloggers in 2020 alone.
There were 31,700,000 active bloggers in 2020.
Over 3.5 billion searches on Google every day, but how many people actually read blogs? It's estimated that 77% of internet users read and interact with blogs.
It's clear the impact and reach that blogging has, but how do you make your blog post stand out from the millions on the web? We dive into exactly what makes a blog post successful in the section below.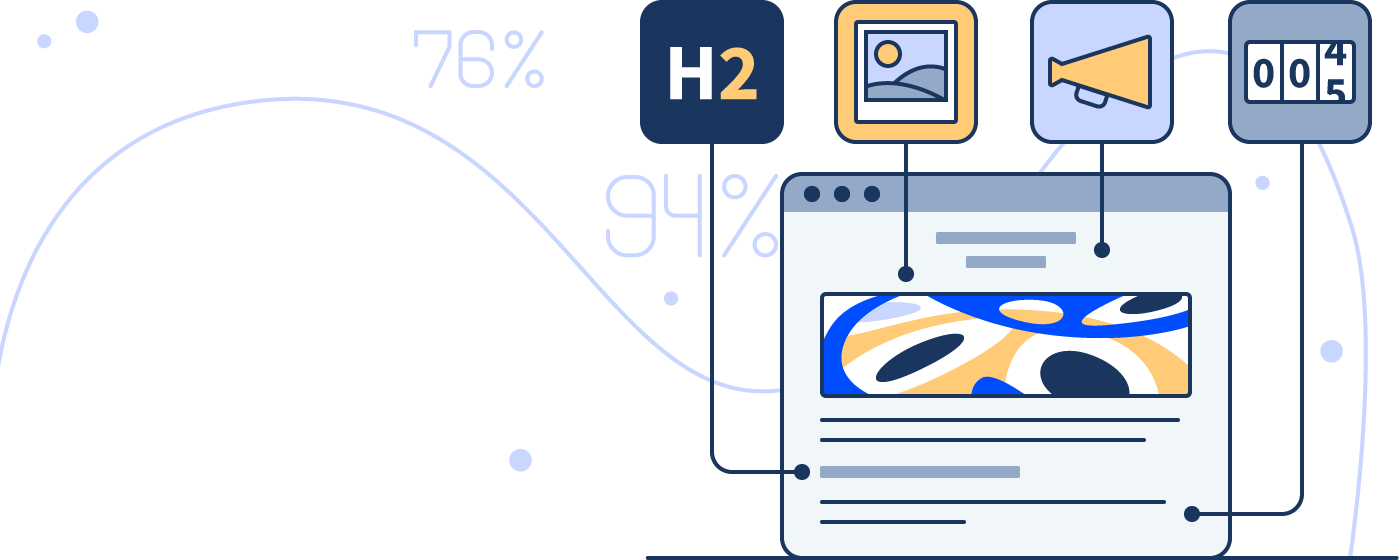 The Anatomy of a Blog Post by the Numbers
What makes a blog post successful and how can you make yours stand out? Longer content tends to perform better when it comes to conversions and ranking well on Google. At WebsiteSetup, we like to shoot for articles that are between 2,000-4,000 words long. We find these are the most successful for our niche and audience. However, the industry you're in and the type of blog post you're creating and topic you're covering will also play a factor.
If you're creating a listicle on the best places to eat in New York City, your blog post may be a lot shorter than a comprehensive guide on how to start a business in 2021. While it may seem time-consuming to publish 2,000+ word articles every week, submitting a half-baked blog post just to publish something doesn't cut it anymore. Your readers want a complete and extensive article that answers their questions and provides them with the best information out there.
We know crafting a profitable blog post is no easy task. There are a lot of things to remember and there are some tried and true guidelines that you should abide by. To help, we dive deep into the components that make up a successful blog post. Hover over each element of the blog post below to learn more about the elements that make up a solid article.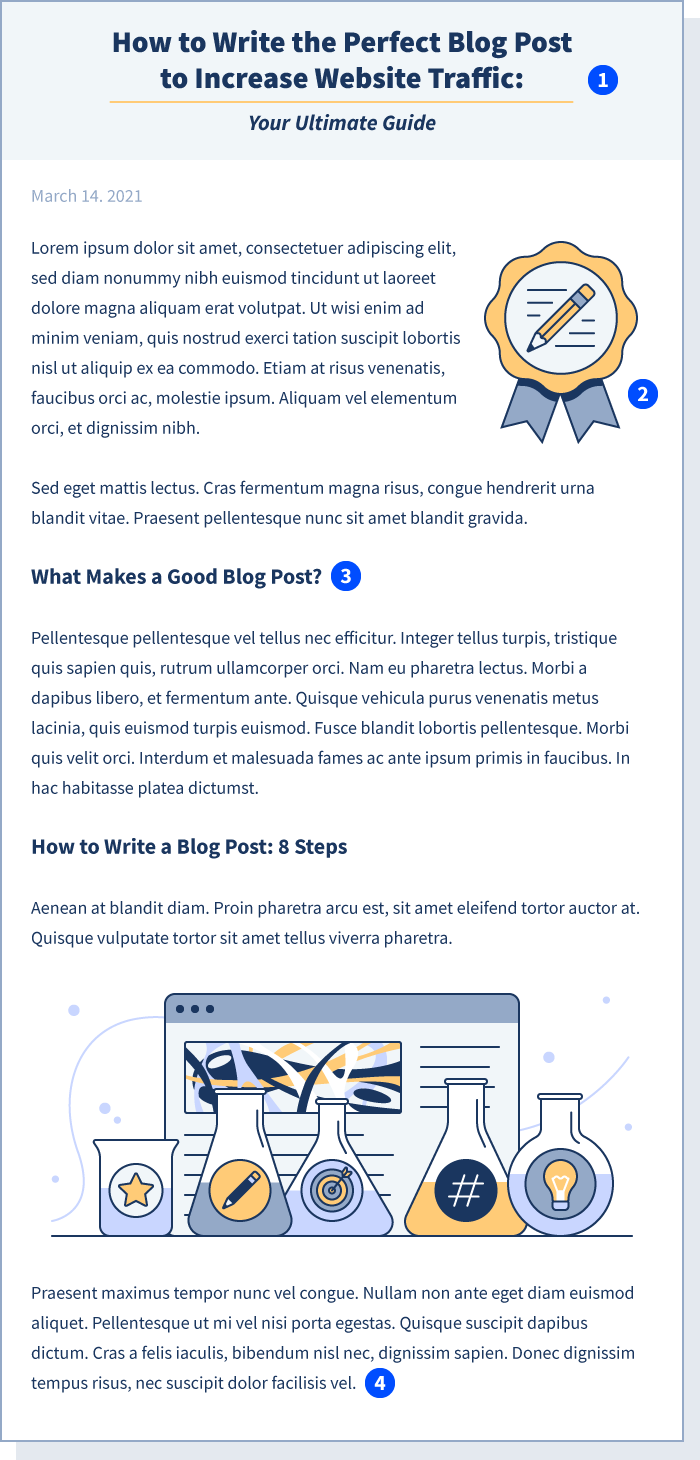 Articles that have longer headlines (14+ words) and contain more than 3,000 words are proven to perform better in terms of backlinks, traffic, and social shares. The same goes for content that is organized with headers and separated with visuals. Below are some additional statistics around the anatomy of a successful blog post.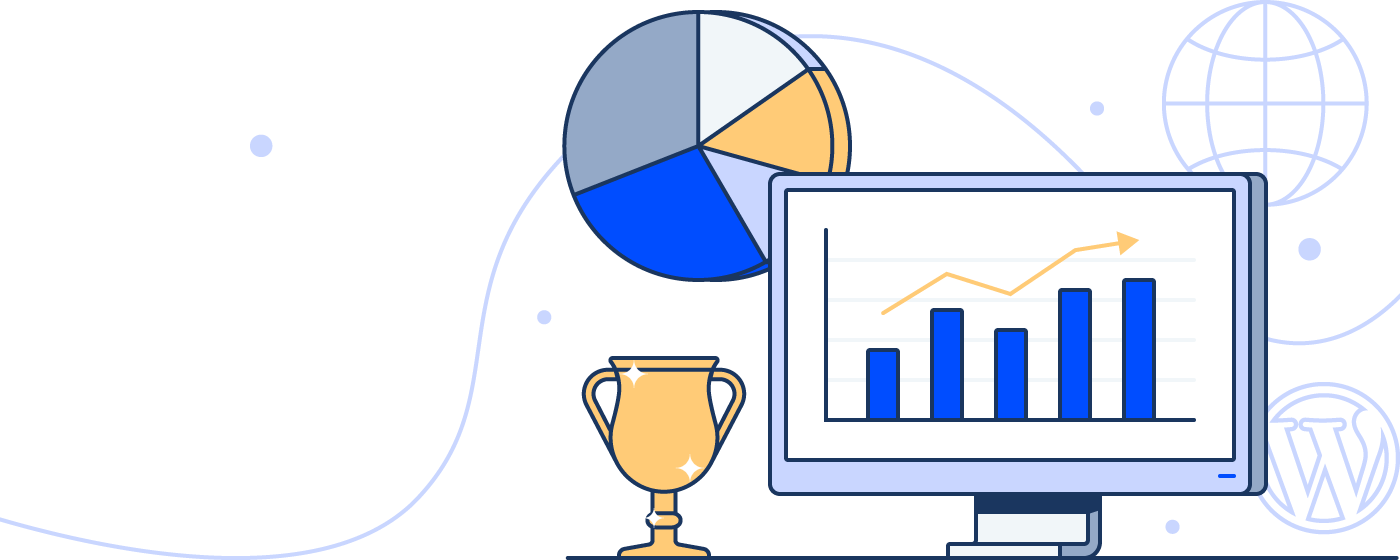 General Blogging Statistics
With over half the population searching the web every day, blogging has become a popular way to make money. In 2020, blog posts reigned as the most popular form of content.
Blogging is a critical part of any digital marketing strategy. Not only is publishing custom blog content a great way to drive organic traffic to your site, but it's also a way to communicate product updates and information to your customers.
As you form your content strategy this year, it's essential to stay on top of the current state of blogging. From the number of blog posts written a day to the most popular types of content formats, we cover the top blogging statistics to keep in mind.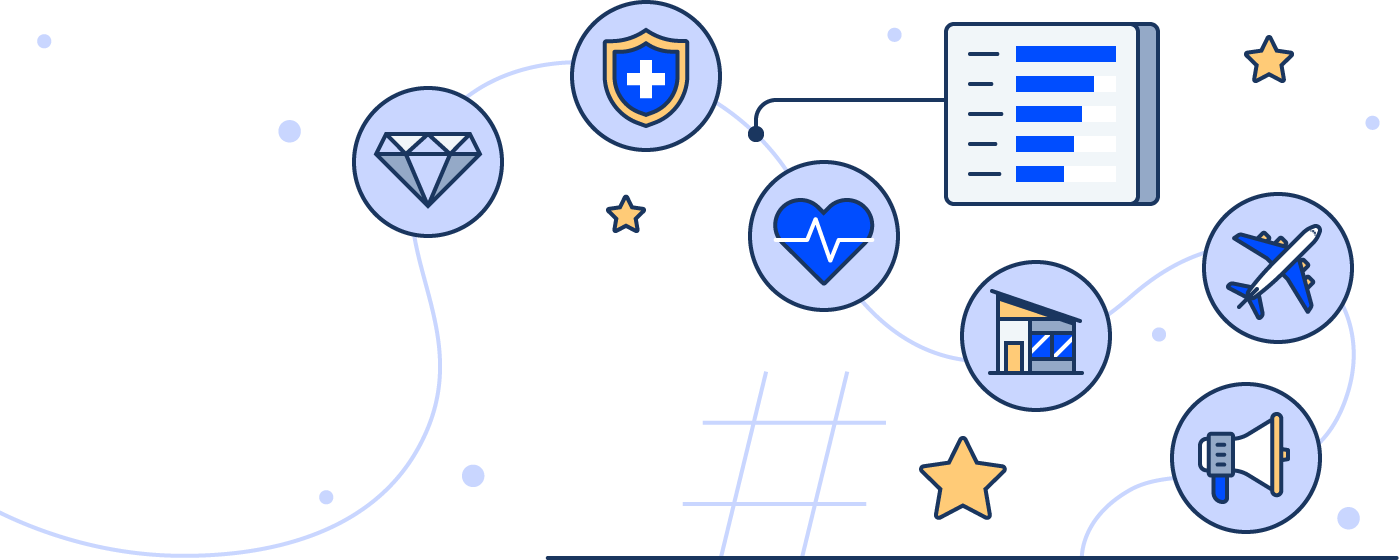 Blogging Industry Statistics and Trends
From fashion and finance to travel and parenting, there are a variety of different blog types out there. In fact, there are around 3.9 million "mommy bloggers" in the United States. If you look hard enough, you can find a blog for just about anything.
However, just because you can blog about anything, doesn't mean you can make money from it. Finding a topic to blog about and solidifying your niche is an important part of creating a successful blog online.While we discussed the best length of a blog post being 2,100–2,400 words, SEMrush analyzed 700,000+ blog posts to uncover the average length of top-performing articles by industry.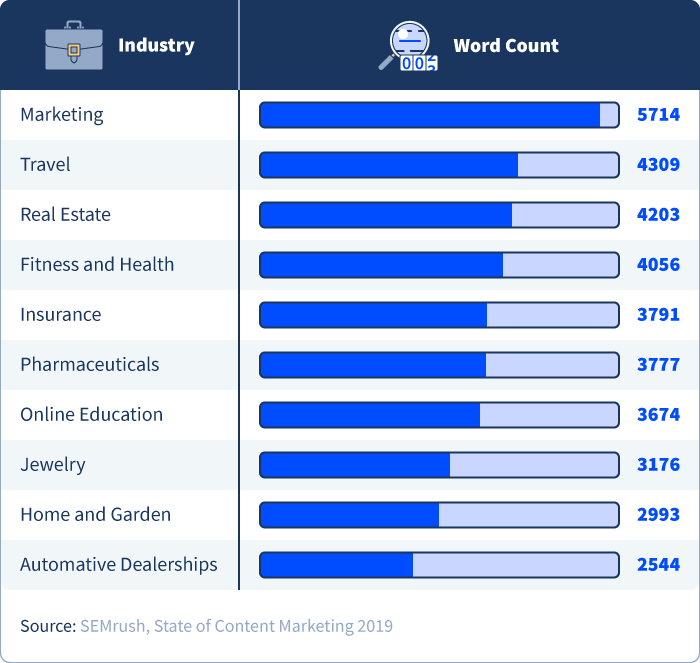 It's clear that content over 2,500 words performs better than content less than 2,000 words —no matter what industry you're in. However, just how long and comprehensive your article is depends on your market.
If you run a marketing or travel blog, you may benefit more from creating comprehensive guides in the 5,000+ word range. If you run a home and garden blog, you may benefit more from shorter articles with images.
For more insight into what type of blog content you should capitalize on, SEMrush's report also uncovered what type of articles performed the best in each industry. They looked at the top 20 traffic-yielding articles from each industry and determined the most popular types of content present.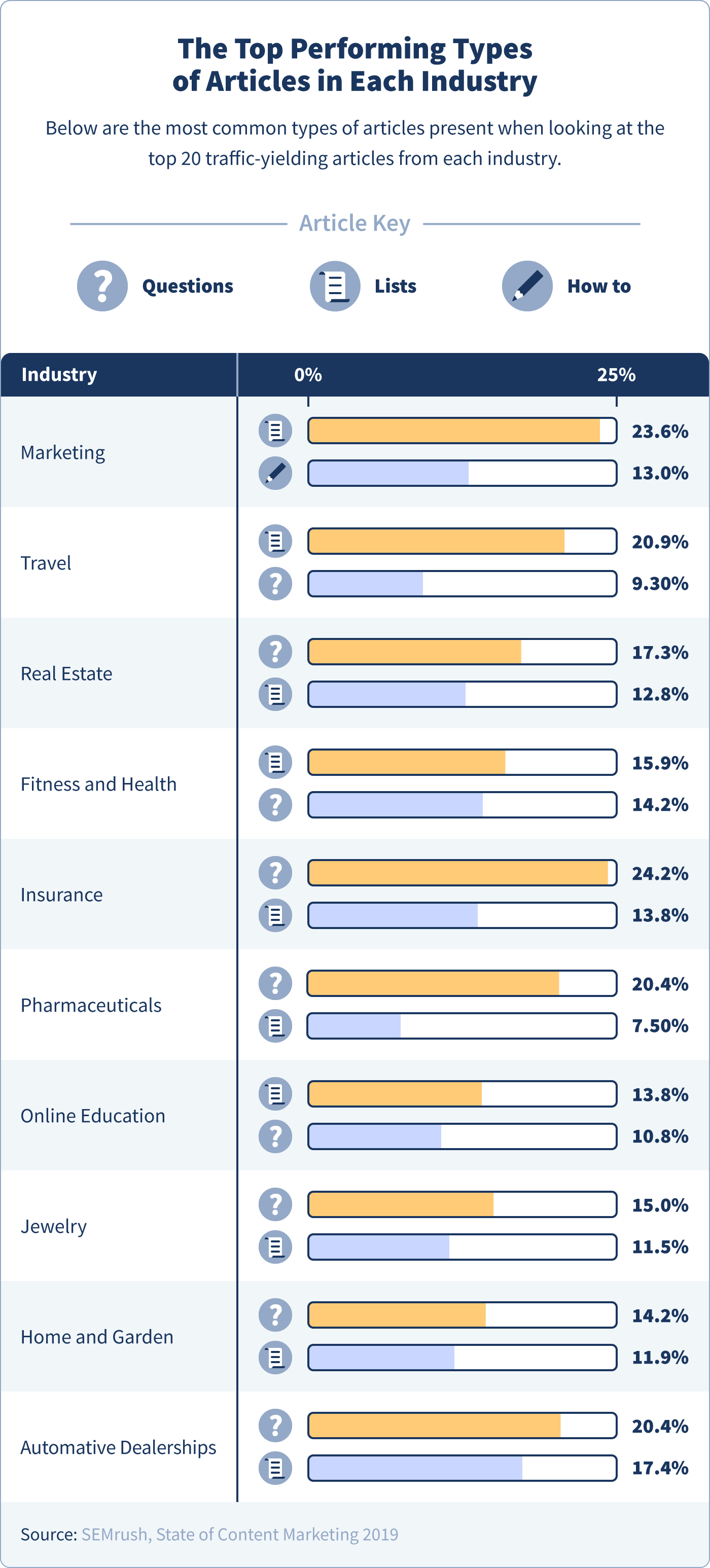 It's clear that blog content that answers questions and provides resources in an easily digestible format is the most successful for the majority of industries. Below is a high-level view of their findings.
13.8% of the top-performing articles on online education blogs were lists.
15.9% of the top-performing articles on fitness and health blogs were lists.
15% of the top-performing articles on jewelry blogs were questions.
20% of the top-performing articles on pharmaceutical blogs were questions.
20.9% of the top-performing articles on travel blogs were lists.
24.2% of the top-performing articles on insurance blogs were questions.
23.6% of the top-performing articles on marketing blogs were lists, followed by how-to articles (13%).
17.3% of the top-performing articles on real estate blogs were questions.
14.2% of the top-performing articles on home and garden blogs were questions.
20.4% of the top-performing articles on automotive dealership blogs were questions.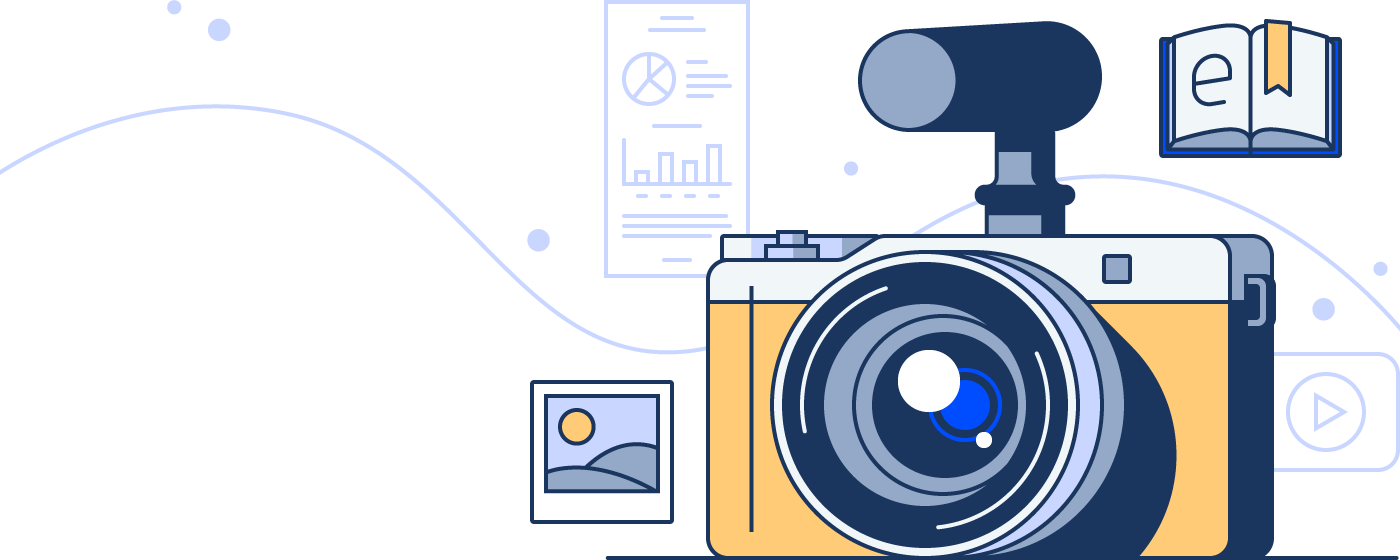 Multimedia Blogging Statistics
No one wants to read a big block of text. A great blog post isn't complete without media. Multimedia — such as video, images, infographics, eBooks, and more — is becoming more and more prevalent in marketing strategy. Not only does this make your content visually appealing, but there are SEO benefits that can help it rank better in search engines.
The type of multimedia content you choose to create will depend on your industry and the type of blog post you're publishing. When considering the type of media to include, think about your target audience. What type of media will be easily digestible for them? What format will help explain the topic you're covering the best?
If you're in the B2B space, infographics tend to reap the most benefits as they can cover a wide range of information in one graphic. If you run a food blog, readers want to see the recipe in action — making high-quality photos the most popular form of media for that type of content. For more insight into which form of multimedia you should work into your content strategy, take a look at the statistics below.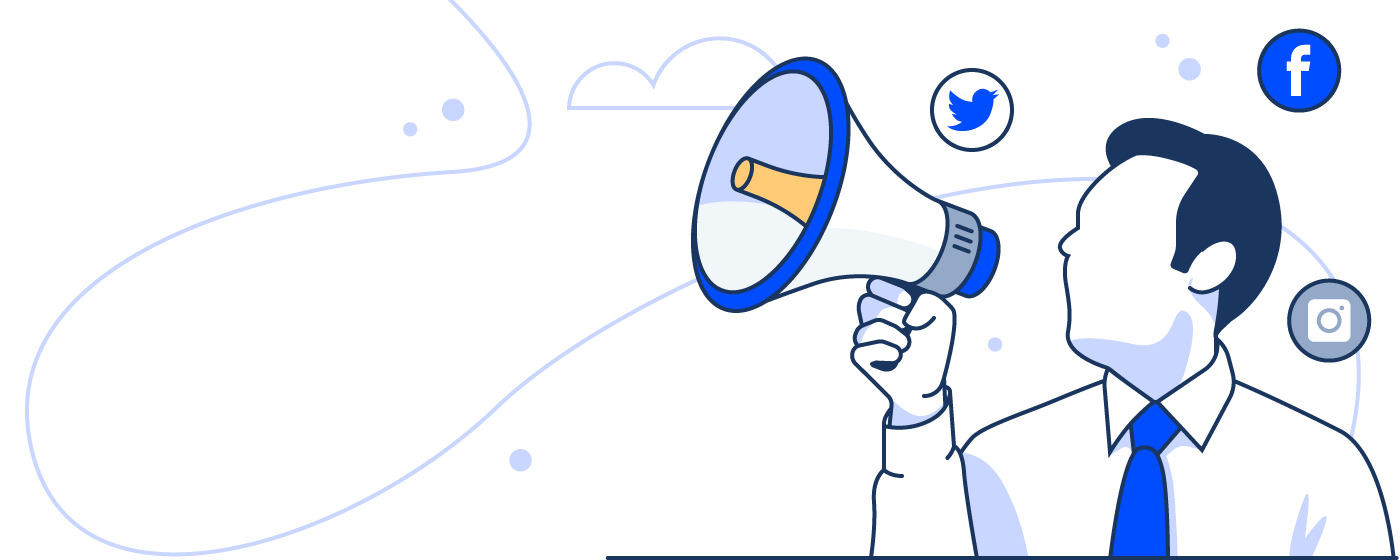 Marketing-Focused Blogging Statistics
If your company doesn't have a blog yet, we recommend creating one. Most organizations publish content to increase their organic traffic and generate quality leads. Creating quality content through blogging can help business owners achieve their goals, reach a wider audience, and answer common customer questions.

However, the marketing landscape becomes more competitive every day. To help you stay on top of current trends and identify areas where you can improve your strategy, we've rounded up impactful marketing-focused blogging trends and insights below.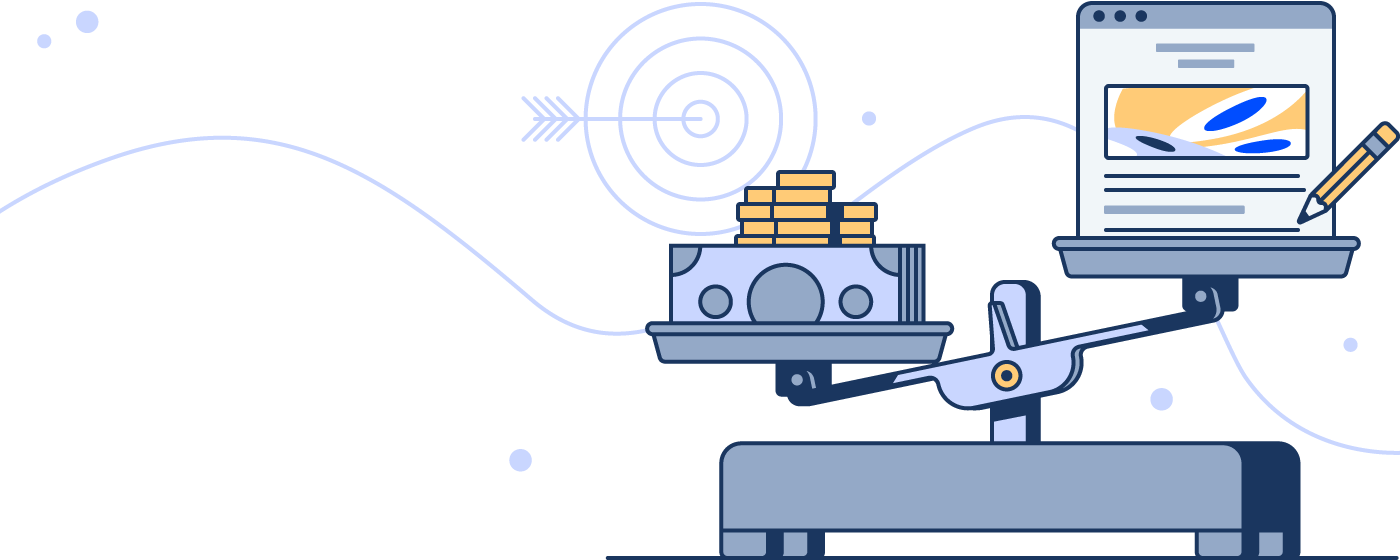 Blogging ROI Statistics
A blog is one of the most underrated tools —especially if you run an eCommerce website. Blog content can help you attract, convert, and retain customers through a form of marketing that feels personal, not transactional.
Creating blog content can be inexpensive and it provides you with more leads, more sales, and better brand recognition.

Not only that, consumers prefer to learn about brands and products through custom content as opposed to traditional ads. Still not convinced? If you're more of a numbers person, we've rounded up the statistics to show you how your business can benefit from a blog.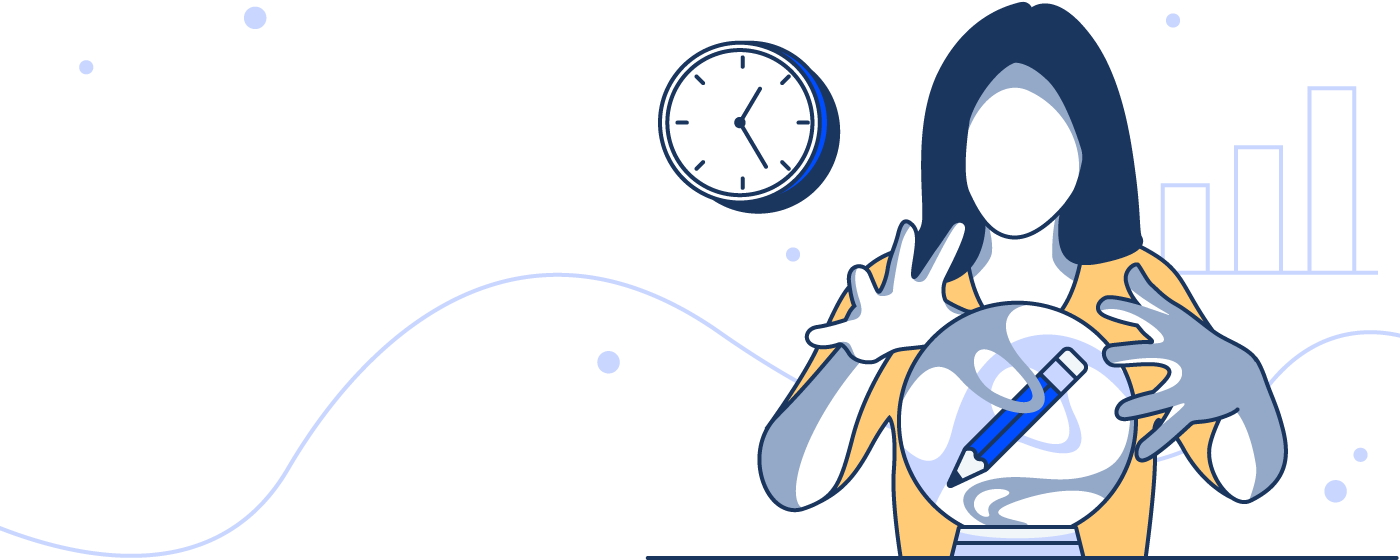 The Future Of Blogging: Key Learnings + Predictions
The future is bright for bloggers. While we can't predict what will happen in the next few years, we can take a look at the past and what is happening today to better predict the future.
Is blogging still relevant in 2021 and beyond? The answer is yes. The blogging world has skyrocketed and shows no signs of slowing down. What we've found is that longer content performs better in most industries. Longer content in the 3,000+ word range can increase a website's traffic, backlinks, shares, and rankings.
Another critical component of successful blog posts is headlines. Headlines can make or break your Click-Through-Rate (CTR). Consider making yours longer and ask a question to peak reader interest. When writing content, include relevant headers to increase ranking potential. Well-structured articles perform better and content in the form of listicles, guides, and how-to articles were found to bring in the most traffic and shares.
Another trend we see increasing in 2021 and beyond is the use of multimedia within content. Articles with images or other forms of media acquire more views and engagement on average. Video content is also on the rise. Video, blogs, and eBooks were the primary form of media used in 2020 content strategies.
The majority of B2B and B2C marketers favor blogging as a method of distributing content and see it as an integral part of their marketing strategy. If your business blogs regularly —2–4 times a week for 6+ months — you'll see your sales increase.
If you're a small business owner or an entrepreneur looking to start your own blog, you may feel overwhelmed when thinking about creating a blog strategy from scratch. A lot of resources, time, and tactics go into creating a successful blog.
If you're building out a scalable content strategy and looking for a place to start, we recommend diving headfirst and starting a blog right away. If you need help getting started, check out the infographic and resources below.
Blogging Resources