Running an online business has many benefits.
In 2020, that's the lesson a lot of big and smaller companies had to learn (often the hard way). No one was prepared for the havoc, disruptions, and all-around panic that COVID-19 created.
So if you are wondering just how many online businesses are there and how they are doing right now, here are the key statistics.

Our statistics round-up includes the latest research and industry trends. As we are dealing with something unprecedented, it's hard to say how things will unroll further. But for Q3 and Q4 of 2020, we expect that the outlined trends, behaviors, and shopping patterns will remain strong.

2021 eCommerce Statistics and Shopping Trends
Let's start with eCommerce and shopping.
In March 2020, Online Transaction Volumes in Most Retail Sectors Increased by 74%, Compared to March 2019. (1)
With strict stay-at-home orders placed in most countries around the world, eCommerce has become the prime avenue for shopping in spring 2020.
ACI Worldwide analyzed millions of consumer transactions from global retailers during March 2020 and identified the following spending trends:(2)
Rising in demand, compared to March 2019:
Garden essentials: +163%
DIY products: +136%
Home products and furnishings: +97%
Electronics: +26.6%
Telco services: +18.6%
Declining in demand, compared to March 2019:
Ticketing: -60%
Travel: -44%
Online dating: -8.9%
The swings in online transactions are not surprising. A lot of consumers viewed the lockdown as an opportunity to pick up some well-overdue home improvement projects and hobbies.
The travel, events, and hospitality industries took the biggest hits, which also reflected on adjacent online businesses as the data indicates.
(Source: ACI Worldwide)
The U.S. eCommerce Market Increased by 49% in April 2020, Compared to the Baseline Period in Early March 2020.(3)
By April 2020, shopping online became the 'new normal' in the US. as Adobe reports:
"Online shopping has become the primary means of commerce during COVID-19."
Retailers in both essential and non-essential product categories have seen a good bump in sales. Plus, some of these US eCommerce statistics show a curious interplay of trends within the same category.
Apparel: Online prices for all apparel goods dropped by 12% in April 2020. Still, online apparel sales increased by 34%.(4)
Stay-at-home clothes are in vogue this season, unlike your regular garments:(5)
Pajama sales are up by 143%
T-shirt sales increased by 47%
Shorts sales bumped by 67%
Pants sales reduced by 13%
Jackets sales dropped by 33%
Electronics: For the first time in 5 years, electronics prices in the US started climbing up. Despite the price increase, the sales are also up by 58%.(6)
As most companies sent everyone to work from home, the demand, and afterward, prices for work gear spiked. PCs and laptops became more expensive in April 2020 due to demand.(7)
Groceries: Though most grocery stores remained open, consumers still largely switched to online shopping(8):
In April 2020, the US has seen a 110% increase in daily online sales(9).
Yet, the prices stayed in line with January-March 2019 levels(10).​
Somewhat unsurprisingly too, eCommerce alcohol sales are climbing up. In April, online purchases of wines, beers, spirits, and accessories increased by 74%.(11)
(Source: Adobe)
The Takeaway
Now might be the best time to pivot or dial up eCommerce sales, especially if you are selling goods in the trending categories. Despite gradual re-openings, a good fraction of consumers will likely stick with online shopping during the coming months.
Consumers' Intent to Shop Online Dropped by 30-40% in Europe and North America.
As the previous data tells: eCommerce worldwide is gaining momentum. But not every retail vertical remains undisrupted.
Per McKinsey, the AF&L (apparel, fashion, and luxury) sector was hit badly(12). Even in countries with milder quarantine measures, consumers feel reluctant to shop.
The overall consumer purchase is down by 70%-80% offline and 30-40% online across Europe and North America. (13)
McKinsey analysts also believe that in the AF& L sector, a significant fraction of offline retail sales could permanently migrate online.
Even the Chinese luxury power buyers don't rush back in stores. Another survey suggests that 74% of shoppers avoided malls for two weeks after store reopening. (14)
In general, the data shows that most global consumers do not plan to increase their household spending over the next several months, especially for non-essentials. (15)
In particular, most of the surveyed households plan to cut down their spending by at least 50% in the following categories:(16)
Footwear
Apparel
Jewelry
Accessories
Among the more positive online business trends is the fact that most consumers plan to spend 30%-to-50% more on the following goods and services:(17)
Groceries
Household supplies
Personal care items
Home entertainment
Again, this data is a strong indicator of the fact that people plan to budget and focus on in-home items, rather than all-around spending.
(Source: McKinsey & Company Surveys)
Consumers Are Saving 29% More and Spending Less on Discretionary Items. (18)
A BCG survey conducted in March 2020 also shows that non-essential commerce is down:(19)
Fashion and luxury goods: -27%
Toys and games: -25%
Gambling: -26%
Here's why most consumers choose to curb their spending:(20)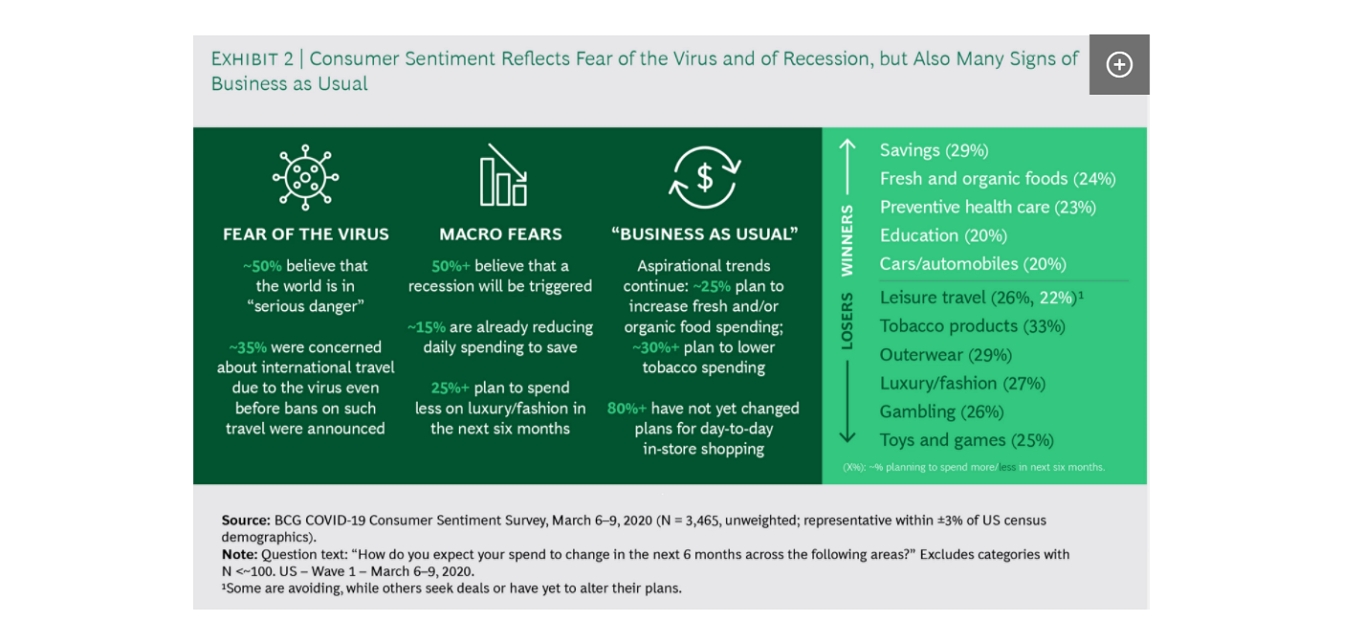 Consumer sentiment. Source: Boston Consulting Group.
(Source: BCG)
47% of Millennials Moved Their Routines Online. 45.1% of Bridge Millennials and 41.8% of Gen X Consumers Have Done So, Too.(21)
Despite the overall levels of concern, most Millennials and Gen X consumers shifted their day-to-day work, leisure, and shopping activities to the online space as the PYMNTS report says.
While that's good news for online business owners, brick & mortar retailers should also pay attention to this data.
Below are some extra online shopping statistics, showing the change in shopping behaviors:(22)
People are shopping 28.3% less in brick-and-mortar stores now, compared to pre-outbreak.
Bridge millennials (30-to-40 year-olds) cut down their in-store spending the most (by 29.4%) and their mobile shopping increased the most too (by 12.4%)
(Source: PYMNTS' COVID-19 Brief Series)
Pre-COVID-19, Online Shopping Increased by 34.9% And the Share of Consumers Buying Retail Goods Online Decreased by 24%.(23)
PYMNTS also estimated that even before the global pandemic, most customers were already drifting towards online channels. So the crisis just accelerated this tendency.
Their data also indicates several extra trending product categories among consumers:(24)
Preventive health care: +23%
Household cleaning supplies: +18%
Amazon is the first general retail stop for most consumers and Walmart has become the first choice for online grocery shopping.(25)
And here's an unexpected finding from the same report:
Women were less inclined to shop online, compared to men. Less than half (48.7%) of consumers who paid for their most recent purchases online are female.(26)
Somewhat less surprising is that online shopping is more popular with younger consumers.
The average age of consumers who shopped and paid for their most recent purchases in-store is 44.8 years, while those who did so online average 38.9 years.(27)
Online business owners, take note and adapt your strategies for younger Millennial and Gen Z customers.
(Source: PYMNTS' The State of Remote Payments Report 2020)
Over a Quarter of U.S. Consumers Can't Find the Products They Want or Need.
The latest insights from Google indicate that consumers are somewhat at loss, too. Due to panic-buying behaviors and disruptions in the supply chains, a quarter isn't seeing their favorite brands present on the virtual (and physical) shelves.
As a result, nearly 3 in 10 consumers bought brands they don't normally buy.(28)
For newer online stores, that's an advantage as they can raise the rates of their brand awareness. As consumers stay more open to alternatives, you have a better chance of whizzing them away from a bigger competitor who cannot move as fast with the delivery of new products.
(Source: Google)
64% of Consumers Use Multiple Channels to Start and Complete an Online Purchase.(29)
Salesforce's latest State of the Connected Customer report also sheds some light on how people show right now.
More than half of B2B and B2C buyers rely on multiple channels to start and finish one transaction. For instance, they can start browsing on their smartphone, click a social media ad and move to a mobile app, but then go to the desktop website version to complete their transaction.
So the question most business owners should be asking in 2020 more often is how do I accommodate those multi-channel, cross-device customer journeys?
(Source: Salesforce)
38.5% of the Avid Online Shoppers These Days Are People in the Highest Income Bracket.(30)
While lower-income shoppers and furloughed consumers are cutting down on their spending, the more well-off demographics of online shoppers do not shy away from having an impromptu shopping spree.
The State of Remote Payments Report 2020 also notes that the most active omnichannel shoppers are also high earners:(31)
38.6% have an income of $100,000 or more per year.
38.9% have college degrees
Their median age is 35.8 years old — somewhat younger than the average mono-channel consumer, aged 48.1.
(Source: PYMNTS' The State of Remote Payments Report 2020)
The Takeaway
Omnichannel consumers and high-earners are the two key demographics for online retailers. But to win their wallets, most businesses will need to offer a user-friendly online shopping app, a convenient checkout process, and deliver a consistent user experience across all sales and digital marketing channels.
2020 Small Business Statistics
Now let's take a look at small business data.
70% of SMBs Have Expanded Their Digital Capabilities During the Past 10 Weeks. (32)
Crisis often forces us to get creative. SMBs were no exception.
To stay afloat, the majority of small businesses in the United States had to rapidly upholster their digital experience. As PYMNTS data tells, most owners invested in new tech and tools since the beginning of COVID-19: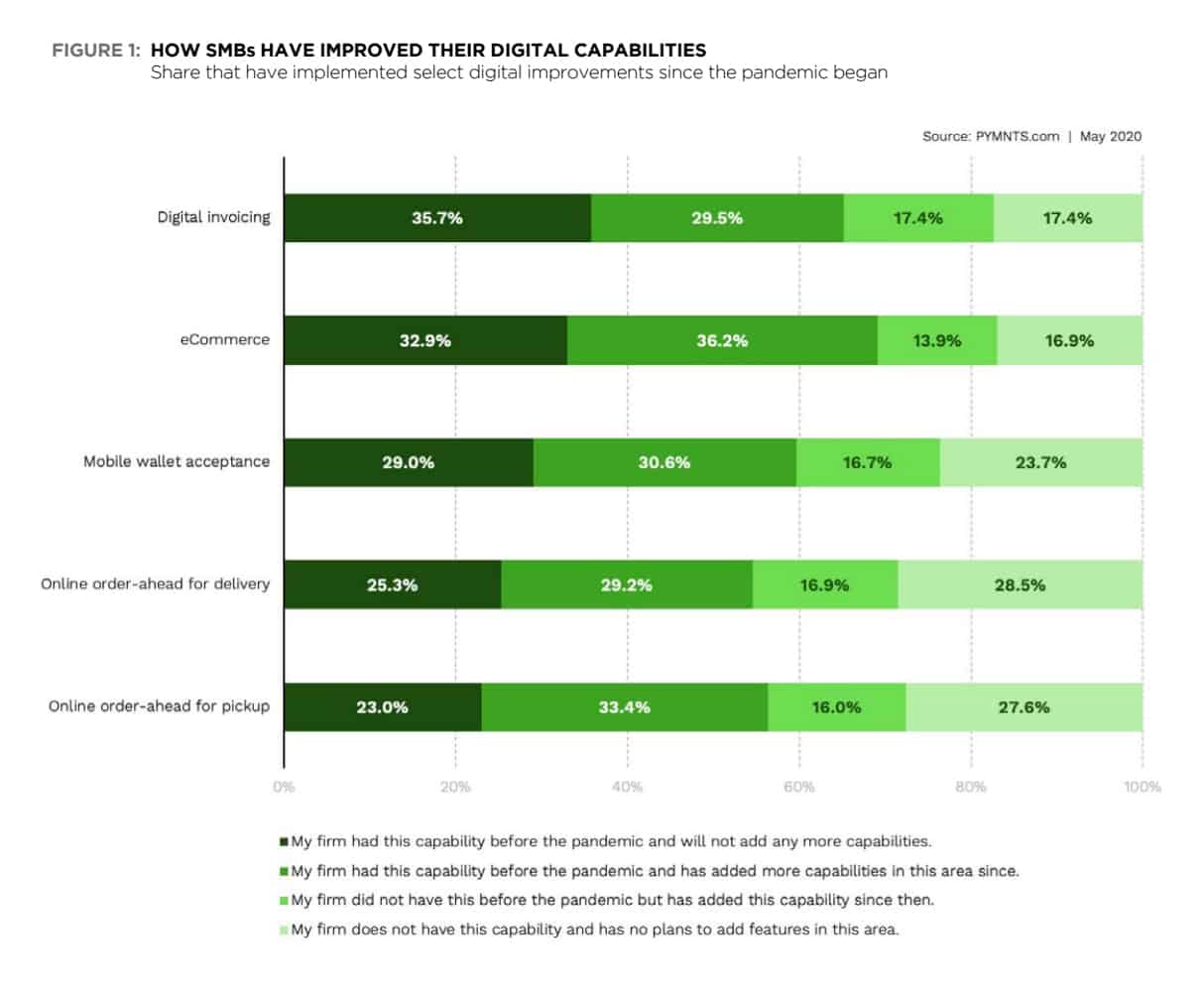 SMB digital capabilities. Source: PYMNTS.
(Source: PYMNTS' COVID-19 Brief Series)
31% of Small Businesses and 52% of Personal Businesses Have Stopped Operating as a Result of the Pandemic.(33)
On a more grave note, the State of Small Business report by Facebook says that a fair share of business owners had to completely stall their operations.
Among those, who remain open despite the challenges, the feeling of uncertainty and weariness prevails:(34)
47% of SMB owners feel burned out from attempting to balance business and household responsibilities.
28% anticipate that cash flow will be the biggest challenge for them in the next couple of months.
20% are concerned with the likely lack of demand.
On the other hand, despite the difficult times, some SMB keep thriving thanks to the rapid shift to digital sales.
Here are some small business technology statistics to prove that:(35)
36% of personal businesses are now concluding their sales online.
35% of SMBs changed their operations to increase the use of digital payment methods.
51% of businesses report a higher volume of online interactions with their clients.
(Source: Facebook's State of Small Business Report 2020)
One-Quarter of Business Owners Believe They Can Recover to Pre-Pandemic Levels of Productivity and Employment Within a Month.
Small Business Insights report says that across the US 60% of small business owners were experiencing a significant impact from the healthcare crisis. In some states, the figure went as high as 90%.(36)
37% of SMBs said that they had less than a month of cash on hand in mid-March.(37)
This mirrors Facebook's data on the troubling state of cash flow among SMBs.
However, as 32% of businesses could stay open during that time, they will likely improve their cash flow situation by the end of the month.(38) Brick and mortar locations that were fully or partially closed is so ready to start their operations, too.
What's more, 25% of all surveyed businesses believe that they can get back to normal operations in just one month after all the restrictions get lifted. Another, 36% believe that such progress will be made within 3 months and 29% say within a year.(39)
(Source: Small Business Insights)
Over Half of Small Business Owners Expect Higher Online Sales Post-Outbreak.
Another fresh report from PYMNTS notes that 66.4% of small business owners believe that their online sales numbers will be higher than pre-COVID-19.(40)
This is happening for two reasons:
SMBs now offer a better (or brand new) digital shopping experience, making it easy to buy from them.
Consumers have settled into the 'new normal' route of shopping online and won't give up the habit for a while now.
(Source: PYMNTS Main Street on Lockdown Report)
47% of Business Owners and Participants in Estonia's E-Residency Program Said That it's 'Business as Usual' for Them.
Estonia makes it dead-simple for anyone to start and run an online business remotely, using the country's governmental infrastructure.
This makes Estonia a popular business incorporation destination for anyone offering services or selling digital products online.
An April 2020 survey of current e-residents (business owners) revealed that 47% did not experience any operational disruptions since the beginning of the pandemic.(41)
But, 27.5% of business owners had to pivot. Among them:(42)
23% either adapted their existing offerings or added new digital products/services to their mix.
13% had to look for new clients or diversify into different markets or business verticals.
Clearly, online businesses were less disrupted during the outbreak. But things aren't rosy for everyone.
(Source: Medium's Estonia e-Residency survey)
The Demand for Freelance Creative Services Increased by 20% Since the Beginning of the Year.
Fiverr's annual Freelance Economic Impact report says that the demand for graphic design and videography services rose by 20% in 2020. (43) This directly reflects in freelance earnings. The creatives' revenues grew by 25% at the same time.(44)
So if you plan to start a freelance side-hustle to offset your income losses, creative services right now are in higher demand, compared to technical (e.g. software development) and professional (e.g. accounting) services.
While freelancing is often viewed as a less stable career choice, the Fiverr report also proves the opposite:
Six in ten (59%) expect to make more or about the same revenue in 2020 as they did in 2019. (45)
Still, the majority (62%) of surveyed freelancers are more anxious than hopeful about the future of the freelance economy due to COVID-19.(46) But again, the sentiment isn't much different among traditionally employed folks.
(Source: Fiverr's Annual Freelance Economic Impact Report 2020)
There's a 21% Year-Over-Year Increase in Freelance Job Postings in Q1 2020.(47)
Freelancer.com — a popular online marketplace of services — reported a steady rise in job postings. In Q1 2020, they had 497,000 active job offers versus 410,000 in Q1 2019.(48)
This may not be a huge peak, but rather an early indicator that more employers are dipping into the Gig economy to fill in contract positions and short-time needs.
(Source: Freelancer)
Another report from the Business Talent Group further explains what freelance skills are in high demand right now:(49)
Project management
Market analysis
Process optimization and transformation
Advanced analytics
Change management
Quite a set of executive skills, eh?
The Takeaway
Not all small businesses and personal businesses (freelancers) are in a good position these days. But those who are 'native' to remote work and digital collaborations, thrive rather than strive.
What's more — jumping on the freelance train right now may be a good option for experienced professionals, who can offer consulting services and domain expertise to companies, struggling to adapt their operations.
2020 Internet Business Statistics
Last but not least, here is the Internet business stat.
In March 2020, Week-Over-Week Searches for "Free Trial" Was Up by 30%.
Content consumption patterns are getting an overhaul too. Google Marketing Insights reported that weekly searches for "free trial" software increased by 30% between March 21st and March 28. (50)
Partially, this can be explained by the mass-foray into remote work. Professionals and teams are actively looking into new ways to collaborate, host remote meetings, and shift their day-to-day routines to the online space. Clearly, SaaS apps offering a free trial will become strong contenders for those new chores.
On the other hand, SaaS businesses will need to figure out how to convert those by-chance users into by-choice brand advocates.
(Source: Google)
Search Interest in "Virtual" Is Up Almost 500% Since January.(51)
Here's another interesting data bite from Google:

Search interest in "virtual" is up almost 500% since January. Source: Google Trends, U.S., Jan. 1, 2020–April 1, 2020.
To offset the boredom of being stuck at home, most people are actively looking for digital experiences. In the UK, "live zoo" is a popular new search trend. Spaniards are googling for "visita virtual" (virtual tour in Spanish).(52)
(Source: Google)
If you are in the travel industry, you may want to jump on this trend just like Airbnb did. Since the beginning of the year, the once-popular online rental platform shifted towards online digital experiences for users, hosted by temporarily off-duty folks from the hospitality industry:

Source: Airbnb.
87% of US Consumers and 80% of UK Consumers Are Consuming More Content Across Media Channels.
Staying at home means more TV and leisure time (while pretending that you are so productive on social media!).
GlobalWebIndex consumer survey found that 87% of the US and 80% of UK consumers started watching more video content since the beginning of the pandemic.(53)
38% now watch more broadcast TV(54)
38% are consuming more online videos(55)
37% stream more TV shows and movies(56)
(Source: GlobalWebIndex)
That's good news for all the content creators and VOD services for sure!
And here some additional statistics on online media consumption across generations:
Millennials are looking for COVID-19 updates and news 71% more often now. In fact, they are the most information-obsessed generation in this category as Gen Z now spends 67% more time on news online and Boomers' content consumption increased by 54%.(57)
47% of Gen Z and 45% of Millennials now play mobile games more often. Gen X and Boomers are not as hooked with a 36% and 34% increase respectively.(58)
71% of Gen Z are listening more often to music versus 62% of Millennials and 54% of Gen X.(59)
And if you are wondering why no one signed up for your latest webinar, it's probably because just 16% more of Millennials and 9% more of Gen X folks are watching them more frequently.(60)
Visits to Educational, Teaching, and Parental Websites Are Up by 78% in APAC.
Comscore reports that in the APAC (Asia-Pacific) region, traffic to Family & Youth Education websites has increased by 78% in April 2020, compared to January 2020. (61)
The responsible parents are actively looking into new ways to homeschool their offspring. Educators look for tips and tricks on hosting better classes. And the kids, well, they are probably the ones keeping that "online gaming" curve on a steady rise: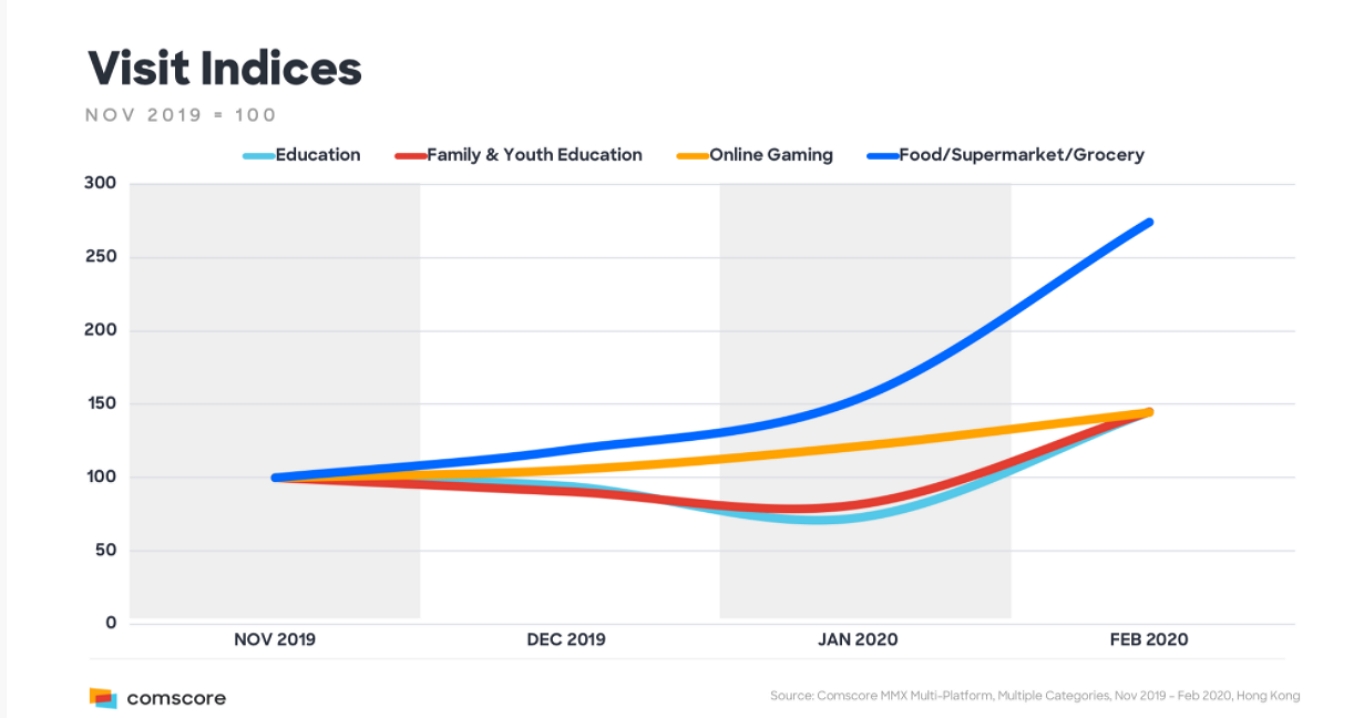 Visit indices. Source: Comscore.
(Source: Comscore)
The Number of Average Daily Unique Visitors in the PC Gaming Category Rose by 14% in March-April 2020.
Another Comscore report shows that online gaming has seen a major bump as shelter-in-place orders were issued county-wide in the US.
PC and console gaming is seeing the biggest surge in popularity. The number of average aggregate daily unique visitors (UVs) increased by 14% for PC gaming.(62) Plus, the average engaged duration (total time spent with the desktop game in the foreground) upturned by 17% between March 9 – April 19, 2020.(63)
While movie companies delay their premiers, game developers should definitely release new titles as the demand is there!
(Source: Comscore)
Mobile Gamers Worldwide Spent $100+ Billion Across All App Stores.
Since the beginning of the year, avid mobile games have already managed to spend over $100 billion on in-app purchases and paid apps, according to App Annie. (64)
Mobile devices now have a 55%+ market share across the gaming sector, making it the place to be for game developers. (65) And no, consumers aren't tired of apps.
App Annie also says that last year, consumers downloaded over 204 billion new apps to their smartphones, setting a new industry record. (66)
So if you have a mobile product idea, 2020 may be the best time to launch.
(Source: App Annie)
To Conclude
In times of uncertainty, data is key to better business decisions.
This collection of online business statistics is a mixed bag. Some stats are good and even great like the rise in freelance jobs. Others are downright terrifying — a fair share of SMBs will never reopen or recover from financial losses.
The most important part? This list is here to help you improve your business strategy. Now you know how consumer demands have changed, what services and in-demand, and how content consumption has changed.
Bookmark this page and refer to it whenever you need some extra guidance!