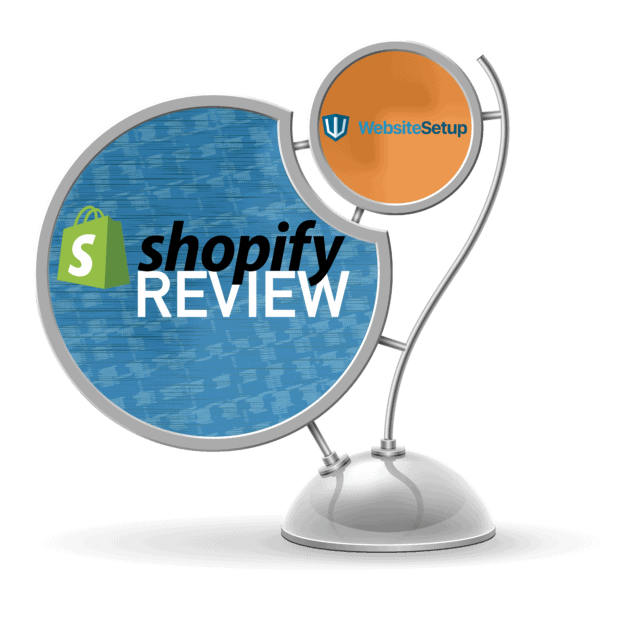 You can't talk about e-commerce without a Shopify review. Selling online has become one of the mainstays of the Internet. These days you can buy anything you want on the web and have it delivered to your house. It's a great time to be a consumer.
At the same time, it has also never been easier to be on the other side and open your own online shop. There are numerous solutions to do that. Among the most popular is Shopify, especially for beginners.
If you are considering using the platform, this detailed Shopify review will help you make a decision.
Let's get cracking.
What is Shopify and How Does It Work?
Shopify is one of the leaders in the e-commerce industry. It's a web service that offers all the tools you need to open your own online store.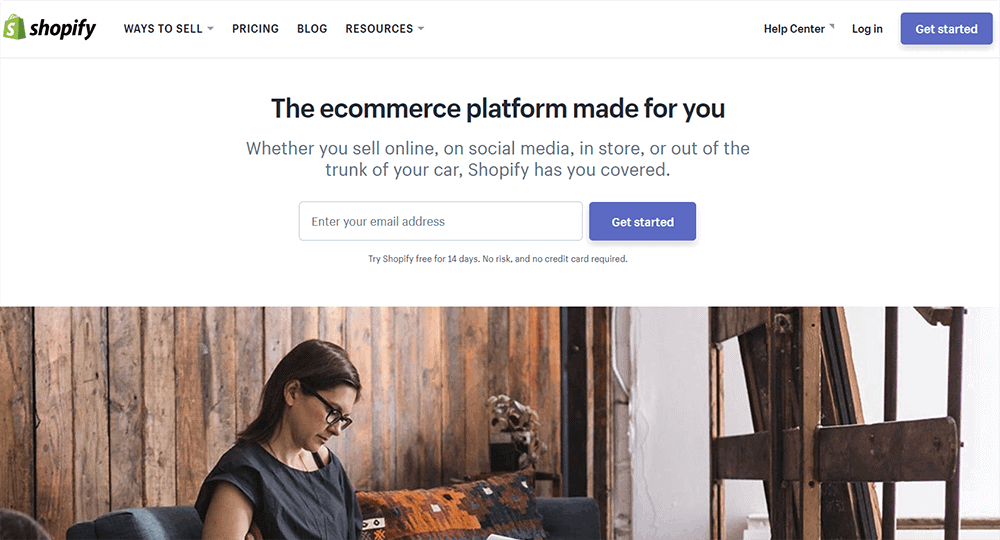 From hosting to administration and customization options, payment processing, shipping and marketing – it's all in one place. Just sign up for an account and you can start building your online shop within minutes.
It gets better:
Besides selling in your own online store, Shopify allows you to sell through all sorts of channels such as Facebook, Twitter, Pinterest, Amazon, eBay and a physical point of sale (making offline sales). In this post, we focus on reviewing a classic online store solution offered by Shopify.
It's a concept that appears to work. At the moment, Shopify powers about ten percent of all online shops. Among the top 10,000 websites on the Internet, it's the most popular known option with its trending going upwards.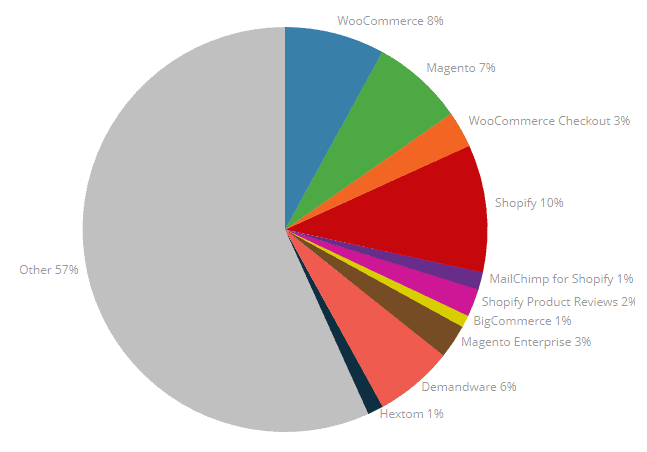 The platform currently powers 600,000 businesses in more than 170 countries, has more than million users and has generated more than $55 billion in sales.
Users of the platform include famous brands and names including Budweiser, The Economist, Penguin Books, Tesla Motors, Red Bull and Lady Gaga. You can find more customer success stories here.
Shopify's most popular industries are fashion and apparel followed by health and beauty, home and furniture as well as food and beverages.

The company is also doing well financially, its revenue and user-base is constantly growing.
Will you be among the latter?
Let's find out!
How Much Does Shopify Cost?
Shopify is a Software as a Service website (SaaS). Like many others, it works with monthly subscriptions. It offers several different plans that are priced differently and have different sets of features. You can choose according to your needs and budget.
Available Plans
There are three basic plans:
Basic Shopify — $29/month
Shopify — $79/month
Advanced Shopify — $299/month
And there's more:
Shopify Lite does not come with a full-fledged online shop but enables you to sell on Facebook and create embed products with Shopify Buy button. At $9/month it's priced reasonably.
There are also enterprise options for large sellers. Prices for the enterprises are only available upon inquiry.
All standard plans include your own website and a blog, unlimited products and storage, Shopify payment processing, 24/7 support, a free SSL certificate, the ability to print shipping labels, discount codes and abandoned cart recovery.
Note that the above pricing does not include a domain. You can purchase a domain name with your Shopify account or use one you already own. Otherwise, your shop will live on a subdomain like yourshop.shopify.com.
Higher plans let you add more staff members, give you higher shipping discounts, gift cards, improved reporting and the ability to calculate third-party shipping rates. They also reduce the cost of using third-party payment gateways.
Additional Payments
That's a touchy subject – unfortunately, Shopify comes with a number of other costs besides the base fee. For example, you pay transaction fees for credit cards on every purchase your clients make. Optional extensions like the Retail package also increase what you pay per month. As you will see, the costs can stack up quickly.
Additionally, you might want to spring for a premium theme to make your shop very professional. This will cost you between $140 and $180 if you go for an existing theme. If you have someone create a custom solution, you have to budget several thousand dollars.
While Shopify offers a lot, unfortunately, these costs add up if you are not careful. For that reason, when making a decision about which platform to use, it's important that you calculate them beforehand. Otherwise, you might be in for some unpleasant surprises.
Before committing to any of the above, you have the possibility to test drive Shopify completely free of charge for 14 days.
How to Use Shopify?
Is Shopify easy to use? Here's the good news!
Ease of use is one of the strong suits of Shopify. Using it requires close to no technical knowledge.
Getting Started
To start your own online shop, all you need to do is go to their website and create an account. You go through an onboarding client that already gives you a lot of input on how to get started with your site.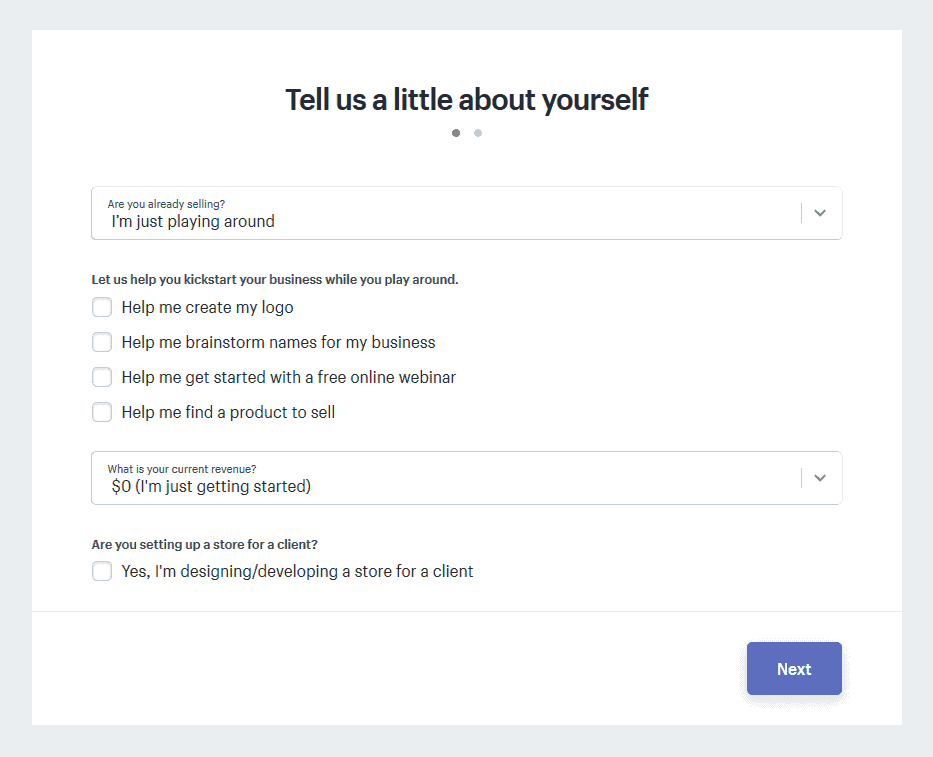 After inserting your address details, Shopify will automatically set up your shop for you. Everything else works right out of the box.
Shopify Dashboard
Once your site is ready, you land on the dashboard.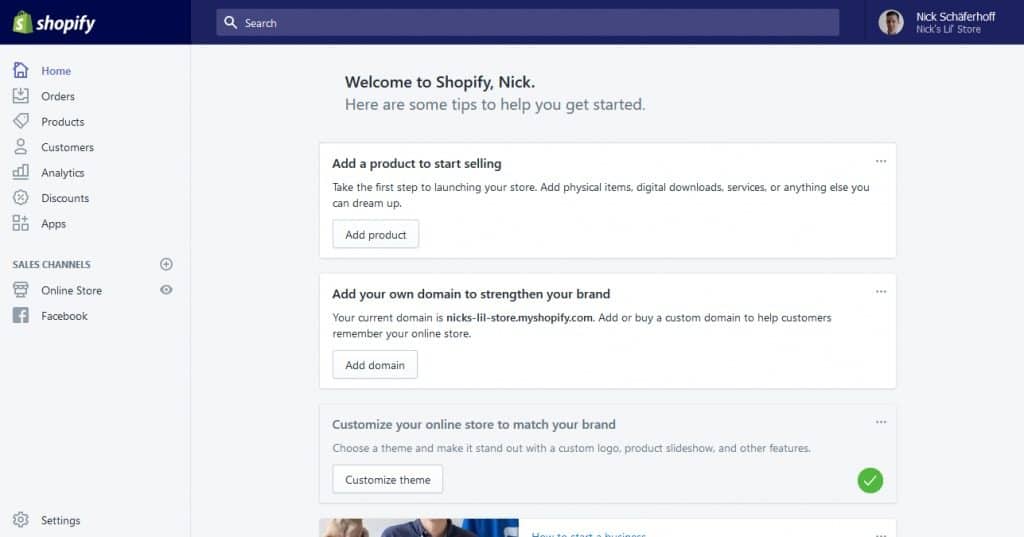 Everything happens here. You can see order statistics and manage orders, add products, manage your inventory and customers, see your analytics and set up discounts as well as additional apps and change your shop design.
in overall, the user interface is clean and uncluttered. If you have any experience working with online apps, you will find your way around it quickly. We will look at some examples below.
At this point, it's also important to remember you can access everything via your mobile devices as well. Not only is the admin interface responsive so you can log into your site on the go, Shopify also has dedicated mobile apps to keep track of your business from your phone or tablet.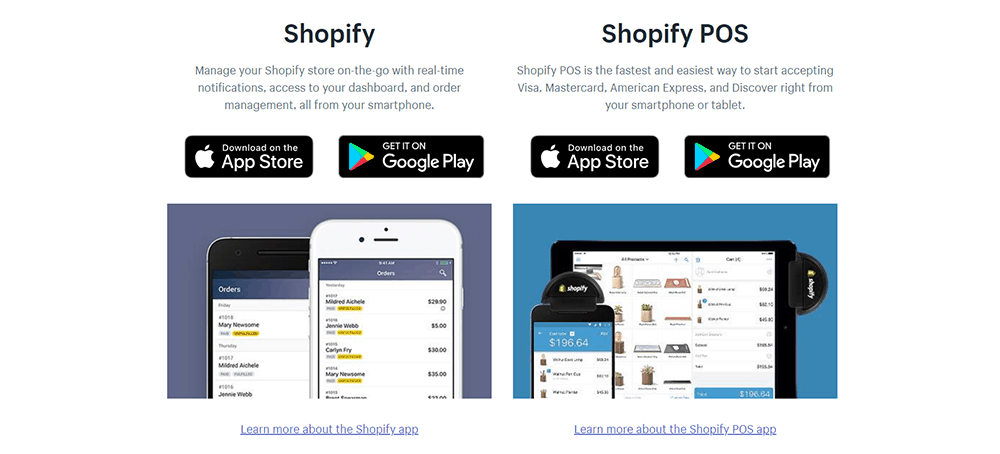 How to Add Products to Shopify?
Adding products to your shop is conceivably easy. First, click on the Products menu item in the main screen and Add product. This gets you to the product screen.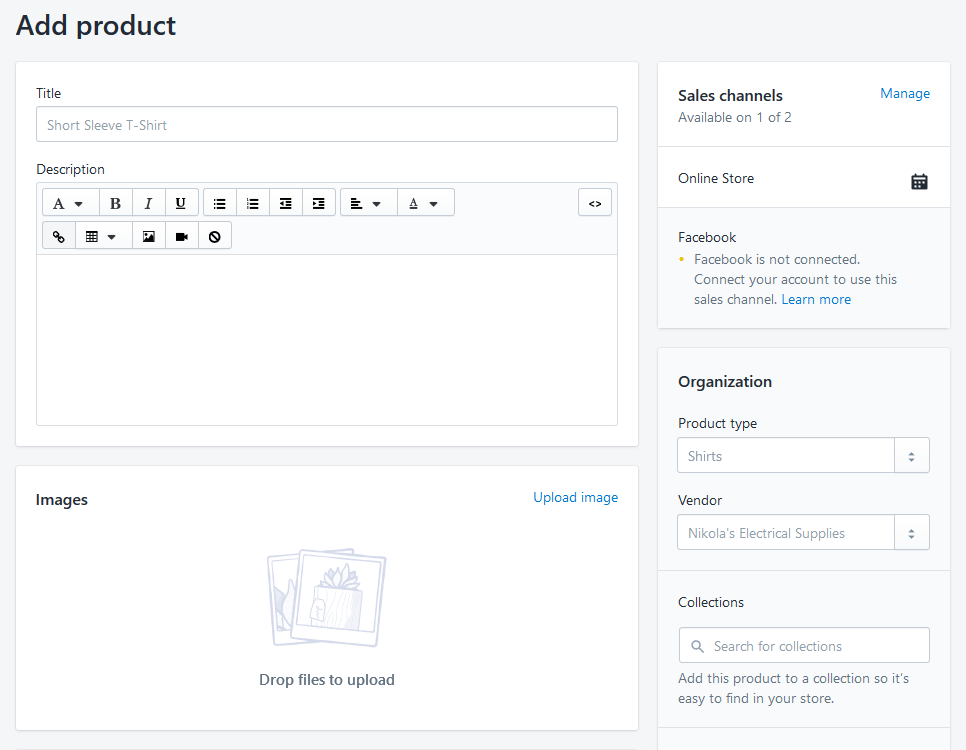 The first thing you want to do is give your product a title and add a description. For the latter, you can use all the available tools for formatting, adding links and media like images and videos.
After that, here are what the other settings are for:
Sales channels — Control the channels to sell your product on (so far that's only your online shop) and the date and time it will appear there.
Organization — Add a product type (sort of like a category), vendor, product collection it belongs to and some tags.
Images — Upload images either via dragging and dropping files onto the field or a click on Upload image in the upper right section. Anything you add here will appear as the product image on the front of your store.
Pricing — Set a price, change whether to charge taxes for this product and set a "compare at" price. The latter is the price that will show up on your site as a comparison when your product is on sale.
Inventory — Set a Stock Keeping Unit (SKU), which is a unique identifier used for tracking your product, add additional identifiers such as an ISBN number and determine whether Shopify should keep track of the inventory for this product. If you say yes to the last point, you need to insert how much of it you have in stock and whether customers can order it if it's sold out.
Shipping — Control everything that has to do with fulfillment, like whether you are dealing with a physical or digital product, its weight and tariff code and whether to use a fulfillment service for it.
Variants — Create product variants. That means if a product is available in different sizes and/or colors and the likes.
Search engine listing preview — Here, you can control SEO settings like title tag, meta description and URL to make sure it looks good in search results.
Once you have set everything up, simply click Save product in the lower right corner. You can then preview what you just did.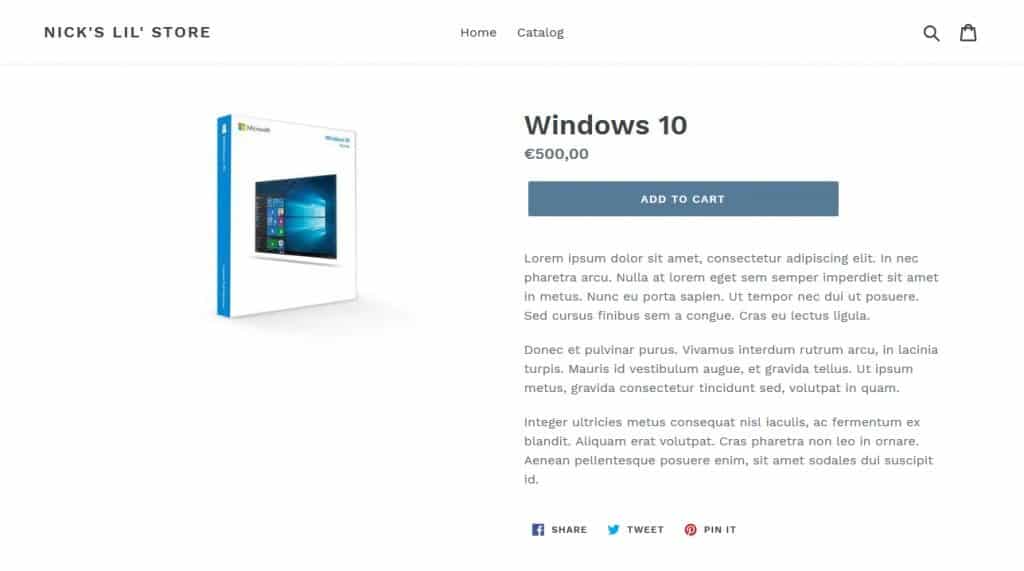 Easy peasy, right?
How to Edit Content Pages in Shopify?
Besides products, it's also important that you know how to add and edit pages for your Shopify store. You will find that option under Sales Channels > Online Store > Pages.
Hit Add Page in the upper right corner to get started. The user interface that greets you is very similar to the products page, with fewer options.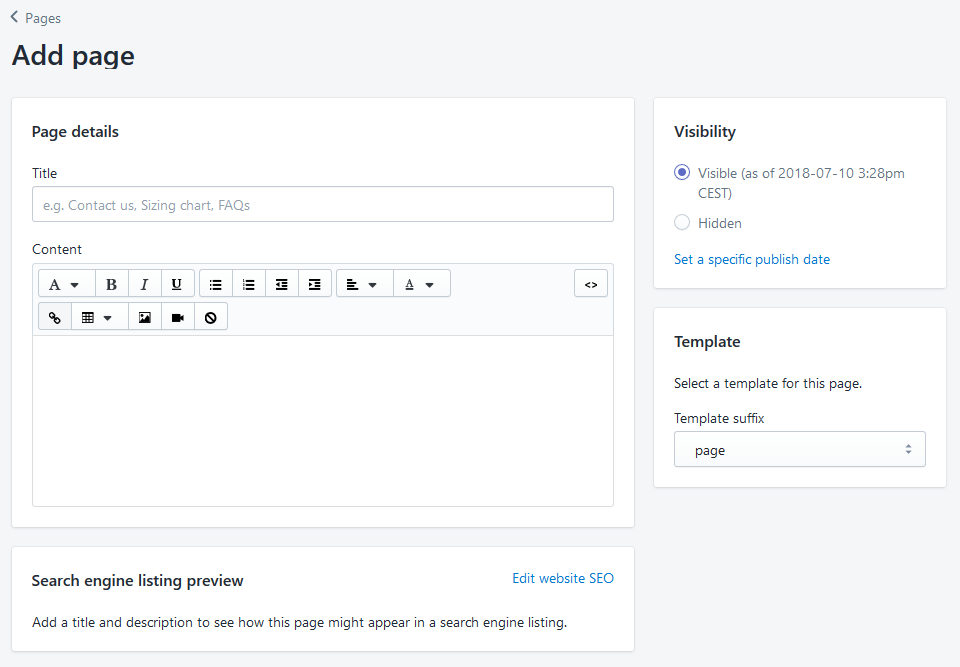 Here's how to make things happen:
Page details — The usual: create a title, add page content including multimedia and format it.
Search engine listing preview — As with products, this panel allows you to set an SEO title, description and custom URL.
Visibility — Set your page as visible or hidden and determine a custom publishing date if necessary.
Template — If your theme has different page templates, you have the possibility to change them.
Once you are done configuring the settings, hit Save and you are able to look at your page in all its glory.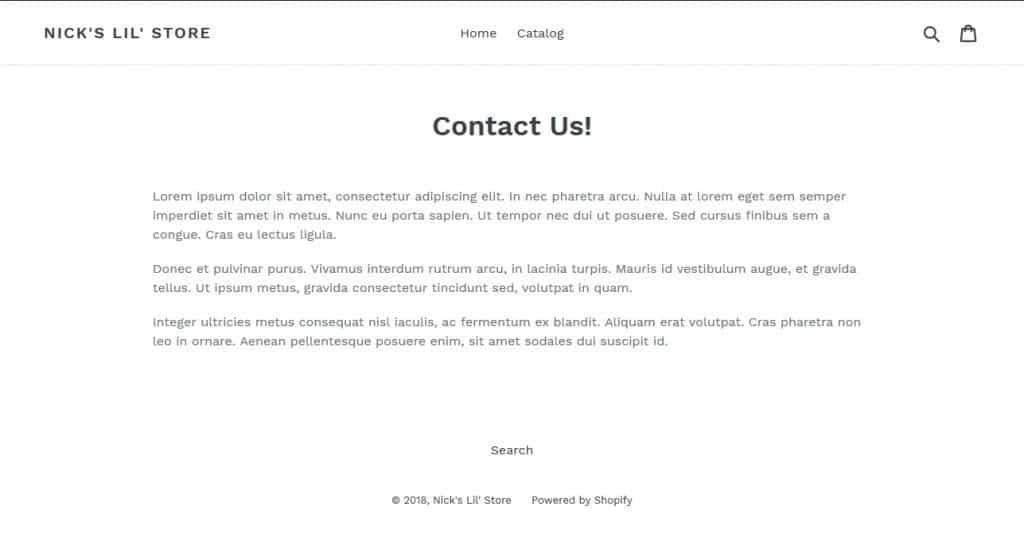 Adjusting Settings
In the Settings tab, you will find numerous configuration options. You can use them to customize almost anything in your shop.

You can update the store details, enable/disable payment providers, manage the checkout process, shipping and taxes, configure notifications, upload files, add sales channels and manage your account and billing.
All options are easy to understand and well described. If you know your way around web applications, Shopify is not a challenge.
How to Launch Your Shopify Store?
When you are done with your preparations, it's time to let your store see the light of day. So far, the changes you made were hidden to the public because your site is password protected. Nobody can see it without knowing the correct key phrase.
You can control both the password and message to visitors under Online Shop > Preferences > Password Protection.

This is also where you may switch off password protection entirely and launch your shop. Yet, you can only do that once you have signed up for one of the paid plans. After that, you can uncheck the box above and save. Your shop is then out in the open and you are ready to sell.
Shopify Reports
Once your shop is running, you can take advantage of the detailed reporting tools provided by Shopify. You can already find a lot of them under Analytics > Dashboards.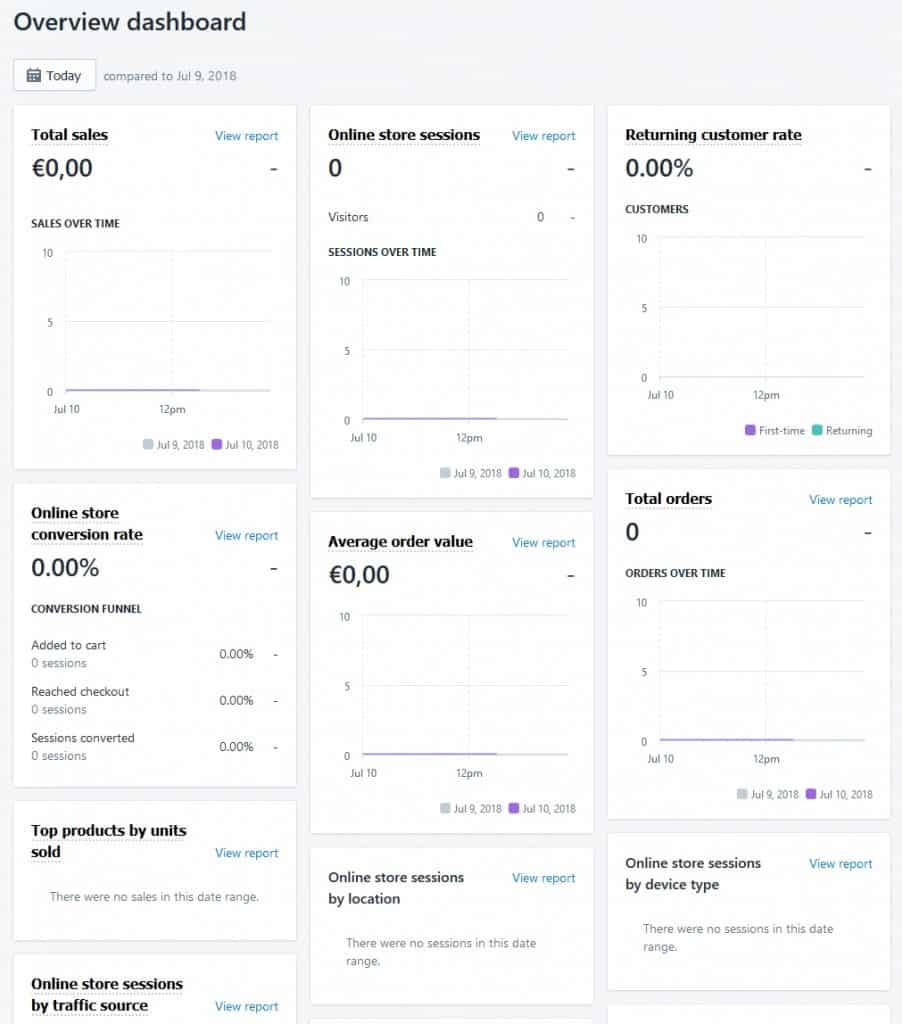 This screen gives you an overview of your shop, including sales, sessions, total orders, order value and a lot more. Change the time range to anything you want via the button on the upper left.
The main reports are available in the Reports section, under Analytics.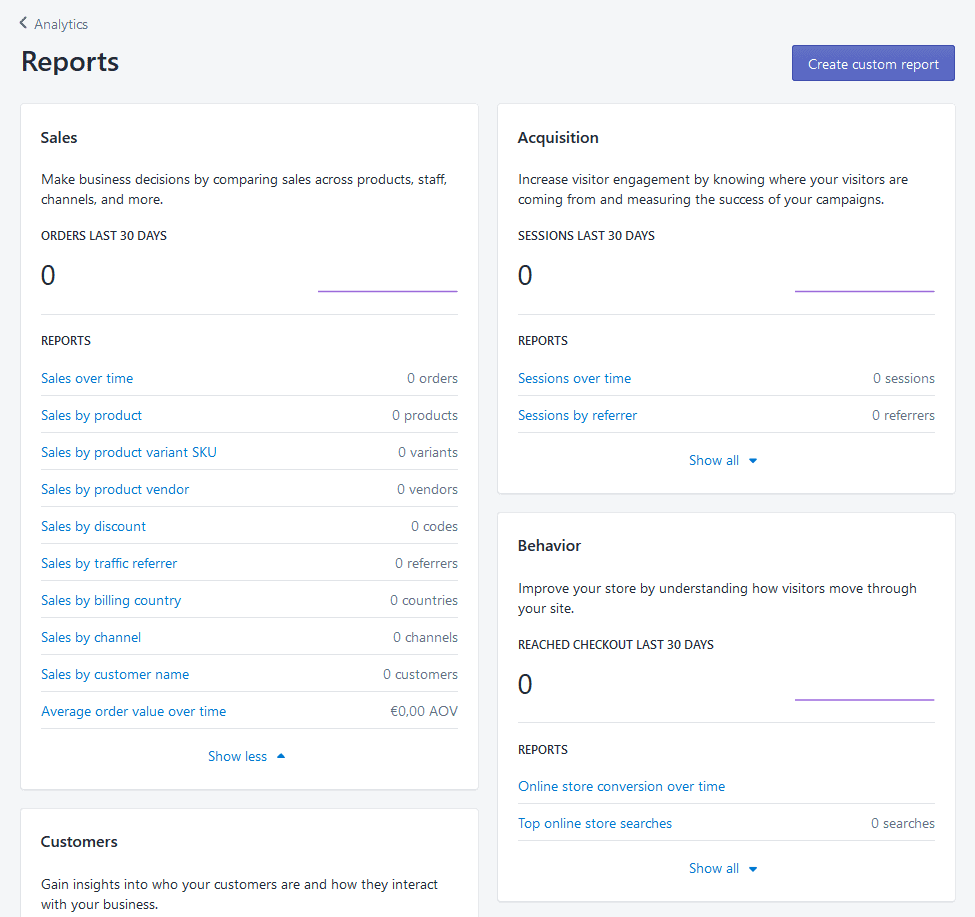 It will give you detailed information about every part of your shop. This includes sales, acquisition, customers, customer behavior, marketing and finances in the standard settings. There's more to see if you click Show all. The links get you to a detailed view of every tracking metric.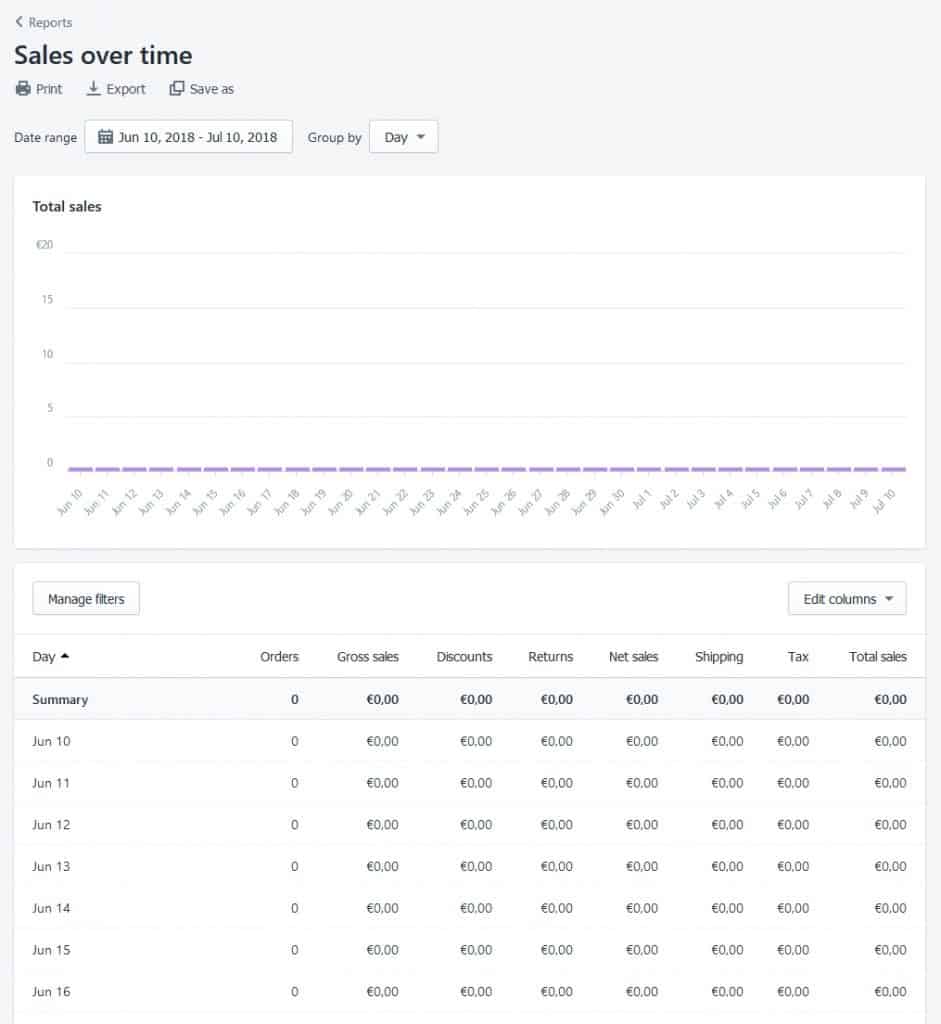 You are also able to filter your stats in many different ways. Change the time range and time unit to view. Set up detailed filters, for example, to see only sales from a certain country. You may also enable and disable report columns at will. Besides that, all reports are available for export as CSV.
In addition to the standard reports, you can create custom reports with the button of the same name in the main screen. Just click it, provide a name for your report and pick from a list of templates.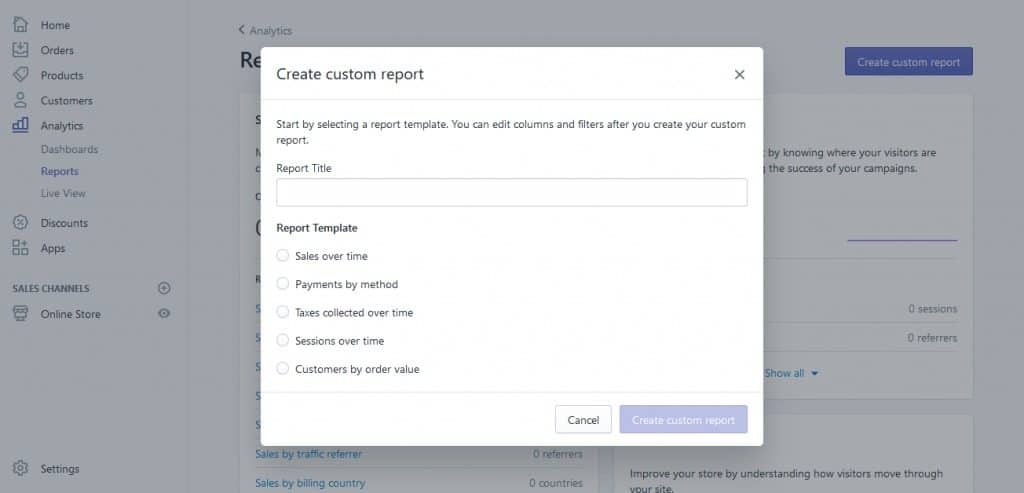 After that, you can set up filters and columns exactly the way you need them and, in the future, have access to the numbers you want instantly.
Note that the types and number of the reports you have are dependent on your plan. On higher plans, you get access to additional resources.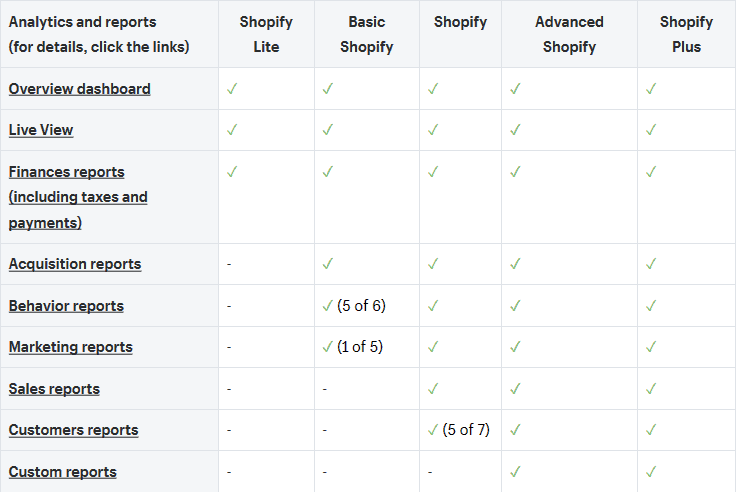 Design and Customization
The ease of use of the platform extends to designing your store. You will find that option under Online Store in Sales Channels.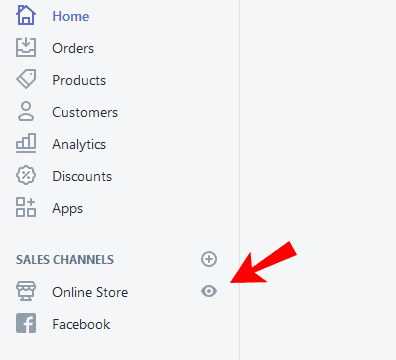 A click on the eye symbol in the sidebar takes you to the front of your store. At first, it's filled with dummy content that, while not very appealing, gives you a good understanding of the intended structure.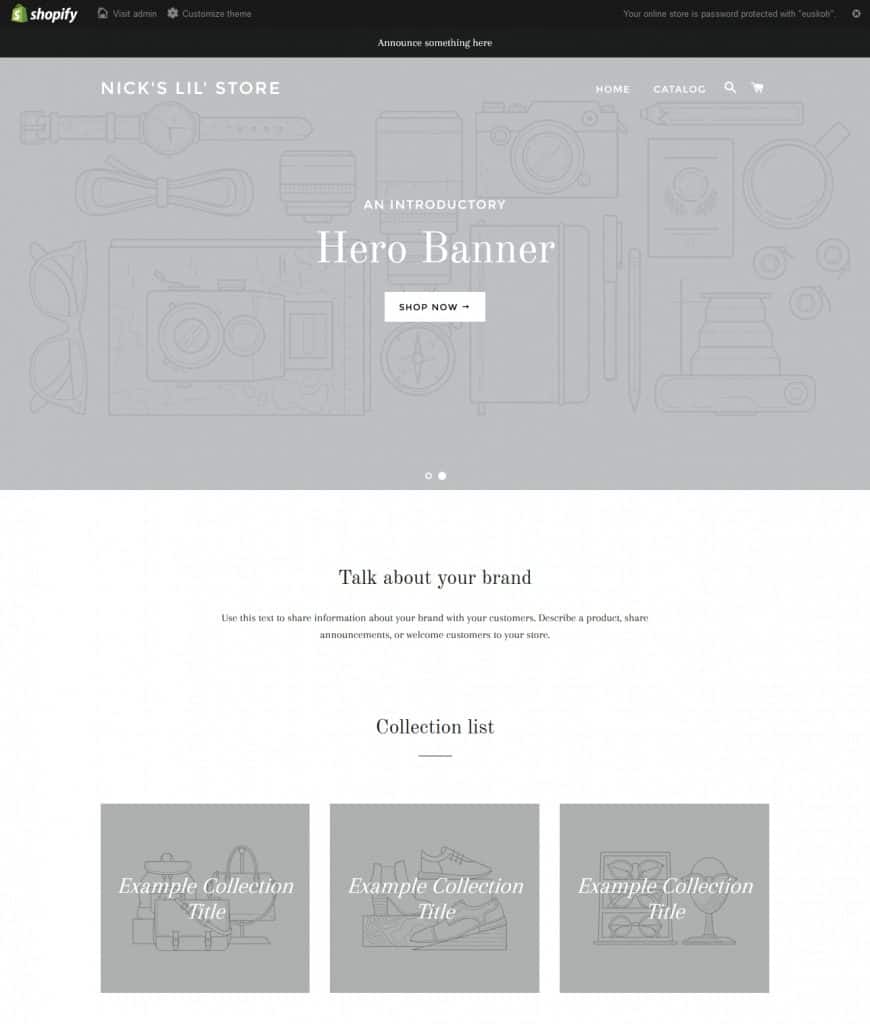 Shopify Themes
Like other website builders and content management systems, Shopify works with themes. These can completely change the design of your site with a single click. By default, Shopify offers ten themes for free.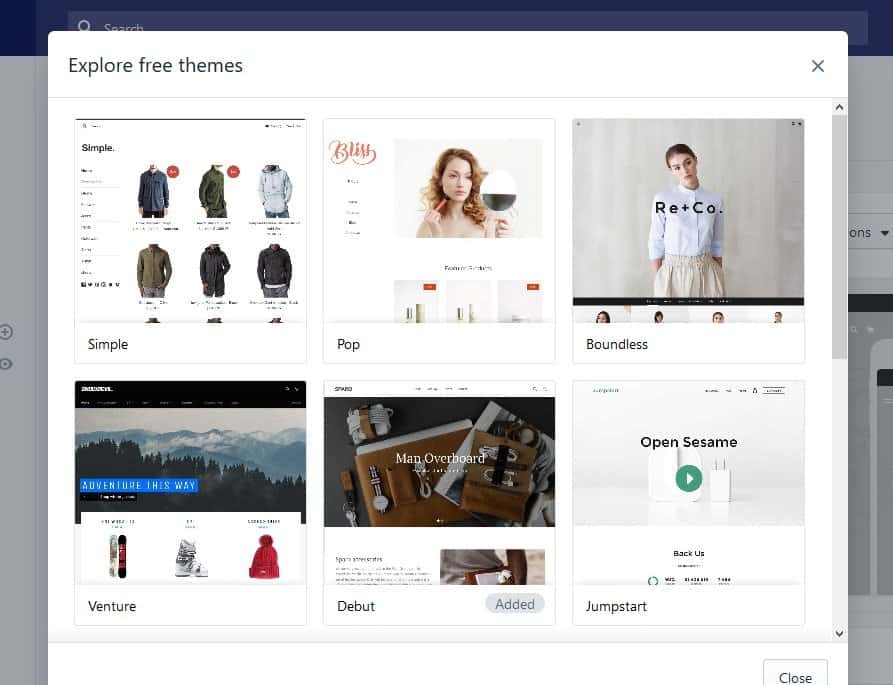 Generally, Shopify themes are well designed, nice to look at and functional. You can also add them to your site with two clicks. More themes are available in the Shopify theme store.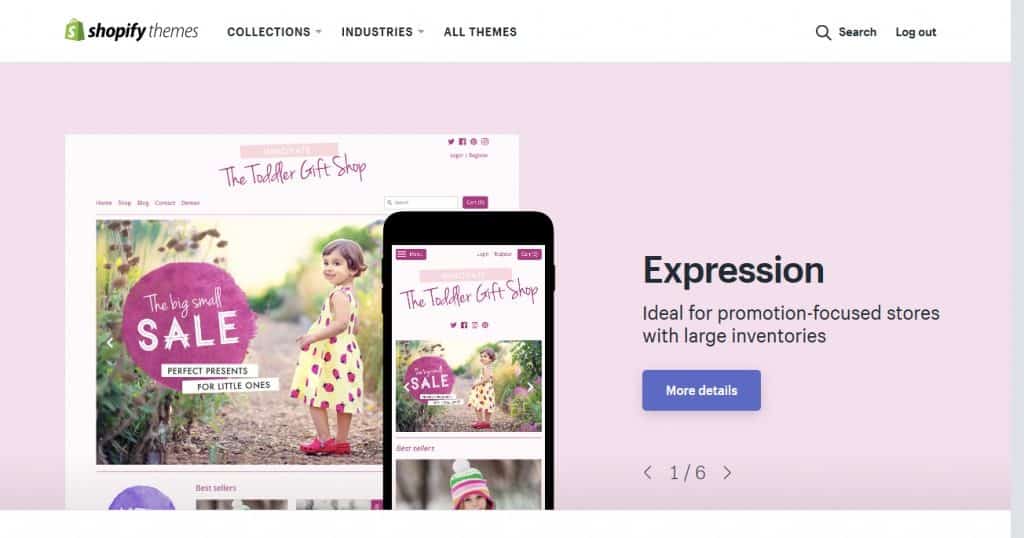 You will find more than 50 premium themes you can purchase for your site. The price range is $140 – $180. Filter options help you find the right one.
But wait — there's more!
There's also an option to upload custom themes and change existing ones using coding. There are a few concerns with that which we will cover in the end of this section.
Website Customizations
Once you have settled on a theme, it's time to customize your site. This happens in a comfortable editor that is reminiscent of the WordPress Customizer.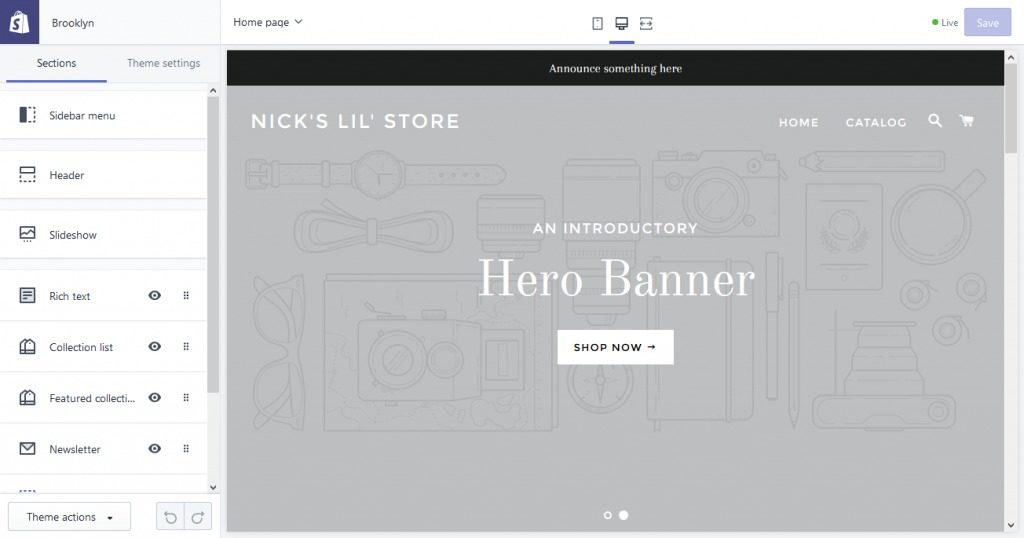 You are able to make changes and directly see their results on screen. You can:
add and remove product collections, galleries, slideshows, featured products, testimonials, blog posts (Shopify has those as well) and much more
change the order of site sections via drag and drop and adjust their dimensions
add images and logos, change their alignment and size (Shopify actually offers free stock images on many topics)
change copy, edit text size
add and configure buttons and their destinations
Additionally, under Theme Settings, you are able to make sweeping changes to colors, typography, social sharing buttons, favicon and other icons on your site.
It's important to note that you can achieve all of this without any coding. Everything happens via the interface. It's even easier than using Facebook and much more powerful. When you are done, save the changes and they will translate to your actual site.
Coding Your Own Themes
While Shopify is very beginner-friendly with its visual editor, more technically versed people can also customize their online shop via coding. A handy drop-down menu in the themes menu gives you direct access to your theme files.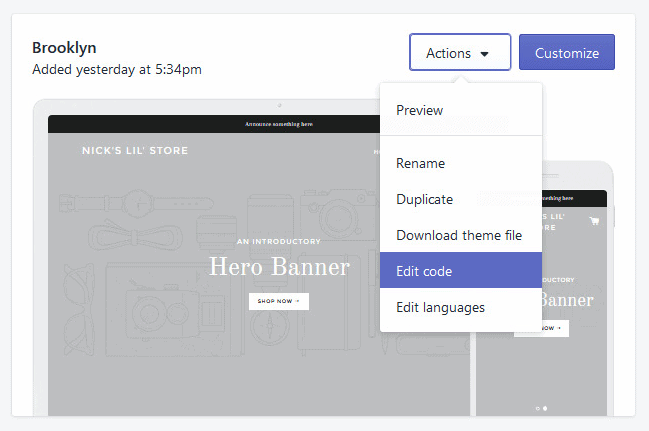 You can edit them online to make whatever changes you desire.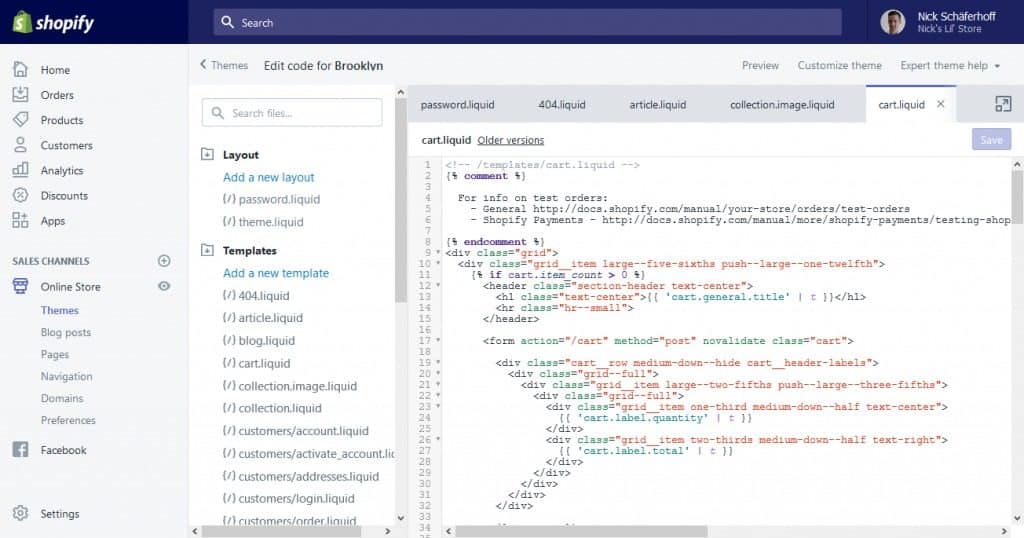 You may also download them to your computer to make further changes. I have already mentioned the ability to upload custom themes to your Shopify shop.
Note that Shopify uses a markup called Liquid, which is written in Ruby. The theme files also contain HTML, CSS and JavaScript. To make real changes, you need to learn Shopify's own system. This makes it harder to create your own custom solutions.
Alternatively, you can find developers versed in Liquid on Shopify's own marketplace. Since it's a relatively rare skill, this is more pricey than hiring for other platforms. For example, Shopify boasts that the average payout for developers is $10,000 for custom development projects. This gives you a ball-park number on what to expect.
Shopify Apps and Extendability
Besides themes, Shopify also offers a wide range of both free and paid apps to improve your site. You will find them in the official app store.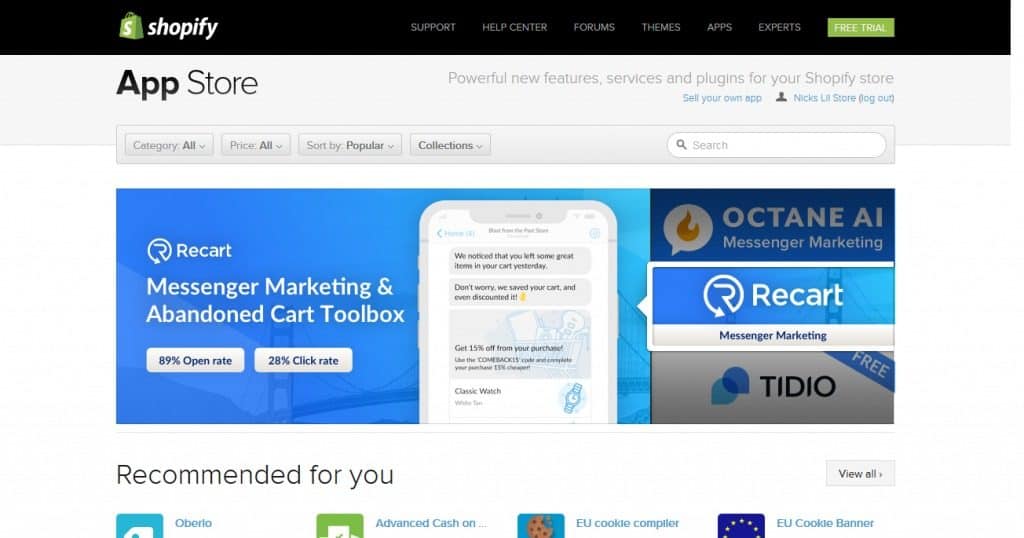 One of the main reasons for Shopify's success is that they have invited developers to contribute themes and plugins and share the profits. This has greatly populated their app market and makes them stand out from the rest of the field.
Apps are available for many areas:
Product sourcing
Marketing and sales
Social media
Shipping and inventory
Customer service
Reporting and accounting
Tools
Sales channels
They bring new features and functionality to your site. This can be anything from web push notifications or live chat, an improved drag-and-drop builder, the ability to integrate email marketing services with your site or SEO for images. You can bring them to your site with a few clicks.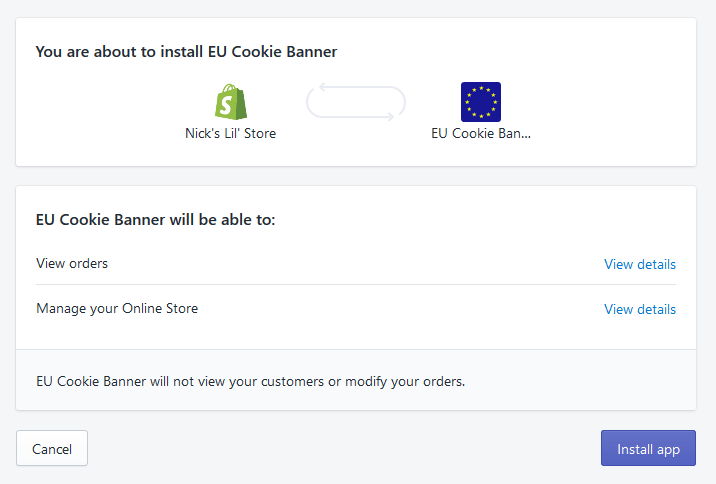 Apps not only improve your site but can also help automate your business and make it more streamlined. There are well over 2,000 of them so you will likely find a solution for whatever needs you have.
What's important to keep in mind, is that when you go with a paid app, it's often not a one-time investment (though apps like that also exist). Many of them come with a monthly fee, which adds to your base price. In our quick survey, we saw anything from $1.49 to $250 per month.
Which Payment Options Are Available?
Staying on the topic of money, customers have a number of different ways to pay for your products.
Shopify Payments
The first way is Shopify's own payment processing systems. It comes by default with every Shopify account and enables you to accept all major credit cards (Visa, Mastercard, AmEx, Discover). This is also available for walk-in stores if you choose to go that route.
As mentioned, Shopify charges transaction fees for card payments. These are between 2.4 and 2.9 percent plus $0.30 depending on your plan. These rates are relatively standard and you will see it in other payment gateways too.
The advantage of using Shopify Payments is that they also sync with the reports on the back-end. That way, you always know exactly the money coming in and going out without having to log on another site.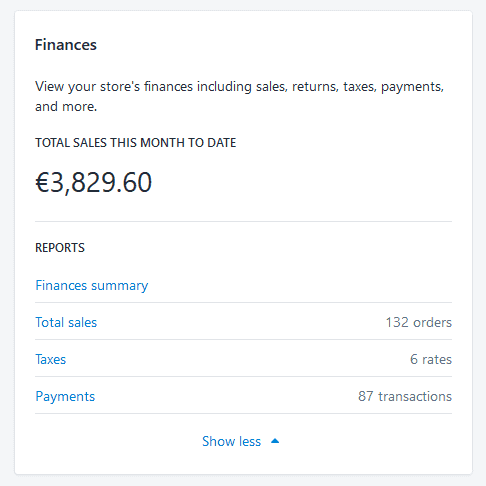 Third-Party Payment Providers
Aside from that, you also have the option to use third-party payment gateways. These include well-known names like:
PayPal
Stripe
Authorize.net
Amazon Payments
There are also country-specific solutions. You can check which options are available for your location here.
Note that Shopify comes with transaction fees between 0.5 and 2 percent for processing payments via external services. These are in addition to any transaction fees the payment provider gets.
Is Shopify Secure?
Security is an important topic on the web in general. When building your own website, you need to make sure it is safe against hackers, backed up regularly, kept up to date and readily available for users.
Server Security and Updates
Since Shopify includes hosting, much of the security is on them. They take care of the server architecture, software and everything else in the background. Consequently, as a user, you don't have to worry about the technical parts. Security, backups, uptime and updates are all done by the platform.
It seems like they are doing a good job. Shopify boasts 99.98 percent uptime. They use a content delivery network for increased speed and security and have a very good reputation when it comes to site performance.
This is despite offering unlimited bandwidth. Even if your shop takes off and you suddenly have millions of visitors, they will make sure it stays online. Plus, it won't cost you more than the plan you are on. This is something you don't always get when finding your own hosting provider.
In short – in terms of technical security, you have nothing to fear. You can completely forget about it and focus on running and growing your business.
Site Security
That doesn't mean that some of the responsibility isn't on you. Keeping hackers out of your site is on you. Good passwords and other general security measures go a long way of doing that. You can find more on that topic in this article.
Additionally, it's up to you to give those who can log in to your site only those abilities they should have. Luckily, Shopify offers great tools for staff accounts. You are able to allow/deny access to all submenus and parts of the Shopify admin menu.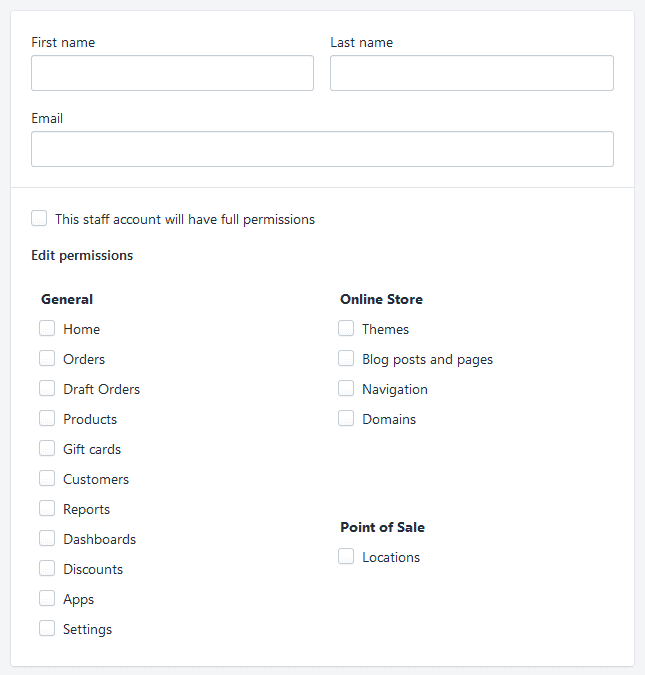 That way, you are in full control of who can view or change any parts of your online business. This ability extends to the Shopify mobile app. You are also able to log out staff members remotely in case a device is lost or someone needs their access revoked.
Payment Safety
In terms of e-commerce, security has additional considerations. A crucial one is keeping your clients' data and payment information safe. Shopify makes it easy for you as well.
The platform is fully PCI DSS compliant. The acronym stands for Payment Card Industry Data Security Standard and describes a number of rules to make sure client data stays confidential. Shopify extends this to all online shops on their platform.
One way you can see this is that Shopify online shops come with free SSL certificates. That means any traffic between browser and server is properly encrypted. You can learn more about this (and how to implement it for WordPress) in this article.
Fraud Prevention
It is also important that the money actually arrives in your account and stays there. For example, if someone buys your products with a stolen credit card, it might result in a chargeback and you losing money.
Shopify has a number of mechanisms in place to detect fraud and will alert you about suspicious orders so you can take action.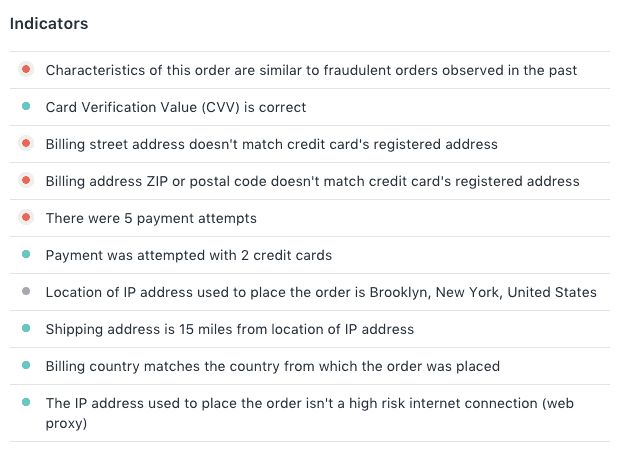 Aside from that, the platform also has lots of third-party apps for fraud prevention that you can easily add to your site. More on that later.
In conclusion, the payment gateways available on Shopify are secure and proven. You don't have to fear that your payments won't make it to your bank.
Shopify Support – Help is on the Way
Support is another area where Shopify shines.
As a commercial entity and beginner-favorite, they need to be reachable for their users and help them get the most out of their platform. The platform does that in many ways.
Support Structure
First of all, there's the help section.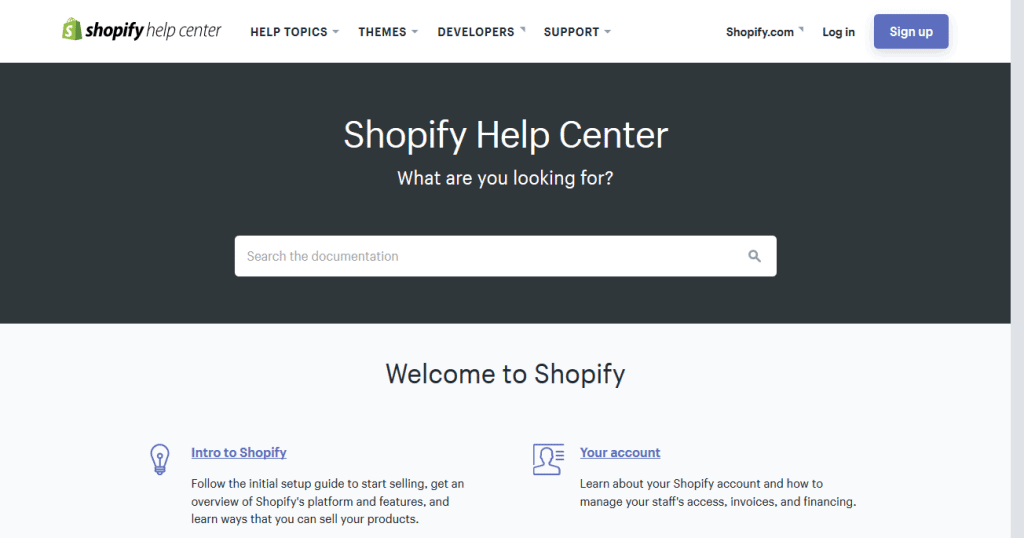 You are able to search the extensive documentation and also access chapters on different topics like migrating to Shopify, payments, themes or domains.
Additionally, you are also able to contact support directly.
It's a bit tedious as you first have to type your question. That will attempt to point you to the right section in the documentation before you get the contact information for the support team. Only then will you be able to talk to them via chat, tweet, email or phone. Support is available 24/7 and has a good reputation around the web.
The support includes a dedicated YouTube channel with video tutorials for all kinds of topics. It will teach you anything from setting shipping rates, adding menu items to your store or opening your own Facebook Ads account.
Shopify also regularly holds webinars on different topics which you are free to join. If they don't have the right timing or timezone for you, you are able to watch a recording after.
Site Migration – A Difficult Topic
One thing that Shopify doesn't make easy, is moving your shop from their platform to another. There is no built-in functionality for this (even if you can export your products to CSV). Anyone wanting to migrate from Shopify to somewhere else needs to do it by hand or try third-party services.
While it makes sense that they don't want to see you go, it highlights one of the biggest issues with a closed system like Shopify: the fact that you are completely dependent on them.
You don't fully own your shop but instead,  you're renting a site on someone else's platform. When you no longer want to use that service and close your site, all your data goes extinct with it. If there is no system in place to take it with you, you have to start again from scratch. No Bueno!
This is a common issue. A similar point is made in the discussion of WordPress.org vs WordPress.com.
Is Shopify the Best Option for You? (+Alternatives)
Will Shopify be able to fulfill your needs?
Only you can answer that.
What's for sure is that Shopify is a sophisticated, mature solution for building your own online store. It is beginner-friendly and gets the ball rolling quickly. Like every other solution out there, it has some advantages and drawbacks. Let's summarize the main ones.
Main Pros
Excellent hosting included, all technical parts taken care of for you
Easy to use and configure, even for beginners
A large app-store that lets you add any features your shop needs
Excellent support structure
Main Cons
Costs add up quickly, especially if you use multiple apps
Liquid markup makes customization unnecessarily hard
Moving your shop to another platform is difficult
When deciding on an e-commerce solution, it's also important to remember that Shopify is not the only one out there. There are a number of others and it helps to compare before deciding. Here are some other candidates:
Whether you decide to go with Shopify or not, I hope this Shopify review has helped to clarify your thoughts on this topic.
Do you have any questions about this Shopify review or something to say about Shopify itself? If so, please use the comments section below!