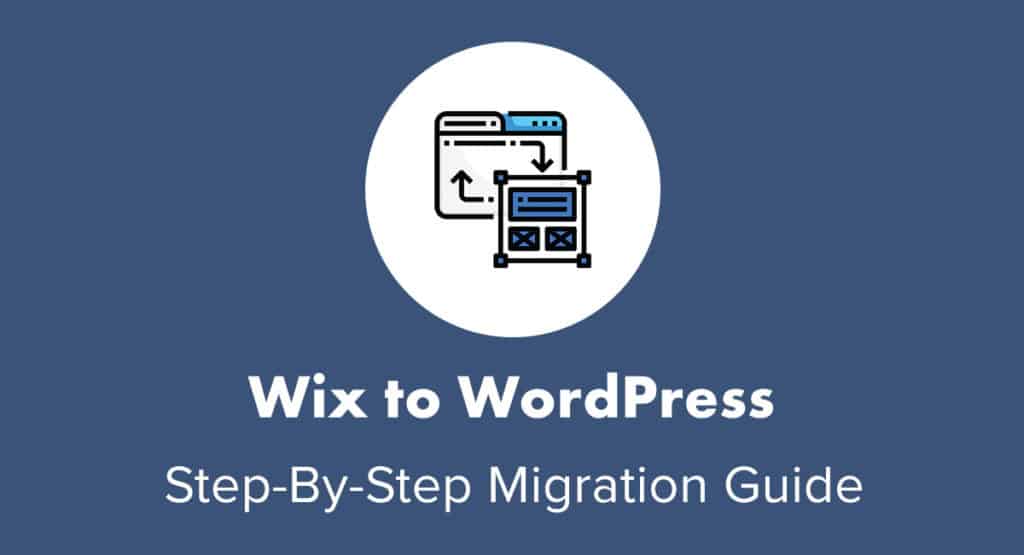 Wix is an easy to use page builder, that allows you to get a basic website up and running quickly thanks to its drag and drop interface and templates. Many business owners on a budget or who like the ease of use opt for Wix when it comes to building their website.
While Wix may be a viable solution for a basic website, it can't scale with your business as it starts to grow. As such, at some point in time, you will inevitably have to migrate to a more powerful platform.
If you're looking to move away from Wix, there is no better platform than WordPress. It powers more than 50% of the Internet and allows you to build a website that can support the growth of your business.
In this post, we'll show you step-by-step how to convert your Wix website to WordPress, despite the fact that Wix doesn't let you export your data easily. With a little work, you can move your site from Wix to WordPress without having to start over.
Let's get started.
What You Need to Know And Do Before Converting Your Wix Website to WordPress
Before jumping into the migration process, there are a few things you need to know. As mentioned earlier, Wix is not a platform equipped to handle the growth of your website. Aside from that, it's a hosted solution which means everything from your domain to your hosting has been handled by them.
Once you decide to move to a self-hosted platform, you'll become responsible for finding your own hosting and making sure your domain name doesn't expire.
The last thing to keep in mind is that your Wix template cannot be recreated in WordPress pixel by pixel. As such, your website will probably look different than it did on Wix.
However, there are plenty of beautiful themes to choose from, both free and paid, so chances are you will be able to find a theme you'll fall in love with.
With that in mind, here's what you need to do before starting the migration process.
Step 1: Purchase Hosting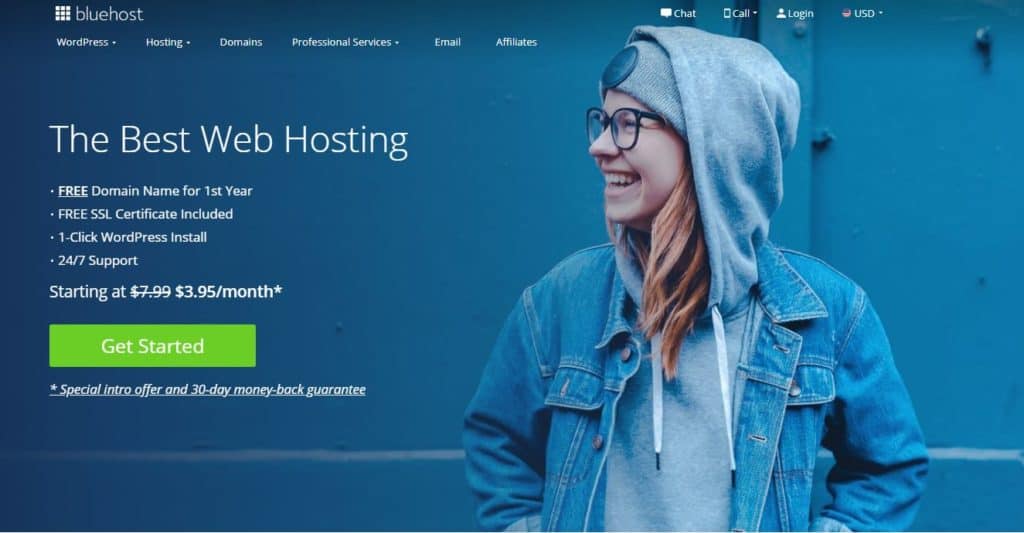 The first step is to purchase a hosting plan for your website. There are a lot of hosting providers out there; from cheap shared hosting plans to more expensive managed WordPress hosting.
Shared WordPress hosting is a great choice if you have a developer on your team that manages your website and takes care of the maintenance tasks that are involved with owning a website.
This includes making sure WordPress with its plugins and themes that you use on your website are up to date. It also involves optimizing your website to load fast and implementing proper security practices. In other words, shared hosting plans come with a lot of responsibility on your part when it comes to website maintenance.
But if you don't want to worry about maintenance tasks, managed WordPress hosting is the best choice for you. With a managed hosting plan, the hosting company will handle the technical aspects associated with your website. This includes optimizing your site to load fast, securing, and monitoring your website to prevent hacking attempts.
Some managed hosting plans will even apply WordPress and plugin updates for you so all you have to worry about is updating your site with fresh content and running your business.
What About My Domain Name?
Keep in mind that if you've used the free Wix plan or if you want to change the name of your website or the domain, you will also need to buy a new domain name.
While most shared hosting providers will offer you a free domain name when you sign up for hosting, it's better if you register your domain name with a provider like Namecheap or Google Domains.
If you already bought a domain name with Wix, you can keep it and transfer it once you've moved over all your content from your Wix website.
Transfer Your Domain Name
Once you have your new hosting, it's time to transfer your domain name to a new registrar or your hosting company if you want to keep everything in one place.
Here's what you have to do:
If you purchased your domain name from Wix, start by signing into your Wix account.
Find the My Domains link and select your domain name.
Under the Advanced tab, click the Transfer away from Wix.
Click Send code.
Once the code arrives in your inbox, get in touch with your hosting company and give them the code. They will then complete the domain transfer process for you and make sure it points to your WordPress website.
Otherwise, if you transferred the domain name to a separate registrar, you'll need to point your domain name to use your host's name server by modifying the DNS settings.
Step 2: Install WordPress
Most WordPress hosting plans, like those offered by Bluehost or Siteground, will have WordPress pre-installed. Managed WordPress hosting plans also include WordPress pre-installed by default.
But if WordPress was not set up by default, you'll need to install it. Luckily, this is easy to do as most hosts have a one-click WordPress install feature which can usually be found once you log into the dashboard of your hosting account.
To install WordPress, all you have to do is follow the on-screen prompts that will ask you for your site title, the domain you want to install WordPress on, and the desired username and password you'll use to log in to WordPress dashboard.
When you have filled out all of that information, you'll have to click the Install now button and wait for the process to finish. Once that's done, you can log in to your WordPress dashboard.
It's a good idea to set your WordPress permalinks. This will determine the URL for each blog post and page on your site. By default, WordPress will include the date in the permalink but you can change it to something simple like www.yourwebsite.com/blog-post-title.
To do this, go Settings > Permalinks and select the permalink structure you want. Then, click the Save Changes button.
Step 3: Install and Customize a WordPress Theme
By default, WordPress will come with a theme preinstalled. However, the default theme, TwentyTwenty, is pretty barebones. Luckily, you can find thousands of free themes on the official WordPress theme repository.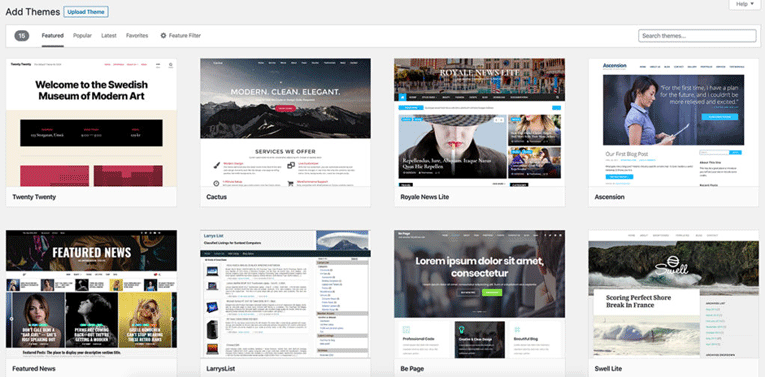 If you're looking for a theme that's similar to Wix's drag and drop builder, your best option is to install a page builder plugin like Elementor, Beaver Builder or Divi. This will give you the drag and drop interface and design flexibility you're used to. However, on top of the page builder, you will also need a theme that's compatible with a page builder plugin. A few themes that work with the page builders above include Astra, OceanWP, and GeneratePress.
To install one of these themes, go to Appearance > Themes and then search for it. Then, click on Install and Activate.
You can then go to Appearance > Customize to customize how your WordPress website looks by changing colors, fonts, and other visual styles.
After you've customized the theme to your liking, you can now begin the process of converting your Wix website to WordPress.
Converting Your Wix Website to WordPress
So now that the pre-work is done, it's time to convert your Wix website to WordPress. There are three options for doing so: you can manually migrate your Wix website, you can automate the process with the help of a plugin, or you can use a third-party service. Let's walk through each of these options, step-by-step.
1. How to Manually Convert Your Wix Website to WordPress
The first solution we're going to cover is the manual migration of your Wix website to WordPress. This option involves copying and pasting the content of your pages and blog posts from Wix to WordPress.
If you don't have a lot of content (less than two dozen pages and posts combined) this might be the best solution since you'll make sure that every post and page on your site is transferred over along with all of your images.
All you have to do is follow the steps below:
While logged into your WordPress dashboard, open up a new browser tab, and navigate to your Wix website.
Starting with the homepage, highlight all the text and click copy.
Switch to the tab with your WordPress dashboard and navigate to Pages. Click on Add new.
Once the page editor loads, name the page with the page name you're copying from and paste the contents in. You can also use the Gutenberg editor to layout the page similarly to the way your Wix homepage or any other page was laid out.
To see how your homepage looks and to make sure all the formatting is correct, save as draft, and then view the page.
Finally, publish the page.
Simply repeat this process for each page and post on your Wix website. You can even speed this process up by installing a plugin like Mass Pages/Posts Creator and create all your pages and posts in advance and then simply editing those posts and pages to paste the contents in.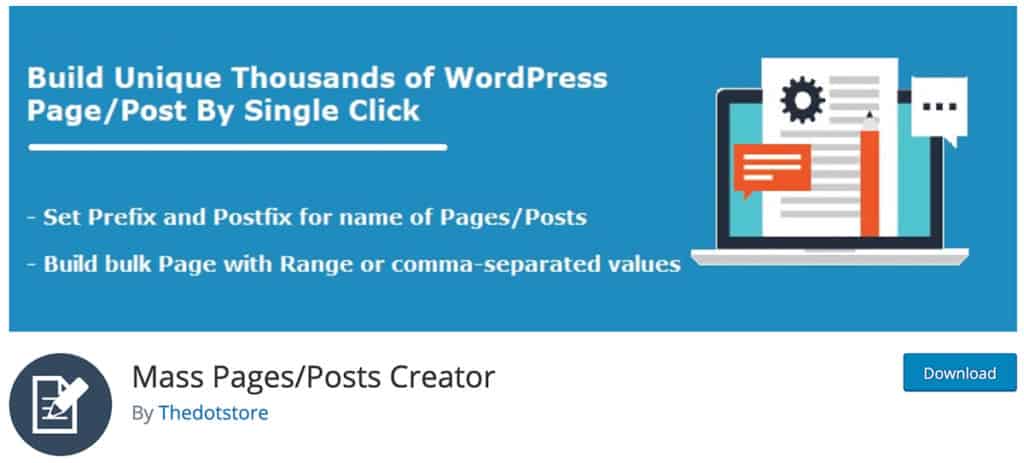 However, if your website has a lot of content, this process can be quite tedious and time-consuming. As such, you might want to consider one of the next two options outlined below.
2. How to Semi-Automate the Wix to WordPress Migration Process
If you want to save time, using a semi-automated method to migrate your Wix website might be a better option. Since Wix is a closed platform, there is no easy way to export your content from there.
However, there is good news. One of the great things about WordPress is that it supports importing content from other platforms as posts. Luckily, Wix blog posts can be saved as an RSS feed and thus be imported into WordPress.
Keep in mind that you will still have to use the manual method to move the content of your pages to your WordPress website. You will also need to add any images from your blog posts and pages manually as the RSS feed won't save images.

To start this process, you'll need to save the Wix RSS feed on your computer first. If you have an old Wix blog, simply go to www.yourdomainname.com/feed.xml. Right-click on the page and select Save as… then save the file on your computer.
If you have a newer Wix blog, you'll need to add an RSS button to your blog by clicking the + sign and selecting the RSS button. Make sure you're using the Wix Website Editor to see this option. Save the changes and then navigate to your live website.
Click on the blog page and then click the RSS button.
Right-click anywhere on the page and select Save As… and save the XML file.
Go back to your WordPress website and go to Tools > Import.
Install the WordPress RSS Importer and activate it.
Once the RSS Importer has been installed, click Run Importer.
Click the Browse button and locate the XML file you saved from your Wix website.
Click Import.
 Sometimes, the entire feed won't import on the first try. Be sure to check how many posts were imported by going to Posts > All Posts. If some posts are missing, edit the XML file with a text editor like Notepad and remove the posts that were imported. Then, reimport the XML file.
 To import your pages, follow the manual method outlined in the first option.
The last step is to import the images. The easiest way to do this is to use a plugin like Auto Upload Images. This plugin will search for image URLs in posts and automatically upload and import external images to the WordPress upload directory. It will also add images to the media library and replace new image URLs with old URLs.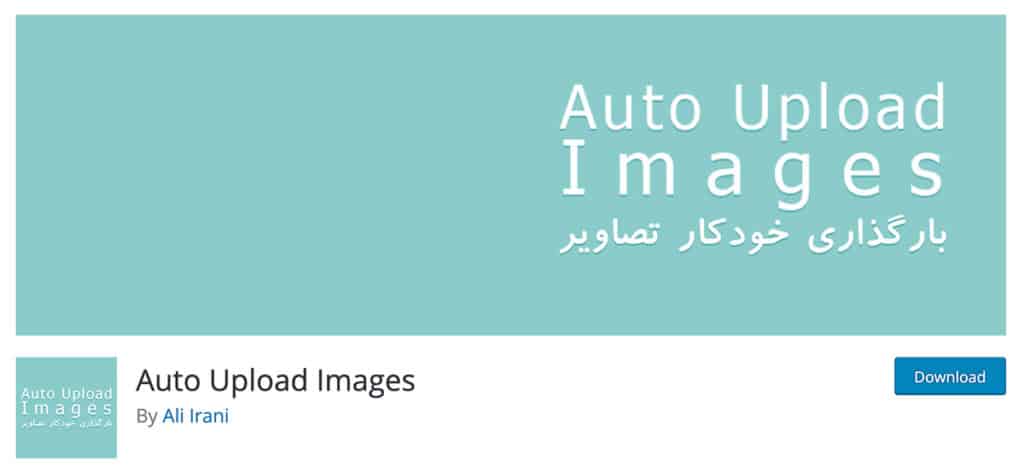 This process is a great solution if you have more than a couple of dozen blog posts to migrate over. However, it's still a cumbersome process if you had a somewhat large website with lots of pages as well as blog posts. In that case, you might want to consider the third option below.
3. Using a Third-Party Service to Migrate Your Wix Website to WordPress
The last option is to use a third-party service like CMS2CMS to migrate your Wix website. It's worth mentioning that this is a paid service and the price will depend on the number of posts and pages you have on your existing website.

You can also take advantage of the free Demo migration to see how the process works.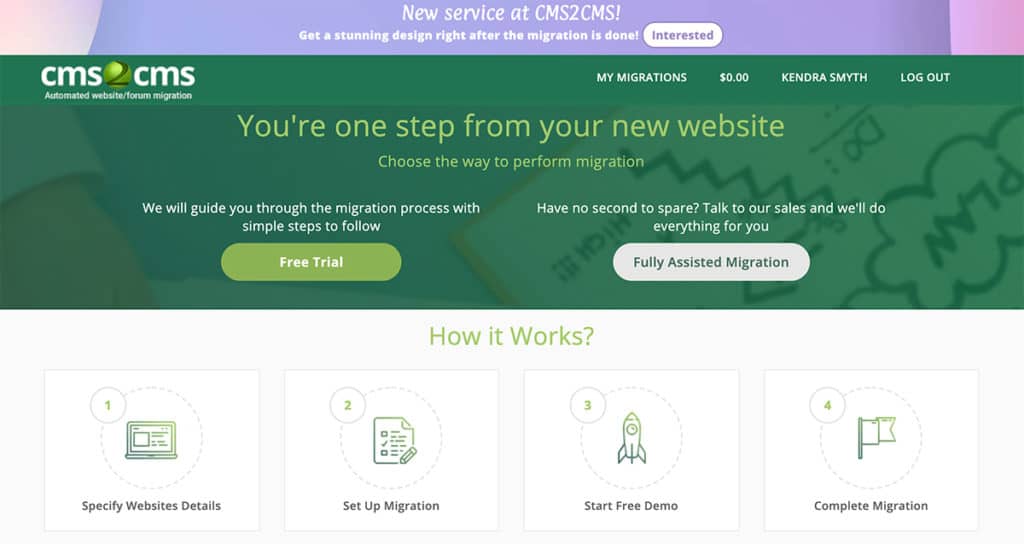 To get started with this process, follow the steps below.
First, you'll need to install the CMS2CMS Connector Plugin. Go to Plugins > Add New and search for it, then install and activate the plugin.
Once you have installed and activated the plugin, click on Plugins > CMS2CMS Connector.
Create your account with CMS2CMS Connector.
Once you've established a connection with CMS2CMS website, click Proceed.
Select Free Demo Migration.
Enter the URL for your Wix website and verify the connection.
Enter the URL for your WordPress website and verify the connection.
On the next page, confirm the CMS types and map the taxonomies
Choose your desired extra migration options which include migrating your images, make URLs SEO-friendly, get design suggestions, and URL redirects.
 Click Start migration. The demo migration will migrate up to ten pages of content with images found on those pages.
If you're happy with migration results, you can now proceed with the actual migration process.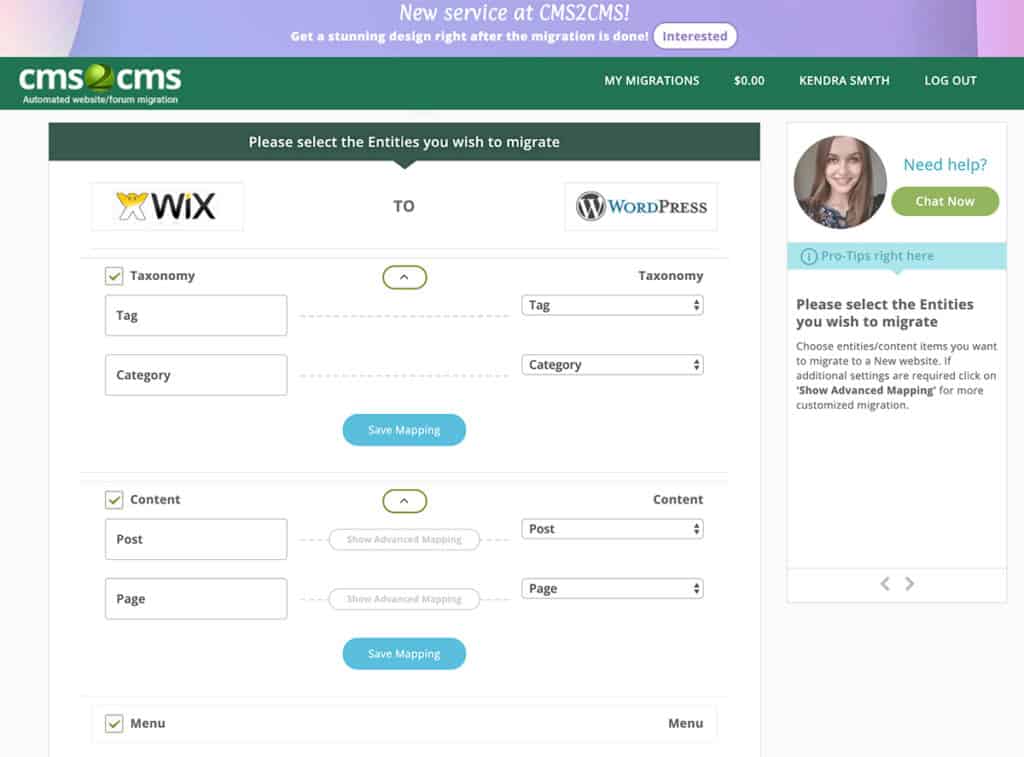 It's worth mentioning that this package won't come with any support from the CMS2CMS team but you can restart the migration process later if you find that the actual migration didn't go as expected.

If you want a complete, hands-off experience, you can opt for one of their premium packages that include migration of a large number of pages, customized migration, and migration of your Wix website design.
What to Do After You Migrate Your Site
Once the migration process is complete, there are a few more things you need to do before you can cancel your Wix plan.
Setup Missing Features
The first thing you'll need to do after the migration process is complete is to set up any built-in features you've had on your Wix website. This can include any appointment booking forms or contact forms, email subscription forms, social sharing buttons, and similar.
In other words, you'll need to find plugins that have this functionality. For example, you might want to use Contact Form 7 plugin on your contact page or a plugin like Amelia for appointment booking.
To install a new plugin, go to Plugins > Add new and then search for a feature or functionality you want.

You can click on More details to see if the plugin does what you want it to do and see plugin reviews. Then, simply install and activate the plugin.
Create Your Navigation Menu
The next step is to make sure your visitors can easily go from one page to the next. You'll need to set up a navigation menu by going to Appearance > Menus. Type the name for your primary menu and click the Create Menu button.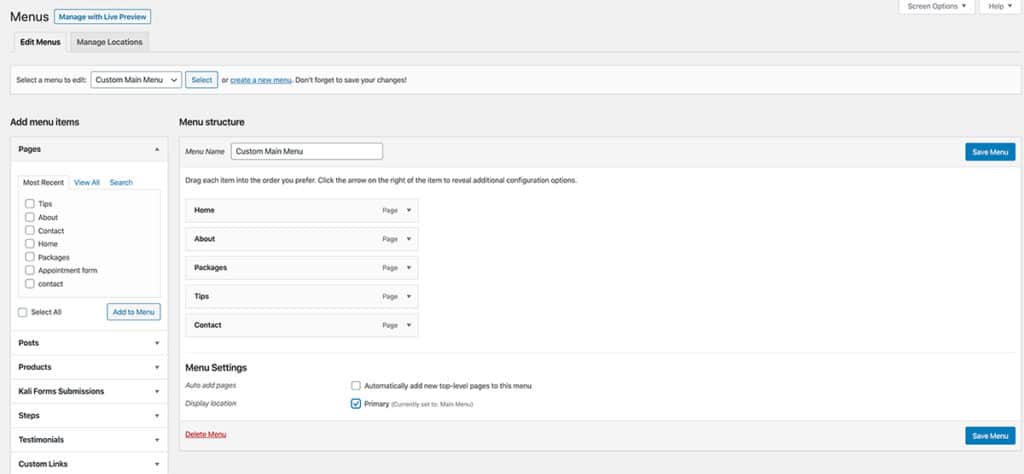 You can then select the pages you want to add to this menu and click the Add to Menu button. Be sure to select the menu position from the dropdown and then click the Save Menu button.
Test Your Website
You're almost done with the migration process so this is the perfect time to test your website and make sure everything works as intended. Be sure to check every post and page and test each link to make sure it goes to the correct location.
You can speed up the process by using a plugin like Broken Link Checker to see if any links on your site need updating.
Cancel Your Wix Plan
The last step is to cancel your Wix plan once the website and the domain transfer are complete. You'll need to login to your Wix website and navigate to Subscriptions. From here, cancel your paid subscription and then close your Wix account.
Final Thoughts
Migrating your Wix website to WordPress is not an easy task but if you prepare properly and you know what steps are involved in the process, you'll find it much easier.
If you're ready to migrate away from Wix, set aside some time and follow the steps in this article to successfully convert your Wix website to WordPress. Once the process is done, you'll have complete control over your site and your site will be able to scale and support the growth of your business.