You've picked your CMS – WordPress.
You've got your domain name and WordPress hosting.
You've installed WordPress and you're wondering – which theme should I be using?
Up to this point, setting up your website has proven to be a breeze. Now you're lost in a sea of thousands of different themes, templates and page builders.
Let me relieve you of all your stress and worry, take you by the hand and walk you through my personal 20+ favorite free WordPress Themes. I have hand-picked and chosen them specifically for you – a newcomer who has just set up a WordPress website.
Whether you're creating a corporate or small business website, are eager to show off your photography prowess, are simply a blogger itching to get your story read or a shrewd entrepreneur about to launch your first million-dollar eCommerce success story; I've got you covered!
Best Themes for Small Business
Best Themes for Bloggers (and Personal Websites)
Best Themes for Portfolios and Photographers
Theme recommendations from visitors
Ready to launch this new chapter of your life? Let's go!
1. Best Business WordPress Themes
---
Whether you are a small business owner in Boston or a digital nomad startup, your brand/website needs a suitable theme.
Your business website will be the first impression of your brand – the first and often only chance to impress and woo. It needs to quickly and accurately exhibit the core values of your business – seamlessly!
The most important qualities a free business WordPress theme needs to be able to facilitate, are the following:
10 factors you should consider when choosing your website's WordPress theme:
Available features. What features do you absolutely need for your website? E-commerce support? Specific plugin support? Make sure your theme has the features you need.
Supported plugins. Plugins can make your website look slick, be more secure, and load faster. Make sure your theme supports the plugins you want (if you're unsure, you can ask the theme developer about it). You can check out the best WordPress plugins here.
The content. Do you want your website to be just one page, or have a host of pages? Is it a photography-based website, or will the website be the face of your business? As you'll see, some content fits some themes better than others.
Ease of customization. It should be easy to customize the theme – otherwise, you'll struggle every time you want to tweak something.
SEO. Look for "SEO Optimized" or "SEO ready" in the theme description. You can also download a Chrome extension like MozBar and run some quick SEO checks on the theme's demo.
Responsiveness. Your theme should be responsive, i.e. able to adjust its layout across different screen sizes and devices.
Simplicity. Your website theme doesn't need to be too flashy. Often, flashy themes just load slower and confuse your visitors. As the old saying goes – simplicity is the ultimate sophistication.
Speed. Speed will be a determining factor in the success of your website. To test a theme's speed, use the Pingdom Website Speed Test, enter the URL of the theme's demo, and see how long the page takes to load, as well as how many HTTP requests are made.
Business goals. How well does your theme match up with your short-term and long-term business goals?
Security. Check customer reviews and see what customers have said about the theme's security.
Keep these factors in mind as you go through this list of free WordPress themes – choose carefully, because switching themes later is a bit of a pain!
Sydney

: Simple and Highly Flexible Business Theme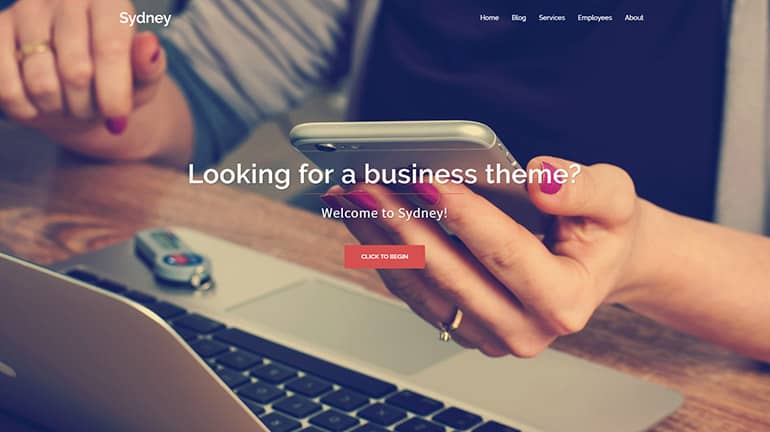 Sydney is a free business WordPress theme. Not only does it fulfill all three of our aforementioned necessities, it does that better than most other WordPress themes.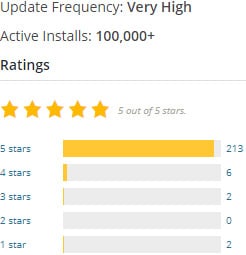 Sydney is a very customizable business theme which provides you with the ability to create your dream website and shape it to your heart's desires.
Among the long list of functionality are access to all Google Fonts, full-color control, layout control, logo upload, full-screen slider, header image, sticky navigation and so much more.
With your business needs in mind, you'll quickly be able to use the front page sections to create an amazing website for your small business or corporate enterprise.
Zerif

: Multipurpose Free Business Theme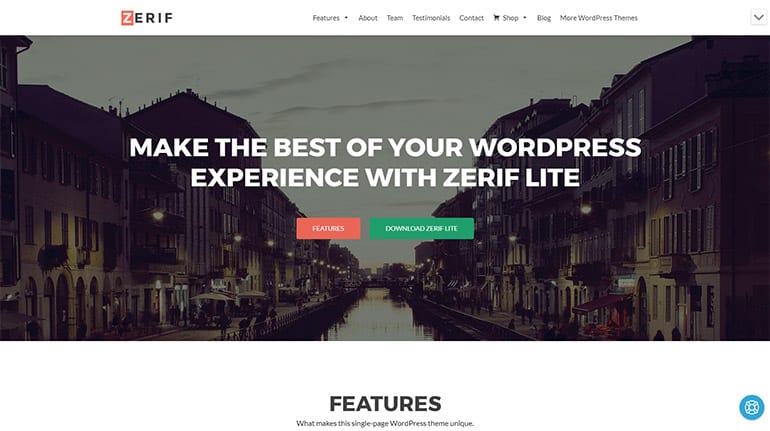 Zerif is our runner-up and favorite responsive parallax free business WordPress theme. Packed with features and functionality, this multipurpose theme is a very good choice for your business website.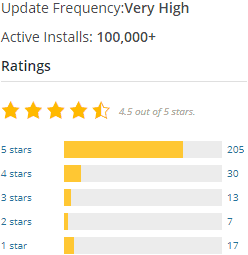 Zerif is more of a chameleon, ready to adapt to any need your business website has.
The theme is built on BootStrap with integrated parallax support. It's a clean modern theme, compatible with WooCommerce, WPML, RTL, is retina ready and SEO friendly. Perfect for business websites who are in need of integrated eCommerce functionality.
Hestia

: Modern, Free WordPress Theme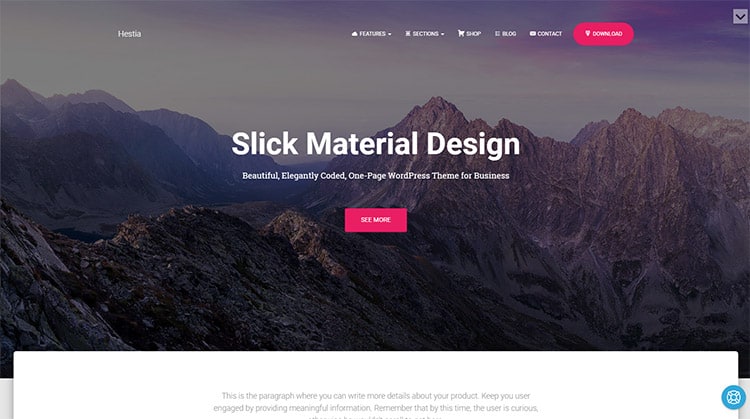 Very similar to Zerif, Hestia provides a whole lot of customizability and is perfect for any business website seeking eCommerce integration. Hestia's incredible design will allow you to effortlessly develop a masterpiece of a website.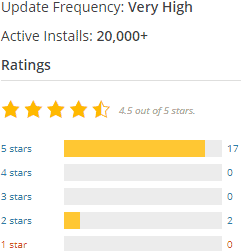 Hestia's modern look fits perfectly for any sort of business or corporate website, keen on both being aesthetic and functionality.
The theme features a multitude of widgets, an integrated blog section and is compatible with Flat Parallax Slider, Photo Gallery, Travel Map and Elementor Page Builder. The theme is fully responsive, supports the WPML plugin, is retina ready and is – of course – SEO friendly.
Shapely

: Good for Business and Portfolio Websites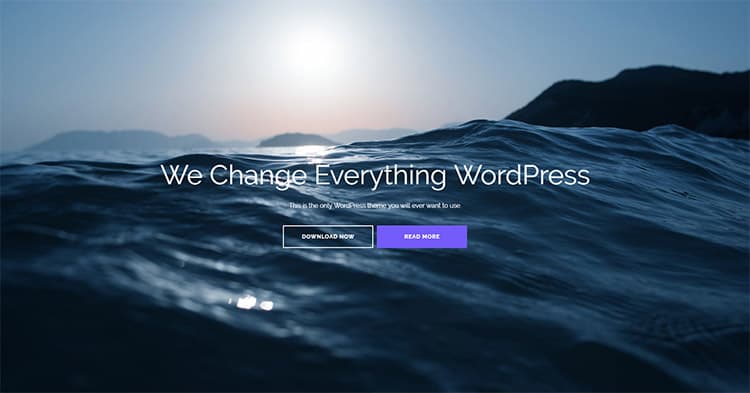 Shapely is quick to impress us with one of the most beautiful and minimalist designs we've seen. It's huge hero area and sleek below-the-fold structure makes this site perfect for any business that values and is selling anything design and aesthetic related.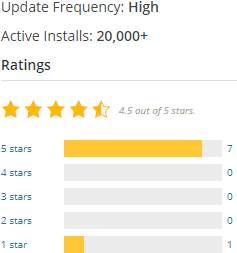 With its many display areas, Shapely is perfect for businesses, eager to present their work and portfolio to their visitors. The theme's simplicity and clean design exudes creative prowess and having your finger on the pulse of modern aesthetics.
Shapely is a versatile free business theme which also boasts with outstanding functionality. The theme comes with several homepage widgets that can be used to add portfolio, testimonials, parallax sections, your product or service information, call for action and much more.
Interface

: Very Flexible Business Theme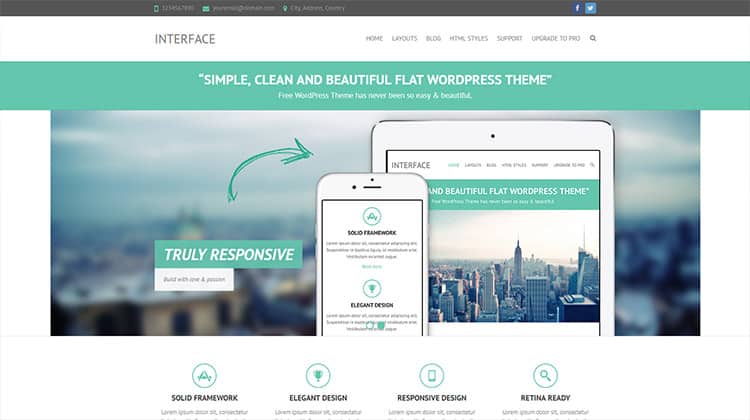 Interface is an awesome, responsive business theme for website owners valuing a clean, yet information-heavy frontpage. Moving away from the minimalism, Interface is perfect if you prefer strong copywriting over design.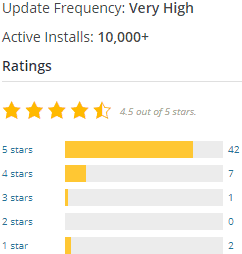 If you're an expert copywriter or, indeed, sell copywriting services, Interface is perfect for you. It's prominent text sections will turn your website into a conversion optimized machine!
Interface comes with a boatload of functionality including two site layout (Narrow and Wide), 4 layouts for every post/page, 5 Page Templates, 8 widget areas, 6 custom widgets, featured slider to highlight your post/page, 10 social icons, top and bottom info bar to highlight your contact information and increase your accessibility.
Responsive

: Most popular responsive WordPress Theme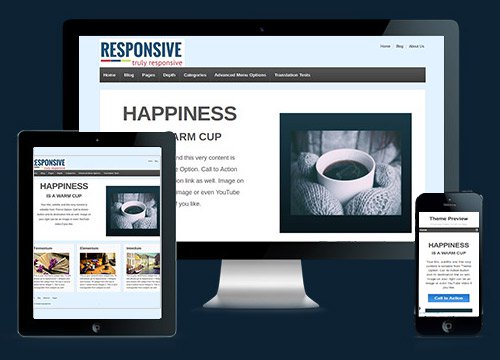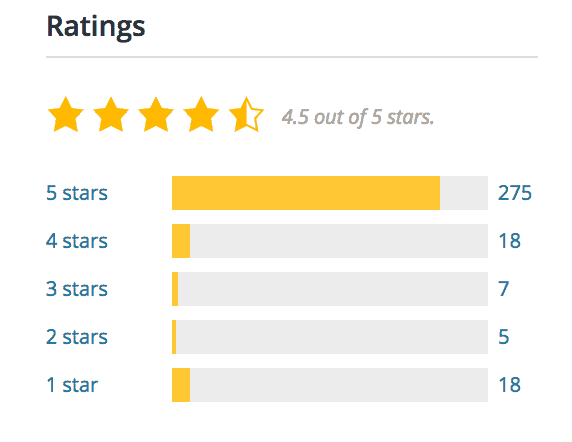 CyberChimps' Responsive theme is one of the most popular, free WordPress themes in the world. It has over 1.5 million downloads and 80,000+ active installs. This is a multi-purpose WordPress theme that is suitable for any website be it a blog, business, agency or a startup.
Responsive has a fluid stackable grid system and is a retina-ready theme. It can be fully customized to create a stunning website. Responsive is a free WordPress theme based on the fluid stackable grid system that offers custom templates, custom background, custom header, menus and much more.  The theme is also translation-ready. Its amazing theme options provide plenty of customization options.
BONUS: Best Premium Business Theme
While there is an abundance of free business WordPress themes with plenty of functionality, with a premium theme you don't only purchase additional theme bits and pieces – you buy full support and help with any questions you may have.
Without further ado, the single best business theme…
Divi, by Elegant Themes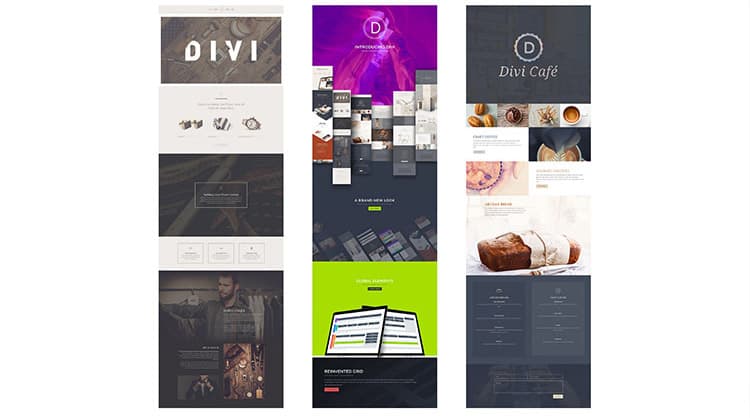 Divi is Elegant Theme's flagship product and visual page builder. According to behind-the-scenes technology aggregator BuiltWith.com, the most widely used premium WordPress Theme today!
Divi is much more than just another theme, it's a website building framework which enables you to create the most amazing websites by providing you the industry's best What You See Is What You Get (WYSIWYG) website builder.
Divi Features a drag-and-drop page builder – new and improved with their newly released version 3.0 which makes taking advantage and implementation of their over 36 elements as easy as a piece of cake!
2. Best Themes for Blogs & Personal Websites
---
Blogging has recently become a catch-all buzzword people throw around. Google defines a blog as "a regularly updated website or web page, typically one run by an individual or small group, that is written in an informal or conversational style."
In an essence, a blog is an informal opinion type of a page or a standalone website. From mommy bloggers detailing their everyday life, travel bloggers documenting their world-travel journeys to big companies producing meaningful state-of-industry articles -a blog is a versatile online platform to share what you have going on in your life.
Due to its personal nature, the perfect free blog WordPress theme has to be able to fulfill the following goals:
Persona
Blogs are read for their content as much as for the person writing it. If you hope to build a rapport with your first-time visitors and turn them into readers, invested in your opinion and life, your blog better have your face plastered all over it!
Content First
It's simple, really – a blog's only attraction is the site's honest, visceral content. The perfect blog theme knows how to highlight and draw a visitor's attention to it first, second and third time.
Simplicity
Blog themes need to be straightforward, lightweight, without many bells and whistles. Visitors don't care about anything but the written words of the blogger. This means focusing on a well-coded framework which facilitates a quick load of the page as well as a simple theme design, void of distraction.
When it comes to the best free blog WordPress themes, the keywords you should be thinking about, are simple, straightforward, focused.
Questions you should ask yourself once your blog website is complete:
Do I know who runs this blog immediately?
Is my attention immediately drawn to an article?
Do I understand how to navigate the site?
If your visitor can answer these three questions with a "Yes" within moments after clicking on your site – your blog is well on its way to success.
Check out my favorite free WordPress blog themes to get you started:
Writee

: Best for Lifestyle Bloggers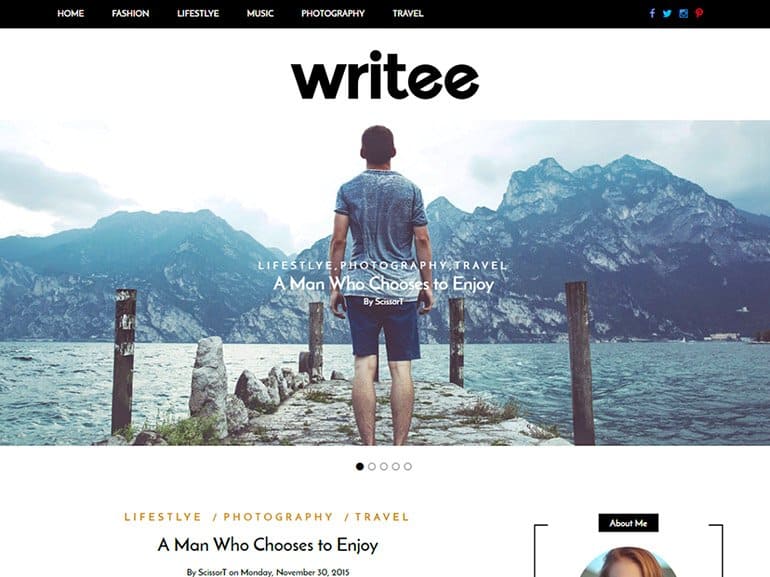 Writee is an awesome, straightforward blogging theme which checks all our boxes. Prominent "About Me" section, a full-width slider to display your best performing and most important blog posts all while maintaining a beautiful design.
The free theme comes with custom integrated widgets – Customizer Options, full-width/boxed slider and plenty more to help you shape your blog the way you want to!
Nisarg

: Simple WordPress Blog Theme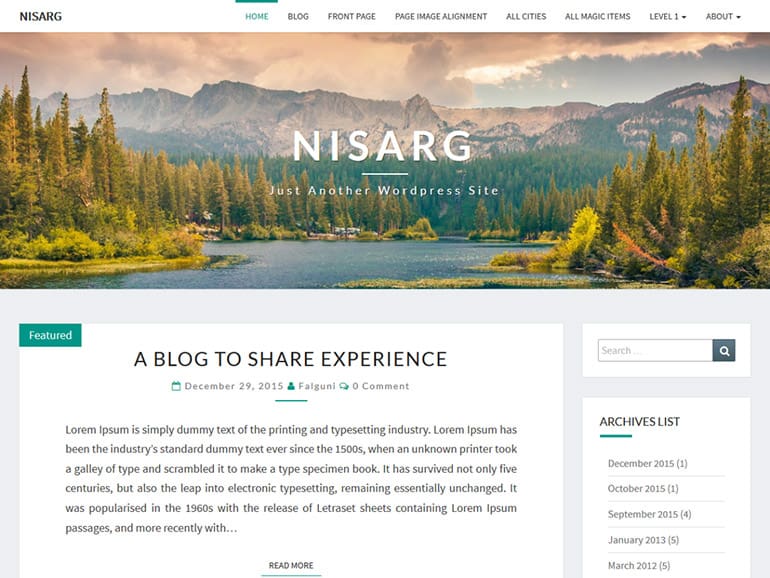 Nisarg is an even more minimalistic blog theme we are very keen on. The fully responsive, clean theme offers loads of customization options while keeping your blog clean and focused on your content.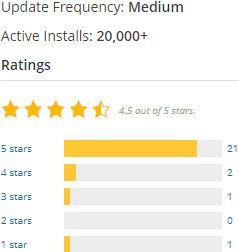 Adjust your header image, background image or color and the color of your theme accents and easily distinguish your posts with the integrated eight formats: Video, Image, Aside, Status, Audio, Quote, Link and Gallery.
Nisarg is the perfect choice for your casual personal blog. Simple, clean and straightforward – what more do you want?
Olsen Light

: Lightweight Free Theme for Bloggers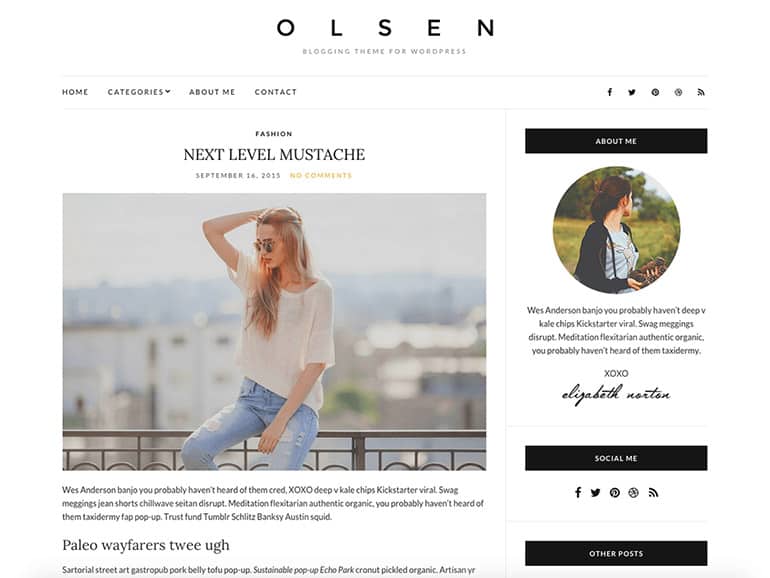 Olsen Light is another team favorite of ours. Perfect for fashionistas, photography and art bloggers, Olsen Light continues the proven trend of minimalism when it comes to blogging.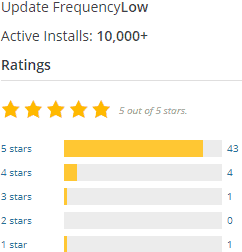 Void of a header image which pushes the content below the fold, Olsen is perfect for conversion conscious bloggers, eager to turn as many visitors into readers as possible.
The theme comes with an impressive number of custom social media widgets and customizer options. The Instagram integration means you can display your Instagram pictures right inside your blog and the SEO optimization will help you rank higher in Google, Bing and Yahoo!
Hoffman

: Best Free Theme for Writers
Hoffman is the ultimate minimalist dream blog WordPress theme. If you only care about your message and deem everything else unnecessary fluff – Hoffman is the perfect theme for you!
Focused entirely on the content, Hoffman does without any sidebars, extensive menus or header images. You better have a copy which is quick to impress!
The theme comes with a social icon menu, Jetpack support for infinite scroll, five custom widgets, two-page templates, editor styling, translation-ready code, custom accent color support, custom background support, support for the gallery post format and much more.
Libretto

: Minimal WordPress Theme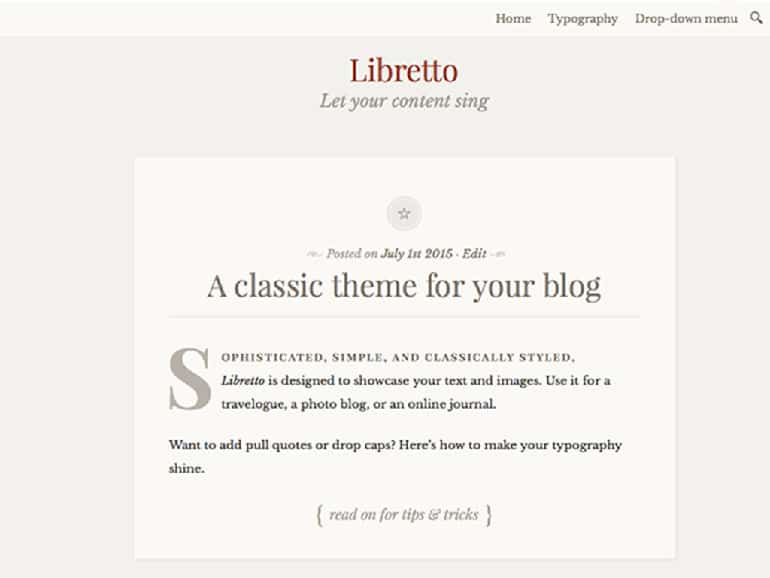 Very similar to Hoffman, Libretto is a minimal blog WordPress theme. The perfect theme for an elegant and sophisticated personal blog.
Libretto is a responsive one-column theme, featuring a more classic styling and typography; drop-cap and pull quotes. Perfect for poetry and the word of written art!
BONUS: Best Premium Blogging Theme
Everybody loves free, but free is rarely the best. Let us share our expert opinion on the best premium blogging theme.
If you're looking for full customization, email and forum support and a perfected blogging theme, we'd like to introduce you to…
Kalium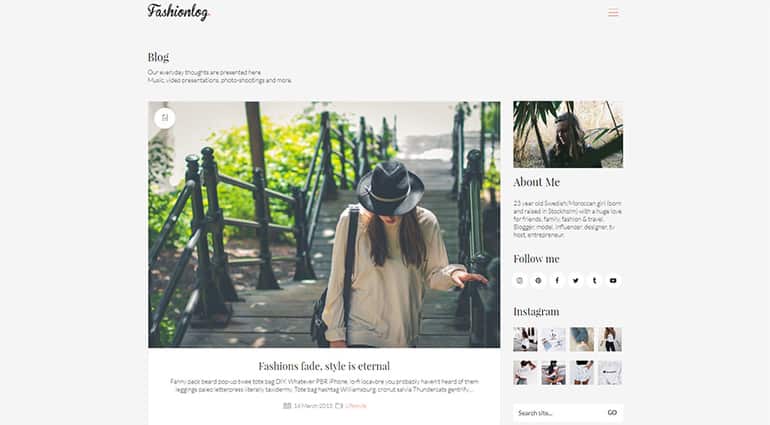 Kalium is well-known around the interwebs for their amazing array of customizability, theme features and beautiful designs.
Kalium is a page builder which can create a multitude of different purposed websites, but they are especially useful for bloggers.
The theme provides you with the tools not only to create a beautiful and effective blog but also to optimize it for best performance.
Make use of Kaliums premium page builder, 9 header styles, 30+ project styles, over 100 shortcodes and elements, 9 different blog layouts and so much more to create the exact blog you want!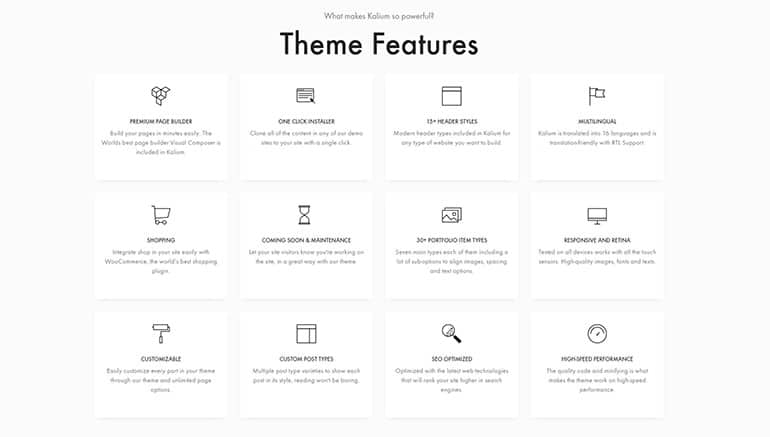 Over 15,000 happy customers have created Kalium websites. Oh, and the best thing about Kalium? Once you purchase it, you can create as many different websites as you want!
Your access to their page builder will help you create any website your business may need, effortlessly.
3. Photography & Portfolio WordPress Themes
---
Hobbyist, professional or an agency – the manner in which you choose to present your work is so consequential, it cannot be stressed enough.
While your goals with a photography website can be many and varied. The path to reach them is the same – perfect display of narrative. Whatever your message is, your ability to create a conducive flow with your photography is going to be the deciding factor in your website's success.
Here is what you are looking for in a photography WordPress Theme:
Gallery
The core of your photography site is bound to be the gallery and the way you present your work. Ideally, your theme will have not one, but several well-thought galleries for you to choose from.
From there, you want some basic but necessary functionality including direct links to the gallery/picture, a place to add details, comments and so on. In a perfect world, you will want to have a boatload of functionality which you can use to add or remove using your very own and personal gallery.
Free themes usually make do with very basic galleries and won't leave you much room for individualism, but we've tried to find the best.
Minimalism
Nothing worse than a cluttered theme that takes away the focus from the point of the website – the photography. Not just simplicity, but hardcore minimalism is what we like to see.
Do away with unnecessary menus, lines and design elements taking our attention away from your story and message.
What's vital, integrate well. What's not, skip!
Less Coding, More Images
The #1 element that slows websites down like nothing else? Pictures. While we're fans of "less is more" and urge you to be conscious of how many scripts, plugins, widgets and so on you install – a fat picture can do a hell of a lot more damage than any of those.
Ideally, you want your theme to be very light. The developers must have taken into account its intended purpose and made every effort to facilitate a swift loading time.
Unfortunately, it's nearly impossible for laypeople and casual website owners to gauge how much effort a developer has put into good coding. Don't expect any free theme developer to have given this point much of a thought.
If you're looking for the best photography theme, ask yourself the following three question about your photography site:
Is the photography displayed conducive to the narrative?
Is my attention fixated on the story & message?
Is the site loading quickly?
Here are the most popular free photography WordPress themes:
Pixgraphy

: All About Photos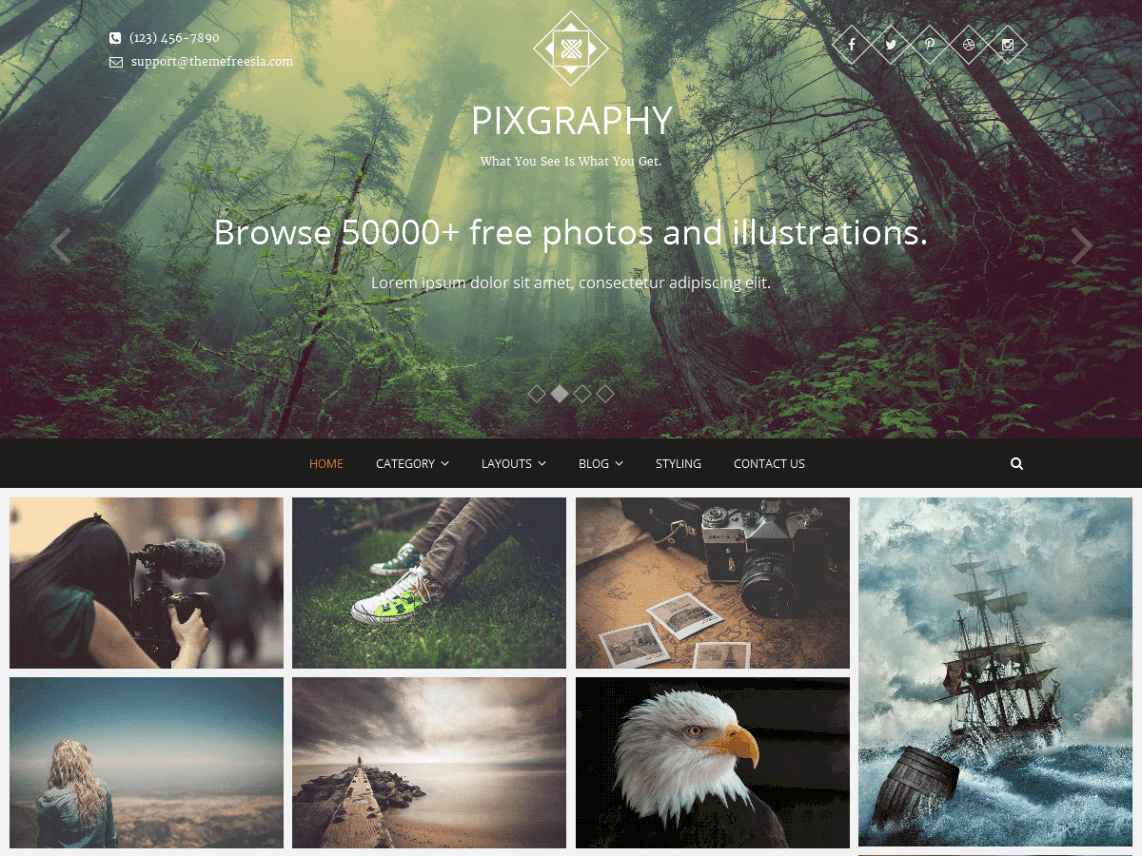 Pixgraphy is one of the most popular portfolios/photography theme for professionals. Featuring stunning minimalist gallery options, huge hero images and coded to perfection, this theme is perfect for anyone ready to make his work do all the selling.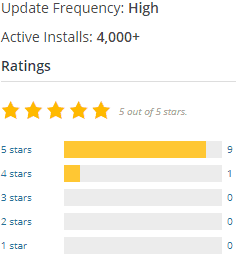 This theme supports popular plugins like Breadcrumb NavXT, WP-PageNavi, Contact Form 7, Jetpack by WordPress.com, Polylang, bbPress, wooCommerce and many more. It is also translation-ready and easily customizable with lots of options using Customizer.
Pixgraphy features a very clean and optimized code, resulting in minimal loading times, especially important for photography websites. Take advantage of Pixgraphy's multiple layouts to shape your website exactly how you want it!
Fukasawa

: Clean, Free WordPress Theme for Images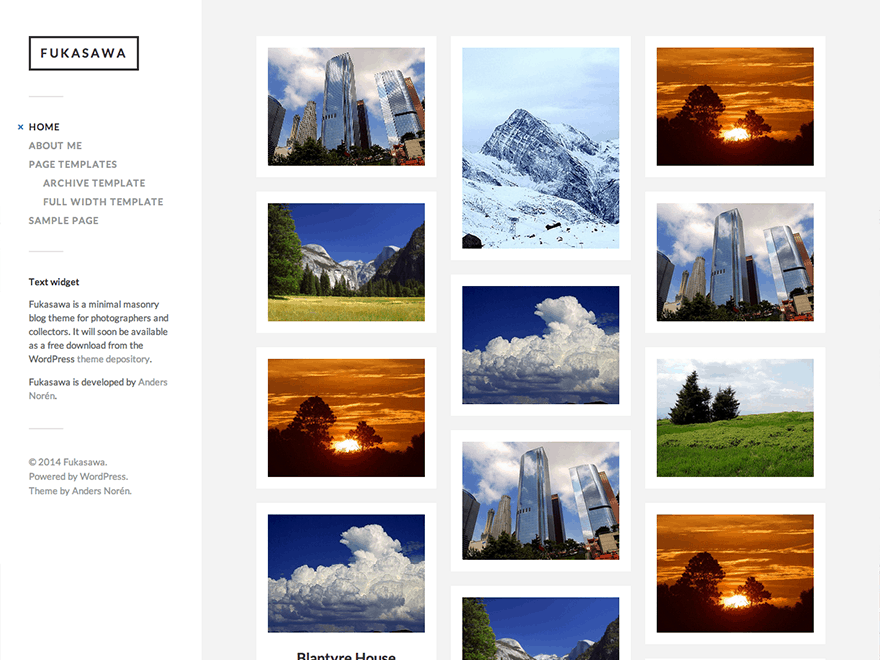 Fukasawa's main attraction is the theme's Pinterest-style grid gallery. The Jetpack-enabled infinite scroll option ensures your photography will enjoy your reader's unencumbered focus.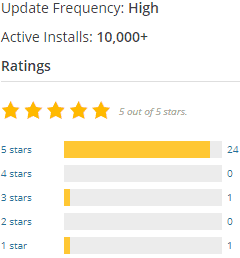 You will enjoy the responsive & retina-ready theme features support for the image, gallery and video post formats, five custom widgets, an archive page template, a gallery slideshow, custom accent color support, custom logo support, editor styles and translation-ready code – with even Swedish included!
Make use of Fukasawa's minimal design and customizability to tell your personal story, exactly how you want it to be told!
Rokophoto

Lite

: Black and White WordPress Theme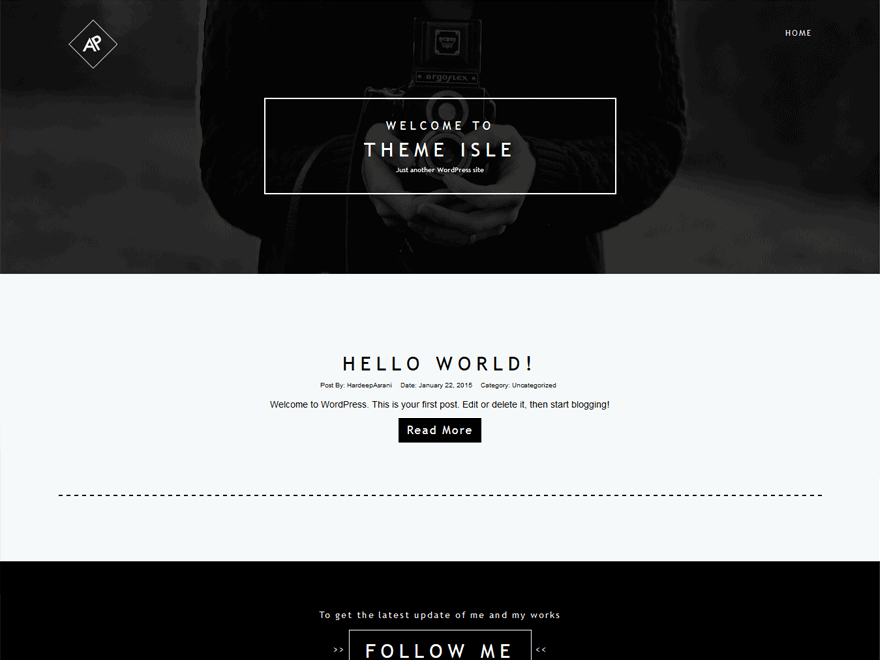 Rokophoto moves slightly away from the minimal model and delivers the perfect solution for narrative-driven photography websites. It's the perfect theme if you have many and unique stories to tell!
The light version comes with two different types of sliders, a modern and huge portfolio section and a built-in contact form. We admit that we would have liked to see more from their free version.
Hitchcock

: Narrative Focused WordPress Theme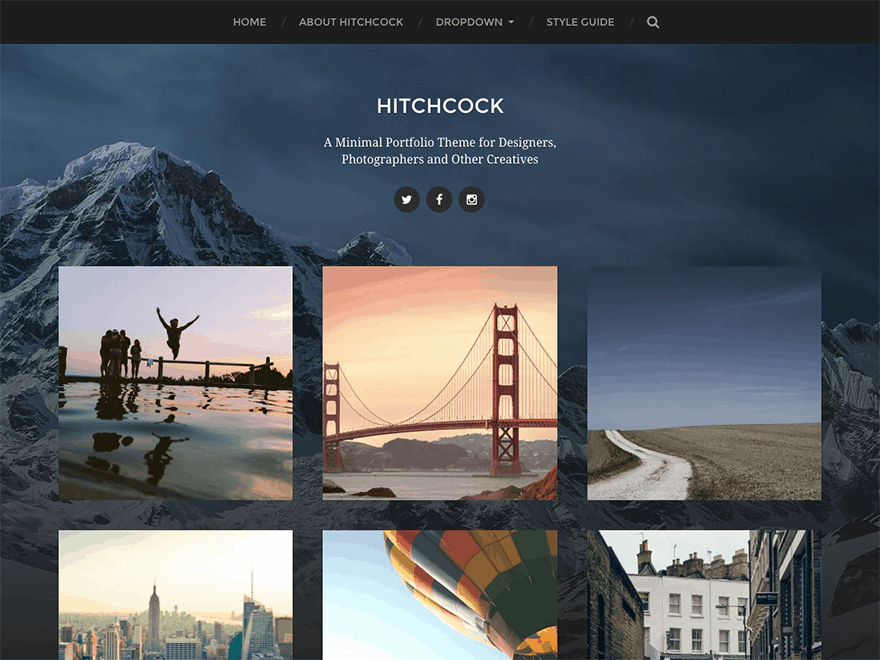 Bridging the gap between minimalism and narrative-focus, Hitchcock is a very minimal photography theme meant for personal-type portfolio websites. The theme is void of frontpage clutter and enables you to tell your stories via a post-type arrangement.
The theme features a beautiful responsive design, a social icon menu, Jetpack infinite scroll, custom accent color, custom header image, support for the gallery post format, editor styling and much more.
Gridsby

: Free, Minimal Photography Theme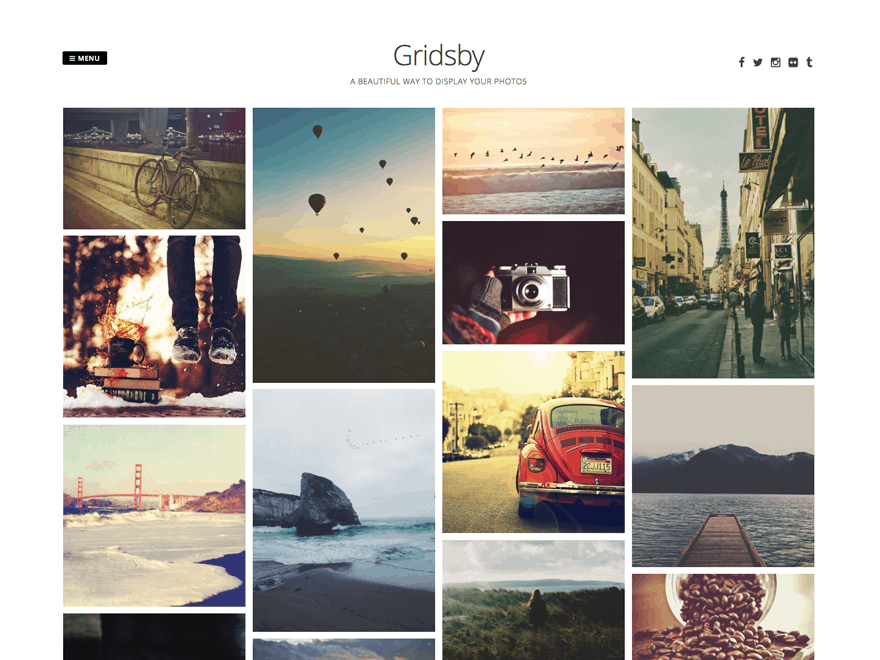 Taking Hitchcock's visual-centric approach and taking it to the extreme, Gridsby is the ultimate minimal photography theme. The theme's clear and definitive prioritization of photography over the story is perfect for those of you who just need a platform to display your work, providing minimal or no context.
The responsive and retina-ready theme, featuring a Pinterest-style grid gallery also includes an easy method for posting photos to your main photo gallery.
BONUS: Best Premium Photography WordPress Theme
Sure, you could go the free route, but why not spend just a few bucks on a premium photography WordPress theme, developed precisely for your goal and revised hundreds of times to make it the single best, perfect fit?
KingSize, by OWMLabs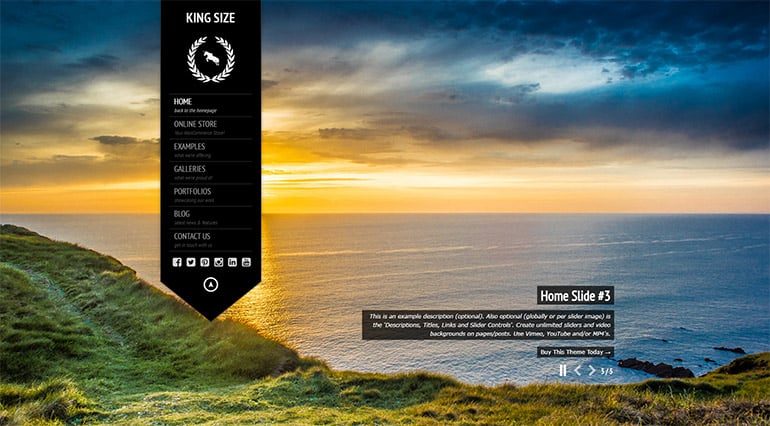 The ultimate photography theme, KingSize was first developed in 2011 and has since been optimized to version 5.0.
KingSize is the #1 best-selling photography theme, with over 19,000 sales to date and a 4.53 out of 5 rating over 1700+ votes.
It's not difficult to imagine why, either. With truly dozens of thought out, custom-photography-tailored features KingSize is unlikely to be soon dethroned.
The fully responsive KingSize is a miracle worker putting the reigns in your hands and arming you with about a million (slight exaggeration) custom options to make your site truly your own. The humongous buyer support forum and the 28 tutorial videos will enable you to create your dream website – hassle and headache free!
One of the most impressive premium themes, KingSize is a no-brainer buy at only $55. Take advantage of the 6+ years of optimizing and development and get started on your very own masterpiece website today!
10 Free WordPress Theme Recommended by WebsiteSetup.org Visitors
---
1. Moesia

: Solid, Free Business Theme

Recommended by Karol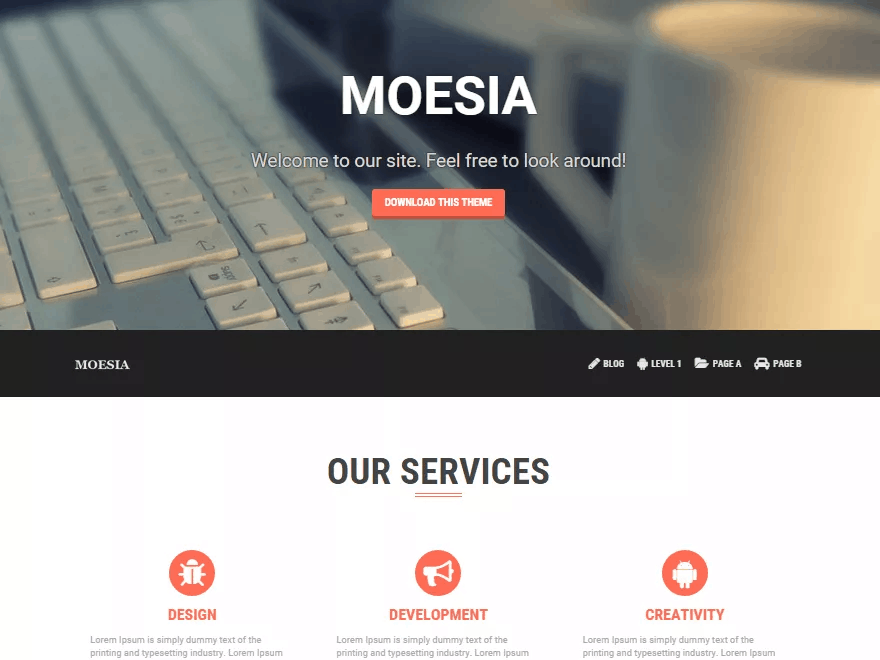 Looking for the perfect homepage for your business? With the Moesia theme, you can build it easily.
You can choose from 11 predefined blocks and arrange them in a way that suits your design vision and is also compelling for visitors.
Here are some of its other cool features:
2. Arcade Basic

: Perfect for Different Type of Website
Recommended by Arturo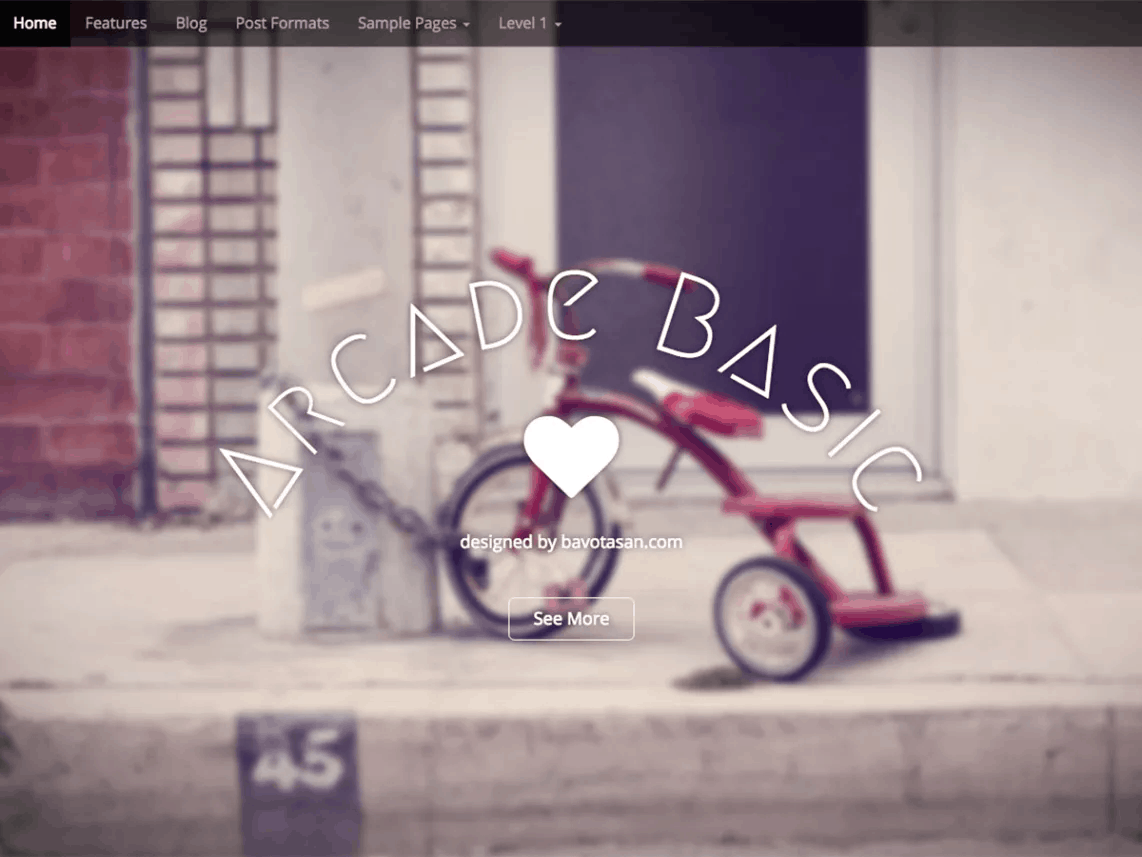 Do you have a wide variety of content for your website? If so, there's a good chance Arcade Basic can support it all.
It has 8 supported post formats: Video, Image, Aside, Status, Audio, Quote, Link and Gallery. You can keep a good mix of content and keep your audience interested.
Here are some of its other cool features:
3. ShopIsle

: Free Theme for E-commerce Site

Recommended by Angelina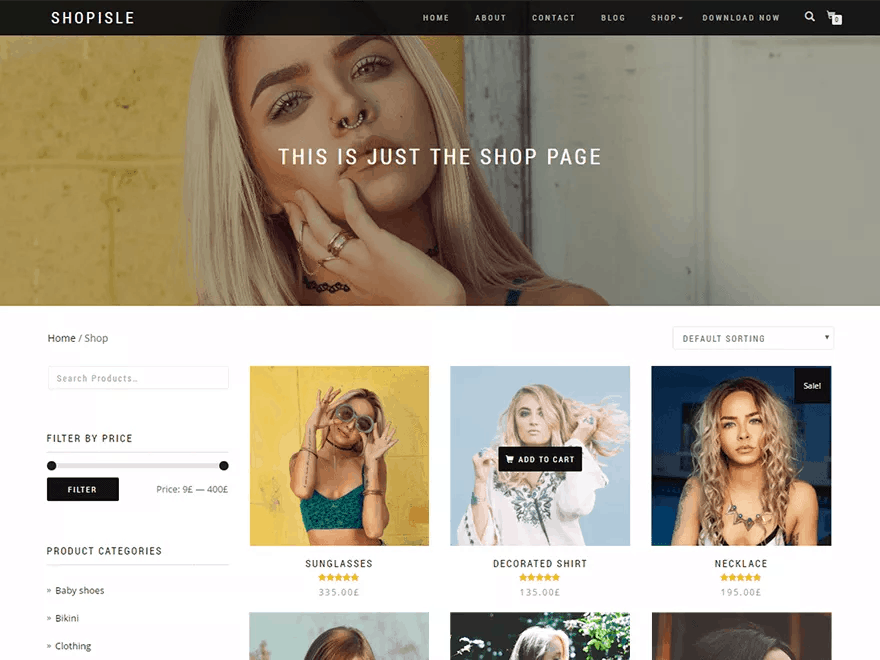 Want an ecommerce store that can do a little bit of everything? Then take a look at ShopIsle!
It's one of the best themes for bootstrapping your ecommerce store. But there's also a blog section, photo gallery grid, and more. You can even use it for a one-page business site!
Here are some of its other cool features:
4. SimpleShift

: Good Theme for a Small Business

Recommended by Jessica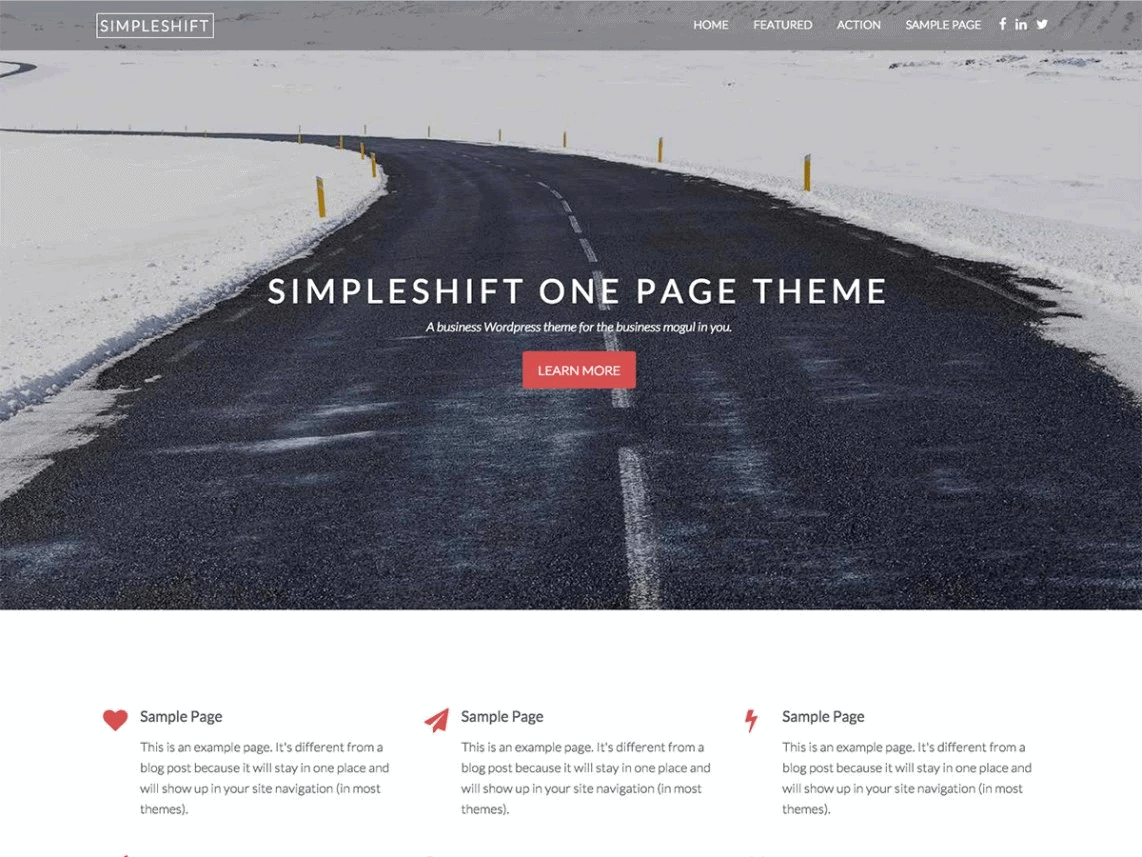 This is a brand-new theme, but it's quickly on the rise – and for a good reason. Just take a gander at the beautiful demo, and you'll see what we're talking about!

Aside from its sleek design, it's also SEO optimized so it can climb to the top of Google more quickly.
Here are some of its other cool features:
5. Illdy

: Very Customizable WordPress Theme

Recommended by Jason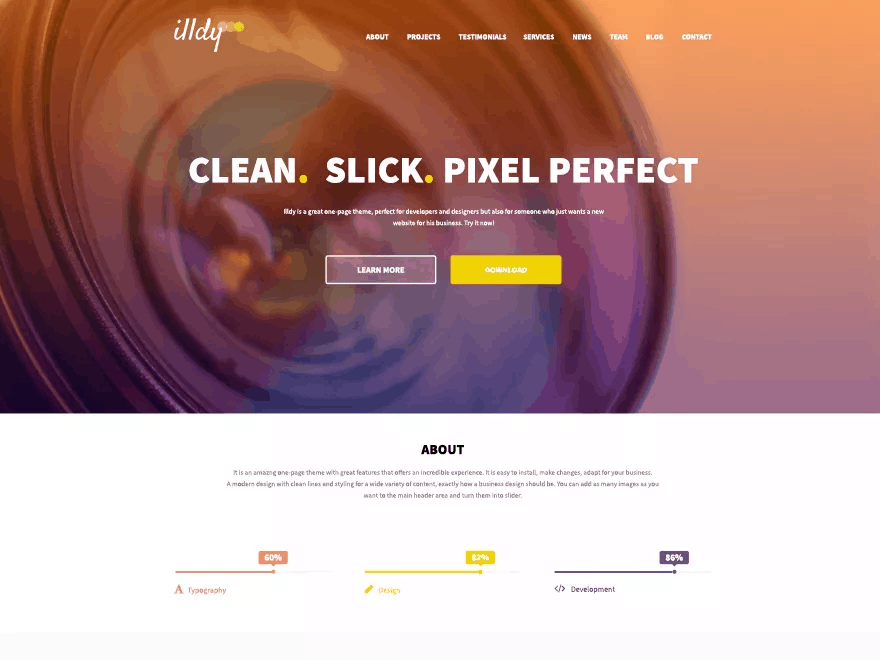 As far as one-page free WordPress themes go, Illdy is one of the best out there.
It has a sleek design and tons of functionality. It's also highly customizable. If you're looking to build a killer one-page website for your business, you can't go wrong with this theme.
Here are some of its other cool features:
6. ParallaxOne

: Simple and User-Friendly Theme

Recommended by Pete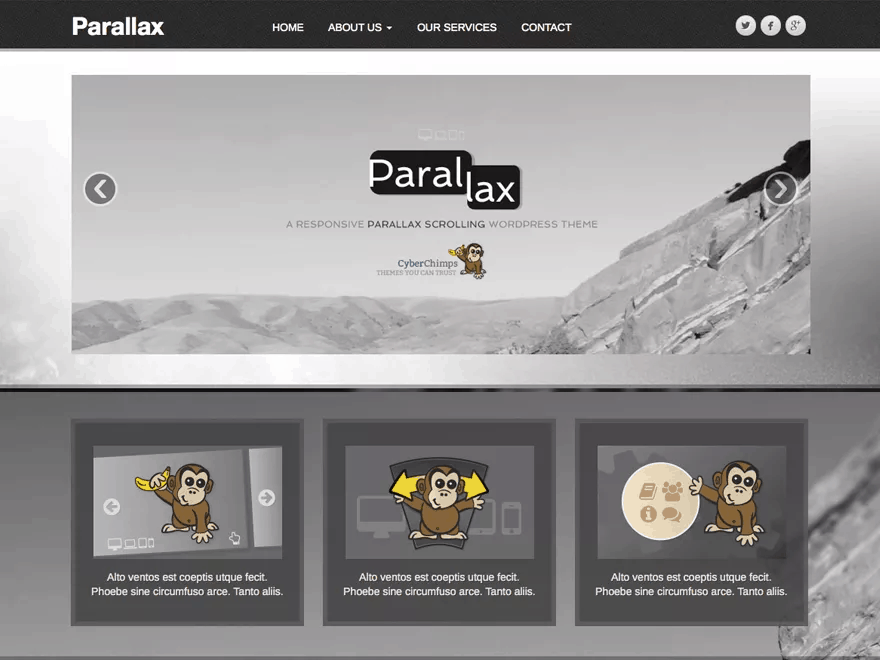 Want to get your site set up quickly? With ParallaxOne, you can!

It's integrated with several plugins, which allows you to set up your entire website in minutes with some simple drag-and-drop action. The custom content blocks make it easy to arrange the design to your liking.
Here are some of its other cool features:
7. Latte

: One-Page Portfolio Theme

Recommended by Amy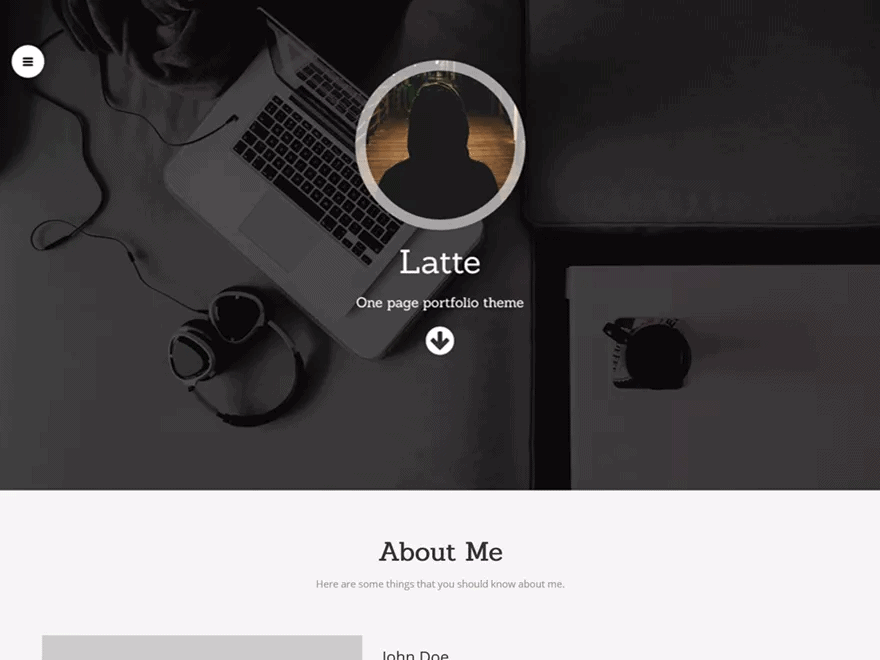 With it's sleek design, a vast amount of features, and a high level of customization, the Latte theme might make you spit out your coffee even if you weren't drinking any!
You don't need a page builder to customize this theme – you can do it straight from the WordPress Customizer, which makes things easy for you.
It's perfect for designers, developers, and freelancers to showcase their portfolios and skills.
Here are some of its other cool features:
8. Compact One

: Free One-Page Parallax WordPress Theme

Recommended by John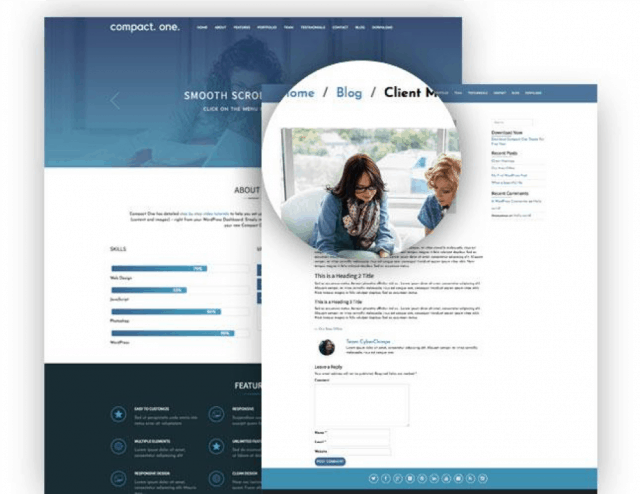 Compact One is a feature-rich one-page parallax WordPress theme for business recently launched by CyberChimps. It comes with interesting features that will help you create a perfect website.
The features include a full-width slider, gallery with mouse hover effect, detailed typography options, etc. There are seven easy-to-customize sections – Features, About, Team, Portfolio, Contact Form, Testimonials, and Slider.
To help you set up your site in minutes, this theme also includes full (images and content) demo data along with detailed step-by-step video tutorials.
This little wonder has already crossed over 700+ active installs!
9. AzeraShop

: Well-Designed Theme for an Online Shop

Recommended by Nate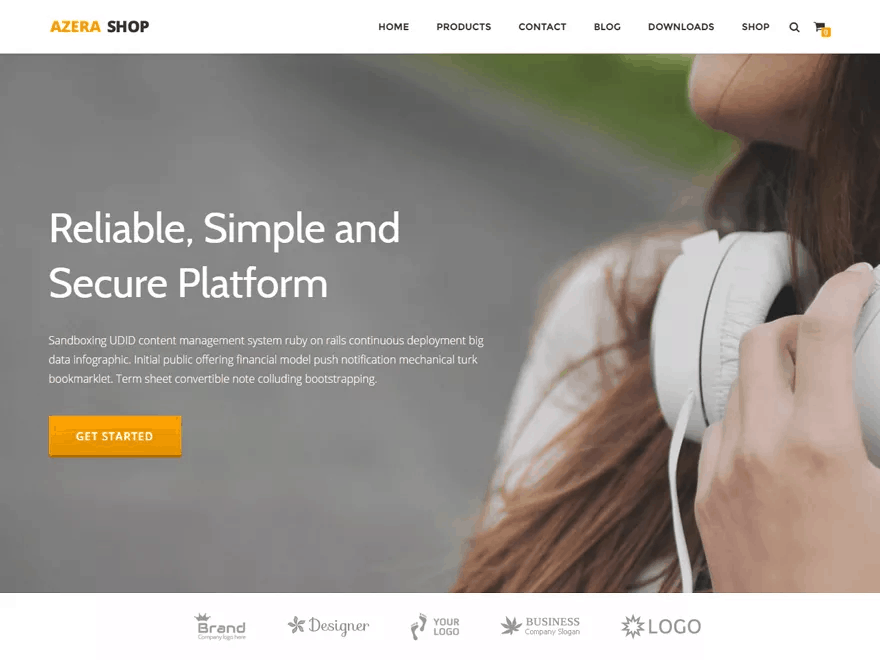 The Azera Shop theme helps you get the most out of your ecommerce store.
It includes a custom blog layout so that you can easily craft compelling blogs that increase your SEO ranking and drive more customers to your site.
It also provides an easy section for testimonials, so that you can load up on the social proof and get visitors excited about buying from you.
Here are some of its other cool features:
10. Regina Lite

: Good Option for a Small Business Website

Recommended by Anders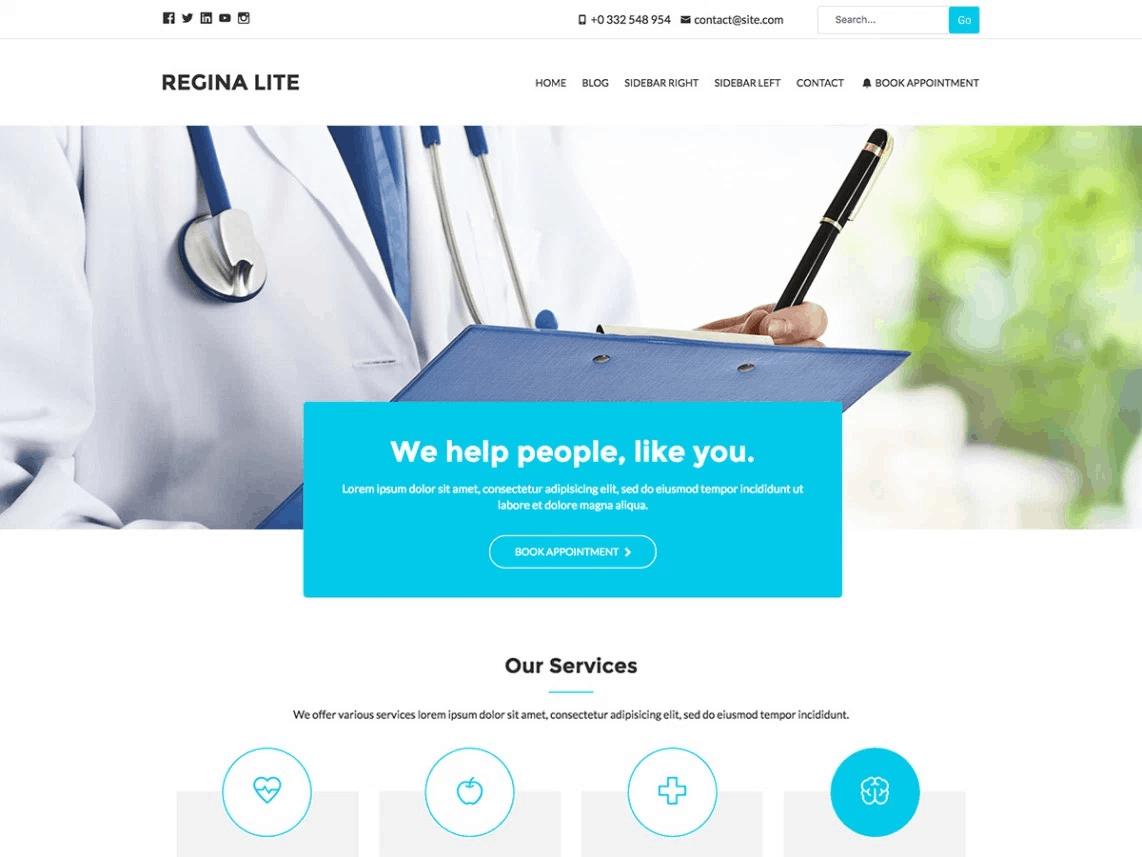 No, we didn't forget about all your Doctors and medical people out there! This may just be the perfect free WordPress theme for your website.
It was designed with medical clinics, dentistry websites and medical research facilities in mind. It's easy to design your website in a way that your visitors will love.
Here are some of its other cool features:
Conclusion
You don't need to invest hundreds of dollars on all the upfront costs of starting a website. In fact, with these 15 free WordPress themes, you can make your website look great, function well, and fulfill your vision without spending a dime!
The journey doesn't end here – you still must do your research and consider the factors we mentioned at the beginning of this article. Considering the tips, you should carefully select a free WordPress theme that best suits your needs.
Sounds good? Great! Now it's time to take some action and start building your own WordPress website!
Do you have any other favorite free WordPress themes for websites? Let me know in the comments section below 🙂