Hey,
I'm Robert – nice to e-meet you!
I put this guide together to help small business owners and individuals to build their own websites the right way.
Since the end of 2016, my step-by-step guide has gone viral, but this also means that I'm getting around 50 emails every day.
I do my best to respond to them on the same day.
When you send me your questions, let me know the following things:
The name of your domain (www.YourSite.com)
Which web hosting provider are you using?
Are you using/planning to use WordPress or something else?
Finally, please be as specific as possible. This helps me to solve your problem MUCH faster.
If I miss your question/email and don't respond within 3 days, feel free to shoot me another – after all, things can get lost!
There are 2 ways to get in touch with me
---
1. Get in touch via WebsiteSetup.org Facebook Page
If you have a Facebook account, just go to www.facebook.com/websitesetup.org and click 'Send Message' (see the image below). This is the FASTEST way to get in touch with me.
I spend most of my free time browsing on Facebook (bad habit, I know!).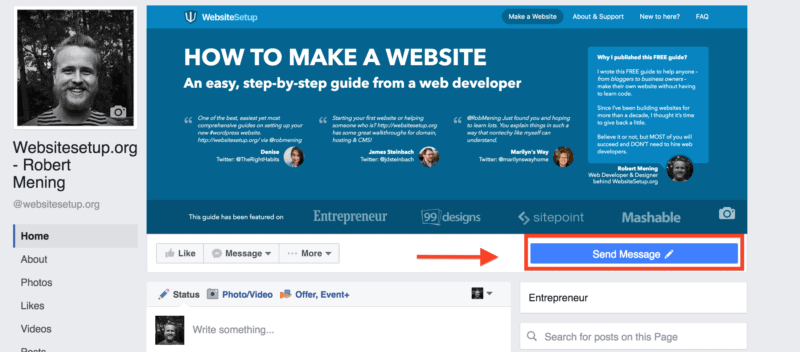 2. Send me an email or submit a form below
If you don't have a Facebook account, don't hesitate to contact me via the form below. I usually answer within 24 hours (weekends can take a bit longer).
email: [email protected]
Some of my MOST viewed guides
Few words about me
I'm Robert Mening. I was born in Sweden, Malmö 29 years ago. I've been interested in computers, tech and the web since I can remember. I built my first website in 2004 and have been a full-time web developer and a designer ever since.
I've helped various bloggers, small businesses and start-ups with their online presence and I have no intention of slowing down!
Some not so interesting facts about me:
I have two brothers and one sister.
I studied media and marketing at Malmö University.
My hobbies are skiing and fishing.
I'm a coffee addict (seriously, I need help!)
Here's my Twitter account (@RobMening) and here's my Google+ account.
Why did I launch WebsiteSetup.org?
One of the reasons that forced me to put together this website was quite simple – I just didn't want to see people spend thousands of dollars hiring web developers and designers.
I've been involved with many different designers and developers in the past 10 years and I can sincerely say that 90% of them just install a premium WordPress theme and ask $500+ for it – no magic!
When you follow my WordPress guide (homepage), you're doing the same thing they did – only for free. That said, if you can't find few hours to put together your own website, it's best to hire someone to do it for you.
Why am I doing it for FREE?
Another reason why I'm spending a lot of time improving my guides and answering emails is that I'm actually earning some money from it – no secrets between friends!
Some of the services that I'm suggesting for people to use (mostly web hosting) pay me commission fees for referring new clients.
It's enough to cover the domain name and web hosting costs, which keeps this site online and the information available for all.
Keep in mind that all the information on this website is free to use. You can share it with your friends, colleagues and everyone else.
Enjoy reading my guides!
Robert