Hey,
I'm Robert – nice to e-meet you!
With the help of multiple people who work for WebsiteSetup.org, we've put together this guide to help small business owners and individuals to build their own websites the right way.
Since the end of 2016, my step-by-step guide has gone viral, but this also means that we're getting almost 50 emails every day.. 
When you send us your questions, let us know the following things:
The name of your domain (www.YourSite.com)
Which web hosting provider are you using?
Are you using/planning to use WordPress or something else?
Finally, please be as specific as possible. This helps us to solve your problem MUCH faster.
If we miss your question/email and don't respond within 3 days, feel free to shoot another email – after all, things can get lost!
Contact us
1. Get in touch via WebsiteSetup.org Facebook Page
If you have a Facebook account, just go to www.facebook.com/websitesetup.org and click 'Send Message' (see the image below). This is the FASTEST way to get in touch.
I spend most of my free time browsing on Facebook (bad habit, I know!).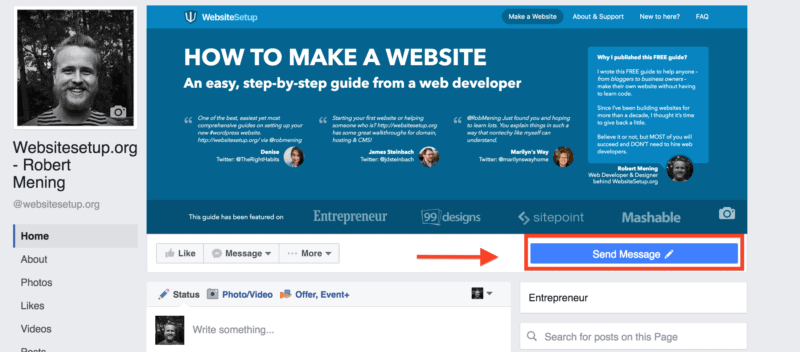 2. Send an email or submit a form below
If you don't have a Facebook account, don't hesitate to contact us via the form below. We usually answer within 24 hours (weekends can take a bit longer).
email: [email protected]
Some of our MOST viewed guides
Why did we launch WebsiteSetup.org?
One of the reasons that forced us to put together this website was quite simple – we just didn't want to see people spend thousands of dollars hiring web developers and designers.
We've been involved with many different designers and developers in the past 10 years and I can sincerely say that 90% of them just install a premium WordPress theme and ask $500+ for it – no magic!
When you follow our WordPress guide (homepage), you're doing the same thing they did – only for free. That said, if you can't find a few hours to put together your own website, it's best to hire someone to do it for you.
Why are we doing it for FREE?
WebsiteSetup.org (this site), is a free online resource for helping people create websites, learn WordPress and more…
However, creating a site like this can take a lot of time, money and work hours
To run WebsiteSetup as a business and keep it accurate and up-to-date, we're earning commissions from some of the products/services listed on this page.
Full disclosure: If you end up purchasing through our referral links the following products, we earn a commission:
Bluehost (www.Bluehost.com)
HostGator (www.HostGator.com)
Shopify (www.Shopify.com)
Site123 (www.Site123.com)
SiteBuilder (www.SiteBuilder.com)
SiteGround (www.SiteGround.com)
iPage (www.iPage.com)
InMotion Hosting (www.InMotionHosting.com)
Wix (www.Wix.com)
Although we've found these products and services reliable and useful, we recommend you to read more reviews online to make a fully unbiased conclusion.
If you have any questions about our advertiser disclosure, don't hesitate to contact via advertising(at)websitesetup(dot)org
Enjoy reading our guides!
Robert & WebsiteSetup.org team