Since I've received a lot of emails from my visitors about choosing the right hosting package for Bluehost, I thought it's wise to dedicate a whole page for Bluehost signup process. Keep in mind that it shouldn't take no longer than 5 minutes to complete registration. Simply follow the steps below.
Once you have gone through the steps, I'll show you how to install WordPress, Drupal and/or Joomla to your domain via Bluehost "one-click-installation" option.
P.S.: When you are setting up/making a website; domain name and hosting are necessary. Otherwise you'll be unable to set up your website for others to read and browse. This applies for WordPress, Joomla, Drupal and other free website building platforms.
STEP 1
Go to www.Bluehost.com and click on the "Get started now" button. If you use this link, you'll be able to get a FREE domain. This discount applies to all websitesetup.org visitors (Yay!)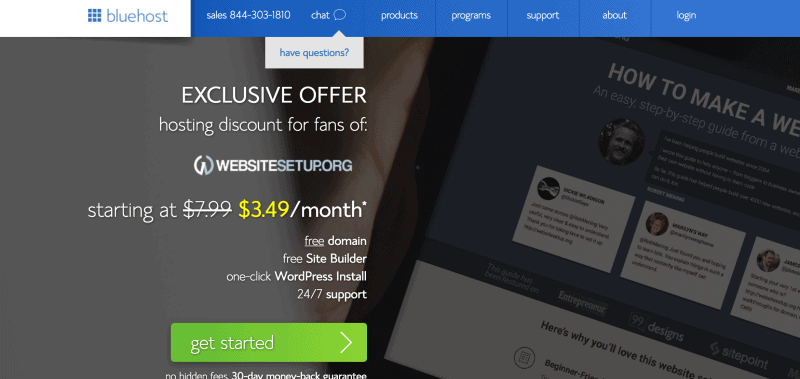 STEP 2
Choose the cheapest (basic) plan and a domain name for your website. It doesn't have to end with .com, you can also use different endings (such as: .net, .org or even .co.uk).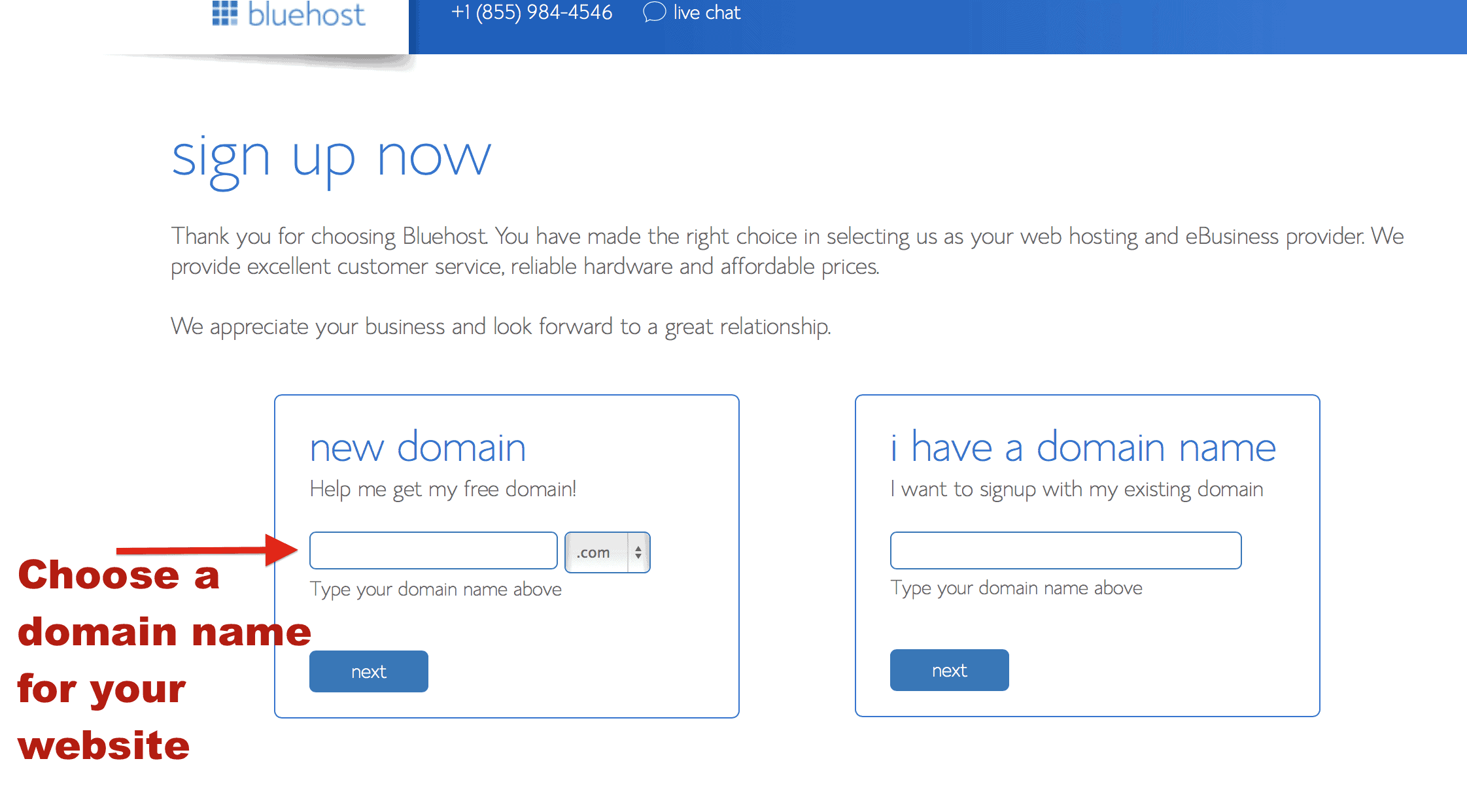 STEP 3
Enter your personal details for completing the registration process. Add you name, address, e-mail address and choose a payment type – Credit card or PayPal.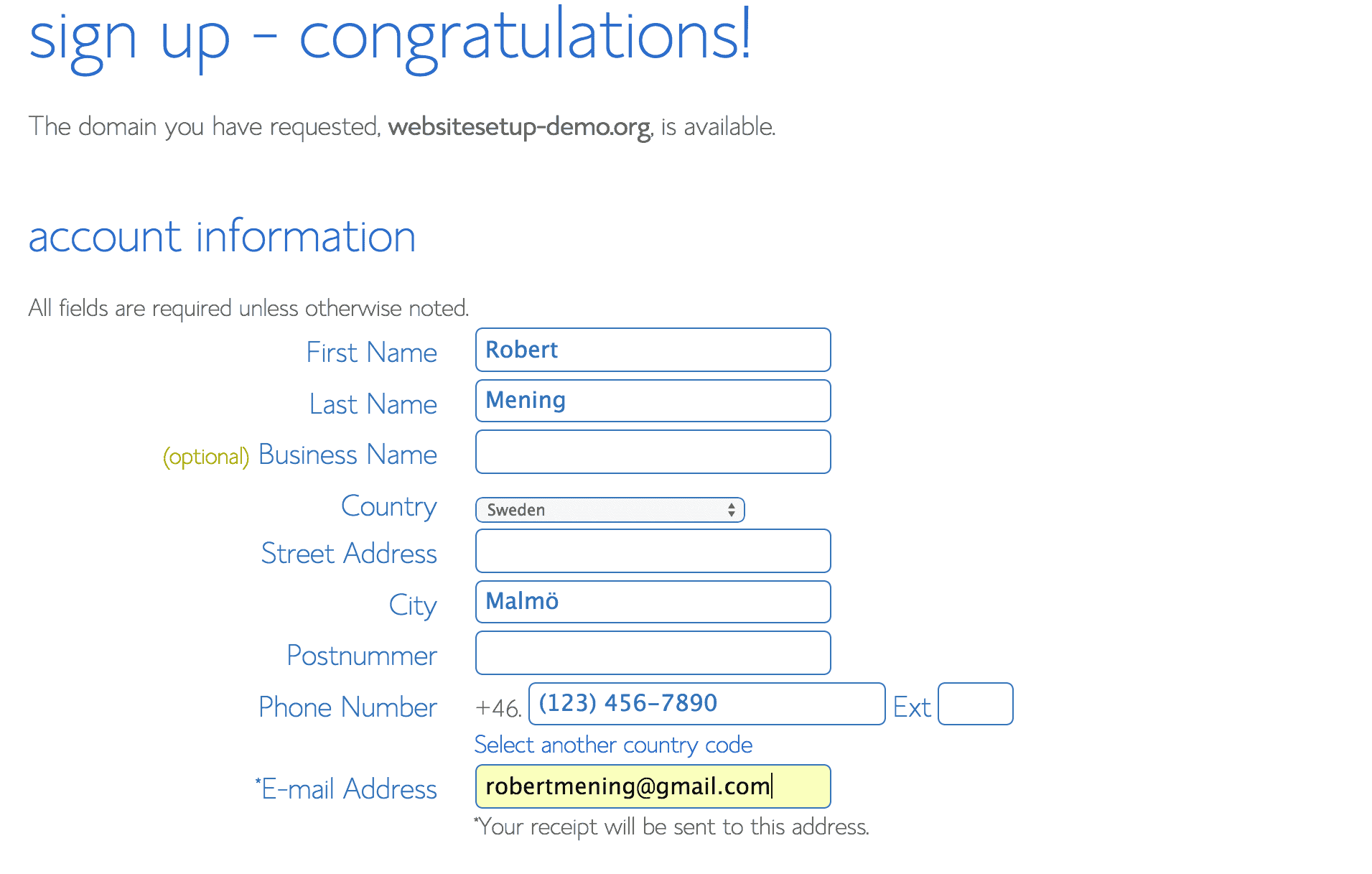 STEP 4
Choose suitable hosting package (Basic) – you'll save some cash as the Plus and Business Pro aren't really needed for a brand new site unless you're getting millions of visitors from day one. You can either sign up for 12, 24 or 36 months.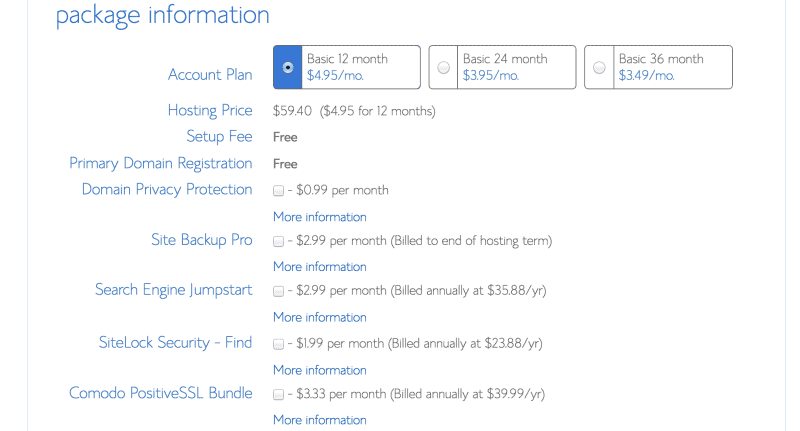 Don't go crazy with add-ons, you don't need them
Most add-ons that Bluehost provides are great, but not really needed.
However, there are few that are some-what optional:
Domain privacy – this will hide your personal information (name & address) and you'll likely get zero unsolicited marketing emails. If you want to keep your website/domain fully anonymous, tick that option. If you don't want to stay anonymous, un-tick that option and you'll save $0.99 per month.
Site Backup Pro – While WordPress is quite secure, it's wise to sign up for Site Backup Pro. If you are scared that you'll mess something up, tick that one as it'll start taking regular backups from your site. On the other hand, if you don't choose it, you are able to sign up for less than $60/year.
Once you have signed up with Bluehost, you are now able to start making/building websites on your domain name. Just log in to your control panel and choose WordPress, Joomla or Drupal as your website builder.
How to Install WordPress (or Joomla & Drupal) on Bluehost 'One-click-installation'
Below are short guides for installing WordPress, Joomla or Drupal within just few seconds with the help of one-click-installation that Bluehost have provided for beginners. Just click on the preferable website software and the guide will expand (with images).
WordPress one-click-installation tutorial
Joomla one-click-installation tutorial
Drupal one-click-installation tutorial
Once you have a domain name, web hosting and website platform installed, you can go ahead and start reading my more in-depth guides for editing your website, adding new content and making it really work.
Guide by Robert Mening
66

Responses to "How to install WordPress on Bluehost"