AI-powered business tools are nothing new, but the meteoric rise of language-learning chatbots – look no further than Open AI's ChatGPT – has brought artificial intelligence to mainstream commercial discourse. Now, the technology is rapidly permeating all industry sectors, from strategy and operations to business marketing and website construction.
Enter AI-powered website builders – intelligent toolsets that capitalize on machine learning to automate and optimize webpage design. With minor specification inputs regarding purpose, name, and stylistic preferences, these platforms can expedite the creation process with professional-grade results. Most also eliminate the need for expert coding knowledge.
Simply put, AI-powered website builders provide a convenient and accessible option for individuals and businesses looking to get online fast. They are quick, efficient, and – for the most part – highly effective. In minutes, users can have a fully functioning, attractive, and industry-specific website optimized for success. Many website builders are also equipped with valuable (and often AI-powered) tools for content creation, SEO, site analysis, e-commerce, and security.
1. Wix ADI

A mainstay name within web development circles, Wix has earned a solid reputation as one of the internet's best end-to-end platforms for website services.
Faithful to their promise of simplicity meets functionality, Wix bakes artificial intelligence into its well-established interface. Users circumvent steep learning curves and can jump fluidly from the automation of Wix ADI to the platform's base web design solution (Wix Editor).
Generating a fully-designed website requires answering a few simple questions: the website's purpose, necessary features, and desired style. Within minutes, the platform produces a customized and professional website. Wix ADI can also pull existing online content, such as social media posts, into the new site.
Once generated, users can make further design changes within the ADI interface. The customization options are limited – users seeking maximum flexibility are recommended to bounce across to the Wix Editor.
Pricing: Freemium. Using the Wix ADI interface costs nothing, but a premium plan is needed to connect to a custom domain.
Cons:
Custom domains require a paid plan
Limited customization within the ADI interface
2. Hostinger

Hostinger plants its flag as an all-in-one and affordable website builder. The platform is one of the most budget-friendly options for users seeking feature-rich automated web design, with their lone pricing plan of $2.99/per month.
Subscribers receive access to numerous valuable features: a free web domain (worth $9.99), an email, SSL certificates, marketing integrations, customer support, web hosting, unmetered traffic, and – of course – AI integrations.
Following contextual questions, Hostinger generates a few website suggestions – users can request more options if they aren't satisfied with the initial results. The platform then offers a user-friendly drag-and-drop interface for further customization.
Hostinger's AI tools extend to logo creation, content writing, and user heatmaps. While these features can be underwhelming when used – bland designs and misinterpreted imagery – they provide a solid foundation given the platform's price point.
Pricing: $2.99/mo – 30-day money-back guarantee.
Cons: 
Immediate paywall: users must create an account and pay before gaining access to the platform
Not as powerful as some of the more expensive website builders
3. Appy Pie

Foremost a solution for mobile applications, Appy Pie has since entered into the web-design space with its AI site builder. The no-code platform is a worthy option for less tech-savvy users who value efficiency.
With just a few input sentences, Appy Pie builds a functional website that can later be modified in real-time, even once the site goes live. The platform's intuitive drag-and-drop interface also provides valuable flexibility throughout the development process.
Subscription features include a free custom domain, Google Workspace, a chat widget, free hosting, and SSL certificates.
Due to Appy Pie's expertise in the app space, users can subsequently convert their AI-powered website into a mobile app.
Pricing: $18/mo.
Cons: 
Website designs may be considered more 'lightweight' than other options
4. Jimdo

Like Wix ADI, Jimdo's AI-powered website builder is integrated into their base development platform. Jimdo Dolphin, as it's called, utilizes artificial intelligence to create a pair of functional and personalized websites with just a few question inputs – users can select which template design they prefer and customize it from there. More thorough customization requires switching across to the base Jimdo Editor.
Again, similar to Wix ADI, Jimdo prioritizes ease of access and simplicity for a more streamlined user experience.
While Jimdo's free plan includes five web pages, mobile optimization, contact forms, and an image library, users must upgrade to a paid plan for SEO and ad-free features to kick in.
Pricing: Freemium. $9/mo is the base for SEO features.
Cons: 
SEO tools are behind a paywall
In-depth customization is better handled in Jimdo's non-AI editor
5. 10Web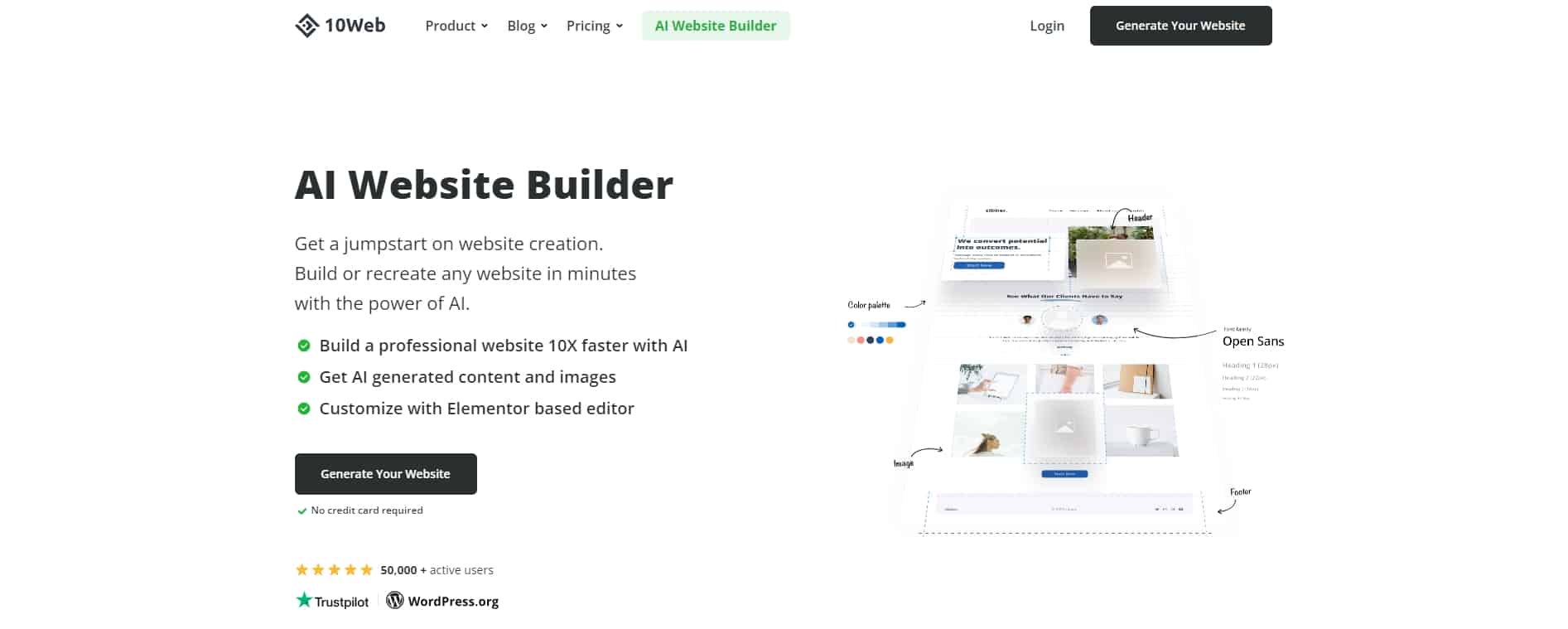 An attractive option for fans of WordPress, 10Web leverages artificial intelligence to build a functional website template. 10Web also prides itself on its ability to accurately recreate website designs – users can feed the platform a URL, and the AI builder will respond with a WordPress-ready template. Once a base site is generated, users can take full advantage of the platform's Elementor-based editor (a popular WordPress plugin for building landing pages) to make style customizations and design changes.
The 10Web platform also offers an AI-powered assistant for content generation, automated WordPress hosting, a speed booster, and security features.
10Web is a compelling solution for individuals or businesses looking to transition to the WordPress platform.
Pricing: Plans start at $10/mo.
Cons:
Limited server storage
No e-commerce functionality
6. GetResponse

Popular as an email marketing platform, GetResponse has joined the fray with its own AI-powered website builder. The no-coding solution helps users create a professional website with just a few simple inputs.
Like its competitors, GetResponse condenses the onboarding process to questions regarding the website's purpose – the platform will even make additional feature suggestions based on these answers. Alternatively, users can simply choose an existing template they like.
While GetResponse's AI-powered suggestions fall on the more simple end of the spectrum, the platform's appeal is its established marketing prowess. Integrating with the GetResponse platform grants access to its marketing automation that can improve website visibility and conversion rates.
Pricing: Freemium. $19/mo for comprehensive features.
Cons:
Domain name not included
Best e-commerce features require the most expensive plan
7. Bookmark AiDA

Bookmark's Artificial Intelligence Design Assistant (AiDA) uses patented machine learning algorithms to create professional-grade websites in a matter of minutes. The solution also uses its data-driven approach to minimize development pain points and improve user experiences. Alongside the usual functionality inputs, users can specify certain areas for AiDA to focus on – from boosting e-commerce traffic to better conversion rates.
Bookmark's plethora of e-commerce functionalities – such as tax calculations and shipping automation – make it a compelling option for users setting up an online store.
Pricing: $11.99/mo. E-commerce features require a $24.99/mo business plan.
Cons:
E-commerce functionalities require the most expensive plan
Coding knowledge is needed for some customizations
8. B12

B12 is a great option for individuals and businesses looking for a midground between AI and human design. The all-in-one platform offers a package that pairs an industry-specific website template with a business expert to assist with its customization, content, and launch – a consideration for users wanting to launch quickly with little direct workload.
For consumers not interested in the specialized assistance add-on, B12 still offers notable base functionalities: its AI-layout generator, intuitive drag-and-drop builder interface, website hosting, mobile optimization, and traffic analytics. The website builder also offers extensive third-party integrations.
While a proven option, B12 requires a more lucrative budget to reach its full potential.
Pricing: Freemium – AI-powered web designer is free. $1999 one-time payment for professional assistance.
Cons:
Much more expensive than other options
AI tools are limited to website design – users must access third-party tools for other content
9. Durable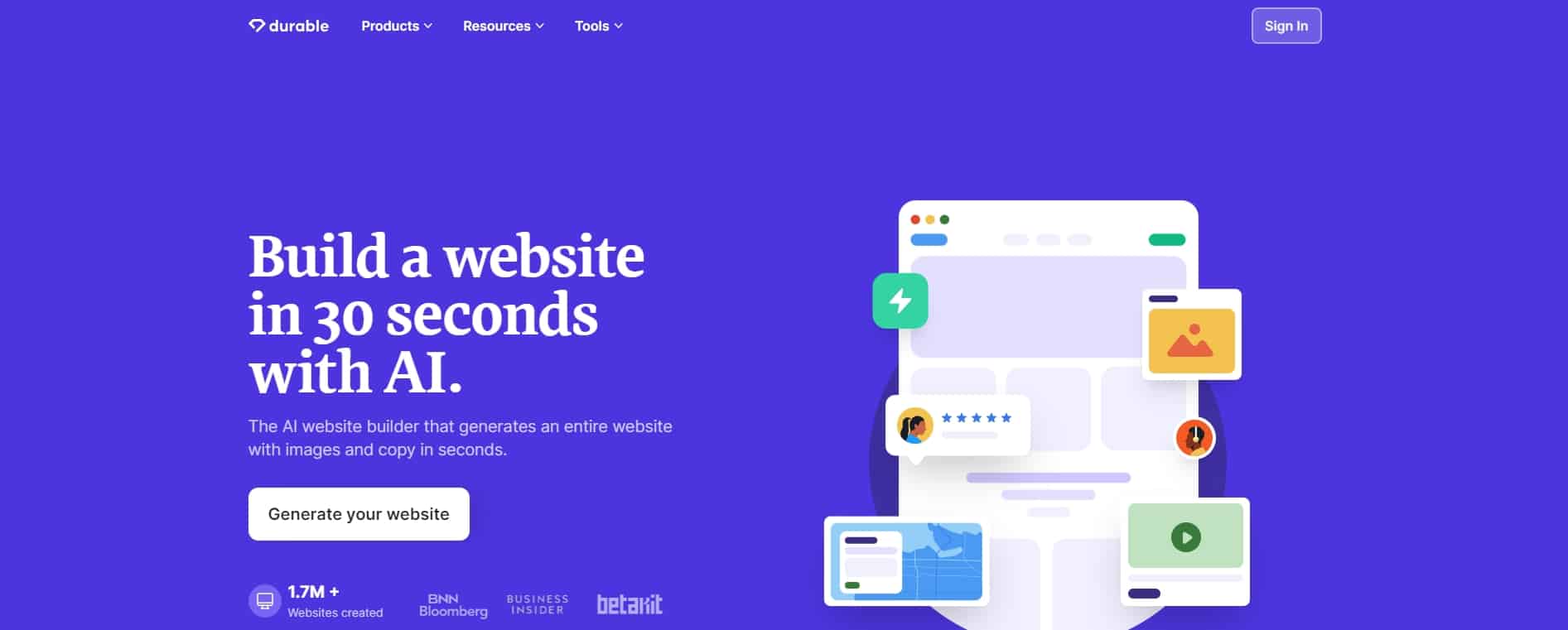 Durable might just be the fastest AI-powered web builder on this list, capable of creating a professional website in under 30 seconds.
Following two questions, the platform generates a custom template that includes images, copy, and industry-specific features – from contact forms to social inputs. Users can then customize each website section manually to suit their needs.
All in all, Durable is an efficient and effective option within the AI-powered web design space.
Pricing: Plans start at $12/mo.
Cons:
AI outputs can be quite basic
Limited to e-commerce and business websites only
10. Teleport HQ

TeleportHQ offers an AI-powered web builder that utilizes OpenAI-generated code, making it one of the most powerful options regarding customization and flexibility.
After generating a website template, users can add custom HTML and CSS code to refine the specifics of their website. Understandably, this functionality requires coding knowledge and may prove unbeneficial to some consumers. Though, code can be imported into the TeleportHQ platform from ChatGPT.
Another of Teleport's AI integrations is its Vision AI – a feature that translates hand-drawn wireframes into working digital designs. Again though, maximizing this powerful feature requires a degree of coding experience.
Pricing: Freemium. $15/mo for more features and custom domains.
Cons: 
Steeper learning curve than other builders due to the need for coding understanding
11. Site123

Site123 markets itself as "by far the easiest free website builder." Whether or not that is true, it certainly has a case. The one-stop-shop platform utilizes artificial intelligence to create website styles and templates to fit users' needs.
True to its vow of simplicity, Site123 requires just a few clicks to inform its automated site generator. From there, the interface employs a grid-based design page offering several template selections. Users can subsequently make manual customizations and input custom content.
Site123 also uses AI to analyze each website's content and offer suggestions to improve its SEO.
Pricing: Freemium. Paid plans start at $12.80 and include custom domains, more storage, increased bandwidth, and store functionalities.
Cons: 
Simple designs with limited flexibility
Middle-of-the-road cost
In Short
AI-powered website builders are rapidly changing the web development space. They offer a powerful and convenient solution for individuals and businesses wanting a professional online presence. Most eliminate the need for coding knowledge, and all save time – many also continue to prove valuable through their ongoing support and site maintenance features.