Choosing the right WordPress hosting provider for your WordPress website is very important. Your site's health and security will rely on the hosting provider you use.
But how do you choose the right WordPress hosting for your site? There are so many to pick from Bluehost, SiteGround, Kinsta… etc.
You could go through each provider and perform your own tests. Or you can save yourself the trouble and discover the top providers here.
In this article, we'll take an in-depth look at the top 6 WordPress hosting providers in 2022, a list we've narrowed down from over 40 different hosting services we've reviewed.
We'll cover everything you need to know about each hosting service to help you make an informed decision.
Ready? Let's start.
The 6 Best WordPress Hosting Providers
Some hosting providers offer one-click WordPress installations and advertise their platform as "WordPress hosting." But that alone doesn't make a web host a good choice for WordPress.
Whichever host you're going to choose, keep in mind the 3 most important factors of WordPress hosting:
Fast loading times below 890 ms
Average uptime of at least 99.93%
Customer Support should help you with WordPress-related questions.
Of course, there's no shortage of hosts that promise fast speeds and reliable connections. To help you find the right provider, we've narrowed down our list to the following:
1. Bluehost WordPress Hosting
Best "All-Round" Hosting Provider

Bluehost has been around for ages (started in 1996 at UT, USA), always keeps up with the newest features, and uses a tweaked version of cPanel as a control panel. They are also one of the three officially recommended web hosts by WordPress themselves.
Let's look at why Bluehost is the number one WordPress hosting provider.
Performance (Uptime and Page Speed)
After reviewing over 40 web hosts, we have found that the benchmark for good uptime should be 99.93%. So ideally, we wouldn't want to see anything lower.
Luckily, Bluehost passes our test, keeping our test site online with an uptime rate of 99.98% during the last 6 months. As a matter of fact, this translates to an hour of downtime per six months, which barely affects your visitors' experience when browsing your site.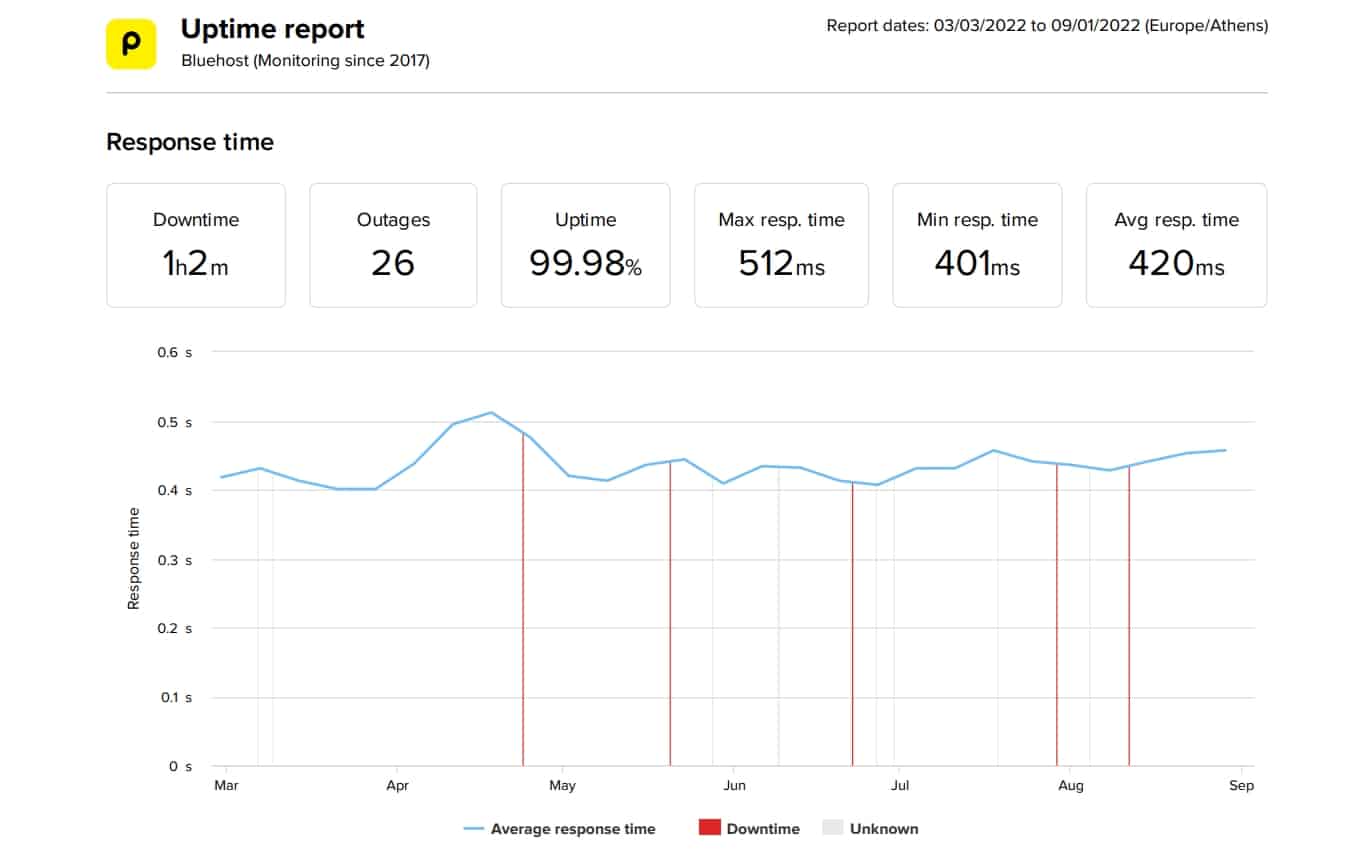 And when it comes to page speed, our test site with Bluehost has shown a great average load speed of 420 ms over the past half a year. Altogether, you can trust Bluehost's solid performance—no matter if you have a blogging site or a traffic-heavy eCommerce store.
Notable Features
Already with its cheapest plan, you get a free domain for the first year, unlimited bandwidth, 10 GB storage, and a one-click WordPress Installation. You'll also get an option to migrate your already existing WordPress site to Bluehost for free. If you don't have a WordPress website or have more than one then it costs $149.99. This gets you up to 5 website migrations and 20 email account migrations.
Moreover, Bluehost's Basic plan offers a free SSL certificate and a free CDN (Cloudflare). Higher-tier plans come with the Spam Experts add-on, domain privacy protection, and server backups. Also, you get more advanced security features such as SiteLock, which helps prevent malware attacks.
Customer Support
Bluehost provides 24/7 customer support over live chat, phone, and an email ticketing system. On top of that, they have a vast knowledge base packed with answers to frequently asked questions and other useful information.
We went ahead and tested their live chat option, and the experience was pleasant.
We got answers to our questions quickly and the representative was well-informed. Some responses did feel copy-pasted, but the follow-up questions prompted improvised and helpful answers.
Pricing and Plans
All Bluehost unmanaged WordPress plans include a free domain name for one year, an SSL certificate, CDN, and a one-click WordPress installation. The prices below are applicable with a 36-month subscription.
Bluehost also offers managed WordPress plans, but they also come with a higher price tag, starting from $9.95/mo.
If you're not satisfied for any reason, you can get a full refund within 30 days on all plans.

2. A2 WordPress Hosting
Fast Hosting Provider

A2 Hosting is an independently owned company that was started back in 2001 in MI, USA. The main aspect where A2 Hosting excels the most is its speed. However, amazing loading times are not the only reason why they are our top WordPress host – they also deliver stable uptime and their plans are packed with many useful features.
Let's have a closer look at their performance data.
Performance (Uptime and Page Speed)
A2 Hosting has really earned the second placement on our list of best WordPress hosting services thanks to their great performance.
With an excellent uptime of >99.99%, which translates to approximately 13 minutes of downtime in half a year, your site is bound to be available to your visitors. And with their promised 99.9% uptime guarantee, you're likely to get a consistent level of performance with A2 Hosting.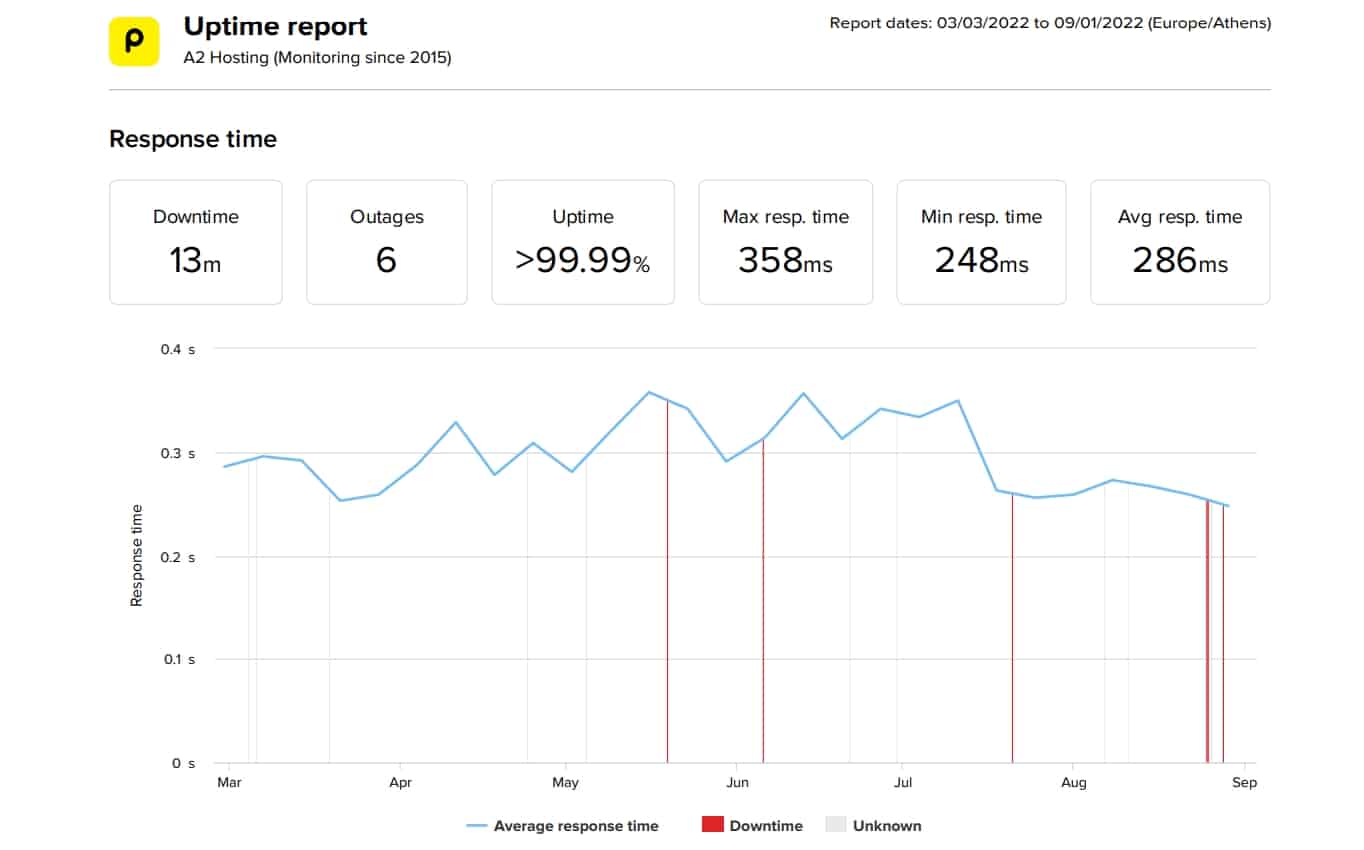 On top of solid uptime, A2 Hosting also shows the second-best page speed in our comparison of WordPress hosts, with a lightning-fast loading time of 286 ms.
With these great uptime and page speed figures combined, your users will definitely have a great browsing experience when visiting your site.
Notable Features
Already with the cheapest Startup plan, you get free site migrations, a free SSL certificate, a free CDN, 100 GB SSD storage, and a staging environment to test new features.
However, upgrading to a higher tier plan gets you:
Turbo Servers (20x faster)
Automatic backups
Unlimited storage and transfers
Included with all their plans, A2 Hosting offers several security features to both avoid potential threats and deal with imminent ones.
You can prevent any mishaps thanks to free SSL certificates, SSH access, two-factor authentication, spam filtering, proactive HackScan protection, and the Patchman Enhanced Security Tool that detects and notifies you about out-of-date software.
Still, should anything happen to your site, you'll benefit from A2's DDoS protection, dual firewall, brute force defense, and virus scanning features.
Altogether, that's a pretty impressive features lineup.
Customer Support
You can contact the A2 Hosting support team through several means – their Guru Crew Support is available 24/7/365 through live chat, email ticketing system, and phone. We tried out their live chat.
Before using both the live chat and ticket support options we had to fill out a short form with the name, email address, and a few more things including explaining the issue. This was a bit unexpected. But once the live chat connected us with a support agent we got our replies mostly within 1 minute of asking. The agent was friendly and knew exactly which resource or guide would solve the issue.
A2 hosting also has an extensive knowledge base with lots of helpful entries that are likely to help with solving the most common issues that may occur.
Pricing and Plans
All unmanaged WordPress plans include unlimited bandwidth, email accounts, and subdomains, as well as free site migrations. A free domain name is not included with any of the plans and would have to be purchased for $14.95/year.
What sets A2 Hosting apart from other providers is its anytime money-back guarantee. A2 Hosting's cheapest hosting plan starts at $2.99 per month if you sign up with them for 36 months. After the initial sign-up, the plan renews at $10.99 (!). If you want to sign up with their managed WordPress plan be ready to pay $11.99 per month (the renewal price is $23.99 per month).
Meaning if you cancel within the first 30 days, you can get a full refund. But if you're not satisfied even months into your plan, you can still cancel and receive a prorated amount back.

3. Hostinger WordPress Hosting
Best "Affordable" Hosting Provider

Hostinger is an employee-owned (employees own company's shares) hosting company that was bootstrapped in 2004 in Kaunas, Lithuania. By now they provide hosting services for over 29 million users in 178 countries. Moreover, they claim to have 15,000 signups on average every day, meaning a new client every five seconds.
Let's look at why this provider deserves a spot on our list.
Performance (Uptime and Page Speed)
During the last 6 months, Hostinger has shown an uptime average of 99.97%. This means that they have remarkably improved their performance – a bit more than a year ago Hostinger's uptime was only 99.86%.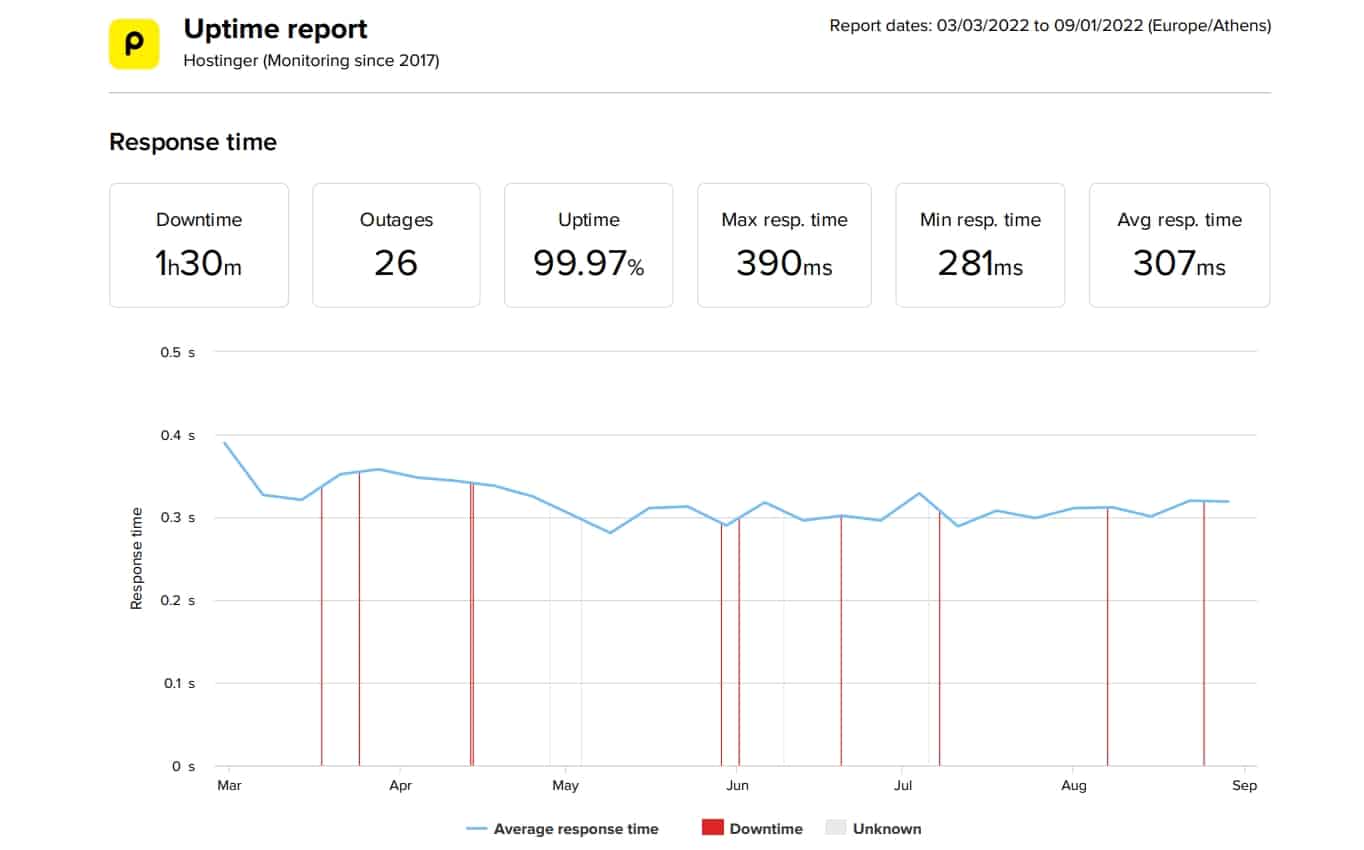 Also, they delivered great page speed with a 6-month average of 307 ms. Together with their improved uptime and fast speed, they've earned a solid third place on our list.
Notable Features
Hostinger offers the following features for its cheapest shared hosting plan:
100 GB bandwidth
Weekly backups
Free SSL certificate
One-click installations
When security is concerned, Hostinger offers only the most basic features with their cheapest hosting plans. With the entry-level Single WordPress and WordPress Starter plans, you'll get a free Let's Encrypt SSL certificate, FTPS access, and weekly backups.
If you're interested in anything else, like SSH access, daily backups, or DDoS protection thanks to free Cloudflare CDN,  you'll have to get a more expensive plan.
In general, Hostinger doesn't seem to put a lot of emphasis on security features on their site, unlike some other web hosting services. So, if you'd like more security features, you should use plugins to secure your site or get a more expensive plan.
Customer Support
Hostinger offers 24/7/365 customer support via email ticketing and live chat. However, the live chat is only available for logged-in users. There's no phone support, but Hostinger has branches all over the world, so you're likely to get help in your preferred language.
First, we tried out Hostinger's ticket system by filling out the contact form on their site. Within about 10 minutes, they sent a helpful reply, however, further replies already took over 20 minutes.
Second, we tested the live chat. The estimated reply time shown in the chat bubble was 20 minutes. Sadly, wait times as long as this can be a drawback—especially if you're having an urgent issue. It took 32 minutes for a support agent to connect with us and we received further replies within about 3 minutes.
Despite the initial delays, all the replies we got were helpful and managed to solve our issues.
Finally, on top of direct support, Hostinger has a large knowledge base, a database with tutorials, and a blog where you can search for answers on your own.
Pricing and Plans
All plans offer managed WordPress hosting and include a free SSL certificate, a 30-day money-back guarantee, and backups at least on a weekly basis.
Hostinger's cheapest plan is incredibly budget-friendly, but there are some caveats. It's limited to only one website, 50 GB of storage, and 100 GB of bandwidth. To take advantage of the $1.99 deal, you'll have to pay upfront for a four-year plan. After that, your plan will renew at $3.99 per month.
If you want to host more websites and get unlimited bandwidth, we recommend going for at least the WordPress Starter plan, which starts at $3.99 per month for a four-year plan.

4. SiteGround WordPress Hosting
Good All-Round Provider

SiteGround was founded in 2004 in Bulgaria by a few university friends. What started out as a small European company is now a popular web hosting provider, servicing millions of people worldwide.  They have four offices and several data centers spread globally and over the past decade and a half, SiteGround has grown to more than 500 employees. Moreover, they are also one of the officially recommended hosts by WordPress.
Let's take a closer look.
Performance (Uptime and Page Speed)
SiteGround has one of the best uptimes among all the hosting platforms that we monitor.
Our test site showed an uptime of 99.99% within the last 6 months. This means on average they had only 17 minutes of downtime during the past six months, which is quite impressive.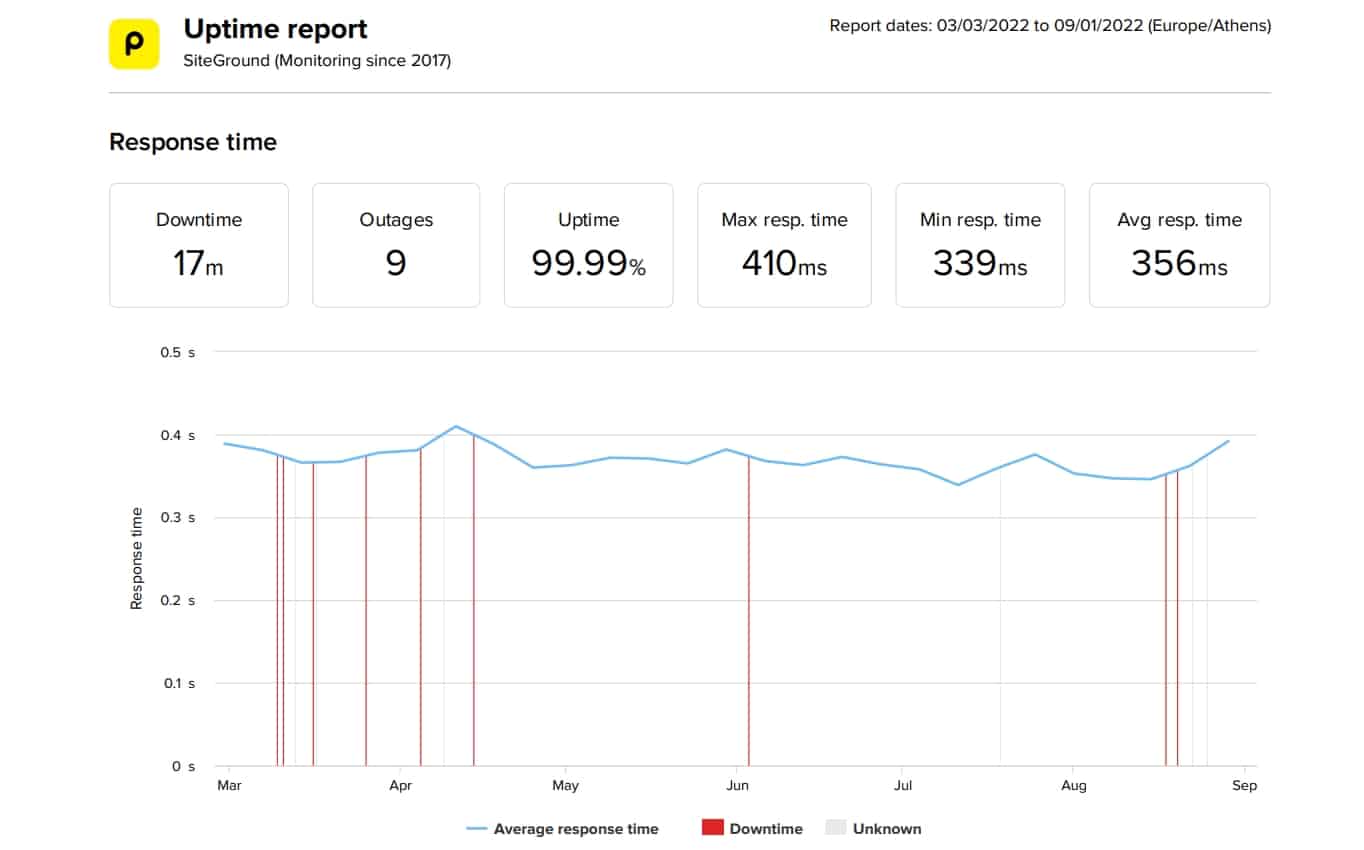 Also, SiteGround demonstrates a page load time at an average of 356 ms—based on our thorough research into different hosting solutions, this is a very satisfying result.
Notable Features
SiteGround offers several features that other providers don't offer.
These include a new Ultrafast PHP setup that reduces TTFB (time to the first byte) and SG Optimizer — a plugin that automatically configures your site for optimal performance.
All hosting plans also include SuperCacher, a caching service that SiteGround developed internally to allow for multiple levels of caching.
With its cheapest plan (StartUp), you get automated daily backups, friendly site-building tools, and proactive updates. However, storage is rather limited even with the higher-tier plans.
If you're a developer, you can also have Git pre-installed on the highest plan, which allows you to track any changes you make to files and revert to specific versions.
SiteGround offers decent all-around security features as well as something they call WordPress Advanced Security, detecting any general or plugin vulnerabilities so that they can apply fixes promptly.
Also, with all plans, they offer free Let's Encrypt SSL certificates, spam protection by SolarWinds Spam Experts, and a web application firewall. Advanced on-demand backups are part of the more expensive plans.
Customer Support
When it comes to customer support, SiteGround is doing great. They offer 24/7 support via live chat, phone, and email tickets.
We tested out their live chat and we were really happy with the results. Their support agent connected with the chat almost immediately and gave quick replies to all our questions. On top of that, the agent was friendly and really knowledgeable and the chat didn't feel copy-pasted at all (although some answers could have been).
All in all, we were impressed by the speed of SiteGround's support, and our issue was resolved in one interaction.
On top of 24/7 customer support, SiteGround has a decent knowledge base, a collection of helpful tutorials for beginners, and even a podcast aimed at explaining tech concepts in plain English
Pricing and Plans
All SiteGround managed WordPress plans include unlimited databases, subdomains, parked domains, and free Cloudflare CDN.
Siteground offers a 30-day money-back guarantee for all its hosting plans. The prices above are for its annual plan. After the first year, your plan will renew at regular prices – which are two times higher!
5. Kinsta WordPress Hosting
Best Premium Hosting Provider

Kinsta has its own fully custom-built infrastructure and control panel which is tailored to work exclusively with WordPress. Kinsta was founded in 2013 with a plan to stand out from the rest of the industry, in terms of WordPress hosting. Their main focus is on website performance, and with over 25 data centers around the world, they have achieved one of the best reliability on the market.
Let's dive in.
Performance (Uptime and Page Speed)
Kinsta is a managed WordPress host that's well-known for solid performance. And our test site has proven this many times.
However, during the last 6 months, our site showed an uptime of 99.77%. That's a huge fall in performance, especially since in the last testing period the uptime was 100%. This makes us believe that it's just a temporary setback.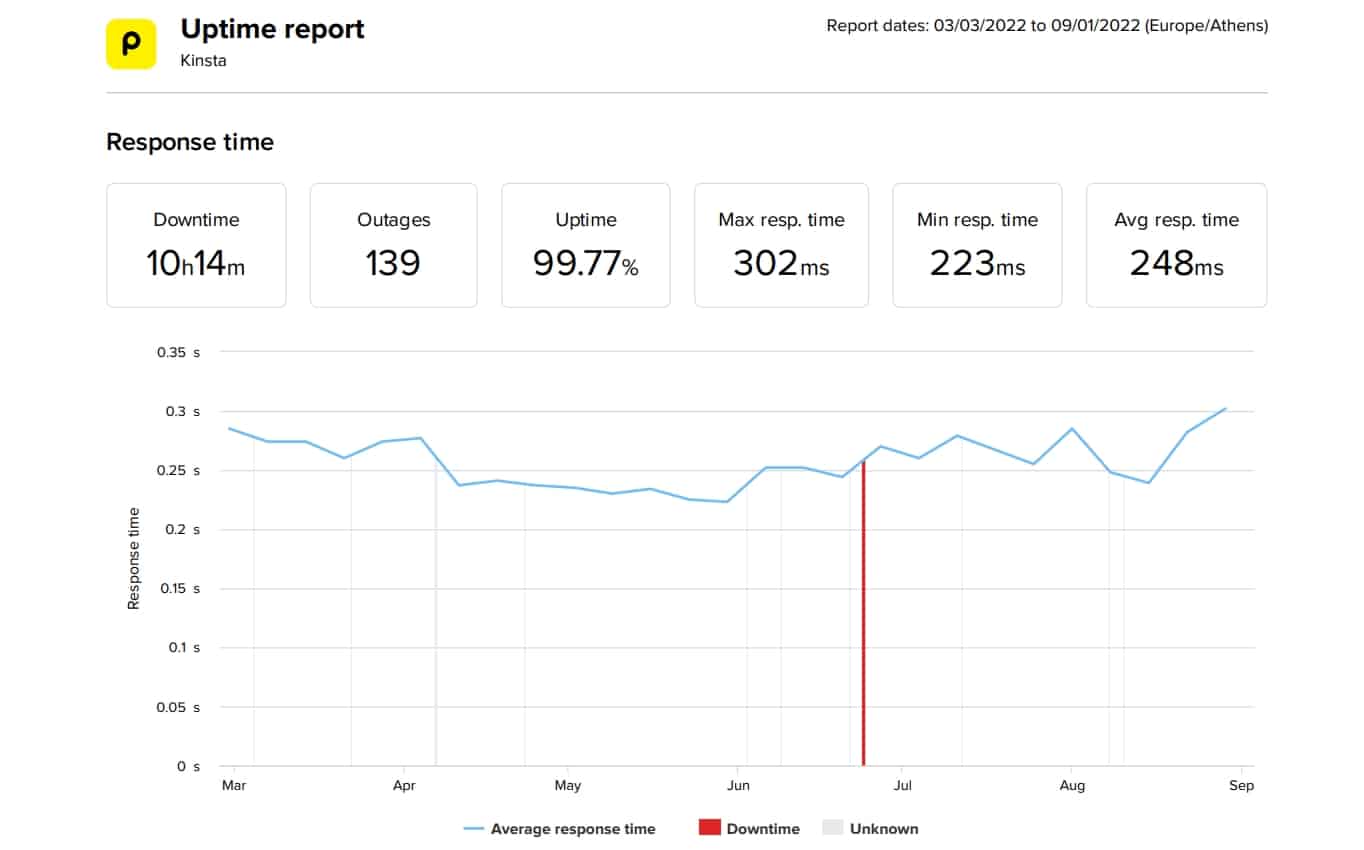 When it comes to page speed, Kinsta excels. Our test site's 6-month average page load time is 248 ms, which is the best speed result on this list.
Notable Features
The cheapest plan comes with 10 GB storage, 50 GB free CDN, and 25k monthly visits.
There are many useful security features included already with Kinsta's cheapest Starter plan ($30/mo). These include automatic daily backups as well as manual backup points with a 14-day retention period for the cheapest hosting plans. You'll also get a free SSL certificate (or import your own), hardware firewalls, secure SSH and SFTP access, and continuous uptime monitoring.
In case someone does hack your site, Kinsta guarantees they'll fix your site and remove any malware for free. If you're migrating an already infected site, you can ask them to clean it up for a $100 single-time fee.
On top of all that, you'll get DDoS protection, two-factor authentication, and all the security benefits from the Google Cloud platform that Kinsta uses.
Customer Support
When it comes to customer support, Kinsta differs a bit from most web hosts:
Instead of phone and email ticket support, they only have live chat support.
You can only use the chat through the MyKinsta dashboard and on the other side of the chat, they have WordPress engineers that can fix your issues quickly. Before you commit and sign up, you can get in touch with them through a form on the Contact page.
In addition to the live chat support, Kinsta also has an extensive knowledge base that features in-depth guides on WordPress and other topics. They also run an up-to-date blog with even more great learning resources and relevant articles.
Pricing and Plans
Kinsta offers many managed WordPress plans that all include a number of free premium migrations, free unlimited basic migrations, and automatic and manual backups. All plans come with 2 months free in case you get a yearly subscription.
The cheapest plan on offer is the $35/mo Starter plan. Below are its features as well as the cheapest hosting options for the other types of plans they have:
Kinsta offers a 30-day money-back guarantee. If you cancel after 30 days, you can still receive a prorated amount back for the unused portion of your subscription.

6. InMotion Hosting WordPress Hosting
Good "All-Round" Hosting Provider

InMotion hosting is a privately-held web hosting company that was founded in 2001. They offer a complete suite of open source digital products and infrastructure technologies such as UltraStack, cloud computing, and of course, web hosting. InMotion hosting has over 300 employees and hosts thousands of clients worldwide.
Let's see in more detail how InMotion hosting performs.
Performance (Uptime and Page Speed)
As with other web hosting companies, we've been monitoring the performance of InMotion hosting's shared WordPress hosting plan for quite some time. Our data for the last 6 months shows a 99.97% uptime rate, which equals an hour and 20 minutes of downtime.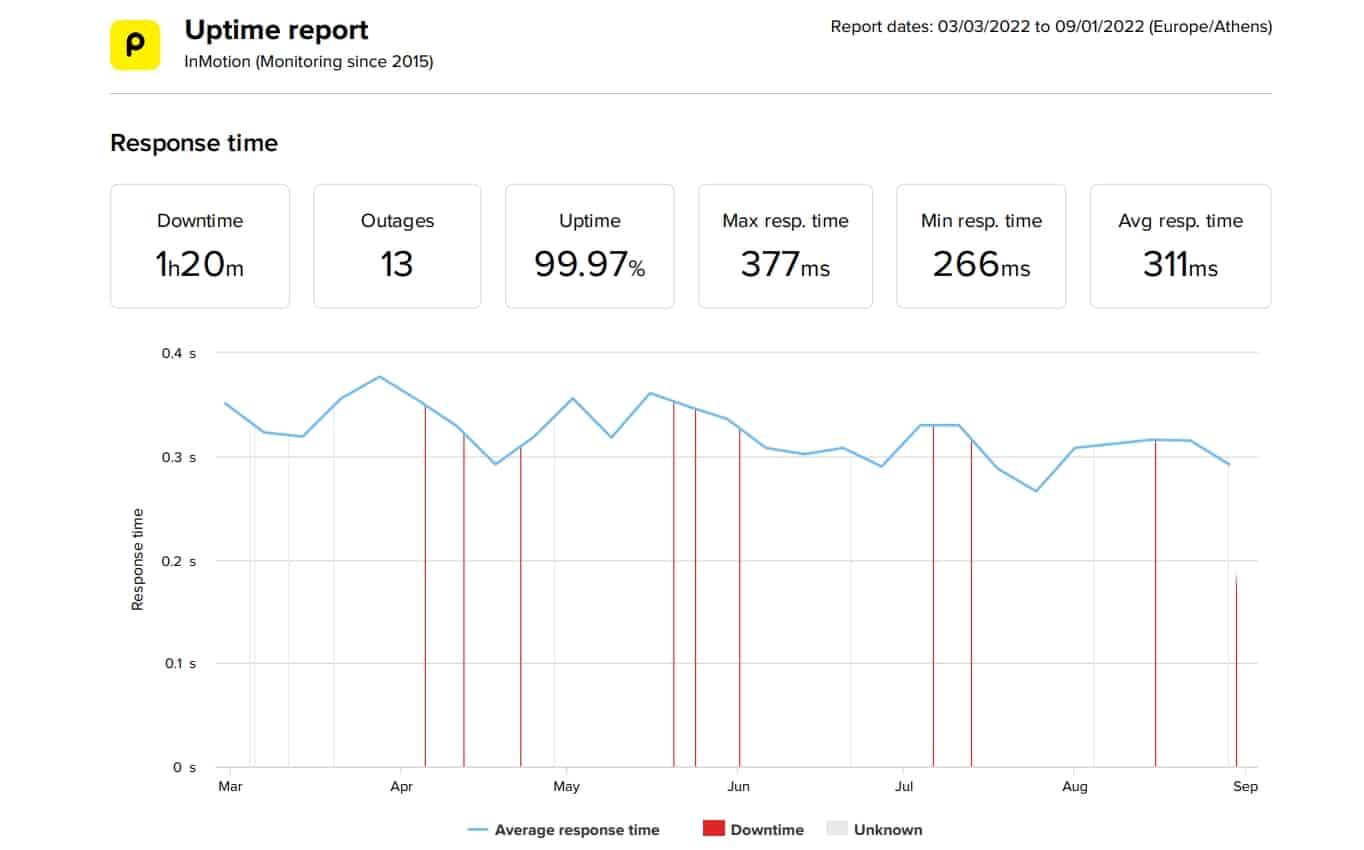 Regarding page speed, InMotion hosting shows great results with the 6-month average page load time at 311 ms. This can be considered a fast page speed that is good for SEO and user experience.
Notable Features
InMotion hosting's cheapest plan comes with 100 GB SSD storage. When you sign up with their higher-tier plan, you'll also get more storage space. However, 100 GB should be more than enough for a starting website. All their plans also include unlimited bandwidth, email accounts, and a free domain name.
Security-wise, InMotion hosting performs well. All their plans include a free lifetime SSL certificate, SSH access, a web application firewall, and a security suite with protection against malware, hacks, and DDoS attacks. Automatic backups are part of all plans except the cheapest WP Core plan.
On top of all that, you also get SPAM Safe™ spam protection for email, optional automatic WordPress updates, and a staging environment to safely try out all your changes.
So, considering that InMotion hosting's pricing plans start at $3.49/mo, we wouldn't expect any fewer (security) features—at least when compared to the competition.
Customer Support
InMotion hosting has 24/7/365 support for all questions regarding sales, support, your account, and billing. You can contact them via live chat, phone, email, or even Skype.
We tested out InMotion hosting's live chat. There was an initial waiting time of a few minutes before a support agent connected but we still got quick solutions to our issues—even though they had to investigate the issue for a few more minutes. In general, our issues were met with a friendly and professional response on top of helpful recommendations.
In addition to 24/7 support, InMotion hosting has a support center with over 5,000 articles and guides, with a separate department for any WordPress-related content including guides for more advanced users. They also have a blog with lots of relevant up-to-date content.
Pricing and Plans
All managed WordPress hosting plans include a free domain and SSL certificate, as well as unlimited bandwidth and email accounts. Mentioned prices apply with a 3-year subscription.
InMotion hosting also has a rare 90-day money-back guarantee (with 6+ month plans).

Conclusion
As said, choosing the best WordPress hosting service for your needs is crucial. Each host has its pros and cons but what matters in the end, is the performance—that your site is actually available to your visitors.
Based on our research and 40+ website hosting reviews, we've assembled this list of the 6 best WordPress hosting services out there. So that you wouldn't have to make a compromise.
FAQs About WordPress Hosting
Now let's answer the most common questions about WordPress hosting.
What is the difference between "shared hosting" and "WordPress hosting"?
Shared hosting – is a type of website hosting plan where your site shares a server and its resources with other sites that are on the same server. With shared hosting, you can choose your preferred content management system (CMS) from a number of options that usually include WordPress, too. After all, it's the most common CMS in use.
WordPress hosting – refers to any type of web hosting that is meant specifically for WordPress sites, this can include shared hosting, where your WordPress site would share a server and resources with other WordPress sites. WordPress hosting can also be any other type of hosting: VPS hosting, dedicated, or cloud hosting.
If you're looking for a web host for your WordPress site specifically, it's better to look at WordPress hosting plans. Usually, such plans already have several WordPress-specific features. In contrast, if you choose a standard shared hosting plan for your WordPress site, you'll probably have to do some things on your own to get the same results.
What to look out for when choosing a web host?
Now, on top of performance, there are other important factors to consider when choosing a WordPress hosting service:
Availability and quality of support – Can you reach support via phone or live chat? Is support available 24/7? How qualified are the support agents?
Vital features like SSL certificate, backups, email accounts, and money-back guarantee.
Nice-to-have features: domain name, site migrations, staging server, multisite, unmetered bandwidth and storage, caching, automatic updates, etc.
What is the difference between "Managed" and "Unmanaged" WordPress hosting?
Here's the difference in a nutshell:
Managed WordPress hosting means that the hosting provider will take care of all the technical aspects themselves. This brings many benefits, such as better security, expert customer support, automatic optimizations, and improved performance in general.
In contrast, unmanaged WordPress hosting means you must take care of all the technical details on your own.
So, when choosing between managed WordPress hosting vs unmanaged WordPress hosting, you should consider how much time and expertise you have. Will you be able to take care of the technical side of hosting on your own or would you like someone to do it for you?
Are there any uncommon pricing strategies?
So, let's take a quick look at the three most important pricing aspects you should be aware of.
The number one most common pricing strategy to tempt new users to sign up is offering huge discounts with long-term plans. Often, the discounts are even as large as 60–70% on the monthly prices. Now, these discounts are great. However, they require you to spend a larger sum of money upfront and to make a commitment for the next one to three years. And after the initial sign-up period, you'll be paying the regular price with no extra benefits.
In addition to monthly vs yearly prices, you should take a close look at what is and what isn't included in the hosting package you're about the select. If anything is promised for free—is it free for the whole duration of your subscription? For example, domain names are often only free for the first year.
And this brings us to the third important aspect:
Refunds.
How long is the money-back guarantee? What is refunded and what isn't? If you register a domain name through your new host, most likely the domain registration fee won't be refunded.
All in all, we haven't seen any pricing strategies that we would deem shady. But there are many intricate details that you should be aware of.
If you still have any questions, then feel free to leave a comment and we'll get back to you.