Have you already done a quick web search for a feature-rich WordPress host that is easy on the pocket? You've probably noticed that good WordPress hosts aren't in short supply.
However, for the time-poor reader, sifting through reviews and comparing different WordPress hosts can be a tricky task.
To help you with your search, we've put together a simple guide to help you choose the best WordPress hosting provider based on your budget and needs.
Ready? Let's get started.
How To Find the Best WordPress Hosting Provider
To choose the best WordPress web host for your requirements, we have a set of metrics that each host must pass to be crowned the top dog in its category.
We rate response time and uptime highly, but we also look at other important considerations like plan options, features, and customer support.
Let's have a look at what these all mean for your WordPress site and customer experience.
Above All, Look at Uptime and Speed
A WordPress host may promise a cheap monthly rate and great features, but if they don't provide decent uptime and speed, just look elsewhere.
Uptime, often expressed as a percentage, represents the amount of time your website is accessible over a certain period of time.
In our reviews, we monitor a host's uptime over a full calendar year to ensure we get a good picture of its reliability. The industry standard is 99.9%, so look for a host that achieves this.
We don't just trust what a host's website says or guarantees. Instead, we use reliable Pingdom data to monitor both uptime and response times.
In simple terms, response time is the time required for a server to send data to a web browser. It's not synonymous with page load speed, but the two are closely linked.
Google recommends a response time of under 200 ms, so opt for a web host that gets you as close to this as possible.
If your response time is too long, visitors might get tired of waiting and never come back. Obviously, you want to avoid that at all costs, which is why it's essential to pay attention to response time before signing up with a WordPress hosting provider.
The Best WordPress Hosting Providers in 2023
Bluehost: Best All-Rounder
Hostinger: Best for Budget Customers
A2 Hosting: Best for Speed
DreamHost: Best for Beginners
Kinsta: Best for Premium Customers
1. Bluehost: Best WordPress Hosting All-Rounder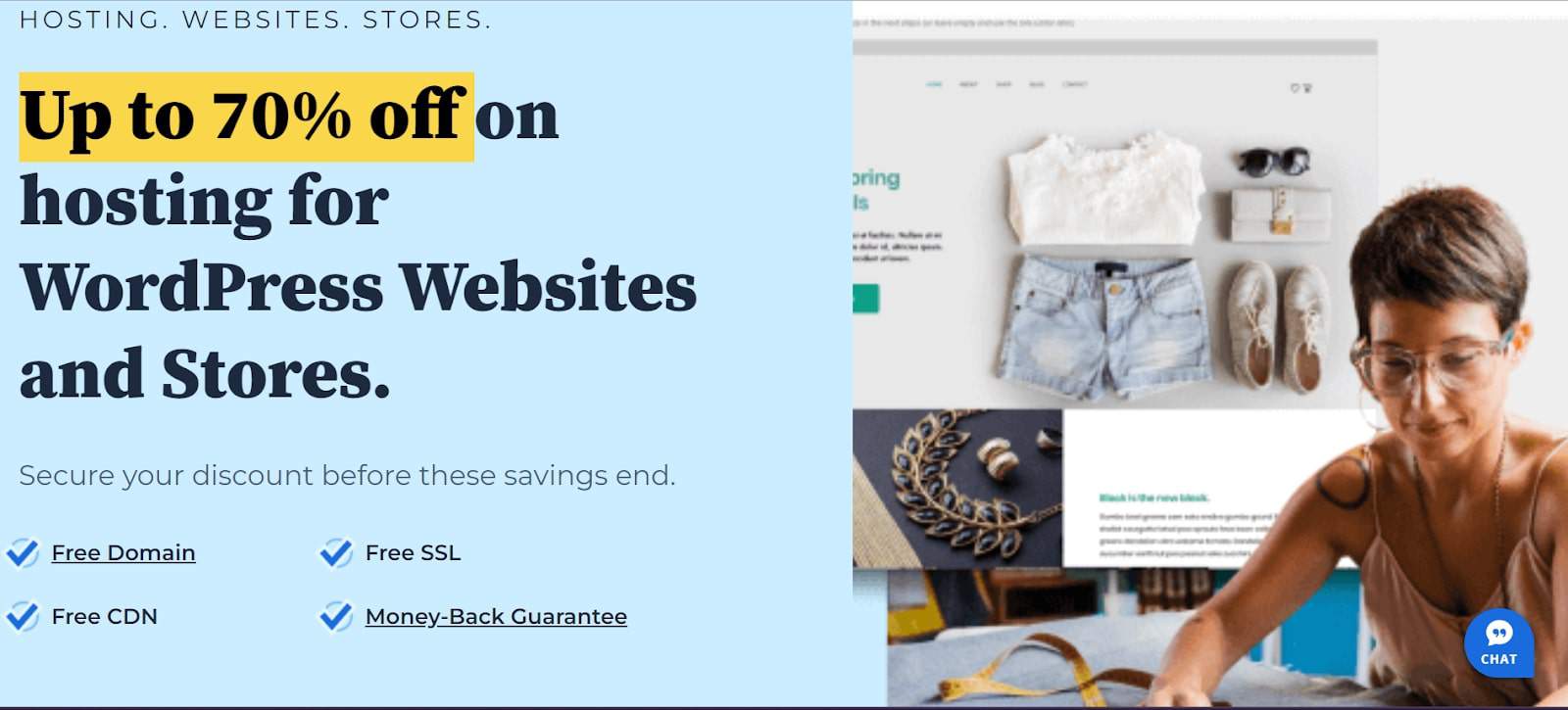 In a sea of versatile WordPress hosts, we had our work cut out for us in choosing the best all-around web host for you.
Here's why Bluehost won gold:
Summary
Founded in 2003, Bluehost hosts more than two million websites. WordPress has recommended Bluehost since 2005, so it's been a trusted name for some time.
While the WordPress seal of approval may be enough to swing you toward Bluehost, we've done our due diligence to help you make an informed decision.
With a response time speed of 661 ms and an uptime of 99.91%, this WordPress titan will serve your website visitors well.
Granted, the response time isn't the best we've seen, but this shouldn't be an issue with relatively simple websites.
A great benefit of Bluehost is that it offers something for everyone. For example, it's a solid choice for small website owners, websites requiring advanced features (e.g., privacy and security), online e-commerce store operators, and owners of high-traffic websites.
Key Features
One-click WordPress installation
Automatic updates
Free WordPress migration (within first 30 days of signup)
Bluehost Maestro dashboard
Free domain name for a year
Free content delivery network (CDN) with all plans
Access to hundreds of free themes and WordPress plugins
30-day money-back guarantee
Pricing Plans
Bluehost has an extensive array of plans to cater to different customer needs. On its website, you'll find a mix of basic, managed, and WooCommerce options for 12-month and 36-month plans.
Its basic plan is $2.95/month for 12 months or $4.95/month for 36 months. Like many other hosts, the "regular" renewal rate shouldn't be ignored.
The price for managed WordPress hosting jumps considerably to $19.95/month for the basic Build package, but the additional security, website analytics, and marketing features are nothing to sniff at.
Customer Support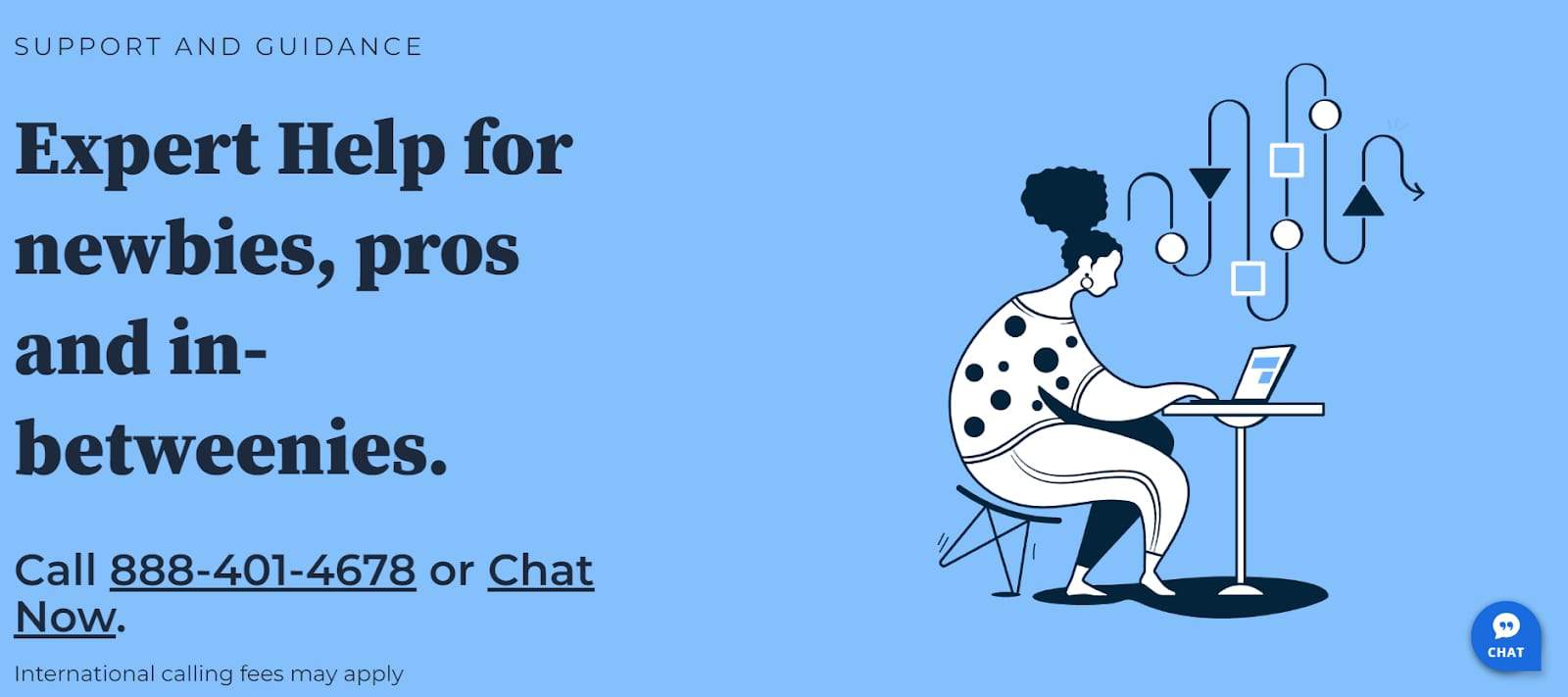 We simply couldn't award the best all-rounder medal to a host without comprehensive customer support. Thankfully, Bluehost has got your back.
Bluehost has 24/7 U.S. and international telephone support numbers that are easy to find on its website. And when we tested its web chat, we got a quick response, despite the warning of longer-than-usual wait times.
As you'd expect from a reputable company with over 750 employees, Bluehost's online knowledge base is brimming with useful, up-to-date content and tutorials.
Best For
Anyone looking to build a WordPress website.
Honorable Mentions
2. Hostinger: Best WordPress Hosting for Budget Customers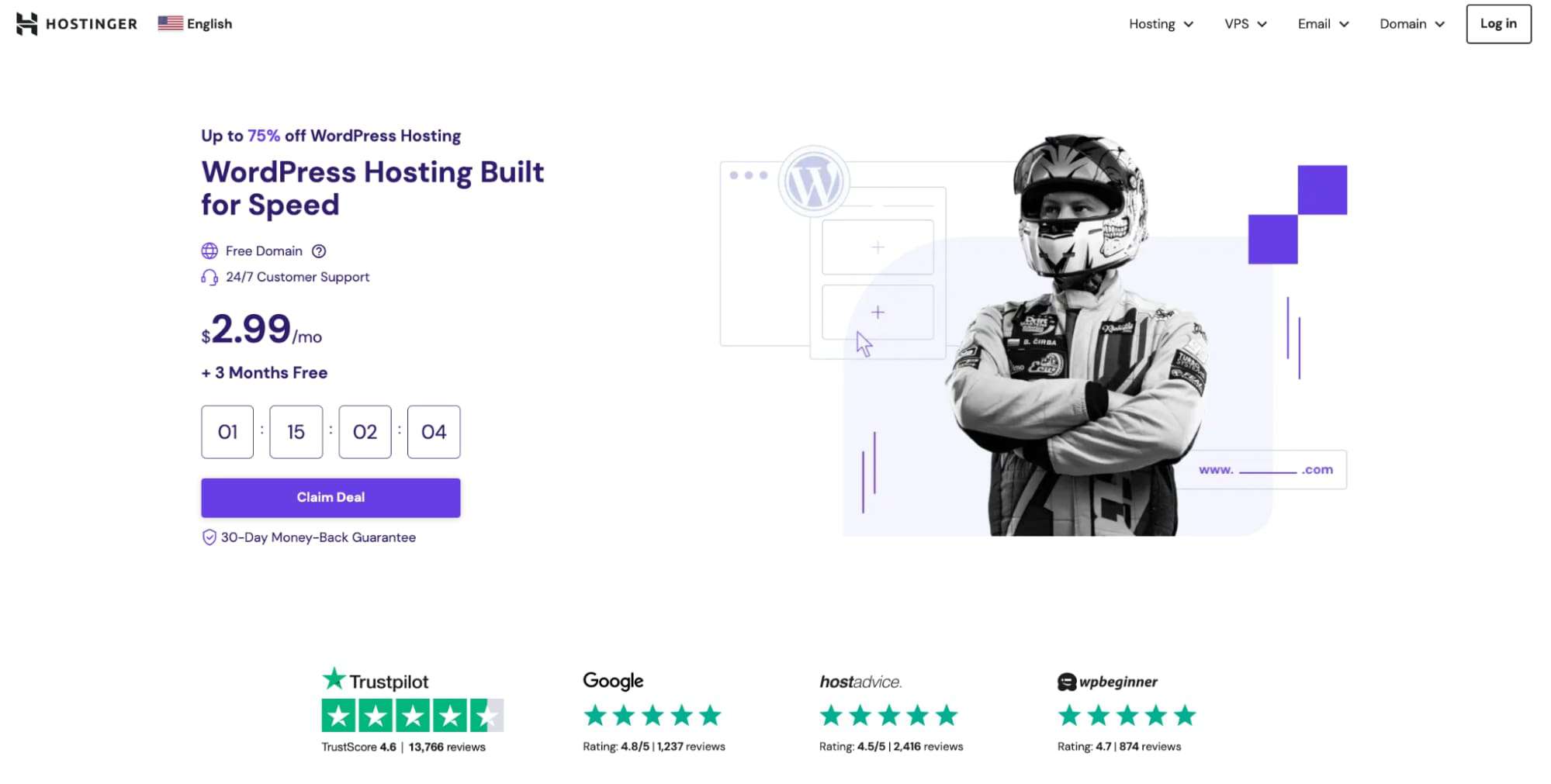 It's cheap, but is it good and cheap? YES
Here's why we think so.
Summary
Under a different name, some of the Hostinger crew once provided free web hosting. Hostinger formally came into existence in 2011, and since then, it has grown into a formidable budget host.
This wallet-friendly website hosting provider may not be the absolute cheapest host out there, but we think it's the best host you can get for just under $2.
But Hostinger's great price doesn't come at the cost of performance. In 2022, it delivered an average response time speed of 318 ms and an average uptime of 99.96%. Both of these are excellent, to say the least.
Key Features
Cloudflare protected servers
Malware scanner
Managed WordPress and developer-friendly tools
Free SSL certificates
Free migration
Free object cache on higher-tier plans
WordPress vulnerabilities scanner
Unlimited email accounts on higher-tier plans
Pricing Plans
Did we mention it's cheap? Hostinger's Single WordPress plan will cost you just $1.99/month. And at $3.99/month, even the regular renewal rate isn't too steep. A free domain is included if you upgrade to the Premium or Business plan. Additionally, you can get 7% off from any plan that is 12 months or longer with our promocode WEBSITESETUP.
Customer Support
Did you think we'd recommend a cheap web host with poor customer support? Think again.
Hostinger has 24/7 live chat and email, not to mention a decent knowledge base. Its customer chat associates have received glowing praise from our review team for their knowledge and professionalism.
The only drawback is Hostinger doesn't offer phone support. But as many web hosts have opted to discontinue phone support, we can hardly fault Hostinger.
Best For
People looking for best value for money.
Honorable Mentions
3. A2 Hosting: Best WordPress Hosting for Speed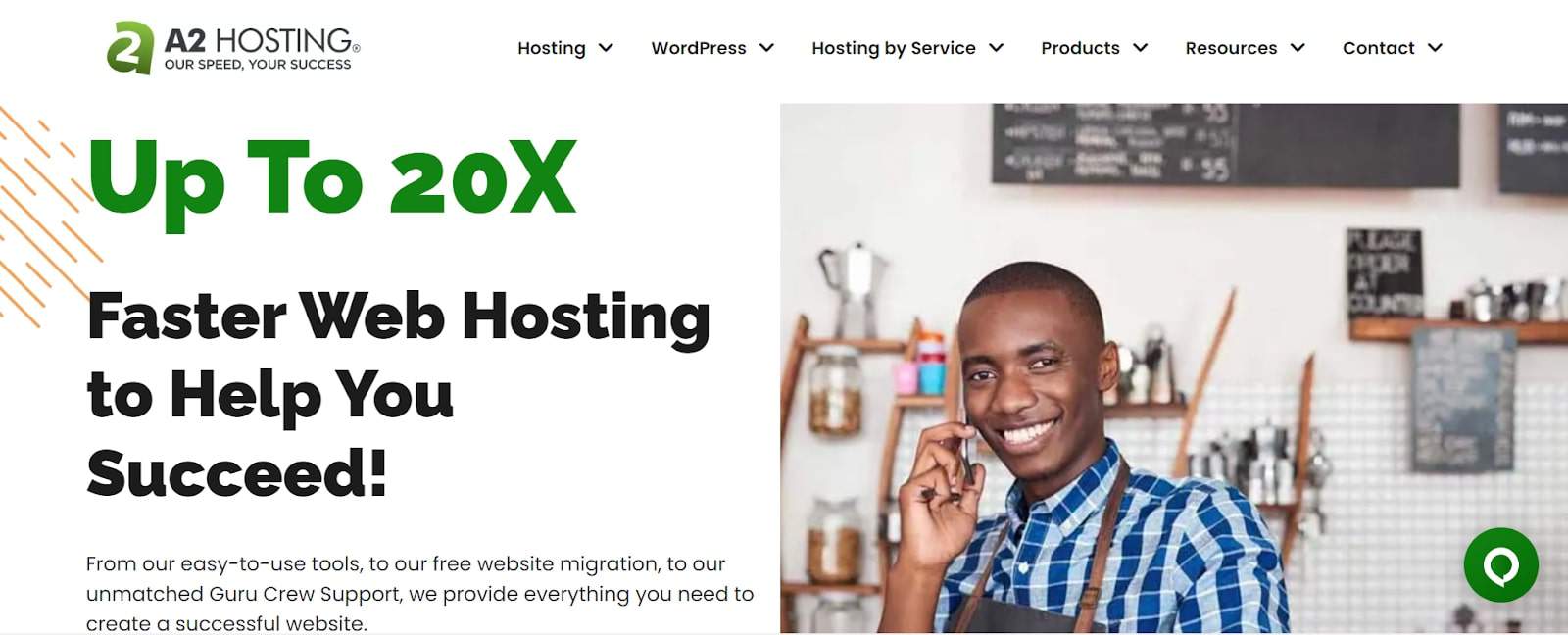 We've all become impatient waiting on a webpage to load, and your website visitors are no exception. Here's why we consider A2 hosting the best WordPress host when it comes to speed.
Summary
We'll cut to the chase here: our review of A2 Hosting Pingdom data found lightning-fast average loading times (295 ms) and excellent uptime (99.98%) in 2022.
A2 Hosting has been zipping ahead since its launch in 2003, and it shows no signs of slowing down.
We have one caveat: DigitalOcean is technically faster, but we found its customer support to be lacking (e.g., support times and options are tiered).
What's more, you really need advanced technical skills to benefit from DigitalOcean's hosting services.
Sorry, DigitalOcean, but A2 Hosting wins out, not just for speed but also because of these great features:
Key Features
Pre-configured plugin for security and speed
Free SSL certificate
Worldwide servers
Free site migration (in most cases)
Onsite backups
Pricing Plans
A2 Hosting offers an array of both managed and shared WordPress hosting plans, all of which are under its Turbo platform.
The Startup WordPress plan starts at $2.99/month for a 12-month contract and renews for $9.99/month for an additional 12 months.
The cheapest managed hosting plan begins at $11.99/month for 36 months.
Customer Support
The Guru Crew support team at A2 Hosting offers 24/7/365 phone, live chat, and email support. We tested the service out for ourselves and found the representative knowledgeable and efficient.
A2 Hosting also has a large knowledge base that can help you answer most simple questions.
Best For
Customers who want to maximize website speed without losing quality.
Honorable Mentions
4. DreamHost: Best WordPress Hosting for Beginners
Know you need WordPress hosting but not sure if you have the technical skills to get your website going?
Good news: if you're not a sure-footed WordPress whiz, we can recommend DreamHost as a great user-friendly web hosting provider.
Summary
DreamHost is the web hosting service of choice for over 1.5 million websites, and it holds the rare title of being specifically recommended by WordPress.
We've found that its basic plans feature many nice perks that are geared toward newbies.
For example, its 97-day money-back guarantee gives you peace of mind that you won't be tied to its contract if things go wrong with your website.
Just make sure you sign up using a debit or credit card, as the guarantee isn't available under other payment methods.
In terms of speed and reliability, we found that DreamHost delivered a decent average uptime of 99.86% in 2022. Sadly, its average response time in the same year was not great: 1,815 ms.
Key Features
WordPress pre-installed
Free automated WordPress migrations
Free drag-and-drop WP Website Builder with over 200 starter sites
Free SSL certificate
Beginner-friendly DreamHost control panel instead of cPanel
Hundreds of WordPress themes included
Automated daily backups
Pricing Plans
For a 3-year deal, the WordPress Starter plan starts at $2.59/month for one website with a free domain name and unlimited traffic. At the end of the initial term, the price increases to $5.99/month, which, all things considered, isn't too bad.
Customer Support
DreamHost claims to offer 24/7/365 customer support, although as we noted in our review, this is mostly through automated channels.
While there is no phone support for basic plans, DreamHost does provide support through live chat, email, and even its social media channels.
Best For
New website owners.
Honorable Mentions
5. Kinsta: Best WordPress Hosting for Premium Customers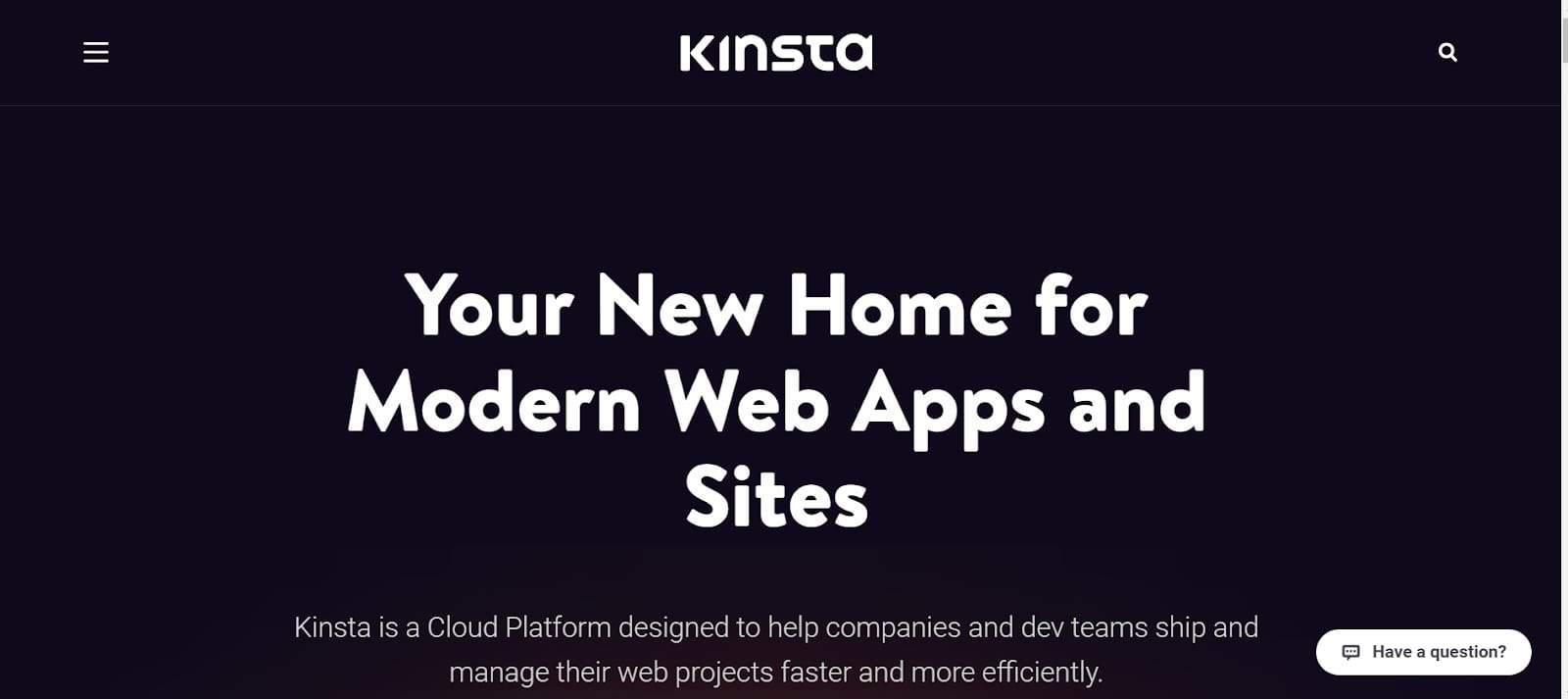 Trusted by big names like Tripadvisor and UNICEF, Kinsta offers managed WordPress hosting solutions that are sure to get your attention. Let's unpack what makes this web host ideal for anyone looking for premium features.
Summary
Kinsta has been around since 2013 and now provides hosting to over 25,400 companies. Unlike the other web hosts on this list, Kinsta offers the full services of its expert team right off the bat with all of its managed WordPress hosting plans.
This translates to no tiered support or unnecessary hoops you need to jump through. Your access to Kinsta's 24/7 support is unrestricted, making it quick and convenient to get the answers you want.
What's more, each of Kinsta's managed WordPress plans comes with Cloudflare Enterprise for free. You can rest assured, therefore, that your website is properly protected against malicious attacks.
Another excellent feature included with Kinsta's plans is the ability to select your data center. With 35+ data centers to choose from, you get to pick the region that's right for your business and your customers.
Key Features
Award-winning dashboard
Custom-built performance monitoring
Global content delivery network
Daily backups
Premium migration
Pricing Plans
Kinsta's Starter plan is $35/month, which will be enough for small businesses with big aspirations. Kinsta offers easy scalability when it comes to its plan options, which can reach a dazzling $1,650/month.
Customer Support
Kinsta has a multi-lingual support team that is available 24/7. If you'd like phone support, though, you're out of luck here.
Kinsta has defended its decision to stick with chat support only, and admittedly, it makes some good points.
We must add that Kinsta's extensive knowledge base is a great information source for its customers, or any WordPress enthusiast really.
Best For
Anyone looking for a premium WordPress hosting platform.
Honorable Mentions
Final Thoughts: Best WordPress Hosting Services in 2023
So that's our list of the top five best WordPress hosting providers available today.
Overall, we found that Bluehost was the best option for anyone looking to build a WordPress website. Its prices are fair, its uptime and response speed are both quick, and its basic plan comes with everything a beginner might need to get started.
No matter which web host on our list you decide to go with, you're guaranteed to get the features and support you need to build a stellar WordPress website at a reasonable price.
Price Per Month and Hidden Terms and Conditions
Many hosts try to reel you in by offering a low price for an initial plan and then massively increasing the "regular" renewal fee. Seems like bad form, but sadly, it's not an uncommon practice.
If you're certain that you want a long-term hosting setup, go for a longer contract to get a good deal. However, be aware that the cheapest host may not be the best value.
Extras costs have a way of eating into your hosting budget, so make sure you consider all possible add-ons: e.g., some security features, a domain name, or website migration may not be included.
Features That Work for You
Do you value simplicity and easy setup? Make sure your hosting plan is entry-level-friendly, so you aren't left to do all the heavy lifting. Some hosts provide website builders to lighten the load.
Want to operate multiple websites under one hosting plan or get a free domain name? Ensure the plan you get includes these as standard. You'll notice that many hosts give you a free domain name for the first year only.
Are the host's features WordPress-optimized? Some big-name hosts are geared more toward general website construction, however, we recommend avoiding these "jack of all trades." Instead, you should choose a host that offers WordPress-specific tools and services.
How much security is enough? All the best web hosting providers offer the basic security features required to keep your website safe and secure. However, some WordPress hosting companies might not include all security features in their basic plan — you may want some add-on security for peace of mind.