Is A2 Hosting the right web host for your website?
There are advantages and disadvantages to choosing A2 Hosting, just like any other web hosting provider.
A2 Hosting opened its digital doors in 2001 and is famous for its super-fast server response time. In fact, it has one of the fastest page-loading speeds we've tested so far at just 295 ms.
The company's solid uptime also makes it a reliable web hosting service.
We've monitored A2 Hosting since 2015 and tested its performance, customer support, pricing, and more.
So, read this A2 Hosting review to help you make a sound decision before you invest in this web hosting provider.
An Overview of A2 Hosting
| | |
| --- | --- |
| SPEED: | 295 ms (Jan. 2022 to Dec. 2022) |
| UPTIME: | 99.98% (Jan. 2022 to Dec. 2022) |
| SUPPORT: | 24/7/365 Email, Live Chat, and Phone support |
| APPS: | WooCommerce, WordPress, Drupal, Joomla, CubeCart, and more |
| FEATURES: | Cloudflare CDN, free SSL, unlimited bandwidth, Anycast DNS, website staging, at least 100 GB SSD storage, DDoS protection, and anytime money-back guarantee |
| HOSTING PLANS: | Shared hosting, VPS hosting, WordPress hosting, Dedicated Servers, and Reseller hosting |
| SITE TRANSFER: | Free website transfer for a single website with the Shared Hosting plans |
| PRICING: | Starts at $2.99/month (renews at $10.99/month) |
Advantages of Using A2 Hosting
A2 Hosting is known for its super speed, but what other areas does it excel in?
Our A2 Hosting review covers the benefits of using this hosting provider.
1. Super-Fast Page Loading Time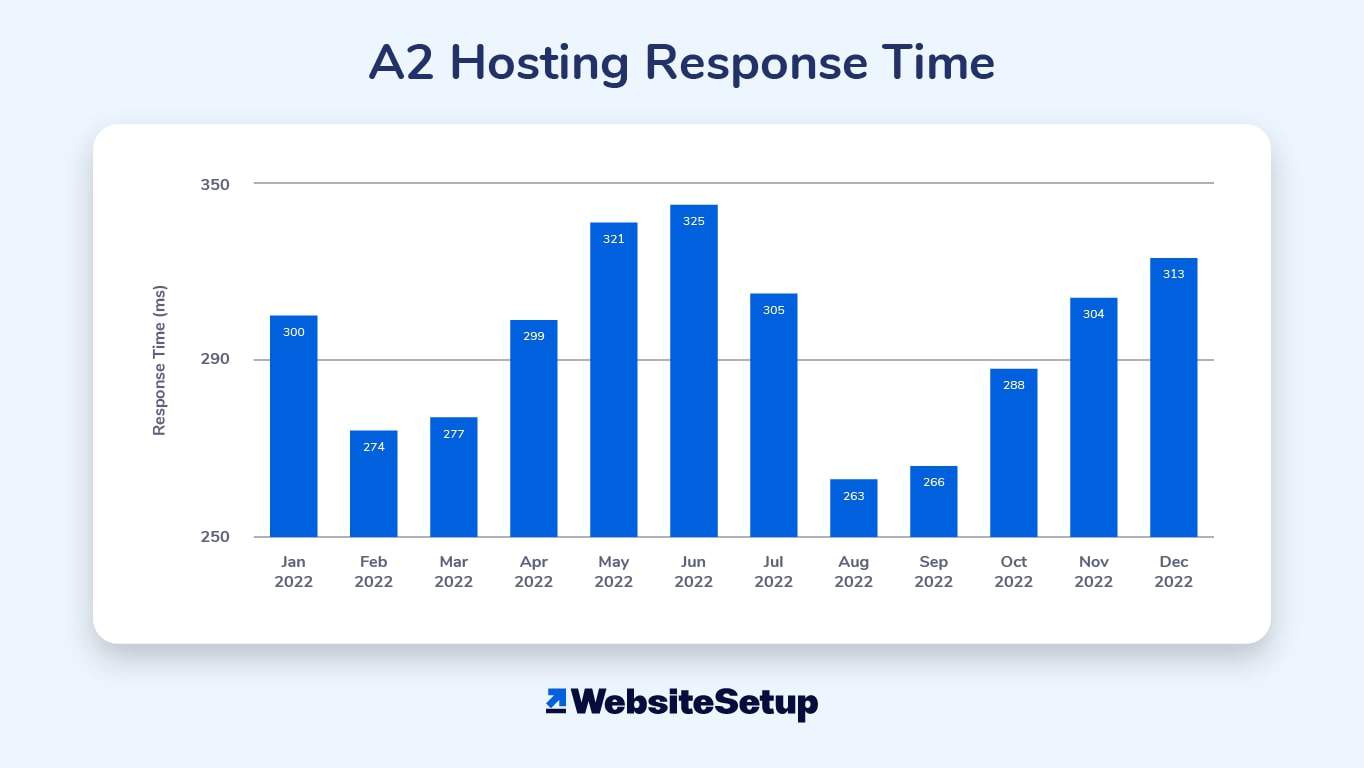 A2 Hosting claims to be "up to 20x faster" on its homepage. So, we put that statement to the test.
In 2022, A2 Hosting delivered an impressive average page loading speed of 295 ms. Its best month was August, with an average response time of 263 ms — close to Google's recommended server response time of under 200 ms.
A2 Hosting is much faster than most web hosting providers we've reviewed, including Hostinger (318 ms), SiteGround (384 ms), and DreamHost (1,815 ms).
The web hosting company also lets you choose your data center location when purchasing your plan: Arizona (U.S.), Michigan (U.S.), Singapore (Asia), or Amsterdam (Netherlands).
As a result, you can choose the server closest to your website visitors to boost your page load speed.
2. Great Uptime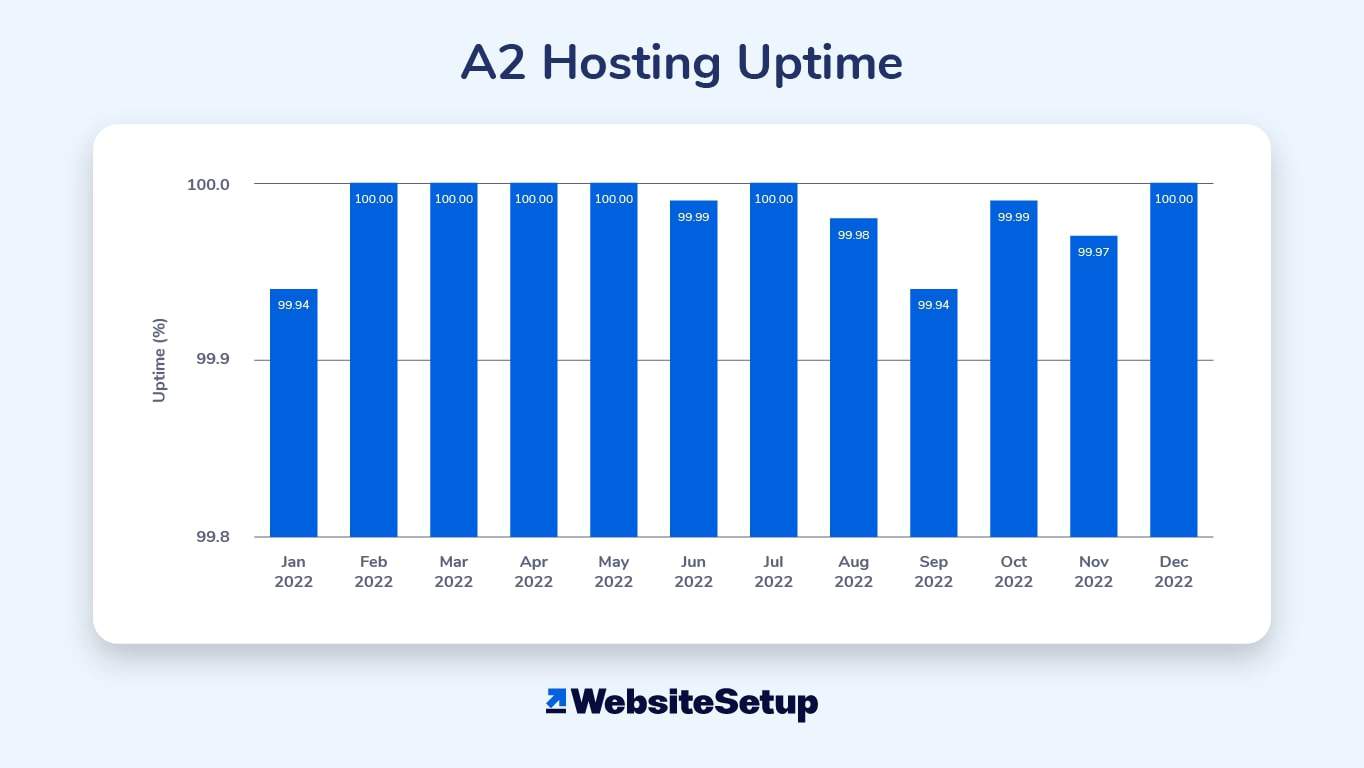 Apart from being super-fast, A2 is also a reliable web hosting company with an average uptime of 99.98% from January to December 2022.
A2 Hosting experienced 31 outages with a total of one hour and 27 minutes of downtime over the year.
The worst downtimes were in January and September, when the average uptime was 99.94%. During these two months, there were 26 minutes and 28 minutes of downtime, respectively.
That said, A2 Hosting offers a 99.9% uptime guarantee, which it has maintained throughout the last 12 months. It has also outdone other web hosting companies, such as Hostinger and DreamHost, which averaged 99.96% and 99.86% uptime in the last 12 months.
3. Affordable Starting Price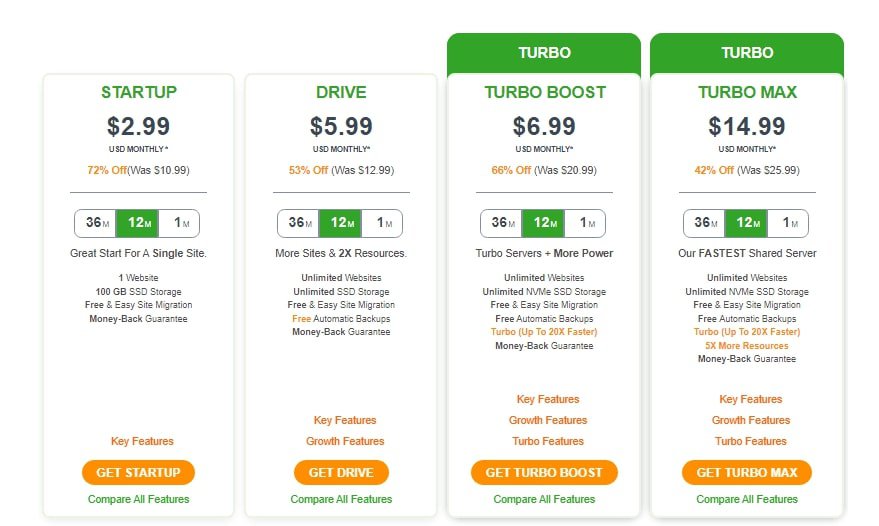 A2 Hosting has four tiers of Linux-based shared hosting packages: Startup, Drive, Turbo Boost, and Turbo Max.
The initial pricing is relatively affordable, with the cheapest plan starting at $2.99/month. This plan offers 100 GB of solid-state drive (SSD) storage, a free SSL certificate, free Cloudflare CDN, and unlimited monthly data transfer. However, it limits you to a single website.
The Drive plan starts at $5.99/month and builds on the Startup plan by providing unlimited storage and websites.
Turbo Boost, which starts at $6.99/month, outshines the Startup and Drive plans. It uses nonvolatile memory express (NVMe) SSDs on A2 Hosting's AMD EPYC servers with preconfigured site caching and 2 GB of physical memory.
The most expensive plan, Turbo Max, starts at $14.99/month. This plan increases the web server's available resources. The CPUs are 4-core instead of 2-core, and the memory increases from 2 GB to 4 GB.
When comparing A2 Hosting's plans with other hosting providers, we recommend skipping over the Startup and Drive plans if you're looking for speed. That's because the Startup and Drive plans lack Turbo servers and faster NVMe storage.
A2 Hosting puts all the cool stuff that makes your website run faster on its more expensive Turbo plans.
So, it would be better to go for cheaper alternatives like Hostinger (starts at $1.99/month) or DreamHost (starts at $2.59/month) if you're running a personal or small business website. But A2 Hosting's Turbo plans are your best bet if you're looking for speed.
Other hosting options with this web host include VPS plans, Managed WordPress, WooCommerce hosting, and Dedicated Servers.
4. Anytime Money-Back Guarantee
Most web hosting companies give a 30-day money-back guarantee, but A2 Hosting offers an anytime money-back guarantee.
That means the hosting company will give you a full refund if you find it unsuitable and want to cancel your plan within the first 30 days. You're also entitled to a prorated refund for any unused services after 30 days.
5. Helpful Guru Crew Support Team
A2 Hosting offers 24/7/365 support through ticketing, live chat, and phone to ensure you get help if your website is down or develops any technical issues.
We decided to ask some questions through the live chat option. We got connected immediately to a web hosting support rep who was ready to help us with any troubleshooting issues.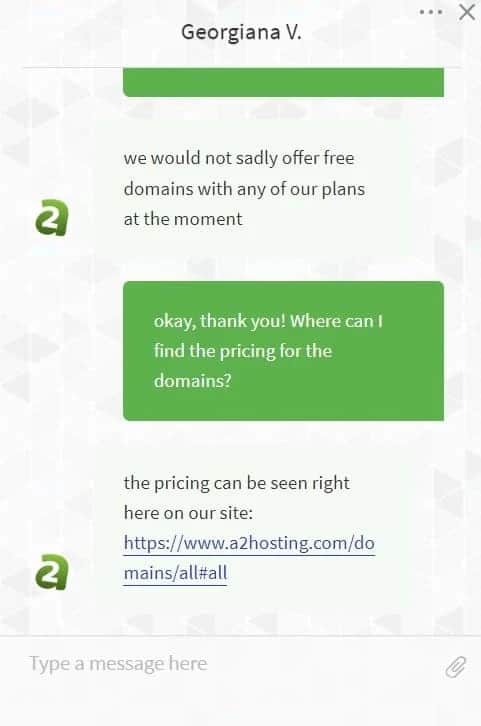 The customer support agent was knowledgeable and kind and quickly answered our questions.
User reviews show a mixed bag of positives and negatives, but most customers mention that A2 Hosting's Guru Crew support team is helpful.
On top of good customer support, A2 Hosting has a comprehensive knowledge base. It features many articles that'll help you resolve issues with your hosting account and guides on getting started with web hosting.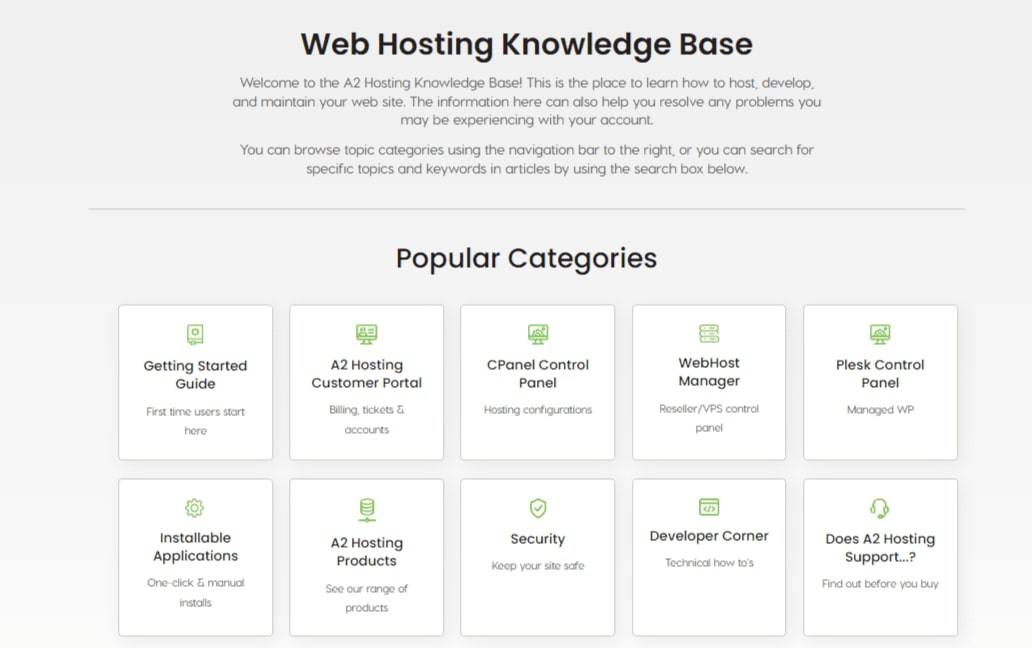 6. Traditional cPanel
A2 Hosting is one of the few remaining hosting services that use cPanel only for web hosting management. Other web hosts like Hostinger and SiteGround offer their own interfaces integrated with other tools.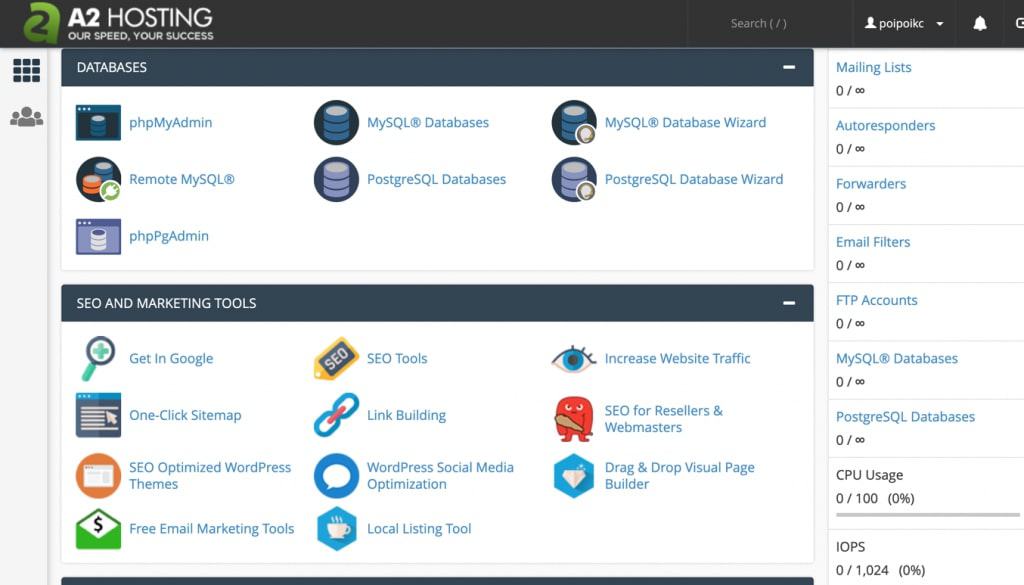 Although the user interface may seem a little daunting for beginners, it's still one of the best control panels in terms of functionality.
More advanced users will quickly settle in with A2 Hosting's cPanel since it's more familiar and remains a favorite of many.
7. Free Site Migrations
Migrating your website from a previous web host to A2 Hosting is easy. The web hosting company has a migration team dedicated to website transfers. Plus, the team will help you migrate your website for free in many cases.
The Dedicated, Managed VPS and Reseller hosting plans come with 25 free website migrations. However, the company may assess a migration fee if you're on the Shared hosting plans and would like A2's support team to migrate over 25 accounts.
You can check out A2 Hosting's terms of service, which detail everything.
8. Plenty of Security Features
A2 Hosting provides free Let's Encrypt SSL certificates for all its Shared hosting plans. These SSL certificates automatically activate, so you don't have to do anything.
Also, Imunify360 — a 24/7 monitoring service that scans for malware and other attacks — protects the web host's servers.
On top of that, A2 Hosting offers:
Reinforced Distributed Denial of Service (DDoS) protection.
Dual firewall for all its plans: ModSecurity and Config Server Firewall (CSF).
Patchman — malware/vulnerability detection and patching tool.
Two factor-authentication.
Automatic backups for all plans except Startup.
9. Developer-Friendly Tools and One-Click Installation of CMS and E-commerce Platforms
A2 Hosting offers multiple e-commerce tools to build an online store, including WordPress, Joomla, Drupal, OpenCart, Magento, and PrestaShop. All provide a one-click setup that helps you get started with your e-commerce store fast.
A2 Hosting also offers developer-friendly tools if you're looking to host many websites under one hosting provider.
Some of the developer-friendly features include:
Admin-level root access on servers.
Server Rewind backups.
Updated versions of the most popular developer tools, such as MySQL, PHP, Python, Ruby, and Apache.
In addition, A2 Hosting's website builder (called A2 SiteBuilder) lets you build a website quickly using its professional templates.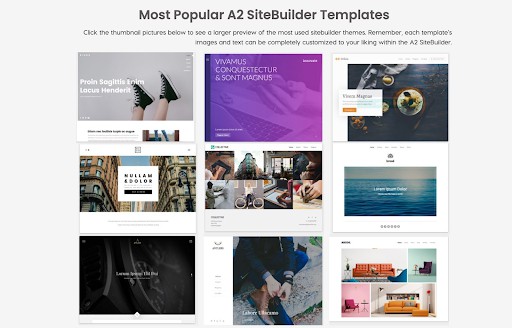 However, A2 SiteBuilder is only free for single-page websites. You can buy it separately or add it to any Shared hosting plan at checkout for multipage websites.
Disadvantages of Using A2 Hosting
Although A2 Hosting has many advantages, our A2 Hosting review also found a few flaws.
Here's a look at what A2 Hosting doesn't do so well.
1. High Renewal Rates
A2 Hosting has low introductory prices when joining for the first time. However, the prices are roughly five times higher when renewing.
For example, the Startup plan's $2.99/month jumps to $10.99/month when you renew.
The starting price is also lower if you take advantage of the 12-month plan. The rate almost doubles when you choose the 24- or 36-month plan ($4.99 instead of $2.99).
2. No Free Domain
Most web hosting companies we've reviewed, like Hostinger and DreamHost, offer a free domain name (at least for the first year). However, A2 Hosting doesn't provide one.
This isn't a must for any hosting service to function correctly. But it's always nice to have the option of registering a free domain, especially if you're on a tight budget.
If you still need to get a domain name while signing up for A2 Hosting, you'll have to pay $16.99/year for a dot-com extension that renews at the same price.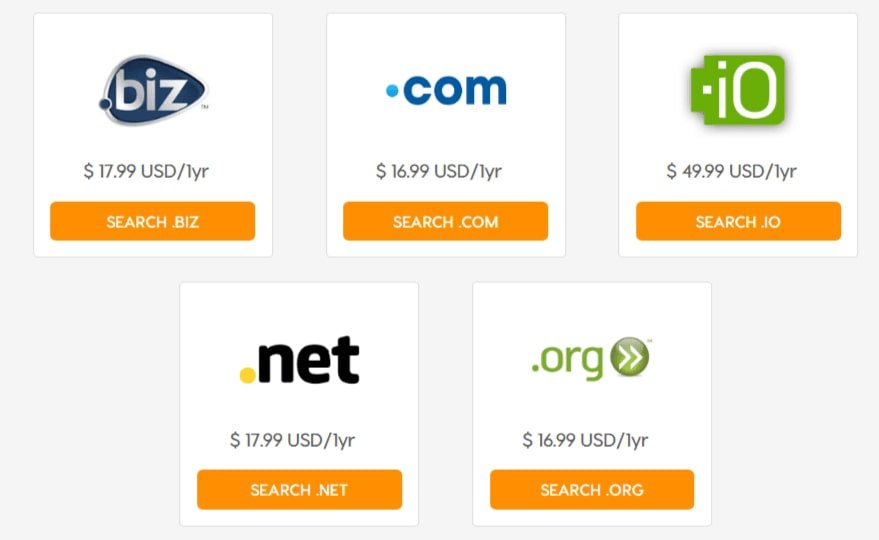 Quick Facts
Ease of Signup: Relatively easy three-step signup.
Control Panel and Dashboard: cPanel.
Domain: No free domain name. Prices start from $16.99 per year.
Installation of Apps and CMSs (WordPress, PrestaShop, Drupal): One-click installs for most popular apps.
Money Back: Anytime money-back guarantee.
Account Activation: Instant activation.
Payment Methods: All major credit cards, PayPal, Skrill, bank transfer, PayU Latam, check, or money order.
Hidden Fees and Clauses: Nonrefundable domain name Renewal rates are higher than the initial period.
Do We Recommend A2 Hosting?
Yes, we do.
Our A2 Hosting review shows it's one of the fastest and most reliable web hosting companies out there. If speed is your main concern, then this web host is an excellent choice.
A2 Hosting also offers a variety of easy-to-use tools to build e-commerce stores plus WooCommerce and Managed WordPress hosting. These features make the web host a fantastic choice if you're looking to set up an online store.
The company also makes it easy to contact customer support. Guru Crew agents are available via phone, live chat, and ticketing anytime of the day or night. Plus, you can take advantage of the extensive knowledge base to learn how to troubleshoot common hosting problems.
However, the renewal rates are pretty high, and A2 Hosting doesn't offer a free domain. If a free domain and lower renewal prices are important to you, Hostinger or DreamHost might be a better choice.