FastComet is a popular web hosting company whose services are used by more than 750,000 small business and personal website owners.
On its website, FastComet lists six reasons why its web hosting services are superior to its competitors' offerings:
24/7/365 technical support
Up to 70% faster websites with optimized hosting
Website security
Service uptime
User-friendly control panel
11 data centers worldwide
But how well does FastComet deliver on these offerings? We've been monitoring its speed and reliability since 2017 and have tested several of its features.
In this FastComet web hosting review, we share everything we learned about this web hosting platform and help you decide if it delivers on its promises.
An Overview of FastComet
SPEED:
634 ms (January 2022 to November 2022)
UPTIME:
99.88% (January 2022 to November 2022)
SUPPORT:
24/7 Live Chat, Phone (Sales), Ticketing, Email (Sales, Billing, & Abuse), and Knowledge Base
APPS:
Softaculous installer for 300+ popular apps, including WordPress
FEATURES:
15 GB SSD storage, unmetered bandwidth, free domain transfer, free website transfer, free content delivery network (CDN) servers, 45-day money-back guarantee, daily backups, cPanel, free SSL, unlimited email accounts, and more.
HOSTING PLANS:
Shared hosting, Cloud VPS hosting, Dedicated hosting, WordPress hosting, WooCommerce hosting, Magento (Adobe Commerce) hosting, and OpenCart hosting plans
SITE TRANSFER:
Free (up to three websites depending on the plan)
PRICING:
Starting at $2.49/month* (renews at $9.95/month)
*Price as of February 2023
Advantages of Using FastComet Hosting
Choosing FastComet as your web hosting provider has many advantages. Let's see what convinced those 750,000+ website owners to choose FastComet over other service providers.
1. Reliable 24/7/365 Support
FastComet's 24/7/365 customer support is one of its most attractive features. According to its customer support page, the web host resolves 83% of support requests within 15 minutes.
While these stats are similar to what popular web hosting services like Bluehost promise, they make FastComet much better than web hosting solutions like tsoHost, which take hours to respond.

FastComet provides three escalation levels to ensure customers get the right person to support them as quickly as possible. In addition, FastComet's website has a clear and detailed list of what's included in its customer service.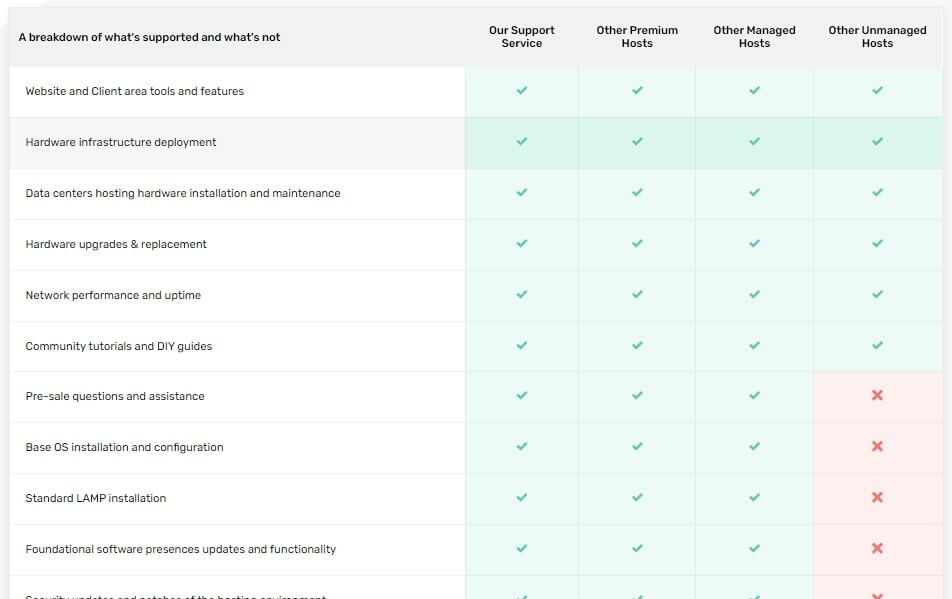 2. 11 Data Centers Worldwide
FastComet has 11 data centers strategically placed around the world. These data centers are located in:
North America — Dallas, Newark, Toronto, and Fremont
Europe — Frankfurt, Amsterdam, and London
Asia — Singapore, Tokyo, and Mumbai
Australia — Sydney
With data centers spread across the globe, FastComet lets you choose a server close to your main target audience, to improve website speed and performance.
In comparison, Hostinger only offers eight server locations, while HostGator has just two main data centers.
3. Great Money-Back and Uptime Guarantee
FastComet offers a 45-day money-back guarantee, 15 days longer than those offered by web hosting services like Bluehost, HostGator, and GoDaddy. That's a win for you, as a longer trial period gives you more time to evaluate FastComet's service.
FastComet also has a 99.9% uptime guarantee, which includes your website, network, email, and core services.
That said, the average uptime from January 2022 to November 2022 was 99.88%, slightly lower than FastComet's guarantee.
Excluding downtime due to regular or emergency maintenance, FastComet offers a 10% service credit of your monthly fee for each hour of downtime (up to 100%).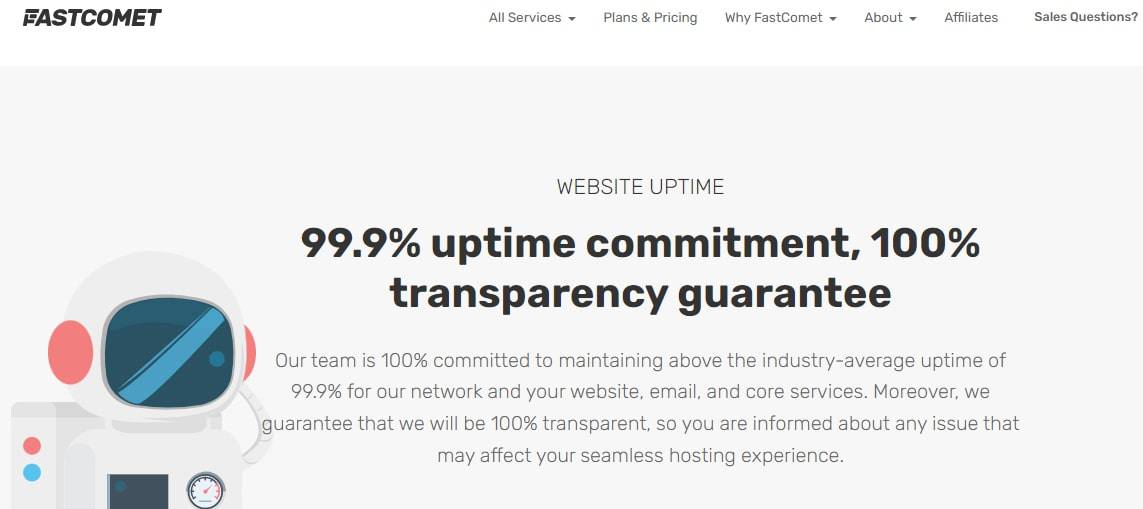 4. Advanced Security Features
FastComet offers Imunify360 with all its shared hosting plans. Imunify360 is an artificial intelligence-based security solution to protect Linux web servers, which learns from each attack and filters out malicious IPs, malware bots, and threats.
FastComet also uses ModSecurity, a web application firewall (WAF), to monitor the traffic between the internet and your web applications. ModSecurity helps prevent application-level exploits from malicious plugins and extensions.
Additionally, FastComet's shared hosting plans come with account isolation. Even if one of the neighboring websites in the shared hosting service is under attack, your website remains secure.
Last but not least, FastComet offers a free SSL certificate with every plan.

5. Daily Backups and One-Click Restore
FastComet performs free daily backups of files, databases, and email accounts. It stores this data for seven days on the basic shared hosting plans and 30 days on the premium plan.
When required, you can use FastComet's 1-click Restore Manager to recover your backed-up files, databases, or email data. And FastComet also promises 24/7 technical support should things don't go according to plan.
6. Free Domain and Website Transfer
Each of FastComet's shared hosting plans comes with a free domain name. While the choices aren't exhaustive (only .store, .online, .tech, and .site are included), they certainly work for anyone who just wants to design a personal website or blog.
Already own a domain name? Not a problem. FastComet makes it easy to transfer domain names to its platform for no additional charge. It'll even renew the domain name for you for one year for free.
FastComet's shared plans also come with up to three free website transfers. All you need to do is submit a ticket, and the support team handles the rest.
Disadvantages of Using FastComet Hosting
While FastComet has great advantages, it's not perfect. Let's look at a few issues we found while using FastComet since 2017.
1. Poor Uptime
From January to November 2022, FastComet's average uptime was 99.88% — Just short of three-nines availability. Not bad. But not stellar either.
However, the issue with FastComet's uptime is its variability. In some months, it's perfect (or nearly perfect), while in other months, it's well below par.
For example, in March 2022, the uptime was 99.47%. Not good. But in April 2022, its uptime shot up to 100%. May and June 2022 were both almost perfect, 99.99% and 99.98%, respectively. And then the uptime dropped down to 99.50% in July.
Also, the downtime during those low months is concerning. In March 2022, there was a single downtime incident that lasted over three hours and another that lasted 42 minutes. This isn't the kind of thing you want to hear if your website is your primary source of income.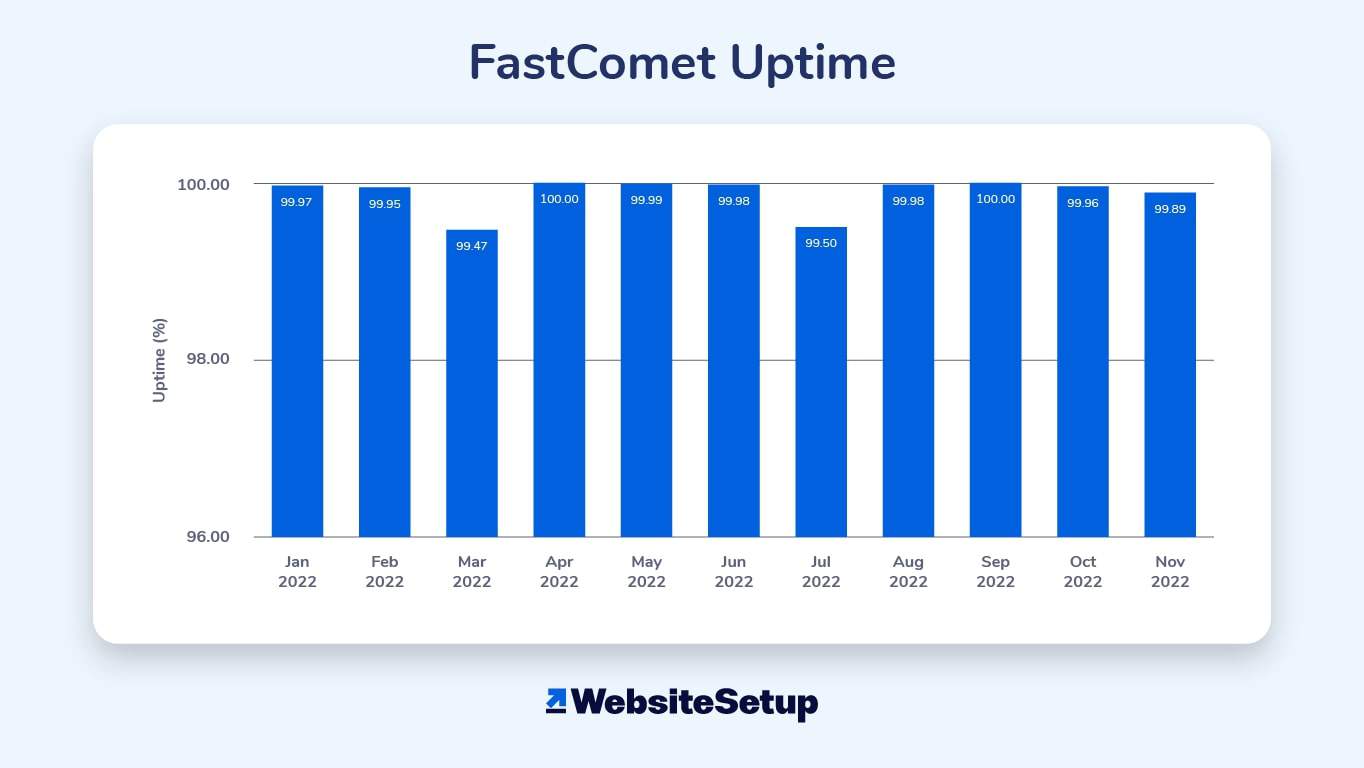 2. High Renewal Rates
As of writing, FastComet's basic shared hosting plan starts at a special price of $2.49/month. This price is valid no matter the hosting period you choose: 1 month, 12 months, 24 months, or 36 months.

However, once the initial trial period ends, the price rockets up to $9.95/month for the basic plan, FastCloud. That's a renewal price increase of 400% without any changes to the plan's features. The higher tier shared plans, FastCloud Plus and FastCloud Extra, renew at $14.95 and $19.95, respectively.
This renewal price is higher than what many other hosting services ask for. For example, Hostinger's starter plan is priced at $1.99/month for four years and renews at $3.99/month afterward.
So, if you're considering FastComet for its low price, ensure you're ready to pay a higher fee at renewal.
That said, FastComet does often offer discounts on its web hosting plans. It had a new year offer running till February 2023, followed by Valentine's day sale, and then a winter warm-up sale which offers WordPress web hosting services at $2.49/month.
3. Variability in Server Response Time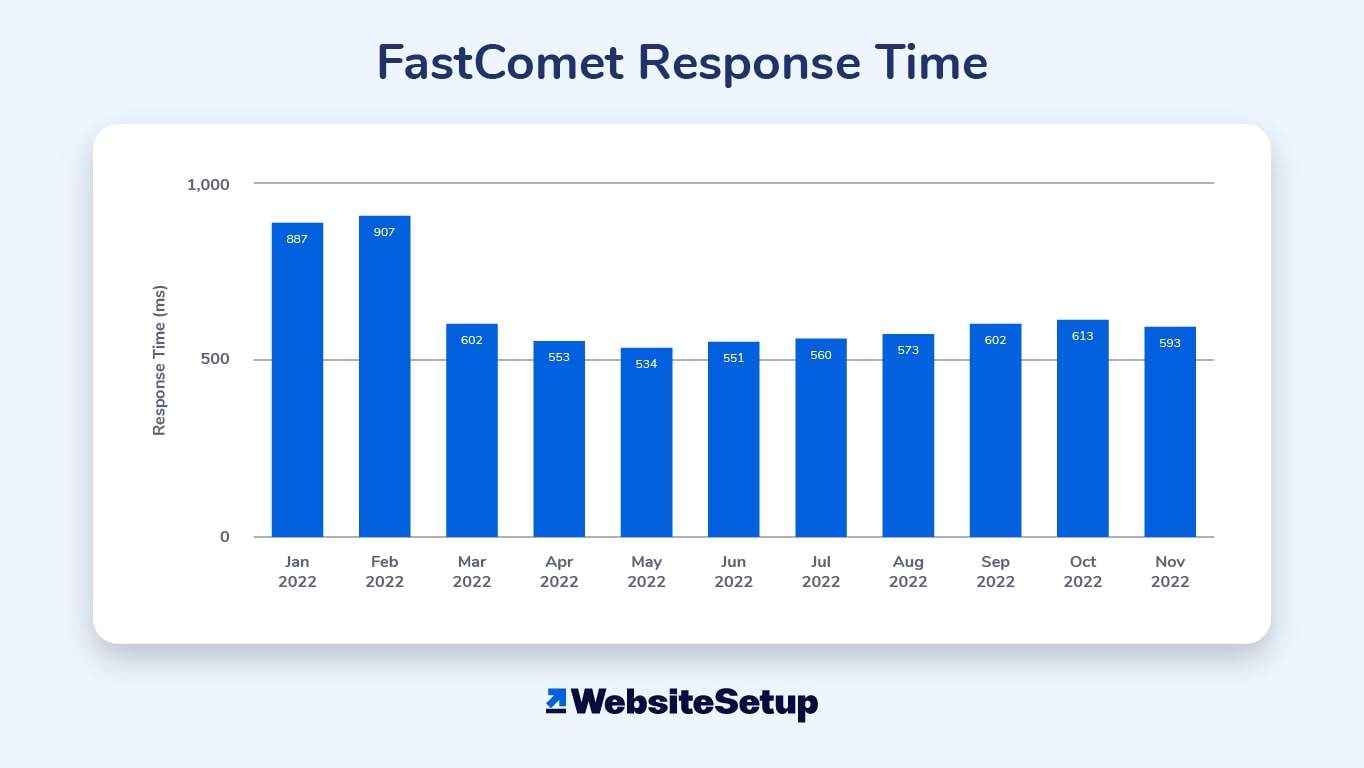 Server response time determines how much time your website takes to load. It refers to the time between a user clicking a link and the web server delivering the web content. So, the longer the server response time, the longer the visitor must wait for the website to load.
And the longer they wait, the more the chance of visitors leaving the website.
What's a good server response time? The bottom 20% had a server response time of 826 ms. And the mean response time was 456 ms — a good benchmark.
So, how does FastComet compare?
Well, FastComet's average response time throughout 2022 was 634 ms — about 200 ms slower than the average.
FastComet's response time was also highly variable in 2022. For example, in February 2022, the response time was 907 ms, but in March 2022, it decreased to 602 ms. That's more than a 300 ms decrease in response time speed.
Compared to GoDaddy or Hostinger, whose average response times in 2022 were 292 ms and 318 ms, respectively, FastComet response time is surely lacking.
However, its performance is much better than DreamHost, whose average response time was as high as 1,815 ms in 2022.
Quick Facts
Free domain? Yes, but only for .store, .online, .tech, or .site.
Free Trial? No free trial.
Ease of Signup: Easy signup process.
Payment Methods: All major credit cards and PayPal.
Hidden Fees and Clauses:

FastComet will automatically renew paid domains. You will be charged for the renewal unless you submit a cancellation request 48 hours before the renewal date.
The 45-day money-back guarantee is only applicable for shared web hosting. There's only a 7-day money-back guarantee for VPS and Dedicated hosting plans.

Account Activation: Fast account activation.
Control Panel and Dashboard Experience: cPanel.
Installation of Apps and CMSs (WordPress, Joomla, etc.): Access to over 300 popular apps.
Do We Recommend FastComet?
Yes, we recommend FastComet to new website owners looking for a featureful web hosting service that makes it easy for them to get started.
In addition to offering 11 data centers and a solid customer service experience, FastComet provides its customers with feature-rich hosting plans at an affordable price. While there is some variability in its uptime and speed, it's worth trying FastComet out.
And while FastComet doesn't have a free trial, it often runs sales: It had a new year sale offering web hosting services at a low rate of $1.99, followed by Valentine's day sales at the same price. As of writing, a winter warm-up sale is ongoing, offering the web service at a slightly higher price of $2.49/month. So, keep your eyes peeled for ongoing discounts at FastComet.