For an online business, the website's loading speed is a crucial factor — which can increase or decrease your sales.
So, choosing a web hosting provider that offers great speed and reliability is crucial to your bottom line.
Let's check out GreenGeeks, a web hosting provider that promises no hidden fees, 99.9% uptime, speed, security, and eco-friendly web hosting.
Does GreenGeeks live up to its claims? Do GreenGeeks' features and pricing fit your business requirements?
In this GreenGeeks web hosting review, we'll walk you through GreenGeeks' features, pricing, advantages, and disadvantages to help you decide all that yourself.
An Overview of GreenGeeks
| | |
| --- | --- |
| SPEED: | 494 ms (January 2022 to December 2022) |
| UPTIME: | 99.96% (January 2022 to December 2022) |
| SUPPORT: | 24/7 Live Chat, Email Support, and Phone support (9 a.m. to midnight EST) |
| APPS: |  WordPress, WooCommerce, Drupal, Joomla, Magento (Adobe Commerce), PrestaShop, and OpenCart. |
| FEATURES: | Unmetered bandwidth, 50 GB storage, email accounts, free domain name for the first year, free SSL, unlimited databases, free CDN, free nightly backup, 30-day money-back guarantee, 300% green energy match, free malware cleanup. |
| HOSTING PLANS: | Shared hosting, WordPress hosting, WooCommerce hosting, Reseller hosting, VPS hosting, and Dedicated Server hosting. |
| SITE TRANSFER: | Unmetered (Free — but within reasonable limits) |
| PRICING: |  Starting at $2.95/month (renews at $10.95/mo). |
Advantages of GreenGeeks Web Hosting
GreenGeeks is used by more than 60,000 websites across the globe. As a web host, it offers many advantages, like diverse hosting options and reliable uptime.
1. Multiple Hosting Options
GreenGeeks offers a wide range of hosting options, including:
WordPress hosting
WooCommerce hosting
Reseller web hosting
Virtual Private Servers (VPS)
These multiple hosting options mean that GreenGeeks has a good chance of meeting your diverse hosting requirements. For instance, if you have a WordPress website and want to start a WooCommerce online store, you won't have to change your hosting provider.

2. Reliable Uptime Performance
During the last 12 months, the GreenGeeks web hosting platform has been up and running 99.95% of the time. It means the total downtime was less than five hours in 2022.
This 99.95% average uptime meets and exceeds GreenGeeks' 99.9% uptime guarantee.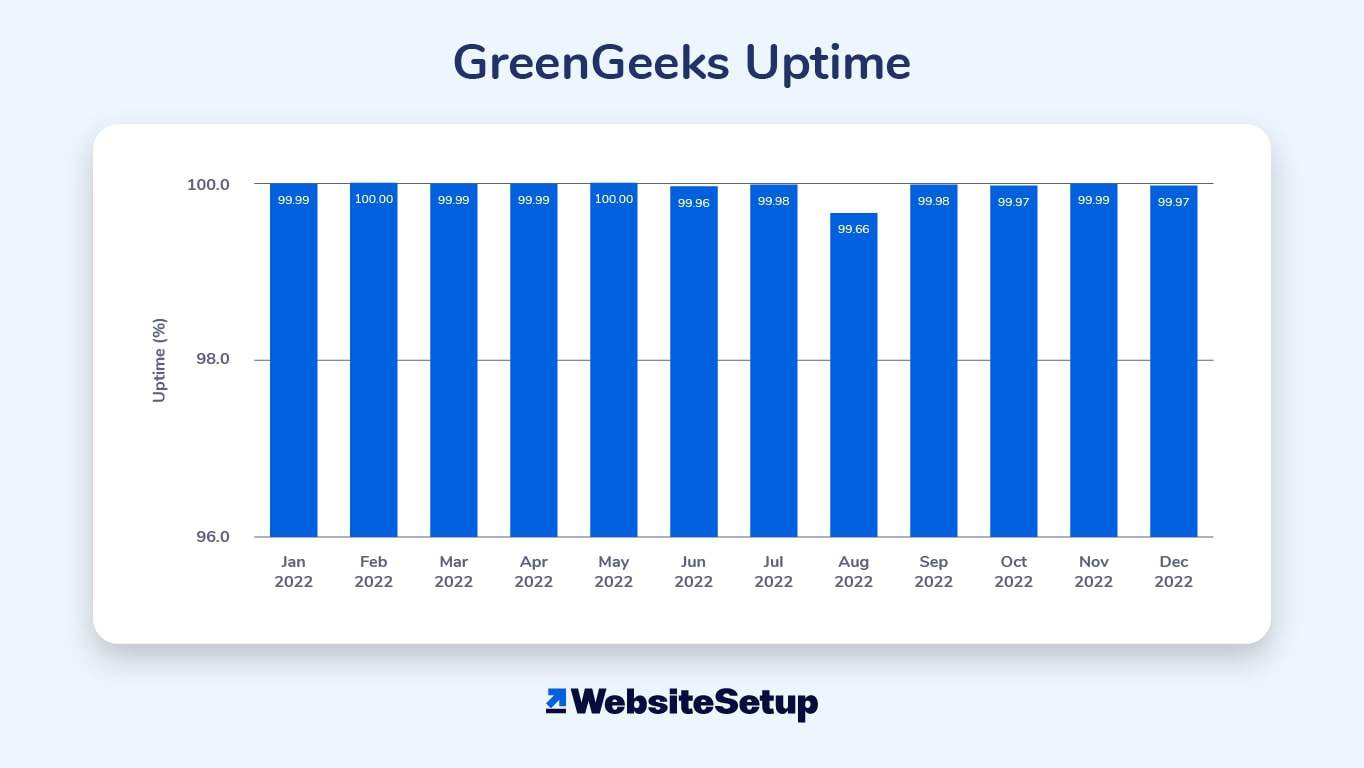 3. Good Customer Support
GreenGeeks offers support through:
24/7 live chat
Email
Phone (from 9 a.m. to midnight EST)

GreenGeeks also provides an extensive knowledge base that includes answers to support questions, tutorials, blogs, and webinars. It covers various topics, from getting started with GreenGeeks to cybersecurity best practices.

4. Environment-Friendly Commitment
An environment-friendly policy is one of the unique value propositions of GreenGeeks.
While the web hosting company uses energy like any other web hosting platform, it gives back to the environment by offsetting that use. It purchases wind energy credits worth three times its energy consumption.
The United States Environmental Protection Agency (EPA) has recognized GreenGeeks as a Green Power Partner. GreenGeeks has also partnered with One Tree Planted to plant a tree when a new customer signs up for its hosting.
5. 30-Day Money-Back Guarantee
GreenGeeks offers a 30-day money-back guarantee if you are unhappy with its service.
However, the 30-day money-back only applies to new hosting accounts, not renewals.
Also, even though the GreenGeeks website claims to offer an unconditional refund, the domain name and add-on charges are non-refundable. GreenGeeks will also deduct any setup fees from the refund.
6. Great Security Features
Secure web hosting is one of the major claims of GreenGeeks. And while features vary by hosting plan, the security offerings are impressive.
Features available include:
Free nightly backup of the content
Secured virtualized file system
Free SSL certificates via Let's Encrypt
Proactive network security monitoring
Free malware cleaning for your website
ID Protect to prevent the misuse of WHOIS information
7. Multiple High-Quality Server Locations
GreenGeeks maintains six server locations across the U.S., Canada, Europe, and Asia. This vast coverage comes in handy since you want a server location close to your primary audience to improve your website's load times.
GreenGeeks' servers are located in:
Phoenix
Chicago
Toronto
Montreal
Amsterdam
Singapore

Besides multiple server locations, GreenGeeks also offers a free content delivery network (CDN) service to cache content and deliver it from a server closest to the website visitor's location.
Additionally, GreenGeeks promises customers that it will keep its servers up to date by using the latest energy-efficient processors, SSD drives, and contemporary internet infrastructure.
Disadvantages of GreenGeeks Hosting
GreenGeeks offers many attractive features for small businesses looking for web hosting services. However, we have found that GreenGeeks also has some disadvantages.
1. Complex Pricing Plans
The GreenGeeks homepage advertises WordPress hosting at a low price of $2.95/month. However, this price is applicable only if you pay annually. A higher price of $10.95/ month is applicable if you choose a monthly, two-year, or three-year plan. This could be an unpleasant surprise for anyone with limited funds to get started.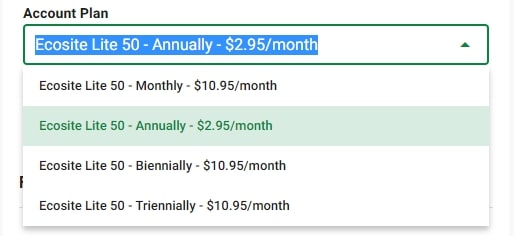 Also, if you choose the monthly plan, you'll have to pay a $15 setup fee that's not mentioned on the pricing page, and you'll only see it on the actual bill. It's something that seems to go against GreenGeeks' no-hidden-fees promise.
2. Average Server Response Time (494 ms)
Blazing speed is one of the main claims of GreenGeeks. However, it didn't live up to its claim in our tests. We found GreenGeeks' average server response to be 494 ms throughout 2022.
With the industry average response time at 456 ms, according to Littledata, GreenGeeks seems to be providing average server response speeds. Still, GreenGeeks' server response is better than popular web hosting services like Bluehost and DreamHost, which have an average loading time of 661 ms and 1,815 ms, respectively.
If you're looking for a web host that actually provides blazing speed, check out A2 Hosting. A2 Hosting averaged a response time of 295 ms in 2022.
3. Hidden Fees and Clauses
GreenGeeks' fine print seems to have many clauses related to account suspension. For instance, if an invoice is not paid within four days of the due date, your account will be suspended, and you will need to pay a reactivation fee of $15 to get your account back online.
Also, if you use 100% of resources (like CPU, memory, disk i/o, number of files/inodes) in a shared hosting plan, your account might be suspended. That's even though they promise "unlimited" usage in some cases.
As we saw earlier, GreenGeeks also has a $15 setup fee for monthly plans which appears only on the payment page.
Cancellations also have some strict clauses. For instance, GreenGeeks requires you to complete a cancellation form five days before the auto-renewal. Users have raised several complaints about this cancellation model.
Quick Facts
Free domain?
Ease of Signup: Easy signup process.
Money-Back: 30-day money-back guarantee.
Payment Methods: Credit Card, PayPal.
Hidden Fees and Clauses: $15 setup fee if you choose the monthly web hosting plan, which is not mentioned on the pricing page. If a user fails to pay the bill, GreenGeeks will suspend the account after four days and will charge $15 for reactivation. Users need to fill up a cancellation form five days before the renewal date for cancellations.
Account Activation: Quick account activation.
Control Panel and Dashboard Experience: cPanel.
Installation of Apps and CMSs (WordPress, Joomla, etc.): 1-click install tool.
Do We Recommend GreenGeeks Web Hosting?
Yes, we recommend GreenGeeks as a good option for small to medium businesses (SMBs) looking for a reliable web host with decent uptime, helpful customer support, and eco-friendly operations. The pricing is also reasonable when paid annually.
However, make sure to review the terms and conditions, and don't forget to note the fine print modifying policies, refunds, and renewals.