Established in 2002, HostGator offers hosting products and services to millions of websites across the globe. It has positioned itself as a company offering several types of hosting options "that scale from easy to expert."
HostGator has survived and thrived in the cut-throat web hosting space for over two decades, which means it's doing something right with its hosting packages.
Let's find out what that is and whether HostGator has what it takes to meet the constantly evolving needs of today's web hosting customers?
An Overview of HostGator
| | |
| --- | --- |
| SPEED: | 663 ms (January 2022 to December 2022) |
| UPTIME: | 99.90% (January 2022 to December 2022) |
| SUPPORT: | Phone, Live Chat, Email, Twitter, and Knowledge Base |
| APPS: | WordPress, Joomla, Drupal, Magento (Adobe Commerce), phpBB, MediaWiki, and more |
| FEATURES: | Free SSL certificate, free domain for one year, unmetered bandwidth, and automatic backups |
| HOSTING PLANS: | Shared Hosting, Cloud Hosting, Website Builder Hosting, Managed WordPress Hosting, Virtual Private Server (VPS) Hosting, Reseller Hosting, and Dedicated Servers for both Linux and Windows hosting |
| SITE TRANSFER: | Free within the first 30 days of signup |
| PRICING: | Starting at $2.75/month (Renews at $7.99/month) |
Advantages of Using HostGator
Opting for HostGator as your web host offers many advantages — from reliable uptime to affordable beginner plans.
Let's see what makes HostGator a promising host.
1. Reliable Uptime
Like many web hosts, HostGator promises its customers a 99.9% uptime guarantee. And it has almost kept its word. Throughout 2022, HostGator only failed to meet its uptime guarantee twice: once in April (99.26%) and again in October (99.89%). Not bad.
We found HostGator's average uptime in 2022 to be 99.90%, just good enough to meet its own guarantee. The longest period of downtime, not surprisingly, was in April (1 hour 3 minutes). While not great, this is certainly manageable for an online business to recover from.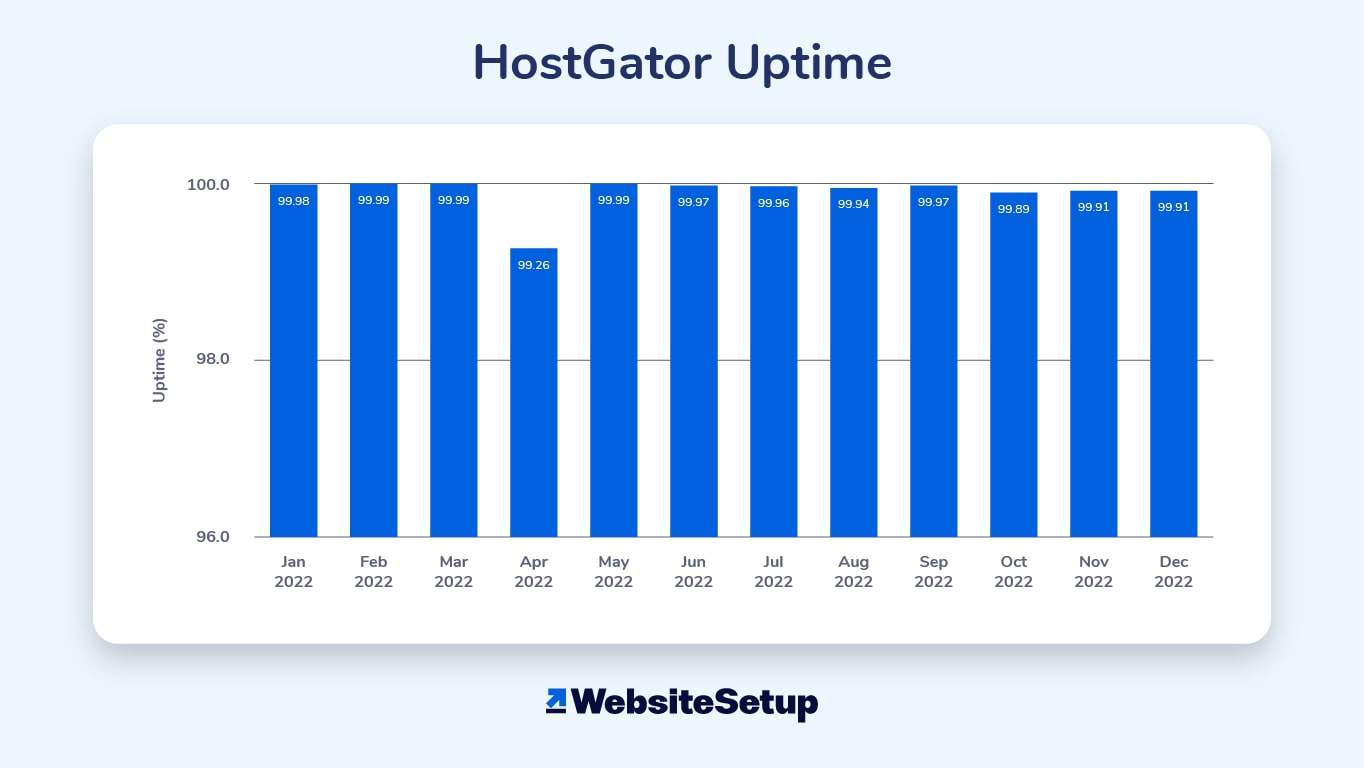 Not to mention, whenever HostGator fails to meet its 99.9% uptime guarantee, it grants customers one month of credit for their respective hosting package.
That said, HostGator won't just give you the free credit. You'll have to ask for it by submitting a support ticket within 30 days of the downtime event.
However, this uptime guarantee only applies to HostGator's shared and reseller web hosting accounts. Also, downtime due to any planned maintenance doesn't count towards the uptime guarantee.
2. Above-Average Server Response Times
HostGator also delivers above-average server response times. Response time refers to the time it takes for the host's servers to respond to a page request sent from a browser. It impacts your website's load times and affects the visitor's experience with your website.
HostGator's average response time in 2022 was a respectable 663 ms. Not blazingly fast, but not sluggishly slow either. This places HostGator in the middle of the pack with hosts like Bluehost (661 ms).
It's much better than what DreamHost (1,815 ms) offers, but it lags behind hosts like A2 Hosting (295 ms) and InMotion Hosting (331 ms).
3. Beginner-Friendly Website Builder
HostGator's website builder plans come with the Gator website builder, which automatically builds your site and gets it up and running quickly. With a focus on ease of use, this tool is perfect for anyone with limited experience designing or hosting a website.
Everything is intuitive and easy to understand. The steps from purchasing the hosting plan to getting your website online can be done in minutes. HostGator's Gator builder asks you a few questions and uses your answers to generate a website that matches your requirements.
After the initial setup, you can further customize your website with over 200 design templates and a drag-and-drop editor. While you still don't get the same degree of freedom that WordPress offers, Gator builder greatly simplifies the website design process.

Beyond modifying the look and layout of the website, Gator builder lets you create your business logo and add an ecommerce store functionality to your website to start an online store.
4. Great Security Add-Ons
All HostGator plans have enhanced security features that protect your websites from hackers and data thieves. Each plan includes a free SSL certificate that protects your website domains and encrypts communications between the server and visitors to your website.
You can also add SiteLock Security to your hosting plan, which costs an additional $5.99/month. This service runs daily in the background, scanning your website for any potential breaches or hacks. It automatically removes detected malware and blocks bot attacks.
Other security features vary from plan to plan. For example, among HostGator's shared hosting options, the Hatchling and Baby plans come with free SSL certificates, while the Business plan includes a free Positive SSL option, which is an upgrade over the free version.
5. Unmetered Bandwidth
Each HostGator's shared hosting plan comes with unmetered bandwidth. This means you aren't charged for how much bandwidth you use if you operate within reasonable limits.
Sounds nice, right? Well, yes and no. Unmetered bandwidth must not exceed 25% of system resources on shared or reseller servers for longer than 90 seconds. If that happens, certain restrictions may be placed on the offending account.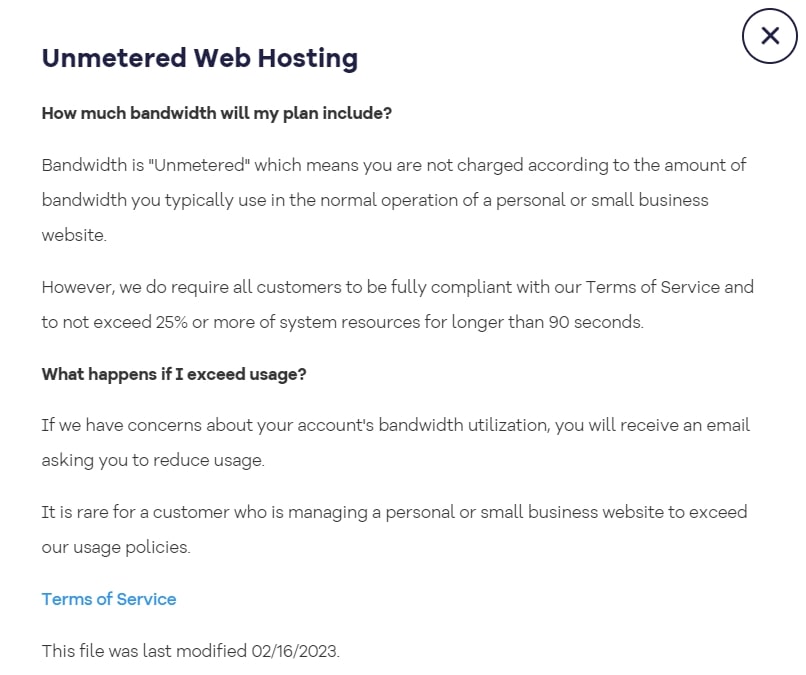 According to HostGator, it's rare for most personal or small business customers to exceed this limit. That said, you should still check the web host's usage policy to ensure it meets your requirements. Specifically, pay attention to the sections on resource usage and acceptable use as they provide additional details on bandwidth usage.
6. Customer Support
HostGator offers multiple avenues for assistance with its products. These include live chat, phone, email, and even a Twitter account. In addition, HostGator support offers a large knowledge base full of useful tips, FAQs, and tutorials covering its various products and services.
We tried out their live chat support channel, and within minutes, we were chatting with a representative who was both knowledgeable and polite.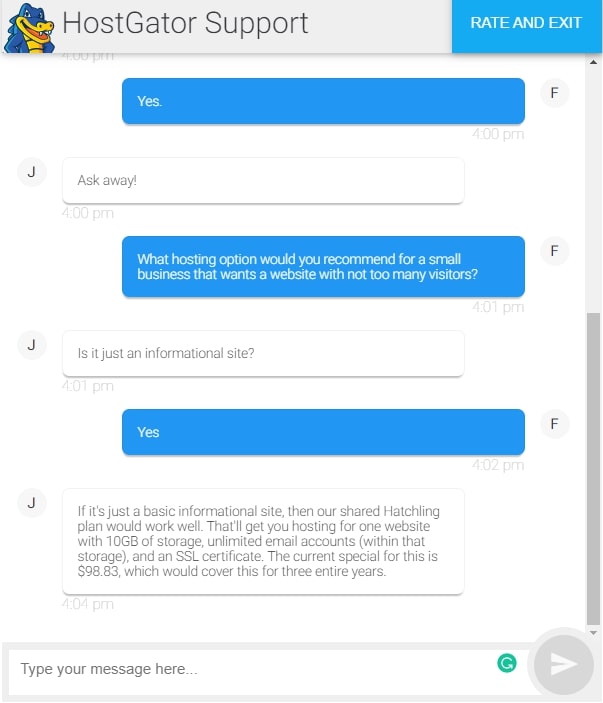 HostGator also takes the time to run an informative YouTube channel, where you can find videos covering everything from website maintenance to SEO for e-commerce sites.
7. Affordable Starting Price
It doesn't cost much to get started with a HostGator plan. If you choose to prepay for 36 months, the Hatchling Plan, which is the most affordable, starts at $2.75/month. This is 65% off the regular price of $7.99/month.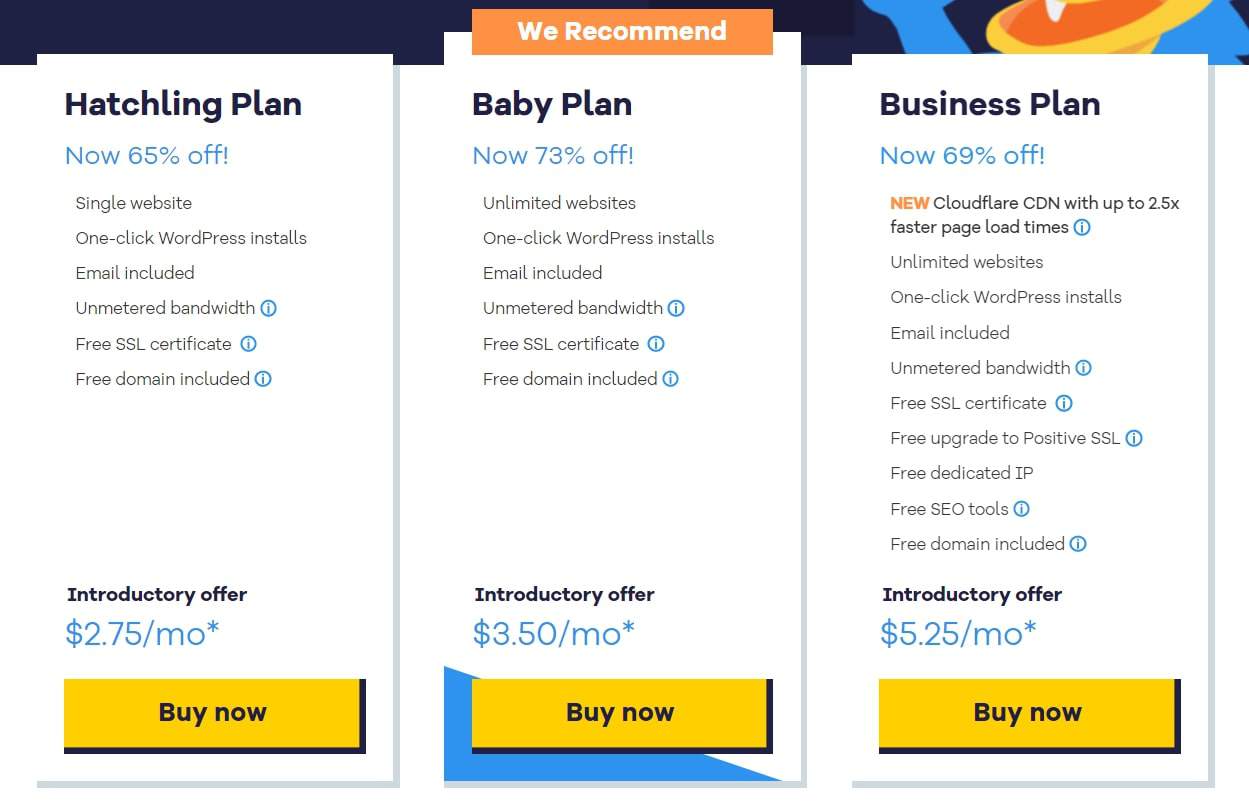 For that price, you get access to a shared hosting package that includes a single website domain, one-click WordPress installs, unlimited email accounts, unmetered bandwidth, an auto-renewed SSL certificate, and free domain name registration for one year.
Its next plan, the Baby Plan, which starts at $3.50/month, includes all this, plus support for five websites and $600 in advertising credit ($500 from Google Ads and $100 from Microsoft Advertising) when you spend the same amount.
These features are really all you need to get started with a simple website, and at this price, you don't have to worry about hosting fees for the next three years.
Disadvantages of Using HostGator
Like other web hosts, HostGator isn't perfect. Here are a few concerns we have with HostGator's web hosting service.
1. Confusing Pricing
HostGator doesn't make it easy for you to compare the prices on its plans. Each plan type has its own dedicated page, which you have to flip back and forth between to compare prices and features.
HostGator also sneakily only lists the discounted prices for its plans on the main page. To find out the renewal price, you'll have to start the checkout process or visit the renewal pricing page.
This arrangement of prices and features can be confusing even for customers that are familiar with the pricing strategies for hosting companies.
2. Important Add-Ons Cost Extra
Several must-have features are not standard across all HostGator plans. One example is daily automated backups with CodeGuard, which are not included in the shared hosting plans.
This feature is considered standard by other web hosts, like Nexcess and Kinsta, which both offer automated backups for free with all their plans. But with HostGator, you have to pay extra to get this functionality.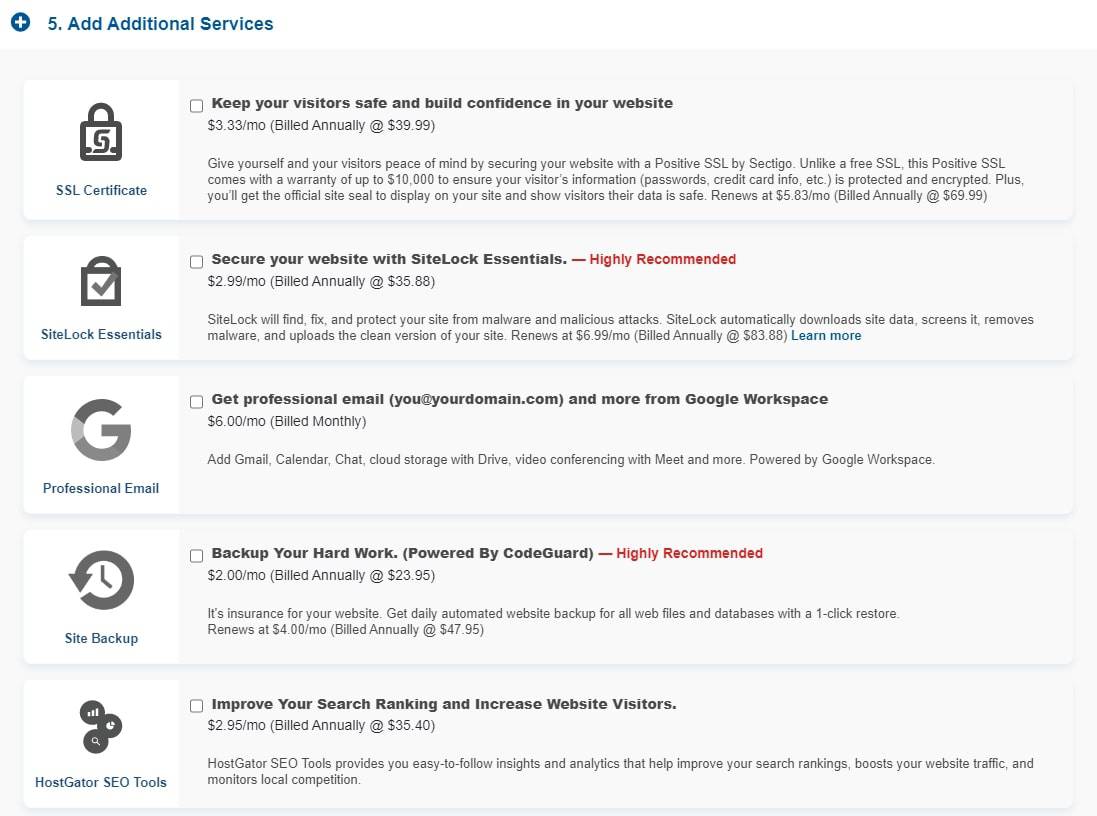 In addition, there are limitations to some of the host's features, such as the absence of caching with non-WordPress hosting plans.
3. Expensive Renewal Fees
Web hosts generally go out of their way to make their upfront hosting plan prices look as affordable as possible. And while some keep their prices consistent when it's time for renewal, many take the opportunity to jack up the prices without warning the customer.
HostGator, sadly, follows the latter practice. Its basic shared hosting plan, the Hatchling Plan, is advertised as only costing $2.75/month ($98.83 for 36 months). And no doubt, that's what many customers believe they'll be paying. Period.
But no. When your first three years are up, the price increases to $7.99/month ($287.64 for another 36 months). That's a more than 190% increase in price for no additional tools or features.
Not to mention, the hosting fees are on the high side compared to what's available from other web hosting providers. For instance, Hostinger's beginner plan starts at $1.99/month, while DreamHost has a starter plan priced at $2.59/month, and both these alternatives offer similar or even better features.
4. Refund Policy Limitations
HostGator's money-back guarantee has some limitations you'll find after digging through their terms of service documentation.
The 30-day refund only applies to the basic hosting fee, so add-ons like domain name purchases, security features, and custom software aren't included.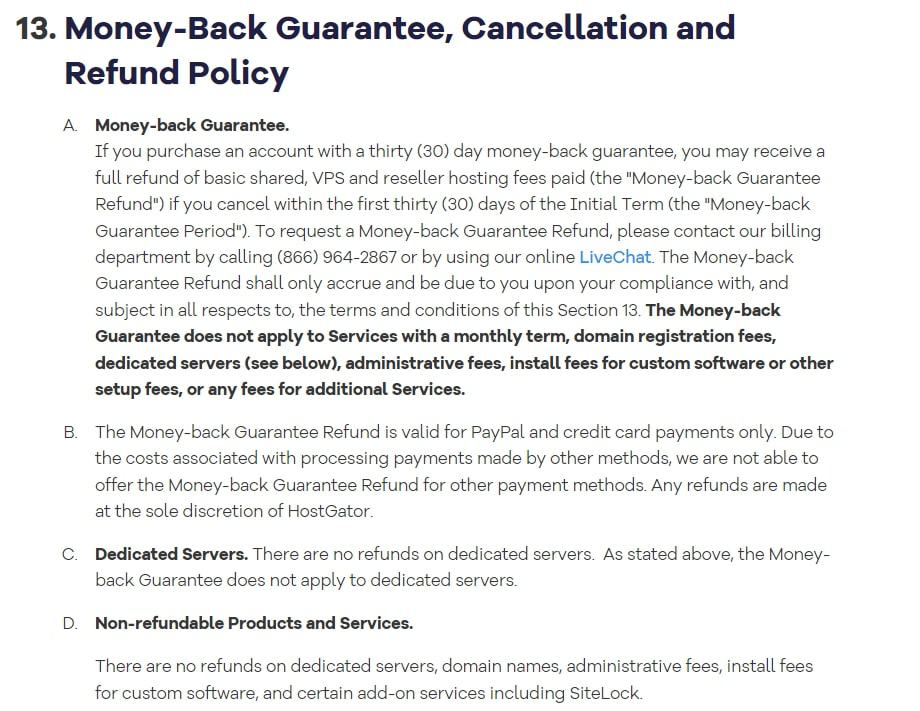 To add insult to injury, remember that free domain name that came with your plan? That isn't covered by the refund policy. HostGator will charge you its standard fee for the domain name when you request your money back. Ouch.
Lastly, the method by which you pay affects your ability to get a refund. Orders paid for with checks, money orders, or wire transfers are not eligible.
Quick Facts About HostGator
Simple Signup: Easy enough, but the lack of transparency in pricing and the high number of add-ons offered at checkout prevent it from being truly simple.
Money Back: 30-day money-back guarantee.
Payment Methods: Credit cards, PayPal, checks, money orders, and bank wires.
Hidden Fees or Clauses: No refund on domain names, dedicated hosting, or additional services. Renewal rates for both domains and hosting are significantly higher than the introductory rate.
Account Activation: Quick activation once payment has been confirmed.
Control Panel and Dashboard: Easy-to-use cPanel for shared, dedicated, and VPS hosting plans and Plesk for Windows plans.
Installing Apps and CMSs (WordPress, Joomla, etc.): One-click installer for WordPress, Joomla, Drupal, phpBB, and Magento (Adobe Commerce).
Free Domain: Yes, for the first year for cloud, shared, and optimized WordPress hosting plans. Renewal price depends on term length.
Do We Recommend HostGator?
Yes, we do.
HostGator's 20 years of experience offering web hosting services is evident in its easy-to-use features, affordable start-up pricing, and excellent support team. The host's broad selection of hosting plans means that it has something for everyone, regardless of your level of expertise.
The selection of value-added services like Google Workspace and SEO tools will be extremely attractive to customers looking to handle all their online activity in one place.
However, you should always read the fine print regarding HostGator's additional services to ensure you know what comes with your hosting plan and what would cost you extra.