HostGator has been around since 2002 and is one of the most popular hosting companies in the world.
Having such a vast customer base is enough evidence that they are doing something right. They offer a full range of web hosting services that are suitable for everyone.
---
Quick Look at HostGator
Our Verdict: 4.2/5 | Reading Time: ~15min | Our Overall Ranking: #17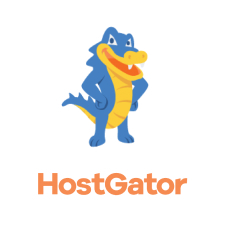 HostGator is one of the biggest and oldest website hosting providers in the world, managing over 2.5 million websites worldwide. Among many other useful features, they offer 1-click installs, a 99.9% uptime guarantee, and 24/7 customer support.
---
We have been a paying customer with HostGator since 2015 (source) and have been monitoring their performance(source) (uptime and page loading speed) ever since. Over the past half a year, they delivered an average uptime of 99.85% and a speed of 688 ms. Our Review Process
---
But is HostGator the best host for your website?
We're going to help you decide.
In this HostGator review, we will take a closer look at the features they have to offer, give an overview of their performance statistics, pricing, and find out if they can provide the high-quality website hosting service that you need.
Ready? Let's start.

Don't have time to read the whole review? Skip to Our Verdict.
About HostGator
HostGator is a Houston-based web hosting provider that was founded in 2002 by Brent Oxley. Not only does HostGator offer shared hosting, but also cloud, VPS, reseller, dedicated web hosting, and even comes with a site builder.

Today HostGator's headquarters are based in Texas and they have more than 1000 employees who all help to host over 2.5 million websites globally.
In 2012 HostGator was sold to Endurance International Group (EIG), which also owns many other hosting industry giants like Bluehost, Hostmonster, Site5, etc.
Most of their servers are located in Provo, Utah, and Houston, Texas. You can also optionally activate CloudFlare which would route your content through an additional 23 data centers worldwide.
HostGator Features Overview
Every HostGator plan is packed with many useful features. Let's take a closer look.
Storage and Bandwidth
Every HostGator's hosting plan offers unmetered bandwidth and storage.
What does it mean?
Well, basically that means you can use the bandwidth and storage space without limits. However, it must be with the extent to which the hosting company can obtain. It would be good to take a look at HostGator's usage policy so you'd have information about the limitations.
Security
HostGator offers a free SSL certificate that provides protection for your website domains and encrypts communications between the server and visitors to your website.
They also offer a few extra security features like the ability to add SiteLock monitoring to your site. This service will run daily, looking out for any potential site breaches or hacks, and let you know instantly when they find it. The only downside is that SiteLock will cost you a little extra – $5.99/month.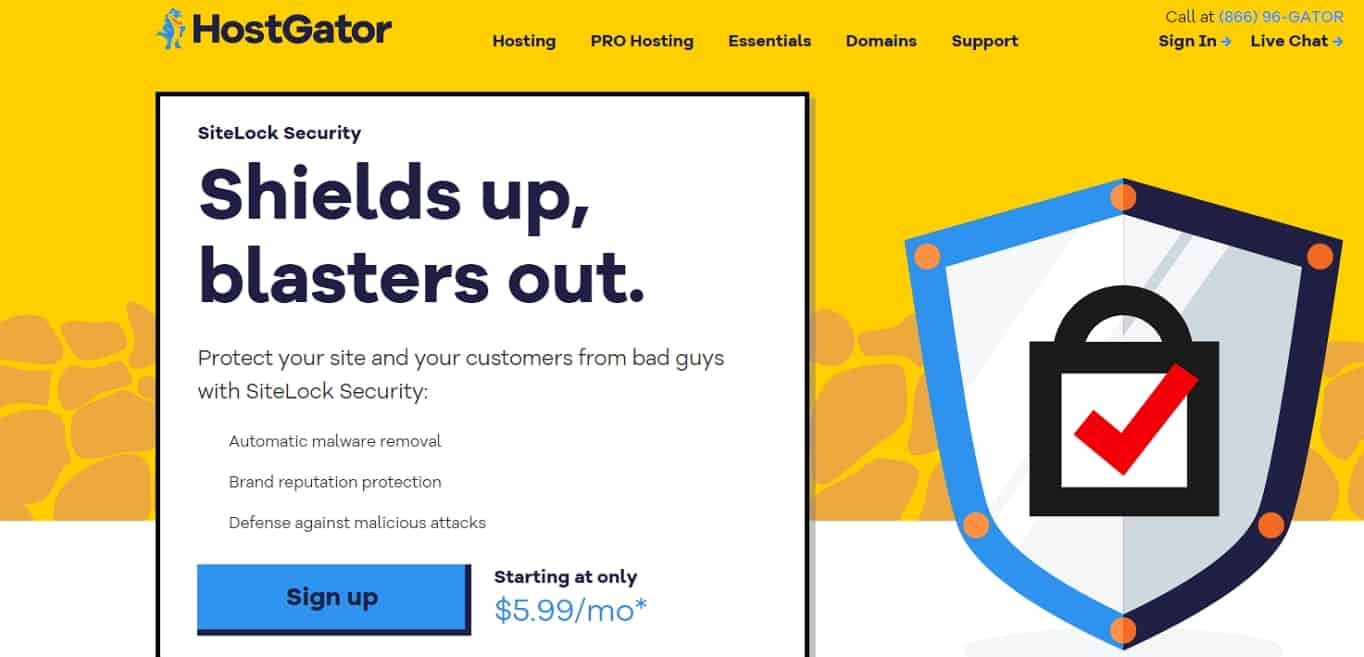 Moreover, they offer Spam Assassin on their email plans to help prevent spam from hitting your inbox in the first place.
Site Migration
If this isn't your first site, and you're trying to move an existing one over, HostGator's got your back.
You'll have 30 days after sign-up to get in touch and have them help move any site files, databases, scripts, and even a domain name over for you.
This includes a full cPanel transfer. So if you happened to have multiple site installs (like subdomains for one large site), you're covered.
All of HostGator's shared hosting plans come with a single site (or cPanel) migration included. Different plans, like resellers, for instance, will get access to more (up to 30).
A single free site migration isn't a lot compared to some hosts. But it's still better than nothing.
Money-Back Guarantee
HostGator is so confident in their service that they extend the industry-average 30-day refund policy an extra two weeks or so to 45 days.
That means you can use them for over a full month and still get your purchase price back if any issues pop up.
This 45-day money-back guarantee applies to all shared, reseller, and VPS hosting packages.
The only catch is that this does not apply to HostGator's dedicated servers, administrative fees, or install fees for custom software. After combing through many Terms of Service documents, we've found that these caveats are fairly common in the hosting industry.
So, for example, if your plan included a free domain name, they'll deduct the standard fee of $15.00 for the domain from the refund amount.
There are a few other points to make. HostGator's Terms give them up to 90 days to actually issue a refund. No refunds will be given on checks, money orders, Western Union payments, or bank wire transfers, either.
Refunds are only available for new plans or accounts. So if you previously signed up for one, and are canceling a renewal or second attempt, you won't get anything in return.
And last but not least, foreign currency refunds are processed based on the U.S. Dollar exchange rates.
Ease of Use
HostGator is tailor-made for beginner bloggers or webmasters.
Their site is full of tutorials, walkthroughs, and more to help you navigate the murky world of DNS and data centers.
They also have extra features for beginners who are looking to set up a site without the hassle of hiring other people to design, build, and manage everything.
Their website builder tool, Gator by HostGator, is one of the better ones we've reviewed. It comes with free hosting and a domain name, so you just need to purchase a single account for all of the necessities.
The customizable templates are all pretty modern, to begin with, and you can easily customize how they look by dragging and dropping each feature. You'll also get site analytics and a free SSL certificate to help safeguard your visitors' personal data (like their physical location).
HostGator uses cPanel as its control panel. If you have previous experience with hosting, you should feel right at home, since cPanel is one of the most used control panels in the hosting industry.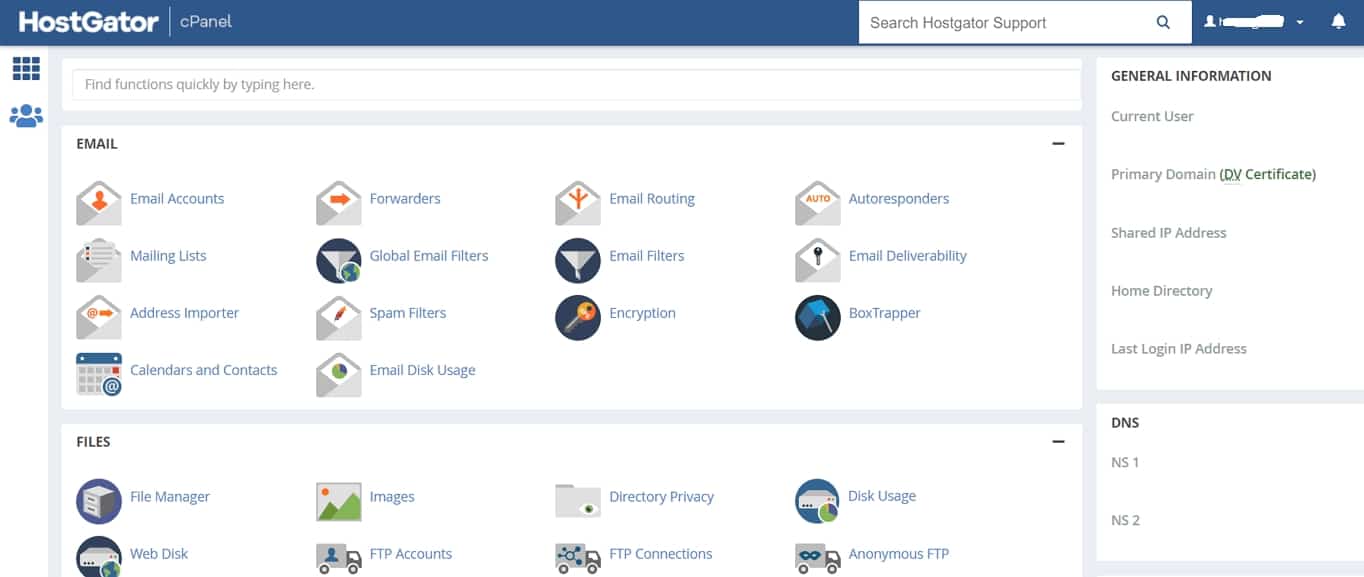 However, even if you're a beginner, it's still very easy to navigate and doesn't have a steep learning curve.
Customer Support
Similar to other known providers like SiteGround and Dreamhost, HostGator provides a knowledge base, phone, email, and live chat support.
We tested out their live chat option.
We asked a simple question about their shared hosting plans and got connected to a customer rep within two minutes. The replies were fast and knowledgeable.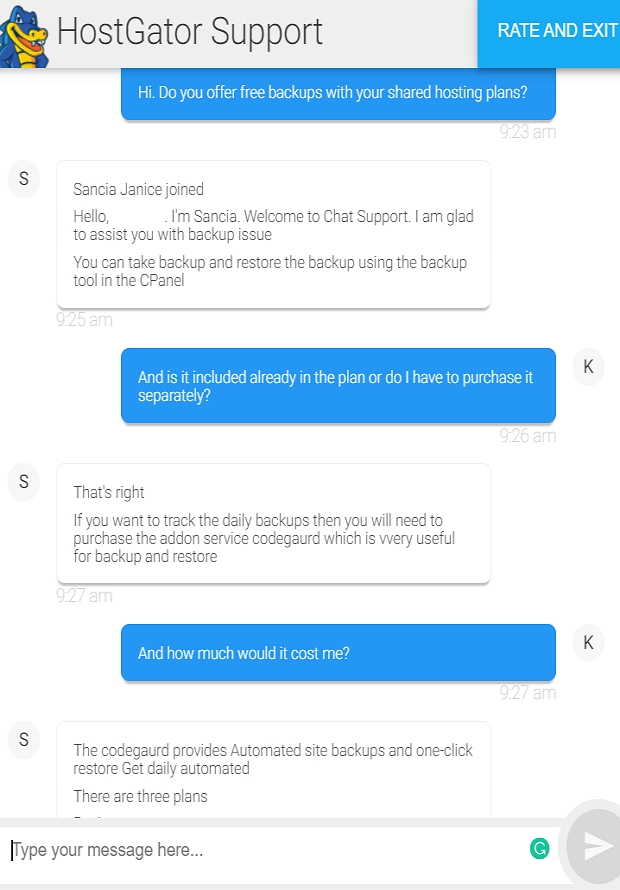 Overall it was a good customer support experience.
HostGator Performance Stats
You don't have to rely entirely on our subjective opinions in this HostGator's review — we also have cold, hard numbers to show how they perform.
Uptime
HostGator has posted an average of 99.85% uptime with over six hours of downtime over the last 6 months which is below industry-standard result.
Another good thing is that they have an uptime guarantee which says that if they drop below 99.90%, you can receive one month of credit on your account.
Obviously, any planned maintenance or impossible-to-predict hacks aren't factored into this guarantee. You will, however, have to reach out and ask for the credit by submitting a support ticket to their billing department within 30 days.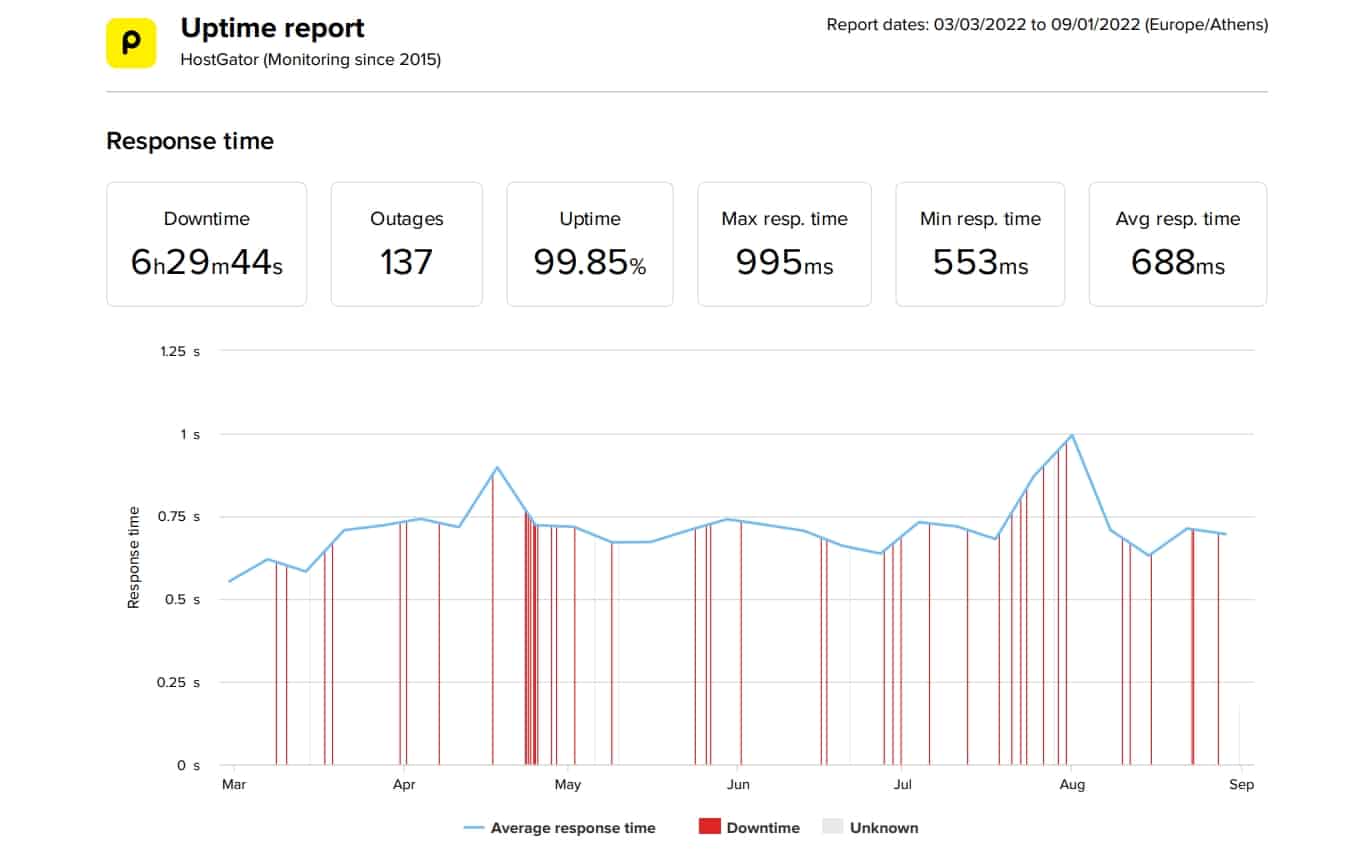 We've started to notice recently that quite a few other hosts pop up with uptime guarantees – that means all customers win as a result. Competitors coming out and doing this helps raise the bar for the entire industry. It forces everyone else in the market to either match their guarantee and raise the standard level of service or risk falling behind.
Page Load Speed
HostGator's servers had no issues keeping our site up and live over the past half a year.
However what about their server speed?
HostGator delivered an average page loading time of 688 ms.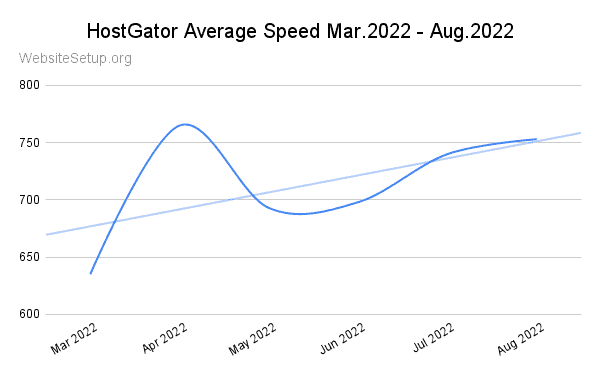 Moreover, HostGator has consistently improved its page loading times. Not a very long time ago, it took more than a second to load our site.
Why is it important to have a fast page loading time?
Slow page loading times have been shown to impact your visitor's experience directly. And that has a trickle-down effect on hitting your bottom line, too.
There are a few things you can do to speed up your site without switching hosts. But if your host is consistently slow, it means you'll constantly be fighting a losing battle.
HostGator Pricing and Plans
HostGator has three shared hosting plan options to choose from:
---
Hatchling Plan
Baby Plan
Business Plan
Pricing
$2.75/month
Renews at $6.95/mo
$3.50/month
Renews at $9.95/mo
$5.25/month
Renews at $14.95/mo
Websites
1
Unlimited
Unlimited
Bandwidth
Unmetered
Unmetered
Unmetered
Storage
Unmetered
Unmetered
Unmetered
Email Accounts
Unlimited
Unlimited
Unlimited
Other Features
–
•Unlimited Addon Domains
• Dedicated IP
• Free Positive SSL Upgrade
• Free SEO Tools
---
Let's start with HostGator's cheapest Hatchling plan.
The hatchling plan starts at $2.75 per month. However, this price only applies if you sign up with them for three years. After the initial sign-up period, the price renews to $6.95 per month.
In case you don't want to commit for that long, you can also choose an annual plan for the price of $3.95 per month (renews to $8.95 per month). You also have an option to go with six months or one-month plan, but in that case, the price would be $10.95 per month (same renewal price).
With HostGator's Hatchling Plan, you get:
One website
Unlimited storage and bandwidth
Free SSL certificate
Free domain for a year
Here's an example of HostGator's billing for Hatchling Plan: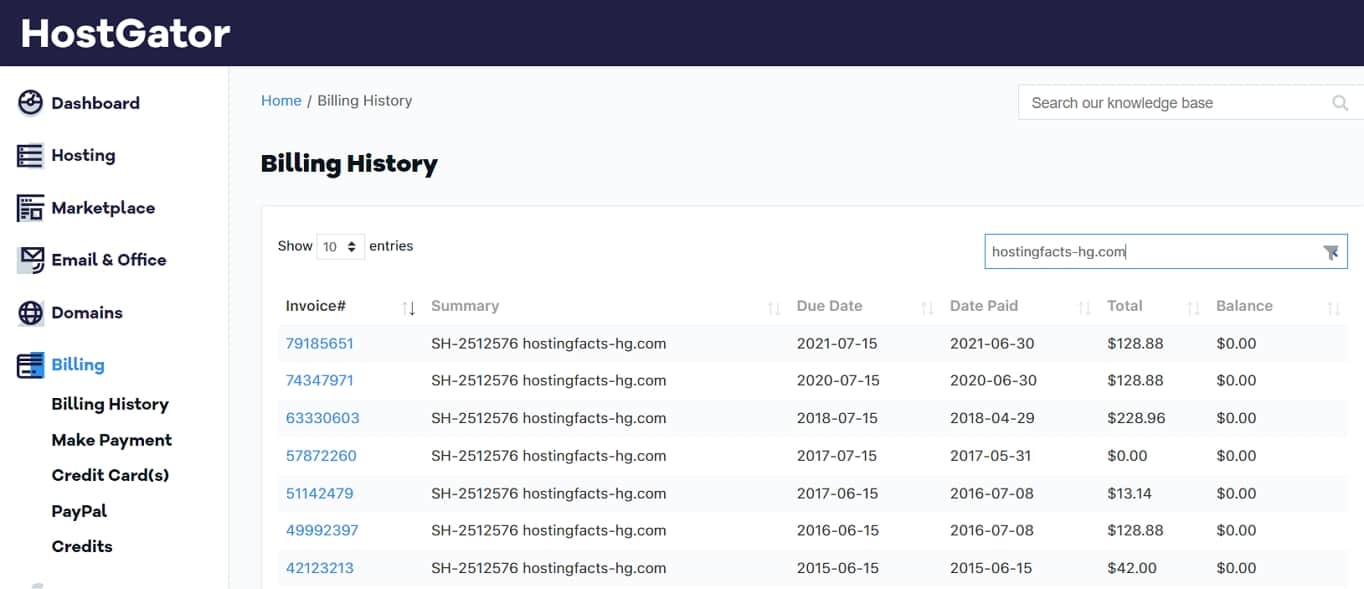 The other shared hosting plans all offer unlimited websites and unlimited storage, among other features. Starting with the Baby Plan, you get unlimited add-on domains. With the Business Plan, you get a dedicated IP, free SEO tools, and Free Positive SSL upgrade.
There are also some other types of plans, including:
HostGator Pros and Cons
Here are the pros and cons we found while reviewing HostGator. Before making the final decision choosing to sign up with them, make sure that you're okay with the negatives.
| Pros | Cons |
| --- | --- |
| Decent speed (688 ms) | Higher renewal rates |
| Free SSL certificate + domain name (for the 1st year) | Backups, SEO tools, and SiteLock cost extra |
| 45-day money-back guarantee | Poor uptime (99.85%) |
| Good customer support | |
| Monthly plan option | |
| Comes with a site builder | |
| | |
Our Verdict
TL;DR? Here's our review summary.
| | |
| --- | --- |
| Our Rating: | Our Verdict: 4.2 |
| SPEED: | 688 ms (March 2022 to August 2022) |
| UPTIME: | 99.85% (March 2022 to August 2022) |
| SUPPORT: | 24/7 Live Chat |
| APPS: | Over 75 Apps Supported |
| FEATURES: | Unmetered Bandwidth and Storage, Single Email Account, Free Domain 1st Year, SSL Certificate, 99.9% Uptime Guarantee, AI builder, etc. |
| HOSTING PLANS: | Shared, Cloud, WordPress, VPS, and Dedicated Servers |
| SITE TRANSFER: | Single Free Site Transfer |
| PRICING: | Starting at $2.75/mo (renews at $6.95/mo) |
We recommend HostGator, but there are better options out there to choose from.
HostGator's shared hosting does offer a lot of benefits. The speed has been solid, the customer service is good, and they have improved their uptime. And the plethora of beginner-friendly options makes it user-friendly.
However, the extra pricing hikes make it too expensive to get our 100% recommendation.
---
Frequently Asked Questions (FAQs)
Here are some of the most frequently asked questions about HostGator.
---