Hostinger was started in 2007 as 000webhost.com, a free web hosting service, and in 2011, it rebranded to Hostinger. It's now one of the most affordable web hosting companies on the market.
We've monitored Hostinger since 2017 and have tested the company in terms of performance, pricing, customer support, and more.
In this Hostinger review, we'll see how good (or bad) it really is. Let's take a look at what this web host is made of.
An Overview of Hostinger
| | |
| --- | --- |
| SPEED: | 318 ms (Jan. 2022 to Dec. 2022) |
| UPTIME: | 99.96% (Jan. 2022 to Dec. 2022) |
| SUPPORT: | 24/7 Live Chat, Ticketing, Knowledge Base |
| APPS: | WordPress, PrestaShop, Joomla, Drupal, and OpenCart |
| FEATURES: | Unlimited free SSL certificates, Cloudflare CDN, website builder, managed WordPress, WordPress acceleration, 30-day money-back guarantee, 24/7 support, 99.9% uptime guarantee, daily and weekly backups, and more. |
| HOSTING PLANS: | Shared, Cloud, and VPS hosting |
| SITE TRANSFER: | Single free website transfer |
| PRICING: | Starting at $1.99/month (renews at $3.99/month) |
Advantages of Using Hostinger
Hostinger can be a great option if you're on a tight budget, but our Hostinger review looks at what else it excels in to help you decide if its hosting plans suit your website's needs.
1. Good Uptime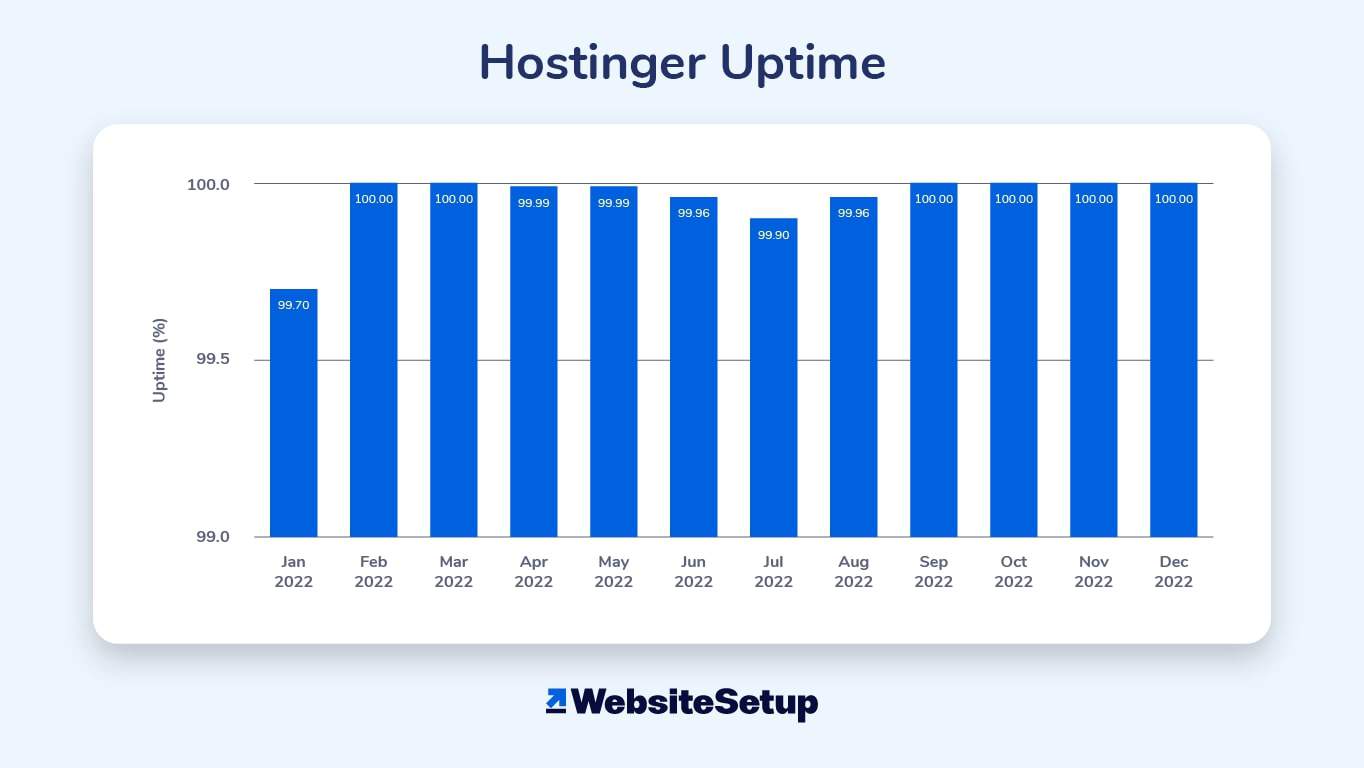 Hostinger had an average of 99.96% uptime from Jan. 2022 to Dec. 2022. The web host experienced 29 outages with a total of three hours and 42 minutes of downtime over the year. The worst was in Jan. 2022, when the average uptime was only 99.70%, followed by July at 99.90%.
Besides that, Hostinger's uptime ranged between 99.96% and 100%, with the last four months having 100% uptime. That's pretty good, considering it offers a 99.9% uptime guarantee.
2. Fast Page Load Speed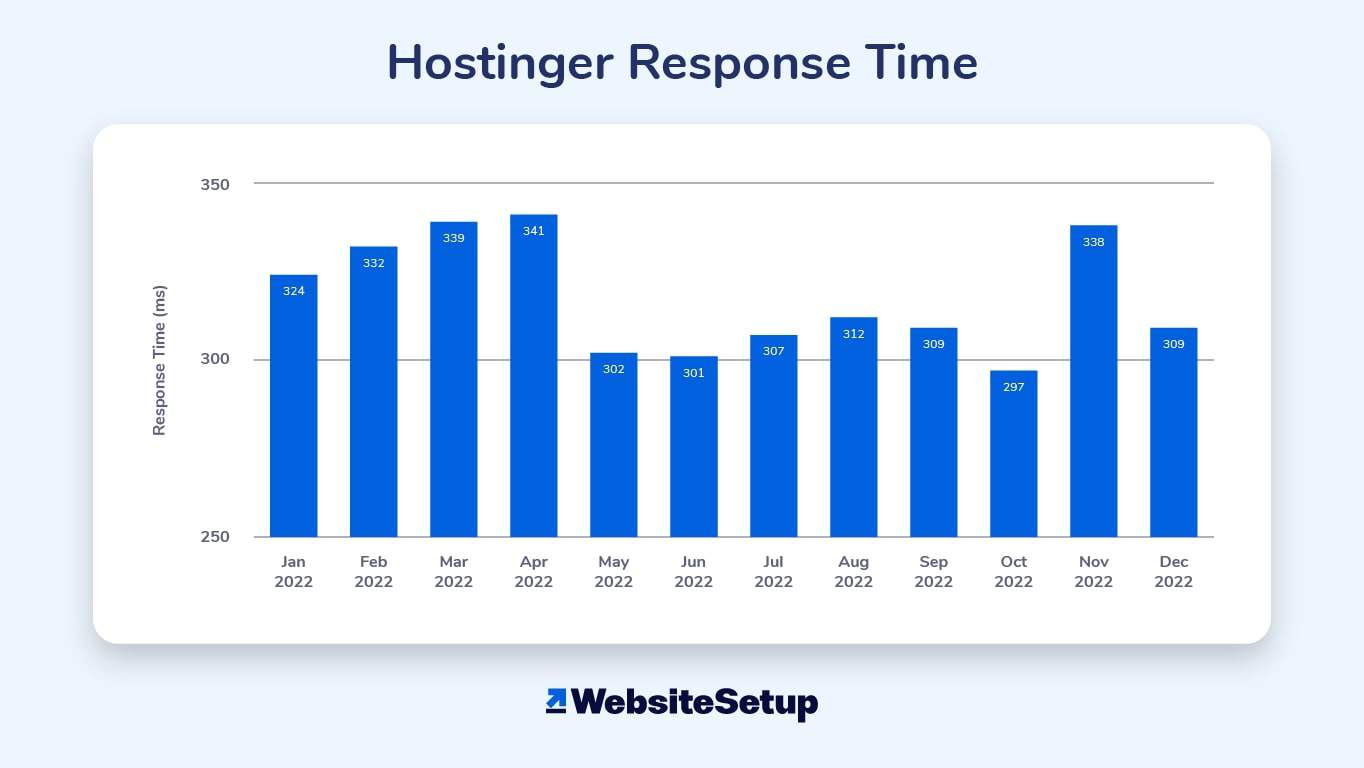 Page load time is one of the factors Google uses to determine search engine rankings, meaning it's more likely to direct visitors to websites that load quickly.
It also means the faster your website's load time, the happier your visitors will be since they'll be able to get where they're trying to go quicker.
Hostinger had an average page loading time of 318 ms in 2022. That's incredibly fast.
Hostinger has data centers in the U.S., U.K., Brazil, Lithuania, Netherlands, Indonesia, and Singapore, with each server having a 1,000 Mbps connection, according to most reviewers.
The various data centers spread across the globe keep the overall loading times quick regardless of where your visitors are located.
Just note the speeds may vary from customer to customer since factors like website optimization, resource usage, client internet speed, and server location can impact the website load time.
3. Affordable Pricing and 30-Day Money-Back Guarantee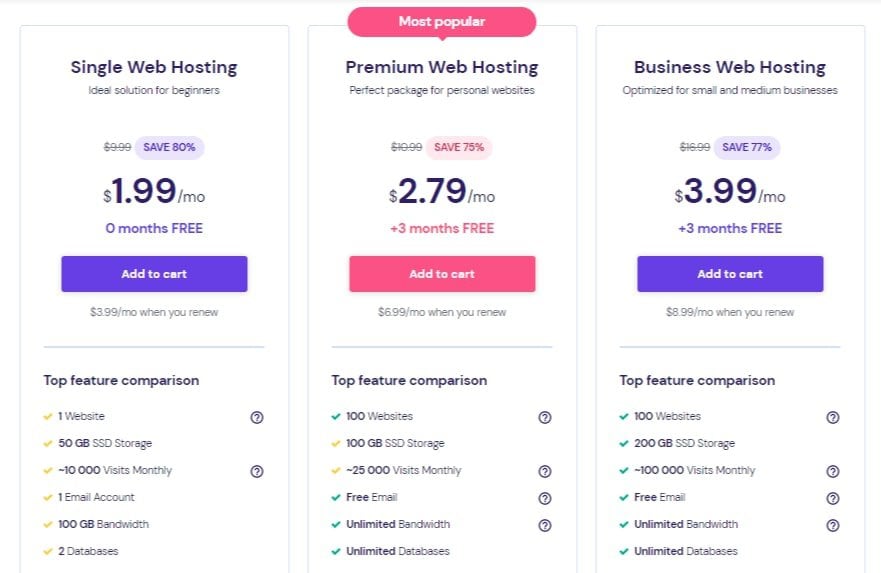 Hostinger pricing is among the most affordable on the market, with the Single Shared Hosting plan starting at just $1.99/month. Professional plans that allocate more resources and support multiple websites start at $2.79 and $3.99/month, respectively.
There's a catch, though. You'll have to sign up for a long-term commitment of four years (48 months) to get that pricing.

That can be a problem if you aren't ready to commit for that long. But on the flip side, it means you'll get a heavily-discounted price for quite some time. That's good as long as Hostinger's web hosting services continue to be excellent.
The good news is that Hostinger offers a 30-day money-back guarantee. So you can always try it out and ask for your cash back if you aren't satisfied.
Hostinger also provides Cloud hosting, WordPress hosting, VPS (virtual private server) hosting, and Minecraft server hosting. All have affordable pricing.
For example, Hostinger's VPS plans and WordPress hosting start at the low pricing of $3.49 and $1.99/month, respectively. And the Minecraft server hosting and Cloud hosting plans start at $6.95 and $9.99/month, respectively.
4. Professional Customer Support Team
We typically check three things when looking at a hosting company's customer support services:
Can I reach the customer service team at any time?
Are the agents able to help me solve my issue?
Will they respond to my questions quickly?
With those in mind, you'll be happy to know that Hostinger has 24/7 live chat, email, a ticketing system, and a multilingual customer support team. Phone support isn't available, but the live chat's ease of use is more than enough to compensate for the lack of it.
On top of that, Hostinger's customer support agents are professional and knowledgeable and do their best to answer your questions to help you out.
Hostinger also offers an extensive knowledge base with many troubleshooting guides for common email and control panel issues. It also has tutorials and articles on marketing and basic web hosting. That's pretty useful, especially if you're just starting out.
From what we can see, Hostinger updates its knowledge base regularly. For example, while we were writing this Hostinger review, Hostinger added a new article on how to fix the 403 error in hPanel.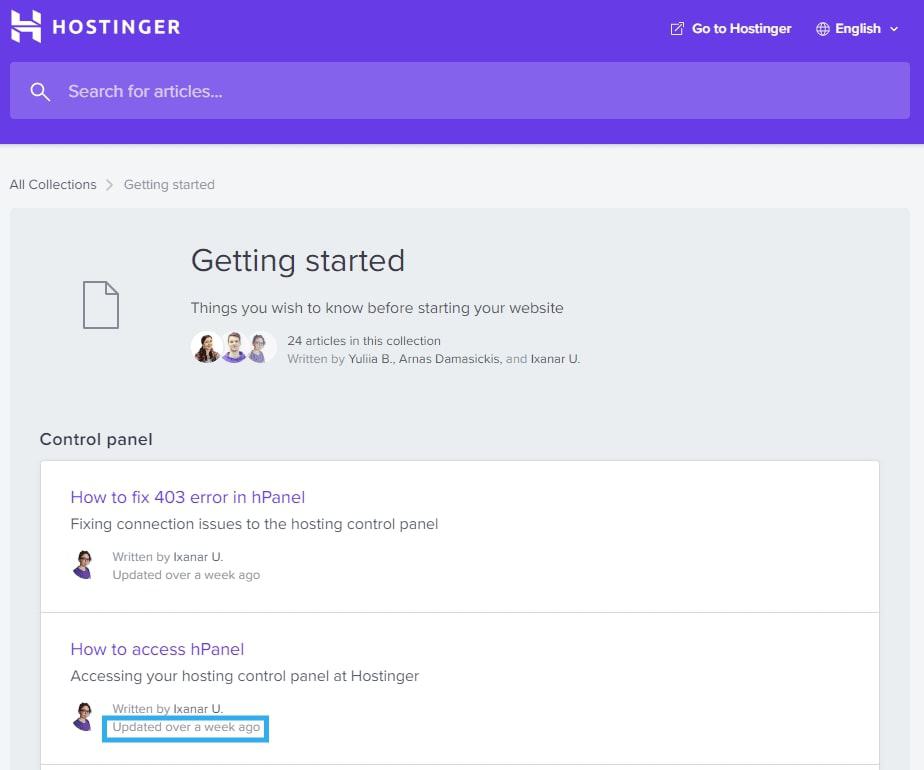 Overall, Hostinger's customer support is good, but the chat's wait times can be long (we'll cover this in the cons section).
5. Free Website Builder and Domain Registration

Hostinger's partnership with Zyro provides free access to one of the best website builders as part of your hosting plan.
Here are some of Zyro's features:
Drag-and-drop editor functionality
Over 130+ modern templates
Email, search engine optimization (SEO), and blogging tools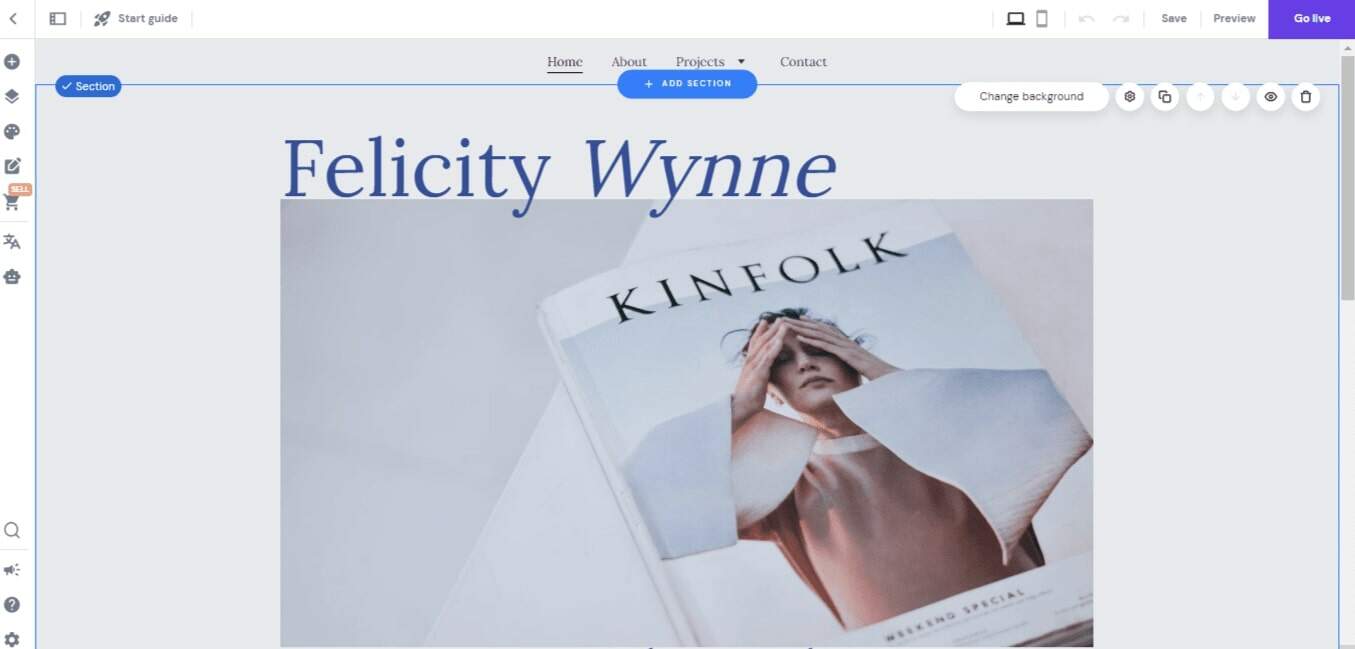 Zyro's easy-to-use builder is excellent for creating a website, but you can also use it to design an online store. If you don't have experience building WordPress sites, Zyro may be the next best thing.
Along with the free website builder, Hostinger offers free domain names for the first year when you choose the Premium or Business web hosting plans. That can save you some money in the long run.
6. Easy-To-Use Interface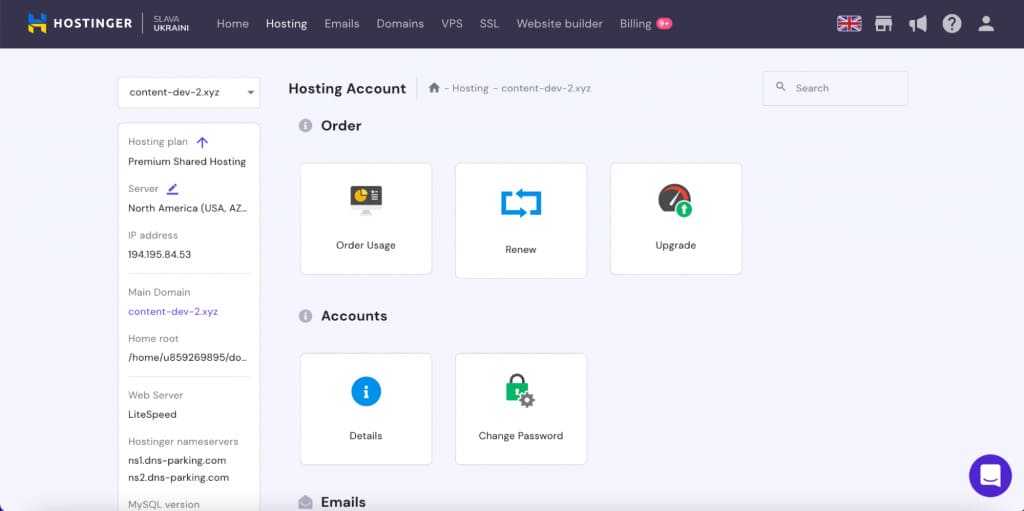 Hostinger provides a modern, easy-to-use interface designed with beginners in mind.
Hostinger's automatic wizards typically handle three setups: web hosting, SSL, and domain. All you need to do is follow the instructions, fill out a few fields, choose your server location, and you'll be home-free.
The control panel (called hPanel) looks good and combines functionality with simplicity. You can track logins, manage domains, monitor emails, and update billing information from your hosting account's dashboard.
7. Multiple Payment Options
Hostinger accepts all major credit and debit cards, e-wallets (such as Apple Pay, Google Pay, and PayPal), and cryptocurrency. Other payment options, like bank transfers, are available for some countries (but not the U.S. or U.K.).

Disadvantages of Using Hostinger
As with every other web hosting provider, Hostinger has its downsides. Our Hostinger review highlights a couple of potential drawbacks so you can get the full picture before deciding whether it's the best fit for you.
Here's a rundown of what Hostinger doesn't do so well:
1. Customer Support Takes Long to Respond
Although Hostinger's support team is professional, they took a while to respond when we tested them through the live chat option. However, they responded to our email much faster.
The live chat banner stated that customer support agents would typically respond in under 10 minutes, which is an average response time.
However, we had to wait for approximately 30 minutes. And considering other web hosting providers like Bluehost and SiteGround respond immediately, that's quite a long time.
From our experience, contact support by email if you need an answer ASAP.
2. Replaces cPanel With hPanel
While most website owners are familiar with cPanel, Hostinger uses a custom solution called hPanel. That shouldn't scare you if you're a beginner since the hPanel is easy to navigate, and each tool comes with an explanation.
Still, if you're already used to cPanel, you may not be comfortable with this web host's dashboard.
3. Low Storage and Bandwidth for the Startup Plan
Hostinger's Single Shared Hosting plan has limited bandwidth (100 GB) and low SSD storage (50 GB).
While that should be enough if you have a small business website, you may want to go for one of the more expensive plans if you have a large e-commerce store that handles more than 10,000 monthly visits.
The bandwidth for the Premium and Business plans is unlimited. Plus, their disk space is 100 GB and 200 GB, respectively, which is ideal for websites with massive traffic and data.
4. Exceptions to the Money-Back Guarantee
Hostinger's refund policy has some exceptions to its money-back guarantee.
Here's what Hostinger will refund under standard terms:
Hosting (all plans, except first payment after free trial)
Domain transfers (except for .eu domains)
SSL certificates
Daily backups
Cloudflare
Linux VPS
Hostinger email
Windows VPS
NordVPN 6 and 12-month plans
Priority Support
Minecraft VPS
Titan Email
But Hostinger won't refund the products below:
Products purchased using cryptocurrencies, digital assets, or tokens
SEO Toolkit
Domain name renewals
Google Workspace email
Privacy protection
Redemption fees
VPS licenses
SEO Marketing Panel
In addition, Hostinger will only refund new domain name registrations if they're canceled and processed within four days of registration. Similarly, this web host will only refund domain name transfers within four days of registration — as long as the registry hasn't started transferring them.
Quick Facts
Ease of Signup: Easy.
Control Panel and Dashboard: Custom control panel called hPanel that's easy to navigate.
Domain: Offers domain for Premium and Business Web Hosting plans.
Installation of Apps and CMSs (WordPress, PrestaShop, Drupal, etc.): One-click installs for most popular apps.
Money-Back: 30-day money-back guarantee.
Account Activation: Quick activation.
Payment Methods: All major credit and debit cards, e-wallets, and cryptocurrency.
Hidden Fees and Clauses: Privacy protection, domain name renewals, and redemption fees, among other features, aren't refundable. You can only get a refund on most new domain name registrations if you cancel within four days after registration. Semi-hidden 48-month contract for all plans.
Do We Recommend Hostinger?
Yes, we do.
As you can see from our Hostinger review, this host offers good uptime and fast page load times — two of the most important factors to consider when choosing a hosting option.
The Single Shared Hosting plan doesn't have many free features or unlimited perks, but the Business and Premium plans offer a lot more at competitive prices.
Moreover, Hostinger's customer support is friendly, professional, and knowledgeable. So you'll be in good hands in case you need any help. But you might want to use email instead of the live chat option for a quicker response.