HostPapa is a Canadian-based hosting company that provides shared, VPS, reseller, and WordPress hosting.
HostPapa was founded in 2006 by Jamie Opalchuck and by now they're hosting over 200,000 websites.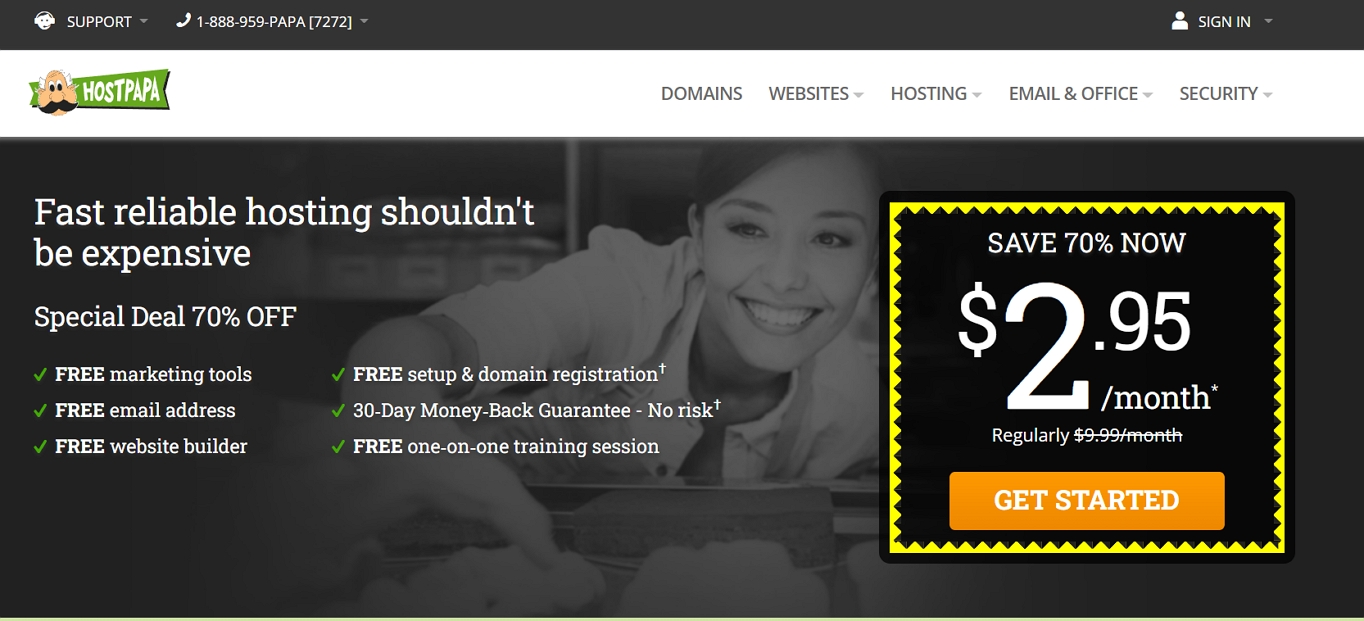 One potential explanation for their rise could be their various customer service options, offering phone support in a few different languages including English, French, Spanish, and German to both domestic and international clients.
In order to find out how good HostPapa's services are we purchased the 'Starter Plan' and set up a simple WordPress website to monitor their uptime and speed over an extended period of time.
Did HostPapa perform well enough to get our recommendation?
Read on to find out.
General Info & Hosting Overview
---
| | |
| --- | --- |
| Our Rating: | Our Verdict: 4.5 |
| SPEED: | 572 ms (March 2022 to August 2022) |
| UPTIME: | 99.95% (March 2022 to August 2022) |
| SUPPORT: | 24/7 Live Chat, Phone, Email, Mail, Fax, and Knowledge Base |
| APPS: | 1-Click Installs for WordPress, Joomla, Drupal+Softaculous App Installer for 400+ Apps |
| FEATURES: | Unlimited Bandwidth, 100 GB Storage, 1 Website, Free Domain Registration, 100 Email Accounts, SpamAssassin, Free SSL Certificate, cPanel, 30-Day Money-Back Guarantee, Website Builder, etc. |
| HOSTING PLANS: | Shared, WordPress, VPS, and Reseller Hosting |
| SITE TRANSFER: | Free |
| PRICING: | Starting at $2.95/mo (renews at $9.99/mo) |
---
Pros of Using HostPapa Hosting
---
HostPapa has quite a lot to offer.
At first, we were pleasantly surprised by their great uptime (as you'll see). They also give a plethora of customer support options to choose from.
Let's take a closer look at each pro.
1. Good Uptime 99.95%
We're happy to report that HostPapa's uptime has been good since day one.
They've posted a 6-month average of 99.95% uptime with two hours of downtime.
While it sounds trite and obvious, you'd be surprised just how many web hosts struggle with the most foundational element of actually hosting a website — keeping the thing live!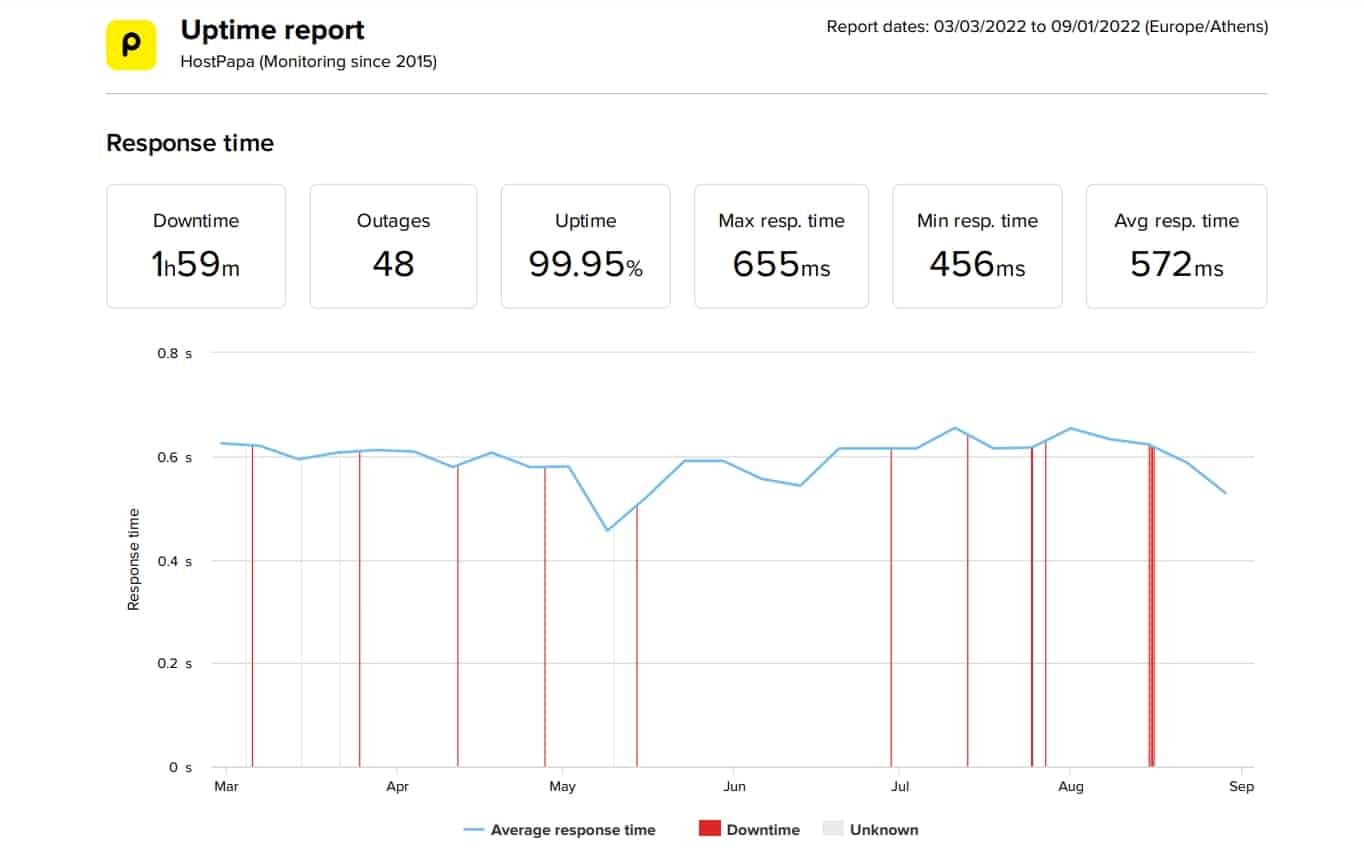 Last 6-month average uptime:
August 2022: 99.95%
July 2022: 99.95%
June 2022: 99.99%
May 2022: 99.86%
April 2022: 99.99%
March 2022: 99.99%
Besides May 2022, HostPapa kept its uptime between 99.95-100%.
2. Good Page Loading Speed 572 ms
Fast page speed is definitely something to look for in a host. Especially since it's strongly connected to the overall user experience (slower sites increase visitor bounce probability).
Moreover, page speed is a landing page factor for Google Search and Ads already since 2010 (for desktop searches) and 2018 (for mobile searches).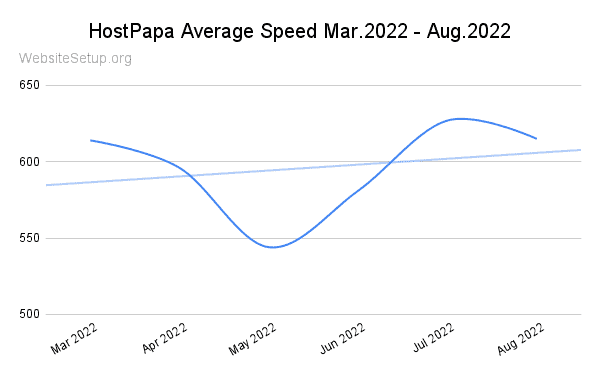 Over the last six months, they had an average page load time of posting 572 ms, which is fast enough to have a place in our pros section.
3. Extensive Support Options
HostPapa offers extensive support options to help customers in a variety of ways.
You can browse their huge library of self-help videos. They offer 24/7 support through phone, mail, email, ticketing, live chat, and even fax (!).

They provide phone support in 18 countries (which might be the most we've seen from any company). They're one of the only hosts to provide support in different languages, including English, French, Spanish, and German.
As if that's not enough, they also provide an interesting support feature allowing you to connect in a one-on-one session with 'Papa Squad Experts', which are essentially guided walkthroughs using video or telephone conference.
We also tested out their live chat and received a response in less than a minute from their support staff. Answers to questions were provided within a modest two minutes.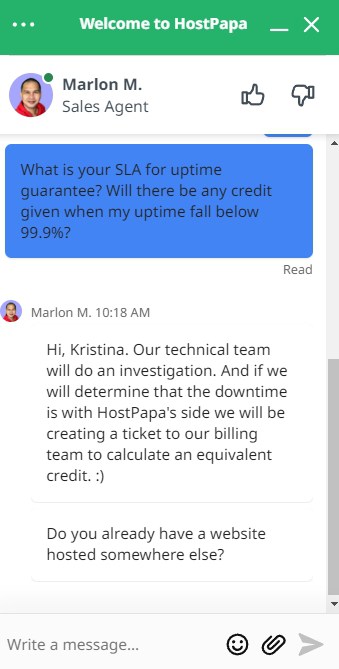 4. Proactive Security Features
HostPapa's shared hosting plans come packed with numerous security features. Just to name a few: server firewall, monitoring, and intrusion detection, DDoS attack prevention and responses, RAID-10 redundancy, Let's Encrypt SSL, network monitoring, brute force detection, and more.
What's even better?
All the abovementioned features are also included in their cheapest plan.
If you decide to upgrade to their Business Pro plan, then it will come with more additional features including domain privacy protection, a premium Wildcard SSL certificate, a dedicated IP address, and automated website backups.
The last thing you need to worry about is security details like spam protection. It's nice to have someone else watch your back.
5. 30-Day Money-Back Guarantee & Free Site Migration+Domain Name
HostPapa offers an industry-standard 30-day money-back guarantee for most of their hosting plans.
In addition, they'll gladly help you transfer an existing website from another host with no downtime.
Moreover, you'll also get a free domain name for the 1st year. However, this only applies when you sign up with them for a minimum of one year.
6. Good Value for the Starter Price
HostPapa's basic pricing starts at $2.95 for the first three years.
The good news is that they do throw in a lot of value for this initial pricing. You get one website, compared to just one that most other hosts offer. You also get free domain registration, 100 GB SSD storage, 100 email accounts, and unmetered bandwidth.
Pretty good, right?
But that's not all. You'll also get their "Essential Features" which include a free website migration, Cloudflare CDN, SSL certificate, and access to their 400+ apps and website builder.
So overall, it's a pretty good value. Other hosts would make you pay for this stuff, easily pushing the monthly price up well above this initial $2.95/month range.
7. Green Hosting
If you're looking for an eco-friendly host, then HostPapa might be for you.
According to their website, they were one of the first companies to make a public commitment to going green.
HostPapa has taken the initiative of going green by purchasing 100% green renewable energy to power their servers, office computers, laptops, and office space.
8. Easy-to-Use Control Panel
HostPapa's client area is logical to use. From there you can manage your profile, domains, services, websites, and billing settings. Basically, anything related to your hosting account is done from there.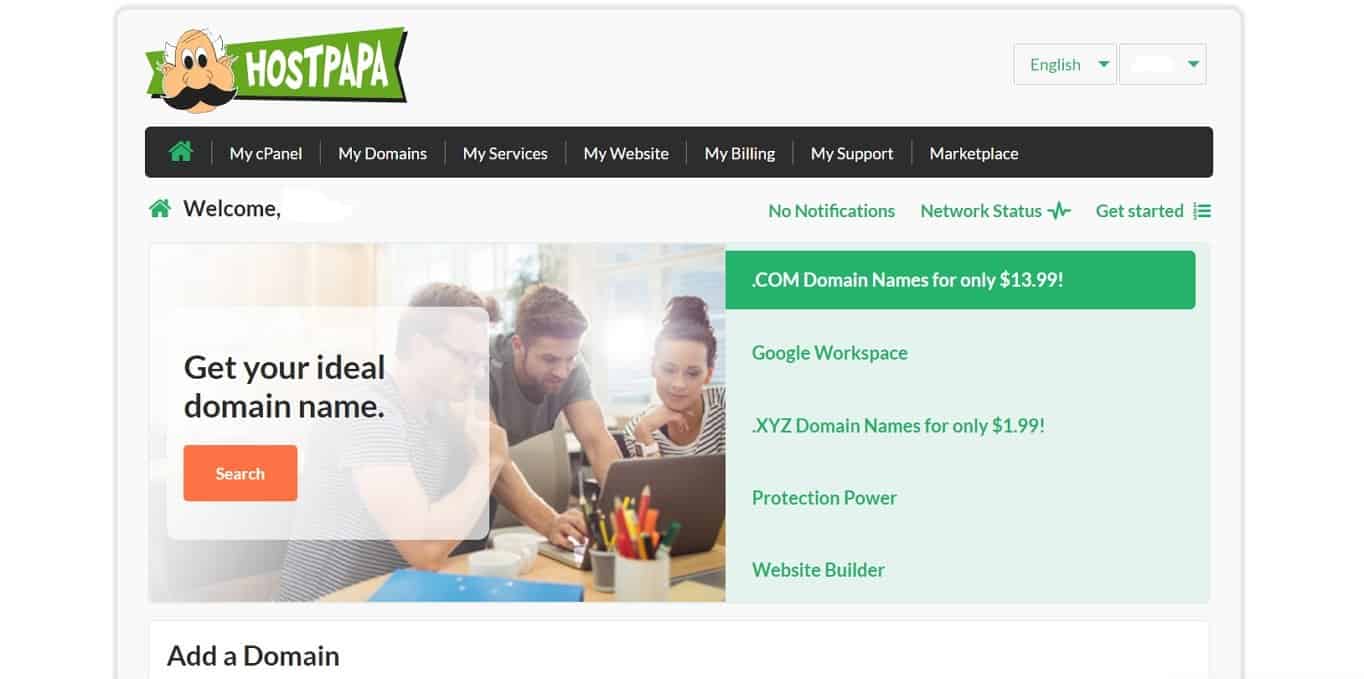 For a control panel, HostPapa uses the popular cPanel which is accessible from your client area by clicking on "My cPanel". It's the most popular control panel for a reason – it's very easy to use and innovative which should suit both – beginners and advanced users.
Cons of Using HostPapa Hosting
---
HostPapa started out strong, delivering fast page loading speed and uptime. Moreover, their customer support is knowledgeable and polite.
However, there are some downsides that need to be mentioned.
Take a look.
1. High Renewal Prices
HostPapa entry price starts at $2.95/month with a three-year commitment. As mentioned before they offer a good value for that price.
However, once the initial period ends, you'd have to pay double the price. For example, the cheapest Starter Plan will renew at $9.99/month, Business Plan at $14.99/month, and Business Pro Plan at $23.99/month. And that's with a three-year commitment, which means you'd have to pay a lot of money in advance.
Seeing the renewal prices and features offered with that cost, the money-value ratio doesn't seem so good anymore.
Overview of HostPapa Hosting Plans & Quick Facts
Below is a quick overview of HostPapa's three shared hosting plans.
Please note: Pricing tends to fluctuate often, and these low advertised prices required a three-year sign-up.
---
Starter Plan
Business Plan
Business Pro Plan
Pricing
$2.95/month
Renews at $9.99/mo
$2.95/month
Renews at $14.99/mo
$11.95/month
Renews at $23.99/mo
Websites
1
Unlimited
Unlimited
Bandwidth
Unmetered
Unmetered
Unmetered
Storage
100 GB
Unmetered
Unmetered
Email Accounts
100
Unlimited
Unlimited
Other Features
–
• Unlimited MYSQL Databases
• 2x More CPU and MYSQL Resources
• 4x More CPU and MYSQL Resources
• Domain Privacy
• Automated Website Backup
• Premium Wildcard SSL and SiteLock Detect
---
Quick Facts
Free Domain: Yes, for the 1st year.
Ease of Signup: Very easy signup process.
Payment Methods: Credit Card, Paypal.
Money-Back: 30-day money-back guarantee.
Hidden Fees and Clauses: Advertised price is only for the first payment term. Renewals are much more expensive. You will be charged a setup fee of $29.99 if you make use of their refund policy.
Upsells: A few upsells.
Account Activation: Activation can take a while.
Control Panel and Dashboard Experience: cPanel.
Installation of Apps and CMSs (WordPress, Joomla, etc.): One-click installer to install popular apps and CMSs.
Do We Recommend HostPapa?
Yes, we do.
HostPapa has improved its service quite a bit over the past six months.
Their uptime is almost perfect and loading time is fast. They have a ton of different support options available, and we personally had a positive experience.
Moreover, they're ecologically friendly.
The only downside is their high renewal prices. However, if money is not an issue, then HostPapa is a good option for you.
---
---
What's your experience been like with HostPapa? We'd love to hear about it, no matter if it's positive or negative (as long as it's transparent and honest).