Chances are that you're familiar with InMotion Hosting.
Maybe you haven't used them, but you've heard of them. Or seen them around. A vague recollection of their name or ads somewhere some time.
That's because they're BIG.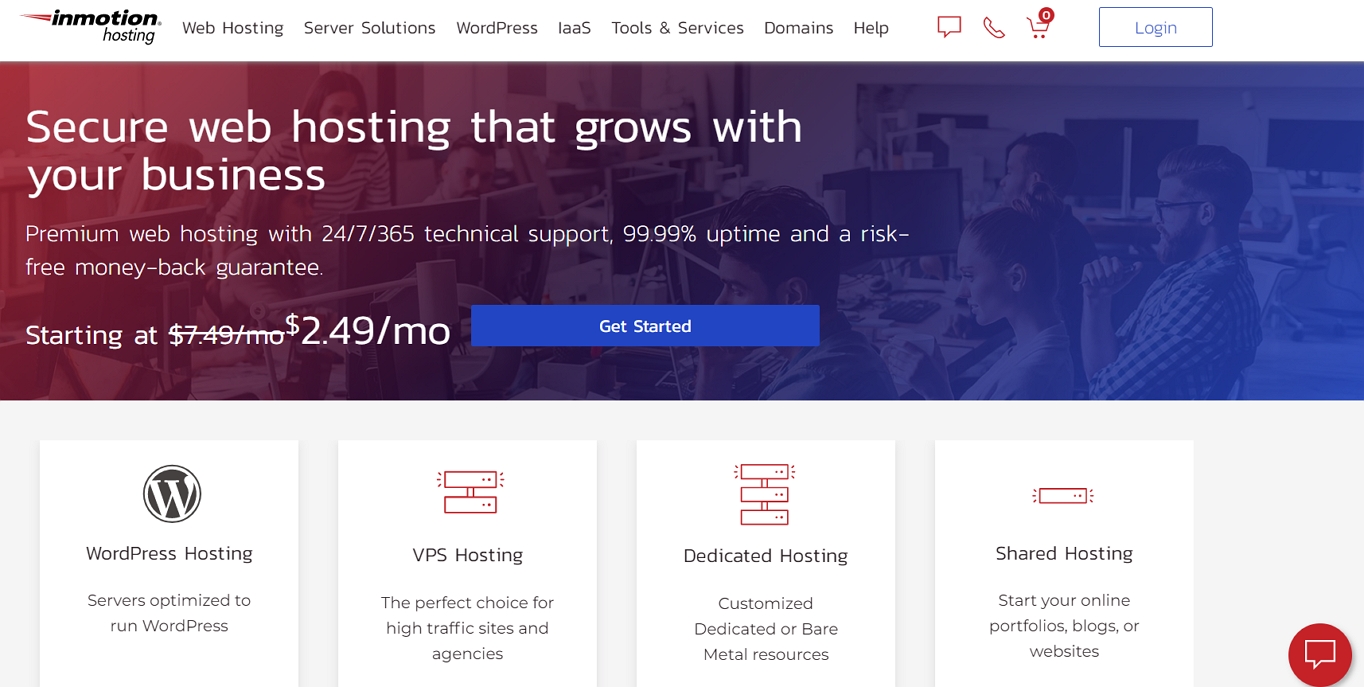 Since 2001, InMotion has grown a customer base of over 300,000 domains with two data centers in Los Angeles and Virginia Washington, D.C.
As one of the older and more established names in the industry, they also boast grandiose claims of being number one in transfers, support, and industry guarantee.
But here's the thing:
Many times, the largest companies are the worst offenders. Coasting by on their brand recognition or flashy ad campaigns while neglecting the things that made them successful in the first place.
Is InMotion an established company that's keeping the quality that made them successful? Or are they just another large enterprise getting by on reputation alone?
To find out and provide an unbiased review, we purchased an InMotion "Lite Plan" and set up a basic WordPress test website to monitor their uptime and speed.
Did InMotion Hosting perform well enough to get our recommendation?
Read on to find out.
General Info & Hosting Overview
---
| | |
| --- | --- |
| Our Rating: | Our Verdict: 4.5 |
| SPEED: | 389 ms (April 2020 to March 2021) |
| UPTIME: | 99.91% (April 2020 to March 2021) |
| SUPPORT: | Live Chat, Phone, and Knowledge Base |
| APPS: | 1-Click Installs of 400+ Apps |
| FEATURES: | Unlimited Bandwidth, Free Website Builder, SSL Certificate, 10GB SSD Storage, One Website, Email Accounts, Spam Experts, 90-Day Money-Back Guarantee |
| HOSTING PLANS: | Shared, WordPress, VPS, and Dedicated Servers |
| SITE TRANSFER: | Free |
| PRICING: | Starting at $2.49/mo (renews at $7.49/mo) |
---
Pros of Using InMotion Hosting
---
InMotion performs well in two big areas: speed and support. They also provide a few additional features which can make your experience more enjoyable.
Let's take a look:
1. Good Speed 389 ms
Fast loading times aren't just great for user experience. Speed is also factored into Google's algorithm for dictating where in the rankings you'll show up (you know – the whole SEO thing). How fast your page loads has one of the biggest impacts on your bottom line, forcing half your traffic to bounce if it doesn't load within two seconds.
Luckily, InMotion's average page loading time of 389 ms is fast enough to keep visitors on your site.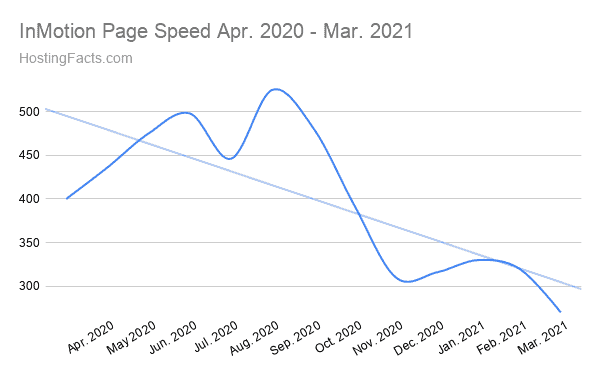 What's even better news?
InMotion Hosting has shown continuously improved speed over the past year.
However, if you're looking even faster host, then check out A2 Hosting.
2. Customer Support
InMotion Hosting has a variety of support options to choose from: live chat, phone, email, and even Skype.
The best part?
All these support options are available 24/7/365.
We tested out their live chat option. We asked a few simple questions about their shared hosting plans and the customer rep connected within a few minutes. The replies were a bit delayed and concise, but still good enough to keep our attention and not go looking elsewhere for answers.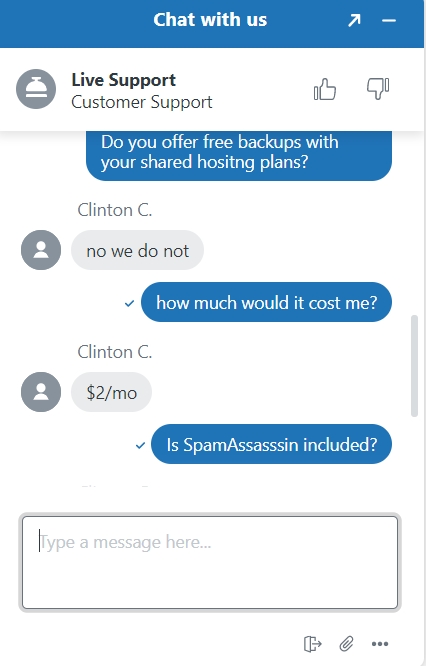 Besides the abovementioned options, InMotion also offers a vast knowledge base, in case you prefer to find solutions independently.
3. 90-Days Money-Back Guarantee
Standard industry practice for money-back guarantees typically falls around the 30-day mark.
But not InMotion. They're so confident in their service, that they provide up to 90 days guarantee to try out their services.
4. Integrations & Apps (WordPress, too)
Another claim InMotion makes on their website is that they're a leader in supporting Open Source projects.
Again, those boasts are backed up with a portfolio of over 400 applications. You can find everything from popular content management systems like WordPress and Drupal to shopping carts or eCommerce systems like Prestashop and Magento.
5. They're Green!
If you care about green hosting, then we have good news for you!
Since 2010 InMotion has made a lot of effort to improve its data center's carbon footprint by utilizing advanced Outside Air Cooling technology. This new technology considerably reduces the energy consumed by the data center for cooling purposes.
Moreover, InMotion has partnered with Trees for the Future, a non-profit organization whose aim is to promote sustainable agroforestry.
6. Free Site Transfer
InMotion Hosting offers to transfer your site for free from your current host.
Moreover, they promise to do it with zero downtime.
Your free transfer comes with:
Full cPanel transfer or up to three websites (up to 10 GB)
Setup for emails, FTP, domains, and more.
7. Great for eCommerce Support
InMotion is one of the few web hosts with active partnerships between Prestashop and other leading eCommerce services (SiteGround being the other).
They make your eCommerce experience even better by providing easy integrations with payment processors, helping you side-step an otherwise huge pain in the neck.
8. Super Secure Smartwall Threat Defense System (TDS)
The recent Equifax security breaches illustrate just how clear and present the danger of cyber terrorism really is, and with the continual rise of brute force, Dos, and DDoS attacks, it has become more important than ever before that every website owner has a clear understanding of the security protocols being used by their web hosting provider.
Luckily, InMotion Hosting spares no expense to ensure the security of their user's private information.
Partnering with Corero Network Security, InMotion security now offers a unique security measure called the Smartwall Threat Defense System or TDS.
Corero's TDS is a family of DDoS protection appliances that detect, mitigate, and eliminate DDoS attacks in real-time.
Boasting an impressive array of technical specs, Corero's TDS delivers the following to all of their customers:
The SmartWall is a slimline DDoS protection appliance that delivers 10Gbps full-duplex or 20Gbps unidirectional performance in a ¼ wide, 1 RU form factor.
1 RU delivers up to 80Gbps, and 4 RU delivers up to 320Gbps.
For those of you who aren't well versed in technical jargon, it suffices to say that the Threat Defense System employed by InMotion Hosting and their partner, Corero Network Security, is among the most impressive in existence.
With InMotion Hosting, you can sleep soundly at night knowing that you and your website are protected from even the most aggressive brute force and DDoS attacks
Cons of Using InMotion Hosting
---
InMotion is mostly perfect. Of course, there's always gonna be a few drawbacks to providing good speed or excellent customer service.
Here are InMotion's:
1. Low Advertised Pricing Only for 3-Year Signup
Yes, InMotion's pricing currently looks on par with much of the competition. An excellent value considering all of their positives, right?
Unfortunately, the only way you can get this low advertised rate ($2.49/mo) is by signing up for three years. The price increases with shorter timeline plans:
$3.99/mo if you sign up for two years
$4.99/mo if you sign up for a year
This is a very common trick employed by many web hosts.
2. Too Average Uptime of 99.91%
InMotion's average uptime clocked in at 99.91% with a bit more than eight hours of downtime based on our careful tracking and monitoring over the last 12-months.
This is not the worst result we've seen but it's still a bit below the industry-standard uptime of 99.93% and for now, InMotion's uptime has to stay in our cons section.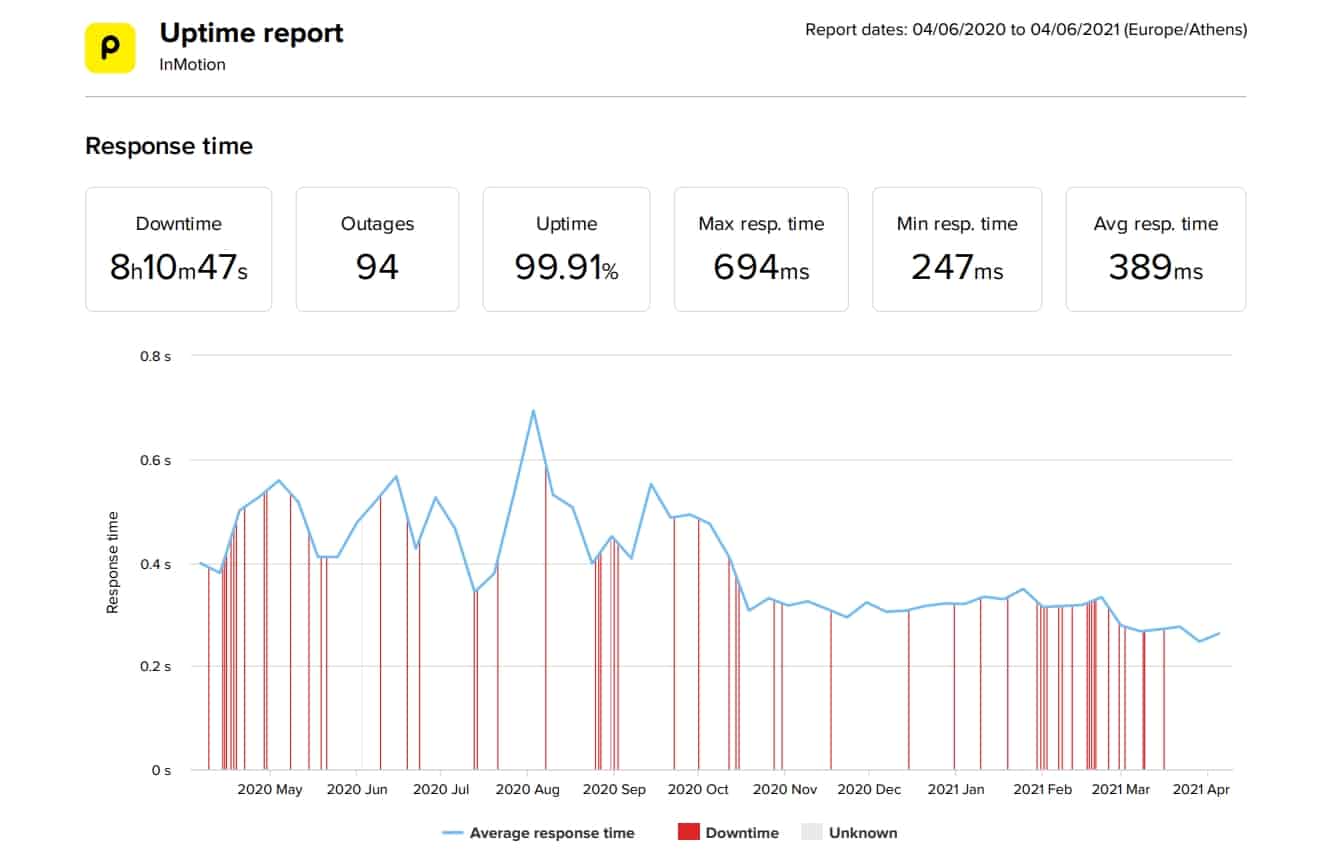 Last 12-month average uptime:
March 2021: 99.99%
February 2021: 99.63%
January 2021: 99.99%
December 2020: 100%
November 2020: 100%
October 2020: 99.95%
September 2020: 99.99%
August 2020: 99.72%
July 2020: 99.96%
June 2020: 99.75%
May 2020: 99.96%
April 2020: 99.92%
3. No Free Domain Name with the Cheapest Plan
A free domain name for the 1st year is something a lot of hosts throw in already in their cheapest plans. InMotion, unfortunately, is not one of them.
In order to get a free domain name, you'd have to sign up with their more expensive plans, starting from the "Launch" plan.
Otherwise, be ready to pay $15.99/year for domain registration.
4. Some Plan Limitations
In their defense, InMotion does go above and beyond providing free site restoration.
However, InMotion Hosting does not offer free automated data backups and it has to be purchased for $2/mo. Moreover, it only applies for the first 10GB and you would have to pay $1/mo for each additional 10GB.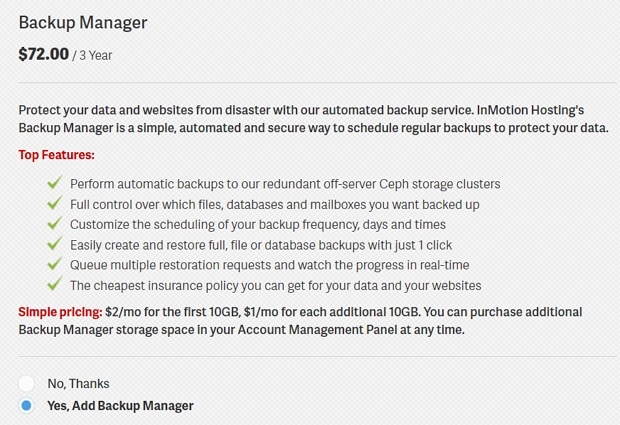 It's definitely something to consider before purchasing their services.
InMotion Hosting Pricing, Hosting Plans & Quick Facts
Here's a quick overview of the hosting plans offered by InMotion Hosting:
---
Lite Plan
Launch Plan
Power Plan
Pro Plan
Pricing
$2.49/month
Renews at $7.49/mo
$4.99/month
Renews at $9.99/mo
$7.99/month
Renews at $13.99/mo
$12.99/month
Renews at $22.99/mo
Websites
1
2
50
100
Bandwidth
Unmetered
Unmetered
Unmetered
Unmetered
Storage
10GB
50GB
100GB
200GB
Email Accounts
1
10
50
Unlimited
Other Features
•2x Performance
•3x Performance
•Free Domain
• 4x Performance
•Free Domain
• 6x Performance
•Free Domain
---
Quick Facts
Free Domain: Yes, starting from Launch Plan.
Ease of Signup: Four-step signup process. A bit lengthy. Don't forget about the security verification too.
Money-Back: 90-day money-back guarantee.
Payment Methods: Credit Card, Check, Purchase Order.
Hidden Fees and Clauses: There's a limit of 50,000 files per account for users.
Upsells: A few upsells.
Account Activation: Account activation can take a while. Usually, they verify orders by phone before activating accounts.
Control Panel and Dashboard Experience: cPanel.
Installation of Apps and CMSs (WordPress, Joomla, etc.): Softaculous for one-click install of popular apps and CMSs.
Do We Recommend InMotion?
Yes, we do.
Our InMotion experience started out well.
Their speed and support were all good. Moreover, they offer plenty of useful features with their shared hosting plans.
InMotion's biggest drawback was its uptime which fell below the industry standard of 99.93%. However, there's a big chance that they will improve it in the near future.
Overall, if you're willing to look past the poor uptime and high renewal prices, InMotion is a good host candidate.
---
---
Have you had any experience with InMotion Hosting? If so, please leave a review below – positive or negative.