InMotion Hosting is no stranger to the hosting industry. With over
and more than 20 years of experience under its belt, the hosting platform has built a reputation for having reliable uptime, fast speeds, and dependable customer support.
But with so many other web hosts out there these days, what sets InMotion Hosting apart?
In this InMotion Hosting review, we'll closely examine its pricing, performance, features, customer support quality, and more. That way, you'll know what to expect before signing up.
An Overview of InMotion Hosting
| | |
| --- | --- |
| SPEED: | 331 ms (average between January 2022 and December 2022) |
| UPTIME: | 99.99% (average between January 2022 and December 2022) |
| SUPPORT: | 24/7 Live Chat, Email, Phone (Some Plans), Knowledge Base, and Community Forum |
| APPS: | WordPress, Dolphin, PrestaShop, Magento, Drupal, Joomla, and Over 400 Other Apps |
| FEATURES: | Unlimited Bandwidth, Free SSL Certificate, 100 GB SSD, 2 Websites, and 10 Email Accounts, Website Builder |
| HOSTING PLANS: | Shared, Reseller, Cloud, WordPress, WooCommerce, VPS, and Dedicated Servers |
| SITE TRANSFER: | Free |
| PRICING: | Starting at $2.49/month (Renews at $8.99/month) |
Advantages of Using InMotion Hosting
For those starting a business or website, InMotion Hosting's shared and WordPress hosting packages are an excellent choice. Its managed VPS hosting and dedicated server hosting plans are better suited for higher traffic volumes and greater server control.
In addition to a 99.9% uptime guarantee, InMotion offers top-notch 24/7 customer support, 100 GB of SSD storage, unlimited bandwidth, 10 email accounts that work with Outlook and Apple Mail, and a free website builder.
It also offers fast loading speeds and a variety of user-friendly tools for easy website setup and management.
1. Quick Response Time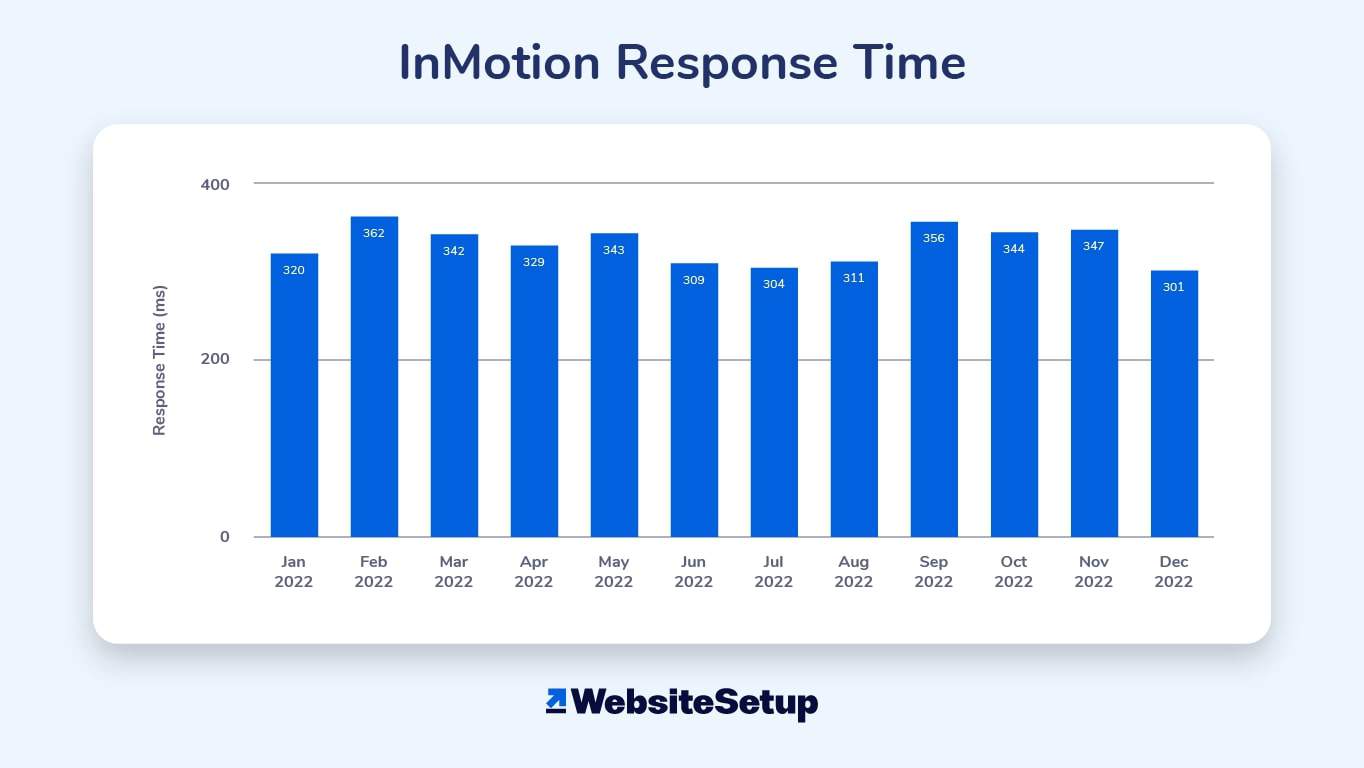 If you want your loading times to be fast and reliable, InMotion Hosting won't disappoint. During the past year (January 2022 through December 2022), the hosting platform managed to clock an average response time of 331 ms. That's faster than the industry average of 456 ms.
Not only does this ensure your webpages load quickly, but it also improves your conversion rate.
InMotion Hosting's excellent speed makes it ideal for blogging, content creation sites, e-commerce stores, and any other website looking to provide a top user experience.
2. Excellent Uptime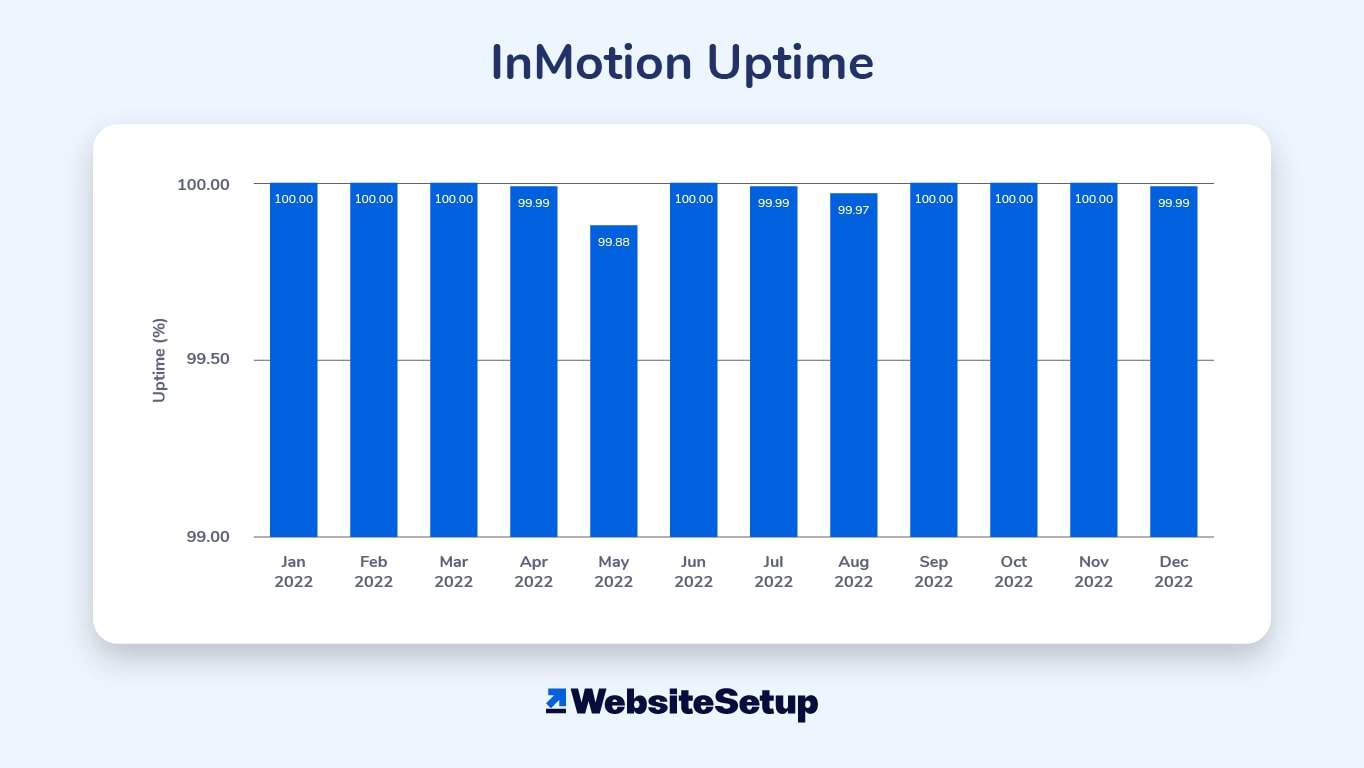 Reliable uptime should be a key consideration when choosing a web hosting platform. This is especially true if you have an e-commerce store, as too much downtime can lead to reduced traffic and revenue.
InMotion Hosting understands this, which is why it offers its customers a 99.9% uptime guarantee.
We put this to the test by monitoring the platform's performance in 2022.
During this time, we recorded an average uptime of 99.99% — just as promised. That's also above and beyond what's offered by other hosting companies like DreamHost (99.86%), Bluehost (99.91%), and HostGator (99.9%).
This reliability makes InMotion Hosting a great choice — especially for small business owners, entrepreneurs, and e-commerce startups that want to maintain a strong online presence.
3. 24/7/365 Customer Support
When you're running a website, you never know when you might need help, which is why the best web hosting services always offer quality customer support.
And InMotion Hosting certainly delivers on that. Its support team provides 24/7/365 customer service. No matter when things go wrong, you're covered.
You'll get round-the-clock access to live chat and email support if you choose the Core plan. You also get access to an extensive knowledge base, tutorials, blog, and active community forum to get answers to any questions you may have.
If you choose one of the higher-tier plans, you'll also get 24/7 phone support.
Of course, great customer service isn't only about reliability. It's also about empathy. InMotion Hosting's reviews on Trustpilot show a positive customer support experience.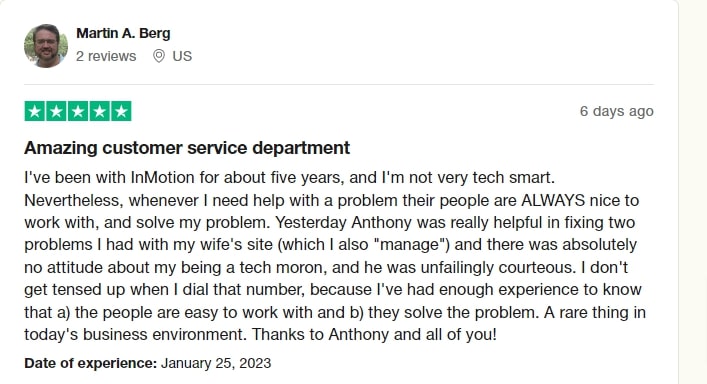 4. Extensive Security Features

InMotion Hosting provides several layers of security measures to protect its customers' websites.
This is the case even with its lower-tier shared plans, which include security features like:
Free SSL certificate
Hack and malware protection
Distributed denial-of-service (DDoS) protection
That's more than you'll get with some other web hosts. For example, GoDaddy's basic plan doesn't come with DDoS protection.
5. Robust App Integrations
InMotion Hosting's shared hosting plans all come with Softaculous Instant Installer, which gives you access to over 400 applications via cPanel.
Moreover, InMotion Hosting offers a wide variety of robust app integrations, including popular content management systems like Joomla, Drupal, and WordPress. You can install e-commerce solutions like PrestaShop, OpenCart, and Magento and customer support apps like osTicket, HESK, and Mibew Messenger.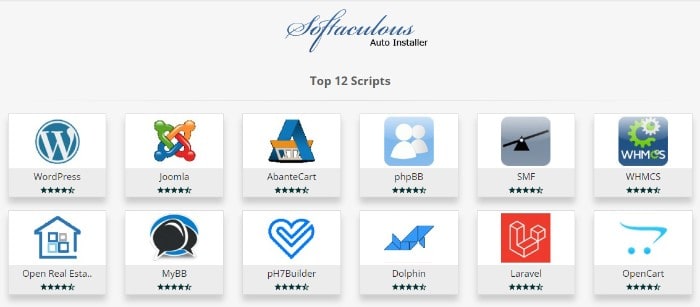 All these tools make it easy to launch a website, blog, or online store that meets your needs.
6. Free and Seamless Website Transfer
When you choose InMotion Hosting, transferring your website becomes less of a hassle, thanks to its free website migration service.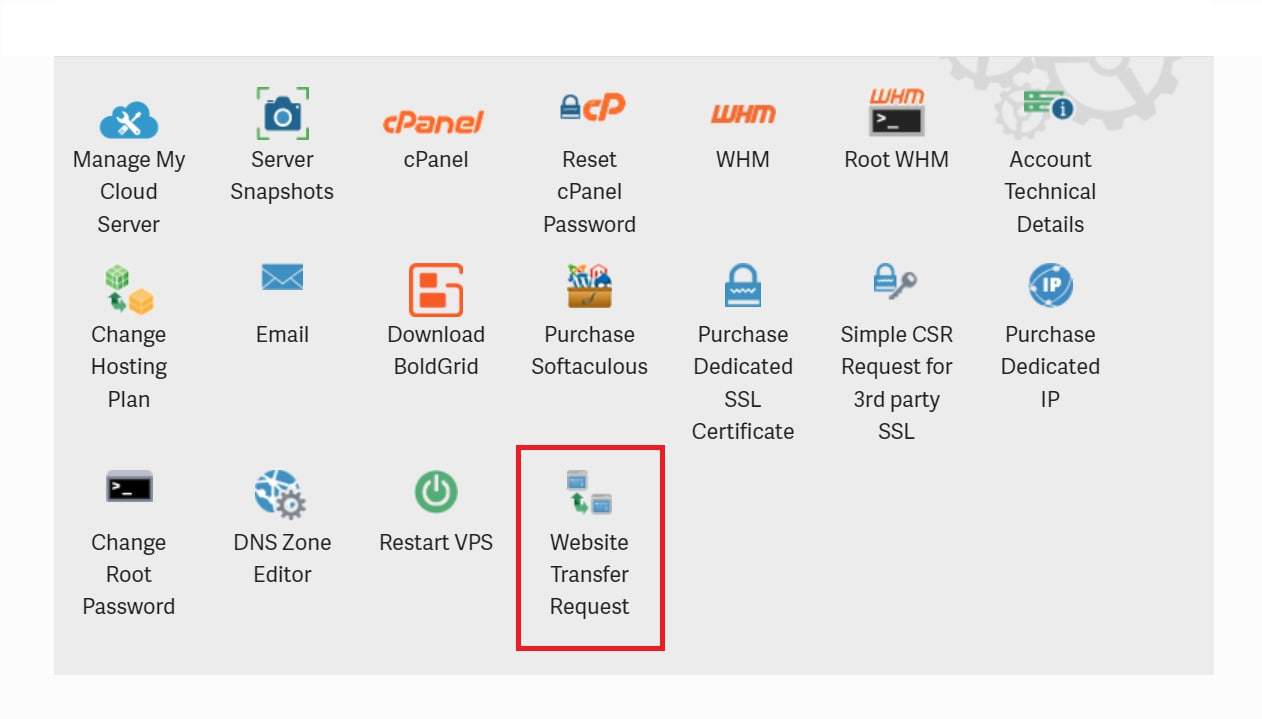 With the help of InMotion Hosting's technical support staff, any issues during the transfer can be quickly resolved.
You can also request an expedited transfer for $29.99. Paying for expedited processing moves your transfer request to the front of the line.
More importantly, downtimes are not an issue with InMotion Hosting's migrations. And it helps that you can monitor the status of your transfer by logging into your account management panel (AMP).
7. 90-Day Money-Back Guarantee
Finally, InMotion Hosting offers a 90-day money-back guarantee. This means you can use its services risk-free for the first 90 days. If you're unsatisfied with the service, you can contact customer service within 90 days and get a full refund.
Not bad, especially when you compare it to InMotion's competitors. Three popular web hosts — GoDaddy, Bluehost, and Hostinger — only offer 30-day money-back guarantees. That's effectively two additional months to try out InMotion's services and features.
If you're still exploring your options and unsure if InMotion Hosting is the right choice, this guarantee should give you peace of mind. It's a sign that the hosting provider stands behind its services.
Disadvantages of Using InMotion Hosting
InMotion Hosting has a lot to offer with its powerful features and exceptional customer support, but it's not without some trade-offs.
For starters, its Core plan does not include free domain registration — something many competitors, such as Bluehost and GoDaddy, offer.
Additionally, InMotion only offers data centers based in the U.S. You might want to steer clear if you're looking to host a website with global reach.
1. Lots of Upsells
You've selected your hosting plan and hit the Select button — but what's this? Backup Manager for $2.50/month? Google Workspace for $6/month per user? Dedicated IP address for $6/month? Hang on a minute …
Yep, InMotion hits you with a bunch of upsells right at checkout. And the worst part? It does its best to hide the true price of the upsells.
That dedicated IP address for $6/month? It's actually billed upfront for $144. And the Backup Manager? It's billed as $60 upfront. Ouch!
What sucks about upsells is that they're targeted at people who probably aren't too used to web hosting. And these features, on the face of them, seem pretty important. Who doesn't want to keep their website backed up, right?
So, you should focus not only on what features the web host does offer but what features it doesn't. Odds are, it'll offer that feature to you as an upsell, which isn't ideal.
2. Misleading Pricing
InMotion Hosting's pricing can be confusing and potentially misleading. While the Core plan's initial price of $2.49/month may seem affordable, it only applies if you pay upfront for a three-year contract.
Once the three-year contract ends, renewal prices for all plans increase significantly. Here are the price increases once the introductory period is over:
Core: $2.49/month (renews at $8.99/month for 36 months)
Launch: $4.99/month (renews at $11.99/month for 36 months)
Power: $4.99/month (renews at $15.99/month for 36 months)
Pro: $12.99/month (renews at $22.99/month for 36 months)
This pricing setup can feel disingenuous, especially since month-to-month billing is not an option with the Core, Launch, and Power shared hosting plans.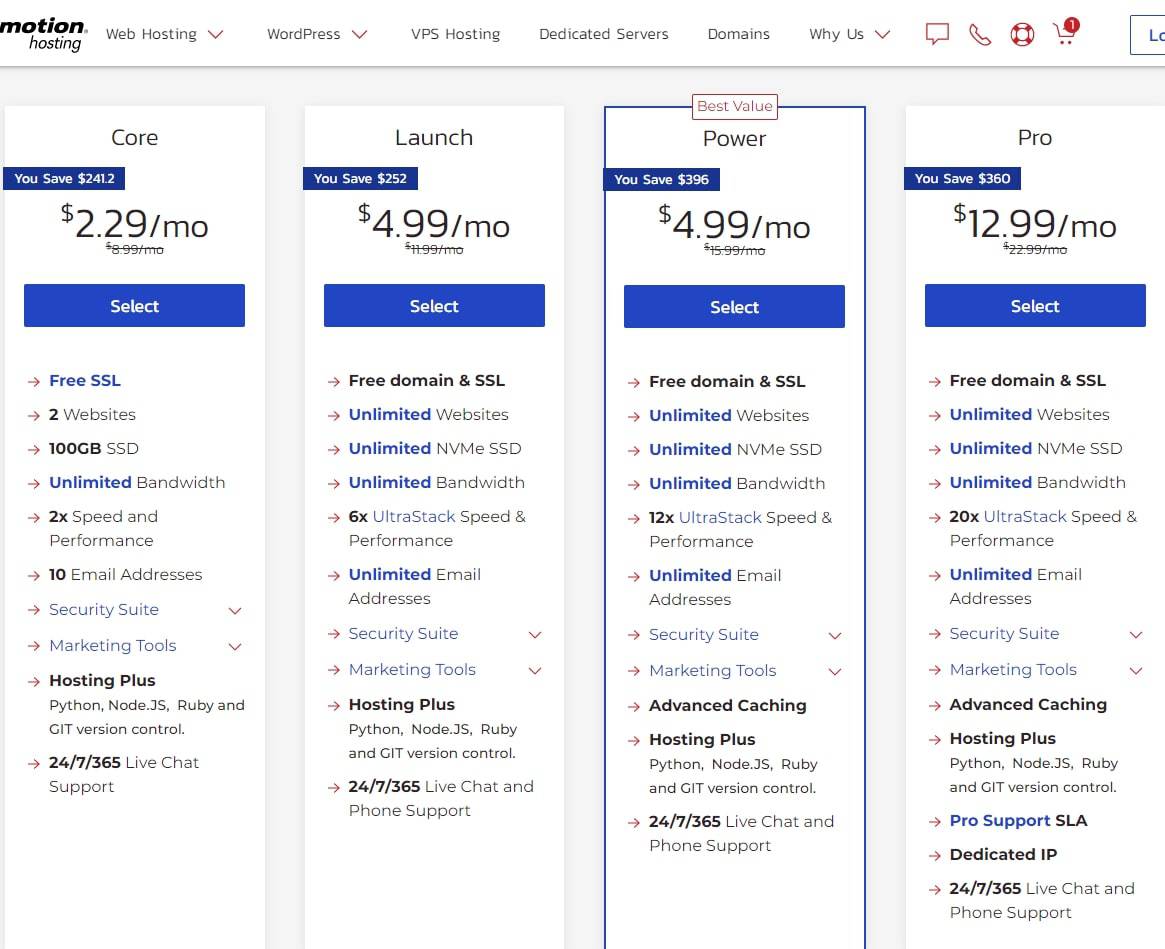 This lack of transparency can make it difficult to determine the true cost of hosting.
At first glance, the introductory pricing appears attractive. Still, it's important to factor in the potential cost increases after the initial three-year contract ends.
Besides, other hosting options offer long-term plans with more affordable pricing. For instance, Hostinger offers a four-year plan for just $1.99/month (renews at $3.99/month for another four years).
3. No Free Domain With the Cheapest Plan
The InMotion Core plan doesn't include a free domain name like many other basic web hosting plans do. For example, SiteGround offers all new customers a new domain name for free for the first year when they sign up.
In other words, you'd have to pay extra for a domain — which isn't ideal for new or budget-conscious users.
Before taking the plunge with InMotion Hosting's Core plan, carefully consider whether the cost of a domain adds up to make the basic plan too expensive.
Higher-value plans, such as the Launch and Power plans, do give you a free domain registration for your first year. It's worth considering whether one of those is the better option if you can afford them.
4. No Data Centers Outside the United States
InMotion Hosting only has two data center locations, one on the East Coast and one on the West Coast of the United States: Los Angeles, California, and Ashburn, Virginia.
If you're a business that also caters to international audiences, this may put you at a disadvantage.
InMotion's Max Speed Zones promise global optimization. But not having data centers outside the United States can result in slower website speeds and decreased website performance for non-U.S. visitors.
In that case, web hosting providers with data centers spread around the world — like A2 Hosting — might be better for you.
Quick Facts
Ease of Sign-up: Straightforward and guided sign-up process.
Control Panel and Dashboard: Easy-to-use cPanel.
Domain: Free for shared hosting plans for the first 12 months (except for the Core plan).
Installation of Apps and CMSs (WordPress, PrestaShop, Drupal, etc.): 1-click installs for over 400 apps.
Money Back: 90-day money-back guarantee for all plans.
Account Activation: Quick activation.
Payment Methods: PayPal and credit cards.
Do We Recommend InMotion Hosting?
Yes, we do.
InMotion Hosting offers a variety of features and benefits for small businesses and personal website owners who want an affordable web hosting service with reliable customer service, excellent uptime, and fast loading speeds.
However, its pricing structure can be misleading, especially for first-time website owners. If you have to pay upfront for three years to get the lowest rate, it's worth considering alternatives that offer more clarity and long-term savings, like Hostinger.
Also, free domain registration is only available on advanced plans. So you'll want to be mindful of the additional costs that come with the Core plan.
Finally, if your target audience is outside of the United States, InMotion Hosting might not be ideal due to the lack of international data centers.