Founded in 1998, iPage knows a thing or two about offering affordable web hosting. Since its inception, it has powered over one million websites.
Newfold Digital, iPage's parent company, has several other web hosts in its portfolio, including Bluehost and HostGator. Of those three hosts, iPage is the cheapest.
If you're looking to start a personal or small business website for a price that's easy on the pocket, then iPage might just be the web host for you.
We've been monitoring iPage since 2015 and have a good grasp of this host's strengths and weaknesses.
In our iPage Review, we take a peek behind the curtain and find out what you really get when you sign up.
An Overview of iPage
| | |
| --- | --- |
| SPEED: | 1,830 ms (January 2022 to December 2022) |
| UPTIME: | 99.66% (January 2022 to December 2022) |
| SUPPORT: | 24/7 Live Chat and Knowledge Base |
| APPS: | WordPress, Drupal, Joomla, OpenCart, PrestaShop, and more |
| FEATURES: | Unlimited Storage, Unlimited Domains, Scalable Bandwidth, Free SSL Certificate, Free Standard Email Address, Free Domain for 1 year, Free Website Builder, Unlimited MySQL Databases |
| HOSTING PLANS: | Shared, WordPress, and Dedicated Hosting |
| SITE TRANSFER: | $150 |
| PRICING: | Starting at $1.99/month (renews at $7.99/month) |
Advantages of Using iPage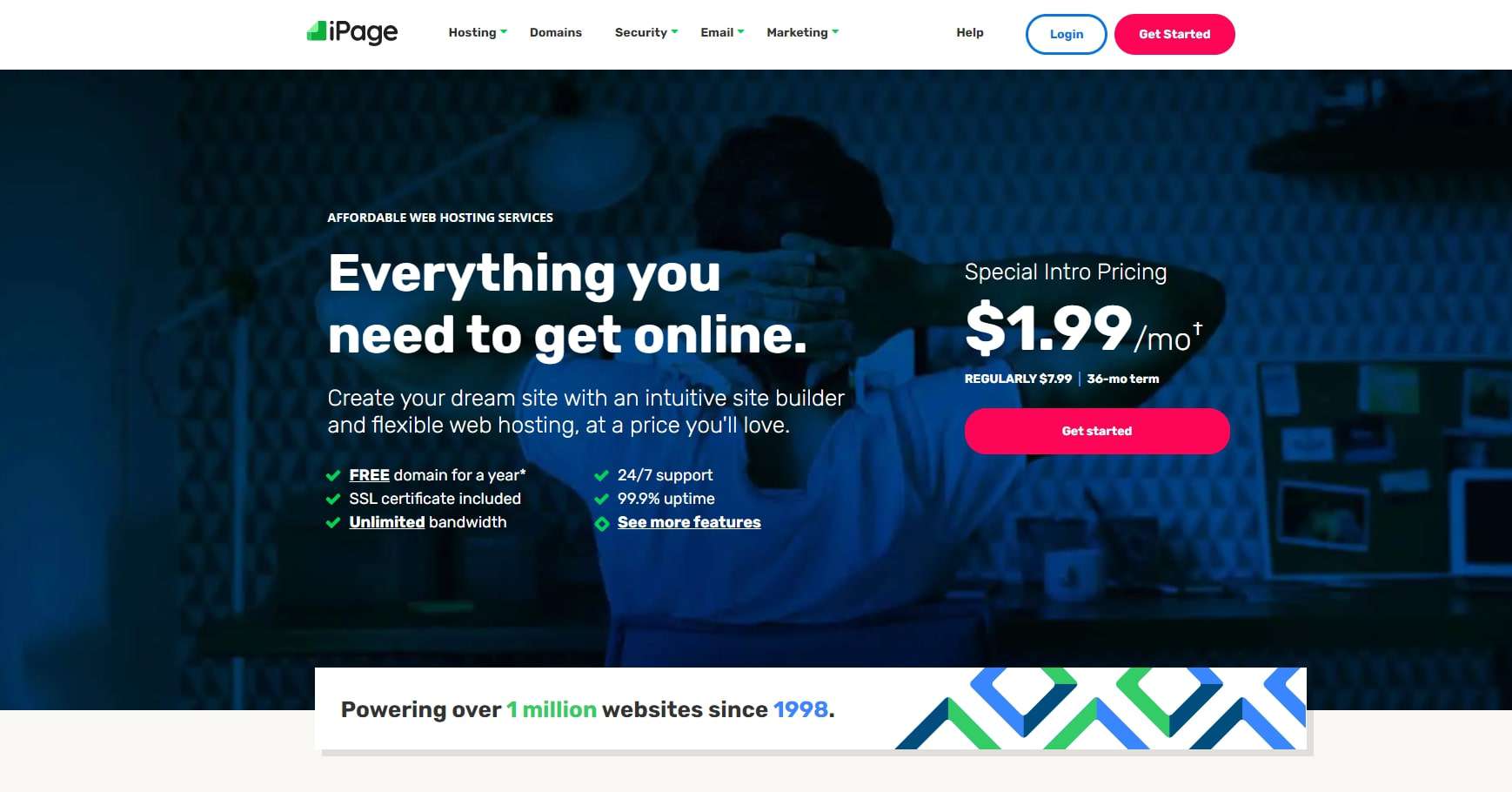 In our iPage review, we found it has many advantages, such as its simple and affordable plan, selection of features, and free website builder. It also offers free email, but advanced email services like Google Workspace cost extra.
Let's take a closer look.
1. Simple, Affordable Pricing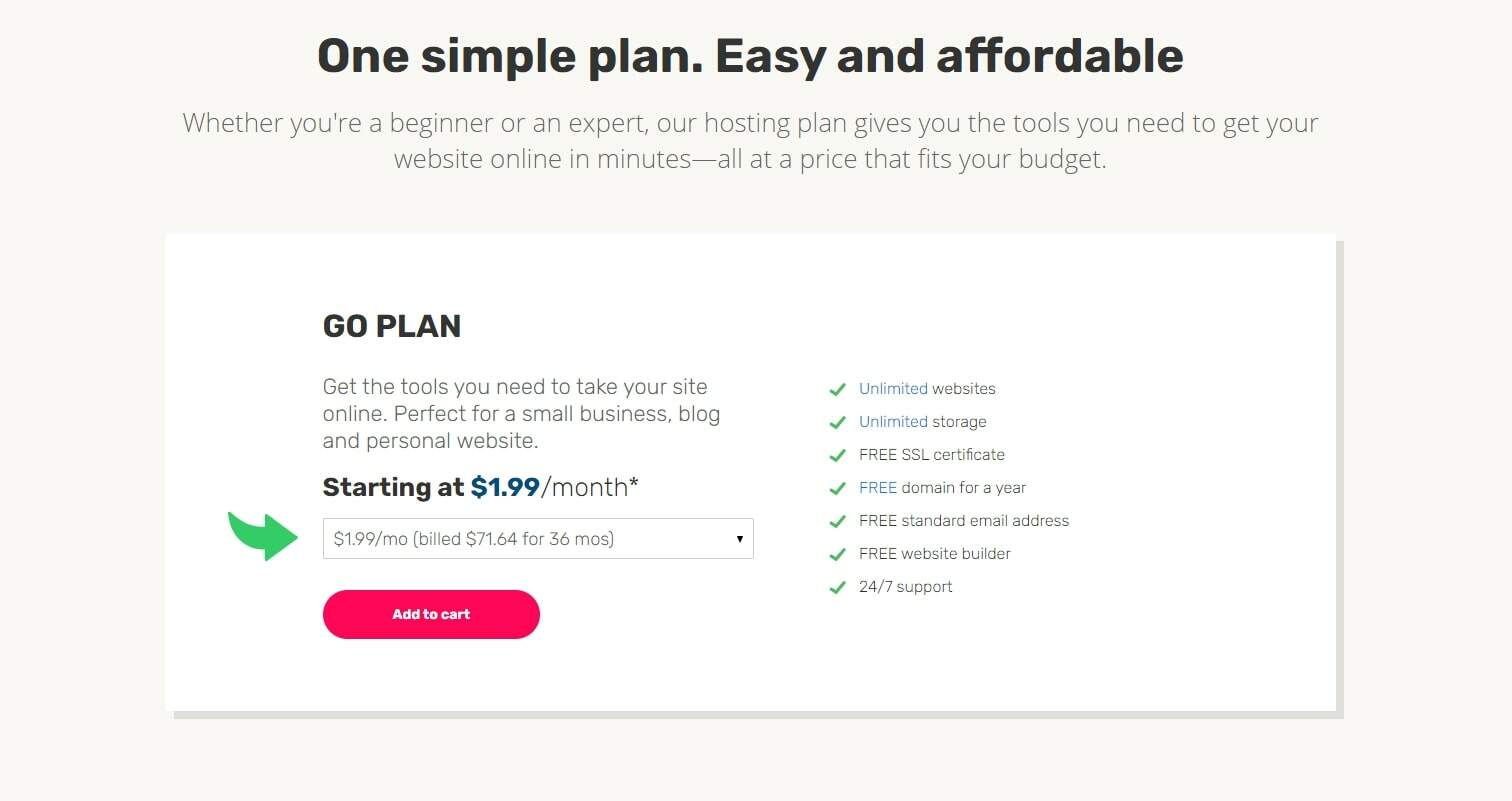 This web host is unusual because it offers a single shared website hosting plan. Many other hosts, like HostGator and InMotion hosting, make you choose among several plans, which can be confusing.
There's another benefit to iPage's single web hosting plan: It's easy on the pocket.
If you shop around, you'll surely find a web host offering you a cheaper plan than iPage's $1.99/month.
However, you never really want to go too cheap, because there's always a catch.
For example, IONOS provides a truly tempting offer of $1/month for a year. However, if you stick with this plan after a year, you'll need to shell out $10/month.
We have a rule of thumb for web hosts that could help you find a bargain — the longer the plan, the cheaper the deal. To lock in iPage's offer of $1.99/month, you'll need to commit for three years. After that, you'll pay $7.99/month.
If you don't mind the commitment, it's a great deal, especially since many budget hosts won't provide the same functionality as iPage.
2. Fair Number of Features

Besides the low price, iPage's shared hosting plan includes the following features:
Free domain name for the first year
Unlimited websites
Unlimited storage
Free SSL certificate
This shared hosting plan is a great deal when compared to what other hosts offer with their basic plans.
For example, Bluehost ($2.75/month) and HostGator ($2.75/month) only let you host one website with their basic plan.
If you opt for Bluehost's basic plan, you'll only get 10 GB of storage, and its SSL certificate is only free for the first year. HostGator's single-website plan also limits you to 10 GB. That may not be enough.
3. Free Website Builder
The free iPage website builder is great for beginners. Powered by AI, it features layout templates, over half a million images, and some search engine optimization (SEO) tools.
Pretty nifty, right?
There's a catch, though. The free version only lets you build six pages. That's plenty if you just want to create a small personal website.
But if you're starting a website for your business, you'll likely need to upgrade to the Business or eCommerce plan. These start at $6.99/month and $12.99/month, respectively.
If you prefer more customization options, you may be better off with another host. For example, A2 Hosting offers a drag-and-drop editor and easy customization on its free website builder.
HostGator's website builder strikes a good balance between customization and automation, but it isn't included with hosting plans. Prices start at $3.84/month.
4. 30-Day Money-Back Guarantee
If you choose iPage as your web host because of its attractive price and find out it's not for you, you can apply to get your money back, provided it's been less than 30 days since you signed up.
Please note that the money-back guarantee doesn't apply to the free domain name or any add-on services. Even if you cancel your plan within 30 days, you'll still be charged the standard fee of $15 (plus taxes) to keep the domain name.
5. Prompt Customer Support Response
Even without being a current customer, we were live chatting with an iPage support agent in under a minute. Some web hosting providers restrict live chats to current customers, so we appreciate that iPage allows potential customers to reach out.
To ensure this rapid response wasn't a fluke, we contacted the support team a few more times during our iPage review. We're happy to say that iPage customer support agents were ready and willing to assist every time.
That said, iPage doesn't offer phone support.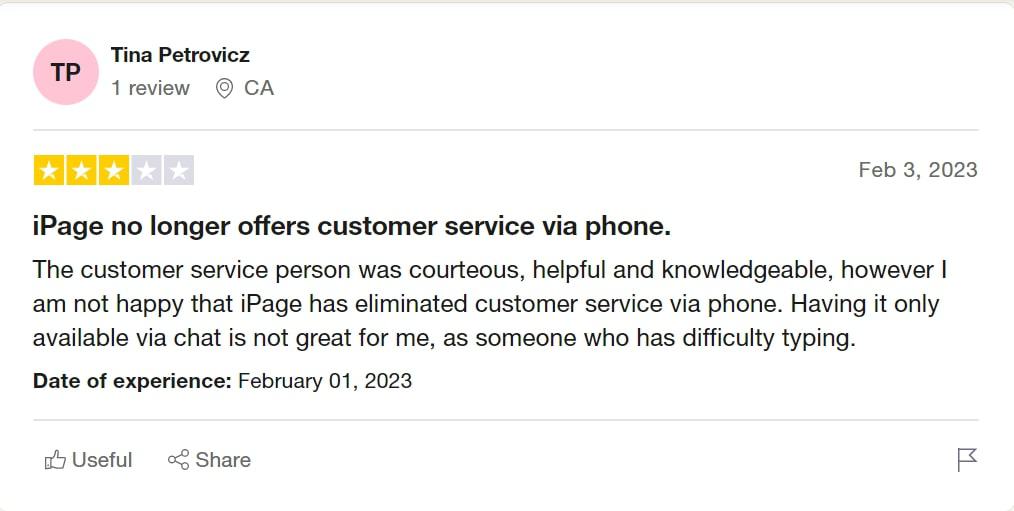 The knowledge base could do with some updates, too. At the time of writing, the most recent blog entries were from 2021.
Disadvantages of Using iPage
As can be expected with a budget host, our iPage review found that some areas are lacking. For example, iPage's uptime and response time both have room for improvement. Let's take a closer look.
1. Below-Average Uptime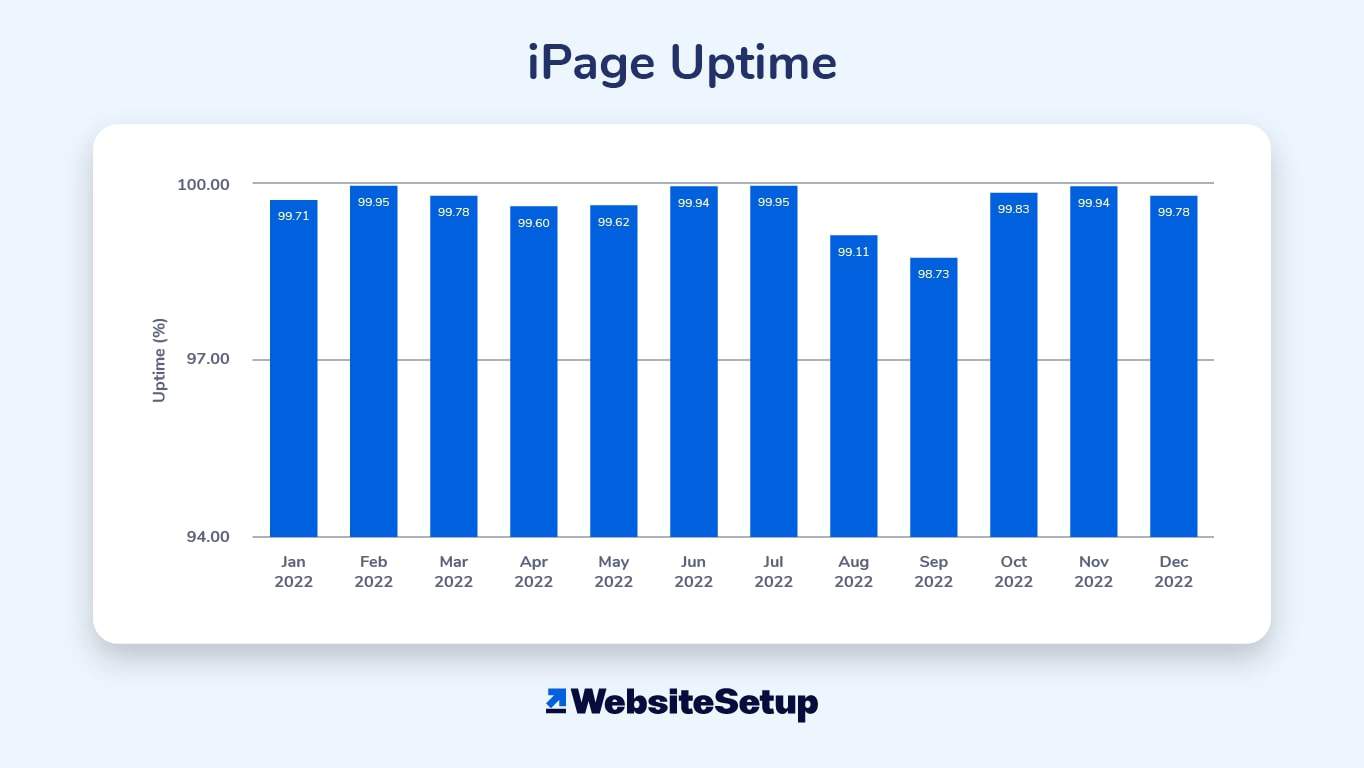 No iPage review would be complete without a mention of uptime. Uptime is the length of time (usually expressed as a percentage) that your website is accessible to visitors.
From January to December 2022, iPage had an average uptime of 99.66%. That's well below the industry standard of 99.9% — and iPage's uptime guarantee.
In the same period, DreamHost fared much better at 99.86%, and GoDaddy surpassed industry standards at 99.96%.
In iPage's defense, the downtime periods weren't egregiously long. Even during September 2022, iPage's worst month, the longest downtime was only eight minutes.
2. Slow Response Time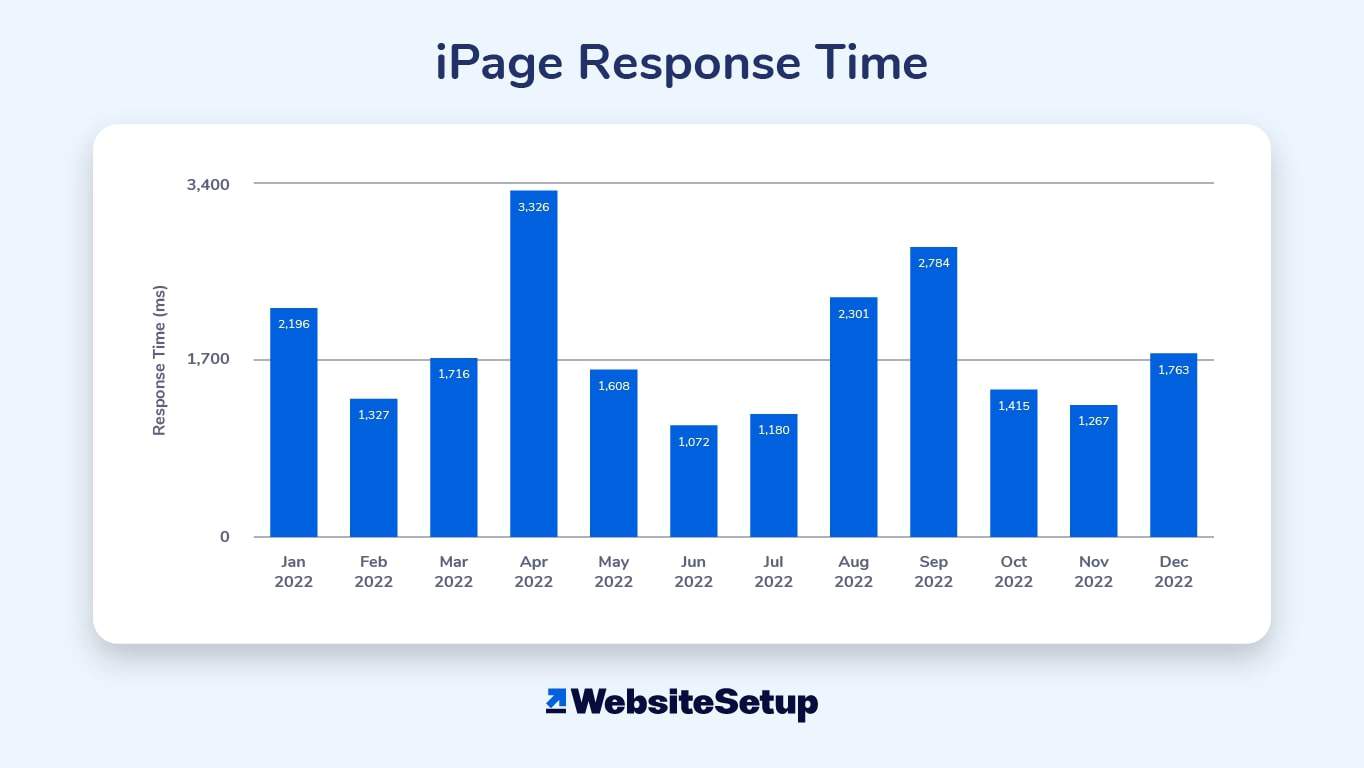 The response time is the time it takes for a visitor to your website to receive a response from the server.
Why is it important?
A 2022 Portent study found that websites that loaded in one second had a three-times-higher conversion rate than websites that loaded in five seconds. And Google says the likelihood of a bounce increases by over 30% when the page load speed increases from one to three seconds.
Evidently, these seconds matter.
The average response time for iPage in 2022 was 1,830 ms, which equates to almost two seconds.
If you expect your visitors will notice a slow load time, then you should consider another hosting provider. For example, Hostinger (also $1.99/month) has a response time of 318 ms.
3. Hidden Fees
Budget web hosts like iPage often only offer the basics with their cheapest plans, meaning you may end up paying more for features you (but not iPage) deem essential.
For example, iPage doesn't include malware protection with its basic hosting plan. Instead, it recommends that you purchase security essentials to ensure minimum protection for your website.
It also doesn't include website backups in its shared hosting packages.
Other web hosts include these features in their pricing. For example, JustHost includes SiteLock Lite with all plans.
To make matters worse, when we ran a test purchase, iPage automatically added SiteLock security protection ($3.99/month) to our basket.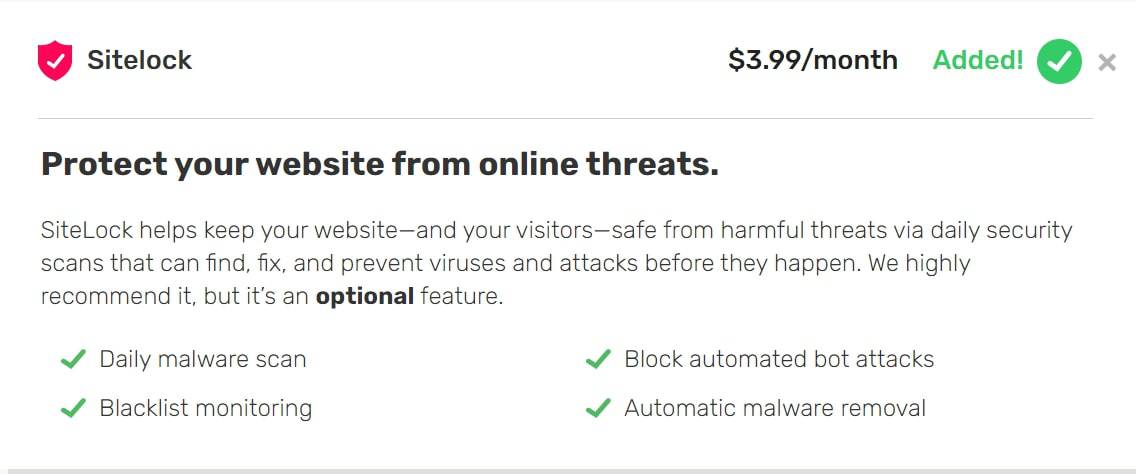 Admittedly, these sneaky add-ons are easy to remove. But for anyone who's new to web hosting, the variety of upsells available at checkout might be confusing.
And while we're on the subject, it's important to point out the high renewal fees. The initial term is $1.99/month for three years.
After that, the price skyrockets to $7.99/month for another 36 months. That's a more than 300% increase in price for the same features.
By contrast, Hostinger's renewal rate for an initial $1.99/month deal is $3.99/month. If you take a (monthly) contract-free offer from DreamHost, you'll only pay $4.95/month.
Despite the low price of iPage's shared hosting plan, we must fault it for its lack of month-to-month offers. The shortest term iPage offers is one year at $2.99/month.
4. Misleading Language
We take issue with iPage for its overuse of the word "unlimited." We've noticed that iPage has added disclaimers to a few of its "unlimited" claims.
For example, although it offers unlimited disk space, in rare cases, iPage has had to "work with customers to reduce the number of files they are using."
Furthermore, on iPage's website, when you hover over "unlimited bandwidth," you'll notice that it specifies that bandwidth is "scalable," which isn't the same.
If your website eats up a lot of bandwidth, iPage may encourage you to get dedicated hosting. Of course, this isn't free.
To be safe, always check the Terms of Service.
5. No Free Website Transfers
According to an iPage agent we spoke to, website transfers cost $150 each.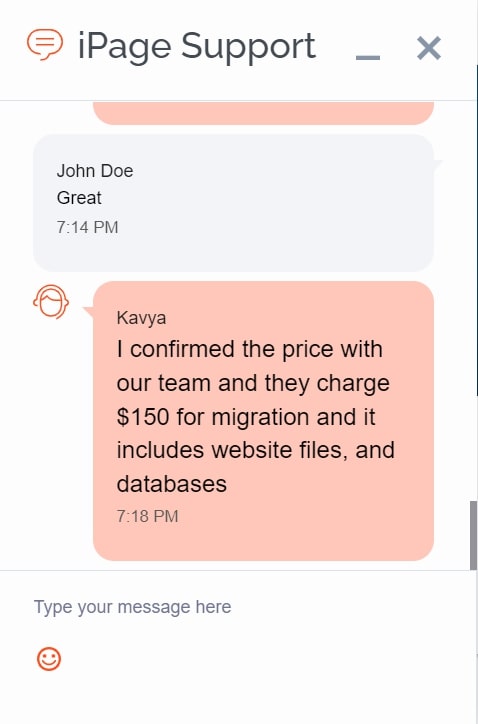 This price seems steep, especially when you consider that plenty of iPage's competitors, such as Hostinger and HostGator, offer website transfers free of charge.
If you already have a website and want to switch hosts, this add-on could significantly up the overall price of your hosting plan.
6. Expensive WordPress Hosting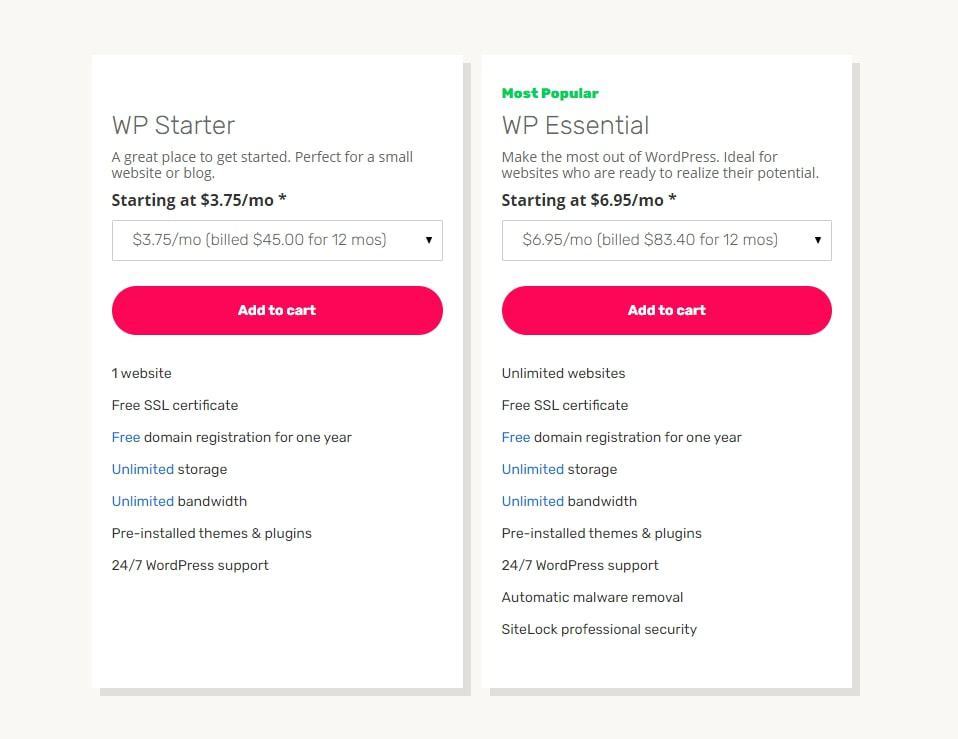 Besides shared hosting, iPage offers a WordPress hosting option.
This isn't uncommon among web hosts. Hostinger offers a WordPress plan for the same price as its shared hosting plan: $1.99/month.
So, why do we consider iPage's WordPress plan to be a disadvantage? Because the price is significantly higher at $3.75/month.
Quick Facts
Signup: Quick and easy, but watch out for automatic cart add-ons.
Free Domain: Free domain name for the first year.
Money back: 30-day money-back guarantee (with exceptions).
Account Activation: iPage promises to have you up and running in minutes.
Installation of Apps and CMS (WordPress, Joomla, etc.): 1-click installation for WordPress and other apps.
Payment Methods: All major credit cards and PayPal.
Hidden Fees and Clauses: "Essential" add-ons and upsells, such as security features; high renewal fees.
Control Panel and Dashboard Experience: Foundation control panel.
Do We Recommend iPage?
Yes, we do recommend iPage.
This cheap web hosting service offers a free website builder, responsive customer support, and a decent number of included features. This may be all that you need for a small personal or startup business website on a shoestring budget.
However, iPage is lacking in many areas, such as response speed and uptime. So, if you're an entrepreneur with big growth potential and impatient website visitors, you may want to consider another hosting company.