Is JustHost hosting worth it?
Truthfully, it depends on what your website needs.
Chris Phillips started JustHost.com in 2008 in Glendale, California. Today, JustHost is owned by Endurance International Group (EIG), which also includes HostGator and Bluehost.
More than 280,000 sites have been built on JustHost, ranging from e-commerce sites to personal blogs.
But is JustHost hosting the right fit for you?
To help you make an informed decision, our JustHost review explores everything you need to know about the platform. This includes an analysis of its prices and features.
Read on to learn more.
An Overview of JustHost
| | |
| --- | --- |
| SPEED: | 671 ms (December 2022 to January 2022) |
| UPTIME: | 99.95% (December 2022 to January 2022) |
| SUPPORT: | Live Chat, Phone, and Knowledge Base |
| APPS: | 1-Click Install for popular apps like Magento, WordPress, Drupal, and Joomla |
| FEATURES: | Unmetered Bandwidth, at least 10 GB Storage, Free SSL Certificate, Free CDN, 30-Day Money-Back Guarantee, Free Domain Registration, Free Website Builder, Email, cPanel |
| HOSTING PLANS: | Shared, Dedicated, and VPS Hosting |
| SITE TRANSFER: | $149.99 for up to 5 websites and 20 email accounts |
| PRICING: | Starts at $3.95/month (renews at $11.99/mo) |
Advantages of Using JustHost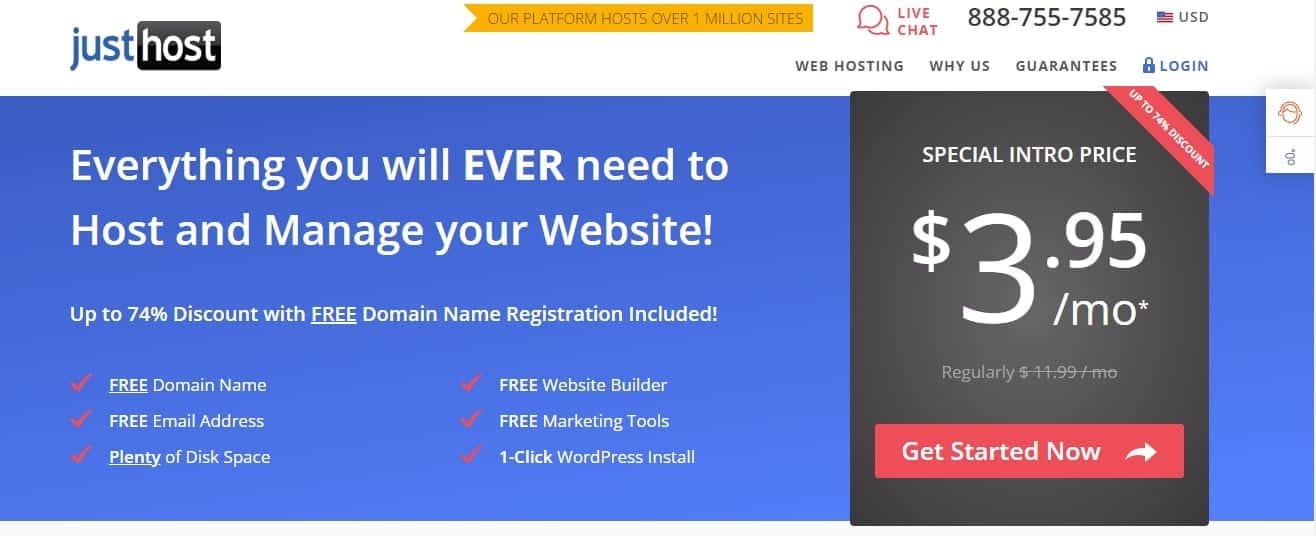 JustHost is a reliable web hosting service that comes with some great customization options. Every plan comes with an easy-to-use cPanel and a free email address, which is compatible with apps like Apple Mail and Microsoft Outlook.
Let's go over JustHost's strong points in more detail.
1. Reliable Uptime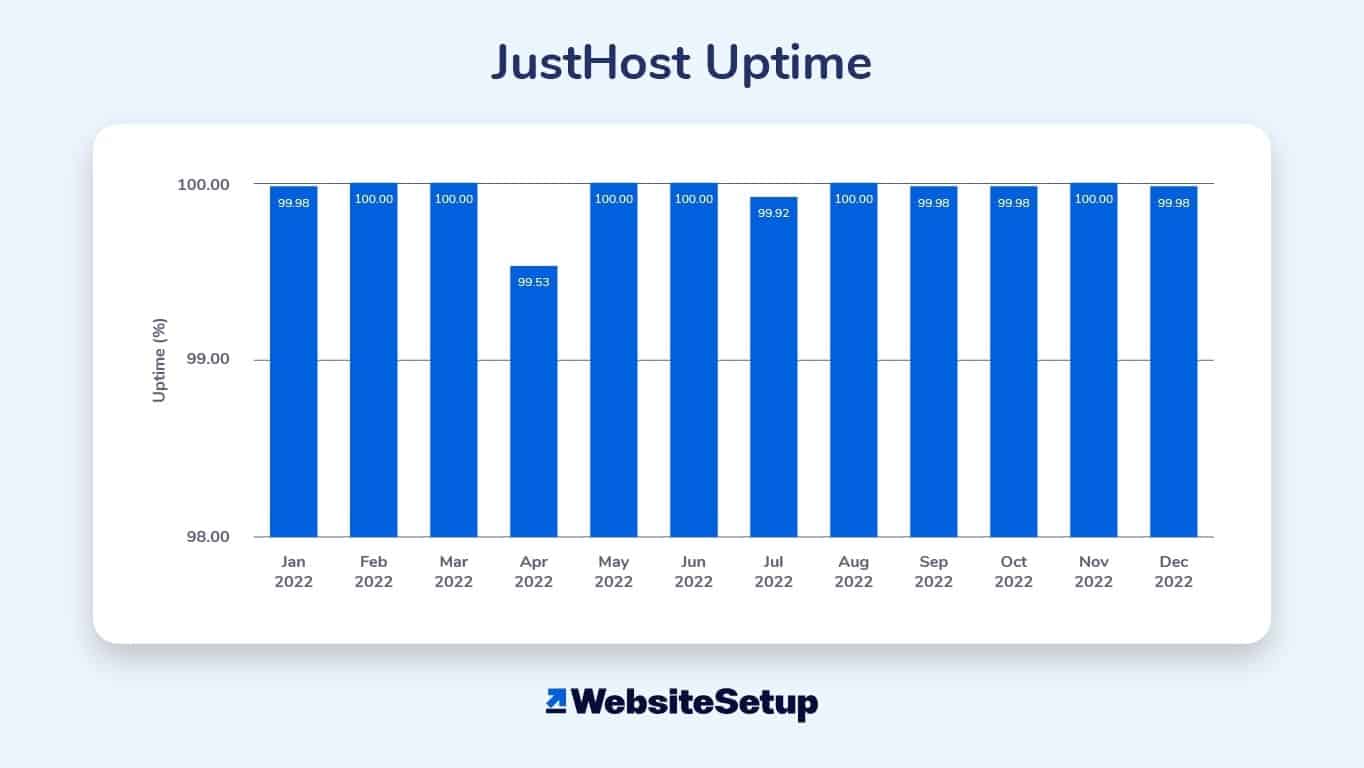 Solid uptime is one of the most important factors when choosing a host. Even a 1% loss in uptime could cost up to $240 per year if your website makes $1,000 per month.
Thankfully, JustHost offers a relatively solid uptime. From January 2022 to December 2022, JustHost's uptime averaged at 99.95%. This is less than A2 Hosting (99.98% uptime) but more than DreamHost (99.86% uptime).
However, JustHost doesn't offer an uptime guarantee. If this is a dealbreaker for you, you may want to look for an alternative like GoDaddy.
2. Economical Pricing For Multi-Year Contract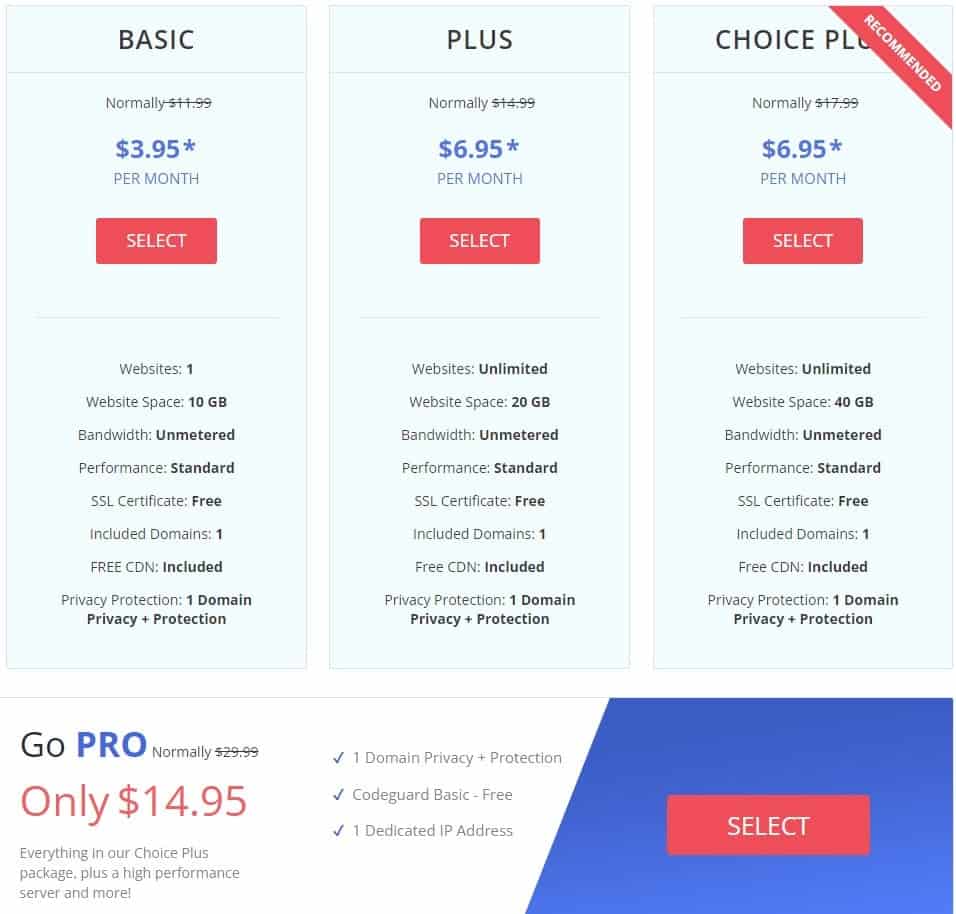 JustHost offers three different hosting types: shared web hosting, VPS, and dedicated hosting plans. A three-year contract paid upfront is required for the advertised introductory rates. JustHost doesn't offer monthly payments for any discounted rates.
Here's what you can expect from JustHost's shared web hosting plans:
Basic Plan
Plus Plan
Choice Plus
Pro
Pricing
Starts at $3.95/month

Renews at $11.99/month

 

Starts at $6.95/month

Renews at $14.99/month

 

Starts at $6.95/month

Renews at $17.99/month

 

Starts at $14.95/month Renews at $29.99/month

 

Bandwidth
Unmetered
Unmetered
Unmetered
Unmetered
Website Space
10 GB
20 GB
40 GB
Unmetered
Other Features
• Free SSL
• Free CDN
• Free SSL
• Free CDN
• Free SSL
•  1 domain Privacy + Protection
• Free CDN
• Free CDN
• 1 domain Privacy + Protection
• Premium SSL
• 1 dedicated IP address
• High-performance server
If you're not interested in sharing a server with other web hosting clients, or need more performance and security than shared hosting, you can look into JustHost's VPS and dedicated hosting plans.
The VPS hosting packages start at $19.99/month with a three-year contract paid upfront (renews at $29.99/month). For a dedicated server, plans start at $79.99/month when paid for three years upfront (renews at $109.99/month).
Plus, you should know that JustHost doesn't offer Windows-based servers. This means JustHost may be a better hosting option for experienced pros who want a more flexible hosting provider.
3. Decent Security
As cybercrime continues to rise, the more secure your website is, the better. The best hosting platforms offer plenty of security features to meet this need.
Here's what we found regarding security during our JustHost review:
SSLs: JustHost's Basic plan for shared web hosting includes a free SSL certificate. If you upgrade to the Pro plan, you can use a premium SSL certificate.
Spam Assassin: You can use JustHost's Spam Assassin tool by logging into your cPanel. You can use this tool to instantly mark incoming emails as spam (if they meet your custom settings).
Secure Shell Access: VPS and dedicated hosting plans on JustHost automatically come with secure shell access (SSH2). However, you'll need to verify your hosting purchase account before enabling SSH2 in your cPanel. This network protocol can help you safely transfer files or log into your account remotely on an unsecured network.
SiteLock Lite: SiteLock's malware scanner is included in new hosting plans.
JustHost offers an 80% discount on additional SiteLock plans, which come with features like dashboard reports, security maintenance, and alerts and email notifications.
4. Free Script Library
Every JustHost account comes with access to its free script library. This lets you get the scripts you need without having to be a coding genius.
SimpleScripts automatically installs popular scripts like WordPress, phpBB, OS Commerce, and Joomla on your website.
5. 30-Day Money-Back Guarantee
If you're not satisfied with your JustHost services, you can cancel your hosting account and get a refund within the first 30 days.
However, JustHost's 30-day money-back guarantee doesn't provide a full refund. JustHost keeps $15.99 out of your refund as a fee for your supposedly free domain name.
JustHost's guarantee also doesn't cover upsells or add-ons. If you purchase SiteLock, domain privacy, or listed SEO tools, you'll have to eat the cost after canceling.
Disadvantages of Using JustHost
Despite its benefits, not everything about JustHost is perfect. The price structures are confusing and not regularly updated, which could leave you with a nasty surprise at the end of the month.
Plus, its customer service is extremely slow. Since the knowledge base isn't regularly updated, you won't be able to do much troubleshooting on your own (unless you're an experienced developer).
Here's a closer look at the cons we found during our JustHost review:
1. Confusing Price Structures
JustHost may seem like an economical option upfront if you can commit to a three-year contract, but its pricing structure may be hard to follow.
Our JustHost review finds that prices jump considerably from the introductory rates once your plan renews. The shared, VPS, and dedicated hosting plans also only offer the best possible rates when committing to a three-year contract and paying the entire amount upfront.
This may be problematic if you want to change providers, and paying for three years of hosting in one bill may be difficult for individuals and small businesses.
Many of JustHost's features are buried in the signup process and help screens rather than outlined clearly on the main sales pages, as well.
JustHost provides additional options that are only available from upsells. For example, you can only access premium SSL certificates on the shared hosting plans starting at $80.04 per year. Other hosting features on JustHost, like SpamExperts Mail Filtering ($2.99/month/domain), domain privacy ($14.88/month/domain), and SEO tools ($71.40/year), will also cost extra.
If your account expires and you need to reactivate it, you'll need to pay a $30 fee.
2. Backups Aren't Guaranteed
JustHost does offer backups in a daily, weekly, and monthly cycle. However, there's no redundant or mirrored backups. In fact, backups aren't guaranteed unless you upgrade to premium plans.
If you read the fine print, you'll see that:
JustHost doesn't take responsibility for failed backups.
JustHost can't create backups for websites over 30 GB.
You need to manually run backups with JustHost's Site Backup
The basic Site Backup tool lets you access JustHost's inconsistent backups or perform backups manually through your cPanel.
However, you won't be able to download individual or modified files, folders and tables, or PostgreSQL databases. If you want any of those features, you'll need to upgrade to Site Backup Pro.
JustHost's inconsistent backups policy could leave your website offline and your e-commerce store unavailable.
3. High-Performance Servers Are Only for Pro Plans
JustHost only offers standard performance on its first three shared hosting plans. This means you may not be able to access the highest-quality service possible unless you upgrade to the Pro plan or go with VPS or dedicated hosting.
However, high performance on JustHost isn't well explained, and the cost of a higher-performing plan is considerably higher than a Basic plan.
4. Slow Server Response Time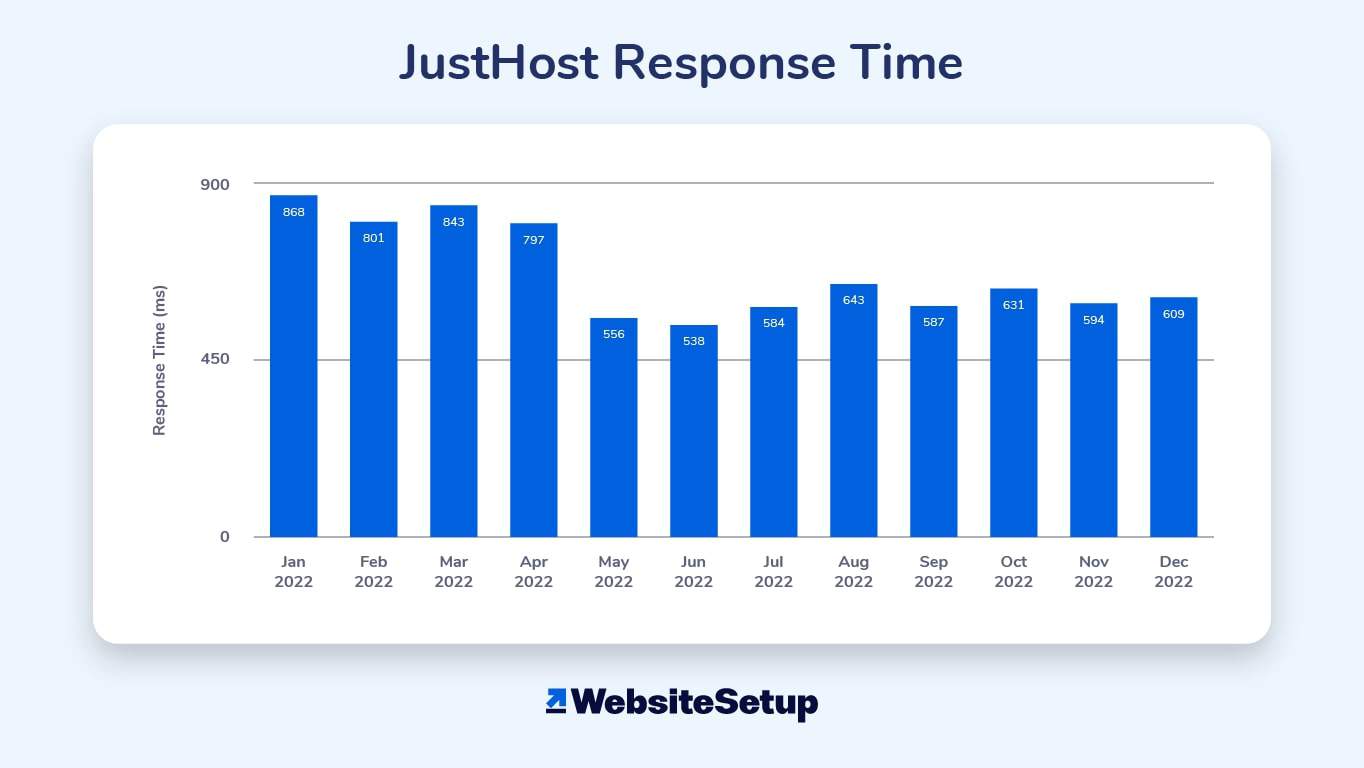 Website speed is critically important if you want to retain incoming visitors, and a slow server response time can torpedo your website page load speeds.
Today, the average page load speed is two and a half seconds. However, more than half of modern customers (53%) will leave after more than three seconds.
Our JustHost review found the average server response time was 671 ms between December 2022 and January 2022. This is much slower than the industry average, which is currently 456 ms.
If fast server response times are important to you, you might consider Hostinger (318 ms response time) instead.
5. Lackluster Customer Support
JustHost offers three kinds of customer support:
Phone support
Knowledge base
Live chat support
Some of the more expensive plans (VPS or dedicated hosting) also provide dedicated customer support lines.
Keep in mind the knowledge base is out of date and not updated often. You'll notice lots of discrepancies comparing the prices and features of the hosting plans between the featured pages and the backend documents.
Plus, JustHost's customer support is not quick to answer questions. We never received a response either time we attempted to contact them through live chat.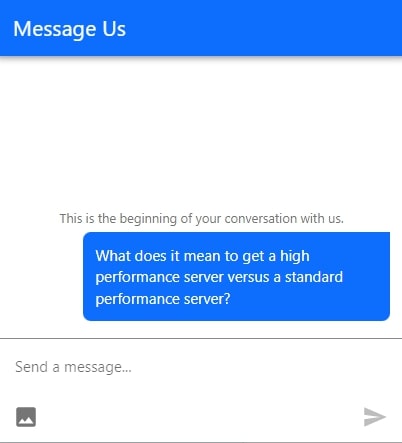 JustHost doesn't have a high customer service rating from past users, either. You can see this reflected in recent customer reviews:

If you want a hosting provider with more responsive customer service, you may want to look into Bluehost for 24/7 live chat, phone, and email support.
Quick Facts
Free Domain Name: Yes (One free domain registration on most plans.)
Ease of Signup: Quick, two-step signup process.
Money-Back: 30-day money-back guarantee.
Payment Methods: Credit Card, PayPal.
Hidden Fees and Clauses: Initial $20 setup fee for users on one- and three-month plans. No guarantee on website backups. Money-back guarantee doesn't apply to domain registration fees, setup fees, or add-on
Account Activation: Quick activation.
Control Panel and Dashboard Experience: Easy-to-use cPanel.
Installation of Apps and CMSs (WordPress, Joomla, etc.): One-click installs for popular apps and CMSs.
Do We Recommend JustHost?
Yes, we do — for experienced developers.
JustHost is relatively cheap on a multi-year contract and offers decent uptime on the Basic plan. However, its speed does not outperform competitors, and the slow customer service response may keep your business in the dark.
Plus, the higher price tag after renewal could put a damper on smaller budgets.
And since JustHost doesn't offer Windows-based servers, you'll have to rely on Linux as the only available server operating system. That's not good for non-programmers, especially if you're looking for a no-code hosting platform.
If you're a beginner who wants to deal with less coding and access responsive customer support, you may want to check out some other hosts.
For example, GoDaddy offers guaranteed uptime on its Basic plan. Bluehost provides 24/7 customer support and is much more responsive than JustHost. And Hostinger offers a similar price point to JustHost with a far more intuitive interface.