Chris Phillips started JustHost.com back in 2002 in Glendale, California. Fast forward to 2012, and it was acquired by EIG.
That gives us an inkling of what results to expect based on reviewing many other EIG brands so far (Bluehost and HostGator).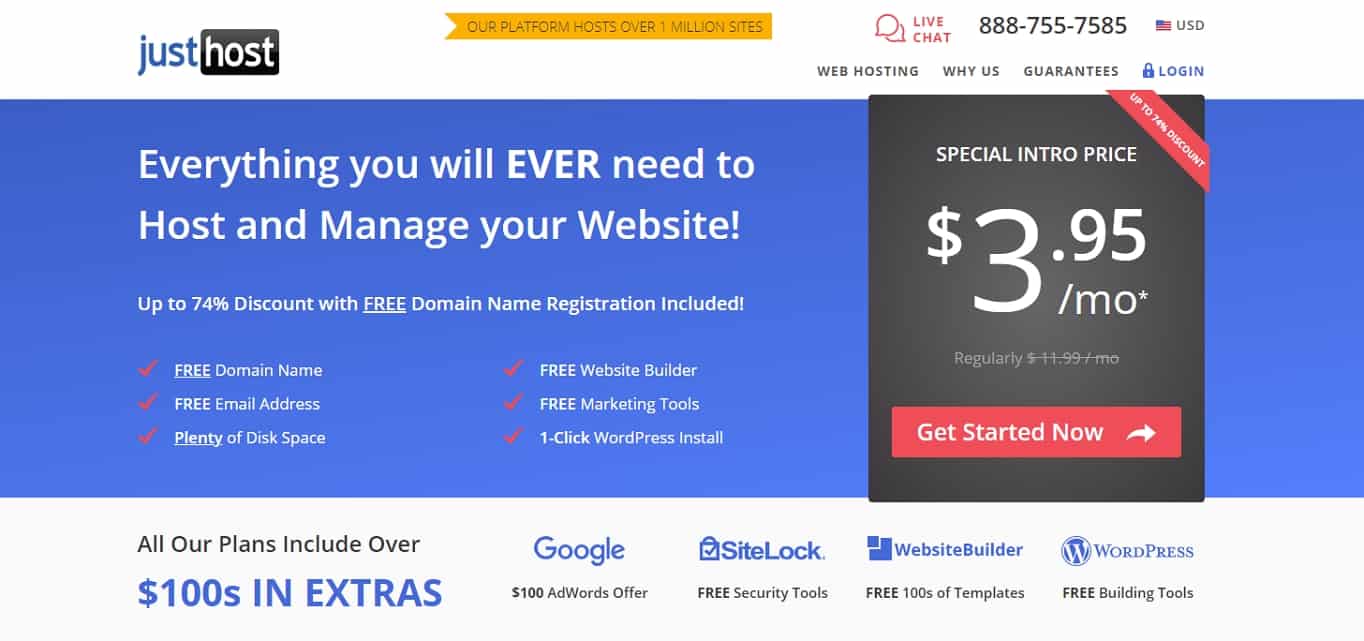 To give them a fair chance, we purchased and set up a WordPress website on the JustHost 'Shared' plan and we've been monitoring their uptime and speed closely in anticipation of providing you with this fair, unbiased review.
But did JustHost perform well enough to get our recommendation?
Read on to find out.
General Info & Hosting Overview
---
| | |
| --- | --- |
| Our Rating: | Our Verdict: 3.0 |
| SPEED: | 636 ms (March 2022 to August 2022) |
| UPTIME: | 99.91% (March 2022 to August 2022) |
| SUPPORT: | 24/7 Live Chat, Phone, and Knowledge Base |
| APPS: | 1-Click Install for the Most Popular Apps |
| FEATURES: | Unlimited Bandwidth, 50 GB Storage, Free SSL Certificate, Five Email Accounts, One Website, Free Domain Registration, 30-Day Money-Back Guarantee, Free Website Builder, 1-Click WordPress Install |
| HOSTING PLANS: | Shared, VPS, and Dedicated Hosting |
| SITE TRANSFER: | Not Free ($149.99) |
| PRICING: | Starting at $3.95/mo (renews at $11.99/mo) |
---
Pros of Using Justhost Hosting
---
Let's start with JustHost's positive sides.
1. Good Uptime of 99.91%
Solid uptime is considered one of the most important factors in the hosting industry. It's crucial because it actually affects your website's availability for your customers around the globe. If your site is not available then obviously it has a negative effect on your business and you'll lose traffic (and profit!). Moreover, poor uptime can also impact your site ranking on Google.
So needless to say, it's important to choose a host who delivers a strong uptime.
Over the past 6 months, JustHost's uptime came in at an average of 99.91% with four hours of downtime.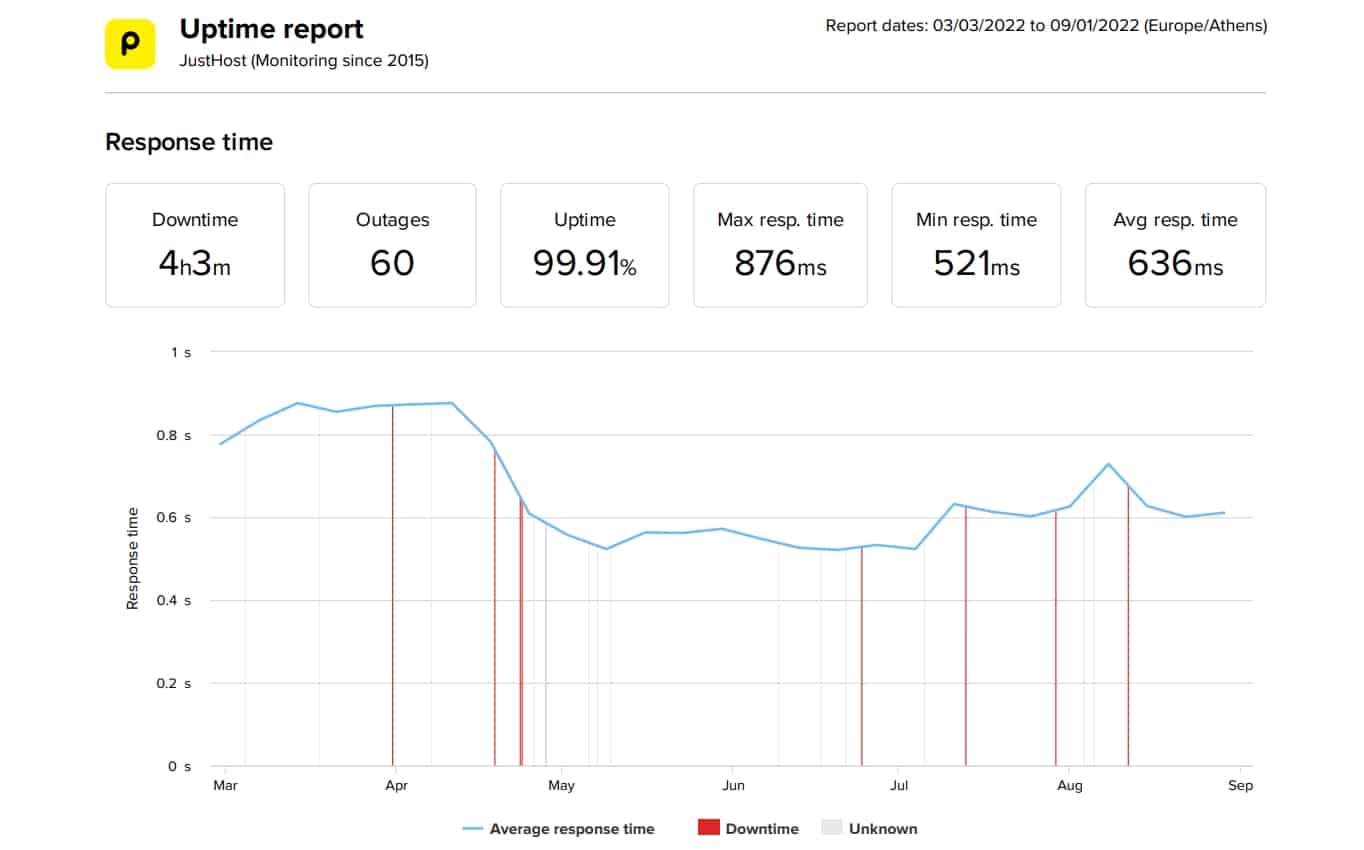 Last 6-month average uptime:
August 2022: 100%
July 2022: 99.92%
June 2022: 100%
May 2022: 100%
April 2022: 99.53%
March 2022: 100%
Overall, JustHost's uptime is a bit inconsistent- some months they have a perfect 100% uptime and some months day can barely keep their sites up. However for now they secured a spot in our pros section.
2. OK Page Loading Times
Speed (or lack thereof) is one of the primary reasons people leave your site (without becoming a client or customer). Visitors bounce, page views fall, conversions take a hit, and customer satisfaction across the board declines.
So how did JustHost perform?
During the last 6 months, they delivered an average speed of 636 ms. It's a pretty average result, but still better than the industry standard 850 ms.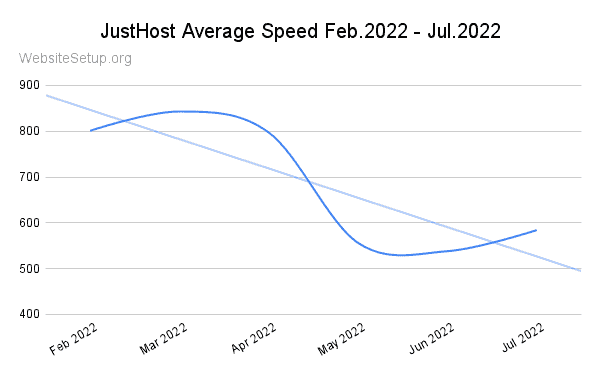 Note: If you are specifically looking for fast web hosting, you might want to check out A2 Hosting.
3. Slow but Reliable Customer Support
JustHost offer three kinds of customer support: phone, knowledge base, and live chat.
We tested out their live chat support.
Even though we had to wait for 10 minutes to get connected to the customer support rep, all our questions about their shared hosting plans were answered and backed up with links.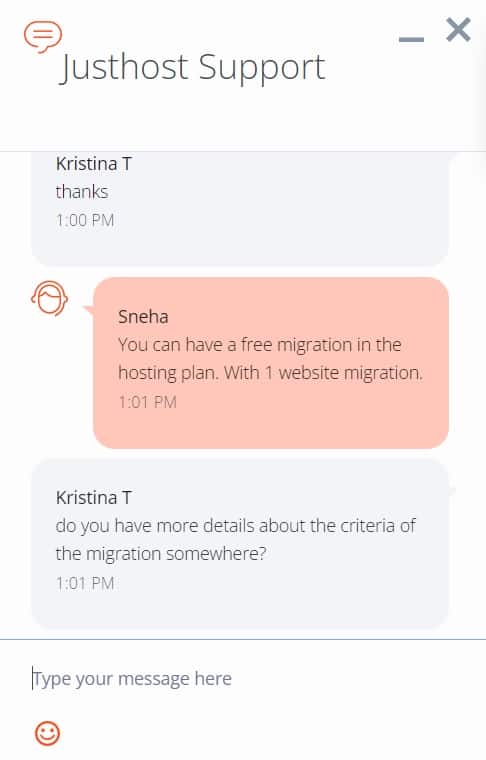 4. Instant Server Provisioning
Some hosts require a lengthy sign-up process for most new accounts, which means you (yes, even the international ones) might have to jump on the phone to verify who you are.
That means you can expect a slow process (not to mention frustrating and slightly irritating, too). Or the occasional odd-hour phone call requirement.
The good news is that JustHost offers instant server provisioning if you want to go with their premium, VPS, or dedicated services.
5. 30-Day Money-Back Guarantee and Add-Ons
JustHost offers a standard 30-day money-back guarantee if you're not happy with your initial experience. That's just about the industry average for those of you keeping track at home.
It's important to note that the refund only applies to the hosting service.
It doesn't apply to other products, like domains. Since free domains are included, JustHost deducts a non-refundable domain fee of $15.99 from your refund to cover their costs.
You can then transfer the domain name you have chosen to another web host. Be aware that you can't transfer newly registered domains to another host within 60 days of activation.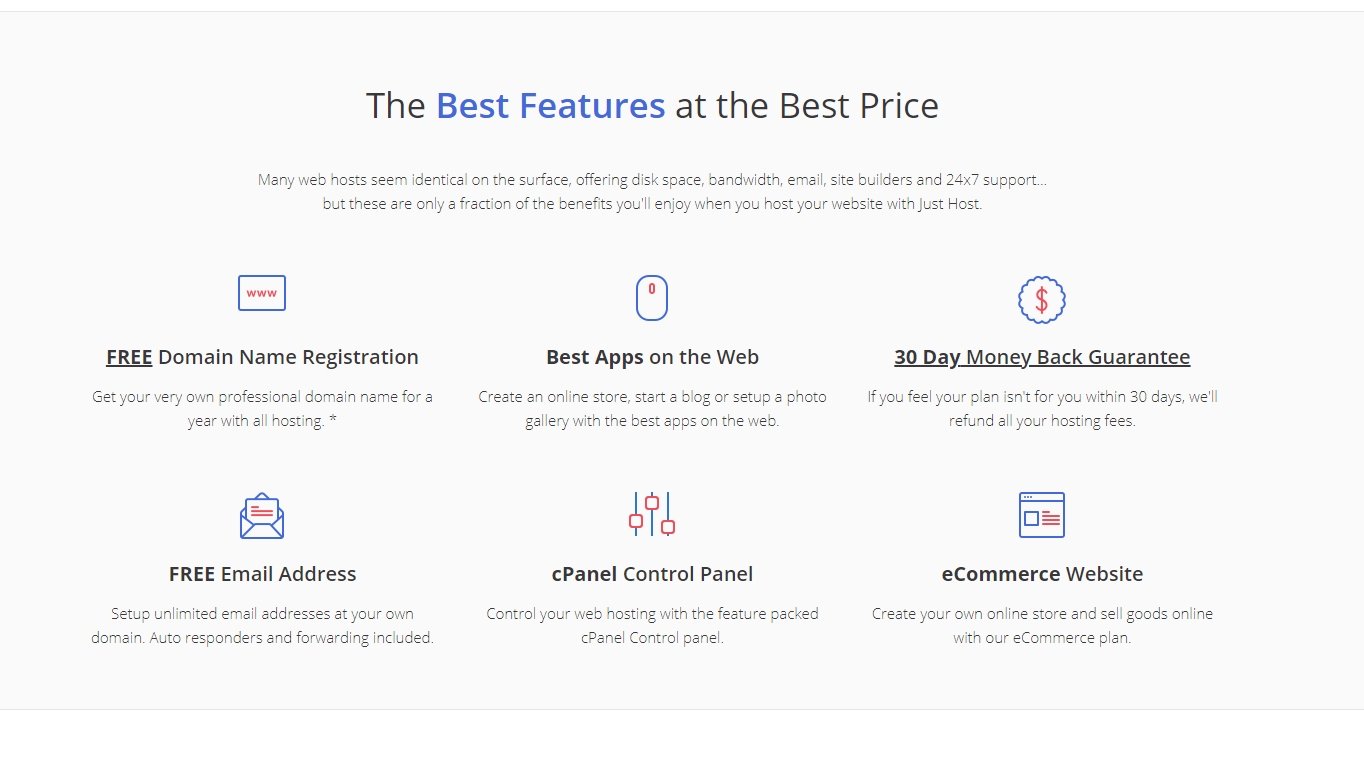 JustHost easily integrates with popular platforms like Google Apps, in addition to over 100 other open source applications.
They will also throw in free Google and Bing advertising credits, which is a handy little bonus if you're ready to start generating online sales.
6. Free Domain Name and 1 Free Site Migration
New account sign-ups will also get a free domain name (regardless of the hosting plan you choose) for the 1st year. After that, you'll have to pay a renewal price depending on which domain you're using.

Moreover, JustHost has included one free WordPress site migration with their hosting plans. This means, that if you want to transfer your WordPress site to JustHost, this will be done for you free of charge (if you match the criteria).
7. Free Script Library
With every JustHost account, you'll get a full script library for free.
SimpleScripts can automatically install any of the scripts you choose right to your site. Available scripts include WordPress, OS Commerce, phpBB, and Joomla.
That way, you can install the scripts you need without having to be a coding genius.
8. Good Security
When choosing a web host, security should be one of your top priorities.
Thankfully, JustHost offers tons of different forms of site security. They use Secure Sockets Layer (SSL), secure shell (SSH), solid-state drive (SSD), and more.
They also provide SiteLock, which includes:
Daily 360-degree vulnerability scanning
Dashboard Reports
Alerts & Email Notifications
A dynamic verifiable security badge
Security Maintenance
360-degree scanning (defacement, drive-by downloads, database vulnerabilities, and application vulnerabilities)
You'll also receive instant alerts and reports to your email address and dashboard if a threat is detected. That way, you can take action against harmful content before your site is blacklisted.
Cons of Using Justhost Hosting
---
The most important features that a hosting provider delivers are:
Uptime: The average amount of time your website is online and available (not 'down', where visitors can't access it because of server errors or issues)
Speed: How quickly (or slowly) your pages load all content, images, and more. As a general rule, the slower the website, the lower the conversions.
Customer Support: Good service should go above and beyond to help you figure out how to make your site experience the best while troubleshooting common issues when they pop up. That's especially true if you're not the most technical person in the world.
If you read the pros section, you know that they performed well in all the three abovementioned areas. However, there are still some drawbacks that have to be noticed.
1. Cheapest Price Only With 3 Year, Upfront Payment
JustHost appears inexpensive on the face of it, with a stated $3.95 monthly rate.
Note that you need to pay for three years, all at once upfront if you want to lock in that great rate. Otherwise, a shorter term (like 12 months) will set you back with $5.95 a month instead (again – paid upfront). And if you want a monthly plan, the price would be $7.99.
To make matters worse, once this 'promotional' rate expires when your plan ends, your pricing options will rise again.
When adjusted for the effective price, it puts JustHost in direction competition with some of the best hosts we've reviewed.
2. Weekly Backups Aren't Guaranteed
JustHost offers backups in a daily, weekly, and monthly manner.
But…
JustHost doesn't guarantee the backups they offer.
What does it mean?
They technically offer one but don't support or stand behind it. Moreover, they don't take any responsibility for failed backups and JustHost is unable to create backups for sites over 30 GB.
The best option would be to sign up with a backup tool. This, however, will cost you an extra $2.99/month.
JustHost Pricing, Hosting Plans & Quick Facts
Here's a quick overview of the hosting plans they offer:
---
Basic Plan
Plus Plan
Choice Plus Plan
Pricing
$3.95/month
Renews at $11.99/mo
$6.95/month
Renews at $14.99/mo
$6.95/month
Renews at $17.99/mo
Websites
1
Unlimited
Unlimited
Bandwidth
Unmetered
Unmetered
Unmetered
Storage
50 GB
Unmetered
Unmetered
Email Accounts
5
Unlimited
Unlimited
Other Features
–
• 1 SpamExperts
• 1 SpamExperts
• 1 Domain Privacy+Protection
• CodeGuard Basic
---
Quick Facts
Free domain? Yes.
Ease of Signup: Quick, two-step signup process.
Money-Back: 30-day money-back guarantee.
Payment Methods: Credit Card, PayPal.
Hidden Fees and Clauses: Shared hosting accounts have a limit of 200,000 inodes, 5,000 database tables, and 5 GB of total MySQL/PostgreSQL databases. Exceeding this limit may lead to the termination of your account with or without notice.
Upsells: Lots of upsells.
Account Activation: Quick activation.
Control Panel and Dashboard Experience: Their own heavily customized cPanel.
Installation of Apps and CMSs (WordPress, Joomla, etc.): "One-click installs" option for installing popular apps and CMSs.
Do We Recommend JustHost?
Yes and no. There are better hosts out there.
JustHost's customer support is decent and they have delivered a good uptime over the past year which makes them a reliable host.
However, their speed is just a bit too average.
In addition, their true pricing put them in direct competition with some much better hosts at a similar price range.
It might be worth checking those out first to save yourself some time, money, nerves, and hassle in the long run.
---
---
Have you used JustHost? Please leave an honest and transparent review below – good or bad, we appreciate both.