Nexcess is a web hosting company that's been around for over 20 years.
While it offers services like cloud hosting and enterprise hosting, it's best known for its managed hosting offerings, including:
Managed WordPress hosting
Managed WooCommerce hosting
Managed Magento hosting
Custom enterprise hosting
In 2019, Nexcess partnered up with Liquid Web to become a subsidiary under its umbrella of brands. The Liquid Web family has over 500,000 sites under its belt, including globally recognized brands like National Geographic, Porsche, and Home Depot.
With this business model, Liquid Web can offer different types of hosting while still focusing on the needs of specific customer segments:
Liquid Web specializes in managed dedicated hosting, cloud hosting, and clustered hosting environments.
Nexcess is the e-commerce managed cloud hosting
Stellar WP handles plugins and software.
Compared to most of its competitors, the Liquid Web family targets a more advanced audience, specifically web-dependent small businesses like online stores, freelance web designers, developers, and agencies.
Our Nexcess review found that its plans are more expensive than the introductory pricing of many shared hosts. However, it offers competitive prices compared to the renewal rates on shared hosting plans.
Let's dive into the features and see if Nexcess is the best web host for you.
An Overview of Nexcess
SPEED (WORDPRESS HOSTING):
275 ms (January 2022 to December 2022)
UPTIME (WORDPRESS HOSTING):
99.79% (January 2022 to December 2022)
SUPPORT:
24/7 Live Chat, Phone, Email, Support Ticket System, Knowledge Base
APPS:
WordPress, WooCommerce, Drupal, Magento, Craft CMS, ExpressionEngine, StoreBuilder, and more.
Control panel support includes Client Portal and Nexcess Panel.
FEATURES:
1-Click Staging Site, Email, Minimum 15 GB Storage, Minimum 2 TB Bandwidth, Free SSL Certificate, Daily Backups, Image Optimization, Built-in CDN, Plugin Performance Monitor, 30-Day Money Back Guarantee
HOSTING PLANS:
Managed and Enterprise Hosting for WordPress, WooCommerce, Magento, ExpressionEngine, Craft CMS, and Drupal; Custom Enterprise Hosting
SITE TRANSFER:
Free
PRICING:
Starting at $15.83/month (when paid annually)
Advantages of Using Nexcess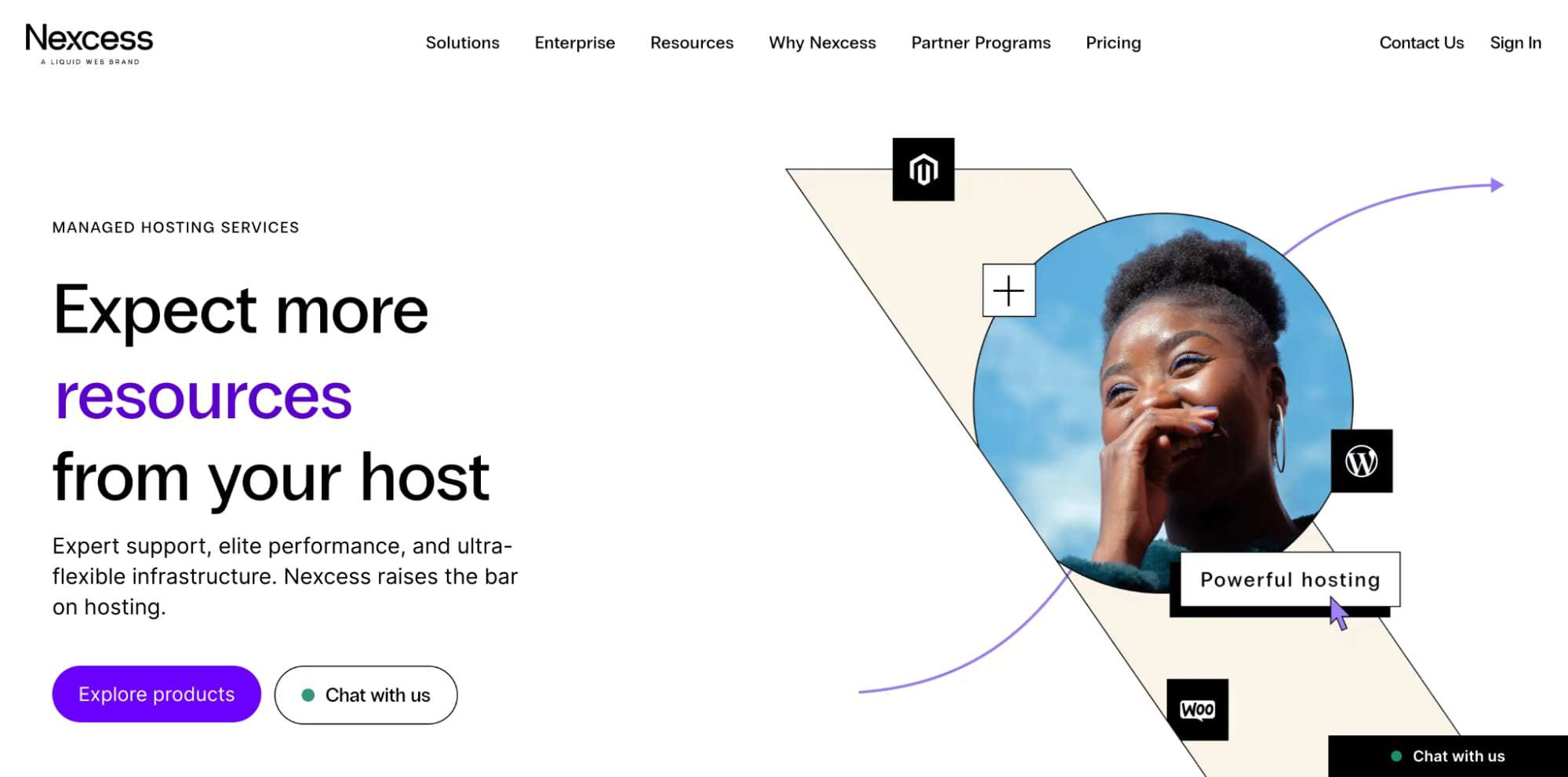 Nexcess specializes in managed WordPress, WooCommerce, and Magento hosting. E-commerce store owners will appreciate Nexcess's quick page speed, consistent uptime, and responsive customer service.
Let's look at our top picks for Nexcess's advantages in more detail below.
1. Fast Server Response Time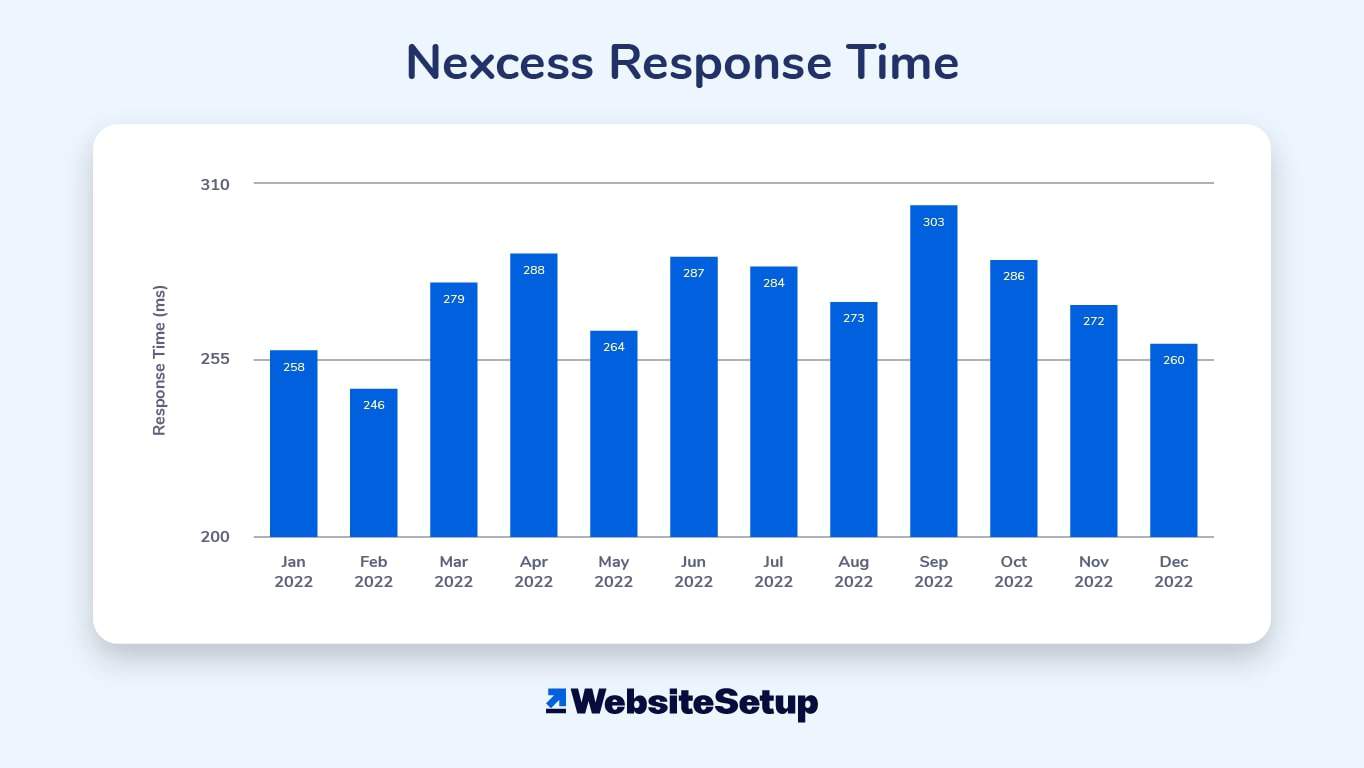 Speed is an important consideration when choosing a web hosting package.
Speed affects user experience and SEO. Speed is so crucial that websites with a high page load time or slow server response time tend to have lower conversion rates.
Server response time directly impacts your page load speed.
Response time is the time it takes for an inquiry to receive a server response. According to Littledata, 280 ms is a good server response time, while anything slower than 826 ms is bad.
On the other hand, page load speed refers to the time a webpage takes to load, including images, scripts, HTML, and CSS elements found on the website. It's affected by individual website designs and configurations as well as server response times and locations.
We measured a 275 ms response time for Nexcess WordPress hosting, which exceeds Littledata criteria. It's even faster than Digital Ocean (279 ms) and SiteGround (384 ms), which are among the fastest hosting companies we've reviewed.
Nexcess outshines shared web hosting plans with performance optimized for speed by:
Object Cache
Premium image compression and lazy loading.
A built-in content delivery network(CDN).
Auto-scaling, which helps your website handle more users and deliver content faster during sudden traffic spikes.
Nexcess also has 10 data centers in the U.S., Europe, and Australia, guaranteeing there will be a server near you.
2. Great Uptime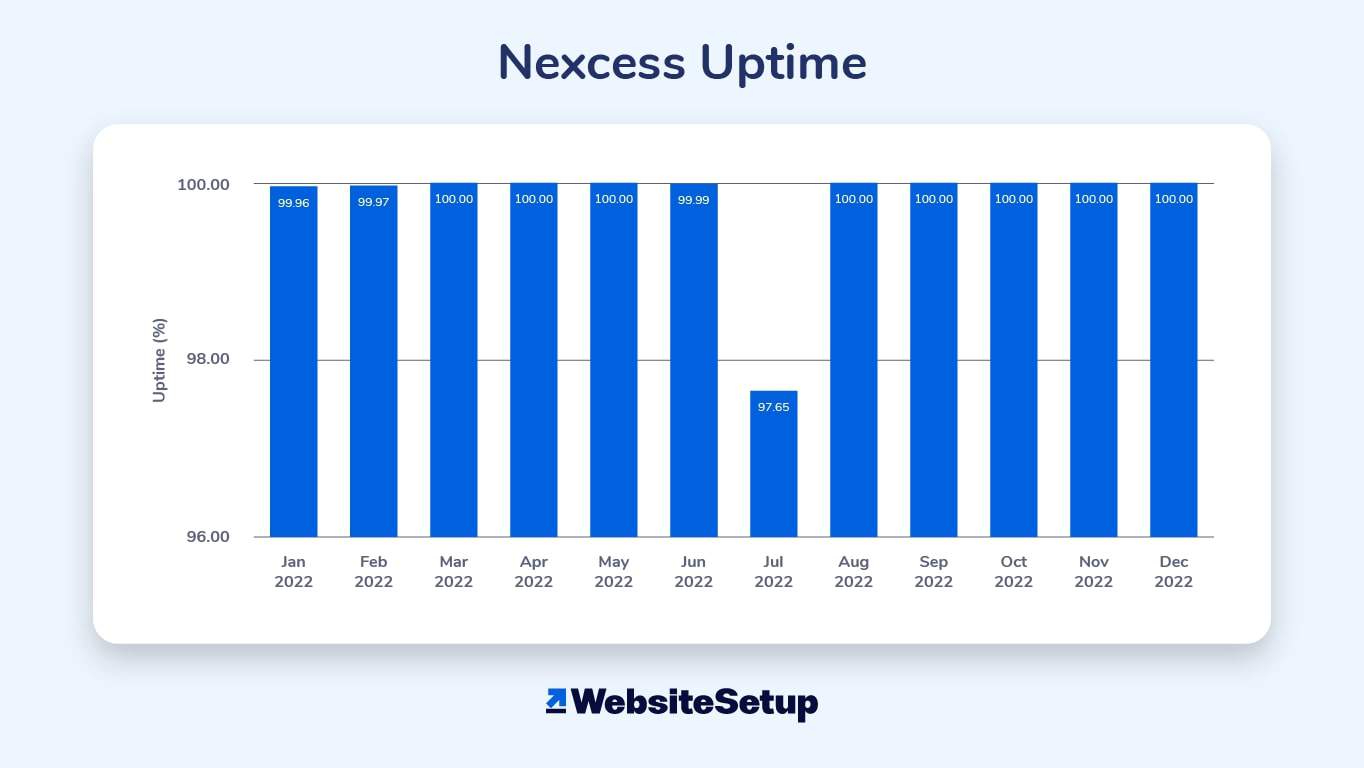 Nexcess claims to have a 99.99% uptime. Like most hosts, it doesn't guarantee 100% uptime because you must account for natural disasters.
And for nine months of 2022, it met or exceeded that uptime promise.
Part of that success probably comes from Nexcess having its own data centers, which allows its technical staff to address issues faster.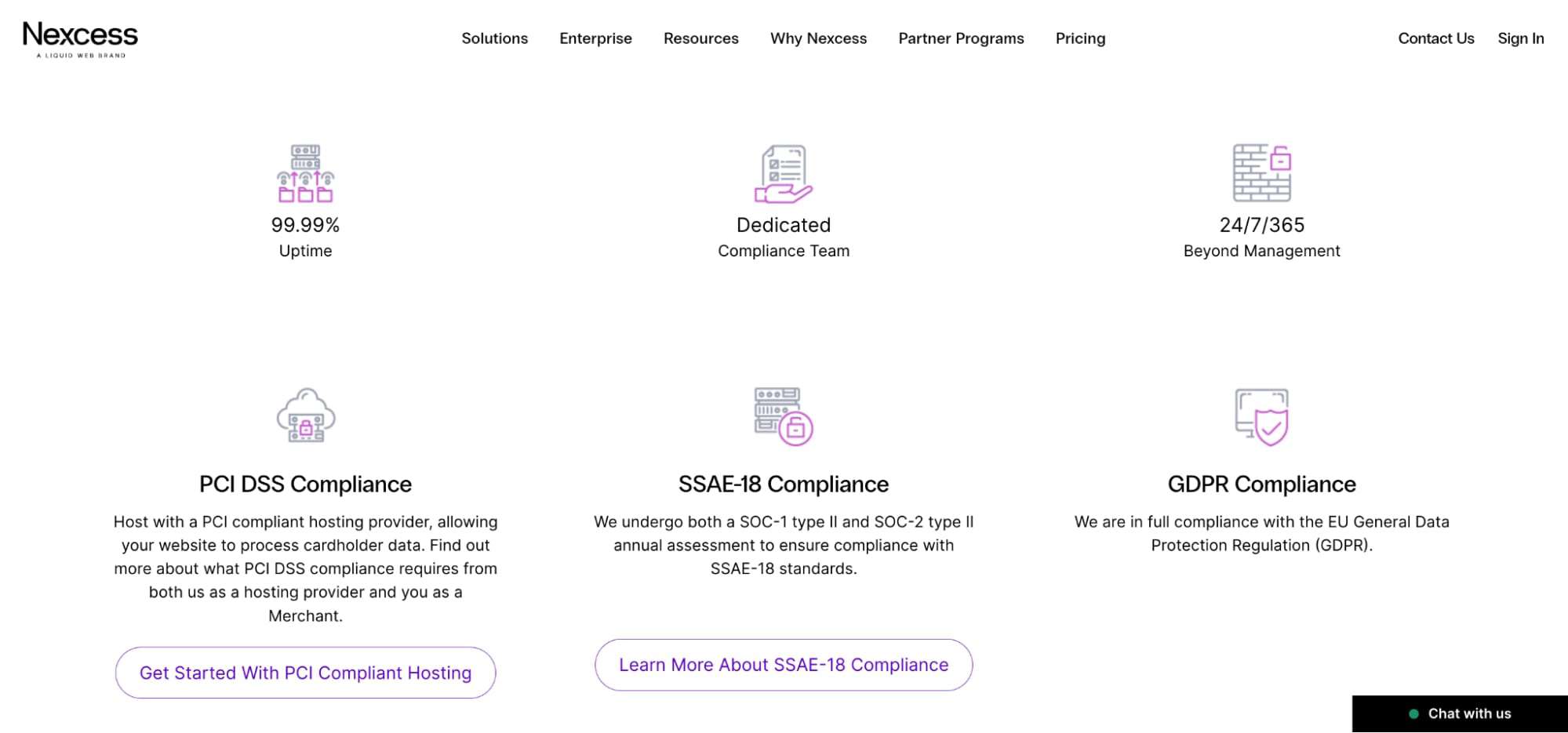 However, in 2022, Nexcess's total uptime only averaged 99.79%, with roughly 17.5 hours of downtime.
The lower average was mostly due to a service issue in July 2022, which was the lowest-performing month at 97.65% uptime.
We can't fault Nexcess for one bad month when it frequently offers 100% uptime.
Nexcess also stands behind its uptime guarantee with a Service Level Agreement (SLA) that promises credits anytime the service is unavailable for 15 cumulative minutes, with some exceptions.
3. Responsive Customer Support
Nexcess has a rich knowledge base customers can use to find answers. But humans can resolve some issues better than the knowledge base can.
Because of that, Nexcess offers four ways to contact customer support when you need help:
24/7 live chat
Phone
Helpdesk (ticketing system)
Email

We tried the live chat system ourselves and found it highly responsive. We reached out and got a response immediately.
However, you need to be logged into your My Nexcess account to access live chat technical support. For sales questions, you only need to enter your name and email to access live chat.
During our session, the customer support staff quickly responded. When faced with a tricky question, it still took less than five minutes to find an answer.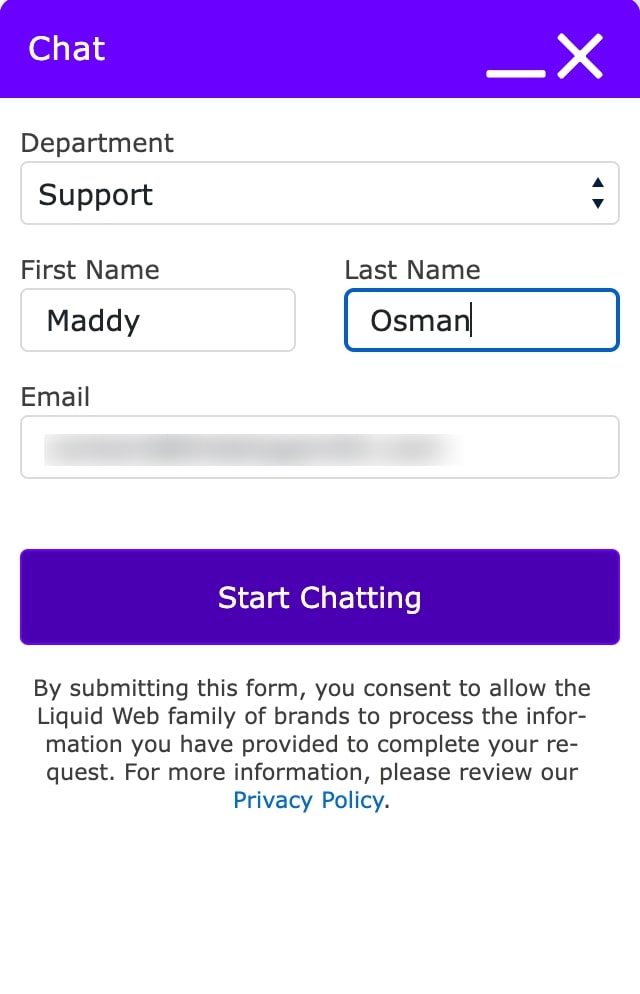 4. Excellent Security Features
As cybersecurity becomes more important in the face of continuing increases in cyber attacks,  Nexcess has you covered.
All of its environments are Payment Card Industry (PCI), General Data Protection Regulation (GDPR), and Statement on Standards for Attestation Engagements No. 18 (SSAE-18) compliant.
The security features on a Nexcess managed WordPress plan include:
Free SSL certificate.
Daily back-ups.
Automatic WordPress and plugin update
Access to iThemes Security Pro plugin, whose functions include banning bad bots, malware scanning, and reducing comment spam.
Distributed denial-of-service (DDoS) attack prevention
Its managed hosting plans for Magento and WooCommerce websites offer similar features.
Nexcess beats other web hosting plans, such as tsoHost, which offers these features at an added cost.
5. Personalized Control Panel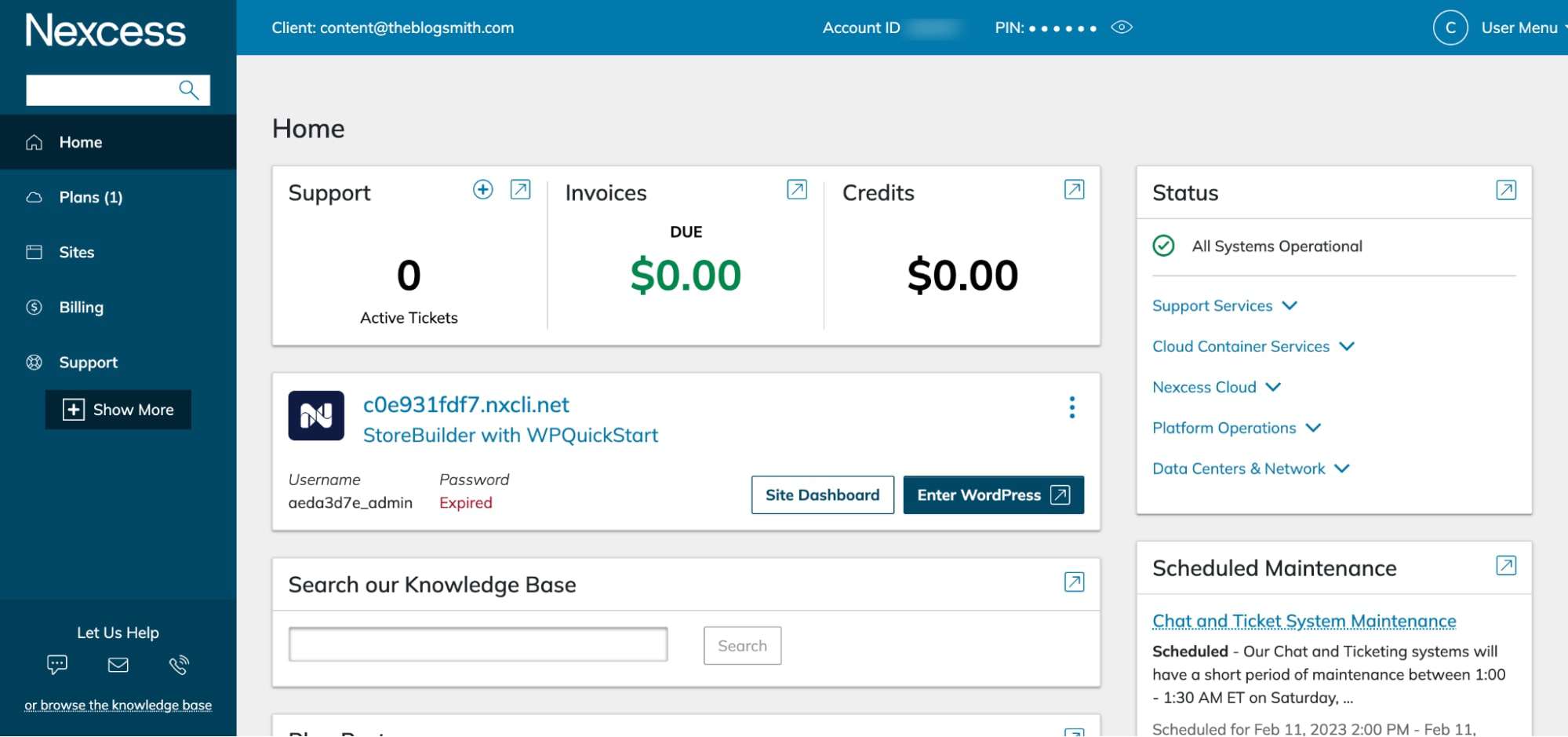 When you sign up for a web hosting plan, hosting providers will include a dashboard where you can make changes to your plan instead of working through the command line.
Most hosting companies use cPanel. However, a few — like Kinsta and Nexcess — have their own personalized dashboards.
The Nexcess Client Portal is similar to cPanel. It offers the same features as cPanel with a different interface. It also includes custom features exclusive to Nexcess, such as Nexcess Auto Scaling, Elasticsearch, and the Cloud Accelerator.
Other things you can do on the Client Portal include:
Access email. Nexcess plans come with free unlimited email accounts. You can configure your email to work with a variety of popular services, including Microsoft Outlook and Apple Mail.
Request website migration assistance. If you're moving from another host, Nexcess can assist you with website migration.
Create backups.
Purchase or transfer SSL certificates.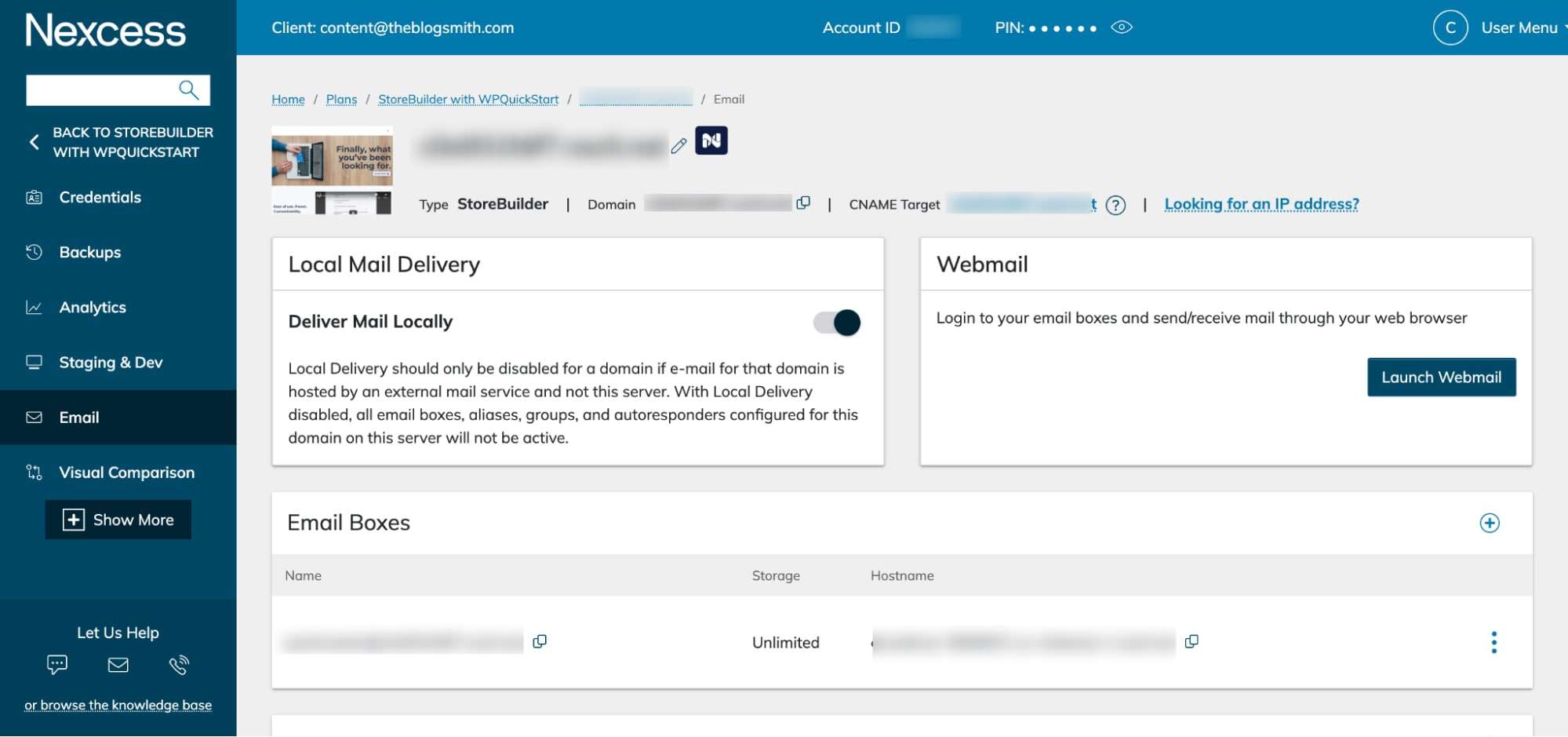 Nexcess users automatically receive access to the Client Portal upon signing up for a plan.
6. Straightforward Money-Back Guarantee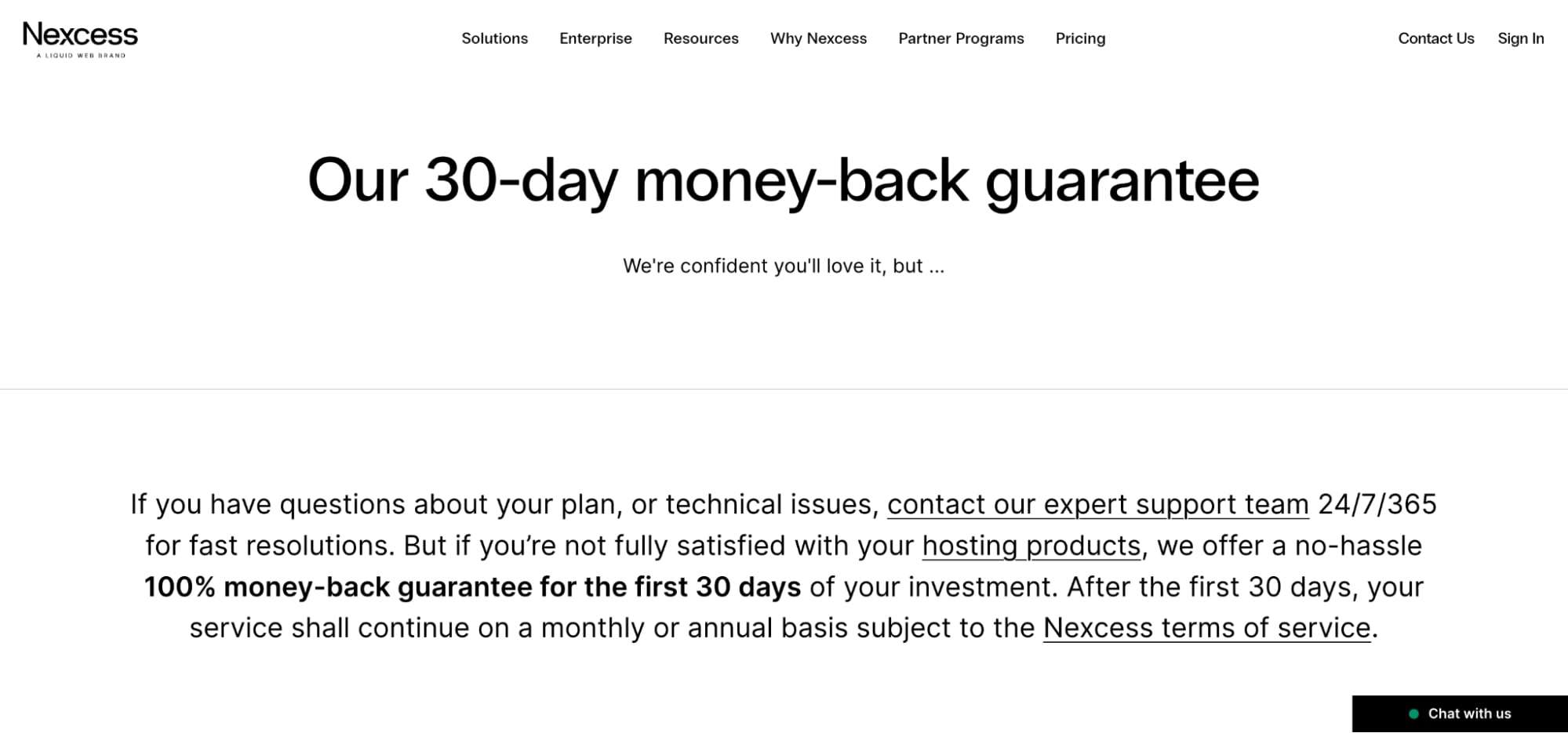 Nexcess has a no-fuss 30-day money-back policy.
If you're unhappy with its services, message the Nexcess support team within 30 days of signing up for the plan to receive a refund.
You can also submit a refund/non-renewal ticket on your account management dashboard.
Disadvantages of Using Nexcess
Nexcess hosting plans have many strengths, like responsive customer support, but they're not perfect. Here are some of the downsides:
1. No Cheap Shared Hosting Plans
Many small business owners and startups are more comfortable starting with shared hosting plans because of their low introductory rates.
Shared hosting is a low-cost entry-level hosting plan that's perfect for beginners with limited needs. It's cheap because users share server resources with many other websites and have to take care of their own updates. You can upgrade your shared hosting plan as your needs grow.
Nexcess doesn't offer a shared hosting option. Its managed WordPress plans are the closest entry-level alternatives.
Managed WordPress hosting is like a concierge service for WordPress websites. The web hosting provider takes care of everything from updates to upgrades. That's why it has a bit of a higher price than some shared web hosting plans.
If you're a small business owner or plan to monetize your WordPress website, managed hosting is a perfect choice, especially when you have little to no technical knowledge.
But if you plan on creating a portfolio or a personal hobby blog, you may be better off with a cheaper shared hosting plan from Hostinger (starts at $1.99/month) or DreamHost (starts at $2.59/month).
The lack of low-feature basic shared hosting plans does mean Nexcess isn't suitable for some. But it gives Nexcess room to focus on providing high-quality managed and customized hosting.
Nexcess and the rest of the Liquid Web family cater to web-dependent businesses that need higher performance and service.
2. No Deeply Discounted Introductory Rate
At first glance, Nexcess seems more expensive than the other services we've reviewed. However, that's because many hosts we review are shared hosting providers with heavily discounted introductory offers.
Those offers usually range from $3 to $7/month and renew for $10 to $20/month.
Compared with regular shared hosting prices, the Nexcess pricing plans aren't that expensive and offer much more value.
The lowest price for the Nexcess managed WordPress plan is for the Spark plan at $15.83/month when billed annually. Its highest-tiered plan goes for up to $832.50/month for up to 250 websites.
Unlike other hosting providers like Bluehost or GoDaddy, whose prices increase upon renewal, Nexcess renews its hosting plans at the same rate.
Nexcess does offer introductory discounts on some plans. But they aren't the deep discounts of shared hosts and last for shorter terms than when you sign up for a shared annual plan elsewhere.
The average discount length is only three months. For example, the Maker plan (when billed monthly) starts at $35.55/month for the first three months and costs $79/month after that.
3. Multiple Options Can Be Overwhelming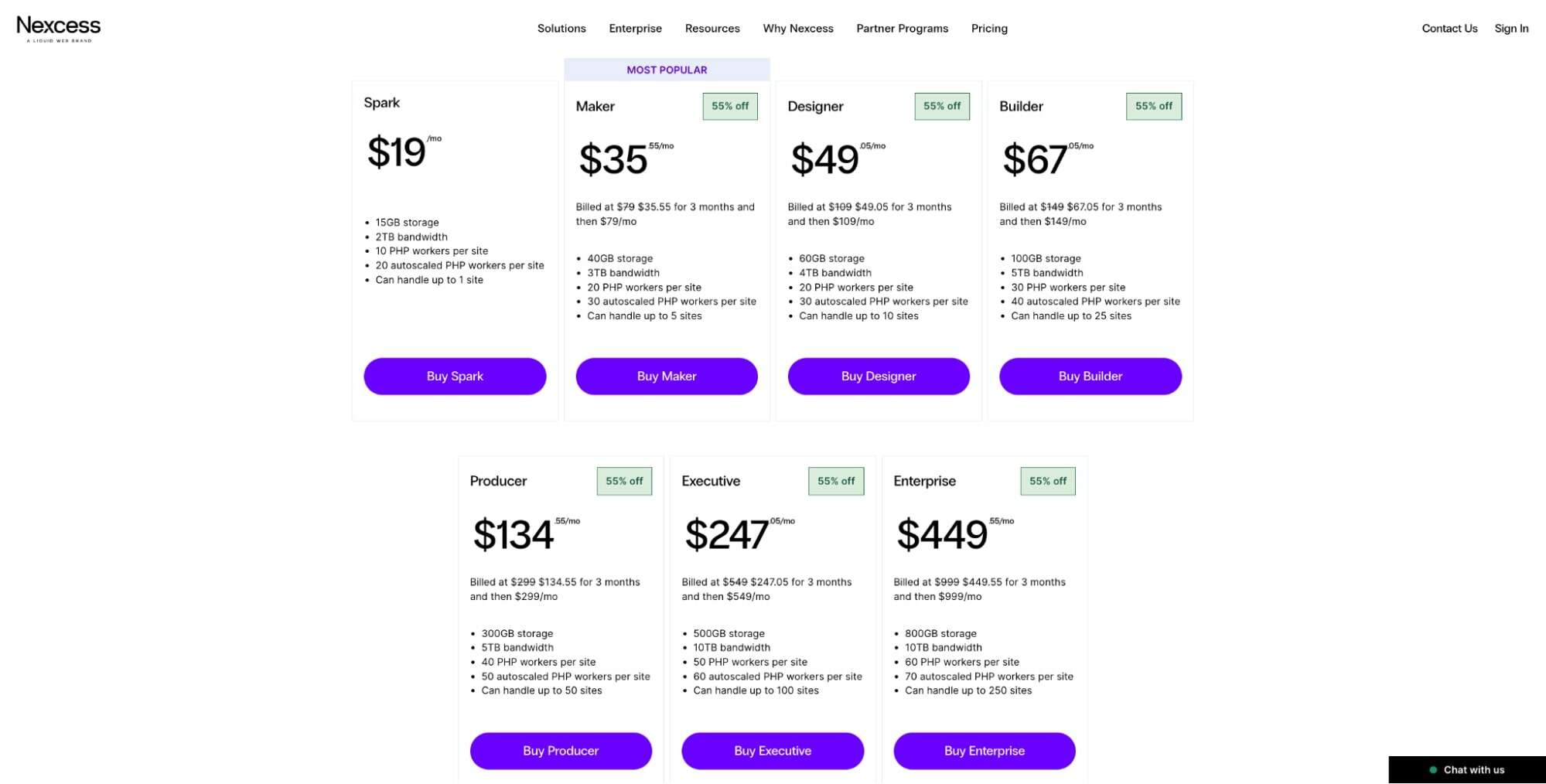 Nexcess offers seven tiers for its managed WordPress plans and six tiers for its managed Magento and WooCommerce plans. All of these options can overwhelm new users.
We understand that multiple plans and tiers give customers more flexibility (instead of overbuying or underbuying). But if you're brand new to website hosting, it can be confusing.
A 2021 Breadcrumbs.io report found that the power of three applies to pricing plans — offering three pricing plans seems to be the sweet spot.
However, if you're ready to dig through all the options, the depth of plan choices Nexcess offers can help you find exactly what you need for your website.
4. No Free Domain
When paying for a premium service like managed hosting, you expect plans to include features like free SSL certificates and domain names. However, Nexcess doesn't include free domains on its managed hosting plans.
Instead, the company focuses on offering extra service and security features that cost more with most shared hosting plans.
Many cheaper hosting plans include a free domain name. By not including one, Nexcess adds an expense ($15 to $26/year) on top of your hosting costs.
Quick Facts
Domain: Additional cost.
Ease of Signup: Easy.
Money-Back: 30-day money-back guarantee.
Payment Methods: Visa, Mastercard, AMEX, and Discover credit cards and PayPal.
Hidden Fees and Clauses: Setup fees are nonrefundable. SLA credits only can be used for future payments on the service they were issued for.
Account Activation: Quick activation.
Control Panel and Dashboard: Client Portal and Nexcess
Installation of Apps and CMSs (WordPress, Joomla, etc.): One-click installs for most popular apps.
Other Features: DDoS attack protection, image compression, automatic updates, built-in backups, Edge CDN, and more.
Do We Recommend Nexcess?
Yes, we do recommend Nexcess.
Our Nexcess review shows that this hosting provider has delivered excellent response time, uptime, customer service, and features.
However, if you're a small business or just starting a personal website, Nexcess may not be a good fit. The lack of a no-frills, low-cost shared hosting service might make the initial investment difficult for beginners and users with limited budgets.
The managed hosting plan is its entry-level equivalent. It includes everything from premium hosting to plugins, themes, and high-level technical support with only minor additional costs over regular shared host pricing.
Nexcess takes care of everything, including plugin updates, backups, and security.
Plus, Nexcess has many other hosting options all the way up to custom enterprise hosting, so it's fully scalable as your business grows.
If you're a web-dependent business looking for advanced features or a beginner who needs a lot of technical help (and your budget covers higher-cost hosting), Nexcess is truly worth every penny.