You've probably heard about Namecheap, but as a market for budget-friendly domain names. But in this Namecheap review, we ask the question: How do Namecheap's hosting services stack up against our tests?
Richard Kirkendall founded Namecheap way back in 2000. Since then, it's gone on to have nearly 18 million domain names under management.
But just because Namecheap has had exceptional success in domain registration doesn't mean it can do the same with hosting. Or does it?
We've kept tabs on Namecheap since 2017 and have more than five years' worth of data on its performance to go over.
From our findings, we can break down the advantages and disadvantages of Namecheap based on its page load speed, uptime, and other critical features to examine when selecting a web host.
Is Namecheap good enough to pass our recommendation test? Read on to find out.
General Info & Hosting Overview
| | |
| --- | --- |
| SPEED: | 329 ms (January 2022 to December 2022) |
| UPTIME: | 99.93% (January 2022 to December 2022) |
| SUPPORT: | 24/7 Live Chat, Ticketing, and Knowledge Base |
| APPS: | 100+ Apps with 1-Click Install, Including WordPress, Joomla, Drupal, Magento, and more. |
| FEATURES: | Unmetered Bandwidth, 20 GB SSD Disk Space, 30 Email Accounts, SpamAssassin, Backups, Google Apps, 30-Day Money-Back Guarantee, Three Hosted Domains, Website Builder, Free CDN, Free SSL |
| HOSTING PLANS: | Shared, WordPress, VPS, Reseller, Private Email, and Dedicated Hosting |
| SITE TRANSFER: | Free |
| PRICING: | Starting at $1.98/month (renews at $4.48/month) |
Advantages of Using Namecheap Hosting
Choosing any of Namecheap's web hosting services has some upsides, especially if you're looking for ease of use, email hosting, and a free website builder. Plus, you'll benefit from the security features that come standard with any Namecheap domain or hosting plan purchase.
Here's a full list of the advantages of choosing Namecheap:
1. Acceptable Uptime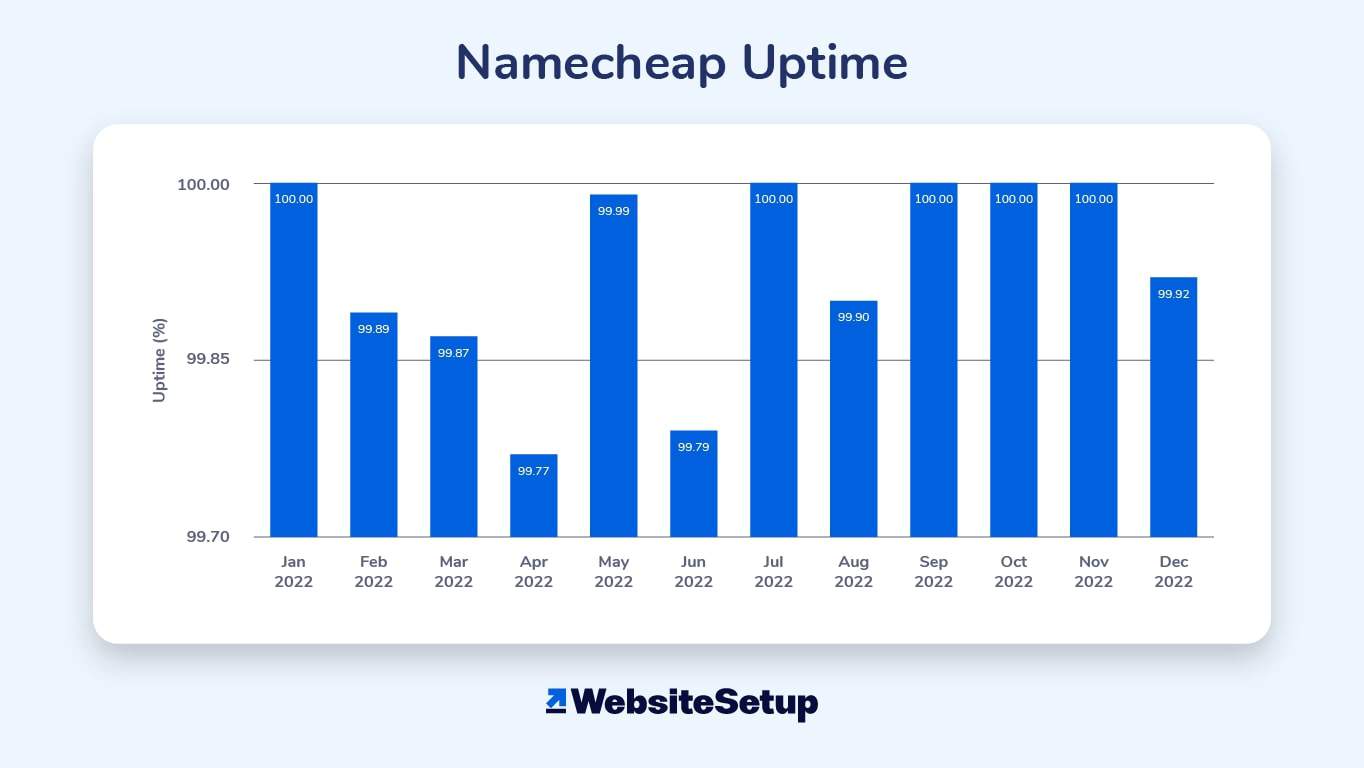 Namecheap had pretty decent uptime numbers in 2022.
For instance, between January and December 2022, Namecheap had an average uptime of about 99.93%. Within that time frame, it had four low-performance months.
The web host's lowest-performing months were April (99.77%) and June (99.79%). This amounts to about an hour and a half of downtown per month.
In February and March 2022, the uptime was 99.89% and 99.87%, respectively. But in every other month since, Namecheap maintained nothing less than 99.90% uptime.
In our tracking, Namecheap is pretty decent at maintaining uptime, but there are certainly better options. Take DigitalOcean, whose uptimes often stay higher than 99.97%.
Namecheap offers a monthly uptime guarantee of 99.9-100%, depending on the hosting package. Should it fail to meet that, you could qualify for a prolonged service cycle of up to one month of free hosting.
These terms can be quite comforting, especially if you depend on maximum uptime for the success of your business.
2. Exceptional Page Load Speeds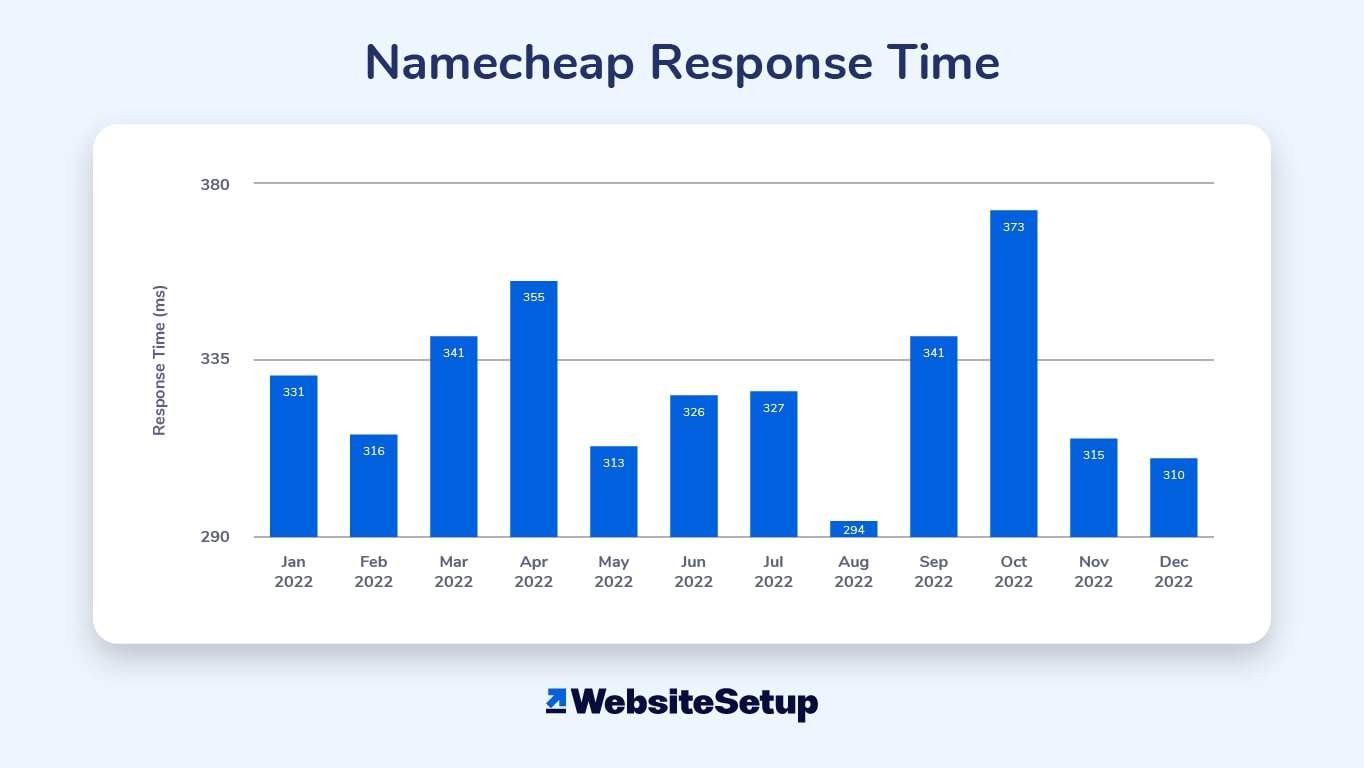 One of the most outstanding features of Namecheap's hosting services is its blazing-fast load speeds. Within the past year (January through December 2022), Namecheap recorded a remarkable average load time of 329 ms.
Sometimes, speeds got even faster. For instance, Namecheap recorded an average loading time of 294 ms in August 2022. And even on its worst month (October 2022 at 373 ms), its loading speeds were below 400 ms.
These loading speeds are on par with those of other hosting solutions like DigitalOcean. And they're much faster than some bigger, more-established hosts, like DreamHost, Bluehost, and IONOS.
3. Budget-Friendly Shared Hosting Plans and Renewal Prices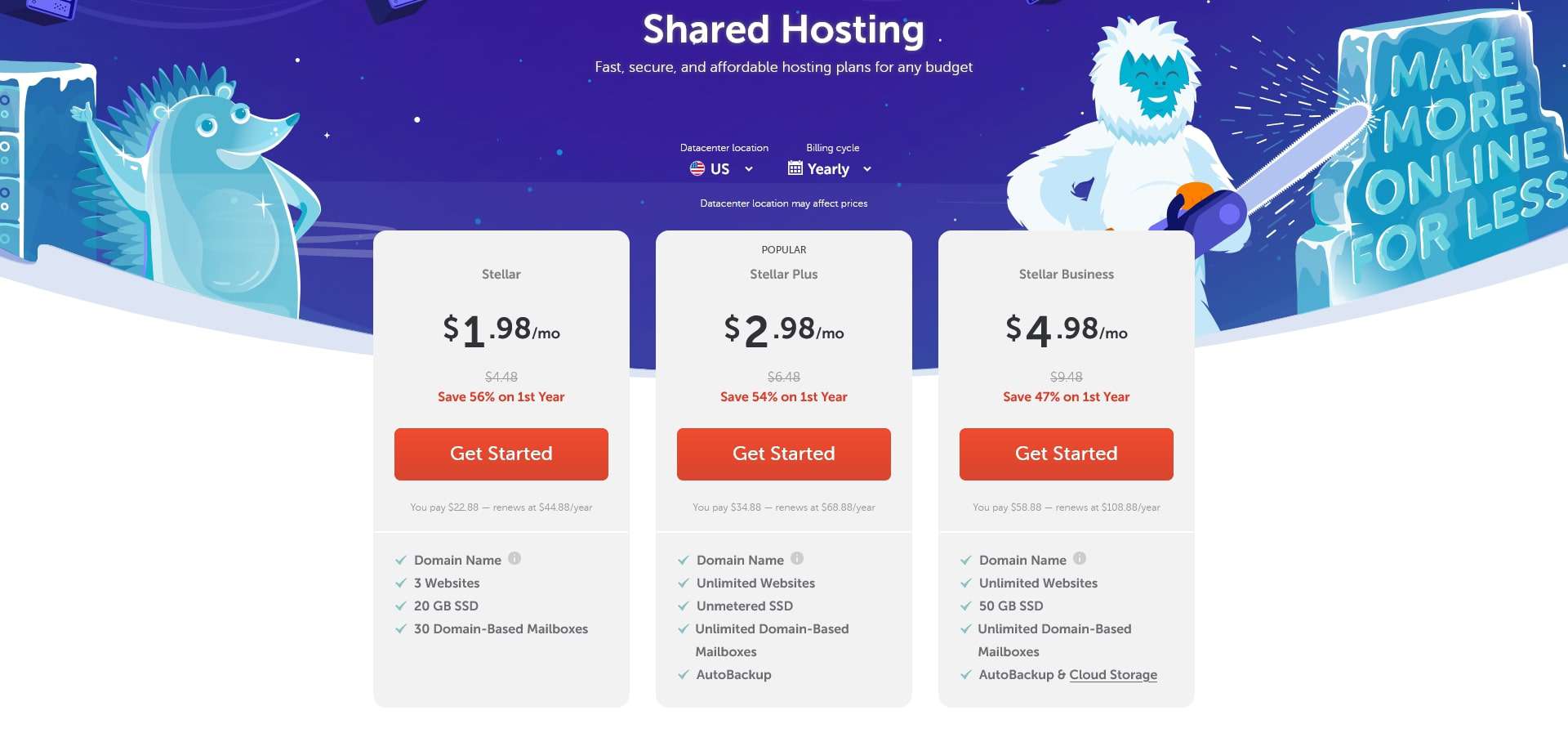 Namecheap has pretty affordable prices for shared hosting.
Take, for instance, the most basic plan, called Stellar. You'll pay $1.98/month for your first year, billed at $22.88/year. Afterward, you revert to the standard $44.88/year.
If you opt for the two-year plan, your monthly charge drops to $1.58, billed at $37.88 for two years. After that, you'll pay $83.88 for your next two-year period.
The Stellar plan comes with a free domain offer, up to three websites, 20 GB SSD storage, and 30 domain-based mailboxes.
For the Stellar Plus plan, you pay $2.98/month for your first year, adding up to a $34.88 fee. If you choose the two-year plan, you'll pay $2.28/month for a $53.88 fee. Afterward, the plan renews at $118.88 every two years.

Namecheap also offers low prices for its other hosting services, including managed WordPress hosting that's free for the first month (renews at a starting price of $6.88/month or $34.88/year after that).
4. Value for Money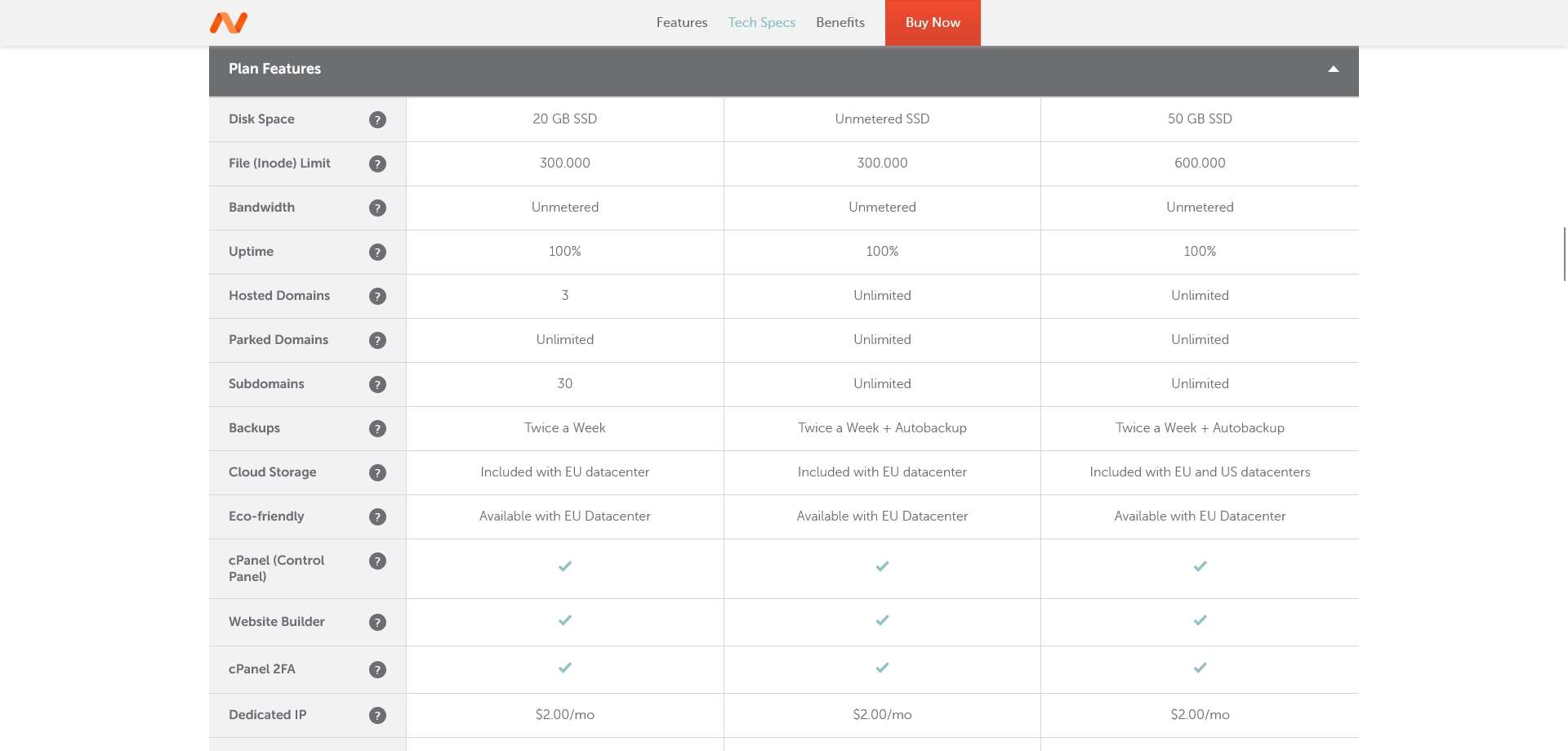 So, what do you get with your Namecheap shared hosting purchase?
With the Stellar plan, you get the following:
20 GB of SSD storage
Unmetered bandwidth
Three hosted domains
30 subdomains
Two automatic backups weekly
100+ free apps with 1-click installs
Up to 50 free SSL certificates per cPanel account (for the first year)
While this package is decent, opting for the pricier Stellar Plus plan comes with even more perks. For example:
Unmetered SSD storage
Unlimited hosted and parked domains
Unlimited subdomains
Two weekly backups and auto-backup
The Stellar Business plan comes with all the features of the Stellar Plus plan (except 50 GB SSD storage) but with the addition of cloud storage with U.S. datacenters.
All three plans include a free domain name (with limitations), privacy protection, and Supersonic CDN, Namecheap's content delivery network (CDN).
Having reviewed a number of hosting services, Namecheap's shared hosting impressed us with a few features. First, no matter which plan you pick, you get free Namecheap domain registration and a free SSL certificate included for a full year. With other providers (like DigitalOcean), you'd have to pay for some of these add-ons.
Second, Namecheap's Stellar plan comes with bi-weekly backups, which is pretty handy. Plus, its premium plans all come with auto-backup for free.
You also get access to cPanel, 100+ apps (including WordPress), three websites for the Stellar plan, and 30 email accounts.
Lastly, all of Namecheap's domain names and hosting plans come with a suite of built-in security features to protect your (and your customers') data and privacy.
These security measures include Domain Lock, DDoS protection, and two-factor identification.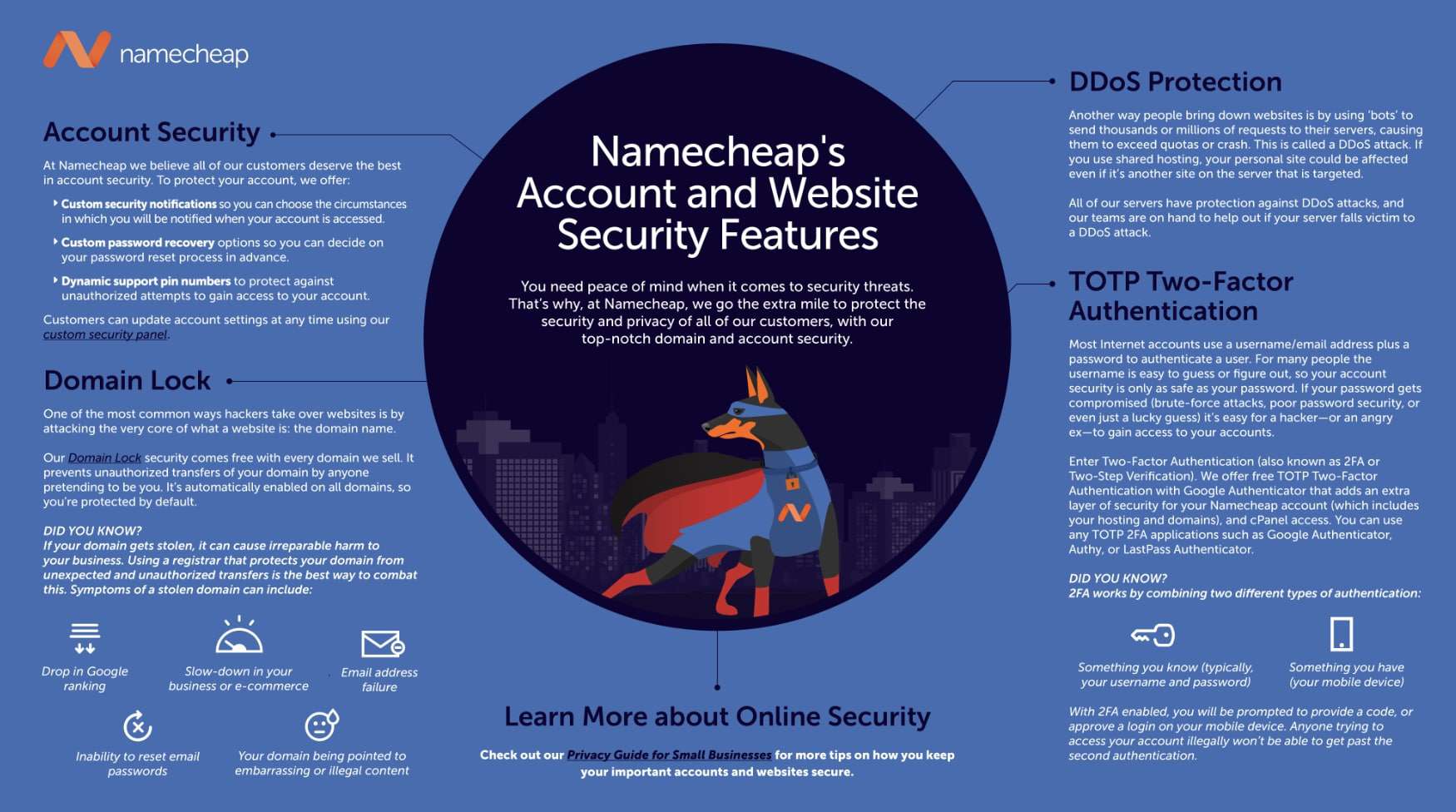 In short, Namecheap includes a number of features with its basic shared hosting plans — all at an affordable price.
5. Customer Support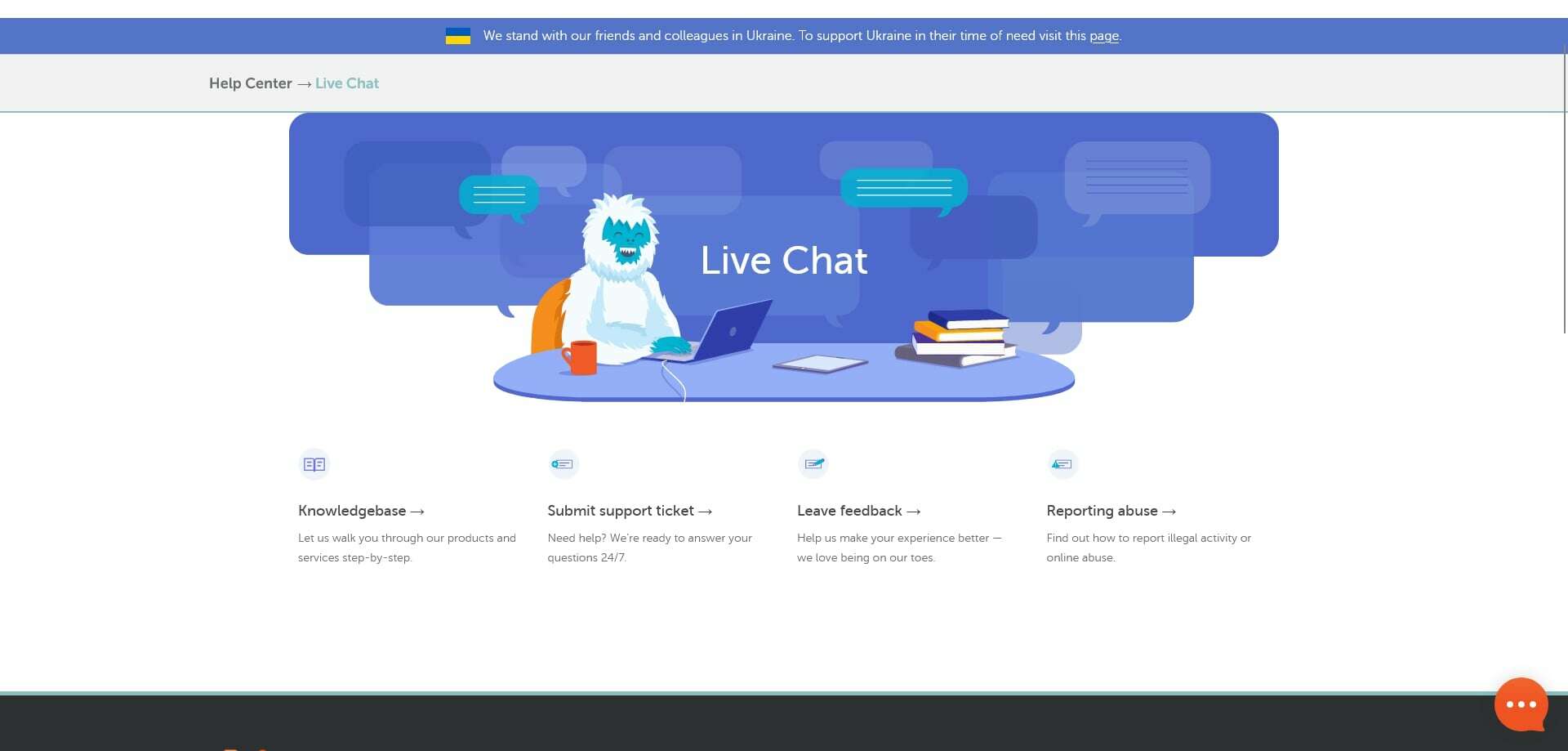 Namecheap offers reliable customer support services for all its customers. To access them, you can contact a support person using live chat 24/7, regardless of location.
To begin, launch a support ticket to report a problem. On the form, you can add as much detail about your problem in the ticket's body and attach support files too.
However, Namecheap's preferred support option is to refer to its extensive knowledge base. The easy-to-use library of information has plenty of how-to articles and guides that take you through Namecheap's services.
These guides are neatly arranged into categories, making it easy to find what you're looking for.  Whether you have a billing or domain problem, there's a guide ready to assist you.
6. 30-Day Money-Back Guarantee
As part of Namecheap's website hosting guarantee, you get a 30-day money-back guarantee. If you've purchased a Dedicated Server or email hosting plan, you can apply for a refund within seven days.
This guarantee is beneficial for beginners who might be interested in trying out Namecheap's services risk-free for a month. If you decide to go with a different host, it's easy to get your money back with no strings attached.
7. Free Domain and Website Migration
You probably knew about Namecheap because of its recognition as a domain name registrar. Not content with keeping domains and hosting separate, Namecheap offers a top-level domain name for free for your first year with a shared hosting plan. Afterward, it will renew at the regular price.
The only downside is the domain name isn't premium. On the bright side, the Stellar Plus and Stellar Business plans offer deep discounts on more popular TLDs, like .com and .biz.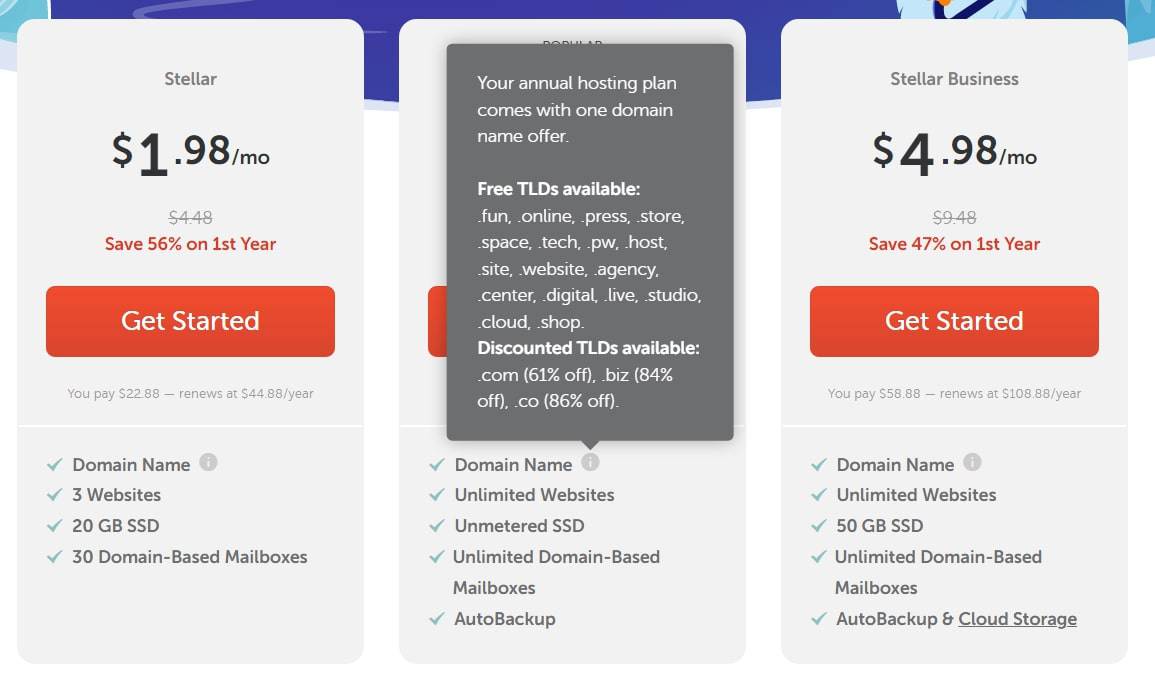 If you already have another website elsewhere, Namecheap will help you transfer it for free. If it's a cPanel to cPanel migration, it will do it within 24 hours with no more than 15 minutes of downtime. That also comes with a guarantee.
Should it fail to complete the transfer or if it is unsatisfactory, Namecheap will credit your account with the full value of your first purchase of shared hosting. Namecheap also uses the SSL encryption security feature to protect your data and files during migration.
For partial cPanel and non-cPanel migrations, Namecheap has its customer support on standby to help you complete the process.
Disadvantages of Using Namecheap Hosting
While Namecheap hosting plans do come with a number of affordable features, it also has a couple of downsides worth mentioning:
1. Lack of Data Centers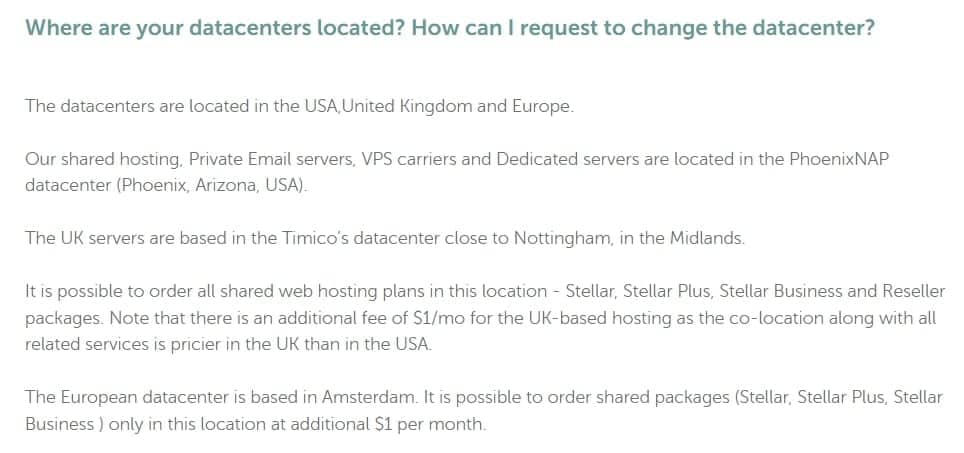 Compared to other hosting providers, Namecheap has far fewer data centers, with just three. One is in Nottingham, UK, another is in Phoenix, Arizona, and the last is in Amsterdam in the Netherlands.
That's not much, considering other service providers have more than three times as many (for example, GoDaddy has nine). Moreover, Namecheap will charge you an extra $1/month if you host your website in the UK or Dutch data center.
2. No Telephone Support
So, what happens when you have a massive website problem and need to speak to the support team? Well, you can't get someone via phone support, only through live chat. That can be quite frustrating, especially if your problem is extensive and the knowledge base and live chat aren't sufficient.
Also, if you need a step-by-step walkthrough of some features, there's no one to talk to.
Quick Facts
Free Domain?: Yes. You get a non-premium domain free for your first year.
Ease of Signup: Sign-up process is straightforward.
Money-Back: Namecheap offers a 30-day money-back guarantee.
Payment Methods: Credit and debit cards, PayPal, and Bitcoin.
Hidden Fees and Clauses: There are two important disclaimers to keep in mind:

Promotional Prices: Like many hosting companies, Namecheap offers a discounted sign-up rate for a fixed term and then reverts back to the "original" price upon renewal. If you aren't careful, this can come as quite a shock.

Account Activation: Fast, takes less than 24 hours.
Control Panel and Dashboard Experience: Uses cPanel.
Installation of Apps and CMSs (WordPress, Joomla, etc.): Supports quick app and CMS installs, including WordPress website builder and 100+ other apps.
Do We Recommend Namecheap?
Yes, we do.
We've established that it's one of the fastest and most reliable hosts currently on the market. We recommend it to anyone who needs a reliable, budget-friendly web hosting provider.
Namecheap offers excellent value, giving plenty of SSD storage, unlimited bandwidth, and affordable hosting plans. But if you're looking for more data center options, Namecheap isn't for you. Instead, you should check out HostPapa, which offers similar perks and more data centers.
But if you're an undemanding beginner, you can take advantage of Namecheap's shared hosting and WordPress plans at reasonable prices.