Way back in 2002, Danish entrepreneurs Jacob Jensen and Thomas Frederiksen founded a hosting company called b-one.net. While the internet has changed a lot in 20+ years, b-one.net is still around, but it's now known as one.com.
Unlike many hosts, one.com focuses on European users, so if you're from outside the EU, you might not be as familiar with the brand. Still, it's not as obscure as you may think. With its sister brands under group.ONE, one.com serves over 1.5 million customers across 200 countries.
Our one.com review focuses on bringing this web host to your attention, helping you decide if it's the right host for your needs.
An Overview of one.com
| | |
| --- | --- |
| SPEED: | 542 ms (January 2022 to September 2022) |
| UPTIME: | 99.999% (January 2022 to September 2022) |
| SUPPORT: | 24/7 Live Chat, Email, and Knowledge Base |
| APPS: | 1-click WordPress installation support (Starting from Explorer Plan) |
| FEATURES: | Unlimited bandwidth, 50 GB SSD storage, free website builder, free domain for first year, daily backups, free SSL certificate, free email hosting, one month of Google Ads Credit |
| HOSTING PLANS: | Shared, WordPress, and Email Hosting |
| SITE TRANSFER: | Free (From the Explorer plan) |
| PRICING: | Starting at $4.99/mo (renews at $6.99/mo) |
Advantages of Using one.com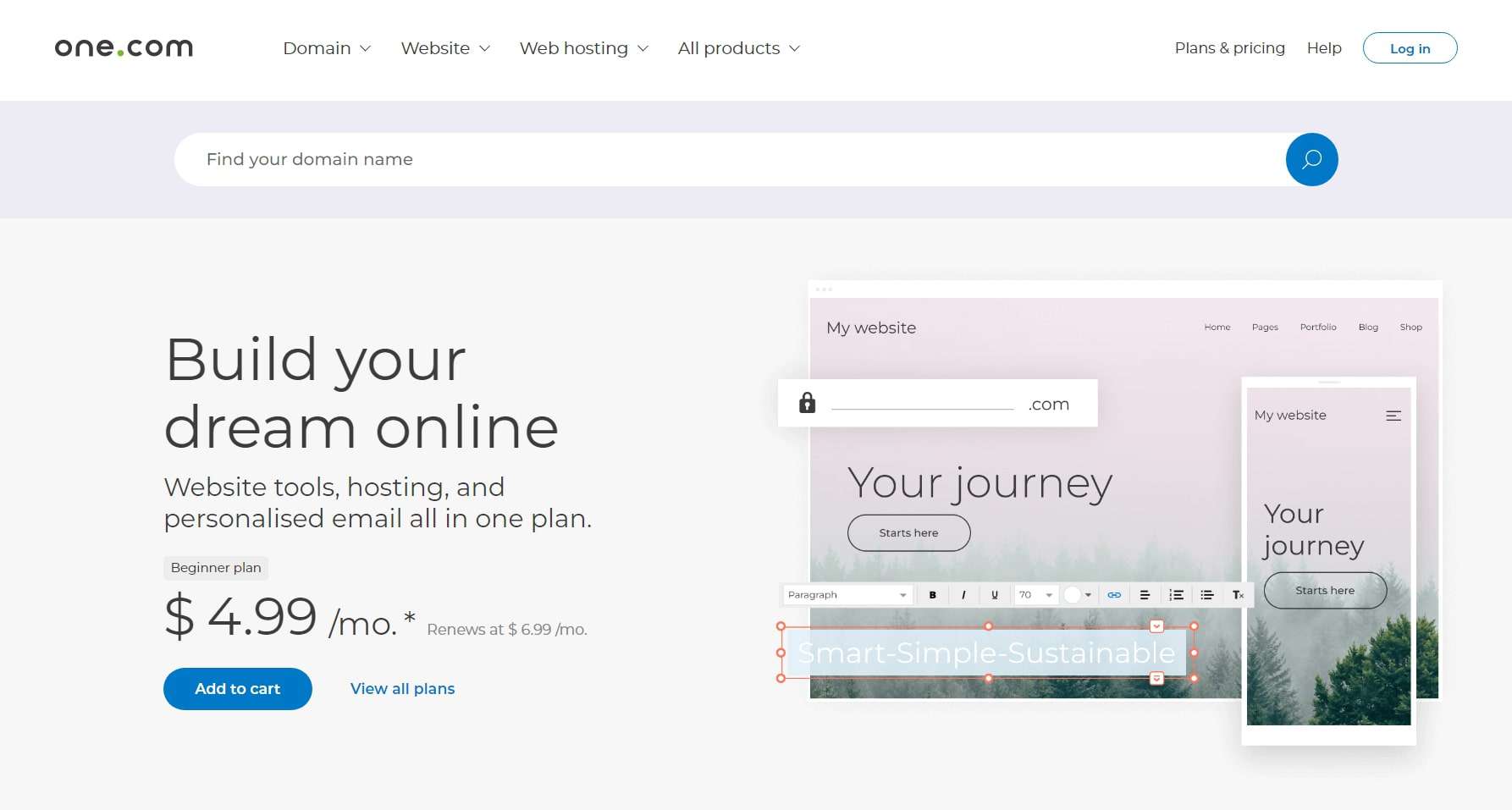 Based in Denmark, one.com started as a budget-friendly option for fellow European web designers. To this day, it still focuses on its European base, but it also offers hosting options worldwide.
Most of one.com's hosting options are aimed at beginners, so you won't find dedicated hosting or advanced control panel customization. Instead, you'll find it a beginner-centric alternative — with consistent, clean design and reliable service — to mass-hosting companies.
If you're looking for an environmentally friendly hosting option, one.com operates as a green host. All of its European data centers run on green energy sources. Its Danish data centers, in particular, rely on wind power.
As a host, one.com offers some big pros, like a high average uptime, generous storage, and an easy-to-use Website Builder.
1. Average Uptime Is Pretty High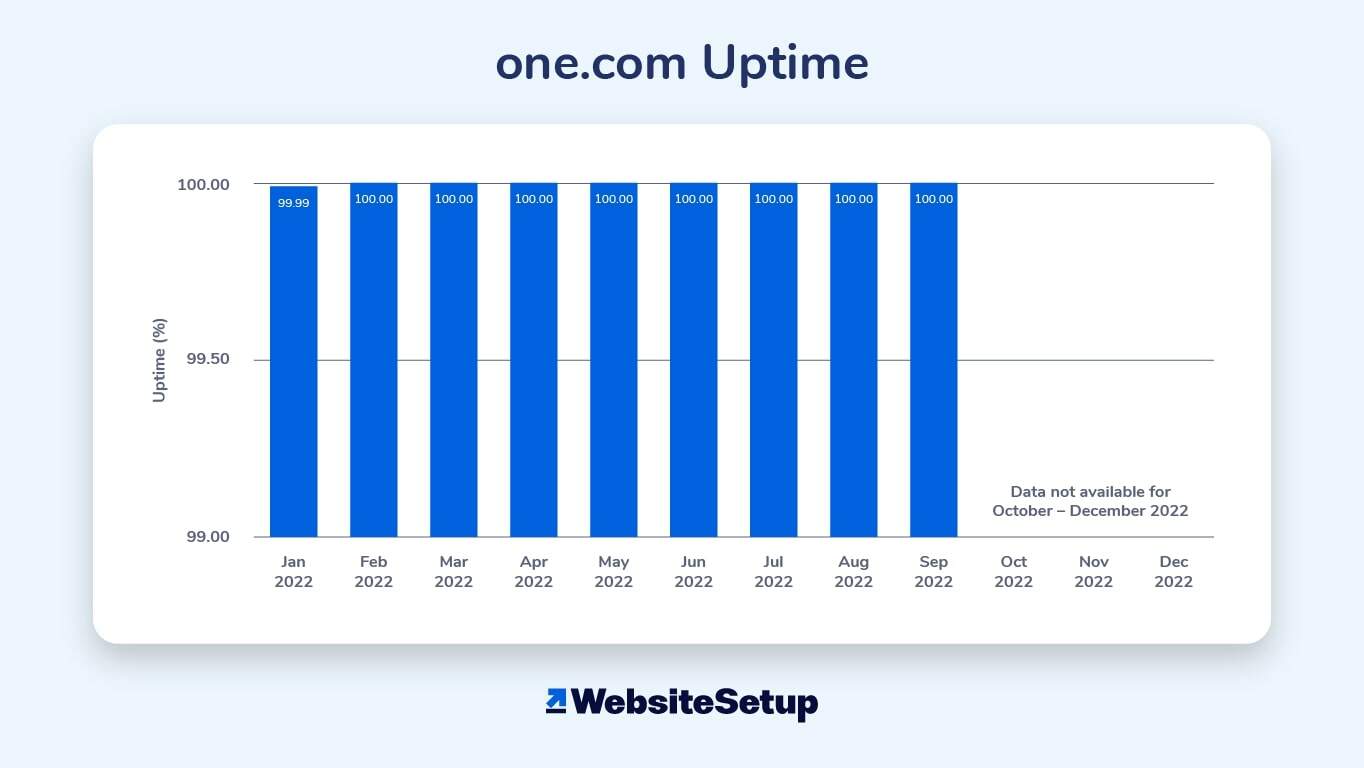 Before we jump into our one.com review on uptime, we want to highlight that we couldn't track the website from mid-October until late December 2022. Because of this, we'll focus on the period between January and September 2022.
We found one.com's average uptime to be 99.999% in the first three quarters of 2022. The next year (2023) is also off to a good start with a 99.94% uptime in January. This is a decent average uptime, placing it above other popular hosts like DreamHost (99.86% average uptime) or Bluehost (99.91%).
While one.com historically has had a great uptime, it's important to note that we couldn't find an uptime guarantee on their website. However, the host does say it provides 99.99% uptime.
2. Plenty of Storage
The amount of storage one.com offers users is generous. Even the most basic plan starts with 50 GB of SSD storage and an additional 3 GB of email storage.
While none of its plans offer unlimited storage options, you can get up to 750 GB with the Guru plan. This should be more than enough for the average web designer.
But if you need unlimited storage, you can check out A2 Hosting. A2 Hosting offers unlimited storage starting with its Drive plan for $5.99/month.
3. Competitive Response Times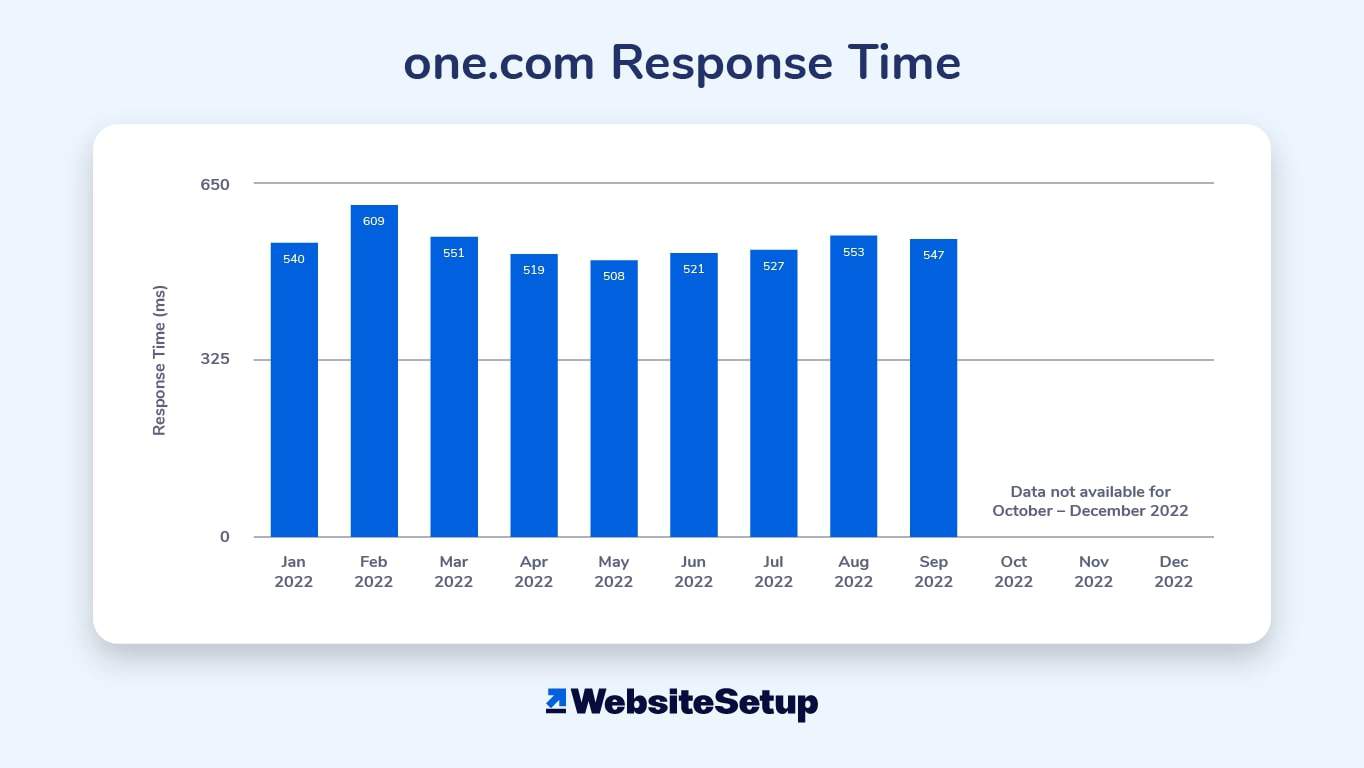 Once more, we couldn't track one.com between October and December 2022, so we're looking at the first nine months of 2022 here.
During this time, the average response time for one.com was 542 ms. That exceeds the response times of hosts like HostPapa (600 ms) and DreamHost (1,815 ms) in 2022.
Wondering why the response time is so important? It helps contribute to your conversion rate. If your website takes too long to load, the visitors might opt for a competitor instead.
A 2022 Portent study on page speed and conversions found that when a page loaded in 1 second, it had a conversion rate of 40%. When that time rose to 3 seconds, the conversion rate dropped to 29%. That's a significant amount of revenue down the drain due to a poor hosting decision.
4. Easy-to-Use Website Builder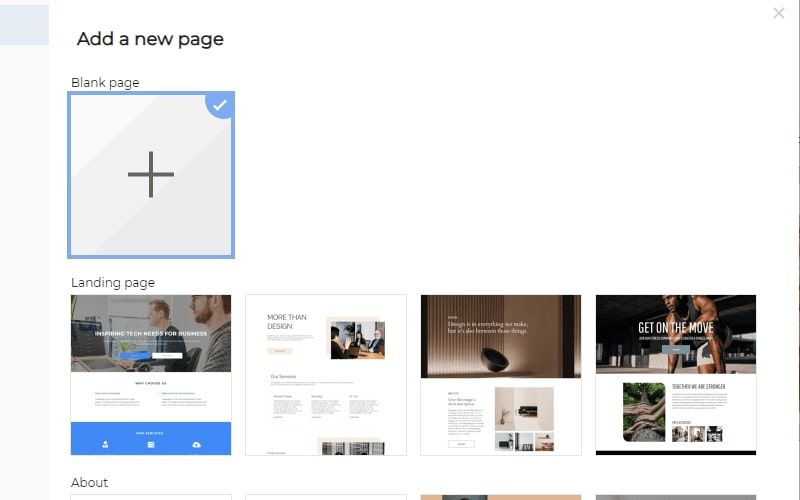 While one.com doesn't offer one-click WordPress installation on its Beginner plan, it comes with a user-friendly Website Builder. It's a unique CMS and WordPress alternative designed for beginners.
Similar to other page builders, one.com's drag-and-drop builder uses themes, templates, and customizable pages to help you build a website. However, you won't find tons of instructions or FAQs online if you need help since it's unique to one.com.
Nonetheless, one.com used to compete with WordPress, so the company's pretty confident about its Website Builder.
5. Ease of Use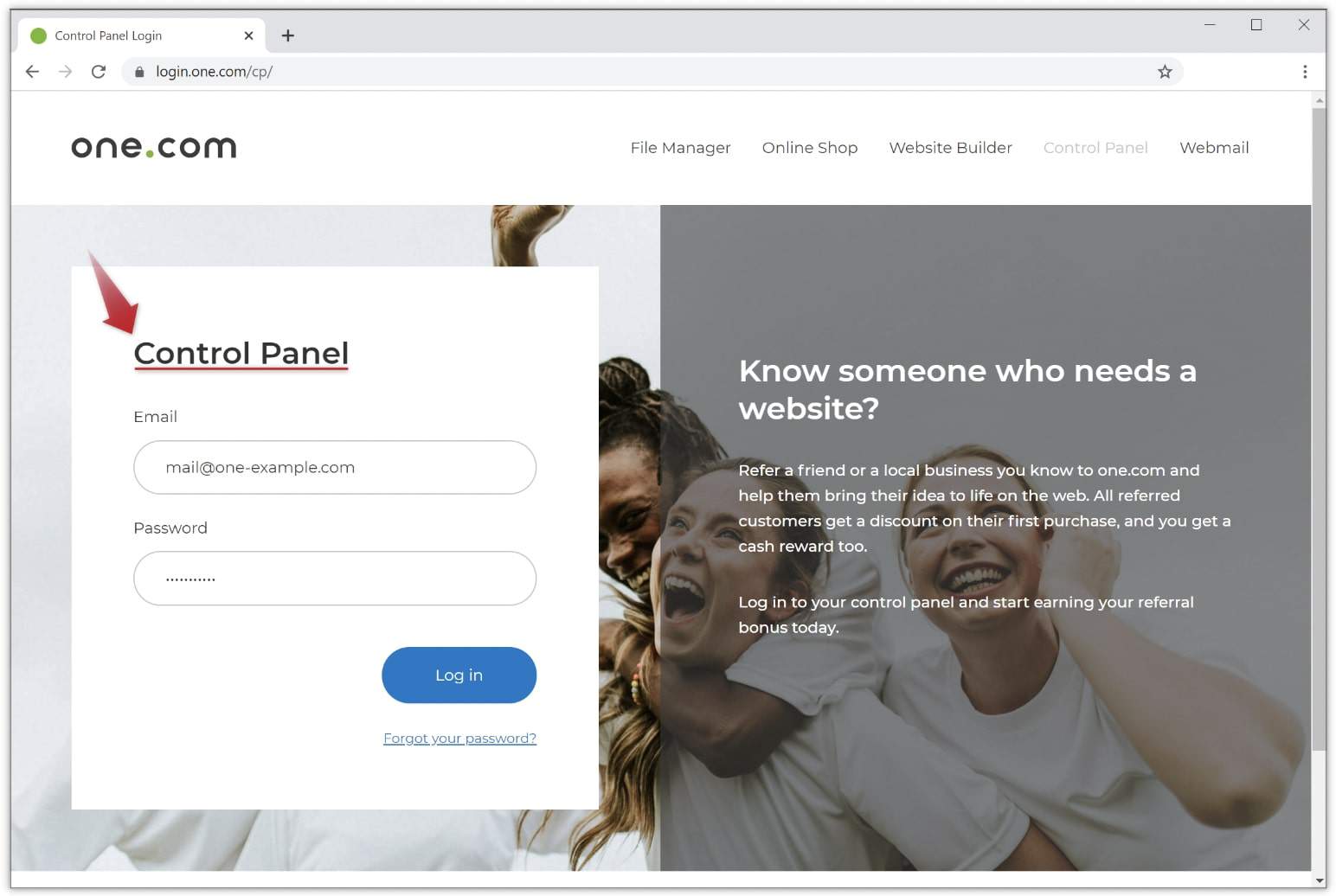 You'll find that one.com offers straight-forward website hosting services, with only a few different WordPress hosting, email hosting, and shared hosting plans. It doesn't complicate things with server choices or a lot of technical jargon.
The company also has an academy to help beginners out with design and search engine optimization (SEO). It focuses on making web hosting easy, and the simple control panel reflects this. It also makes it easy for you to sign up for its services.
Disadvantages of Using one.com
While one.com offers some unique features, we found some drawbacks during our one.com review.
To start with, the host offers limited plan options and WordPress support, lacks phone support, and gives only a 15-day money-back guarantee.
Below, we go over some of the major disadvantages we discovered.
1. Limited Plan Options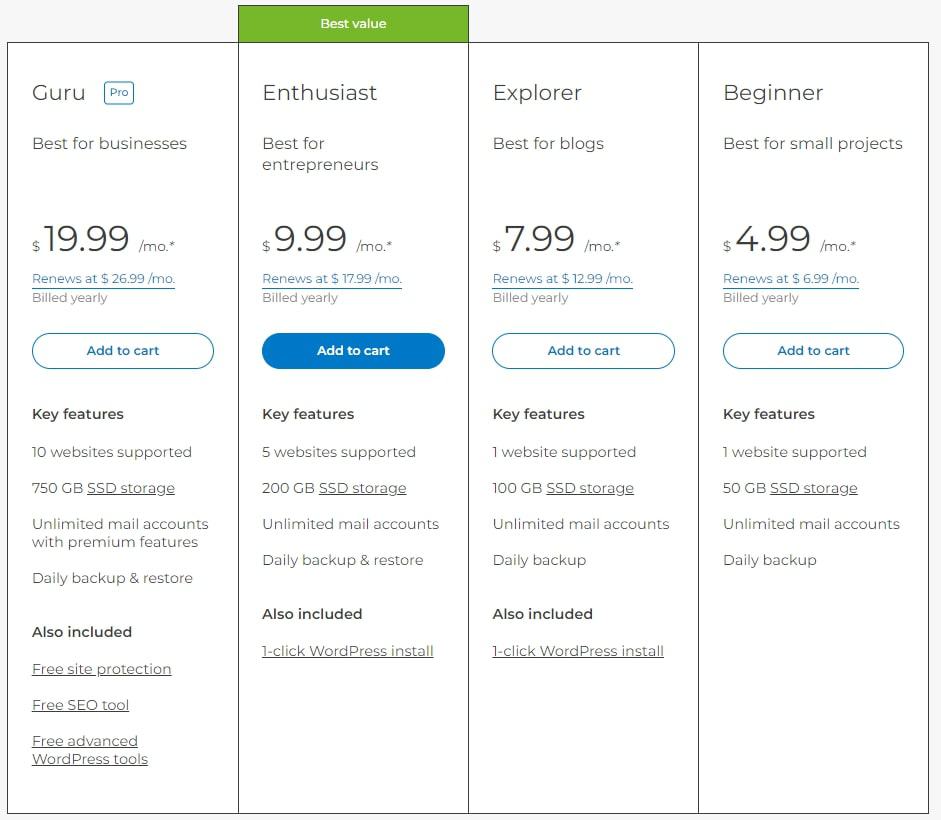 At its core, one.com is a hosting solution focusing on the beginner market. As such, the web hosting provider only offers shared hosting.
There are four tiered shared hosting plans to choose from on one.com: Beginner, Explorer, Enthusiast, and Guru. Each additional tier adds more features, like extra storage, domains, and email storage.
Besides that, one.com also offers managed WordPress hosting and professional email hosting… but that's it.
Unlike larger hosts like DreamHost, it doesn't offer any dedicated hosting or virtual private server (VPS) options for higher-traffic websites. You're limited to shared hosting.
You're also limited to 10 domains, so if you want to manage more e-commerce stores, you'll need to look elsewhere for a hosting solution. For instance, SiteGround lets you host unlimited websites.
2. Customer Support Is Just OK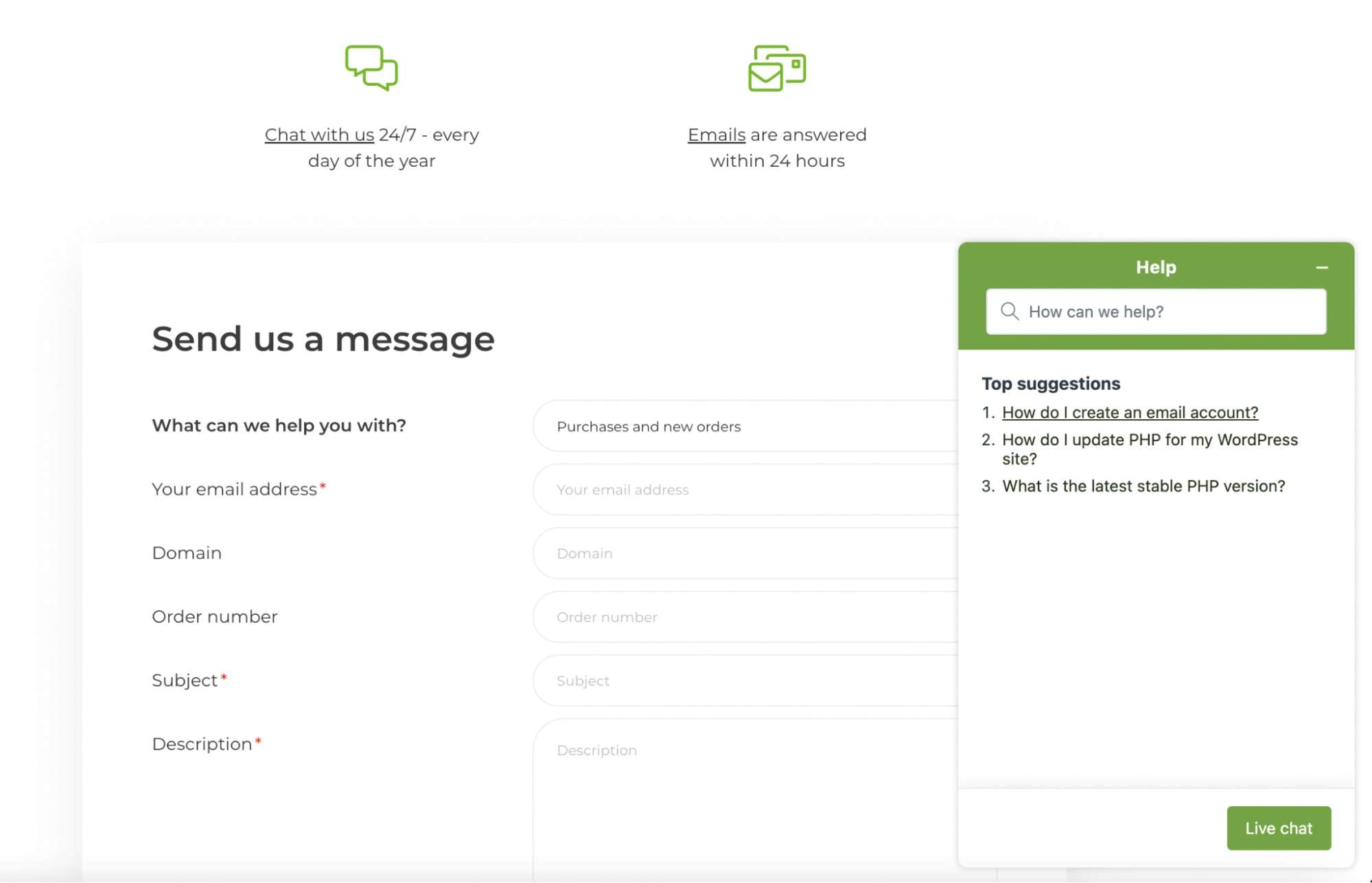 Customer support from one.com needs to catch up to other hosting companies. Right now, it's a mixed bag.
While it offers multilingual help, it's all online. There are no phone support options. You have no way to get quick support. While it offers 24/7 live chat, the support team can be slow. In our customer support encounter, we couldn't connect with an agent for more than 30 minutes.
The other support avenues include emails (which get answered within 24 hours) and the knowledge base.
Still, the users on review sites that liked one.com tended to be beginners at website building. They liked how customer support would walk them through creating their website, especially if they needed help in a language other than English.
In other words, if you're a beginner and don't mind an online-only support team, one.com offers acceptable support. Otherwise, you can check out Bluehost and A2 Hosting.
3. Beginner Plan Is Very Limited
The Beginner plan one.com offers has several limitations that don't make it a good choice for most users.
First, there's no WordPress support on its Beginner plan. If you want to build a website with the most popular CMS in the world, you have to go for the Explorer option or higher.
Second, the Beginner plan only comes with 3 GB of storage for email hosting, so the unlimited email accounts won't go too far.
In fact, it's not just the Beginner Plan. one.com's other plans aren't that featureful either. It only starts offering multiple domain hosting from its Enthusiast plan — i.e., you have to upgrade to the third tier to use multiple domains.
4. Low Introductory Pricing but High Renewal Prices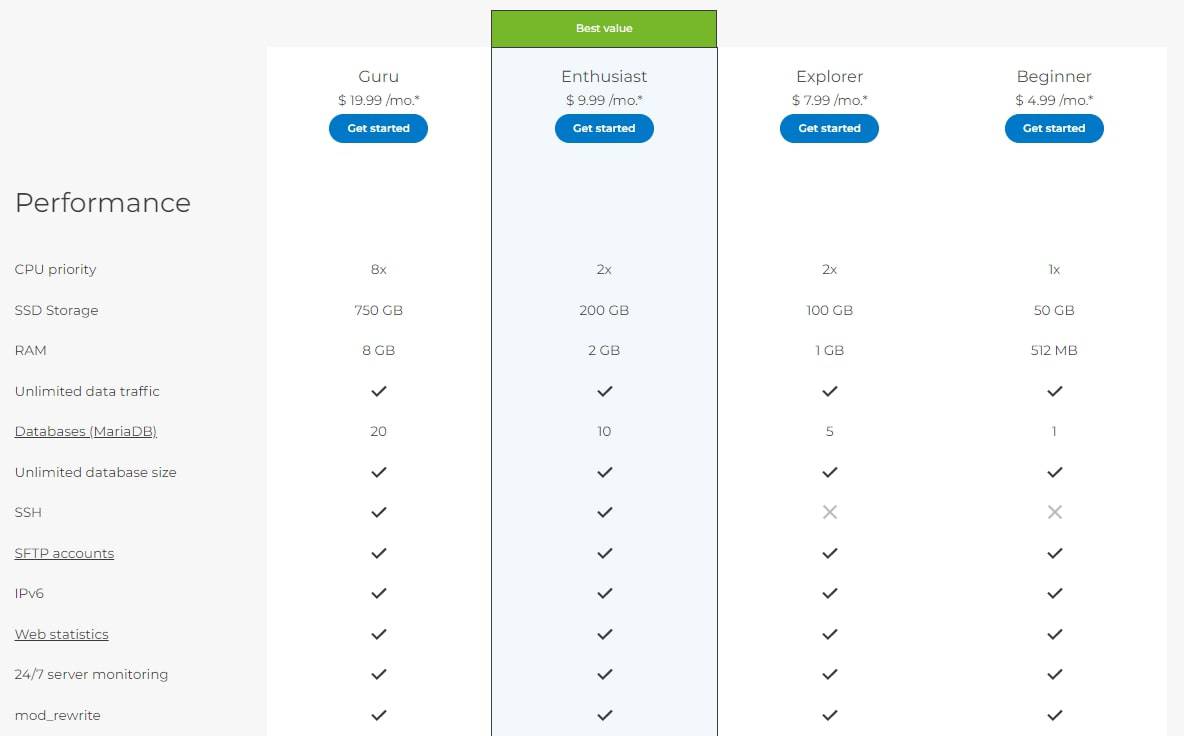 Like many web hosts, one.com plans lure users in with attractive introductory rates only to raise those prices after the first year.
In the U.S., the prices are as follows:
Beginner plan starts at $4.99/month and renews at $6.99/month.
Explorer plan starts at $7.99/month and renews at $12.99/month.
Enthusiast plan starts at $9.99/month and renews at $17.99/month.
Guru plan starts at $19.99/month and renews at $26.99/month.
5. Only a 15-Day Trial
Another con to consider with one.com is the 15-day money-back guarantee. Most web hosting companies we looked at offer 30 days. In fact, DreamHost offers a full 97-day period in which you can ask for a refund.
A little over two weeks to decide if you like a host seems a bit low to us. If you decide to go with one.com, try to experiment and test its features during those first few days, so you can cancel in time if you don't like it.
Quick Facts
Money Back: 15-day money-back guarantee.
Website Migration: Free website migration tool for WordPress websites, starting with the Explorer plan.
Free Domain: For one year with a .one domain name (one of the top 30 most popular new domains); renews at $16.99/year. Many popular domains like .com or .net start at $19.99/year and renew at $24.99/year.
Ease of Sign-up: Easy and guided sign-up process.
Payment Methods: PayPal and all major credit cards. Bank transfers in some European countries.
Hidden Fees and Clauses: Full refund only applies to one domain. Renewal rates are significantly higher than the introductory rates.
Account Activation: Instant activation in most cases. But suspicion of fraud or inaccurate information may delay activation.
Control Panel and Dashboard Experience: Custom com control panel (No cPanel).
Installation of Apps and CMS (WordPress, Joomla, etc.): One-click installation of only WordPress starting from the Explorer plan.
Do We Recommend one.com?
No, we don't recommend one.com except for European users looking for a WordPress alternative. For those users, one.com's Website Builder and multilingual support may make it a viable option.
But for most other businesses, one.com doesn't offer much out of the ordinary.
In fact, our one.com review found some pretty big concerns.
The Beginner plan doesn't offer any WordPress support, and you can only host one domain on the two lowest plans. Plus, if you're unhappy with one.com's hosting services, you've only got a 15-day window to get your money back, far less than the typical 30-day period offered by most hosts.
In short, unless you have a niche need that one.com fulfills, we'd recommend other hosts we monitor over this one, like DreamHost or A2 Hosting.