Site5 was founded in 1999 by Matt Lightner and Rod Armstrong, before being acquired in 2015 by the conglomerate EIG (which also owns HostGator, Bluehost, and many others).
Site5 is a niche service built for designers and developers, with multiple servers located in: the US, Europe, and Asia.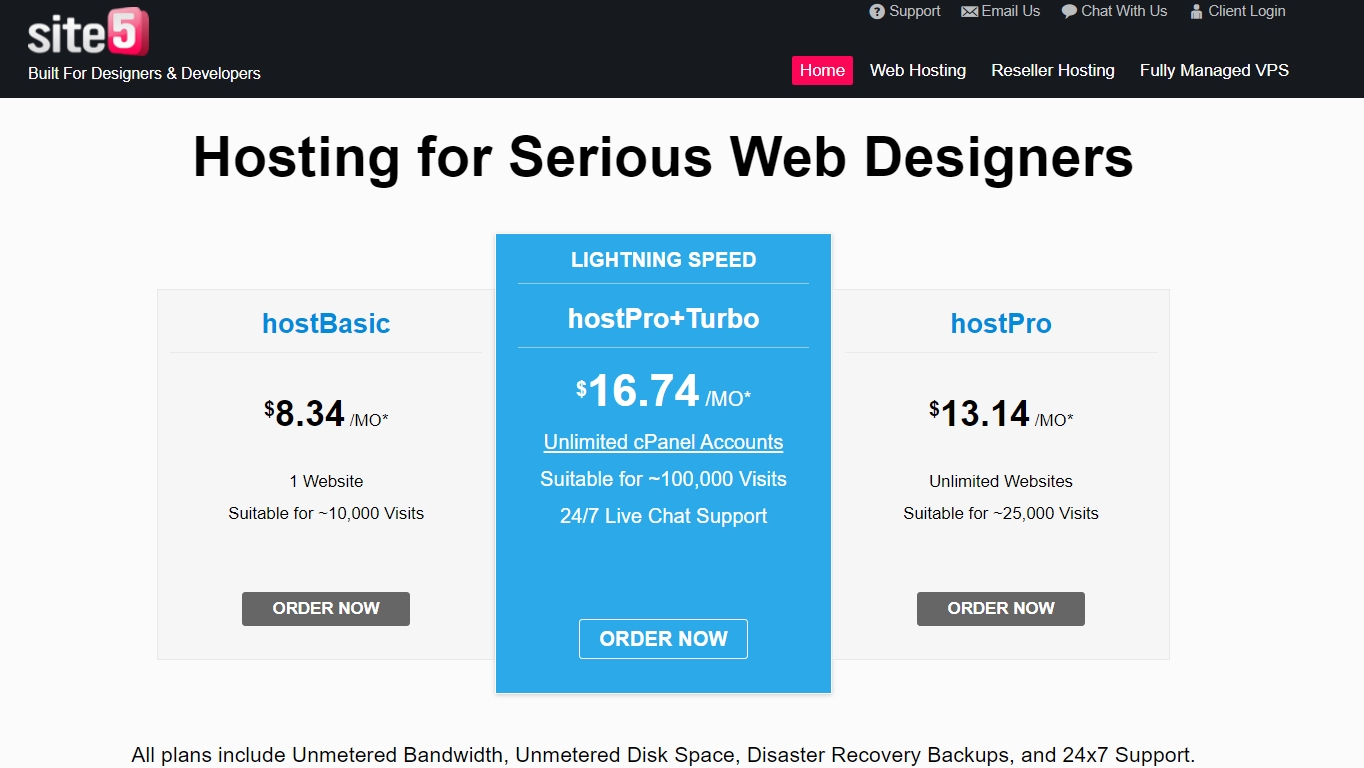 Priding oneself on being developer-centric sounds nice on promotional materials. Does this niche offer make any difference? How does it affect what they do – or more importantly, don't – offer?
We purchased their cheapest shared hosting plan and set up a test site to monitor their uptime and speed over an extended period of time.
Is Site5 good enough to get our recommendation?
Read on to find out.
General Info & Hosting Overview
---
| | |
| --- | --- |
| Our Rating: | Our Verdict: 4.0 |
| SPEED: | 542 ms (August 2020 to July 2021) |
| UPTIME: | 99.96% (August 2020 to July 2021) |
| SUPPORT: | 24/7 Live Chat, Email, Knowledge Base |
| APPS: | WordPress, PrestaShop, Joomla, and Magento |
| FEATURES: | Unmetered Bandwidth and Storage, Daily Backups, Email Accounts, 99.9% Uptime Guarantee, 45-Day Money-Back Guarantee |
| HOSTING PLANS: | Shared, Reseller, and Managed VPS |
| SITE TRANSFER: | Free |
| PRICING: | Starting at $8.34/mo (biannually) |
---
Pros of Using Site5 Hosting
---
Site5 is targeting an audience of advanced users. It means we had high expectations for the level of performance.
Over the past years, Site5 has performed well on speed and support and has a strong uptime.
What sets them apart are a few unique offers that specific customers will enjoy, including some time-saving cPanel migrations.
Let's see how they shape up:
1. Great Page Load Times
People don't put up with slow sites. Just a few extra seconds in page loading times can cause your page abandonment to increase by 38%. With most of those heading over to a competitor's site instead.
For example, for an eCommerce site that is making $100,000 a day, a one-second page delay can potentially cost $2.5 million in lost sales every year. Needless to say, speed is important!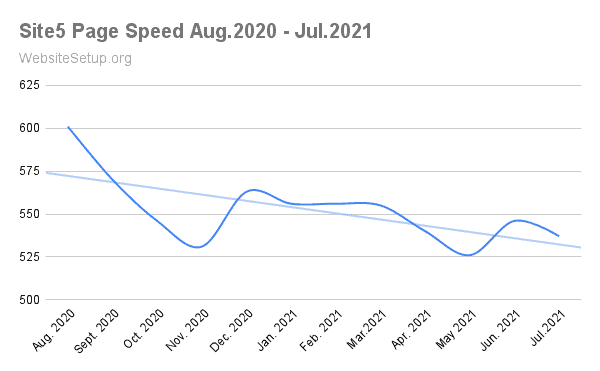 We tested Site5's site speed, and they delivered a solid average of 542 ms over the last 12 months. Moreover, we're happy to see a decreasing trend in their loading times.
2. Amazing Uptime of 99.96%
Over the last 12 months, Site5 delivered an average of 99.96% uptime with three hours of downtime. They delivered 100% uptime almost every month, besides April 2021, when the uptime was 99.69%, and took down the overall average.
In general, you can trust Site5 to keep your website up and running.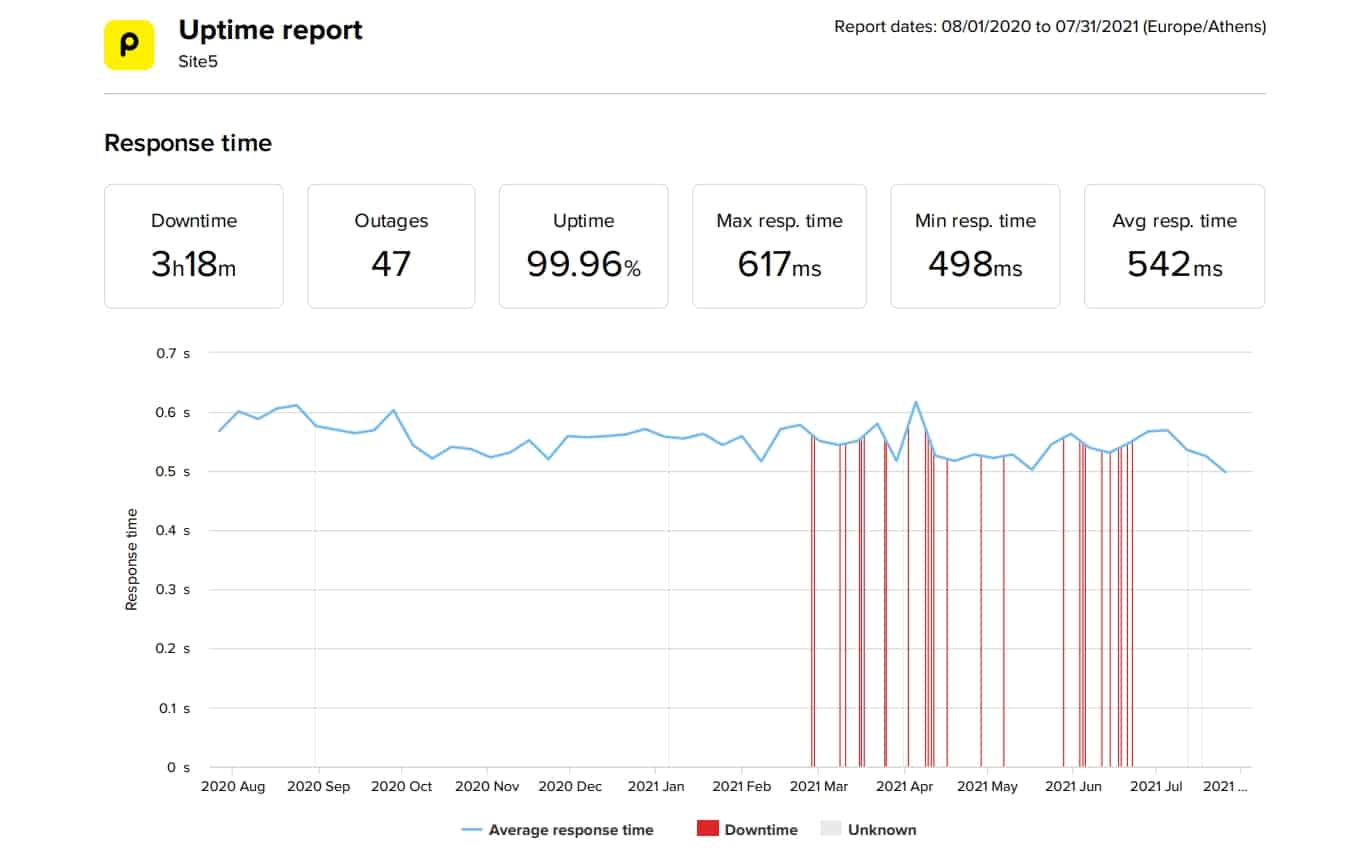 Last 12-month average uptime:
July 2021: 100%
June 2021: 99.96%
May 2021: 99.98%
April 2021: 99.69%
March 2021: 99.93%
February 2021: 99.98%
January 2021: 100%
December 2020: 100%
November 2020: 100%
October 2020: 100%
September 2020: 100%
August 2020: 100%
3. Good Customer Support
Site5 has several two customer support options: live chat and email.
We always test out the live chat option when we review the hosts and Site5 was no exception.
Their support staff connected with us in just a few seconds and answered questions quickly and accurately (although, we had to repeat ourselves from time to time to get a reply that we're looking for).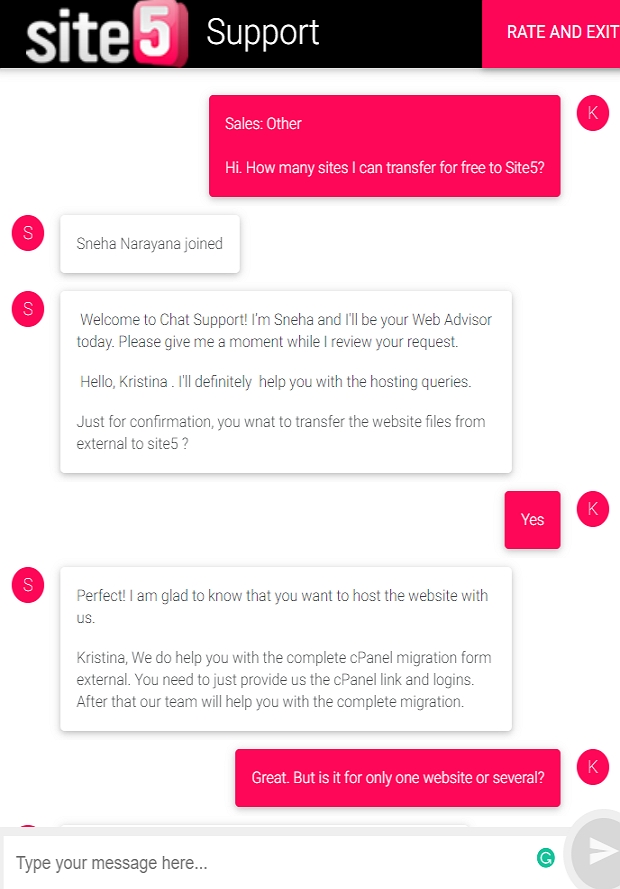 Besides the live chat and email option, Site5 also offers a vast knowledge base that covers over 500 articles in more than 70 categories.
4. 45-Day Money-Back Guarantee
Site5 offers a great 45-day money-back guarantee.
Their VPS hosting plans come with a shorter, 15-day money-back guarantee.
The great news is that there aren't any conditions with these refunds. They promise to respond to your request within six hours (or they'll credit your account extra for the delay).
5. Free Transfers
Site5 also offers free website migrations or transfers if your site is currently hosted somewhere else. Many other web hosts do this too.
What's different is that they'll migrate up to 25 (!) cPanel accounts for you (and up to 10 non-cPanel ones) – still free!
A generous offer to take care of an otherwise time-consuming process.
6. Plans Come Standard With 'Advanced' Features
Another thing we liked about Site5 was that 'advanced features' typically reserved for higher-priced plans come standard on their cheapest shared options too.
The most noteworthy ones include:
Unmetered bandwidth
Unmetered disk space
Disaster recovery backups
The last one is especially important when something – eventually, at some point (and unfortunately) – goes wrong.
Stuff happens with websites. Having someone (or something) to have your back in the case of an emergency is immensely helpful.
7. Ability to Choose Your Server Location
Site5 has multiple server locations all over the world. They'll let you choose whichever of their 21 different locations you'd like (regardless of where you live).
It becomes handy when it comes to boosting your local SEO rankings.
In fact, according to Site5's website, "From an SEO perspective, it can give a very small benefit by giving one more indicator that you should rank for searching in that city/region."
8. Uptime Guarantee 99.9%
Site5 offers an uptime guarantee of 99.9%.
The company offers a prorated amount of credit for the amount of time that your server isn't available within each month. This guarantee only applies to unscheduled outages. Downtime caused by scheduled site maintenance doesn't apply.
Circumstances beyond Site5's control that cause downtime also don't count, like DDoS attacks, hardware failure, third-party software failure, or maxing out your resource container.
According to their website, here's how the company calculates service credits on shared/reseller servers:
100% – 99.9% uptime : No credit
99.9% – 99.5% uptime : 5% credit
99.5% – 99% uptime : 10% credit
99% – 98% uptime : 15% credit
98% – 95% uptime : 25% credit
Less than 95% uptime : 100% credit
This guarantee doesn't apply to VPS or unmanaged dedicated server plans. Users can request one day of credit for every 45 minutes of true downtime they experience.
According to Site5's Terms of Service, the first 45 minutes of downtime won't count toward your credit, and the maximum number of credits you can receive is one month of services, which is about 22.5 hours of downtime.
9. Easy-to-Use cPanel
Site5 offers a cPanel where you can manage every aspect of your website from one central location.
Although Site5 was "built for designer and developers," the cPanel has everything you'll need to maintain a site.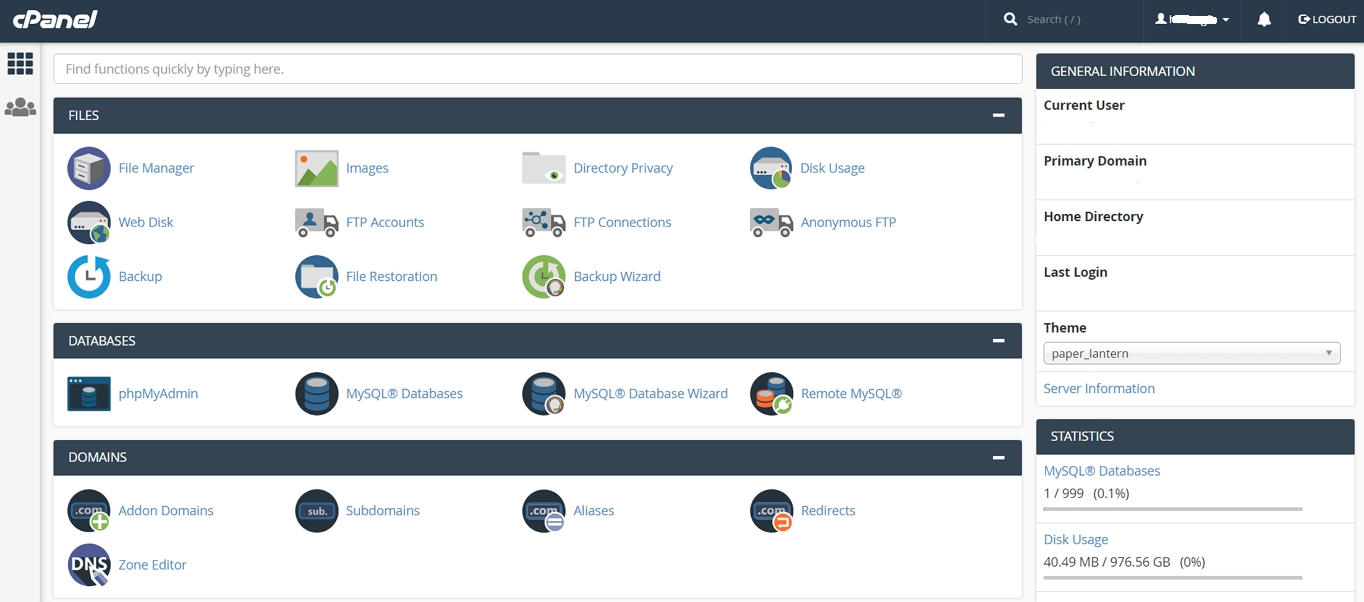 You'll be able to access video tutorials, email accounts, your mailing lists, add-on domains, web statistics, and more.
By offering a cPanel, Site5 has really made it easy to customize your site, data, and content just the way that you want it whenever you like.
You can access cPanel from the client area, your domain, or from the server.
Site5 has an entire article on their site in the knowledge base that tells users how to access the cPanel from all three locations.
Cons of Using Site5 Hosting
---
As you've just read, Site5 does a decent job in most of the bigger areas – uptime, speed, and customer support.
There is one big sticking point though that needs to be addressed transparently.
Take a look.
1. Expensive Pricing
Site5 definitely isn't the cheapest host on the market.
Why?
Their starting price starts at $8.34 a month, which's eight times more than our cheapest host Hostinger. Moreover, you have to commit for a full two years and pay upfront in order to get that price. Otherwise, you're looking at $10.74 for twelve months.
What's even worse – they don't offer a month-to-month or not even a six-month pricing plan with their cheapest plan.
2. Free Domain Name Is Not Included and SSL Certificate Costs Extra
Another drawback with Site5 is that they don't offer a free domain name with their shared hosting plans. You'd have to purchase a domain for $12.00/year. Include that in the initial pricing and you'd have to pay quite a crispy price for somewhat average hosting.
Moreover, an SSL Certificate which is one of the most important features to have from a host is not included in Site5's shared hosting plans. You'd have to pay $39.95 for a one-year PositiveSSL Certificate.
Want a Wildcard SSL Certificate?
In this case, be ready to pay $149.00/year.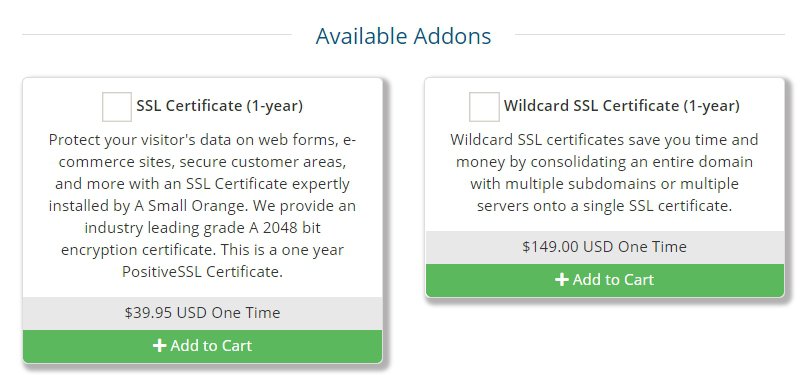 Site5 Pricing, Hosting Plans & Quick Facts
Here's a quick overview of Site5 hosting plans:
---
| | HostBasic Plan | HostPro+ Turbo Plan | HostPro Plan |
| --- | --- | --- | --- |
| Pricing | $8.34/month | $16.74/month | $13.14/month |
| Websites | 1 | Unlimited | Unlimited |
| Bandwidth | Unmetered | Unmetered | Unmetered |
| Storage | Unmetered | Unmetered | Unmetered |
| Email Accounts | Unlimited | Unlimited | Unlimited |
---
Quick Facts
Free Domain: No ($12.00 a year).
Ease of Signup: Lengthy, four-step signup process.
Money-Back: 45-day money-back guarantee.
Payment Methods: Credit Card, PayPal.
Hidden Fees and Clauses: Shared hosting accounts must not exceed 75,000 files, each email account shouldn't exceed 10GB disk space, and each database must not use more than 2GB of disk space.
Upsells: No upsells.
Account Activation: Quick Activation.
Control Panel and Dashboard Experience: cPanel.
Installation of Apps and CMSs (WordPress, Joomla, etc.): Quick and easy install of popular apps and CMSs with Softaculous.
Other Features: Backups, 99.9% uptime guarantee, SSH/Shell access, etc.
Do We Recommend Site5 Hosting?
Yes and no.
Site5 has a lot of perks going on for them – they have delivered solid uptime results, fast speed, and their customer service is also good. Not to mention all the handy features that they include in their shared hosting plans.
However, there are significant drawbacks to look out for – expensive pricing, no free domain name, and an SSL Certificate.
So, in case of money is not an issue for you, we recommend you try out Site5, but there are definitely other cheaper hosts with the same uptime and faster page loading times that you might want to take a look at.
---
---
Any experience with Site5 Web Hosting? Please leave your Site5 review below! We welcome all honest and transparent reviews – good OR bad!