Site5 was started in 1998 and has been around for over 20 years. The web host offers shared hosting, reseller hosting, and fully managed VPS hosting.
Endurance International Group (EIG) bought Site5 in 2015, and a lot has changed since then. EIG also owns other web hosting companies, including Bluehost and HostGator.
We've been monitoring Site5 since 2015 and tested its uptime, response times, customer support, and more.
Let's jump into our Site5 review to learn the pros and cons of this web host.
An Overview of Site5
| | |
| --- | --- |
| SPEED: | 623 ms (Jan 2022 to Dec 2022) |
| UPTIME: | 99.92% (Jan 2022 to Dec 2022) |
| SUPPORT: | 24/7 Email and Live Chat Support and Knowledge Base |
| APPS: | WordPress, Joomla, Magento (Adobe Commerce), and PrestaShop |
| FEATURES: | Daily backups, unmetered bandwidth and storage, 45-day money-back guarantee, unlimited email accounts, and 99.9% uptime guarantee |
| HOSTING PLANS: | Shared Hosting, Reseller Hosting, and Managed VPS Hosting |
| SITE TRANSFER: | Free |
| PRICING: | Starts at $11.99/month |
Advantages of Using Site5
Depending on the exact requirements, Site5 can be a decent option for U.S. based businesses.
Still, go through this Site5 review to have an in-depth look at its benefits before deciding if it's the hosting solution you need.
1. Acceptable Uptime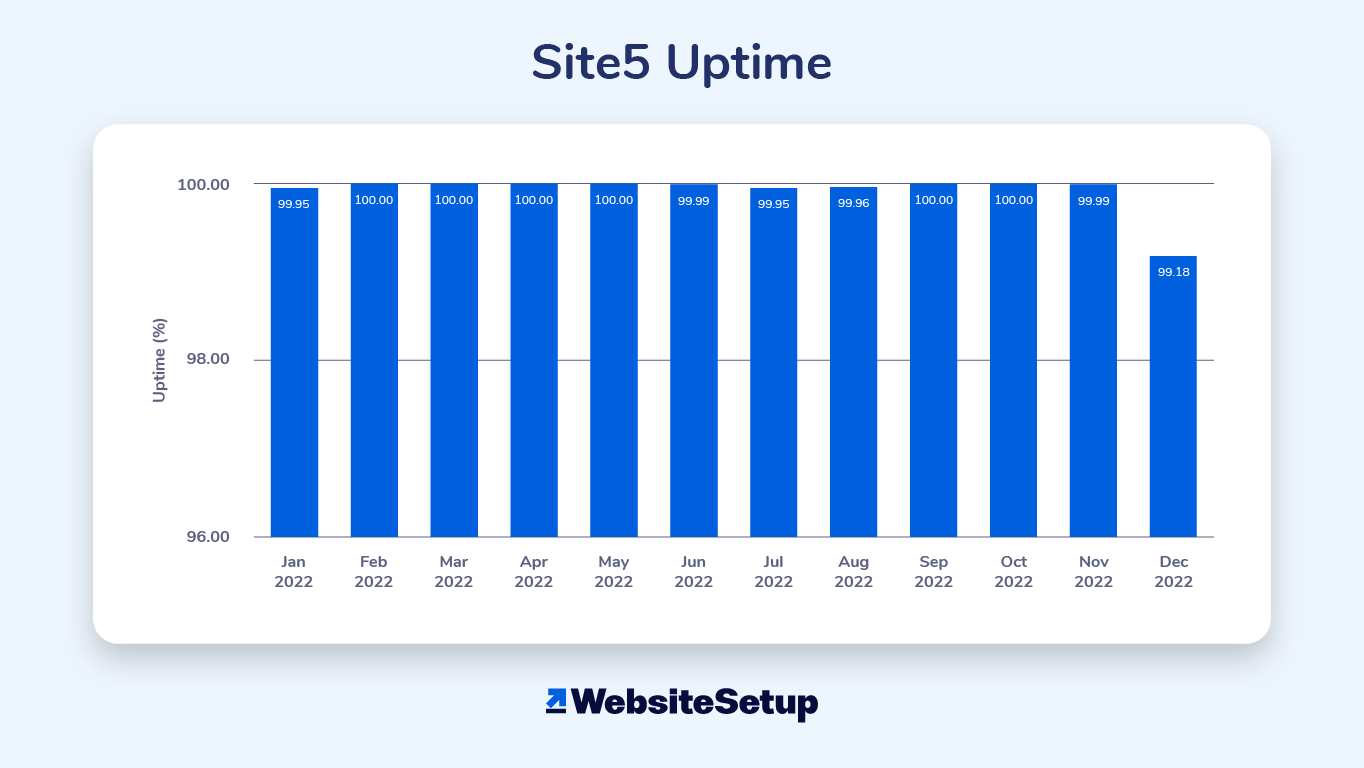 Site5 had an average uptime of 99.92% from January 2022 to December 2022. In other words, It experienced a downtime of just less than six hours throughout the year.
The worst-performing month was December, when the average uptime dropped to only 99.18%, far short of its uptime guarantee of 99.9%. If you're looking for a hosting provider for your online store, it's not a good sign since November and December are the two biggest months of the year when it comes to online sales volume.
Still, it seems like a one-off incident since Site5's uptime stayed above 99.95% in all the other months. Not to mention, Site5 backs up its uptime guarantee of 99.9% with service credits on the rare occasion it falls short like it did in December 2022.
While Site5's uptime isn't the worst we've tracked, it's lower than many other hosts, such as SiteGround (99.99%), A2 Hosting (99.98%), and Hostinger (99.96%). But it's much better than others, like DreamHost (99.86%).
2. Unmetered Disk Space and Bandwidth
Site5 offers unmetered storage and bandwidth for all its hosting plans.
Unmetered means data transfer isn't monitored. Site5 states that 99.95% of customers will have more than enough bandwidth and disk space to meet their website needs.
However, the web host also mentions that these resources aren't infinite and require customers to use bandwidth and disk space in a way that's consistent with a website's regular operation.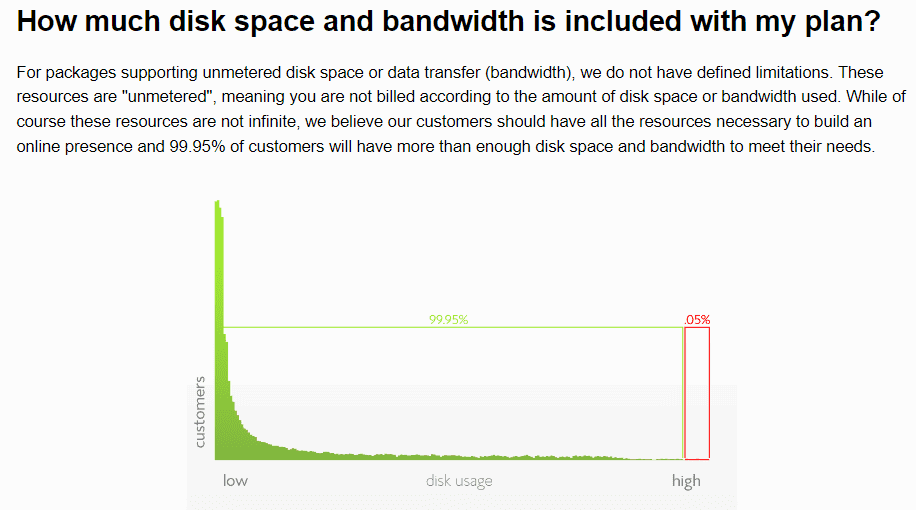 Unless you have a very data-heavy website, an unmetered bandwidth should be enough to handle any traffic on your website, whether you have a small business website or a large online store.
3. Responsive Live Chat Support and Comprehensive Knowledge Base
Site5 offers 24/7 customer support for any outstanding technical issue through live chat and email.
As usual, we tested how their customer support team responds through live chat, and we were connected to an agent in a few seconds. The agent responded to our question immediately and gave links to other resources that could further help us.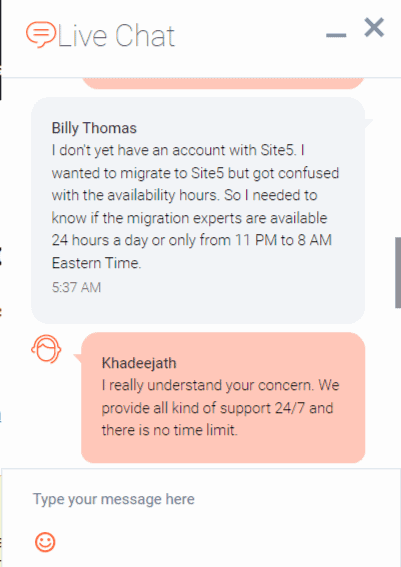 Feedback via the user reviews of Site5 back this up. Most customers have found Site5's support to be responsive and helpful.
Nonetheless, Site5 no longer offers customer support via phone. If that's a deciding factor for you, check out Bluehost and A2 Hosting.
Site5 also has an extensive knowledge base with over 500 articles in over 70 categories. You can find how-to guides on beginner topics like getting your website live to advanced stuff like protecting your website from malicious PHP scripts.
Still, the knowledge base isn't updated regularly. For instance, while writing this Site5 hosting review, the most recent article was posted in November 2021.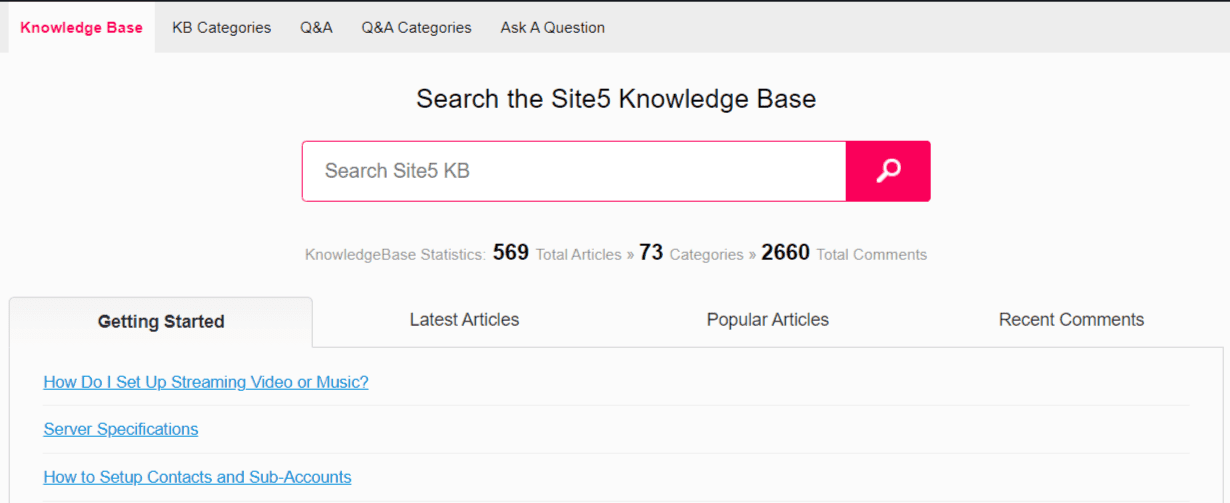 4. Free Website Transfer
Moving your website from one hosting solution to another can be a headache, but Site5 makes this process much easier. Its web hosting migration experts will handle the migration process for you — moving databases, website files, emails, and more.
That said, during our Site5 review, we found documentation of two different availability hours for migration support. One page says the migration experts are available from Monday to Friday, 11 a.m. to 8 p.m., Eastern time. Another page says the experts are available 24 hours a day, Monday to Friday.
So we contacted customer support about this issue, and from their response, Site5 offers free migration support 24/7. Perhaps this is just another example of out-of-date information on the website, much like the knowledge base documents.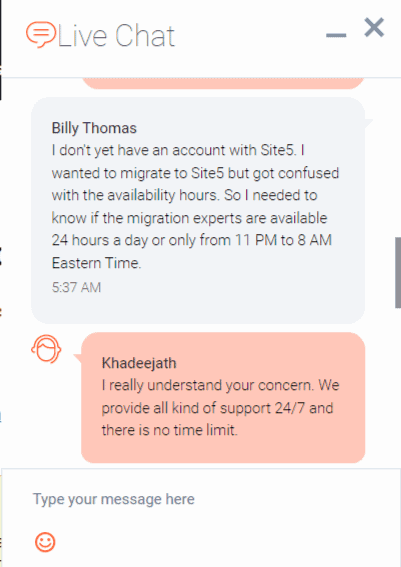 Site5 migrates up to 25 cPanel accounts for web hosting, reseller hosting, and cloud hosting. For Fully Managed VPS hosting, the web host can migrate more than 25 accounts within reason, but it's handled on a case-by-case basis.
However, Site5 doesn't migrate non-cPanel accounts according to their customer support. That means if you have a non-cPanel account like Site Tools from SiteGround, you'll have to migrate the website yourself.
5. 45-Day Money-Back Guarantee
Site5 provides a 45-day money-back guarantee for their shared and reseller hosting plans and a 15-day money-back guarantee for their VPS hosting plans.
That means Site5 will refund 100% of your cash if you're unsatisfied with their shared or reseller hosting services within 45 days after signing up.
Most website hosting providers, such as Hostinger and SiteGround, offer a 30-day money-back guarantee. So the additional 15 days from Site5 is a plus.
But it isn't a universal guarantee. It's important to note that the money-back guarantee doesn't apply to domain name registrations, transfers, or renewals.
The guarantee period countdown starts when your account is activated, even if you're trying out a free trial.
The guarantees page also mentions that the money-back guarantee doesn't apply to semi-dedicated and managed or unmanaged dedicated hosting services. However, we couldn't find these services on Site5's website, showing another instance of poor documentation.
6. Daily Backups
Site5 provides the tools you need to manage, back up, and recover your website files by offering daily automated backups for all accounts on all hosting plans.
The web host does the backup process every night, so it doesn't interfere with peak traffic hours.
In addition to the nightly automatic backups, you can also do manual backups with Site5's built-in backup functionality. You can also download the backup for additional backup redundancy.
7. Offers a User-Friendly cPanel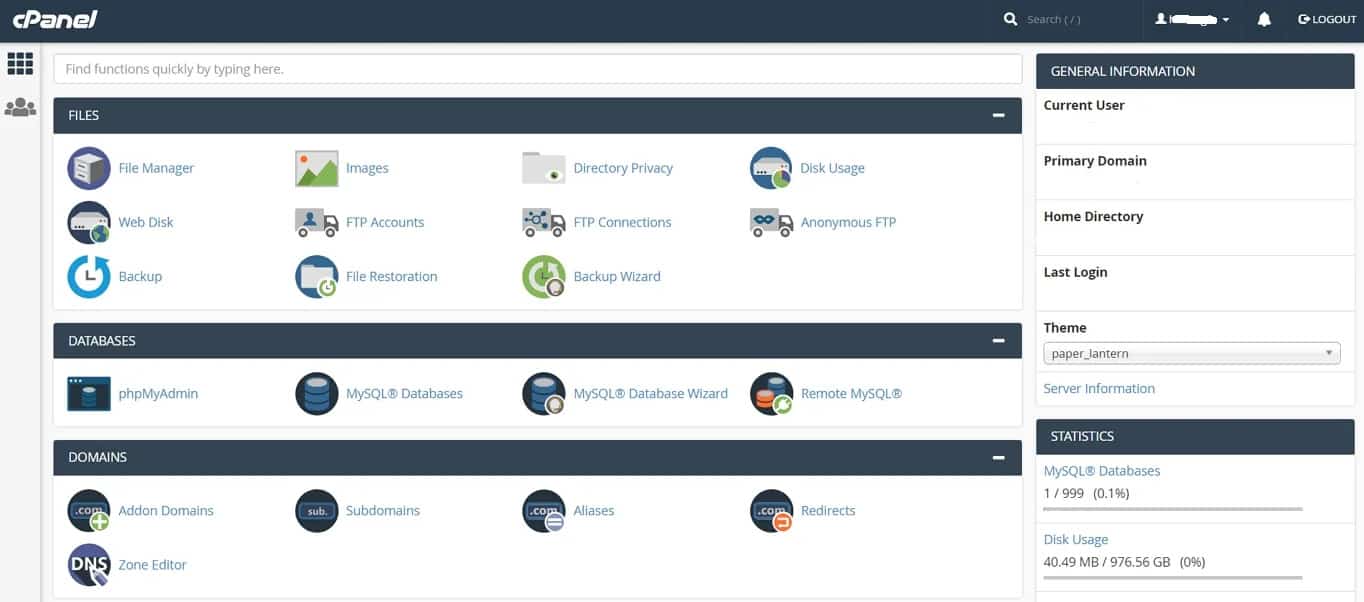 While Site5 is built for designers and developers, it provides a traditional cPanel that's easy to navigate for beginners as well.
You can access the cPanel from the Backstage area, Domain, and Server and use it to track website statistics, manage email accounts, and monitor resource usage from one place.
Disadvantages of Using Site5
While Site5 has its benefits, here are some drawbacks you should consider before committing to this web host.
1. Below-Average Response Time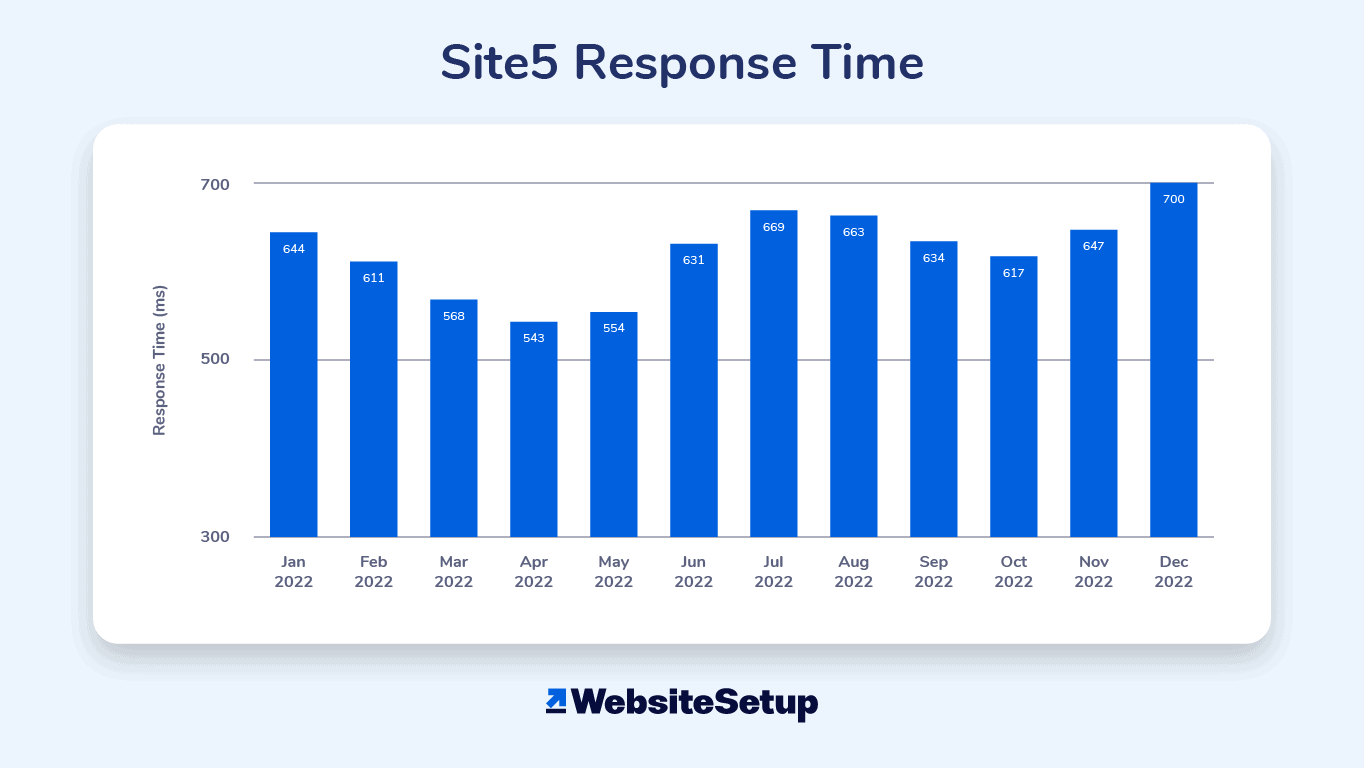 Site5 had a below-average server response time of 623 ms in 2022. While it's not as bad as DreamHost's 1,815 ms, it's still below the recommended standard.
Google recommends that your server response time be less than 200 ms. While that could be a bit difficult to attain, Site5's server response is also less than the industry average response time of 456 ms Littledata found from analyzing 5,822 websites in September 2022.
In contrast, other web hosting services like A2 Hosting (295 ms), Hostinger (318 ms), and SiteGround (384 ms) performed much better in 2022.
Server response time is a huge factor when choosing a hosting provider since visitors may leave your website if it takes over a second to respond. In fact, a 2022 Portent study found that a B2C e-commerce website that loads in one second converts 2.5 times more visitors than a website that loads in five seconds.
2. No Introductory Pricing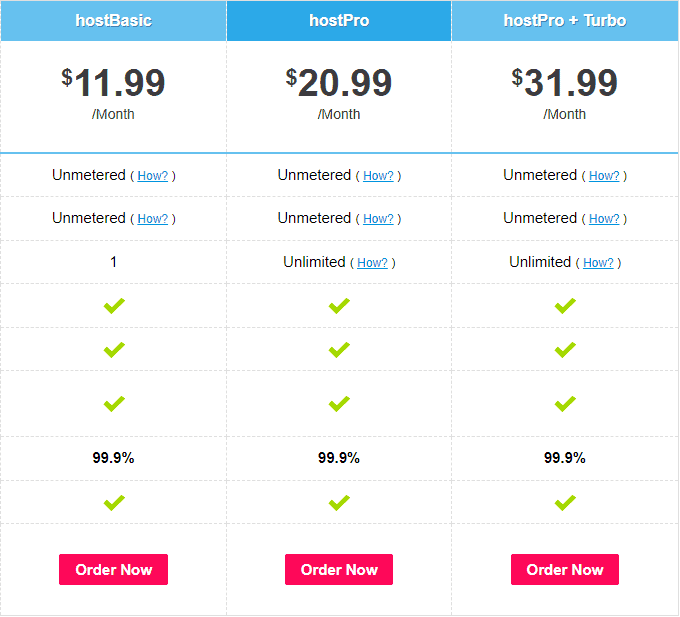 Site5 is one of the most expensive web hosts we've reviewed in terms of first-year pricing. Its shared hosting's starting price of $11.99/month is six times more than our most affordable host, Hostinger, priced at $1.99/month.
The same is the case with its reseller hosting plans (starting at $41.99/month) and fully managed VPS plans (starting at $114.99/month).
This means that if you're looking to experiment with a new business idea, Site5 hosting plans might not be of much help.
3. Has Data Centers Only in the U.S.
Site5's servers are based only in the U.S.
This won't affect you if you live in the U.S. and most of your website visitors are from the States. However, if you cater to a global audience, you may need to look for another web hosting company.
The physical location of data centers affects your website loading speed. So if you live in Australia, for example, you may experience a delay in data transfer, and users will have to wait longer before accessing your website.
4. SSL Certificate Comes at an Extra Cost
While Site5's hostBasic plan (economy plan) offers unmetered storage and bandwidth, it's a bit behind in its other offerings despite its higher cost.
For instance, top hosting companies like A2 Hosting and SiteGround provide free SSL certificates with all their shared hosting plans. But with Site5, you have to purchase a separate SSL, starting at $39.95/year.
It's even more costly if you want a Wildcard SSL Certificate as that's priced at $149/year.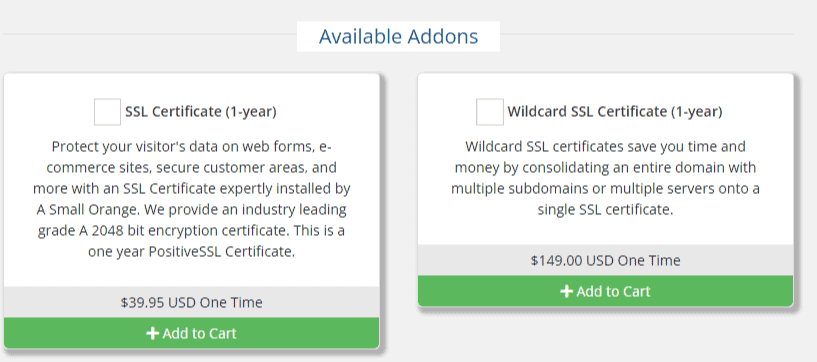 5. No Free Domains
Most web hosts we've tracked, like DreamHost, Hostinger and SiteGround (if you use WebsiteSetup discount), provide a free domain name for the first year after signing up.
But that's not the case with Site5. You'll have to pay $19.99/year — renewal at the same price — if you want to get a domain name when signing up for Site5.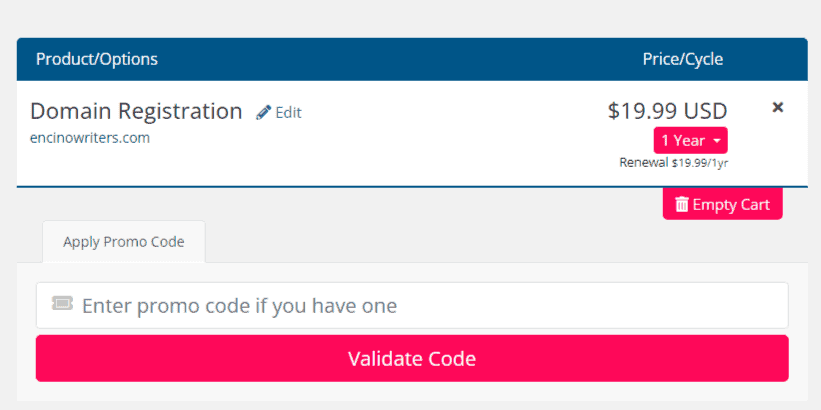 6. Bad Reputation and User Reviews
Despite good live chat support, our Site5 review uncovered Site5 has a poor reputation among its clients, and it's easy to see why.
It doesn't offer free SSL certificates. It has shrunk its data centers to just one. Response times are average at best, and it had a poor uptime in December 2022, below its uptime guarantee.
And it doesn't end here. As of writing, Site5 had a score of 1.6/5 on HostAdvice and 1.2/5 on Trustpilot.
These reviews paint a poor picture and are worth looking into before joining Site5.
Quick Facts
Ease of Signup: Easy to set up.
Domain: No free domain name. Prices start from $19.99 per year.
Dashboard and Control Panel: cPanel with some custom features.
Installation of Apps and CMSs (WordPress, Joomla, Adobe Commerce): Simple installs for popular apps using Softaculous.
Payment Methods: Credit cards and PayPal.
Money Back: 45-day money-back guarantee for shared and reseller hosting. 15-day money-back guarantee for managed VPS hosting.
Account Activation: Instant activation.
Hidden Fees and Clauses: Site5 can modify fees, renewal fees, and surcharges or introduce new fees for any reason and at any time with 30 days' notice.
Do We Recommend Site5?
No, we don't recommend Site5 except for U.S. businesses with the technical know-how to handle problems independently after migration. For those businesses, Site5's central U.S. servers, long money-back guarantee period, and transparent upfront pricing may make it a viable option.
But for most businesses and individuals, Site5's lack of support, expensive pricing, and below-average load time make it a risky choice.
In fact, the only great things we found during our Site5 review are its unmetered storage and bandwidth and free website migration for cPanel accounts.
Overall, Site5 has a lot of drawbacks — poor response time, lack of introductory prices, no free SSL certificates, and a bad reputation with many clients. So there are other cheaper options with better uptime and much faster response times you may want to consider.