Founded in 2003, tsoHost is a U.K.-based web hosting company that boasts around 250,000 customers worldwide. While it's headquartered in the U.K., tsoHost has data centers in Europe, Asia, and North America.
Before we get down to business, let us share a tidbit about its name. According to the web host's About Us page, tsoHost's name is a palindrome: No matter how you read it (backward or forward), it reads as "tsoHost." Clever!
You can enjoy several hosting options with tsoHost:
Shared hosting
Managed WordPress hosting
Virtual private server (VPS) hosting
Dedicated server hosting
But how do these hosting options fare against the offerings of competitors? We'll find that out in this tsoHost review.
General Info & Hosting Overview
| | |
| --- | --- |
| SPEED: | 636 ms (January 2022 to December 2022) |
| UPTIME: | 99.89% (January 2022 to December 2022) |
| SUPPORT: | Live Chat (9 am to 5 pm GMT+0), 24/7 Ticketing, and Knowledge Base |
| APPS: | WordPress, Joomla, Magento (Adobe Commerce), PrestaShop, OpenCart, Drupal, phpBB, and more |
| FEATURES: | Free domain name (with a one-year plan), 100 GB SSD storage, unlimited bandwidth, 1-click app installs, and 30-day money-back guarantee |
| HOSTING PLANS: | Shared hosting, WordPress hosting, VPS hosting, Managed-VPS hosting, and Dedicated Server hosting |
| SITE TRANSFER: | Free for VPS and managed-VPS plans |
| PRICING: | Starting at £3.99/month (approximately $4.80/month) + 20% VAT (no higher renewal price) |
Advantages of Using tsoHost
Despite being one of the smaller web hosting companies we've looked at, tsoHost has a lot to offer its customers, including easy setup, reliable uptime, and good response time.
1. Good Response Time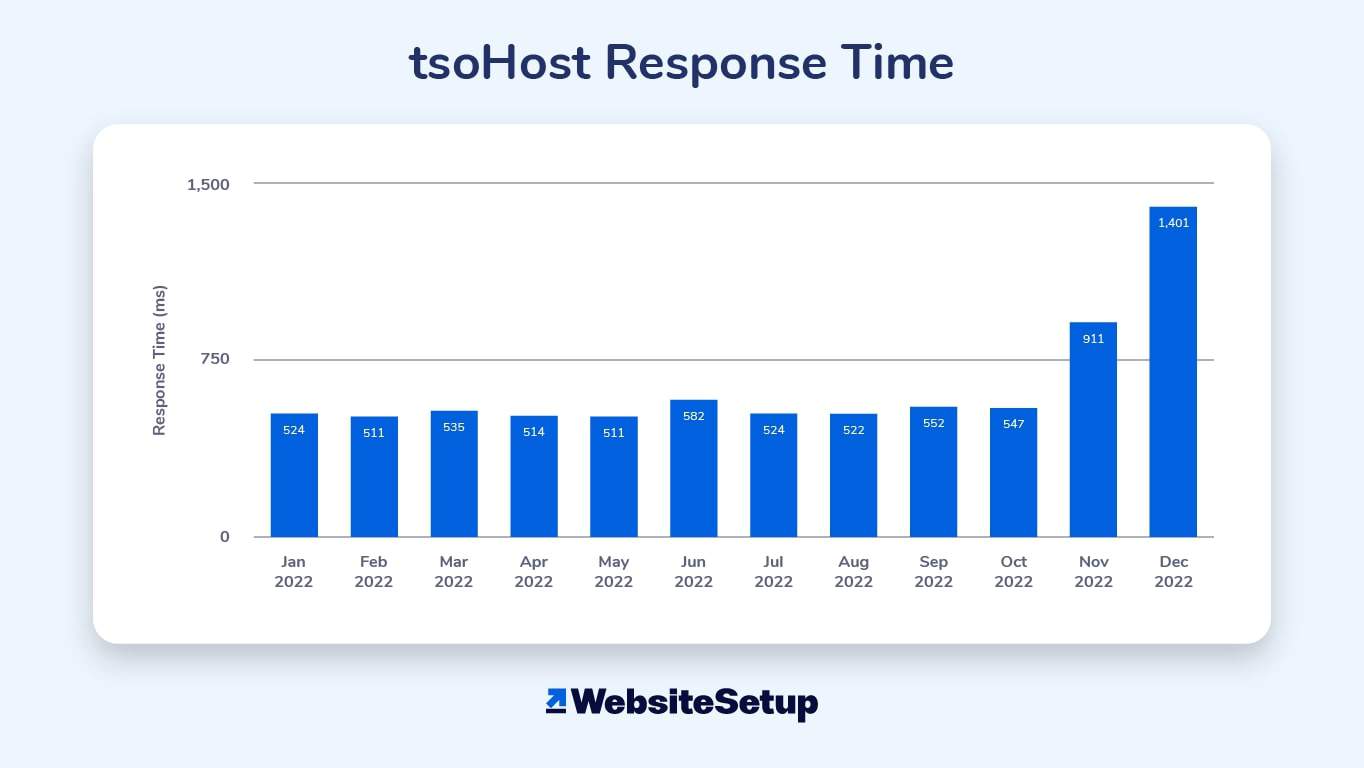 Website speed is important when selecting a web hosting provider because it affects user experience, search engine optimization (SEO), and conversion rates.
For instance, a B2C e-commerce site that takes one second to load has a 2.5x higher conversion rate than a B2C e-commerce website that takes five seconds.
We've been monitoring tsoHost's response time since 2018. According to our data, tsoHost's average response time during 2022 was 636 ms — which is well within the average response time range of 280-826 ms Littledata found after analyzing 5,822 websites in September 2022.
In fact, tsoHost beats popular web hosts like Bluehost (661 ms) in loading speed.
However, if you're looking for a host with even better response times, check out DigitalOcean (289 ms) and A2 Hosting (295 ms).
2. Acceptable Uptime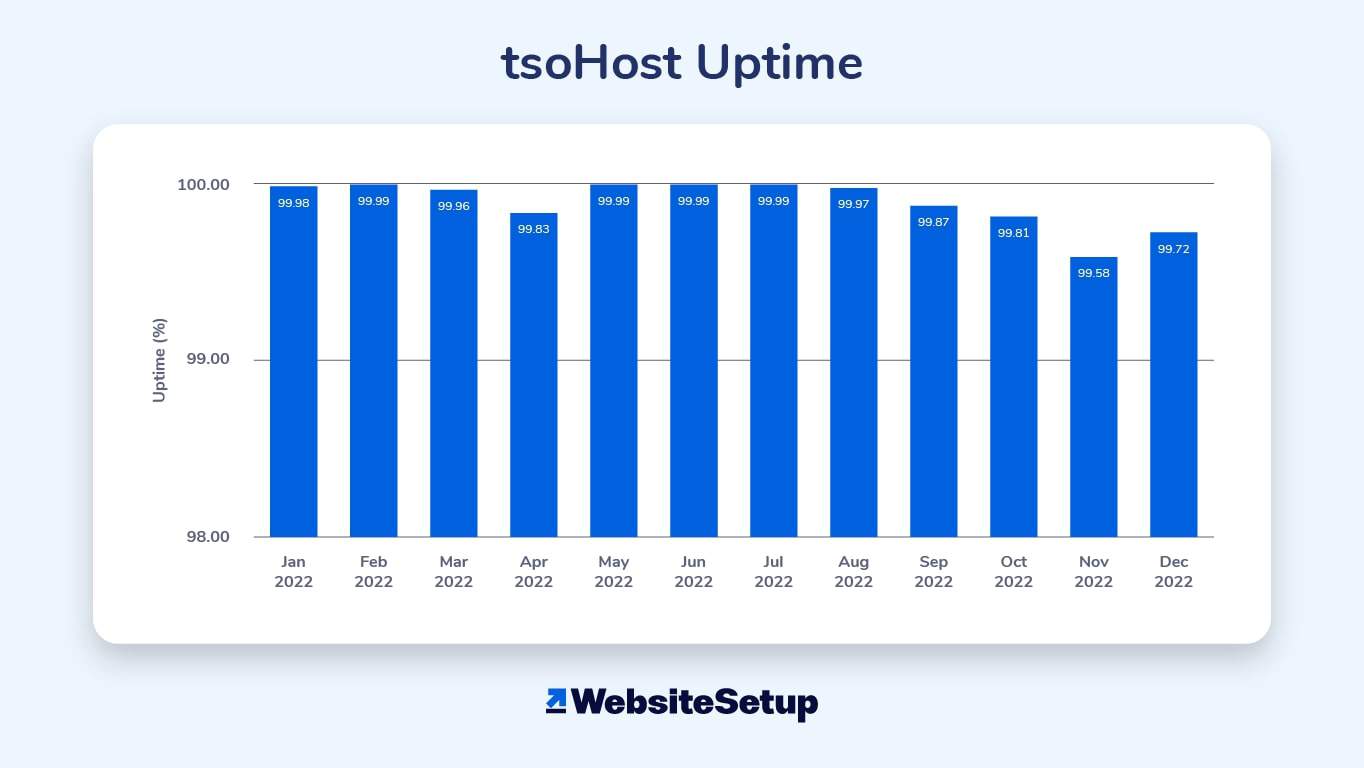 Uptime is another essential criterion for a hosting plan since long periods of downtime can lead to lost revenue and productivity.
Based on our stats, tsoHost remained up 99.89% of the time in 2022. Not bad. But not great either.
For the months with excessive downtime, you may get compensation since tsoHost's Service Level Agreement (SLA) includes a 99.9% uptime guarantee. If the uptime dips below 99.9% for a particular month, you're entitled to a full week's credit on your account.
3. Transparent Pricing
Many cheap web hosting plans often compensate for their low-priced plans with not-so-obvious fees and charges or frequent upsells.
For example, HostPapa offers tons of last-minute upsells. If you're not careful, you might end up paying for extras during checkout. And many other hosting companies require a two- or three-year commitment to secure lower-priced plans.
But that isn't the case with tsoHost. What you see on the pricing page is what you pay.
The lowest-priced plan starts at £4.99/month (approximately $6.00/month) + 20% VAT if you opt to pay the monthly fee. If you sign up for an annual plan, you get £1/month knocked off the monthly rate.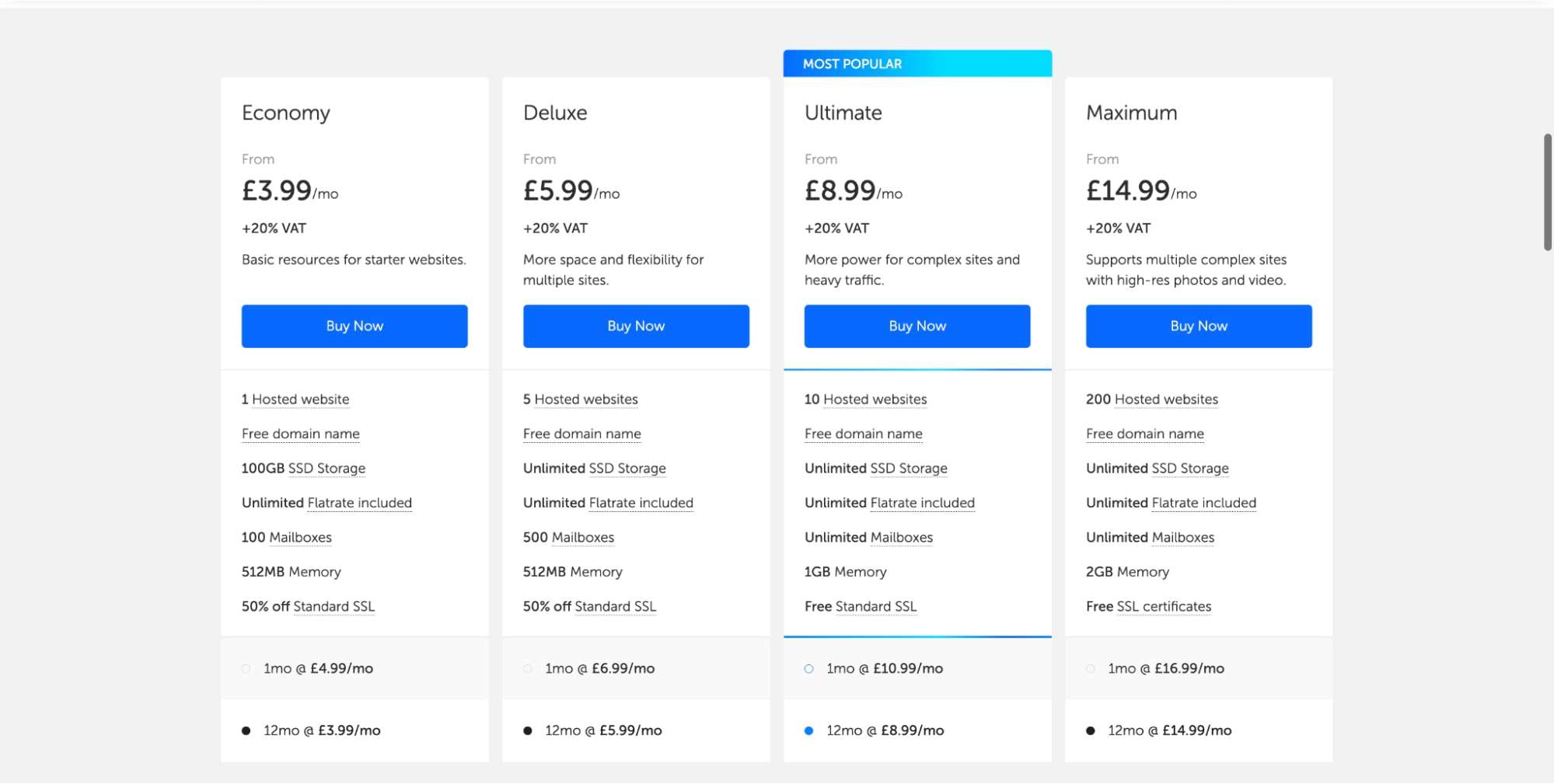 4. Good Value for Money
For their price, tsoHost's web hosting plans are attractive, given the diversity of features that come with them.
For the lowest-priced shared hosting plan (£3.99/month), you'll get:
100 GB of SSD storage
A free domain name (with a one-year plan)
100 mailboxes (dependent on how you allocate your storage)
512 MB of memory
50% off a Standard SSL certificate (for the first year of annual contracts only)
A 30-day money-back guarantee
For the lowest-priced VPS plan (also £3.99/month), you'll get:
One vCPU
2 GB RAM
40 GB of storage
One free basic migration
One e-commerce migration
One additional IP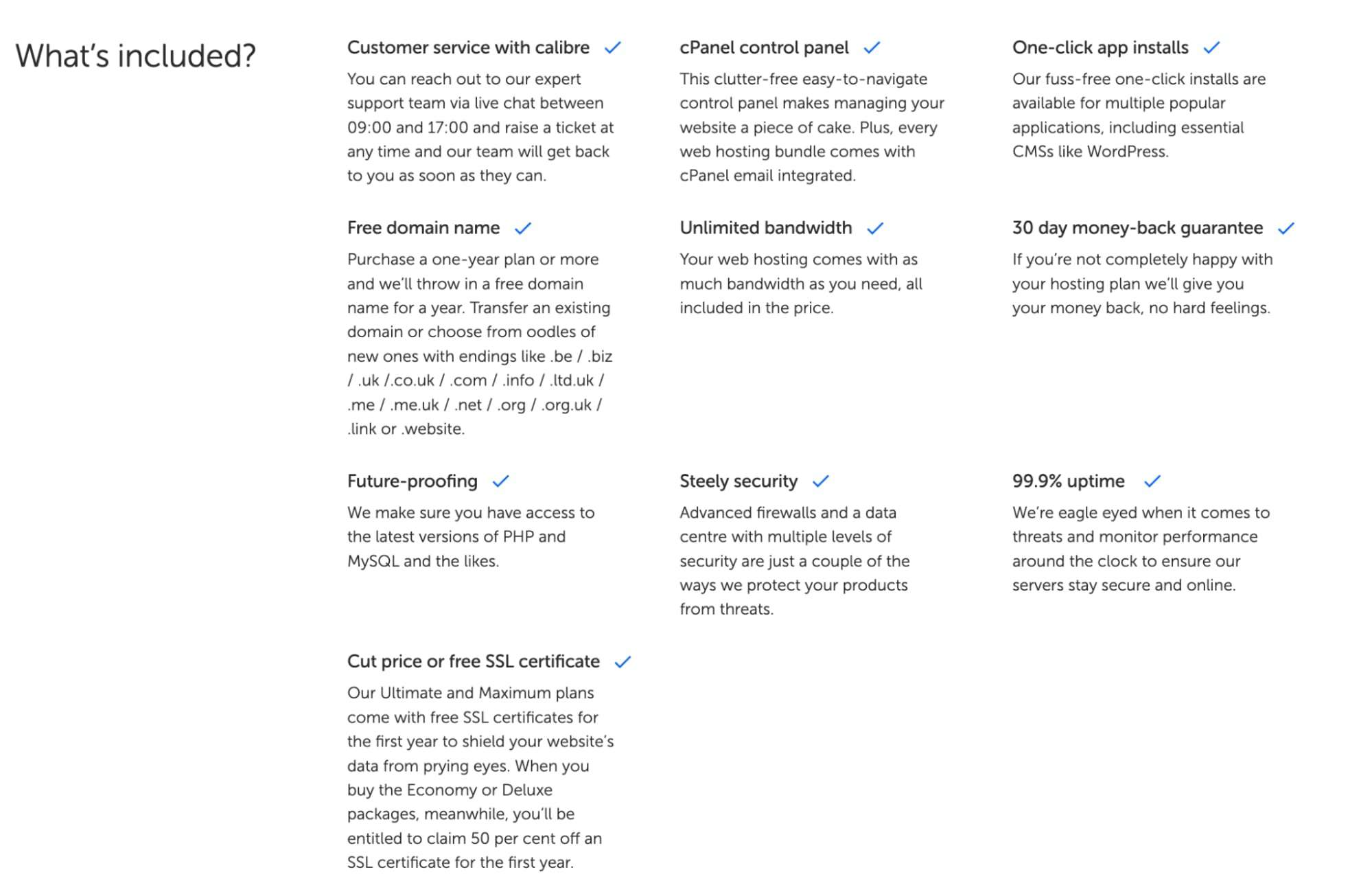 5. Quick Setup
Like many top web hosting providers, tsoHost supports one-click installation of popular content management system (CMS) applications like WordPress, Drupal, and Zen Cart, so you can set up a new site and start selling within minutes.
The whole process of choosing a plan to setting up a website takes around 10 minutes.
Disadvantages of Using tsoHost
As a web hosting service provider, tsoHost has strengths like acceptable uptime, solid response time, and good value for money, but it also has a number of weaknesses.
Here are some downsides of choosing tsoHost:
1. U.K.-Based Servers
As a U.K.-based hosting company, tsoHost has most of its servers located in the U.K.
While tsoHost has introduced a few servers in North America and Asia, you're better off with another web host if most of your customer base is in the United States.
2. Limited Customer Support
Customer support is another crucial aspect to consider when looking for a web host. As a tsoHost's customer, you'll have two ways to raise issues with the support team: live chat and 24/7 ticketing service.

However, while tsoHost's customer support team is helpful, its availability is limited. The website's contact page says live chat is available from 9 a.m. to 5 p.m. (GMT +0). However, the About Us page says due to insistent demand, tsoHost has extended its live chat hours from 7 a.m. to midnight (GMT +0).
This indicates two problems. First, tsoHost's website isn't readily updated, so you might run into other similar conflicting information while using tsoHost's service. Second, if you're outside the U.K. or Western Europe, you might have to make time at odd hours to seek support.
Moreover, tsoHost's live chat is limited to people with customer accounts — so you can't try it yourself easily. We signed up for an account to test the live chat, but we couldn't reach a representative despite trying it within the mentioned business hours.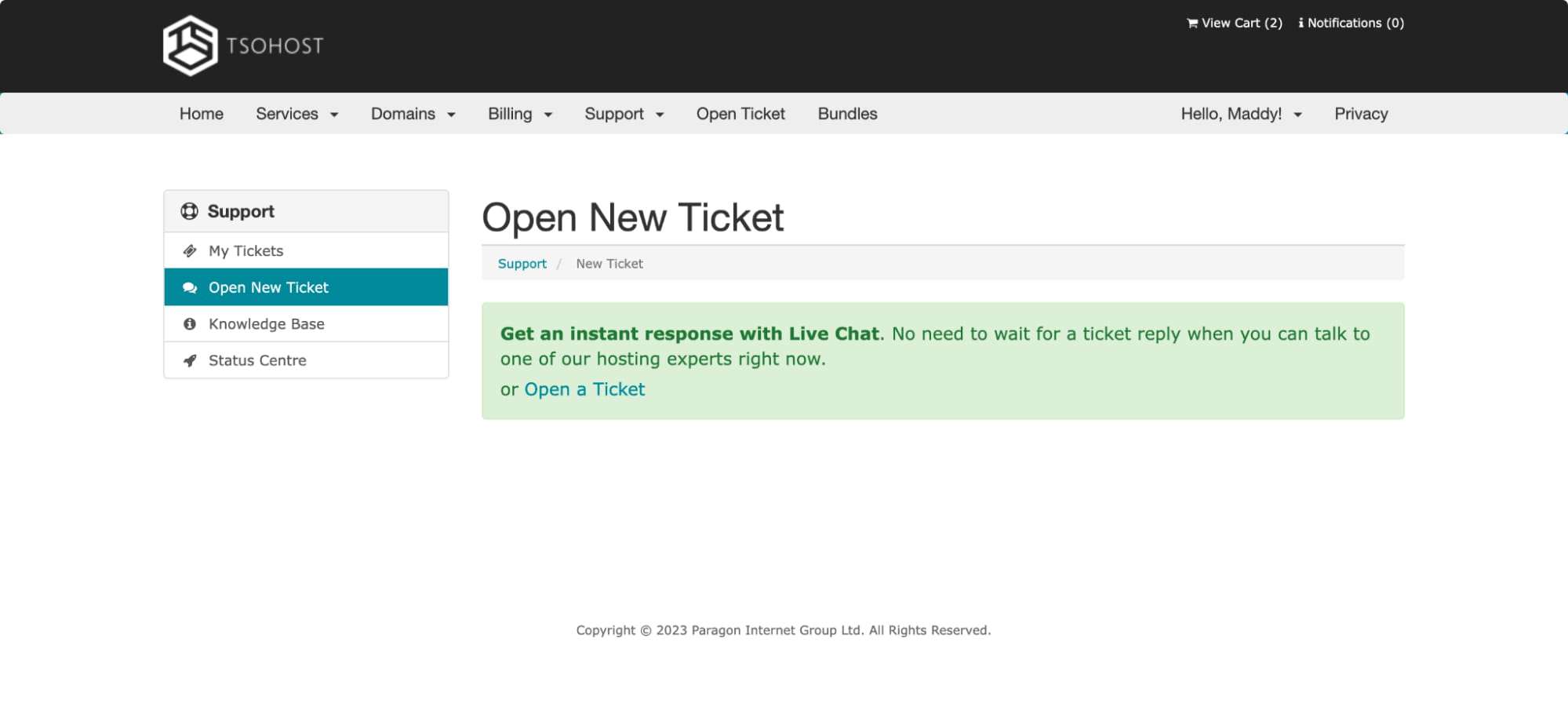 So, we opted for the ticketing option, which is available 24/7. We opened a new ticket in the client area during office hours and asked tsoHost support for clarification regarding site migration.
We received a reply to our support ticket within four hours.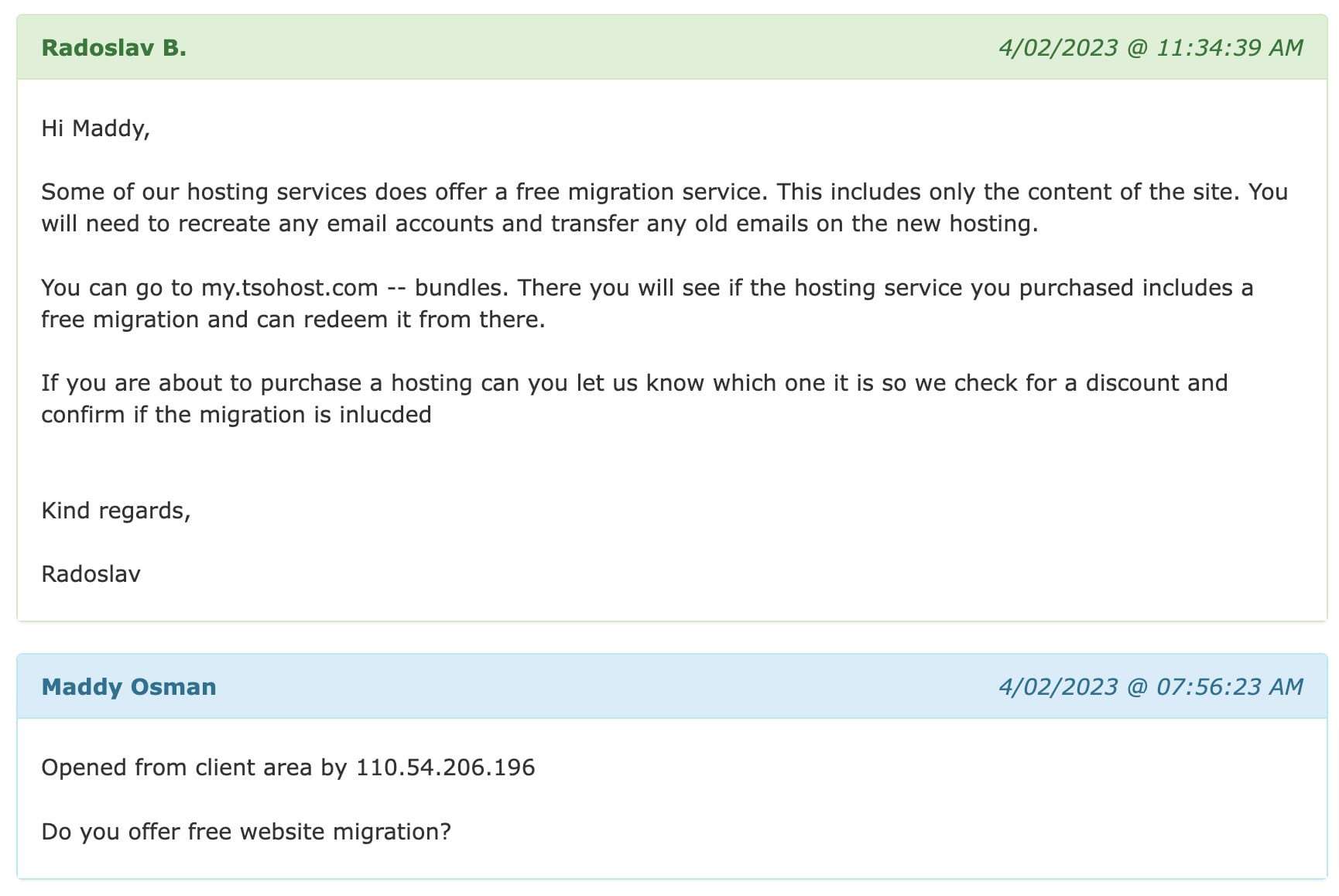 We also sent another query off-hours regarding tsoHost's cloud hosting offerings. This time it took 11 hours to receive a response.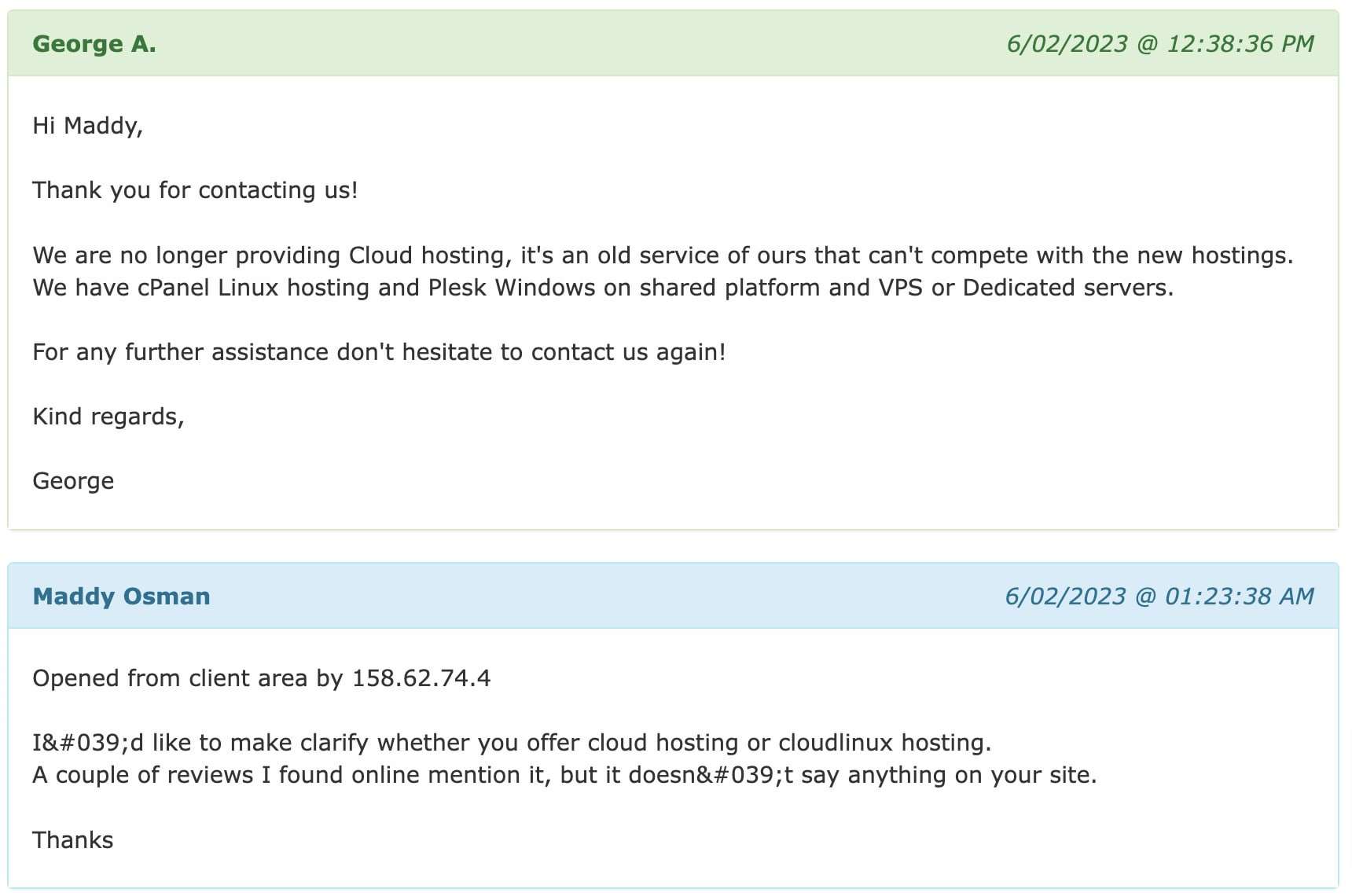 Lastly, tsoHost also has a sufficient knowledge base if you're into self-service options. However, we noticed that some of the articles were from several years ago, so the information might not be up to date.
3. Not All Plans Offer Free SSL Certificate
SSL certificates are a website must-have. They secure your website and impact its SEO. Unfortunately, tsoHost doesn't offer a free SSL certificate on all its plans.
While the Maximum Package (the most expensive plan) offers free SSL certificates, the lower-tiered plans such as the Economy and Deluxe plans offer only a 50% discount on standard SSL certificates if you sign up for an annual plan.
If you choose a monthly plan, you'll have to pay the full price of £49.99/year (approximately $60) +20% VAT for a standard SSL certificate.
If you're hosting multiple websites (as with the Deluxe plan, which supports up to 5 websites), you'll have to buy separate SSL certificates, which can drive up the costs.
4. Limited Built-In Security
Security is another must-have for web hosting plans. After all, you're dealing with people's personal information and don't want your website to be the reason hackers get access to it.
Providing basic security features, such as SSL certificates, automatic backups, minimal uptime interruptions, and data center protection, is something responsible web hosting companies do.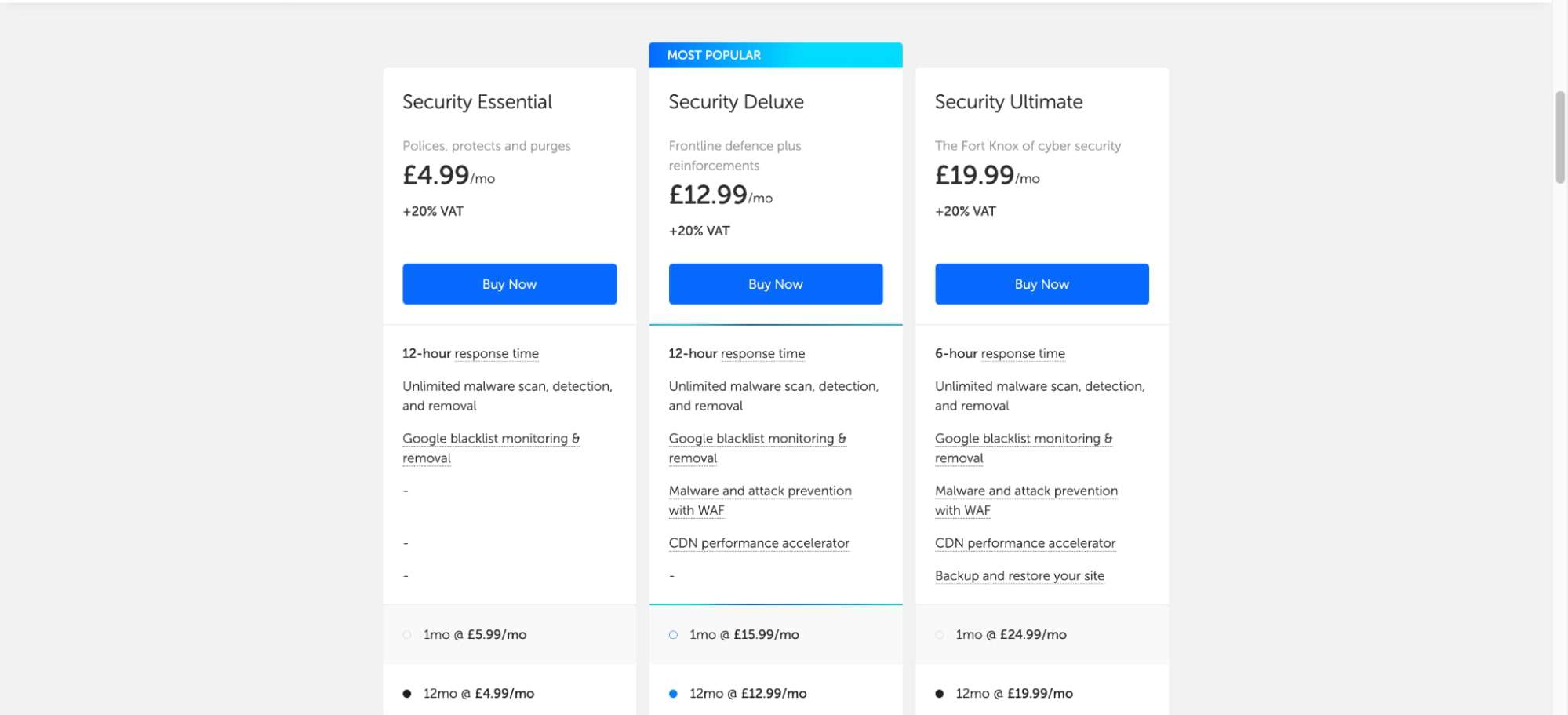 However, in tsoHost's case, users have to subscribe to a Sucuri plan to get many essential security features. At £4.99/month (approximately $6.00/month) +20% VAT, it's an added cost to the web hosting plan.
Quick Facts
Domain: Yes (with a one-year plan).
Ease of Signup: Easy.
Money-Back: 30-day money-back guarantee.
Payment Methods: All major credit cards and PayPal.
Hidden Fees and Clauses: No domain names on monthly plans. Free migrations for VPS and managed VPS plans only. Migrations are limited to content only — you will need to recreate email accounts and transfer them to the new hosting.
Account Activation: Quick activation. Usually instant, but it can take up to a day in some cases.
Control Panel and Dashboard: cPanel or Plesk.
Installation of Apps and CMSs (WordPress, Joomla, etc.): One-click installation for most popular apps.
Additional Features: DDoS Attack Protection, Cloudflare CDN, and more
Do We Recommend tsoHost?
Yes, but with caveats. tsoHost will serve you well if you're building a personal blog or starting a website for your small business with a predominately U.K.-based customer base.
As you can see from our tsoHost review, the hosting provider offers average server response times and good uptime, which are impressive considering its relatively inexpensive plans with transparent pricing.
However, if you're looking for a web host for your business or e-commerce store with customers across the globe, tsoHost might not be a good fit. Its limited customer support, expensive security essentials, and outdated knowledge base don't make it a great web host for bigger projects.