If you're looking to set up your own website quickly and easily, look no further.
The best part? You can have it up and running in a matter of minutes.
Here's the first step:
Sign up using a web host and register the domain name of your choice (if you don't have one yet).
I'm currently using Bluehost as a domain provider and web hosting service, which I've laid out in the example below.
Feel free to use any hosting provider of your choice, but I prefer Bluehost for its simple usability, reliability and 1-click-installation with WordPress. It makes integrating WordPress easier than I have ever seen with any other web host.
If you've already have a domain name, it's just as simple. You can still use Bluehost as your hosting provider, even if you purchased your domain name from another provider e.g GoDaddy.
The registration process takes no longer than 5 minutes from start to finish.
Once you've created an account with Bluehost, I'll explain how you can install WordPress using the Bluehost control panel. I've also included guides for Joomla & Drupal if anyone is looking to use them.
Quick tip: When creating any website, you must have a domain name and a host. Without these, you won't be able to create a website for users to view, browse, or shop on.
STEP 1: Go to Bluehost.com
Full disclosure: I earn a commission if you end up purchasing Bluehost through my referral links in this guide. This helps me to keep WebsiteSetup up and running and up-to-date. Thanks for your support.
To get started, head to www.Bluehost.com and click on the "get started now" button.
If you use this link, you'll be able to get a FREE domain for a year, too. This discount applies to all staging-websitesetup.kinsta.cloud visitors (Yay!).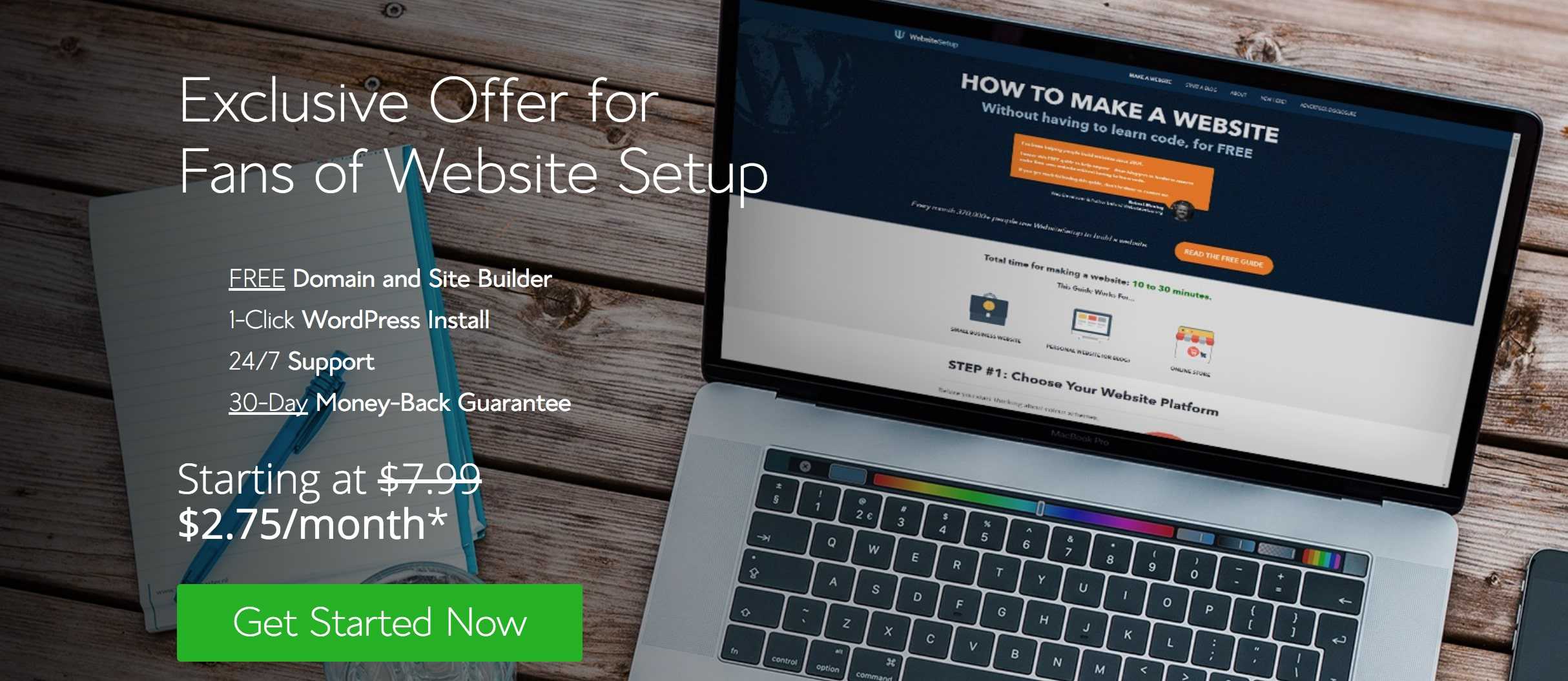 A free domain (1 year), 1-click WordPress installation, and 24/7 support are included with your account.
STEP 2: Choose a Website Hosting Plan
Once you click "get started now," you'll be taken to a page where you can select the hosting plan of your choice.
I got the "basic" option, which is a great choice for new websites. Plus, at the moment they're running a special discount of $2.75/mo (usually it's $7.99/mo)
The "plus" and "prime" plans are great, but you don't really need all the extra bells and whistles they offer unless there are millions of people flooding your site each day.
Save your hard earned cash and opt for the cheapest package to start with.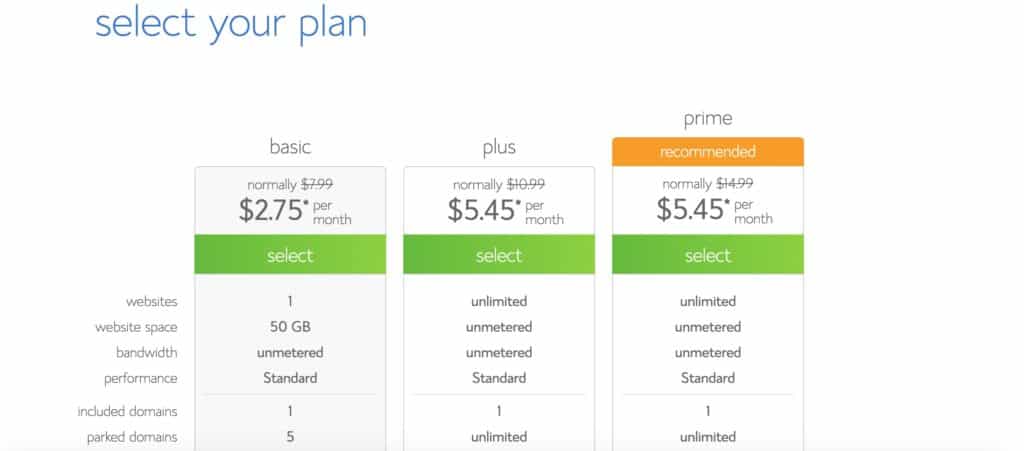 STEP 3: Secure a Domain Name
Your domain doesn't have to end in .com. You can choose a different site ending if you wish, e.g .net, .org, .us, .biz, and .info if the first choice for your domain isn't available.
If you've already got a domain name, just enter it in and click "Next" in the "I have a domain name" form.
If you aren't ready to choose a domain right this moment, you can do it at a later point in your website setup.

STEP 4: Fill In Your Details
To create your account, just enter your personal information on the "create your account" page.
You'll need to add your first name, last name, country, street address, city, zip code, phone number, and email address. Your receipt will be sent to the email address you enter.
It's optional to also add your business name in this form.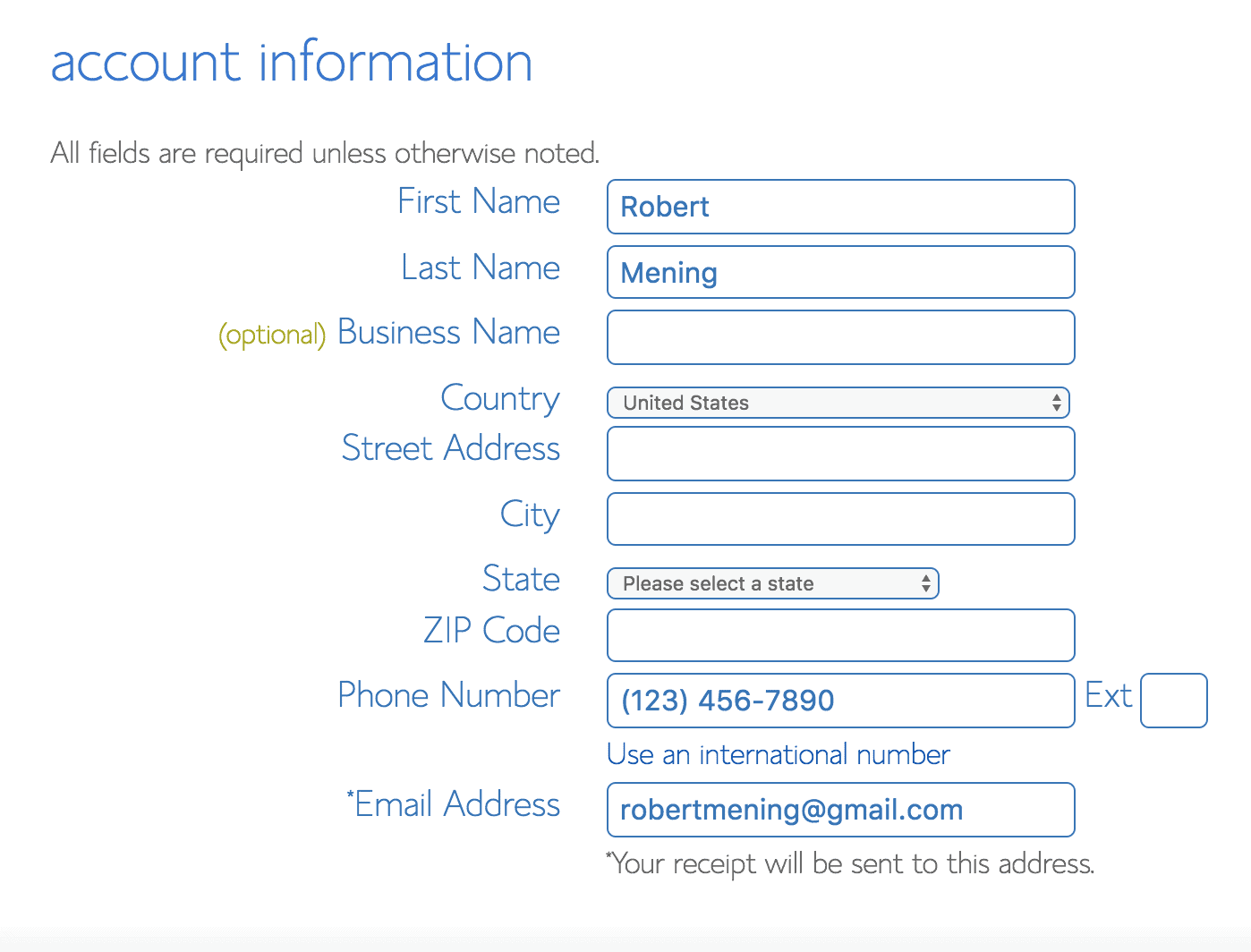 Finally, enter your payment information to continue.
STEP 5: Check Your "Package Information" and Finish Registration
The next step in registering for a Bluehost account is to select your plan and package.
These are the last steps you'll go through before your account creation is complete. Pay close attention to the extra options available, like Domain Privacy Protection.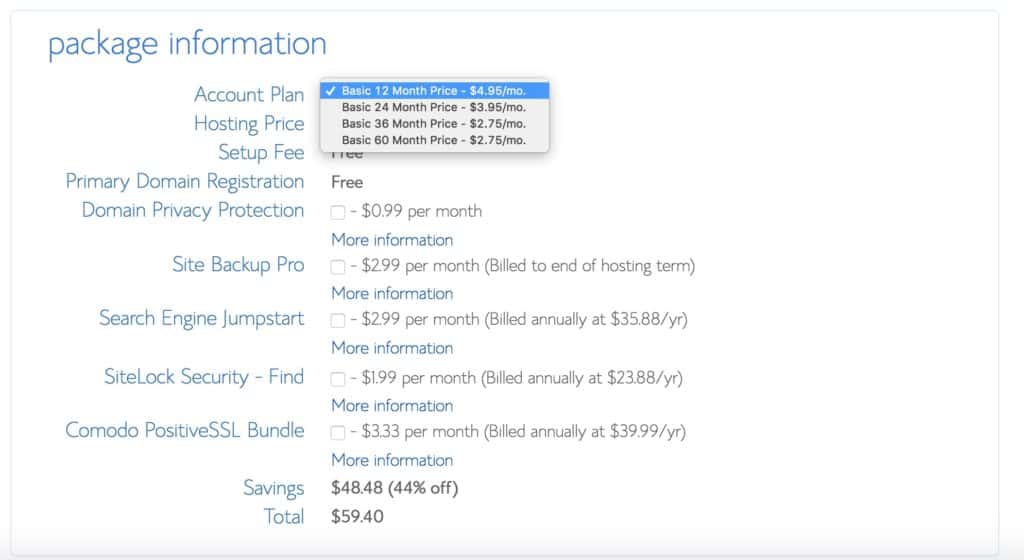 Domain Privacy Protection is only $0.99 cents more per month. It will keep your personal information, e.g your name and address, private.
If you want to keep your website and domain information anonymous, spend the extra $0.99 per month. If you don't, be sure to uncheck this box.
Consider these add-ons (optional)
Bluehost offers tons of great add-ons. Most of them aren't necessary, but here are some add-ons to consider besides Domain Privacy Protection.
Site Backup Pro:

This provides extra security to your website. WordPress is very secure, but this extra feature allows you to backup your site regularly. If you think you'll use this feature, it's definitely worth the extra $2.99 per month or $35.88 per year.

Search Engine Jumpstart:

Bluehost claims that this tool can help you get search engine rankings. This feature is also $2.99 per month or $35.88 per year.

SiteLock Security:

 This add-on verifies your email address, physical address, and phone number. If you plan to sell a product or service on your site, this feature might be helpful for proving your credibility to customers. This service is an extra $1.99 per month or $23.88 per year.
Once you've selected your add-ons and signed up for a Bluehost account, you'll be all set to build websites using your chosen or existing domain name.
Log in to Bluehost and pick the website builder of your choice: WordPress, Joomla, or Drupal.
How to Install WordPress (or Joomla & Drupal) on Bluehost's 'One-click-installation'
Bluehost offers "one-click installation" for WordPress, Joomla, and Drupal for beginner users so that you can have your site ready to go in seconds.
Just click on your preferred website software below and the guide will expand (with images).
WordPress one-click-installation tutorial
Joomla one-click-installation tutorial
Drupal one-click-installation tutorial
Once you have a domain name, web hosting and website platform installed, you can go ahead and start reading my in-depth guides for editing your website, adding new content and making it work.
Guide by Robert Mening