Every website deserves good web hosting.
If homepage visuals load fast, navigation happens instantly, and videos never lag, your might think it has an excellent web host.
However, besides speed, another important factor is uptime over a longer period of time.
For example, it's common for websites go down minutes or hours without website owner not noticing it. For example, if your website uptime is 99.99% then it's approx 50 minutes of downtime per year – which is quite good. However, if your website uptime is 99.67% – then you have nearly 30 hours of downtime per year which can cost visitor experience as well as possible income.
But finding such a service is difficult because the web hosting market is humongous.
How we rank web hosting companies
We have refined a 6 step process over the last five years to test every web hosting provider in real-world conditions.
1. Buying a Test Domain Name
We start by purchasing a test domain name to associate with each host. That allows us to test the web hosting provider's name servers with an external domain name.
For example, for testing out SiteGround web hosting service, we first bought the domain name; hostingfacts-siteground.com

We do this as translating domain names can have an impact on performance if configured poorly.
2. Signing Up With Each Web Hosting Provider
To ensure an accurate assessment, we never use free accounts to assess web hosting providers. We have discovered this is often not representative of the paying customer's experience.
We choose their cheapest (shared plan) for the maximum length. That ensures we have enough data and time to compare it against other providers.
By selecting the cheapest shared plan, we ensure a consistent benchmark across all web hosting providers.
Below are examples of invoices that we've paid to different web hosting companies:



3. Deploying a Standard WordPress Installation
Once we have connected the domain name with our web hosting provider's servers, we deploy our standard test WordPress installation.
The size, structure, and theme of each website are identical, making monitoring page load speed more accurate.
4. Gather Uptime And Load Time Data for Over Year
To accurately represent real-world performance, we monitor all websites for at least one year using industry recognized benchmarking tool, Pingdom.
Pingdom checks the hosting at one-minute intervals to ensure the site is up and to monitor its performance. This data is available to you through our Pingdom dashboard.
5. Testing Customer Support
Customer support is a crucial component of any web hosting provider's review.
You want to be confident you can get help when you need it, which is why we always test the customer support experience.
We assess customer support based on the two most critical criteria; the speed of response when your website goes down and the accuracy of customer support answers.
6. Reviewing Features and Price
Finally, we assess web hosting providers on their overall package.
These vary between web hosting providers, but critical include:
Price.
Renewal costs.
Free domain options.
Whether the site is secured through SSL.
Whether the site has the performance benefits of a CDN.
Refund options.
Customer support quality.
Load time.
Full disclosure: This content is reader-supported. If you click on our links, we may earn a commission.
Best Web Hosting Services for 2023 (last 12-months averages)
1. Hostinger
Best all-round hosting / Visit Hostinger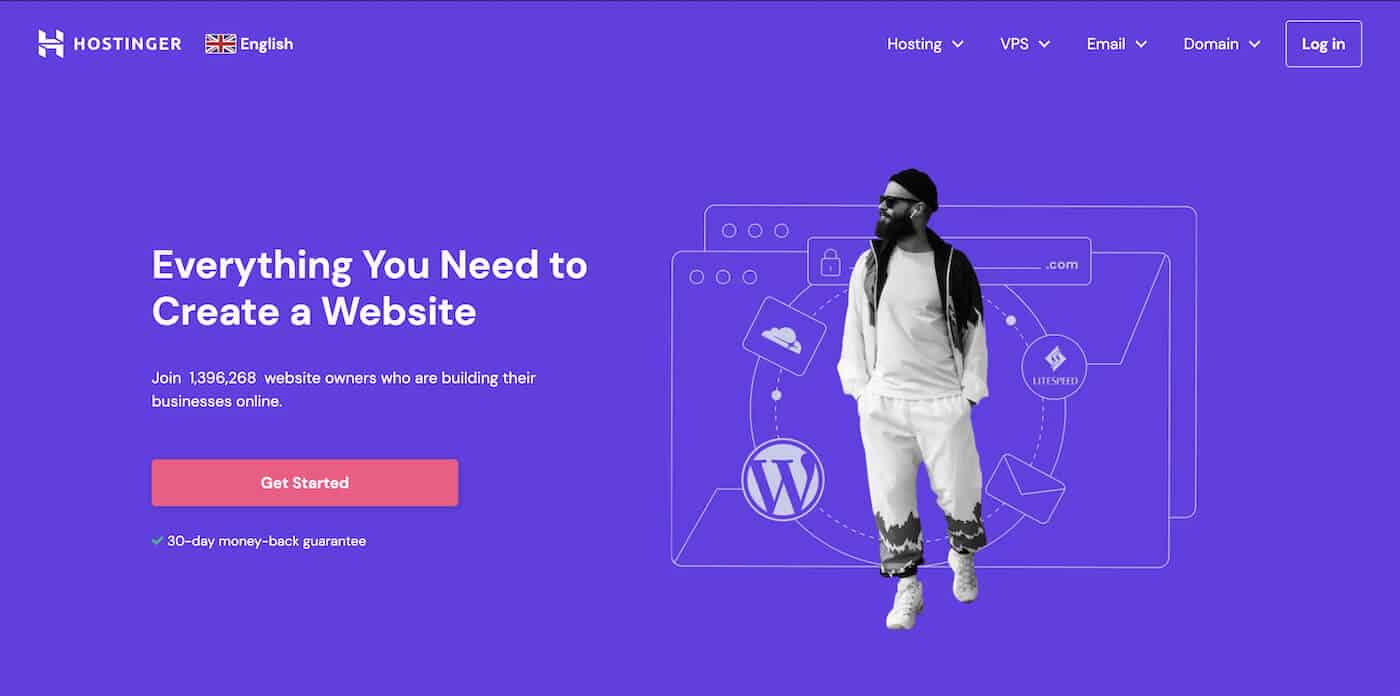 Hostinger has cloud, VPS, WordPress, and eCommerce web hosting for small to medium-sized websites. It also offers web hosting for agencies and their clients.
Over a recent 12-month period, the average uptime of Hostinger was 99.95% based on our tests. There was also a total downtime of 3 hours and 33 minutes with an average of 18 minutes. During six months of this period, there was an uptime of 100%.
The average response time was 318 ms with the quickest time being 291 ms, and the slowest was 341 ms. This web hosting option is suitable for small to medium-sized sites based on these results from our tests.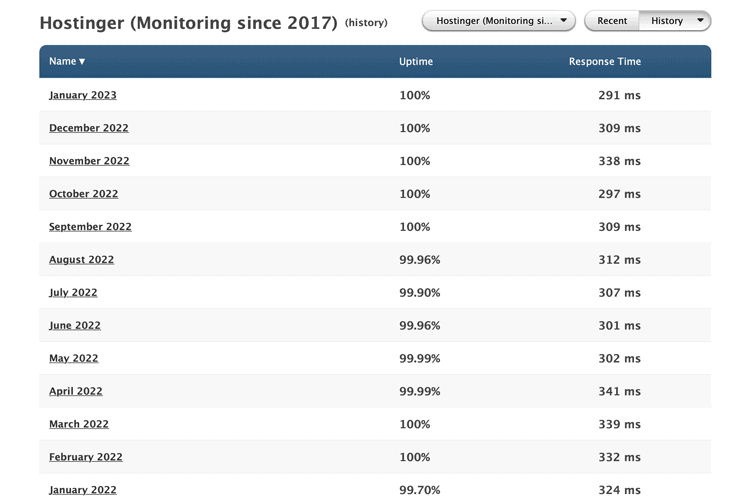 Shared web hosting plans start at $2.99 per month, prepaid and billed annually. A free domain is included if you upgrade to the Premium or Business Web Hosting plans. Our promocode WEBSITESETUP will give you 7% off on annual and longer plans!
For one website, you get 50 GB of storage, 100 GB of bandwidth, Cloudflare CDN, an email account, and two databases.
The shared web hosting is WordPress-ready with weekly backups.
Beyond that, there's a 30-day money-back guarantee so you can try out Hostinger, worry-free. But, keep in mind that this doesn't include a refund for a domain name that you register with them.
2. Bluehost
Best uptime hosting / Visit Bluehost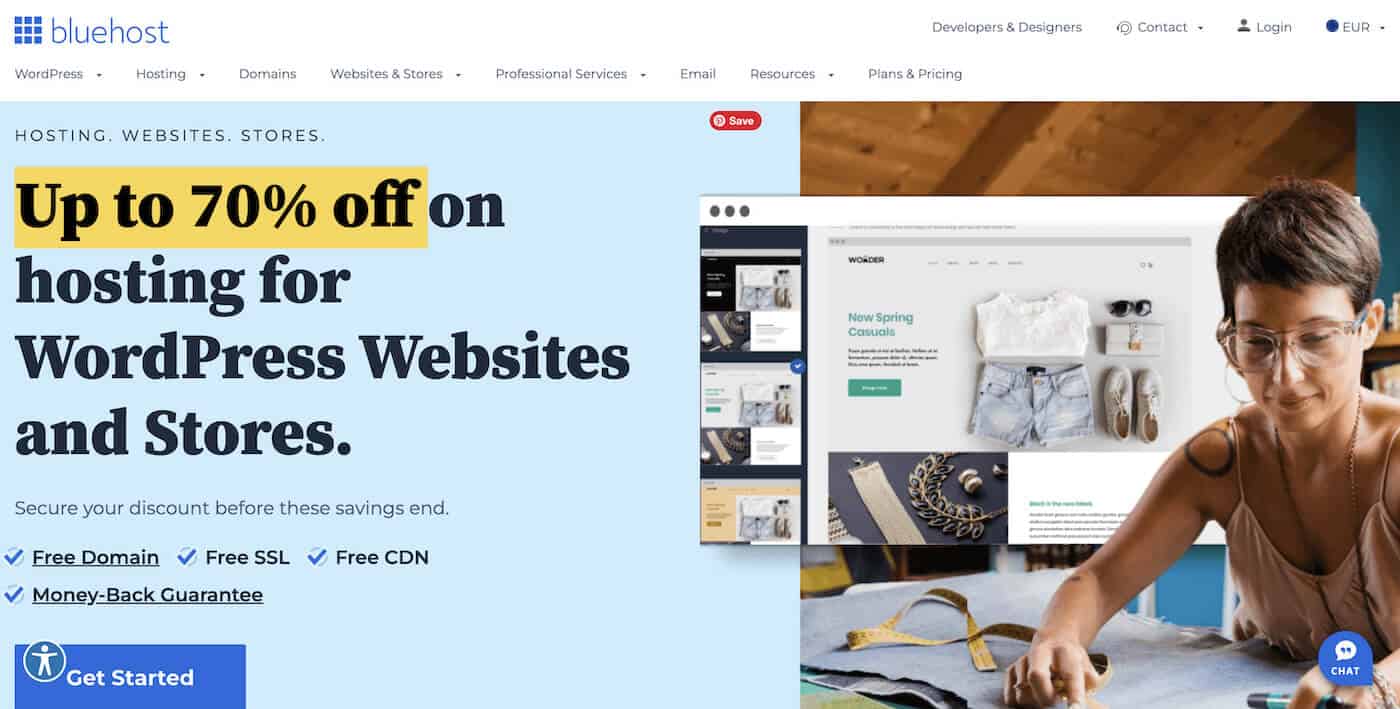 Bluehost has a focus on WordPress web hosting, but it also has shared, VPS, dedicated, and eCommerce hosting plans. There's 24/7 support, and also premium support called WP Live where an expert will walk you through every step. Plans for that start at $24.00 per month.
Through our year-long test, we found the average uptime was 99.91%. The total downtime was 5 hours and 31 minutes. A total of three months out of the year had 100% uptime. Out of the web hosts on the list, Bluehost saw the least months with 100% uptime.
The average response time was 661 ms, with the fastest time being 555 ms, and the slowest was 877 ms. Compared to the other hosts on the list, Bluehost is in the middle when it comes to the speed of the shared hosting plan.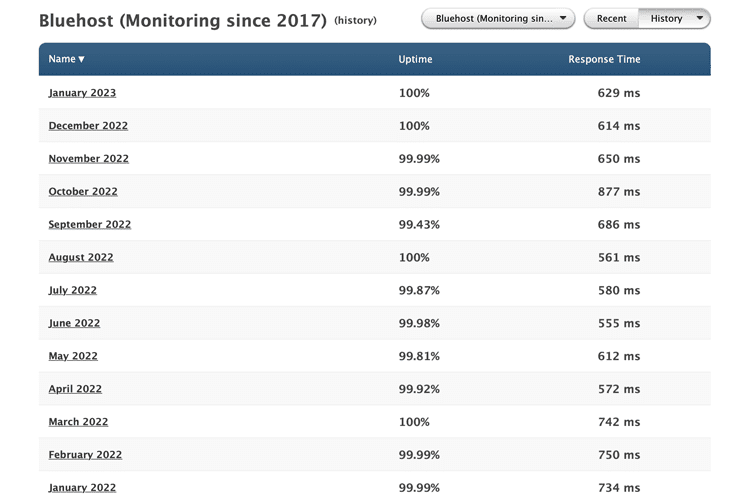 Bluehost has shared hosting plans that are billed either annually or for a 36-month period. If you pay annually, the price works out to $10.99 for the Basic plan, which is meant for one site or blog. If you choose the 36-month billing period, it works out to $9.99 per month.
A free domain name is included for one year. You also get a CDN, and 10 GB of storage space. Bandwidth is unmetered. You can have up to 20 MySQL databases as long as they don't exceed 5 GB in size, and 10 GB in usage.
3. A2 Hosting
Best speed hosting / Visit A2 Hosting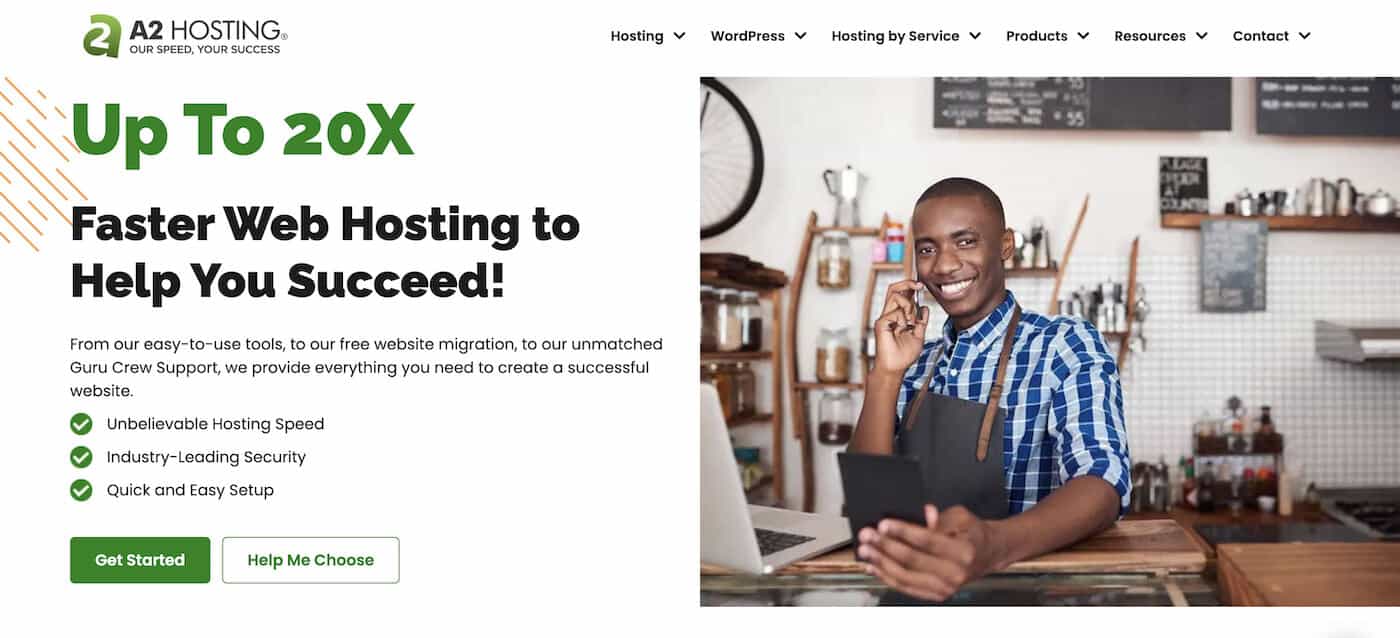 A2 Hosting offers shared, dedicated, VPS, and WordPress hosting. If you want to sell hosting as a service, you're able to do that with their agency hosting. For over 15 years, A2 Hosting has been working to offset carbon emissions through reforestation efforts by partnering with Carbonfund.org.
Our test results show that the average uptime was 99.98%, and the total downtime was 70 minutes. Out of 12 months, six of them had an uptime of 100%, and the lowest was 99.94%.
In terms of speed, the test site's server started loading content after an average of 295 ms. The fastest response time was 263 ms while the slowest was 325 ms. Based on our tests, A2 Hosting is the third fastest on this list.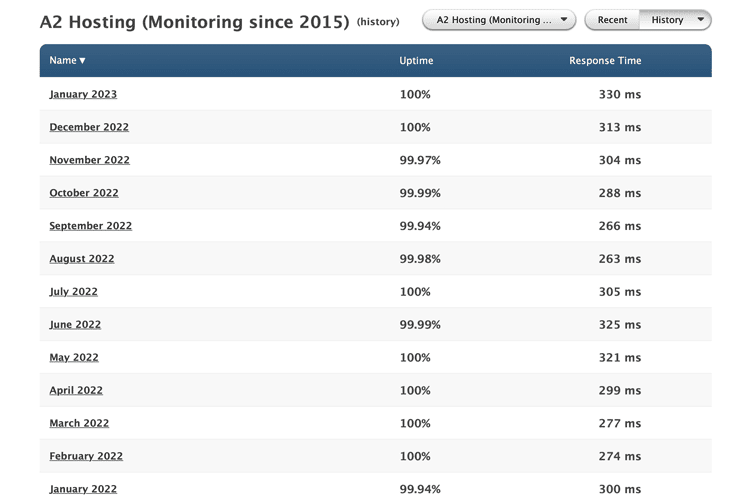 The shared hosting plan is $10.99 per month for the Startup Web Hosting plan.
It includes one website with 100 GB of storage, and 5 databases. You're also able to create a staging site so you can test changes to your site before making them live to customers to ensure everything works well.
When you upgrade, these features become unlimited. Pre-configured settings for optimal performance is standard for all shared hosting plans, but there are more features like caching, and automated backups when you upgrade.
There's a 30-day money-back guarantee. After 30 days, you can get a prorated refund.
4. DreamHost
Best month-to-month hosting / Visit DreamHost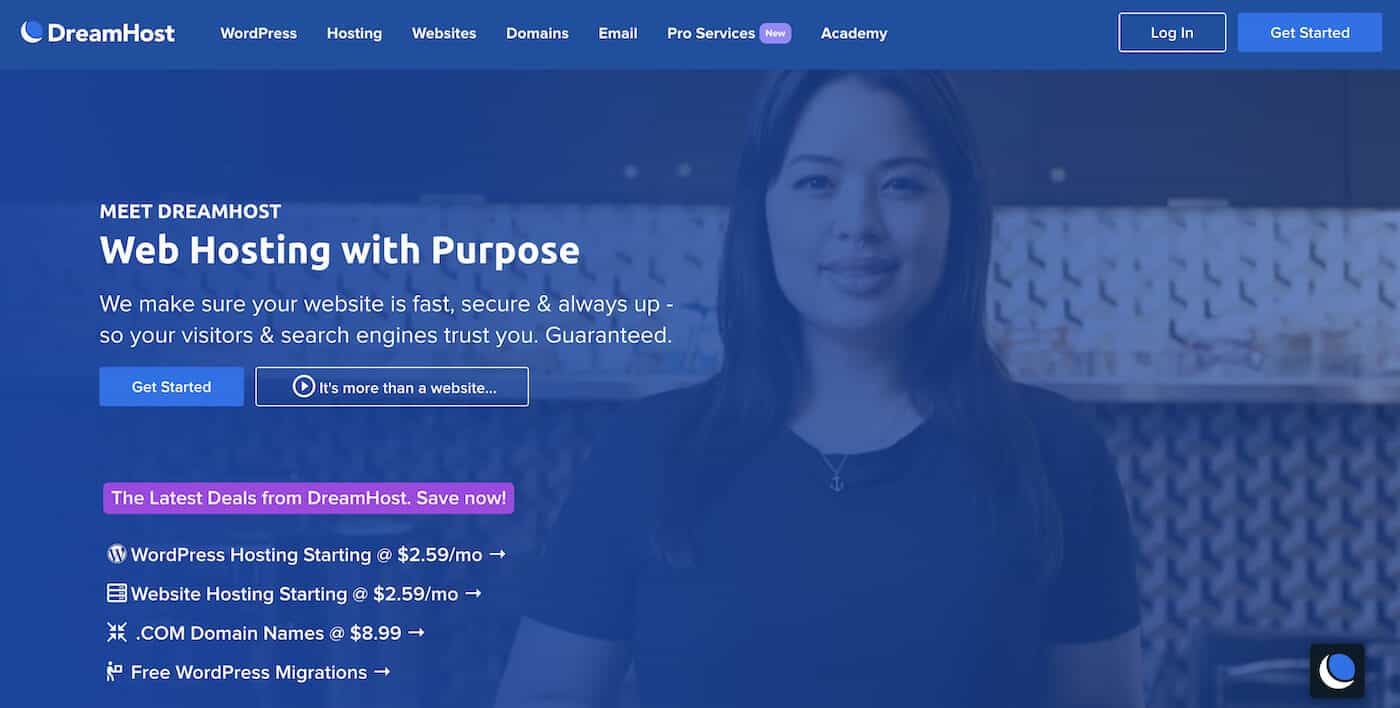 Apart from shared hosting, Dreamhost also has VPS, dedicated, cloud, and WordPress web hosting. It's employee-owned, which drives focus to the user's experience. A 100% uptime rate is also guaranteed.
But how does that guarantee stack up? Our tests showed an average uptime of 99.86% with a total downtime of 10 hours and 2 minutes. Out of the 12-month testing period, only four months had an uptime of 100%.
According to our tests, Dreamhost's shared hosting is the slowest on this list, averaging a response time of 1815 ms. The quickest time was 1702 ms. The slowest was 1926 ms.
With users exiting 32% more if a page loads between one to three seconds, these load times aren't ideal.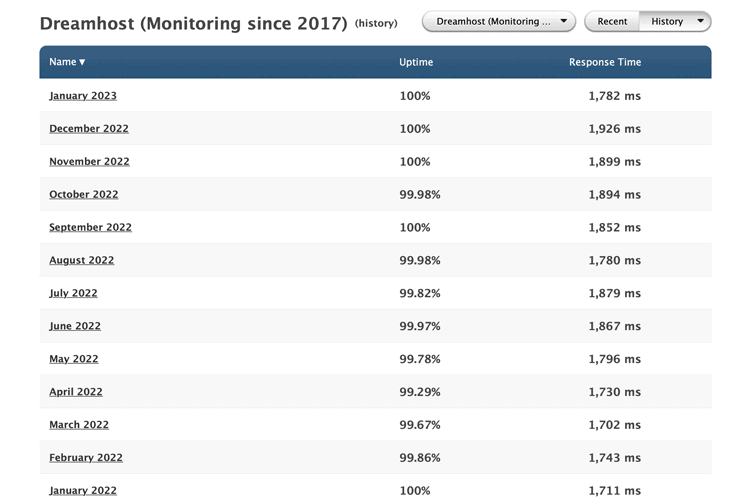 The Shared Starter plan is $7.99 per month for one website, and it includes a free domain name. If you decide to go with the annual plan, the price works out to $6.99 per month.
If you need more than one site, the Shared Unlimited plan includes unlimited sites. This plan is $13.99 per month. With either plan, you get unlimited bandwidth because they don't track it, and WordPress comes pre-installed.
Dreamhost also has a 97-day money-back guarantee for shared hosting plans if you place an order with a credit, or debit card.
5. Nexcess
Best WordPress hosting / Visit Nexcess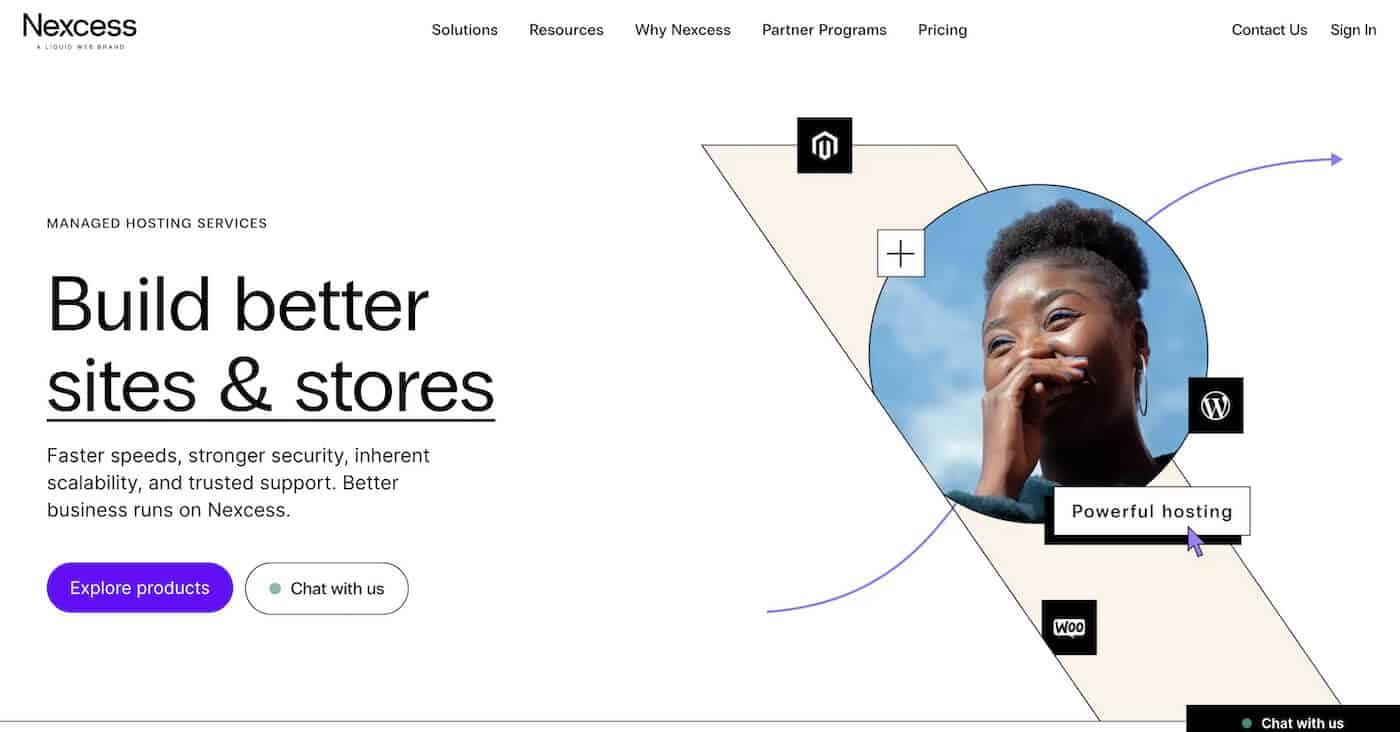 Nexcess has WordPress, Magento, and cloud hosting. There's also eCommerce hosting, which is built using WooCommerce and WordPress. If you need hosting for other platforms, it's also possible since Drupal, ExpressionEngine, and Craft CMS are also supported.
The average uptime experienced through our testing was 99.80%. The total downtime was 18 hours and 1 minute. Out of 12 months, 8 of them had an uptime of 100%. Nexcess hosting saw the most downtime when compared to the other hosts listed here.
Even though our tests showed a lot of downtime, it was isolated to one month. It comes in second when it comes to the hosting with the most uptime of 100% during a 12-month period.
The response time average was 275 ms. The fastest time was 246 ms, while the slowest was 303 ms.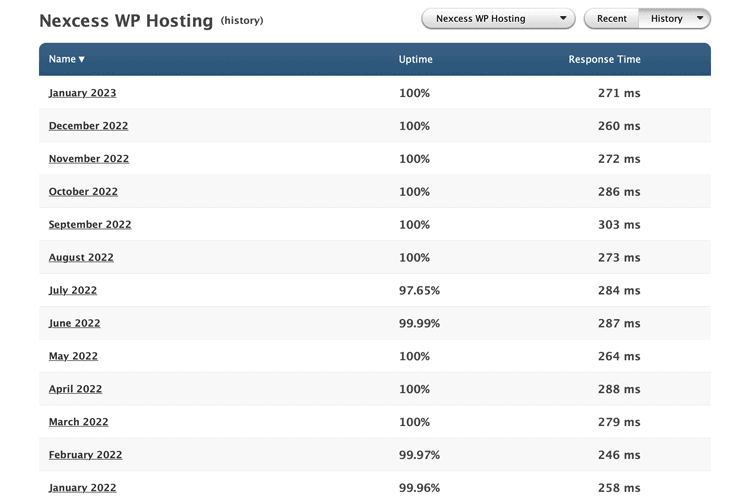 For managed WordPress hosting, the plans start at $19 per month. If you choose to pay annually, the price becomes $15.83 per month.
It includes 15 GB of storage, 2 TB of bandwidth, daily backups, and unlimited email addresses. You're also able to set up a staging site to test changes before you push them to your live site.
When you get spikes in traffic to your site, you also get 10 or more PHP workers to help you autoscale. That way, you'll experience less downtime overall.
A 30-day money-back guarantee is also available so you can test Nexcess.
6. GoDaddy
Best domain hosting / Visit GoDaddy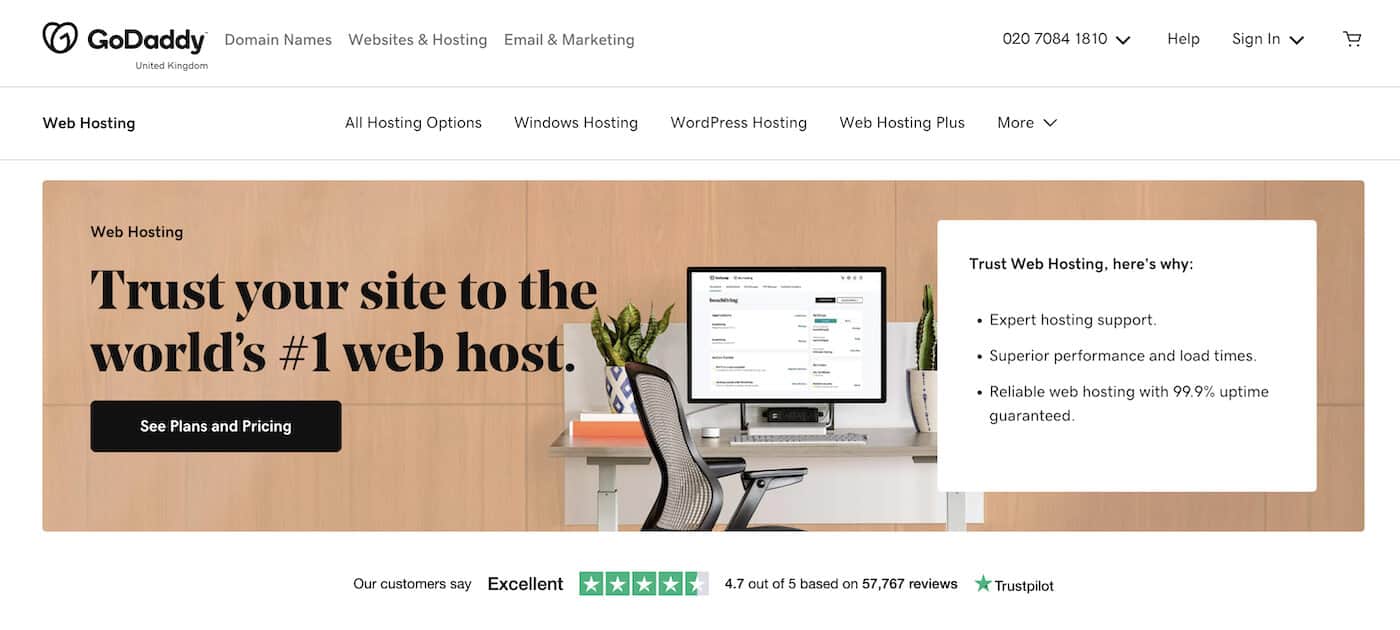 GoDaddy has shared hosting as well as WordPress and eCommerce hosting with WooCommerce. Its hosting plan can also support Drupal, Joomla, and more.
Our tests showed average uptime of 99.96%, with a total downtime of 3 hours and 6 minutes. The average downtime was 16 minutes per month.
Over 12 months, four of them had an uptime of 100%. GoDaddy advertises an uptime of 99.99% so they definitely fell short on that based on our testing.
The average response time was 292 ms. In keeping pace with most of the other web hosting companies listed here, the slowest response time was 342 ms, and the fastest was 250 ms.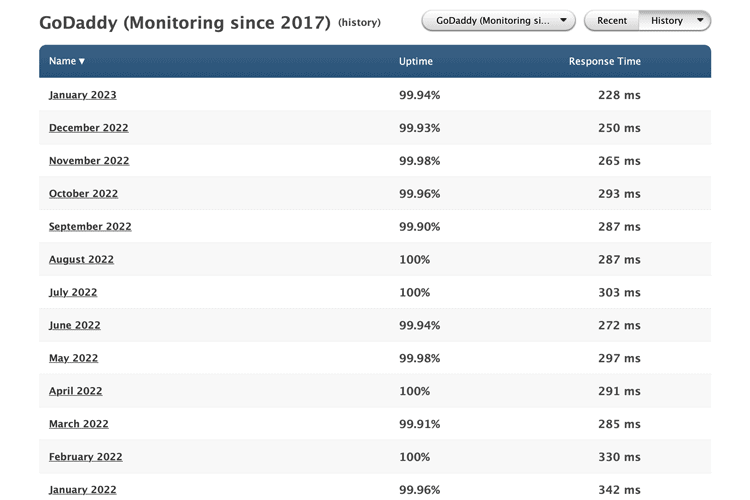 For GoDaddy's Economy plan for shared hosting, the price is $10.99 per month, or $8.99 if you choose to pay annually. If you do, you also get a free domain name, and two Microsoft 365 email addresses.
For both options and for one website, you get 25 GB of storage, and 10 databases.
If you upgrade, you get unmetered bandwidth, more sites, and storage. You also get extra email addresses, but you don't get a free domain name. Similar to the Economy plan, you only get the Microsoft 365 email addresses if you choose to pay annually.
7. SiteGround
Best features / Visit SiteGround
SiteGround has shared, cloud, WordPress, and eCommerce hosting with WooCommerce. There's also reseller hosting available for agencies.
Out of all the web hosting options in this list, SiteGround had the highest average uptime at 99.99%. If you round up, the average was 100%. The total downtime for the entire year was only 15 minutes.
During 12 months of testing, nine had an uptime of 100%.
In terms of site speed, our tests showed that the average response time was 384 ms. The quickest response time was 343 ms, while the slowest was 522 ms. SiteGround had the best uptime, but it's average for speed when compared to the other web hosting providers listed above.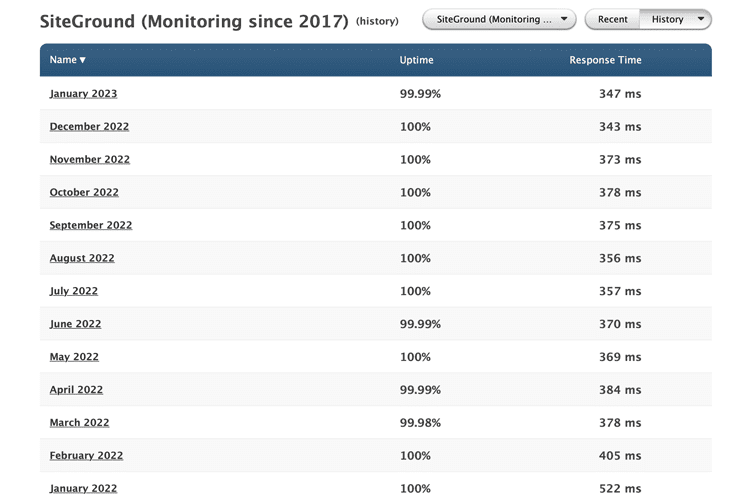 For SiteGround's StartUp shared hosting plan, it's $14.99 a month. You also get 10 GB of storage, and free email accounts for one website. You also get SSH, and SFTP access.
If you upgrade, you can get more storage, advanced priority support, free private DNS, white-label hosting for agencies, and more.
No matter which plan you choose, data transfer is unmetered, and you get a free domain name. On top of that, you also get access to create a staging site for testing your changes, and you can create an unlimited number of websites.
If you wish to see all the providers we monitor and their reviews, please check our web hosting category.