There are numerous ways to find the best free WordPress themes out there.
There are more than 9000 themes available in the WordPress Theme directory, so it's completely natural to get overwhelmed and feel like a kid in a gigantic candy store when looking for one perfect theme for your website.
Lucky for you, you can skip the tedious process of researching for the right WordPress theme.
We have already meticulously reviewed and carefully handpicked some of the best free WordPress themes for each type of business. Just pick the perfect match for your taste and create a stunning website in no time.
Forge a great first impression the moment your visitors land on your website with the following 50+ best free WordPress themes for 2022.

List of Theme Categories (Five Free Themes per Category)
5 Best Free WordPress Themes for Business
Whether you're about to
create a new website
or
refurbish your existing one,
build a good-looking and well-optimized business site with our top 5 picks of free WordPress business themes fit for all types of ventures in different shapes and sizes.
1. Neve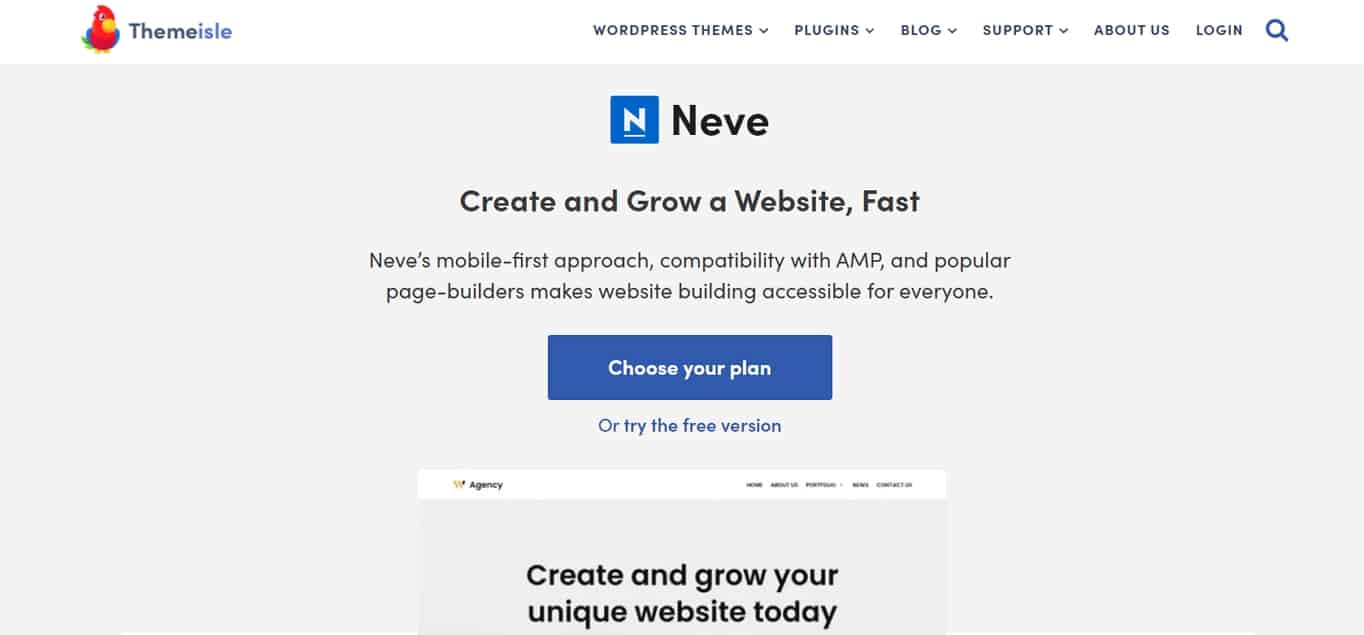 Neve is a fast lightweight WordPress theme that is perfect for almost any business website. It comes with over 30 ready-built starter websites to make your building process easier. It comes with a theme customizer tool that allows you to change the front page, color, and page layouts to suit your preference.
This free WordPress theme has an auto-scrolling banner slider that allows you to showcase four featured images. It is also very mobile-friendly, with full compatibility with AMP and the most popular website builder plugins.
Key Features
Ready built starter sites
Auto-scrolling banner slider
Full colors control
100% translation ready
Built-in theme customizer
600+ Google fonts
Social icons
2. Astra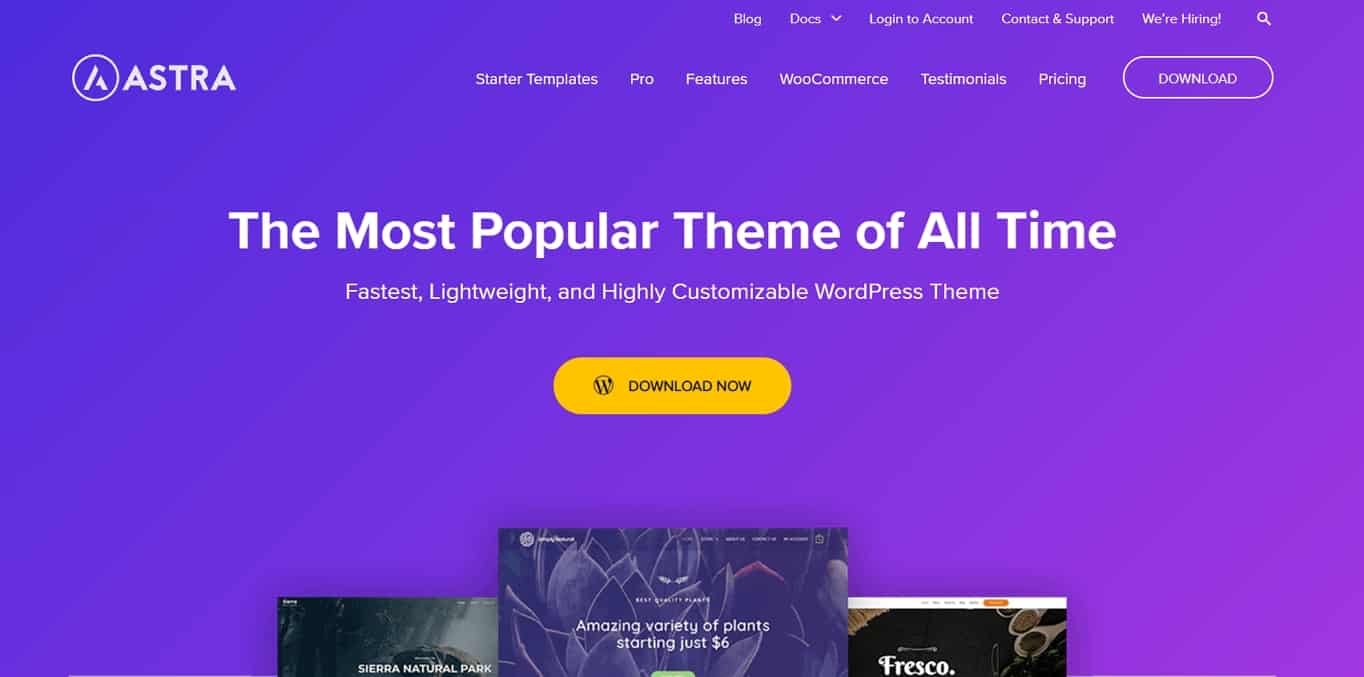 Astra is an elegant WordPress theme that can be used for portfolios, blogs, online stores, businesses, and more. Also, it is one of the most popular themes, crossing 1M+ active installations in the WordPress theme repository. Astra lets you import over 70 professional-looking website designs and you also get a good selection of free plugins to extend your website's functionality.
Astra is very lightweight and customizing your website is made simple. Something that stands out from other themes is that Astra supports the native popular WordPress Customizers like Elementor, Divi builder, Gutenberg, etc.
Key Features
Super-fast performance (loads in less than 0.5 seconds)
Needs less than 50 KB of resources
Huge library of pre-built websites
No jQuery (uses Vanilla JavaScript instead)
Drag-and-drop builder
Easy integration to WooCommerce
SEO friendly markup
3. Business Point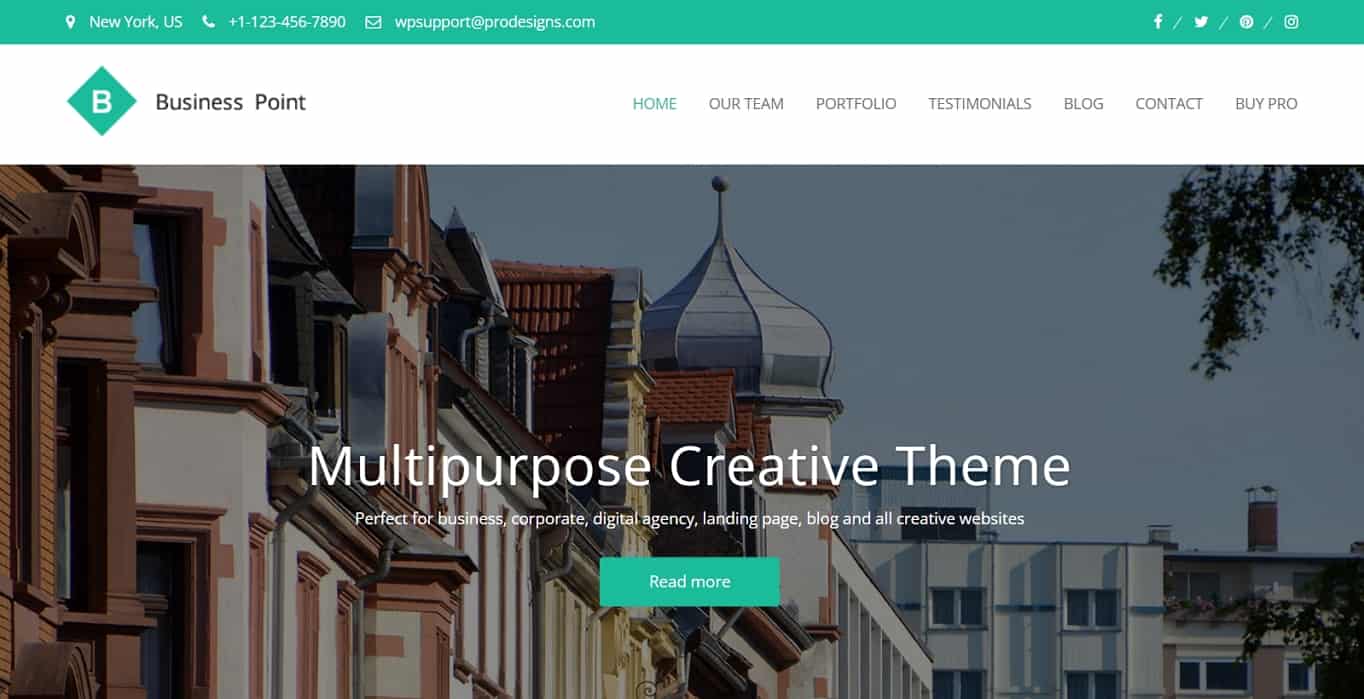 With a balance of modern and clean look, Business Point is an ideal WordPress theme for any business or corporate website. It comes with attractive elements and extensive features to help your company stand out. With this theme, anyone can create a high-quality website for businesses of any scale.
On the homepage, there's a carousel that enables you to portray your business value, display some critical information, and include stunning photos. This will help you engage with your customers and attract potential clients the moment they land on your website.
Key Features
Responsive WordPress theme
Search engine optimized
Highly customizable
Easy-to-use backend system
5 custom widgets
Simple and highly intuitive interface
Full-width template
Separate team page
Separate testimonial page
Portfolio widget
4. Airi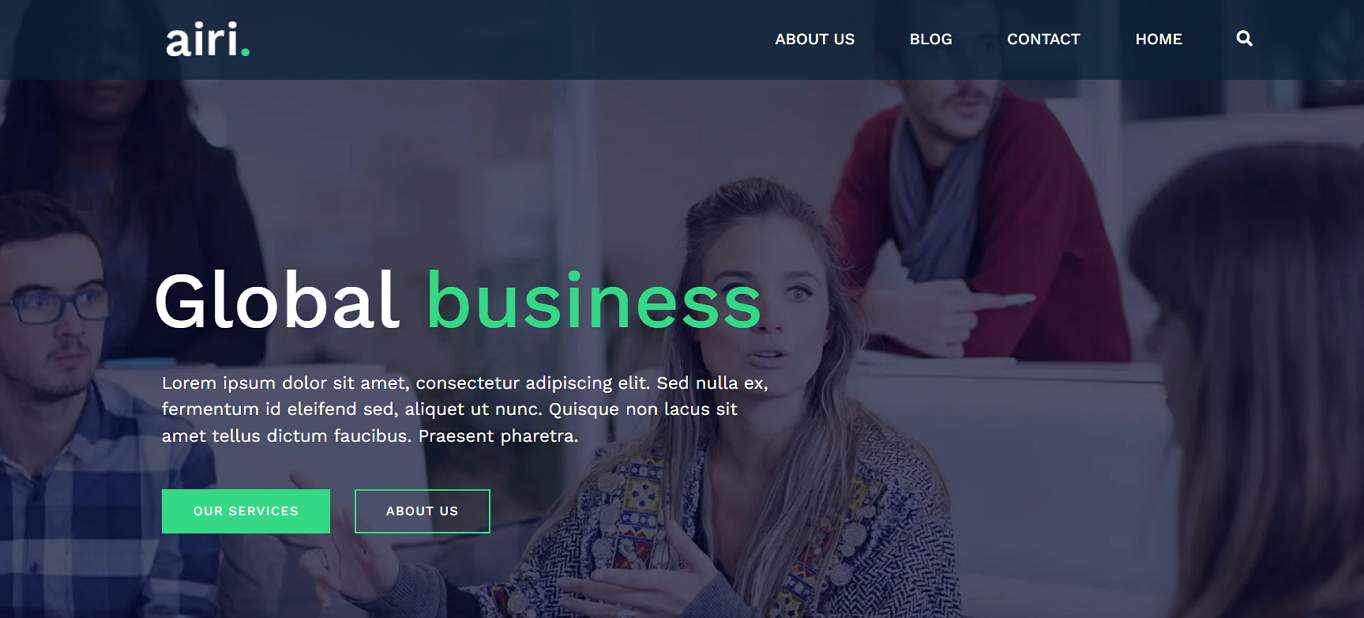 Airi is one of the most incredibly versatile free WordPress themes for businesses. This multipurpose theme is an excellent choice to provide your company with a modern and professional look. What's also exciting is that this theme offers WooCommerce support. This makes it easy and convenient to sell products online.
You can easily portray your company's value proposition, vision, and mission from the carousel on the homepage. With its mesmerizing looks and rich features, you can create the best corporate WordPress-themed website to surely capture the attention of your existing and potential customers.
Key Features
Powerful theme customizer
Free access to Google Fonts
100% translation ready
Cross-browser support: Chrome, Firefox, IE9+, Opera
Live editing preview
Always up to date with the latest version of WordPress
Fast 24/7 support team
WooCommerce support
Full Elementor integration
5. Allegiant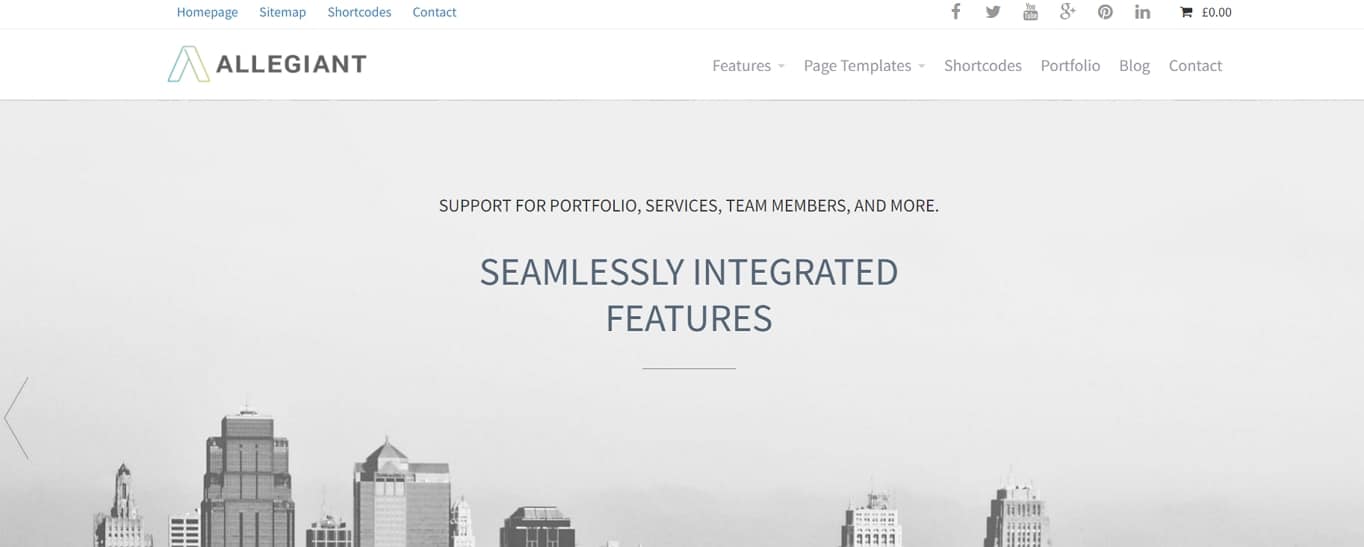 This responsive free WordPress theme is suitable for all types of businesses. From corporate, eCommerce, retail, fashion, or any digital agency, Allegiant will help you produce both a functional and beautiful website.
With its rich and extraordinary features, this WordPress theme will not only assist in making a lasting first impression but also get ahead of your competition. You can also fully customize the background of your entire website. Simply change either the background color or background image and in just a few clicks, you'll have a branded website.
Key Features
Responsive design
SEO-friendly
Easily customizable
Fast and lightweight
Real-time live previews
Built-in integration with social media platforms
Custom background
Fully compatible with translation widgets and plugins
WPML compatible
Stylish featured posts
5 Best Free WordPress Themes for Photographers
There is no shortage of high-quality WordPress themes for photographers. To help you decide what suits your photography website here are our top 5 picks featuring the best WordPress photography themes you can download for free.
1. Moesia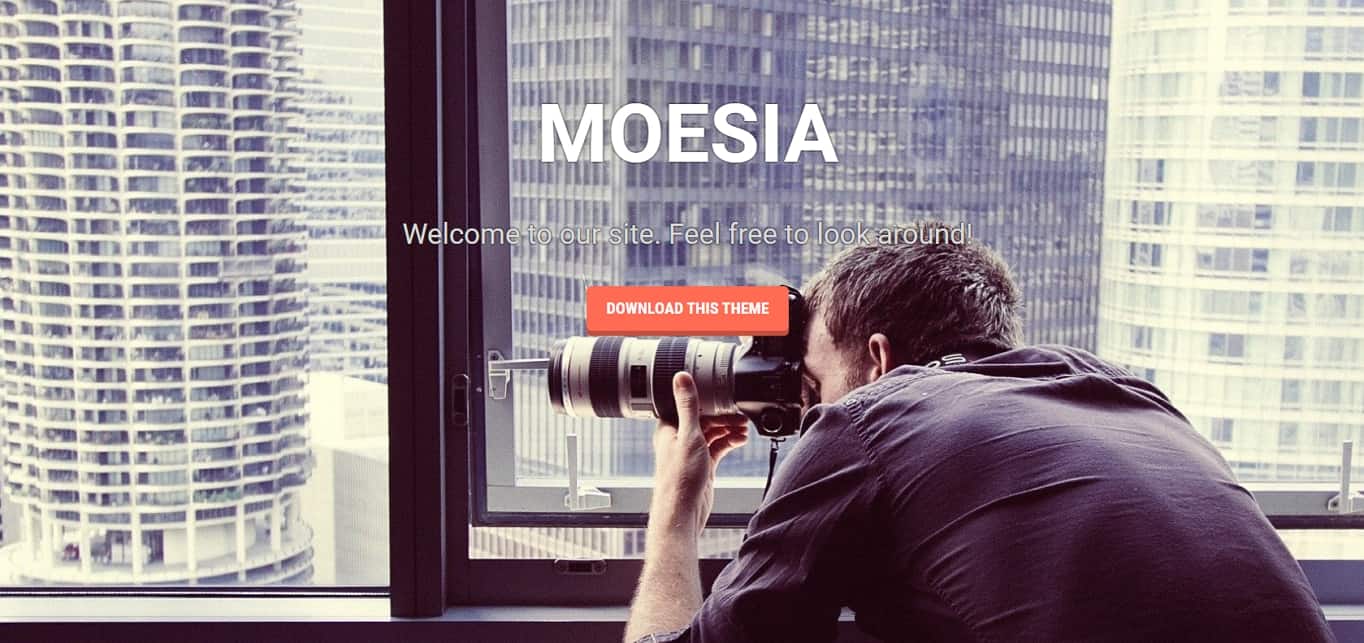 Easily display your portfolio and photos professionally with Moesia. It's a great option for professional or budding photographers alike. With its 11 predefined blocks, you can conveniently design a striking homepage in an instant.
There's also a full-screen header image and a cool parallax background effect to help you stand out from your competitors. You can even build different sections to showcase your recent projects, client testimonials, and team details.
Key Features
11 predefined blocks
Full-screen header image
Parallax background
Real-time previews
Cross-browser compatible
Fast & lightweight
Simple & Highly intuitive design
Stylish and sleek typography options
Dedicated customer support
Translation ready
2. Bold Photography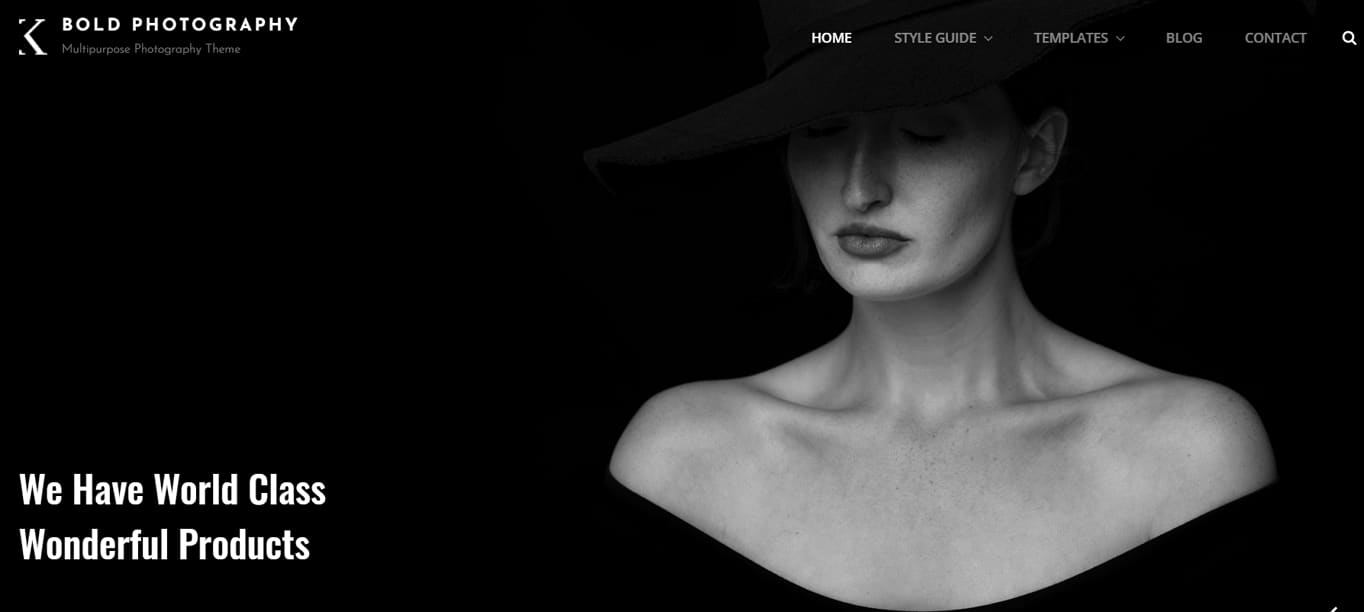 Bold Photography is a black and white free WordPress theme for photographers. Even with its dark layout, you can still create a stunning website with customizable color choices and styling options.
This WordPress photography theme has a fullscreen featured image slider in the background that can easily showcase your most prominent works. It comes with essential sections like portfolio, testimonials, service offerings, and a lot more.
Key Features
Responsive design
Featured image header
Highlight recent & popular posts
Featured thumbnail
Localized for translations
Hero content
Header video
3. Infinite Photography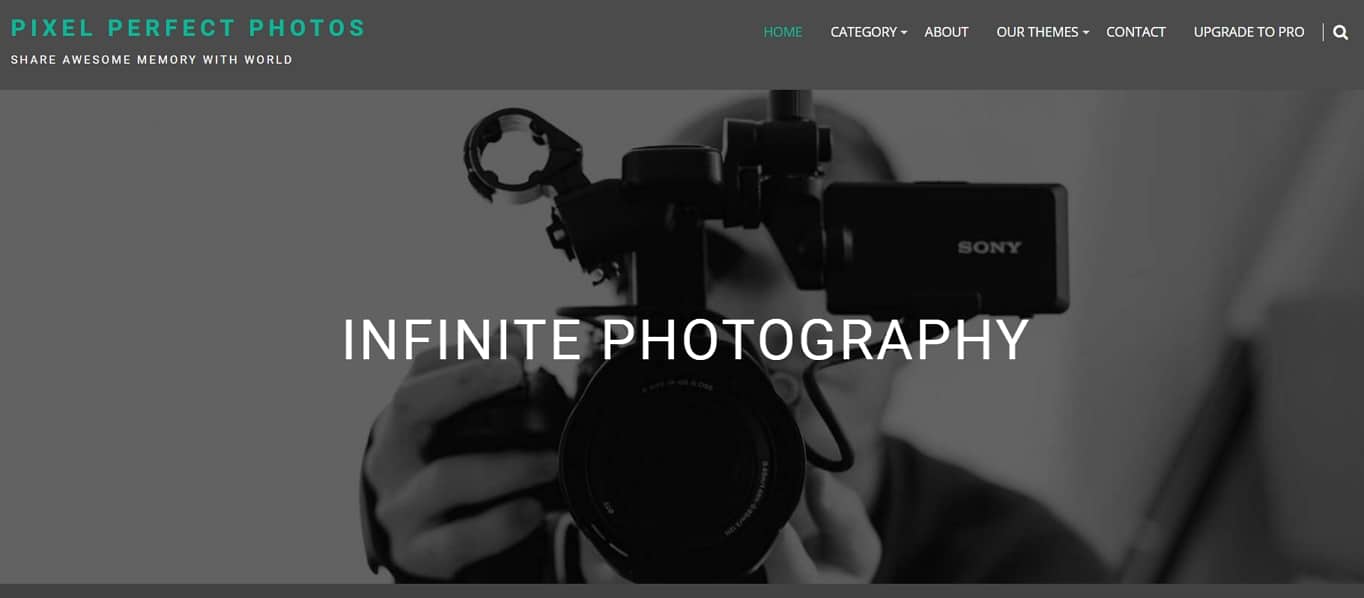 Infinite Photography comes with a sleek design and awesome functionality to showcase your photography services. It has a modern layout featuring a masonry-style homepage to display your photos.
It also comes with a powerful social media integration which helps your visitors to easily share your work. Moreover, it's highly customizable with color options, replaceable logo, different homepage and category page layout, etc.
Key Features
Featured section with header image and content
Translation ready
Responsive design
Customizable colors and layouts
Header options
Footer options
Background image
Custom CSS
Breadcrumb options
Search placeholder
Social media integration
4. Fotografie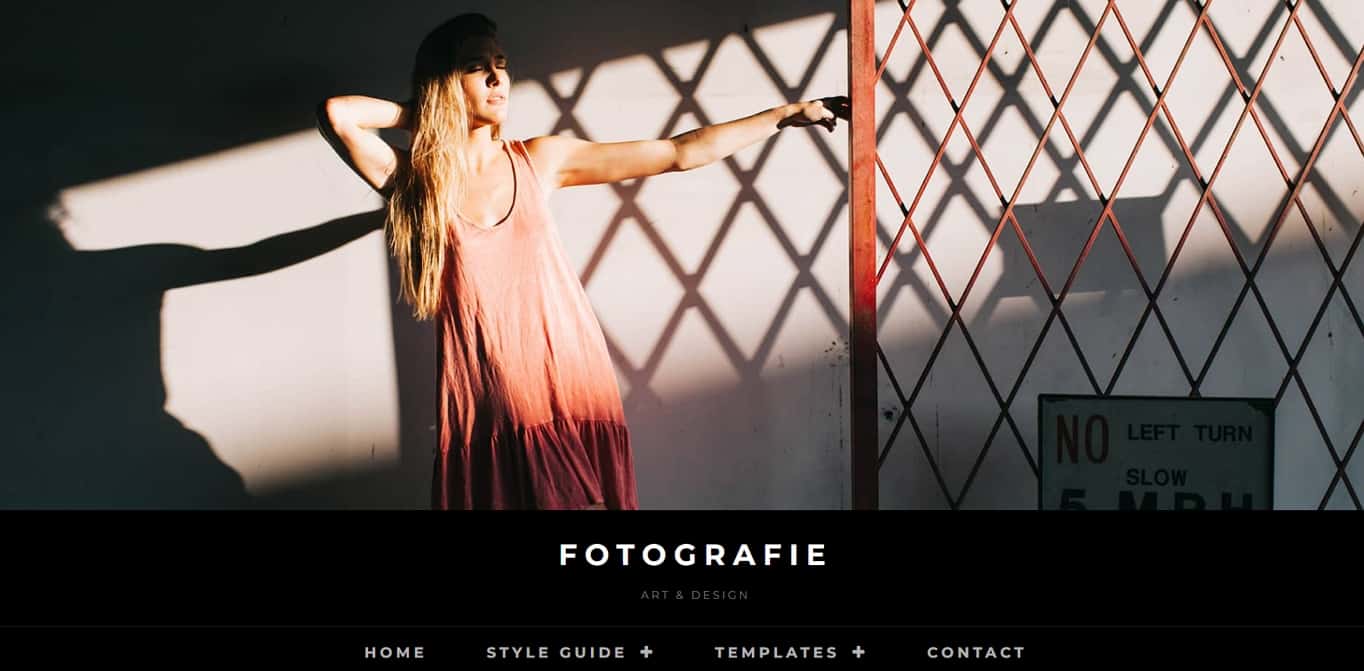 A visually striking free WordPress theme, Fotografie is suitable for both freelancers and professional photographers. It has a modern and sleek feel with a minimalist design. It boasts numerous features so you can customize your portfolio accordingly.
The homepage starts off with a large header image that leads to multiple other banner images. Right in between the header image and banner images are the navigation menu and a logo area. There's also a hero content and portfolio that only takes a moment to configure.
Key Features
Responsive design
Hero content
Portfolio section
Easily customizable color scheme and fonts
Featured thumbnail
Threaded comments
Dropdown menu
Excerpt length
Gravatar ready
Localized for translations
5. Photograph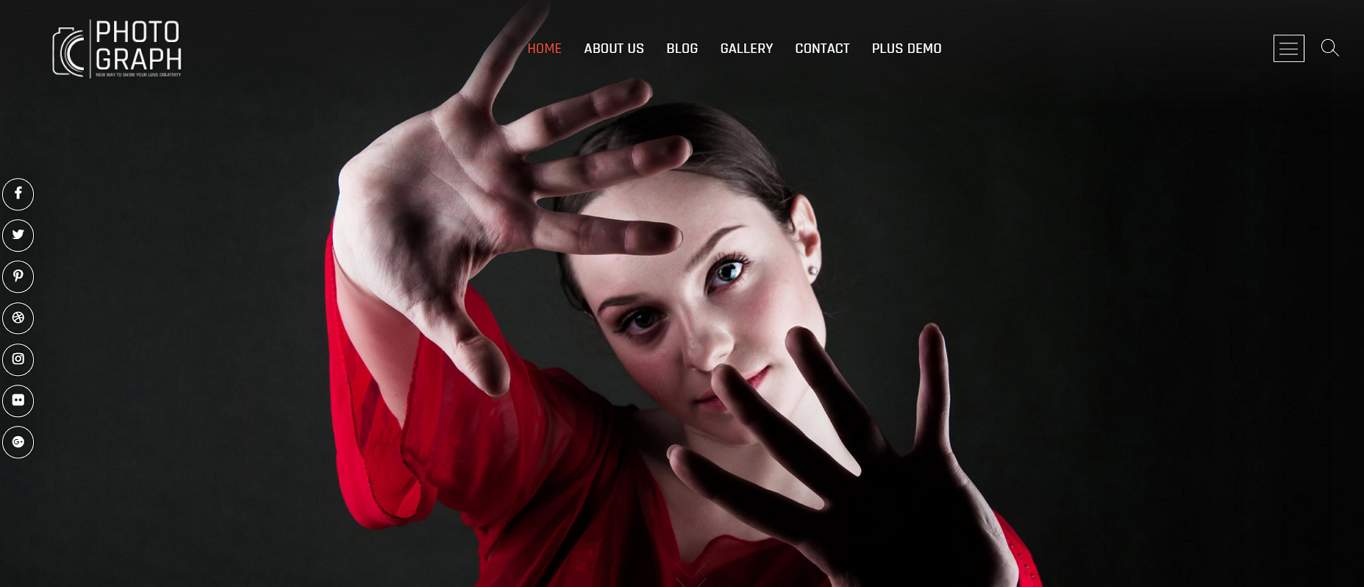 True to its name, Photograph is a straightforward free WordPress theme built exclusively for photographers. While it doesn't come with extra frills, its modern and clean design can speak for itself.
Its default layouts showcase masonry galleries that can be categorized, simple navigation, and integrated social media icons. It's SEO-friendly and also optimized for a fast page loading time.
Key Features
Responsive layout
Infinite color options
Cross-browser compatibility
SEO-friendly
One-click demo import plugins
5 Best Free WordPress Themes for Blogs
Thinking of
starting a blog?
Browse through these amazing free WordPress themes perfectly suitable for blogging that will help you capture your readers' attention.
1. Kadence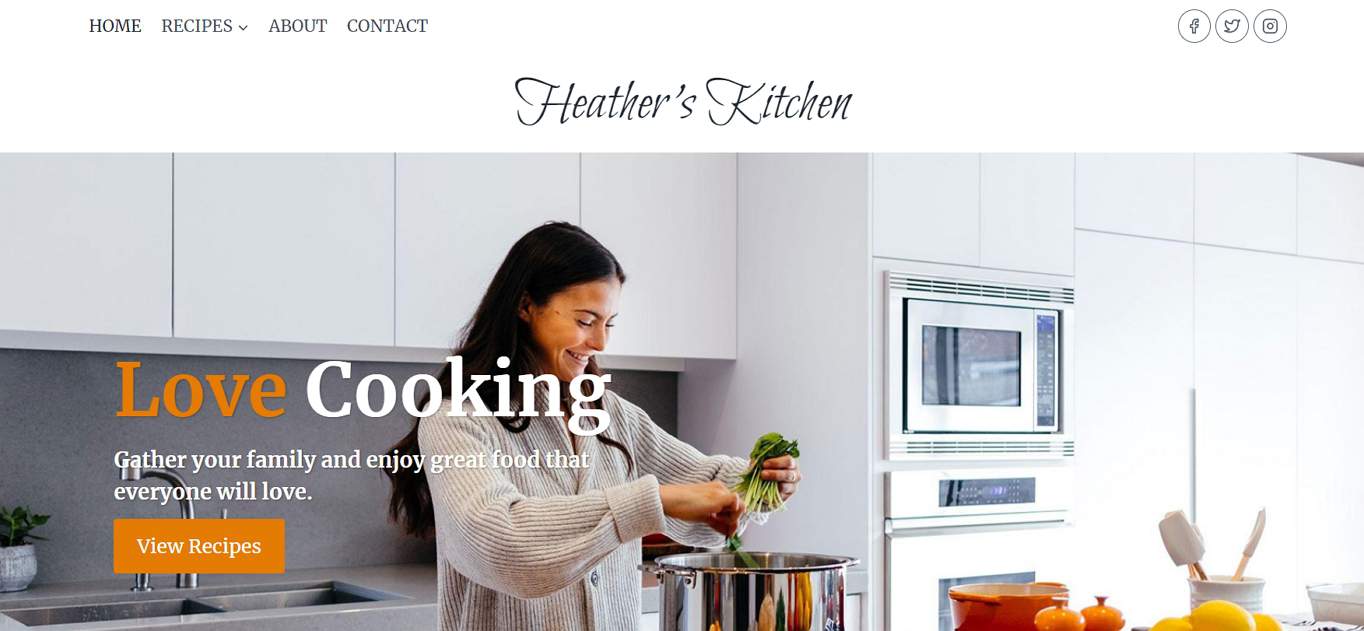 Kadence is a fast and intuitive free WordPress theme for blogs. It's extremely versatile for any layout or style preference. It boasts ease of use and a lightweight design.
It has a drag-and-drop header and footer builder. It also comes with a full library of amazing starter templates that are highly customizable. Aside from blogs, it's also a multipurpose theme that can suit any industry needs.
Key Features
Responsive design
Custom header builder
Global font and color controls
Fast loading times
Drag & drop interface
Live editing
2. Blog Way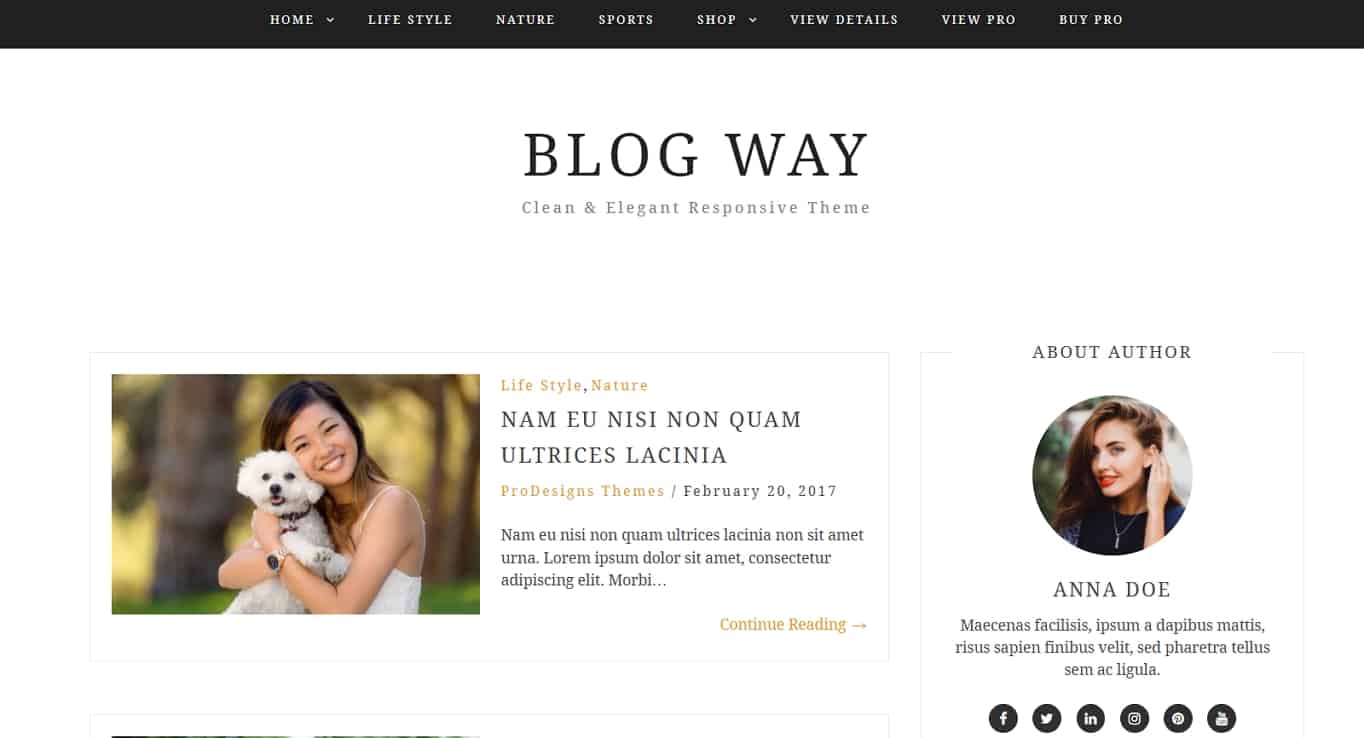 A clean and minimalist design, Blog Way is a perfect way to blog with your WordPress site. It has a chic and elegant look to remove any distractions and help your audience focus more on the content.
This free WordPress theme is SEO-friendly, highly customizable, and adapts to any device. You can also easily change the entire outlook of the theme by using the custom background color options.
Key Features
Responsive layout
Multiple blog layouts
Embed images, videos, or any type of media files
Live WordPress customizer
Built-in integration with social media platforms
Stylish and sleek typography options
Newsletter integration
3. Lovecraft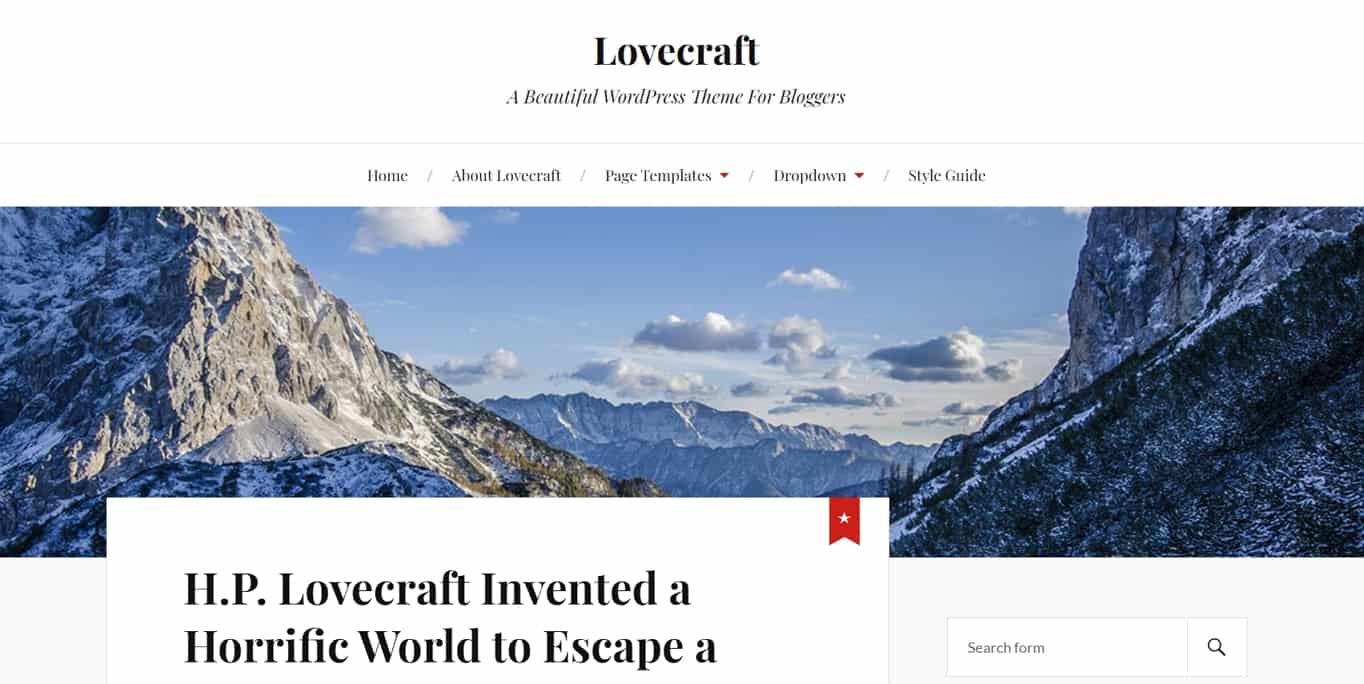 Lovecraft is a free WordPress theme with a two-column design. This theme is specifically designed for bloggers, writers, and other literary inclined artists who want to showcase their masterpiece.
It comes with a full-width header image for a bold entrance on the homepage. Aside from the straightforward layout, you can also enhance the website's visuals using custom accents, logos, and style.
Key Features
Full-width header image
Two-column theme
Built-in theme customizer
Responsive & retina ready
Great typography
4. Foodica Lite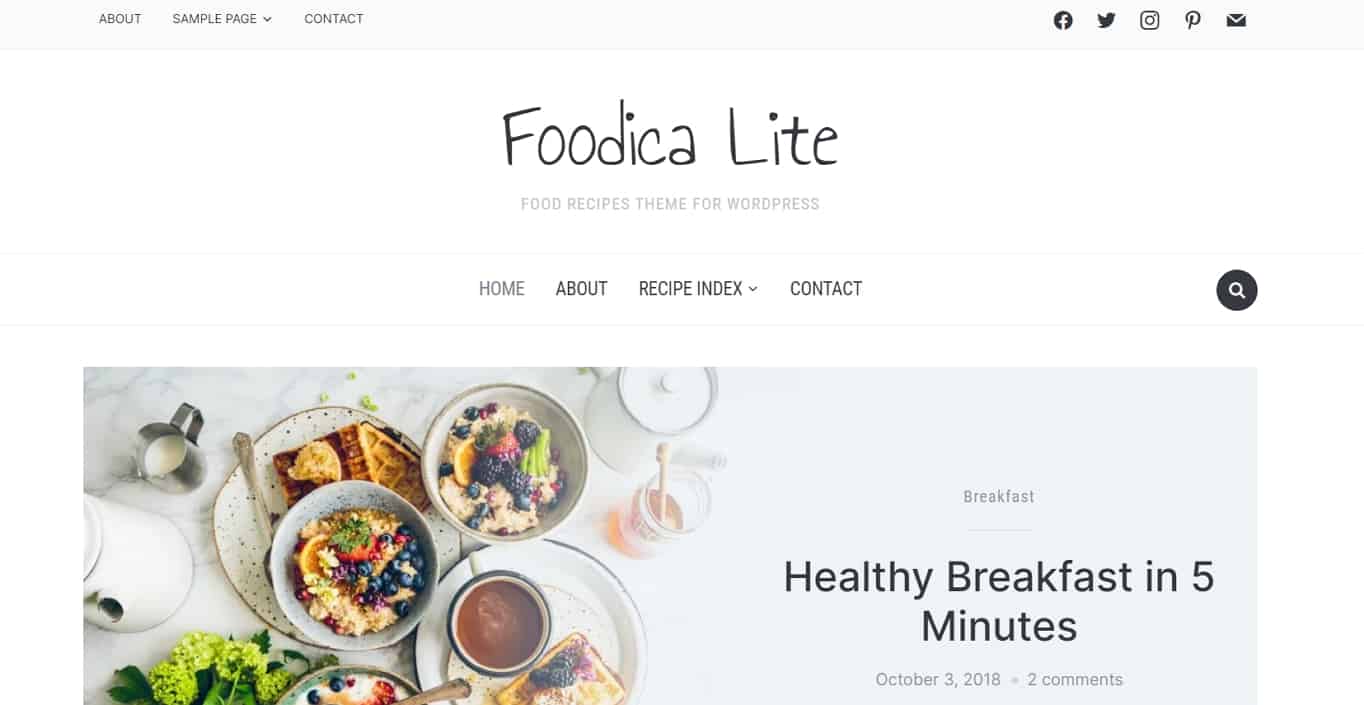 Specifically made for food-related blogs, Foodica Lite has a minimalist aesthetic. It is appealing for including long-form posts like recipes and beautiful images like food shots.
With its simple design, you can be sure that your recipes and food reviews will shine through. It's also WooCommerce integration-ready so you can transform your blog into an online store like selling goodies or recipe books.
Key Features
Responsive layout
Responsive & retina ready
Compatible with Gutenberg
WooCommerce integration
Featured slider
5. Blossom Feminine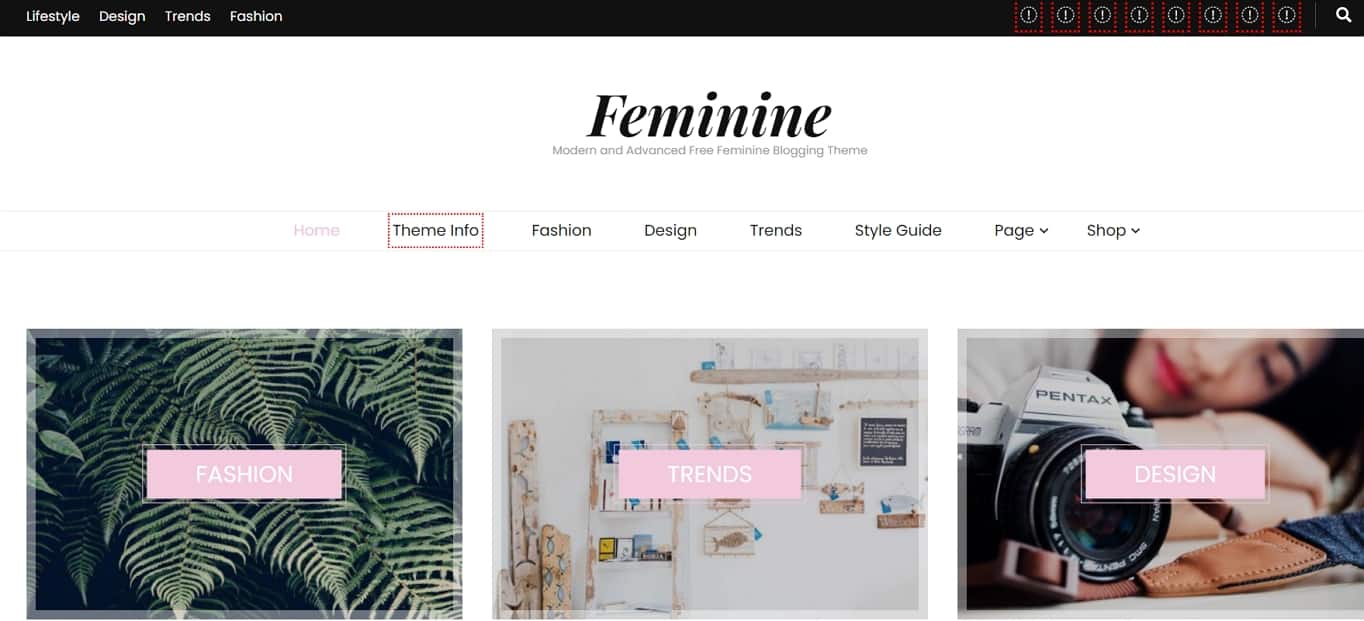 Blossom Feminine is a free WordPress blogging theme with a chic and soft design. This theme is compatible with blogs focusing on lifestyle, fashion, travel, beauty, and even food.
With its extensive typography options and color features, you can easily customize the look of your website. It also has an Instagram section where you can easily integrate your account and showcase your photo feed.
Key Features
Responsive layout
Instagram section
SEO-friendly and speed optimized
Advertisement widget
Newsletter section
WooCommerce compatible
Translation ready
5 Best Free WordPress Themes for Artists & Musicians
Showcase your creativity and talent with these handpicked free WordPress themes specially designed for budding or popular artists and musicians.
1. Creativ Singer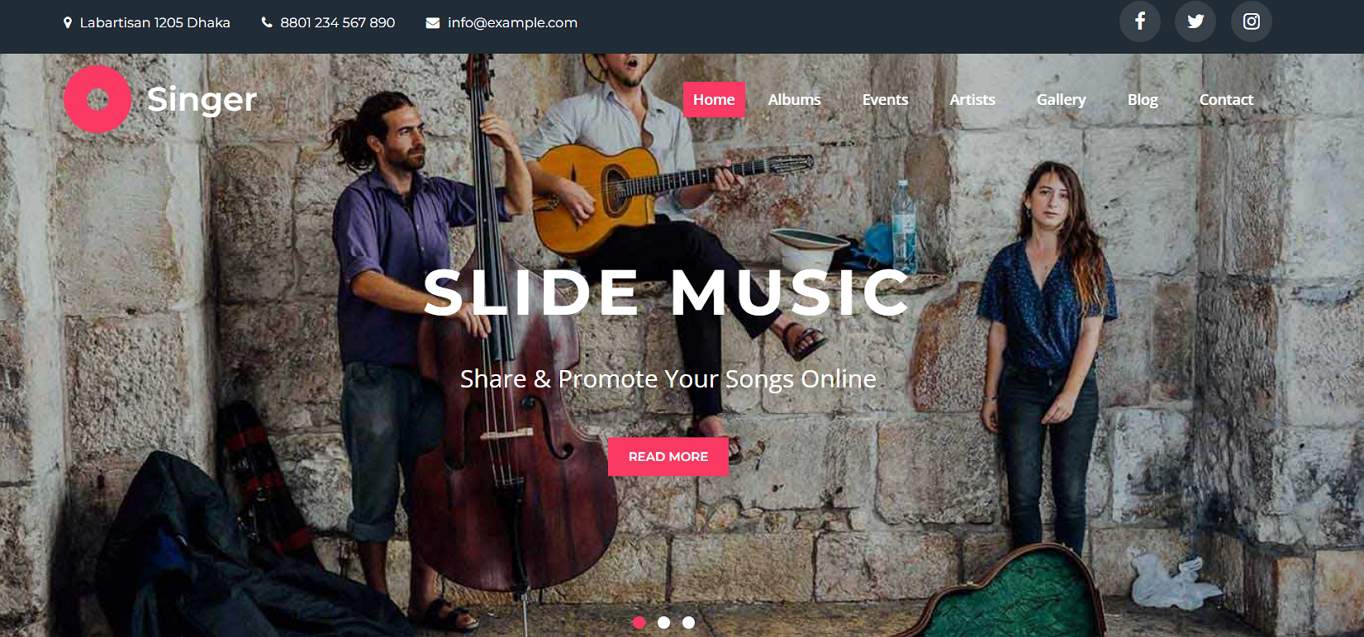 A responsive free WordPress theme, Creativ Singer is built for artists, singers, musicians, and music producers. With this theme, you can easily showcase your records, highlight your awards, and connect with your fans.
It has a strikingly elegant and modern look to capture your audience. It's also highly flexible to suit your preferences. This theme comes with music-related features and sections like featured discography, featured songs, and the latest news.
Key Features
Responsive layout
Featured slider section
Latest albums section
Featured music section
Layout options for blog/archive
2. Musicaholic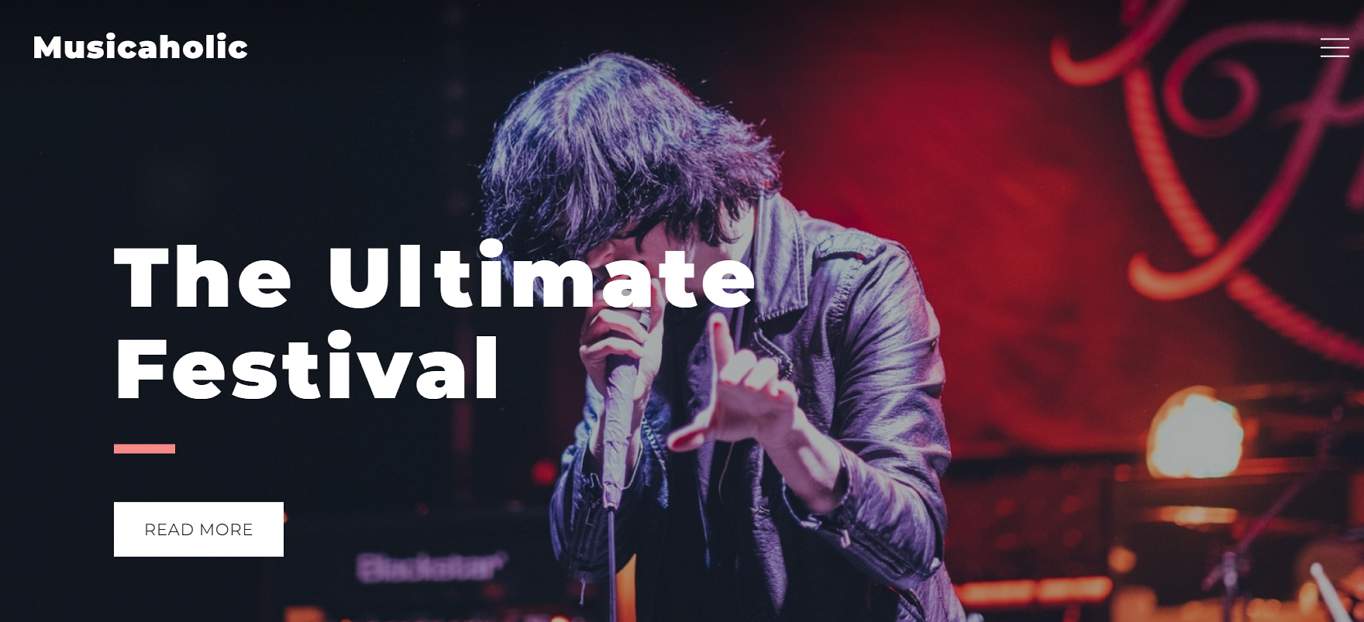 Musicaholic is one of the best free WordPress themes for artists, musicians, or any kind of art-related enthusiasts and professionals. This free WordPress theme has a mix of grandeur and modernness to truly catch your followers.
From soloists, DJs, or bands, this theme is the best choice for any musician or artist out there.
It comes with easy to use and customizable features like wide and boxed layouts, a portfolio section, and a lot more.
Key Features
Main slider section
Mobile-friendly design
Playlist section
Blog/Archive Setting
Sticky Header
Cross-browser compatibility
Responsive features
3. Sungit Lite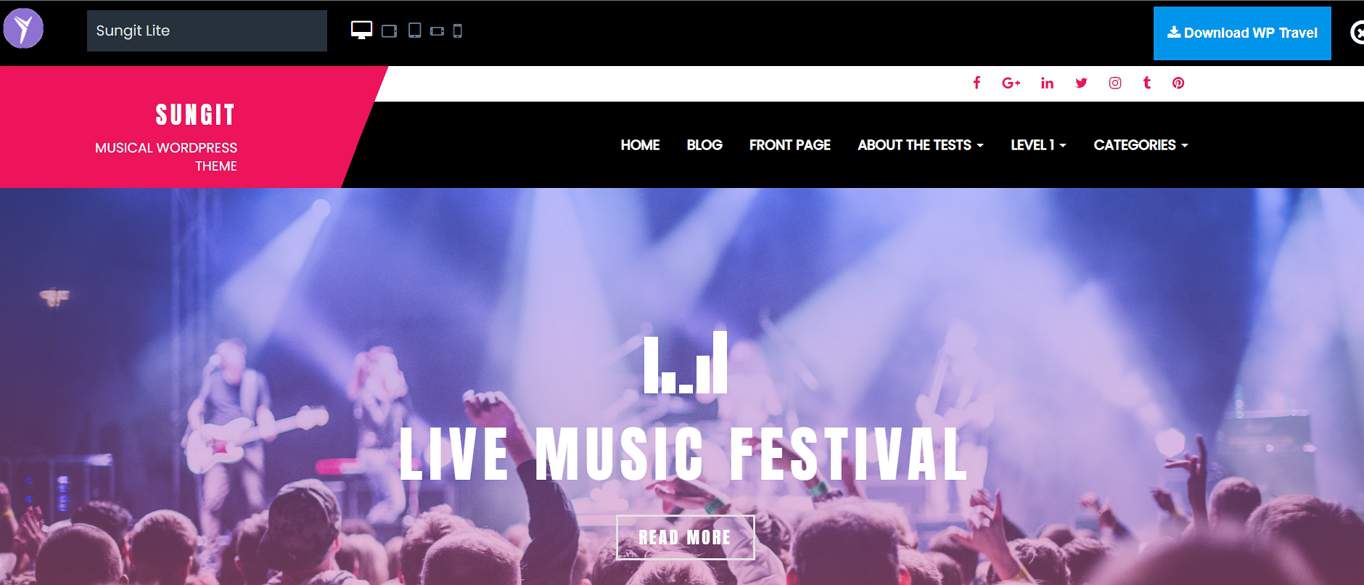 Sungit Lite is designed exactly for the music industry and other creative artists. You can easily manage your events, feature your selected playlists, and even share videos with your avid fans.
You can also make changes with a live preview so you can see the changes immediately. It comes with customizable designs and layouts so you can create your own unique and professional looking website.
Key Features
Responsive layout
Search engine optimized
Music player
Video playlist
Link to iTunes
Sidebars
4. Audioman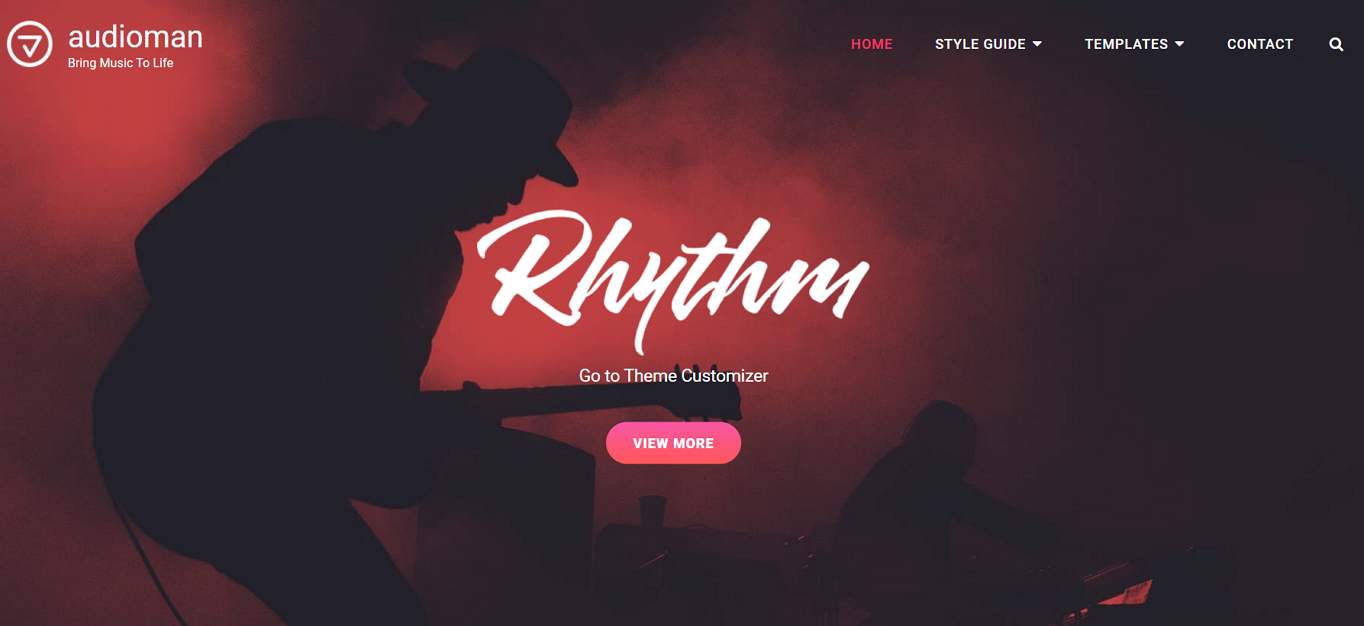 Audioman has a future-forward look that can showcase trendy music or feel-good artists. It includes a variety of features such as header media, playlist, featured content, and many more.
It also has a dedicated portfolio and testimonials sections so you can give personality and credibility to your website. The design is intuitive and highly engaging to help you connect with your fans and gain new followers.
Key Features
Portfolio section
Header Media
Featured slider
Hero content
Testimonial section
Translation ready
5. Music Lite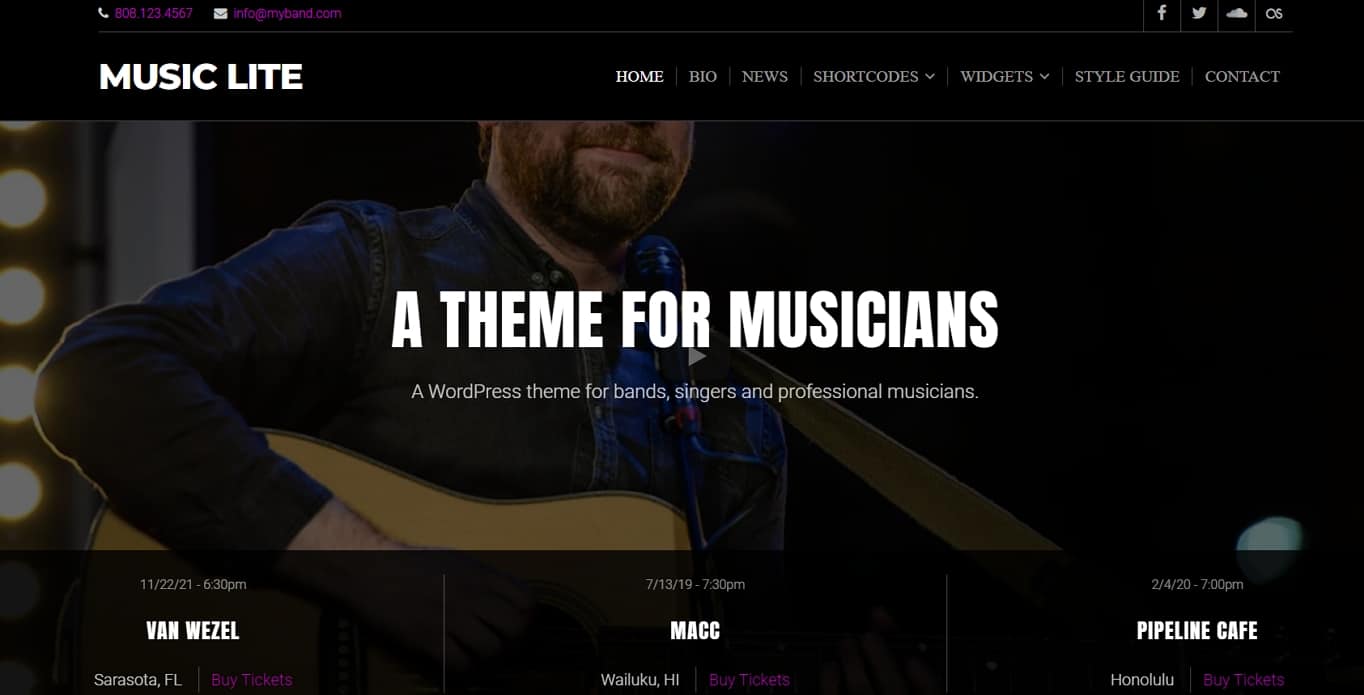 Music Lite is a perfect WordPress theme for creating any kind of music-related or content-rich website. This is one of the best free WordPress themes for artists and musicians alike which is fully responsive and highly customizable.
It has a dark and modern design that is pleasingly ingenious and effortless. You can also build pages with custom content sections to display albums, artist information, events, and more.
Key Features
Custom background
Slideshow page templates
Full-width template
Footer widgets
Right sidebar
Multiple sidebars
Featured images
Category portfolio layout
5 Best Free WordPress Themes for Authors & Writers
If you want to publish your stories or literary pieces effectively online, we have the following selection of free WordPress themes for all aspiring writers and seasoned authors.
1. Writee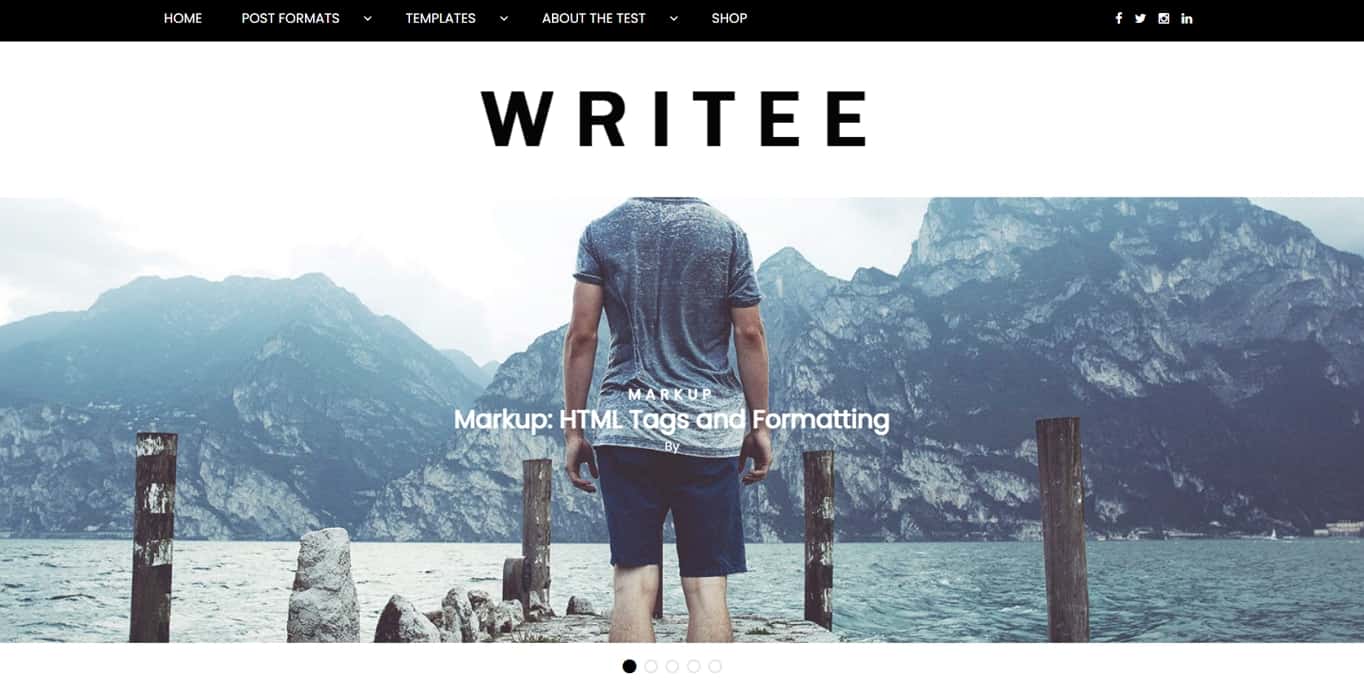 With its contemporary and minimalist design, Writee is one of the best WordPress themes for authors, writers, and literary artists out there. It includes an "About Me" section in the sidebar to showcase the writer behind the literary gems.
This stylish theme comes with a homepage slider so you can feature your best or latest posts. It also includes large and vivid images to give life to your website.
Key Features
Fully responsive
Mobile-friendly
Full-width/boxed slider
Pagination options
Translation ready
Built-in social media sharing icons
600+ Google Fonts
2. Writers Blogily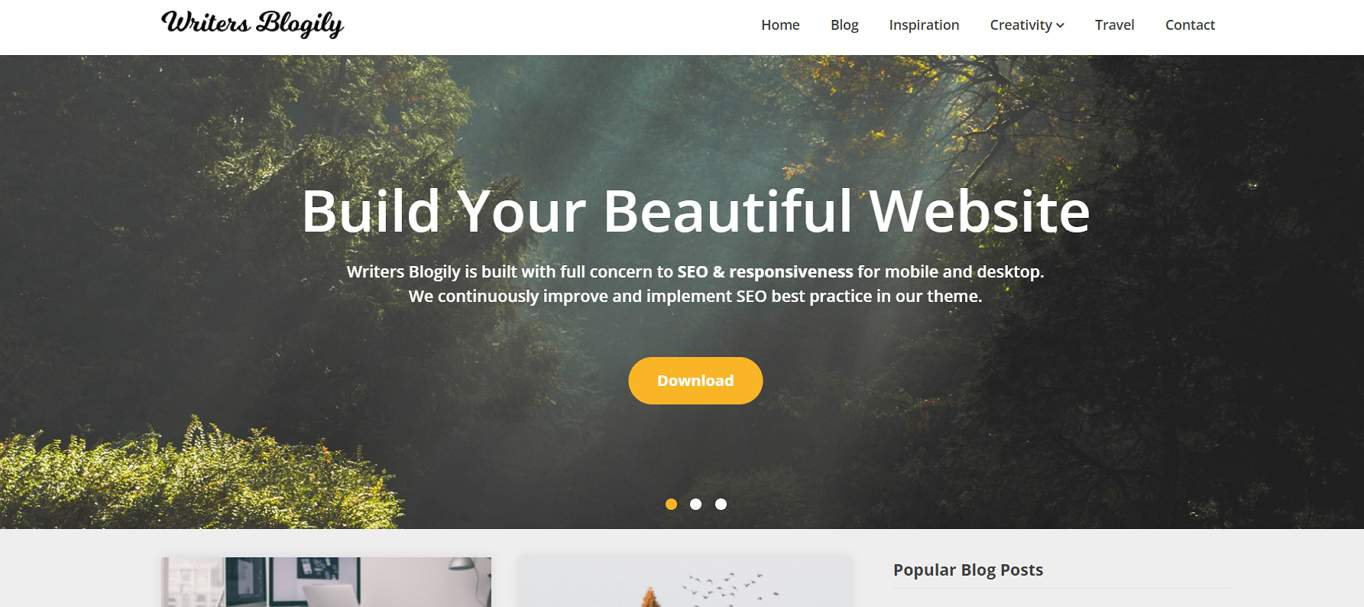 Writers Blogily has a clean, responsive, and straightforward design. This is a perfect WordPress theme for writers and authors who want nothing but to put a spotlight on their writing.
Aside from its SEO-friendly layout, you also have the choice to hide or show the featured images on posts and navigation options. You can also have a custom header background color, custom background color, and background image.
Key Features
Mobile-friendly design
Featured image hide/show option
Custom header background-color
Navigation hiding option
Custom background color and image
3. JustWrite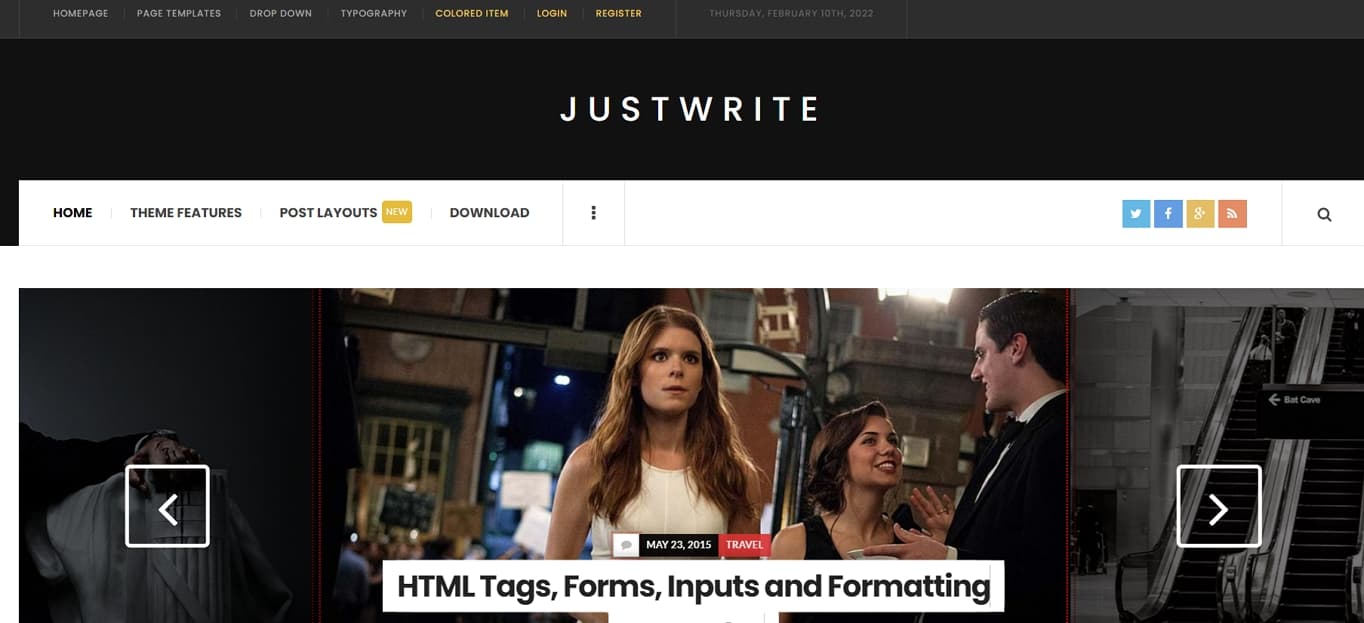 As the name implies, JustWrite is all about your writing. This free WordPress theme has an unobtrusive layout that allows the readers to focus on your content.
At the top of the page is a straightforward navigation menu. There's also a customizable sidebar that can be toggled in and out of view. You can also easily choose a custom accent color to give personality to your website.
Key Features
Widgetized index
Widgetized footer
2 types of Masonry layouts
Live customizer
Ad ready theme
Translations ready
4. Mission News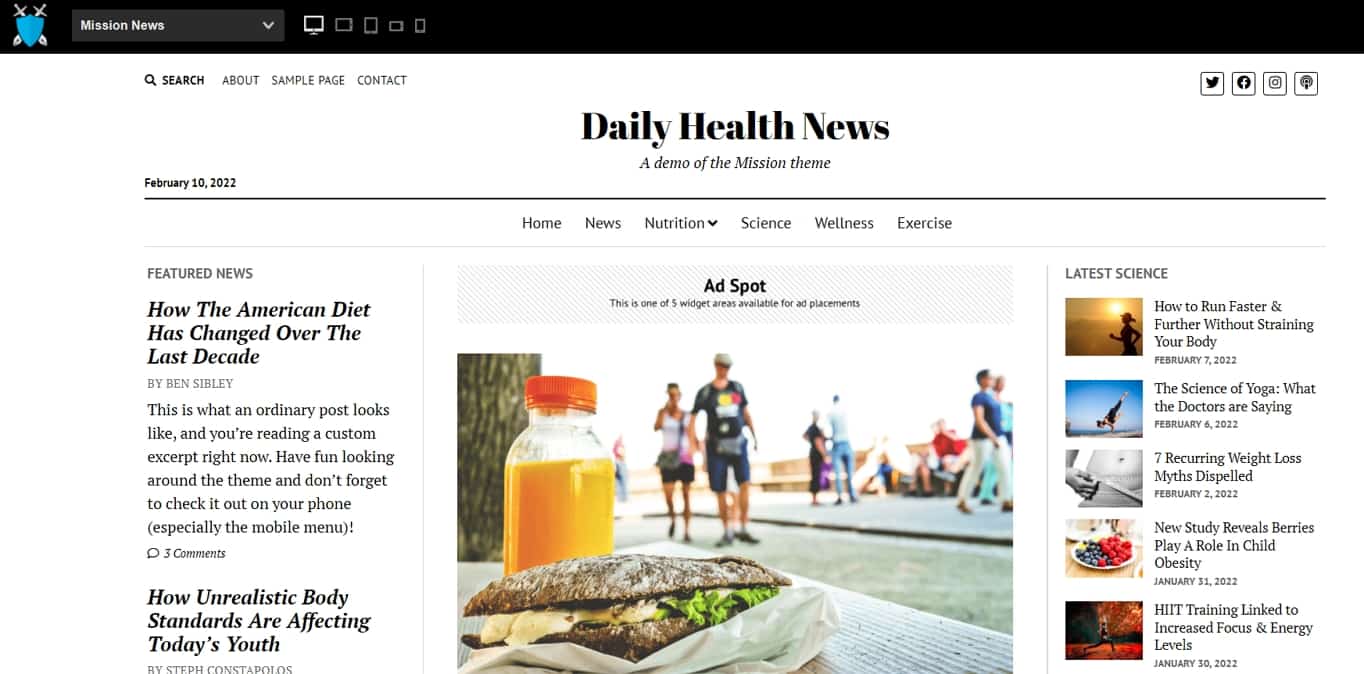 Mission News is an impressive, minimalist WordPress theme targeted at online journalists, personal bloggers, newspapers, and the like. Its responsive design is straightforward and modern.
Like a traditional newspaper, this theme can be arranged into thematic sections. With this free WordPress theme, you can unleash your creative juices and publish your content from editorial, fashion up to feature pieces.
Key Features
Built-in social media icon
Mobile-friendly
Gutenberg compatible
WooCommerce integrated
Elementor-friendly
5. Magazinely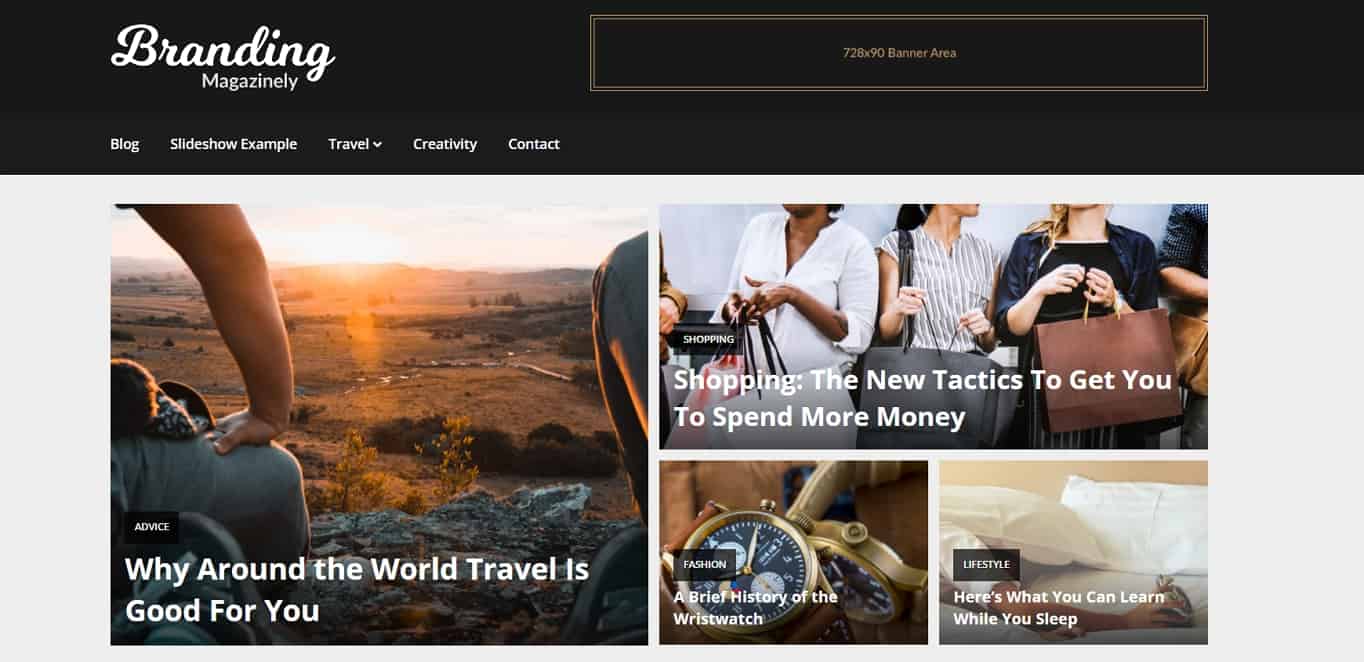 An elegant and minimalist theme, Magazinely is predominantly intended for web news portals and online magazine publications. It's highly customizable — you can make it dark, white, minimal, boxed, flat, and a lot more.
It offers a stunning frontend interface with lots of space to fit your literary content. Its clean layout allows you to feature plenty of posts without looking too cluttered or overwhelming.
Key Features
Custom header background color and image
Custom header logo or text
Hide logo text
2 different featured articles grid designs
Hide title & tagline
Hide featured images on posts
5 Best Free WordPress Themes for Affiliate Marketing
With so many WordPress themes putting affiliate marketing as a minor priority, it can be tough to look for the most suitable for your affiliate site. Let our best free WordPress themes help you
set up an affiliate marketing site
in the quickest way possible.
1. Marketingly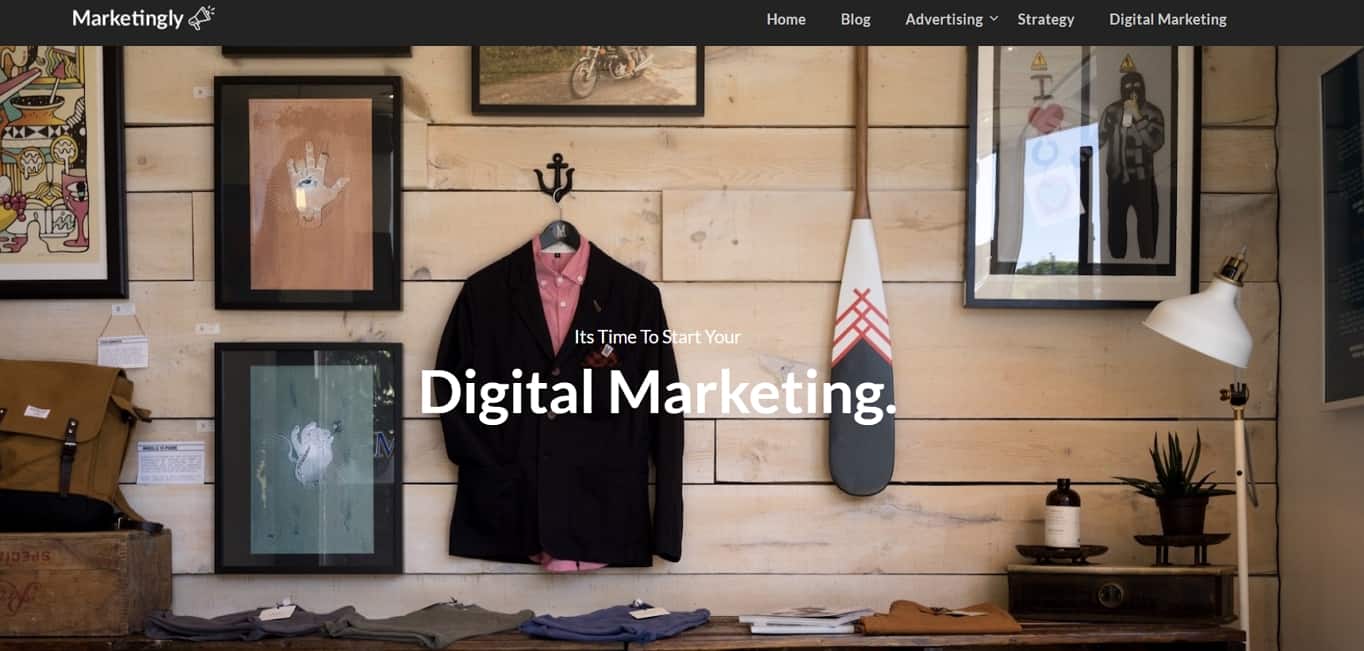 Marketingly is one of the best free WordPress themes for affiliate marketing that you should check out. The crisp layout allows you to showcase product deals in a simple yet attractive style.
It comes with tons of ad space. You can use the header widgets to place ad banners for you to earn money as an affiliate. This theme also has various animated effects that can be easily managed via the WordPress dashboard.
Key Features
Custom site title & tagline
Hide title/tagline
Hide sidebar
Custom background image/color
2. aReview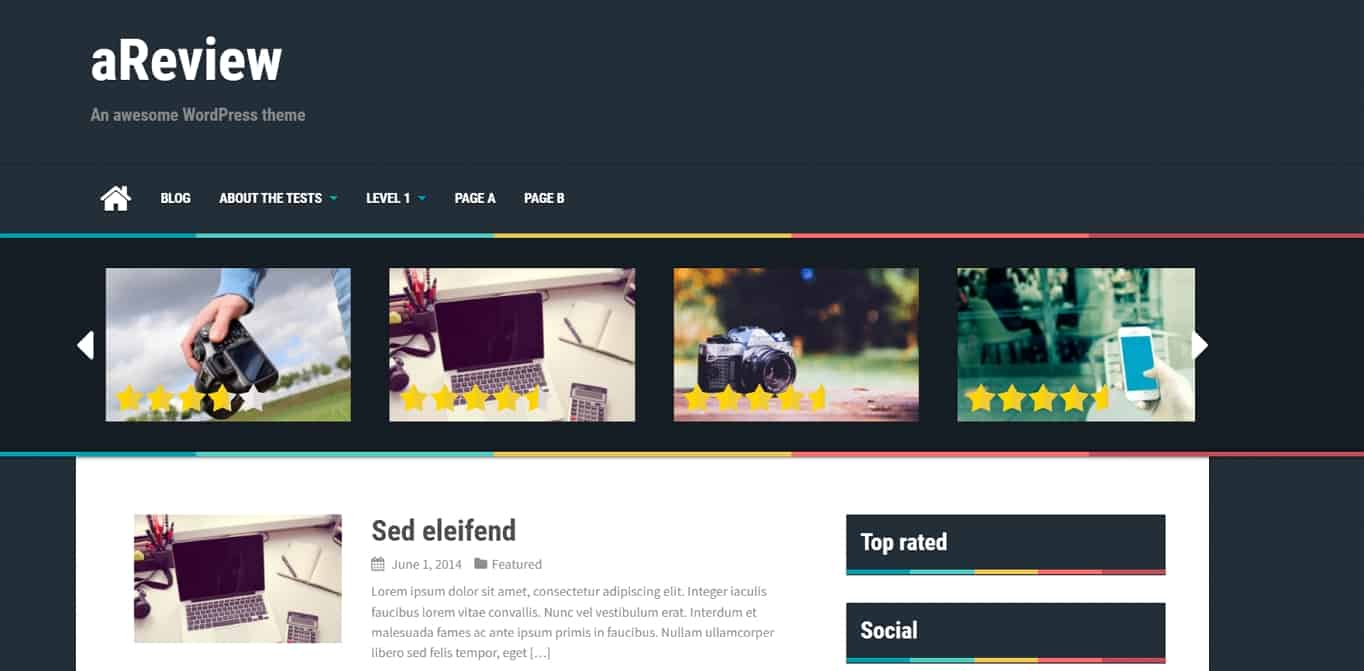 Specifically developed for people who write product and other reviews, aReview is the perfect theme for your affiliate marketing site. It comes with a built-in theme customizer tool that allows you to change the front page, color, and page layouts to suit your preference.
This free WordPress theme has an auto-scrolling banner slider that allows you to showcase four featured images. It also comes with a series of post excerpts, top-reviewed products, buy now buttons, read more buttons, and more.
Key Features
Auto-scrolling banner slider
Full colors control
100% translation ready
Built-in theme customizer
600+ Google fonts
Social icons
3. Hoot Business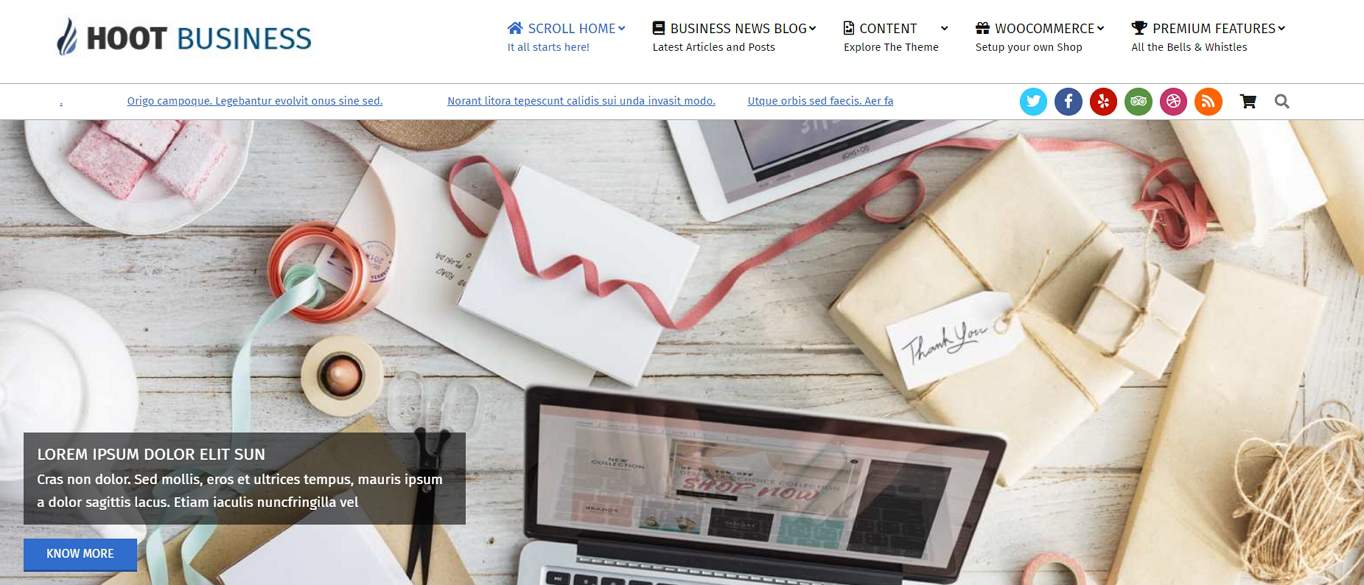 Hoot Business is a multipurpose free WordPress theme best for affiliate marketing, content, and product review sites. It has a clean, modern, and minimal look for seamless viewing. This theme is created on an SEO-friendly framework, making it optimized for search engines as well as optimized for speed.
This theme comes with extensive features such as Google Maps compatibility, contact plugins, translation-ready, and multilingual capability. It also has various useful widgets to display content in numerous forms.
Key Features
Google maps compatible
Responsive & retina ready
991 icon fonts
eCommerce ready
Unlimited accent color options
69 social profiles
Boxed and stretched site design
4. Eleganto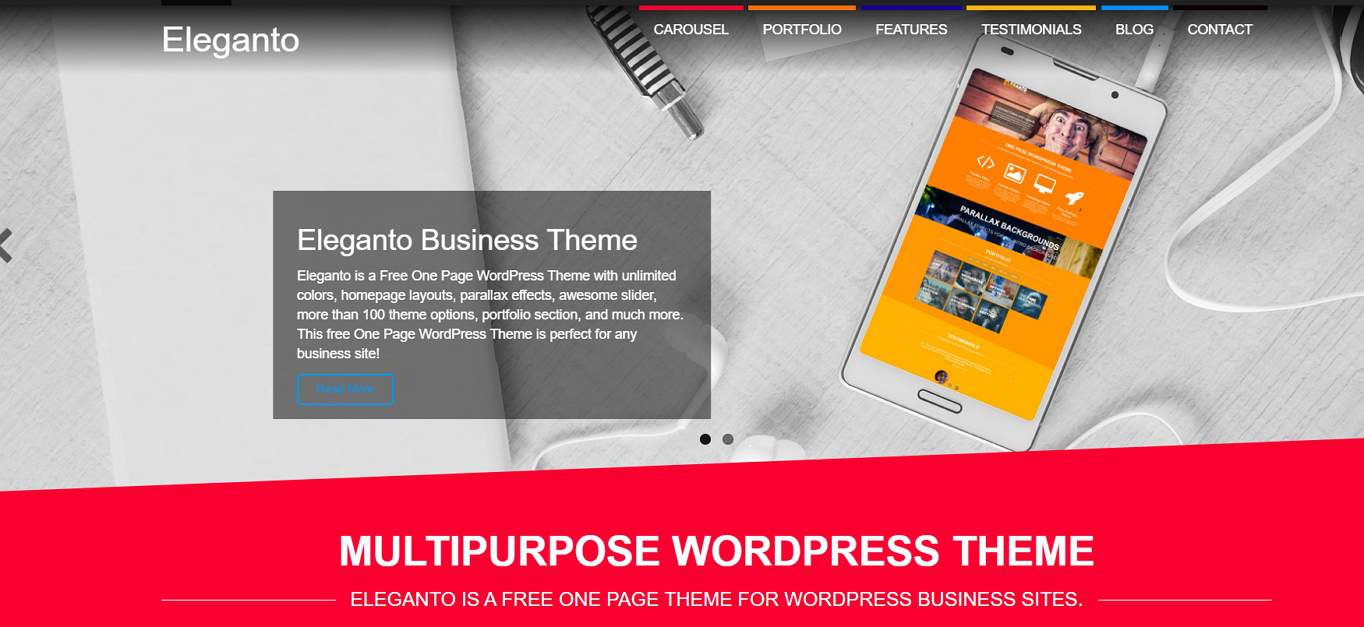 A one-page multipurpose WordPress theme, Eleganto comes with a future-forward and unique design. This allows you to easily bring your affiliate products to life. With its stunning parallax effects as well as impressive animations, this is one of the best WordPress themes that will take your affiliate marketing site to the next level.
This is an excellent theme for affiliate marketers because it's easy to navigate, crisp, and fully responsive. It has an array of features like featured content or product slider, testimonial carousel, social media links, contact form, and awesome animations.
Key Features
Testimonial carousel
Social links
Parallax background effects
Contact form
Fully translation ready
Unlimited color options
Sticky menu
5. MH Magazine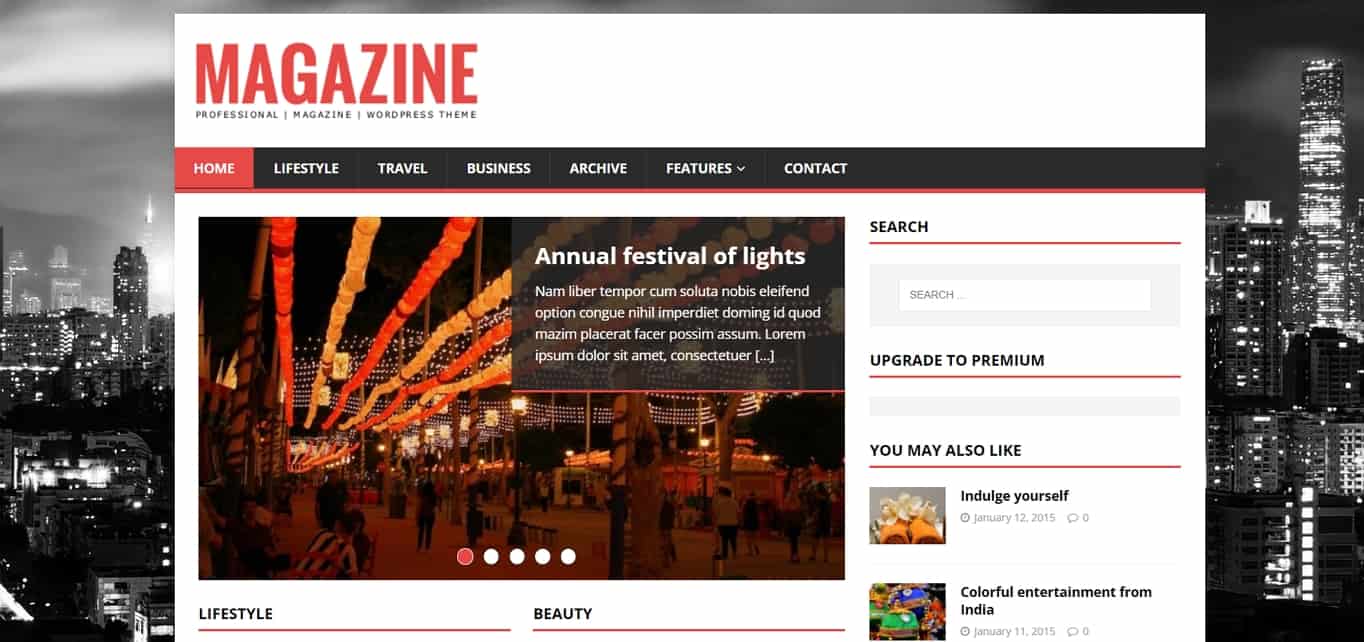 MH Magazine theme is one of the best options for affiliate marketers because of its eye-catching look. While it has an online magazine layout, it's an excellent affiliate marketing theme because it focuses heavily on content and display.
The magazine layout allows you to display your affiliate products, reviews, ratings, testimonials, and a lot more. You can also easily add a category-based menu bar at the top of the website and feature products in an instant.
Key Features
Fully responsive layout
Fully widgetized
Translation ready
Cross-browser support
WordPress 4.9+ ready
SEO-friendly
FlexSlider 2 with Touch Support
5 Best Free WordPress Themes for Portfolios
If you're about to
create a stunning portfolio site
, you can use the following best free WordPress themes to showcase your portfolio and stand out from thousands of competitors.
1. Ignis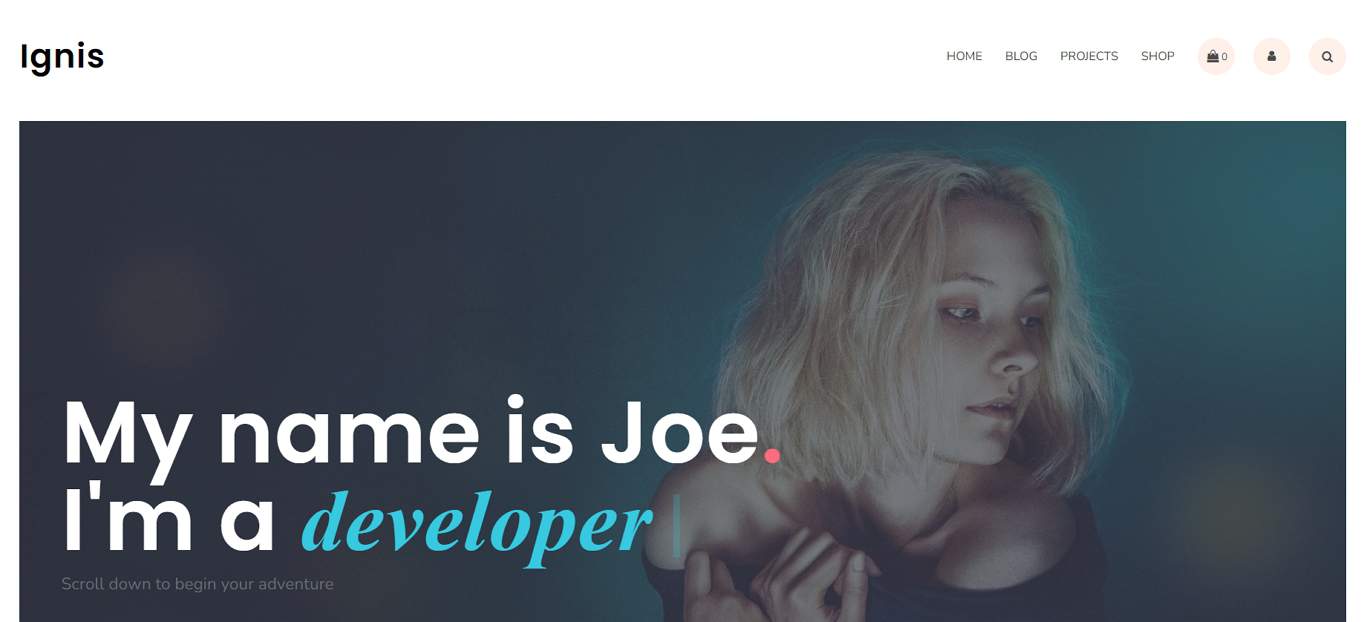 A dedicated portfolio WordPress theme to showcase your art pieces, Ignis has an attractive and modern layout. This theme allows you to create a breathtaking portfolio and gallery designs.
The header section supports both static images and videos so you can put a spotlight on your best works. On top of that, you can add a few words about you that can be easily animated. With this theme, you can choose between three carefully designed blog layouts. Adjust the colors as you wish, use the fonts you want, and a lot more.
Key Features
Jetpack's portfolio custom post type
Homepage header
100% translation ready
Free access to Google Fonts
Unlimited colors
Cross-browser Support
Preview changes live
2. Transcend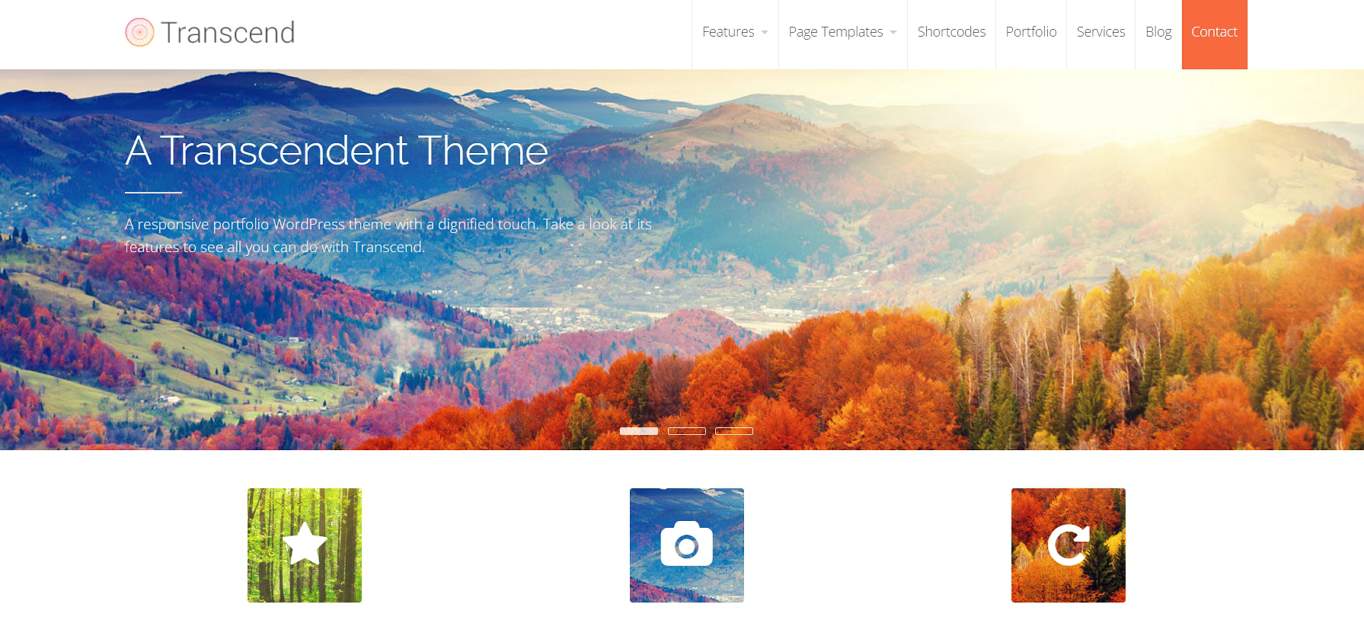 Transcend is a refined free WordPress theme that comes with support for a complete portfolio. It's fully responsive so your portfolio can be viewed on any device.
The portfolio supports all types of media such as static images, videos, slideshows, and more. You can also organize your content easily using categories and tags.
Key Features
Responsive design
All media support
Complete layout control
Limitless color
Custom shortcodes
Custom typography
3. Shapely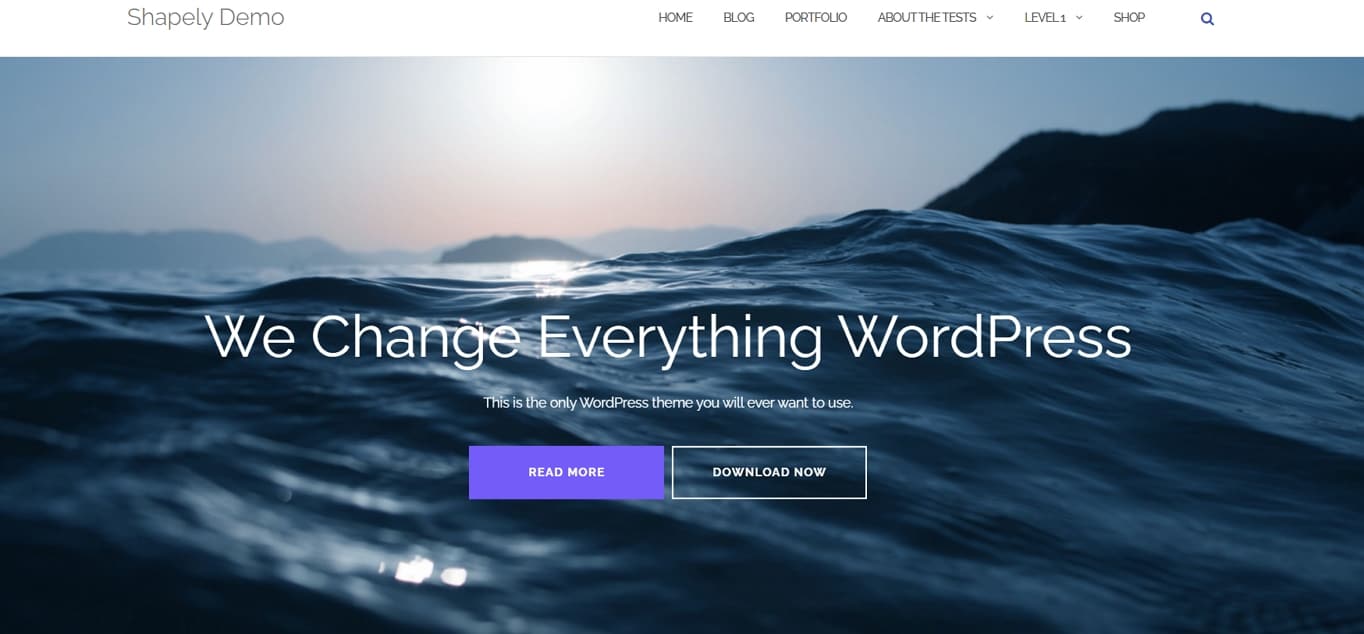 Shapely is a modern and sleek portfolio theme that allows you to beautifully showcase your projects. This theme is fully responsive and comes with an array of useful features.
Aside from showcasing your portfolio, you can also conveniently include valuable sections like testimonials, product or service information, and a lot more. The homepage has a sticky menu, hero image, social media icons, and various call to action buttons.
Key Features
Hero image
Parallax scrolling effect
WooCommerce ready
Translation ready
Retina ready
Font awesome icons
Unlimited color options
4. ePortfolio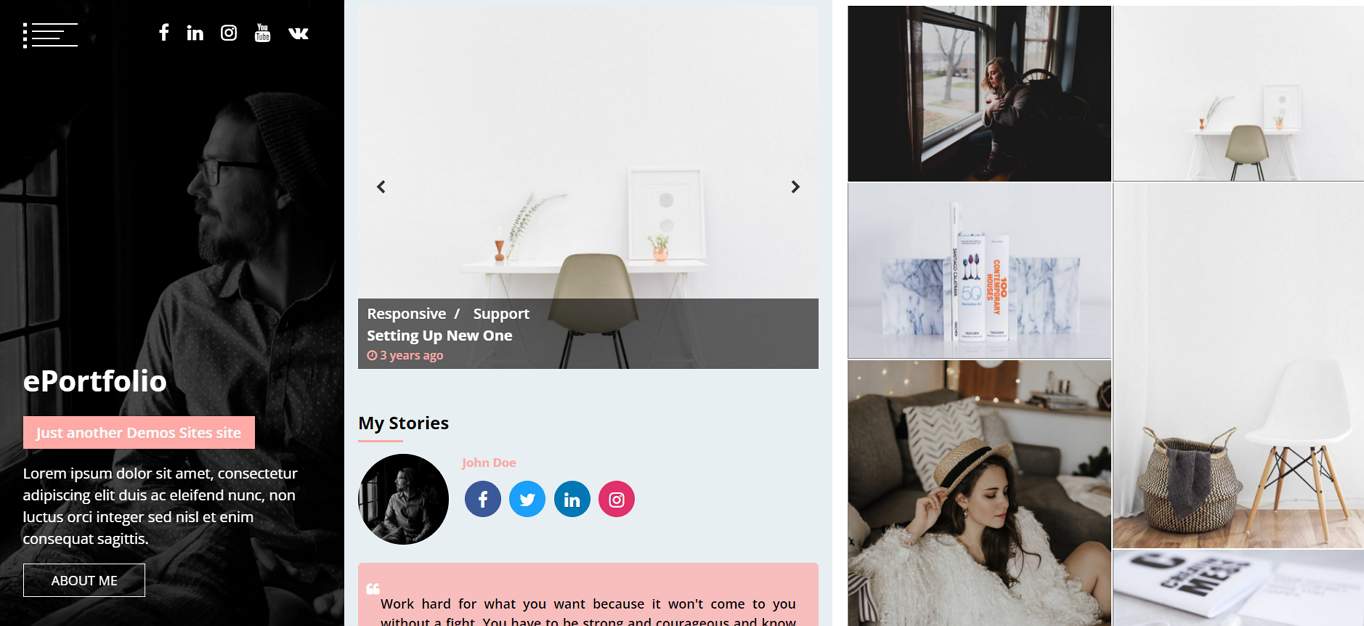 A modern and clean masonry style WordPress portfolio theme, ePortfolio easily stands out from the rest because of its unique layout. With high-resolution visuals, it's meant to adapt to any screen size.
This creative free WordPress portfolio theme is fitting for interior design, art, and other portfolio style industries. It's also optimized for speed by eliminating unnecessary elements and leaving you with the images first.
Key Features
Responsive design
Full-width layout
Gutenberg ready
Logo and title customization
Social profile & share options
5. Antreas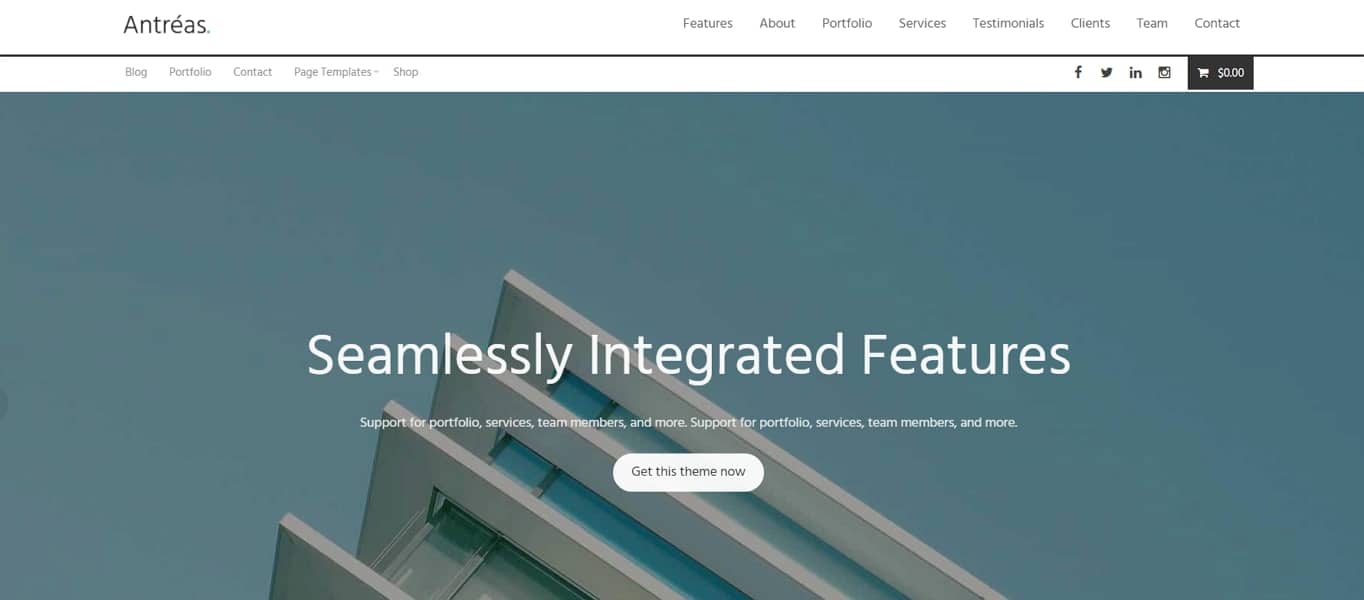 Boasting a fully immersive customer experience, Antreas is a versatile and highly intuitive free WordPress portfolio theme. Because of the clean layout, your portfolio will be surely the center of attention.
This theme is fully responsive making it readable on any device. It also has built-in social share buttons, author boxes, and related posts so you can engage your visitors easily.
Key Features
Responsive layout
Real-time edits
Masonry or grid layouts
Hovering animations and effects
Built-in social share buttons
Author boxes
4 Best Free WordPress Themes for Travel Blogs
Get your travel blog into the limelight with this selection of the 5 best free WordPress travel themes. Share your adventures and travels with the rest of the world.
1. Pepper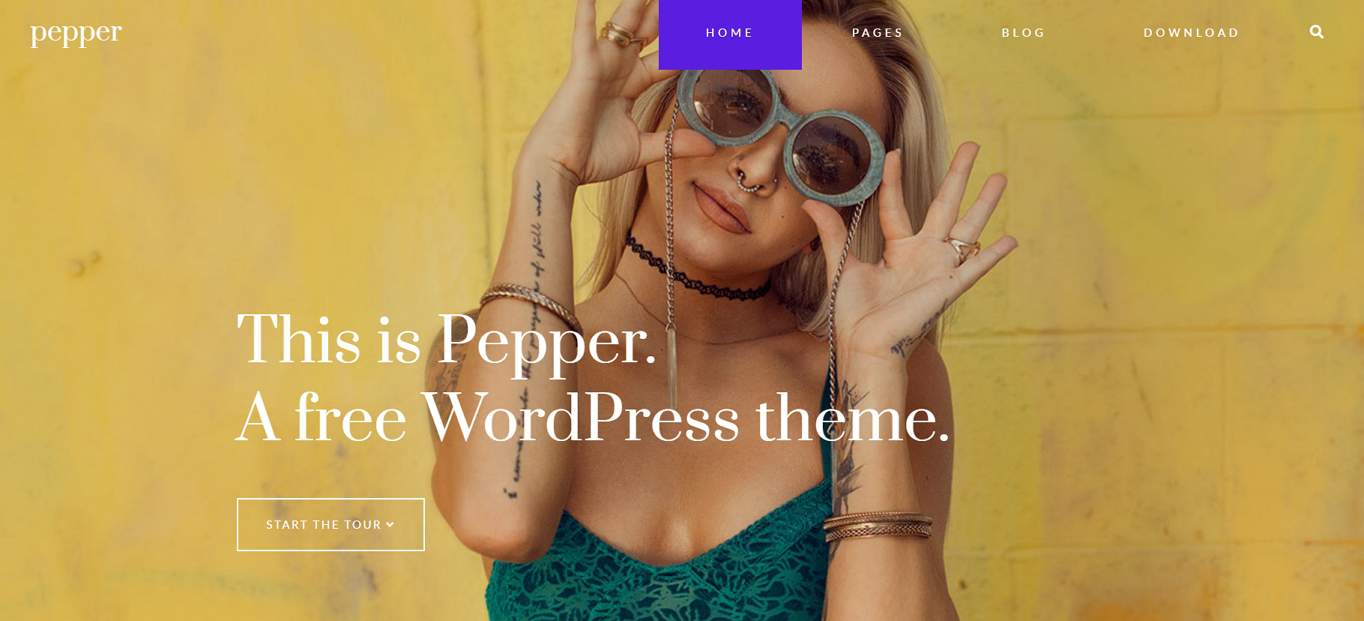 Pepper is nothing but unique and ultra-fresh. This is one of the best free WordPress themes that marries functionality and striking visuals into one.
This theme is a modular concept that allows users to focus on creating content and fine-tuning the design to match their identity and preferences. You also have access to three gallery styles: mosaic, masonry, and perfect grid.
Key Features
Modular functionality
Responsive layout
Retina ready
Google fonts integrated
3 blog layouts
2 header layouts
2. Polite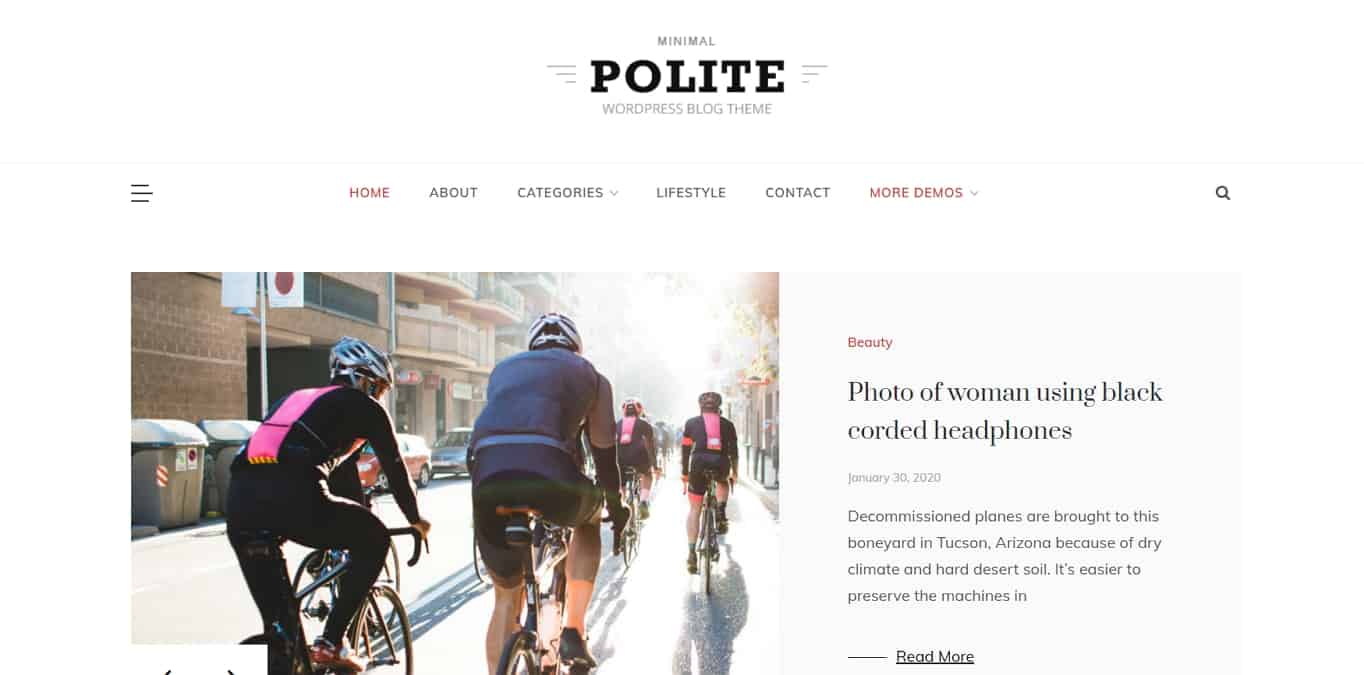 If you are a writer who wants to start a travel blog, then the Polite theme is a perfect fit for you. This free WordPress theme is highly versatile, responsive, and cross-browser compatible.
This theme has a masonry layout so you can share your travel photos and stories in an instant. It also comes with sidebar layouts, custom widgets for the author, an attractive slider, social sharing buttons, and a lot more.
Use this free WordPress theme to create a wonderful experience on your website.
Key Features
Masonry layout
Multiple blog page layouts
Search option
Off-canvas sidebar
Multiple sidebar options
3. CosmosWP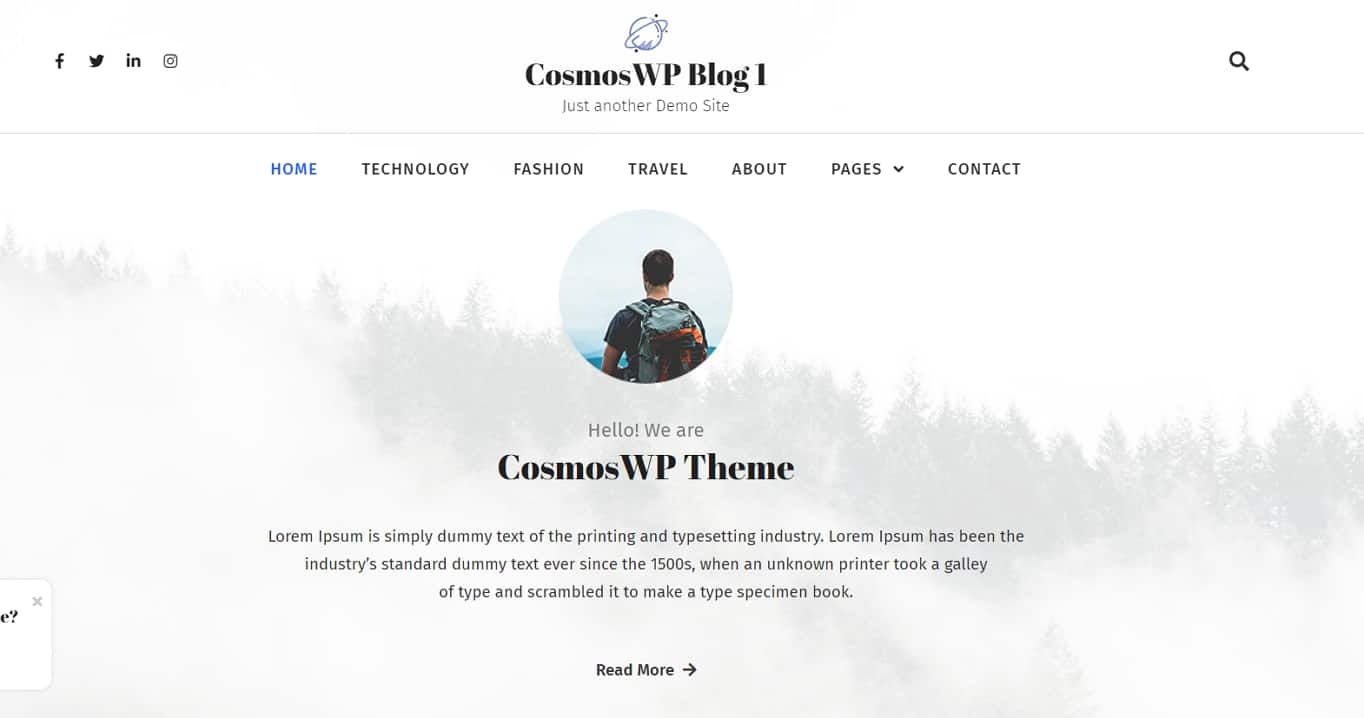 A multi-purpose free Gutenberg-ready WordPress theme, CosmosWP is ideal for travel bloggers who want to tell their travel stories. This is a nice minimalist theme that can be used by individual travelers, online travel agencies, and small businesses in the tourism industry.
The layout immediately highlights the visual elements of your posts like photos that perfectly fit a travel blog very well. The theme responds to any device and loads pretty quickly.
Key Features
Lightweight and fast
Ready to use-elements, blocks, and templates
Infinite customization option
Single post/page options
Mobile-responsive
SEO-friendly
WooCommerce ready
4. Travel Diaries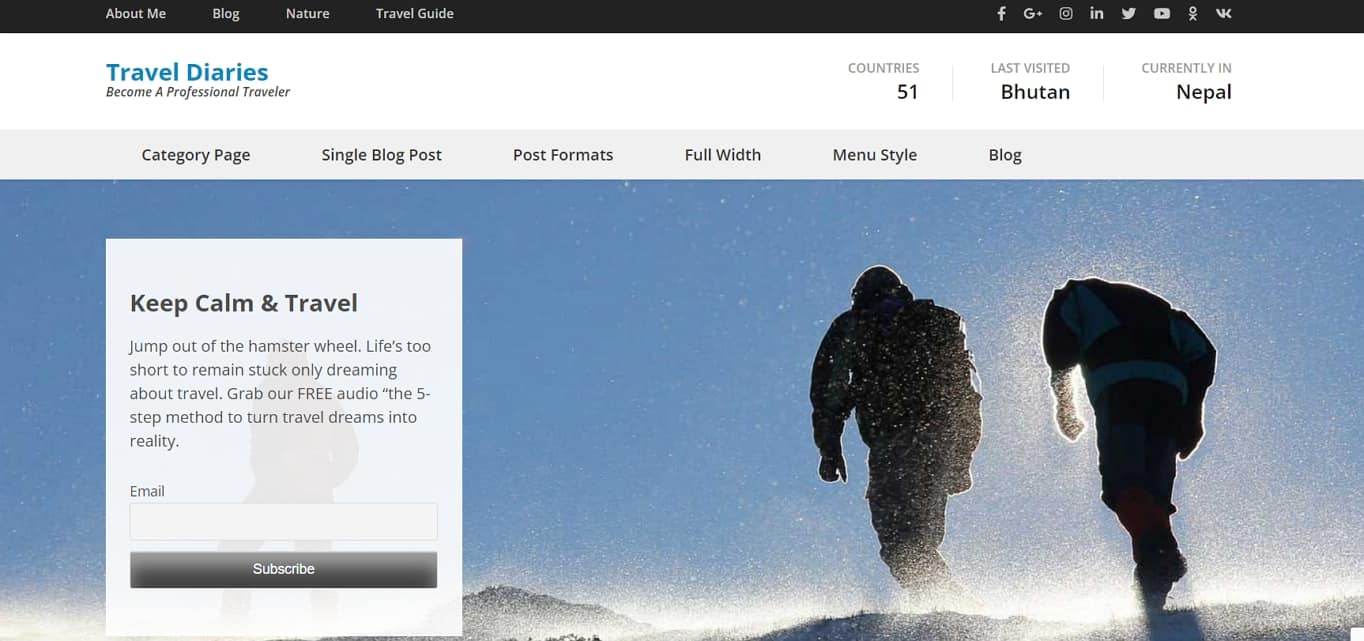 Travel Diaries is a great-looking free WordPress travel theme that enables you to create an informative and visually striking travel blog. It's also an excellent choice for all types of travel-related websites like travel agencies, holiday tours, and vacation rentals.
It's fully responsive including a pixel-perfect design, navigation, and typography for an exceptional user experience. The theme comes with a custom homepage featuring a travel guide, subscription form, recent posts section, most popular articles, and more.
Key Features
Cross-browser compatible
Translation ready
Footer widget area
Search engine optimized
Clean commented codes
3 Best Free WordPress Themes for Nonprofits
Here are our 3 best picks of free WordPress themes for nonprofit organizations. These themes will help you create a compelling website to promote your charity works, donation drives, fundraiser events, relief efforts, and a lot more.
1. Benevolent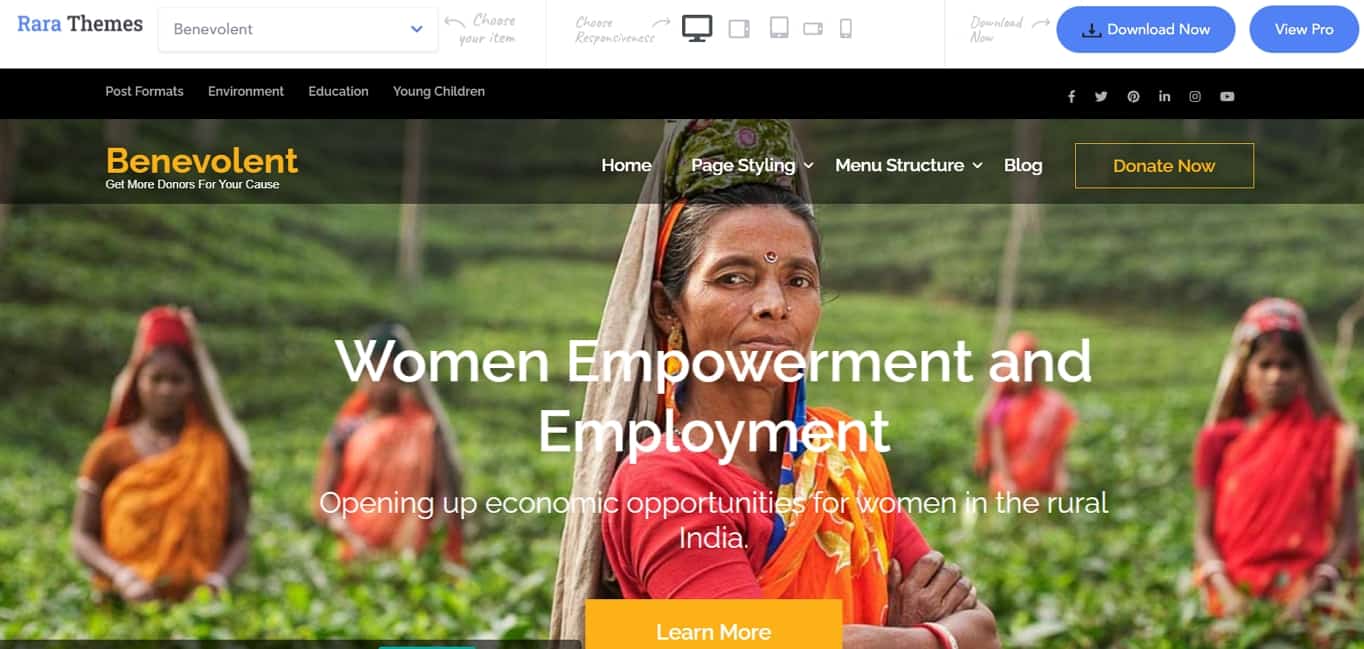 With a straightforward and versatile look, Benevolent is an easy-to-use free WordPress theme built for non-profit organizations in mind. Whether you have a donation drive, relief efforts, or charity works, this theme can help you reach new potential donors online.
This WordPress theme is packed with useful features. It comes with a custom menu with a call-to-action button, advanced full-width slider, community section, stats counter, client section, and many more.
Key Features
Responsive design
Cross-browser compatible
Translation ready
Footer widget area
Search engine optimized
Clean commented codes
2. Gutener Charity NGO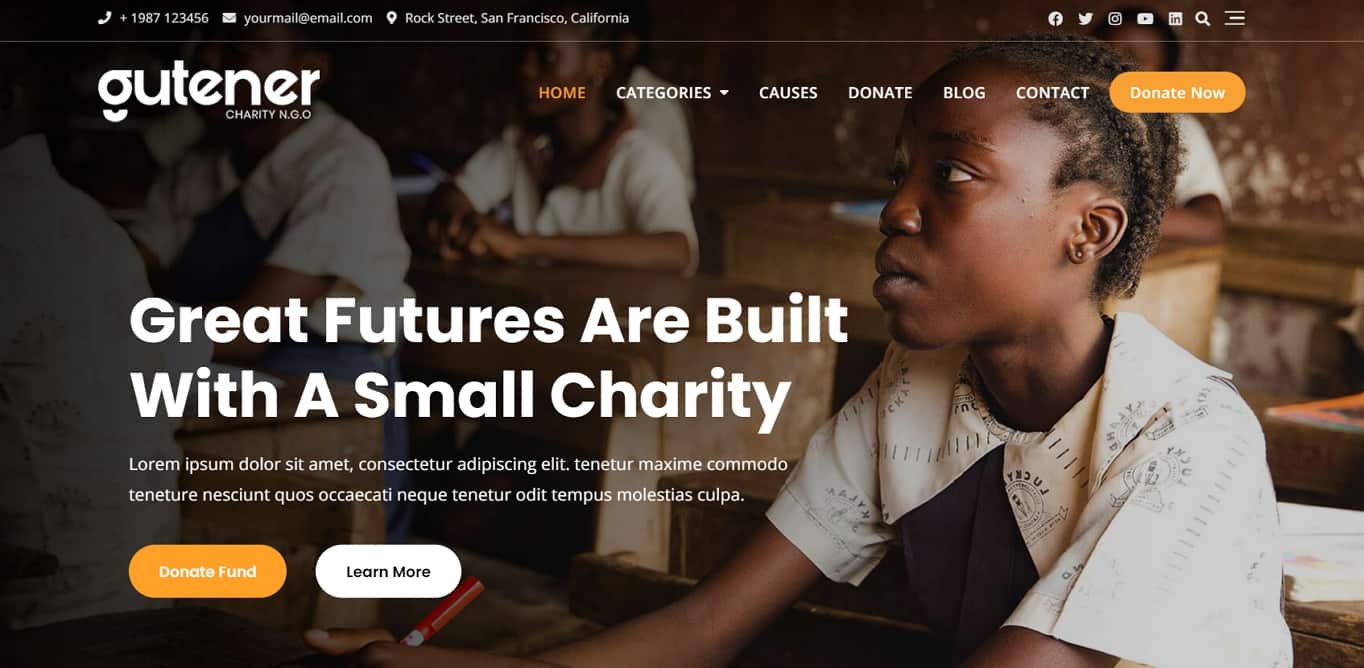 With nonprofit and non-government organizations in mind, Gutener Charity NGO exudes a professional and striking design. This theme is perfect to melt the hearts of your potential donors or volunteers.
It comes with a variety of features to customize your website according to your preference. It includes various header/footer layouts, WordPress Classic editor compatible, WooCommerce ready, and Gutenberg compatible.
Key Features
Fluid & responsive layout
Block editor styles
Custom background
Custom colors
Featured images
Flexible header
Footer widgets
3. Fundraiser Lite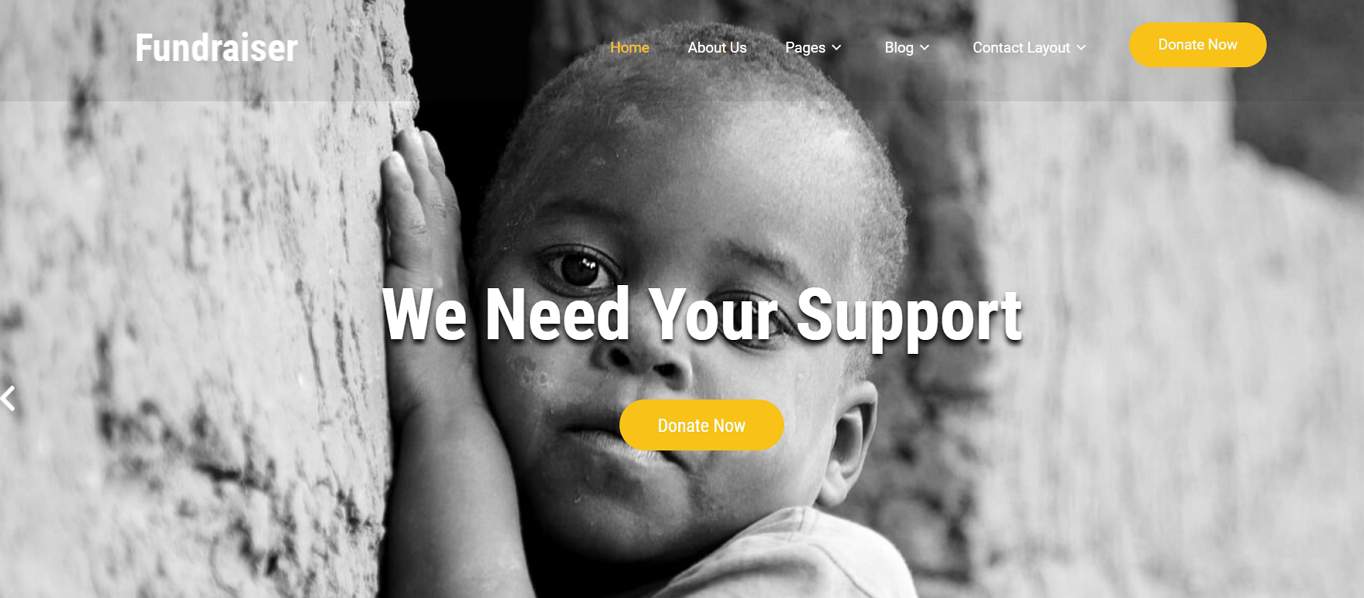 As the name suggests, Fundraiser Lite is a quintessential theme for fundraising groups. This makes it an ideal theme for nonprofit institutions and non-government organizations as well.
It's fully responsive and also compatible with page builders and donation plugins. It's also WooCommerce compatible so you can drive your donation funds, push fundraising tickets, and sell charity merchandise.
Key Features
Cross-browser support
Page builders compatible
Donation plugins compatible
WooCommerce ready
SEO-friendly
Translation ready
5 Best Free WordPress Themes for Podcasts
As the number of podcast listeners continues to grow, a branded website is extremely crucial to promote your work. If you're ready to take the next step, here's our list of the best free WordPress themes for podcasters.
1. Podcast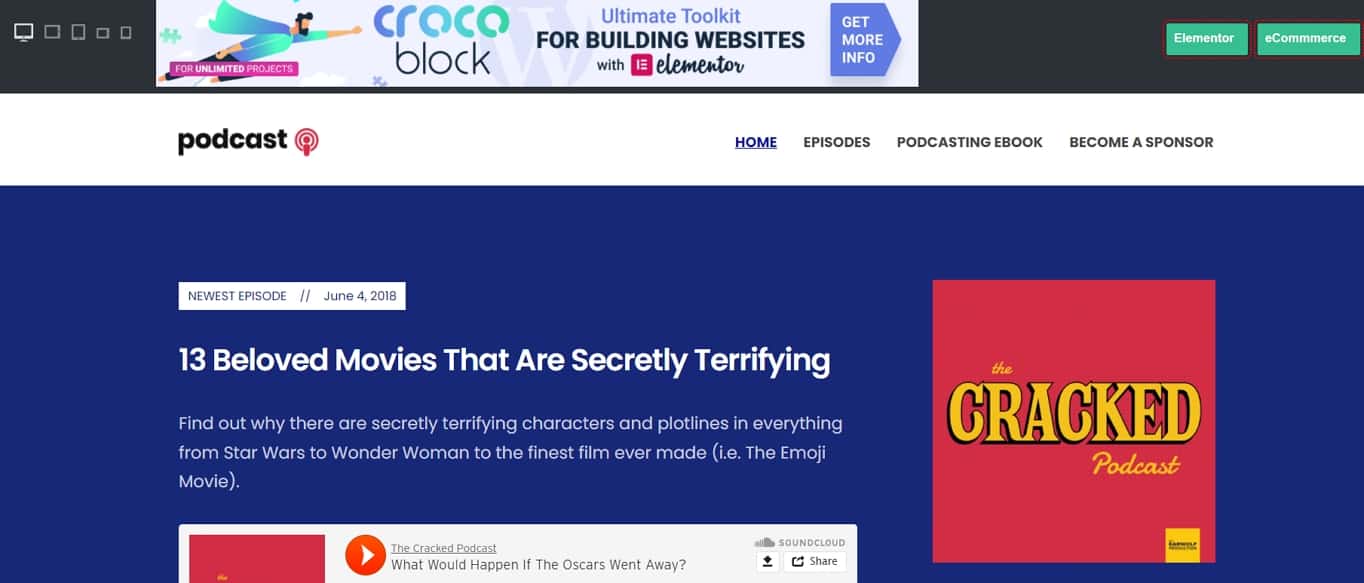 With a strikingly bold and vibrant design, Podcast is one of the best free WordPress themes meant for podcasters, streamers, YouTubers, radio hosts, and the like. The straightforward layout makes it easy for visitors to navigate the site.
This theme is available in 7 built-in color palettes: black, blue, green, orange, purple, red, teal. You also can put a sidebar on either the left or right side.
Key Features
7 built-in color palettes
Custom sidebar
Threaded comments
Translation ready
Full-width template
2. Euphony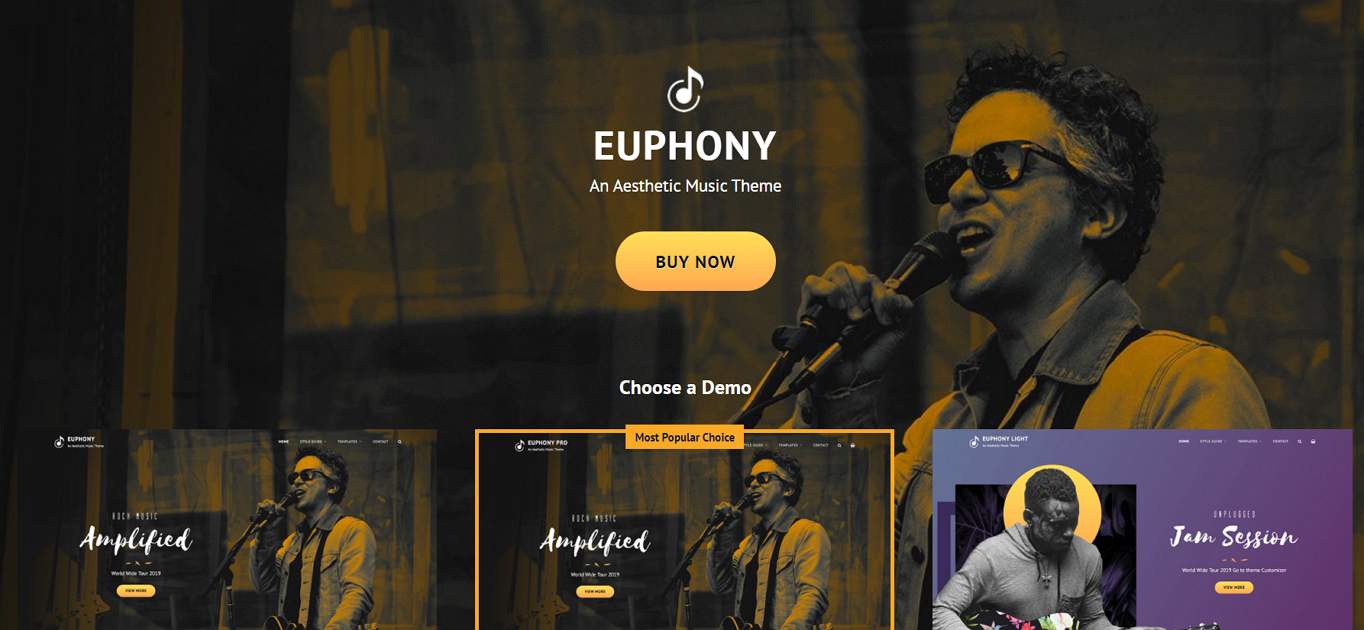 Euphony is the perfect WordPress theme that can amplify your podcast site's online presence. With this theme's simple and highly intuitive interface, it's built for podcasters and musicians alike.
This minimalist and versatile theme comes with amazing features like featured content, featured slider, hero content, testimonials section, and portfolio. But, the most prominent feature of this theme is the sticky playlist at the bottom of the page.
Key Features
Hero content
Featured content
Featured slider
Sticky playlist
Testimonial design
3. Pop Rock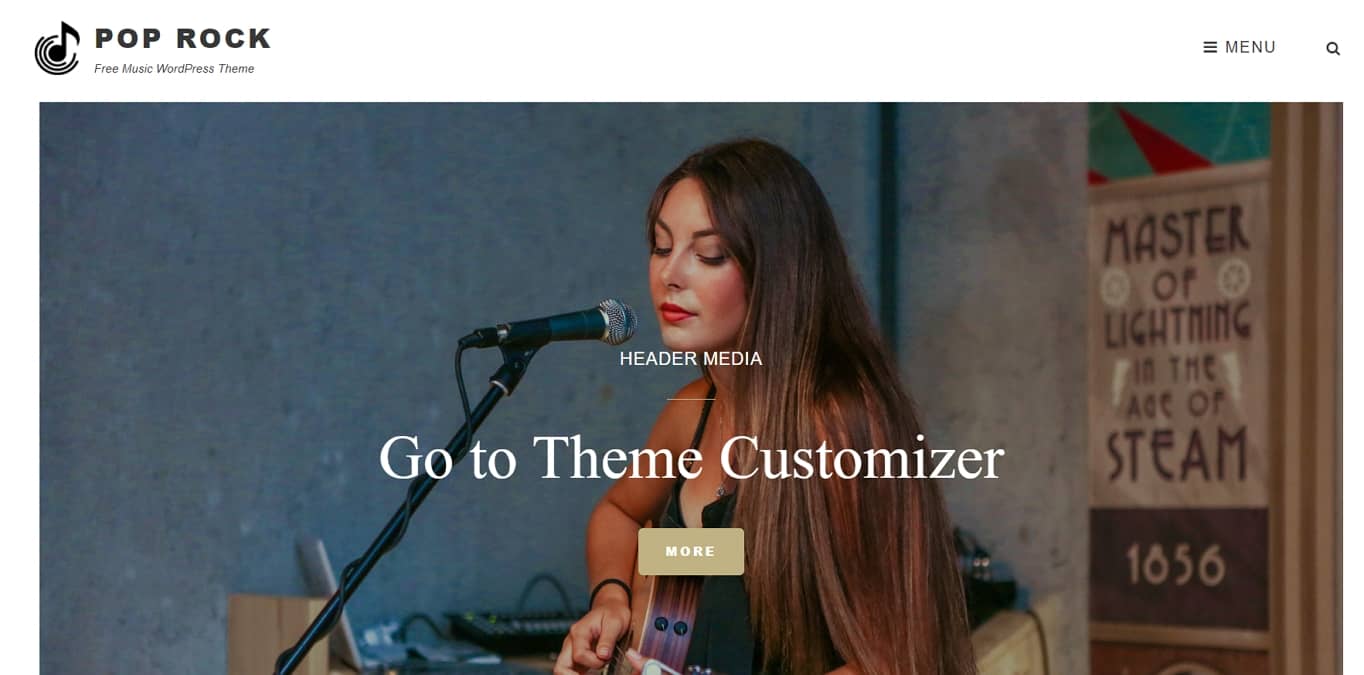 A music-related WordPress theme, Pop Rock is also a very suitable theme for podcasters, YouTubers, and streamers out there. It comes with an audio playlist on the homepage so you can conveniently add your podcasts.
Using the hero content section, this theme allows you to feature your best assets. There's also a portfolio feature so you can display all your latest works.
Key Features
Default playlist
Hero content
Portfolio section
Header media
Testimonials section
4. Musicsong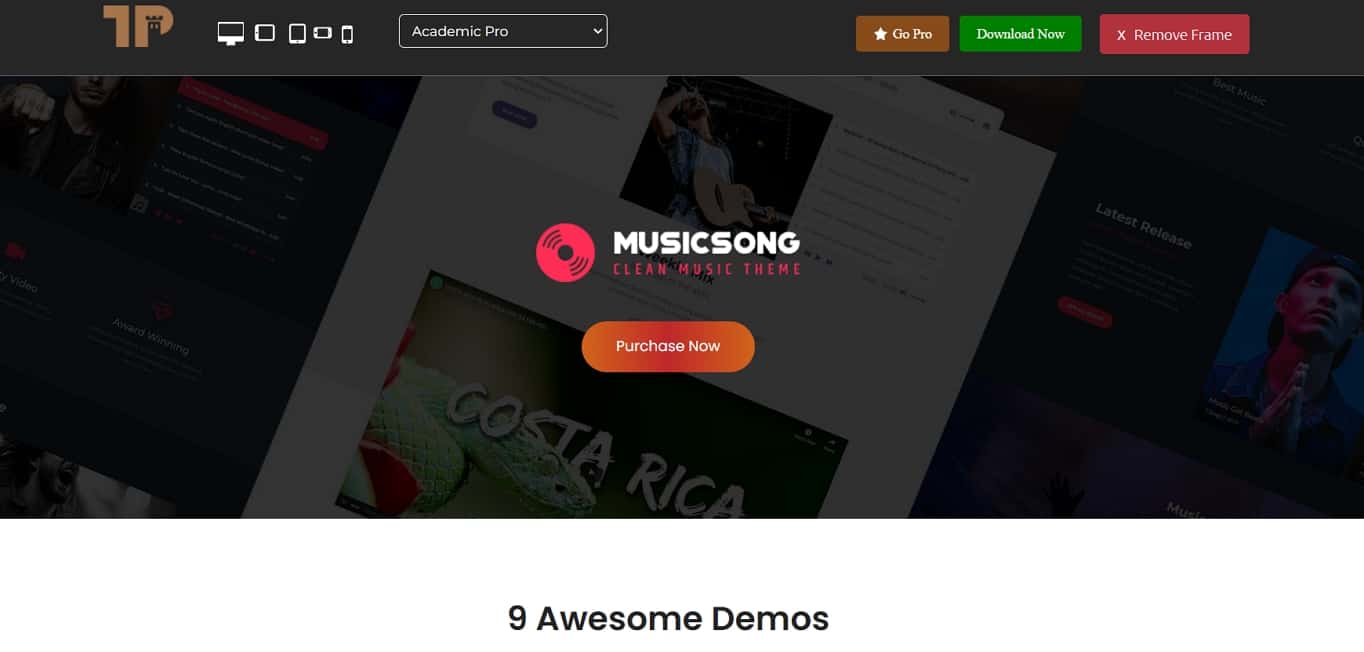 Musicsong is an ideal answer for podcasters, music bloggers, solo artists, and musicians who are looking to promote their work online. A completely responsive theme, it's compatible with all modern browsers and is translation-ready.
This theme has a mix of a lively and professional look. It comes with a minimalistic and interactive concept that allows you to engage with your podcast fans easily.
Key Features
Responsive layout
WooCommerce compatible
Demo import option
Custom CSS option
Call to action section
Advanced color options
5. Spearhead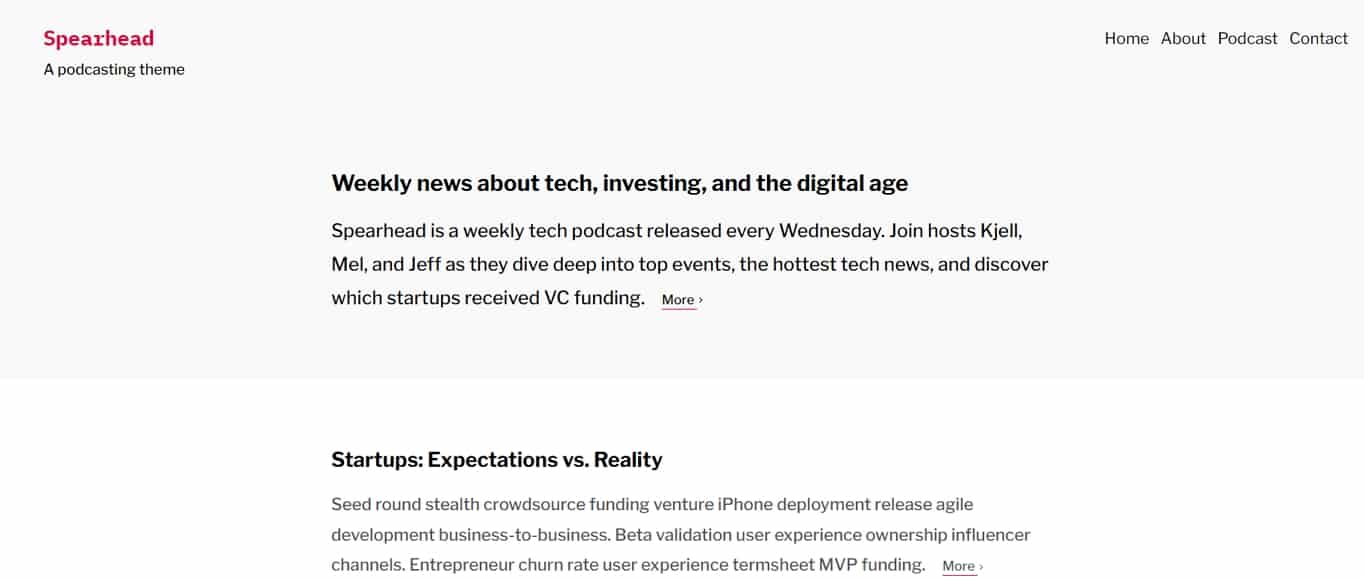 If you want a no-nonsense WordPress theme for your podcast, Spearhead is one in the bank. This theme is specifically crafted as a podcast theme so that artists could quickly get started with a fully functional podcast website.
With a minimal and elegant look, this theme will let your content speak for itself. While this is primarily focused on podcasters, any kind of content creators in general.
Key Features
Dark mode support
Custom block patterns
Audio, illustrations, photography, video support
Featured images
Flexible header
Translation ready
4 Best Free WordPress Themes for Restaurants
Make your restaurant be the talk of the town with our handpicked selection of the 4 best free WordPress themes to create a stunning and delectable restaurant website.
1. Restaurant and Cafe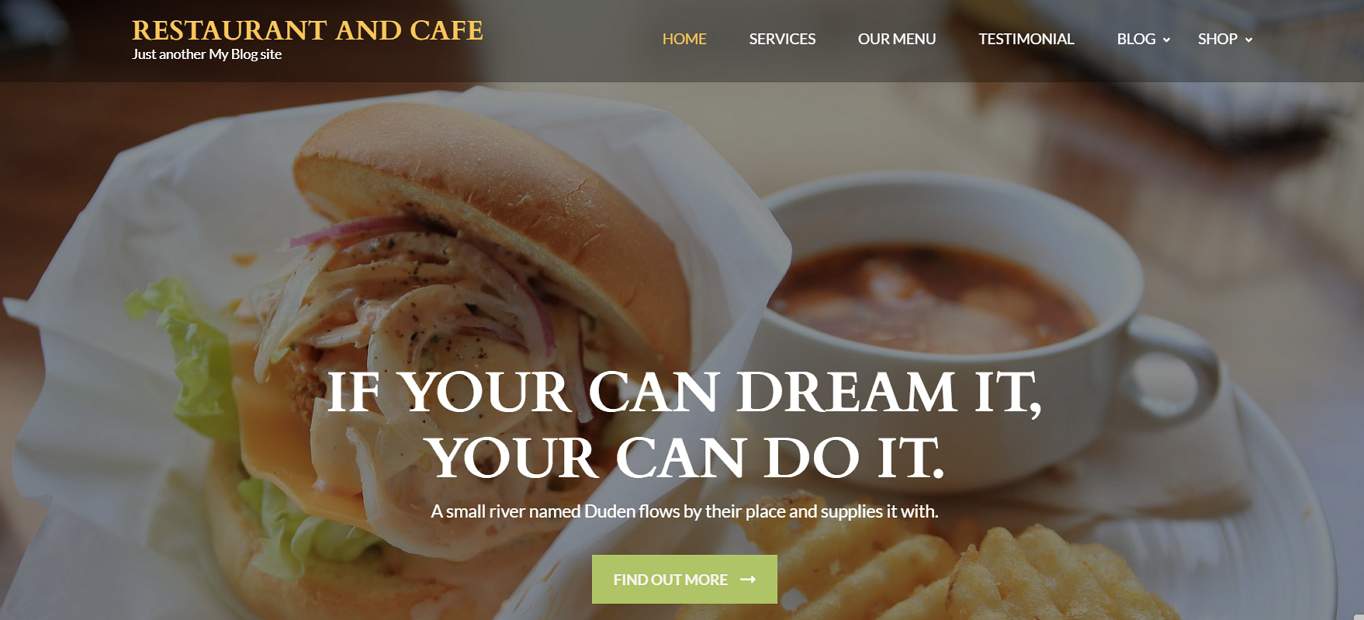 Restaurant and Cafe is the perfect WordPress theme for restaurants. Because of its flexibility, this theme is also ideal for anything food-related like recipes, coffee shops, wine stores, and more.
It is packed with various features that will make your restaurant stand out. This theme comes with a banner, featured dish, food menu, table reservation, testimonial, and map section.
Key Features
WooCommerce compatible
SEO ready
Mobile-friendly
Featured dish section
Food menu
Table reservation
Map section
2. LZ Restaurant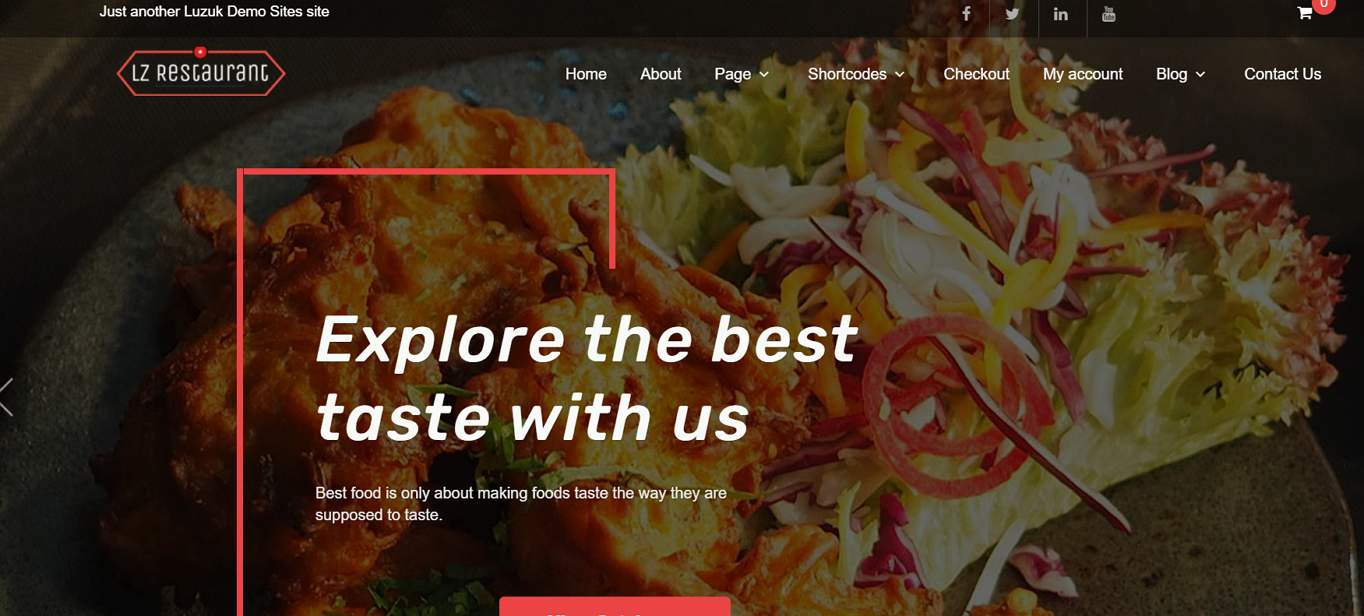 A highly responsive and advanced restaurant WordPress theme, LZ Restaurant is targeted not only for restaurants but for the food industry as a whole. It's so versatile that it's also perfect for any hotel and tourism industries too.
This theme has a broad range of features to create a remarkable restaurant website. There's a homepage banner where you can feature your popular dishes, beautiful interior, kitchen staff, and more.
Key Features
Fully responsive
Testimonial section
Social media plugins
SEO-friendly
Extremely lightweight
Hide/show sections
3. Restaurant Recipe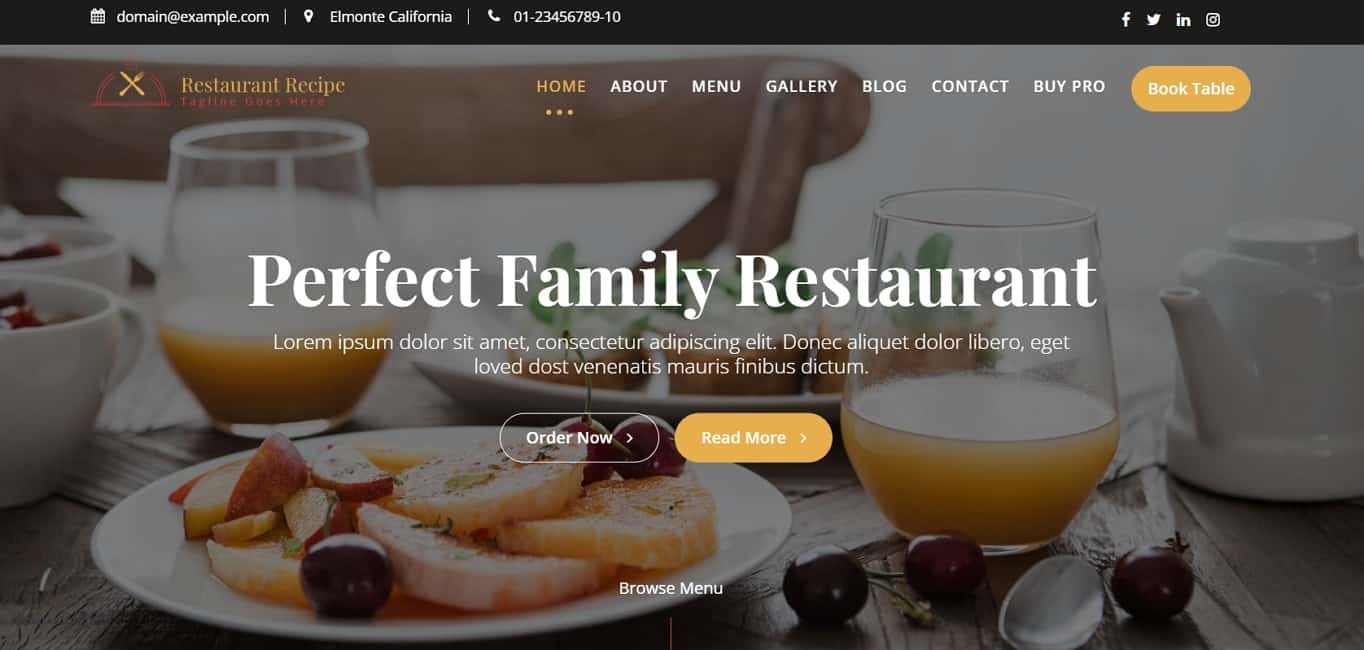 Crafted particularly for restaurants, cafes, and any food-related website, Restaurant Recipe is one of the most striking free WordPress themes today. This theme is everything you need to create a delightful restaurant website.
There's a header section on the homepage where you can add photos of your restaurant's signature dishes, interior, and facade. It also comes with a built-in section for orders, reservations, and a food menu.
Key Features
Unlimited slider
Table reservation
Page builder compatible
Header image/video
Multiple header and footer options
Custom sidebar areas
4. Foodoholic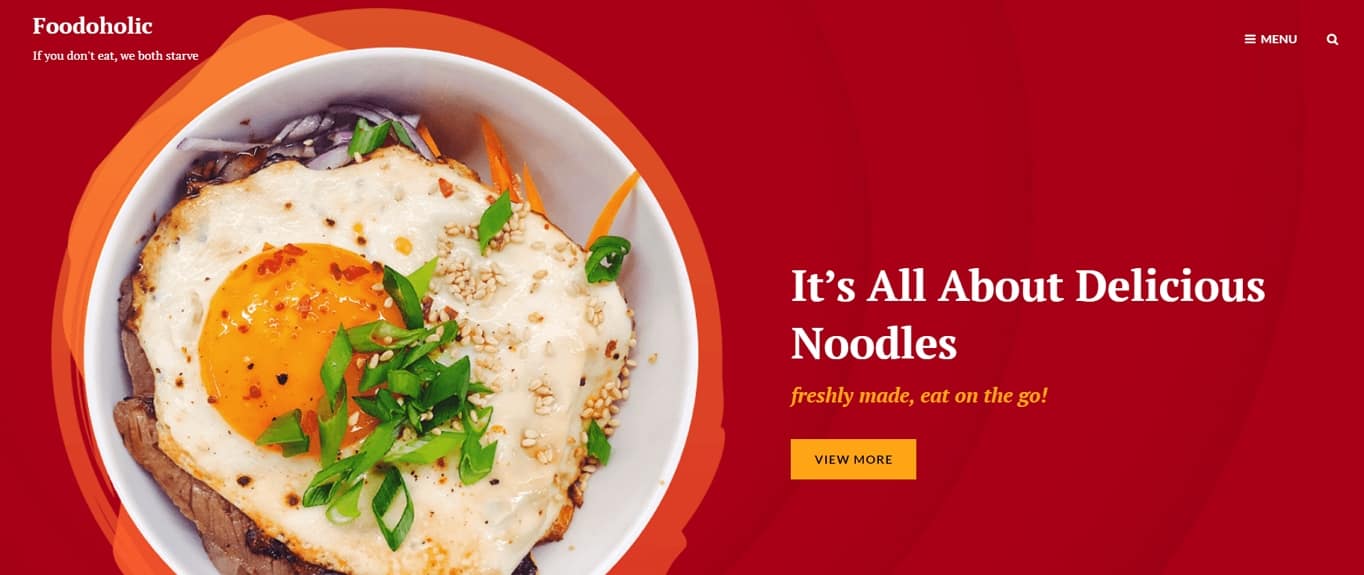 Two words to describe this theme: bold and lively. Foodoholic is a visually eye-catching theme that will surely captivate any restaurant patron or food lover.
This beautifully designed theme emphasizes images so you can easily display stunning food shots, interior images, and more. It includes features that will catch anyone's attention like hero content, food menu, testimonials, and more.
Key Features
Dropdown menu
Search engine optimized
Blog section
Testimonials section
Hero content
Featured slider
Featured thumbnail
Threaded comments
Frequently Asked Questions About Free WordPress Themes
Here are some of the most commonly asked questions about WordPress themes.
What is the difference between free and premium WordPress themes?
The difference is mainly between their costs, features, and functionalities. Free WordPress themes, as the name suggests, are free of charge with basic features — making them limited in updates, customization options, and customer support. On the other hand, premium WordPress themes are paid for good reason. They come with extra features, extensive support, and up-to-date standards.
What is a premium WordPress theme?
Premium WordPress themes are paid themes with additional feature-rich functionalities to help you customize your website. They also come with exclusive support which can assist you with all your queries and offer excellent assistance. Most often than not, premium themes are unique, unlike free ones.
What is the best free theme for WordPress?
When it comes to choosing the best free WordPress themes, it entirely relies on your hand and depends on your preference. For instance, our list of best free WordPress themes come with basic features and functionalities so you can get a stunning website up and running. Usually, free themes are designed with beginners in mind. Thus, you'll see that they're fairly simple and easy to use.
Where can I get free WordPress themes?
It's pretty quick and easy to find free WordPress themes online. WordPress officially curates both free and premium themes via
WordPress.org/themes
and
WordPress.com/themes
. The question now really is with the thousands of free WordPress themes, what's right for you? You can start with our carefully selected best WordPress themes to build a highly responsive and visually striking website.
Are themes on WordPress free?
The quick answer is no. WordPress has a collection of both free and premium (paid) themes. WordPress.org has a separate section for free and commercial themes. On the other hand, WordPress.com has a mix of free and premium themes with easy filter options.
Is it worth paying for a WordPress theme?
With WordPress, you have a choice between free and premium (paid) themes. When faced with the dilemma of picking either a free or premium theme, the answer should always be within your objectives and means. While free WordPress themes are already functional, they are also limited in features and minimalistic in design. This is why consider paying for a premium theme to get the flexibility and extra functionalities that you may need to create a branded and customized website.
Can I create a free WordPress website?
WordPress is free for anyone to download and install. It can be used to create any kind of website — business, a non-profit organization, music, restaurant, travel, blog, photography, you name it! — without any limitation. But, if WordPress is free, then where is the cost coming from?
While WordPress is free, you'll need to pay for your domain name and hosting services.