Last update: October 9th, 2018.
Until now, I had never used a website builder before…
Having developed websites for a while, I'd rather dive straight into coding HTML, CSS and PHP. And avoid those drag-and-drop functions that website builders have.
I was pretty skeptical.
However, I was positively surprised by the ease-of-use and customization options that some of these website builders have.
Especially for the cost. Unfortunately, I also ended up trying website builders that were just outdated or used sketchy billing strategies (hint: #10).
Website builders vs. hiring a web developer?
A good custom website could easily cost $2000 (on the low end). Making changes could still require a freelance designer and developer to help you continually update your site (additional $$$).
Yet, for only a few dollars each month, some of these website builders below could give you almost everything you'd ever want at less than 1% of the cost.
Not to mention, you can easily login yourself and change copy, upload images, or add new pages within seconds (all without calling for tech support).
Website builders for Who?
Website builders are the perfect solution for individuals or small businesses with low budgets. Just to name few of them:
small business owners
writers
musicians
artists
photographers
wedding planners
and so on…
Here's What I Did To Uncover Website Builders: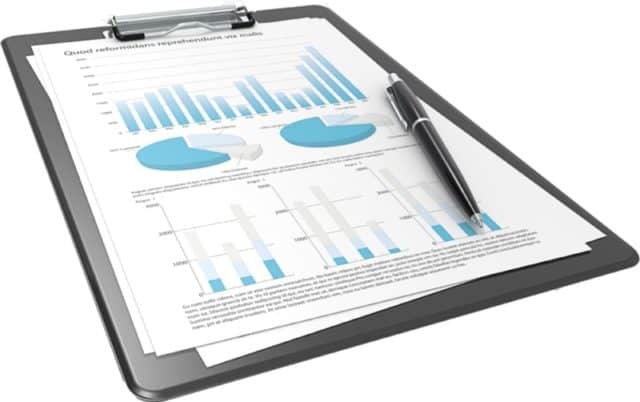 Unlike many other blogs you might read on this same topic, I really spent some money and signed up with each one – so you'll be able to see the "test sites" I made.
My goal is to provide a review, by actually going through each product in detail, to help you make the best decision.
Here's the process I took:
1. I signed up with the top 10 website builders (I paid for them).
I searched on Google until I had a list of 10 most popular website builders on the market.
2. Setup a simple '5-minute' test website.
After signing up with them, I decided to make a quick '5-minute' website on my own domain name, like websitesetup-wix.com and websitesetup-yola.com etc.
3. Monitored each site's uptime and page load times (1-12 months, ongoing).
Over a period of 1 to 12 months (still ongoing), I monitored my websites uptime and page load times via Pingdom.com. Some of my sites had more than 24 hours of downtime…(!)
4. Uncovered the TRUE cost of each website builder.
Many of these website builders trick you with their low introductory prices, like letting you set up a website for free. But once you want to launch it, you'll need to pay. That's why it's VERY important to check the pricing before you set up a website with them.
This last point is especially important because most website builders will claim to be 'free' even though you're gonna be forced to take out that credit card at some point.
So before we dive into the detailed review of the top ten website builders, here are the gory pricing details.
Read why...
Best Website Builders 2019 (Review)
Keep in mind that the usability is the most important factor of a website builder. Second is uptime, third is speed, and the least important factor (for me) is the price.
Full disclosure: I earn a commission if you end up purchasing a SiteBuilder, Site123 or Wix through my referral links in this review. This is how I keep WebsiteSetup.org up and running and there are no extra costs to you at all. Regardless, I only recommend website builders that I've personally used and found reliable and simple.
|  WEBSITE BUILDER | PRICE |  SPEED |  UPTIME |  USABILITY |  MY RATING |
| --- | --- | --- | --- | --- | --- |
| SiteBuilder | $3.84 | 701ms | 99.99% | BEST | ★★★★★ |
| Site123 | $10.80 | 777ms | 99.99% | GOOD | ★★★★ |
| Wix | $5.00 | 613ms | 99.93% | GOOD | ★★★★ |
| Jimdo | $7.50 | 404ms | 99.96% | AVERAGE | ★★★ |
| GoDaddy Website Builder | $5.99 | 260ms | 99.99% | AVERAGE | ★★★ |
| WordPress.com | $4.00 | 373ms | 100% | TOO LIMITED | ★★ |
| Squarespace | $12.00 | 403ms | 99.99% | AVERAGE | ★ |
| Weebly | $8.00 | 947ms | 99.64% | TERRIBLE | ★ |
| Webs | $5.99 | 551ms | 99.47% | TERRIBLE | ★ |
| Web.com | – | – | – | BAD BILLING | ★ |
Without further ado, let's dive into a detailed review of each website builder. Starting with the best, narrowing it down until we reach the ones to avoid.
1. SiteBuilder (www.SiteBuilder.com)
Best "All Around" Website Builder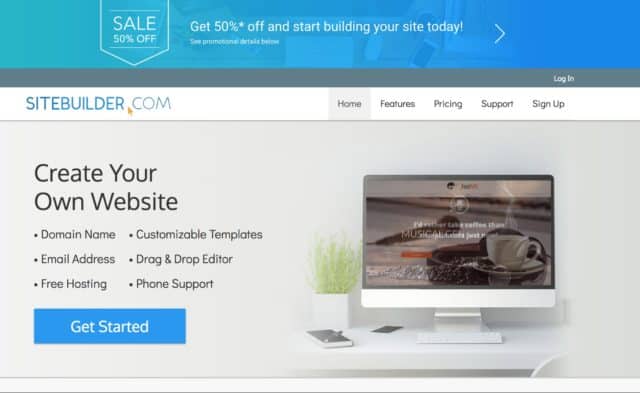 CONS of SiteBuilder Website Builder
#1. Emails cost extra at $5/monthly through Google's GSuite. (You'll notice that this is a pretty common tactic across nearly every website builder on this list.)
#2. Ecommerce plans are only available on the most expensive plan. HOWEVER, that plan is currently only priced at $9.22/month. It's promotional for the first year (about 50% what it usually is), but it's easily the cheapest ecommerce option available here.
PROS of SiteBuilder Website Builder
#1. SiteBuilder is a very reputable option with over 200,000 users.
#2. With over 1,200 template options, I honestly don't think you'll find more design options to pick from.
#3. As mentioned, they boast an awesome (and affordable) e-commerce product to build a fully-functioning online store. Each template is extremely easy to customize as well. Just point, click and adjust.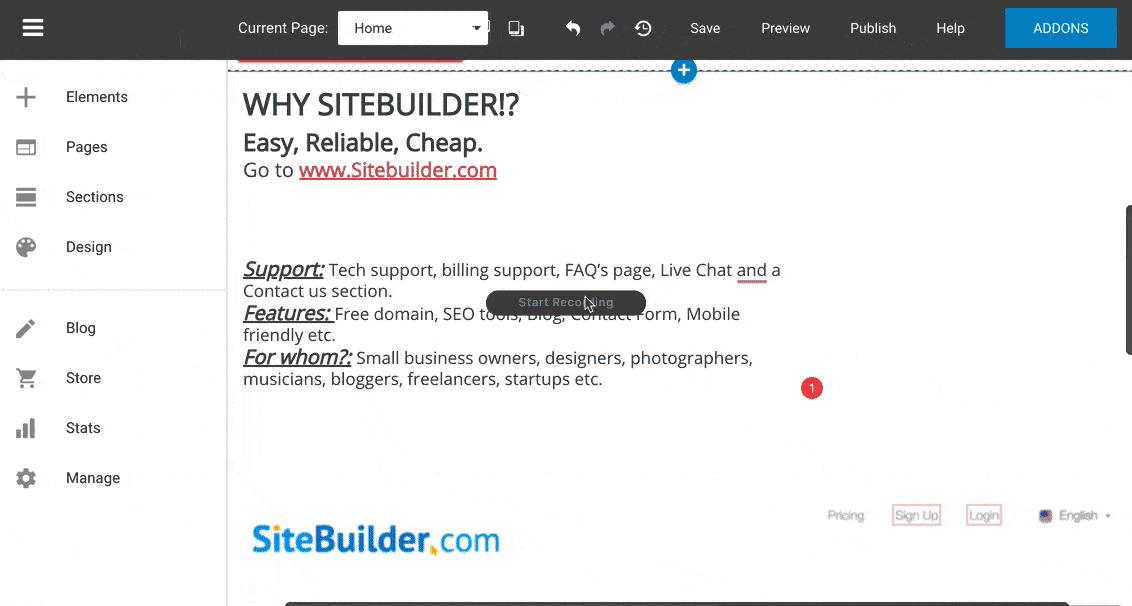 #4. SiteBuilder gives its users a free domain name for the first year, and not forcing any ads on your site under any plan, either.
#5. My test site saw excellent uptime over the last six months, only going down for about two minutes across two outages. That's almost as good as it gets over 99.99%.

#6. SiteBuilder's friendly support rep hopped on our live chat session within seconds. They were helpful throughout, answering my (many) questions with personal detail. They didn't just link out to a bunch of support docs and force me to manually comb through, looking for a needle in a haystack. Very positive experience!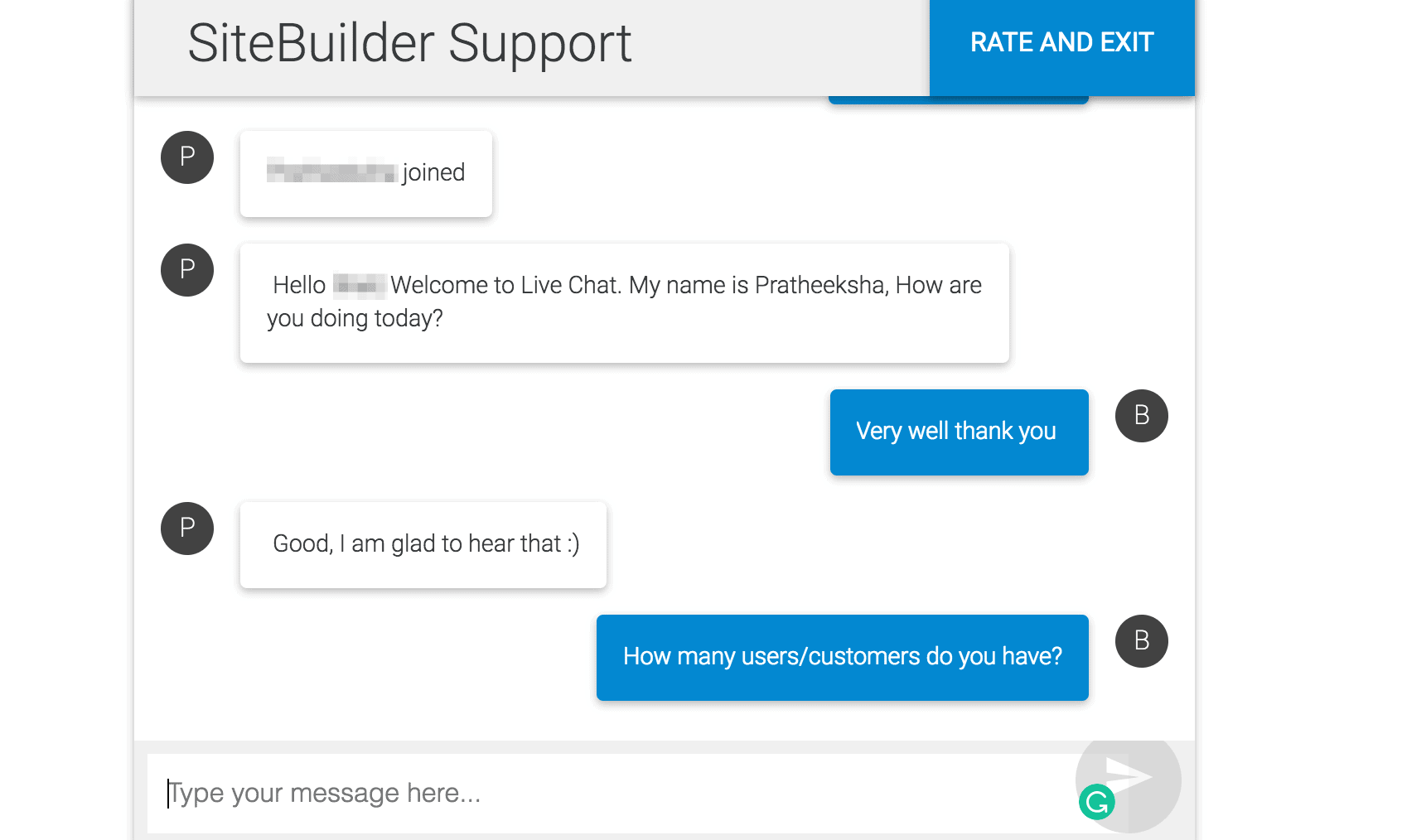 They are also currently running a massive 50% discount. So if you purchase a 12 or 24-month plan, you'll not only get a free domain but lock-in a lot of savings, too.
For example, I paid $143.76 for two full years. The $16 domain was free as well.

Just keep in mind that renewal prices will adjust back to the normal rate. That means you'll often lose the initial discount.
You'll notice below that pretty much all website builders do this. So try to lock in a longer term if possible to save the most.
Do I recommend it? YES.
SiteBuilder is at the top of my list.
There are tons and tons and tons of theme options that can be easily modified by dragging and dropping sections.
The current promotions they're running right now are awesome, too. You get a free domain name for the entire first year. And, the e-commerce plan is significantly less than any other website builder on this list.
All of those reasons, plus near-flawless uptime, make it an excellent place to start.
Very easy to use, professional and reliable website builder (out of 10 I've used).
Here's my 5-minute test site. (Bet you can do better in 5 minutes.)
2. Site123 (www.Site123.com)
Very Simple and Straightforward Website Builder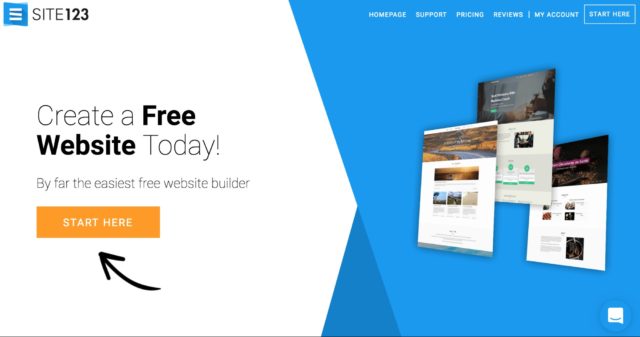 CONS of Site123 Website Builder
#1. I found customer service to be a little lacking.
For example, I tried asking about how many users they have, how many template options, etc. Yet, they wouldn't be transparent and answer anything, instead of responding with, "In our webtool support department we do not have access to information concerning how many clients we have."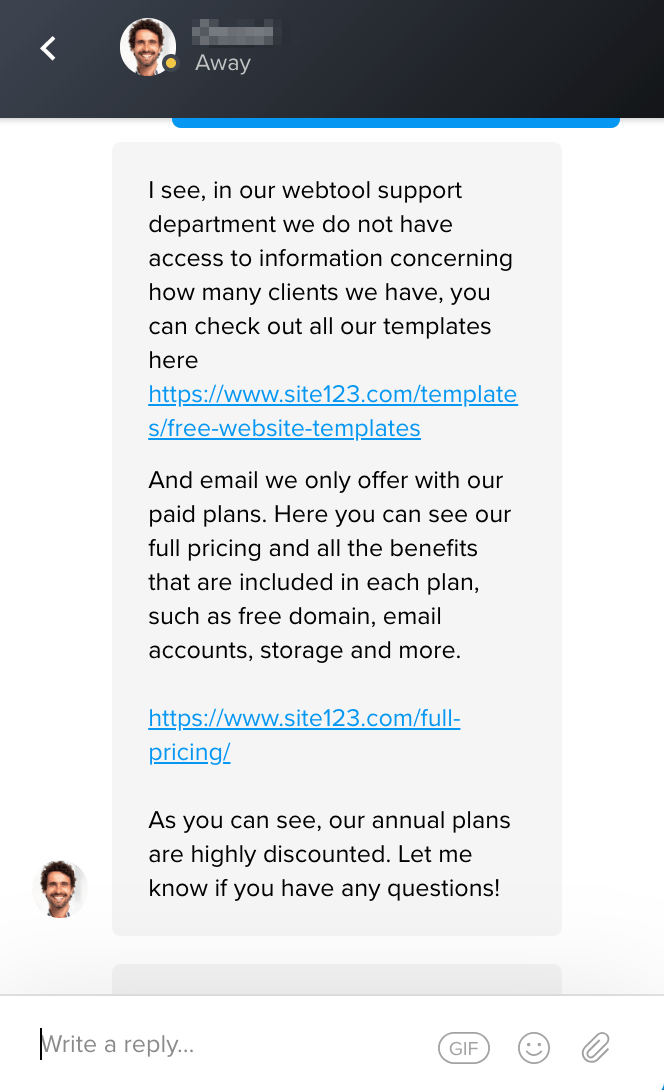 Seems more like they just didn't feel like finding the answer for me.
And when I asked a few other standard questions, they would just give me a link to the answer.
#2. Standard pricing is pretty good, but the bigger plans get really expensive quickly.
For example, the Gold and Professional plans range from $22.80 – 28.80 per month paid annually.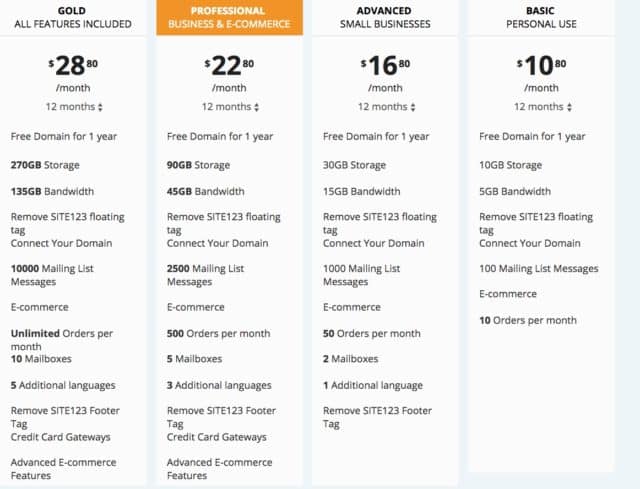 PROS of Site123 Website Builder
#1. Emails are thrown in on three out of four plans. Hooray!
#2. Ecommerce is heavily supported with a huge, dedicated help section.
#3. From what I can tell (they wouldn't confirm), there are at least a few hundred design templates to choose from. They're both visually pleasing easy to navigate!
You can reorder pages or posts in minutes by clicking and dragging in place: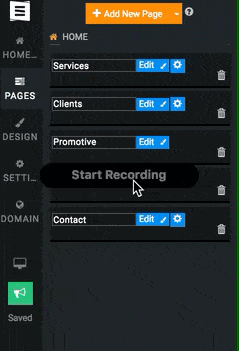 #4. Site123 is another website builder that delivers strong uptime at 99.99%, going down slightly more than SiteBuilder.

#5. Basic plan pricing is good if you only need a simple, content-driven site or blog. I only paid $129.60 for the year, which also included the domain name.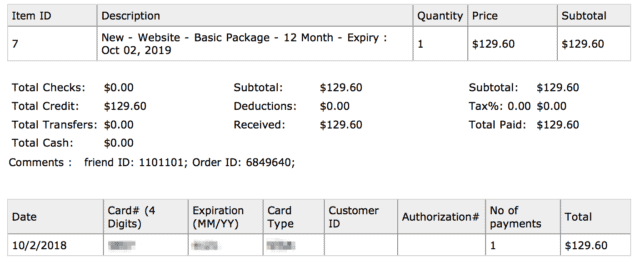 Do I recommend it? YES.
Overall, I definitely recommend it for relatively simple sites.
There are a lot of design template choices, uptime was great, and you even get a few emails without having to pay a ton extra! Customer support and the editor were a little lacking, though.
You can use it for bigger, more complicated ones. But it also gets expensive in a hurry.
So it might be a good alternative vs. getting a custom site built out. Just be ready to spend a decent amount over the course of a year if that's the route you're going.
Here's my 5-minute test site. (Looks good to me…)
3. Wix Website Builder (www.Wix.com)
Most Popular and Easy to Use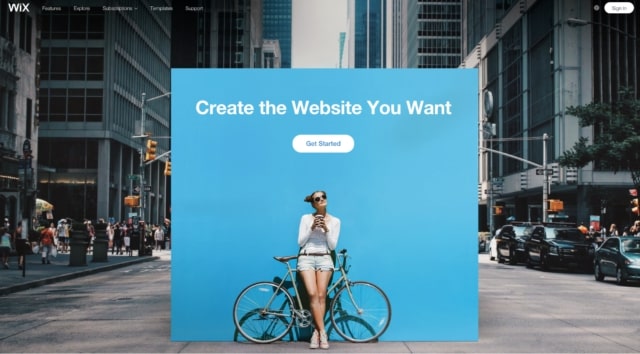 CONS of Wix Website Builder
#1. Wix partners with Google's GSuite to offer email accounts for $5 each. Notice a trend, here?
#2. Ecommerce and online stores are only available on more expensive plans, starting at $20/month.
PROS of Wix Website Builder
#1. Wix is legit, hosting more than 100 million users worldwide. There's a reason so many people use it.
#2. Wix is also an excellent option for ecommerce stores. This includes everything from simple products to even bookings and registration for events.
#3. Wix has one of the biggest libraries of site templates, boasting over 500 "designer-made" options. They're also good for any level, whether you're a beginner or pro.
This site builder might just be my favorite. The customization options are almost endless. And you can tweak your site in a matter of seconds.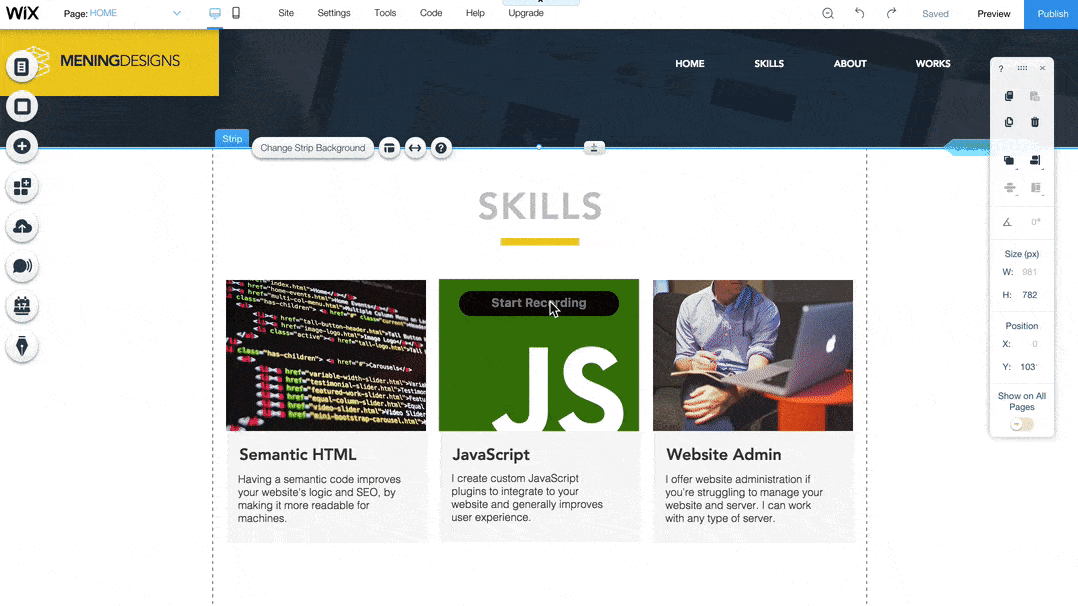 #4. You can build just about any site imaginable with Wix. That includes typical ecommerce features to handle online payments, but it also includes a customizable music player, video uploads to the media gallery, events with invitations and bookings, even online ordering for restaurants!
#5. I submitted a support ticket with a few questions for their customer service department and received this thorough reply about 12 hours later. Pretty good overall!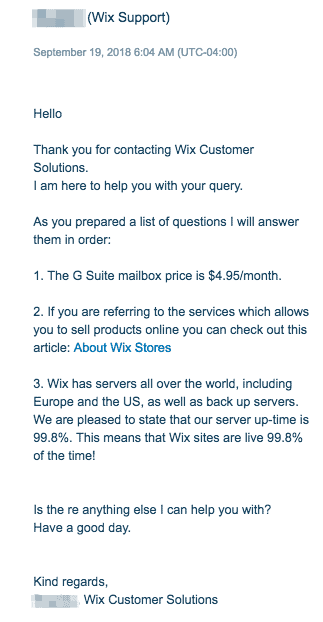 #6. Our Wix test site has seen decent uptime over the last nine months at 99.93% (and solid speed at ~600ms).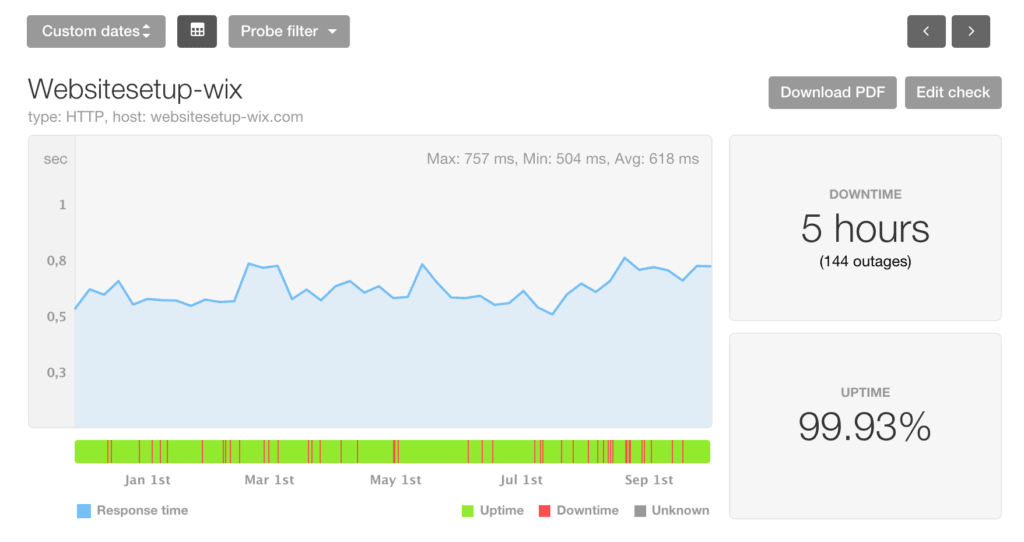 #7. Wix also offers long-term discounts. The longer you prepay, the less per month it comes out.
I opted for the annual plan and got a free domain in the process, paying just $132.00 for both.
You can also purchase two or even three years plans to save as much as $216!
Do I recommend it? YES.
Yes, I do.
Wix was one of the easiest site builders I used.
There are so many themes to choose from. They're all well designed, too. The extra features that Wix sites include mean you can basically use it for any purpose, from a simple blog to an advanced restaurant site or ecommerce store.
Plus, the budget-friendly pricing is perfect for even your personal or hobby site. Highly recommended.
Here's my 5 minute test site. (Not too bad, huh?)
4. Jimdo (www.Jimdo.com)
Website Builder With Best Performance (Speed)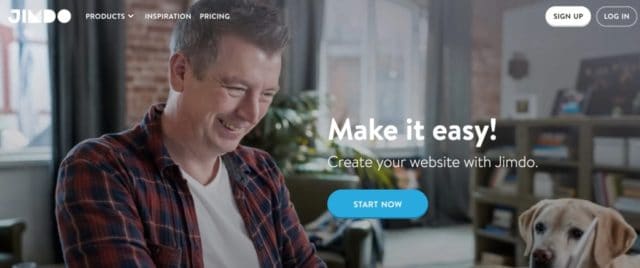 CONS of Jimdo Website Builder:
#1. Jimdo comes with ONLY 17 themes. Yup, you need to pay $90/year to get access to ONLY 17 themes!
#2. You can easily change the color and add text or images. Anything more sophisticated than that is difficult. Otherwise, the templates themselves are fairly rigid, making it difficult to make large-scale changes.
#3. If you'd like unlimited eCommerce product options, be prepared to pay $20/month (or $240/year).
PROS of Jimdo Website Builder:
#1. Pricing was advertised as $7.50/month and I paid exactly $90 for one year.

#2. Up-and-running in 30 minutes. Not bad!
#3. Best speed performance. Just take a look at the graph below (fast & stable loading times with over 99.96% uptime)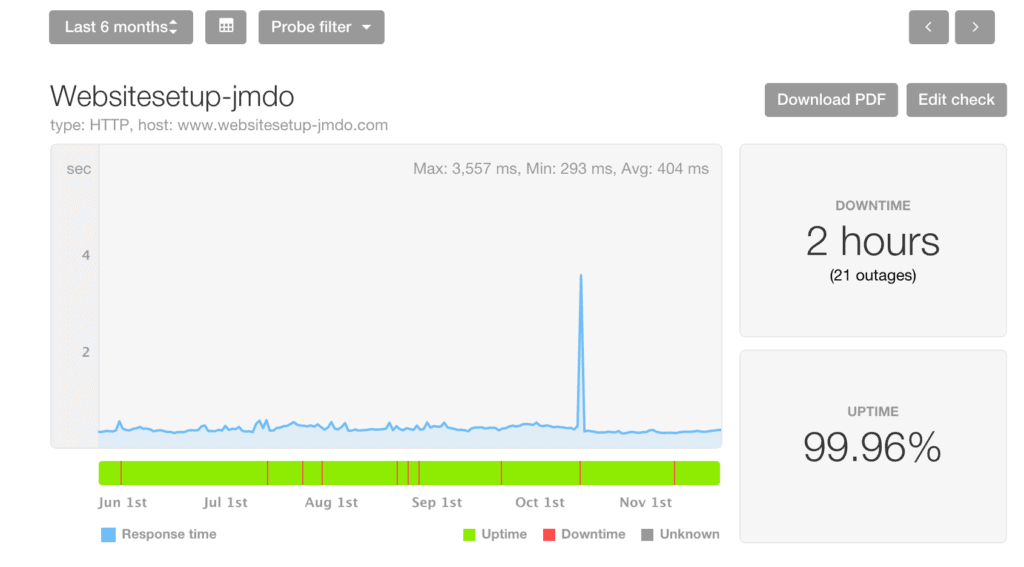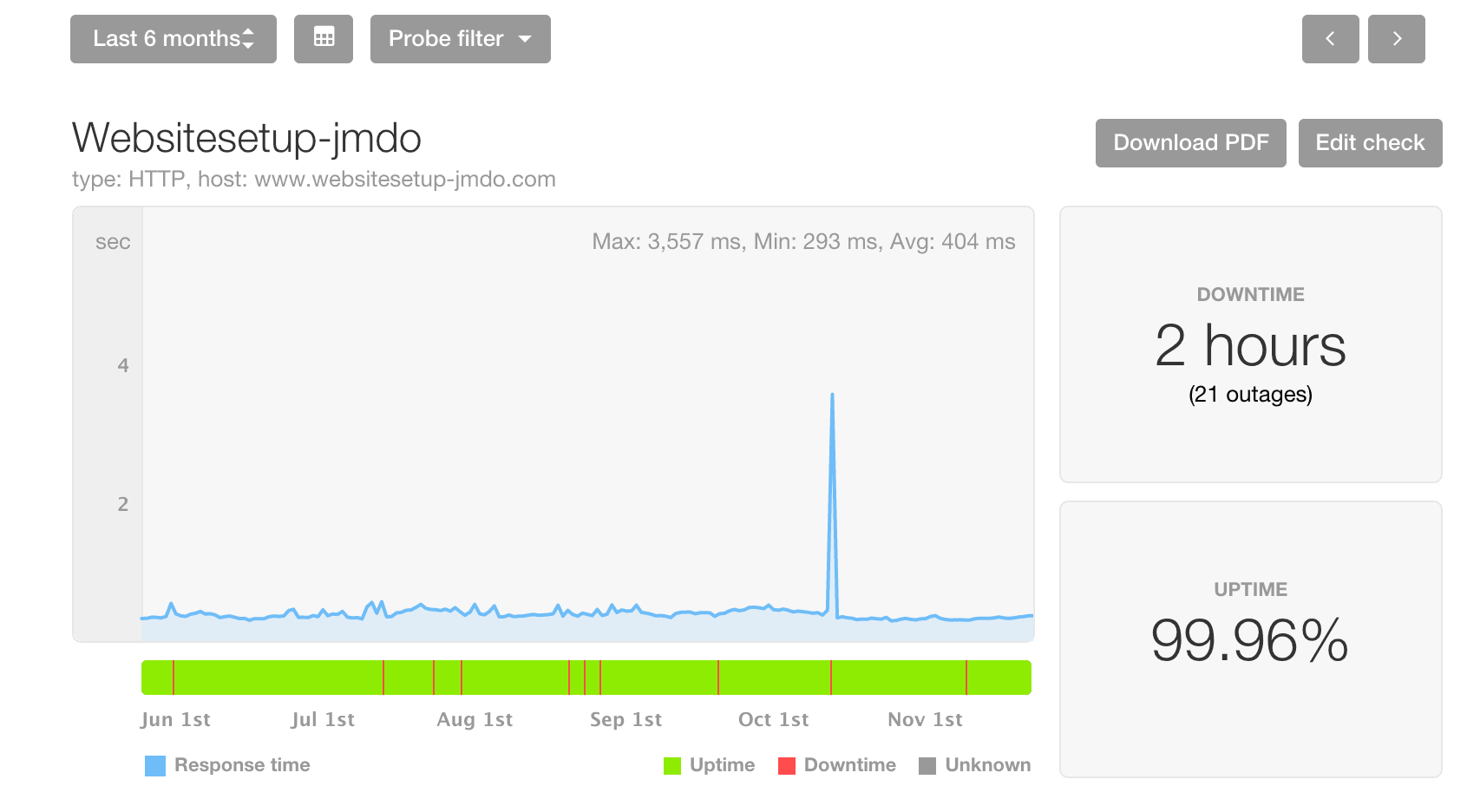 Do I recommend it?
Yes and no…
The initial design is very clean and neat, making it appear more contemporary than some of the ones we've already reviewed here.
I'm even OK with one email account and 15 eCommerce product limitation in the short-term. But it worries me that they only have 17 templates and your customization options are limited to only relatively basic changes.
Great for a one-page-website. Need something bigger? You'd be better off with SiteBuilder.
Check out my 5-minute test site.
5. GoDaddy Website Builder (www.GoDaddy.com)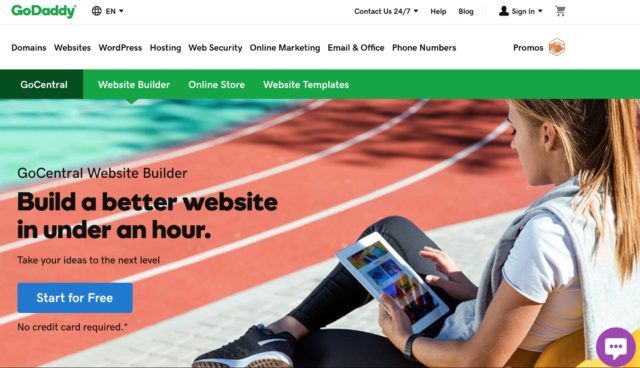 CONS of GoDaddy Website Builder
#1. Emails can get pretty expensive. And this time, they don't integrate with Google but with Microsoft Office. So that could go either way, depending on which you prefer.
#2. I've previously had pretty good customer service from GoDaddy. However, this last experience was a complete nightmare.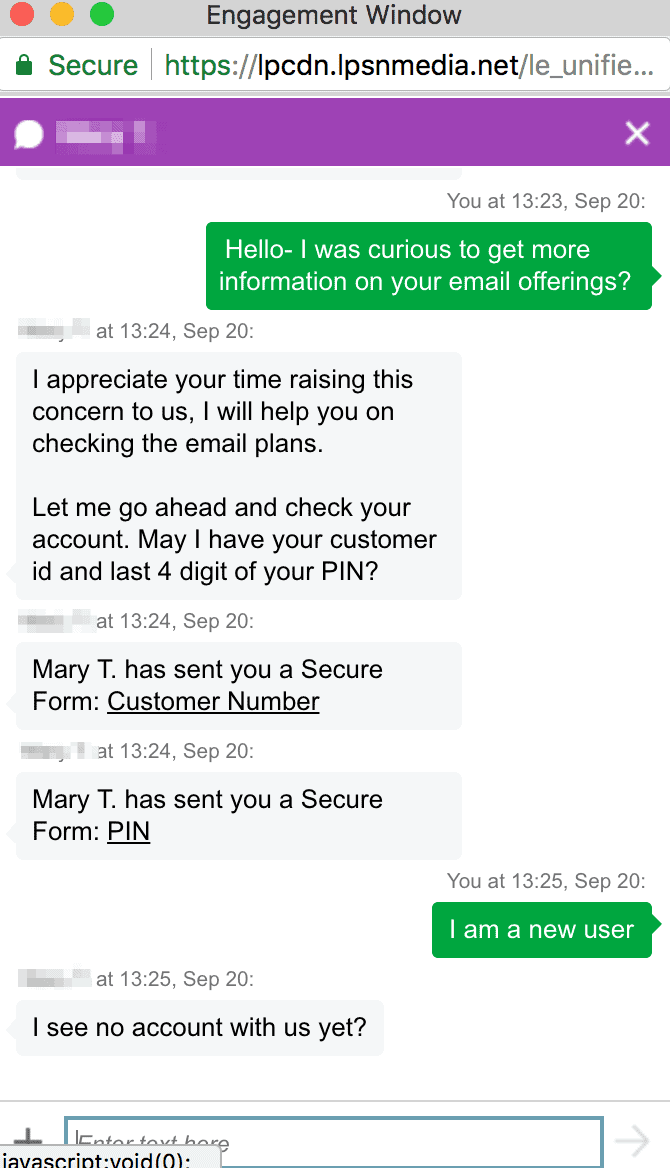 I tried to quickly get some questions answered on their live chat. I logged on, and the estimated wait time was 35 minutes! Really? For "live" chat?
By this point in time, I had already been able to research everything on their site to be able to answer my questions. But I didn't want to give up just yet.
So a rep finally connected, and they immediately said, "To access your account I will need your 4 digit support PIN. Please provide your PIN with this secure form I am sending you."
But… what if I didn't have an account? What if I was just looking to buy and had a few simple questions?
Not great, to be honest.
#3. Ecommerce plans are more expensive, starting at $19.99 per month, paid annually (which means you're looking at $239.88/year on the low end).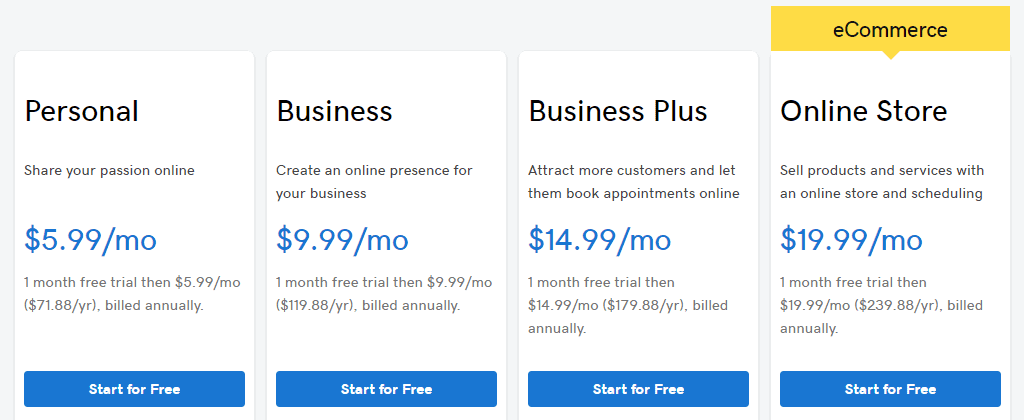 PROS of GoDaddy Website Builder
#1. GoDaddy offers hundreds of different design templates, all broken down into categories based on the site you want to create.
#2. All of the templates feature the same drag-and-drop interface that most website builders now offer. GoDaddy's isn't quite as intuitive as Wix, but it's still decent.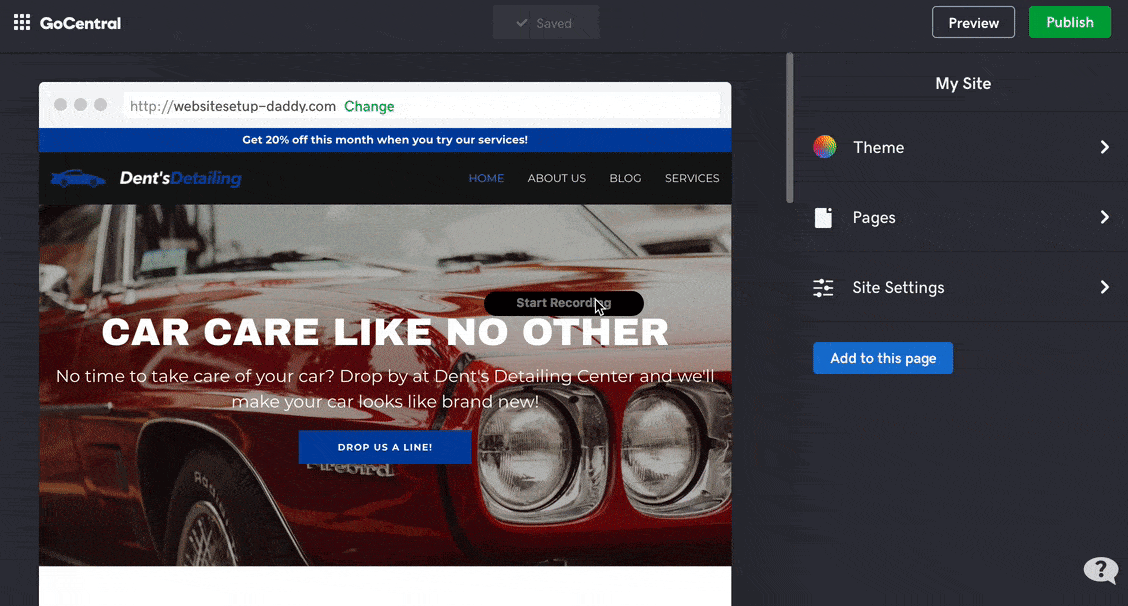 #3. Ecommerce is fully supported, as is a handy scheduling feature. This might be perfect for coaches who want to bill for their time and help clients schedule themselves into their calendar.
#4. GoDaddy might be one of the only site builders that offers a free month trial. That's a good deal, allowing you to test things out before getting locked into a much bigger annual commitment.
#5. I've been pleasantly blown away by how solid the performance for each site builder has been. GoDaddy offers another 99.99% uptime, only going down once for two minutes.

#6. GoDaddy is slightly more expensive than the other alternatives we've seen so far. I paid $143.86 for the year, but no free domain is included. So that cost another $14.60. including tax.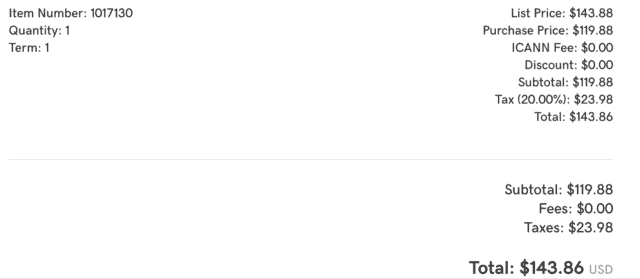 Do I recommend it? YES.
Yes and no.
GoDaddy's website builder isn't terrible. But it's not great, either.
I found the others on this list, like Wix, Gator by HostGator, and SiteBuilder, to be much stronger overall.
In addition, the ecommerce plans were expensive and I can't overlook the half-hour live chat session, either.
6. WordPress (www.WordPress.com)
Not a "True" Website Builder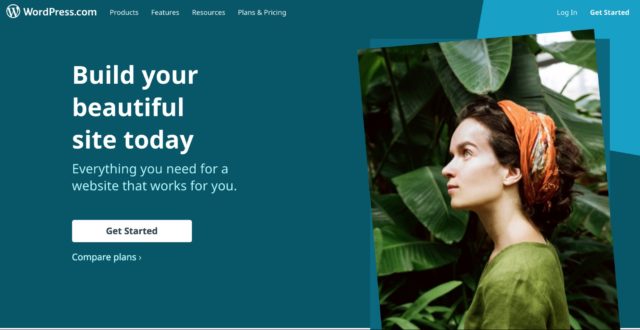 CONS of WordPress Website Builder
#1. WordPress is not a true website builder like the others on this list. Don't get me wrong — it's good. But it also requires a lot more work and technical skill. So while more advanced users will like that, beginners won't.
#2. Email accounts are you going to run you around $50 per user per year. On par with all of the other options listed here.
If you're slightly advanced, you can edit your domains MX records to get around paying extra for email accounts. But, it'll require some work.
#3. WordPress has both free and paid options. But the free one doesn't really come with any support to speak of. So you're going to have to upgrade to get help.
#4. All (good) WordPress themes (not templates) are paid. Yes, they have free ones. But the quality is usually lacking, both in terms of how it looks and how it's supported (including continuous updates to keep up with constant updates and security).
So you'll also need to pay extra, here, for something that looks half-decent.
PROS of WordPress Website Builder
#1. WordPress might not be as user-friendly as some of the other website builders on this list. However, that apparently hasn't hurt its popularity.
There are over 75 million websites using WordPress, with about 35 million hosted on WordPress.com.
There is no more popular content management system (CMS) than WordPress.
#2. As long as you're OK with a little heavy lifting, WordPress is an excellent ecommerce option.
Adding an online store to your site will cost you extra on pretty much all site builders. However, it's free on WordPress with WooCommerce.
#3. WordPress is an open-source technology, meaning anyone, anywhere can build stuff for it. So there are tens of thousands of site themes available (if not more). Their official page has over 290 just by themselves.
As mentioned, you'll probably want to go the paid route. But there are still thousands of free ones, too.
#4. Many of these good things are extremely well designed, too. There are a few built with drag-and-drop editors as well, which kinda mimics the experience you'll find here. (Although, still not as user-friendly as a Wix, for example.)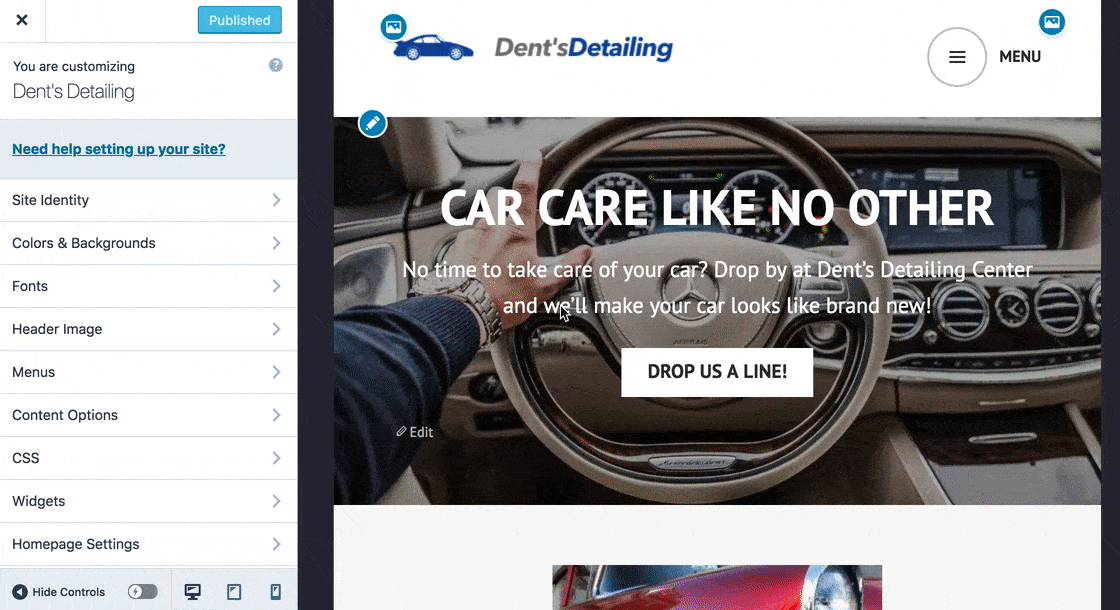 #5. WordPress had a chat-with-us form (for paid users). And a rep connected within three minutes.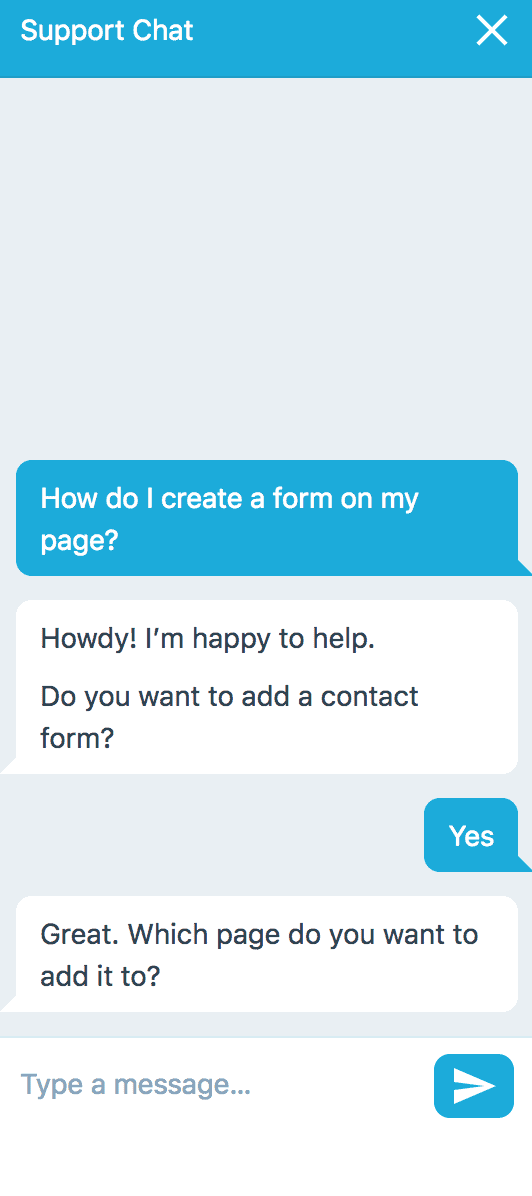 The rep was more than helpful, ready to help fix my problem (as opposed to just sending us a how-to link).
#6. If you don't want to set up your own hosting account, you can pay for it through WordPress directly. The Personal plan for most sites is pretty affordable at only $48/year.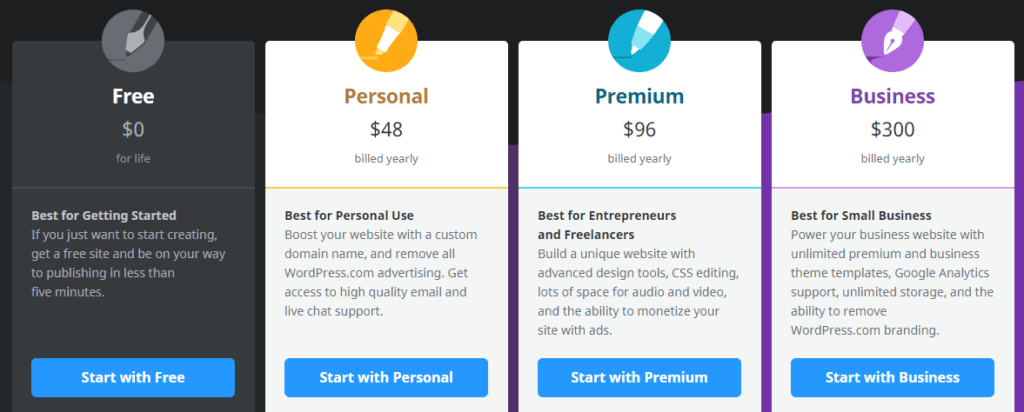 And that's exactly what I ended up paying:

WordPress might not be as user-friendly for amateurs. But it will be a little less expensive overall.
#7. And the last bit of good news is that WordPress obviously knows how to host a site, delivering an untouchable 100% uptime.

Do I recommend it?
Yes and no.
WordPress is perfect for advanced users who want more control, and are willing to handle the workload.
It's a good 'next step' beyond a typical website builder. But it requires a lot more maintenance.
Beginners, or even people who just don't want to have to do all the upkeep on a WordPress site, should probably stick to a more traditional website builder.
7. Squarespace (www.SquareSpace.com)
Very Expensive, But Good Design Options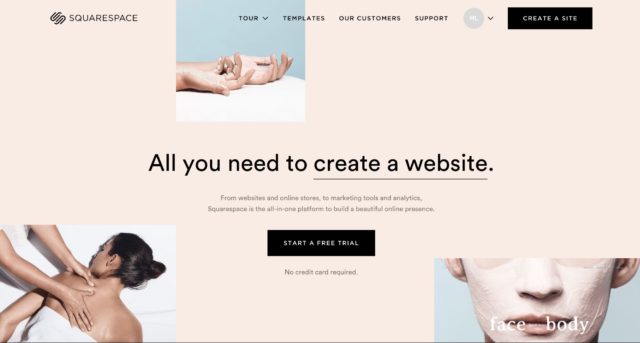 CONS of Squarespace Website Builder
#1. The biggest drawback of Squarespace is the overall cost.
A standard website starts between $12-18/month, with online stores increasing to $26-40/month. And these include the discount for paying annually.

So not only are they more expensive on average. But the high-end ecommerce price is the most expensive, too.
Luckily, I paid as much as stated on their website and not a penny more: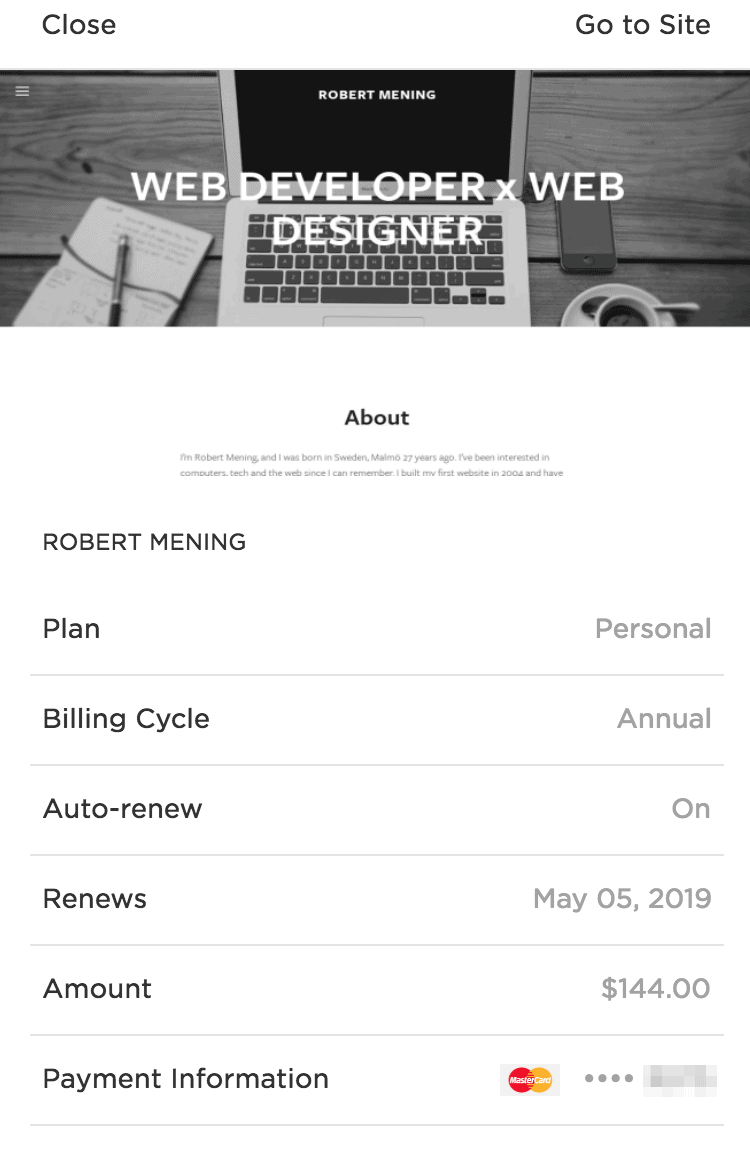 #2. Unfortunately, these high prices don't include email accounts. Those will still set you back an extra $5/month for each one.
#3. The live chat option is only available from 4 am-8 pm EST. Good for those on EST. Not so good for those in the U.K., Europe, Asia, or Africa.
#4. My Squarespace experience was not great. There are tons of resources available, but that's also kinda the problem. There's too much stuff and it's not easy to find your way. I went looking for the live chat option, and unfortunately, that wasn't much better.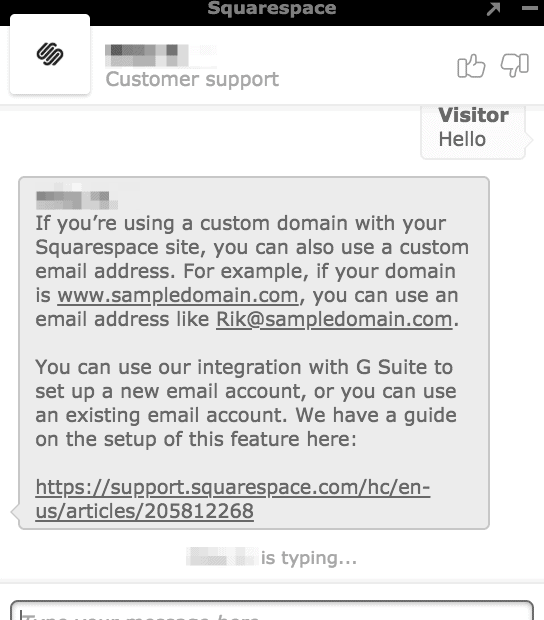 In order to reach the live chat, I had to fill out three drop-down boxes regarding my issue. Then, it still tries to send you over to an article or email. This repeated multiple times while I was waiting in the queue. They kept trying to send me articles, instead.
Finally, I got on with an agent. But even that was slow. The entire process took around twenty minutes to get a simple answer to my question.
And then, how did the support rep help? By sending me another link to a how-to article! Geez.
PROS of Squarespace Website Builder
#1. Despite the high price, Squarespace still has over 45,000 users.
#2. Squarespace's hundreds of design templates look good. Really good. They might be the most 'professional' looking options out there.
Squarespace sites almost look and feel custom. But they still have the same intuitive editor that allows you to customize things in seconds.
#3. The ecommerce features, while pretty pricey, are also excellent. Seriously, you might not find a more beautiful store option
#4. Squarespace doesn't drop the ball on performance, either. The 99.99% uptime over the past few months is as good as I've seen.

Do I recommend it?
Yes and no. If you're starting a site in a design-centric niche (think: fashion), it might be worth springing a few extra bucks for Squarespace.
Otherwise, for the vast majority of other people, it's probably not worth the high price tag when you can get similar features for significantly less.
Here is my 5-minute test site.
8. Weebly (www.Weebly.com)
Issues with Uptime and Speed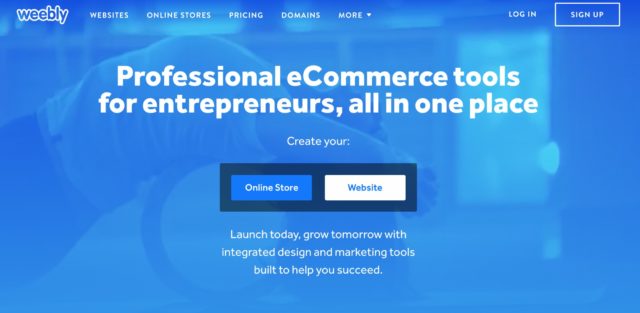 CONS of Weebly Website Builder
#1. Weebly has partnered with GSuite to offer emails at $5 a pop. Surprise, surprise!
#2. Ecommerce plans are customarily more expensive, ranging from $8 – 38/month, paid annually. Not cheap!
#3. Weebly, unfortunately, came in last for site performance. Over the last few months, I only saw an uptime of 99.64% — well short of the 99.99% and even 100% from the others.
This disappointing performance equates to 16 hours of downtime!

PROS of Weebly Website Builder
#1. Weebly is one of the bigger website builders with over 40 million users.
#2. One potential reason why? They offer a limited free plan! So you can try it out on a small scale before paying.
#3. If that's not good enough, they also offer a 15-day free trial.
#4. Weebly includes hundreds of great templates organized by type, including drag-and-drop options for ecommerce, too.
#5. My favorite Weebly feature was the intuitive editor. It was very easy to create and customize site options.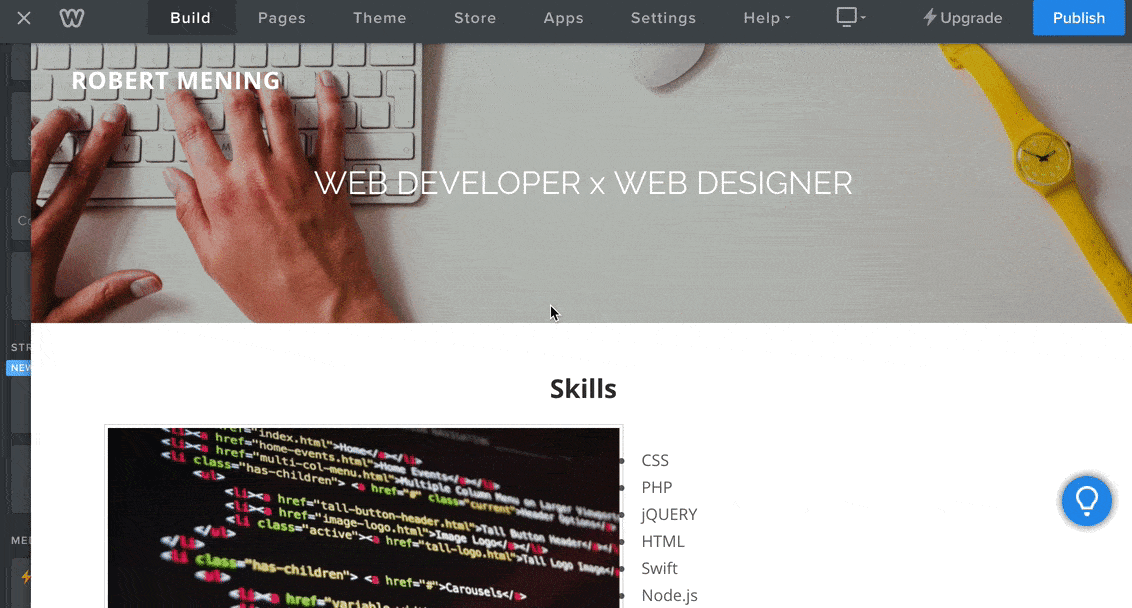 #6. And while their ecommerce prices are high, the regular site prices are right around average from what I've seen.
The site cost $115.20 for the year, along with $29.94 for the domain (in year two).
There's another three-part form before I can get on live chat. But this time, the agent was quick and helped provide answers to all of my questions… without sending an article link. Very efficient.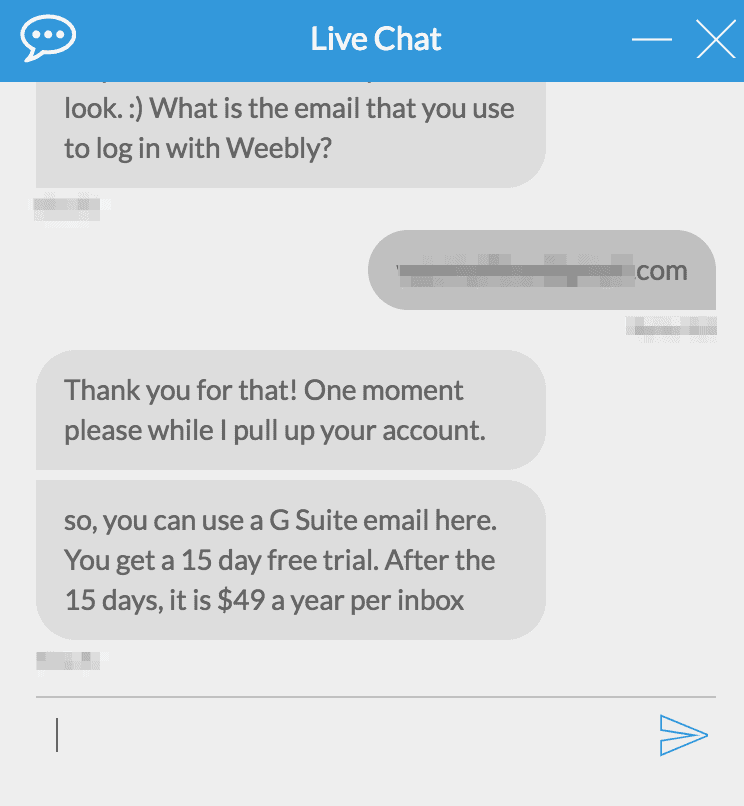 Do I recommend it? YES.
Not really.
Weebly isn't bad by any stretch. In fact, I really like a few features (like that editor).
But between the high ecommerce cost and spotty site performance, there are just much better options on this list.
9. Webs Builder (www.Webs.com)
Too Expensive For The Value You Get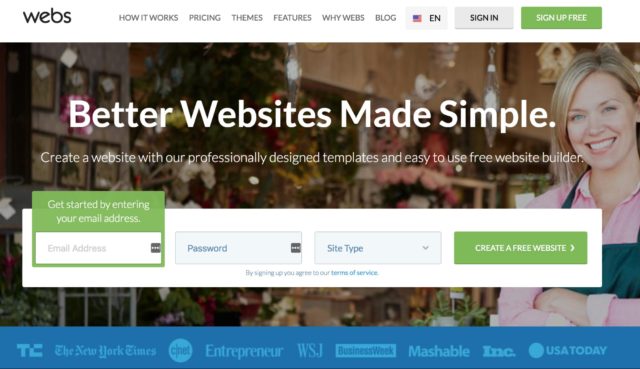 CONS of Webs Website Builder
#1. Email plans are extra on the cheapest option (but included on the others).
#2. Compared to others on this list, Webs design templates did seem a touch outdated. It also wasn't as easy to edit.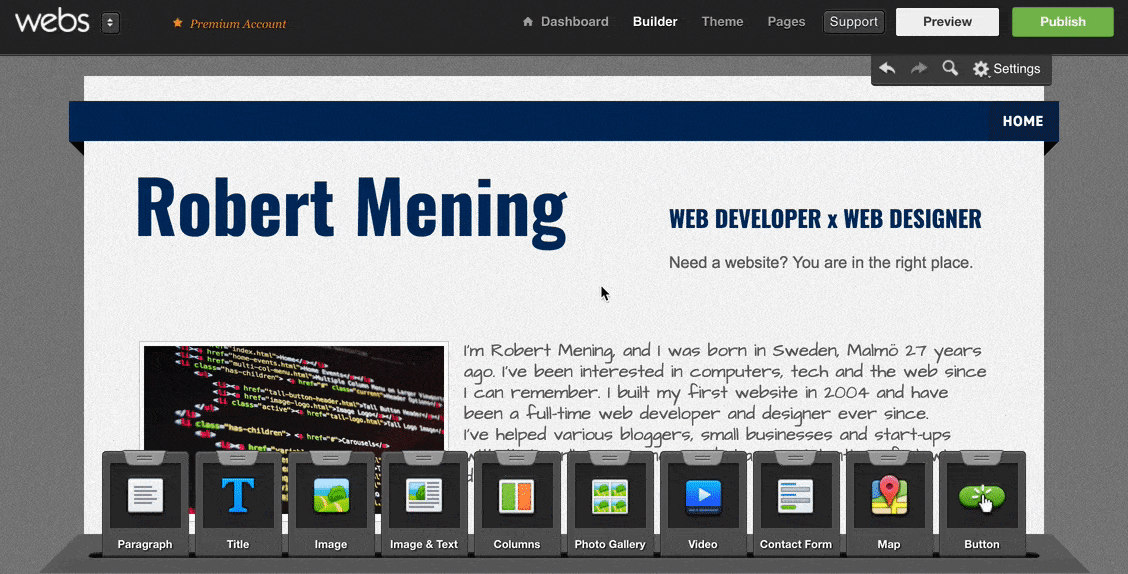 #3. Different site builder, same story. Ecommerce plans are more expensive, starting at $22.99/month paid annually.
And while the cheapest Starter plan pricing isn't bad, the Enhanced option still seems pretty expensive for what you get.

My receipt…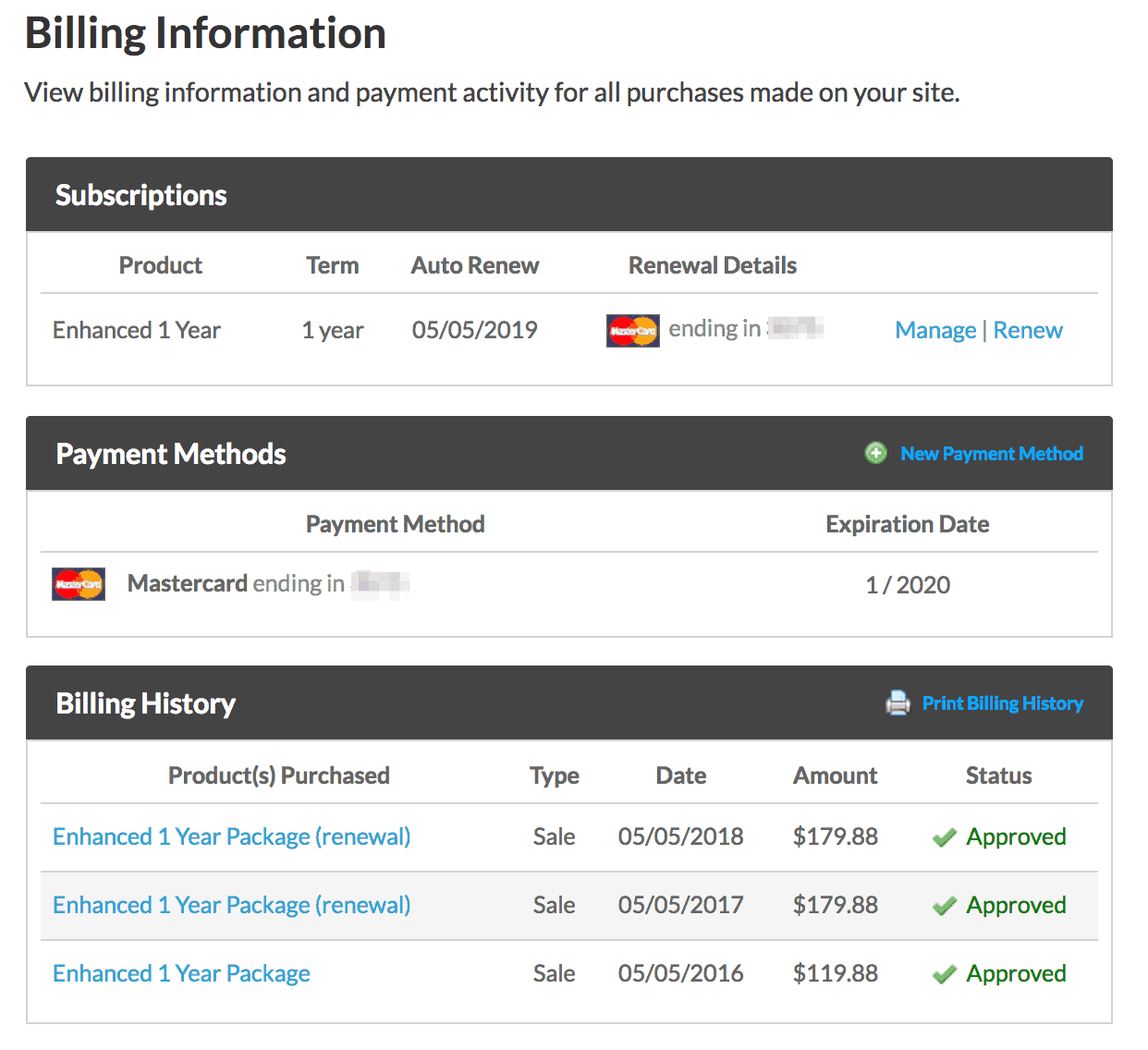 This is a perfect example of what happens when discounts expire.
I've had this test site for a few years now. And you'll see in the image above that years two and three were more expensive. That's because the new customer discount expired.
So if you see a website builder offering two or 3-year terms, you're better off paying for it to save as much as possible with new customer pricing.
#4. Webs performance let me down a little. The uptime was only 99.47% over the past few months, meaning my site has spent a full day complete down.

PROS of Webs Website Builder
#1. Webs hosts over 55 million sites.
#2. They provide A TON of design templates — around 2,500!
#3. Webs also provided a good customer service experience. Live chat only takes a few seconds to get started, and the agent was very helpful.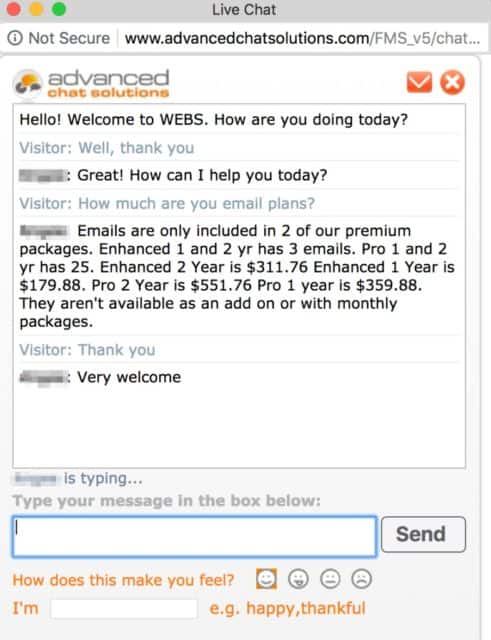 Do I recommend it? No.
No, I do not.
Webs builder is fine. But way behind most of the other options on this list.
The templates are a little outdated. The performance hasn't been very good. And the pricing seems kinda high based on what I've seen.
10. WEB Builder (www.Web.com)
Bad billing practices, difficult to cancel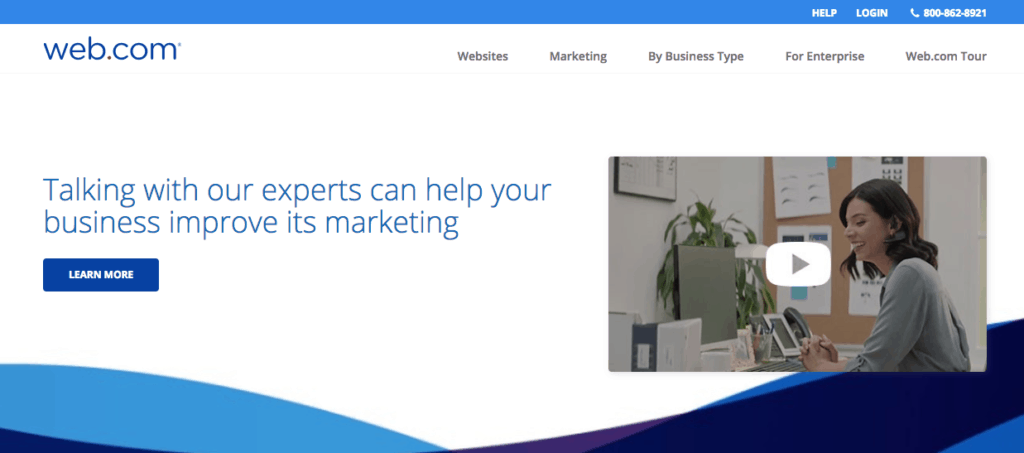 I wanted to review Web.com. I see them, everywhere online, so they must be doing a ton of promotion.
But I didn't actually sign up and pay for them.
❌ First and foremost, the entire billing process seemed shady. I couldn't believe how many upsells there were. And the only way to cancel your plan — in 2018 going on 2019 — is to CALL them.
Crazy, right?
❌ The other problem I ran into was that they don't actually tell you what you're getting. The 'Do It Yourself plan, for example, is incredibly vague.
❌ Even though they have around 2,500, almost all of them look bad. Not only does the design leave a lot to be desired, but the actual format and layouts are outdated, too.
❌ There doesn't seem to be any drag-and-drop editor. Instead, all you can do is change basic things without actually customizing the site.
❌ Their other reviews online from previous customers are worrying. Check out this one:
"How do I get any Senior Executive at web.com to figure out what is going on with my website? It has been down for more than 2 weeks. 31 trouble tickets. Simple domain name changes and now no website, and apparently no archive, cache, or even record that I have been a customer since 2001!"
❌ I've saved the best part for last. Web.com starts at $22.00/month! That makes a 'basic' site through them more expensive than Wix, SiteBuilder, and even Squarespace!
So I couldn't bring myself to sign up and pay them money for this headache.
Do I recommend it?
No way! Steer clear.
Website Builders Conclusion
Phew. Made it to the end!
Time for a quick recap.
Overall, website builders are great for beginners or small businesses looking to get a professional (and affordable) option off the ground in a matter of days (instead of the weeks or months it would take for a custom site).
While there are a ton of good (SiteBuilder, Wix and Site123), reputable options out there to choose from, there are also a ton of terrible ones too.
I put this review together to provide an unbiased look at what your best options are. I signed up for each of the most popular ones, paying for annual accounts in most cases while setting up a test site to try out the service and monitor its performance over the course of a few months.
So which website builder is your best bet? 
Best all around option? Go with SiteBuilder or Site123 and you won't be disappointed (or overpay).
The best option for Beginners or those needing eCommerce? Wix is probably your best bet.
Best for photographers, designers, or other visual businesses? Chances are you'll love SiteBuilder's beautiful templates.