Install WordPress with "One-Click-Installation"
First, you need to install WordPress to your domain. Almost all reliable and well-established hosting companies have integrated 1-click-installation for WordPress. Simply browse around on your hosting cPanel until you find the way to install WordPress. I've listed two possible ways to install WordPress to your domain.
If you signed up with iPage or any other similar hosting company, you should find your WordPress "one-click-installation" in your account control panel. Here are the steps you should follow (should be similar/same on all the major web hosting companies):
Log in to your hosting account.
Go to your control panel.
Look for the "WordPress" icon.
Choose the domain where you want to install your website.
Click the "Install Now" button and you should get access to your NEW WordPress website.
If you want more in-depth guide for installing WordPress to your domain, see this guide. If for some odd reason (some hosting companies don't have one-click-install for WordPress) you don't have the possibility to install WordPress automatically, look this manual guide below:
Choose the right theme/layout for your website
Once you have successfully installed WordPress to your domain, you'll see a very basic yet clean site: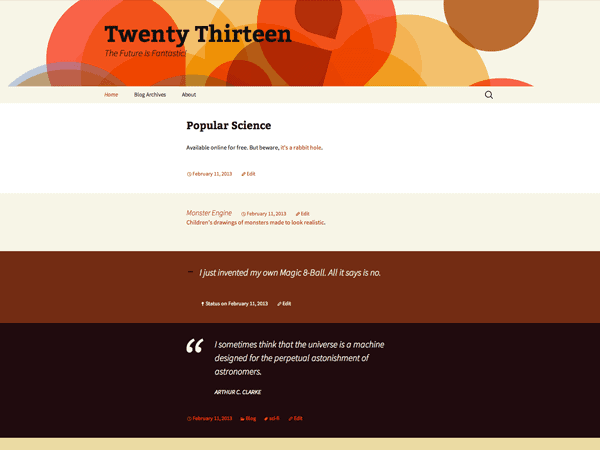 1) Log into your WordPress dashboard to change themes and start building and tweaking your site – you can log in from http://yoursite.com/wp-admin
This is your WordPress dashboard: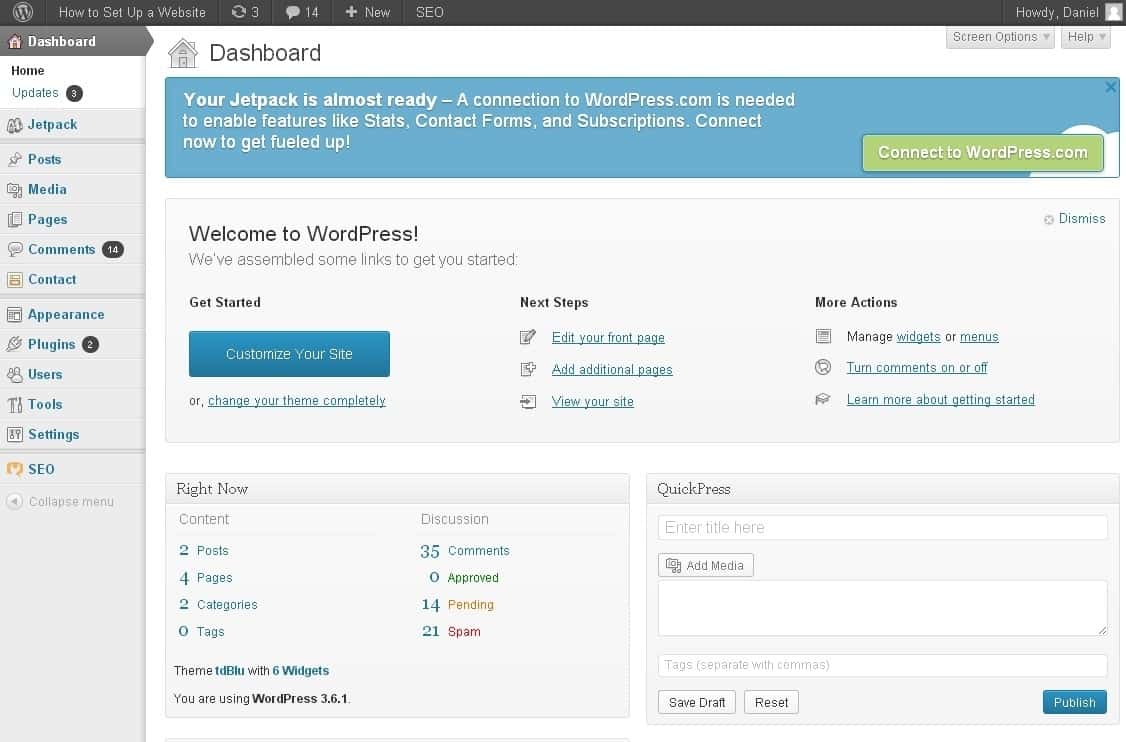 Looks pretty awesome, doesn't it?
2) Now you need to start looking for a proper theme – make sure it fits with the overall topic of your new website. You can find over 1500 free themes via the WordPress Dashboard (Appearance -> Themes). If you want something more professional or elegant, head over to ThemeForest.net
However, at first I suggest you to try the free themes because some of them are actually really professional and well made.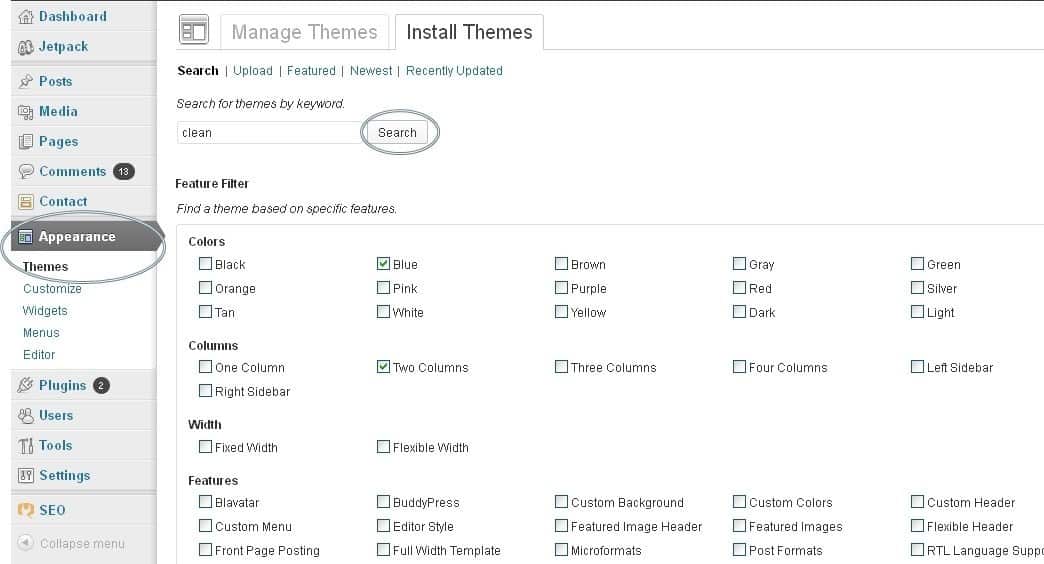 As you can see above, installing a new theme (outlook) for your website is very easy. All you need to do is search for specific keywords and/or use filters.
Once you have found a theme you like, click "Install" followed by "Activate":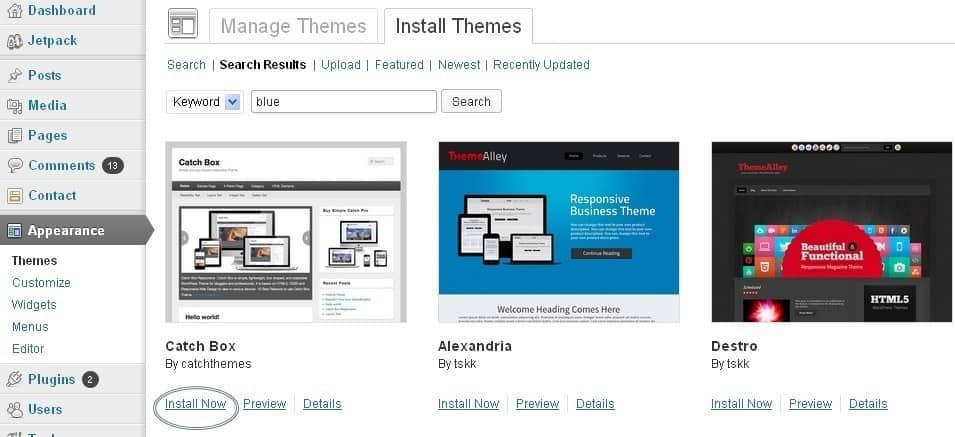 Finding the perfect theme can take a while, but it's worth it. If you don't find anything good right away, you can always return and search further later on. Changing themes won't delete your previous posts, pages and content. In other words, you can change it as often as you want.
P.S: If you want a theme that works well on mobile phones, search for the keyword "responsive".
Add content and create new pages
Once you have installed a theme you like, you can start creating content. Adding new pages in WordPress is again very easy, but I'll cover the basics for you.
Pages: In order to create new pages such as "About Me", "Resources" etc (like I have on the menu), you need to head over to the WordPress dashboard and look for "Pages" -> "Add New".
If you want those pages to appear on the menu as well, you need to go to "Appearance -> Menus" and add them to the list.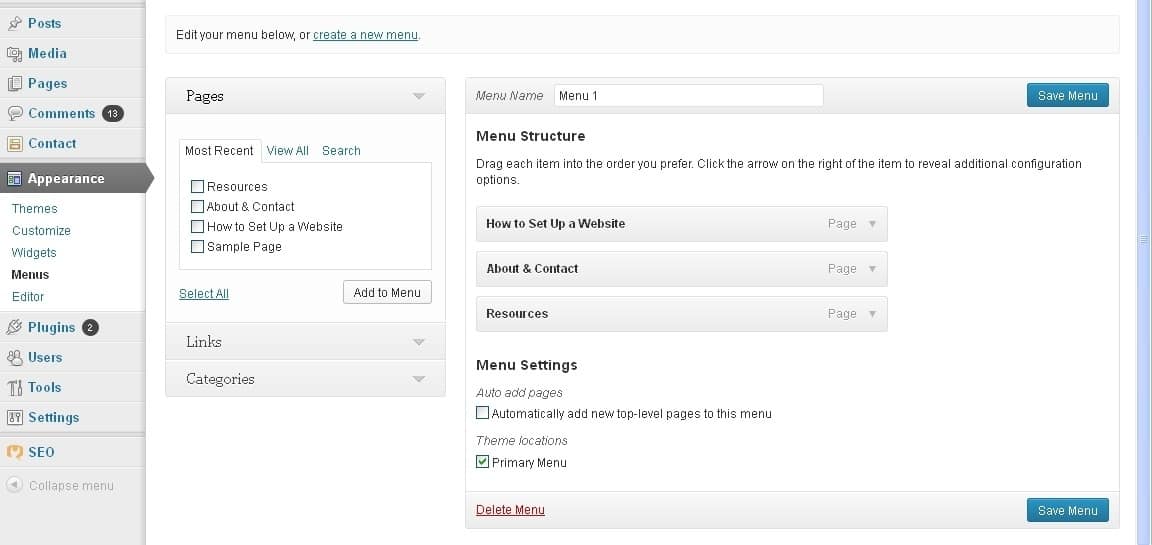 Posts: If you want to add a blog to your website, you can use different categories and posts. Let's say you want to create a category named "blog". To do so, simply add it to your menu and start making posts. Here's what you need to do:
a) Create a new category by going to "Posts -> Categories"
b) Create a blog post by going to "Posts -> Add New". Once you blog post is ready, you need to add the right category for it.
c) Add a new category to the menu
Tweak your website (Widgets, comments & just some "stuff" you need to know)
In this section I'll cover some of the basics things that will help you to tweak your website.
Changing website title and tagline: You probably noticed, that my website has a title: "How to Make a Website" and a tagline: "… Step by Step tutorial".
In order to change the title and tagline on your website, go to "Settings -> General" and simply fill in the form.

Disabling comments for Posts & Pages: Some websites (business/organisation sites mostly) don't need any comments from visitors.
While you are writing a new page, click "Screen Options" (top right) and then tick "Discussion". The "Allow Comments" box will appear at the bottom and all you need to do is untick "Allow Comments".
In case you want to turn off comments on every new page by default, go to "Settings -> Discussion" and untick those options:

Static front-page: If you want your site to have a static front page, go to "Settings -> Reading" and pick a static page for your website. If you don't do this, WordPress will take your latest posts and start showing them on your homepage.
Editing the sidebar: Most WordPress themes have a sidebar on the right side (in some cases it's on the left). By default you'll see something like this:
If you want to delete the categories, meta and archives (which are pointless in most cases) go to "Appearance -> Widgets". From there you can use drag n' drop to add different "boxes" to your sidebar.
There's also a "HTML box" which is basically a text box where you can use HTML code.
Install plugins to get the most out of your website
WordPress gives you the opportunity to install different plugins that all add value and make your website more "personal" and unique.
To start installing plugins, go to "Plugins -> Add New" and simply start searching. Keep in mind that there are over 25,000 different FREE plugins.
… but before you go and install every single one, I suggest you to read this article: Things you need to know about using WP plugins. Below, I have put together a list of the most popular and useful plugins that webmasters find useful:
Contact form 7: My website has a contact form on my About Me page. It's great, as people can simply fill in the form and send me an email without logging into their email provider. If you want the same, install Contact Form 7.
Facebook box: A lot of websites have Facebook plugins on their sidebar. A Facebook Box helps you drive more traffic and likes to your Facebook fanpage (if you have one).
Forum: Interested in starting a forum on your site? Look for the plugin named "bbPress" and follow their tutorials.
Actually there are many more plugins available. Here's a list of the top 100 plugins for WordPress by Tom Ewer.
… and that is basically it. Now you should have a fully working WordPress website! If you need some further help, please use the contact form at the footer area.