A great domain name is like a house — curb appeal means everything. Picking a great option can bring more monthly traffic to your website and capture visitors across the web.
However, you don't want to wind up paying more than you need for a great name. Some domain registrars (and domain generator tools) engage in what's called domain tasting: they look to see what domains people are searching for and temporarily register those ideas themselves, so they show as unavailable domains or for sale at a high cost. The hope is you'll pay a small ransom to get it back, which puts more money in their pockets.
If you're looking to generate some great domain name ideas without the fear of getting sniped, we're here to help.
We're listing 10 of the best domain name generators of 2023, including their prices, features, and additional benefits.
We'll also inform you of any limitations you need to consider upfront.
10 Best Domain Name Generators of 2023
Let's dive into 10 of the best domain website name generators of 2023.
Need some additional website name ideas? Check out our guide to get started.
1. Nameboy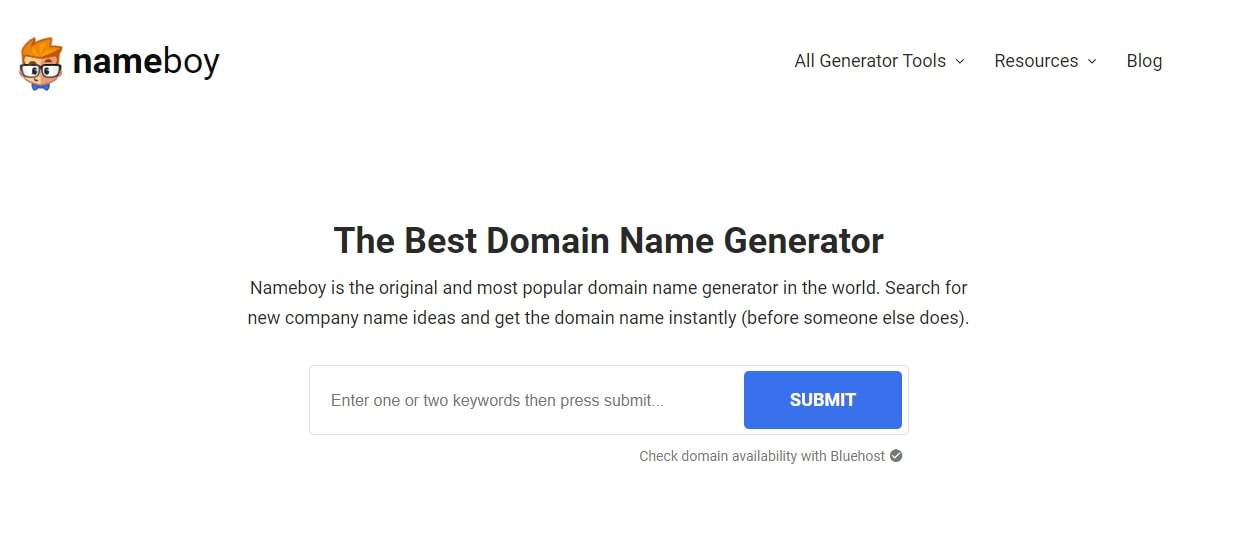 Registered in 1999, Nameboy is a domain name generator that can suggest names for your website based on specific keywords. It's a no-nonsense, easy-to-use, and free domain name generator that provides lots of options upfront.
Nameboy generates domain name ideas by mashing keywords with popular terms. For example, if you write llama chef, Nameboy might recommend myllamachef.com.
Nameboy checks domain availability through Bluehost by default. However, you can easily disable the tick mark before starting your search to only check availability through Domain.com.
Nameboy also provides secondary business name generators depending on your industry. Pick from the drop-down menu on their homepage to name your software, charity, fitness, or even school to find the perfect option for you.
Best domain name generator for: Entrepreneurs who are surveying their options
2. Domain.com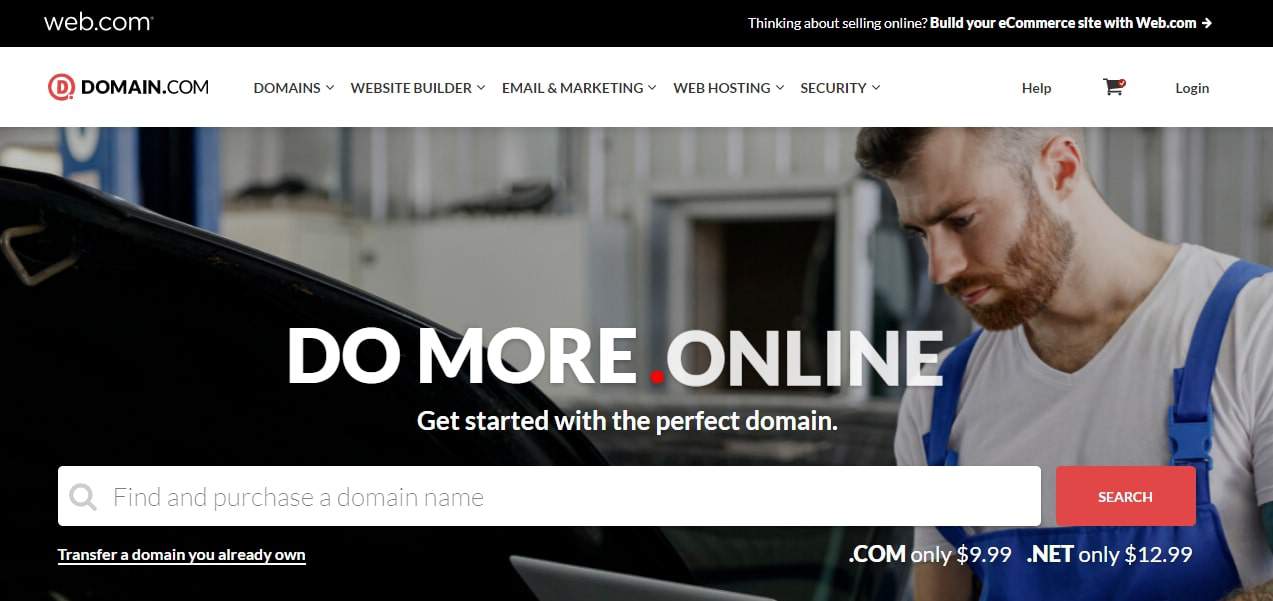 Domain.com is one of the world's most popular domain registrars, web marketers, and web hosting companies. Featuring 300+ domain extensions and an instant price valuation, Domain.com lets searchers browse through hundreds of good domain name ideas in a single click.
Like Nameboy, Domain.com is easy to use. It suggests different extensions and minor keyword variations in case you're not totally sold on a single idea.
Domain.com checks each query's domain name availability automatically. You can't opt out of it. However, Domain.com doesn't have a history of domain tasting.
If you're looking for additional tools and services, Domain.com also offers a Website Builder tool, a web hosting package, and design and marketing services.
Best domain name generator for: New entrepreneurs and bloggers
3. Panabee

Panabee helps you search domain names, app names, website names, and business names, all on the same tool. It provides AI-powered business name ideas to users worldwide, as well as:
Related terms
App name availability
International domains (over 50% of Panabee's users are international)
There are lots of search and filter options available on Panabee, including:
Top-level domains
Prepend words
Append words
Spelling changes
Although Panabee does check domain name availability, this only happens if you press the see availability option underneath each name. Depending on your location, that redirects you to IONOS or 101domain, a domain registration tool.
Best domain name generator for: E-commerce brands that want to play around with unique spellings and prefixes
4. Blog Tyrant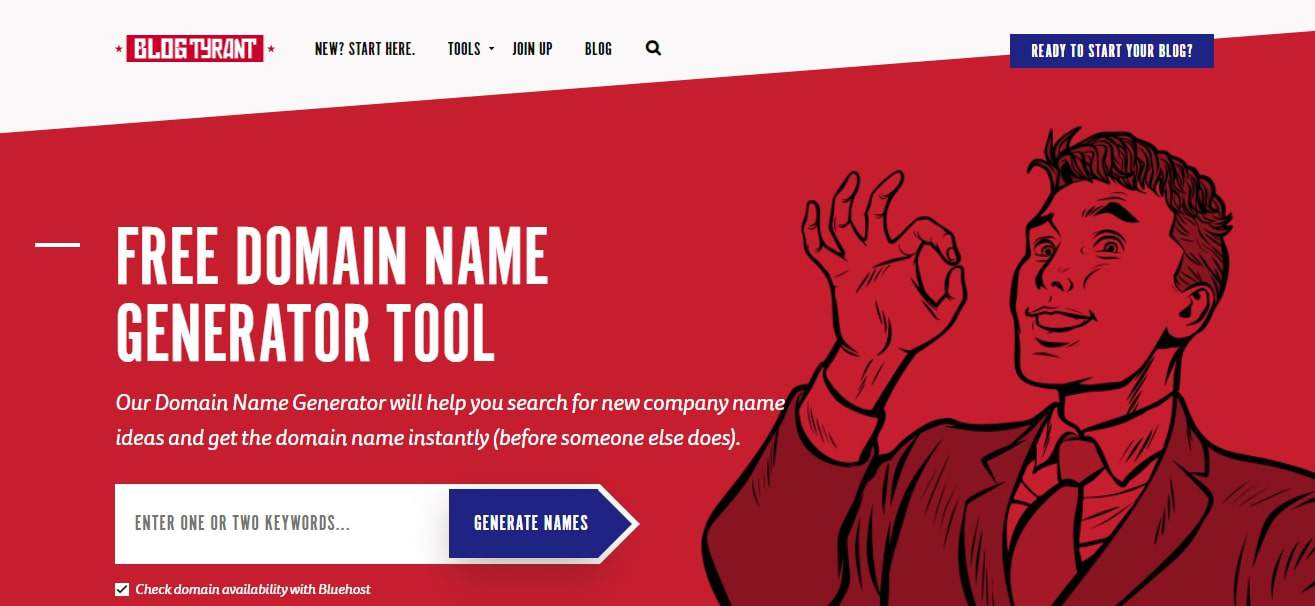 Blog Tyrant is another domain search tool powered by Nameboy. The platform prompts you to enter specific keywords related to your brand and gives you variations of one or two-word phrases to create unique domain name suggestions.
Blog Tyrant's domain name generator is primarily focused on bloggers. You can quickly combine key terms like poodle with a catchy modifier like music to create a perfect domain name for your blog musicpoodlelife.
Similar to Nameboy, Blog Tyrant also checks domain availability through Bluehost. You can disable this by pressing the ticker box underneath the search bar.
While Blog Tyrant may seem like a similar domain name generator tool to Nameboy, it does offer some unique additional tools like:
Website uptime checker
WP security scanner
Downtime calculator
WordPress speed test
Password generator
Best domain name generator for: Bloggers and writers
5. Network Solutions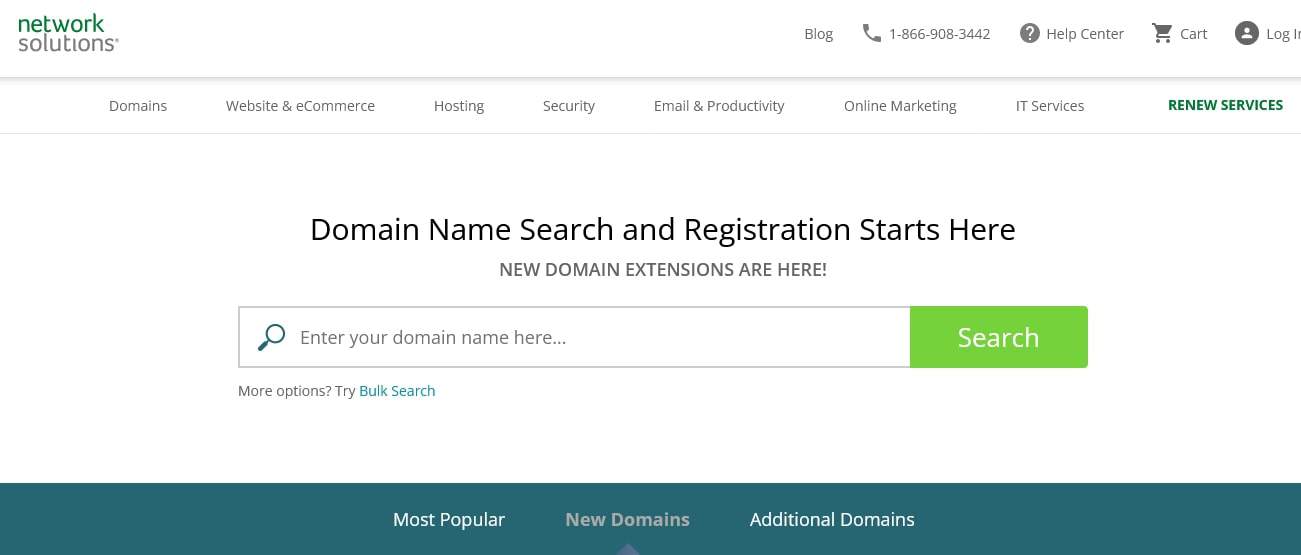 Network Solutions is a robust generation tool designed to help you find catchy domain names available for purchase. The service also doubles as a hosting provider with IT services, security, and more. There's also a live chat available if you have any questions.
Network Solutions can help you find the right domain name by providing popular, new, and additional domain name extensions. Rather than sticking to the more common top-level domains (TLDs) like .net or .biz, you can explore all sorts of exciting suffixes like .accountant, .guru, and more. But they have been known to engage in domain tasting in the past so be ready to move on a name before searching for it.
Need to search for more than one new domain? Network Solutions offers bulk searches for up to 20 other domain names. That lets you protect your great idea by registering similar terms with a different extension like popcorn.net and popcorn.biz.
If you're looking for a deal, you can always use Network Solutions to hunt for premium or expired domain names. This tool lets you hunt through temporarily unused domains and capitalize on your favorites.
After you've finished your domain name search, you can access Network Solution's additional tools and services to keep it safe with tools like:
SSL
Trademark protection
Cybersecurity
Best domain name generator for: Entrepreneurs looking for expired domains
6. Instant Domain Search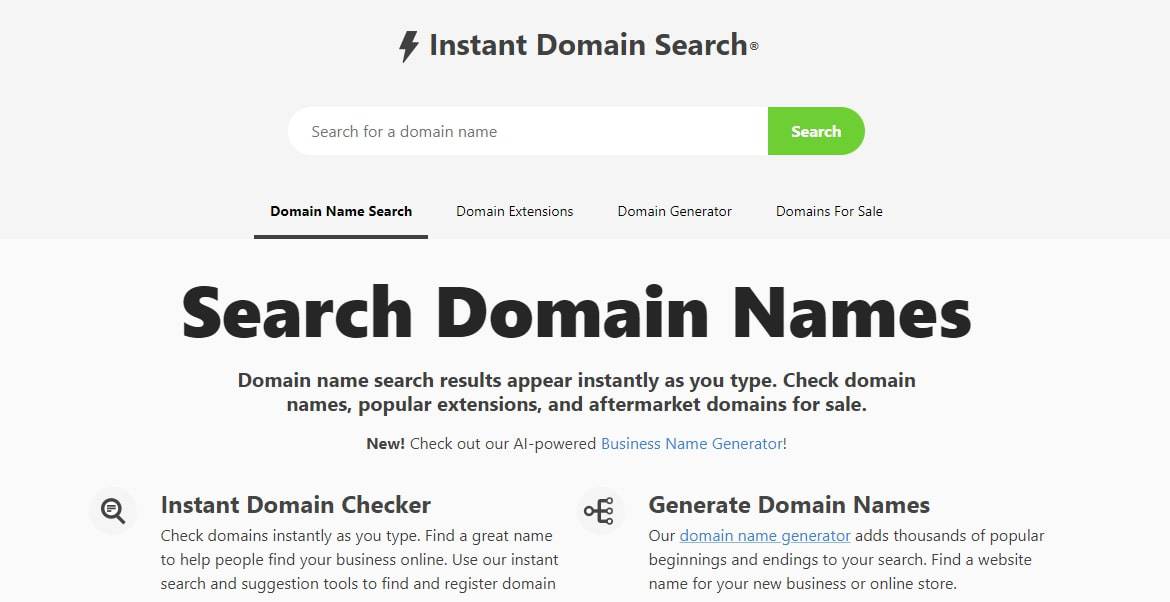 Instant Domain Search instantly offers domain name ideas, including domain extensions, alternate suggestions, and expired domains.
Instant Domain Search offers unique tools that are hard to find anywhere else. For example, you can use the pronounce option to hear how your domain name may sound out loud.
You can also use Instant Domain Search to check domain availability instantly. If you're ready to buy ASAP, you can purchase the name from Shopify, GoDaddy, Sedo, or Dan.com.
Best domain name generator for: Entrepreneurs looking to speed up the process
7. NameStation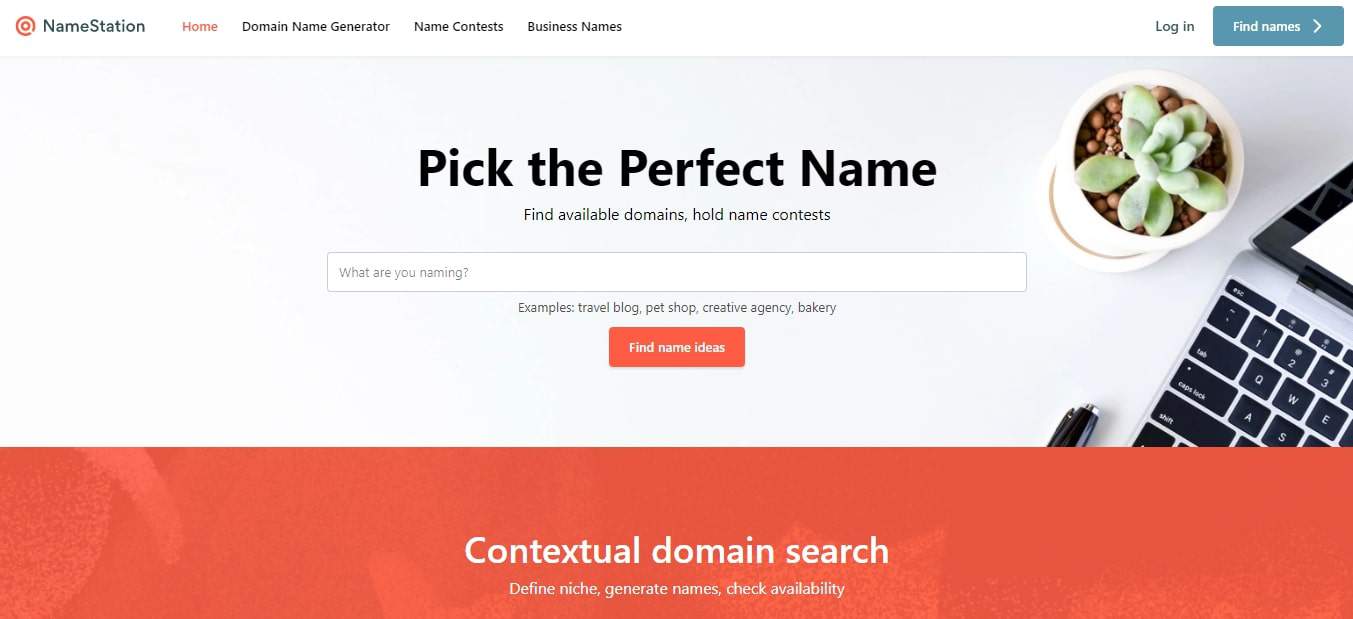 NameStation is an eclectic platform offering one of the best domain generator tools on the market. Once you create a free account, you can start using their tools (and free generator) in seconds.
You can use NameStation to filter through great contextual domain name ideas by alliterations, synonyms, portmanteaus, and more. However, NameStation's biggest claim to fame is found in naming contests — you can present your startup idea to other users and get help naming it. Just keep in mind these contests aren't free; prices start at $40/month.
NameStation does check available domain names on your behalf, but it only uses the WHOIS so you don't have to worry about getting your domain name sniped without warning.
Best domain name generator for: Entrepreneurs who want a little extra help from crowdsourcing
8. Looka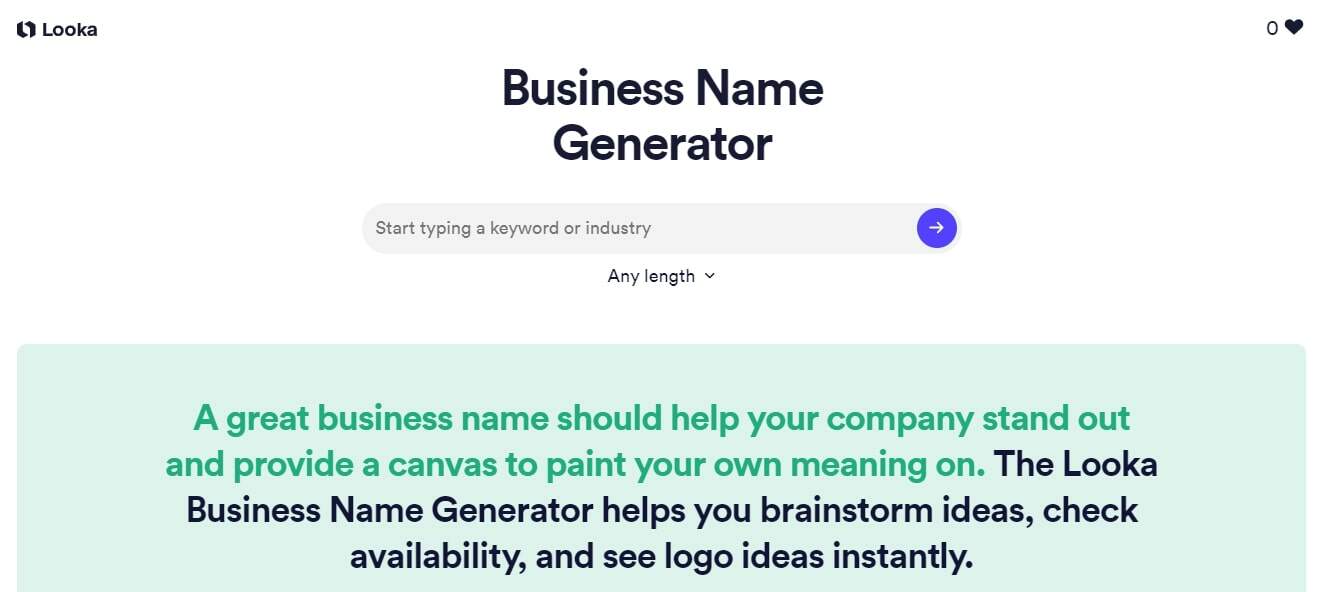 Looka is a brand name and logo design company that provides one of the best domain name generators of 2023. This is an intuitive name generator that doesn't rely on keywords alone, which is great if you're not sure where to start and need a new company name.
Looka's domain search engine creates suggestions by industry, keywords, or abstract idea. These can be sorted further into invented, compound, and multiword names. You can even select a customizable length between one and 20 characters.
You can check your domain's availability through Looka and register it through Domain.com. However, this only happens if you click through the Domain Availability page. You're not forced to do this at all.
You'll also have access to additional tools like:
Logo makers
Brand kits
Social media kits
Best domain name generator for: Entrepreneurs looking for a starter bundle for establishing web presence
9. Lean Domain Search
Lean Domain Search is another platform that does exactly what it advertises: generates domain names fast. Like Instant Domain Search, you can quickly enter some favorite key phrases and get a great list of results.
Lean Domain Search allows you to sort results by:
Popularity
Length
Alphabetical order
Keep in mind Lean Domain Search offers domain registration (and availability checking) through WordPress. However, their FAQs promise they don't subject users to domain tasting.
Best domain name generator for: Entrepreneurs looking for a simple, streamlined, and efficient domain name creation tool
10. Nameming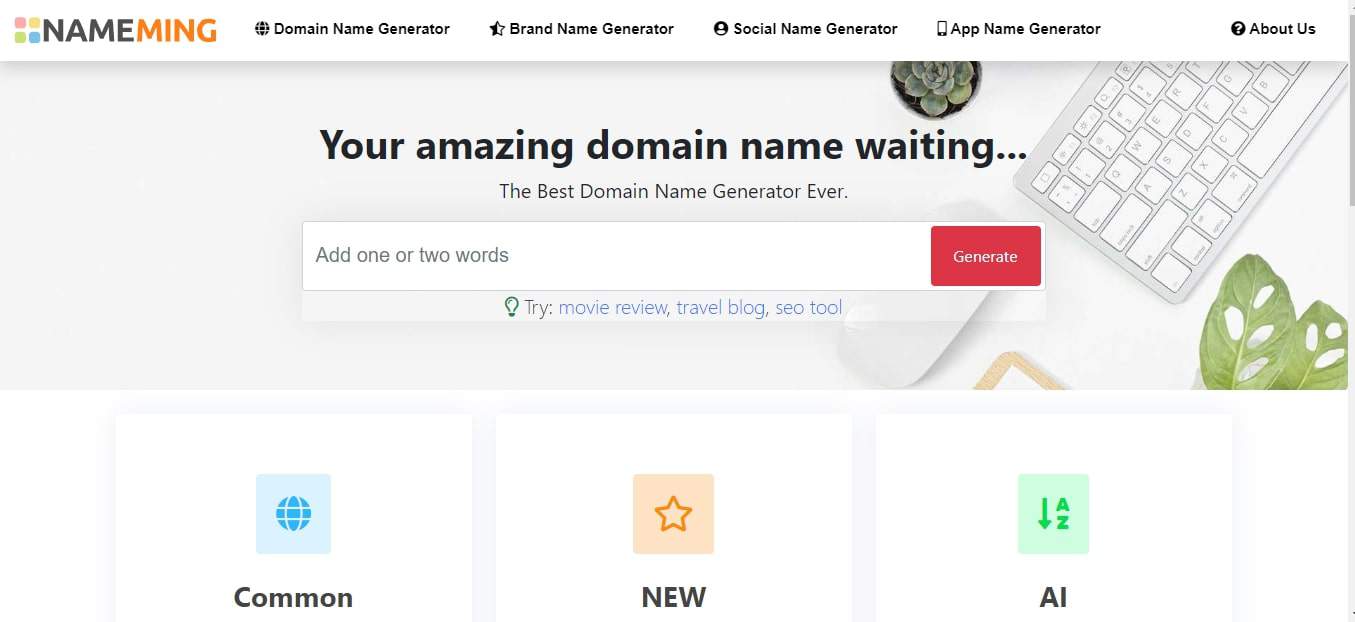 Nameming is an AI-powered naming tool that specializes in easy sorting and name ideas you won't find elsewhere.
The platform offers dozens of naming options, including popular options like:
Common phrases
New phrases
AI phrases
Similar phrases
SEOphrases
Fun phrases
Short phrases
Extra phrases
Mix phrases
The platform is also straightforward to use and offers a price comparison domain registration on each name's detail page.
Best domain name generator for: Entrepreneurs looking for ultra-filtered and ultra-creative results
Final Thoughts: 10 Best Domain Name Generators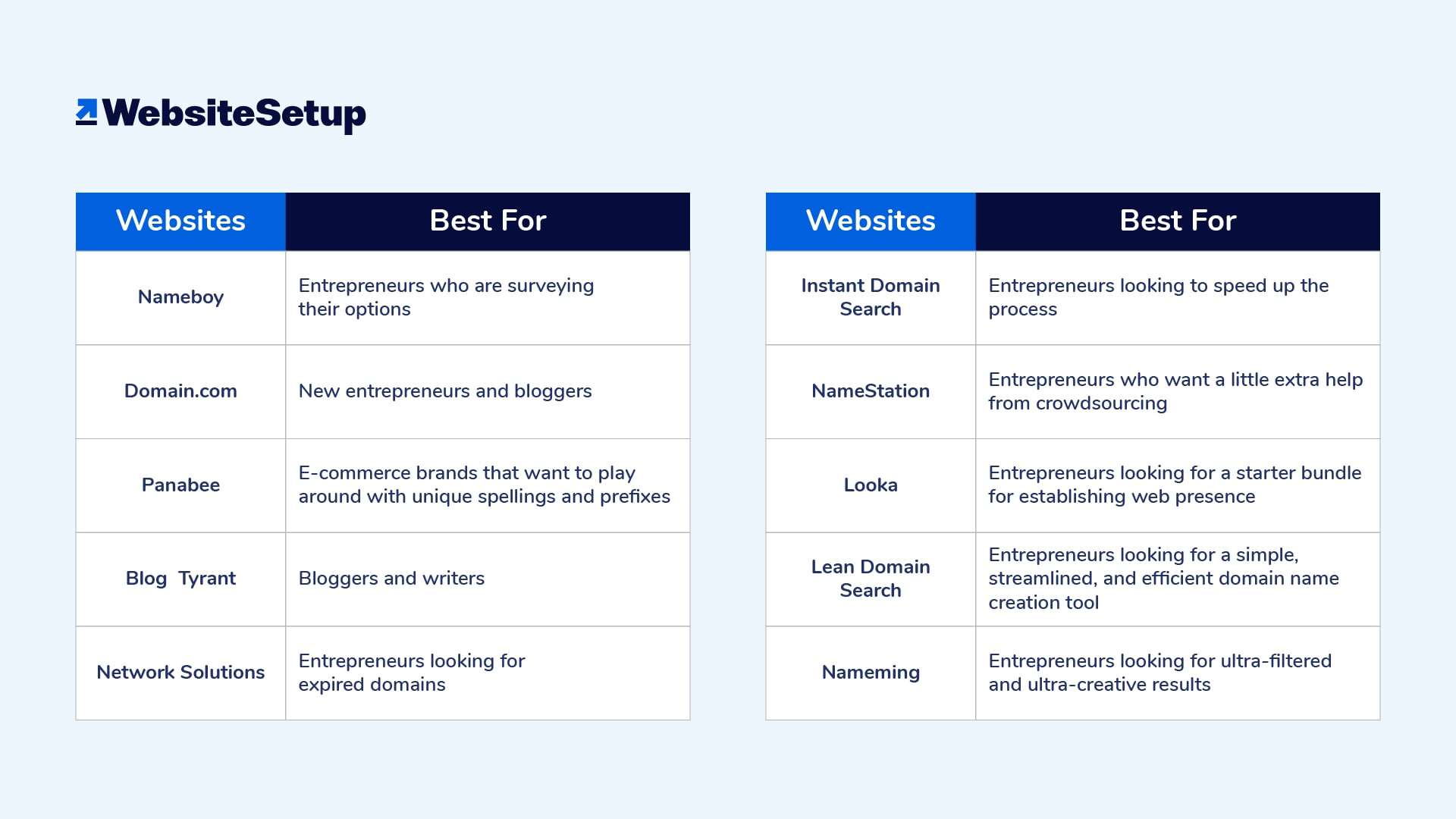 Choosing a great domain name can help you capture more traffic, net higher search volumes, and make more sales. With tools that offer crowdsourcing, extension sorting, and AI generation, you're closer than ever to selecting the perfect domain name.
We've highlighted great options for the best domain name generators for different needs in this roundup. Whether you pick Nameboy, Domain.com, Panabee, or one of our other choices, you'll get started quickly.
Once you've selected a great domain name generator, you'll need to start looking for other tools to get your website off the ground.
We recommend using Domain.com for buying a domain name. You can use "WEBSITESETUP25" coupon to get a .com domain for $7.99/year.