Finding good website name ideas is crucial. After all, your website is the first thing your visitors see, and it represents your brand and identity online. As such, it's important to choose the right domain name.
Another reason why it's essential to choose cool website names is that changing your website domain later can be a hassle.
However, finding good website name ideas that haven't been taken is not as easy as it seems. By now, most cool website names have already been registered. This is not surprising given that websites have been around since the 1990s.
But that doesn't mean all is lost, and you should give up. There are still plenty of ways to come up with a cool website name.
In this guide, we'll share:
Ready? Let's start.
Finding Cool Website Name Ideas and Business Name Ideas Go Hand in Hand
Although it's getting harder to find cool website names, it's not mission impossible. Here are a few tips and tools that will help you find a creative name for your website.
Do your research. Search for your chosen website name and see if it's been registered. Simply enter your desired website name into Google and see what pops up. If you're lucky, you'll get no results and will be able to register the domain right away.
Consider local TLDs. If you're doing business locally or if your target audience is local, consider using a top-level domain (TLD) for your regions, such as .us or .ca.
Consider non-traditional TLDs. The .com is the most common and well-known domain extension, but you're not limited to it. There are hundreds of new web address domain extensions that could work well for unique website names. Try .me for a personal website or experiment with .store, .design, .site, or .biz for a unique and modern website name.
Keep long-term branding opportunities in mind. It's no secret that some website names have become part of our everyday culture. Google, Xerox, and Chapstick are just a few examples of brand names that have become part of our language.
Consider Naming Your Business at the Same Time
If you have a created a website, brand identity, or other business, this won't apply to you. But if you're just getting started, figuring out your online business and your website name at the same time is beneficial.
You won't have to worry about fitting a square peg into a round hole. You can name your eCommerce business or startup to be inherently domain name-friendly. Or, you can use your business name as your website name.
Website Name Ideas
Here are some tips on how to choose a website name:
If possible, stick with a .com domain name since it's the most popular and well-known domain extension Alternatively, you can use local domain extensions, like .ca or .us, or non-traditional extensions, such as .biz or .io.
Avoid using hyphens in domain names.
Make your website name rememberable.
Make it easy to spell and pronounce.
Avoid double letters, as this can make your website name harder to spell and remember.
Don't be too specific. Consider what happens if you decide to change direction or want to expand later on.
Use a Thesaurus to come up with synonyms if your original idea is taken.
Brainstorm related words that you can use together with your original idea.
Use an online translator to see how your word sounds and looks in a different language (for example, flower/flor).
Add an adjective or another word to the original name.
Write your website name down to see how it looks with no spacing. This will ensure you don't end up with an embarrassing name.
Use a website name generator to come up with ideas.
Use a Website Name Idea Generator
As we mentioned above, a website name generator is a great way to come up with cool website names. These tools come in handy if you've exhausted all the previous ideas and can't find a name you like.
But what is a website name generator?
Put simply, a website name generator is an online tool that helps you come up with a unique name for your website. It generates website names and typically links to a popular and catchy domain name registrar so you can immediately register your chosen domain name.
How Website Name Generators Work
Website name generators work in different ways. Some of them will ask you to enter a few keywords that best describe your website's purpose or topic. Then, they'll simply mash your keywords together to come up with unique, unusual, and often cool website names.
Other website name generators use an API combined with custom rules and exclusions to generate website name ideas that you can use.
Finally, some generators use a complex algorithm or natural language processing to provide variations in the spelling, dropping letters, merging vowels, mixing syllables, and swapping related words to come up with a unique website name.
In the end, you'll end up with results for website name ideas that have unusual spelling or are made up of non-existent words that sound real and could present a perfect branding opportunity for your business website.
Best Website Name Generators
There are plenty of domain name generators out there, but not all of them are created equal.
Below, you'll find a list of the most popular website name generators and a brief description of their features so you can decide which one you want to use to create your cool website names.
1. DomainWheel
DomainWheel, the first tool on our list, uses AI to generate website name ideas based on your keywords. You can also select the desired extensions from the dropdown and then click search.
Clicking the View Details button takes you straight to Bluehost, where you can use a website name checker to check website name availability. You can then sign up for a web hosting plan and get a free domain name.
If you come across unavailable domains, it's back to the drawing board — but often, there will be secondary custom domain choices that'll work fine, too.
2. Nameboy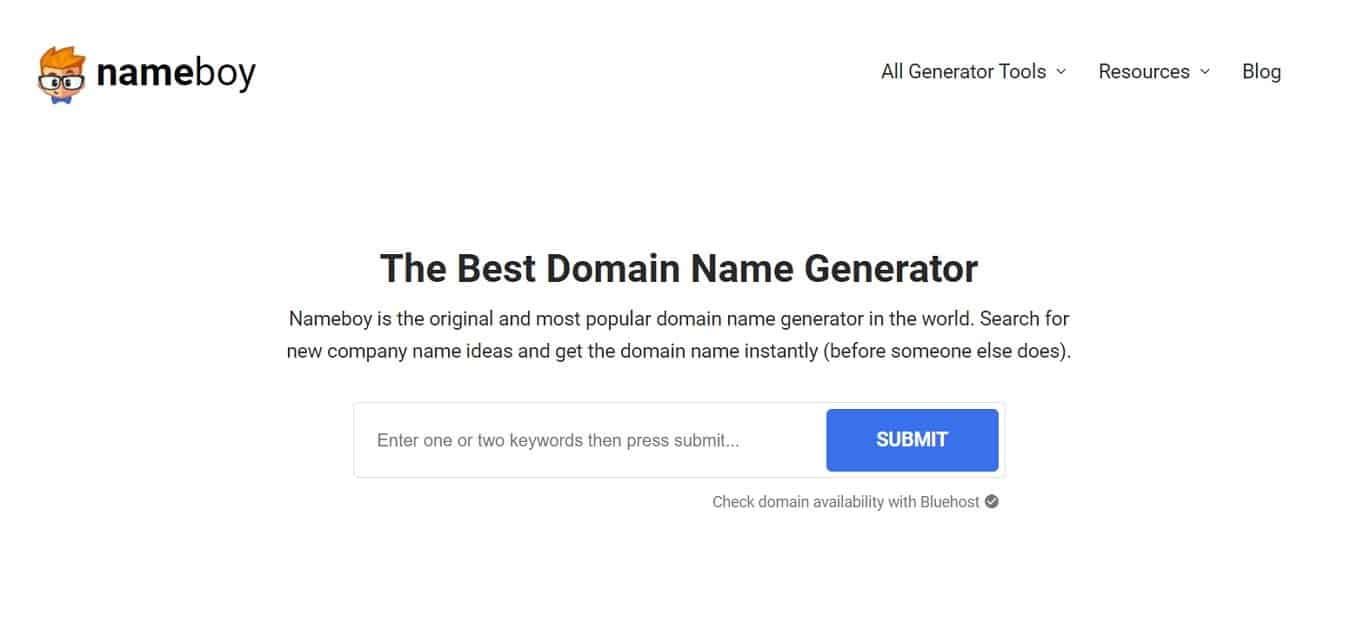 To use Nameboy's website name generator, you'll need to enter one or two keywords, and press submit. Nameboy uses an AI algorithm that combines common words, prefixes, random words, suffixes, and keywords to generate ideas.
With Nameboy's domain search tool, you can immediately verify domain availability and register it with Bluehost. And it even has helpful tips on choosing the best cool website names.
Additionally, Nameboy offers business, YouTube, eCommerce, blog, and other name generators.
3. Lean Domain Search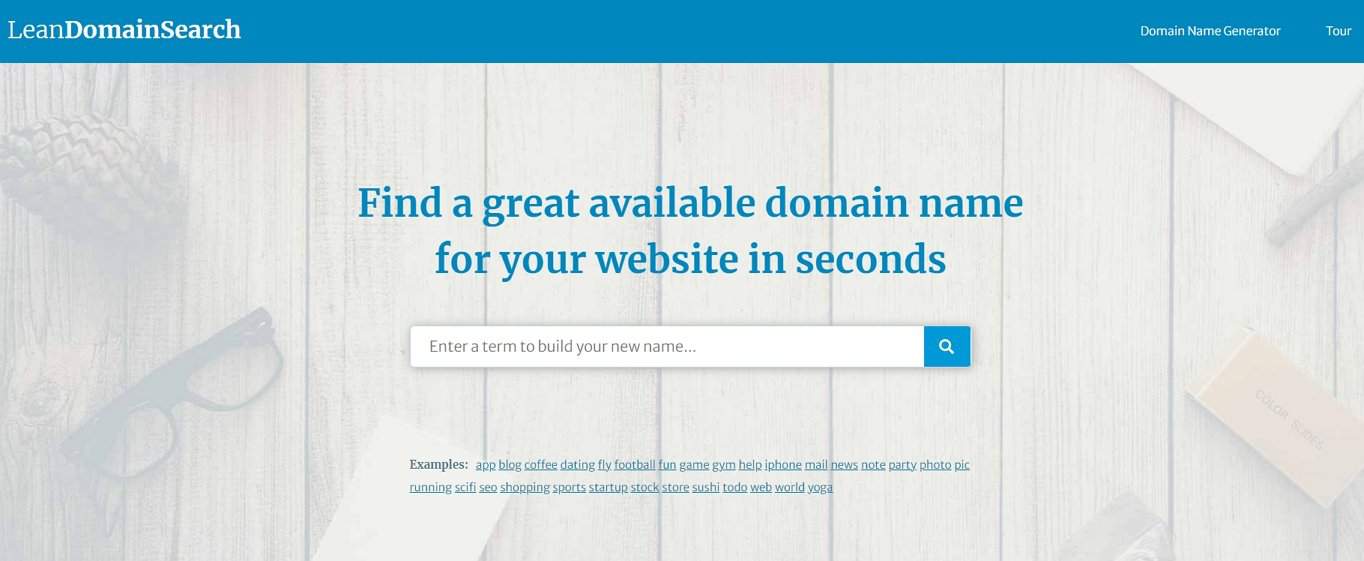 Lean Domain Search has a simple interface prompting you to enter a keyword and start searching for your website name ideas.
Lean Domain Search was built by Automattic, the parent company behind WordPress. It pairs your keyword with other keywords commonly found in domain names and uses them to generate website names.
Once you click on your chosen domain name, the tool will tell you if the name is available with a .com domain extension and as a Twitter username. You can then register the name and create your website with WordPress.com or register your domain name ideas with Bluehost.
4. Panabee

With Panabee, you'll need to enter two keywords or a domain name and then press Search to let the tool work its magic. This tool will search the .com extensions by default, but you can explore other domain extensions as well.
Panabee comes up with suggestions by using phonemes, syllables, abbreviations, suffixes, prefixes, and popular domain trends. You can also check if the cool website names it generates are available on Twitter, Facebook, and Instagram.
Once you find a name you like, the tool will immediately take you to GoDaddy to register your domain name.
5. Namelix

Namelix is another tool on this list that uses AI to come up with unique website name ideas. The more keywords you enter, the better your results will be. It's technically a small business name generator, but if it works for coming up with company names, it'll work well for other purposes, too.
With Namelix, you can filter your results to include a specific keyword or an extension. Another useful feature is that you can save domain names so you can get better suggestions next time. You can also specify whether you want to find brandable domain names, misspelling, or foreign words.
Namelix stands out from other tools on this list because it also lets you see logo ideas for the website names you've generated. Once you find a name you like, you can register it with Namecheap.
6. Shopify Domain Name Generator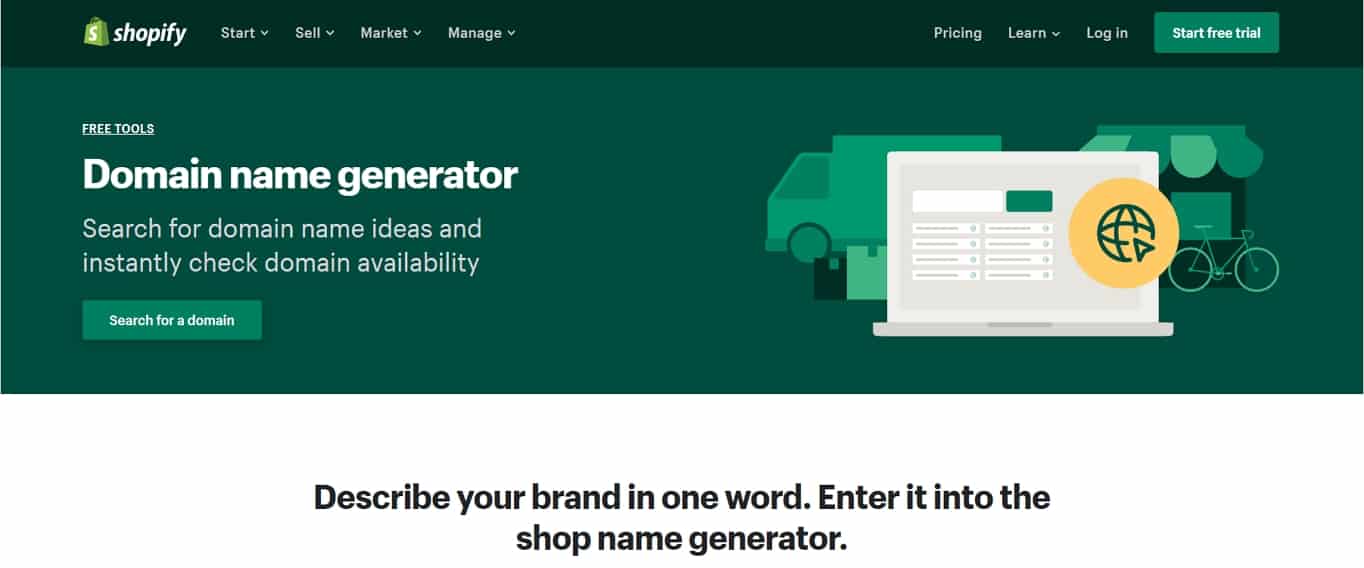 Shopify Domain Name Generator empowers you to search for potential website name ideas and see if they're available for domain registration.
Shopify's tool uses your keywords and pairs them with multiple different domain name extensions. It will also suggest alternative ideas using slightly modified, related keywords.
Unlike other tools on this list, Shopify will prompt you to sign up for its platform once you find a name you like and want to register it. However, you don't have to use Shopify beyond coming up with a domain name.
How To Find a Website Name Using Website Name Generators?
Now that you know what a website name generator is and how it works, the only thing left to do is use one to come up with a cool website name idea.
While the easiest method is to pick a website name generator and let it work its magic, we're going to advise you against doing that.
Instead, experiment with different name generators to come up with more cool website names. Keep in mind that some of the generated website name ideas won't be usable at all.
If you're using only one generator, you may walk away with no results and think it was a complete waste of time.
But, if you use multiple website name generators, you'll get more results — and more importantly, more website name ideas that work.
Before you dive into the website name generators, create a list of keywords that work well with your desired name. Then it's just a matter of visiting the generators, entering your keywords, and letting the generators do the hard work of coming up with a website name idea.
Once you have a couple of cool website names you're happy with, check if the name is available on social media. This will ensure you maintain brand consistency and work on establishing brand recognition.
You can use a few helpful tools to check whether your chosen name is available, including Namechk, KnowEm, and Namecheckr. These tools will check your name with various domain name extensions and all major social media platforms and let you know if the name has been taken.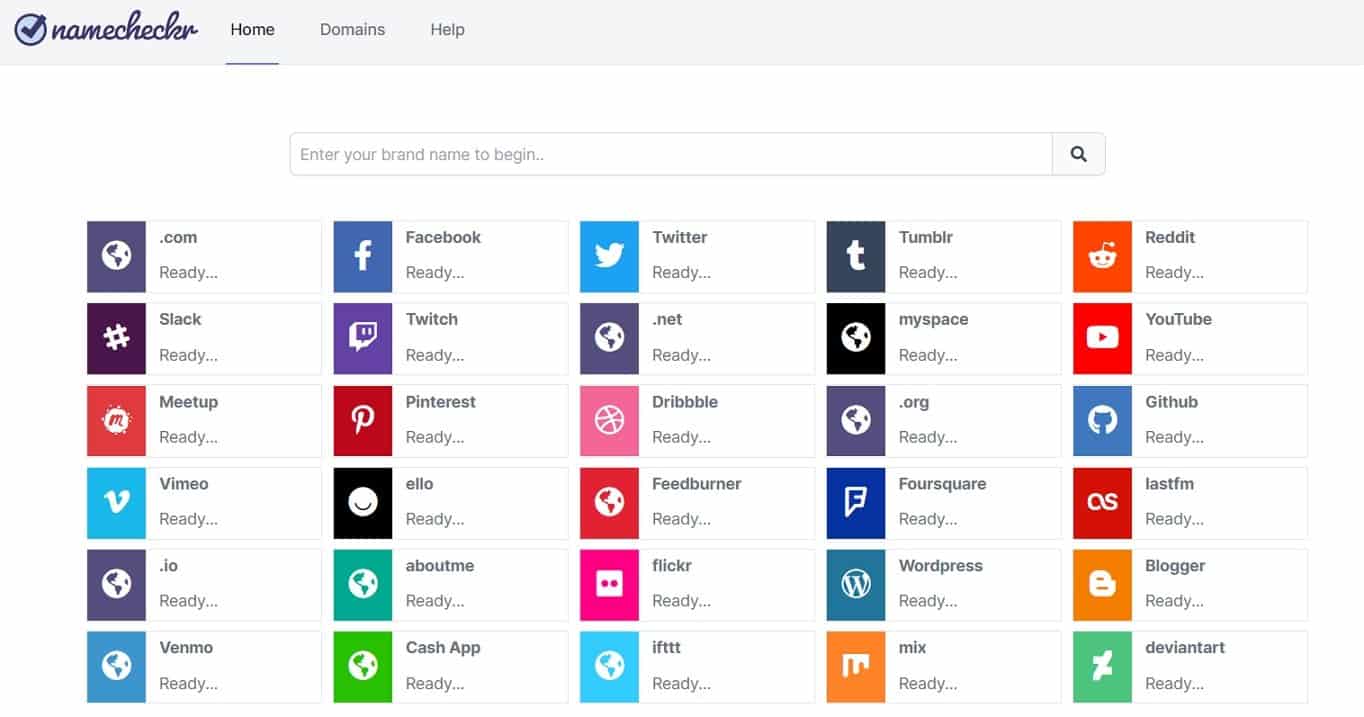 It's also a good idea to run a trademark search on your chosen website name to ensure it's free of any trademarks or copyright issues and clear to use.
You can use your local trademark database to perform the search. For example, in the U.S., you can search the United States Patent and Trademark Office for live trademarks.
Do Your Research
Before buying a domain, do some research. Search for website name ideas via search engines and use the Wayback Machine to check out its history.
You won't find every website this way, but if the domain ever received considerable traffic in the past, you should be able to see that, and if anything unsavory was once associated with it.
If you find results that point to questionable content, you may want to go back to the drawing board if the results are recent in history. However, if the results date back significantly and there is nothing unsavory in recent years, the final decision is up to you and how you feel about it.
Don't forget to take into account the amount of traffic the website once received, too. Again, if you feel uncomfortable with the results, it's better to start the search for cool website names than to wind up with a domain that will paint a bad picture of you or your business.
Register Your Domain Name Quickly
Once you find website name ideas you like, don't sit on them for too long. It's important to act quickly, so someone else doesn't register your chosen name before you. Register the domain name as soon as possible to prevent that from happening.
Another thing you may want to consider is registering variations of your chosen name using other domain extensions, such as .net or .co. Doing so will prevent someone else from posing as you and potentially damaging your brand reputation.
Purchase common misspellings as well, so your visitors don't end up on someone else's website, a parked domain, or on a blank browser page with a warning that no such website exists.
You can always redirect other domains to your primary domain using a 301 permanent redirect. That way, if someone types them in by mistake, they'll still end up on your website.
Get a Free Domain With Hosting
As we mentioned above, register domains for your website name ideas as quickly as possible once you've found a cool name for your website. However, it's worth noting you can get a free domain when you sign up for a hosting plan in some cases.
Hosting companies like Bluehost offer a free domain when you buy a year or more of hosting. The domain name is free for the first year, and after that, it will renew at its regular rate, which is typically around $10-$15 for a .com extension.
Keep in mind that domain prices vary by extension.
Final Thoughts: Website Name Ideas
Finding catchy names for websites and cool website names can be difficult these days, given that many have already been registered. But with a little creativity and outside-of-the-box thinking, you can find creative and cool website names.
Use the tips in this guide to come up with creative website names for your website, and don't forget to take advantage of a catchy website name generator if you get stuck.