If you're looking for the best forum software or the best free forum software to create an online community, the sheer amount of options can be overwhelming.
But, there are several that stand out as the best forum software – best because they're reliable and packed with the features you need in a forum program.
In this guide, we will introduce you to 9 best forum software programs that should make your life easier in searching for the right software for building your online community.
Let's dive in.
The 10 Best Forum Software
Picking the right forum software comes down to what's suited best for your needs.
You can't really go wrong with any of the below programs. So, you can also feel free to try out a few options before landing on the best forum software for you.
It may be important to note that the prices for the premium options on the list are accurate at the time of publication but may change later on.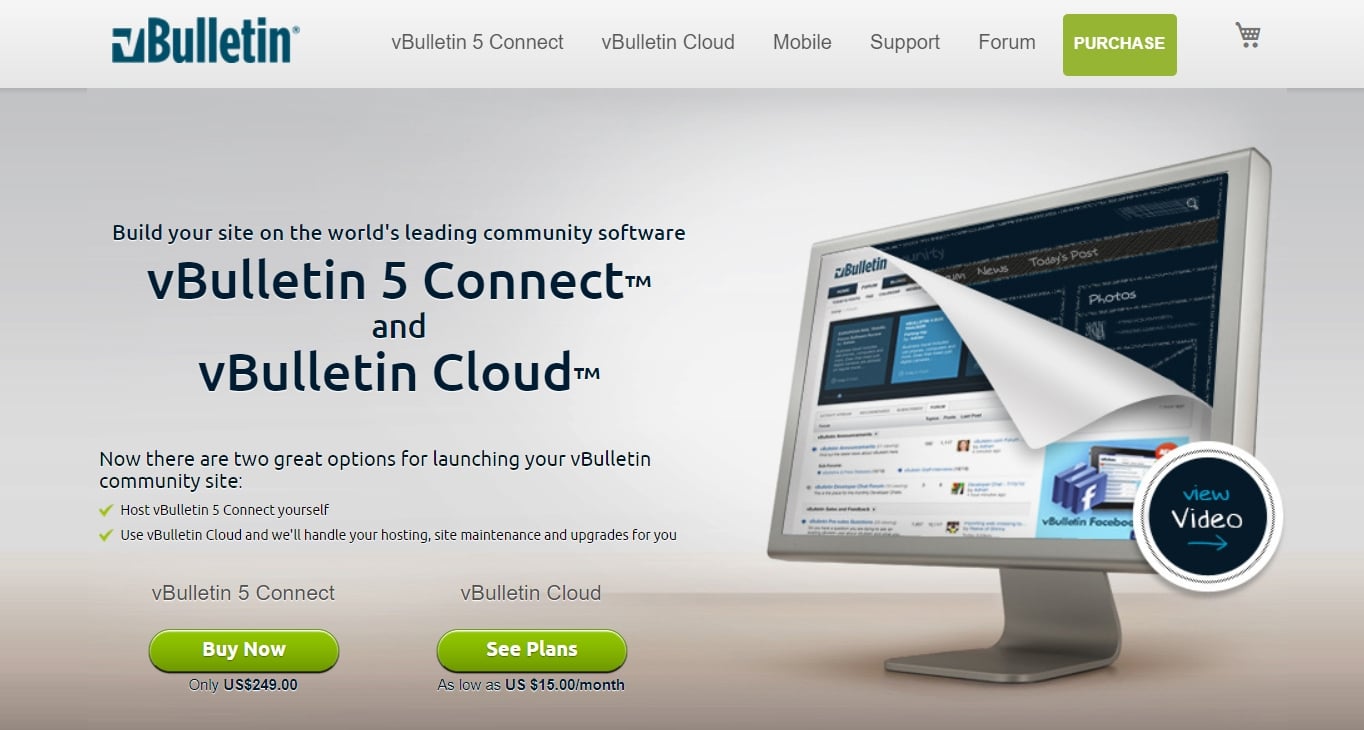 VBulletin is a premium forum software, but it's at the top of the list because it's quick to set up, has sophisticated capabilities, and has the option to host the forum software yourself, or through their affordable and reliable cloud hosting.
This forum program can be set up in 15 minutes and it's built with SEO and security features so you don't have to worry about sorting that out yourself.
It also has an AI-powered user engagement feature to help your community grow organically.
Additionally, this is one of the best forum software because it's mobile-ready out-of-the-box. The mobile experience is even automatically optimized. So, your online community will be displayed well across all devices and desktops.
The administration options are also straightforward so it's not a hassle to manage your forum on your own.
You can self-host vBulletin for a one-time price of $249, or you can choose to host the forum software on their cloud servers starting at $15 per month. If you choose to host with vBulletin, maintenance and forum software upgrades are included and taken care of.
It's software that's best suited for anyone that requires an easy-to-use forum program.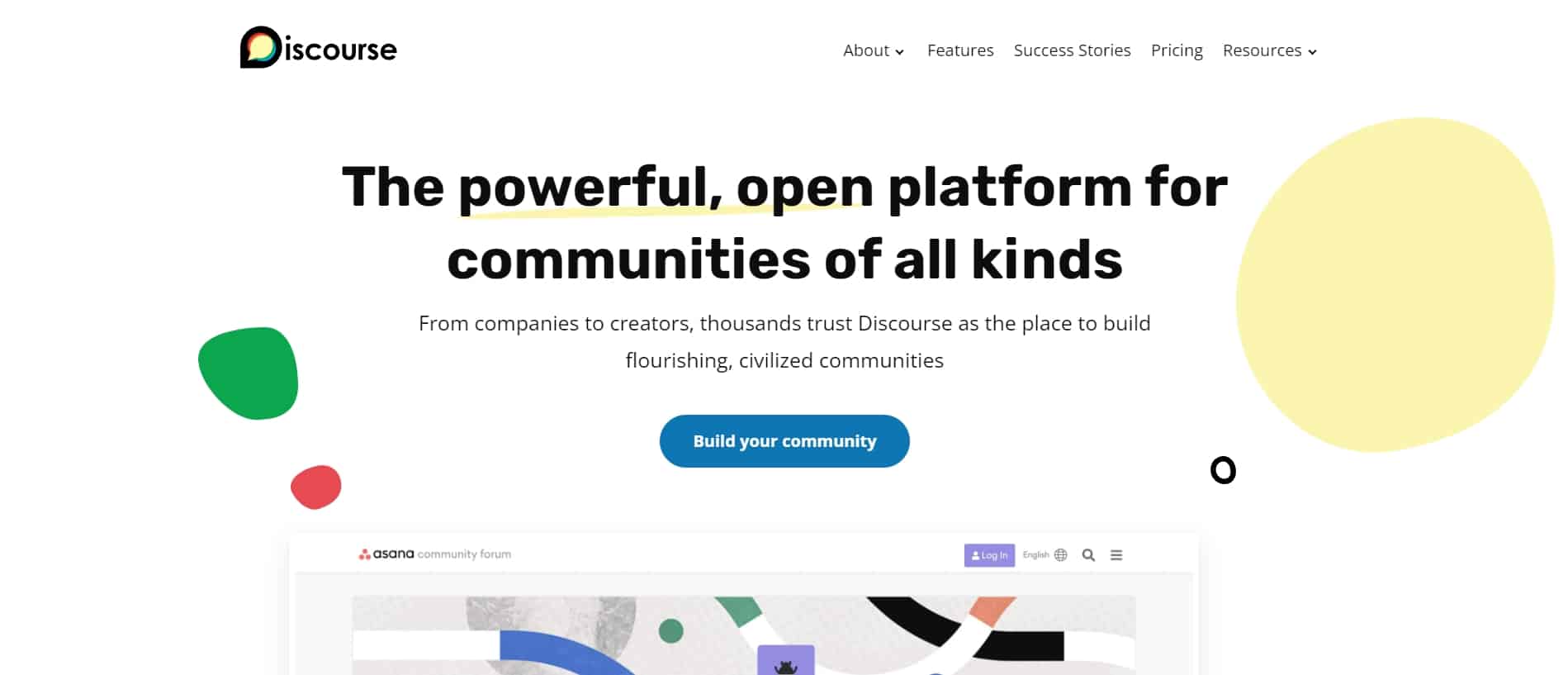 Discourse is certainly one of the best free forum software out there. It's a popular option because it's open-source, and has a lot of useful features and integrations.
It's best suited for anyone that needs integrations to streamline their workflows.
There's a ranking system that's used not just to distinguish new members from experienced users, but to automatically give greater moderation capabilities to users who have contributed enough to earn it.
That way, your community can moderate itself and new users won't be able to post or private message anyone anything that's inappropriate.
It can also be used with WordPress to turn your website into a forum. Each blog post becomes a forum post. It also works with the Akismet WordPress plugin to moderate spam.
Discourse offers many other useful integrations such as Slack, IFTTT, Zapier, Zendesk, Patreon, GitHub, Google Analytics, Google Adsense, Amazon, and more. Social media integrations such as Facebook, Instagram, Twitter, and others are also represented.
If you prefer a managed hosting solution instead of self-hosting your forum software, there's an option for that and it starts from $25 per month.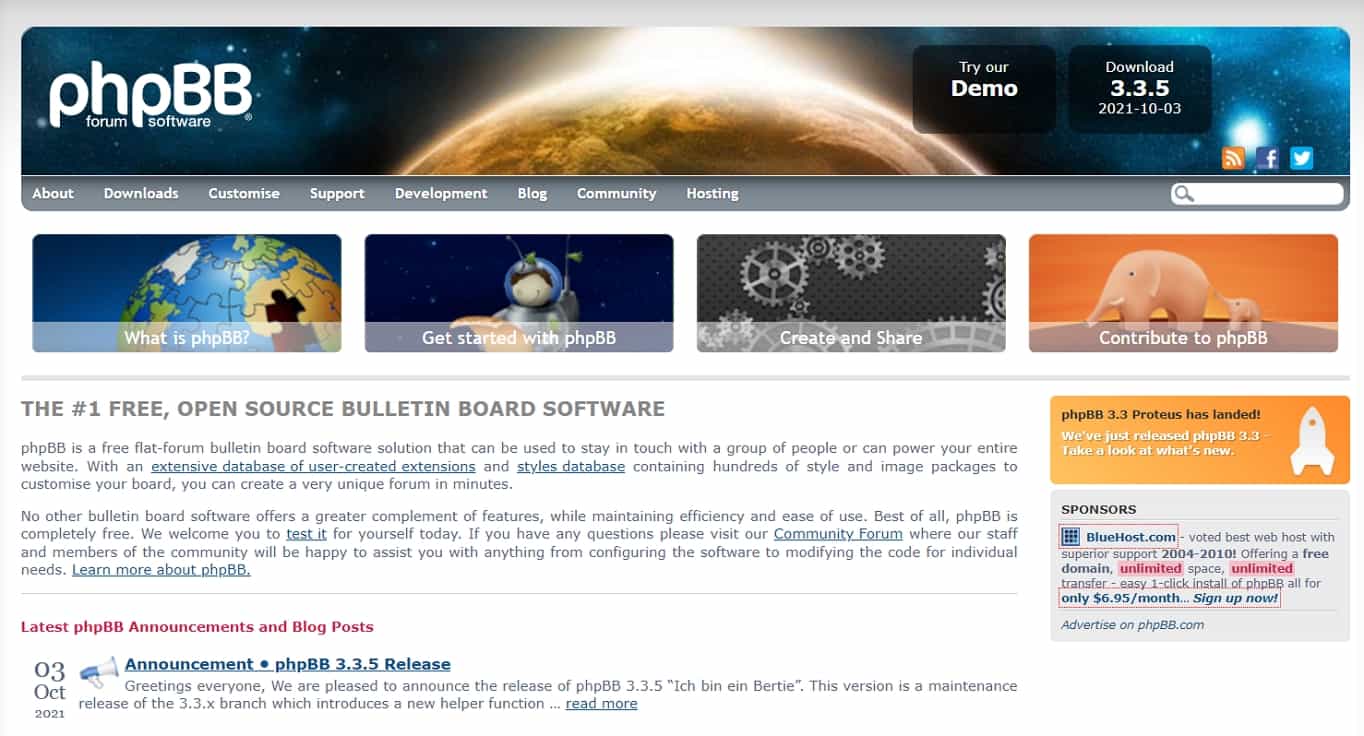 PhpBB is one of the oldest, free forum program options out there. It's open-source as well as self-hosted forum software.
It has all the basic features you need in forum software, including user moderation, private messaging, notifications, the ability to set user permissions, etc.
Not only that, but it also has built-in security, anti-spam, and caching capabilities.
You also have the option of using plugins to add capabilities that don't come out of the box.
PhpBB has a responsive design. So, you needn't worry if your members want to access your community on their mobile devices.
While its basic features may not seem all that special since these should be standard with any forum software, the specific capabilities are quite robust.
For example, the private messaging system is about as good as sending an email with whatever provider you use. You can add attachments, create an address book, create drafts, add attachments, view messages in conversation mode, and more.
It's a solid option which is why it's cemented as one of the best free forum software.
However, keep in mind that while phpBB is free, it's a self-hosted option so you would need a hosting provider.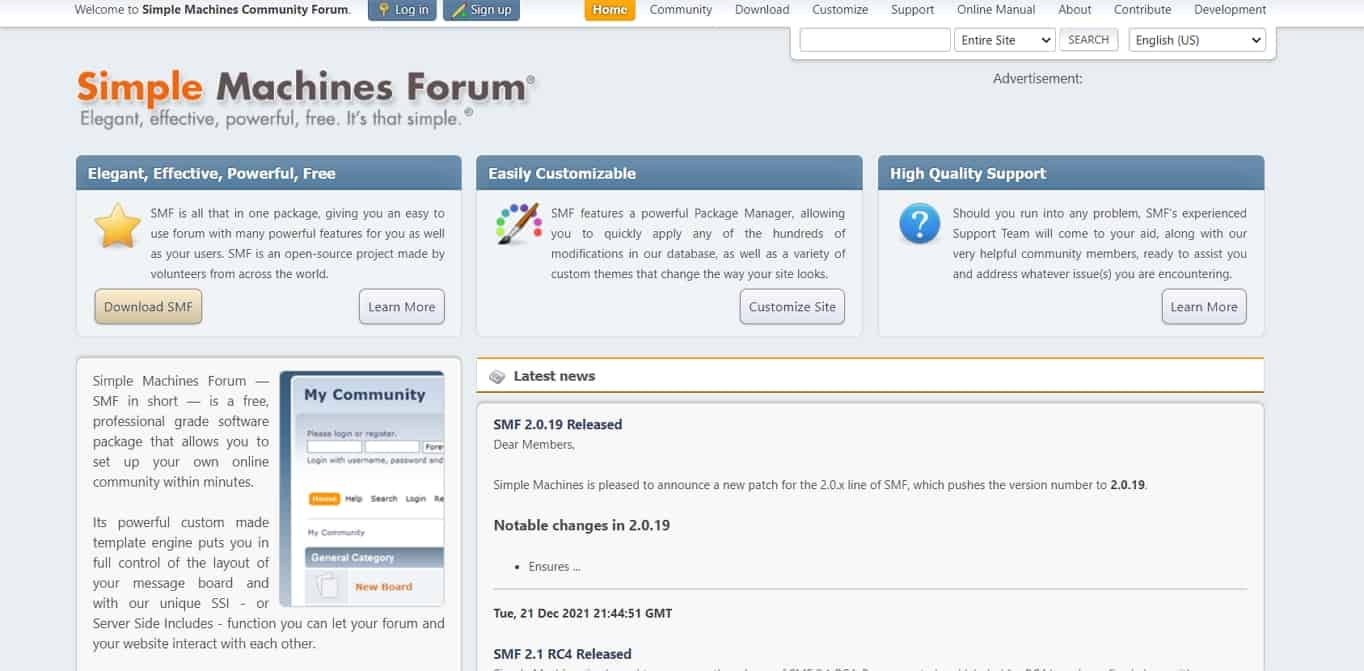 Simple Machines Forum (SMF) is an open-source program and has all the features you would expect in the forum software. It's best-suited for anyone on a budget that still needs professional forum software.
Its user interface (UI) is clean and simple, making it look quite professional.
It also has an advanced package manager so you can make modifications in a couple of clicks that quickly applies the changes in even large communities. So, you can forget the days when it took hours to apply multiple changes across a large database of forum members.
SMF also supports multiple languages all at the same time. That way, no one needs to feel left out, which is great.
It's designed for optimal performance and scalability as well as enhanced SEO and caching. So, it's built for large communities. That's also why its advanced permission and user management settings are especially welcome.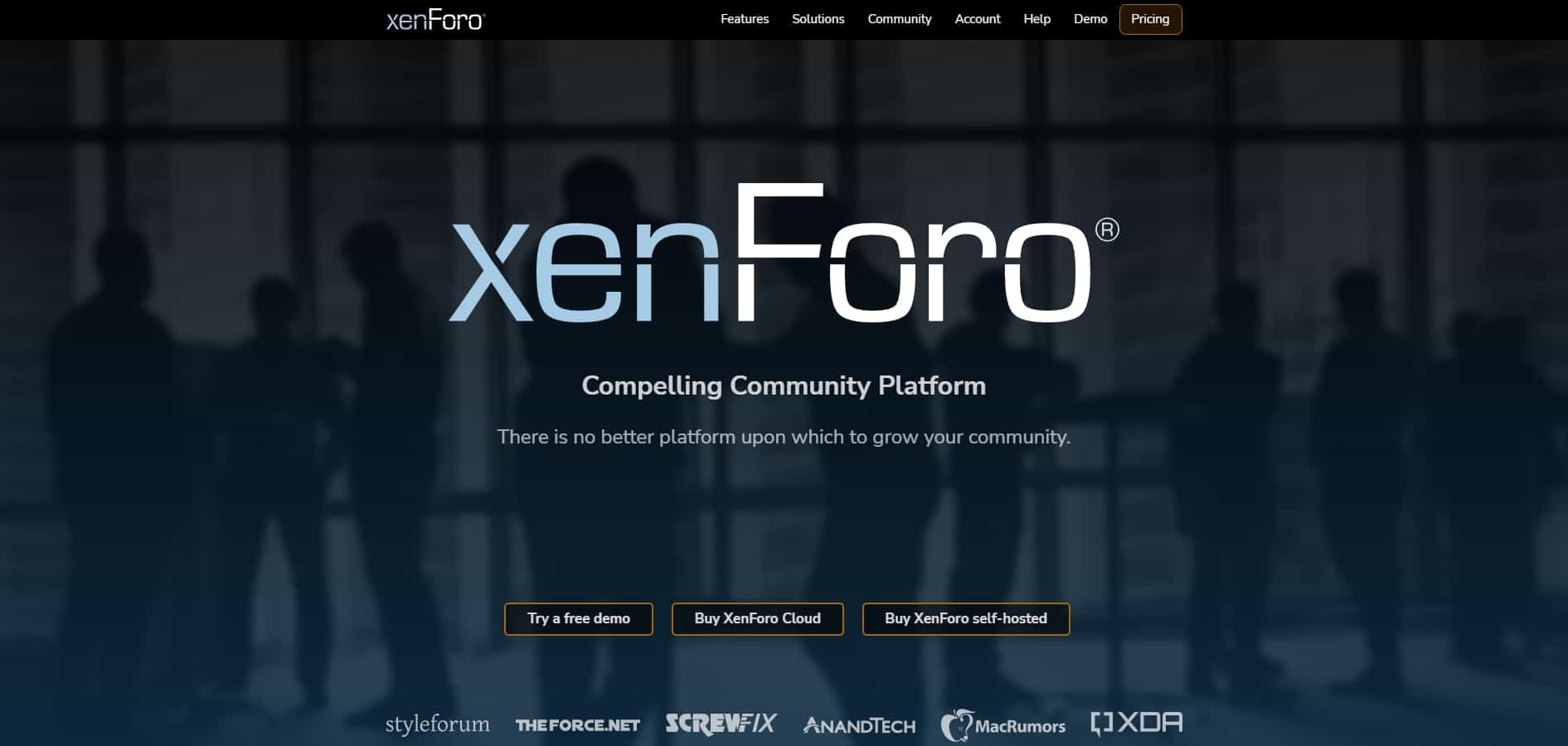 XenForo is a self-hosted premium forum software best suited for businesses. It uses gamification to increase user engagement and integrates with Facebook so users can register through social media. It makes sharing to Facebook easier as well.
XenForo has a recent activity feed so members can quickly get up-to-date. There are also notifications to make it even more straightforward to engage with the community.
It has a sleek, elegant, and professional UI, and built-in SEO optimization to increase forum functionality.
There are over 2,000 add-ons that range from various gamification features to administration, and enhanced search add-ons such as the popular and powerful ElasticSearch software.
It's likely that you'll find all the add-ons you need, but in case you don't, they can help you develop one of your own with their framework.
XenForo will set you back $160 and there are also add-ons such as an installation service, branding removal, and other options. You'll also need to host it yourself as previously mentioned.
6. MyBB (Free)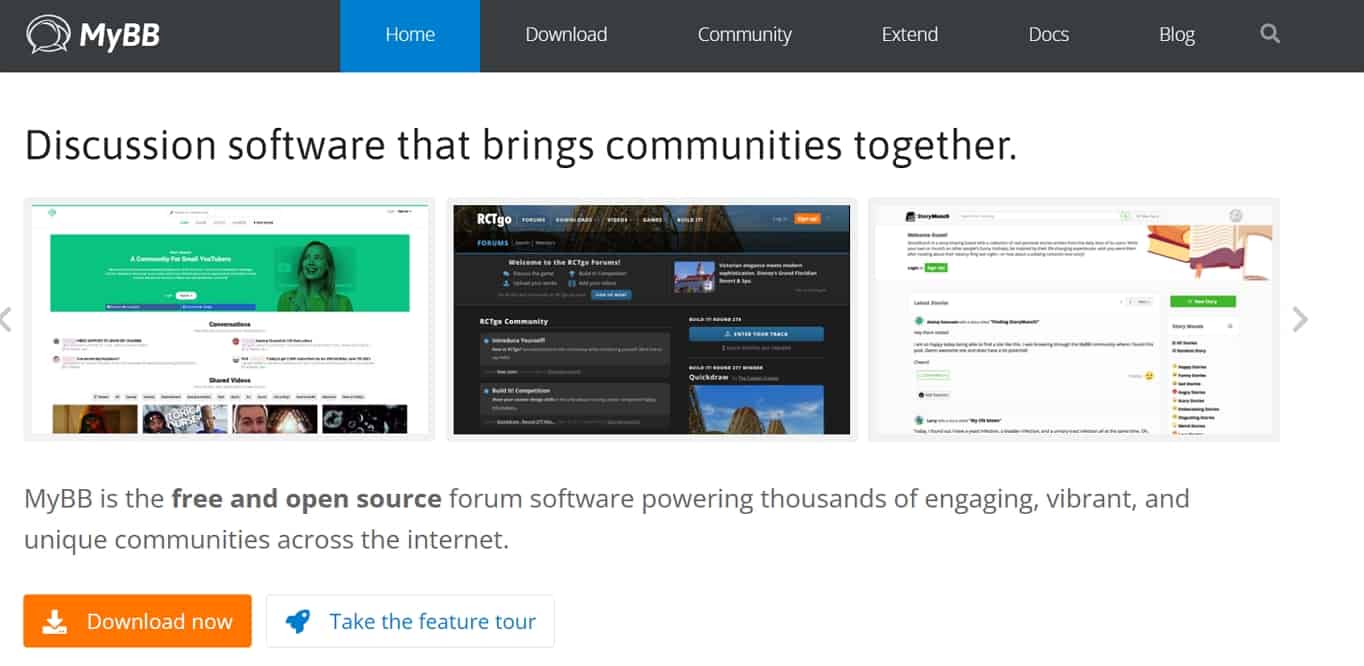 MyBB is an open-source, self-hosted forum software best fit for businesses that need an elegant, but cost-effective forum program.
When you create a forum with MyBB, it's stunningly elegant, eye-catching, and professional-looking. There's also a great user experience with its uncluttered layout and design.
Its interface is straightforward and this also includes administration pages.
MyBB has all the basic forum features you may need, but there are hundreds of free plugins and themes if you want to extend the capabilities, or in case you want to change the design and layout.
It comes with many plugins and themes, so it's likely you'll be able to find what you need. For example, caching, minification, CDN, gamification, security, anti-spam, administrative plugins, and many more.
There's also a strong, long-running community behind MyBB that has translated it into over 30 languages, and there are options to increase user engagement with gamification.
All the above makes it one of the best free forum software for businesses and individuals alike.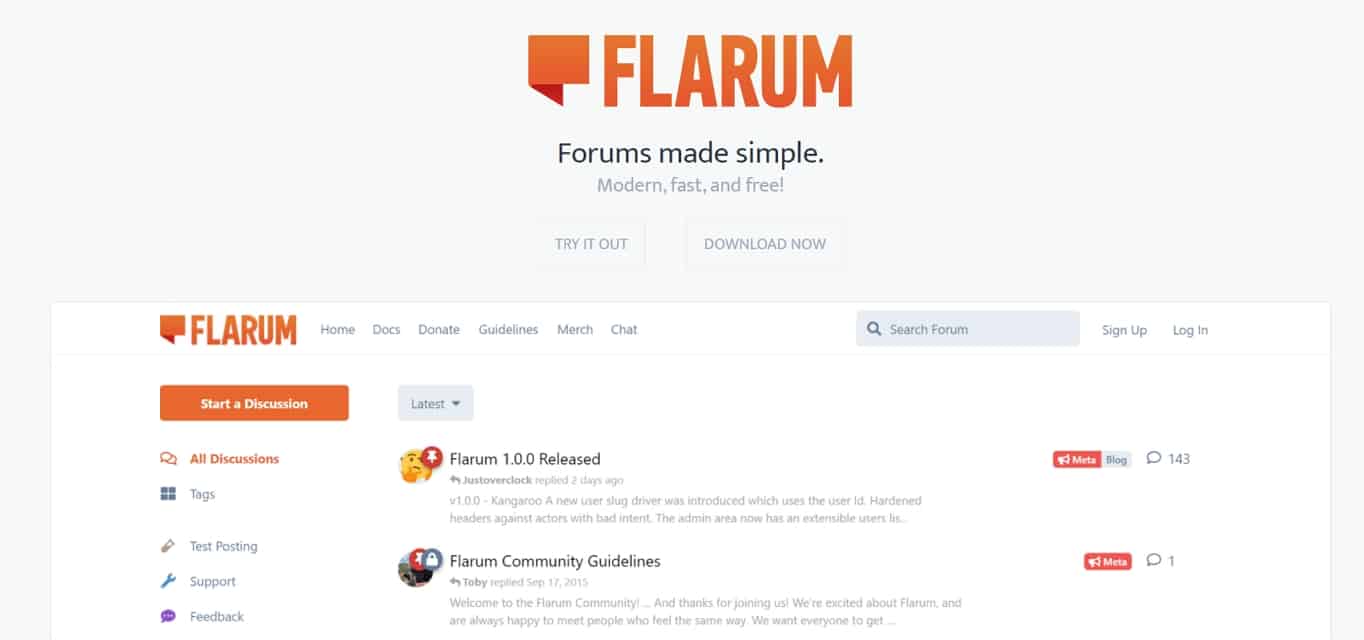 Flarum is a new contender in the forum software market. Even though this open-source forum software is currently in beta testing, it's still already a professional and elegant solution with a heavy focus on user experience.
Flarum is fully responsive and super mobile-friendly. It has larger buttons, infinite scrolling, smooth animations, and a message composer that floats on the screen. So, you can keep scrolling through the page without having to exit the message box and lose what you typed.
Its features are reminiscent of a social media site, for example with the Pusher extension users can live chat. There are also notifications that are organized by discussions so they're easier to consume.
When you throw in the fact that you can post mentions to other users much like Twitter, Flarum goes from an ordinary forum program to one of the best free forum software. It can even rival the best forum software programs that have premium options.
A WordPress integration is currently in the works along with many other features such as anti-spam, statistics, keyboard shortcuts, private messaging, gamification options, and more.
It's an elegant forum software best suited for individuals as well as businesses.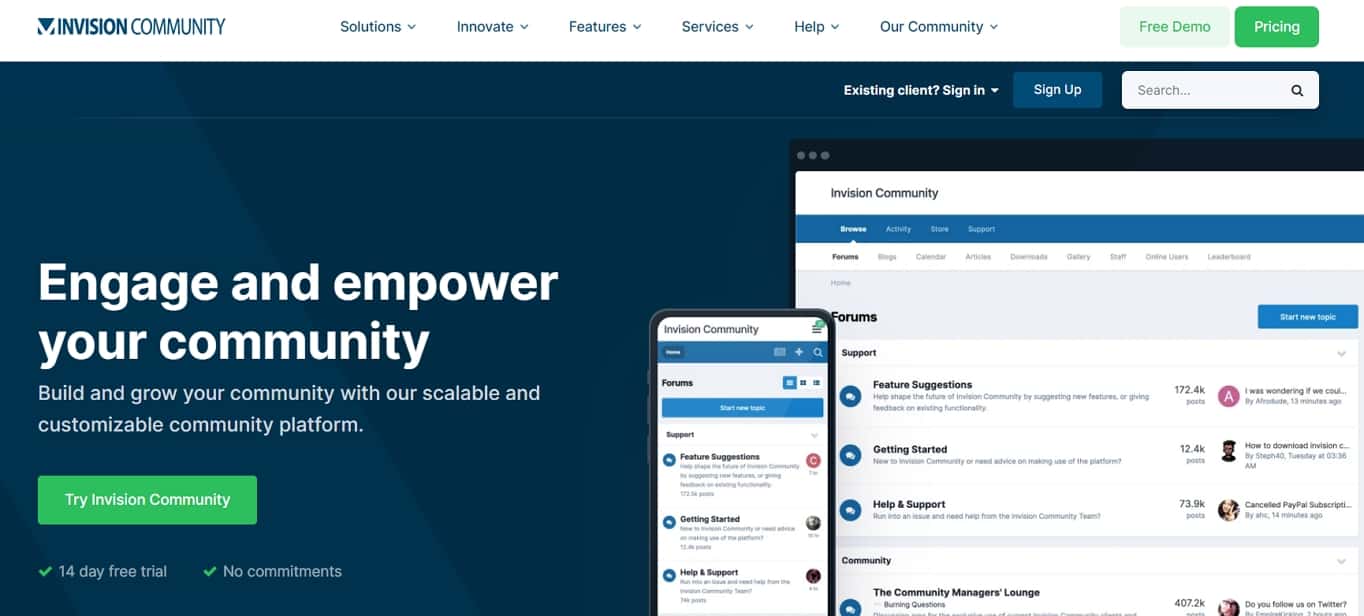 Invision Power Board is a premium forum program best suited for businesses. Although, it can still be great for individuals who are public figures or for those who want to be social media influencers.
Not only can you use this as a forum, but you can also use it as a support ticket system, eCommerce platform, CMS, file-sharing system, a blog, and more.
It has a rich text editor for excellent user experience and it's also easy to manage as the administrator. It's responsive as well so it will work well across mobile devices.
Invision Power Board is also incredibly flexible, meaning you can even customize the activity feed on a per-user basis.
Because it's a forum program, users can also help one another to soften the workload of a business's support team.
Invision Power Board is a managed solution with plans ranging from $89-$549 per month.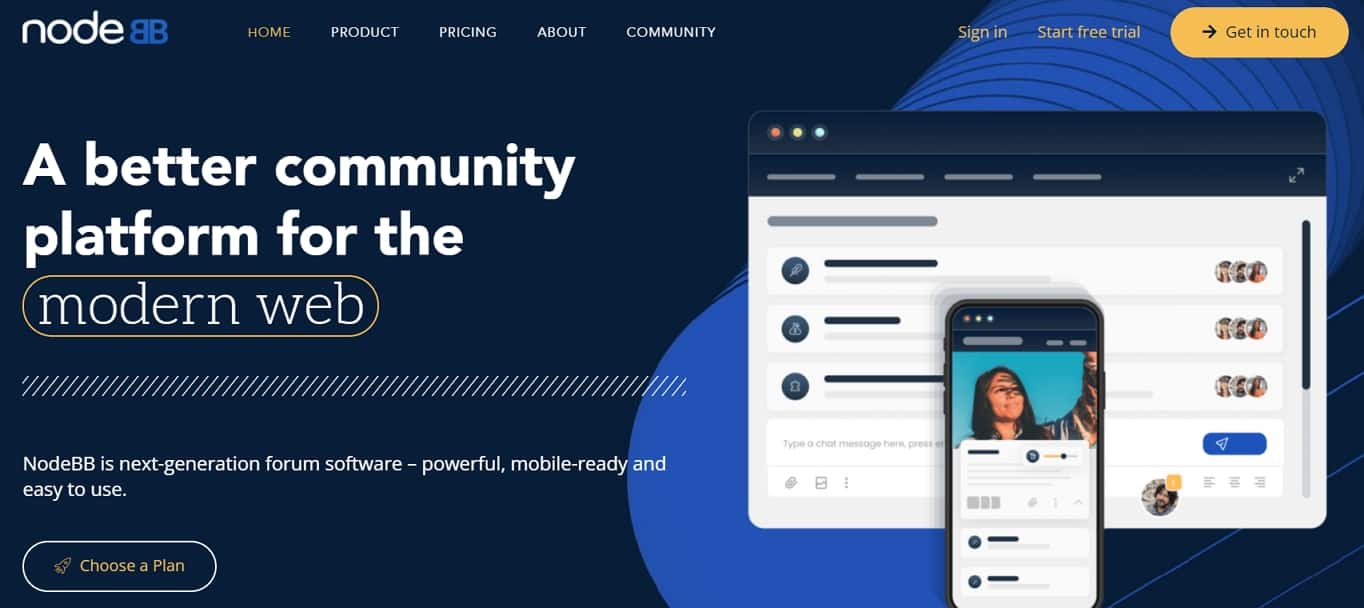 NodeBB is one of the best forum software because of its modern design and flexibility.
Its admin panel is intuitive, striking, and lets you control absolutely everything about your forum. The forum itself also has an eye-catching, natural design and layout.
It really makes a great all-around user experience for everyone.
NodeBB is a premium option that's managed so you don't have to worry about getting hosting separately. It uses cloud hosting to ensure your forum loads quickly.
There are also many integrations including WordPress, Slack, MailChimp, Facebook, Google Adsense, Twitter, Amazon S3, Twilio, and loads more.
NodeBB doesn't stop there. There's also a library of plugins to extend the features of your forum. There's everything from practical plugins for security as well as ones for efficiency, gamification, and user engagement.
For example, you can install a plugin to let users mention other members on other social media platforms, like on Twitter.
It has a mobile-first design, it's SEO-optimized, has an analytics dashboard, and users can chat in real-time.
NodeBB is open-source forum software that starts at $250 per month. Automatic daily backups, and unlimited staff and community members also come with all plans.
How to Set up a Forum In 3 Steps
There you have it: Not only are these the best forum software, but some of them are the best free forum software options as well.
Your next steps for building a forum would be:
Registering a domain name
Getting a web hosting (should you choose a free platform)
Installing / Setting up your form website
Were you able to choose the forum software best suited for your needs? What are you looking for in forum software? What do you consider to be the best forum software or the best free forum software? Share your thoughts in the comments below.