Finding a good web hosting service for your website can take a lot of time and money.
There are many different types of web hosting, that can cost anywhere between $0.50/mo to $999/mo.
But how do you know which one is the right hosting solution for your business?
In this review, we've compared popular shared hosting providers and listed the 10 best web hosting providers.
All of the listed hosting services are affordable and best suited for small and medium-sized websites as well as for new websites. If you have a website that already gets more than 50,000 visitors/month, you may want to consider dedicated or VPS hosting providers.
P.S.
If you don't have a website yet, you can use this guide to start making a website.
The 10 Best Web Hosting Service Providers in 2022
The most important factor to consider when choosing a web hosting provider is their performance – speed and uptime.
The faster the hosting provider, the better for your website. Web performance is becoming more and more important in 2022 and likely beyond.
Below is a list of the 10 best website hosting providers (out of 40+ we've tested), that we've found with good page load time (speed), high uptime, and professional customer support.
1. Bluehost – Best for New Websites
---
Bluehost web hosting has been around since 2003 and they now host more than 2,000,000 websites. They are the most popular, low-cost hosting option for new websites.
They are our top-rated web hosting company because their last 12-month uptime and speed are strong – 99.97% and 324 ms, respectively.
Their 3-year introductory price is $2.75/mo (renews $8.99) and that comes with features like free domain name, website builder, and one-click install for WordPress, Joomla, and Drupal through their control panel. So for starters (someone without a website), this is probably the best option. Unmetered bandwidth and 50 GB storage are included in the basic plan.
It's a great fit for WordPress websites since it's officially recommended by WordPress.org
Bluehost also offers free email accounts, 24/7 live customer support, and SSL (security layer) on all plans. It's very easy to use and probably the best entry-level web hosting provider that is both reliable and secure. In addition to traditional shared hosting, the company also offers dedicated, VPS, and managed WordPress hosting plans for higher traffic websites.
All of their hosting plans come with a 30-day money-back guarantee and get instantly activated, so you can start using them right away.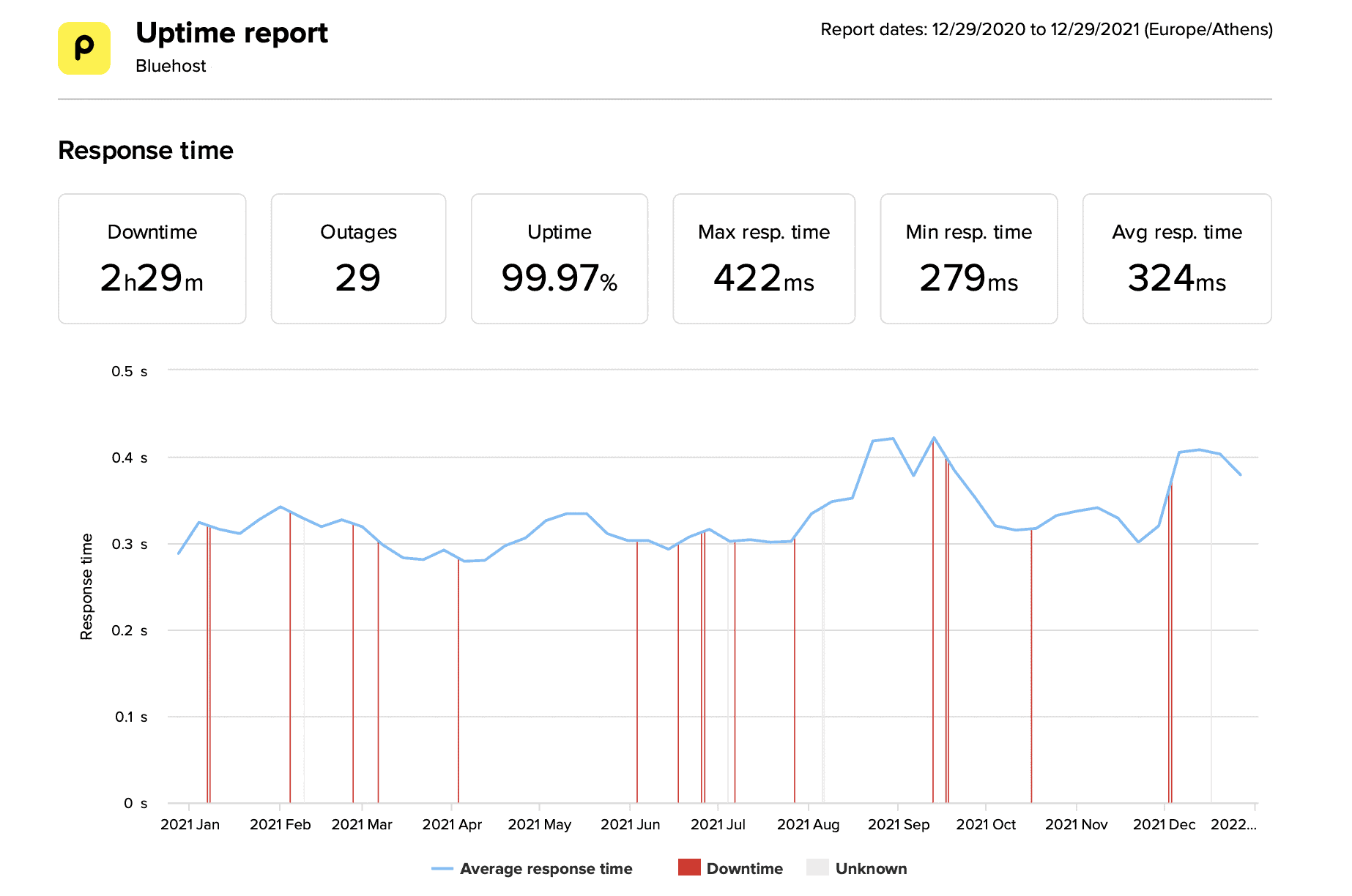 Visit Bluehost.com
…or read our detailed Bluehost review
2. A2 Hosting – Fastest Shared Hosting
---
US-based A2 Hosting (founded in 2001) is one of the fastest shared web hosting we've tested to date. They've managed to achieve an impressive 288 ms average load time over a period of 12-months.
A2 Hosting is fast because its servers are optimized for WordPress websites and they use LiteSpeed cache.
A2 Hosting is also reliable. Their average uptime has been hovering around 99.98% with an hour and a half of downtime.
The A2 hosting company is well-known for working seamlessly with all major content management systems including WordPress, Joomla, Drupal, OpenCart, and Magento making it a great fit for web developers. The company offers a variety of hosting plans and they all include a free LetsEncrypt SSL certificate, unlimited SSD storage, and free site migration.
The cheapest plan "Lite" starts at $2.99/mo (renews $10.99/mo) comes with 1 website, unlimited email accounts, a domain name for 1 year, free Cloudflare CDN,  and unlimited bandwidth.
A2 Hosting has a reliable customer support team called "Guru Crew Support." Customers can connect with them 24/7/365 via live chat, phone, email, and tickets. Next to regular, shared hosting, they also offer dedicated, reseller, and VPS hosting plans.
All plans come with a 30-day money-back guarantee.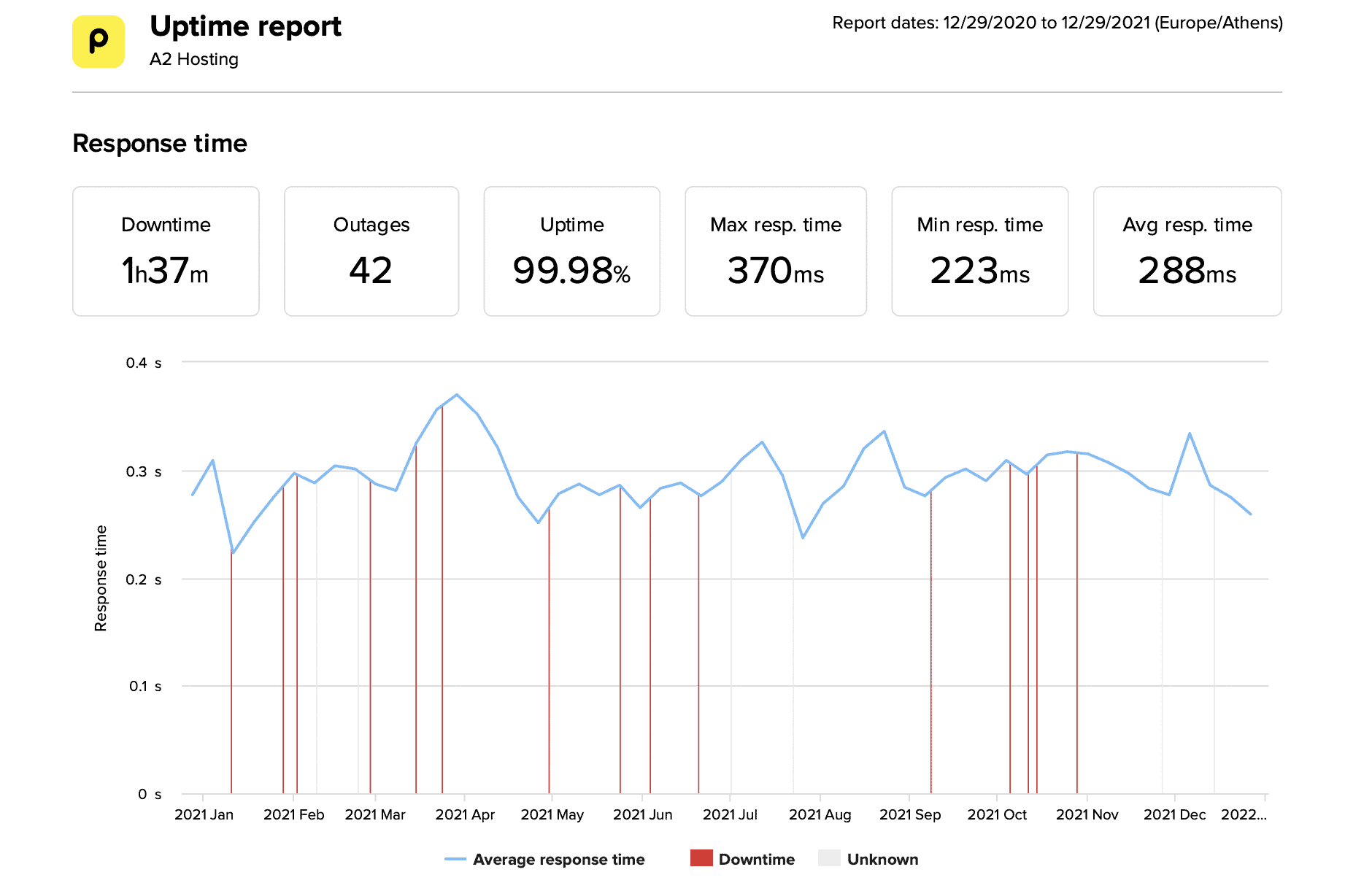 Visit A2Hosting.com
…or read our detailed A2 Hosting review
3. Hostinger – Best Pricing ($1.99)
---
Our last 12-month data shows that Hostinger has an average uptime of 99.97%, which is a huge improvement since our last testing period when the average uptime was 99.74%. Hostinger also delivers a fast loading time of 342 ms.
Hostinger (who also owns Hosting24) offers extremely affordable hosting plans without compromising too much on the quality and performance of the service. While it's cheap on the price, the features that come with Hostinger's plans will appeal to many beginner website owners.
The company offers a variety of hosting plans with different features and all plans come with an easy website builder, free SSL certificate, 99.9% uptime guarantee, and 24/7/365 support.
Hostinger's cheapest plan starts from just $1.39/mo (when you choose a 48-month payment plan), renewals start at $2.99/mo. Bandwidth and databases are unlimited unless you choose the "Single Web Hosting" plan. With the latter, you'll be limited to 30 GB of disk space, 100 GB of bandwidth, two MySQL databases, and one email account. Most notably, the cheapest plan doesn't include a free domain and has limited processing power and memory.
Other services provided by Hostinger include Cloud, Email, WordPress, and Windows VPS hosting plans.
All plans come with a standard 30-day money-back guarantee.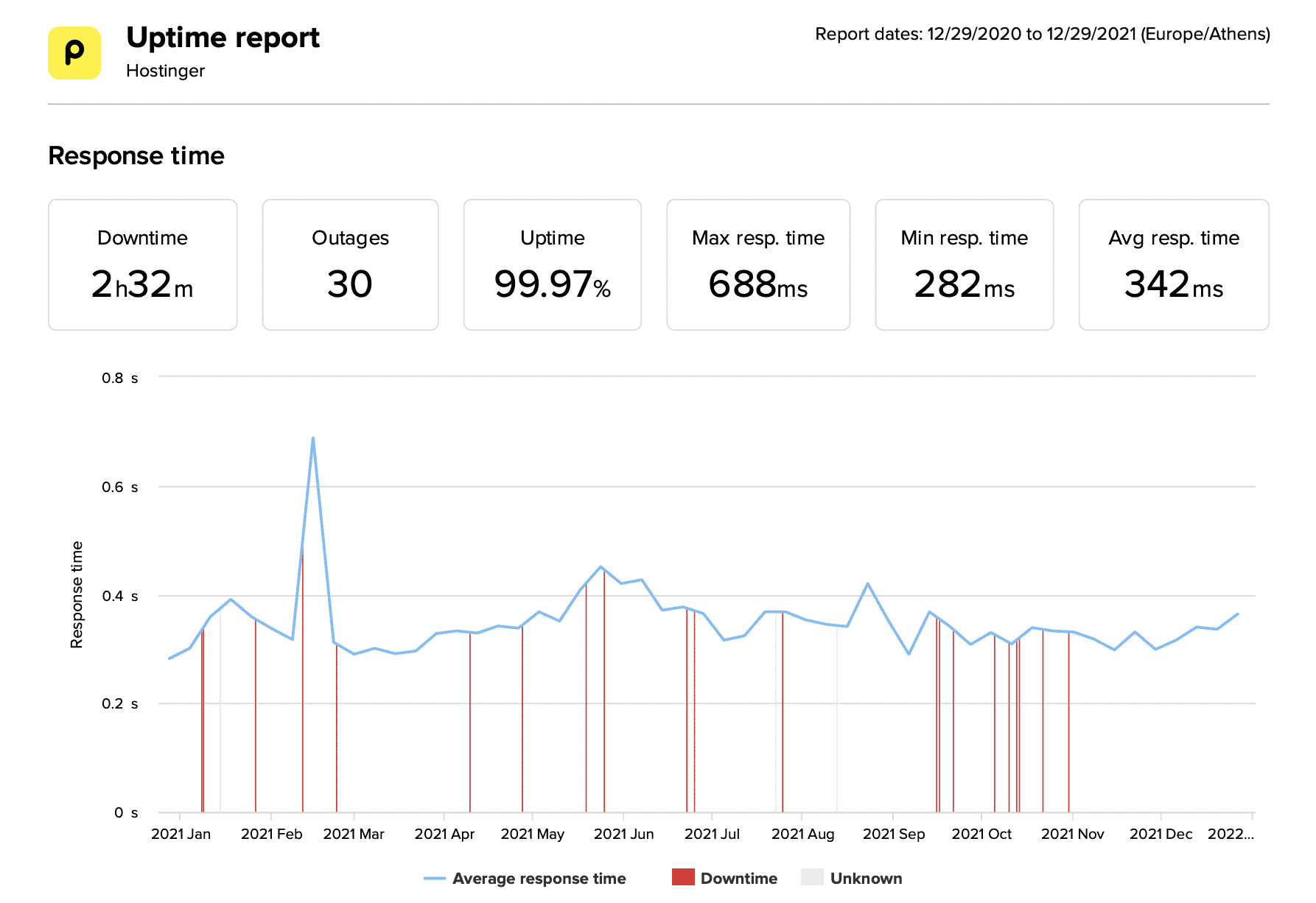 Visit Hostinger.com
…or read our detailed Hostinger review
4. DreamHost – Best "Monthly" Payment Plan
---
Founded in 1997, DreamHost is one of the oldest web hosting providers. The company hosts over 1.5 million websites, blogs, and applications in more than 100 countries.
According to our last 12-month data, DreamHost, unfortunately, has poor uptime (99.84%) and slow speed (1470 ms).
What makes DreamHost different from many other web hosting services is that they offer an option to pay monthly instead of yearly.
This means you can sign up for $1.99 (after one month it will renew to $7.99/month) and start using your hosting account right away. Alternatively, you can opt-in for a 3-year-plan which starts at $2.59/mo and renews at $5.99/mo. The basic plan includes a free domain, 1 website, unlimited bandwidth, and storage. Customers also get to use DreamHost's drag-and-drop builder and can add an email for a monthly fee of $1.67/mo.
The company offers strong security features (LetsEncrypt SSL), a variety of domain management tools, and unlimited data transfer per month. WordPress comes pre-installed and the company also has its own easy-to-use and beginner-friendly website builder. They don't have cPanel which is well known in the web developers industry, but DreamHost offers their own admin panel which pretty much does the same as cPanel or Plesk.
All plans include 24/7 US live chat support. The company has a generous 97-day refund policy.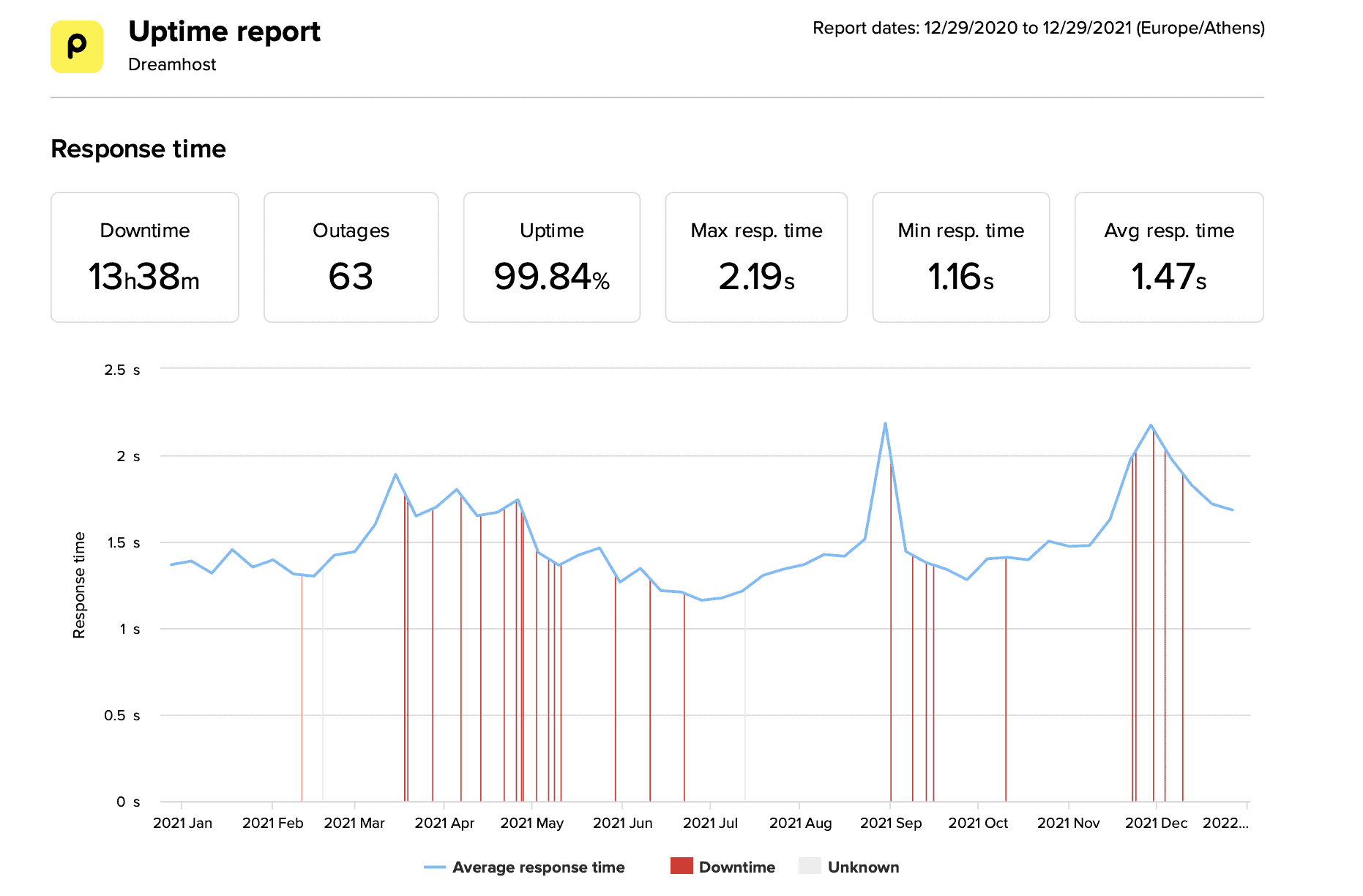 Visit DreamHost.com
…or read our detailed DreamHost review
5. SiteGround – Best Customer Support
---
SiteGround is a web hosting provider founded in 2004 in Sofia, Bulgaria. They're hosting over 2 million domains and are one of the three web hosting services officially recommended by WordPress.org.
According to our last 12-month data, SiteGround has a fantastic uptime (99.99%) and good speed (457 ms) making it a very strong top 10 web host.
SiteGround is well-known for its exemplary customer service and its user base is growing fast. All SiteGround hosting plans include website builder, email accounts, SSL, Cloudflare CDN, daily backups, and SSH access, for free.
The cheapest StartUp plan designed for beginners starts at $3.99/mo (when you pay for the 12-month plan), renewals start at $12.99/mo. You can host one website well-suited for ~10,000 monthly visits. The plan comes with 10 GB of web space, unmetered traffic, and 24/7 support.
SiteGround has a wide line of services including managed WordPress hosting, WooCommerce hosting, cloud hosting, enterprise hosting, and dedicated server hosting. Instead of having in-house servers, they are renting servers from the Google Cloud.
All plans come with an industry-standard 30-day money-back guarantee.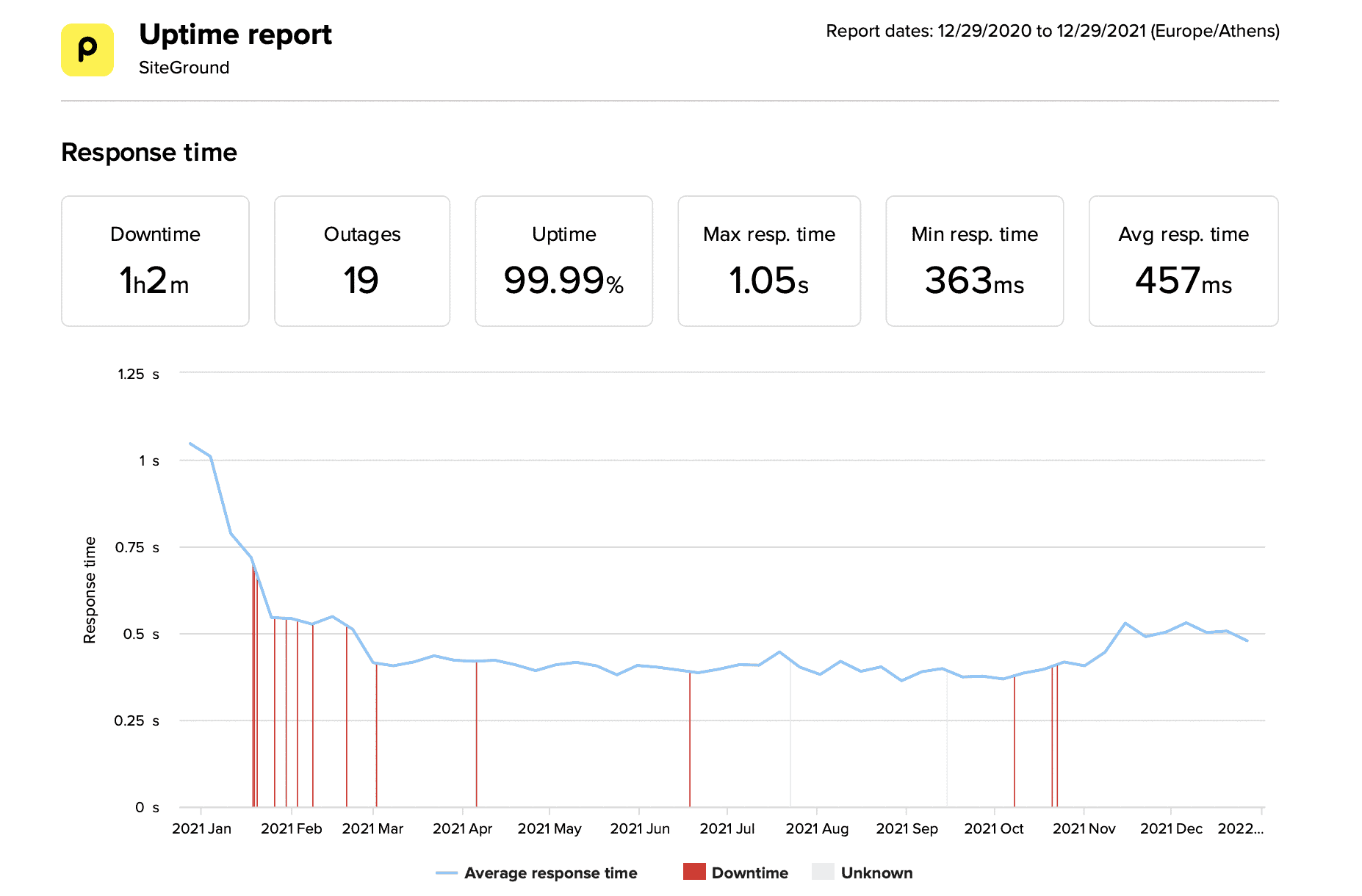 Visit SiteGround.com
…or read our detailed SiteGround review
6. GoDaddy Hosting
---
GoDaddy is one of the leading hosting solutions powering over 44 million websites. The company has 14 facilities around the globe and is recognized as one of the largest domain registrars. They also offer web hosting services that are suitable for both small and very big websites. Similar to SiteGround, they also don't own their server park, instead, they have partnered with Amazon and rent servers from AWS.
The last year of tracking GoDaddy shared hosting has shown us an uptime of 99.91% and page speed around 520 ms which shows us that GoDaddy is a reliable provider. GoDaddy is an excellent solution for building custom websites as it comes with a simple drag-and-drop website builder (GoCentral) designed for beginners. It also features developer-friendly tools like MySQL, cPanel, CloudLinux, Python, and multiple versions of PHP.
Their cheapest web hosting plan starts from $2.99/mo (renews $8.99/mo) comes with a free domain and unmetered bandwidth. Security monitoring and DDoS protection are included too.
However, GoDaddy has many "upsells" that will likely make you pay a bit more. For example, site backups, SSL certificates, and email accounts are not included in their cheapest plan. GoDaddy also offers 24/7 support.
All GoDaddy's yearly and multi-year plans come with a 30-day money-back guarantee.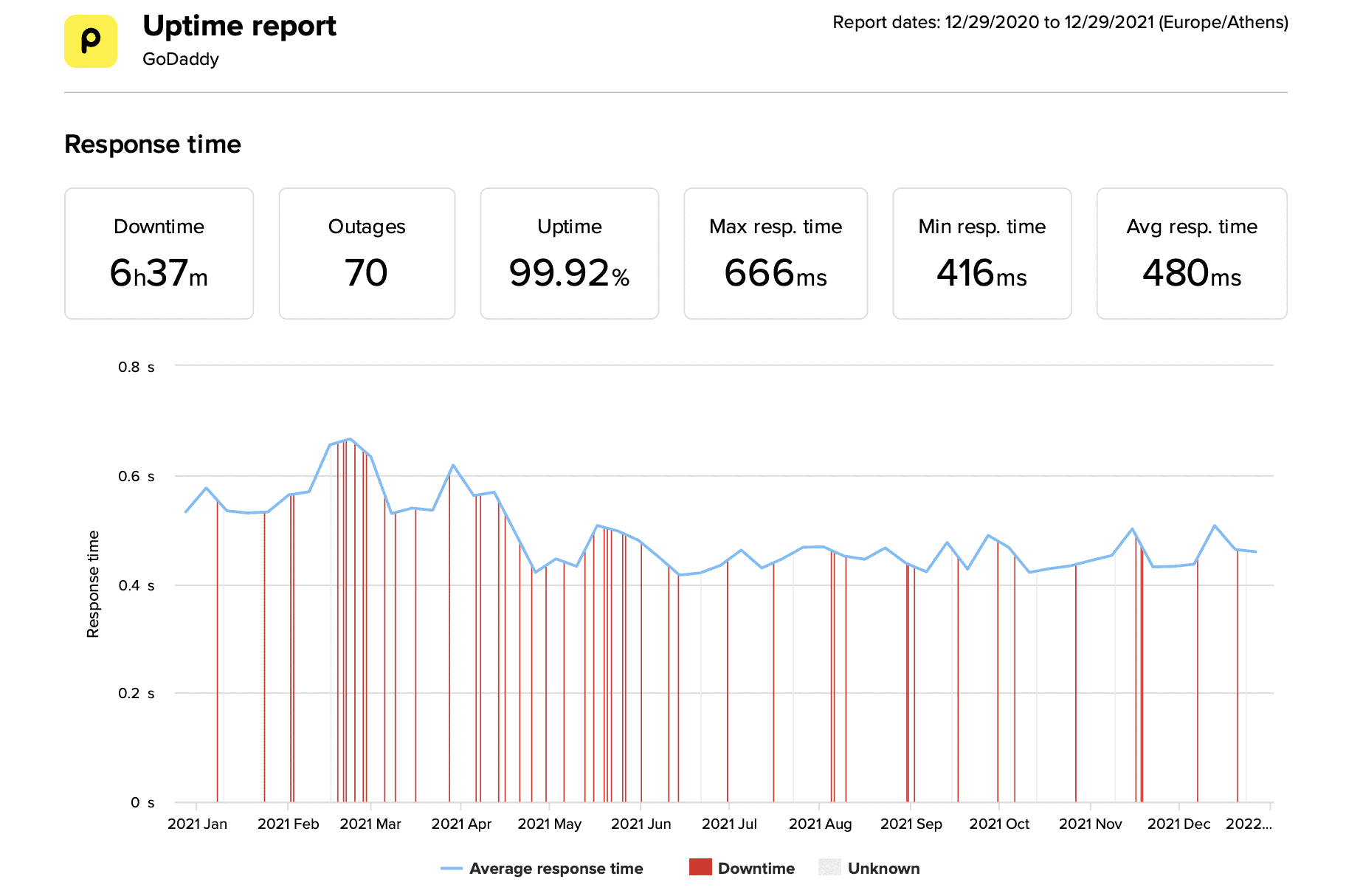 Visit GoDaddy.com
…or read our detailed GoDaddy review
7. GreenGeeks
---
GreenGeeks has been around 12+ years and hosts over 500,000 websites.
With load speeds of 503 ms, GreenGeeks offers fast hosting at an affordable rate of $2.49/month. Add to this their feature-rich bonuses, high-quality 24/7 customer support, and environmentally friendly practices and it's easy to see how GreenGeeks are quickly carving out a name for themselves in a wildly oversaturated market.
GreenGeeks also delivers reliable average uptime of 99.96%.
Their cheapest plan ($2.95/month) comes with a free domain for 1 year, a website control panel (cPanel), free SSL, PowerCacher, 50 GB SSD storage, and unlimited data transfer. Customers also get one website, 50 email accounts, and nightly backups.
If your website grows bigger, you can always upgrade to their more flexible VPS hosting. Also, GreenGeeks will migrate your site from your existing web host for free. Unfortunately, the $10.95/month renewal rate may dissuade some webmasters from choosing GreenGeeks over other hosting providers.
All plans come with a 30-day money-back guarantee.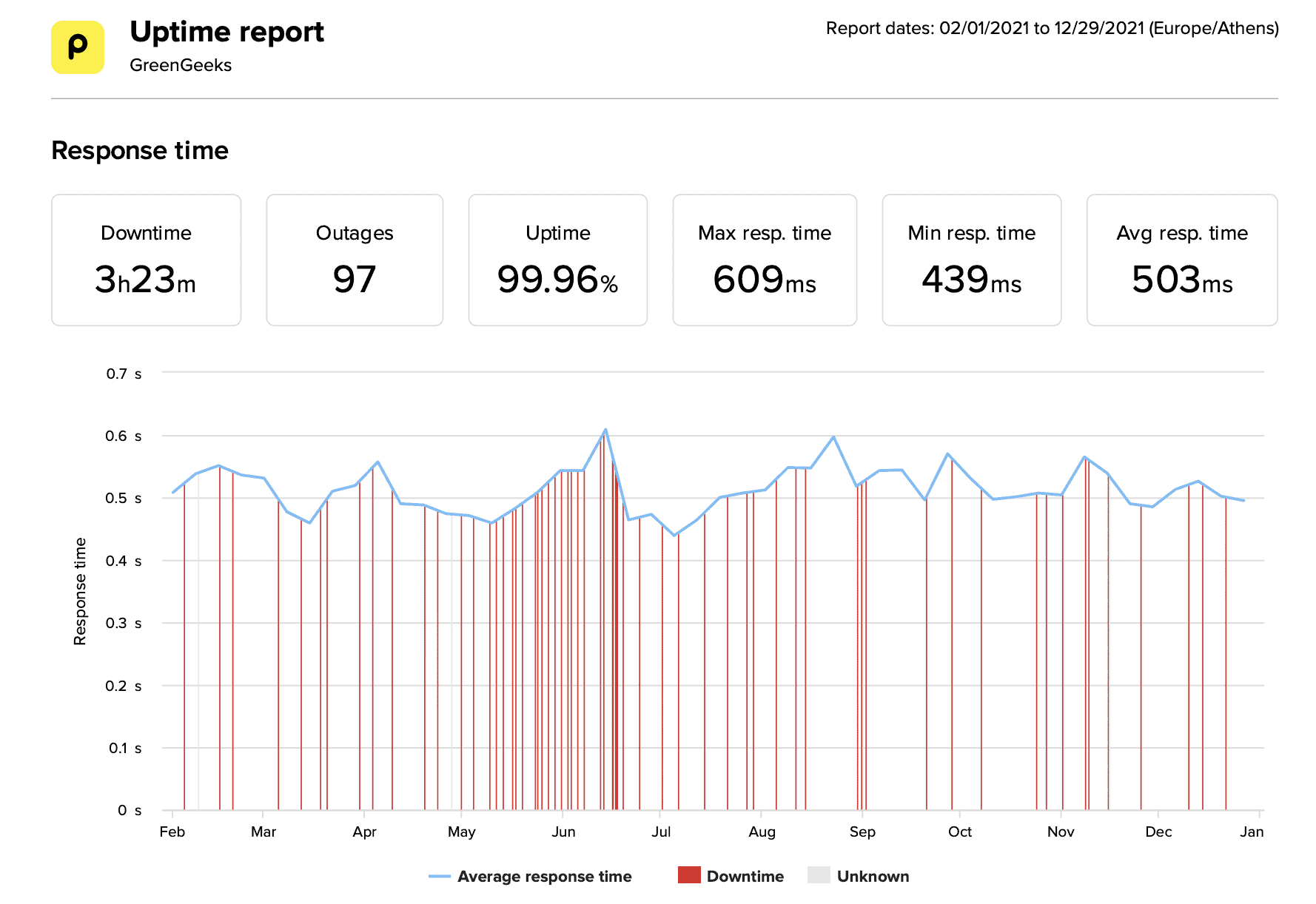 Visit GreenGeeks.com
…or read our detailed GreenGeeks review
8. InMotion Hosting
---
InMotion is one of the largest and oldest hosting companies – they've been around since 2001. And they're popular for a reason.
Our 12-month measured data shows a good average uptime of 99.95% and a page speed average of 327 ms. Considering the size of InMotion's client base, these are decent results.
You can get InMotion's cheapest plan Lite for only $2.29/mo, which comes with great features such as unlimited bandwidth, free SSL certificates, and 400+ app integrations (including 1-click WordPress install). Sadly, this price is only available with a 3-year subscription, after which it renews at a much steeper $8.99/mo. Also, a domain name is not included in their cheapest plan. 
Still, InMotion is worth trying out as they provide some great features when starting with your first website. Beginners can benefit from their high-quality 24/7/365 live chat support, extensive knowledge base, and their free website builder. When your site starts to grow, you can switch to a more scalable VPS or dedicated server hosting plan.
All in all, despite the high renewal pricing, InMotion is pretty good. And thanks to their rare 90-day money-back guarantee, the risks are really low.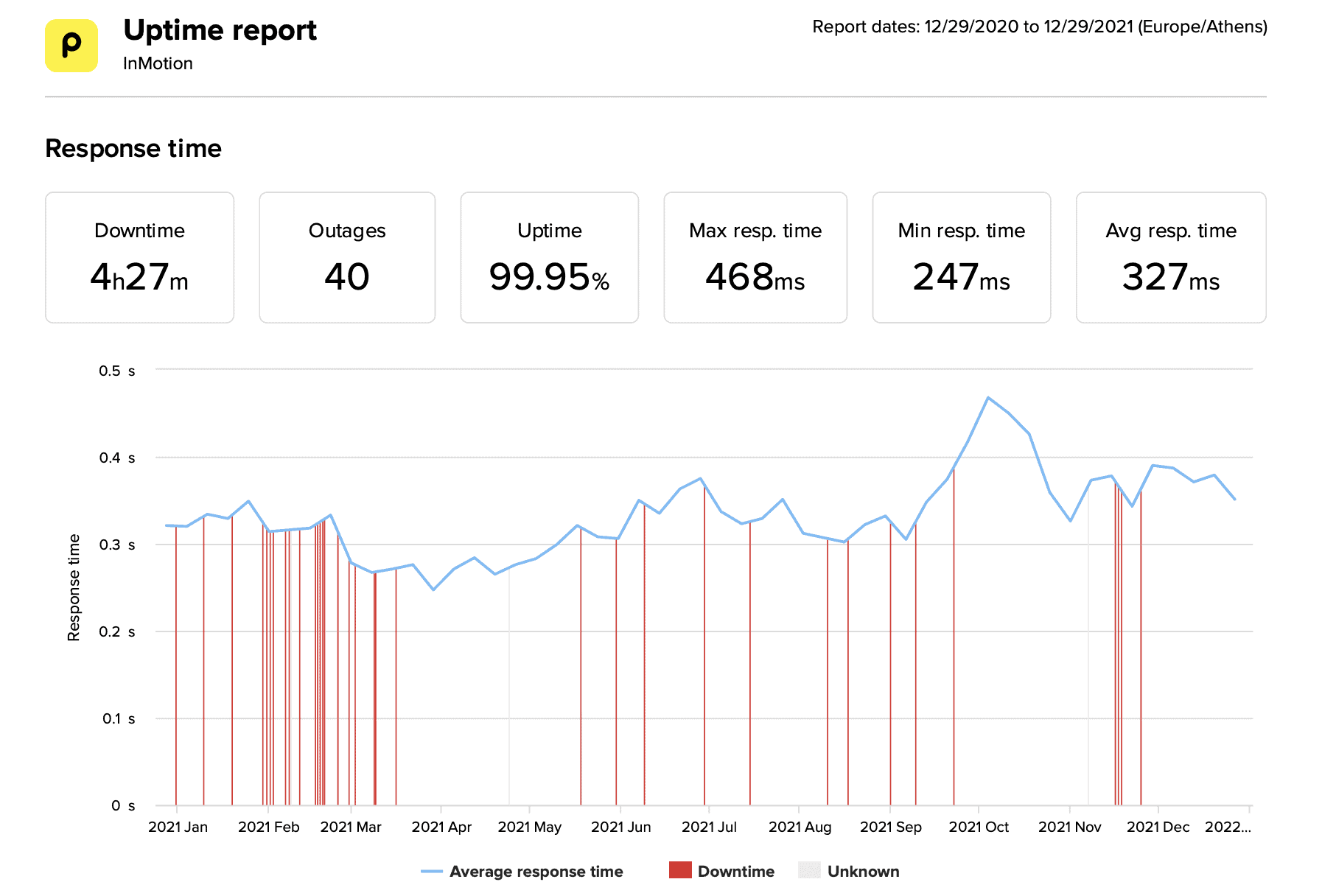 Visit InMotionHosting.com
…or read our detailed InMotion review
9. IONOS (1&1) Hosting
---
Next on our list, we have Ionos by 1&1, offering shared, VPS, cloud, dedicated, and WordPress hosting. We haven't been following their services as long as other companies on this list but we can already draw some conclusions.
Our test site data from the previous 12 months reveals that Ionos is among the best services when it comes to uptime (99.98%). Their average page speed isn't exactly top-tier but it's still quite satisfying at 898 ms.
Ionos's cheapest pricing plan starts at a crazy $0.50/mo. With this plan, you'll get access to several great features: a website builder, free SSL, a free domain and email, as well as popular CMSs including WordPress, Drupal, and Joomla. Also, 24/7 live chat is included. 
Sadly, Ionos has a steep renewal rate. After the initial 12-month period, you'll be paying $10.00/mo for a hosting service that doesn't offer you free site migrations. On top of that, Ionos isn't even available in many countries, including numerous European states, China, and Egypt.
So, Ionos might not be the best fit for everyone, but at least they have good performance and a safe 30-day money-back guarantee.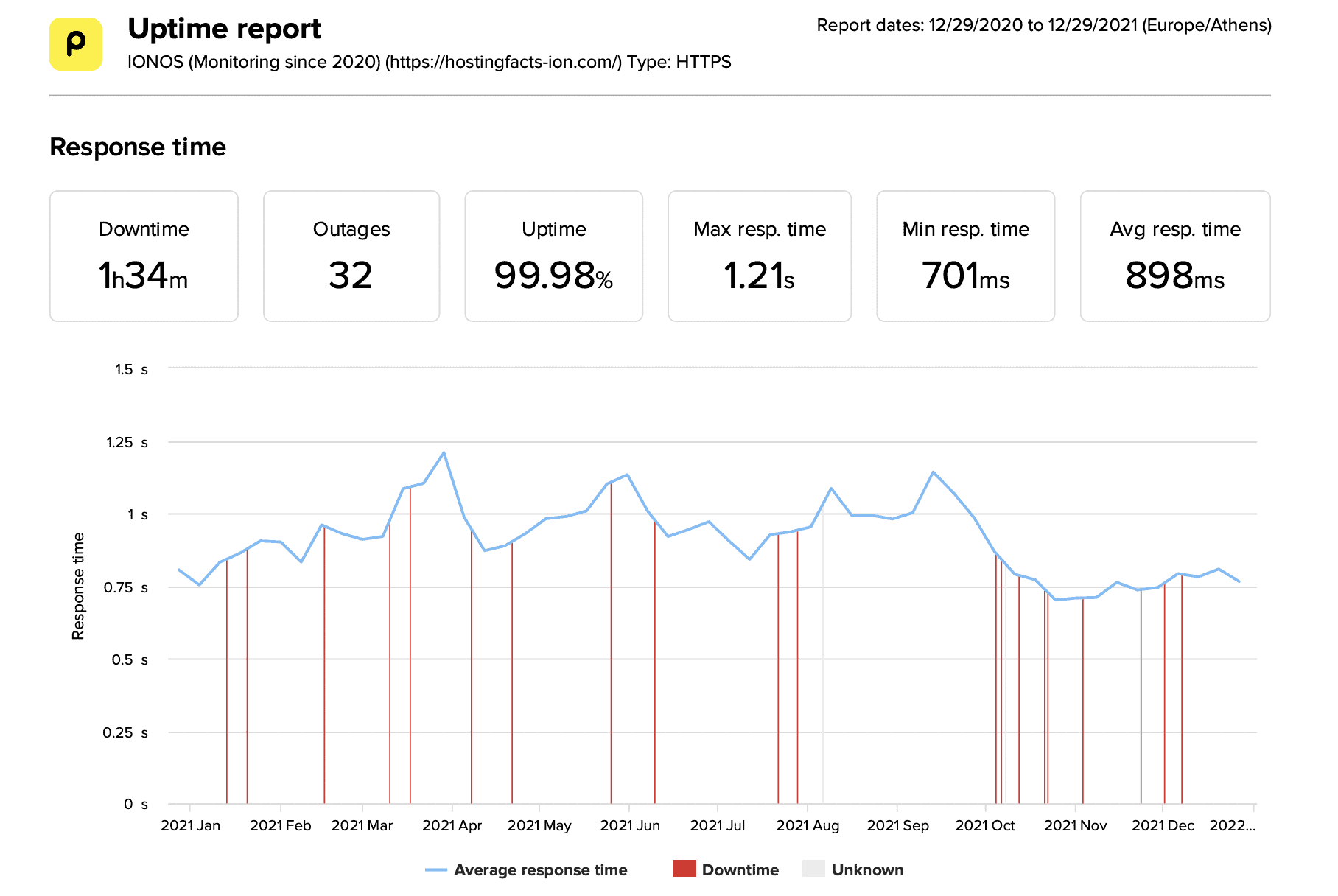 Visit Ionos.com
…or read our detailed Ionos review
10. HostPapa
---
HostPapa has grown its service since 2006 and now, they're hosting over 500,000 websites. They offer great performance, excellent features, and value for money.
During the past 12 months, our test site has shown a really solid uptime of 99.96% and an average page speed of 594 ms.
But rock-solid performance isn't their only pro:
HostPapa offers more support options than perhaps any other host. They have 24/7 live chat, email, fax (!), and mail support as well as phone support in over 18 countries and four languages. Also, their knowledge base has many helpful videos.
You can get HostPapa's cheapest plan Starter for $2.95/mo with a 3-year subscription. This includes a free migration, SSL, and CDN, as well as a website builder and 400+ 1-click-install apps. On top of that, you'll get a free domain, 100 GB of storage, and unmetered bandwidth.
All this is definitely great value for money and a good fit for beginners. The only downside is that the Starter plan renews at $9.99/mo.
Next to shared hosting, HostPapa also offers VPS and WordPress hosting plans.
They have a decent 30-day money-back guarantee.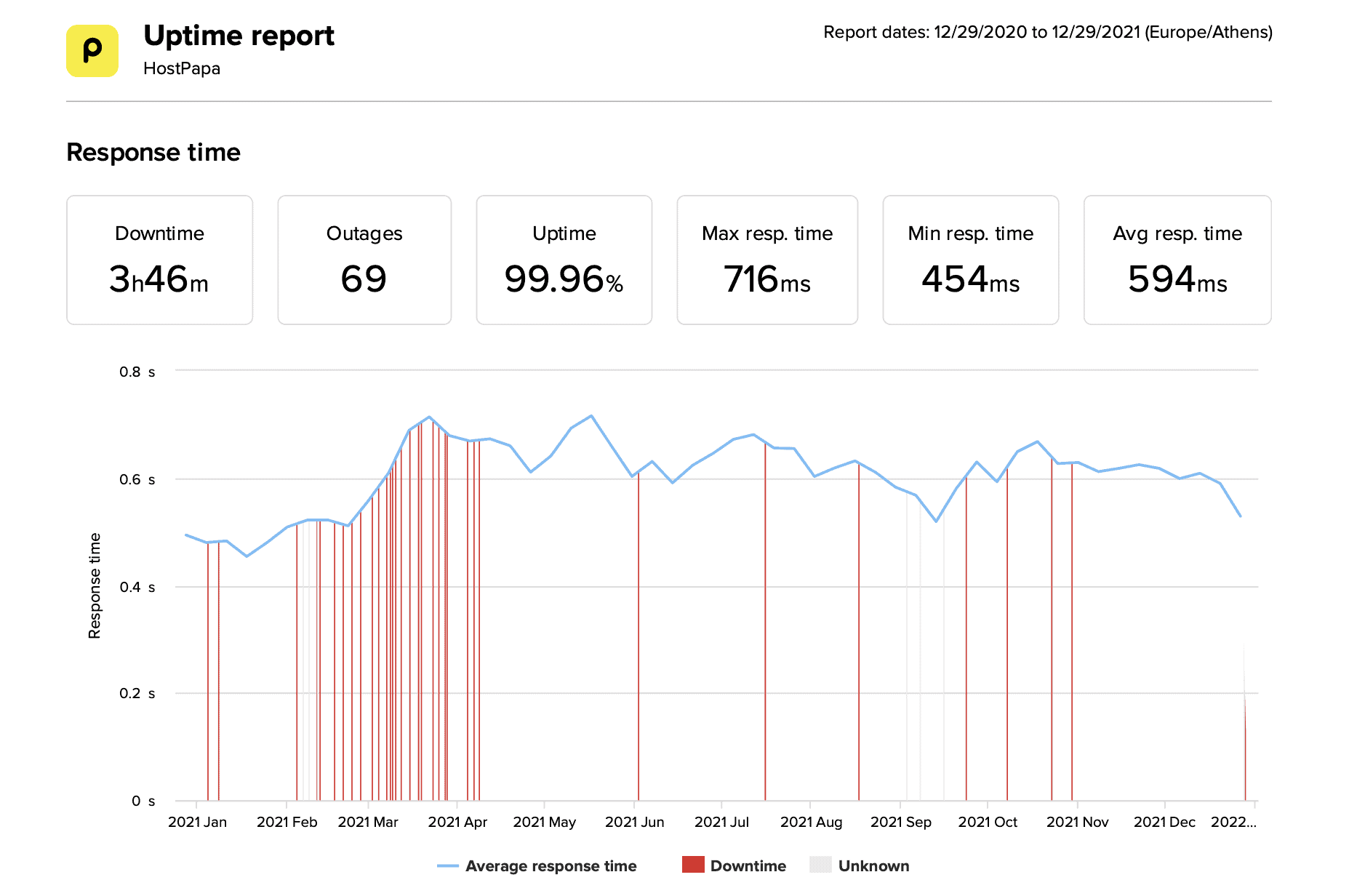 Visit HostPapa.com
…or read our detailed HostPapa review
All Hosting Reviews & Statistics (Spreadsheet)
Each year we will slowly add more hosting providers to the list as soon as we have enough data on their performance (uptime and load time). Here's a link to the spreadsheet – web hosting comparison chart (2022).
Other things to consider when choosing a web hosting service
1. Site transfers and migrations are not always free
What if you pick a web host only to discover that you don't like it? Site transfer, also known as site migration, allows you to move your website to another host.
Moving to another website consists of transferring the website's files and databases, configuring your site with the new host, and directing your domain's DNS to the new host. Once you pick a new site host, they can usually help you out with this process. The cost will depend on the host you're switching to, but it can range anywhere from $150-$400.
But some web hosts on our list, like HostGator and GreenGeeks, offer free website transfers.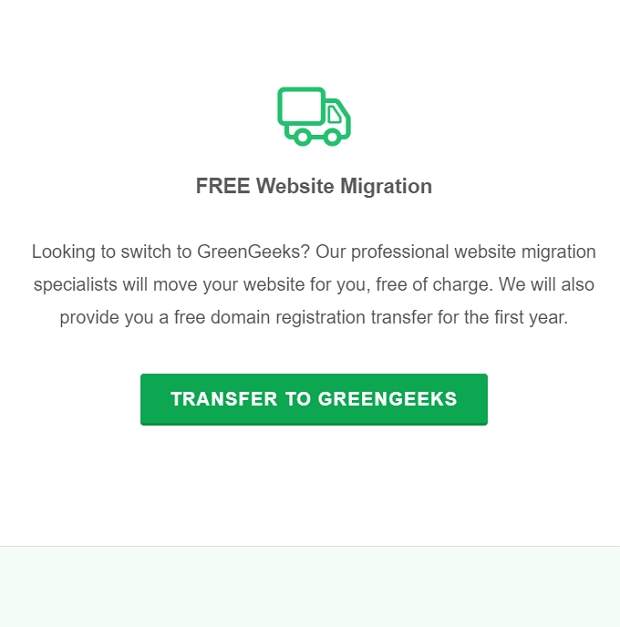 For paid transfers, you can sometimes transfer more than one site. For example, it's $149.99 to migrate 5 websites and 20 email accounts to Bluehost. The site transfer will usually take a few days.
For a host like HostPapa, it will take 5 to 7 days to complete a site transfer. They recommend modifying DNS entries before starting the transfer so that it takes less time. They can also update your DNS entries, but this service will add 24 to 72 hours before your site becomes live. With A2 Hosting, it'll take anywhere from 2 to 4 days.
2. Renewal rates are usually higher
According to our findings, most web hosting providers double or triple their price once it's time to renew your deal.
The renewal fees can jump to $7-10/mo for a basic plan that initially costs $2.99/mo. The features and performance you get from the plan stay the same, but you'll have to pay more.
For example, GoDaddy's Economy plan will jump to $8.99/mo once it's time to renew.
A2 Hosting requires customers to submit a written cancelation request 15 days before the beginning of the renewal. However, if you forget to request cancellation your renewal will automatically start and the price will be doubled.
3. Bandwidth, storage, and email account limits
When it comes to bandwidth and storage there are also limitations.
GoDaddy's cheapest plan provides users with unmetered bandwidth and 100 GB storage which is enough for a single website.
Hostinger offers 100 GB bandwidth and 10 GB storage, while iPage offers scalable bandwidth and unlimited MySQL databases.
Customers interested in unmetered bandwidth and storage should check out HostGator, SiteGround, and GreenGeeks.
Website owners interested in hosting providers that offer free SSL should consider using A2 Hosting, DreamHost, HostGator, SiteGround, or iPage. They all include a free SSL certificate in all their hosting plans which is not always the case with major hosting providers. For example, GoDaddy charges fees for SSL certificates.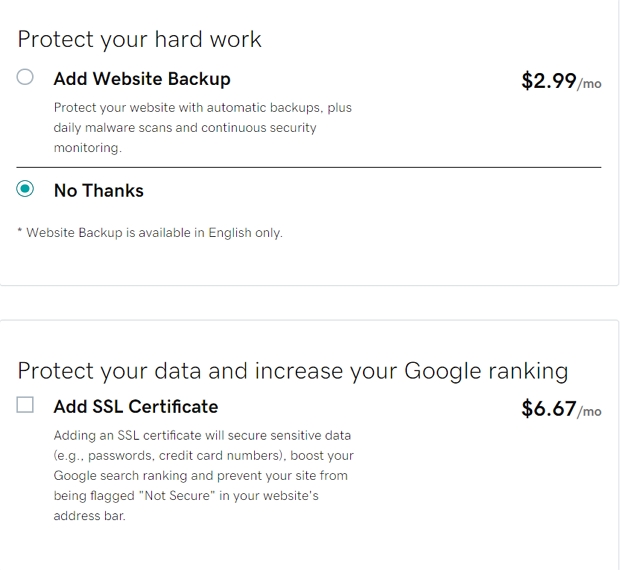 When it comes to email accounts, web hosting solutions differ in their offers.
For example, all SiteGround, HostGator, A2 Hosting, and Hostinger hosting accounts include a free email account.
GoDaddy includes a free business email for the 1st year with their basic plan. The Microsoft Office 365 mailbox comes with 5 GB of dedicated storage and a shared online calendar.
iPage and GreenGeeks let users create unlimited email accounts. They are branded for the user domain and include email forwarding and autoresponders.
4. Once your site grows, consider choosing a more scalable web hosting plan
Web hosting providers offer different hosting types. If you are just starting out or have a low-traffic website, you should opt-in for shared web hosting. It's more than enough to maintain and run your website(s). However, once your site(s) grows, it's easy to migrate from one hosting to another or upgrade to more expensive web hosting.
Shared web hosting – Best for new websites and blogs. All websites are stored on one physical hosting server where they share server resources like storage, bandwidth, RAM, and computing power. If your website doesn't get much traffic, this is the best place to start. Jump back to our top 10 list.
VPS hosting – VPS stands for a virtual private server. Although VPS is similar to shared hosting (speed and uptime wise) and it stores multiple websites on the same server, it provides more customization options and you'll have more control. With VPS you can scale your resources based on your needs.
Cloud hosting – Type of hosting service which allows many computers to work together, run applications, and use combined computing resources. Cloud-hosted websites can use the resources of multiple web servers, which means they're not limited to a single server location.
Managed WordPress – Best for high traffic WordPress sites. WordPress managed hosting covers the same hosting needs as general web hosting services, however, its main focus is to optimize the performance of a WordPress site.
Dedicated hosting – Best for big, enterprise websites. Type of hosting server that gives website owners the resources of one entire server for their website. This type of hosting provides websites with the ability to handle large amounts of traffic and the ability to customize it to their needs in terms of CPU, RAM, disk space, and software.
---
Detailed reviews of all the hosting companies we've monitored so far can be found here.
If you want us to review, compare and track more of a web hosting company that is not listed, contact us.
If you wish to leave your own review, you can submit it here. Since we get a lot of submissions, we only accept genuine and unique reviews.