If you plan on building a new website or spinning up an e-commerce store, you need to register a domain name to lock in your idea.
But registering a domain name can be daunting, especially if you've never done it before.
Luckily, you've come to the right place.
We're here to help you learn how to register a domain name in five easy steps.
We'll also explain why it's so important to register a domain name, highlight specific examples, and clarify any questions you might have with some straightforward answers.
Why You Need To Register Domain Names
According to a 2022 VeriSign report, the third quarter of 2022 ended with more than 349.9 million domain names registered worldwide. Each of these domain names is designed to help people find a website without typing in a full IP address.
There are all sorts of benefits to registering a domain. Doing so means you can:
Have a distinctive online presence
Own your desired domain name (without someone else taking the idea)
Retain a reliable and available domain for your business name
While it costs money to register a domain name, the investment is more than worth it. And depending on the registration process, you may still be able to secure the name for free (or at least a significant discount).
How To Register a Domain Name in 5 Easy Steps
Ready to lock in a new domain?
If you're a beginner, you'll be happy to know that domain name registration is quick and easy.
1. Search for a Great Domain Name
With so much competition in the world, you need a great domain name to back your great idea.
You have two options for picking a good domain name: Brainstorm some website name ideas yourself or use a domain name generator to get ideas for free.
Don't forget to follow best practices while choosing the perfect domain name. We recommend selecting a short, easy-to-pronounce (and read) option without any hyphens or numbers.
2. Pick the Right Extension
Now that you have the right domain name, it's time to pick the right extension to go with it.
The domain name system (DNS) requires you to add a domain name extension to the end of your web address — which is the portion that ends in ".something" (like .biz). These are also called top-level domain extensions, or TLDs.
Some of the most popular TLDs are:
While these popular TLDs don't have an innate advantage over other TLDs, people are more accustomed to them. As a result, more people trust and remember websites using these TLDs.
However, these aren't your only options. You could also select an extension that reflects where you live, like:
.es (Spain)
.fr (France)
.au (Australia)
Are none of those options available? You could try something unique or out of the ordinary, like:
However, unless you have a convincing reason or a strong brand presence (think Google's abc.xyz, stay clear of notorious TLDs, like .xyz, .support, and .bar.
3. Choose a Domain Name Registrar
You have your domain name and extension ready to go. Now you just need to register your name with the right registrar.
We recently put together a list of our picks for the best domain name registrars online.
A few of our favorites are:
Domain.com: Get a discount with the code "WEBSITESETUP25".
DreamHost: Get a free domain for the first year of an annual hosting plan.
HostGator: Get a free domain name on the first year of an annual hosting plan.
It might seem overwhelming, trying to decide which domain registrar is right for you. But the important thing to remember is to just get started with registering your domain.
You can always change to a more affordable or feature-rich registrar later on.
4. Buy and Register the Domain Name
This step is as simple as it sounds: pick a platform, pay the registration fee, and officially buy your domain name.
Just remember that you can't 'buy out' a domain name forever. You're just leasing it for a while, which means you can only maintain access as long as you are paying your renewal fee.
But what happens if you accidentally miss a renewal fee and your domain expires? A few things:
Your website will no longer be accessible to users.
Your domain name will go up for sale again approximately 30 days after it expires.
Anyone can buy your domain name and put their own website on it.
Obviously, you don't want that to happen, which is why it's so important that you set up auto-renewal on your domain name right away.
5. Set Up Auto-Renew
Auto-renew helps you instantly pay for your domain without having to put a reminder on the calendar. This means you don't have to worry about your domain name expiring if you accidentally miss a payment.
Many domain registrars automatically set up auto-renew for you. But just in case yours doesn't, we'll show you how to do it in the example below.
An Example of Registering a Domain Name (Domain.com)
Now that you're familiar with how to register domain names, let's put everything together with an easy step-by-step example of registering a domain with Domain.com.
Run a quick search to verify your desired domain name is available. Remember: Try to avoid using hyphens, numbers, or hard-to-read spelling in your domain.
Pick your website domain extension. You can choose anything you want, but remember that some popular TLDs, like  .com, may perform better than lesser-known ones, like .guru.
Select add-on services, if desired. Domain.com offers several of these, including an email address, website builder tool, web hosting plan, and SiteLock website security.
Provide your billing and payment information. With Domain.com, you can add the code "WEBSITESETUP25" at checkout to get 25% off your first order.
Set up auto-renew. Domain.com makes this easy to do so right from your dashboard.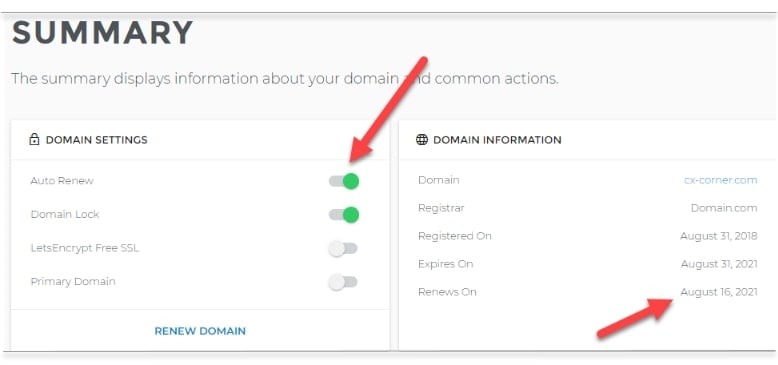 And… that's about all there is to registering a domain name. Pretty simple, right?
Frequently Asked Questions About Registering Domain Names
Still have some questions about how to register domain names?
Let's review some answers to frequently asked questions:
What does it cost to register a domain name?
On average, it costs around $10 to $15 per year to maintain a domain name.
However, your costs may be higher or lower depending on the registrar you choose.
Will I own the domain name I register?
Yes and no.
It's not possible to permanently own a domain name.
However, you can set up auto-renew to protect your domain for the long haul.
Can people find out who I am just from registering a domain name?
Yes.
According to the Internet Corporation for Assigned Names and Numbers (ICANN), anyone registering a domain name has to provide their personal contact information to verify their identity.
This information is stored in ICANN's WHOIS database, which is publicly available to anyone online.
Understandably, many people don't feel comfortable having their private information readily available like this, which is why many domain name registrars offer their customers the option to hide it — for a fee.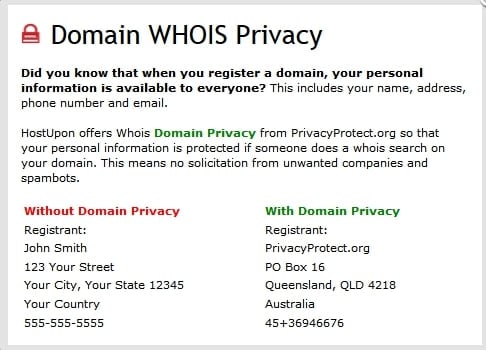 What's the difference between registering a domain name and hosting a website?
When you register a domain name, you rent the rights to a specific web address.
When you host a domain name, you store website files on a specific server.
Both work hand-in-hand to make a website possible.
You can think of domain name registration as buying a piece of property. Website hosting, on the other hand, is like building the "house" (website) at that address.
Final Thoughts: How To Register a Domain Name
You've seen what it takes to register a domain name for your website. Now it's time to put your knowledge into practice by registering a domain name yourself.
We've collected some of the best domain name registrars on your behalf, including:
Domain.com, one of the most popular options online.
Bluehost, which can help you with domain registration and web hosting.
GoDaddy, which offers a free domain name for the first year with an annual plan.
Eager to learn more about how to build your first website? We've got you covered. Our step-by-step guide takes you through everything you need to know, from registering your domain name to building your site's landing page.
And the best part? It's totally free!