Are you looking to register a domain name, but don't know where to start?
Part of creating a website is buying a domain name that has to be unique.
In this step-by-step guideline, we're going to show you two options on how to register a domain name and also cover some commonly asked questions that might pop up in your mind while registering a domain.
1. How to Register a Domain Name Using Domain.com
Domain.com is a reputable domain registrar, launched in 1998. Over 1.2 million websites are registered with them.
Domain.com features the most popular top level domains (TLDs) such as .com, .net, .org, .co, along with over 25 county-specific domain extensions (.fr, .au, .co.uk, and more).
They are mostly selling affordable domain names with most names priced in the $9.99-$12.99/year range. If you are lucky, you can also steal a deal and buy your domain name for as low as $2.99/year.
For that price you get:
1-year domain ownership.
Free SSL certificate for extra security.
Automatic email forwarding to your domain.
DNS registration and management tools.
Also, you can purchase extra Domain Privacy+Protection for your domain (costs $8.99/year). In this case, your personal details will not be displayed publicly in the WHOIS/ICANN directories. Plus, the registrar will also run extra security checks.
Sounds sweet? Here's how to register a domain name on Domain.com.
Step 1: Run a quick search to verify that the domain name you are eying is available.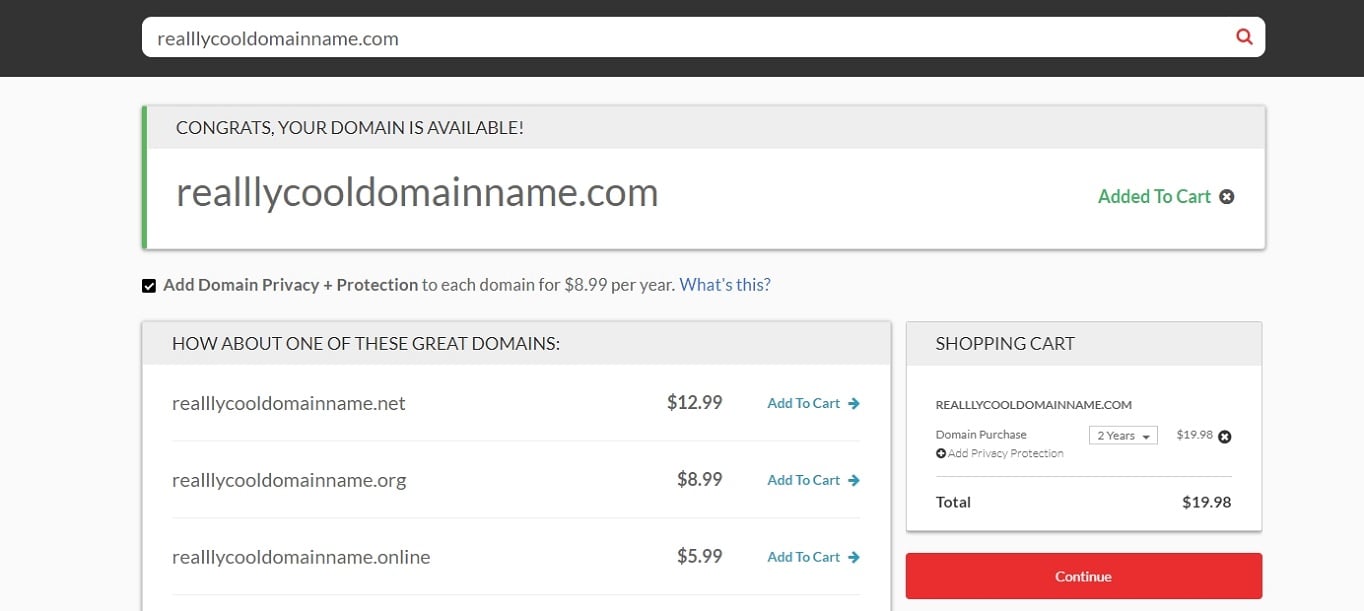 Step 2: Pick your domain extension. Go for .com since it's the most familiar option among users and thus, people, tend to type .com before trying anything else.
Your choice gets automatically added to your cart with a 2-year privacy protection subscription. This one's optional, so you can remove it during the next step. Also, you can change your domain renewal period from one year to five years.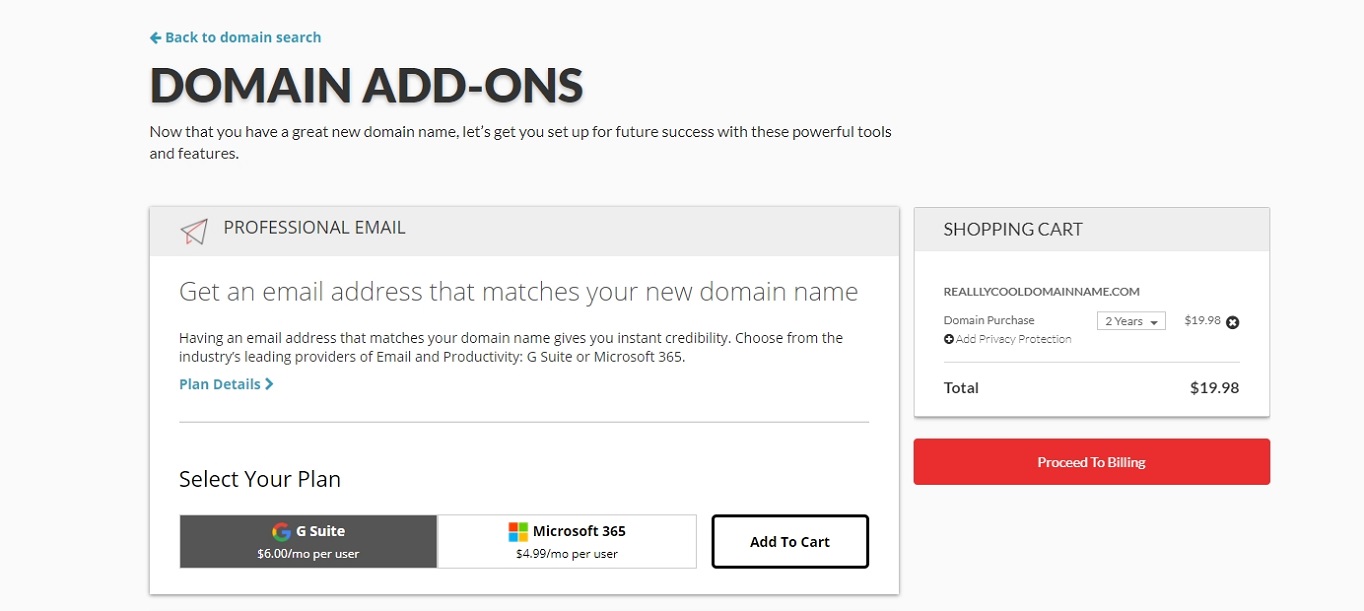 Moreover, you can pick some add-on services such as:
A professional email address, matching your domain name.
Access to a drag & drop website builder.
A web hosting plan (don't rush to grab it!).
SiteLock website security tool.
Step 3: Provide your billing and payment information once you are done with your selections. Add a coupon code "WEBSITESETUP25" to get 25% off of the first payment, review your choice(s), and proceed with checkout.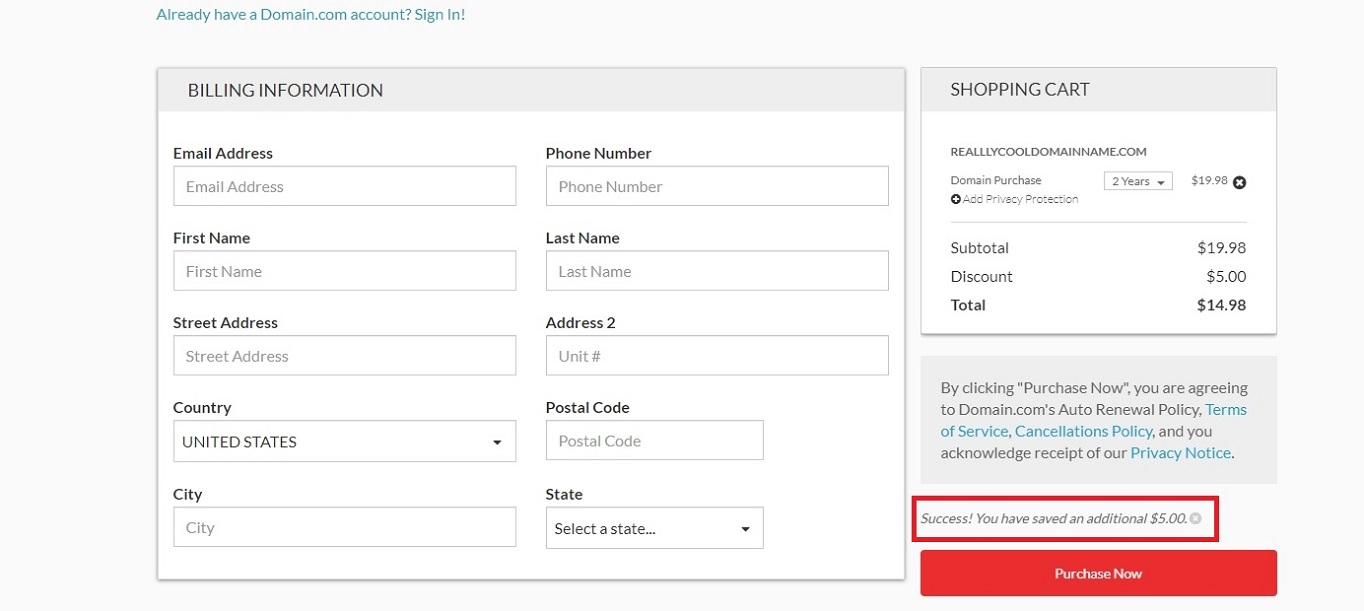 Note: Re-check your domain spelling before hitting "Purchase Now". Domain.com doesn't let you change your domain name post-purchase if you misspelled it.
After purchase your domain will get activated automatically.
2. How to Register a Domain Name Using GoDaddy
GoDaddy is also known as a web hosting provider, but you can also buy a domain name from them.
Step 1: Look up a new domain name first. If you haven't come up with a good name yet or are assessing different options, GoDaddy has a nice set of extra features to help you out.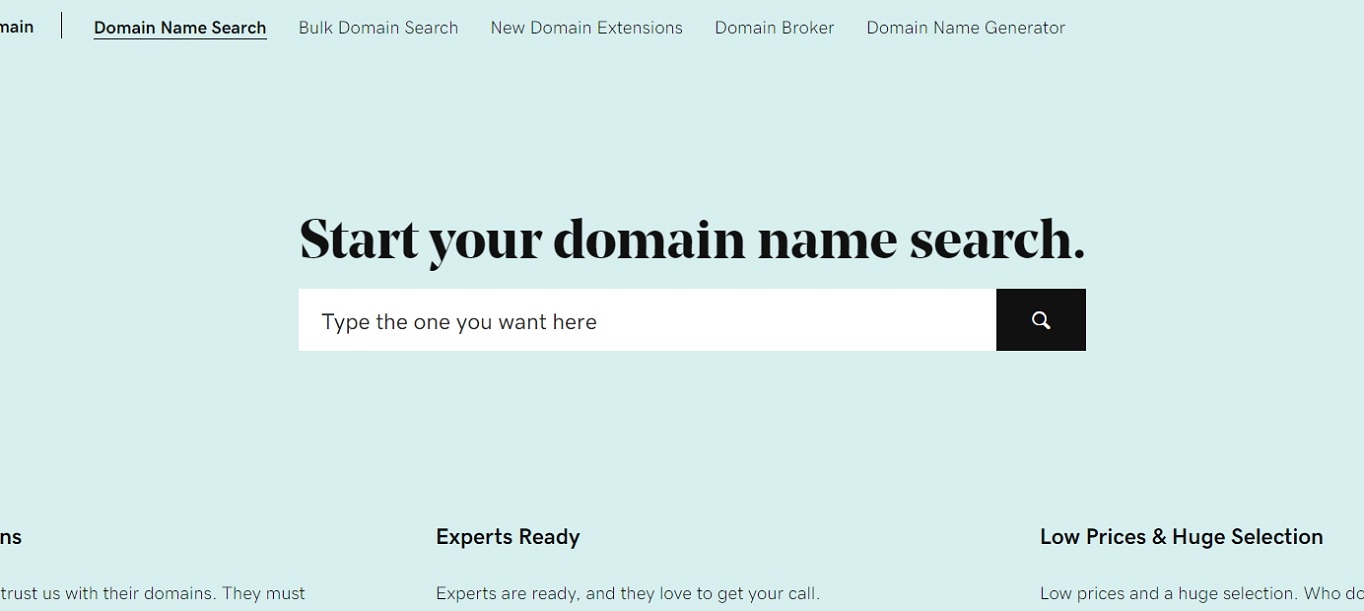 You can use the Bulk Domain search to check a bunch of domain ideas for eligibility in a click.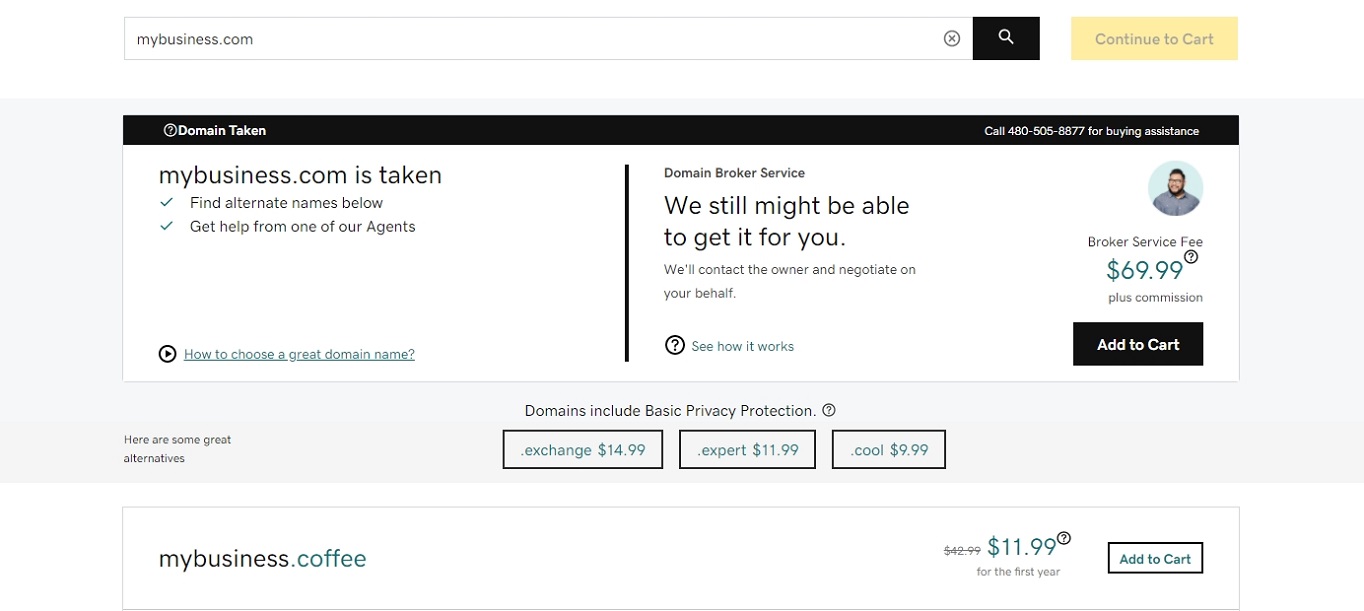 Also, if you are feeling very determined to get your desired domain for branding purposes, GoDaddy can try to broker a deal for you with the owner
Step 2: Once you've made your pick, grab all the TLDs you want to your basket and then select your renewals period (1 to 10 years).
Step 3: Once you've finished filling your cart with domains, click proceed to checkout. At the next screen, you'll be given an option to pick some extra handy features such as:
Step 4: Continue to your cart and carefully review your purchase summary. Pay attention to the fact that GoDaddy charges a lower rate for 1-year domains. But the price may go up if you sign up for 2+years.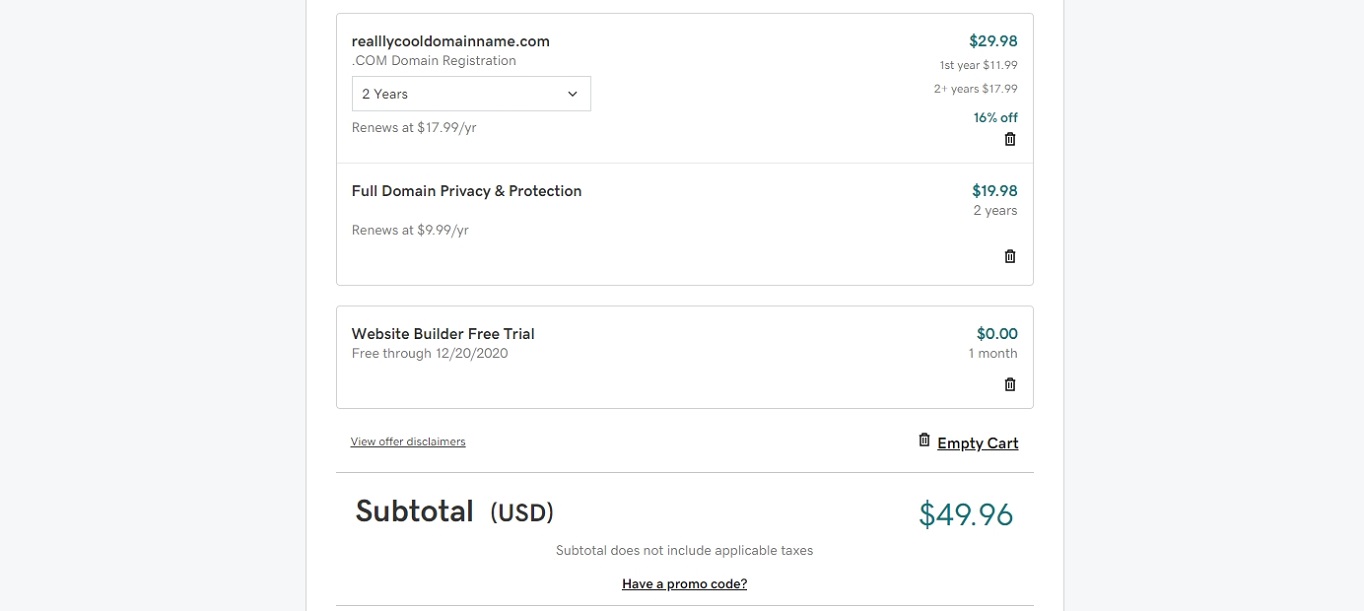 Again, you'd be pitched several upsells in case you change your mind.
Step 5: Create an accounting or sign in using your Facebook or Google Account.
Step 6: Provide your billing information. Then add a valid payment method (remember: you'll be auto-billed each year, so your card shouldn't be too close to expiring). Review all the details one last time and click 'purchase' to get your new domain name(s) registered.
Your domain gets activated automatically after the purchase.
Domain Registration FAQs
Here are some commonly asked questions.
1. What are Domain Name Extensions?
Domain name extensions help categorize different domain names. It's a special hierarchy, invented for the Internet.
You can choose among popular top-level domain extensions (TLDs) such as:
Or go with a local domain extension such as if you want to focus on building a presence in a specific country:
2. How to Buy a Website Domain for Ever?
As we explained, domain names are not for complete sale. Essentially, you are reserving domain name usage for a set period (10-years max at a time). But you can keep renewing your domain name as many times as you want to.
While you cannot buy it out for good from a registrar, you can hold on to your domain name for as long as you are paying your renewal fee.
3. What Happens If I Don't Renew My Domain Name?
If you didn't set auto-renewal or forgot to manually do so despite the reminders from your domain registrar, your domain name will expire. This means several things:
Your website will no longer be accessible by anyone who types your URL.
The domain name will be available for sale again, typically in 30-days or so after expiration.
It can also be auctioned on a website domain auction.
In essence, failure to pay a renewal fee means lost access to your domain.
4. Can I Transfer My Domain Name?
Yes, most domain registrars can also facilitate the process of transferring a domain name from one person to another (if certain conditions are met). For example, if you want to buy a premium domain name from someone, a registrar can help process the deal securely.
Also, you can transfer your domain name between different registrars if you found a better deal, for example, or just need some extra features.
Below are linked help documents for doing that with each registrar:
5. How to Find Out Who Owns a Domain Name?
When you register a domain name, the ICANN (Internet Corporation for Assigned Names and Numbers) requires you to provide personal contact information that will be stored in the WHOIS database.
Basically, as soon as the domain name is in the database, the record is publicly available to anyone who uses the WHOIS search tool.
There are loads of WHOIS tools available on the Internet, but you can try out, for example, the ICANN Lookup tool.