Bluehost was founded in 2003 and is one of the most popular hosts online today, powering over two million websites as of 2023.
Bluehost has refined its hosting in recent years to focus even more on WordPress. If you're looking to start a new website, it's a tempting choice, with prices starting as low as $2.95/month.
But low prices aren't the only perk Bluehost has to offer. We've been monitoring Bluehost since 2017, so we'll tell you all about them in this Bluehost review.
Let's dive into it.
An Overview of Bluehost
| | |
| --- | --- |
| SPEED: | 661 ms (January 2022 to December 2022) |
| UPTIME: | 99.91% (January 2022 to December 2022) |
| SUPPORT: | 24/7 Live Chat, Phone, Email, Knowledge Base |
| APPS: | WordPress, Joomla, Drupal, phpBB, and More Than 75+ Open Source Projects |
| FEATURES: | Unmetered bandwidth, one Website, 10 GB Storage, Free Domain name 1st Year, Free SSL Certificate and CDN, Spam Experts, Domain Privacy, 30-Day Money-Back Guarantee, WordPress 1-Click Install |
| HOSTING PLANS: | Shared, WordPress, VPS, Reseller, and Dedicated Servers |
| SITE TRANSFER: | Single WordPress Site for Free |
| PRICING: | Starting at $2.75/month (renews at $10.99/month) |
Advantages of Using Bluehost
Bluehost is one of the largest hosts online today. Datanyze ranks the company as the 7th largest host worldwide, estimating that 3.19% of all websites are on Bluehost's servers. It offers something for everybody, new and experienced users alike.
Through easy-to-use features, helpful customer service, decent average response time, and beginner-friendly shared hosting plans, Bluehost presents itself as a good option for WordPress newbies looking for robust WordPress hosting.
But that isn't all there is to it, as we'll show you when we further review Bluehost's features below.
1. Uptime Is Pretty Good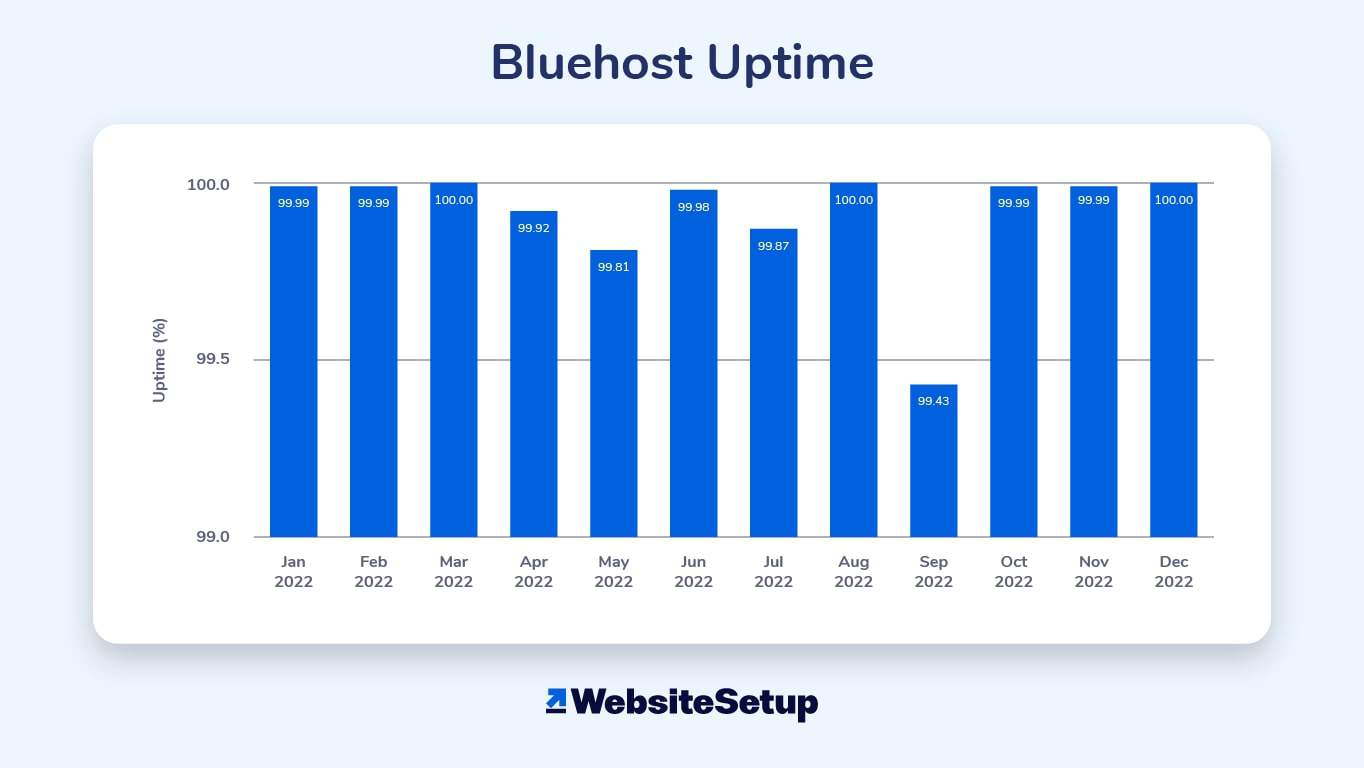 While tracking Bluehost's uptime during the entire year of 2022, we found that in the 12 months between January 2022–December 2022, Bluehost had an average uptime of 99.91%. And Bluehost started January 2023 strong with 100% uptime so far.
Its worst-performing month was September 2022, with an average uptime of 99.43%. It had 4 hours and 6 minutes of total downtime during that month. The longest single period of downtime was 1 hour and 25 minutes, but most instances of downtime were only a minute long.
While Bluehost's uptime rate is pretty good, it's worth noting that, unlike many hosts, the host doesn't offer an uptime guarantee.
If you're concerned about being guaranteed a certain level of uptime, consider looking into A2, another hosting company we monitor that offers a 99.9% uptime guarantee.
2. Customer Support You Don't Have To Hunt For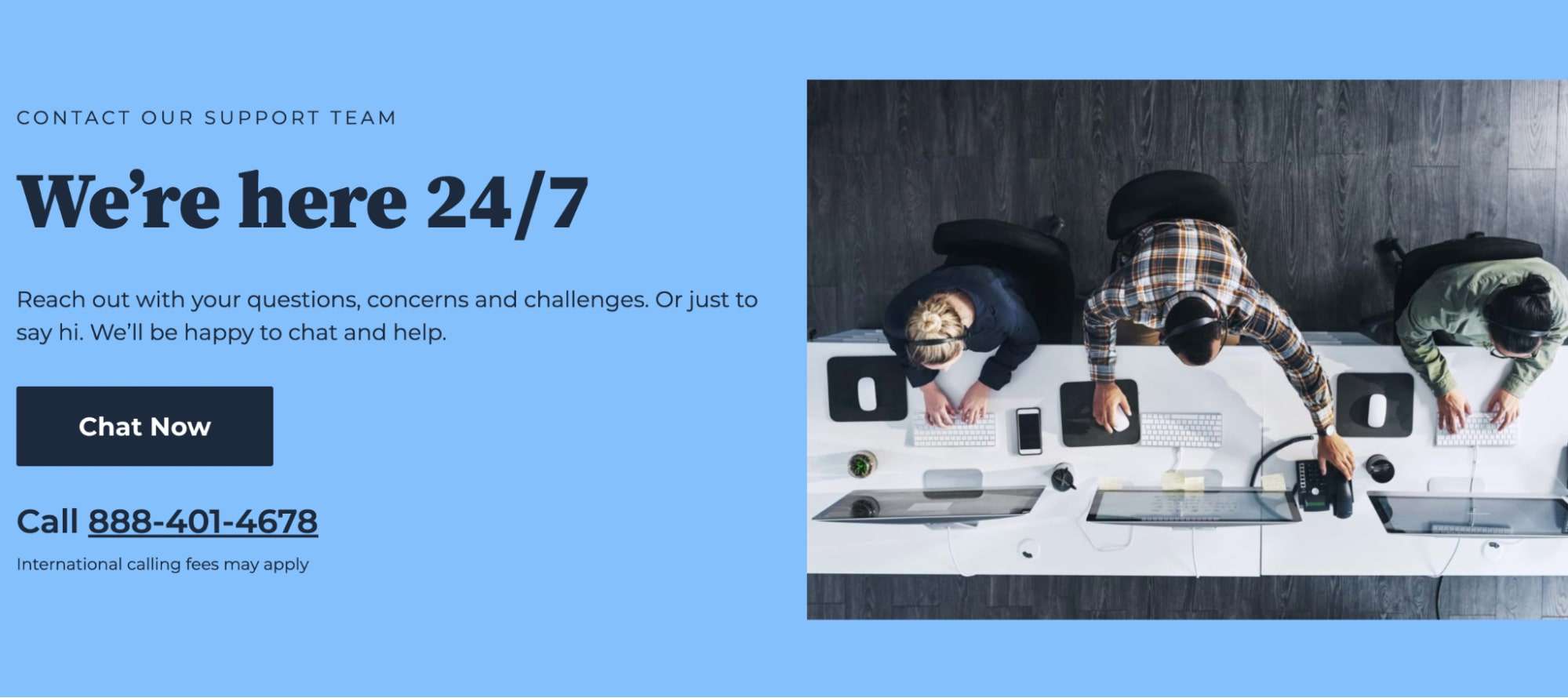 Bluehost focuses on quality customer support, and it's incredibly easy to find a phone number to reach them. Whether you want to get in touch with sales, support, or are calling from outside the U.S., Bluehost makes it easy to connect with someone.
Bluehost highlights these numbers directly from the home menu rather than burying them deep on their website, as many hosts do.
If you prefer to keep your support in writing, you'll find chatbots on key pages ready to answer questions or direct you to a human who can help you with chat support. You can also reach out to Bluehost via email and multiple social media channels.
3. Bluehost's Security Offers Peace of Mind

Bluehost is one of the few WordPress hosts recommended by WordPress.org — and it's been that way for years.
While that alone isn't a security feature in itself, it does help to know the CMS makers themselves trust Bluehost and recommend it to WordPress users.
More concretely, Bluehost offers free SSL security certificates with its hosting services. Higher-level plans also offer optional domain privacy and automatic backups in case you need to roll back your website due to an attack.
4. Multiple Plans To Better Meet Your Needs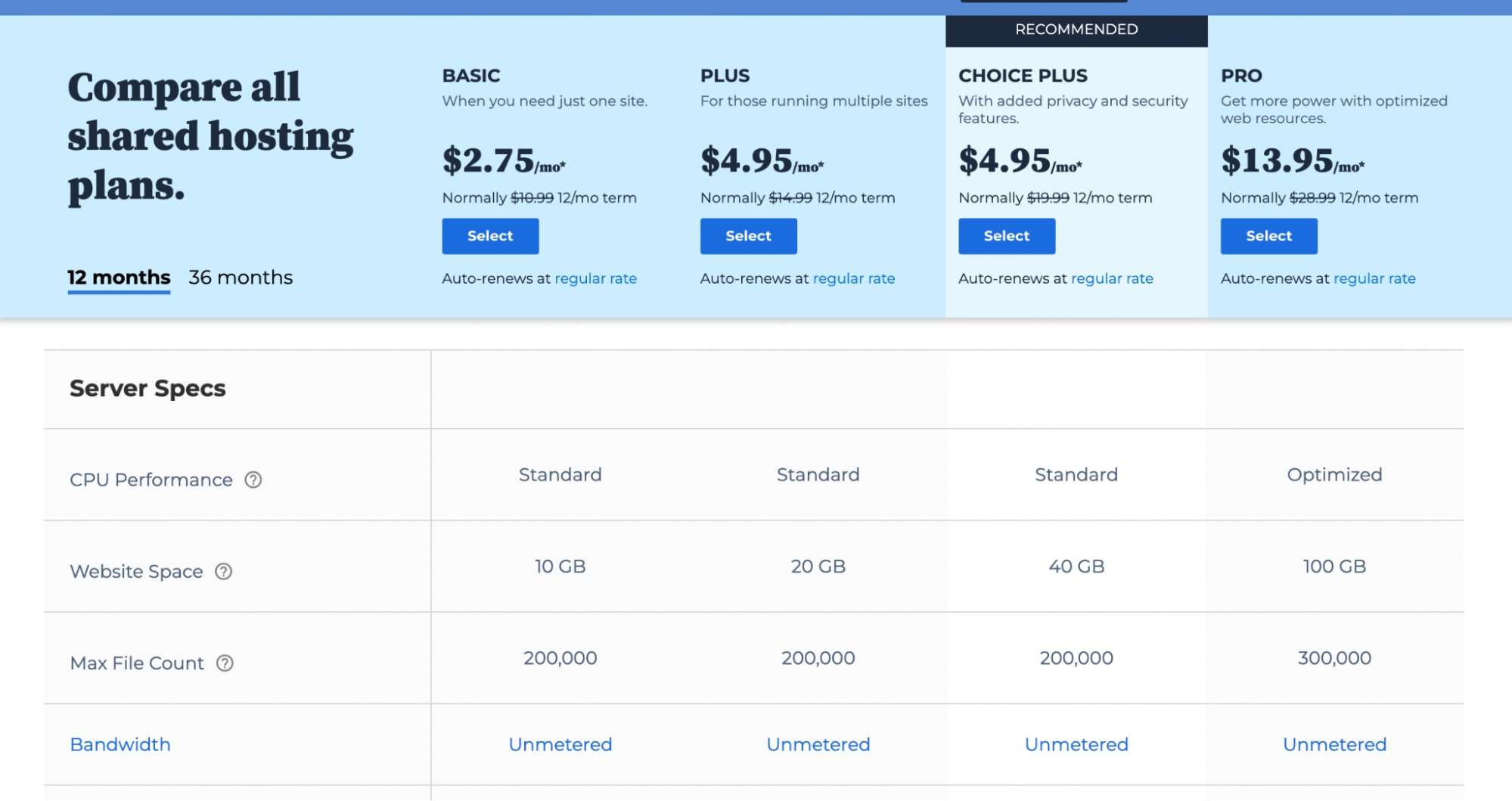 Bluehost offers many different web hosting services. You can choose from several shared hosting plans, VPS hosting (Virtual Private Server), and dedicated hosting. The company also hosts domains and email (which you can access with your preferred email client).
These options give you flexibility in finding the right plan for you.
If you want more than one domain name, you can host unlimited websites with Bluehost's Plus plan ($4.95/month for the first 12 months and renews at $14.99/month).
Bluehost also offers managed WordPress hosting packages from $19.95/month. These managed WordPress plans include additional themes and daily backups for your website.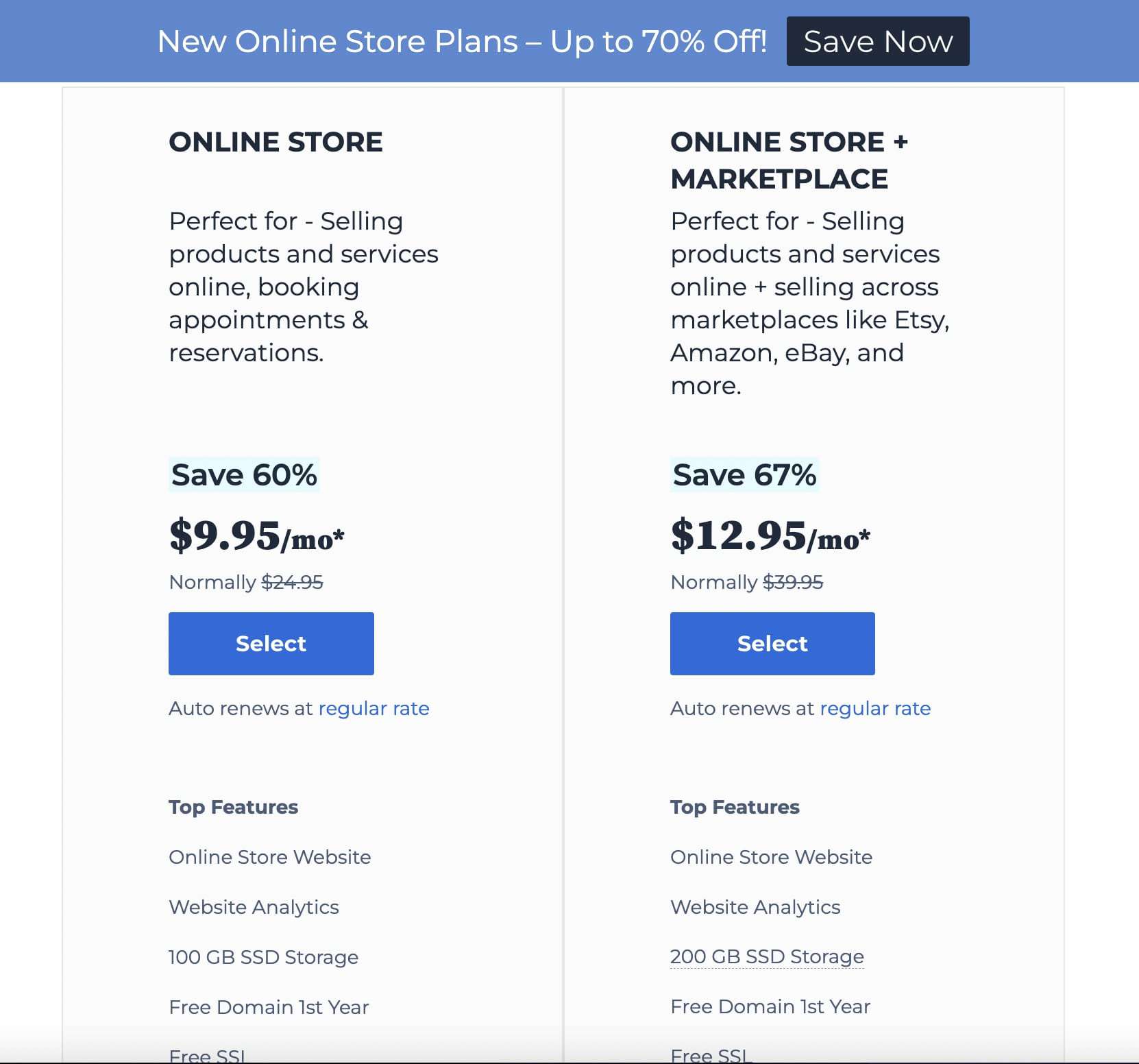 One of Bluehost's newer plans is a WooCommerce-optimized plan with tools, plugins, and themes centered around helping you make an online store quickly and easily. These plans start at $9.95/month for the first year.
These plans also include additional plugins that will help you quickly set up features like wishlists, gift cards, and set up secure payments. If you've never set up an online store before, this might be a less intimidating option than creating an ecommerce store from scratch.
5. Easy Payment and 30-Day Guarantee
While reviewing Bluehost, we found it accepts all major credit cards and PayPal. The host also accepts checks and money orders from banks located within the U.S.
If you're unhappy with Bluehost's services, don't worry — the company offers a 30-day money-back guarantee on website hosting. This policy doesn't extend to most add-ons like domain names, so keep this in mind when making your purchase.
6. An Intuitive Website Builder for Beginners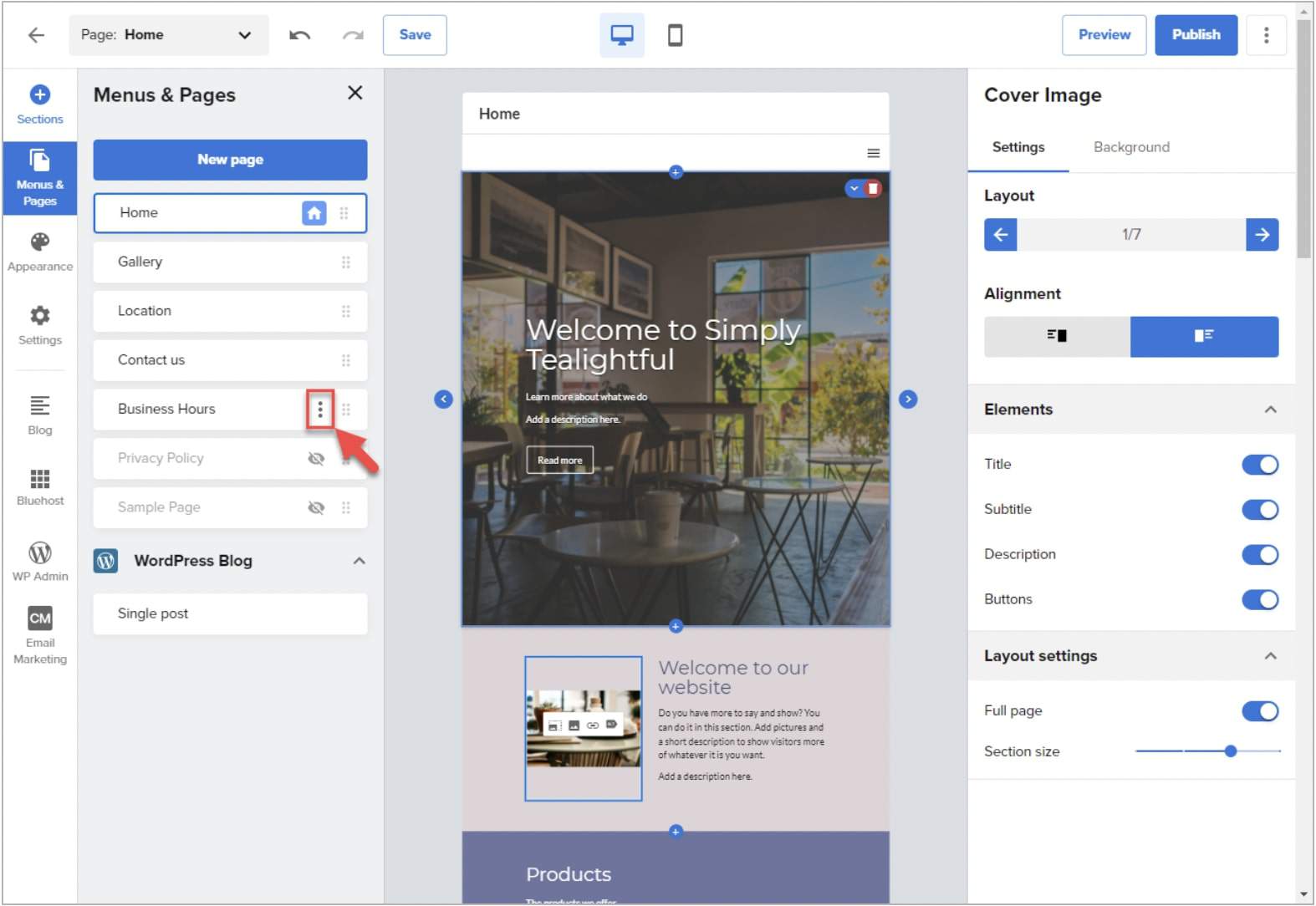 Like a lot of web hosts out there, Bluehost has a heavy focus on WordPress hosting.
For that reason, Bluehost also offers a WordPress Website Builder, allowing users to build a WordPress website with its drag-and-drop builder.
However, if you choose to build your website outside of WordPress, you can still take advantage of the stand-alone Bluehost Builder. Just note this version doesn't integrate with WordPress and is best suited for blogs and online stores.
No matter what you choose, you'll have a pleasant experience using the drag-and-drop editor. And if you have any questions, Bluehost's customer service will be happy to answer any questions.
7. Ease of Use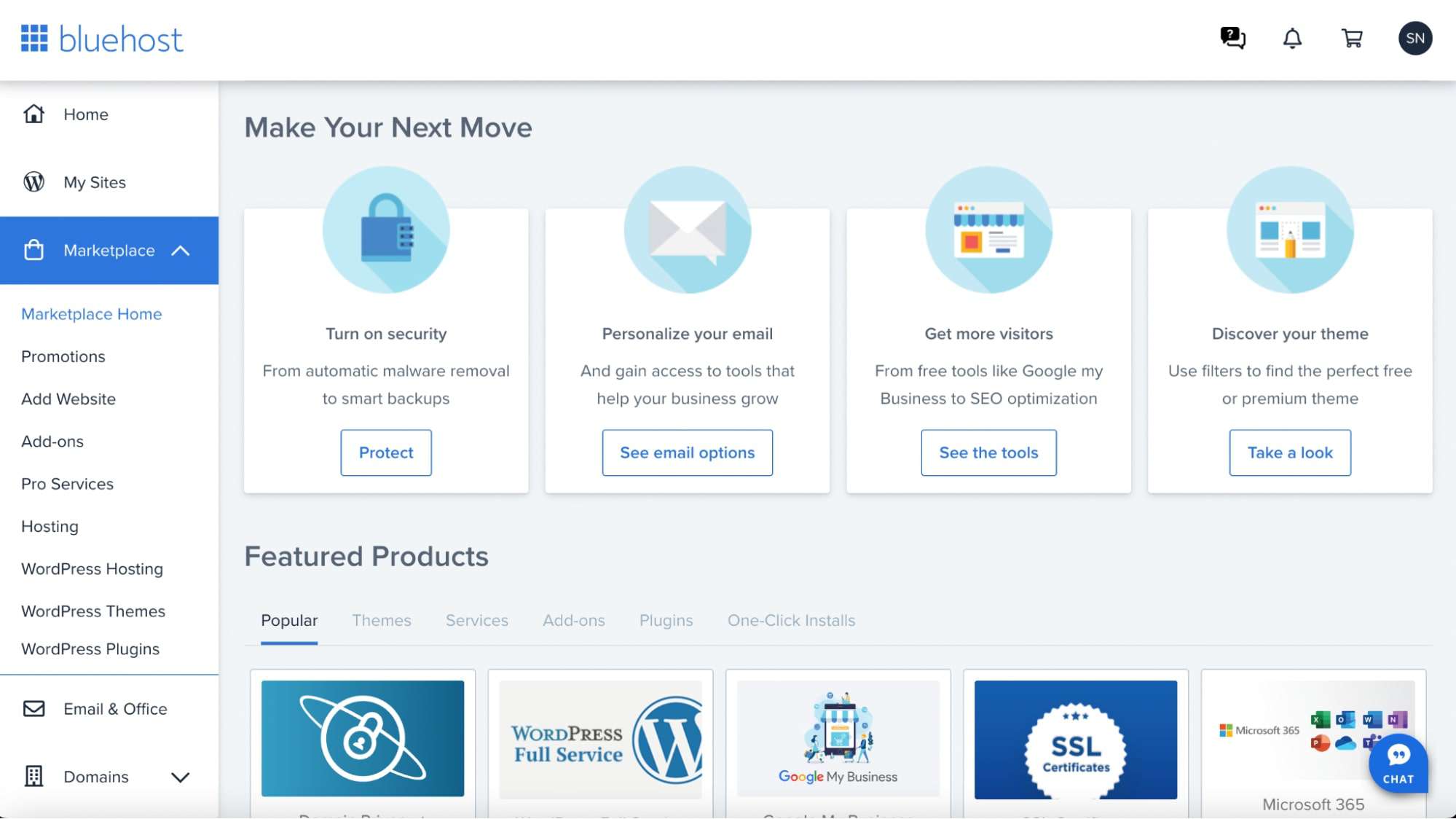 Bluehost's website is generally an easy place to navigate. Signing up for the service is straightforward, but the pricing can sometimes be confusing, partially due to upselling (mostly because the company tends to run multiple sales simultaneously — more on that later).
Once you're signed up, Bluehost's cPanel is also easy to work with. Many big hosting companies work with the cPanel software, each adapting the tool slightly for their own users. So, you'll probably find it familiar if you've hosted with another provider before.
You can access different options from the main login page, like managing your domain names, finding tools to help you with SEO, or moving to your WordPress dashboard.
8. Designed With WordPress in Mind
As we mentioned earlier in our Bluehost review, WordPress.org recommends Bluehost as one of its preferred hosts.
The relationship is mutual, and Bluehost makes it easy to use the CMS with any of its plans. It takes only a few clicks and minutes to install WordPress when you purchase a plan from Bluehost, which is a great feature for WordPress beginners.
Disadvantages of Using Bluehost
It wouldn't be an honest Bluehost review if we didn't talk about the downsides. Let's see what they entail.
1. Confusing Introductory Pricing and Renewal Prices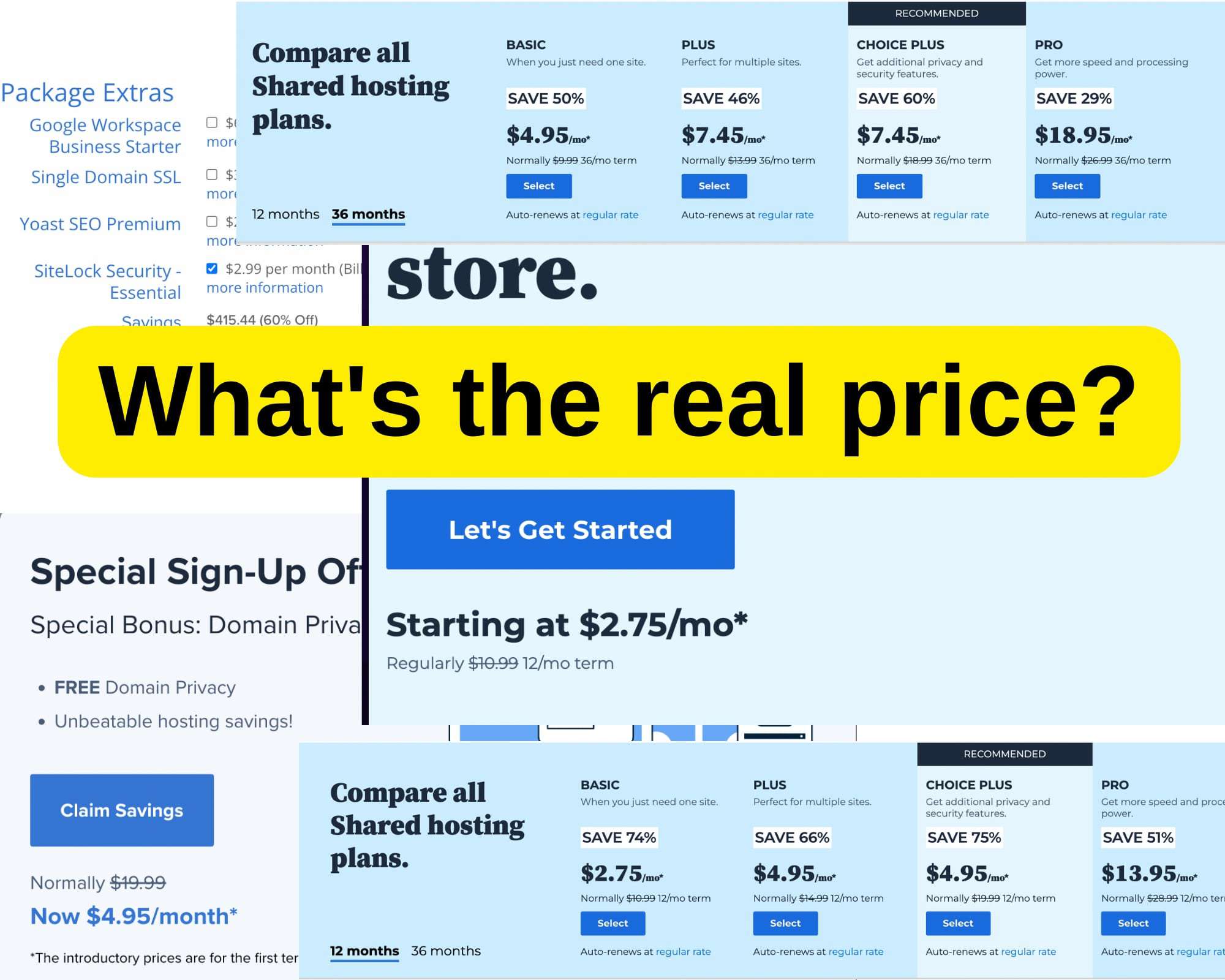 Many users are drawn in by Bluehost's introductory pricing, with an affordable $2.75/month basic plan. The shared hosting plan covers one website with up to 10 GB of SSD storage and a free domain name for the first year.
While this is a reasonable price for the first-year term, the price increases to $10.99/month for Bluehost customers after that. If you'd like to lock in a lower cost for longer as your introductory offer, a 36-month option starts at $4.99/month.
Compare this to DreamHost at $5.99/month after the initial 12-month period. You may decide Bluehost isn't a good option if long-term affordability is your main concern when selecting a web hosting provider.
Moreover, Bluehost often runs multiple sales on its hosting packages, so the price you see may vary daily or even depend on the page you click on.
We definitely don't recommend paying full price for Bluehost's hosting — just wait for promotions. The host tends to run big sales around major holidays, or you can search for coupon codes as Bluehost has a large affiliate network. Take the time to click around Bluehost's site to increase your chances of getting the best sale available.
It's also worth noting that while most plans include a free domain name the first year, you can expect to pay more for additional domains, email hosting, and any additional storage you may need.
2. Limited Storage
Unlike other hosts we monitor, we found Bluehost's basic plan only comes with 10 GB of SSD storage. Although more expensive plans come with additional storage, such as the Choice Plus plan with 20 GB for $4.95/month.
None of the plans we looked into offered unlimited storage, however. If your website has multiple large files, this could be an issue.
If unlimited storage is something you're interested in, we recommend looking at GreenGeeks instead. The company offers unlimited storage on plans starting from $5.95/month.
3. No Free Email Hosting
Bluehost no longer offers free email, but it sells domain-based email hosting for $6/month as part of its collaboration with Google.
This email hosting includes a Gmail inbox with 30 GB of storage, access to Google tools like Docs and Calendar, and the ability to link up multiple accounts if you're running a business.
However, this isn't a special deal compared to what Google offers. It's also more expensive than DreamHost's $1.67/month email or the year of free email that GoDaddy offers its users.
There are cheaper options for email out there, or if you want Gmail, you can skip the mediator and sign up with Google on your own.
4. Below Average Response Time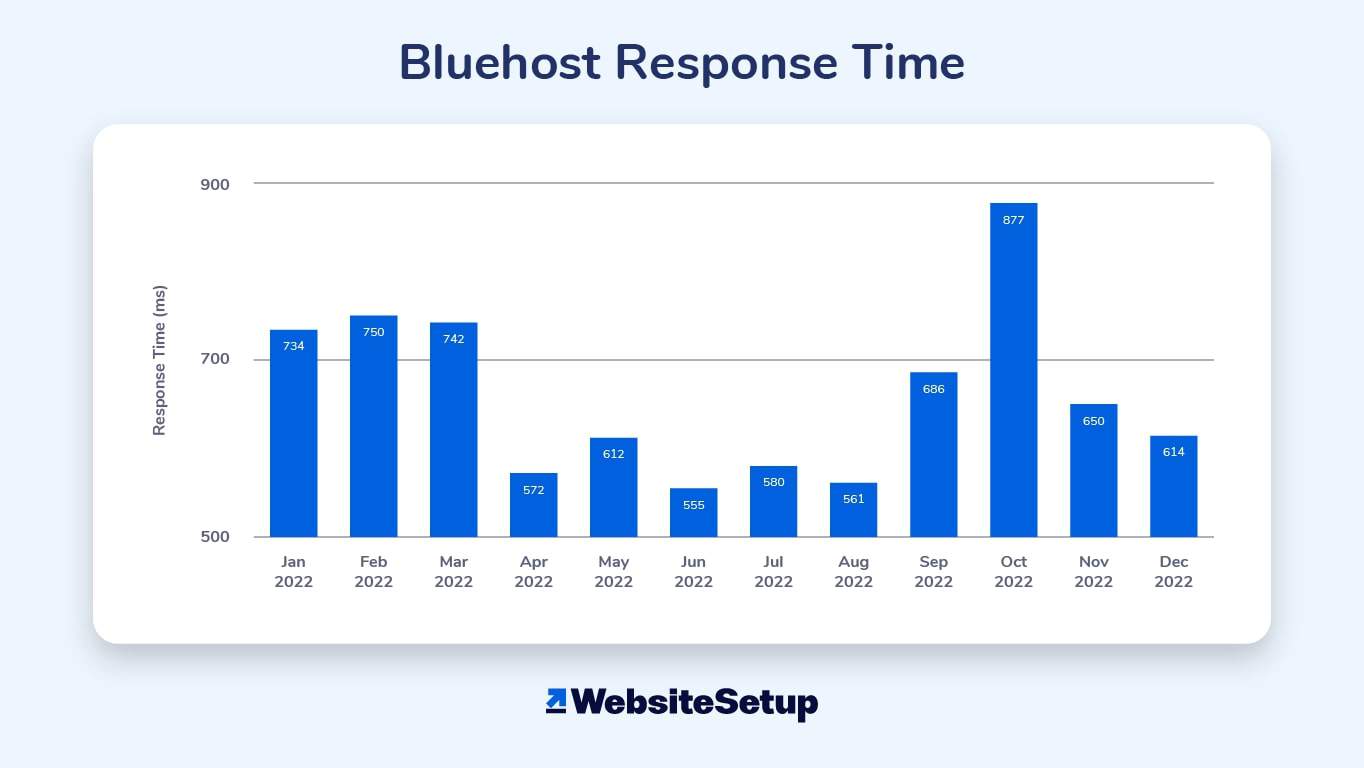 Response and page load times are vital to your website, with fast response times supporting your individual website page load speed capability.
Bluehost has held somewhat consistent response speeds in the past 12 months. Between January 2022 and December 2022, the slowest loading time was 877 ms in October 2022. The average response time in 2022 was 661 ms, with January 2023 starting at 629 ms.
While this is one of the slower hosts we monitor, it isn't completely unworkable. It's a good value for the money, especially if you are on one of Bluehost's basic plans.
And if your website isn't too image/video heavy to require high-speed response times to protect your page load speeds, it may still be a good solution.
Quick Facts
Money-back: 30-day money-back guarantee.
Website Migration: Free transfer for one (1) WordPress website. Additional migrations start at $149.99 for up to five websites and 20 email accounts.
Free Domain: For one year. Then domains renew at $15.99/year.
Ease of Sign-up: Easy and guided sign-up process.
Payment Methods: All major credit cards, PayPal, and checks or money orders from US-based banks only.
Hidden Fees and Clauses: No refund on domain names. Renewal rates for both domains and hosting are significantly higher than the introductory rate.
Account Activation: Instant activation in most cases. But inaccurate information or suspicion of fraud may delay activation.
Control Panel and Dashboard Experience: Easy-to-use cPanel.
Installation of Apps and CMS (WordPress, Joomla, etc.): Mojo Marketplace makes app installation quick and easy.
Do We Recommend Bluehost?
Yes, we do.
Bluehost is a well-known host with millions of satisfied customers. The company offers a good combination of acceptable uptime and plenty of plan options at an affordable price for the first year.
While Bluehost's hosting plans increase in price rather significantly, the features these plans offer make it easy for those with limited experience in web design to create a customized WordPress website.
Moreover, Bluehost's customer service is easy to get in touch with and ready to help you with many of the most common concerns, such as setting up a store or migrating your website. And unlike many hosts, Bluehost offers phone support to customers no matter where they are.
While the storage for base plans is pretty low, this shouldn't be an issue for most websites. Bluehost has options for almost everyone, from beginner bloggers just getting started to small businesses looking to manage several ecommerce stores.