How can you give your WordPress website the attention and maintenance it needs while also keeping enough time for actually growing your business?
Although WordPress does make running a website a lot easier, the troubleshooting, bug fixing, and maintenance tasks can still take up a lot of time. Or they might take too much skill to complete on your own. This is especially the case if your eCommerce or small business grows and your website develops the need for more complex functionality.
This is where WordPress maintenance services come to the rescue:
A WordPress maintenance service lets you out-source most of the day-to-day caretaking and problem-solving so you can save time and have peace of mind. The time you save, you can instead use to advance your business.
But before we dive into the best WordPress maintenance services, let's first define what it exactly means.
What Does "WordPress Maintenace" Services Do?
In a nutshell, a WordPress maintenance service helps ensure that your WordPress website is up to date, that all of its functionality works properly, and that your users' data is safe from hackers. And all that with minimal work on your part! Depending on the service that you choose, many or all of these things will be done for you.
Now, the list of specific features that various WordPress website maintenance services offer is long.
First, there are the basic maintenance tasks and security measures, similar to what you would get with a managed WordPress hosting provider:
WordPress updates,
plugin updates,
WordPress theme updates,
website backups,
uptime monitoring,
firewalls, and so on.
On top of those, there are several more advanced features:
24/7 support service for any urgent issues,
hack and other emergency fixes,
SEO and performance optimization,
troubleshooting and solving downtime,
WordPress plugins,
Git version control,
custom developments, etc.
Some WordPress maintenance services offer these services not only on an ongoing subscription basis but also as a one-time service. Some have only a few of these listed features, others have more.
Then there are the service providers that specialize in offering a white-label solution. This means you can offer all these features to your clients under your own brand, for example, if you have your own agency.
So, with so many different options available, the question remains:
Which WordPress maintenance service is the best for your needs?
Read on and we'll help you find out.
The 6 Best WordPress Maintenance and Support Services
Now let's take a look at the 6 best WordPress maintenance and support services that your WordPress website can benefit from, their key features, and pricing plans.
1. FixRunner – Best Overall Service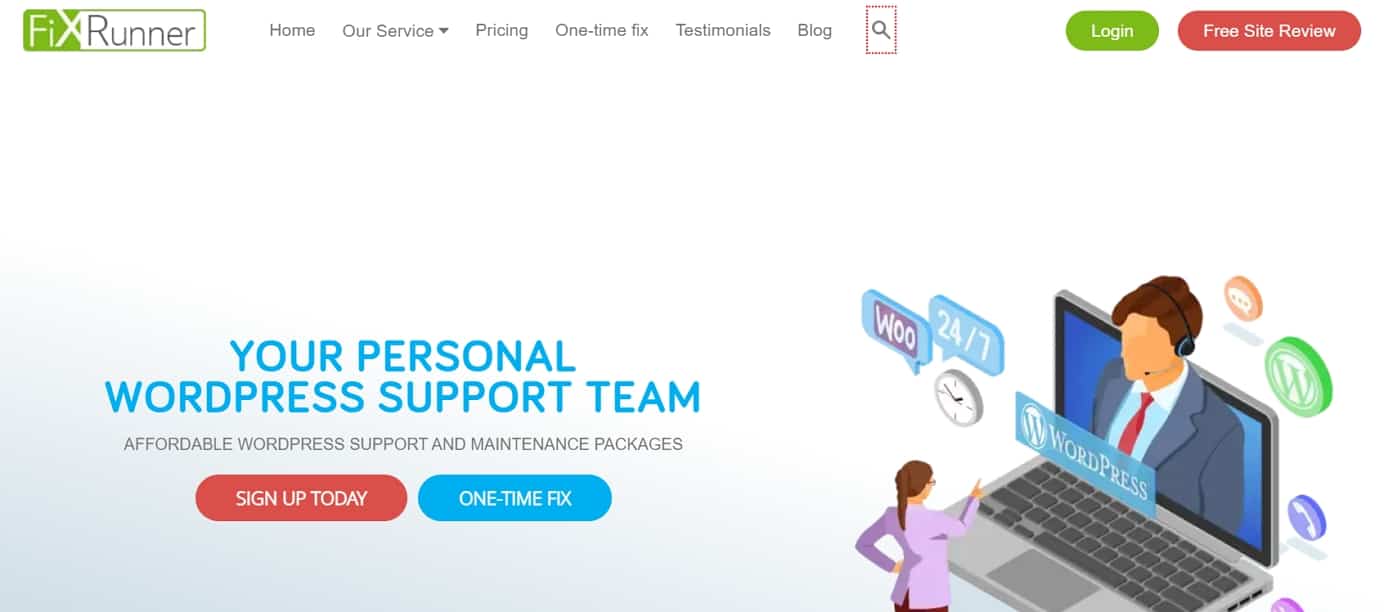 FixRunner is the best WordPress maintenance service according to our research. They have impressive features, a high level of service quality, and great value for money. Furthermore, they offer 24/7 WordPress support as part of subscription-based maintenance plans, one-time fixes, or their white-label support services.
Key features
All the monthly plans include basic maintenance services like WordPress core updates, theme and plugin updates, malware removal, uptime monitoring, daily cloud backups, and security scans. As a bonus, FixRunner offers a WordPress speed optimization service already with their cheapest plan.
With any maintenance plan, you can request quick custom development jobs as part of the support time included in each plan, or order longer customizations for an extra fee. Your WordPress site can also benefit from FixRunner's optional premium hosting, carried out by WP Engine or SiteGround.
Support requests can be made through email, live chat, and support tickets.
Pricing
FixRunner has separate subscription options for small businesses and enterprises, each with a 3-month minimum subscription period.
The cheapest plan for small websites, Premium, starts at $49/mo. with an annual subscription and includes 90 minutes of support time.
The Rocket plan costs $79/mo. and includes 2 hours of support time, support for WooCommerce and other eCommerce stores, and FixRunner will even optimize on-page SEO for you.
The Advanced plan is $129/mo. and it includes 4 hours of support time, phone support, and a dedicated account manager.
Pricing plans for enterprises and big websites start from $285 per month.
2. SiteCare – Most Personal Service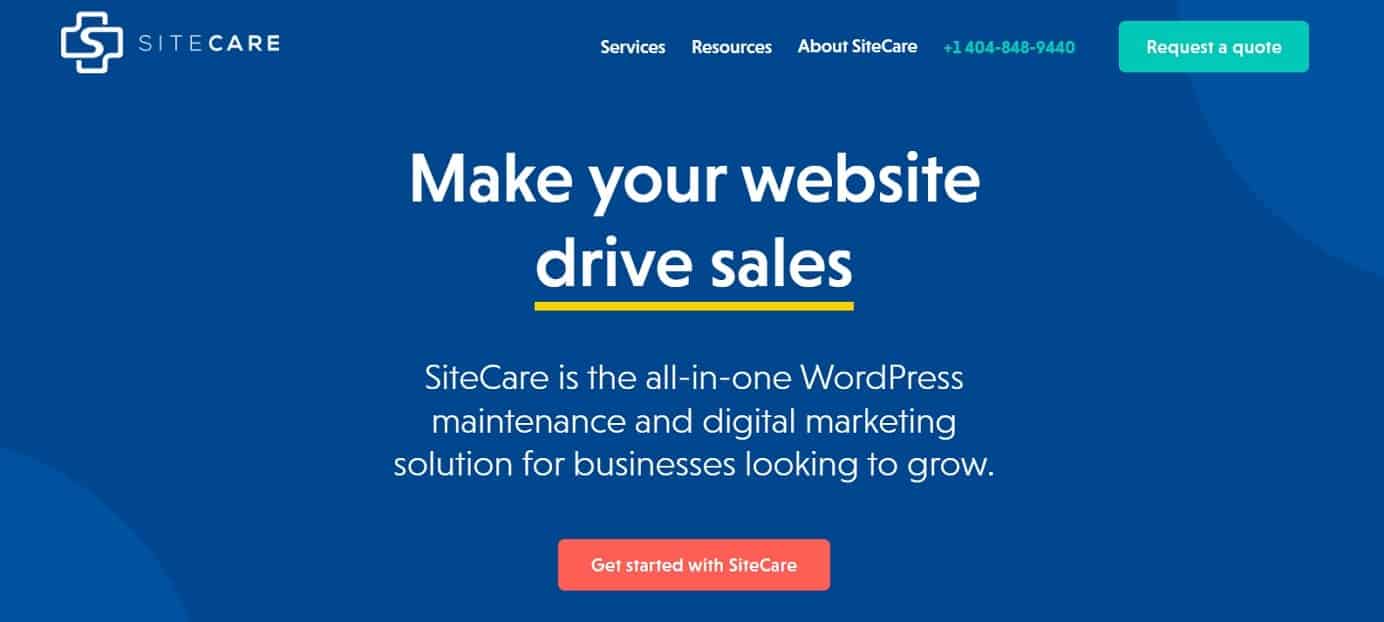 SiteCare, previously called WP Site Care offers WordPress maintenance services, but also managed WordPress hosting, website marketing, search engine optimization, and pay-per-click management services. As a rare bonus, SiteCare offers a dedicated account manager with already their cheapest plan, which makes their service personal and fast.
Key features
SiteCare includes some basic maintenance services with all their WordPress support service plans, such as WordPress core, theme, and plugin updates, audit logging, spam comment filtering, and both daily and real-time backups. Higher-tier plans also give you more advanced features, such as version control, WordPress Multisite, and 2 hours of monthly dedicated development time.
On top of all that, each plan includes rapid resolution assistance – 15 minutes of free troubleshooting and solving of smaller issues. This, coupled with their highly personal service, really makes for an attractive offer, although more expensive than the competition.
Pricing
On average, SiteCare is slightly more expensive than FixRunner. SiteCare's lowest-tier plan Standard is only available with an annual subscription ($990 per year), but as a bonus, all annual plans include 2 months for free.
The cheapest monthly plan Plus starts from $299 per month ($2,990 per year) and is meant for eCommerce sites, high-traffic blogs, and large websites. It includes priority support via email and phone, version control, QA testing, eCommerce support, and both PageSpeed and mobile testing.
The Pro and Premier plans are $499 and $1200 per month respectively and are meant for organizations with more advanced needs.
3. WP Tech Support – Best for Web Development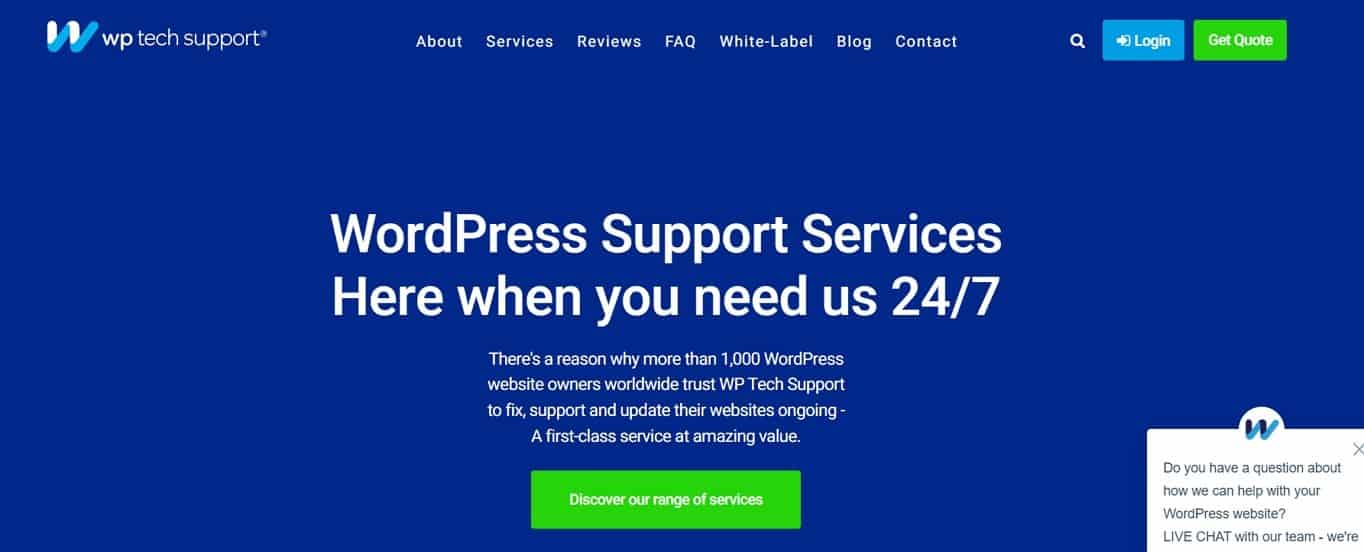 WP Tech Support specializes in 24/7 WordPress site maintenance and support services, also offering white-label services. Besides monthly maintenance plans, they offer development services and one-time jobs like bug fixes, malware removals, and PHP version updates. WP Tech Support is a great choice if you have a higher need for web development jobs and bug fixes.
Key features
All subscription plans offered by WP Tech Support include 24/7 ticket support, plugin and WordPress core updates, secure off-site daily backups, uptime monitoring, and malware scans. On top of those, you'll get a website health audit during onboarding and a web application firewall with protection against brute force attacks.
Features like PHP and WordPress theme updates, site speed and technical SEO optimization, monthly development time, and malware removal will be added with higher-tier plans. Also depending on the plan you choose, the dashboard displays either bi-weekly or weekly reports, and backups are made every week or, with the Advanced plan, every hour.
Pricing
The cheapest monthly plan is the Standard plan $55/mo, and it includes up to 3 bug fixes a month. Any additional support needed is priced hourly in 30-minute increments.
However, the more expensive plans are of great value for web development needs.
For example, the affordable Pro plan ($75/mo, billed annually) includes 60 minutes, and the Business plan ($99/mo, billed annually) has 90 minutes of monthly development time. On top of that, both include unlimited bug fixes. The Advanced plan, $175/mo, already includes 180 minutes of development time, which makes it a great fit for high-traffic websites with numerous plugins and integrations.
4. WP Buffs – Best for Advanced Sites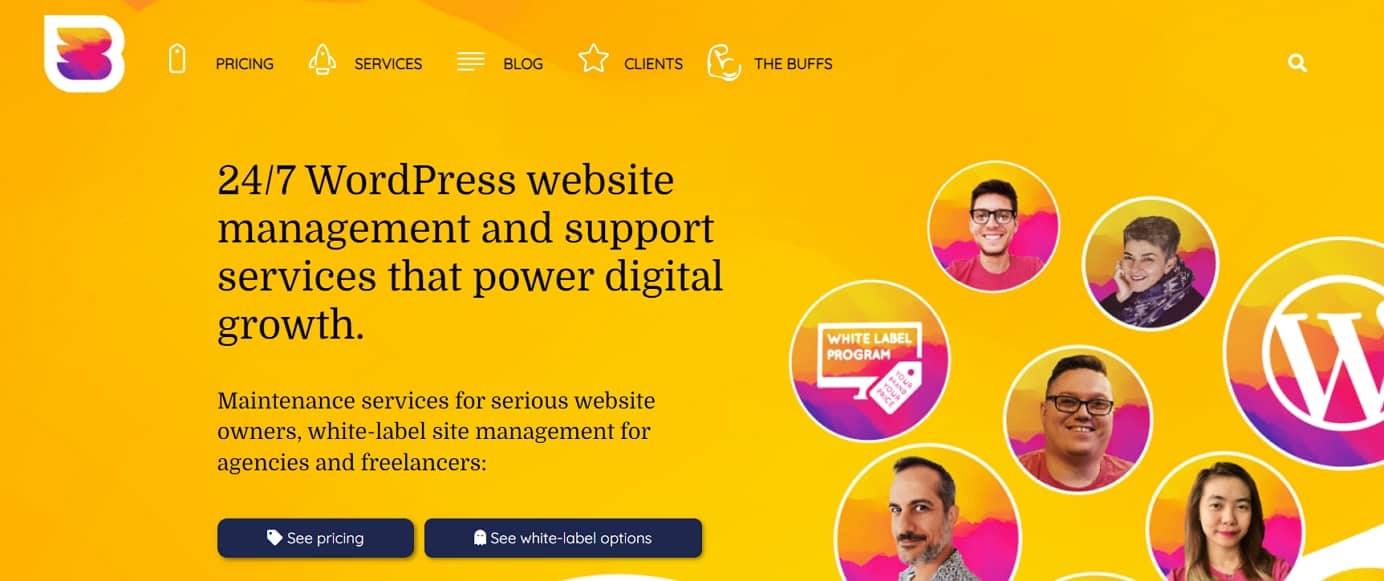 WP Buffs is another great WordPress maintenance and support service with helpful features, however, they're less affordable than FixRunner. With their advanced features, WP Buffs is better suited for more advanced sites with a larger budget. WP Buffs offers both monthly site care plans as well as one-off jobs through their associated company WP EZI.
Key features
WP Buffs provides a 24/7 WordPress website support and management service with several great features. All their plans include 24/7 uptime monitoring and emergency support, Google Analytics integration, real-time daily backups, and weekly reports. On top of that, you'll get weekly WordPress core, plugin, and theme updates.
The more expensive plans will also give you more advanced features like speed optimization, unlimited website edits, mobile and tablet optimization, WordPress Multisite, Git management, and several premium plugins. Malware removal and support for eCommerce or membership sites are also part of the more expensive plans.
On top of all that, WP Buffs offers white-label site management for agencies and freelancers.
Pricing
WP Buffs has five different pricing plans, so no matter if you have a simple WordPress site or an advanced site with custom code – you'll likely find a suitable plan.
The cheapest plan Maintain starts from $66/mo, billed annually, and includes the basic features. The plan Perform ($183/mo, billed annually) is marked as "most popular" and it includes a speed optimization service.
The highest-tier plan Custom Pro ($373/mo, billed annually) is suitable for advanced sites with custom functionality and includes WordPress Multisite and Git version control.
5. Maintainn – Best for Non-Urgent Support Matters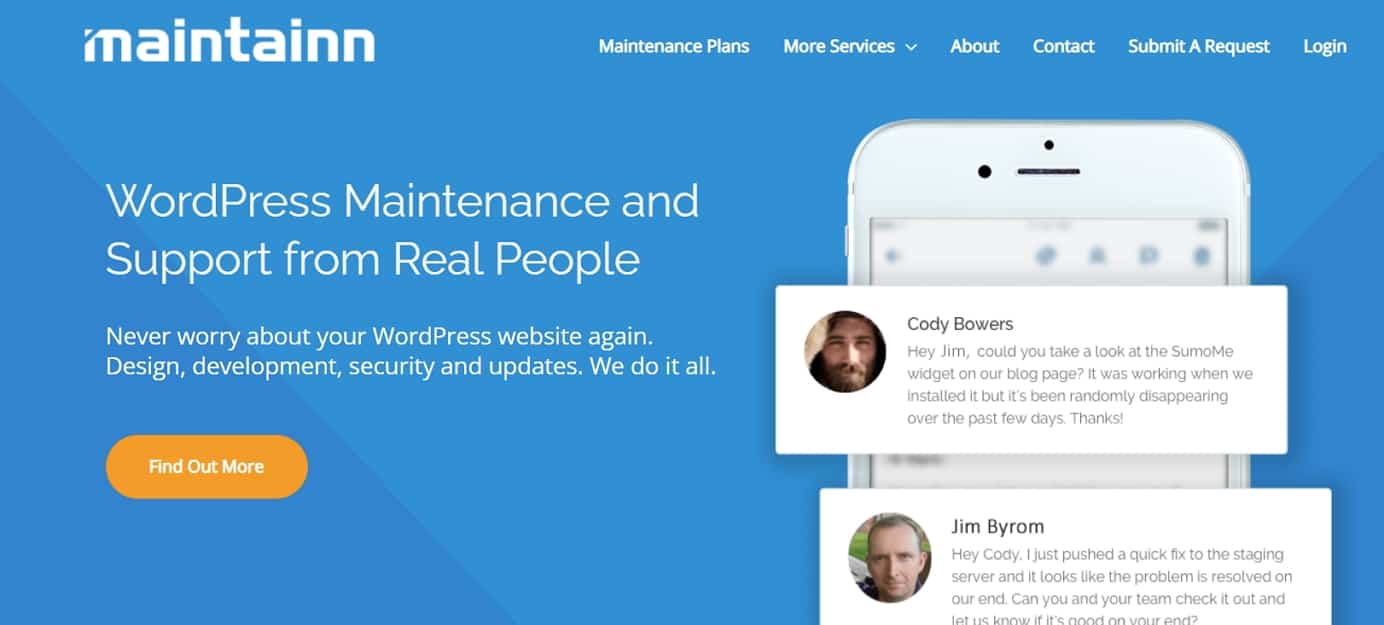 Maintainn is a WordPress maintenance and support platform that also offers design, development, and website hosting services. Their regular support hours are 9 a.m. – 8 p.m. ET, from Monday till Friday. However, with the most expensive plan, 24/7 support can be negotiated.
Key features
All plans offered by Maintainn include 24/7 security monitoring by Sucuri, daily backups, as well as weekly updates to WordPress core files, themes, and plugins. More expensive plans also include features like uptime monitoring, performance checks, and eCommerce support.
WP Tech Support can be contacted through live chat, ticket, and email support. All support tickets are solved by highly competent WordPress experts, however, this is done during their business hours only (unless you have the Enterprise plan).
So, considering that WP Tech Support offers competent support but mostly not 24/7, it's a great fit if your website doesn't have very time-sensitive needs.
Pricing
The entry-level plan Standard starts at $49/mo, billed annually. Unlike the more expensive plans, a $99 fee is charged for each hacked website repair job.
The second-tier plan Professional is $149/mo, billed annually. This includes regular offsite backups every 12 hours, Multisite support, a dedicated account manager, and a 5% discount on support hours.
The most expensive is the Enterprise plan at $279/mo, billed annually. This plan gets you regular backups every 6 hours, version control, and a 10% discount on support hours.
Support hours are billed separately, for a standard rate of $150 per hour, billed in 15-minute increments. The minimum purchase is 10 hours for new clients and 5 hours for existing ones.
6. GoWP – Cheapest Entry-Level Plan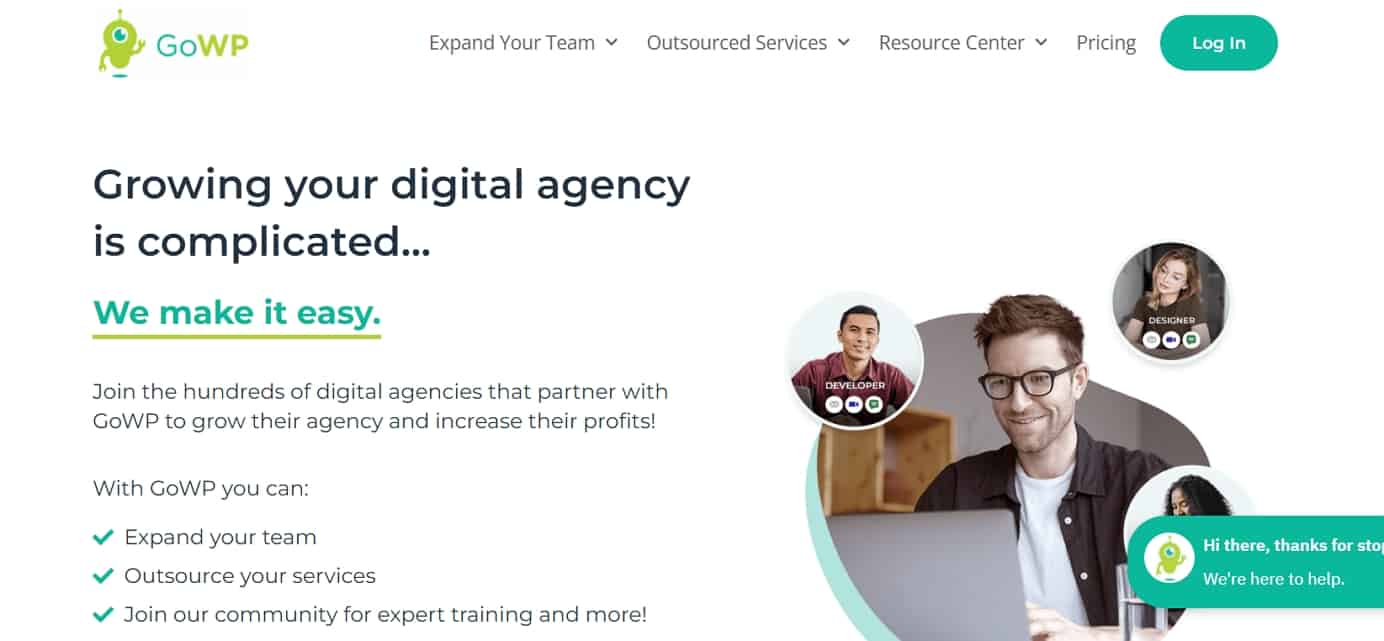 GoWP focuses mainly on outsourcing WordPress maintenance and support services for agencies. Still, they have two maintenance plans that are more appropriate for small businesses, freelancers, or any other low to medium-traffic WordPress website owners.
Key features
The first plan, called Maintenance, gives you plugin and WordPress core updates, offsite backups with 90-day retention, daily security monitoring, and malware scans with cleanups. It also includes the GoWP dashboard plugin that lets you keep track of the day-to-day maintenance as well as the Visual Validator plugin that helps ensure website updates won't break anything.
The second plan, called Content Edits, includes the features of the Maintenance plan but adds 24/7 access to a support team of WordPress experts and unlimited content edits. By GoWP standards, this means any task that takes up to 30 minutes to resolve through the WordPress admin panel.
Pricing
The Maintenance plan costs $29/mo per site. This is really affordable when compared to the competition. But keep in mind that this plan doesn't include technical support for your WordPress website. Still, it can be a good option if you want to outsource some of the routine maintenance on a small budget.
The Content Edits plan, $79/mo per site, is more similar to the other support plans on this list, as it also includes 24/7 ticket support. This option can really give you peace of mind, as you can delegate all support and maintenance tasks, focusing on your content instead.