There are over 1.7 billion websites and 12 million eCommerce sites in the world. If you want to start a blog or online store, choosing a niche is the key to success.
Niche marketing will help you stand out from competitors and reach and retain your desired audience.
In this guide, we'll cover some unique niche market examples with expert tips to help you find the perfect niche for your business.
What Is Niche Marketing?
A niche market is a chunk of a larger market with distinctive characteristics like price, demographics, psychographics, and geographics.
You can define a niche market based on many different factors, including:
Demographics (age, gender, income range, etc.)
Geographics (specific city, country, or area)
Psychographics (values, interests, lifestyle, etc.)
Price (luxury, moderate, discount)
Quality (premium, handmade, economical)
A good niche market is a combination of high market demand, high-income potential, and low competition. It should also ideally be something you are passionate about and have expertise in.
Benefits of Niche Marketing
Here are the main advantages of focusing on a niche market:
Less competition: When you have a highly specific offering, there are fewer companies with the exact same one.
Brand loyalty: Having well-defined target customers will allow you to better market to them through personalization, which leads to brand loyalty and increased customer retention.
Lower marketing costs: Focusing on one customer segment will require a smaller investment for identifying and understanding your audience since you'll only use channels and strategies that work for them.
More visibility: Having a unique offering will make your brand stand out and can help you get featured in media outlets.
Authority: Serving a niche market will position you as an expert in that space, and your authority will become your competitive advantage.
14 Unique Niche Markets and Products To Sell
1. Sports Foods and Supplements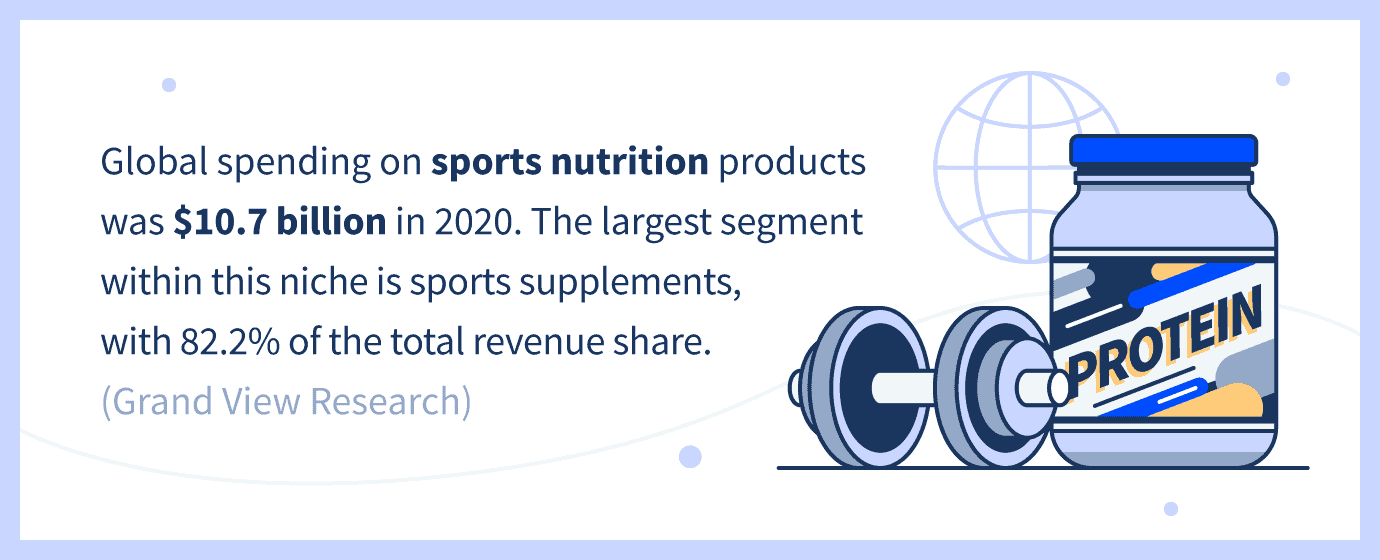 With countless sports nutrition products available, the market for these goods is strong. In 2020, the global sports nutrition market value was $10.7 billion. The largest segment within this niche is sports supplements, holding 82.2% of the total revenue share.
Changing consumer habits are opening space to target new consumers and categories. For example, the COVID-19 pandemic brought a rise in demand for supplements related to immune health, such as vitamin D and zinc.
Niche products for sports foods and supplements:
Plant-based protein supplements
Blog about paleo diet energy supplements
2. Digital Nomads
Thanks to the increase of co-living and co-working space options, online talent marketplaces, and digital nomad blogs, there are over 4 million digital nomads. The number of people embracing a location-independent, technology-enabled lifestyle is expected to grow to 1 billion by 2035.
The result is high demand for information and services dedicated to this audience. If you define yourself as a digital nomad, use your experience to deliver information to consumers with demographic or geographic characteristics similar to yours.
Niche products for digital nomads:
Tour services for digital nomads in your location
Online career service for digital nomads with a specific skill
3. Financial Freedom
In 1992, the book "Your Money or Your Life," written by financial gurus Vicki Robin and Joe Dominguez, set the basis for the start of the FIRE (Financial Independence, Retire Early) movement, defined by frugality, savings, and investments to retire early.
Financial freedom is an exploding topic today, but there's room to tackle a niche angle. Explore existing blogs and financial products and you'll find more than one customer segment with specific and unmet needs when it comes to achieving financial freedom.
Niche products for financial freedom:
Financial goal-setting app for a specific demographic
Financial freedom blog for single moms
4. Home Improvement
The home improvement market refers to the sale of building materials and other home enhancements as well as the services to modify and upgrade homes. In the last two years, homeowners spent more resources on home improvement projects than ever, mainly due to the COVID-19 pandemic (which gave people time to start postponed work). Due to this and shifting preferences for energy-efficient and luxurious homes, total spending in the home improvement market reached $762.9 billion in 2020 and will grow to $1,009.9 billion by 2027.
Home improvement sees continuous technological advances like 3D printing structures, augmented reality, and eco-friendly technology. If you're planning to get into the home improvement market, consider tackling one of these new trends to create something unique.
Niche products for home improvement:
Smart home renovation services
Surveillance equipment eCommerce store
5. Vegan Baking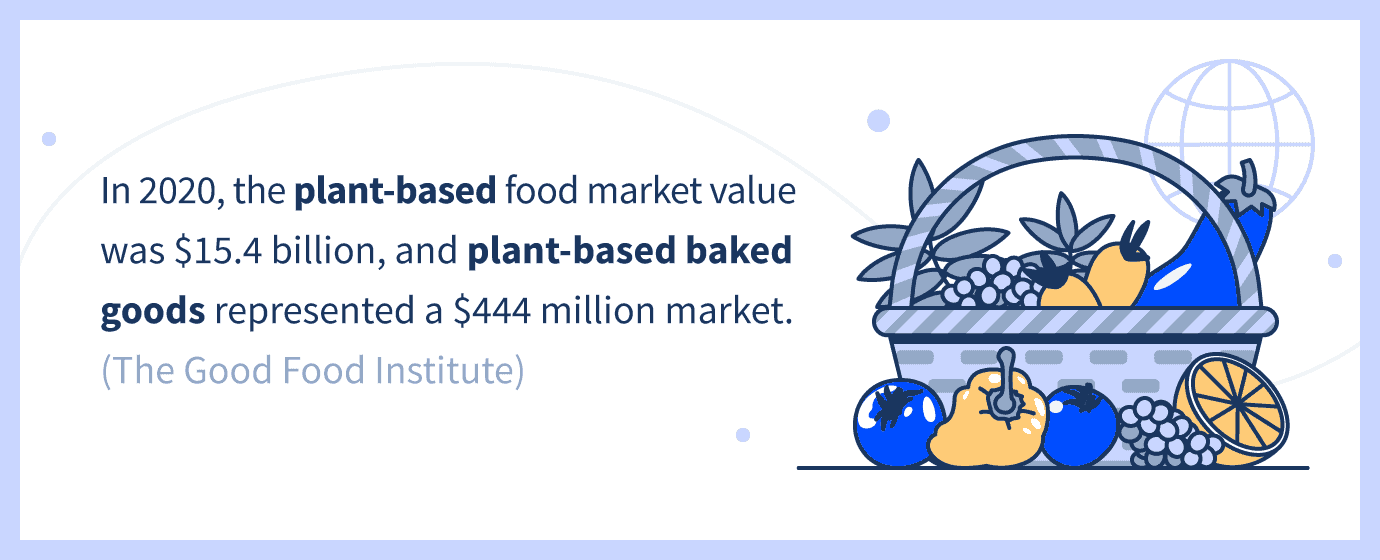 Vegan baking refers to using substitutes for eggs, milk, and butter to bake with no animal-derived ingredients. With plant-based foods representing a market of $15.4 billion in 2020, there are many product categories you can choose to target within this growing niche.
Plant-based baked goods, together with plant-based protein liquids and powders, represent a $444 million market value. Consider tackling a market like vegan cakes for weddings, or targeting vegans with certain food allergies.
Niche products for vegan baking:
Plant-based, gluten- and soy-free egg alternatives
Vegan cake baking blog
6. Pet Owners
Recent years saw increasing numbers of pet owners and a rising consumer expenditure for pet medical care. In 2020, $103.6 billion was spent on pets in the United States and nearly 70% of households report owning a pet.
Given the demand within this niche, there are many opportunities to specialize in a sub-niche market and differentiate yourself from the competition. Consider focusing on a specific pet breed or species, or a category like a diet, accessories, or exercise.
Niche products for pet owners:
Upscale travel products for pets
Cat clothing and accessories
7. Body Positivity
Body positivity is a movement that emphasizes the acceptance of all body types, regardless of popular culture. Globally, the plus-size clothing market (sizes 1X or 18 and above) was valued at $480.99 billion in 2019 and is expected to reach $696.71 billion by 2027.
Due to a growing trend of body positivity and confidence among plus-size consumers, the body positivity market is rising and consumers are demanding fashionable and quality clothing for all. To find the perfect sub-niche within body positivity, look for an audience with an unmet need.
Niche products for plus-size clothing:
Plus-size fitness clothing
Body positivity movement blog
8. Eco-Friendly Personal Care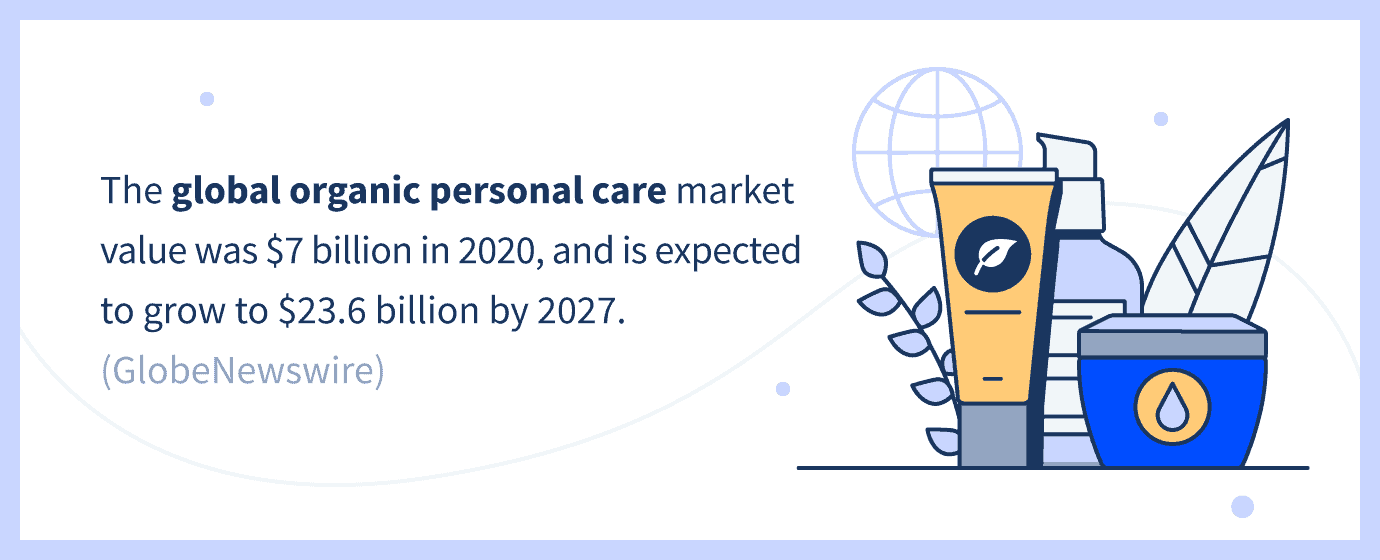 The eco-friendly personal care niche consists of products made with environmentally friendly ingredients, practices, and packaging methods. The global organic personal care market was valued at $7 billion in 2020 and is expected to grow to $23.6 billion by 2027. This is due to technological innovations and companies like The Body Shop investing in the development of affordable eco-friendly products.
Skincare products reign number one as the highest in demand, followed by hair care and oral care. Given the special ingredient needs caused by allergies, try focusing on a specific skin type or skin tone. Alternatively, you can choose from a wide range of products like cosmetics, perfumes, oils, and hygiene products — all made from plant-derived ingredients without the use of chemical preservatives.
Niche products for eco-friendly personal care:
Lecithin skincare products
Organic personal care products for pets
9. Education Technology
Students are increasingly shifting toward digital content like eBooks, which are cheaper to produce and can be accessed by many users with disabilities. The total spending on education technology was $89.49 billion in 2020 and is expected to reach $404 billion by 2025.
If you have a passion for education and want to be part of this growing phenomenon, you have an opportunity to enter a market that is not yet saturated by creating a tech product for a specific niche. For example, choose the newest technology that no one has been able to tackle yet, and focus on the demographics that would benefit from it.
Niche products for education technology:
Movement-based learning app for kids with physical disabilities
AI-powered course selection platform
10. Self-Help and Personal Growth
The self-help and personal growth market consists of blogs and services for people who want to overcome problems and improve themselves without the help of those around them. Demand in this market is on the rise: The global personal development market was valued at $38.28 billion in 2019 and will reach $56.66 billion by 2027.
The personal coaching segment dominated this market, with a revenue share of nearly 40% in 2019. To find a successful niche in this category, think about how you can differentiate your offering from what already exists. What problems will you solve and what coaching strategy would you suggest using?
Niche products for self-help:
Personal growth coaching business for seniors
Self-help blog for females in your location
11. Simple Living
Simple living is a lifestyle that eliminates excess complexity and emphasizes simple pleasures. Simple living includes and is related to different activities and movements, the biggest of which is minimalism. In fact, 11% of U.S. adults want to become minimalists, and 14% are actively working toward this goal.
Do you want to start a business around this niche demographic wanting to consume less? Consider creating a product or service with functional and simple features. For example, minimalist shoes use a low heel-to-toe drop to eliminate intrusion with the natural foot movement. If you're looking to start a blog, the simple living and minimalistic blog niche is also on the rise. For example, The Minimalists blog has more than 20 million readers.
Niche products for simple living:
Leasing clothing company
Buying and selling marketplace for minimalists
12. Gaming
The video gaming market includes consoles, PC games, and smartphone games. There will be 177.7 million monthly gamers in the United States this year — more than half of the U.S. population. The global gaming market value was $173.7 billion in 2020 and is expected to reach $314.4 billion by 2026. The presence of social components and a wide variety of gaming options in mobile and cloud gaming platforms has attracted a more diverse audience.
Within the gaming market, you can combine different categories (genre, console, user characteristics, etc.) to find the perfect niche. Keep track of current gaming trends like the use of 5G, AR, VR, cloud gaming, and mobile gaming.
Niche products for gaming:
eCommerce store for Twitch streamers
Smartphone gaming accessories
13. Luxury Lifestyle
Luxury lifestyle refers to all businesses related to luxury brands and goods. The global spending on luxury goods was $224.8 billion in 2020 and will reach $296.9 billion by 2026. The popularity of eCommerce platforms dedicated to luxury goods like Farfetch and YOOX has opened the doors for this growth. During the COVID-19 crisis, several luxury companies harnessed omnichannel and online strategies.
To succeed in the luxury lifestyle niche, focus on one of the five types of luxury consumers: strivers, trendsetters, aesthetics, only the best, or comfort first. You can also focus on one of the trends in the luxury industry: ethical luxury, sustainable luxury, luxury resale, and luxury digitalization.
Niche products for luxury lifestyle:
Luxury local tours in your area
Luxury lifestyle blog targeting teens
14. Clean Beauty
The clean beauty market (which refers to toxin-free and eco-friendly beauty products) is valued at $5,439.6 million in 2020 and is expected to reach $11,558.5 million in 2027. Today, consumers are aware of possible irritations caused by synthetic ingredients. This has resulted in increased regulations, with the EU banning more than 1,300 ingredients, and the U.S. banning around 30.
To succeed in the clean beauty niche, choose one of the product categories in this market. The largest categories are skincare, haircare, makeup, and perfume, but you should choose a more niche product like sunscreen. You can also focus on a characteristic like quality, value for money, product content, or scent.
Niche products for clean beauty:
Beauty products for specific allergies
Clean beauty product reviews website
What's the Most Popular Niche Market?
There are several popular niche markets today. If you're looking to start an eCommerce store, look into eCommerce trends, high-demand products, and sales unit volume by industry.
For example, the home improvement niche is one of the most popular niche markets today. Its market size is growing rapidly and is estimated to reach $1,009.93 billion by 2027. Education technology is another growing niche, with market value expected to grow to $404 billion by 2025.
What's the Best Niche to Make Money?
The best niche to make money is one with high market demand, low competition, and high-income potential.
Market demand must be high and on a growing trend. This ensures that you'll be able to sell your products or services and that when competitors come in, there are still enough people looking to buy.
To determine if a category is trending, enter keywords related to a niche you're going after into Google Trends to track popularity over time and to select specific geographic regions.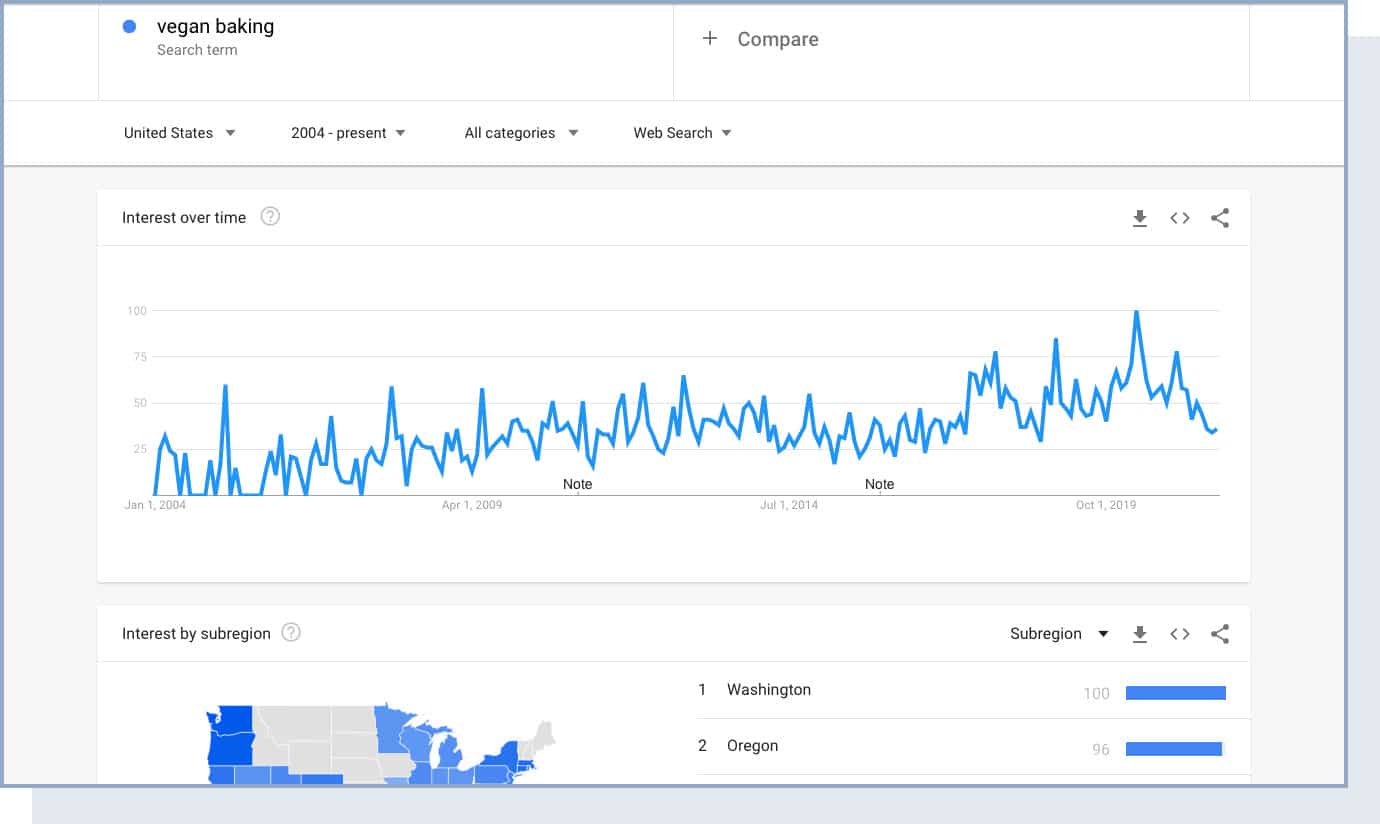 Next, you need to find a niche with low competition. To do that in a market with high demand, you need to focus on a narrow audience or category. Finally, choose a market with high return potential. Analyze similar businesses' expenses and prices to get an idea of how much income you can earn.
4 Expert Tips for Finding a Niche Market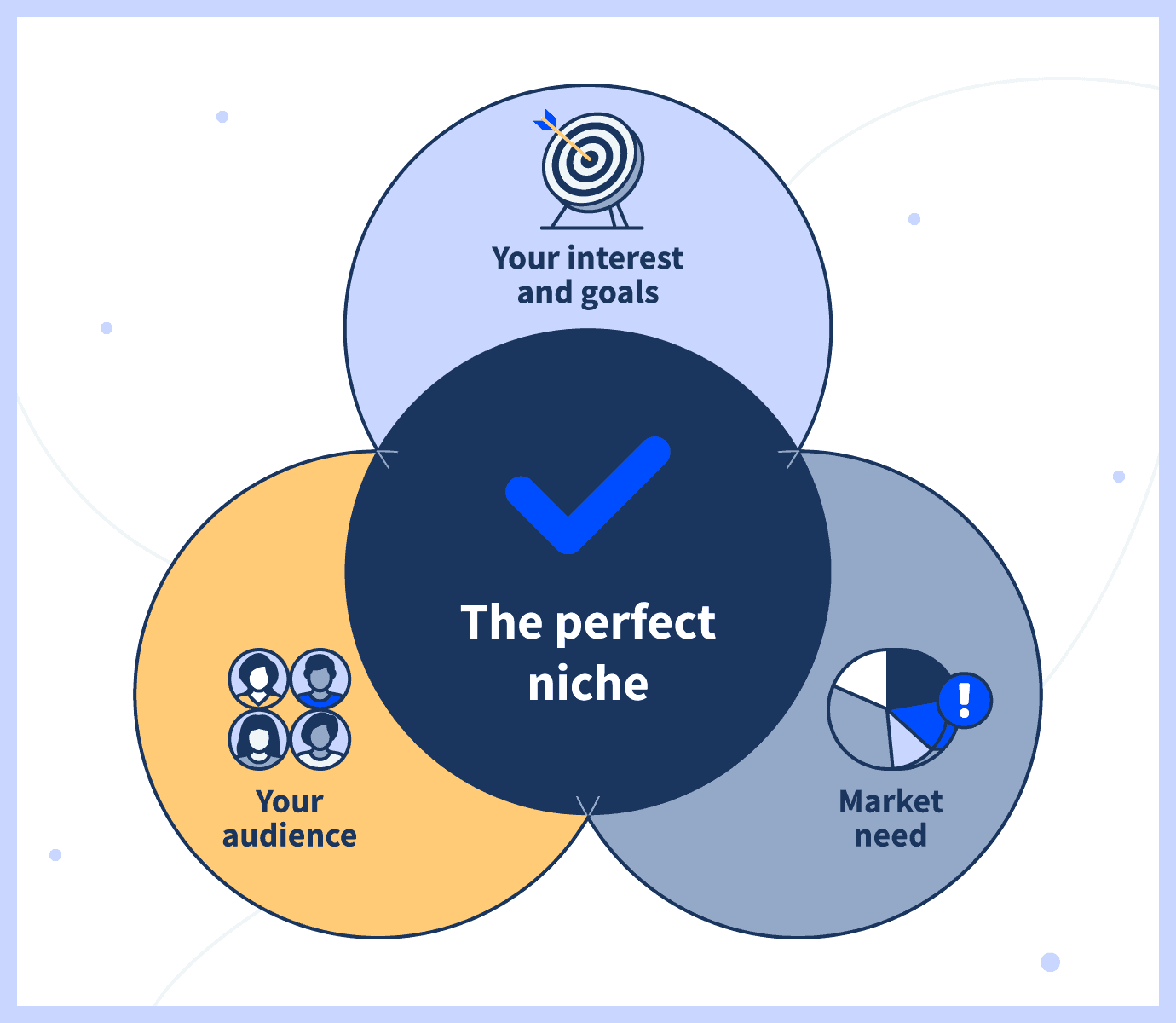 To find a niche market, you need to choose a larger market and, from there, find more niche opportunities. There's no specific way to choose a niche, but there are some actionable ways to find new niche markets:
1. Use a Mind Map
Use a mind map to brainstorm your ideas, organize thoughts, and find niches in the area you identified. Remember that the goal is to capitalize on your passion and existing knowledge. Start by writing down topics that are related to your interests, passions, and skills.
Need an expert tip on how to do that?
Take a strengths test like CliftonStrengths or Myers-Briggs to learn more about your personality's strengths. Then, use these to start brainstorming topic ideas when building your mind map.
Below are some more tips to help you fill in your mind map.
2. Use Google Searches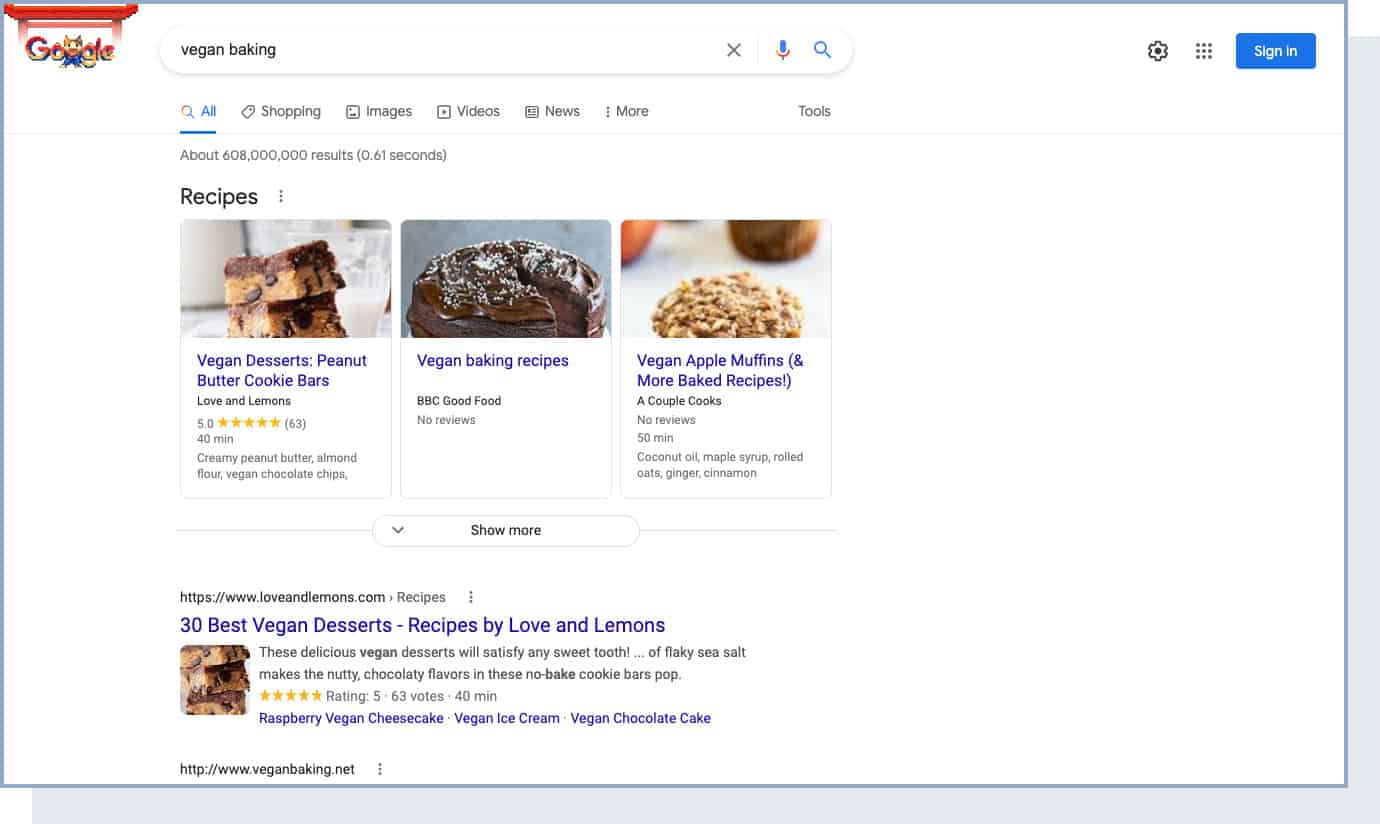 Try to understand what your potential competitors are selling in a certain niche. Start by making general searches around your topic. From there, you'll have hundreds of different angles you can choose to focus on.
Identify where competition is lacking and learn about barriers to entry, costs involved, licensing needed, and how you can gain a competitive advantage. Strong competition might indicate that a niche is profitable, but you need to be aware of market saturation.
Paul Sherman, chief marketing officer at Olive, suggests assessing the viability of the industry you look to develop into. He says, "If competition is fierce, consider adapting or refining your product or service to appeal to a more specialized market." What features can your product provide that competitors lack?
3. Look at Google Suggestions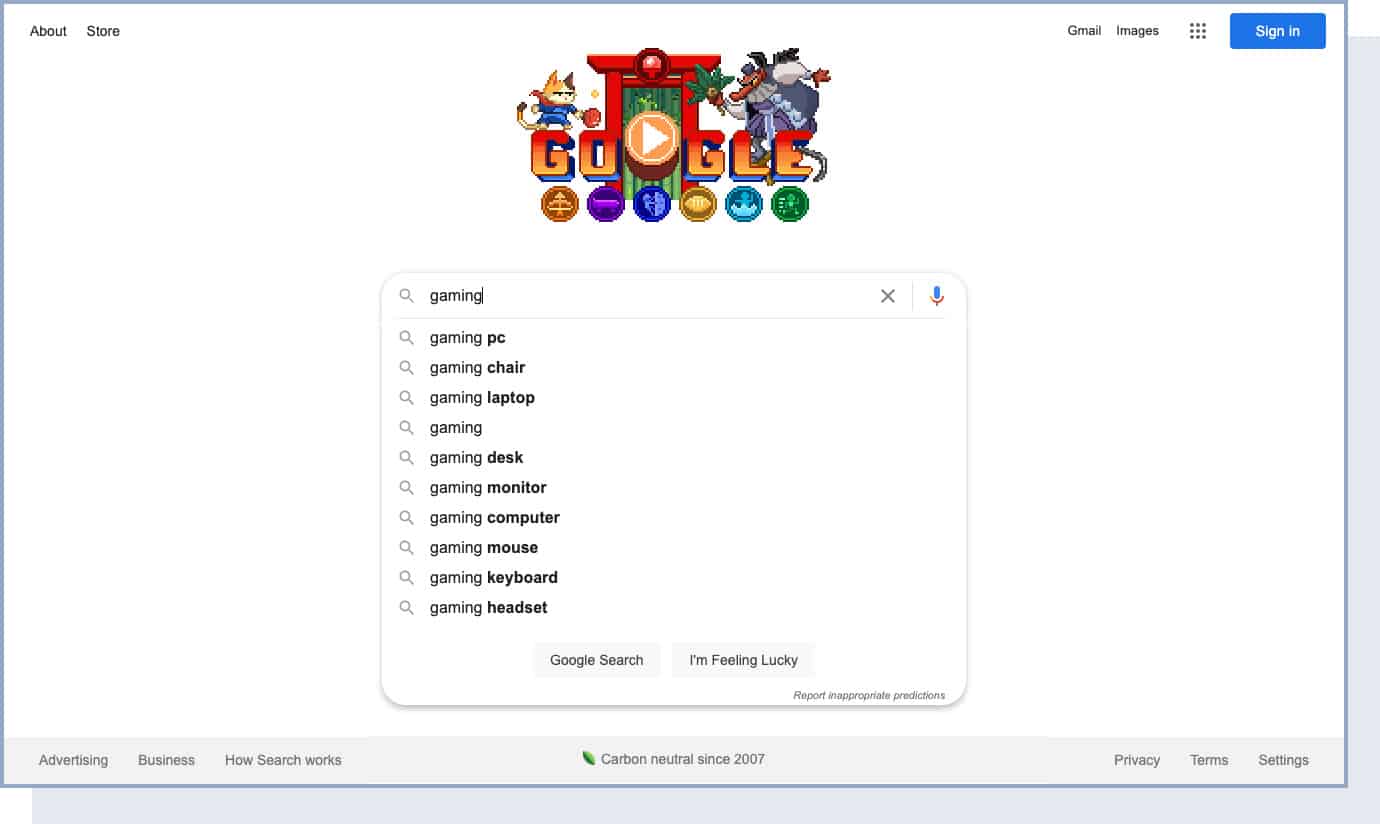 If simple Google searches didn't provide enough ideas, try looking at Google's search suggestions. These are the queries users are searching for that are related to your topic.
Click on some of the suggestions on Google to find relevant ideas and keep exploring your topic. Repeat this process a couple of times and you'll end up with a solid list of ideas.
4. Join Online Communities
Once you choose the general topic you're going after, you need to identify existing problems and needs in that area. Would someone be willing to pay to solve those problems? One of the best ways to learn about your audience is through online communities. Here are some ways to get started:
Join Facebook Groups related to the potential niche and start or join a discussion.
Start or join online forums or meetup groups to connect with your target customers.
Browse through the most active subreddits related to your topic.
Scroll through social media hashtags.
How To Confirm Market Need
Now that you have some niche market ideas, it's time to test your idea — starting with a pilot scheme.
You don't have to develop a full website. Use a Website builder builder like Wix to create a simple landing page to promote your idea and drive visitors to it with paid advertising. Give your target customers a free sample or trial, or try making some sales. Then, monitor traffic and sales.
Negative results don't mean your niche isn't viable. Use the information to identify areas of improvement for your product or promotion that can be enhanced or better appeal to your audience. Set up a crowdfunding campaign on a site like Indiegogo or Kickstarter to validate your product while also raising funds to launch your business.
Wrapping Up: Finding the Perfect Niche
Niche marketing will help you gain a competitive advantage, better target your audience, and retain your customers. You'll get all of this while spending fewer marketing dollars.
If you're looking to build a niche website or blog, start by listing your passions and skills. That way, you'll have many ideas to write about, and you're more likely to be committed. Just like with choosing a business niche, you also need to confirm market demand. Choose a niche that many people are interested in but that is not crowded. Once you find a topic you're passionate about, understand if this niche monetizes well.