Almost 80% of internet users read and interact with blogs. Starting a blog means reaching millions of people with your content.
In 2022, it's easier than ever to start a blog — even if you're a complete beginner and don't understand coding or web design.
However, blogging is a competitive industry. If you want to succeed, you need expert tips and the right tools.
In this step-by-step guide we'll walk you through every part of the process while helping you avoid the common mistakes new bloggers tend to make. By the end, you'll have your very own personal or professional blog up and running in less than 30-minutes.
How to Start a Blog in 5 Easy Steps
Time to set up a blog: 30–40 minutes
Time to customize a blog: 1–2 hours
Guide difficulty: Beginners
Beginner's Guide to Starting a Blog: Video Tutorial
If you're more of a visual learner, check out our step-by-step video tutorial on how to create a WordPress blog. Otherwise, read on.
STEP 1 – Choose Your Blog Topic and Name
The very first thing you need to do is choose a topic and a name for your blog.
Most successful blogs focus on one thing, whether it's food, travel, fitness, fashion, or simply about your business.
Follow these three easy steps to choose a blog topic and find your niche.
1. Pick a Topic
We recommend choosing a blog topic that you feel passionate about or interested in. It's even better when you're an expert at something, as this helps you to grow your blog through writing quality content to help others.
Ask yourself the questions below and try listing at least 10 topic ideas.
What do I want to learn more about?
Do I have a hobby or passion that I can share?
What do I enjoy writing about?
Am I an expert in something?
Am I passionate about something?
Here's an example: If you're interested in fitness and you like to train, it's wise to share your knowledge in a blog that's related to fitness or cover topics on training and nutrition. Through the blog, you'll be able to get new clients.
2. Determine Your Niche
Since there are over 600 million blogs on the web, it's important your niche is as specific as possible. This will help you stand out from the crowd.
Your niche could be a very specific target audience (e.g., high school students in New York City), a specific type of content you'll share (e.g., step-by-step guides), a subcategory of your topic (e.g., hiking), or a combination of these (e.g., guides for New York City students who like hiking).
3. Confirm Market Demand
Once you have a few topic ideas, it's important to understand whether you'll be able to monetize your content. Will enough people be interested in what you want to share?
Think of a few keywords related to your topic. You can use tools like Google Keyword Planner and Google Trends to see how popular they are. Alternatively, you can look for online forums in your niche or run surveys to understand the size of your potential audience.
4. Choose a Name
Now that you have some topic ideas, you can start brainstorming names for your blog. To make your blog name stand out, keep in mind the following:
Think about your goals: Understanding why you're creating this blog will help you choose the right name. For example, do you want to share formal, detailed guides, or more informal and short blog posts? Make sure your blog name is not misleading about the type of content you plan on sharing.
Think about your audience: Think about the people you want to read your blog. What name will appeal to them?
Think about your industry: What are the names of the most successful blogs in your niche? Use these for inspiration, but make sure you come up with something original.
If you're stuck with ideas or don't know where to start, just use our blog name generator to get ideas — you can then personalize your name even further by using our tips.
STEP 2 – Find the Right Blogging Platform
Now, let's get into the more technical details. What's the best place to start a blog?
Free Blog vs. Self-Hosted Blog
If you're just getting started and you have limited resources, you might want to consider a free blogging platform. But it's important that you understand the difference between a free blog and a self-hosted blog.
What Is a Free Blog?
A free blog is a blog that you can create for free using a blogging platform like Blogger.com, WordPress.com, or Tumblr.com.
What Is a Self-Hosted Blog?
A self-hosted blog lives on your own server. Most people pay third-party companies to rent out storage space to you (we'll cover this in step three).
What Are The Main Differences?
There are many cons and downsides of a free blogging service (limited monetization, customization, and traffic) but most importantly, you'll have little control over your blog. And if you want to upgrade, you'll need to pay more than you would if you hosted the blog yourself.
If you host the blog yourself, you'll have no limitations related to your blog content (such as images and videos). Your blog will look more professional and can be improved as needed. Plus, you actually own your blog. Here are the main differences: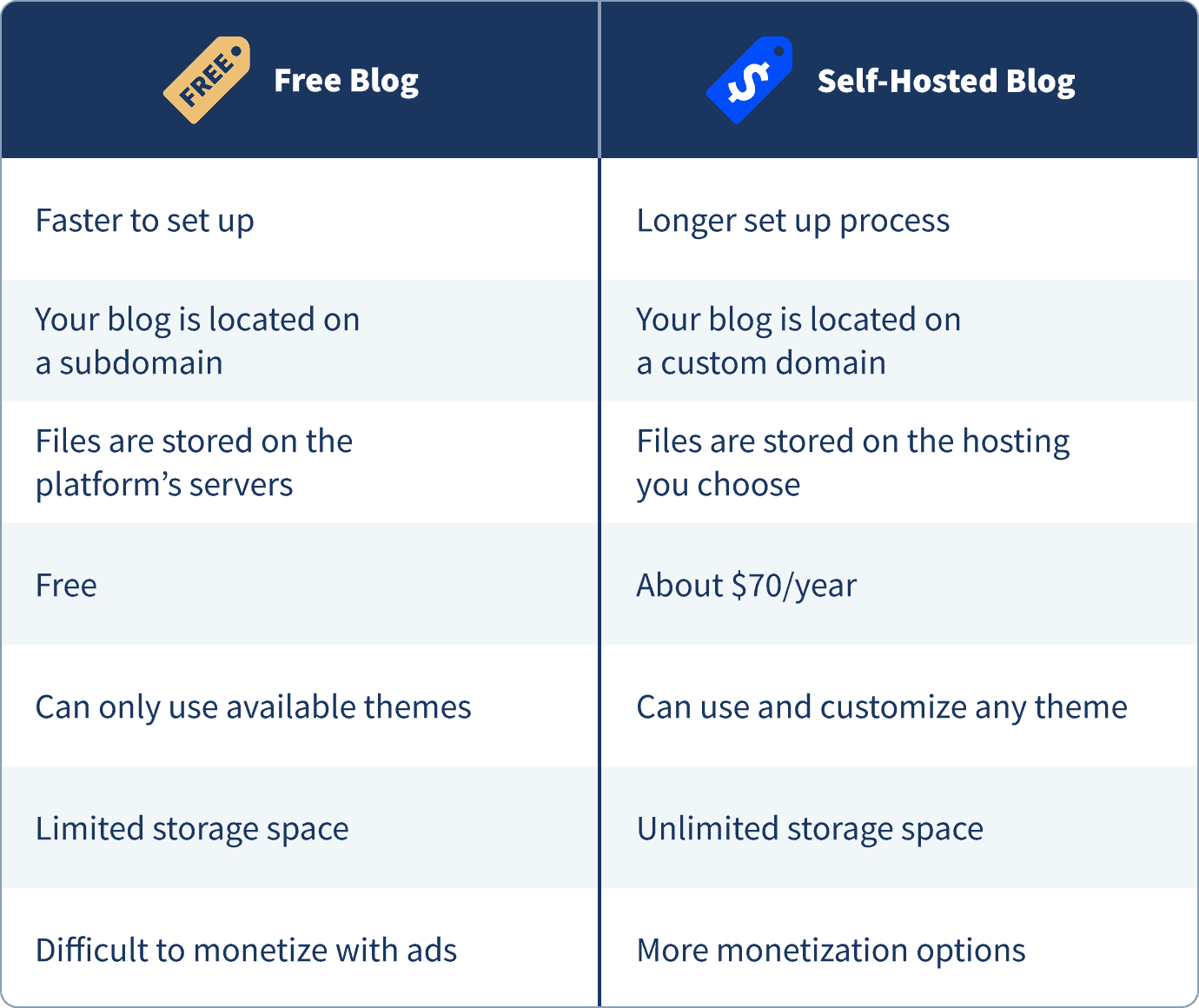 If you're just blogging for fun or you're not planning to do it for long, then a free blog might make sense. However, if you're serious about blogging, the self-hosted option is the way to go.
Which Blogging Platform Should I Choose?
There are many different blogging platforms that you can choose from. Some are more flexible and easy to use, while some are more limited and come with a higher learning curve. Here's what you need to consider:
Costs: Can you afford to pay for the costs of this blogging platform?
Beginner-friendliness: Is this blogging platform easy to set up and manage? Does it offer support and troubleshooting?
Features: Does the platform allow you to customize your blog with themes, plugins, and extensions?
Maintenance: How much manual work does the platform require?
Monetization options: Will this platform allow you to monetize your blog easily?
Most recent statistics show that WordPress, which is a free (open-source) blog platform, is the most commonly used blogging platform in 2022. We've also compiled a list of the top 10 blogging platforms in 2022.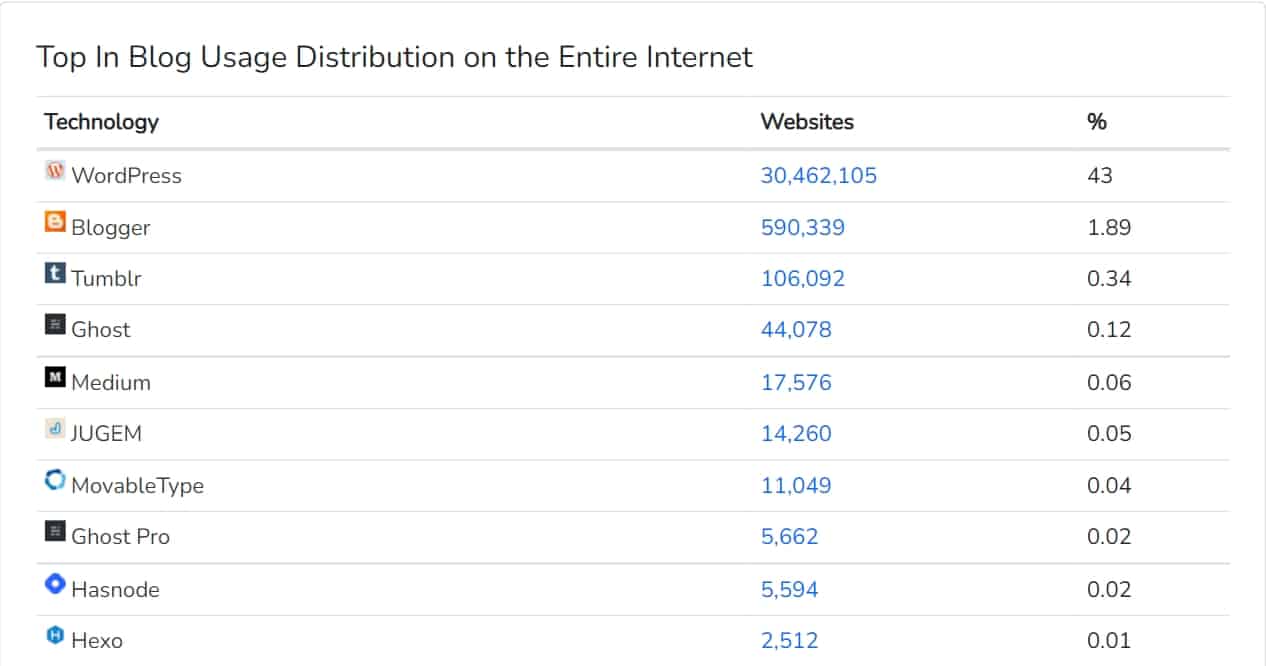 WordPress is followed by Blogger, Tumblr, Ghost, and Medium.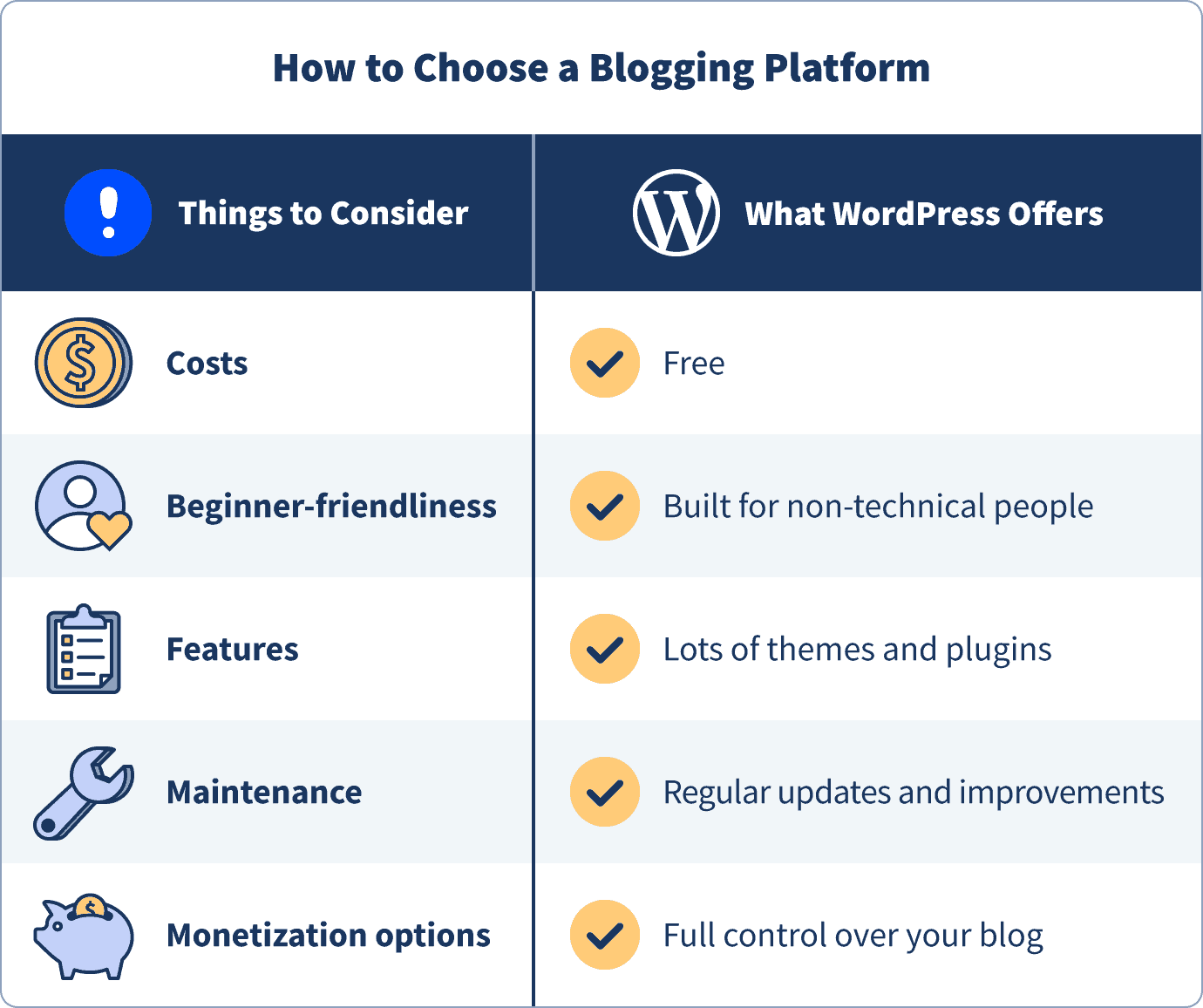 We've tried dozens of different blogging platforms, but none of them match WordPress. Here's why self-hosted WordPress is likely your best option:
It's free to use (open-source)
It's very flexible with hundreds of free (and premium) blog themes
It has a large developer community updated and improved regularly
You will have full control over your blog
STEP 3 – Set Up Your Blog Through Web Hosting (and Register Domain Name)
To get started with a self-hosted WordPress blog, you'll need to buy a domain name and choose WordPress web hosting.
We've tested all major web hosting platforms by looking at price, reliability, performance, features, and security and Bluehost is the best choice for new websites.
From Bluehost, you will get:
Your custom domain name (free for the first year) with an SSL certificate (for security).
Website hosting (from $2.75/month)
Simple, one-click install for WordPress
Free email accounts (e.g., yourname@yourblogname.com)
If you decide to choose another web hosting company,

make sure it has "one-click installs" for blogging platforms

like WordPress. This will make your setup process much easier. For more details, you can check out our list of the

Best WordPress Web Hosting Providers

.
If you get stuck registering a domain name and signing up for Bluehost, follow this quick step-by-step guide.
Registering a domain name and choosing a web hosting plan on Bluehost (EXPANDS)
STEP 4 – Configure Your WordPress Blog
Once you have your admin account for WordPress all set up, you can proceed to your new dashboard.
Just go to the admin page (e.g., yourblogname.com/wp-admin) and input the access details for your admin account. Once you log in, you'll see this:

Even though WordPress is already 100% operational, there are still some settings that you should go through in order to customize your WordPress blog.
Before you begin, remember to hit the "Save Changes" blue button every time you change the settings.
1. General Settings
Start by going to the left sidebar and clicking on Settings → General.

This is where you can set:
"Site Title" — This is the title you chose for your blog and/or your business blog. Make sure you have the right one since this is the first thing users see, and it will help you appear in search results.
"Tagline" — This is a short description (typically a sentence) of what your blog is about. For example: "Recipes that even a beginner cook can handle."
Keep in mind that you can come back and change these at any time.
In the General Settings section, you can also check if your URL (e.g., yourblogname) is correct, set your timezone, and choose your preferred language.
Another important thing to note is that Bluehost has a Coming Soon feature in the last section of General Settings. Once you're ready to go live with your blog, make sure to turn this feature off.
2. Reading and Visibility in Google
In the reading settings, you can choose what visitors will see when they land on your homepage. You can either choose a static page for your homepage and blog, or you can choose to show the latest articles you publish.
On the same page, you need to make sure that search engines like Google can find (or, in technical terms, index) your new blog.
To do that, go to Settings → Reading (again, from the main sidebar) and make sure that the field labeled "Discourage search engines from indexing this site" remains unchecked. Like so:

If you don't do that, your blog will not show up on Google results.
3. Discussion
In the discussion section, you can customize the settings related to the comment section of your blog. For now, you can just choose if you want to allow readers to leave comments and if comments should be manually approved by you.
The comment section can be a great tool to allow readers to interact with you and also for you to gain valuable feedback. But if you choose to enable it, make sure you have some time dedicated to answering comments.
4. Media
In the media section, you can choose cropping settings for your visual assets. You can leave these to default sizes, or you can choose to set specific width and height if you prefer.
Just know that when you upload an image to WordPress, it will automatically create medium- and large-size files. Medium images will typically be used if you have grid mode as the page view or for featured images in a post. Large will be used as featured images in some WordPress themes (for example, the ones designed to show photos).
5. Permalinks
The "permalinks" settings define how WordPress will go about creating individual URLs — web page addresses — for each of your blog posts or sub-pages.
While it can sound complicated, setting permalinks is very simple.
Just go to Settings → Permalinks. Once there, set your permalinks to the "Post name" variant, like so:

This is the most optimal setting of the ones available and also the one preferred by Google and other search engines.
STEP 5 – Design and Customize Your Blog
Once you're done with your blog's settings, you can now customize based on your needs and goals.
The great thing about WordPress is that even if you're not a skilled designer, you can still get a top-notch look for your blog.
How? Thanks to thousands of WordPress themes that are available on the web — any of them are free, and you can customize them easily (without any coding knowledge).
Go back to your WordPress dashboard and navigate to Appearance → Themes. Once there, click on "Add New":

Then, switch the tab to "Popular":
Here, you'll see the most popular free WordPress themes in the market. And the best part is that you can install any of them with just one click.
Go ahead and spend a while browsing this list to find something that suits your business and the main purpose behind your new blog.
Once you do see a theme you like, you can install it with just one click: Install → Activate.
What you're doing here is just changing the look of your blog. You're not erasing any of your content. You can change your themes as often as you want, without having to worry about your pages vanishing.
How to Customize Your Theme (Logo, Colors, and Structure)
Even though the WordPress theme that you chose comes with a pre-configured design, you can change parts of it to your liking if you have a good design idea.
This is all done if you go to Appearance → Customize. What you'll see is the WordPress Customizer:

Take a look at some of the
best-designed websites
on the web in 2022 to gather inspiration and discover all the most up-to-date design trends.
Depending on your current theme, you'll get a different set of options in the sidebar menu, but the most common ones will include:
Site Identity: Here, you can set your blog title again, and add a logo image and site icon (AKA favicon).
Colors: Here, you can adjust the basic colors you want to use in your blog.
Header: Set your header graphic or image.
Background: Set your background graphic, image, or color.
Menus: More on this later.
Widgets: More on this later as well.
There are plenty of
plugins
you can use to customize your WordPress blog.
1. Add Logo And Favicon
You probably know what a logo is — a graphic mark or symbol used to identify your blog.
But what is a favicon? It's the small icon representing your blog that will appear in your users' main top bar of the web browser, next to the blog title. This is what the favicon looks like on our site:

If you don't have a logo yet, you can use these free tools or follow our guide to creating one yourself.
If you don't have a favicon yet, you can use these favicon generators.
To add your logo, just click on the "Select logo" button. On the next screen, WordPress will let you know what sort of graphics are acceptable for logos.
After uploading your logo, you should see it inside the live preview window.
To add your favicon, click on the button labeled "Select image" under the "Site Icon" section. Once you add your favicon, it won't be displayed anywhere in the preview but you'll be able to see it on the top bar of your browser.
2. Change Blog Colors
Depending on the theme you're using, you'll see a different set of options in this section of Customizer.
If you already have a logo, you should probably use the same colors for your blog.
Keep in mind that color plays an important role in web design and affects the way visitors will perceive your blog.
If you don't know where to start or you need some help, start by looking at examples for inspiration and follow our beginner step-by-step guide to choosing your color scheme.
3. Add Custom Header Graphic
A website header is the top section of the web page — the whole space above the fold of the homepage.
In this section, you'll be able to add a graphic/image, and for some themes, even a video, to your header. The specific options you have will change depending on the theme you choose.
To set your header image, just click on "Add new image":

You can pick whatever image you wish for your site header, but make sure it's high quality. WordPress will let you know about the minimal requirements for your header image right on the upload screen.
4. Change Background
For some themes, you'll have the option to set the main background for your whole website.
Usually, you'll be able to set a custom image or a solid color to be in the background. Either way, you can get quite interesting effects if you experiment with this long enough.
5. Create New Pages and Blog Posts
With all of the above already done, you're ready to start creating content for your new blog.
In the beginning, make sure your blog includes at least the following pages:
Blog: WordPress will create this section for you automatically. By default, all your latest blog posts are going to be listed right on the homepage.
About: Tell your visitors what the blog is about and who's behind it.
Contact: You can add your contact information or a contact form here.
You can also add a Services / Products page to list your products and/or services and tell people why they should buy them.
How to Create New Pages
Now that you have an idea of what sorts of pages you might need, let's talk about how to actually go about creating them in WordPress. Luckily, the process is the same no matter what sort of page that is.
Before adding pages, you can also set your blog to a maintenance mode, which will prevent others from seeing your unfinished website.
Now, go to your WordPress dashboard and then to Pages → Add New. What you'll see is the main page editing screen of WordPress:

As you would imagine, once you click the "Publish" button, your page becomes visible to the public.
How to Add Blog Posts
Creating blog posts works the same as creating new pages. The only difference is that your posts are going to be displayed automatically on your blog homepage, while your pages need to be added to a menu if you want users to find them (we'll show you how to do that in the next section).
Since the blog functionality is one of the core elements of WordPress, you'll find a whole separate section devoted to creating and publishing blog posts.
From the main WordPress dashboard sidebar, click on "Posts."

6. Add a Navigation Menu
Your menu is extremely important for your blog — it allows your readers to easily find the information and content they're looking for.
Typically, your blog should have one main menu that's placed in the main navigation bar.
To create a new menu, go to Appearance → Menus. Once there, look through the list of the available pages you've created so far and click the checkboxes next to the ones that you want to have in your new menu. Then, click on "Add to Menu." You'll see your pages listed in the section on the right. At this stage, you can also drag and drop those pages to realign them.

7. Change Your Blog Sidebar and Footer
Depending on the theme that you're using, you might have anywhere from zero to a handful of sidebars available and maybe a customizable footer as well.
To tune up what's displayed in all those areas, we're going to use WordPress widgets.
In simple terms, widgets are small blocks of content that can be displayed in various places throughout a WordPress blog.
To see what this is all about, just go to Appearance → Widgets.
What you see here are all the different widgets that WordPress gives you. Just to name a few:
Archives – a list of all your past blog posts
Image – an image of your choice
Categories – a list of all your blog categories
Recent Posts – a list of your most recent articles
Search – a search bar
Text – a piece of custom text
You can place all those widgets in one of the predefined widget areas — usually within the sidebar or the footer.
For example, we can drag-and-drop the "Recent Posts" widget to our "Footer 1" widget area.
You can do the same with any of the other available widgets. Just grab them from the section on the left and drag-and-drop them onto any of the widget areas that your theme gives you.

The widget areas that you see in your admin panel depend on the theme that you're currently using.
How to Start Blogging: 6 Things Every Blogger Should Know
Now you know all the technical details you need to start a blog.
In this section, we share our best tips and things you should keep in mind once you begin blogging.
1. Choose The Right Topics
The first thing you should focus on is the topics you'll talk about. If you followed our suggestion from Step 1, you probably already know your topic and niche.
When choosing the topics, make sure you keep your niche and audience in mind.
We'll explain how to find content ideas in the next section.
2. Build a Backlink Profile
Backlinks, also known as inbound or incoming links, are links to your blog coming from another website. They represent one of the main elements that will help you rank in search engine results.
There are many backlink-building techniques you can use, such as resource page link building, broken link building, and more.
For example, after you publish a new article, you can reach out to other blogs in your niche (make sure they're not your competitors), and ask them to include a link to your page. You can also try writing guest posts for other blogs and ask to add a link to your piece.
But to gain backlinks, high-quality content is a requirement. This brings us to the next point.
3. Focus On Quality
Although there are many strategies you can use to improve your blog and drive traffic to it, keep in mind that, when it comes to a blog, quality always beats quantity.
There are two reasons why quality is important for blogging. First, users are interested in high-quality, useful information. Second, it's a huge factor that influences ranking in search engines like Google, which reward quality content.
To create high-quality content, follow these best practices:
Use short paragraphs for better readability
Use headers and subheaders to organize content
Use bulleted and numbered lists to make important information stand out
Bold and italicize key information
Add visual assets like images to break up text
To create visual assets for your blog, you can take advantage of free online
web design tools
like Canva and Vector, and directories of free stock photos like
Unsplash
and
MyStock Photos
.
4. Use Internal Linking
Internal links go from one of your blog posts to another page on your blog.
Internal links are important for three reasons. First, they pass authority from one page to another, helping you rank on search engines. Second, they guide users to high-value, relevant content on your website. Third, they prompt users to take action as calls to action..
When you're writing a new blog post, try to find a place where it makes sense to link to another article you published.

Make sure you're using relevant anchor text (the clickable text of your link) to add your links — don't just use words like "here." For example, if you want to link to one of your pieces about a trip to Australia, you could use the text "my trip to Australia" to link to the post.
5. Use Social Media to Gain Traffic
When you first start writing blog posts, you'll notice that they won't get much traffic right away.
This is normal. Search engines are competitive and it can be difficult to outrank established blogs.
A good way to start getting traffic to your blog is to use social media. With social media, you can network with other bloggers and people in your industry or niche.
When you're writing your blog posts, try mentioning other bloggers and influencers in your niche. Then, when the article is live, you can share it on social media and tag them. If your content is high-quality, interesting, and relevant to them, you'll see traffic and engagement go up (from their follower base), and these influencers might even share it on their profile.

You can use
Influence
to find influencers in your niche.
Another social media strategy you can try is to find online forums and discussion sites (e.g., Reddit and Facebook groups) and share your content there.
By using social media to network with people in your industry, you'll be able to build relationships with people that have the same interests and that will likely be interested in the topics you write about.

Many of these groups have strict rules and don't want members to share promotional content, so you should always share it in a way that's helpful to the users, instead of just posting a link to your article.
6. Plan Your Content
One of the main reasons why new blogs fail is irregular posting.
In the beginning, the secret to efficient content posting is to have a plan.
First, ask yourself this question: "How many high-quality blog posts can I fit into my schedule?".
When you first start, we recommend publishing a minimum of one blog post per month, although many bloggers suggest publishing at least three posts per week. The answer here really depends on your schedule but remember to prioritize quality. A few awesome blog posts a month are better than several low-quality blog posts a week.

Before you launch your blog, write at least five blog posts so you have something ready to publish right away.

How to Brainstorm Content That Will Drive Traffic
Now that you have everything you need to set up and launch a blog, you're ready to start blogging.
But what will you actually write about?
In this section, we provide brainstorming advice and tips to find new content ideas.
1. Get Inspired
The first thing you can do to find content ideas is head over to other popular blogs in your niche and look at their top articles.
That can be a good source of inspiration, but avoid just copying content. Just use this to find ideas and understand what the main topics are in your industry.
If you find inspiration, consider using the same topic but making it into a different content format to make it different from what already exists. For example, you might find that your competitor posted a YouTube video that went viral. In that case, you could take the same or a tangentially related topic and create a long-form article or a listicle blog post.
2. Just Google It
There are a few ways you can use Google to find content ideas.
First, you can try typing your niche or broad topic in Google Image Search and see if you find any ideas. At the top, you'll see some tags with related topics.

Next, you can do a simple Google search of a broad topic and look at the related searches.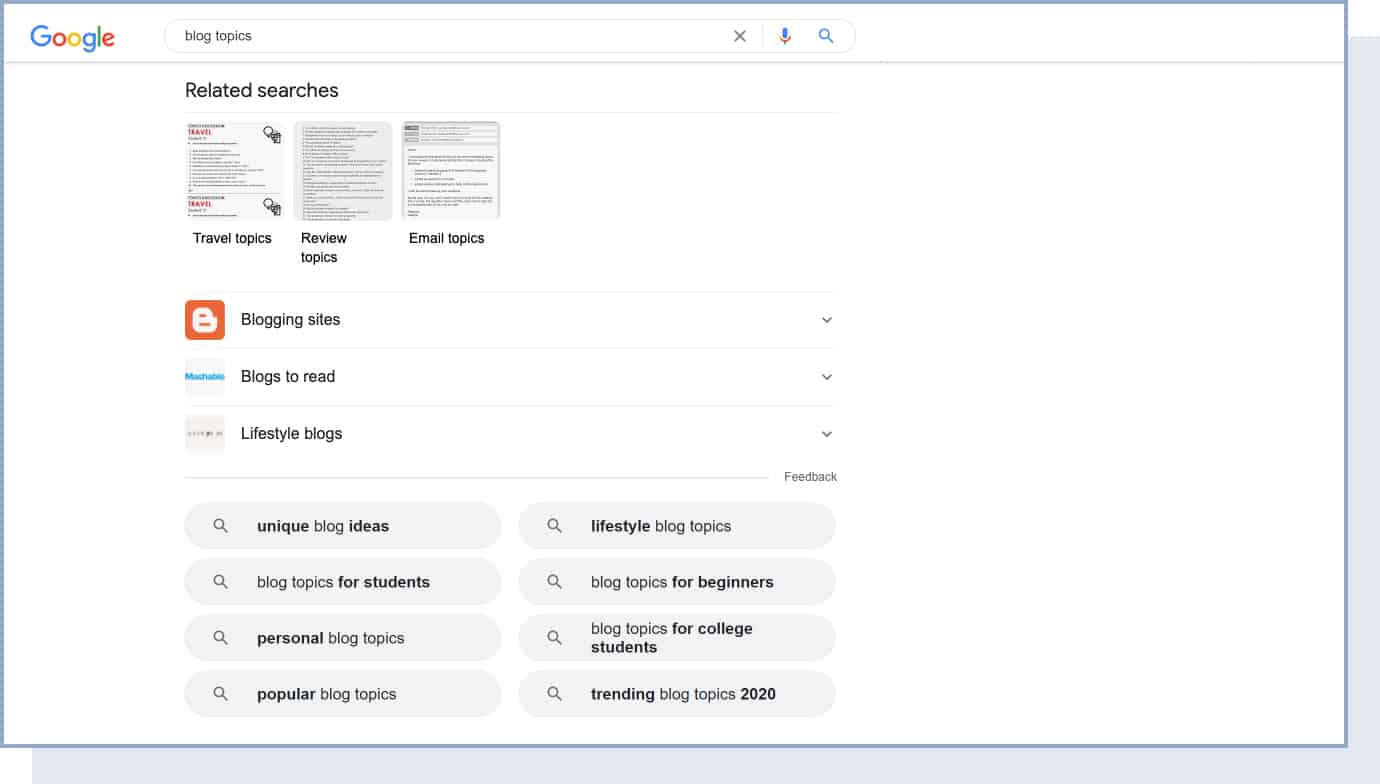 Finally, on the same results page, take a look at the "People also ask" box. Here you'll find the most asked questions related to this topic.

3. Use Keyword Research Tools
The most popular keyword research tools are Ahrefs, Moz, and SEMrush. But since most of these are paid, consider using free tools when first starting.
The best free keyword research tools are:
Google Keyword Planner
Google Trends
Google Search Console
Ahrefs Keyword Generator
Keyword Sheeter (Chrome extension)
Answer the Public, Keyword Surfer
Keyworddit, Questiondb
Reddit Keyword Research Tool
Bulk Keyword Generator
There are many ways you can use these tools to uncover keywords to create blog posts. However, we recommend starting off by targeting relevant keywords with low keyword difficulty. This will give you a better shot at ranking in search results.
Here's how to do that: Insert your keyword into Ahrefs Keyword Generator and filter by keyword difficulty (KD) score. These, typically shown in green, are the keywords you'll be able to rank for because they're less competitive.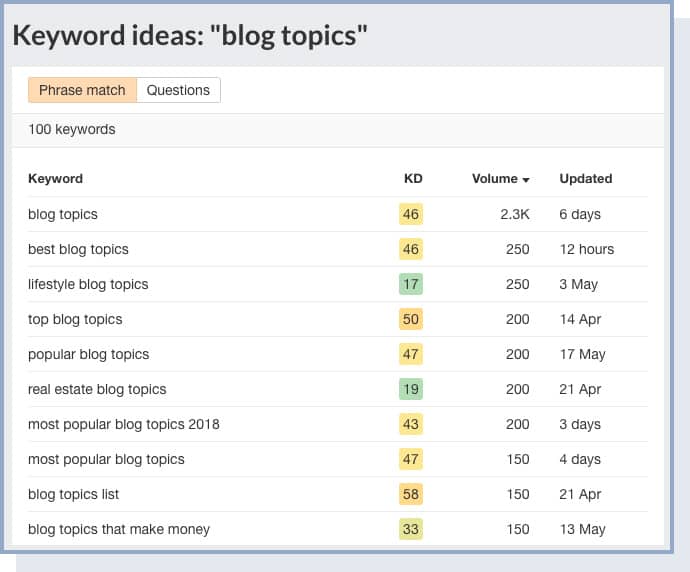 To get your keywords to rank better, and to create an intuitive blog structure for both users and search engines, you can create content clusters.
Content clusters are content pieces on your blog that are linked to a common subject — called "pillar content."
Your pillar content can be a broad keyword with high search volume (e.g., "marketing") or a product page you want to point users to. The topic clusters, on the other hand, should be more long-tail keywords with less search volume, but that you can rank for (e.g., "content marketing strategies for beginners").
You will then use internal links to properly connect the pillar pages with the individual topic clusters.
4. Blog and Social Media Comments
One of the easiest ways to find content ideas is to see what your readers think and talk about, and what questions they have about your content. Once you've published a few blog posts, scroll through the comments and see what your audience has to say.
5. Ask Your Audience
Listening to your audience is the perfect brainstorming method because you're getting ideas from the people who will read your content.
Reading comments can help with that, but an even more direct way to hear from your audience is by asking them. You can do this through social media or email.
6. Podcast Episodes
Podcasts are some of the most successful types of content, so they're a good opportunity to repurpose a successful podcast into a new and fresh format — a blog post.
Just find a popular podcast in your niche and scroll through the episode titles and descriptions. You'll start getting ideas for blog posts you can write about. Again, make sure you don't just copy these and try to find very specific topics that none has written about before.
7. Pinterest
Pinterest is a great resource for uncovering unique content ideas. Just type a keyword in the search box and you'll get a list of suggestions, along with existing content that is related to the keyword.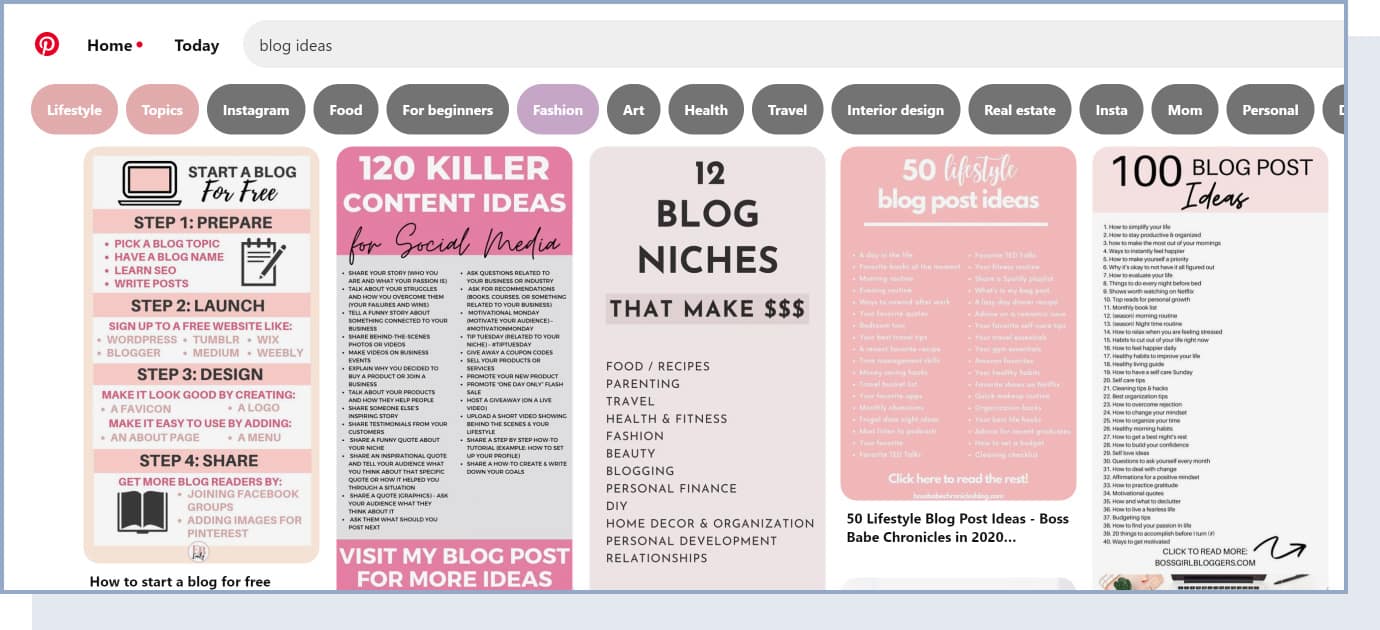 You can also use Pinterest to find ideas for visual content that you can add to your blog posts. For example, if you search for "content marketing ideas," you'll find many different visual assets other websites have created, like "reasons to do content marketing," "social media content calendar," "content marketing checklist," etc.
8. Buzzsumo
Finally, you can use Buzzsumo to find keywords, stories, common questions, and more around your topic.
Buzzsumo is a paid tool, but it offers a free version that you can use to find content ideas.
Enter your broad topic keyword in the search box, and you'll get a list of the most popular pieces of content related to it. What makes it different from other tools is that you can easily find content that has the most engagement on social media platforms.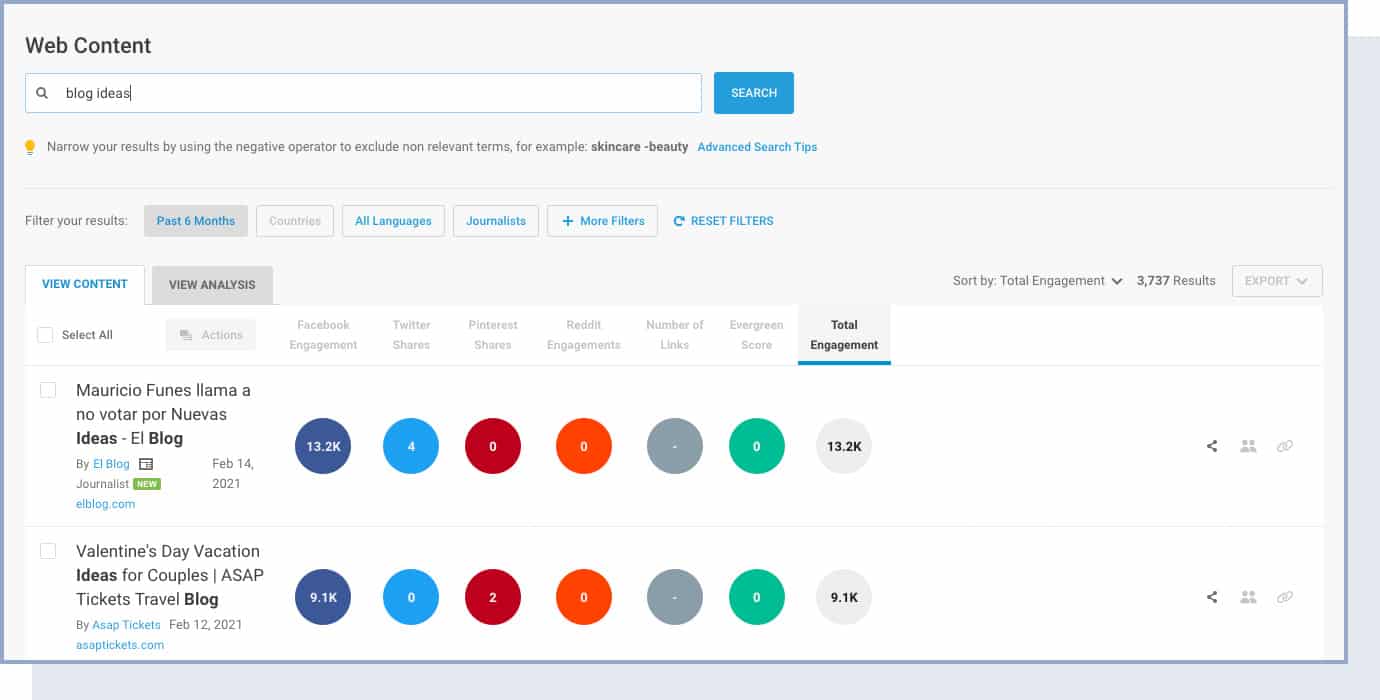 You can also find common questions in online forums, write an article about it, and then go to the forum and link to your article.
If you choose to get the paid version, you can also monitor trends and comments, and find influencers in your niche, along with other features for content research and discovery.
Try playing our two content brainstorming games with some friends, colleagues, or even by yourself to come up with the best article titles for your blog.

How to Start a Blog: Frequently Asked Questions
Now let's take a look at the most frequently asked questions.
How much does it cost to start a blog?
Luckily, not much! To self-host your WordPress blog, all you need is:
Domain name: Your custom web address (e.g., www.yourblogname.com) will be around $10/year, but we'll show you how to get one for free later in this guide.
Web hosting: Simple and reliable web hosting is usually around $4/month. In total, it's around $60/year, but it's an important investment to your blog success.
If you change your mind and think that blogging is not for you, you can always cancel the hosting service. Many providers offer a 30-day money-back guarantee. Domain names can't be refunded, but they will simply expire and become available once you stop paying for them.
Can I create a blog without WordPress?
Yes. There are many different blogging platforms that you can choose from, like Wix, Joomla, and Blogger.com.
How can I create a blog and be anonymous?
To blog anonymously, avoid using your real name, photo, and email address. We suggest you create an anonymous email account, along with a blogger identity.
In WordPress, go to Users → Your Profile, and enter your blogger name in the "nickname" field. Then click on the drop-down menu Display name publicly as and choose your nickname. Remember to click on the "Update Profile" button.
Apart from this, there are more advanced precautions you should take to be completely anonymous.
When setting up your web hosting with Bluehost, you have the option to add domain privacy and protection (starting at $1.25/month). This will protect you from spam and other unsolicited emails, phone calls, and mail, as well as identity theft, fraudulent domain transfers, users (including competitors) being able to look up your domains, malware, and SEO blacklists.
To add this, log in to your Bluehost account. In the left navigation menu, click on "Marketplace" → "Add-ons" → "Domain Privacy + Protection."
If you want to go a step further, you can use a Virtual Private Network (VPN), which will encrypt all your data and send it to a random server that could be in any part of the world.
Can I design a blog with no coding skills?
Yes. If you choose WordPress as your blogging platform, you'll be able to design a professional and fully customized website.
Is blogging still profitable in 2022?
In 2022, blogging is a profitable online profession with people making thousands and millions of dollars.
Can I create a blog all by myself?
Yes. By following our step-by-step guide, you'll be able to create a blog all by yourself, without any coding or web design knowledge.
Can I customize a WordPress blog with code?
Yes. Although you don't need to, you can easily add code snippets to your WordPress blog by using the Code Snippets plugin. Go to your WordPress admin bar and click on "Add New." This will bring you to a new page where you can add a title and copy and paste your code snippet.
Should I start with a free blog?
If you want to test the waters before committing to pay regular fees, you can start blogging for free on WordPress.com. If you change your mind, you'll be able to transfer your content to WordPress.org at any time.
Create Content, Launch Your Blog, and Keep Improving
Congratulations. You can now launch your new blog!
Wasn't so difficult, was it?
Remember that it's important to be consistent with blogging. Results will come if you post new, high-quality articles regularly.
As a final tip, make sure you look at your blog's analytics to track results, see which types of content work and which don't, and make improvements accordingly.