Wix.com is a perfect all-around website builder for both – people who use it for a hobby page and small businesses.
Beginners will love their beautiful templates that already look great. More advanced users will appreciate the drag-and-drop customizations, along with the ability to set up detailed analytics and SEO.
Here's a short list of the main Wix template categories:
Business

Online Store (e-commerce)

Photography

Music

Designers

Restaurants

Accommodation

Events

Portfolio & CV
Under their portfolio and CV section, Wix has an excellent selection for everyone from actors, designers, art directors, models and more.
They also have a massive selection of portfolio-style templates. That's good news for entrepreneurs and service professionals who want to showcase their amazing client work.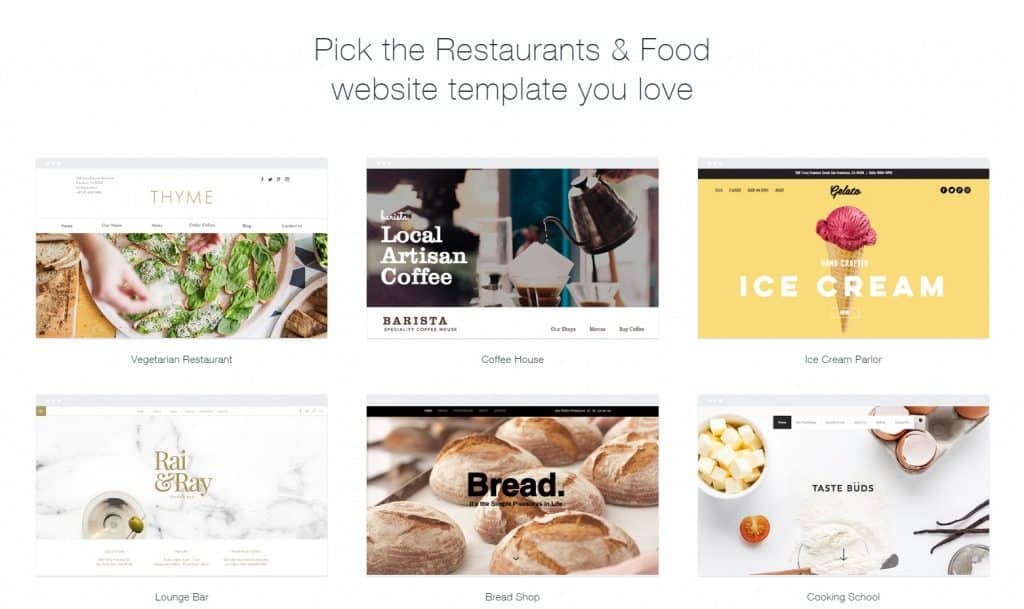 Not only does Wix have excellent restaurant templates right out of the box, they also have a huge supply of stock photos that will make sure your site looks perfect.
You can already see that each template, from travel to photography to restaurant or general business, looks contemporary and beautiful.
Let's find out!
PROS of Using Wix
---
Wix has a lot to like:
Besides beautiful themes that are easily customizable, Wix also comes with advanced features that include the ability to sell products directly from your site, optimize those products properly for search engines, then accurately measure or track sales.
Wix also has excellent customer support options that are available around the clock.
Does all of that good stuff come at a price? Let's find out!  

1. Beautiful, Drag-and-Drop Themes
Wix has literally hundreds of templates and themes to choose from.
They also have thousands of stock images as well. That's critical because today's themes are reliant on high-resolution images that stretch across the entire screen.
Each template is VERY intuitive, and the templates appear to be WAY more modern than some of the other website builders you'll find reviewed here.
Their template gallery is helpfully organized by category, industry, style, portfolio, one-pager, etc. You can find the right one within minutes.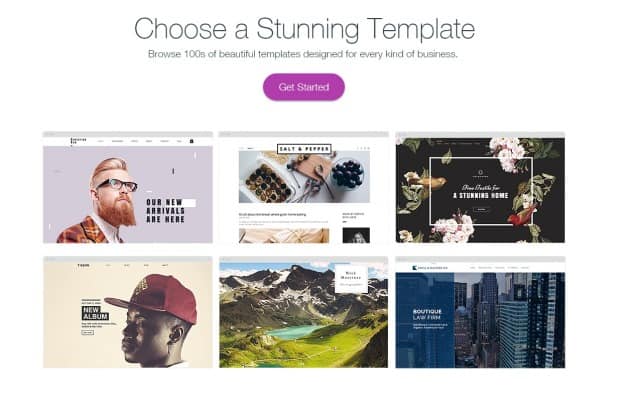 2. Get Up-And-Running in 5 Minutes or Less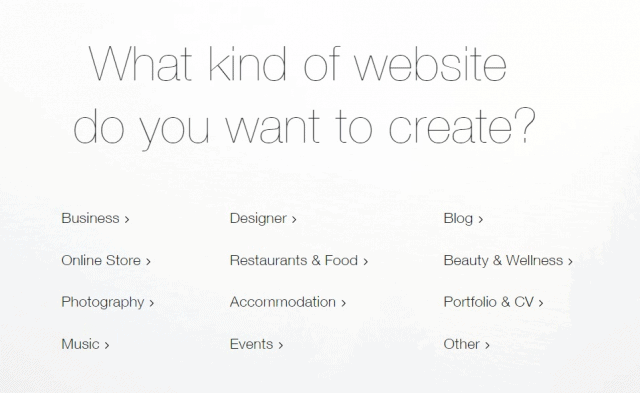 When you first get started on Wix, you'll be asked about what kind of website you are interested in creating.
Why? Wix can provide you with template suggestions that fit your industry or business:
We selected portfolio here for our test site and chose one of their recommended options. 
After selecting which template you want to work with, you will be presented with the options:
Wix ADI (AI builds your website)

Wix Editor (You build your website)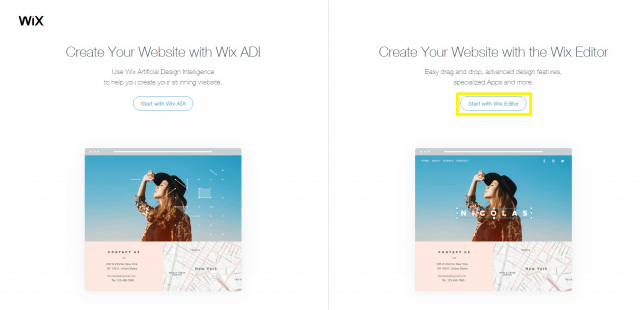 The Wix Artificial Design Intelligence (ADI) does exactly what it sounds like: Creates a site for you by using artificial intelligence.
Crazy, right?
Basically, Wix ADI will learn about you (creepy) and pull together the perfect site that fits your needs.
This option sounded to Sci-Fi for us, so we decided to stick with the old, classic Wix Editor. (I know – we're boring!)
The Wix Editor allows you to drag and drop fast (it took 5 minutes to put everything together). This 'classic' editor option also includes some other advanced features (which we'll touch on shortly below), specialized apps, and more.
Once you jump into the Wix Editor, you are greeted with a super helpful tutorial (especially if you're new to website builders) that guides you step-by-step in common editing scenarios: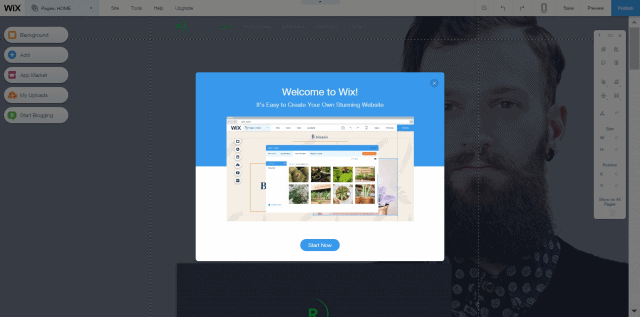 You can choose to watch the tutorial if you're a newbie…
OR, you can skip it and dive head first into editing with their simple drag-and-drop options. You can quickly edit titles, text styles, backgrounds, fonts, blog posts, page layouts and sub-pages, detailed applications, and more.
Here's what it looks like real-time: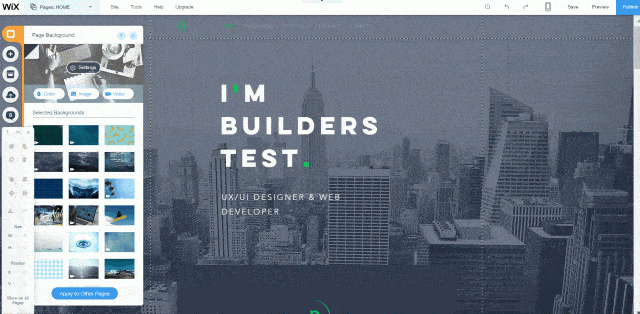 Go ahead and mess around for a few minutes; Get a feel for what your finished version might look like.
When you're ready, hit Publish in the top right corner.
Once you hit publish, you'll be directed to either get a free domain or connect/buy a custom domain package: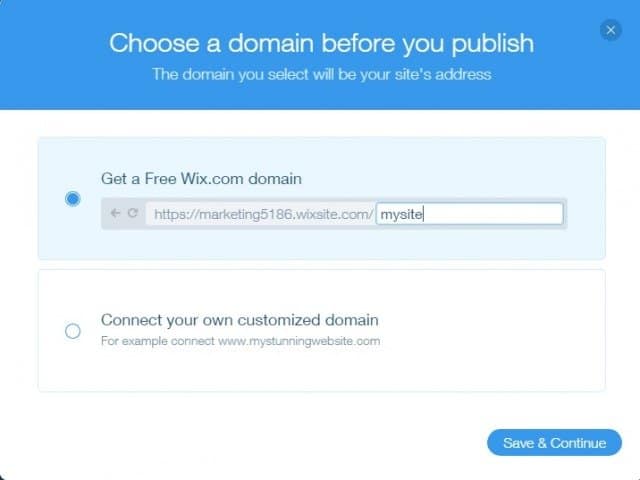 In this case, we've opted for the Connect your own customized domain, so that we could actually purchase a package and give you the full details on how their paid plans work! (Yay, transparency!)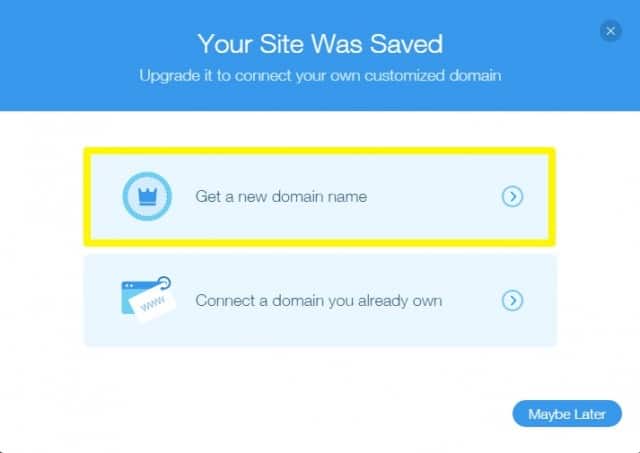 Select Get a new domain name and simply test out domains to see if they are available.
We chose the highly original https://websitebuilderswix.com for our test site.
Once you find that perfect name, hit "next" to be directed to the pricing page.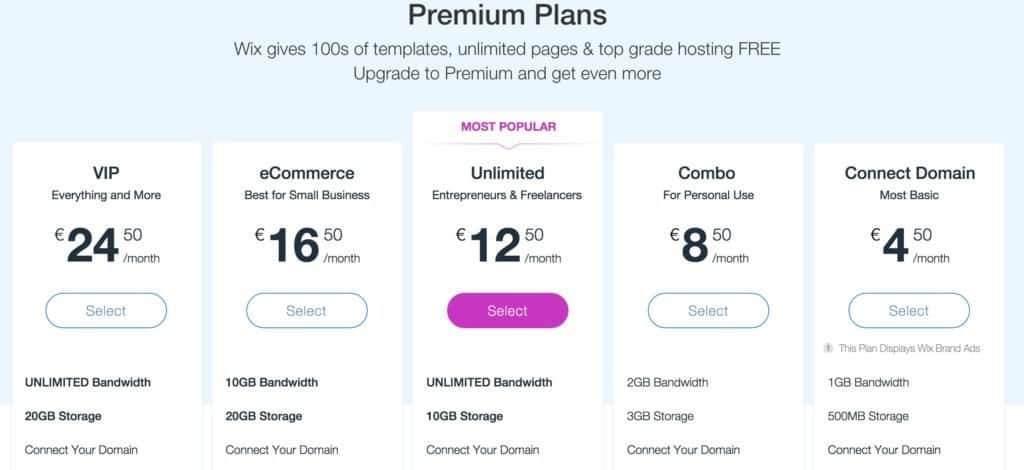 We went with the unlimited plan for a 12-month commitment. The official price is higher, though.
You get everything you see at the bottom, from free hosting to premium support, as well as a free domain, unlimited bandwidth and 10gb of storage. Not a bad deal at all, considering that's the cost of only a hosting account (not even the website) with some companies.
Wix also gives customers a great 14-day money back guarantee, so that if you're not satisfied in the first two weeks, you can get all of your money back and lose no sleep over the deal.
After purchasing your plan, you'll be asked to pick and select that perfect domain name.
You can select the domain in their smart search, you might be prompted to fill out another purchase form for the domain. (You might also get it for free, like ours – depending on the plan you picked.)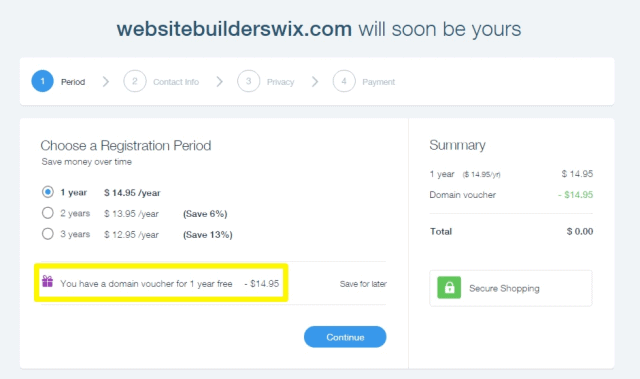 After the quick and easy checkout process, we ended up paying no extra for our domain name: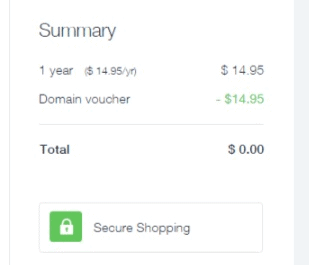 Awesome – I like when things cost zero dollars!
At the end of the checkout process, you are greeted with your purchase summary and only one upsell throughout the entire process.
That's pretty good! (Unfortunately, some other website builders try to upsell and upsell and upsell and upsell and upsell. It was annoying enough to read that last sentence, let alone actually experience all those upsells!)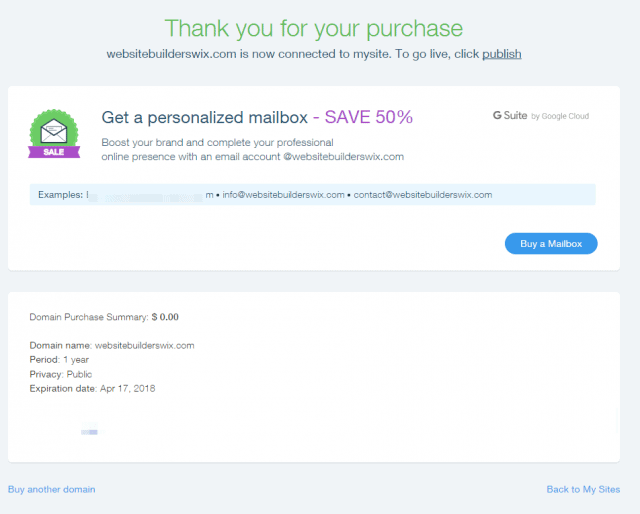 You can ignore and decline this offer. Then go back to your site – which should already be live!

3. Insanely Easy to Use (in a Good… No, GREAT Way!)
In addition to beautifully designed templates, Wix features one of the easiest website builders to use, too.
It's flexible – you can customize almost anything you want. It's also highly visual, which means changes can be made by simply pointing-and-clicking on a site element (i.e. no sticky back-end options to mess with).
Want to change your background? It's super easy. All you gotta do is browse their thousands of stock photos. Wix has everything from cityscapes, to mountains, computers, and more. All included with your initial purchase price and sorted by category.
For example, if you run a landscaping business, click home and garden to find related images: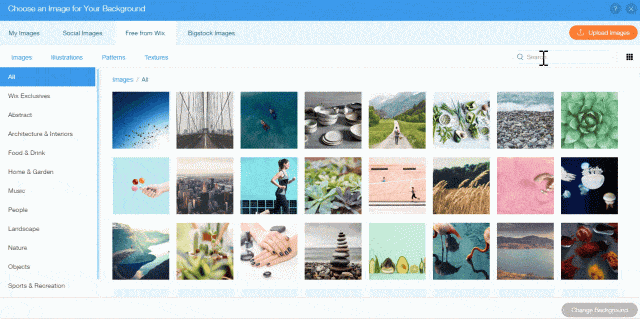 When editing your portfolio section, you can simply drag and drop images (or upload from our computer) and link them to specific websites or pages. (It's perfect when you want to redirect a client portfolio to their beautiful website you designed.)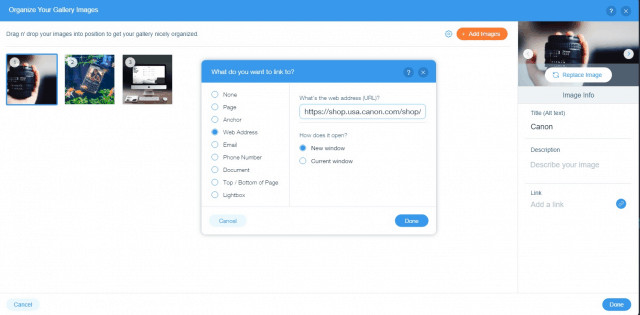 Editing text on the page is even easier. Literally just click on the existing text boxes (or add new ones) and you can select any special formatting options you need.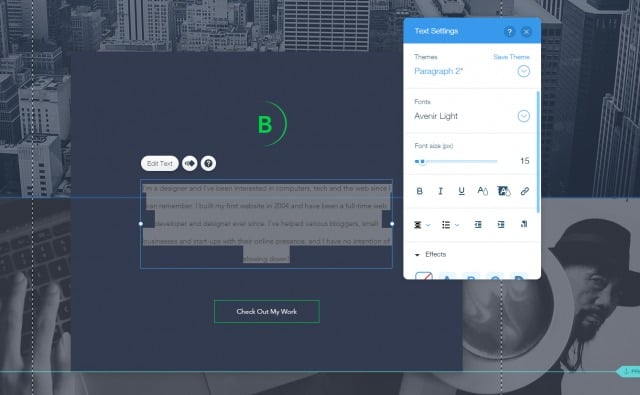 Wix also makes adding CTAs (or calls to action), like buttons – super simple too. Just point, click, and tweak:

Simply type in the box to change the text, and hit the link button above the box highlighted in blue.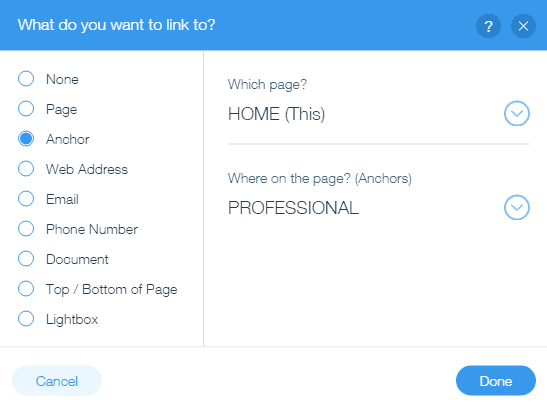 Simply select if you want this button to link to a specific page on your site, an anchor on the homepage, an email, a document, or wherever else you want your visitors to get to!
For example, your button could say Download PDF. Simply select Document above and upload your PDF so that people can download it by clicking the button.
It's that simple!
The Wix App Market also features a collection of custom 'apps' that people have created for you. If you wanted to add an Instagram feed, instead of having to create a custom one yourself, you can simply click on the Instagram Feed app.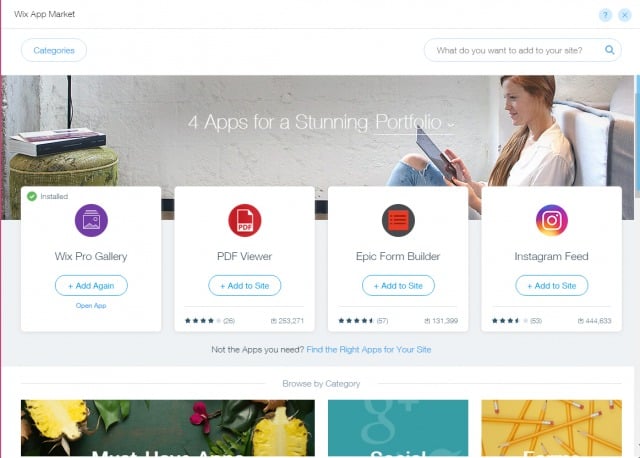 Most of these are completely free. The apps feature everything from social media integration to building professional forms for a landing page.
Running a small Bed and Breakfast? No problem – check out the online bookings section for dozens of quality applications to easily set up your reservation system.
Running an eCommerce platform or a photography blog? Need a live chat system for your customers? The application marketplace has you covered.
Wanna blog? Wix has you covered there, too. Once again, simply click a button and a blog appears just like magic – presto!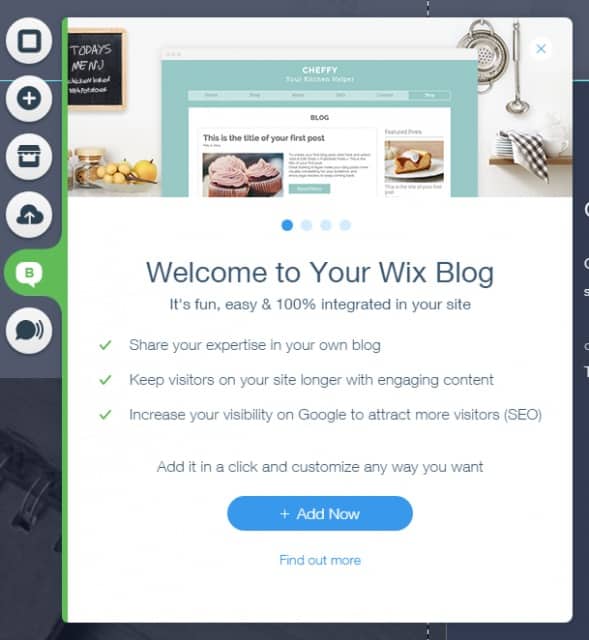 4. Affordable, Budget-Friendly Plans & Pricing
Ok, ok – sounds great so far, right? Almost too good to be true!
So what's the catch? It's gotta be the price. It's ALWAYS the price.
Well, fortunately, with Wix, it ain't the price. Because Wix is super budget friendly.
There's a free version, which is pretty limited. You're better off coughing up a few bucks and going with one of their paid plans to take full advantage of all the amazing features.
Three months free

Unlimited bandwidth

10gb storage

Connect your domain or pick a free domain

Remove Wix ads

$300 ad voucher

Site booster app

Form builder app
Thankfully, there was also only one upsell during the entire checkout process (they aren't trying to get you to buy a bunch of junk that you don't need). 

5. Variety of Customer Support Options
Wix kicks off customer support with a vast library of helpful content to start with.
This library even features trending topics and common issues that people face.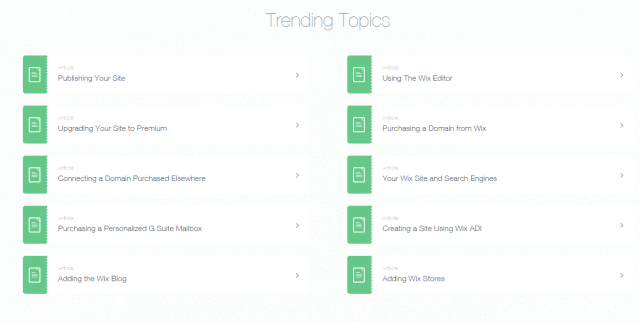 Wix is also extremely active and friendly on their social media channels. For example, we snooped a little on Twitter and discovered that they have their own Help Twitter account: @WixHelp.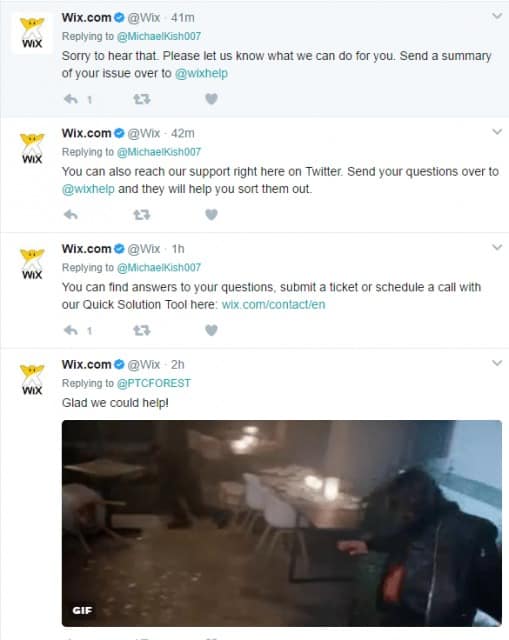 6. Setting Up Analytics is a Breeze
Your site is going to exist for some reason.
Maybe it's just a hobby blog for friends and family. Perhaps it's to sell some products and services to launch your business.
No matter what – your end-goal is always the same: to get visitors.
You need to know what's working (to bring in readers) or see which of your efforts (from ads to Facebook) are performing the best.
That means you need analytics. Not a complex, data dump necessarily with thousands of metrics, but a simple dashboard to show you what's going on, and help you differentiate between what's working (and what's not working).
Fortunately, Wix continues their excellent, user-friendly interface by demystifying your analytics setup.
On the Site Manager page, click on Advanced at the bottom of the left-hand menu.
Then hit Use Google Analytics…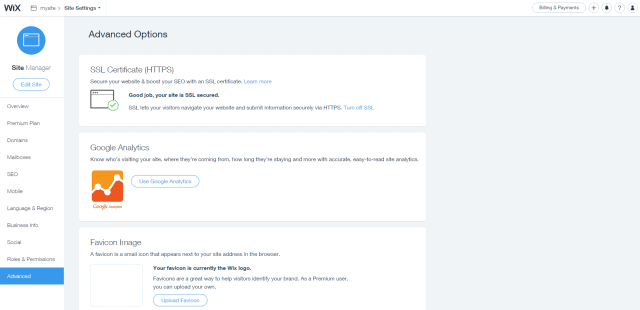 … which will bring you to the following page: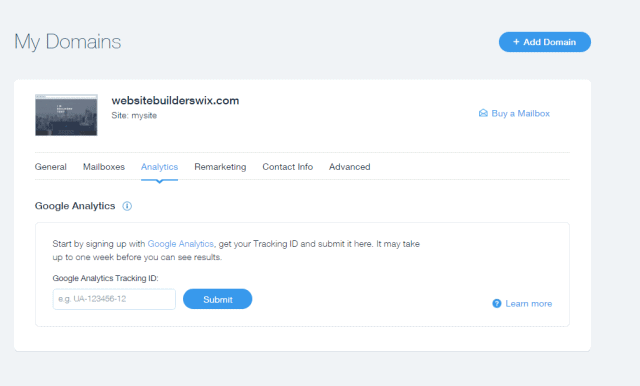 You'll have to sign up for a free Google Analytics account at this point. Don't worry – it's pretty easy. You'll just need an email address and it should only take a minute or two.
Login to Google Analytics, click on the 

Settings

 or gear icon, then look for 

Property Settings

 in the middle of your screen. 

Under here, you'll find a 

Tracking ID

 that starts with 

UA-

 and is followed by a number.

Copy that number and paste it back into Wix where you left a second ago.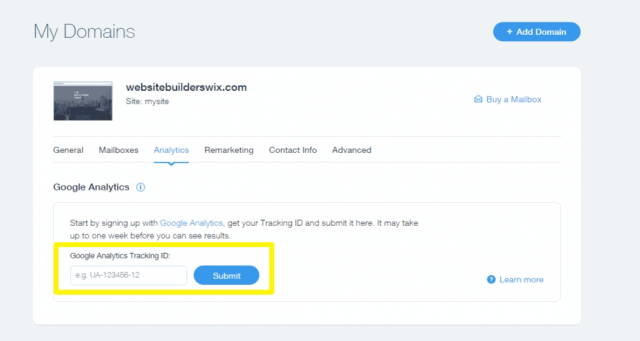 Aaaaannnnddddd you're done! See? Not too painful.

7. Fully-Fledged E-commerce Store
Wix extends their habit of beautiful simplicity to a robust e-commerce experience.
For example, everything is under one roof for you – from selling products, to tracking orders, getting paid (dolla dolla billz ya'll), to managing taxes and shipping, in addition to promoting sales.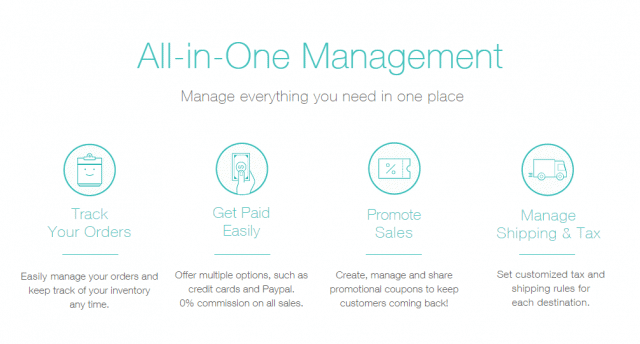 You start by selecting the appropriate product gallery: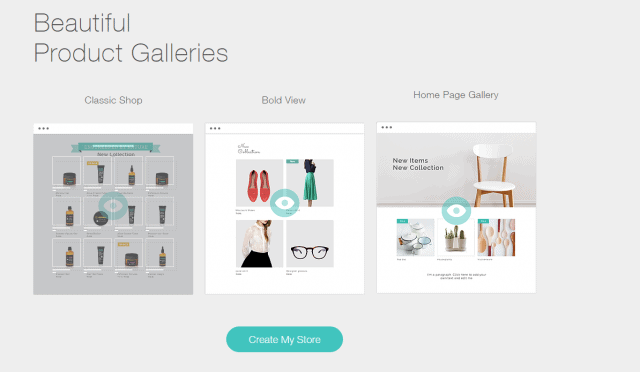 You can either create a store as your website template: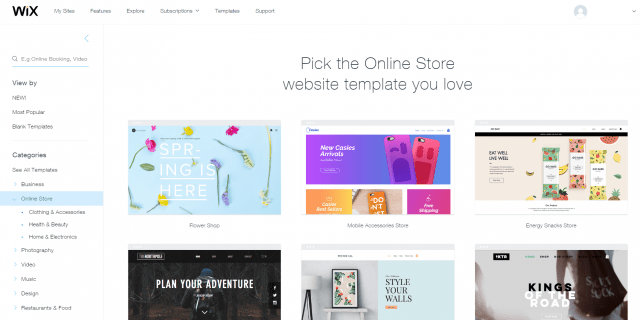 … or just add a store to your current site by adding a Store section.
Pro Tip: Just know that if you want an eCommerce focused website, it is much better to select the eCommerce Plan/Pricing Plan instead of a regular website. You will get all the features for a little bit higher monthly fee– without shelling out hundreds for the setup and applications.
You'll have an e-commerce store up-and-running in no time thanks to the simple 'wizard' that walks you through each critical detail (like setting up payment gateways, shipping & taxes, and more.)

8. Truly Advanced SEO Options
Typically speaking, one of the downsides with most website builders is that you lose a lot of 'advanced' features.
While they say that you have "SEO options" for your site, the truth is that in order to make things easy to use, they strip away a lot of the real SEO features you need to make a dent in the rankings.
Thankfully, Wix is one of the few website builders that gives you access to not only basic page metadata, but also to edit the Header of your site.
For example, head on over to the site editor and find the Header Code section.

Once you're in the site editor, click Site in the menu navigation and then Site Manager to pull up the following screen: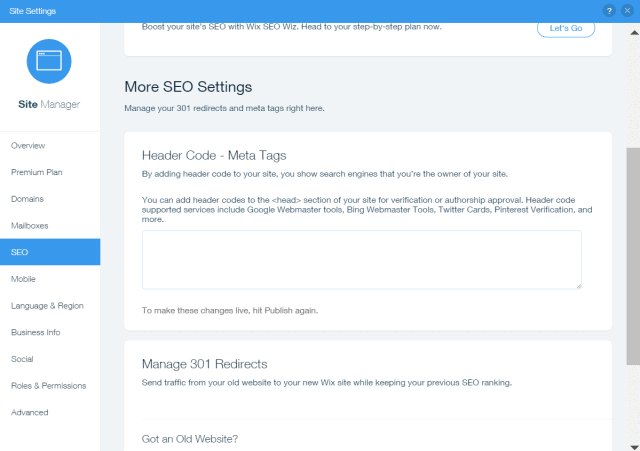 Simply insert your changes and hit publish to bring them live.
Interested in managing redirects (or setting some up from an old site)? You can also do that under the metadata section.
To be honest, these options are for advanced users. If you don't know the difference between a 301 vs. a 302 redirect, you should probably just quietly close this page and not go back. Otherwise, some damage can be done.
Wix will even help you to set up an SSL certificate, too.
If you're new to SEO, don't worry – Wix is extremely helpful in guiding you through the process. Scroll up on the site manager page and start building an SEO plan: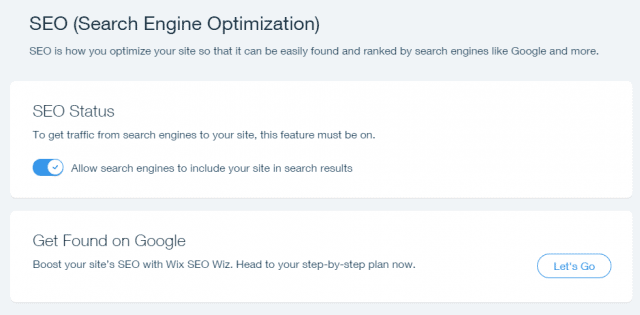 Click Let's Go and type in the information requested to be transferred to your new SEO dashboard to manage and optimize your site even further: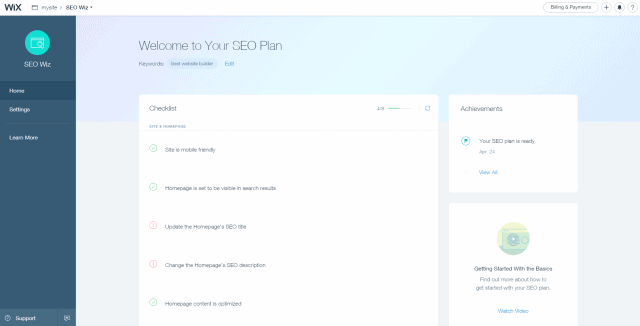 9. Advanced Social & Advertising Features, Too.
The self-explanatory Social Setup page inside the Site Manager will help you create a basic integration between your site and a Facebook account.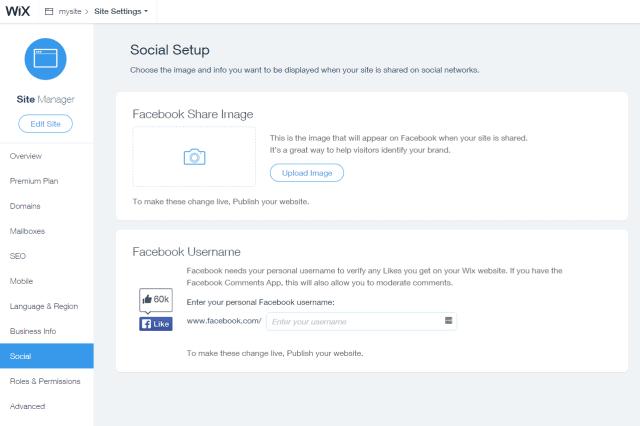 You can also tap into some advanced social features.
For example, setting up the Facebook pixel can kinda be a headache if you're not comfortable with diving into the code. Wix removes a lot of those problems by allowing you to simply insert the code number.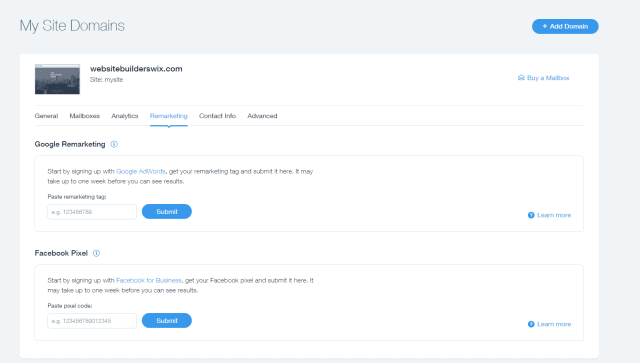 Why should you do this?
Because now you can get into advanced marketing tactics like setting up Facebook custom audiences to remarket products or ads back to people who were just on your site.

CONS of Using Wix
Not gonna lie: We kinda love Wix so far. You can probably tell. But that's because they are great in most areas and excel where it counts the most.
However, nobody is perfect! Wix ain't either. There are a few issues that were kind of annoying (albeit, relatively minor ones).
1. Not Fully Mobile Responsive
Unfortunately, Wix.com templates are not all, truly, mobile responsive.
They kinda are, but not really. Here's what I mean:
You are required to do some editing on the mobile end before publishing (unlike some website builders that automatically add content perfectly to the template on the mobile side.)
You can edit the mobile site by clicking the phone icon in the top right corner when editing your site: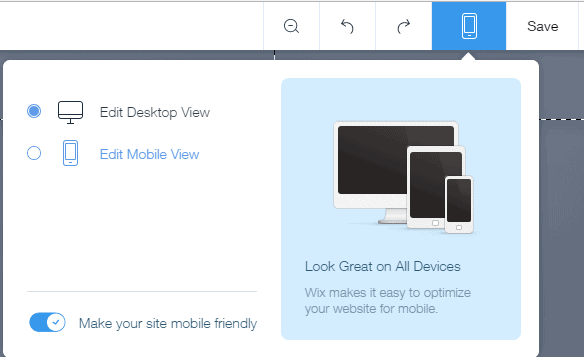 While most of your content should transfer and look good on the mobile side, any dynamic page elements may not.
For example, the homepage on our test website has a fancy little dynamic scrolling timeline that automatically follows the view when a user is scrolling down the page: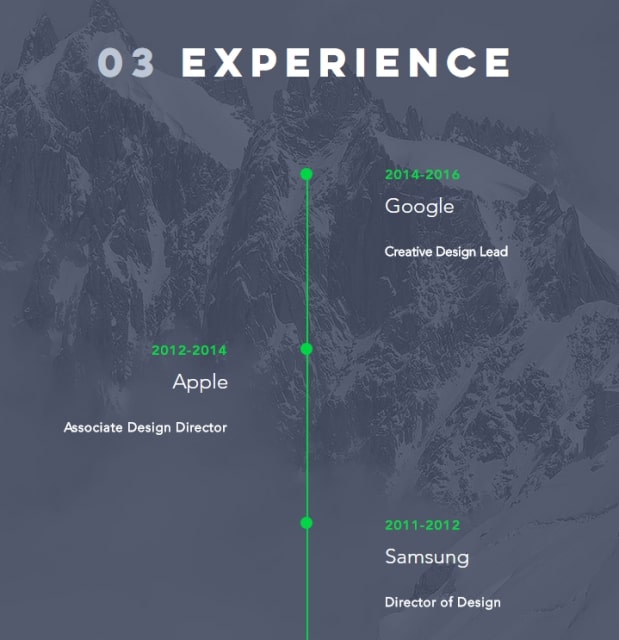 Pretty, right?
Unfortunately, most of that detail is stripped away on the mobile version: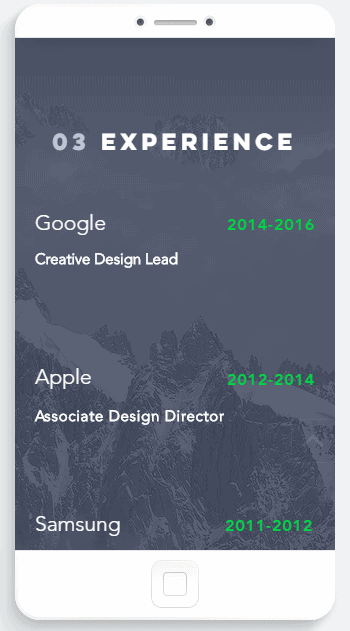 It doesn't look terrible on mobile per se.
It's not a huge deal breaker, but it would have been nice to keep some of these dynamic elements intact (like other website builders do).
(There's a silver lining: mobile page speed. Stripping away some of these 'heavy' elements for mobile versions of the site will keep things lightweight, which should translate into fast loading times.)

2. No Live Chat Support Option on Their Website
This one's kinda a head-scratcher.
Wix has a Twitter account solely dedicated to helping customers. Unfortunately, it looks like they've put all of their support eggs in Twitter's basket because there's no other live chat feature on their site.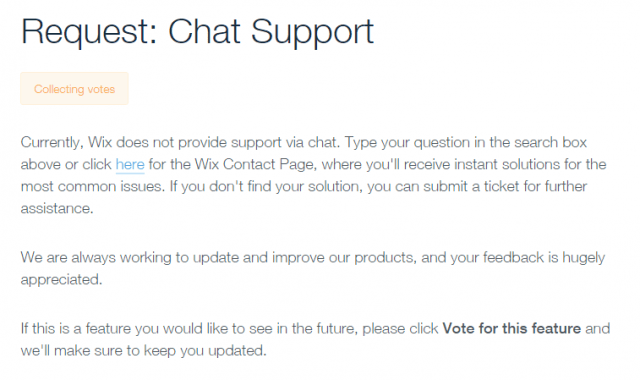 When problems like billing and tech glitches occur, they can be harder to solve and often take longer to resolve with emails and support tickets.
Booooooo… We want our live chat!

3. Email Accounts Cost Extra. Each One!
Wix is a for-profit conglomerate after all. That's their obligatory, annoying big company thing to exploit profit from.
Wix makes you pay extra for setting up a mailbox. Not like a few across your domain. But every single one!
They're kinda expensive, too. Check this out:
Say you want to get five branded email accounts for your small team. If you know how to edit MX records, these are typically FREE (assuming you already own the domain name).
Wix charges you for each freaking one. Even if you pick the annual option to get a big discount, you're still looking at a HUGE cost increase: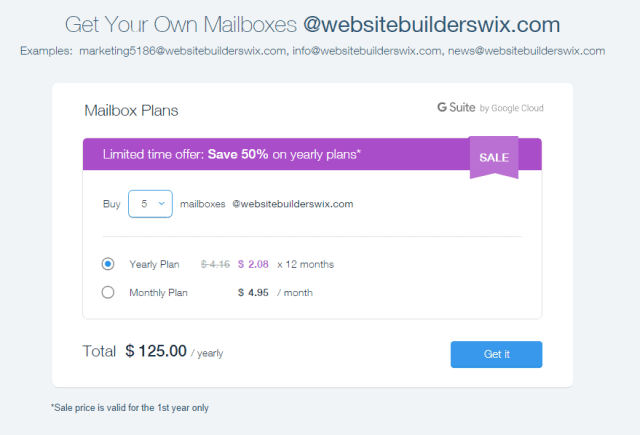 Five lousy branded emails for $125 / year? And THAT'S WITH a 50% discount? You gotta be joking…

Overview of Wix & Quick Facts
Here is a quick overview of everything Wix has got to offer:
✅ Unlimited Plan: $84/year (with a 50% discount).
✅ Template Design Options: Excellent! Hundreds of modern templates, in addition to a library of stock images, too.
✅ Ease of Signup: Extremely easy. You can sign up, get started, and have a site up-and-running within the next hour.
✅ Available Apps: BIG library of pre-crafted apps you can add instantly with the push of a button.
✅ Payment Methods: All major credit cards, Visa and MasterCard Debit cards. 
❌ Upsells: Only one, but it's annoying. You gotta pay extra for each branded email account. And they're expensive!
❌ Mobile Responsive: Kinda. Sorta. Some of your site features will be 'stripped down' for simplicity.
❌ They have a Twitter account for support, otherwise no live chat on their website.

Do We Recommend Wix?
Definitely!
Their design templates are among the best on the market. Their site builder is also among the easiest ones to customize said templates with easy point-and-click, drag-and-drop features.
That means you can quickly create a jaw-droppingly beautiful site in minutes.
If you can't (or don't want to) create bigger customizations, you can dive into their application market and probably find the exact feature you had in mind. For free. Already set up for you and ready to be added to your site with the click of a button.
The entire setup process is quick and painless. Their stock images are also excellent. All at a very affordable, attractive price point.
Just don't fall for their bogus email address upsell, and you can't go wrong with Wix!