Make a great barbecue sauce? Love crocheting custom dog collars? It's time to find a great e-commerce platform for your online business to sell your idea to the world.
However, not all e-commerce platforms are built alike. It's important to choose a solid e-commerce solution that helps you do more with your website, including great native design features, product display options, and payment management tools. Every online business has its own unique needs.
In this roundup, we'll look at the eight best platforms for e-commerce websites, including their prices, features, and unique benefits.
8 Best E-commerce Platforms of 2023
We've created our list of the top e-commerce platforms of 2023, ranked by ease of use, user-friendly navigation, and e-commerce features.
1. Shopify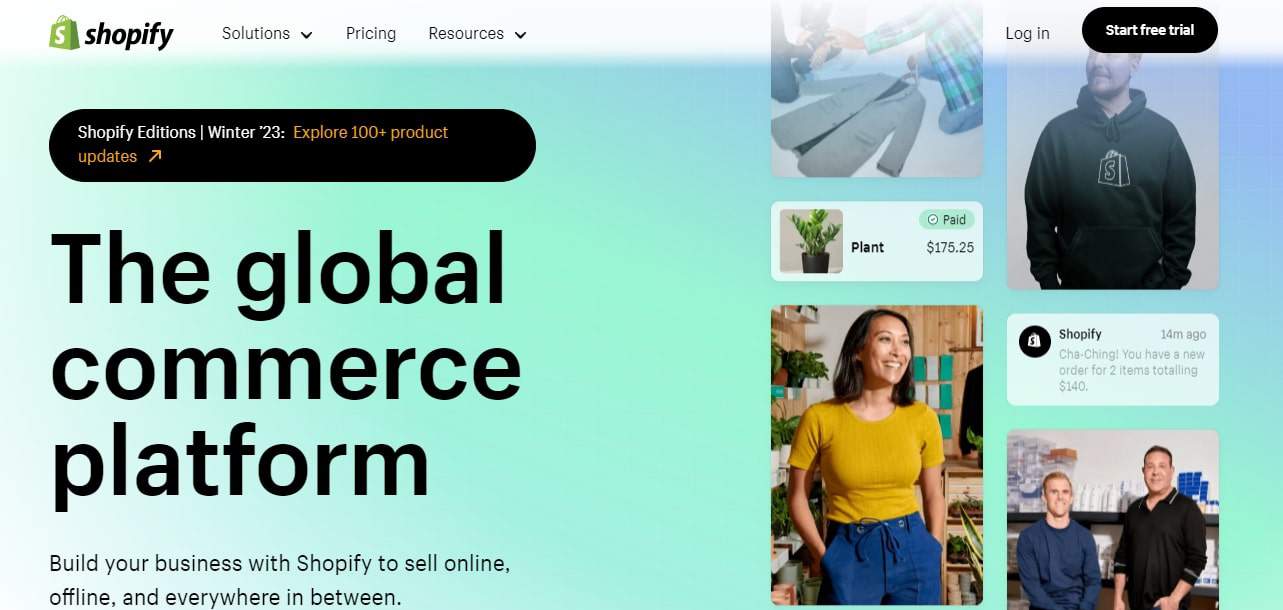 Shopify is an all-in-one e-commerce platform and web host that focuses on small business owners. Today, there are more than 4.4 million Shopify stores in over 175 countries, making it one of the most popular online e-commerce store builders.
Shopify lets you create a robust shopping experience all in one place. You can buy and register your domain, build your website with a simple drag-and-drop builder, use multiple sales channels, handle multiple payment forms, get great shipping rates, and manage your business from an easy-to-use dashboard.
Shopify also has the option of adding Shopify apps to add items like customer reviews, customize search options, or even add custom upsells at checkout. You can dive right in and start building your e-commerce website on Shopify with our tutorial.
Costs:
There are three price plans for Shopify:
Basic: $29.99/month for basic reports, two staff accounts, and unlimited products.
Shopify: $79.99/month for standard reports, five staff accounts, and e-commerce automation.
Advanced: $299/month for advanced reports, 15 staff accounts, and third-party calculated shipping rates.
Want to add more features that upgrade your customer's online shopping experience? You can also access add-on options like Starter ($1/month) to enable multi-channel selling through social media and messaging apps.
Shopify is the best e-commerce platform for: One-stop-shop functionality.
2. Wix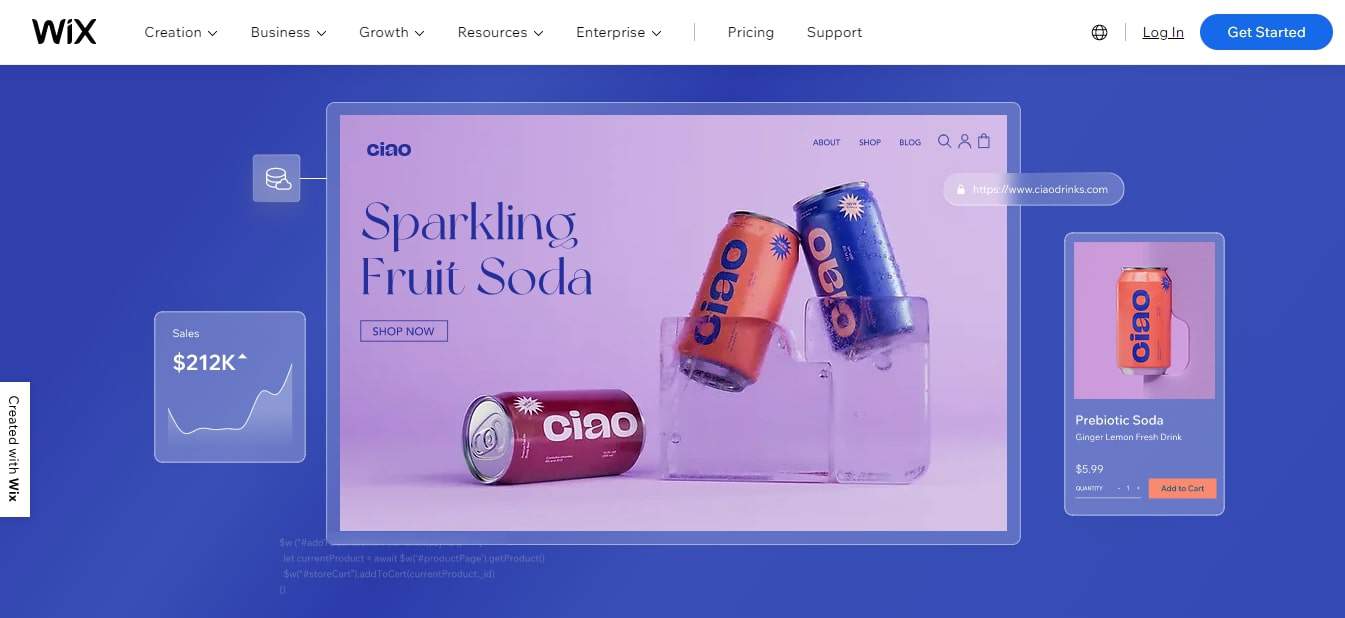 Wix is a website development company that offers low and no-code website building tools. You can choose a theme to customize and drag-and-drop pictures, text boxes, products, and more for fast website creation.
Wix has become one of the most popular e-commerce platforms online thanks to its feature-rich, no-code, and highly scalable features. E-commerce on Wix lets you sell through multiple channels, get your shop found with search engine optimization (SEO) tools, manage your email marketing, accept payments, and even handle bookings. Our tutorial for Wix e-commerce websites will get you started.
Costs:
The Wix free plan lets entrepreneurs build their websites. However, if you want to start selling online and accept payments, you need to upgrade to one of Wix's paid plans.
Business Basic: $27/month for unlimited products, abandoned cart recovery, and payment processing.
Business Unlimited: $32/month adds unlock subscription selling, product reviews, and multiple currencies.
Business VIP: $59/month adds a loyalty program, customized reports, and priority customer care.
Wix is the best e-commerce platform for: Total beginners.
3. WooCommerce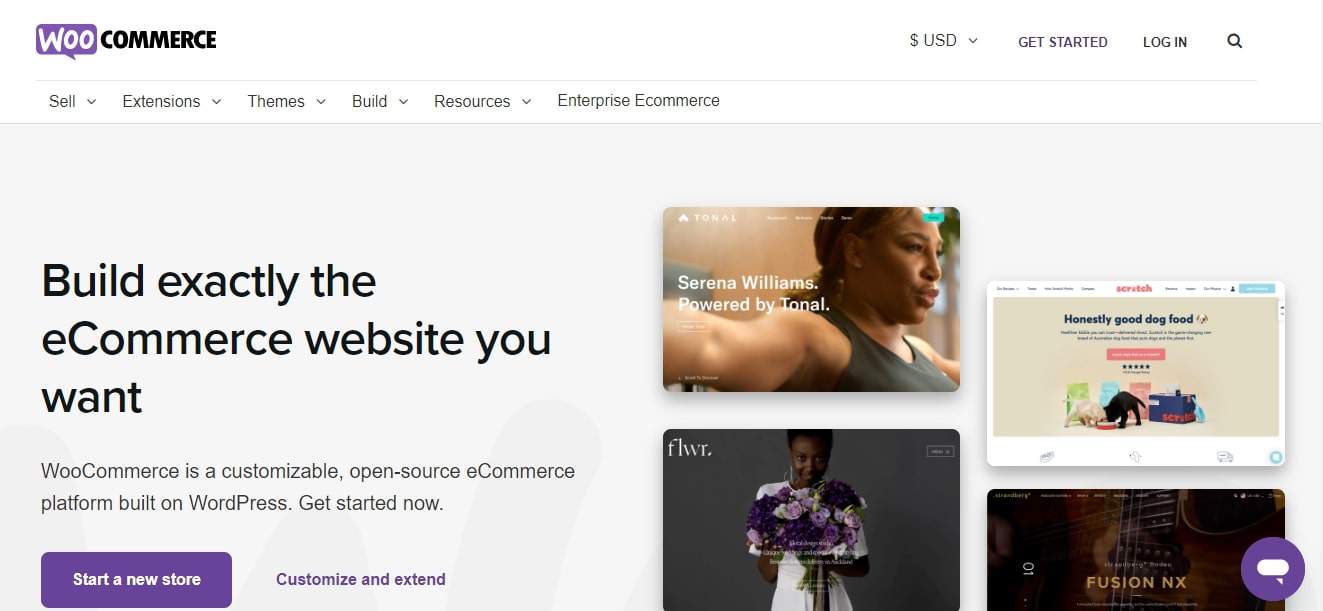 WooCommerce is probably one of the best-known e-commerce platforms next to Shopify. Developed to run on WordPress sites, the WooCommerce e-commerce platform offers core features and then relies on plugins to let you build custom e-commerce storefronts with tons of unique tools and personalization options.
Features like marketing tools automation, multiple shipping options, customizable checkout experiences, and a host of plugins and third-party apps to customize your online store for your e-commerce business make WooCommerce a great option.
Costs:
WooCommerce and WordPress are completely free to use. That said, store owners can add paid plugins from the WordPress app store if they want more capabilities.
A few of the most popular of these include:
OptinMonster: Get lead generation features and targeting tools for $49/month.
AIOSEO: Access SEO optimization tools for $49.60/year.
MonsterInsights: Unlock powerful analytics for your WooCommerce store for $199.50/year.
WooCommerce is the best e-commerce platform for: Websites using WordPress.
4. Magento Open Source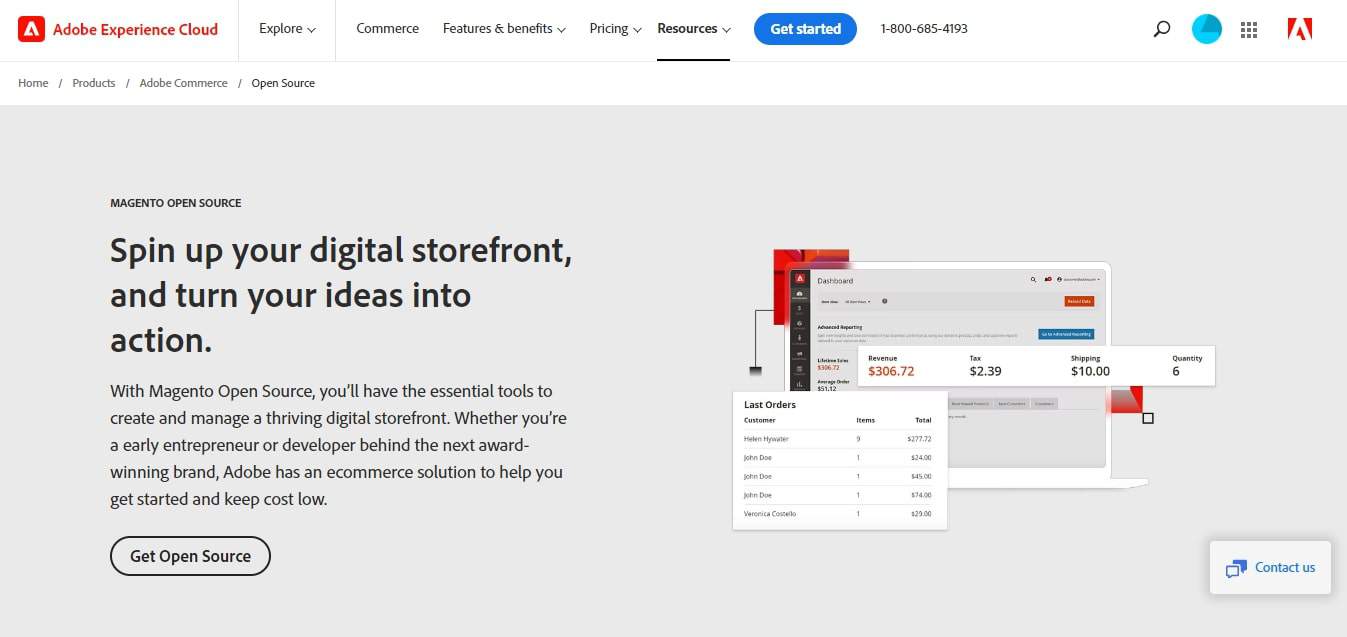 Acquired by Adobe in 2018, Magento Open Source is the ninth most popular open-source tool distributed on the web.
The newest version of Magneto Open Source (Magneto 2) offers easy website development like drag-and-drop page builders, inventory management tools, data analytics, product recommendations, and unlimited payment processing. Numerous third-party plugins are also available if you don't want to mess with coding yourself.
The learning curve for Magento Open Source can be steep without prior development experience. You can always dive into the FAQs to increase your know-how, but don't expect to get a full grip on the platform overnight. If you want a helping hand, check out our 11-step guide to building a website with Magento.
Costs:
Magento Open Source is free to use. However, you still have to pay for other website-related costs, such as hosting and domain names.
Magento is the best e-commerce platform for: Experienced web developers.
5. Squarespace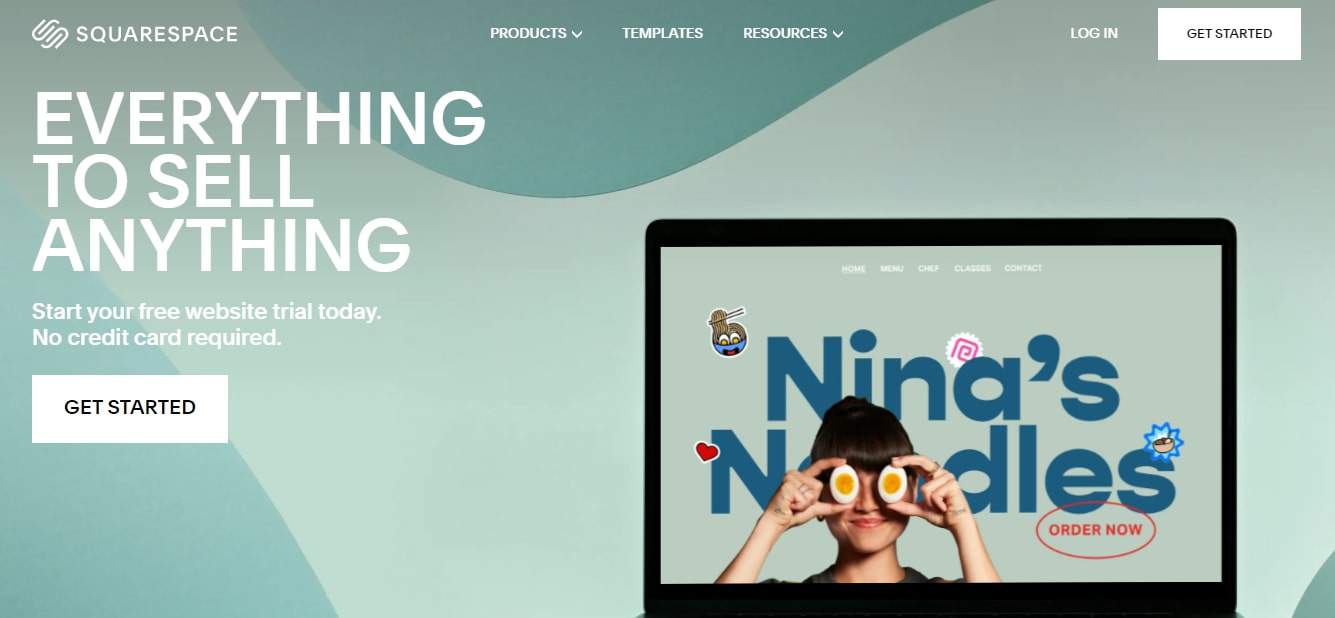 Squarespace is an all-in-one online e-commerce platform and web host specializing in local businesses with digital stores. Their biggest claim to fame is a robust library of free themes and website templates, which can help you get up and running fast if you don't have much development experience
Squarespace is also a payment processor, so you have a built-in payment gateway. Many entrepreneurs choose to use them purely because of the easy PCI compliance and ability to handle credit card payments easier. You don't have to set up a processor account like Stripe to start taking payments right away.
E-commerce stores on Squarespace can use built-in SEO tools, upload videos directly instead of hosting them elsewhere, run an email marketing campaign, and even use Squarespace's logo builder to polish their company image.
Costs:
Squarespace offers a 14-day free trial to get you started and then has monthly plans.
Business: $23/month for advanced analytics, fully integrated e-commerce, and payment management tools.
Commerce Basic: $27/month adds a 0% transaction fee, checkout pages on your domain(s), and dynamic product recommendation tools.
Commerce Advanced: $49/month adds advanced shipping, advanced discounting, and subscription formats.
Squarespace is the best e-commerce platform for: Building attractive-looking websites quickly.
6. Weebly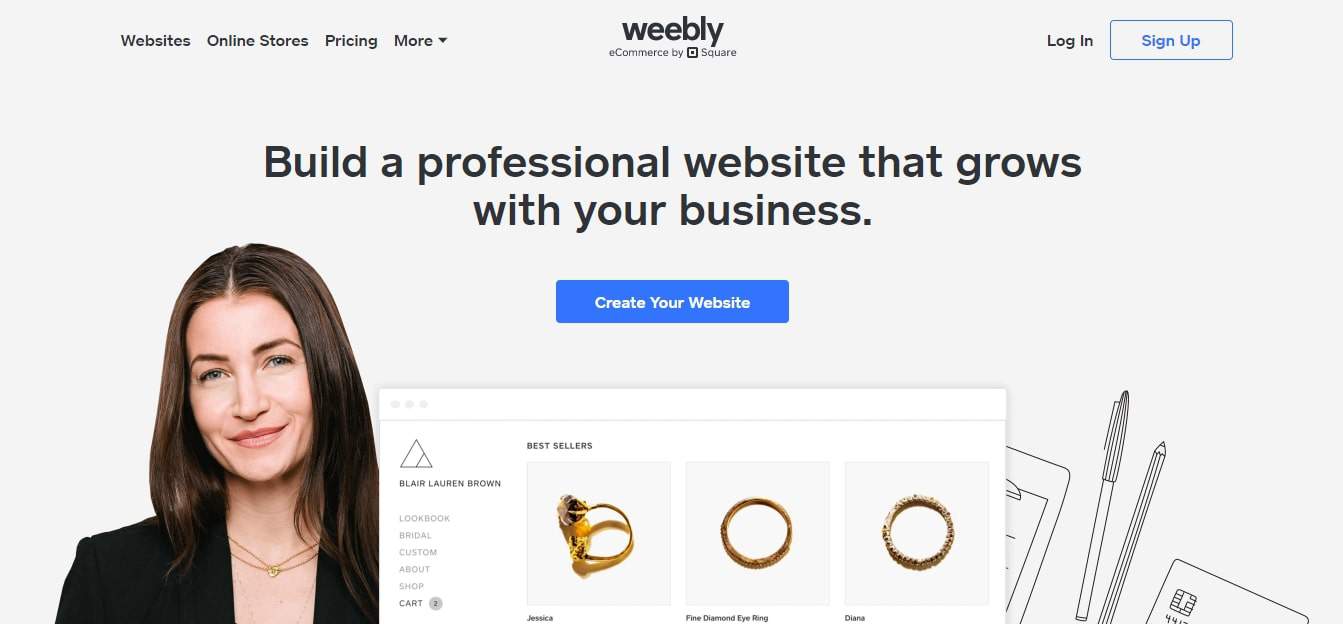 Weebly is a free website builder tool that works as an e-commerce website builder. Every plan comes with access to customizable webpage designs and the Square payment processing product suite, including online and in-person point of sale (POS) transactions.
Although features vary by plan, some Weebly e-commerce features include website SEO tools, unlimited product display, inventory management tools, notification popups, and lead capture tools to help improve conversions. Every plan includes robust basic online store functionality tools. These tools are a shopping cart, unlimited number of products, item badges, item options, quick shop, inventory management, tax calculator, coupons, and Square gift card capabilities.
Costs:
Although a free tier exists, you can't connect a custom domain unless you upgrade to at least the first paid tier. Plan availability varies outside of the United States.
Free: $0/month for basic functions.
Personal: $10/month paid annually ($13 paid monthly) adds digital products, a shipping calculator, shipping labels, and a custom domain connection.
Professional: $12/month paid annually ($16 paid monthly) adds unlimited storage for your website, advanced stats, a free domain, removal of Square ads, password protection, and access to Weebly phone support.
Performance: $26/month paid annually ($29 paid monthly) adds PayPal integration, item reviews, abandoned cart emails, and advanced e-commerce insights.
Weebly is the best e-commerce platform for: Brand-new small businesses.
7. PrestaShop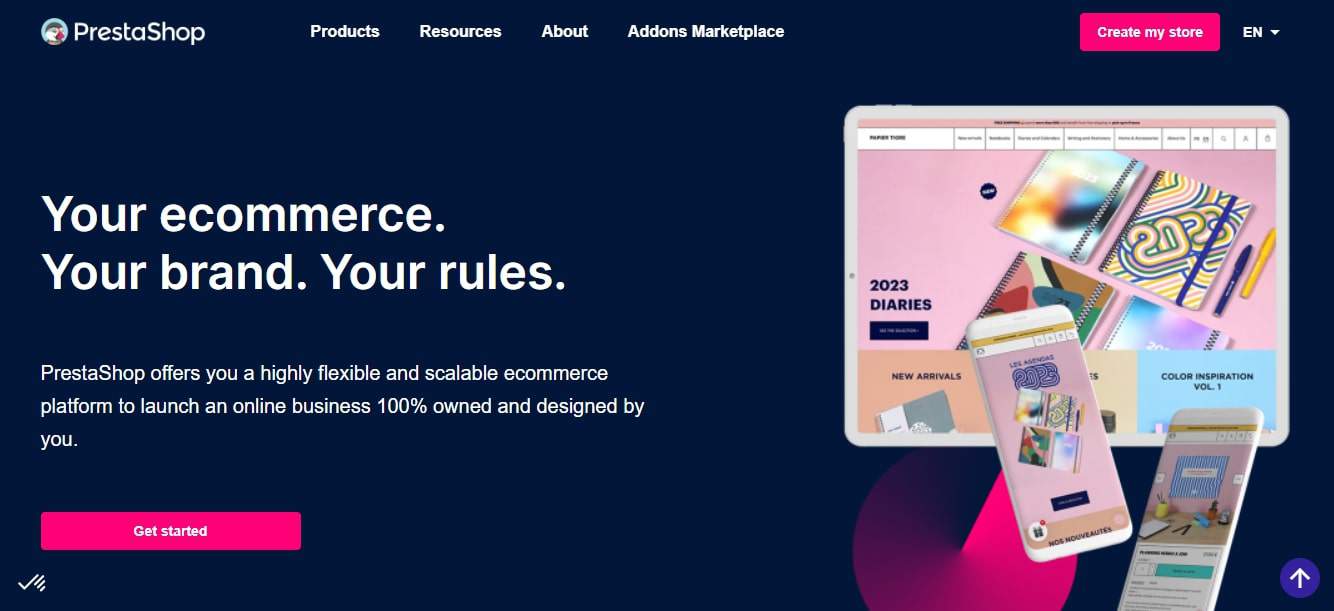 PrestaShop is an open-source e-commerce platform designed with developers in mind. They rely on extensive help documentation to answer most technical and customer support questions. Otherwise, they charge for a support plan to get help with migrations, updates, and more.
PrestaShop's features let you create products, run stock, offer multiple payment methods, build custom checkout pages, create coupons, and even sell internationally. Its open-source nature allows anyone to create modules and add custom functions to the platform. Our free PrestaShop tutorial can help you get started building your e-commerce website with PrestaShop.
Costs:
PrestaShop Essentials is free to use. However, you'll need to pay for your own hosting and other website associated costs.
PrestaShop is the best e-commerce platform for: Seasoned developers.
8. OpenCart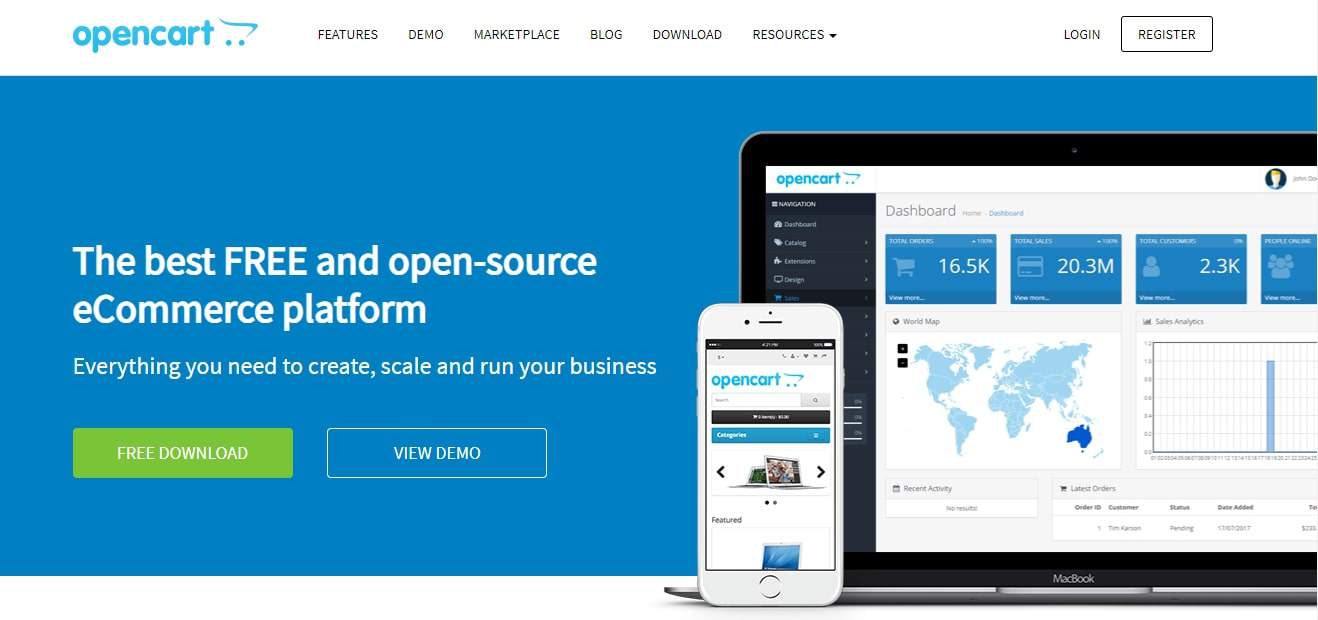 OpenCart is another open-source e-commerce tool designed for users with coding experience. As an open-source e-commerce platform, anyone can create extensions for the platform, and OpenCart has a marketplace offering over 13,000 extensions to help you customize your online store.
Features for OpenCart include multistore management, product options and attributes, affiliate management, user management, and a powerful administrative dashboard. It also allows you to optimize your store for mobile shopping.
As always, you can refer to our OpenCart website building tutorial to learn more about the setup and design process.
Costs:
OpenCart is 100% free and does not charge monthly fees.
OpenCart is the best e-commerce platform for: Developers needing customization options.
Final Thoughts: 8 Best E-commerce Platforms of 2023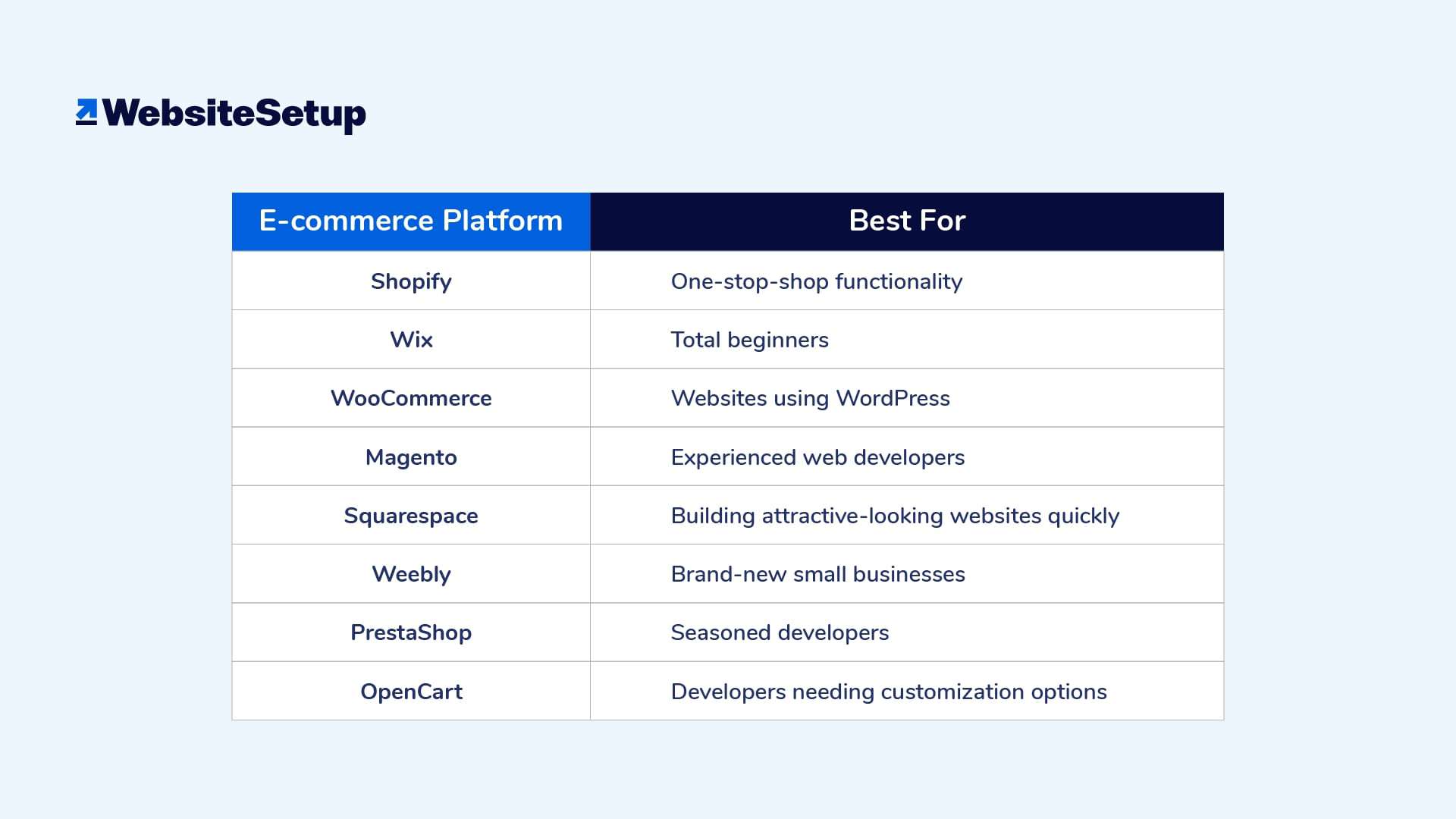 Our top eight best e-commerce platforms of 2023 have something for every online business. Whether you are just starting or are ready to create a deeply customized online store, our list has a solution for you. There are lots of great options to choose from to match the needs of your specific online store.
But finding a great e-commerce platform for your startup is only the beginning. If your e-commerce platform doesn't provide website hosting, you may want to look at some of the best website hosting providers going forward.
And you can check out our website layout ideas for inspiration if you need help visualizing designs for your e-commerce store.