Choosing the right eCommerce platform can either make or break your online store's success.
On top of building your webshop, you need to think about website hosting, inventory and shipping management, taxes, and support, to name a few.
You probably don't have an endless supply of cash under your mattress. Therefore, you need to think about a budget for building and maintaining your eCommerce store.
Sure, there are free platforms out there that you can use for building your online store. But, these also require some expertise and continuous management. This is something that's taken care of by the paid eCommerce platforms.
Think about the end goal you might have as a store owner and let's compare some of the best paid and free eCommerce platforms out there.
P.S. We've divided our article into two parts. In the first part, we compare the best premium eCommerce platforms, and in the second part, we compare open-source platforms:
5 Best Paid eCommerce Platforms
The following platforms are best for beginners with little experience setting up or managing a webshop. These five providers offer solutions for small businesses and individuals for setting up their online stores fast. Almost everything is taken care of for you, so you won't have to set up payment processors, deal with transactions, or even manually send out invoices.
1. Wix – The Best eCommerce Platform
---
Wix's main direction is to give its customers a straightforward way of building a website or an online store. In fact, their platform powers over 700,000 businesses worldwide. Wix also provides hosting for your online store and their plans are quite cost-effective starting from $27/month with an annual subscription.
You get to choose from 500+ free mobile-optimized eCommerce themes and create your store in 90+ languages for a global reach. Starting from the cheapest plan, you can add unlimited physical products and accounts. However, subscription selling comes with a higher tier plan.
Wix's eCommerce platform's main features are abandoned cart recovery, customizable checkout page, instant purchase buttons, add to cart from a gallery, wishlists, loyalty programs, discount codes, and customer accounts. Furthermore, you get $300 worth of online ad credit and some useful online marketing tools. Wix also supports multi-channel sales through Facebook, Instagram, and eBay.
However, you can only access some features with higher-level plans, so make sure to double-check if the essential store elements you're looking for are coming with the plan you choose.
Payment Options
Wix offers payment integrations with 40+ providers, including PayPal, Stripe, and Square. They also have an in-house developed payment platform, Wix Payments, which you can use to accept credit/debit card payments and integrate with other payment providers. Starting from the Unlimited plan, you also get a multi-currency converter feature that lets you accept foreign currency and sell your products worldwide.
Wix also comes with an automated sales tax calculator, which is pretty handy. However, this feature has transaction count restrictions based on the plan you choose.
Online Store Management and Reports
Wix has a straightforward website and an online store builder. Furthermore, you can do all the store management, refunding, and tracking from Wix's dashboard. Wix also has a mobile app, where you can add products, fulfill orders, track your inventory, get notifications, and more.
Wix supports both direct and drop shipping, which you can also manage through the dashboard. You can set up shipping rules, add custom shipping rates, and print shipping labels. A great perk is Wix's partnership with USPS, which gives you discounted rates on shipping costs.
The analytics side is also packed with useful reports. You get access to Google analytics, customizable reports, top products' reports, and business insights. The availability of different statistics depends again on the subscription plan you choose.
Customer Support
Wix has 24/7 customer support through a ticketing system and a callback function. Unfortunately, they don't offer support over live chat, which is questionable by today's standards. They do have an extensive knowledge base where you should find answers to most of your questions.
Also, when you first sign up with Wix, their Launch Experts help you get your store online quickly. That's a great feature, especially if you're new to online stores.
Pricing
Wix's eCommerce viable plans start from $27/month with yearly payments. You also get a free domain for one year when going with the annual payments.
Wix doesn't charge for transactions when integrating with third-party payment processors or Wix Payments. The standard credit card processing fees still apply to the latter.
Business Basic: $27/month with annual payments
Free eCommerce templates
Unlimited accounts and products
50 GB of storage
Integration with Google Analytics
Business Unlimited: $32/month with annual payments
Everything in the Business Basic plan
100 GB of storage
Subscription selling
Automated sales tax (100 transactions/month)
Advanced shipping options
Currency converter
Facebook, Instagram, and eBay integrations
Business VIP: $59/month with annual payments
Everything in the Business Unlimited plan
Unlimited storage
Automated sales tax (500 transactions/month)
Priority support
Customized reports
Loyalty program
Wix's cheapest plan is rather basic. You miss many great features that can help your online store grow or make managing your shop more efficient. However, the upside is that the next tier plan isn't that expensive, with only a $5 difference in the monthly expenses. We recommend going with the Business Unlimited plan for those reasons above.
Unfortunately, Wix doesn't have a free trial other than building a free website without eCommerce capabilities. Still, you get a 14-day money-back guarantee to test it out.
2. Shopify – the Most Popular Platform
---
Shopify is a well-known eCommerce platform provider, with over one million stores, 2.1 million active users, and $155B+ worth of sold goods on its platform. Their plans start from $29/month. They have an in-house payment processing platform and substantial discounts on shipping rates.
You have a choice between 80+ mobile-optimized themes – some of them are free, and some are paid, starting from $150. There's no limit on the number of products you can add. However, you need a plugin app to process subscription services, something you can purchase from the Shopify App Store.
Some of the other notable features are abandoned cart recovery, gift cards, custom discount codes, and integrated marketing tools such as email marketing, and social media distribution (availability based on the country). Yet, with the cheapest plan, you can only add two contributor accounts.
Payment Options
Shopify gives you the option of using their in-house developed Shopify Payments platform. What is great about it is that it's integrated with most of the major gateways from credit cards to Google Pay, Apple Pay, etc.
They also have increased security protocols with Level 1 PCI compliance and a default fraud analysis. You can also track and manage the payments in an integrated back office.
Online Store Management and Reports
Managing your inventory and orders, and setting up product pages are also very straightforward and easy. Their interface allows you to drag-and-drop your products, includes automatic image optimization, and you can purchase additional plugins from Shopify's App Store.
You can print shipping labels and send customers automatic tracking updates. Also, Shopify has cooperation agreements with DHL Express, UPS, and USPS, which get you additional discounts on shipping costs.
Shopify allows you to easily integrate your website with Google Analytics to get basic data about your store's performance. However, the professional eCommerce reports come from the Shopify plan. Building custom reports are only possible from the Advanced Shopify plan.
Customer Support
Shopify has 24/7 customer support over email, live chat, and phone for paying store owners. Otherwise, you can find answers to your questions through forums or Shopify Help Center.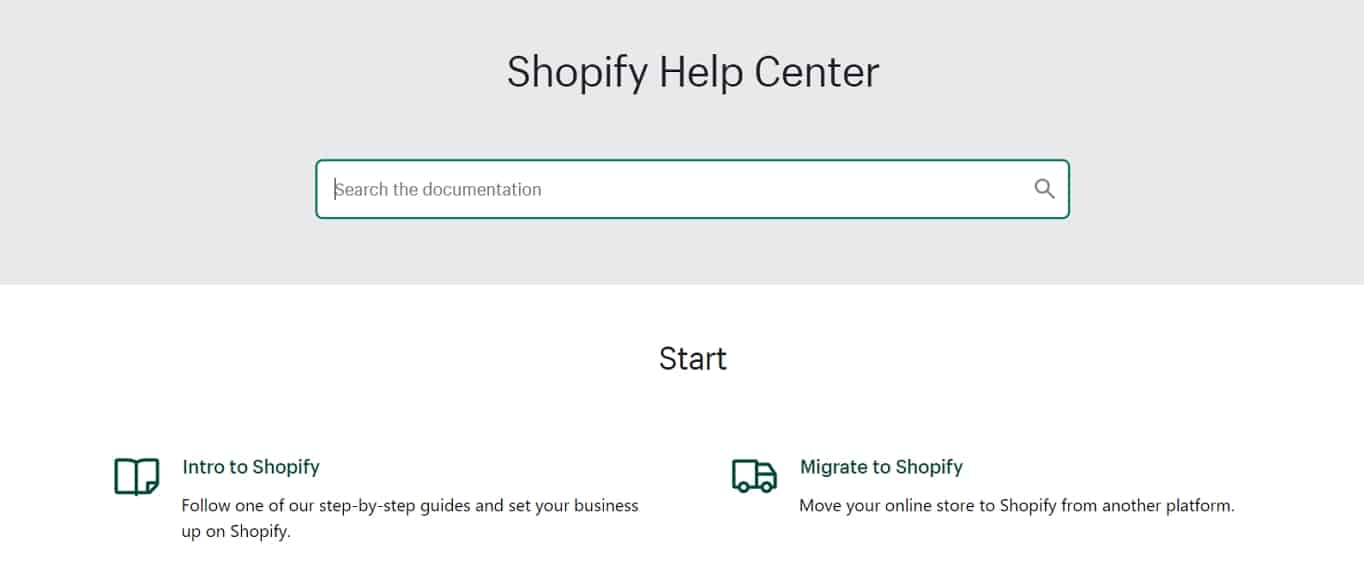 Pricing
The plans start from $29/month and include all the main features, but the significant difference comes from the transaction fees. You also get access to more detailed reports with the higher-tier plans.
The transaction fees for online credit card rates start from 2.9% + 30¢, and the additional charge for using any other payment provider begins at 2%.
Basic Shopify plan: $29/month
2 accounts
Shipping discount up to 86%
Online credit card fee 2.9% + 30¢ or 2% using other providers
Shopify plan: $79/month
5 accounts
eCommerce reports
Shipping discount up to 88%
Online credit card fees 2.6% + 30¢ or 1% using other providers.
Advanced Shopify plan: $299/month
15 accounts
Custom reports
Third-party shipping rates calculations
Shipping discount up to 88%
Online credit card fee 2.4% + 30¢ or 0.5% using other providers
The downsides of the cheapest plans are the higher costs for transactions and the availability of useful reports. However, the plan costs and additional perks scale well with the size of your online store.
Shopify also offers a 14-day free trial with no credit card information required so you can test out their platform rather easily.
Get started with Shopify here.
3. Squarespace – Best Online Store Builder
---
Squarespace is a great all-in-one platform for building a successful online store to sell goods. They take care of all the server management and give you easy-to-use tools for building and running your shop. Their pricing is quite cheap, starting from $23/month with annual payments and basic features.
You get access to tons of mobile-optimized and customizable templates, which you can further tweak by using CSS and Javascript. You can upload as many physical products as you need, but the subscription selling option comes only with the Advanced Commerce plan.
Other main features are the customizable promotional pop-ups and banners, abandoned cart recovery, automatic shipping rate calculations (ZIP code level in the US), customizable discount rules, custom integration with APIs, and limited availability labels for promotional use. However, some of these features are only available with higher-tier plans, so take a look at the pricing section for Squarespace below.
Payment Options
Squarespace allows you to accept major credit card payments directly to your bank account. You can also set up a Stripe account to accept more payment methods such as Apple Pay, PayPal, etc. All of this allows your online store to accept major currencies from around the world.
You can also set custom tax rates with support to VAT, HST, and GST. The taxes also reflect automatically on customizable invoices.
Online Store Management and Reports
Squarespace's interface makes it easy to use. Set up your product pages, manage your inventory, track any outstanding orders, and manage your customer base from one central location. Use a simple drag-and-drop tool, update your customers on email, and print packing slips from one central location.
You get access to website analytics and additional sales and conversion metrics to track your online store's success. You also get an overview of your customer base with further data on total spending, average basket value, and other benchmarks. Among the reports, you can find the best-selling goods, current sales trends, conversion monitoring from a visit to sales, and many more.
Customer Support
Squarespace has 24/7 email-based customer support. Their live chat support is available only from Monday to Thursday. Outside of the live chat hours, you're greeted by a chatbot, which responds to specific keywords from your written question. It can handle simple requests, but for more specific questions, you might want to get in touch with a support person.
They do claim that all inquiries get answered within an hour.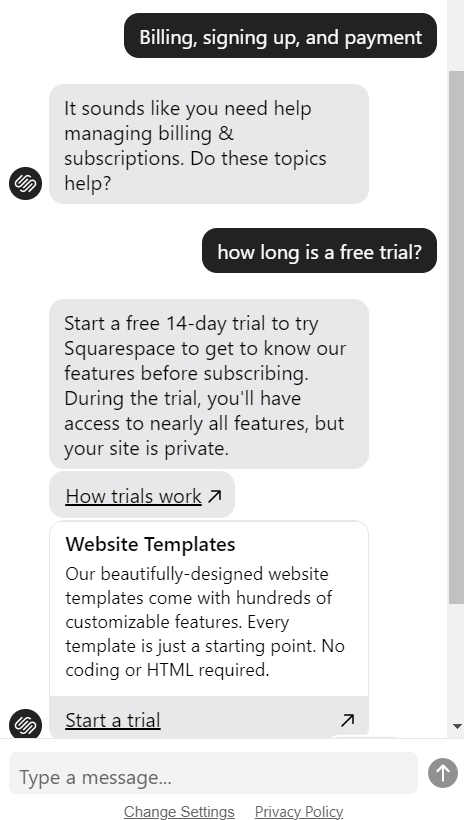 Pricing
Squarespace is available with both monthly and annual payments, but the latter comes cheaper with every plan. Also, the yearly plans come with a free domain for one year.
The transaction fees only apply to the Business plan (3%). Yet, credit card processor fees still apply to all plans.
Business plan: $23/month annually or $33/month monthly
Free templates
Unlimited contributors and products
Website analytics
3% transaction fees
Basic Commerce: $27/month annually or $36/month monthly
Everything in the Business plan
No transaction fees
Customer accounts
On-domain checkout process
Additional eCommerce analytics
Advanced Commerce: $49/month annually or $65/month monthly
Everything in Basic Commerce plan
Abandoned cart recovery
Subscription selling
Automatic shipping rate calculation
The downside of the cheapest plan is that it comes with 3% transaction fees, no customer accounts, checkout is redirected from your domain, and no abandoned shopping cart recovery.
However, you can get started with Squarespace for free without adding a credit card to try them out.
Get started with Squarespace here.
4. Zyro – the Cheapest Base Plan
---
Zyro was just founded last year, and they came out of the gate fresh and with new ideas for a simplistic eCommerce platform. Their plans are quite cheap, starting from $8.01/month (with a 3-year commitment) and having some state-of-the-art AI integrations to help you build an online store.
You can choose between 100+ mobile-optimized storefront themes, which you can modify in a handy grid setup with drag and drop functionality. You can add physical and digital products, but they don't support subscription selling at this point. You're also limited to 100 products with the cheapest plan, which upgrades to unlimited with the next tier.
The other main features are a live chat plugin that comes as a default, custom discount codes, and gift cards. The abandoned cart recovery feature and integrations with Facebook and Instagram are available with the higher-tier Plus plan. US customers can also benefit from a default integration with Amazon.
Payment Options
Building your online store with Zyro allows you to accept payments from the major credit card companies VISA, MasterCard, Discover, and AMEX. You can also add a variety of 3rd party payment applications such as PayPal, Stripe, and Square, to name a few. In total, you get access to over 70 supported payment gateways, which is quite impressive.
Online Store Management and Reports
Starting from the cheapest plan, you get access to a simplistic interface for all of your inventory, shipping, and tax management. You can set up your product pages with an intuitive drag and drop function, set shipping options, and create custom tax rules for your products.
Your online store with Zyro is easily integrated with Google Analytics to track basic website metrics and has a built-in remarketing application. You also have a complete overview of order tracking and invoicing. Yet, in all that simplicity, when your online store grows, you might want to have more data and analytics options.
Customer Support
Zyro's customer support is available 24/7 over email and live chat. The live chat option becomes available after you sign up. Even though you can email them 24/7, don't expect a quick response. Our inquiry received an answer about 16 hours later when we reached out. But, when we got in touch through live chat, we got a reply much faster.
Zyro also has an extensive help center.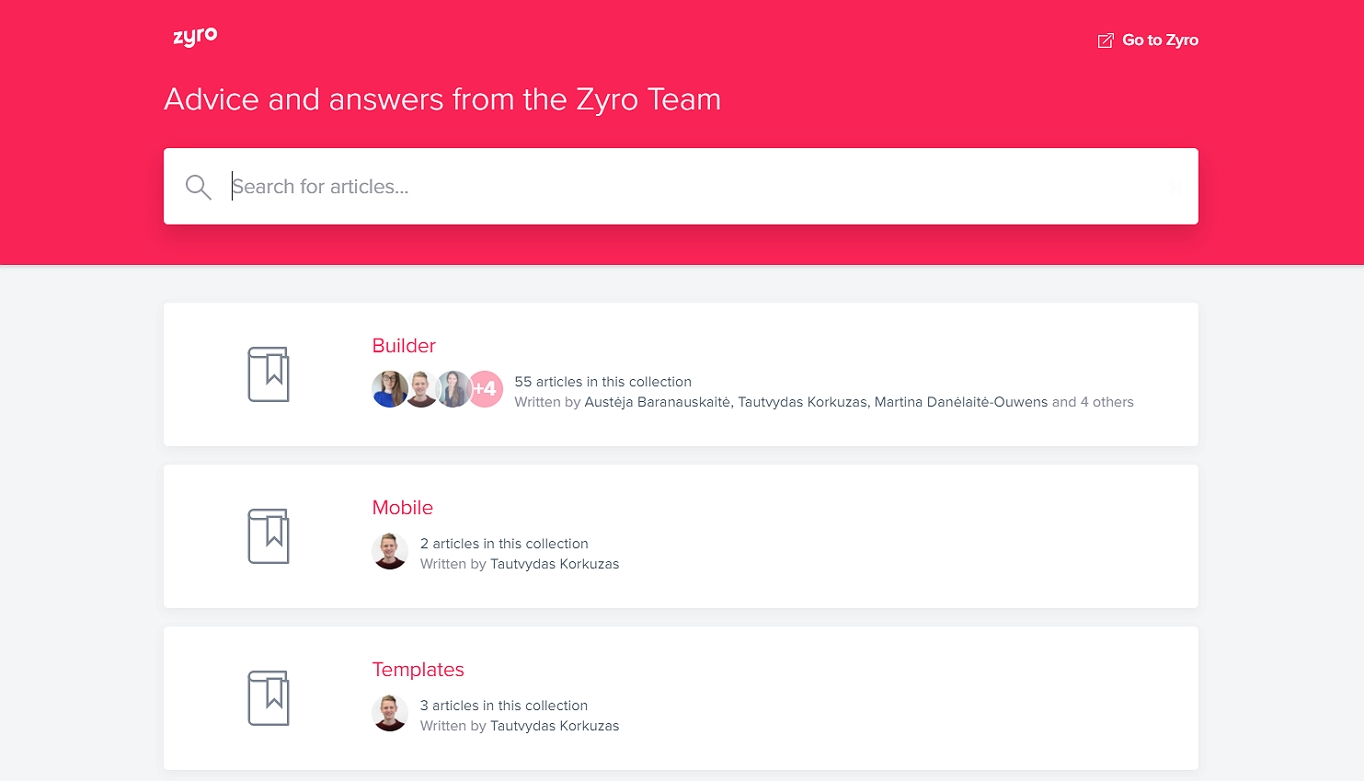 Pricing
The cheapest online store compatible plan starts from $8.01/month with a 3-year commitment. You can also choose an annual or a monthly payment plan with higher prices. All plans come with a free domain for the first year. You also get free access to Unsplash's image library, which is a great addition.
What's even better is Zyro's no-commission policy, which means they don't charge you on transactions. However, credit card processor fees will still apply to every plan.
Online Store plan: starts at $8.01/month (renews to $15.90/month)
70+ payment gateway options
100 product limit
Live chat plugin
Discount codes and gift cards
Advanced Store plan: starts at $14.31/month (renews to $25.90/month)
Everything in the eCommerce plan
2500 product limit
Abandoned cart recovery
Multi-language store option
Integration with Facebook, Instagram, and Amazon
The most significant limitation of the cheapest plan is the 100 product cap. You are also missing out on some great features that come with the Advanced Store plan. We recommend going with the higher-tier plan straight from the beginning as there isn't a huge price gap between the two.
Zyro doesn't offer a free trial option, but you can cancel your subscription within 30 days for a full refund.
Check out Zyro's platform here.
5. Volusion
---
Volusion offers eCommerce store and shopping cart software but doesn't provide website hosting. They still deliver a decent online store building and managing packages for selling goods. Their prices start from $31.50/month with annual payments. However, if you're just getting started with your online store, then you might want to look at some other options.
There are 11 free and 34 paid ($180) themes you can pick from for the base of your online shop. The templates are mobile responsive, and you can tweak them further with CSS. You can set up your store for subscription selling by default. Unfortunately, there's a limit on the added products with cheaper plans.
The other main features are built-in SEO tools and social media integrations, related products feature, customer accounts and reviews, discount codes, and gift cards. Abandoned cart reports start from the Professional plan ($71/mo billed quarterly).
Payment Options
Volusion offers a payment integration Volusion Payments. The transactions are PCI certified and secure with additional integrations with Amazon Pay, PayPal, and Stripe. The payment process is done on-domain without any redirects. In the US, Volusion Payments offers a 2.15% transaction rate and low monthly fees for major credit cards.
Online Store Management and Reports
Volusion's platform has intuitive drag and drop tools for building your online store and managing it. You can set custom shipping types and prices. But, the automatic shipping rates calculator becomes available only from the Business plan. You can still set custom tax rates for your products using the built-in tax rate calculator.
You're only able to create advanced reports starting from the business package, which includes your standard analytics and in-depth online shop progress insights.
Customer Support
The base plan only includes 24/7 online chat support. However, you are first greeted by a chatbot and a promise to get an answer within an hour. With the Professional plan, you get additional phone support, with the Business plan priority support, and with the Custom plan VIP support.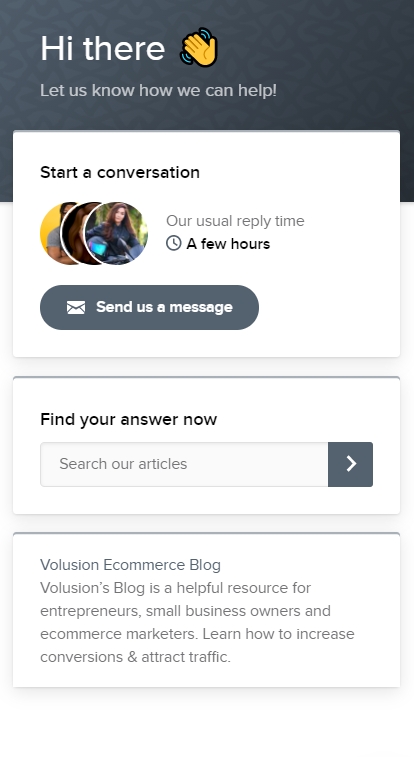 Pricing
Volusion's pricing structure is based on your past 12-month sales. Once you've exceeded the threshold turnover for the past year, they automatically upgrade you to the next plan. You can study the thresholds for each plan below.
Personal plan for sales of $50k a year: $31.50/month quarterly or $35/month monthly
1 contributor account
100 products
Social media integrations
Online support
Professional plan for sales of $100k a year: $71/month quarterly or $79/month monthly
5 contributor accounts
5,000 products
Abandoned cart reports
Online and phone support
Business plan for sales of $500k a year: $269/month quarterly or $299/month monthly
15 contributor accounts
Unlimited number of products
Amazon & eBay integration
Advanced reports
3rd party shipping rates and payment gateways
Priority support
The cheapest Personal plan is excellent for starting and building your online store. But, it only comes with one user account, and you can add up to 100 products. You're also missing abandoned shopping cart recovery and phone support.
However, if you want to try Volusion out, you can do so for 14 days without giving your credit card information. It's not as long as some other providers are promising but give you enough time to get your bearings.
---
4 Best Free eCommerce Platforms
To make these free, open-source eCommerce platforms work, you need to have web hosting and a domain name previously in place. You can then set up these platforms through your web hosting panel, such as cPanel, with 1-click-installation. Or, you can also set them up manually.
1. WooCommerce (Free)
---
WooCommerce is an open-source plugin for WordPress-based websites. WooCommerce itself is entirely free to get started, but you must have website hosting and WordPress already in place. You can also enhance your online store with paid extensions, integrations, and themes for your storefront.
Like WordPress, WooCommerce has several free themes that you can use to build your online store. Another option is to purchase premium themes to set your store apart from free theme users.
You can set up various payment options from major credit cards to integrations with Stripe, PayPal, etc. You can also sign up with WooCommerce Payment with no setup charges or monthly fees. This allows you to accept credit or debit cards with a charge of 2.9% + 30¢ for each transaction with the US-issued cards. An additional 1% fee applies for any other cards issued outside the US.
All of the inventory management, tax calculation, and shipping rates management takes place in the WordPress interface. You can integrate your WooCommerce store with Google Analytics to keep track of data.
There's an extensive support forum for WooCommerce that can be your first go-to source for information. Since the platform is mostly free, you are expected to handle things on your own or hire an outside programmer.
As a bonus, you have a 30-day money-back guarantee with every purchase from the WooCommerce app store.
Learn how to set up a WooCommerce store (step-by-step guide)
2. Magento Open Source (Free)
---
Magento's open-source platform is designed for small businesses and developers. It's a great online store builder if you're looking for a platform with the most freedom. However, if you don't have experience with Magento, you need to hire someone who does.
Magento is fully mobile-optimized, but with the open-source platform, you need to build the store up yourself. This also means that you have a lot of freedom for rich content for products and other features. You can also get additional eCommerce extensions through Magento Marketplace.
The platform is integrated with PCI Compliant Payment Solutions. You are responsible for setting up the payment gateways or getting an extension from the marketplace.
Managing a Magento Open Source store also requires some extensive expertise. The platform has integrated checkout, payment, and shipping modules, but again, you need to set them up yourself. So, no fancy drag and drop tools, default dashboards, or simple input modules on this platform.
There also isn't any direct technical support with the open-source Magento version. However, there are guides, walkthroughs, and forums dedicated to any questions related to Magento's platform. There are also developers for hire who specialize in Magento's online stores.
Magento is also available in a paid version, but the cost can rack up to thousands of dollars.
Learn how to set up a Magento store (step-by-step tutorial)
3. PrestaShop (Free)
---
PrestaShop is an open-source eCommerce platform with a strong community. It gets regular updates and bug fixes, and upgraded versions now and then. It's also available in 75 languages, which is quite impressive.
PrestaShop offers a mobile-optimized platform, and you can choose between various themes. In their official marketplace, the storefront themes start at $69.99. But, you can find community-developed free themes from the forums rather quickly. These free themes don't appear in the official marketplace.
You can install payment gateways through different integrations. There are also some free integration possibilities such as PayPal, Skrill, or Blockonomics Bitcoin Payments addon. PrestaShop's platform also comes with in-house developed fraud detection, which you can add free of charge.
PrestaShop's dashboard is where you can add modules to build your online store and customize it. From their marketplace, you can also get free modules for live chat plugins, shipping options, marketing tools, reporting, and many more. There are 50+ free modules you can choose from and add to your online shop.
Technical support is community-based with some of PrestaShop's step-by-step guides. There's also a public forum with a strong community to support you.
Learn how to set up a PrestaShop store (step-by-step guide)
4. OpenCart (Free)
---
OpenCart is another easy-to-use, open-source eCommerce platform, which currently supports over 342,000 eCommerce stores. They have many built-in features and an extensive library of free extensions.
Their platform is mobile-responsive, and you can choose from free and paid themes as a base. You can find both options in OpenCart's marketplace, which features over 13,000 modules and themes. However, the marketplace itself looks a bit messy, so we recommend you check out the ratings and comments beforehand.
You can add unlimited physical or digital products with both one-time and subscription selling methods. OpenCart provides an option between guest and registered user checkout by default.
OpenCart has 36 integrated payment gateways. You can choose any of these, such as Authorize.Net, Amazon Payments, First Data, Klarna, LiqPay, Skrill, PayPal, SagePay, and many more. They also have integrated shipping methods with Australia Post, Citylink, FedEx, Parcelforce, Royal Mail, UPS, and USPS.
Your online store's management is also quite straightforward for managing products, customers, orders, tax rules, and promo codes. The admin dashboard comes with an overview of your online store's performance. Also, you get a default sales report, viewed products, and purchased products already built-in.
OpenCart offers free community support with forums and useful guides for setting up and running your webshop. They also offer a paid dedicated commercial support option with a price starting at $99/month per site.
Learn how to set up an OpenCart store (step-by-step tutorial)
Summary
When choosing the best eCommerce platform for your online store, you have multiple free and paid choices. It's lucrative to go with the free, open-source platforms, but then everything is up to you. If you don't have any programming experience, it's best to go with out-of-the-box platforms.
When looking at paid platforms, not every feature is available from the start. Take into consideration the possible future costs when you want certain upgrades like abandoned cart recovery or in-depth reporting.
The same goes for open-source platforms. Even though the platform itself is free, there are extensions and integrations that you need to pay for if you want to include them. There is a possibility to build an online store without spending a single dollar (except for hosting), but the result might not be up to today's standards.
Tell us about your experiences with eCommerce platforms in the comments section below.