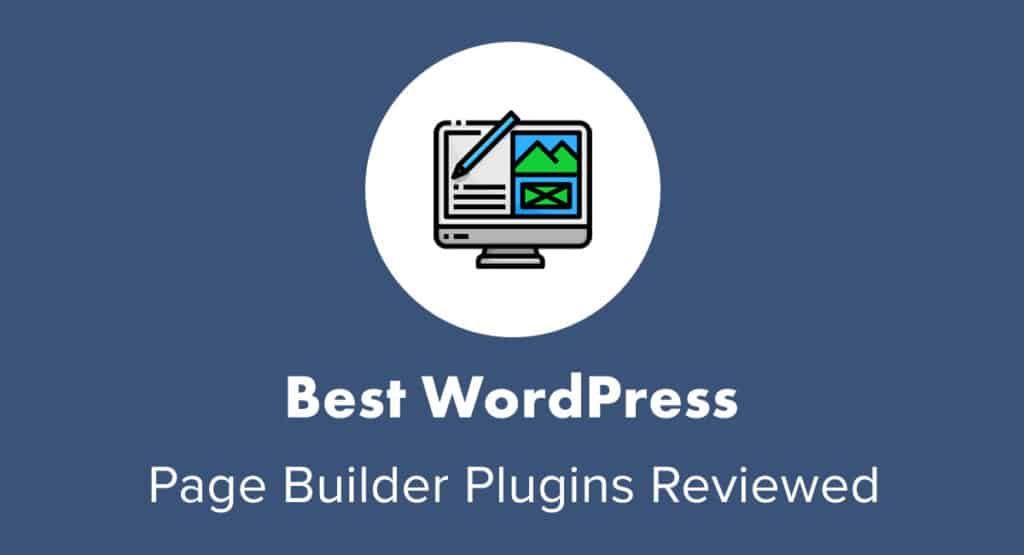 Although WordPress's majority market share remains untouched, there's been a steady rise in the popularity of competing website builders.
If you look at the landscape of website builders, most of them have the following design capabilities in common:
Drag-and-drop or visual editor
Code-free page building
Pre-made widgets for basic and advanced features
Page templates for faster development
Inherently responsive block-based designs
This has long been a weak spot for WordPress. And while it ditched its long-running classic editor for the more competitive Gutenberg block editor in 2018, it still falls short.
Thankfully, WordPress page builder plugins successfully fill the gap, allowing users to quickly build professional-looking websites in more intuitive ways.
If you're looking for a more user-friendly website-building experience with WordPress, this comparison of the 5 best WordPress page builders will help you find the right one for you:
Beaver Builder
Brizy
Divi
Elementor
Oxygen
5 Best WordPress Page Builder Plugins Compared
While the WordPress development community has certainly risen to the challenge to build a better editing and design experience for WordPress, there are tons of page builder options available. So, which do you use?
In some cases, your WordPress theme might determine that for you. Many premium themes come pre-packaged with a page builder plugin the developer wants you to use.
In most cases, though, it's up to you to find and install the page builder plugin that best suits your needs.
Here's a comparison of how the top WordPress page builders stack up:
1. Beaver Builder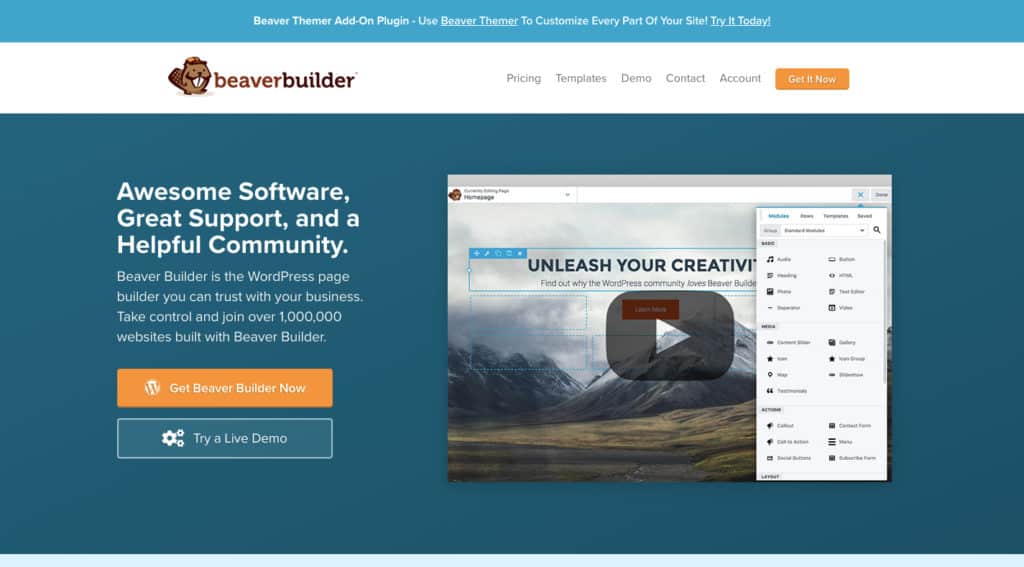 Beaver Builder is a freemium page builder for WordPress. It's one of the oldest and most popular page builder plugins with over 400,000 active installs and a rating of 4.8 out of 5 stars.
Standout Feature: Although novice WordPress users would find Beaver Builder easy to get the hang of, this tool is sure to be a hit with web developers and designers who want deeper control over their website and Multisite designs.
Price
Beaver Builder Lite is a free plugin available in the WordPress repository. However, the plugin is greatly limited and users won't be able to design much beyond a basic blog or personal website with it.
By upgrading, users get to enjoy the full benefits of this drag-and-drop page builder: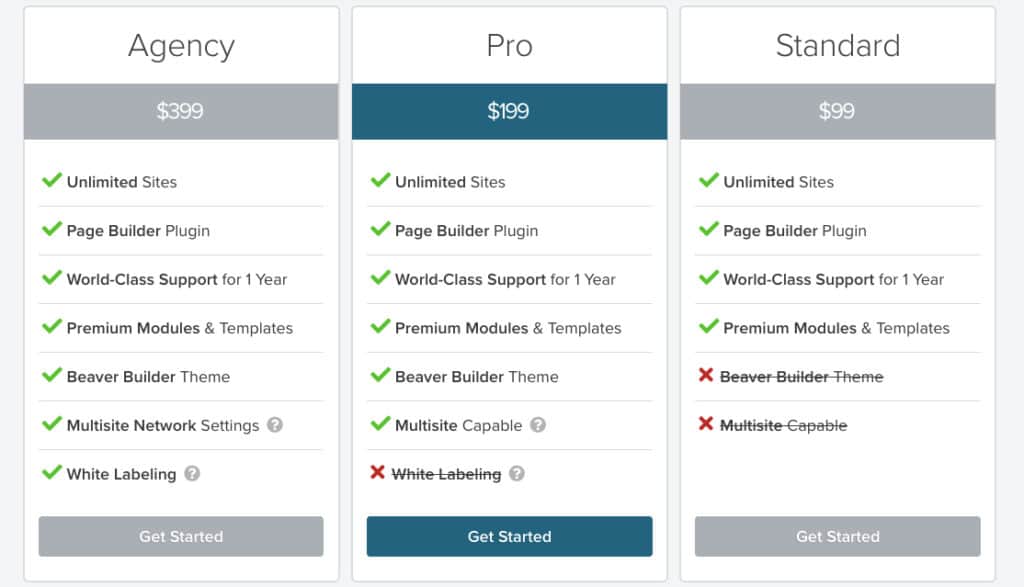 If you compare Beaver Builder's pricing to others, you'll notice how pricey it seems. However, the cost covers an unlimited number of sites instead of just one.
What's more, the Pro and Agency plans enable users to turn Beaver Builder into a profitable tool for their WordPress businesses with extra features like Multisite support and White Labeling.
Usability
When users launch Beaver Builder, this is what they'll encounter: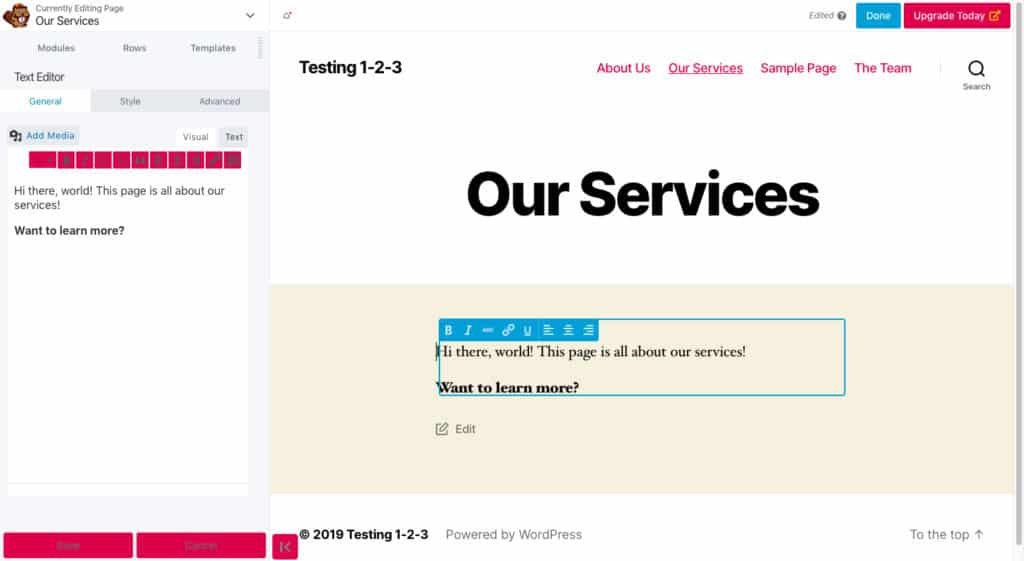 It's a clean, simple tool to use right from the start.
The master toolbar can be moved to the left or right of the page. It can also be shrunken down in size.
As for building with Beaver Builder, it's simple. The toolbar presents users with three page-building tools:
Modules: These are the content elements you use to build a page.
Rows: These allow you to split rows into multiple columns and formats.
Templates: Templates allow you to use a pre-designed page design instead of building one of your own (only available with premium).
Then, there's the ease of customizing your content once it's on the page.
Each Module block has its own custom settings. The selection of settings has been greatly simplified, but Beaver Builder allows users to do much more with Advanced controls and custom-code than many other page builders.
Widgets
Beaver Builder Lite is incredibly limited. The only Modules you can add to pages are:
Text
Image
Video
Audio
HTML
Sidebar
In order to build something worthwhile, you'd either need to leverage a Beaver Builder power-up or upgrade to Pro to get more modules: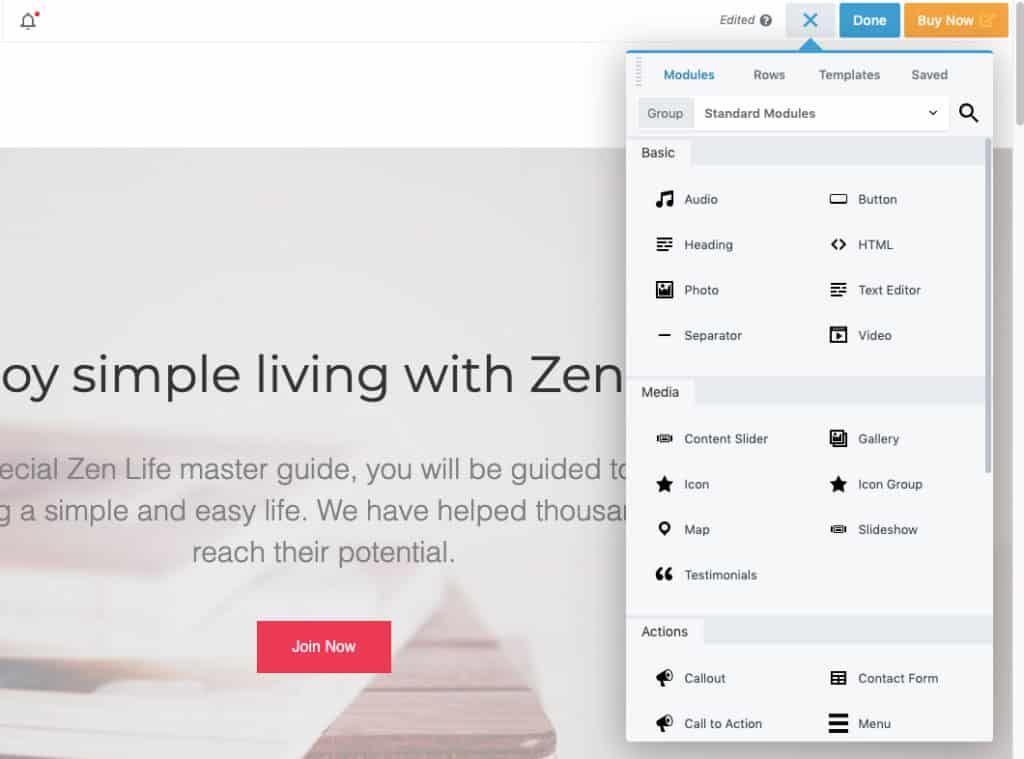 Either way, Lite really isn't sufficient to build anything for professional purposes — for one site or many.
Templates
Beaver Builder has a beautiful selection of templates you can use to fast-track the design of your pages: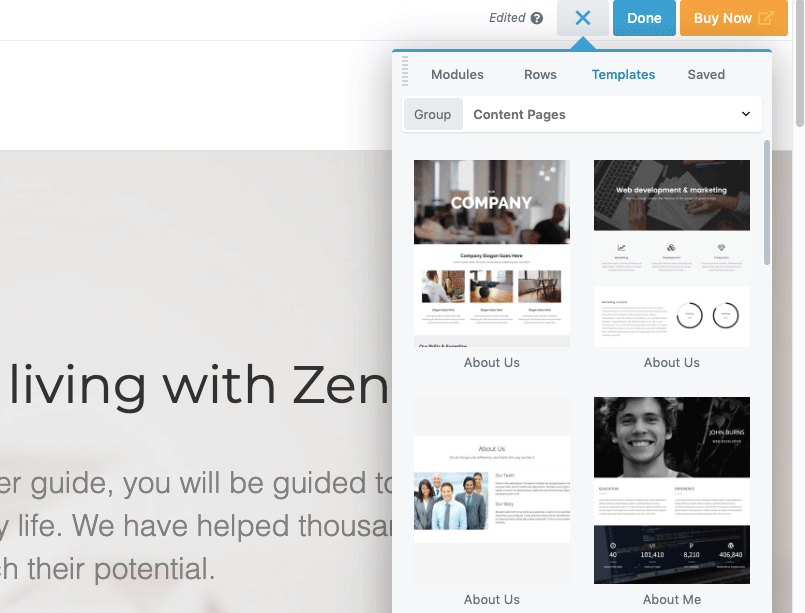 The only way to access them, however, is with a premium membership.
If you're a fan of the Beaver Builder's intuitive page builder solution and can't justify the costs at the moment, you can get Beaver Builder templates from another source: Astra Starter Sites. Templates are limited, but they'll at least give you a little more flexibility in what you can do with the free plugin.
2. Brizy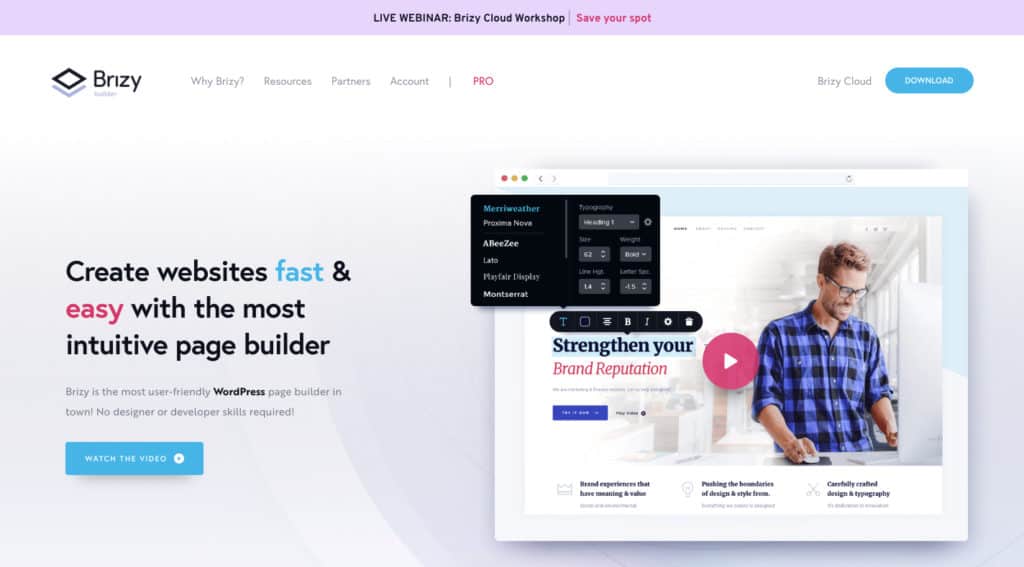 Brizy is one of the newer players in the page builder game. However, it's backed by ThemeFuse, a WordPress theme and plugin development company that's been working in WordPress for about a decade.
Standout Feature: With a minimally designed editor and simplified settings, Brizy is the best page builder tool for users who are new to WordPress.
Price
Brizy can be downloaded for free from the WordPress plugin repository or you can upgrade to one of the Pro plans based on what you need it for: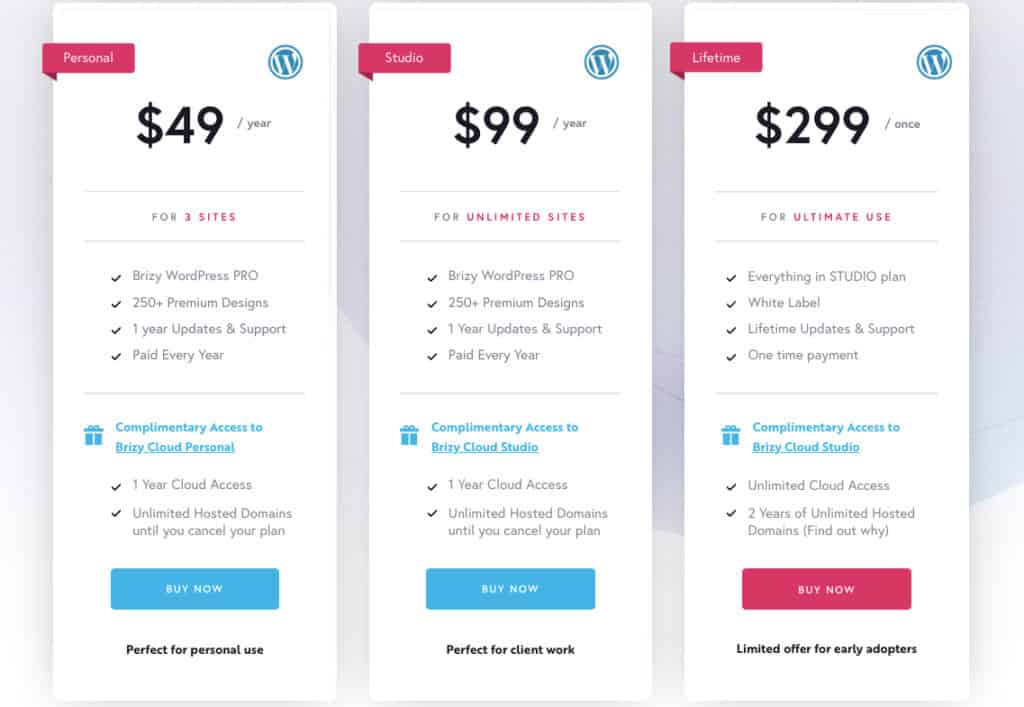 Like other page builders, the premium plan gives you access to:
More design templates
Additional page-building elements (like pop-ups and mega menus)
Advanced features (like A/B testing)
Better support
And more
Pricing is very reasonable — especially for WordPress users that simply want to build a fully-featured website for themselves.
Usability
The Brizy page builder keeps all of the editing elements out of the way so that users can truly focus on designing beautiful pages for their websites: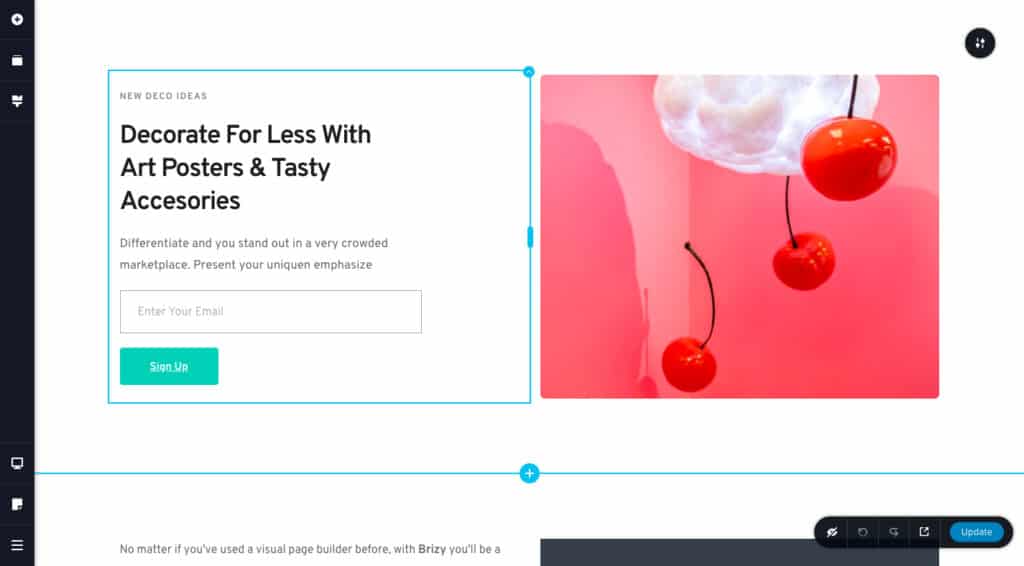 Each block and element is a breeze to edit: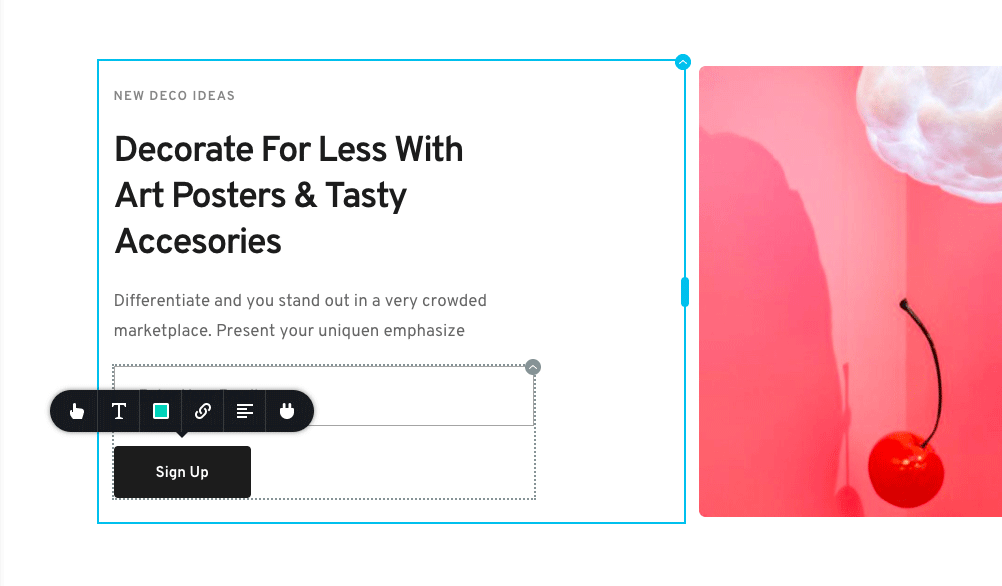 The initial customization options that are presented for users are kept to a minimum. That's good if you're a novice user who doesn't want to be bogged down by extensive settings you'll find in other page builders. That said, if you want to do more with Brizy, users can access advanced settings and apply custom CSS classes.
Once engaged, Brizy toolbar becomes a very useful tool. This, for example, is the Elements (widgets) toolbar: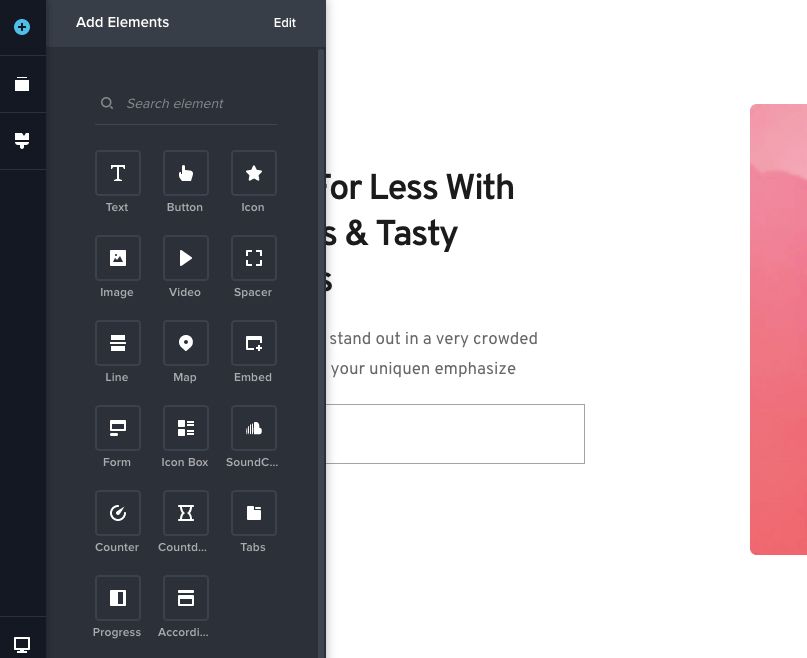 One thing to be aware of with Brizy is that it's not a drag-and-drop editor; at least, not in the way that others on this list are. Instead, users need to open the Reorder tool in the toolbar in order to move their blocks around: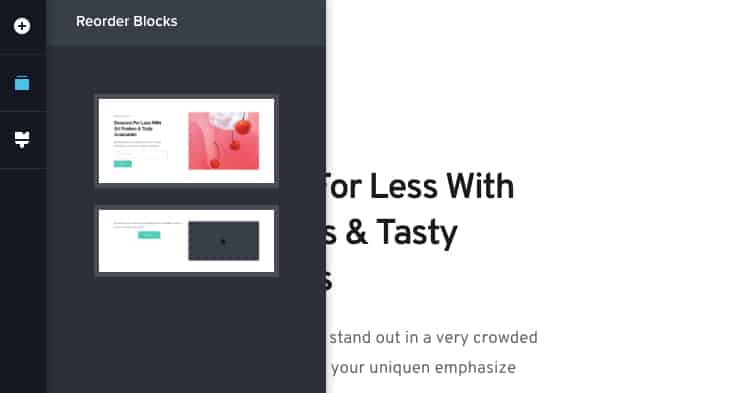 It works just as well as on-page drag-and-drop though.
There are other things you can do with the toolbar, too. Like add global styling to a page, apply a template, or design your page in a responsive view: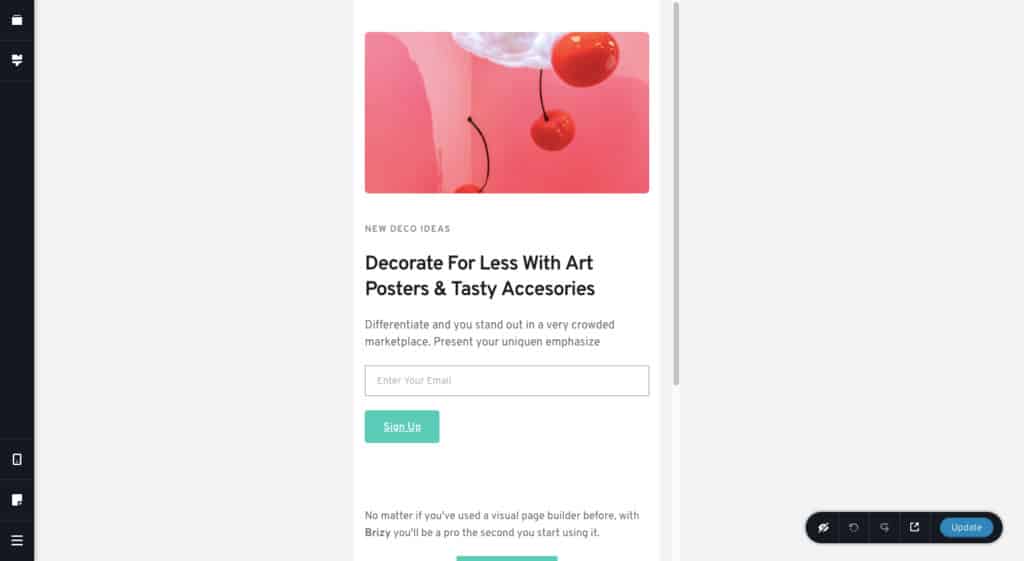 If you're nervous about a page builder plugin is overwhelming, but you don't want to lose access to the essential design capabilities, choose Brizy.
Widgets
Out of the box, users have a great selection of Elements to work with:
Text
Icons
Buttons
Spacers
Lines
Maps
Counters
Rows and columns
And so much more
That's just from the free version. With Brizy Pro, users get access to a dozen more Elements, custom fonts, image filters, pop-up designs, as well as dynamic content.
Since Brizy is relatively new, there aren't any add-ons available in the plugin repository yet. However, as this plugin's popularity grows, watch for new add-ons to help you extend the capabilities of the plugin.
Templates
With the free plugin, users have a couple of ways to leverage Brizy templates.
For starters, the layout can be changed using the Brizy template, full-width template, or cover template (based on page type).
When adding new elements using the on-page plus-sign, users can select from a number of full-page and block templates: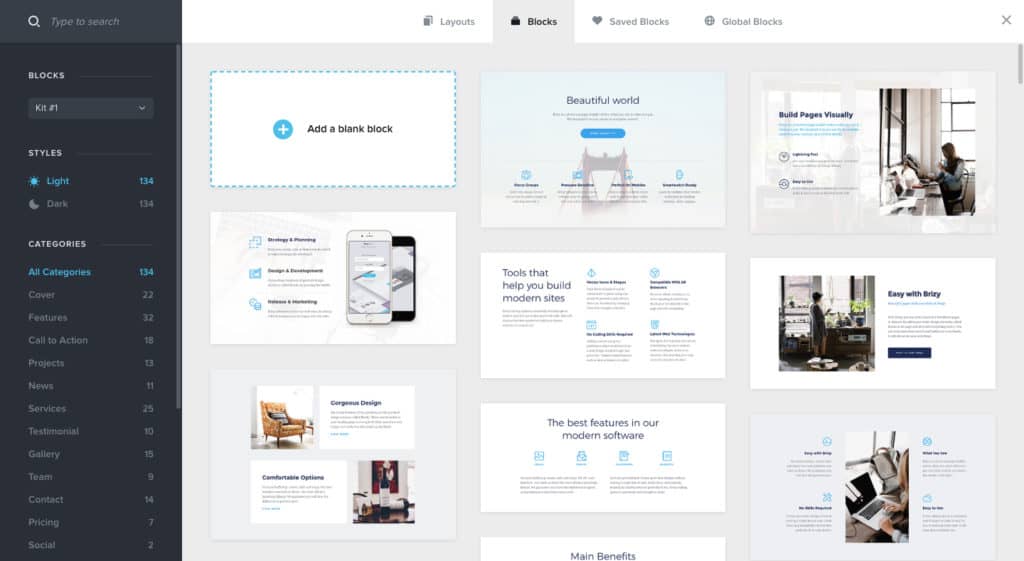 What's great about this is that users can filter and sort template results based on whether they want to use a light or dark template, as well as the kind of block they're trying to build.
If you want to leverage additional pre-made designs, an upgrade to Pro is required.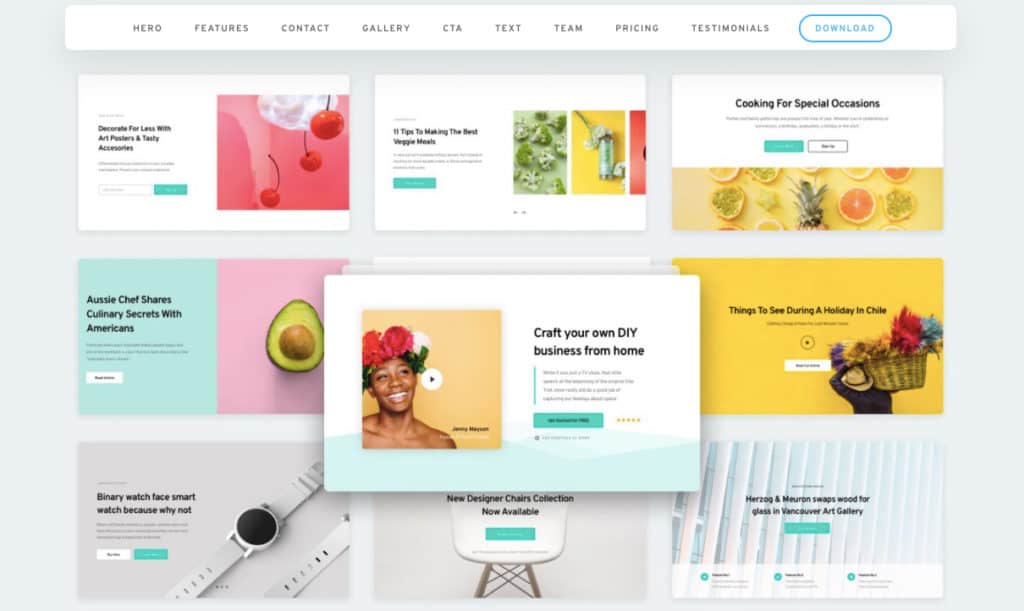 That said, it may be worth considering, as you'll get over 150 pages and block templates built by a professional theme development company.
3. Divi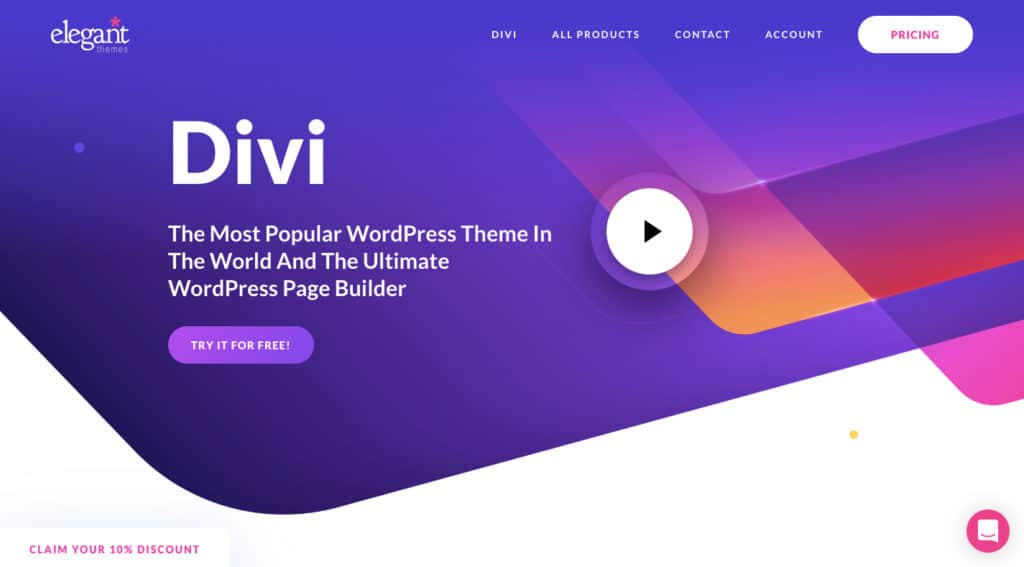 Divi is a premium page builder plugin and theme made by Elegant Themes, a well-known and trusted developer of themes and plugins. In recent years, though, Divi has become its main product.
Standout Feature: When you purchase Divi, you're not just getting a page builder. You're gaining access to themes, plugins, website packs, product updates, premium support, and more.
Price
There is no free version of Divi, which means it's especially important to review this tool and use the demo to make sure you're comfortable using it before you sign up.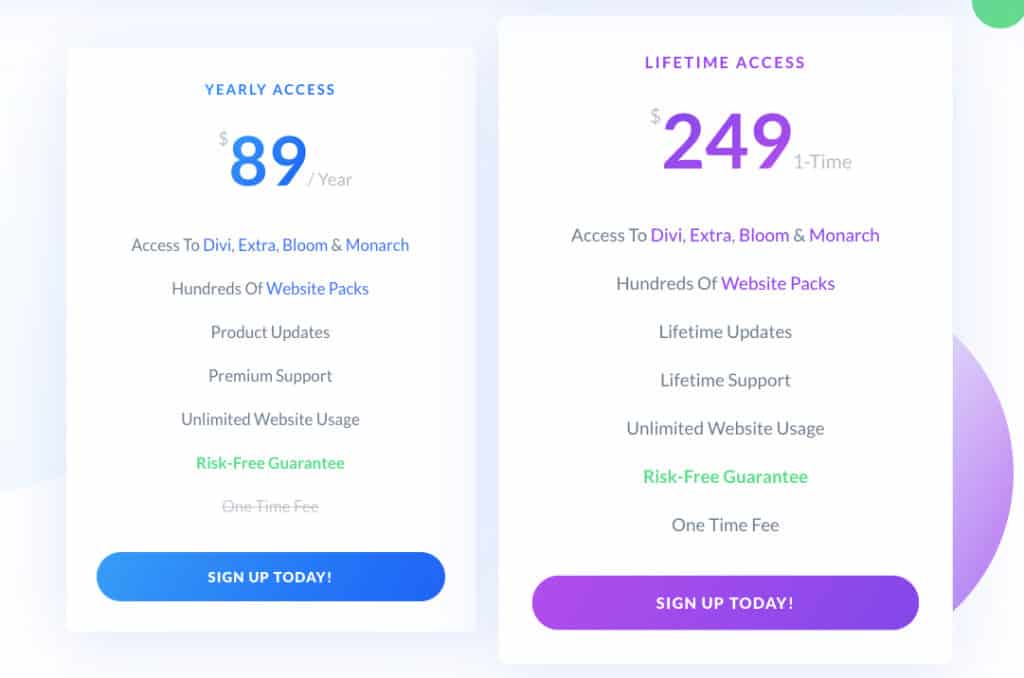 As you can see, pricing is a bit high for Divi. But remember: you're not just buying a page builder plugin. Divi comes with:
Hundreds of website packs; not just random page templates
Bloom email opt-in plugin
Monarch social media sharing plugin
The Extra theme (which is great for large news sites and magazines)
Elegant Themes also does a lot to take care of the plugin for you in terms of updates and support.
So, if you're a designer looking for a trustworthy page builder plugin to use on your client websites, this would be a steal of a deal.
Usability
At first glance, you might look at the Divi builder demo and think, "Where the heck is the editor?"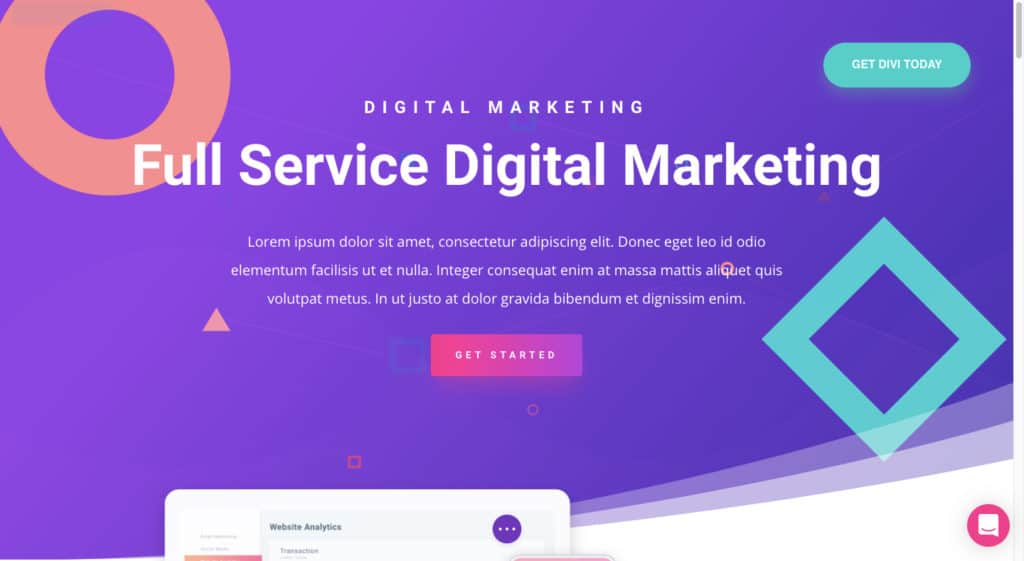 In part, it's because the master control bar is hidden under the purple circle with the dots (…) in the bottom-center of the page. It's also because the widgets don't expose themselves until you hover over them: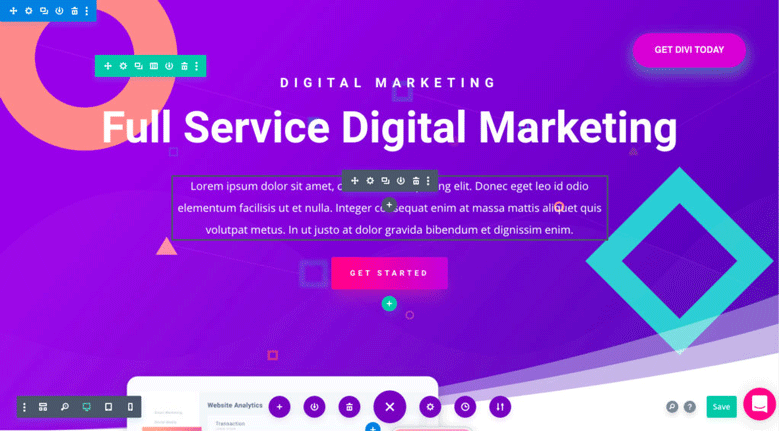 As you can see, there are three toolbars that appear just by hovering over this text box:
The blue toolbar is for Section settings.
The green toolbar is for Row settings.
The grey toolbar is for Widget settings.
The Settings bar then looks like this: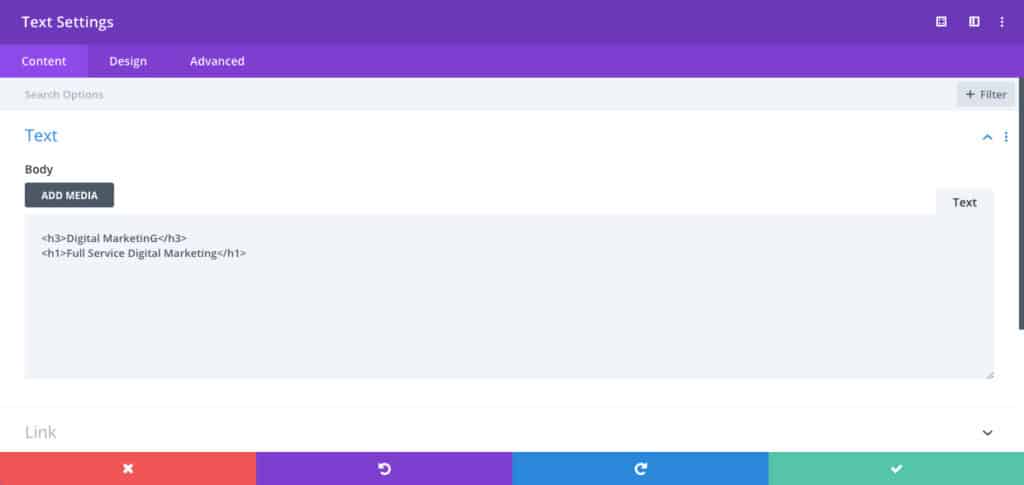 As far as usability goes, Divi isn't the easiest of page builders to use if you're new to WordPress or page builder plugins. There are just too many settings to configure as well as advanced settings to consider.
That being the case, Divi is best for web designers who want full control over the design and coding of a WordPress website, but to do so more quickly than custom-coding the whole thing.
Widgets
Because Divi is a paid plugin, there's nothing that needs to be unlocked with an upgrade. You get Divi's full set of Modules (widgets) right from the get-go and the selection is epic:
Widgets available include:
Text
Image
Bar counter
Countdown timer
Contact form
Social integration
WooCommerce widgets
Fullwidth post slider
Feature list
Because Divi has been around for a long time, it's another one of those WordPress page builders with tons of free integrations available. Be sure to check out the WordPress plugin repository if you're interested in extending the capabilities of your builder even further.
Templates
While Divi can be a complicated page builder to get the hang of, it's chock full of time-saving features. Case in point: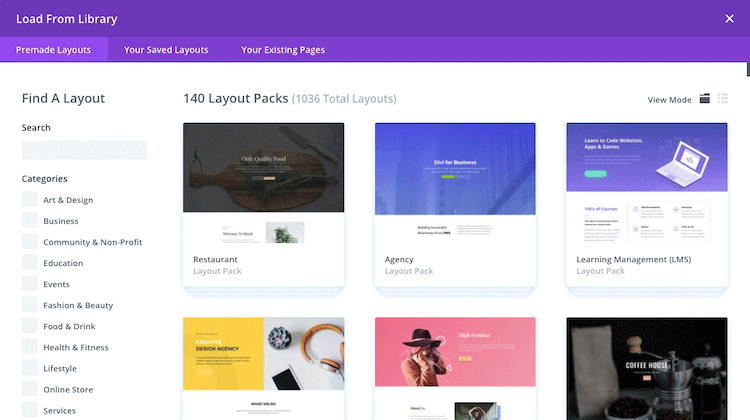 In addition to providing users with block templates, Divi comes with a wide array of page templates. And they're not just pages you need to mix-and-match.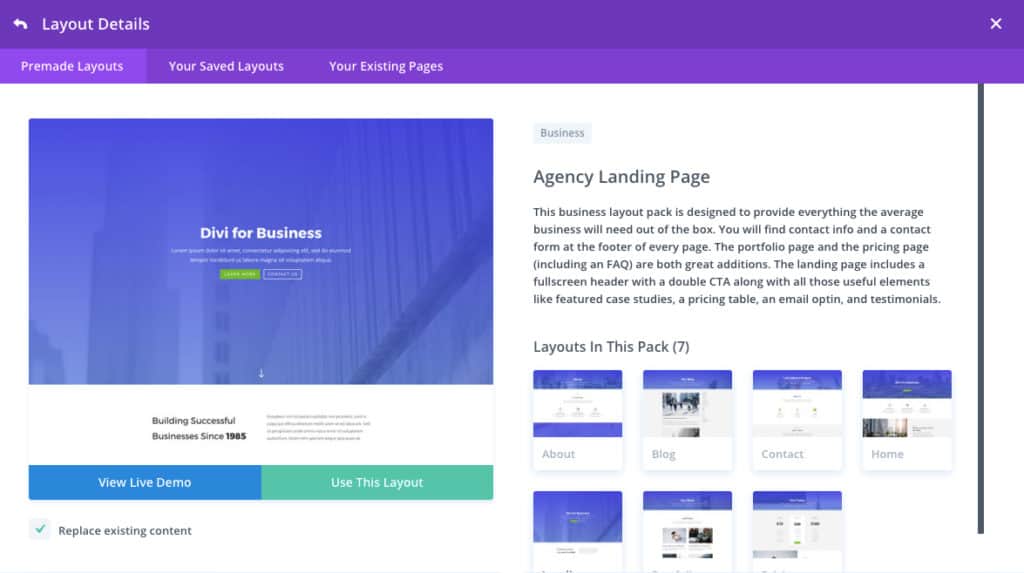 With Divi template packs, users can effectively build out an entire website in minutes. The content still needs to be tweaked, but the bulk of the structure is taken care of.
And if you've custom-designed a page already, you can always turn it into a template to save time in building out similarly structured pages.
4. Elementor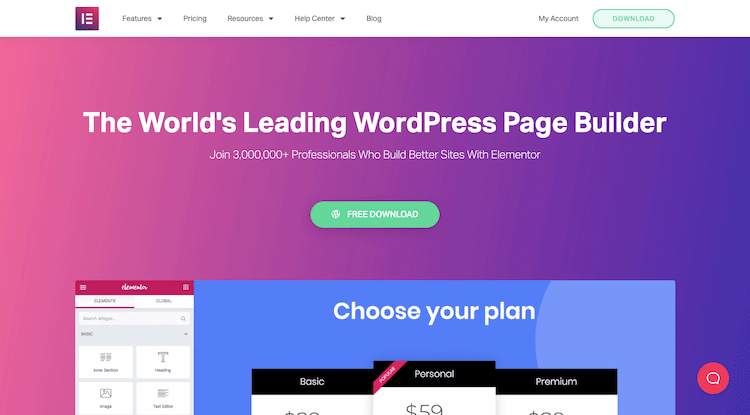 Elementor is only a few years old and, yet, it's the most popular WordPress page builder today. Currently, there are over 3 million websites that have Elementor installed and its users have given it an average rating of 4.9 out of 5.
Standout Feature: Because of its popularity as well as how long it's been on the market, there are hundreds of free plugins that help Elementor users extend the features and functionality of the already powerful page builder.
Price
Elementor is available for free in the WordPress repository as well as for a premium from its website: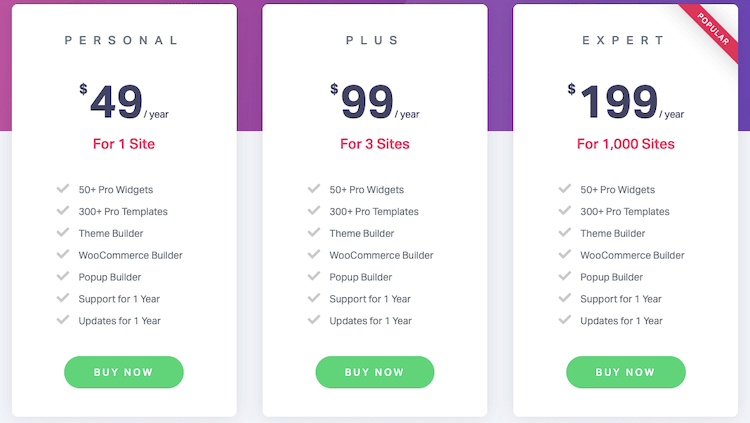 Each plan is designed with the same exact features. The only difference is in how many websites users can build with it. This makes Elementor a great tool to scale a web design business with.
Unlike its main competitor, Beaver Builder, Elementor's free page builder can be used to create powerful business websites. Granted, users won't have access to the 50+ extra widgets or 300+ templates that come with a Pro upgrade, but there are tons of workarounds thanks to WordPress developers who've built Elementor integrations.
Usability
This is the Elementor editor: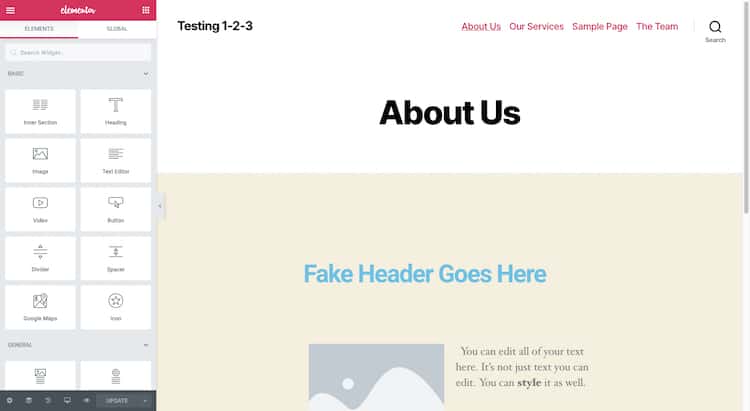 With a simple and reliable layout, Elementor makes it easy for even the most novice of WordPress users to start designing websites.
The screen on the right is where users place new widgets and move them around: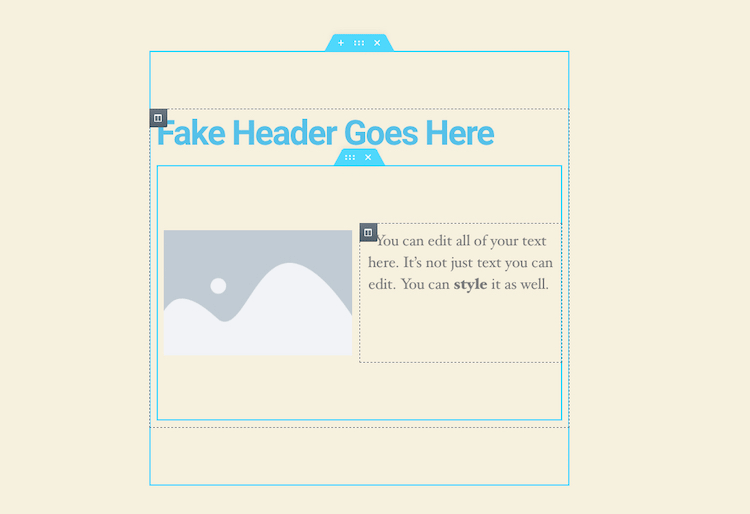 The toolbar on the left side of the screen is where users do the bulk of the work to create and customize content.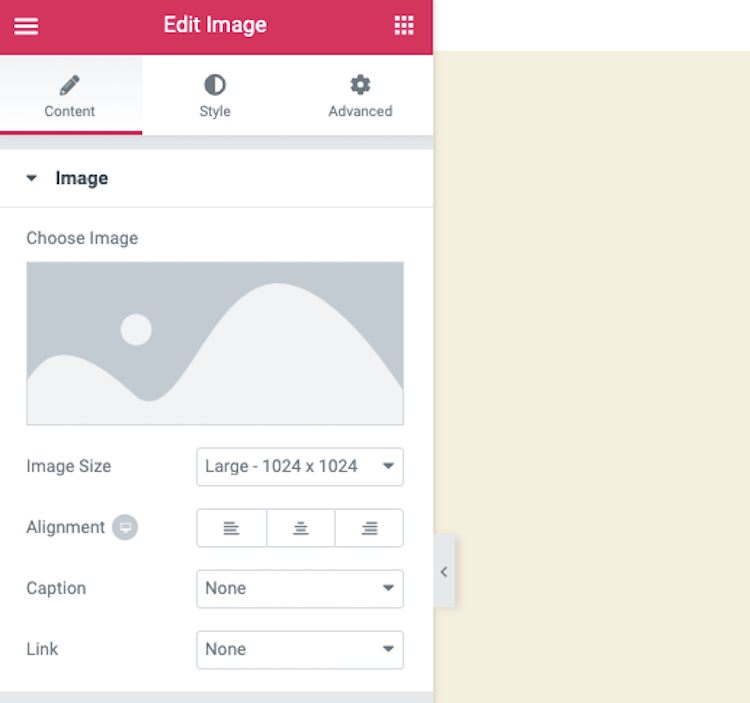 For the most part, the settings are simple enough to configure as they come with preset configurations (like selecting a font from a dropdown list).
Although Elementor comes with extensive customization settings for each widget, some web designers and developers might not feel like it's enough. However, in order to unlock coding capabilities, an upgrade to one of the Pro plans is required.
Widgets
Elementor's free set of widgets cover the essentials needed to build a web page: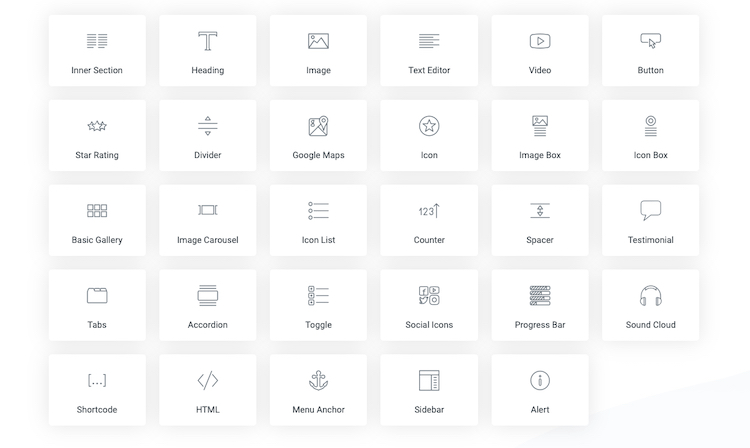 These include basic elements like a Text Editor, Image Embed, and Divider Line. Also included in the free install are elements like the Image Carousel, Social Icons, and Progress Bar.
Pro widgets give users over 50 more elements to play with: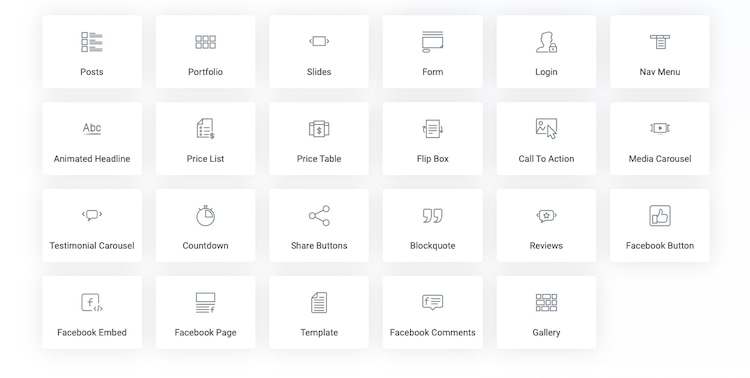 Before you go thinking about springing for the upgrade, check out the WordPress repository first. There are over 700 plugins that integrate with Elementor: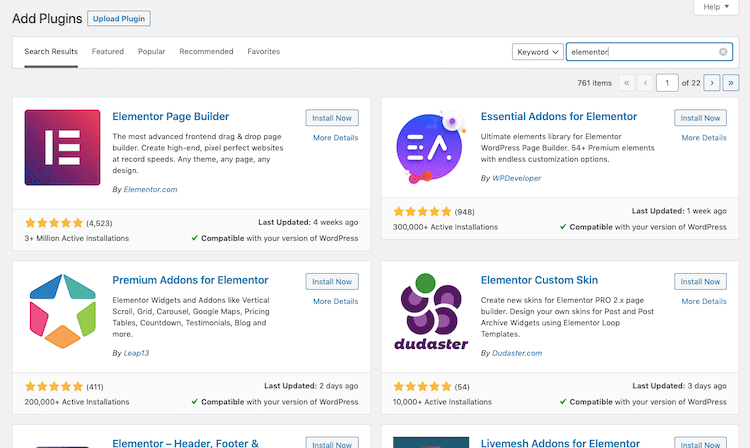 You may find that the one or two widgets you want are available for free. You may also discover widgets you didn't even know existed there.
Wherever you get your widgets from, note that Elementor makes it easy to turn your custom-designed widgets into "global" blocks. That way, you can quickly add the same element to various pages instead of constantly recreating them.
Templates
Designing a website with Elementor is no arduous task thanks to its intuitive editor and design settings. However, its templates sweeten the deal even further.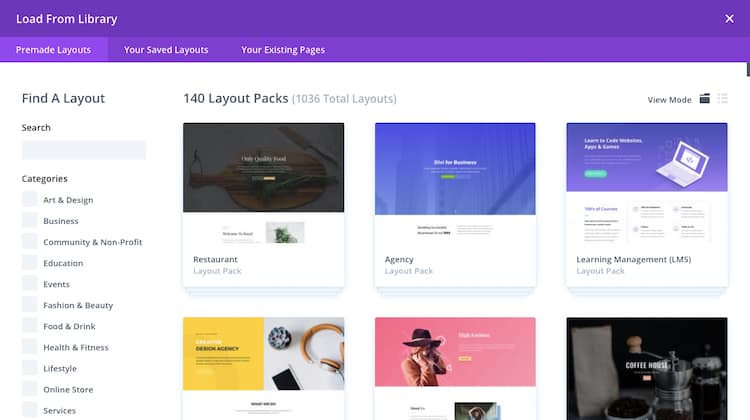 With the free version of the plugin, you'll have a couple of dozen templates to choose from — for different kinds of websites as well as different page types.
Users also get access to block templates: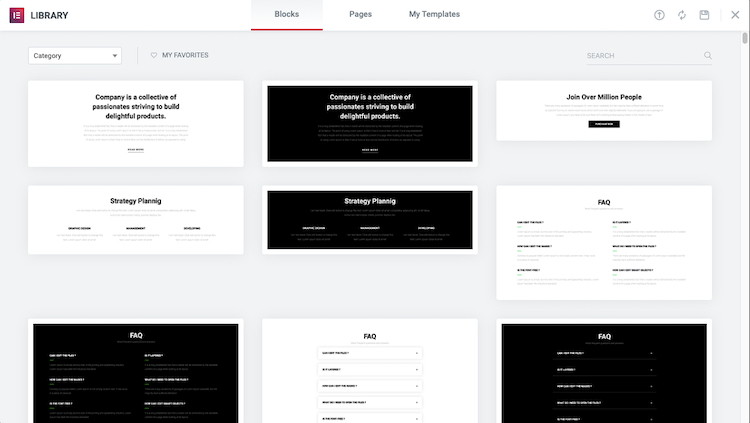 These are a good option if you've found a page template you like, but it's missing just one or two key blocks.
As you can see, they're very simple in terms of background design — either white or black. So, you'll have to do some work to make them match your website. That said, it saves you the hassle of having to try to construct the layout or new block on your own.
Upgrading to Pro gives you full access to all page and block templates from Elementor. However, you might not end up needing it. Just as Beaver Builder users can get more templates when they use the Astra theme and Astra Starter Sites plugin, so too can Elementor users.
5. Oxygen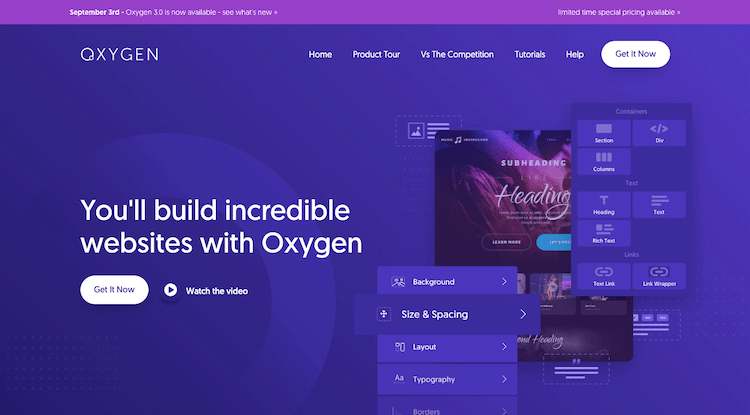 Oxygen is one of the newest WordPress page builder plugins to hit the block, but don't expect it to be a copycat of the ones that already exist. Oxygen is a premium page builder for web developers and agencies.
Standout Feature: This isn't just a tool that makes the development cycle go faster. Oxygen equips WordPress developers and agencies with a more powerful set of design and coding tools.
Price
Oxygen's lowest pricing plan is about on par with other premium developer-friendly page builders: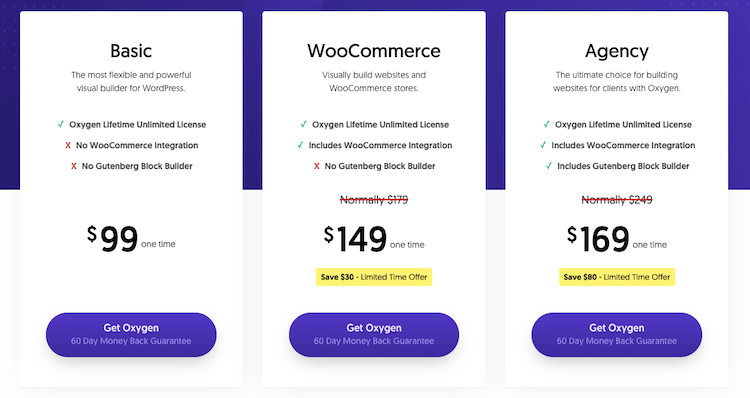 The rest of the plans, however, target very specific web development businesses: WooCommerce development and WordPress agencies.
That said, the pricing table doesn't really do justice in explaining everything Oxygen users get with these plans.
When users sign up for Oxygen, they also get to reap these uncommon benefits:
Lifetime updates of the plugin
Advanced design functionality like CSS transforms, parallax, filters, and blend modes
Header and footer design control
WooCommerce compatibility
Gutenberg block builder (for a more client-friendly experience)
Full coding capabilities, including CSS, JavaScript, and PHP
If you want a pager builder plugin for your web development business or agency and don't want to limit what you can build and how you build it, Oxygen is a good choice.
Usability
This is what users see when they first enter the Oxygen editor: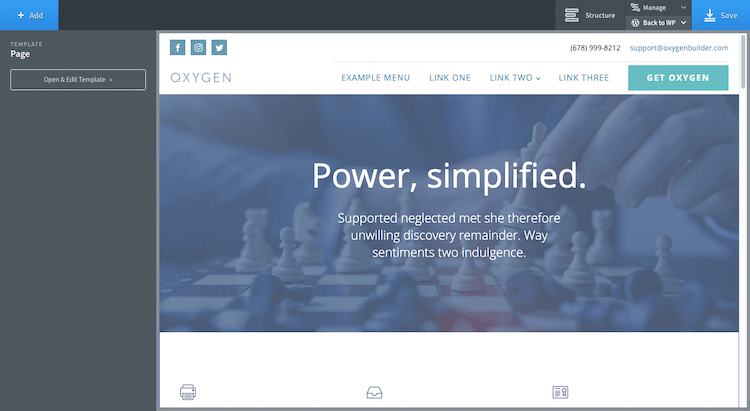 The interface is simple, clean, and non-intrusive. It's a little misleading though as this page builder is not for the faint of heart.
For users that are unprepared for it, creating and updating content might feel overwhelming at first: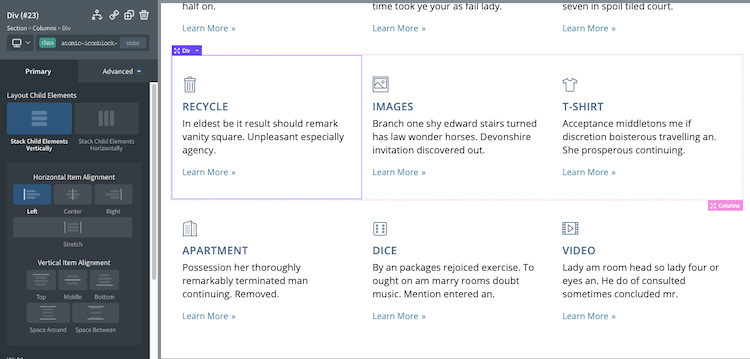 It's not as though Oxygen has gone overboard. It's just that it's a page builder for web developers who need total control over every element. To them, this interface makes perfect sense.
You'll find more evidence of this on the right-hand side of the screen when the Structure toolbar is opened: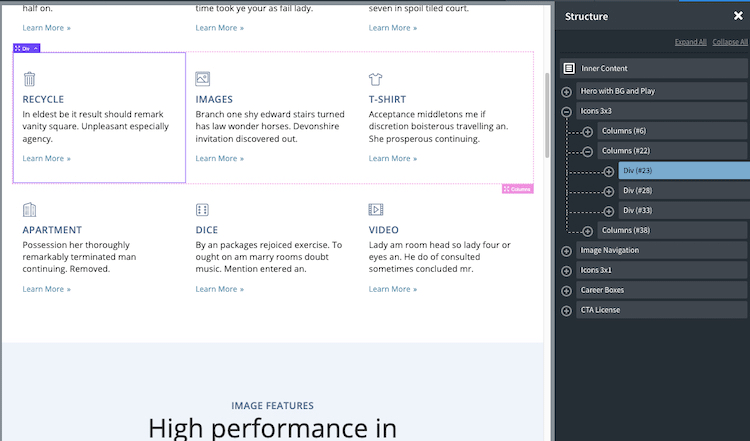 As well as when the CSS or JavaScript code editors are opened from Advanced settings: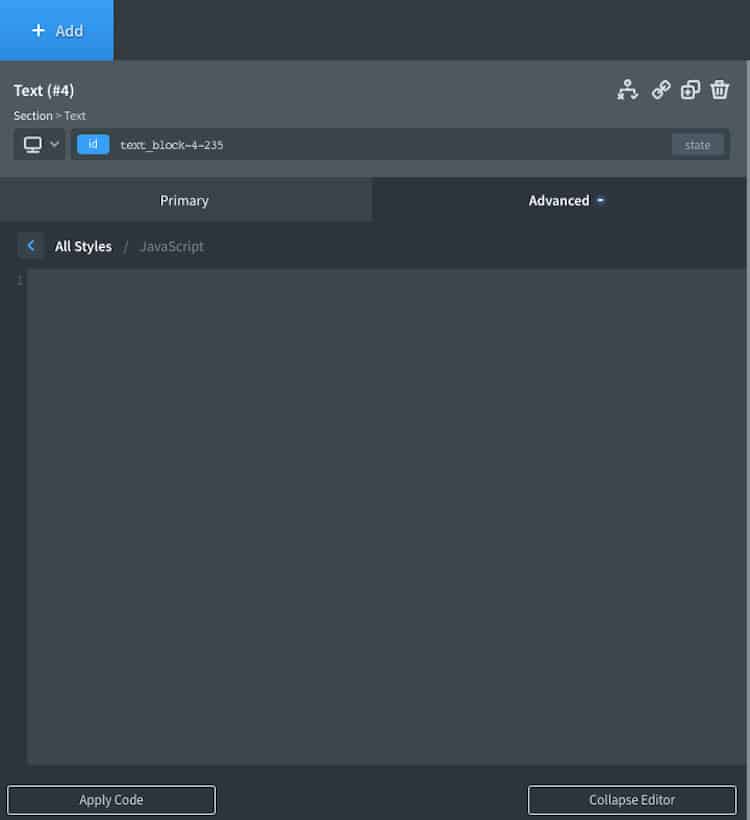 There are layers upon layers of settings that can be configured for a single component in Oxygen.
This is fantastic news for web developers who feel as though other page builders compromise what they're able to do.
Widgets
Oxygen provides users with all of the essential page-building components: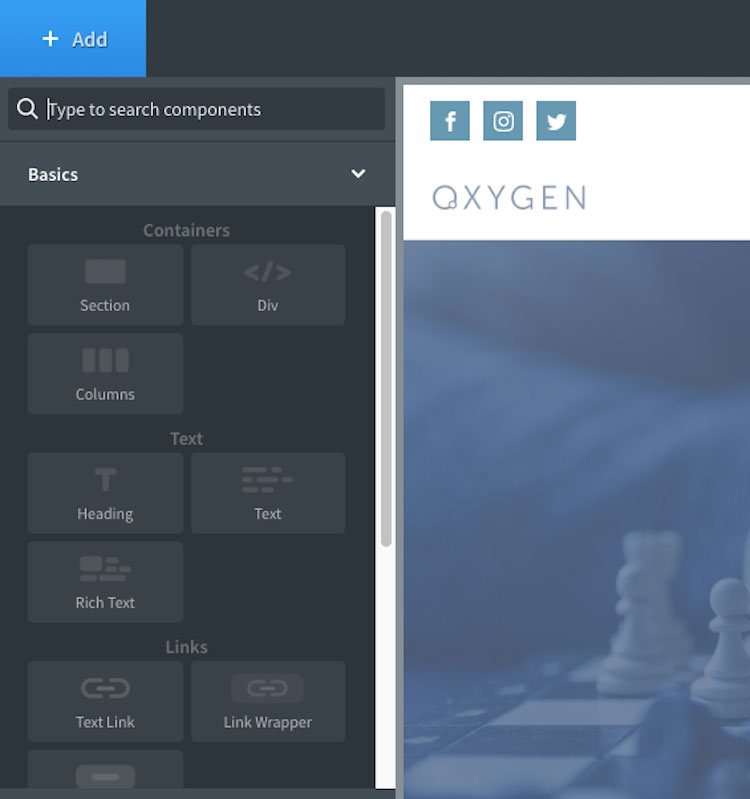 Text, buttons, videos, and dividers are available as Basic components. Things like testimonial blocks, pricing boxes, and modal pop-ups are available as Helpers.
WordPress components include the usual things you'd find for adding widgets to a blog's sidebar or comment section. However, it's here that you'll also find a section for Dynamic Data.
Dynamic Data allows users to connect a component to a data source. That way, if you want to pull in certain details for products, listings, galleries, etc., there's no need to manually update it every time. The builder makes the connection for you.
Templates
The Oxygen components toolbar includes something called "Library". This is where users find the design sets (templates):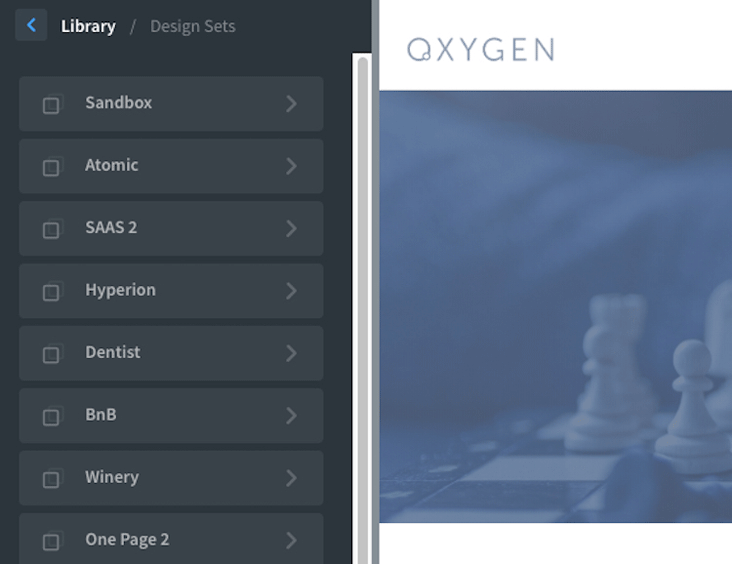 It takes a little work to drill down into the available page and section templates, but there are tons of them there and they're impeccably designed: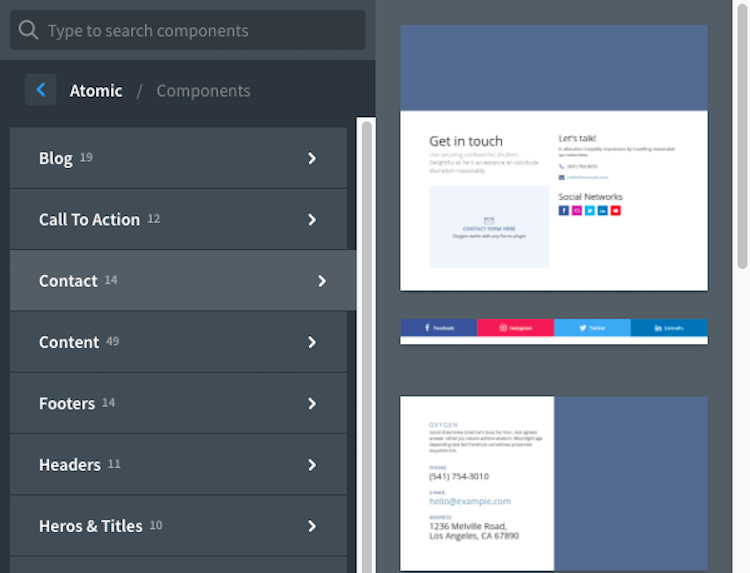 Once you get to know the Oxygen builder and components better, finding the elements you want to build with (custom or premade) will be like second nature.
Just don't expect much in the way of handholding with full-page templates. Oxygen gives you the tools to build a high-powered website but understands that its users are the kind that wants to dig deep into the nitty-gritty of each element.
Wrap-Up
In business, you want to use tools that help you make progress; not hinder it.
While it might seem like a WordPress page builder plugin will help you build a website better than Gutenberg will, you can't just pick any plugin and run with it. Every page builder has its own strengths.
While there are certain qualities you want to find in your page builder, like:
Ease of use (for your skill level)
Inherently responsive block-building design
Time-savers like templates, global widgets, and visual editing
It's also important to find the page builder plugin built for someone like you and a site like the one you want to create.
Based on our research, these are the best WordPress page builder plugins for you:
Beaver Builder is best for:
Professional web designers and developers
Anyone who wants the flexibility to pick between preset design controls and code
WordPress businesses trying to scale their efforts
Brizy is best for:
Novice WordPress users and designers
Someone who doesn't want to mess with code
Websites for businesses that need more than just a handful of pages and basic information
Divi is best for:
Professional web designers and agencies whose clients would benefit from Divi
Anyone who wants full control over the design and code
Websites that require more complex layouts, features, and functionality
Elementor is best for:
All users — DIY, web designers, and agencies
Someone who wants a page builder tool that will scale with their business
Anyone who wants to spend less time building layouts and more time customizing content
Oxygen is best for:
Web developers and agencies
Anyone who feels like page builders is overly simplified and compromise what they're able to accomplish
Agencies that want to make more money by branching out into e-commerce development or leveling up their offering (like with the Gutenberg block builder)
Unlike other kinds of WordPress plugins that look and work similarly to one another, page builders tend to carve out a very specific niche for themselves. So, make sure you take a close look at what they each offer before you sign up and start building your website with one of them.