MidPhase is cheap.
Like, one-buck-a-month cheap. If life has taught us anything, it's that something cheap often isn't good.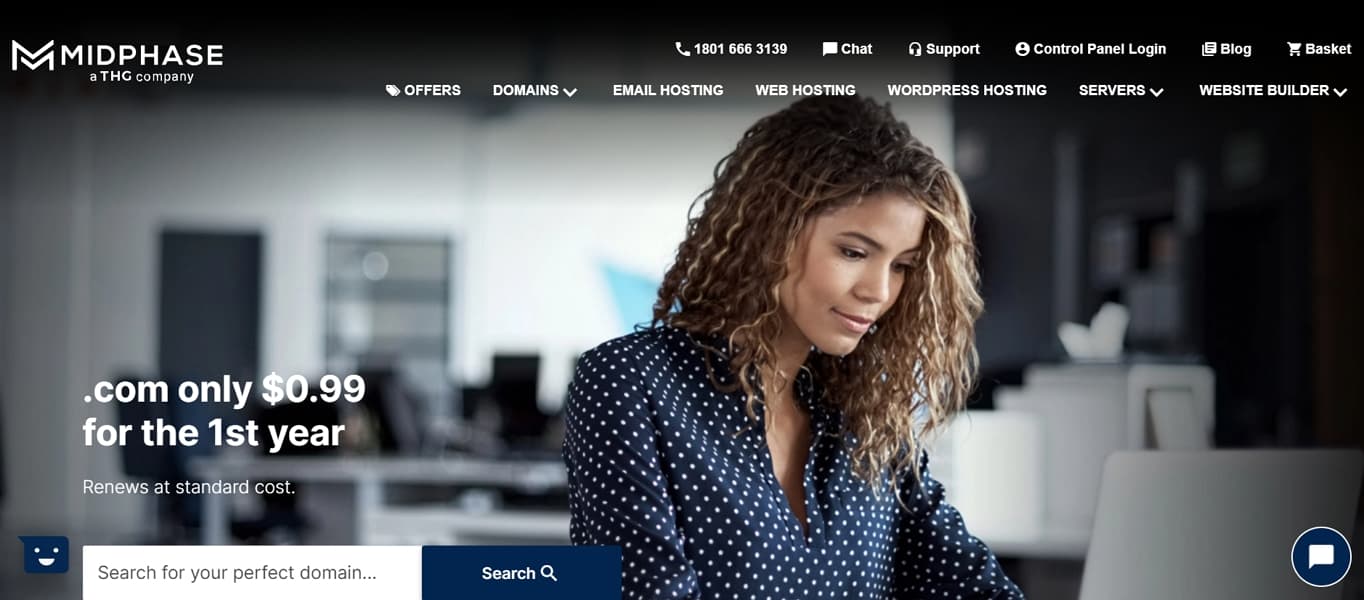 One dollar doesn't even cover a cup of coffee. How on Earth does it cover the insanely high costs to purchase and run hosting servers. Not to mention rent and employees for their HQ in the beautiful Salt Lake City, Utah.
But MidPhase is not a fly-by-night operation. They've been around since 1998, and have teams in the UK, Ukraine, and India. Since then, they merged with the UK2 Group in 2007 (who also owns WestHost).
The point is: This isn't their first rodeo.
We purchased their cheapest shared hosting plan and set up a test site to monitor their uptime and speed over an extended period of time.
How did MidPhase perform?
Read on to find out.
General Info & Hosting Overview
---
| | |
| --- | --- |
| Our Rating: | Our Verdict: 3.5 |
| SPEED: | 736 ms (March 2022 to August 2022) |
| UPTIME: | 99.99% (March 2022 to August 2022) |
| SUPPORT: | 24/7 Live Chat, Ticketing, Email, and Knowledge Base |
| APPS: | Softaculous App Installer for the Most Popular Apps Like WordPress, Joomla, Drupal, and more |
| FEATURES: | Unlimited Storage and Bandwidth, Free Domain, One Website, Unlimited Emails, 30-Day Money-Back Guarantee, SSL Certificate,  Nightly Account Backups, and more |
| HOSTING PLANS: | Shared, VPS Cloud, and Dedicated Hosting |
| SITE TRANSFER: | Yes |
| PRICING: | Starting at $1.00/mo (renews at $5.00/mo) |
---
Pros of Using MidPhase Hosting
---
MidPhase started out strong, delivering solid uptime and quick customer support.
Let's take a closer look at other perks MidPhase has going on for them.
1. 99.99% Uptime Over 6-Months
During the past 6 months, MidPhase delivered an average uptime of 99.99% with eight minutes of downtime and four outages. This is one of the most reliable uptime we've seen among other hosts.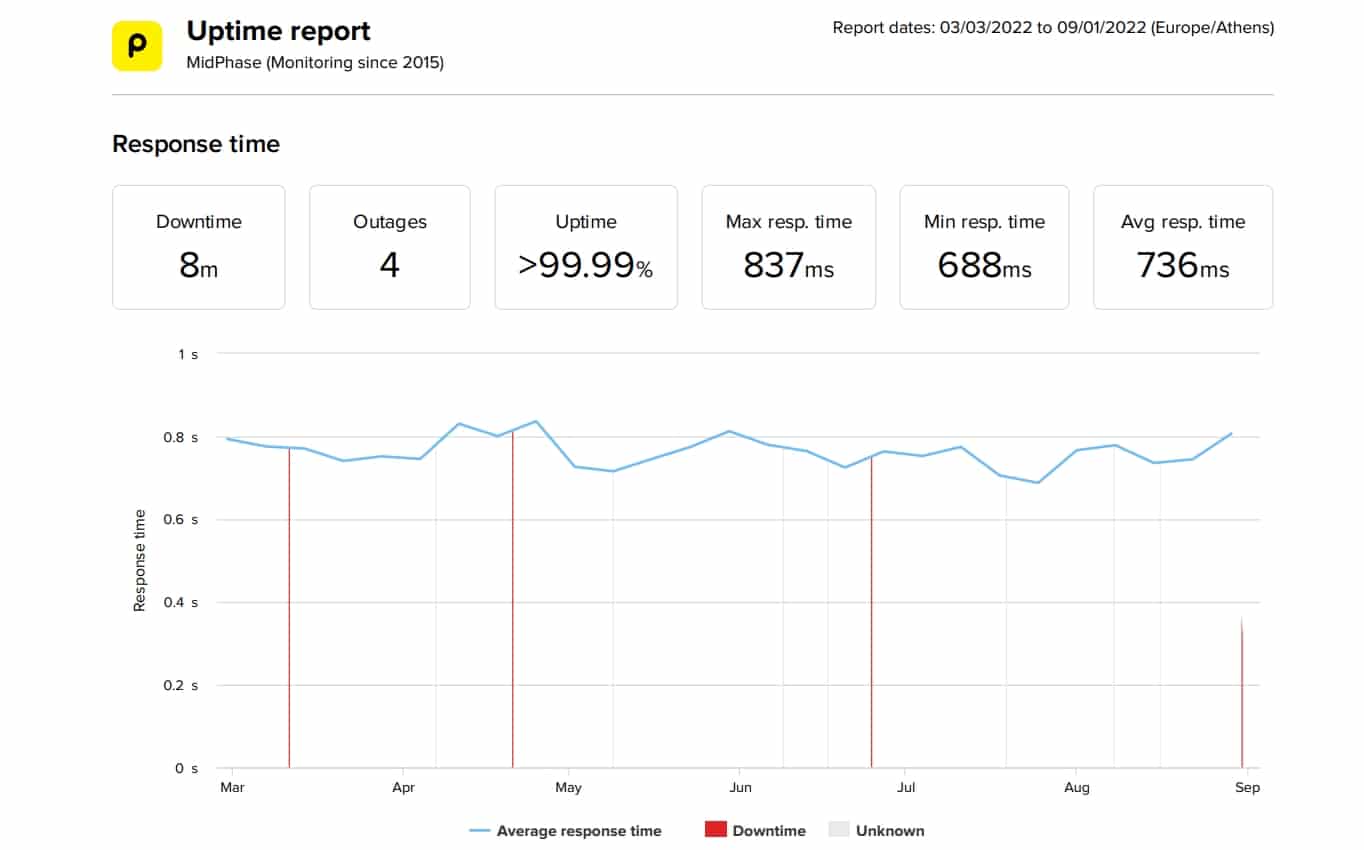 Last 6-month average uptime:
August 2022: 100%
July 2022: 100%
June 2022: 99.99%
May 2022: 100%
April 2022: 99.99%
March 2022: 100%
2. Good Average Speed
MidPhase's uptime is great.
But what about their speed?
Our last 6-month analysis showed an average speed of 736 ms (which beats the industry-standard 850 ms).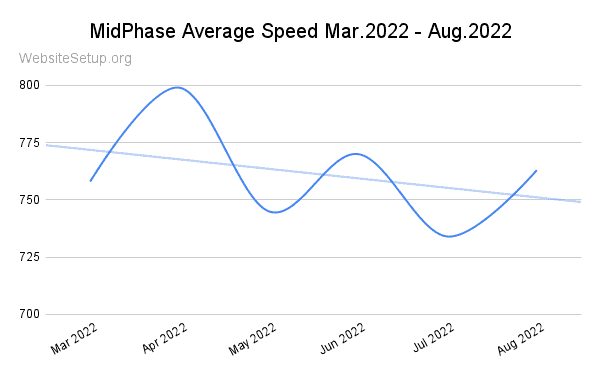 The good news is, that their speed has been gradually faster, so there's hope for even faster loading times.
3. Responsive Customer Support
MidPhase offers several support options: ticketing, email, and also live chat. However, live chat is available only for registered users. If you don't have an account with them and you wish to ask pre-sales questions, then you'd have to send them an email.

We tried out their live chat which is accessible via the client area.
We were connected to the customer support rep instantly and overall the chat went smoothly. The replies were knowledgeable and professional.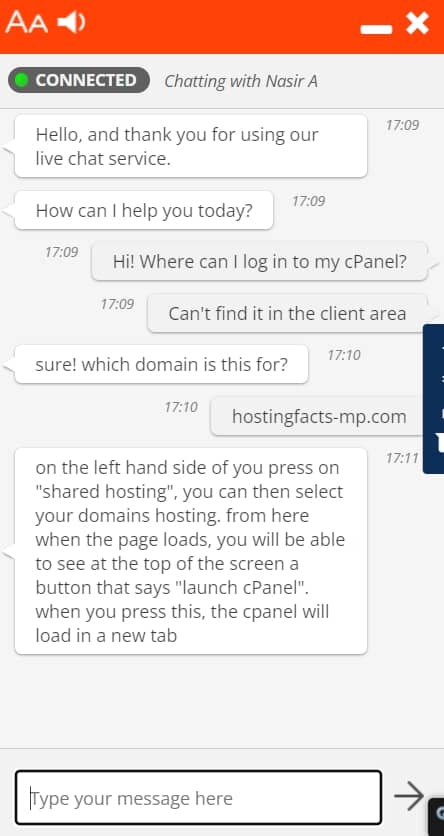 Besides the above-mentioned customer options, you also have the possibility to browse their vast knowledge base.
4. Inexpensive
Did we mention MidPhase is cheap?
A long-term plan with their cheapest shared hosting option comes out to $1.00 per month.
The catch?
It's only valid for one month. After that, the packages renew at the standard cost.

5. 99.9% Uptime Guarantee
Our MidPhase test showed excellent uptime over the past few years. However, this might always not be the case and uptime can vary.
That's why it's good to have some sort of guarantee that will protect you if the uptime drops too much and affects your website's traffic.
That's exactly what MidPhase offers – a 99.9% uptime guarantee" included in their hosting packages.
Drop below that threshold and you can ask for an account credit.
However, based on our experience so far, you thankfully won't need to ask them about this too often.
6. Beginner-Friendly Control Panel
MidPhase's client area is logical and easy to use. From the left sidebar, you can access your account settings, domains, WordPress, StarterSite website builder. On the main screen, you can also see your active hosting packages and contact support if necessary.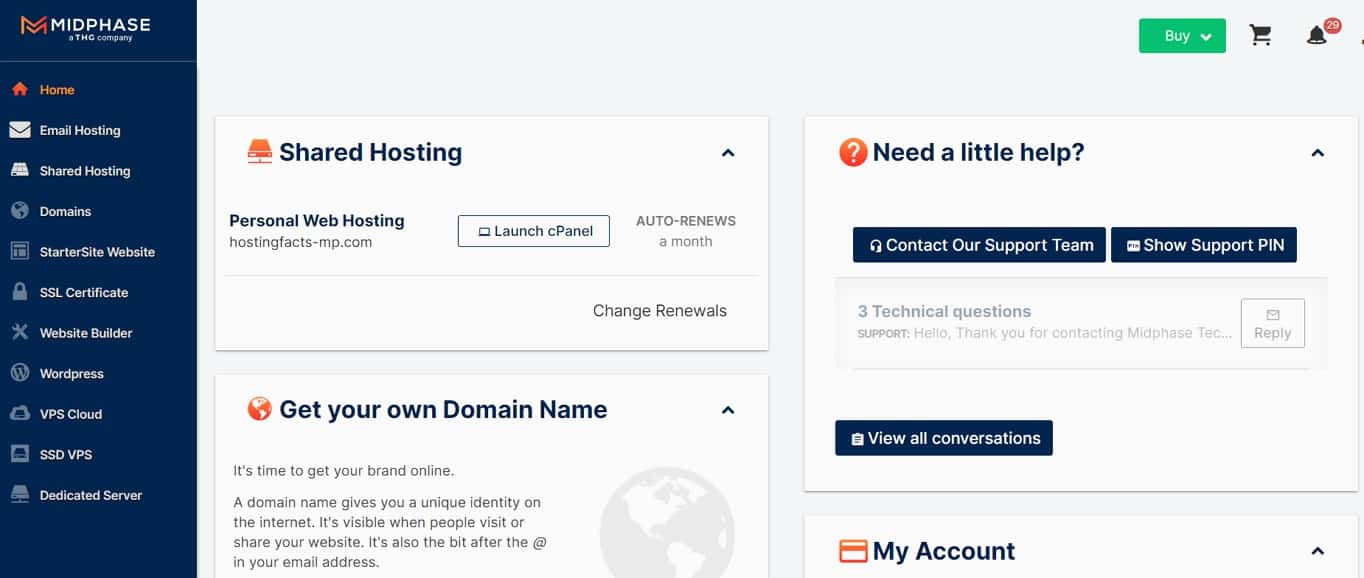 What concerns the control panel, then MidPhase uses cPanel which you can access also from the client area.
cPanel is no doubt the most popular control panel in the hosting industry and for a good reason – it's very beginner-friendly. Everything hosting-related is easy to find (also search bar is included to make it even easier for you).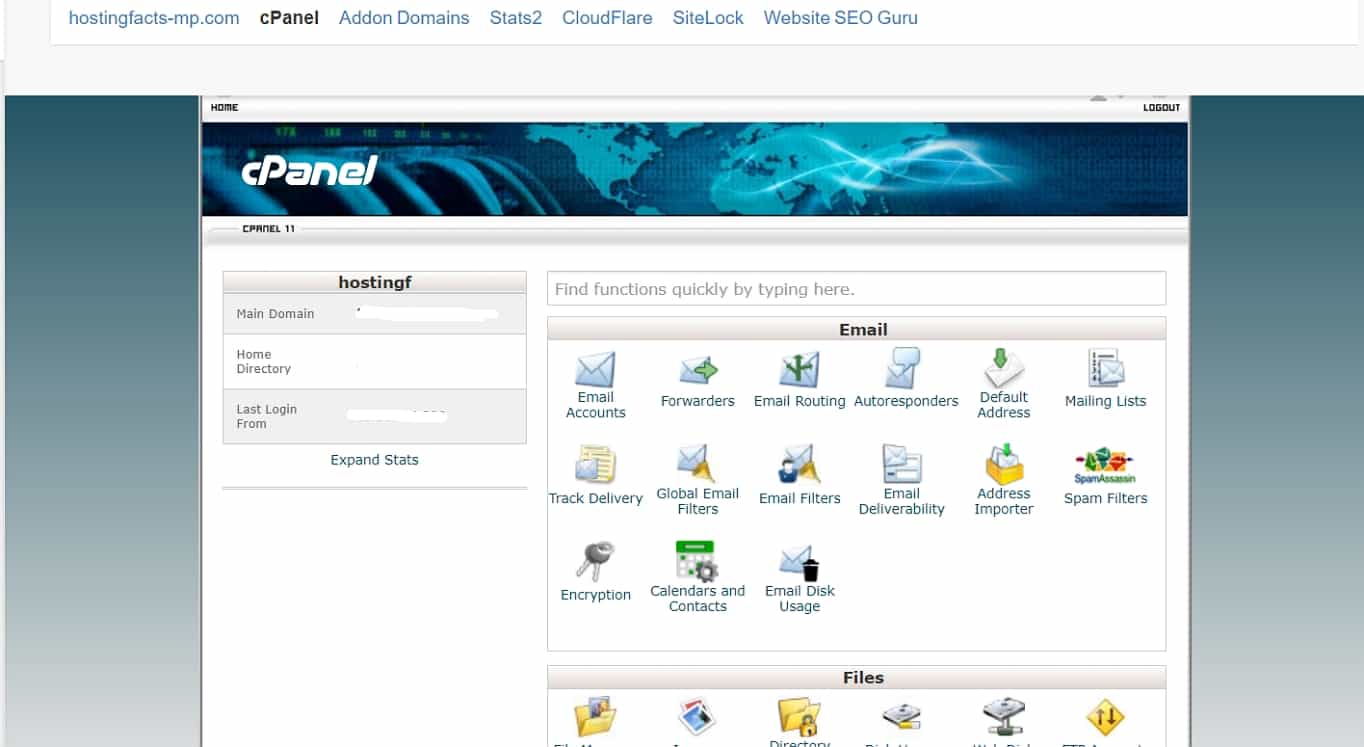 Cons of Using MidPhase Hosting
---
One-dollar hosting can't be all perfect. There are a few drawbacks to consider if you value other hosting features besides saving the most.
Let's start with security.
1. High Renewal Pricing (Across All Products)
MidPhase's $1.00/month sticker price for their Web Hosting Personal package looks pretty good on the surface.
However, if you've been in the game as long as we have, you'll know that advertised pricing usually comes with a few 'gotchas' that can come back to haunt you if you're not careful.
Sadly, MidPhase is no different in this case.
The biggest catch, in this case, is the high renewal cost when your first plan expires. Your price will basically become multiple times more expensive.
The Starter Plan, for example, goes from $1.00/month up to $5.00/month. The Pro Plan goes from $1.00/month to $7.00/month, while the Enterprise Plan also increases from $1.00/month to $9.00/month.
If you're on a tight budget, it's definitely something to look out for.
MidPhase Pricing, Hosting Plans & Quick Facts
Here is a quick overview of MidPhase hosting plans to help to determine if they are a good fit for you (note that these prices apply only for monthly plans):
---
Starter Plan
Pro Plan
Enterprise Plan
Pricing
$1.00/month
Renews at $5.00/mo
$2.00/month
Renews at $7.00/mo
$3.00/month
Renews at $9.00/mo
Websites
10
Unlimited
Unlimited
Bandwidth
Unmetered
Unmetered
Unmetered
Storage
Unmetered
Unmetered
Unmetered
Email Accounts
Unlimited
Unlimited
Unlimited
Other Features
• 5 MySQL Databases
•10 MySQL Databases
•Unlimited MySQL Databases
---
Quick Facts
Free Domain: Yes, with all plans.
Ease of Signup: Friendly and easy-to-use three-step signup process.
Money-Back: 30-day money-back guarantee.
Payment Methods: All Major credit cards, PayPal.
Hidden Fees and Clauses: There's a limit of 200,000 files and 10GB cumulative database size on all shared hosting accounts. Exceeding this limit may result in the termination of your account.
Upsells: Lots of upsells.
Account Activation: Quick account activation.
Control Panel and Dashboard Experience: cPanel.
Installation of Apps and CMSs (WordPress, Joomla, etc.): Quick and easy install of popular apps and CMSs with Softaculous.
Do We Recommend MidPhase?
Yes. But there are some better options available.
There are serious questions to consider prior to signing up with MidPhase. Primarily the high renewal prices.
Despite that, if you're looking for a quick, cheap option with great uptime, speed, and support, MidPhase might be worth a roll of the dice.
Best alternatives for MidPhase:
---
Have you used MidPhase? Please leave your MidPhase review based on your experience – positive or negative – to help us provide honest and transparent reviews.