TMDHosting is a versatile, affordable web hosting service.
It caters to businesses of all sizes, offering everything from affordable shared hosting options to more expensive and powerful dedicated hosting services. For this review, we're going to focus exclusively on shared hosting.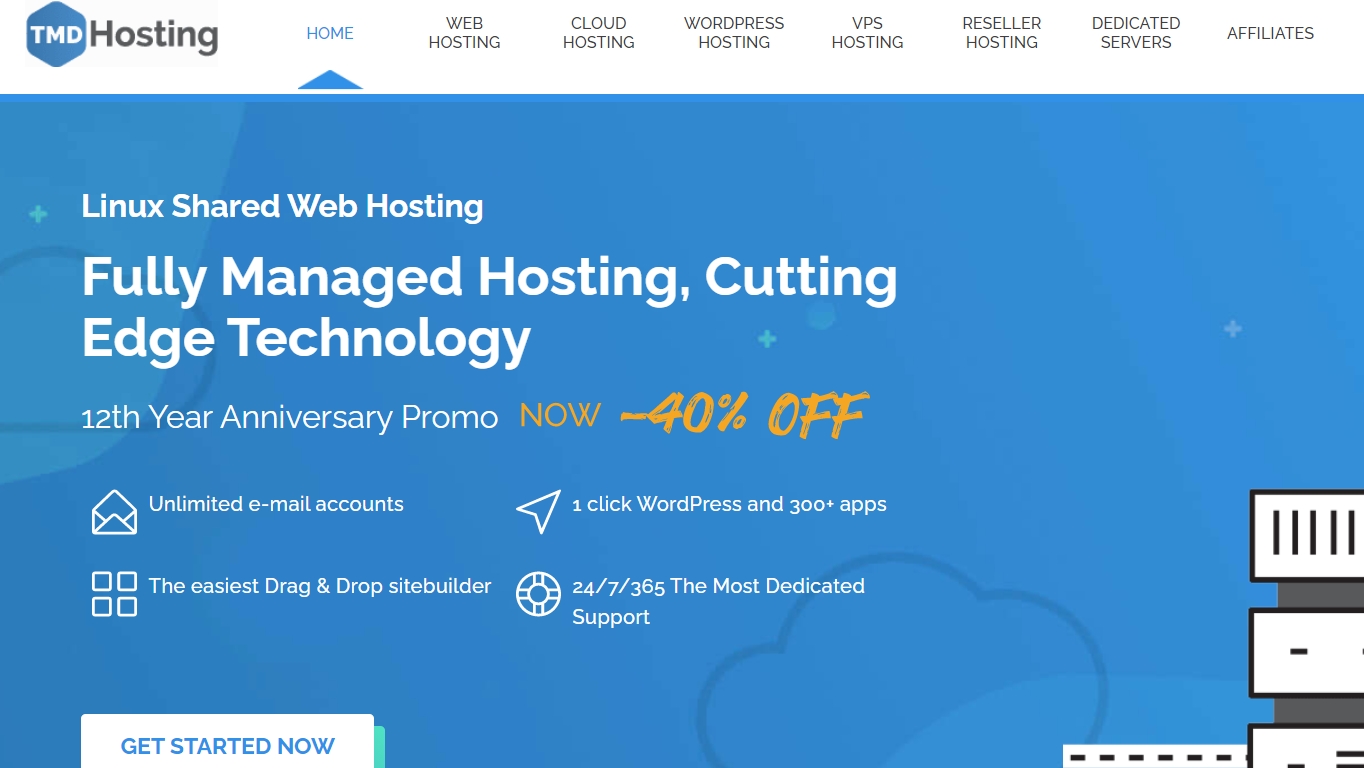 TMDHosting has quite a lot to offer, from live chat customer service, unlimited bandwidth, and unlimited storage. They also offer free domain names and unlimited email addresses for subscribers.
But is TMDHosting good enough compared to other hosts?
We tested their service from top to bottom, gauging its uptime, speed, usability, customer service, and more to give you a well-rounded, unbiased look at what TMDHosting offers.
Let's dig in.
General Info & Hosting Overview
---
---
Pros of Using TMDHosting
---
TMDHosting has a lot to like.
Let's start with their customer support.
1. Responsive Customer Service
Live chat customer service is the top shelf of efficient customer service.
Thankfully, that's something TMDHosting has. We tried out their live chat ourselves and were really impressed with their responsive support team.
We were immediately connected with the customer support representative.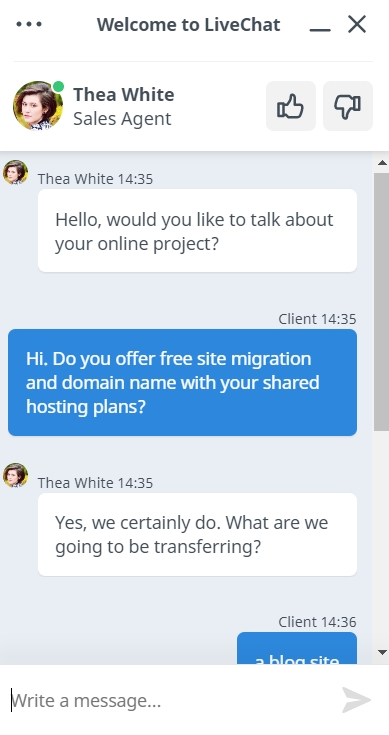 We asked some simple questions regarding the shared hosting plans and got quick and knowledgeable replies almost instantly.
TMDHosting also has a knowledge base and phone support.
2. Free Domain and Unlimited Email Accounts Included
All of the shared hosting plans with TMDHosting come with a free domain for the first year. That's great news because it's an added expense taken off of the table.
But that's not all.
It also lets you create email accounts, free of charge. While some hosts will give you 5, 10, or even 50 email addresses, TMDHosting covers you entirely with unlimited email accounts.
3. SSL Security
SSL stands for Secure Socket Layer, and it is one of the most important security features that a website hosting service can include.
Why is that?
You can use SSL certificates to ensure that your site is an HTTPS site instead of HTTP. That matters a lot for one significant reason.
Google decided some time ago that it would label all HTTP websites as unsecure through the Chrome browser. So, if you have HTTP in front of your URL, there will be a small disclaimer next to it that says your site is not secure.
Luckily SSL security is offered as a part of every plan with TMDHosting, ensuring that all communications between the user and site are safely encrypted.
4. Free Site Transfer
Not everyone flocking to a hosting service is looking to start a new website.
Some of them already have an existing site in place and are just not happy with the service they're using.
Those people have to transfer their site and their domain over to the new service before they can get started.
TMDHosting offers site migration as a free service, and we applaud that.
5. Fast Page Loading Speed 621 ms
Speed is an important factor, both when it comes to the user experience and your SEO score. A site that is too slow will have a harder time getting decent placement on popular search engines like Google.
What's more, mobile websites that take between one and three seconds to load see a bounce rate increase of 53%.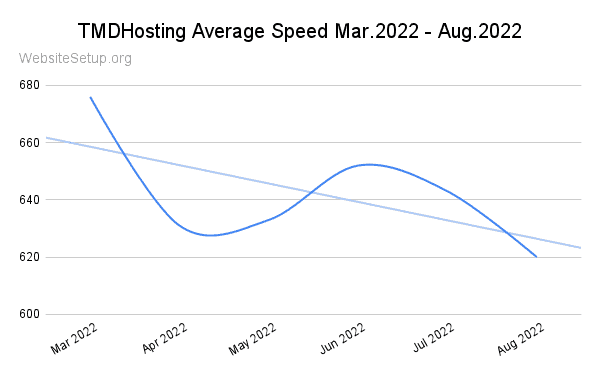 So it's great to see that TMDHosting came in with an average page loading speed of 621 ms over the last 6 months. 
6. 60-Day Money-Back Guarantee
All of TMDHosting's plans come with a 60-day money-back guarantee.
We felt that it was important to highlight that it's a long period of time, especially compared to other hosts, who usually offer 30-day money-back guarantees.
You can use their services for a full two months. If you decide that you don't like it, you'll get your money back.
That shows that they are willing to stand by the quality of their product. They're not only giving you your money back but also giving you a long period of time to really decide if it's worth the cost.
7. Easy to Use Control Panel
TMDHosting includes classical cPanel with their shared hosting plans. So, if you've used cPanel with other hosting accounts, you should feel right at home.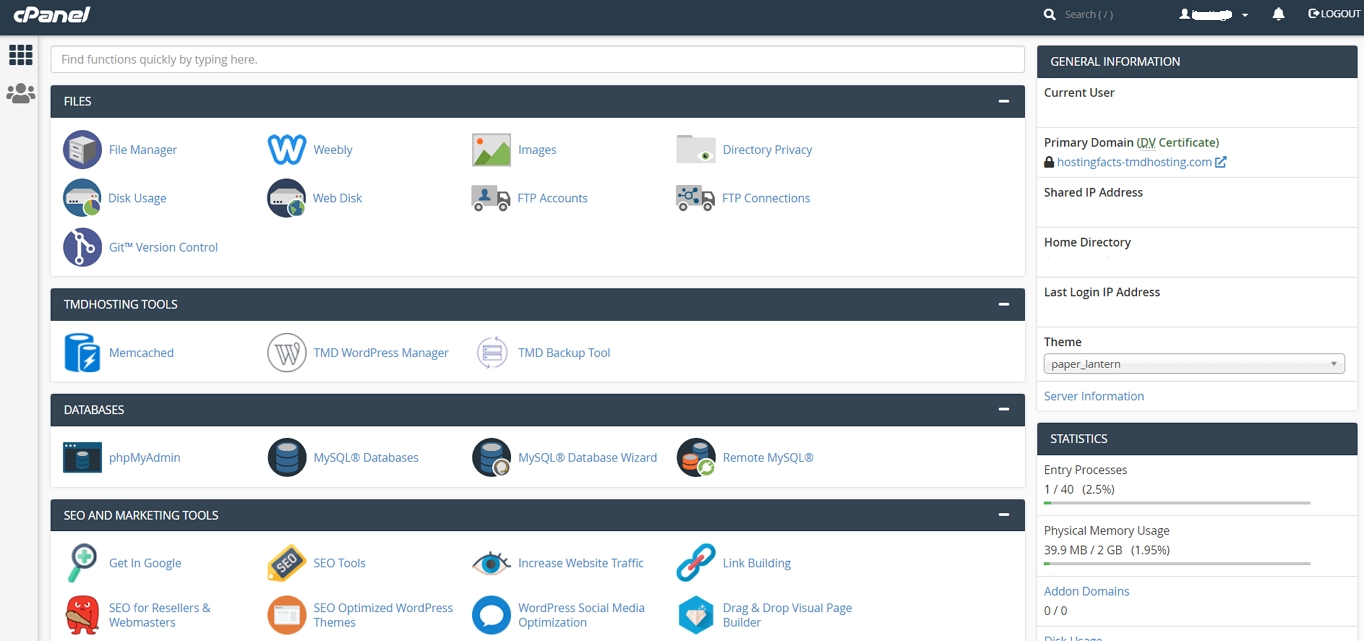 From the control panel, you can manage your domains, email accounts, check your site's statistics, and do all other things related to hosting a website. You can also access and manage your daily free backups from the cPanel. In case you want to double the number of backups, you can purchase The Personal Daily Backup from the Client Area and access it via FTP.
Overall, TMDHosting's control panel is easy to use and you shouldn't have any problems navigating around.
8. Multiple Datacenters
TMDHosting has several data centers around the globe: the US (Chicago and Phoenix), London, UK, Amsterdam, Singapore, Tokyo, and Sydney, Australia.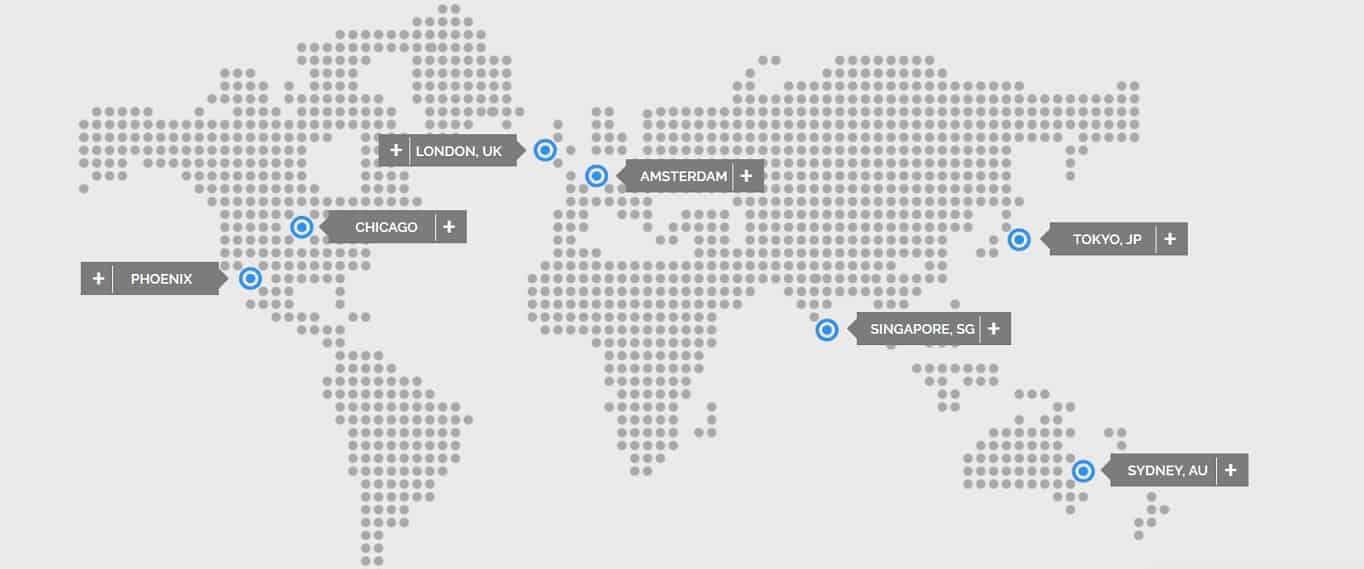 The selection of multiple datacenters is always a good thing because server location and your website's speed and uptime are strongly connected. It's always best to choose a data center closer to your physical location because this would also mean faster and more reliable website performance.
TMDHosting brags about having state-of-the-art data centers. Their network is handled by the top-of-the-line Juniper, Cisco, and Dell edge routers and aggregated through Cisco and Juniper switches. All TMDHosting's servers are based on Supermicro rack-mountable servers and are powered by the most power-efficient Intel processors available on the market.
Here are their server's minimum requirements:
Gigabit connectivity
BGP4 Gigabit connectivity to multiple Fiber GigE Tier 1 Backbones
Latest generation Intel processors
All-SSD Storage Arrays for maximum performance
Minimum 64 GB DDR4 ECC-Registered Memory
Solid State Drive Acceleration
Pretty good, right?
9. Good Uptime (99.93%)
TMDHosting promises 99.99% uptime, but that's a pretty common claim in the hosting world.
The only way to get truly accurate uptime data is to measure it yourself. We typically do this by creating a test website on the service in question and measuring its uptime for a few months.
Over the past half a year, they have delivered an average uptime of 99.93% with 36 outages in total. This is a huge improvement since our last testing period when the uptime was below 99%.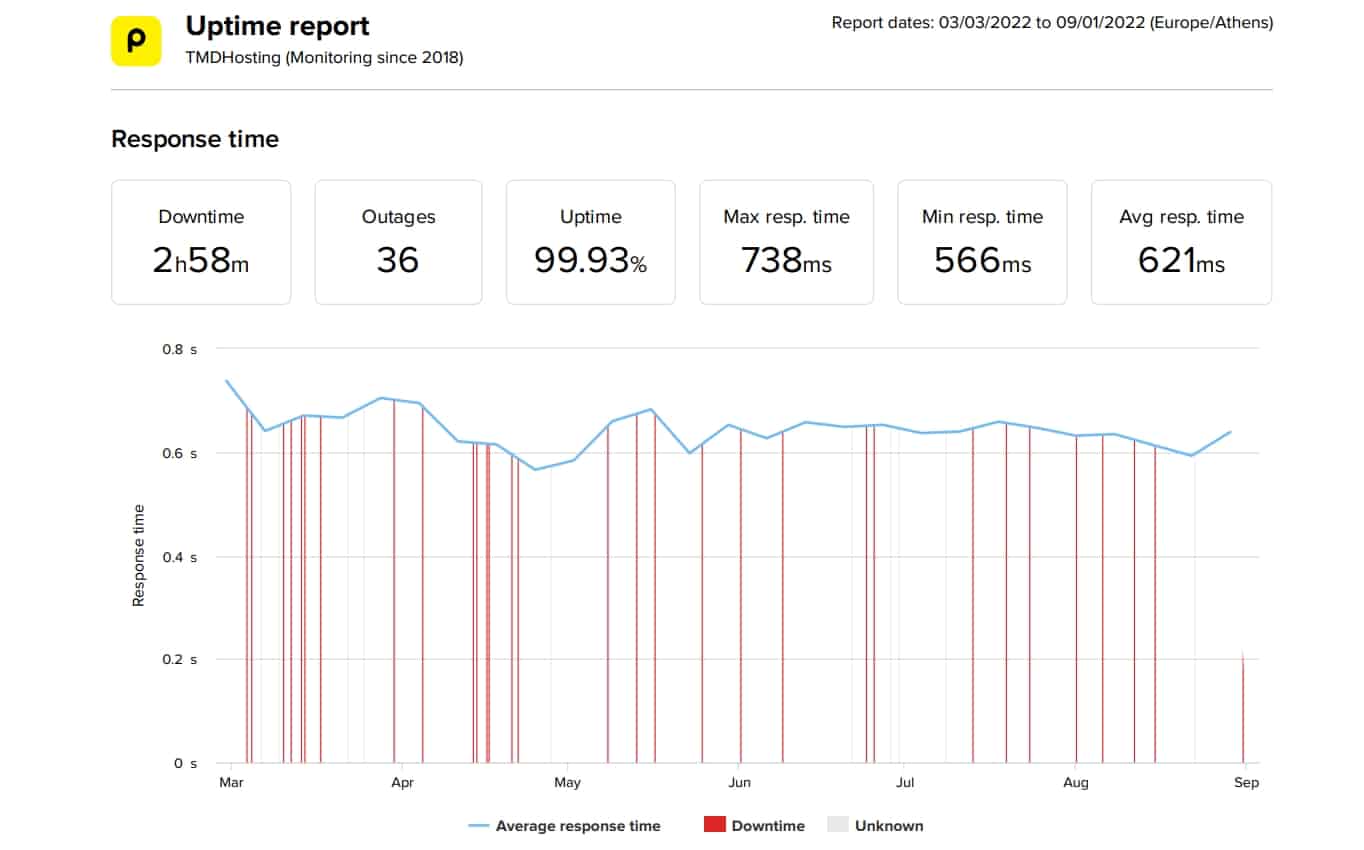 Last 6-month average uptime data:
August 2022: 99.98%
July 2022: 99.99%
June 2022: 99.97%
May 2022: 99.99%
April 2022: 99.97%
March 2022: 99.70%
Cons of Using TMDHosting
---
TMDHosting started out strong, delivering fast page loading times and having very responsive customer support.
However, there were some drawbacks.
Let's have a closer look.
1. Pricing is Not Transparent
There's a little bit of confusion with the pricing of TMDHosting's plans.
At first look, their cheapest plan clocks in at $2.95 per month. That's a great price point.
However, that's only available if you pay for 36 months upfront. After that, your renewal price goes up to $4.95 per month. That's a pretty big price hike that's not stated upfront.
And what if you want it for a shorter period of time? The shorter you go, the higher the pricing gets. Subscribing to TMDHosting's starter plan for only one month costs $8.95 per month, plus you would have to pay a setup fee of $9.95.

TMDHosting Pricing & Hosting Plans
TMDHosting has three different options for Linux website hosting. They are the Starter, Business, and Enterprise plans.
---
---
They also have three plans for Windows shared hosting. They go by the same names.
---
---
All of these plans come with a 60-day money-back guarantee. They accept credit and debit card payments, plus PayPal and bank transfers.
Quick Facts
Free Domain: Free.
Ease of Signup: Easy signup process.
Money-Back: 60-day money-back guarantee.
Payment Methods: All major Credit and Debit cards, PayPal, bank transfers.
Hidden Fees and Clauses: High renewal prices. If you sign up monthly, a setup fee applies.
Upsells: Few upsells.
Account Activation: Quick activation.
Control Panel and Dashboard Experience: cPanel.
Installation of Apps and CMSs (WordPress, Joomla, etc.): Quick installation for more than 400 apps.
Do We Recommend TMDHosting?
Not really. Here's why…
For starters, they have great customer service that helps people use their wide array of services.
It's incredibly secure and can serve as an all-in-one thanks to its ability to work with the Weebly website builder.
On top of that, they showed great results in the speed provided by their top-notch data centers.
However, there is one crucial downside, and it's TMDHosting's uptime that got our guards up. Even though they have hugely improved their uptime performance it's still a bit too unstable for us.
So, if you're willing to look past TMDHosting's flaky uptime, you should try it out. If not, then there are other, more reliable hosts out there.
---
Have you used TMDHosting before? Please consider leaving a review below — good or bad — doesn't really matter as long it's helpful to our visitors. Thanks for your support.