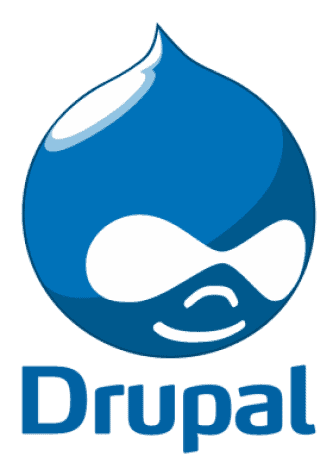 In this tutorial, I'm going to show you how you can create a simple Drupal website for your business or just for your personal use.
Once you have installed Drupal 7 to your web host, you'll have access to one of the most powerful open-source software programs on the planet. But there are some additions you can make to the basic installation to make your site stronger, more secure, easier to modify, and more versatile and fun.
Before going forward, I highly suggest you to get your own domain name (www.yoursite.com) and a hosting service that connects your Drupal website online. My recommendation goes for www.Bluehost.com – worth checking them out.
Without domain name and web hosting, you won't be able to set up your site for others to read and browse.
Changing site information
The first thing you may want to do is change the boring "My Site" title: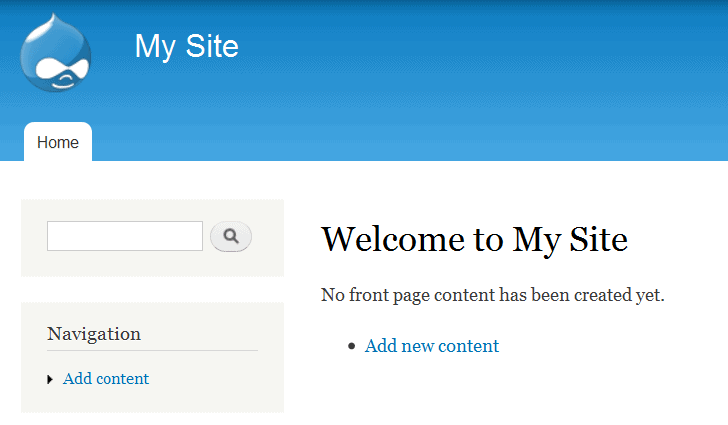 You can change this so your site name appears, and you can add a slogan as well. For example, here is a site called Golf Long Driving Tips. It looks like this: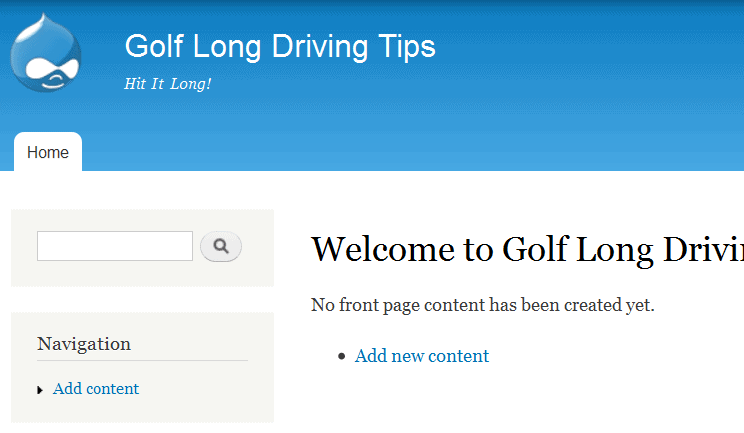 To change the site name, go to "Configuration" -> "Site Information". In the Site Name field, enter the name of your site. If you have a catchy slogan, you can type it into the Slogan field. This might be your tag line, catch phrase or simply some details that better explain what your site is all about.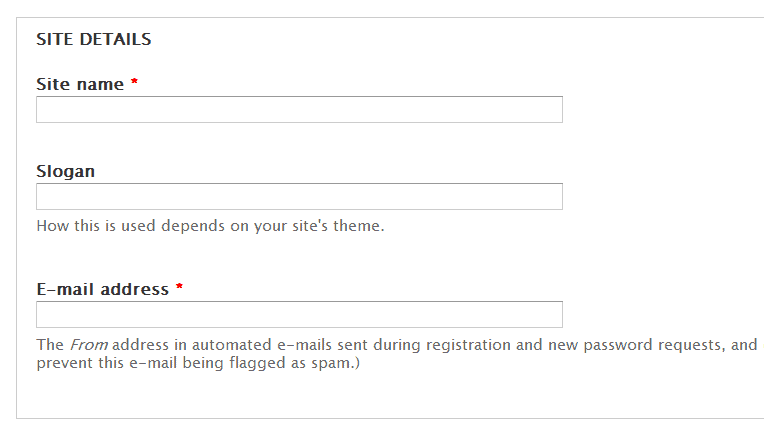 Make sure the email address you entered during installation is shown in the "Email field". Save all your changes and navigate back to the site home page—you may need to refresh the page to see the changes.
Changing/adding a new theme
You may want a different theme from the original theme that appears on installation. There are not many choices that come with the stock installation. To find additional themes from the Drupal site, navigate to the Appearance menu and then click Install New Theme. Click "Themes" and you will be taken to the Themes section at Drupal.org. Filter on Drupal 7 to find themes that work with that version. Quick tip: You can sort by Most Installed, Relevancy, Title and more.
For example, if you wanted the Mayo Theme, locate the link to the latest Drupal 7 version, and right-click it to copy the URL address. Back at the site, copy the address into the Install From a URL field box. Click Install. Then click Enable Newly Installed Theme, scroll down and click Enable for the Mayo Theme. Click Set Default to make it the current theme. Here is what it looks like: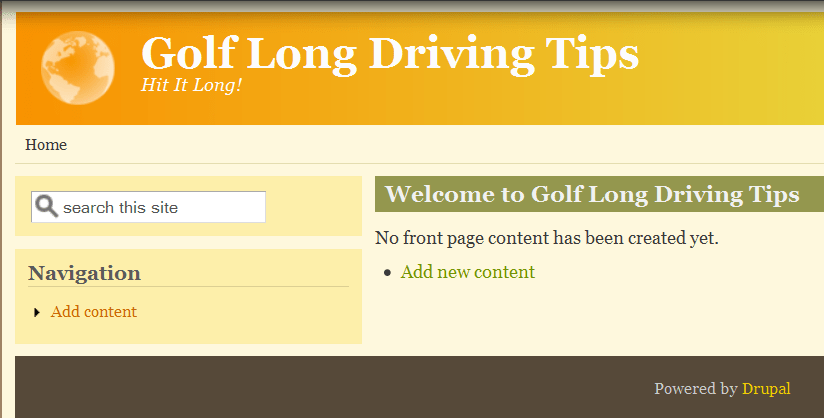 The Mayo Theme is versatile in that it has several different built-in colors and styles you can choose from. Here is another style.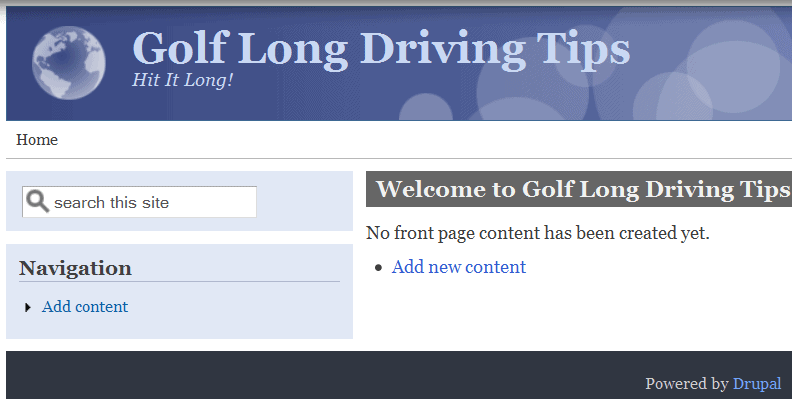 All changes for any theme are found in the "Settings" link located next to each theme. You may want to install and test several themes to see which one provides the look and feel you prefer.
Here's a great video that shows you how to install themes to your Drupal website:
Creating "About me" Page
Studies show that one of the most viewed web pages on every site is the About page. Web visitors intuitively want to know what a site is about and who is behind the scenes. In this section I'm going to show you how you can set up a simple page; such as About me. Simply navigate to "Content" -> "Add Content" -> "Basic Page". Type "About Us" in the title and add relevant information in the body.
To get the About page to appear in the main menu, under Menu Settings check the box Provide A Menu Link. Save the page and you should be able to see About Us in the main menu. To change the order of the items, navigate to "Structure" -> "Menus" -> "Main Menu". The items can be shifted around by grabbing the little crosses with the mouse and dragging them up or down.
Adding Contributed Modules
One of the Drupal's strengths is a loyal, dedicated and supportive community. They have contributed some excellent modules, often called "contrib modules," to the Drupal system for everyone to use. Here are the contrib modules I would add immediately to a basic Drupal 7 installation. You can find the contrib modules at:
https://drupal.org/project/project_module
Download the zip or tar file to your hard drive. Use your FTP client to upload them to the "sites/all/modules" directory of the Drupal installation on your webhost. Unzip the files. Then go to the Admin/Modules section to enable the new modules. Here are the ones I would choose:
Admin Menu Module
First, turn the existing "Toolbar" off. Then activate the Admin Menu module which gives you cool drop-down menus of the entire admin area. This one module will save you a ton of time as it saves you from having to load a ton of pages to get to the single admin function you are looking for.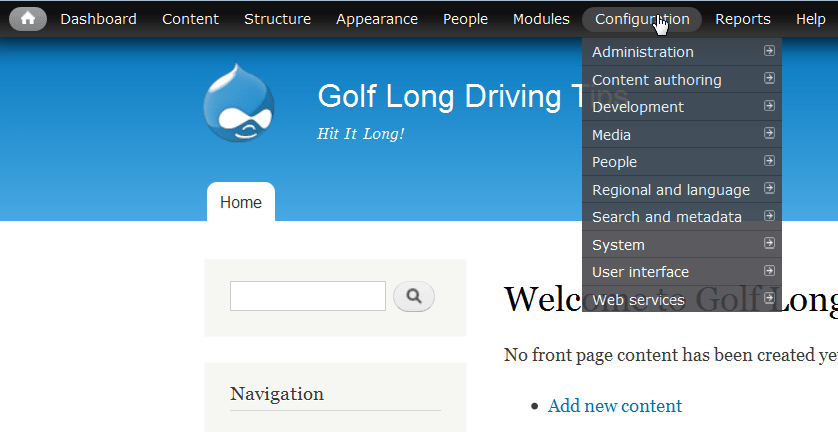 CKEditor Module
Drupal does not provide a default WYSIWYG text editor. WYSISYG stands for What You See Is What You Get, which provides a visual HTML textarea editor, similar to popular word processors, making text more visually appealing and easier to format. CKEditor is a popular solution to get WYSIWYG functionality. It was recently improved to be faster and easier to use. To make CKEDitor work, after you install the Drupal module, you must also download the standalone CKEditor from download section at CKEditor.com. Then unpack those contents into the sites/all/modules/ckeditor/ckeditor directory on your Drupal site.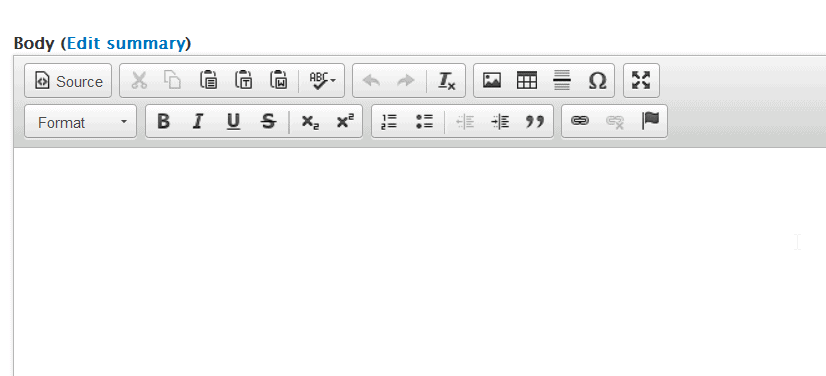 IMCE Module
IMCE helps you add images to you posts. It is a browser and uploader that worked with CKEDitor text editor. After installing IMCE and enabling it, go to "Configure –> Content Authoring –> CKEditor –> Profiles –> Advanced –> Edit –> File Browser Settings". Then select IMCE from the dropdown menus for the link dialog window, image dialog window and flash dialog window. Save the settings.
Pathauto Module
Drupal's built-in Path module lets you create better URLs by hand. Pathauto relieves the drudgery of doing this on every post, especially if you are working with end users who may neglect this. You can assign custom replacement patterns and user account page paths so the URLs match your SEO and usability standards. However, Pathauto requires the Token module.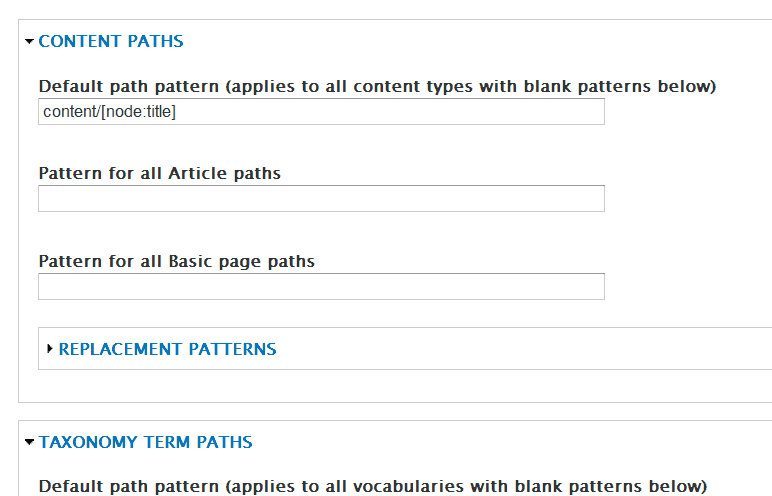 Token Module
Tokens are little sections of text that are placed via a placeholder system. With Drupal 7, much of the functionality of the Token module has been written into Drupal core, but some module still requires it.
Views Module
Drupal 8 is the next version Drupal 7. Views has been incorporated into Drupal 8, but is a great addition for any Drupal 7 installation. Views lets you display content in a variety of forms, from simple lists to image slideshows. Views is a little more complicated than other modules, but after working with it a little, you will get a sense of its power and possibilities. Views for Drupal 7 requires you to also add the Chaos Tools Suite module.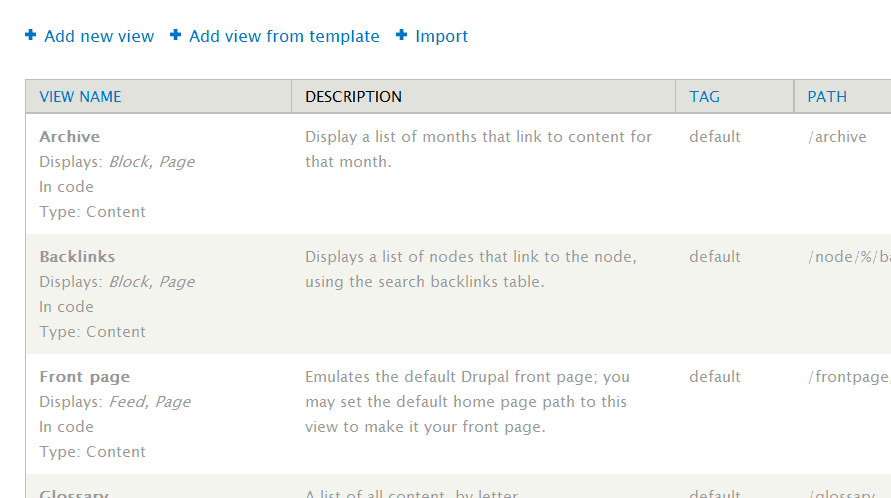 Chaos Tools Suite Module
Chaos Tools Suite, also known as Ctools, is required to use the Views module. However, it also has some very useful features on its own. With Ctools, you can start to create your own modules if you wish. You can also create forms, dialog boxes, sanitize CSS, and create pluggable content types and more.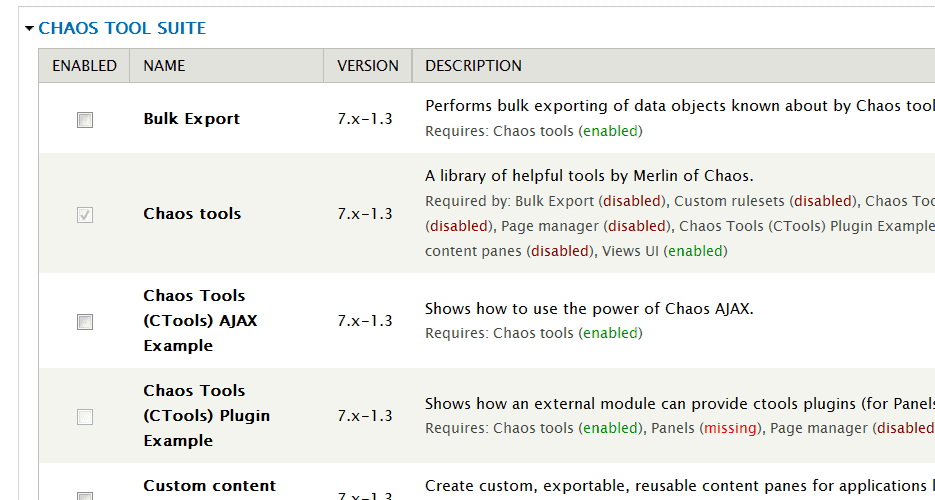 Quicktab Module
Ever see those cool tabbed boxes on the big websites that list recent and popular content? Quicktabs creates great tabbed views, nodes and blocks quickly and easily without writing custom JavaScript.
After installing and enabling the module, you'll find a Quicktabs selection under the Structure menu.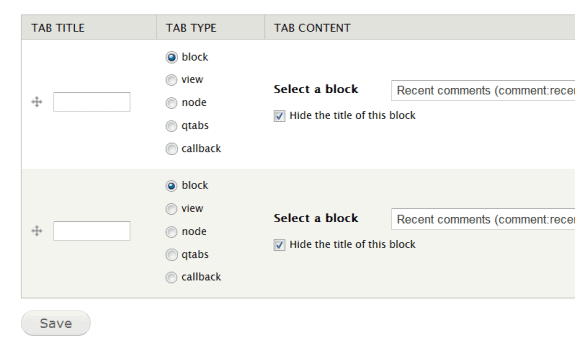 Blocks
Now that you have some key "contrib modules" in place, you may want to add a sidebar with some "Blocks" of different features. Navigate to Structure à Blocks. A Block is a box in a sidebar that has different types of content available. Look at the list and you'll see some Blocks marked Disabled.
One popular piece of content you see on many site is Recent Content. To add this content, locate the Recent Content block, and look across to the Region column. Choose the Region where you want the content to be located. When adding a Block, you can designate where you want it to appear—there are several Regions to choose from such as a sidebar on the left called Sidebar First. The Regions available vary by theme, although sections such as Sidebar First or Header are very common.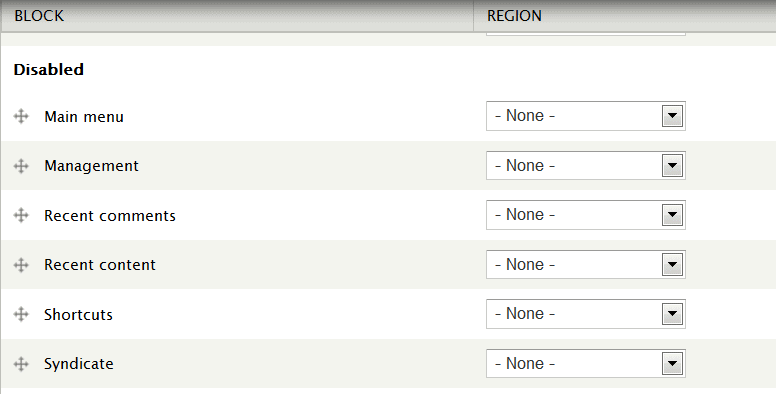 Save the Blocks page and navigate back to the front page. Now add some content. Click Add New Content, click Article and add a title, fill in pertinent tags and add text to the body.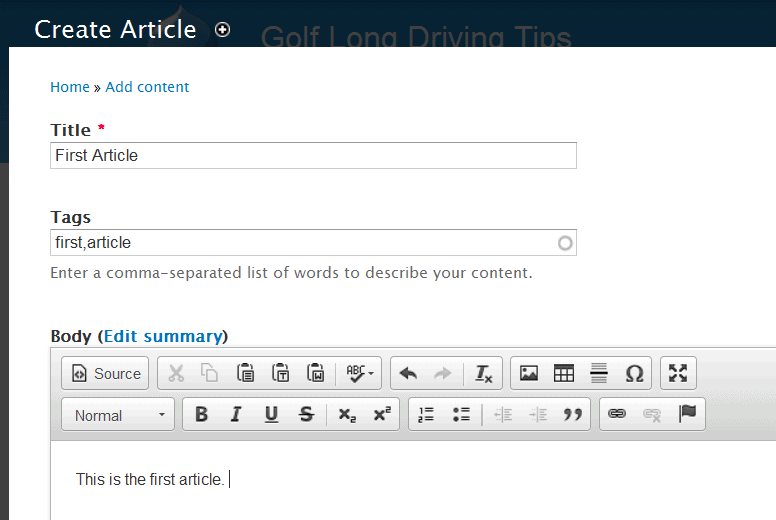 Save the article and navigate back to the main site. You'll see your article appear as well as the block with Recent Content.
Misc & Resources
These tips should provide a nice foundation to get you up and running on your new Drupal site quickly. Drupal takes some patience. It is extremely powerful, but learning to take advantage of all the cool features takes time. Take the opportunity to test and try different modules, themes and views. You learn by playing around. Don't forget to back up your database and files often, and enjoy working with Drupal.
Additional resources below:
If you have any questions or need personal support/help, feel free to email me: robert@websitesetup.org