If you're looking to build your first website using Drupal, you've come to the right place – I'm going to show you exactly how to do that.
In case you haven't heard, Drupal is one of the most powerful website building platforms on the internet. If you can harness its power, you'll have a website that is fast, efficient and looks amazing.
It's a bit complicated to set up your site with Drupal – especially if you're a beginner.
Before building a website with Drupal, we recommend you have some basic knowledge of HTML, PHP, and other common web programming languages. You don't need to be an expert, but it's a HUGE plus if you can troubleshoot error messages and identify code problems.
Here's another thing to keep in mind: If your website picks up steam and evolves, you'll need to bring on some technical expertise to make sure it runs smoothly.
Aside from these two challenges, there are some big benefits of building a website with Drupal.
3 Benefits of Building a Website with Drupal
Improved performance. Drupal pages typically load more quickly and have faster response times than those made with other website builders. That's because Drupal is less resource-intensive, requiring a less expensive server or hosting setup.
Highly customizable. Have a specific vision for your site? With Drupal, you can achieve it! It's easy to customize with many widely available plug-ins, themes and other configurable options to choose from. You can also edit the root files directly which is perfect for those developers who need to make more significant changes.
Free. The Drupal software is free to download and install on your hosting server. It's perfect if you're bootstrapping your business or just trying to save some money.
All of this sounds nice, but how do you actually get down to the nitty-gritty and build the website?!
We've put together a step-by-step guide to do that. Whether you're a beginner or a tech-savvy veteran, this guide will help you build your website on Drupal.
How to Build a Website on Drupal: The Step-by-Step Guide
---
Step 1. Get Your Own Domain Name
Before you can build a website, you need a solid domain name.
Your domain name is the key element of your website. It can make or break you.
It's your "first impression" to the website visitors, it affects your SEO, and it also defines your brand.
How do you choose the right domain name?
We cover that in-depth in this post: How to Choose a Domain Name
Here are a few tips to get you started:
Keep it concise. When it comes to the length of your domain, the shorter the better (aim for 6-14 characters).
Think long-term. Keep your long-term vision in mind when choosing your domain – because if you decide to change the domain in the future, it will cost you money, branding, and SEO rankings.
Easy to type and pronounce. Your visitors should be able to type and say your domain name without a problem.
Avoid hyphens and numbers. Your domain name should be smooth and punchy, hyphens and numbers get in the way of that.
Here's how to register a domain name.
Step 2. Get a Web Hosting Service
Aside from a domain name, you'll also need a hosting service.
When choosing a hosting service, you should consider 4 big factors:
1. Uptime. Uptime percentage shows how much time your site will be up and running. We recommend that you choose something that meets or exceeds the industry standard of 99.90%.
2. Page load speed. You should choose a host that loads faster than 850ms, which is the current average.
3. Customer support. You'll have to sort out issues with support at some point – you should choose a host that has a good-quality and responsive customer support.
4. Price. Hosting services vary widely on price. Choose the one that you can afford and also that has satisfactory ratings on the first 3 factors.
For finding best web hosts, visit HostingFacts.com
Step 3. Download and Install Drupal
Downloading and installing Drupal is a fairly straightforward process. You can find step-by-step instructions on how to do it on the Drupal website here.
If you're using Bluehost or any other hosting provider with 'one-click-installation', you can find a guide here: How to Install Drupal and Bluehost (just scroll down a bit and you'll see the instructions for installing Drupal).
Step 4. Choose a Compelling Title for Your Site
Now it's time to dive into Drupal and start building your website.
When you get started with Drupal, you'll have the boring, "My Site" title.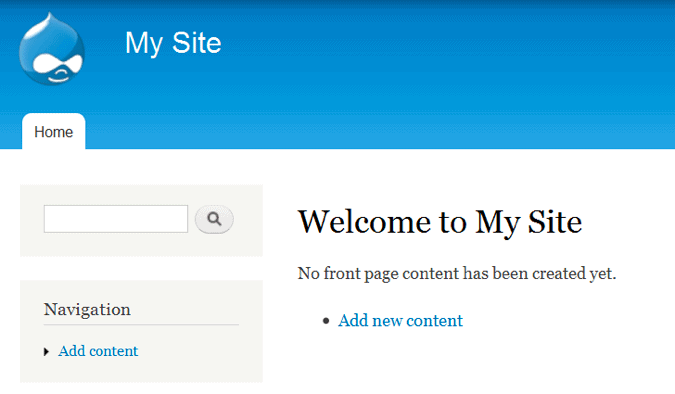 You should change this to the name of your site, and add a compelling slogan underneath it as well.
To change the site name, go to "Configuration" -> "Site Information". In the Site Name field, enter the name of your site. If you have a catchy slogan, you can type it into the Slogan field. This might be your tagline, a catchphrase or simply some details that better explain what your site is all about.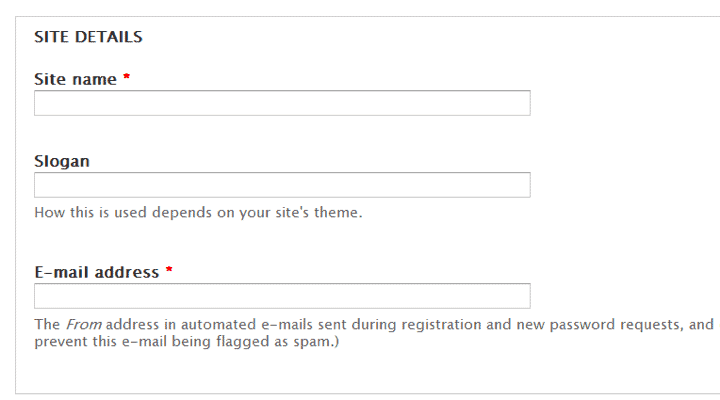 Make sure the email address you entered during installation is shown in the "Email field". Save all your changes and navigate back to the site home page—you may need to refresh the page to see the changes.
Step 5. Choose an Eye-Catching Theme
The original Drupal theme is a bit bland – you may want to switch it up.
Here's how you can find additional themes from the Drupal site:
Navigate to the "Appearance" menu
Click "Install New Theme"
Click "Themes" and you'll be taken to this page with over 2,300 themes to choose from
With so many themes, you may be a bit overwhelmed. How do you choose?!
You should consider these factors when selecting a theme for your site:
Ease of customization. This is important depending on the level that you want to customize your site. Ideally, you'll find one that requires limited coding, makes it easy to update content, and also to reposition elements on each page.
Responsive. Your theme should look good on all devices – tablets, laptops, phones, etc. In today's age of high mobile usage, responsive design is a necessity.
Your design vision. Your theme should allow you to fulfill the vision of your site's design.
Simplicity. Simplicity is the ultimate sophistication. If you look at some of the most profitable and popular websites on the web, you'll find that most are quite simple. By simplicity, we mean that your visitors should easily be able to navigate your site, find the information they need and achieve their goals of visiting your site.
What if you're not a coding expert? No problem – there are plenty of themes that won't require you to touch a line of code.
You can check out these 8 recommended themes for Drupal beginners.
Check out this video to find out how to install a theme in Drupal:
Step 6. Create an Informative "About Me" Page
Your "About Me" is likely to become one of the most useful and popular pages on your blog.
It's where visitors will go to find the "behind-the-scenes" info about you, as well as learn more about your website. Therefore, you need to make sure this page is optimized and compelling.
We'll talk about how to write the page in a second. First, let's talk about how to set up the page:
Simply navigate to "Content" -> "Add Content" -> "Basic Page
Type "About Me" in the title and add relevant information in the body.
To get the page to appear in the main menu, check the box "Provide A Menu Link" under Menu Settings. Save the page and you should be able to see About Me in the main menu.
To change the order of the items, navigate to "Structure" -> "Menus" -> "Main Menu". The items can be shifted by grabbing the little crosses with the mouse and dragging them up or down.
You can create other simple pages on your website with the same process.
How can you create a compelling "About Me" page?
First, you should understand that readers don't really care about you (it's a bit harsh, but it's true). However, they do care about how you can help them.
Hence, before you start writing the "About Me" page, think about what value you add to your website visitors.
With this in mind, you should include:
Who your website is for
What will people learn from it
The purpose of your website
A short bio of you/your business
Links to popular posts/content
A call-to-action to subscribe via email
You can also draw some inspiration from 12 of the best "About Me" pages on the internet.
Step 7. Add Contributed Modules
Drupal has a loyal, supportive community. One of the benefits of that community is that they contribute excellent modules to the Drupal system.
You can find the whole list of the contributed modules here: https://www.drupal.org/project/project_module.
Here's how you can add modules:
Download the zip or tar file to your hard drive.
Use your FTP client to upload the files to the "sites/all/modules" directory of the Drupal installation on your web host.
Unzip the files.
GO to the Admin/Modules section to enable the new modules.
Similarly to themes, there are many modules to choose from.
Here are the ones we recommend you to add immediately to a basic Drupal 7 installation:
1) Admin Menu Module
With the default "Toolbar", you'll waste time loading a ton of pages just to get to a single admin function.
You can avoid this with the Admin Menu Module. This module gives you cool drop-down menus of the entire admin area.
Simply turn off the existing "Toolbar", then activate the Admin Menu Module.
2) CKEditor Module
Drupal does not provide a default WYSIWYG text editor. WYSISYG stands for What You See Is What You Get, which provides a visual HTML text area editor, similar to popular word processors. This makes the text more visually appealing and easier to format.
Here's how to make this module work:
Install the Drupal Module, and download the standalone CKEditor from the download section at CKEditor.com.
Unpack those contents in the sites/all/modules/ckeditor/ckeditor directory on your Drupal site.
It's as simple as that!
3) IMCE Module
Every post looks better with images – that's where this module becomes handy. It helps to add images to your posts.
Here's how to make this module work:
Install and enable IMCE.
Go to "Configure –> Content Authoring –> CKEditor –> Profiles –> Advanced –> Edit –> File Browser Settings".
Select IMCE from the dropdown menus for the link dialog window, image dialog window, and flash dialog window.
Save the settings.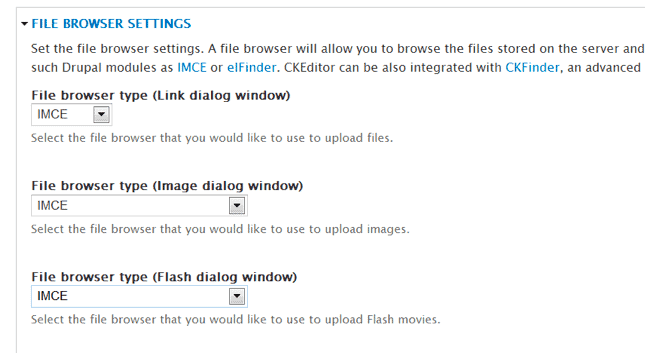 4) Token Module
Tokens are little sections of text that are placed via a placeholder system. With Drupal 7, much of the functionality of the Token module has been written into Drupal core, but some modules still require it, like the Pathauto module:
5) Pathauto Module
Drupal's built-in Path module lets you create better URLs by hand. This is annoying to do manually for every post, and Pathauto relieves that drudgery.
You can assign custom replacement patterns and user account page paths so the URLs match your SEO and usability standards. Remember: Pathauto requires the Token module.
6) Views Module
Drupal 8 is the next version Drupal 7. Views has been incorporated into Drupal 8, but it's a great addition for any Drupal 7 installation. Views lets you display content in a variety of forms, from simple lists to image slideshows. This way you will keep things interesting for your audience.
It's a little more complicated than other modules, but after working with it a little, you will get a sense of its power and possibilities. Views for Drupal 7 requires you to also add the Chaos Tools Suite module, which you'll see below.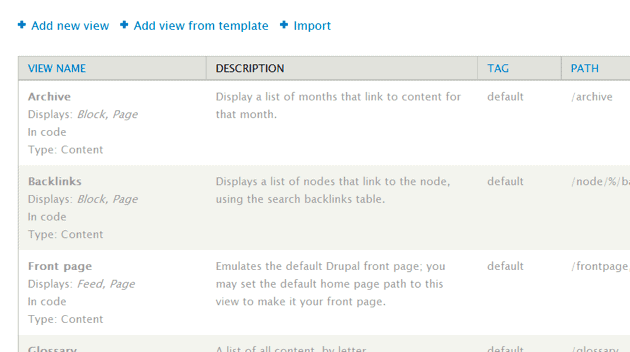 7) Chaos Tools Suite Module
Chaos Tools Suite, AKA Ctools, is required to use the Views module. That's not the only reason you should get it.
It also has some useful features of its own. For example, you can start creating your own modules, as well as forms, dialog boxes, sanitize CSS, pluggable content types, and more.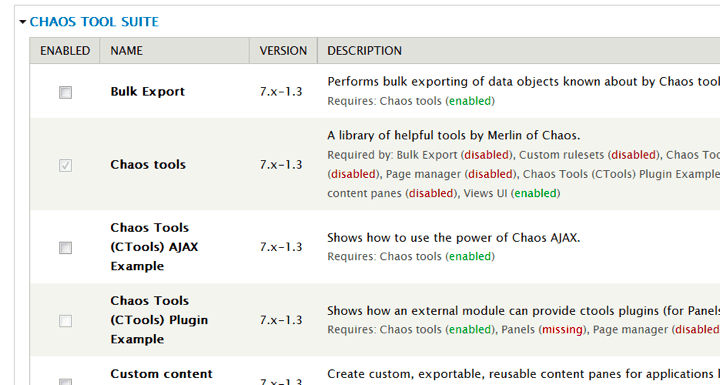 Quicktab Module
Have you ever seen those cool tabbed boxes on the big websites that list recent and popular content? Quicktabs creates great tabbed views, nodes and blocks quickly and easily without writing custom JavaScript.
After installing and enabling the module, you'll find a Quicktabs selection under the Structure menu.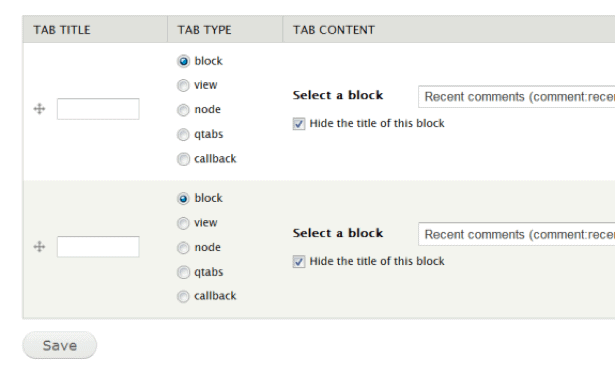 Step 8. The Blocks
Once you have the key contributed modules in place, you may want to add a sidebar with "Blocks" which comes with different features.
Blocks are the boxes of content (such as "User Login" or "Who's Online") that can be displayed in the header, footer, sidebar, and other regions on your page.
Once you create a Block, you can adjust its appearance, shape, size, and position, as well as which website page it appears on.
Here's a type of Block content you might want to add: Recent Content.
Here's how you add it:
Navigate to Structure Blocks. You'll see some Blocks disabled here.
Locate the "Recent Content" Block and look to the Region column.
Choose the region where you want the content to be located (there are several regions to choose from, they vary by theme).
Save the Blocks page and navigate back to the front page.
To add content, click Add New Content, click Article and add a title, fill in pertinent tags and add text to the body.
· Save the article and navigate back to the main site. You'll see your article appear as well as the block with Recent Content.
Step 9. Consider Other Resources
The first 7 steps will give you a solid foundation for building a website on Drupal.
Keep in mind – while Drupal is powerful, it takes some patience to harness that power. The learning process takes time – the best way to learn is to play around with the tools and the system.
Therefore, back your database up often and have some fun working with Drupal!
Here are some additional resources to help you get started:
Conclusion
Follow these steps and you'll get the most out of the Drupal website builder. Following this guide, your site will load faster, be easier to customize, and less expensive to set up.
Do you still have questions or need personal support/help? Feel free to email me: [email protected]
Have you tried to set up a website with Drupal? What roadblocks did you hit along the way? Let us know in the comments below!