When looking for the best PHP scripts online, it's easy to get overwhelmed. There are a lot of different offers out there often with large libraries of products.
Yet, ready-to-use PHP scripts are one of the easiest ways to add functionality to your site, from contact forms to shopping carts. So, in order to make it easy for you to find what you need, in this post we will go over six of the best directories for PHP scripts out there and what they have to offer.
6 Best PHP Script Directories
---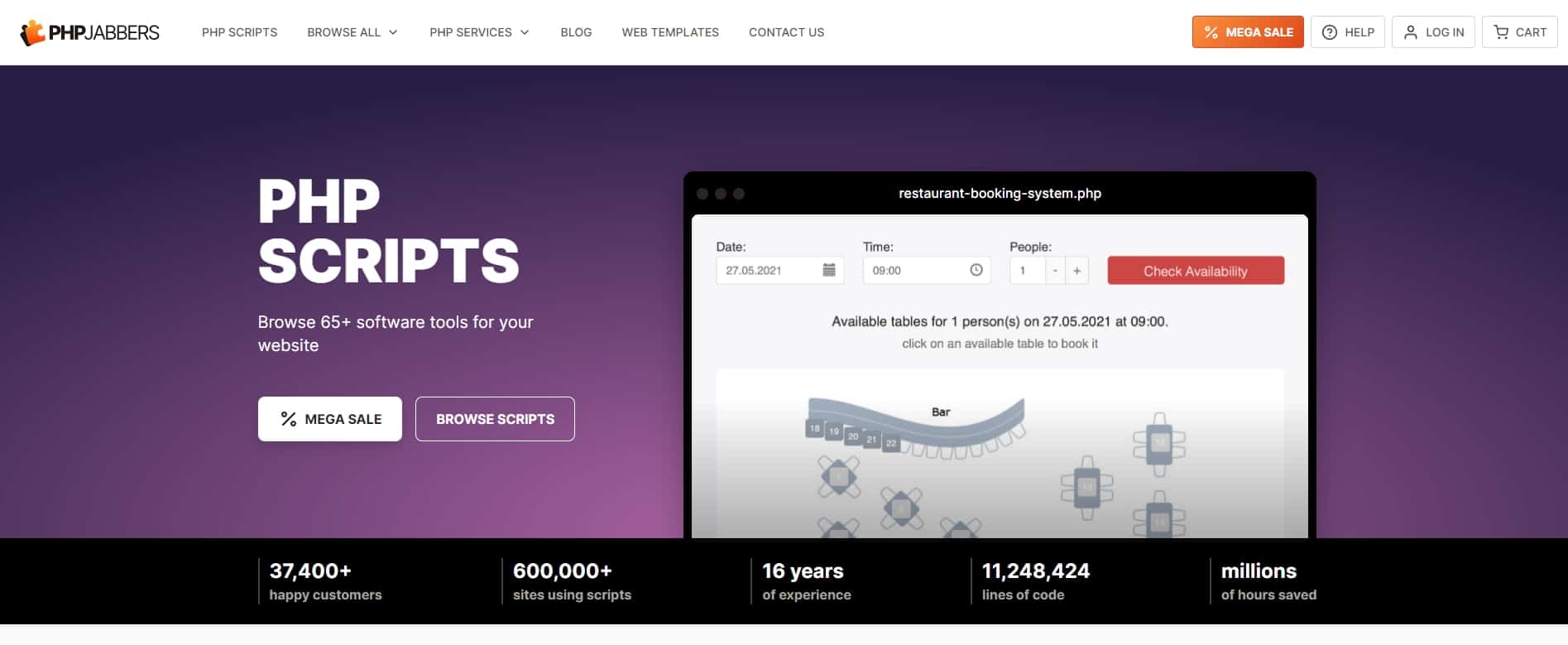 PHPJabbers is a provider of web development services and solutions based in Bulgaria. They serve clients from all over the world and have been around for 10+ years.
Their site offers a large library of more than 65 PHP scripts. These span from booking applications over content management, and e-commerce to calendars and polling scripts.
Prices range from $4.29 to $129. You can also get all 65 scripts in a bundle together for $299. This comes out as $4.29 per script, so it's a pretty good deal. Especially since you get a 30-day money-back guarantee together with it. If you want to test drive their work, you can take a crack at their free scripts first.
Top 3 Scripts on PHPJabbers
The website focuses a lot on e-commerce scripts and booking modules so it's no wonder that their top scripts are coming from these areas. Most also include support for installation and you can check live demos to see what the end product will look like. The two different prices mentioned are for normal and developer licenses respectively.
Food Delivery Script ($79/$129)– An online ordering system for takeout restaurants. It allows you to create a menu, set up food categories and lets your customers choose choice between pickup and delivery. The script also comes with email and SMS notifications, different payment options, the ability to create vouchers, and more.
Appointment Scheduler ($69/$122) — This Allows you to add an appointment calendar to your website where clients can self-book time slots. It's mobile responsive, comes with different color schemes out of the box, and can automatically update timesheets and availability for you and your staff. You also get detailed reports and the script sends confirmation and reminder messages to both you and your clients.
Simple CMS ($19/$29) — If you are not using WordPress, you can also go for this PHP-based content management system. It comes with the TinyMCE content editor, allows file uploads, logs all site changes, includes the ability to back up your site, set user permissions, include multiple languages, and more.
Next up we have this online shop that sells all sorts of digital products. From WordPress themes and plugins, over-stock images, music, and videos to fonts and logos — there is very little you can not buy.
They are also a big fish in the PHP scripts pond with more than 3,000 available. Their offers cover many categories: social networking, shopping carts, forms, loaders and uploaders, calendars, navigation, etc. The shop also has detailed filter options to help you find what you are looking for. Prices range from just $6 to several thousand.
Top 3 Scripts on CodeCanyon
To help you quickly find your way in the wide range of products that CodeCanyon offers, here are three of their best-selling and/or best-rated PHP scripts. Prices are for a regular license. You can also always have a look at the live preview or demo for each product.
TASKLY ($19) — Keep on top of work with this project management tool. It offers a slick dashboard that helps you visually get an overview of your projects. Create shared and individual workspaces, set up and assign tasks, and attach important files to projects. TASKLY also allows you to create PDF invoices and even comes with payment options for clients for completed work.
Instant Blog ($39) — Quickly create a simple blog, Facebook Instant Articles, or Google AMP pages. Features include mobile responsiveness, support for categories, auto embeds, social logins, translations, ad management, and more.
Themeqx Advanced Classified Ads CMS ($49) — PHP-based CMS to create classified ads. It has different themes available, can integrate YouTube and Vimeo videos, and accept payment for ads and other monetization options.

This shop is similar to CodeCanyon. You can buy many different products from themes and plugins for different CMS to interfaces and app templates. However, it also offers over a thousand PHP scripts for many different purposes.
The most expensive goes for $650, the cheapest for $4. They also sometimes offer free scripts as part of their free files of the week offer, so be sure to check that out.
Top 3 Scripts on Codester
So, what can kind of PHP scripts can you get on Codester? To give you an impression, here are some of their top products. Again, the prices given are for a regular license. Be sure to check out the live demos for any PHP scripts you are thinking of purchasing.
PHP Contact Form Script ($9) — A simple but feature-rich PHP form. It's responsive, translatable, and stylable. The form also comes with built-in spam protection via CAPTCHA or honey pot. It supports file attachments, can send to multiple recipients, and also send auto-responses.
PHP Easy Lock ($10) — A very simple but effective script to lock down web pages from access. It's responsive, offers several skins, and you can activate it with just one line of code.
Short-Zero ($29) — This is a PHP script to shorten URLs and earn money by offering it as a service. It has an admin portal with a user, ad, campaign, and rate management as well as detailed reports. The script is easy to install and customize.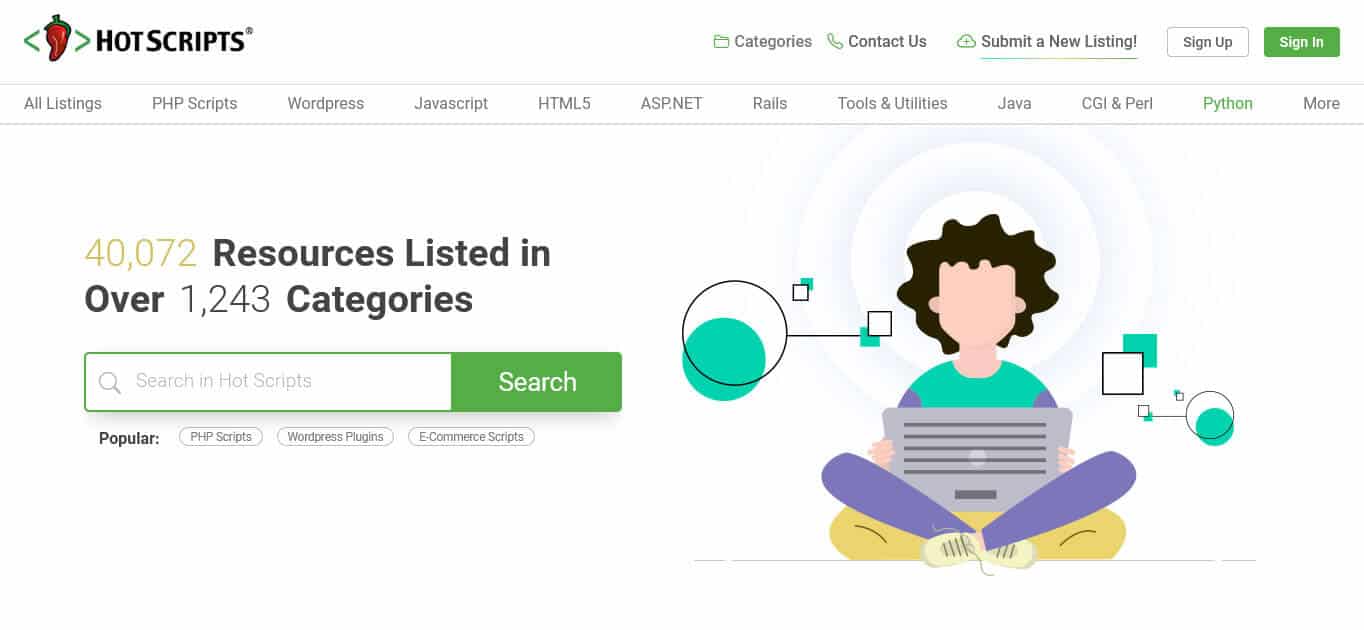 Another purveyor or PHP scripts and other digital products. There are more than 40,000 products listed on their site at the time of this writing. You can find almost 9,400 results under Scripts & Programs in the PHP category covering a vast array of applications.
The shop has a lot of free options so be sure to check that out. It even allows you to filter search for only free items and the kind of user license you get for it.
Aside from that, the price range for PHP scripts is from a few dollars to a few hundred. Yet, you really have to dig through the categories to find what you are looking for. Alternatively, try the search function if you already know what you want.
Top 3 Scripts on HotScripts
Overall the site search function could be a bit better. It's not always easy to find scripts that are up to date but here are some that caught our eye.
PHP Web Statistik (6.99 EUR) — First, we have this visitor-tracking script similar to Google Analytics. Find out how many visitors come to your site, where they come from, the technology they use to access your site, and a lot more.
phpMySQLAutoBackup (Free) — Next up is this simple automatic backup option for MySQL databases. It automatically exports and zips up your database. In addition, it can send it to your email address or back it up to a remote FTP server. The script also lets you customize what parts of your database you want to back up.
Zoom Search Engine (Free for personal use) — Finally, add this script to your website to offer site search to your visitors. You can also use it as a search engine for an intranet and it offers many ways to refine search parameters, has search suggestions, reports, and can deal with different languages.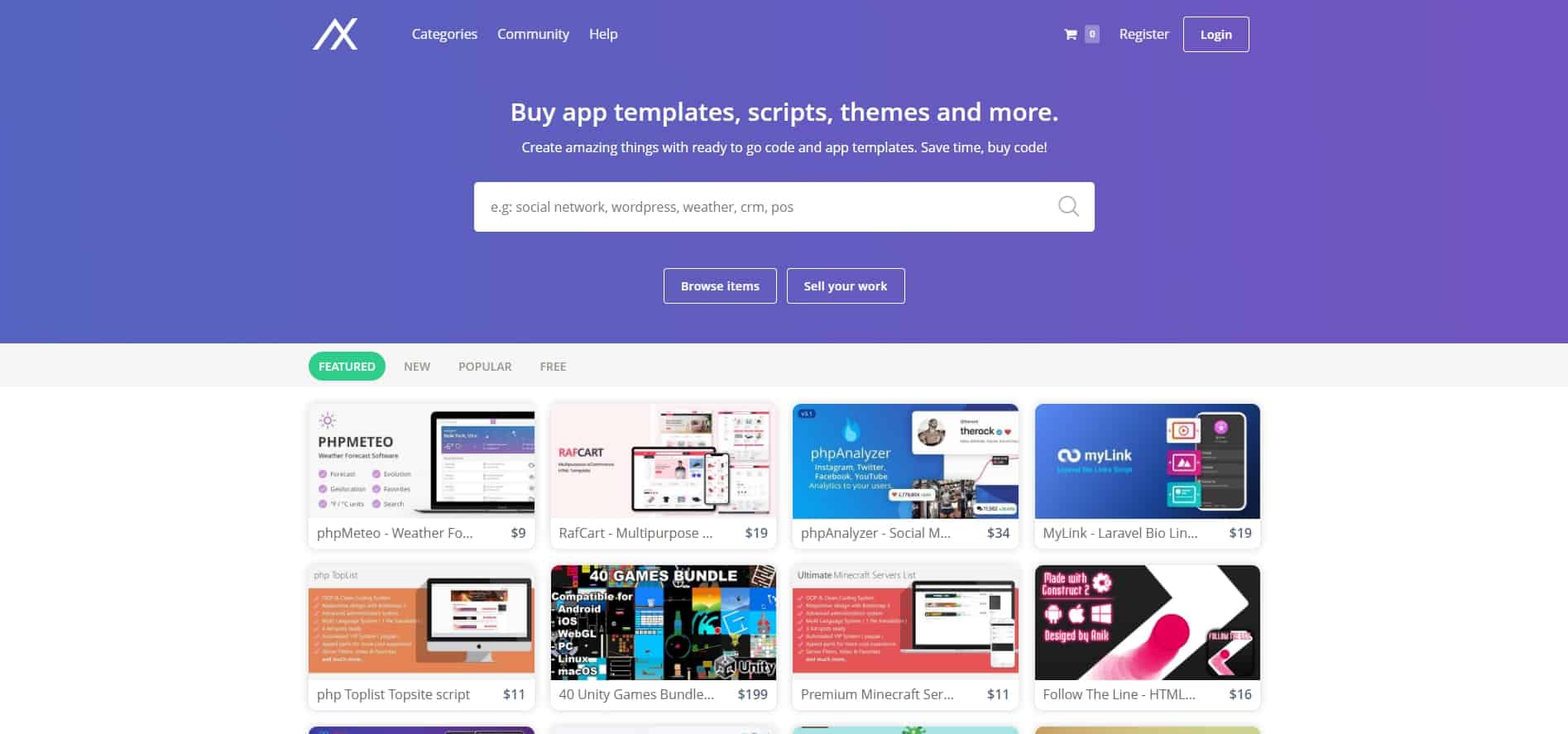 This entry is a digital marketplace selling everything from website templates and plugins to in-browser games. It does not have quite as much on offer as other entries on this list, about 550 products altogether. When you search for a PHP script, you get more than 500 results with prices ranging from free to $349. You can get two-factor authentication scripts, downloaders for TikTok videos, and more.
Top 3 Scripts on Alkanyx
Here are a few scripts on Alkanyx that are worth looking at:
WeCare ($25)– This Allows you to create a donation site. Create causes, pages, and start collecting donations. Be sure to check out the demo, the Bootstrap-based user interface looks pretty slick.
uBusinessDirectory ($95) — Build your own business directory with this PHP script. Its business profiles feature contact info, business description, map links, and more. It can also integrate Google Maps, supports multiple languages, and a lot more.
Btest (Free) — A very small browser testing tool that can check browser compatibility with CSS3 and HTML5. Works with all major browsers and is free to use.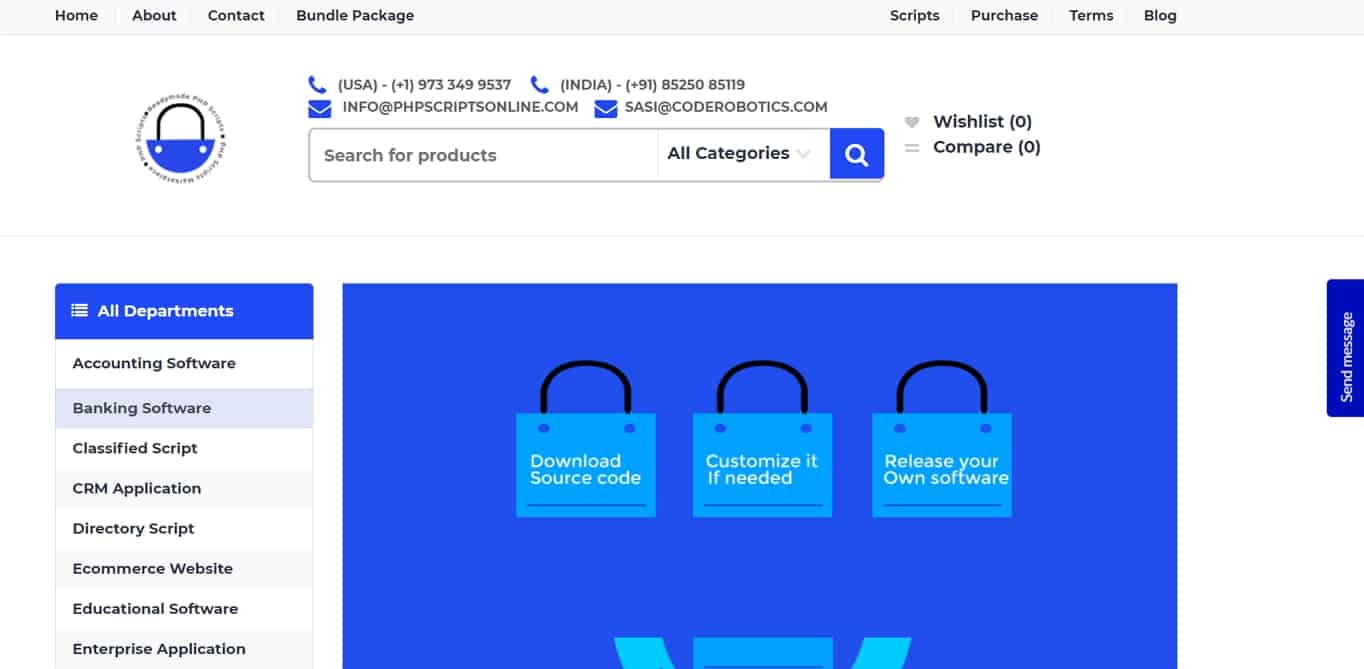 The final entry on our list of best sources for PHP scripts is the website and shop of a web development company based in India. As the name suggests, they deal exclusively in PHP scripts and they have 250+ of them in-store. Functionality covers the areas of e-commerce, online booking, accounting, banking, and more. There are even some WordPress plugins.
You can find some free scripts, otherwise, the cheapest paid script costs $45, the most expensive $550.
Top 3 Scripts on PHPScriptsOnline:
Some scripts to look forward to on PHPScriptsOnline:
Multivendor Ecommerce Script ($150) — Want to build the next Amazon.com? Maybe this script can help. Build a multi-vendor store and invite others to start their own shops on your site. Features: mobile responsiveness, different themes, marketing options, online payment integrations, etc.
Restaurant POS Script ($120) — Complete point-of-sale system for restaurant businesses. Manage inventory, sales, purchases, and more. Take advantage of reporting, accounting, and staff management functionality. In addition, you can use this for one or more locations.
Budget Planner Script (Free) — Finally, a free PHP script for planning and managing your finances. Keep track of your income and expenses in an interface built with Bootstrap.
What is PHP (And Why Use It)?
Before getting into the nitty-gritty, let's quickly go over some background information on PHP. The first thing you should know is that it's an open-source programming language. To be more exact, a server-side scripting language.
The first part means that it is processed on the webserver, not in the browser. This differentiates it from client-side languages such as JavaScript. A scripting language, on the other hand, simply means that it can be interpreted right away without having to run through a compiler.
Benefits of PHP
Some of the most popular software products and web applications run on PHP. For example, when you look at a WordPress installation, see will see that it is full of PHP files.

Other well-known users of PHP include Wikipedia, Magento, and Joomla.
The reason for the popularity of the language is that it is very versatile. You can use it to build web templates, such as WordPress themes. While in the source code of a website built with WordPress you will see pure HTML, when you open the template file on the server, it contains a lot of PHP to create the HTML output.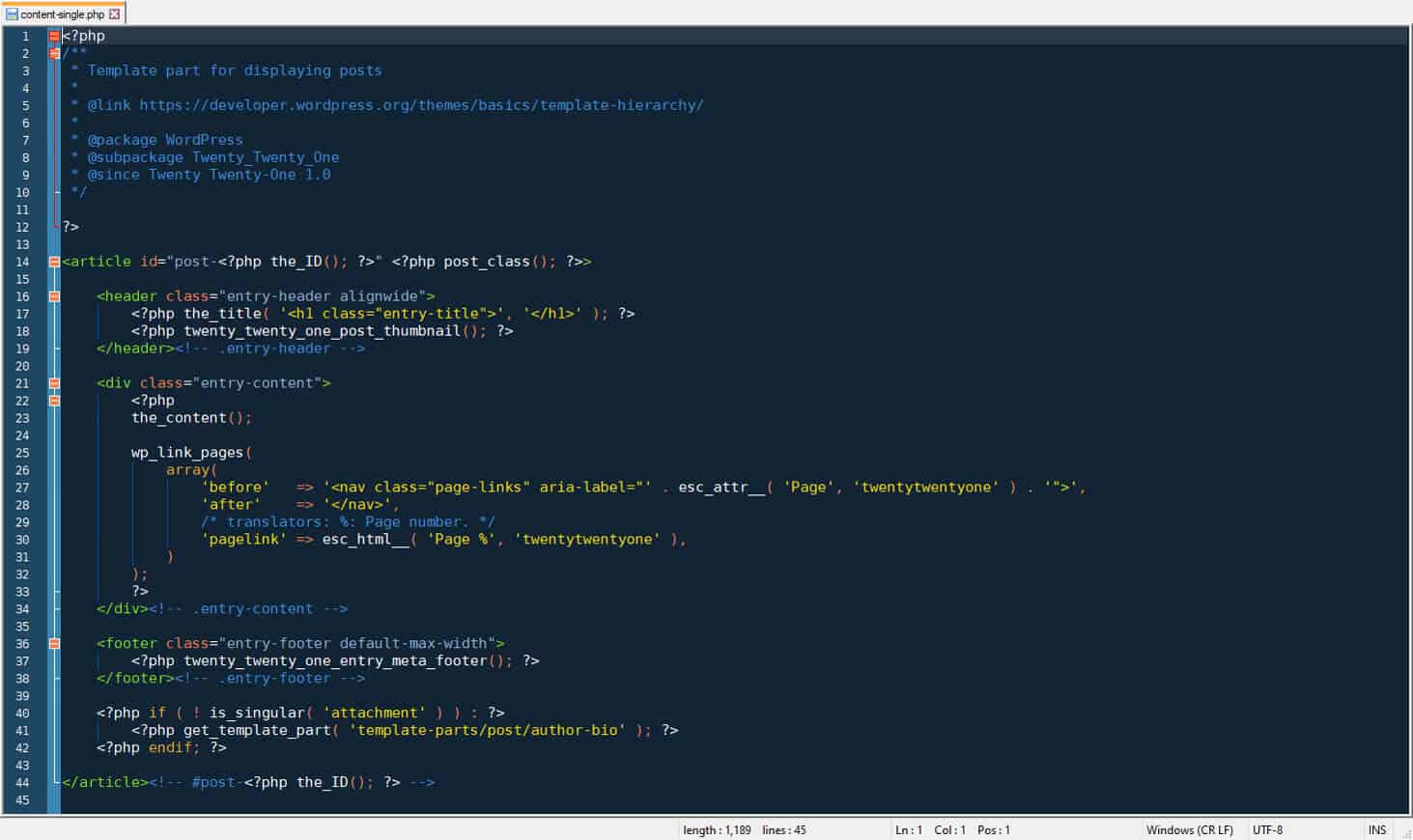 Yet, it is also suitable for functional website elements such as forms. PHP can even push and pull information to or from SQL databases, which is why so many content management systems use it.
In addition, the programming language is relatively easy to learn. Its syntax is pretty straightforward and very accessible. Plus, you can usually install it on Apache and Linux servers as well as other Unix operating systems with just a few lines in the console.
In short, PHP is an integral part of the modern web, versatile, powerful, and a great way to add features to your site or build an entire website or application with.
If you are more interested in this topic, don't miss out on our free, downloadable PHP cheat sheet. In addition, we have cheat sheets for HTML, JavaScript, and jQuery, besides loads of other tutorials.
Alright, enough with the preamble, let's get into the main topic of this article and look at some PHP scripts.
Final Thoughts: PHP Scripts
PHP scripts make it easy to extend your website without starting from scratch. They exist for many different use cases and requirements.
Above, we have gone over some of the best sources for high-quality PHP scripts. A lot of them have free offers that you can check out right away. However, even paid scripts are usually affordable. We hope you find what you are looking for.